In this article, we will discuss why you should use dropshipping suppliers USA. You will learn about the benefits you will get from working with American dropshipping suppliers. We also put together a list of the best US dropshipping suppliers for Shopify and eBay to work with.
US dropshipping suppliers can become your true life-saver and cover all your needs, whether you just want to support local wholesalers and reduce shipping time, or you're concerned about the effects of coronavirus while dropshipping from China and other distant countries.
Many dropshippers and online sellers are looking to sell winning products to this huge and promising market – the USA. So we have collected 40 best American dropshipping suppliers, including dropshipping companies and wholesale distributors with TOP quality products, great prices, and, of course, warehouses in the USA.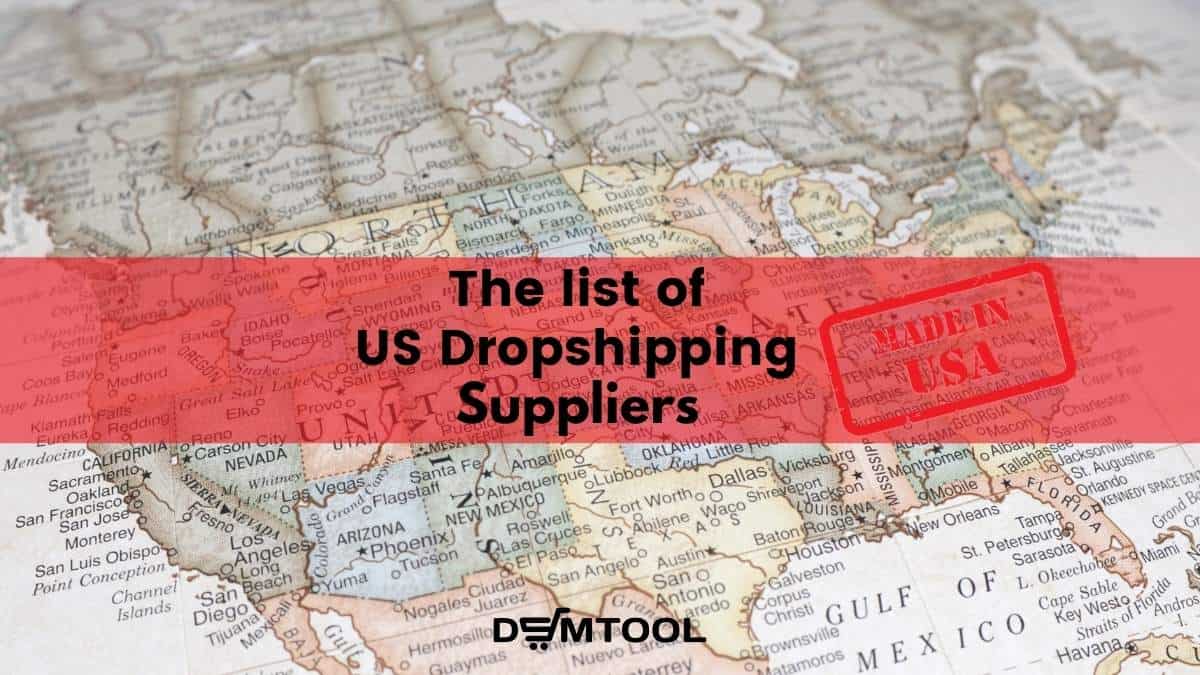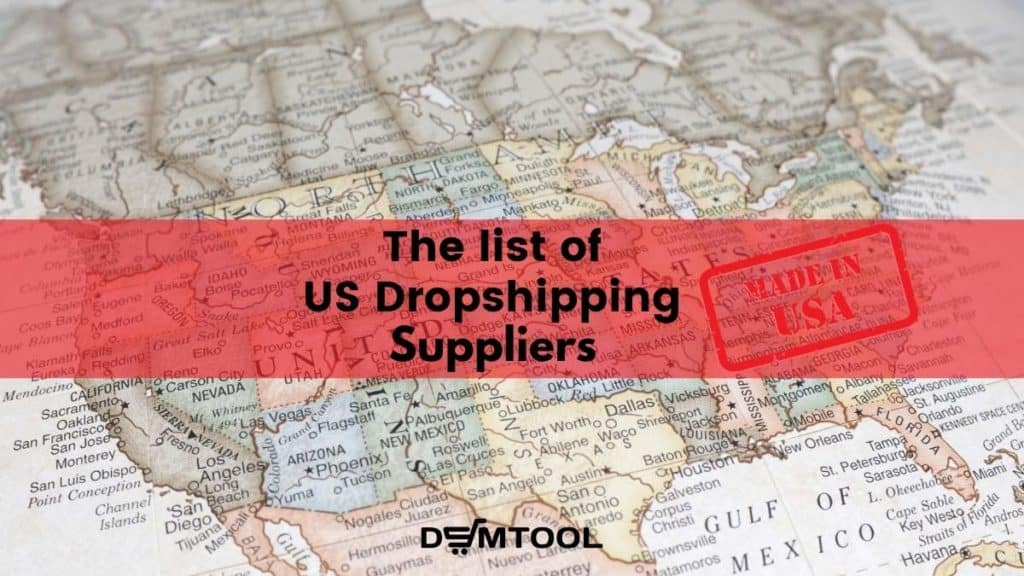 But first, what are the golden points of working with a USA dropshipping supplier?
The Benefits Of Working With US Dropshipping Suppliers
If you want to run your USA dropshipping business with more confidence, go local. Below are the main benefits of choosing dropshipping suppliers USA.
1.

Loyal customers
Writing "Made in the USA" will gain your potential customers' trust quicker as it is the most important buying factor to Americans, outside of price and quality. People believe that American products are superior in quality. Plus, they also believe that by "buying American," they support the US economy and create jobs.
Customers that benefit from purchasing from USA dropshippers are much more likely to continue to buy from you based on your brand's loyalty.

2. Higher margins when working with US dropshipping suppliers
According to this survey, 77% of adults in the United States would be willing to pay more for products if they knew doing so would support American manufacturing, according to a Morning Consult poll conducted Oct. 26-30.
Given a choice between a product made in the U.S. and an identical one made abroad, 78 percent of Americans would rather buy the American product, according to a new nationally representative survey by the Consumer Reports National Research Center. More than 60 % of all respondents indicated they'd buy American-made clothes and appliances even if those cost 10 percent more than imported versions. More than 25% said they'd pay at least an extra 20 percent.
After all, better quality, patriotic feelings, and quicker shipping times – all of these give you the ability to sell at higher margins and make more money when dropshipping from dropshipping suppliers USA.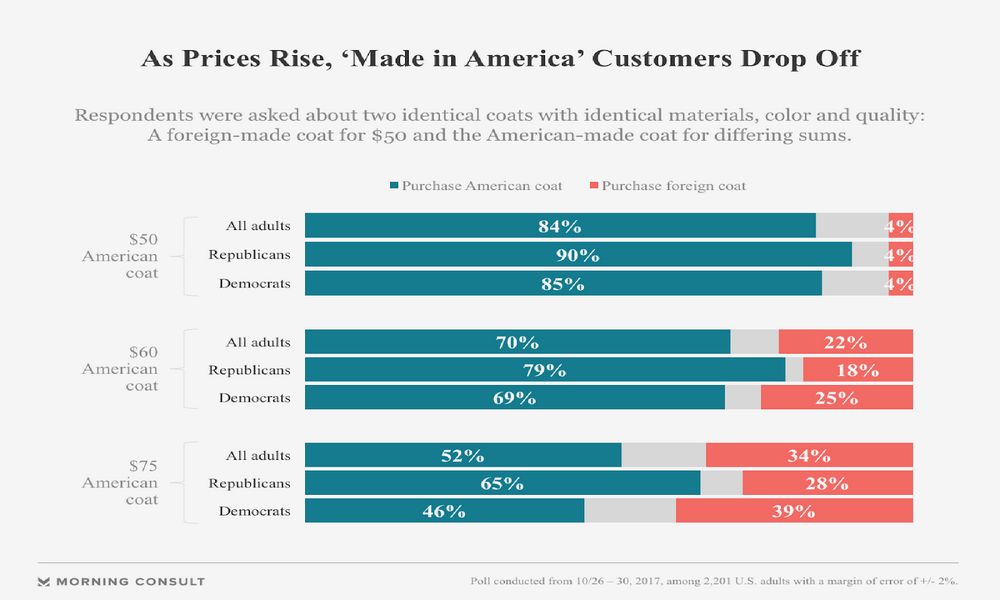 3. Fast shipping, smoother product returns or exchange
If you work with dropshipping suppliers USA, you can deliver your products as quickly as within 1-7 days. In the case of a product's return or exchange, it's also a faster and smoother process since everything's happening locally.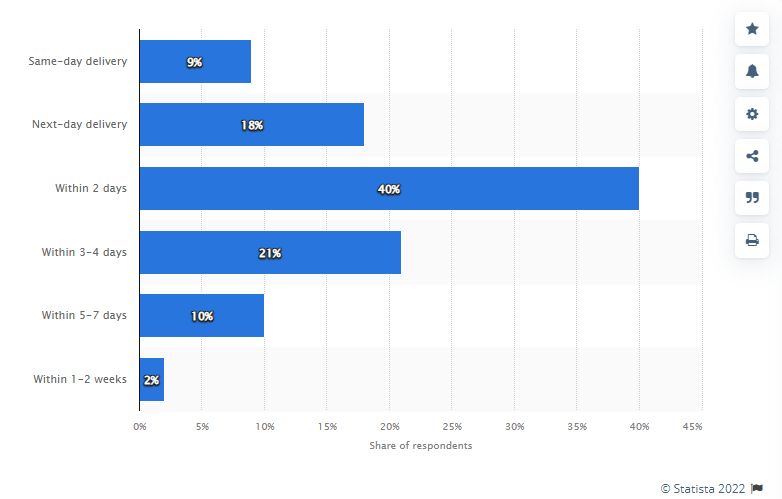 4. No long supply chains
By keeping it local, your products have to travel fewer miles, which means they are more likely to arrive safely and avoid the worst-case scenario – a disappearing order. As a result, you can be more confident with a USA dropshipping supplier in getting a satisfied customer.
5. Convenient customer service
When you're in the same or nearby time zones, it's considerably easier to reach your dropshipping suppliers USA if any question arises. You can resolve your issues very quickly and avoid losing consumers.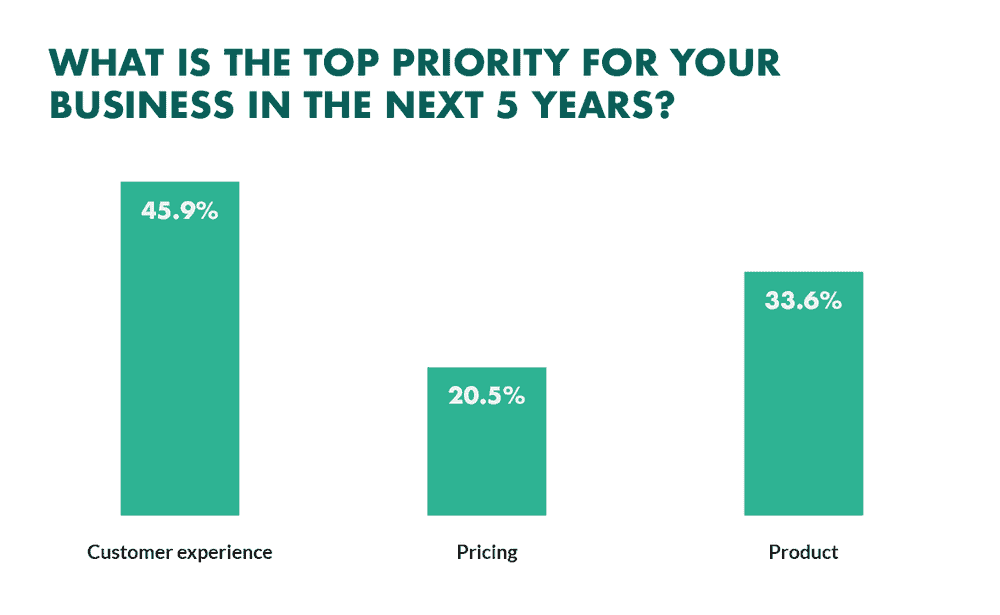 6. Ready for the unexpected
Finally, you're less likely to run out of stock if anything unexpected (like a massive pandemic) happens. You'll be shipping from several/different warehouses around the US.
Here is an example when we take one of the most popular US suppliers – Amazon: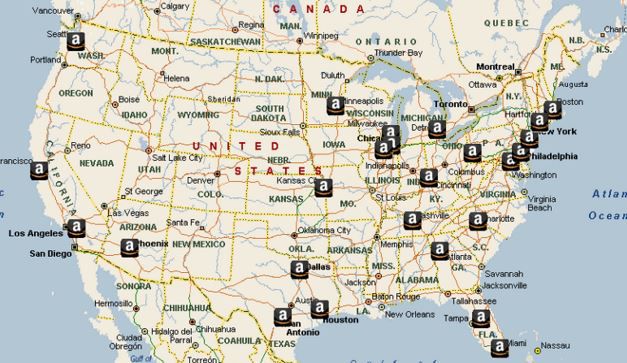 Besides, some marketplaces allow only fast shipping. For example, it is vital for the Facebook marketplace dropshipping.
As you can see there are quite a lot of pros for choosing US wholesale suppliers or dropshipping companies based in the USA for dropshipping locally.
Knowing the key factors of a good supplier will save a lot of effort and lead faster to your business goals. Let's go further and find out what the Best US wholesalers, retailers, and dropshipping companies are for you.
1. Amazon – The Most Popular USA Dropshipping Supplier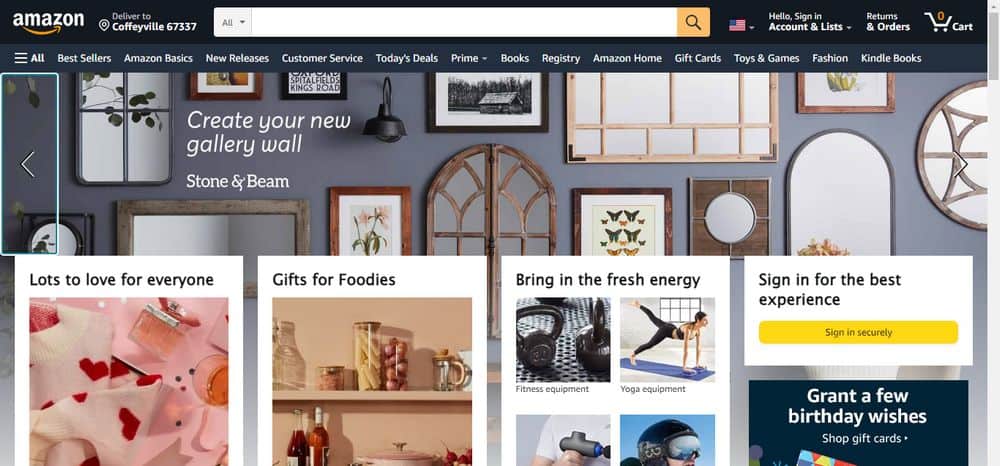 Amazon is one of the dominating eCommerce sites nowadays. It has multiple warehouses all around the world, including the UK, US, DE, FR, SP, AU to name a few, and dozens of the warehouses in the USA. There you can really find products for every taste. Amazon offers more than 350 million products under various categories. Besides, Amazon is famous for its great reliability and service. It offers fast and free shipping for orders over 25$, the same as international delivery.
However, it's not dropshipping-friendly. All its packages contain the Amazon logo. In regards to the invoice, you can mark the order as a gift and the package will not include it.
Wholesale/retail: it's a US retailer.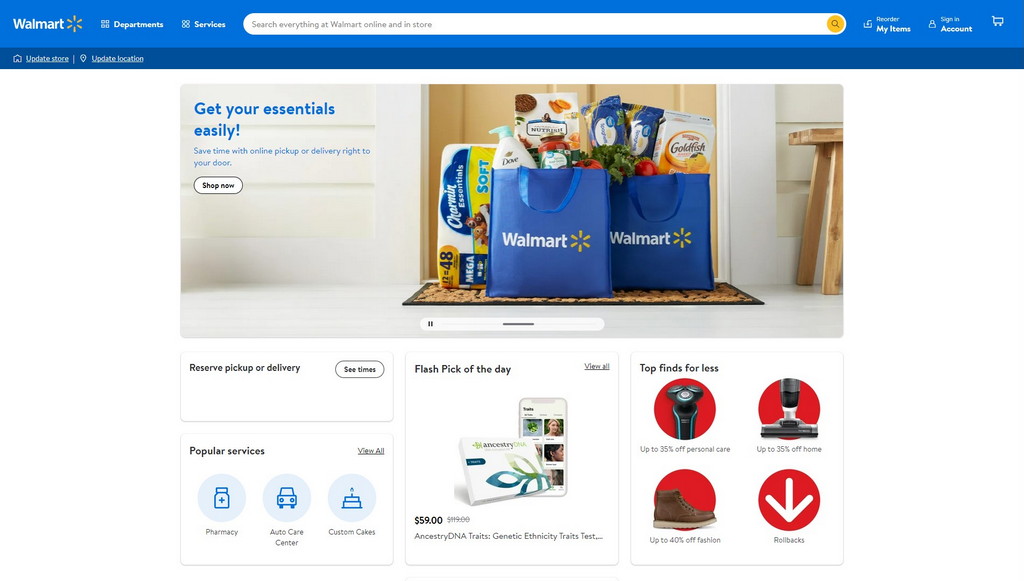 Walmart is another US-based retailer with worldwide fame. It internationally operates hypermarkets, department stores, and grocery stores, and its website walmart.com has an estimated 294 million visits a month. Many online sellers choose Walmart for dropshipping. Walmart's online shop sells a diversified range of products under various categories. Despite the fact that they don't offer a dropshipping program, Walmart offers great customer support, fast and free shipping for orders over 35$ (otherwise + 5.99$ shipping fees). The shipping time is around 3-5 days. Additionally, there is an option of 90 days to exchange or return a Walmart item (but mind their exceptions).
Wholesale/retail: It's a US retailer.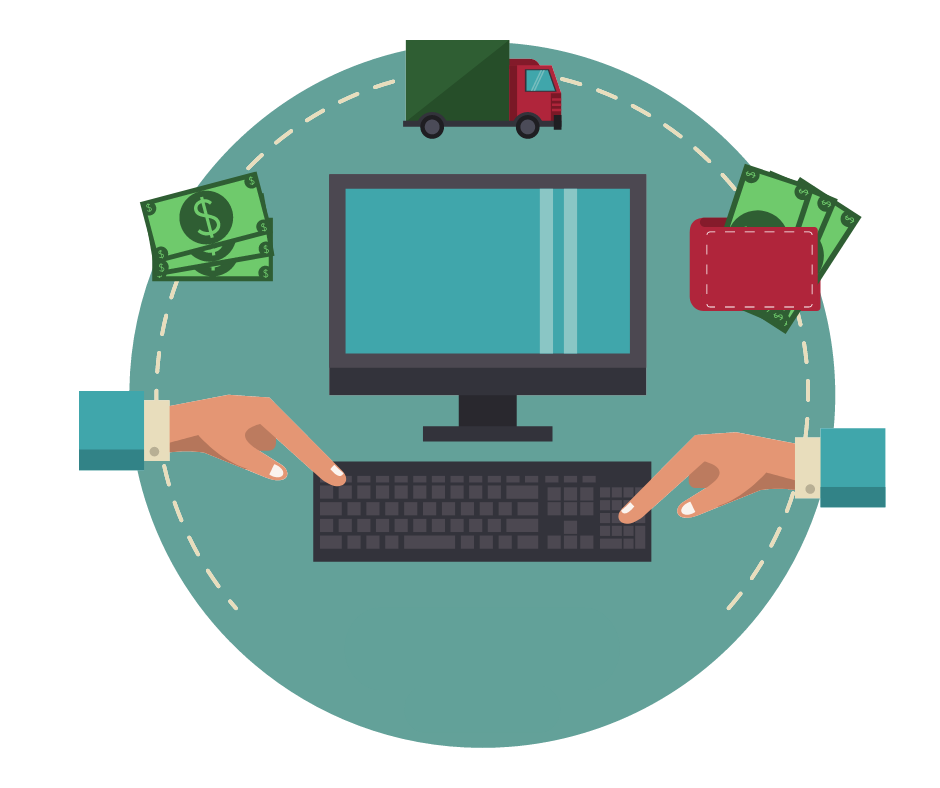 Not yet making money online?
Start your own dropshipping business. Sign up for a free trial of DSM Tool and we'll help you get started. Today is the day.
3. Etsy as one of American dropshipping suppliers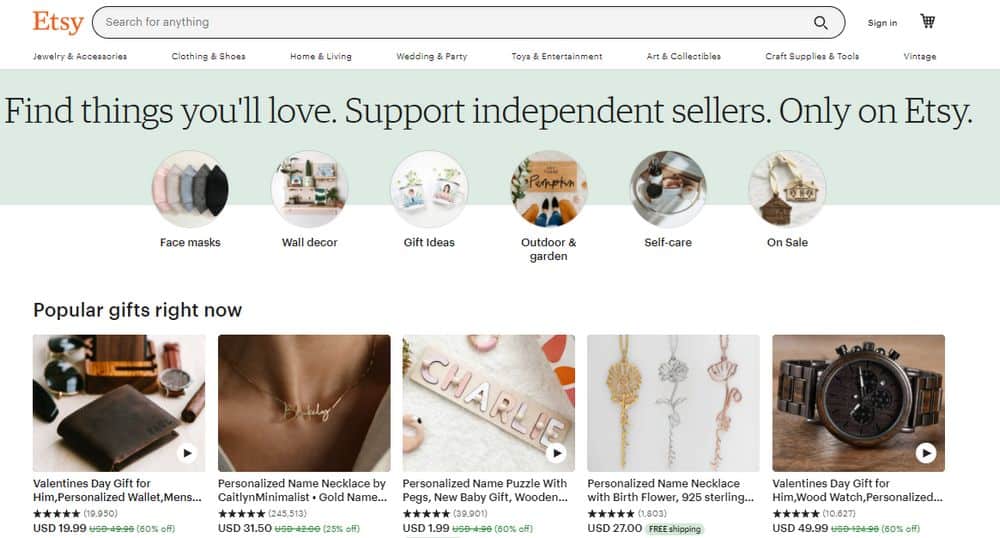 Etsy is an internationally famous eCommerce marketplace that focuses on selling handmade, vintage products, print-on-demand, and manufactured items under diversified categories. Since Etsy is a marketplace and not a retailer, they don't offer a reselling agreement. However, they allow reselling their products under the vintage and craft supplies categories. Plus, you can contact the Etsy store owner and work directly with them as your suppliers. Etsy offers fast shipping within the USA for up to 7 days. Though buyers pay for the return of damaged or defective items.
Wholesale/retail: It's a US retailer.
4. HomeDepot – Top USA Dropshipping Supplier

Of Home Products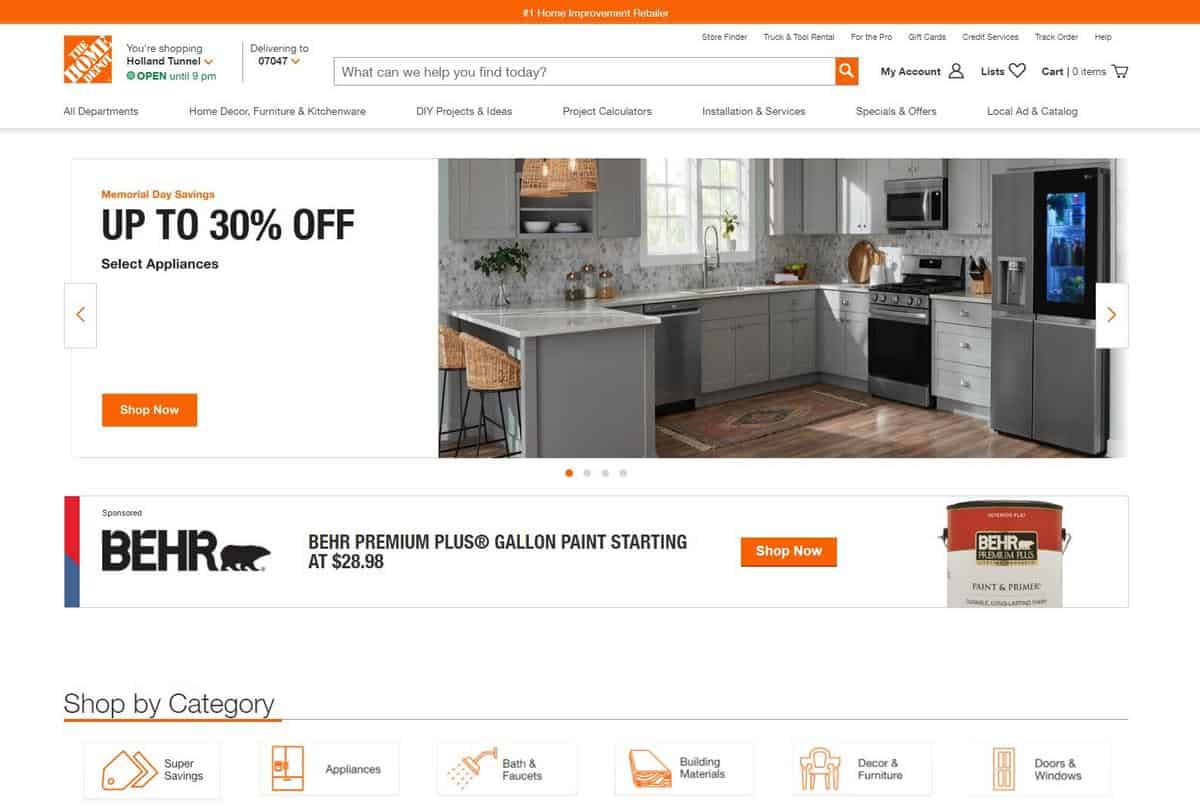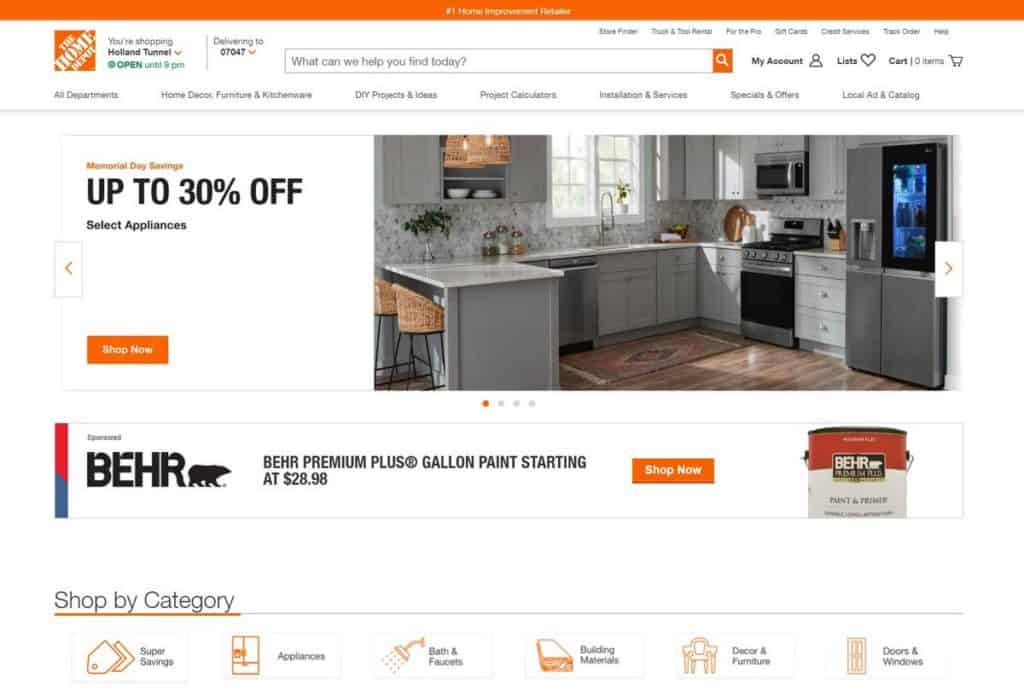 HomeDepot is one of the most popular dropshipping suppliers USA used for dropshipping home improvement products. It's the largest hardware and home improvement supplies in the US marketplace. It sells tools, construction products, home decor, garden equipment, furniture, and associated services in its online store.
Home Depot is an exclusive seller of many brands and has its own company-owned brands such as Husky tools, Workforce tools, HDX, and a few more. There is fast shipping within the USA and the HomeDepot shipping fees will vary on the method, product, and order price. But it's a great bonus that all orders over 45$ get free delivery. Returns are accepted for damaged product cases only, otherwise, the buyer pays the return shipping costs.
They have a dropshipping program, but more likely it isn't what you are looking for. HomeDepot drop shipping program encourages suppliers to become a part of their website: Home Depot will list their inventory and fulfill their orders.
Wholesale/retail: It's a US retailer.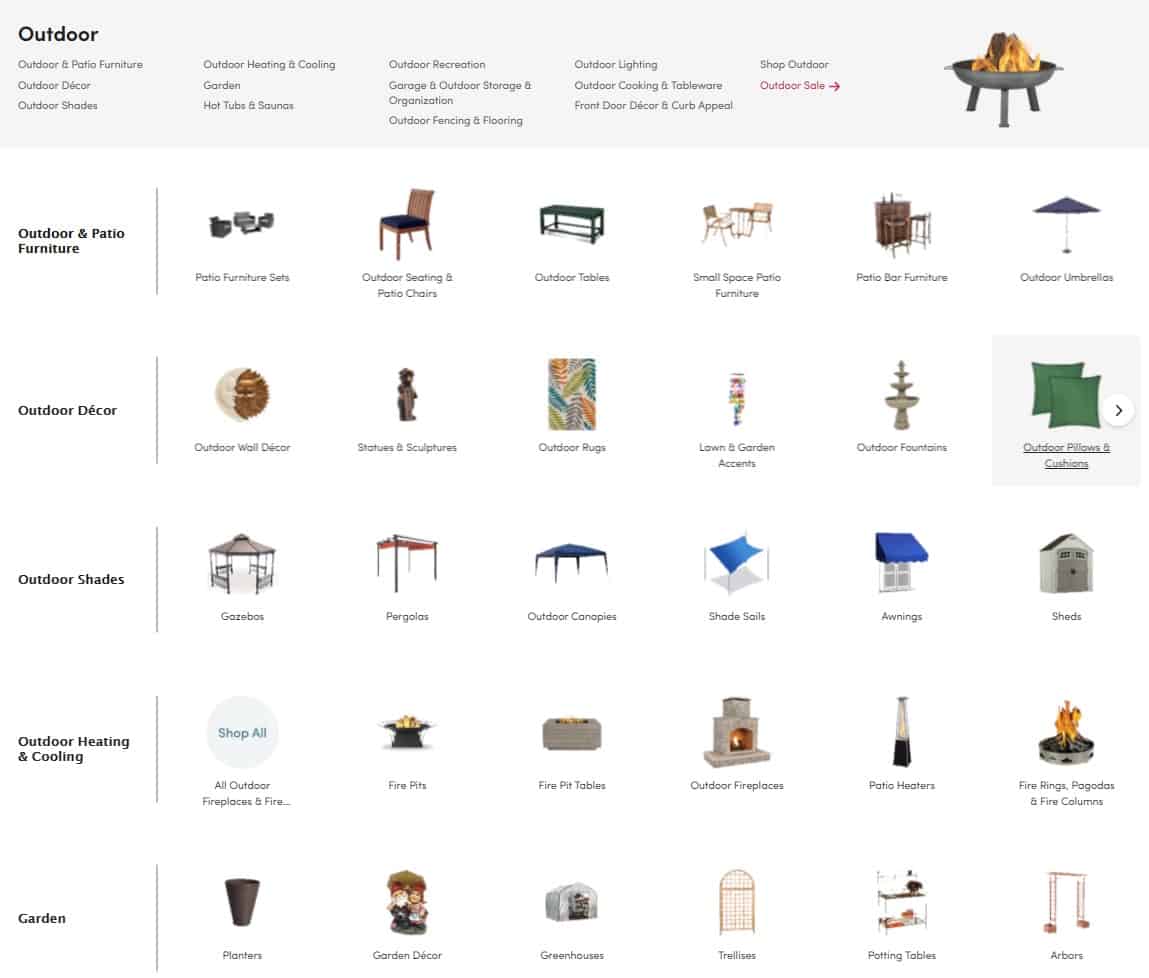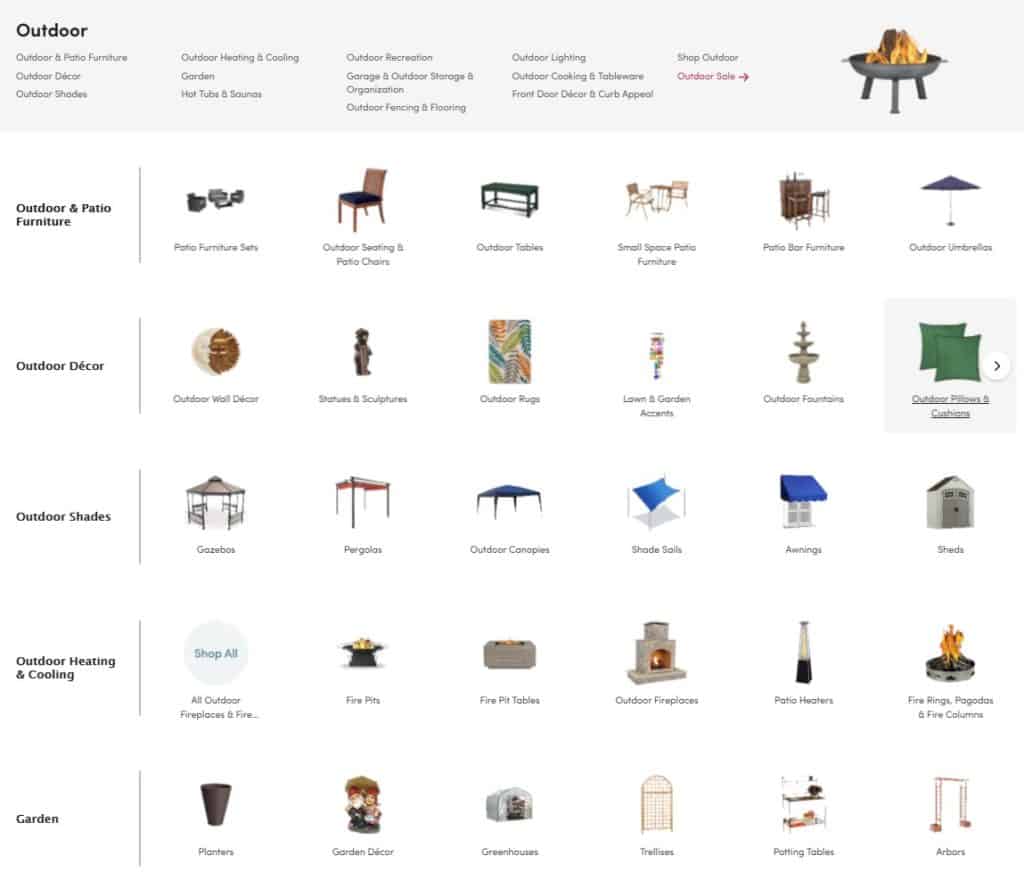 Wayfair is an American e-commerce giant founded in 2002 with warehouses in the United States, United Kingdom, Canada, and Germany. It's one of the leading marketplaces in the home decor niche. Many eBay and Shopify dropshippers choose this USA dropshipping supplier. Wayfair offers more than 18 million products in 13 sectors related to furniture and home decor.
Besides, they are constantly growing and adding new products and their own brands. However, you can keep in mind that their packages have a Wayfair logo and usually come without the invoices. Free shipping is available but also depends on the order price and warehouse. Returns and refunds are allowed by Wayfair in certain cases within 30 days.
Wholesale/retail: It's a US retailer.
6. Macy's

as a USA dropshipping supplier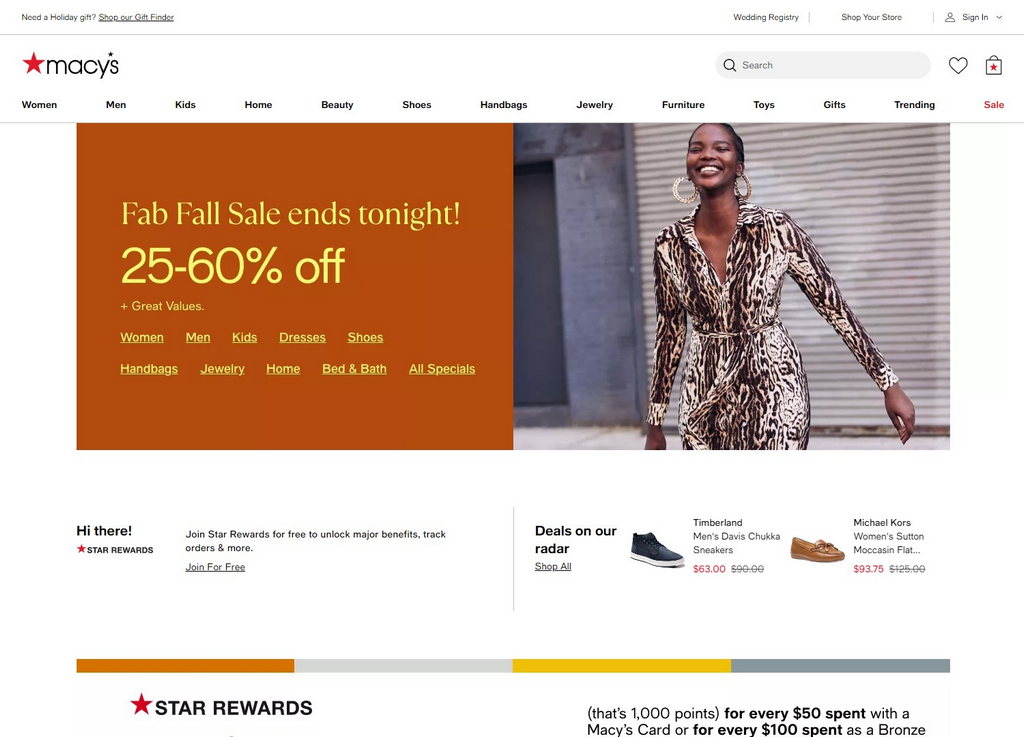 Macy's is a premier American retailer, especially famous in the fashion niche. Their site offers a big range of products varying from women's and men's fashion, accessories, and children's clothes, as well as home and decoration products. Keep in mind that Macy's uses the dropshipping business model as well, so when you choose to dropship from Macy's you actually source in retail price products that are in turn being bought for a lower price from the suppliers that work with Macy's. Macy's offers fast delivery (1-5 days) within the USA and free shipping on orders over 150$. Worth mentioning that Macy's shipping fees vary on the total sum of the order. If you face a return case, you will have 90 days for completing it for most of their items.
Wholesale/retail: It's a US retailer.
7. Bed Bath & Beyond for local dropshipping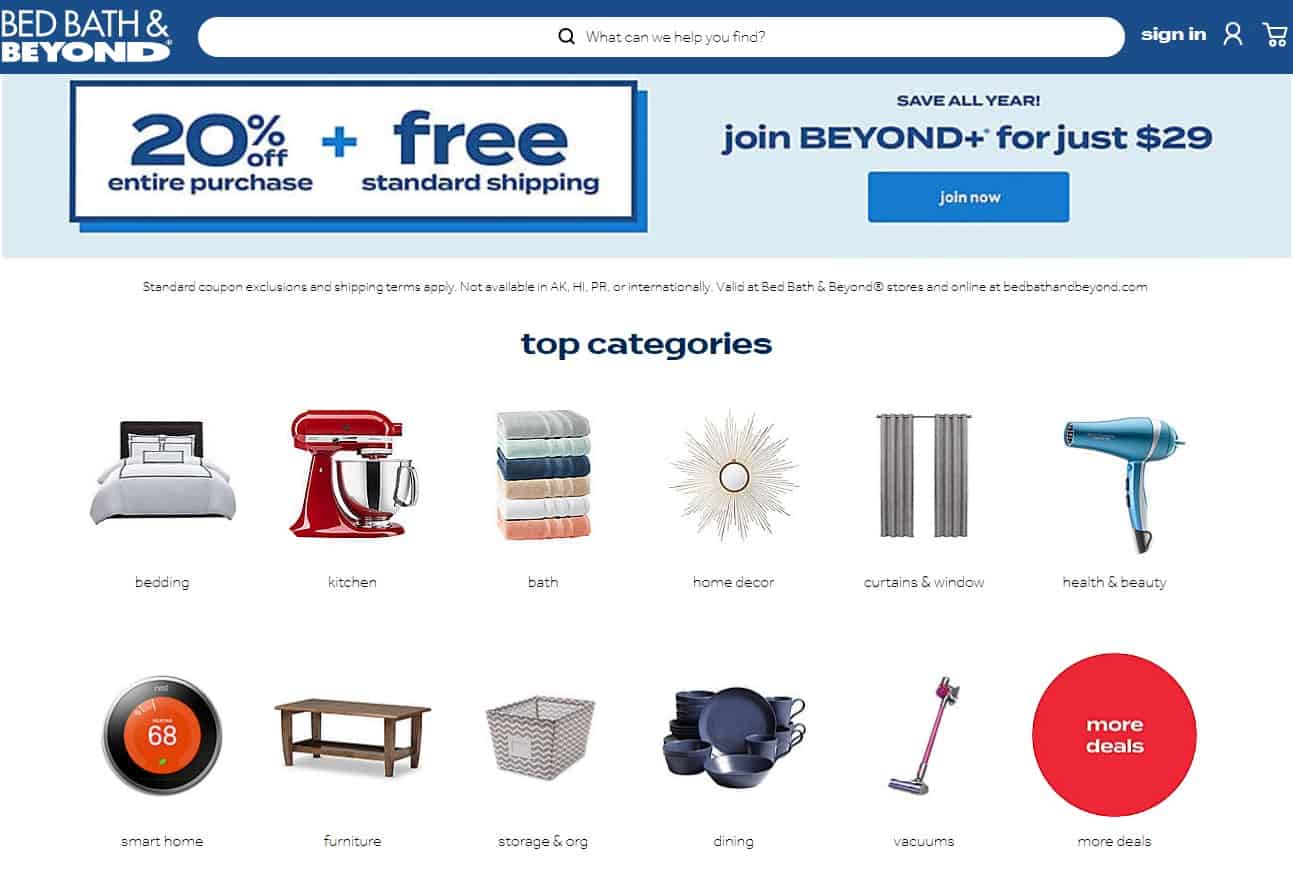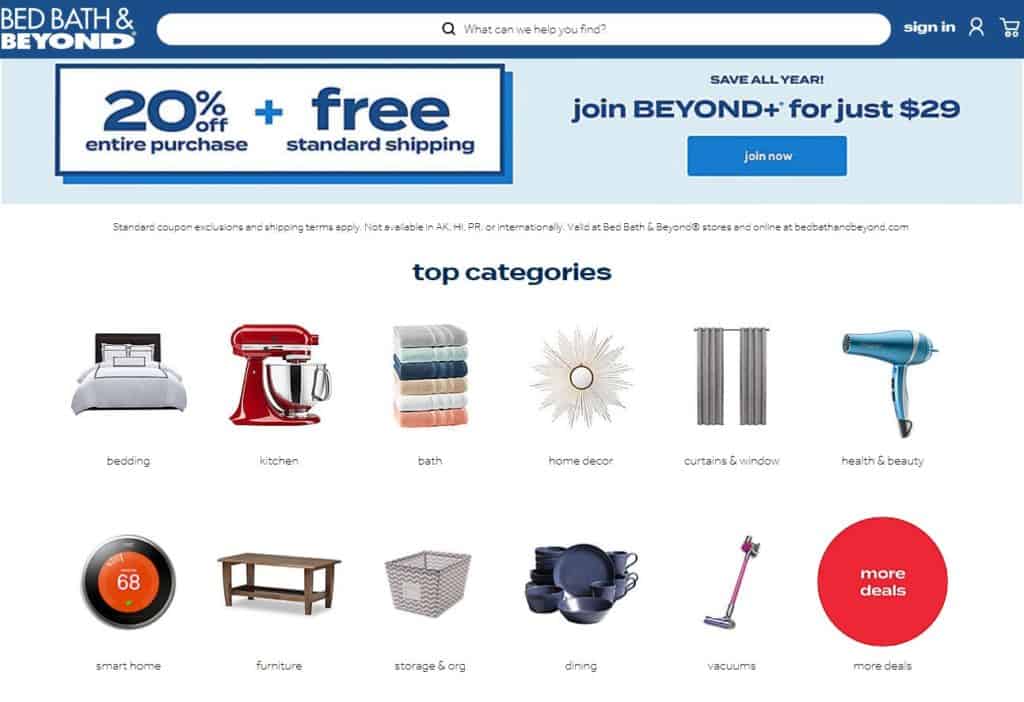 Bed Bath & Beyond (aka BB&B) is an American popular home goods retailer. It sells everything for home and garden, one of the most popular niches nowadays which makes it to be an interesting supplier for drop shipping. BB&B also often offers coupon discounts and clearances on their web. It offers free shipping for the owners of their annual membership and on orders over 39$. In general, if you are going to dropship from Bed Bath & Beyond, it can be a good idea to buy their annual membership card (29$) to reduce your purchase prices and get free shipping. As for the shipping time, it normally takes 3-6 days and 5-8 days for Alaska, Hawaii, and Puerto Rico. Read in detail the BB&B return policy here, they usually offer 30, 60, or 90 days for product returns and refunds.
Wholesale/retail: It's a US retailer.
8. Onetify – a Global Platform For Sourcing From US Dropshipping Suppliers
Onetify is a social global sourcing and shopping platform, designed to provide the best hassle-free online experience. It assists dropshippers or wholesalers, discounted retail shoppers, and those who source products or do bulk discounted shopping. It sells a pile of items across the most popular categories: electronics, drones, watches and accessories, fashion, pet items, home & living, kitchen, fitness, beauty, bags, mug, etc. Onetify normally provides US and international shipping but currently, they don't ship internationally due to Covid-19.
Additionally, it causes a longer processing time: 3-5 business days. Onetify offers 30,000 items from the US and Asia within their dropshipping program. You don't need to pay a fee per order and you get a discount of 20 or 50% (depending on the free or paid plan there). Onetify pro plan also provides white-label shipping for your orders. What is not so cool is that this supplier only accepts returns within 7 business days.
Wholesale/retail: It's a retailer with a wholesale program.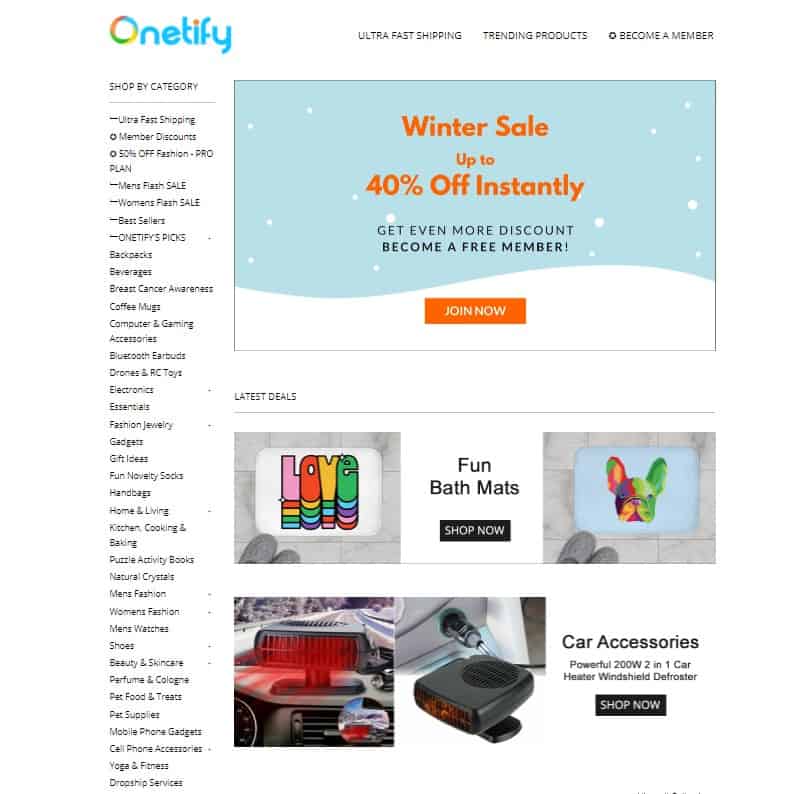 9. Overstock as a supplier for dropshipping

in USA
Overstock is an American e-commerce site that mostly focuses on selling furniture and home goods. Besides, you can dropship from Overstock clothing, accessories, beauty products, baby goods and toys, electronics, pet products, and sport items. In addition, it always offers some deals, seasonal clearances, and flash deals. Overstock offers fast free shipping (1-5 days) and international shipping to 180 countries. Furthermore, most of the Overstock items have a 30-days-return. Would be a great decision to join their loyalty program, club 0, which costs 19,95$ a year. Its owners get 5% cashback on every purchase, premium customer support service, free shipping and returns, price match guarantee, and extra bonuses on leaving product reviews.
Wholesale/retail: It's a retailer.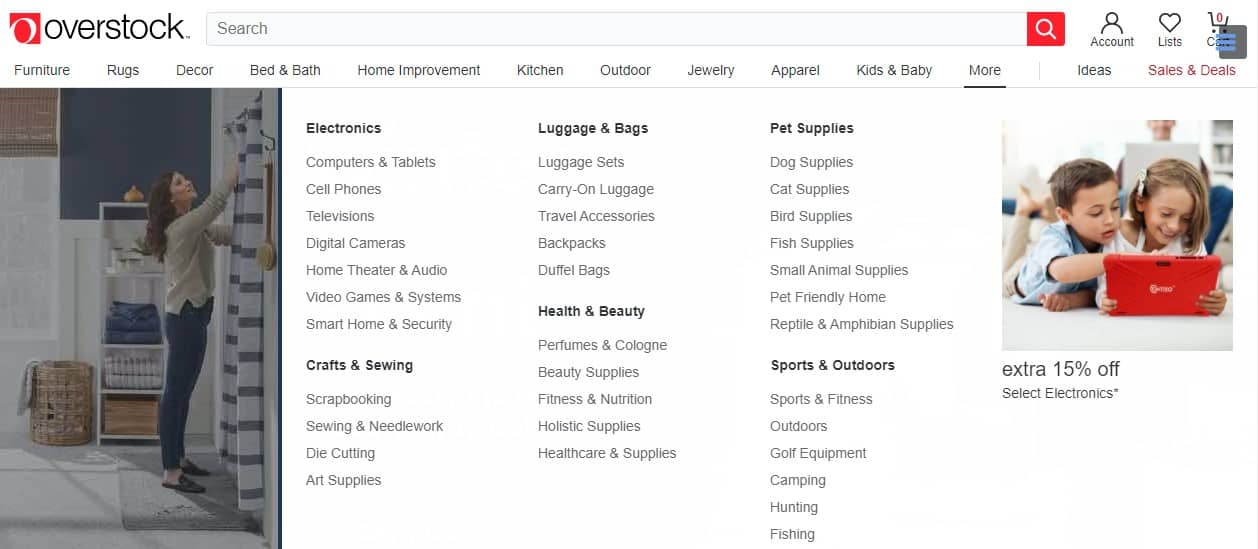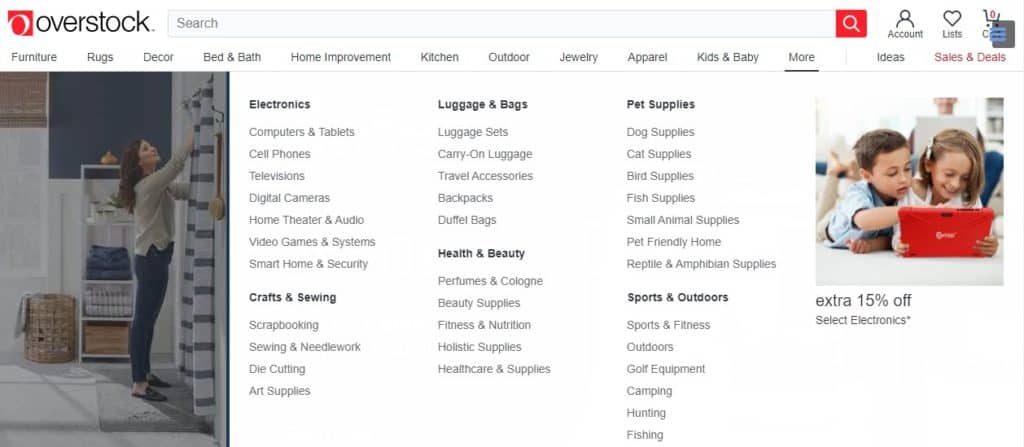 10. Costco is US wholesale supplier for dropshipping
Costco is one of the largest wholesale brands in the world that has been operating since 1976 with multiple warehouses all over the world: the USA, the UK, Canada, Australia, Spain, France, Mexico, Iceland, Japan, South Korea, Taiwan. That's why it does not offer international shipping. However, fast shipping within the countries where it has warehouses is available. Most of the Costco items have a 90-days-return policy. Read in detail about it here.
Costco runs on a "subscription business model," that is, customers who want to shop at the store must buy a membership in order to do so. In exchange for 60$ per year, you get access to a huge amount of products with low competition and at wholesale prices. Costco is famous primarily for grocery products, but it offers goods in other niches as well, for example, electronics, clothing, office products, etc.
Wholesale/retail: It's a US Wholesaler.
Costway is one of the top eCommerce companies in North America and Europe with warehouses in the USA, the UK, Germany, Italy, Canada, France, Spain, Poland. It sells everything people need starting from business activities to daily life whether that's home and garden items to sports and hardware equipment, from auto parts to DIY projects all the way to business and industry products. Costway is a dropshipping-friendly supplier that offers a reselling agreement (Amazon, Shopify and eBay sellers will find it very useful). As for the delivery, it's free to all of their items with 2-7 days of shipping. Costway also accepts a 90-day return for damaged or defective items. Its orders come in packages with Costway labels but without invoices.
Wholesale/retail: Wholesaler.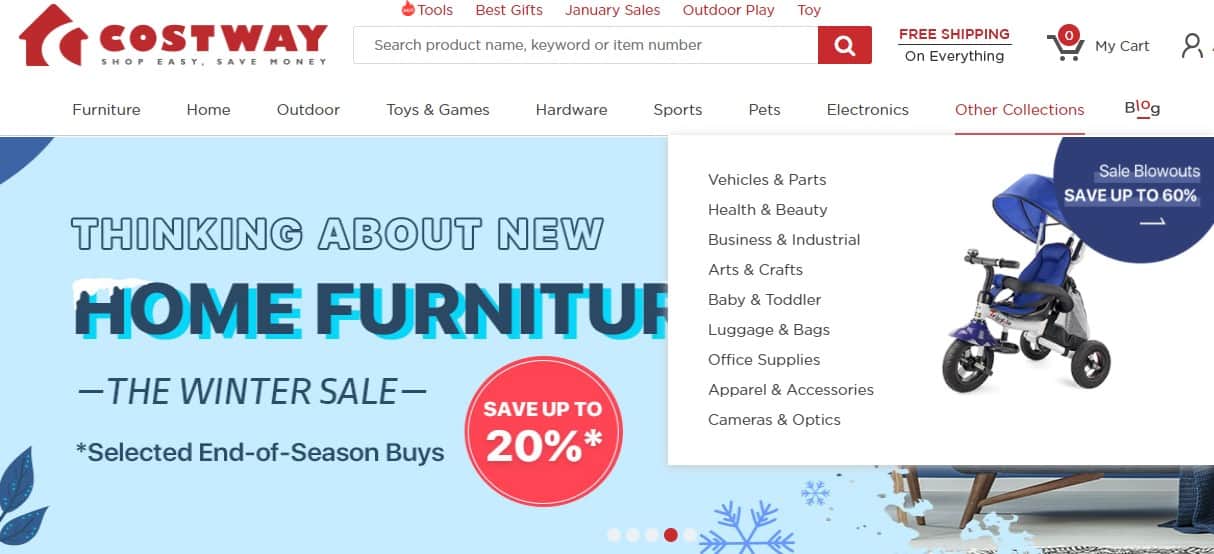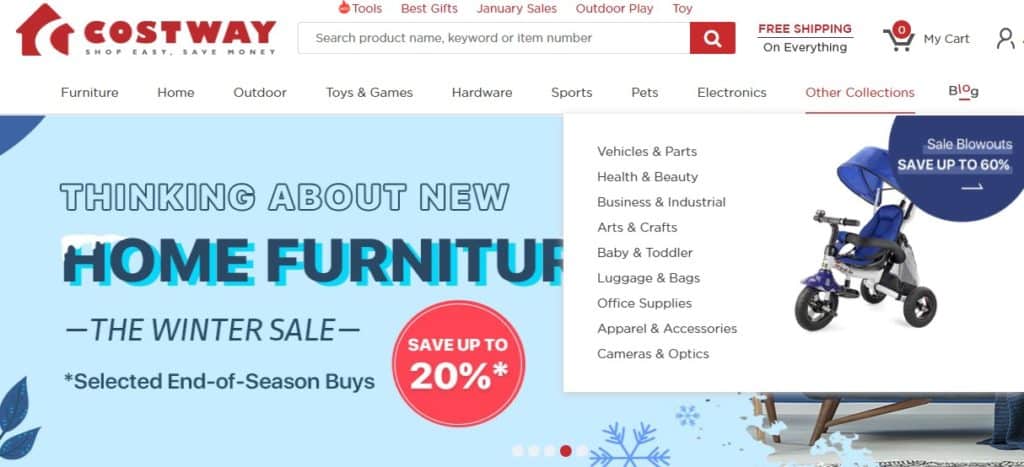 12. Target for dropshipping

in the USA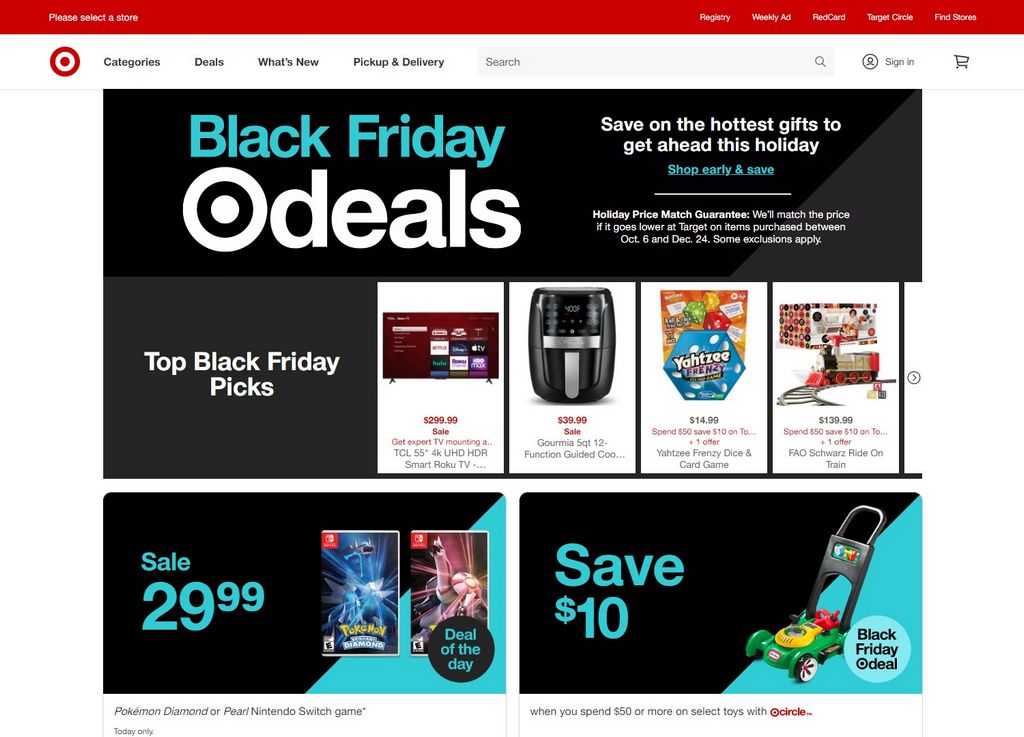 Target is the 8th-largest retailer in the United States. It sells products that are ranging from fashion to home decoration and furniture, from groceries to electronics and hygiene products. Target often launches clearances and special deals. Moreover, they have a special program, Target red card. It gives an extra 5% off, access to the special items, free shipping on most of the Target products, and extra 30 days for item returns. The general time for the returns is 90 days and free shipping on all orders over 35$. Their other membership, Target Plus, opens more items in certain categories from Target-approved partners (however, PayPal for such purpose isn't accepted).
Wholesale/retail: It's a retailer.
13. Sears/Kmart as dropshipping suppliers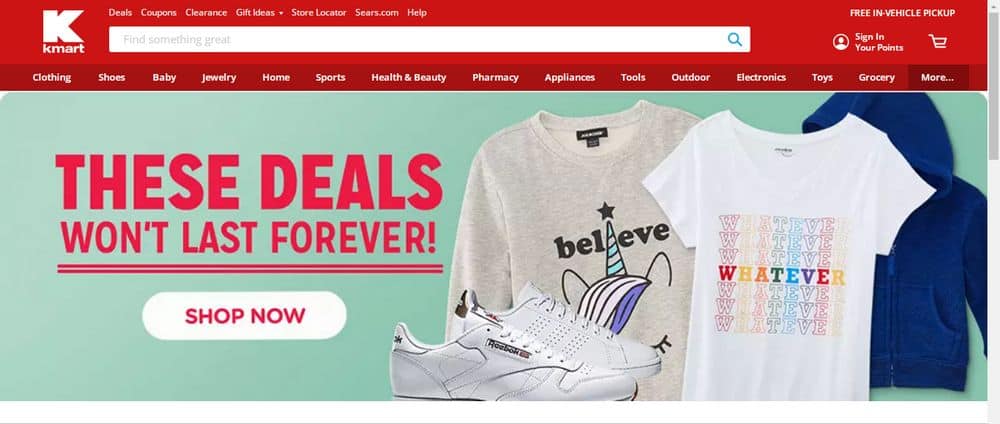 Kmart and Sears are merged into one corporation called Sears Holdings. It is the third-largest global retail chain after Walmart and Target. They offer a big range of high-quality products under almost all categories. Kmart/Sears offers 1-7 days of fast shipping, but there is no international shipping. They apply free delivery on orders over 59$ and most of their products can be returned in new condition with a receipt.
The possible time for returns is 7-45 days, depending on the type of item. Read the conditions here. However, dropshipping from Kmart/Sears can be dangerous since both sites provide poor scanning results. It makes it hard to sync their products' stock and price changes. But you can still do it for certain products bearing in mind the risk of price and stock changes.
Wholesale/retail: It's a retailer.
Since 2016 Sears started closing their stores and shutting down operations. Check the story of American Retail Icon Fall: Sears & Kmart Stores Shutting Down?
14. Bangalla – US Wholesaler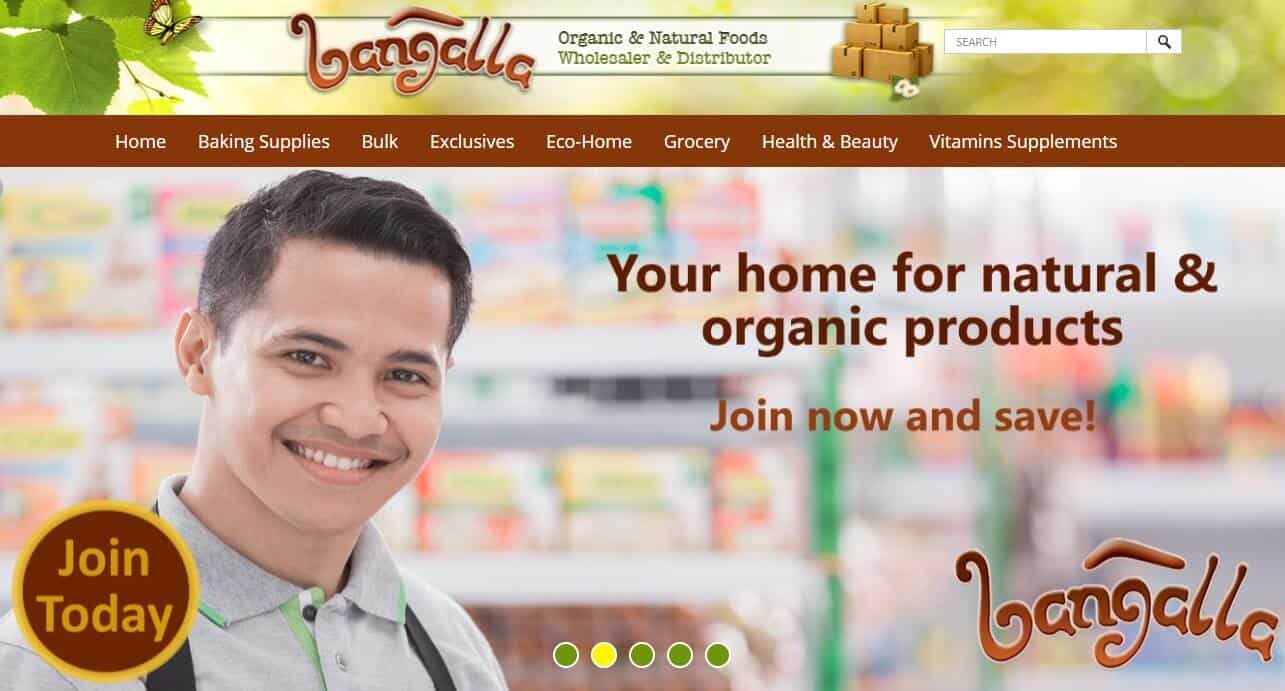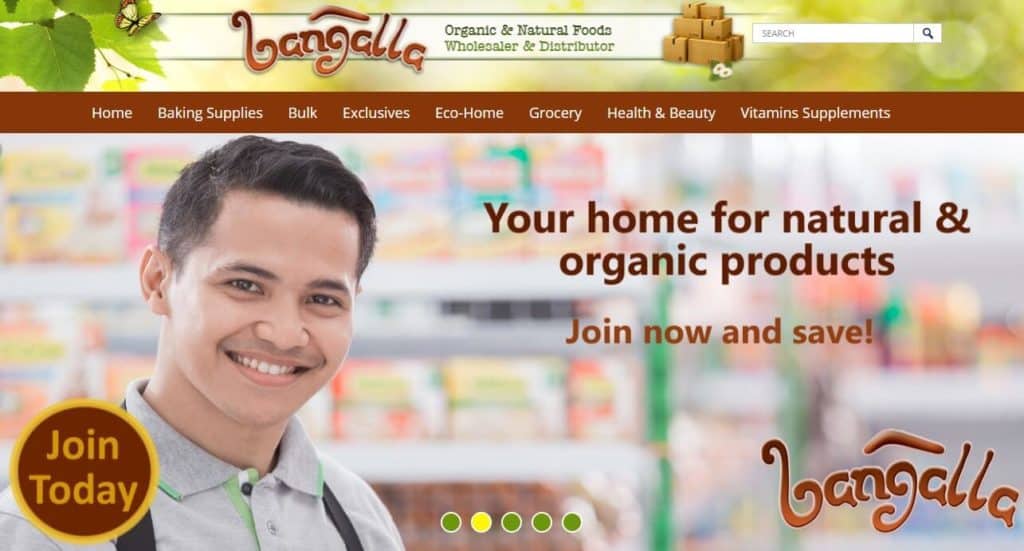 Bangalla is famous to be one of the largest drop shippers of organic and natural food products in North America. It offers over 700 brands over 125 product categories. Selling food in a dropshipping store is associated with a lot of risks, so you can list health & beauty, sustainable products, home, and decor products from there to your shop.
The Bangalla loyalty program has 3 plans with services varying from access to products to wholesale and dropshipping items, an extra 5% discount on all orders to the FBA services along with the logo addition. By the way, the item price will vary whether it is a wholesale order or a dropshipping order.
Wholesale/retail: It's a US Wholesaler.
15. BestBuy as a dropshipping source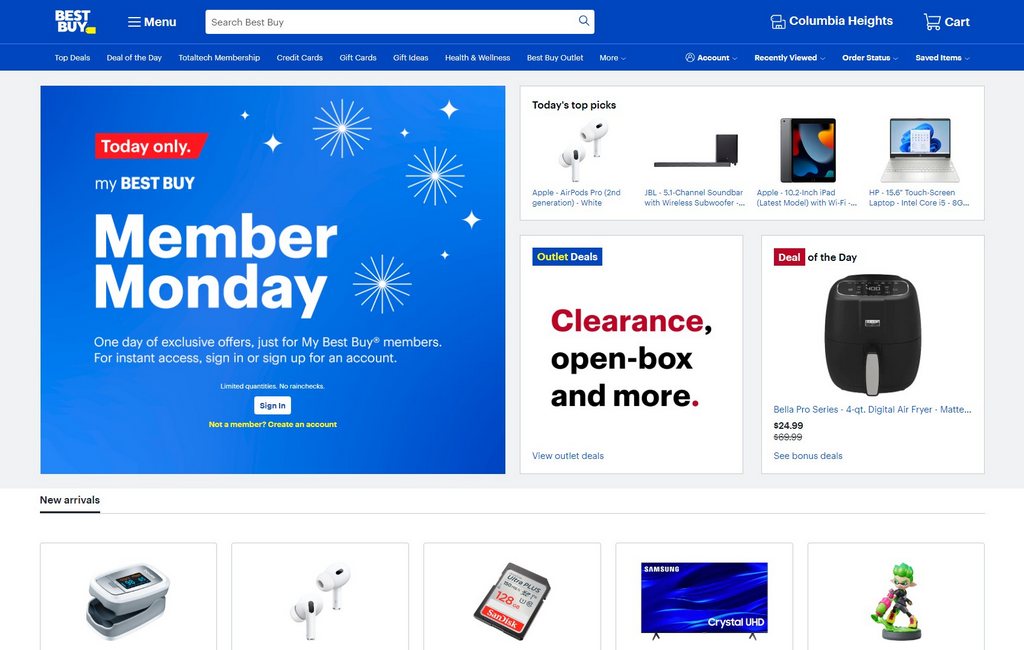 BestBuy is an American multinational consumer electronics retailer headquartered in Richfield, Minnesota with warehouses in the USA, Canada, Mexico. It was founded in 1966 and focuses on selling different types of electronics. Although, you can also find the home gym, health, home, furniture & office, eco products, and toys with games. BestBuy have the Same Day Delivery in some areas and for some items. Additionally, you can opt-in BestBuy business program. It will allow you to get 10% savings, free shipping on orders of 35$, exclusive offers, volume purchasing. Returns are also possible, the BestBuy return time varies on the type of product and is usually 14-15 days.
Wholesale/retail: It's a retailer.
16. Aosom – Awesome USA Dropshipping Supplier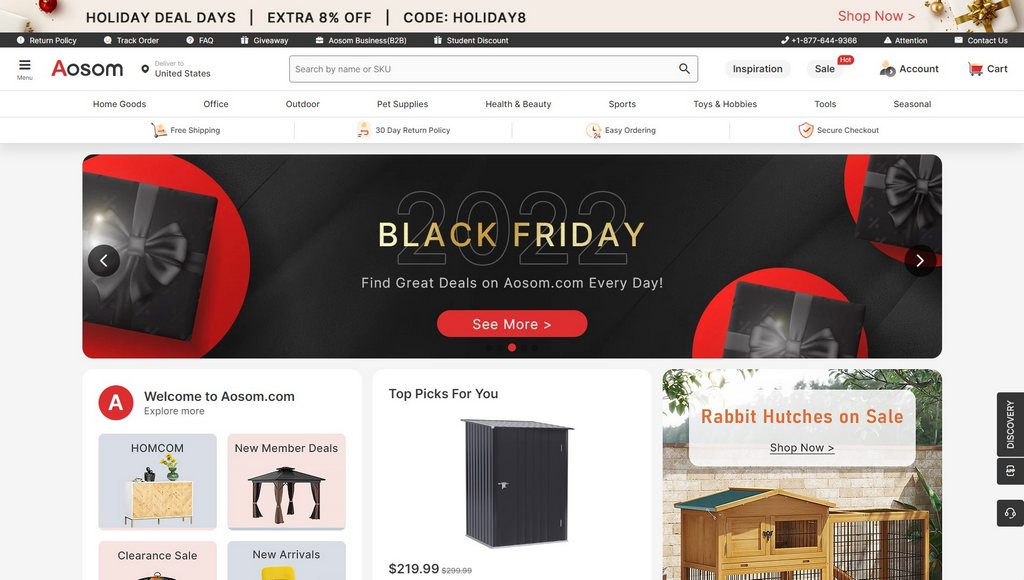 Aosom is an eCommerce site, founded in 2009 with US, UK, CA, DE, ES, IT, PT, FR warehouses. Different warehouses allow Aosom to ship its products fast (1-5 days). But there isn't shipping to Alaska, Hawaii, US protectorates (e.g., Puerto Rico). Free shipping is available on all orders. As for the returns, Aosom offers 30 days returns for its products, but only 7 day returns of damaged/defective items.
It offers a variety of quality, affordable products from areas such as Biking, Fitness, Home Goods, Outdoor Products, and more. The company has many warehouses around the world. They do not have a dropshipping program. And, unfortunately, their wholesale program is available only for the shops who want to sell on their site.
Wholesale/retail: It's a retailer.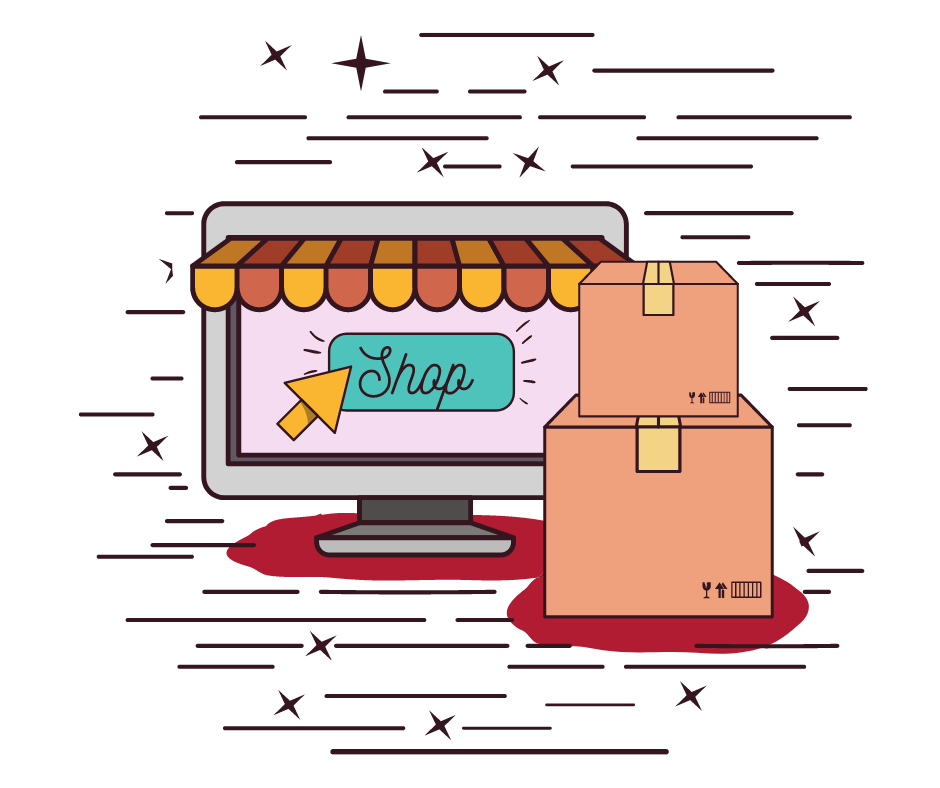 It's time…
Don't wait for success to come. Hire yourself and start your own dropshipping business
17. American Dropshipping Supplier Eloquii
Eloquii is a private company based in New York and Columbus, OH that is selling fashion apparel in sizes 14-28, shoes, handbags, and accessories. It was founded in 2009. Currently, its goods count with approximately 25,000 brands (meaning the eBay Vero violations for eBay sellers). The delivery time of the products is usually 5-8 days. Free shipping is applicable for orders over 125$. Also, there is an option for international shipping which takes 6-10 days. Also, 30 days' return/exchange policy is applicable for most of their items. Though, the package should include the original invoice. You need to take into account that Eloquii doesn't offer any dropshipping program or a loyalty program. But, in total, owners of dropshipping stores specialized in fashion can find this source useful.
Wholesale/retail: It's a US Retailer.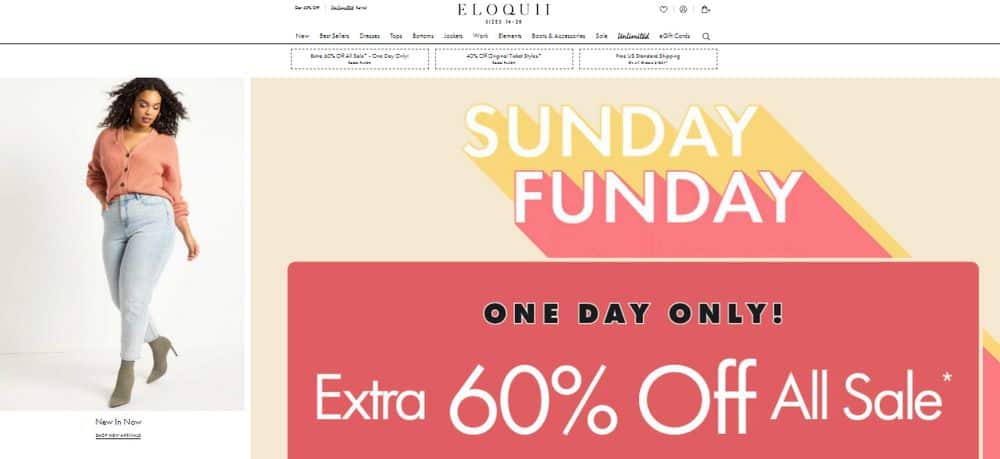 18. Sam's Club for dropshipping in the USA
Sam´s club site sells home appliances, clothing, sports equipment, furniture, household essentials, pet products, toys and games, and much more. They become accessible with Sam's club membership. Delivery usually takes 1-7 business days. They don't ship internationally and to Puerto Rico. The majority of Sam's Club products can be returned. Read more in detail here. Returning to the membership, it additionally gives you cashback, free shipping (although applied only for ground shipping and for 10 addresses only), extra offers, etc. It costs either 45$ a year or 100$ annually. There is no dropshipping program.
Wholesale/retail: It's a US Wholesaler and Retailer.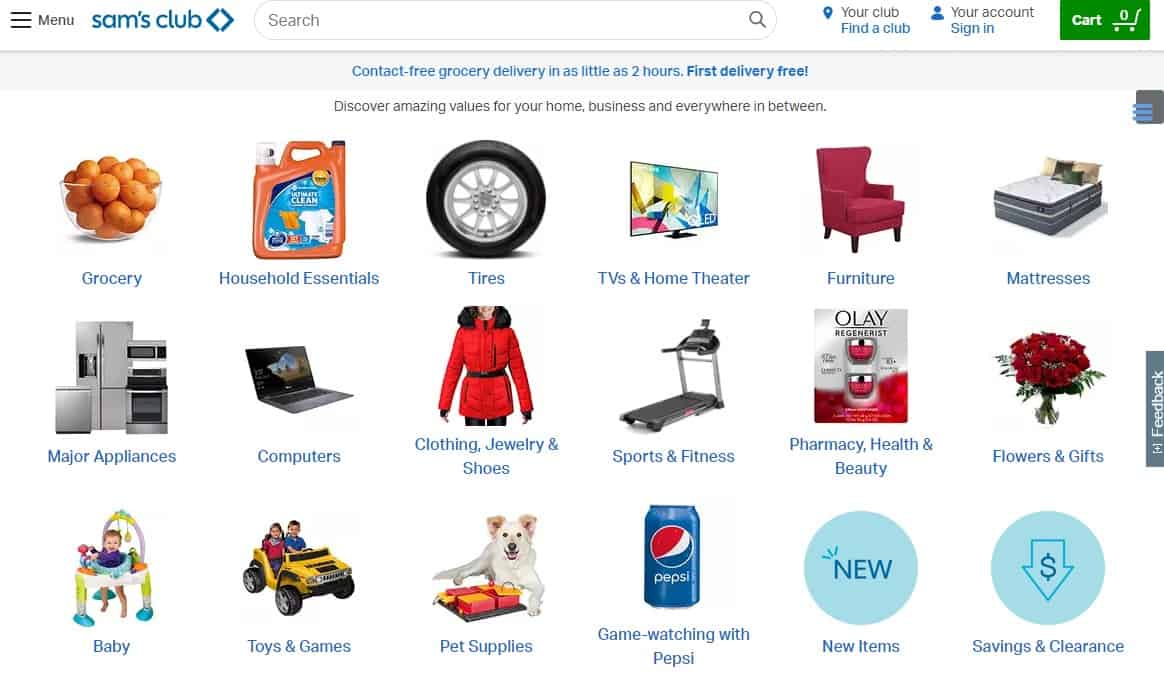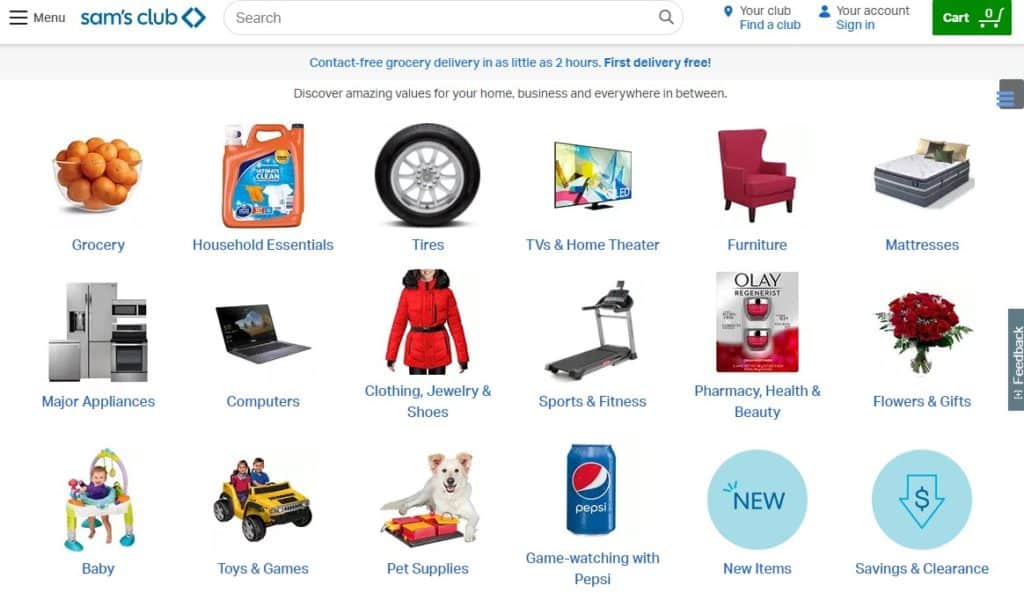 19.

Newegg

–

tech dropship supplier USA
Newegg is a leading tech-focused American e-retailer, based in California with warehouses in the USA and Canada. The company was founded in 2001 and it mostly sells electronics, computer hardware, entertainment, gaming, and smart home items. Currently, Newegg has over 20 million products from more than 2,700 brands and it facilitates international shipping, fast delivery of 3-5 business days. Free shipping is also possible.
Moreover, the company offers excellent customer service, detailed product descriptions, and competitive pricing. Pay attention to a 30-day return policy, as returns are possible only for the items sold by Newegg, it's not applicable for the 3rd party items on their website. There is no drop shipping program, instead, they offer collaboration to the vendors.
Wholesale/retail: It's a US Retailer.
20. Lowe´s – Dropshipping Supplier in the USA for home improvement
Lowe´s is an American e-retailer specializing in home improvement. Apart from furniture and decor, the company sells home gym products, tools along with equipment, lighting, storage, family fun items, and appliances. 1-3 days delivery at free cost for orders of 45$ or more is available. Lowe's products are shipped internationally as well offering 30-day returns. There is a full return policy here. However, many online sellers use it as a dropshipping supplier and leave negative feedback due to order cancellations or late shipping. Therefore, if you reselling from Lowe's, be attentive to these possible risks, plus, it´s worth mentioning that it also doesn't offer a dropshipping program.
Wholesale/retail: It's a US Retailer.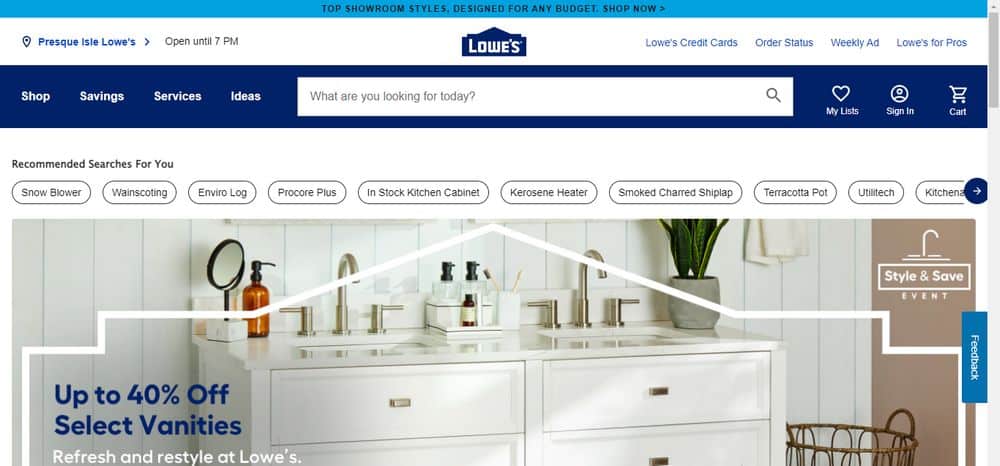 21.

Petsmart

– US pet dropshipping suppliers
Petsmart is the largest retailer of services and solutions for the needs of pets. There you can find various competitively priced products by pet: dog, cat, fish, bird, reptile, and small pet. It sells everything people need for pets' happy and healthy lives. For US users it offers a Petsmart Treats program which consists of earning points on each service or product order, donations. Besides, it allows you access to member-only deals and discounts and free shipping on orders over 49$. The accumulated points will give you an extra discount on the order then. Petsmart shipping is quite fast: 2-3 days. However, they do not offer international shipping. Returns are available 60 days from the date of purchase. Read more about Petsmart return policy here.
Wholesale/retail: It's a retailer.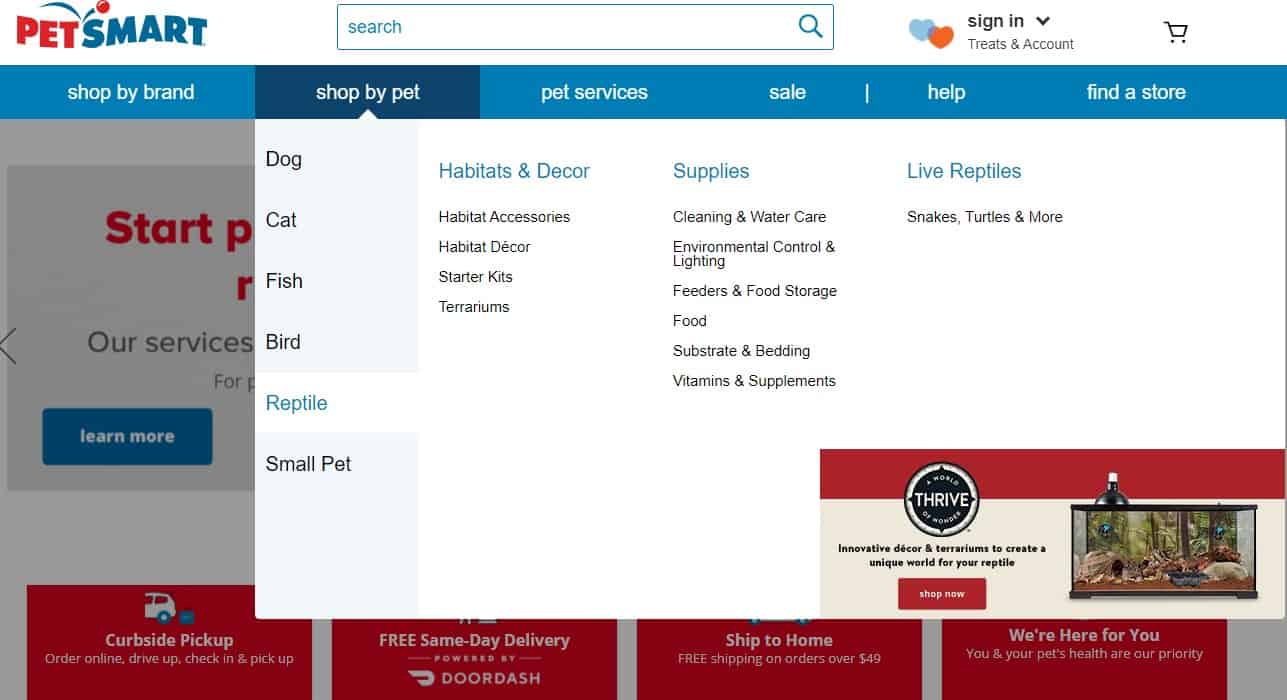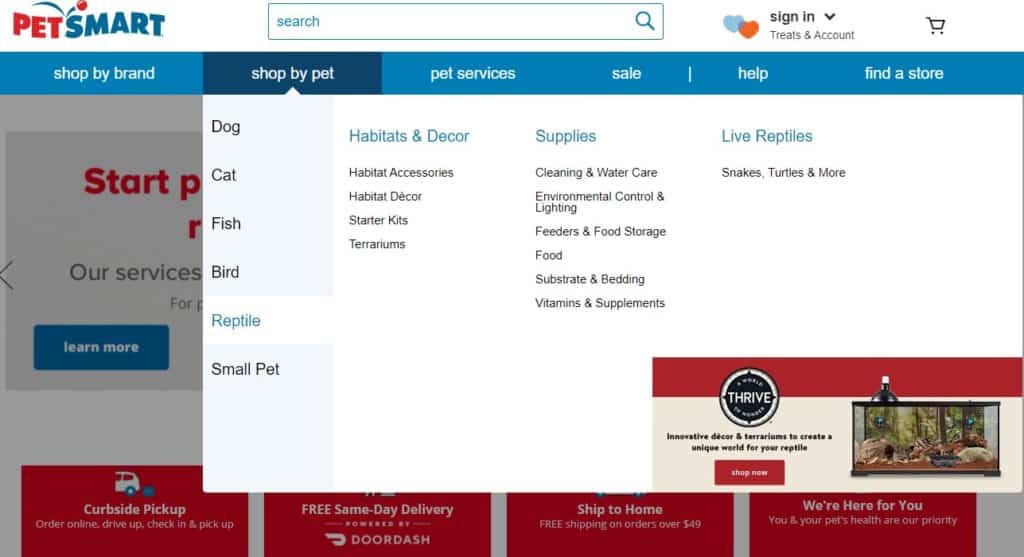 22. Olay – beauty dropshipping

supplier
Olay is an American skincare brand owned by Procter & Gamble and founded in 1952. On their website, it is possible to find their skincare products for every skin concern and type. It can be interesting for the owners of the online shops in the beauty niche or eco-friendly items since Olay is a cruelty-free brand. Discounts, clearances often appear on its site. Though, they don't offer a loyalty program or dropshipping program. Olay´s shipping is fast (5-8 days), but only offers US delivery. Free shipping is possible on orders over 25$, otherwise, they charge a 5$ fee. As for the returns, be attentive: free returns are available on damaged/ defective/ wrong items. Other Olay items are eligible for returns after consulting their Customer Service.
Wholesale/retail: It's a US Retailer.
23.

Lululemon

–

Activewear and Yoga dropshipping suppliers USA
Lululemon Athletica is a Vancouver-based fashion brand and a leading retailer in the Athleisure niche. It was founded in 1998 and was focusing back then on selling yoga wear. Nowadays, Lululemon is selling a big range of products for athletic apparel, including accessories, shoes, and sports equipment with multiple warehouses in the USA, Canada, Australia, Europe. It is also taking steps to become more and more sustainable and pay a lot of attention to the quality of Lululemon. It offers free and fast delivery (2-7 days). International shipping is available, except for footwear. Lululemon online returns are possible, but unfortunately, they don't have any dropshipping program.
Wholesale/retail: It's a Retailer.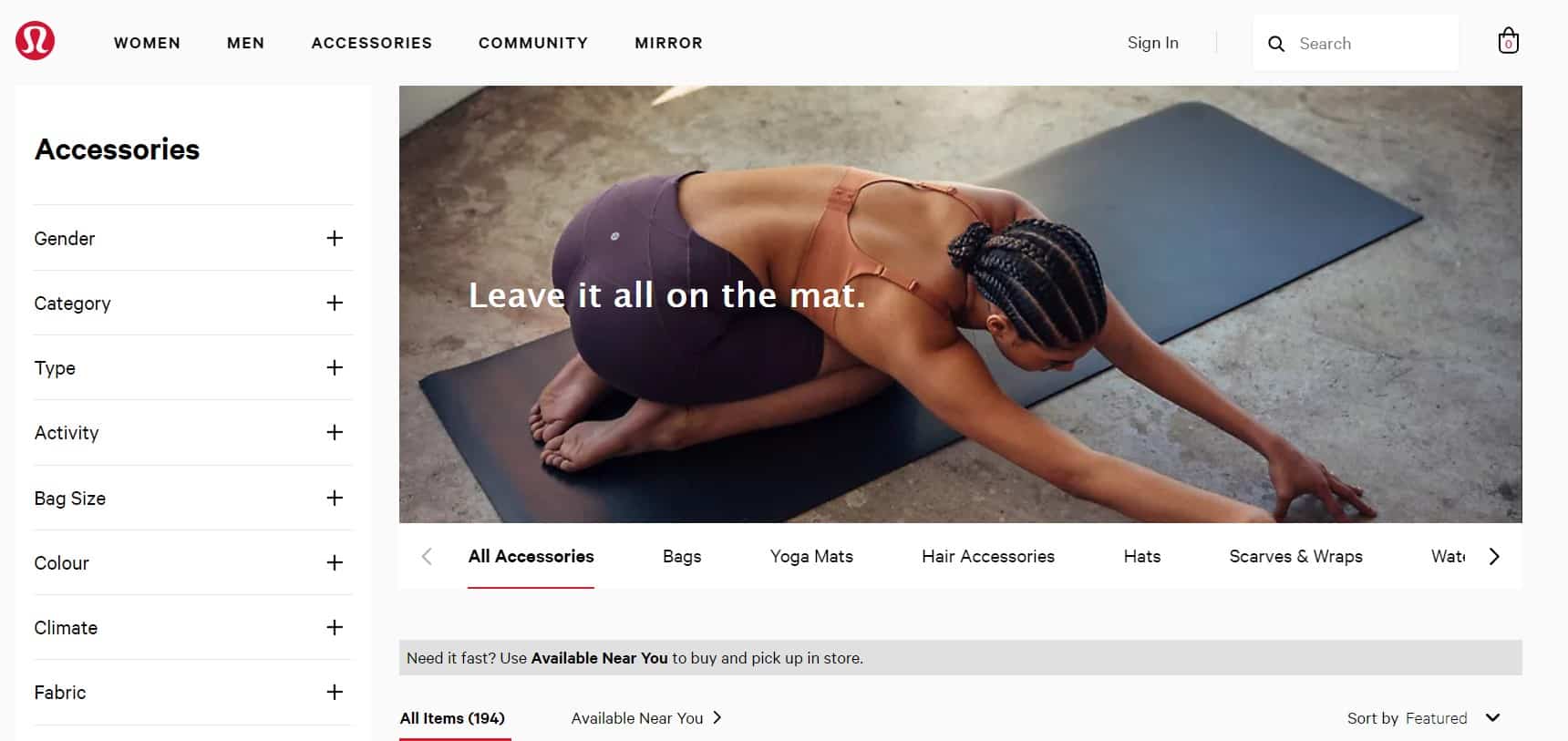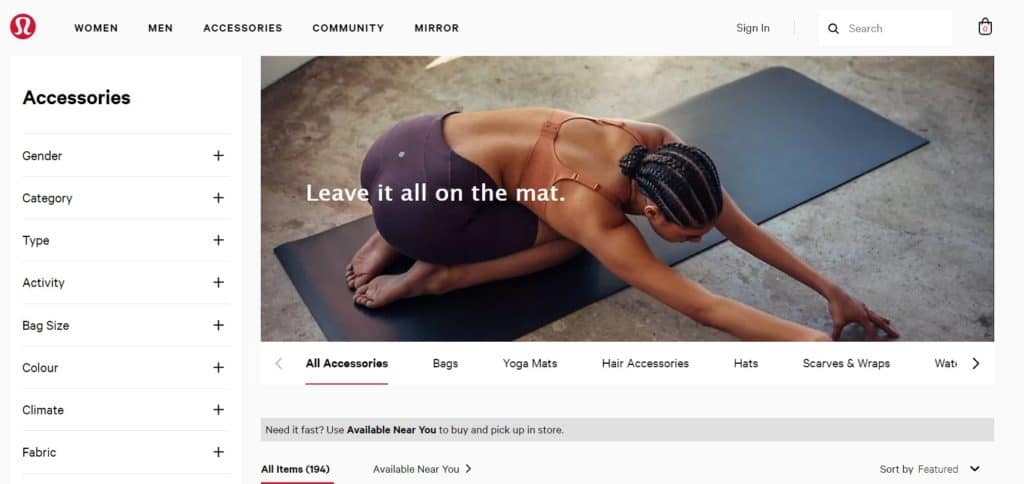 24. Everything Kitchens as a supplier for eCommerce store
Everything Kitchens was started in 2002 and became a popular one-stop for the best products at home and especially in the kitchen: from cookware to bakeware, dinnerware to glassware, appliances to gadgets, and all things in between. In total, Everything Kitchens offers 13,000 items within 200 kitchen brands. And more products are constantly added. Everything Kitchens provides 1-3 days nationwide fast shipping and free on orders over 49.95$.
But there is no international shipping. Returns are available during 30 days. Its customer support appears to be good and people highlight it frequently. Additionally, the company offers a rewards system where their buyers get a special point on each 1$ spent on Everything Kitchens products, leaving product reviews, and subscribing to their newsletters. These points will give an additional discount on the checkout process. By the way, Everything Kitchens commonly have discounts, special codes, and clearances. In regards to the dropshipping program, there is no such thing there yet.
Wholesale/retail: It's a US Retailer.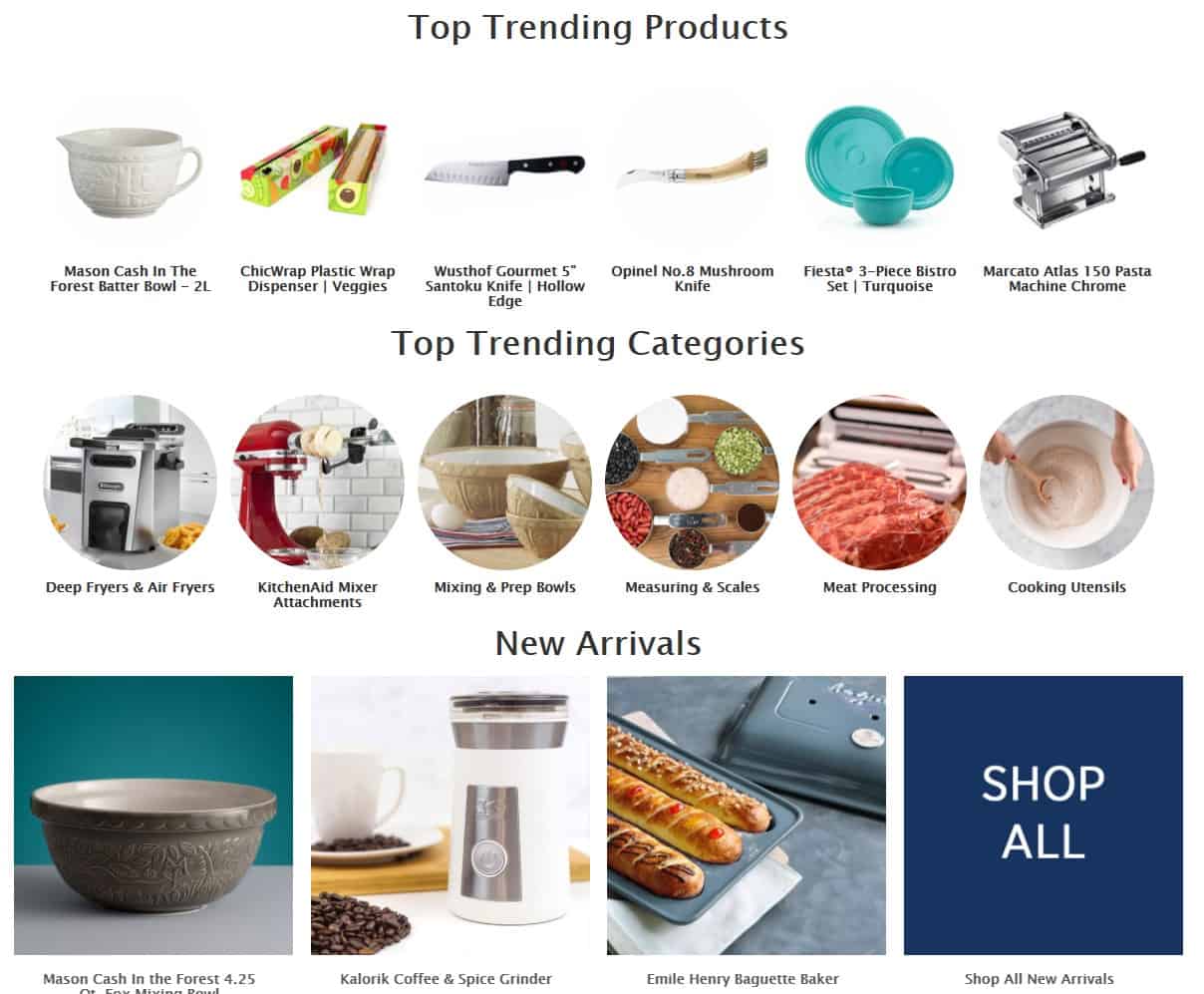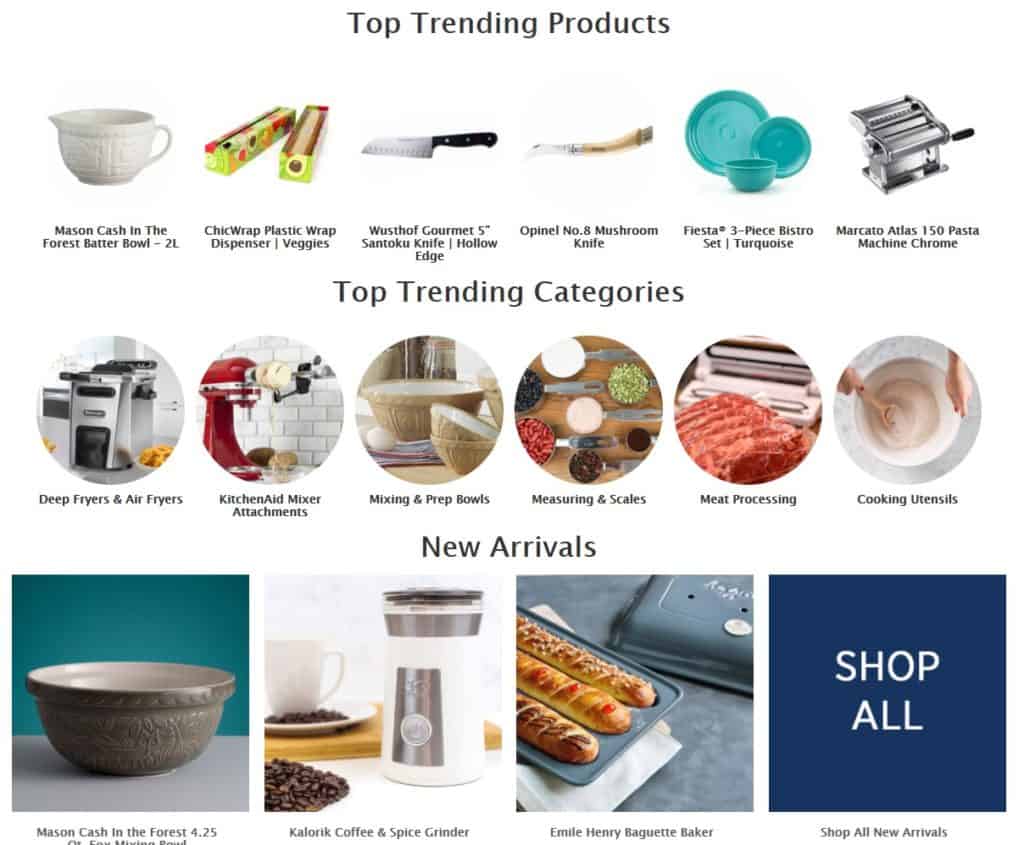 25. Kohls as a supplier for dropshipping clothing
Kohls is a famous American department store retail chain founded in 1927 and operated by Kohl's Corporation. On its website, Kohls sells everything you need for yourself and your home – apparel, shoes & accessories for women, children, and men, plus home products like small electrics, bedding, luggage, and more. It doesn't offer a dropshipping agreement. However, the site has the Kohl's rewards program: it allows you to earn 5% rewards on every purchase and collect cash. Moreover, you can find many deals, special offers, and clearances on Kohl's products here. The company raises the activity towards turning into a more sustainable supplier as well. A standard kohl's shipping time takes 3-6 days. There is a possibility for free delivery, but on orders over 75$. Otherwise, 7.99$ shipping fees are added. Kohl's return policy allows customers to return most of their products, except electronics, within 180 days after the original purchase date. Summarizing all said above, online sellers of eco-friendly products can pay attention to this dropshipping supplier.
Wholesale/retail: It's a US Retailer.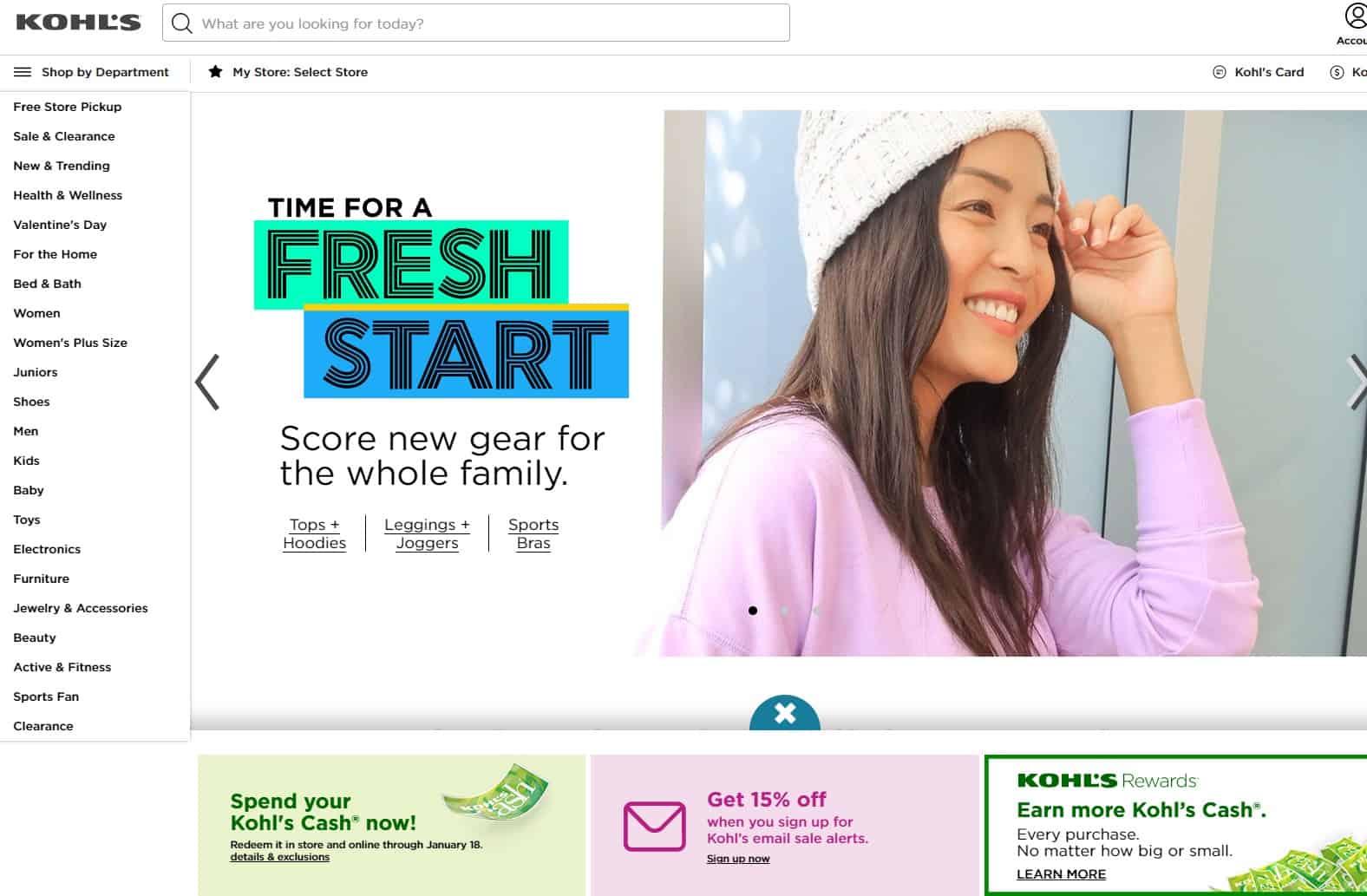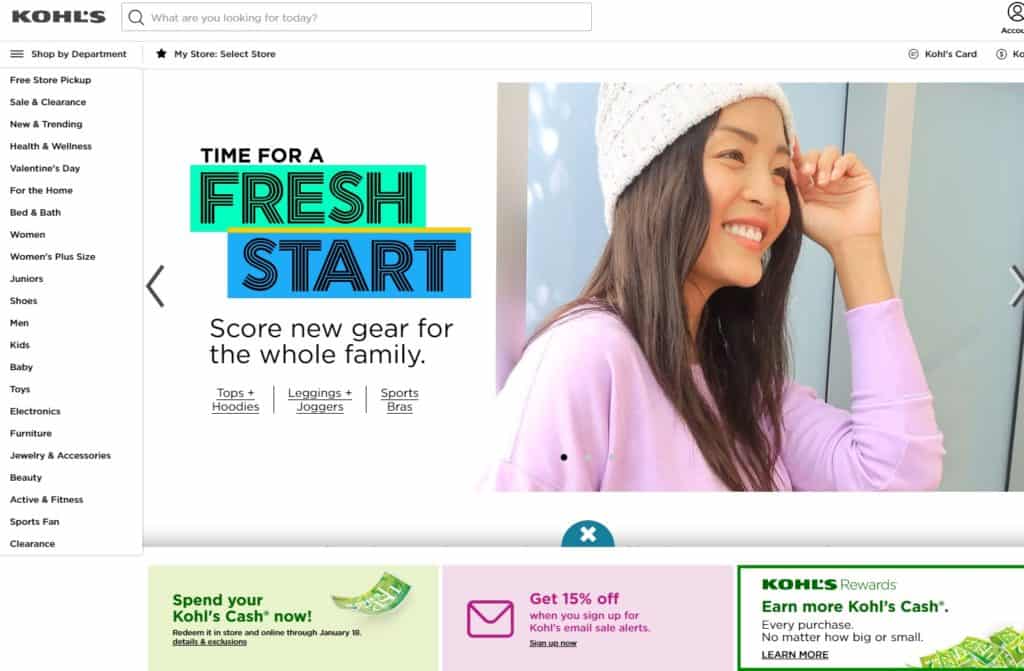 26. Dropshipping from IHerb
IHerb is one of the largest dropshipping suppliers USA of natural products. The company, founded in 1996, sells more than 30,000 items, among which there are nutritional supplements, health foods, and personal care products. Besides, there are items for the home, children, and pets. A comprehensive website menu helps to find what you need among all the variety of the products. All iHerb orders are shipped to over 150 different countries from their US and South Korea warehouses with free delivery on orders over 20$. Be attentive, as some of the IHerb products cannot be shipped within the United States or certain states due to brand restrictions.
IHerb offers 3 ways of getting rewards on its site: by leaving reviews, answering users' questions about the products, and sharing IHerb products with others. It doesn't offer any dropshipping program and work carefully with returns: 90 days returns are available for iHerb exclusive products and 60 days return policy for the rest of the items. It's necessary to contact their customer support to confirm the product can be returned and refunded.
Wholesale/retail: It's a US Retailer.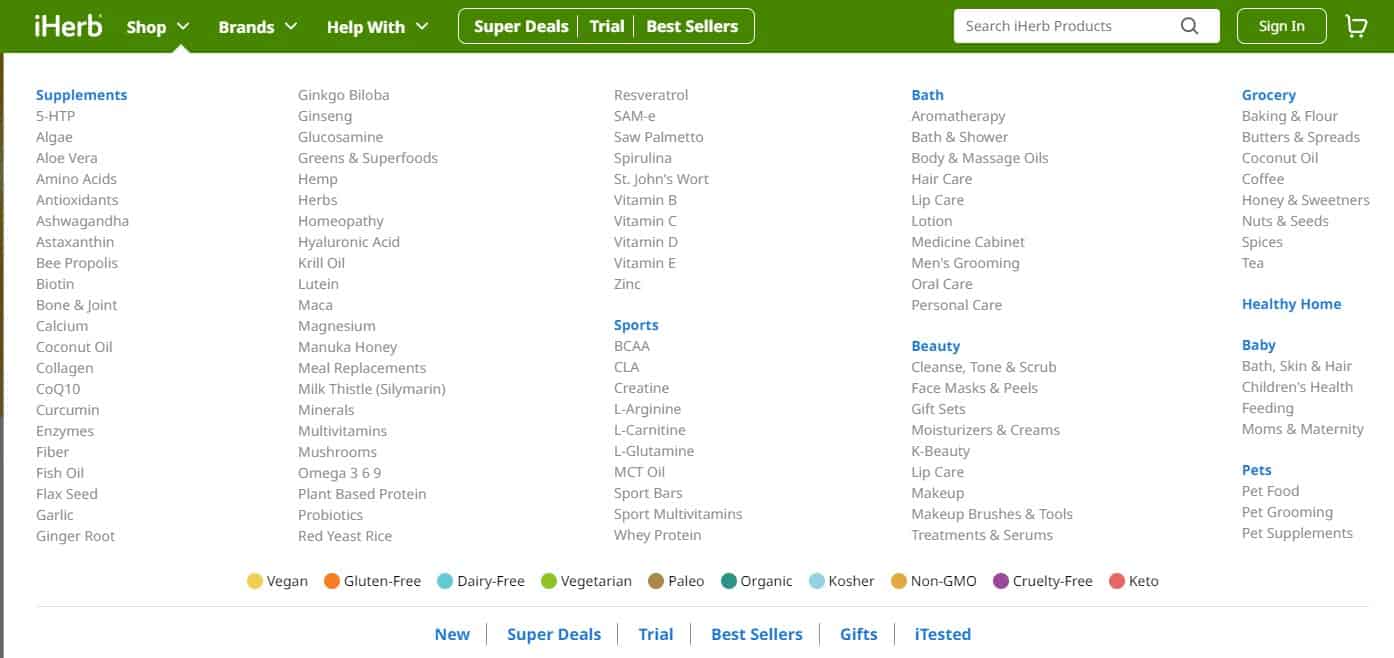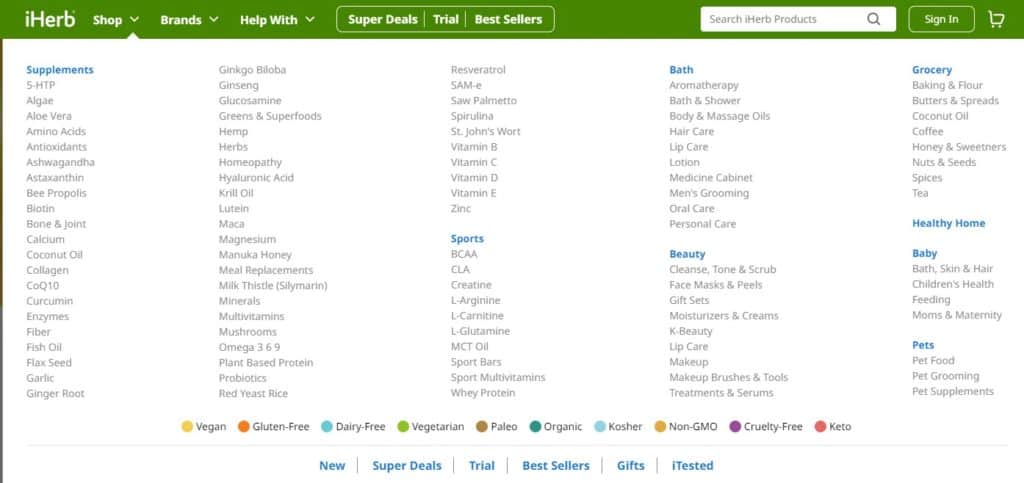 27. Staples as a dropshipping website
Staples is an American office retail company. It was founded in 1986 and currently, Sycamore Partners company owns it. Staples focuses on selling office supplies and related products. On its website, you can find, for example, business essentials, printers, computers and electronics, office furniture, printing services, safety supplies, and facilities maintenance products. Besides, the Staples site gives special discounts, savings, and perks every day.
It's possible to join a Staples reward program for free. It gives cashback, free delivery, and access to bonus events. Unfortunately, they don't offer a dropshipping agreement and international shipping. As the delivery time depends on the type of product, for instance, office supplies can be returned at any time, technology and furniture has 14 days for being returned, etc. Anyway, Staples shipping policy supposes fast and free shipping on orders over 49$ or as a part of their reward program.
Wholesale/retail: It's a US Retailer.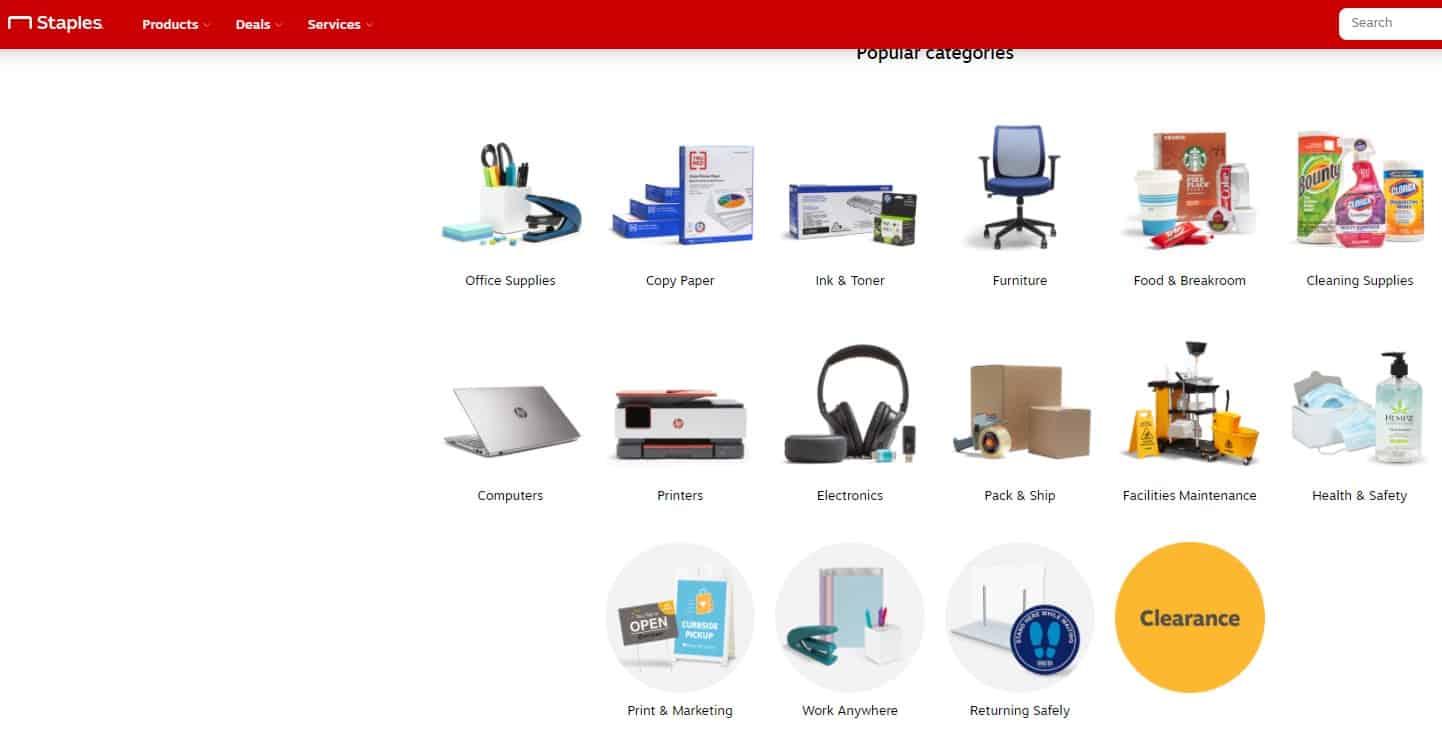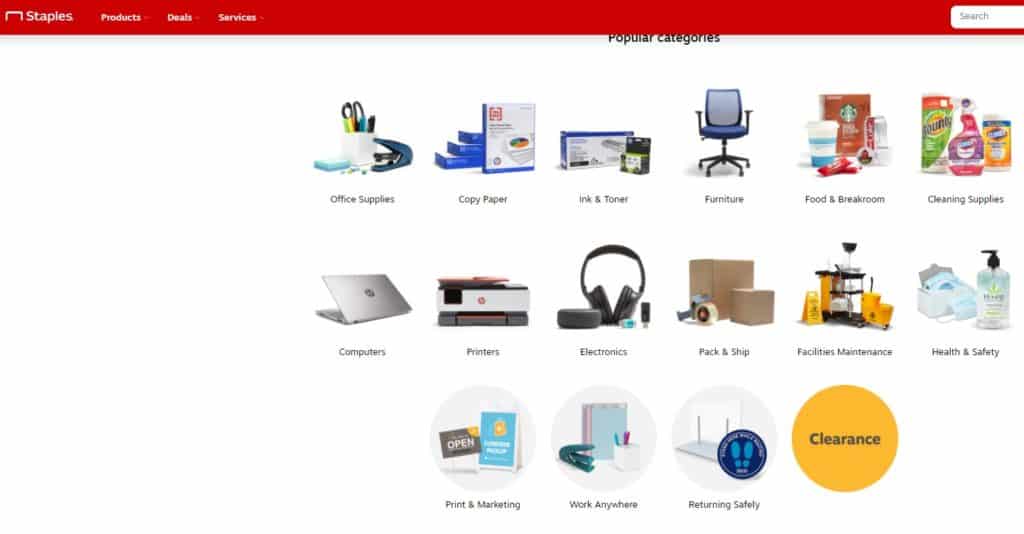 28. MidwayUSA
MidwayUSA is an American eCommerce company founded in 1977. The company is mostly selling various hunting, shooting, and outdoor-related products. It offers more than 84,800 items among which there are air guns, ammunition products, archery products, black powder guns, camping and survival products, clothing, footwear, gun parts, gunsmithing supplies, hunting gears, knives and tools, military supplies, optics, reloading supplies, self-defense, and police products, shooting gears, as well as books, videos, and software.
Tip
Have you ever considered dropshipping books? Books are an incredibly popular product all over the world, which means your potential customer base is huge.
MidwayUSA provides fast and low-cost shipping. The shipping fees depend on the order weight, product, and buyer's location, starting from 6$. Note that they don't ship internationally. It has a 90-day return policy on unused, unaltered products in original packaging with all accompanying manuals, instructions, and accessories. Plus, it's necessary to be attentive in choosing the products from their site for reselling, in order to not source the items that violate the policies of your marketplace or shop.
Wholesale/retail: It's a Retailer.
Walgreens is an American company that operates as the second-largest pharmacy store chain in the United States. It specializes in health and wellness products. All of the Walgreens items are divided into 15 categories: beauty, personal care, medicines, supplements, household, toys, baby products are some of them. Besides, the company provides printing projects. They have clearances, special discounts, offers, and deals on their website, which allows you to gain extra profit.
29. Walgreens as a supplier for drop shipping
If you want to get more perks, you can join for free my Walgreens benefits program. This loyalty program will give you 1% cashback and an extra 5% discount on Walgreens branded products. In total, Walgreen has 3-7 days fast shipping, but to only 50 US states. Free delivery will be available on orders over 35$. As for the returns, most Walgreen products have a 30-day return policy, but the item must be accompanied by the original receipt included with the shipment. In regards to the reselling program, there is no such one there.
Wholesale/retail: It's a Retailer.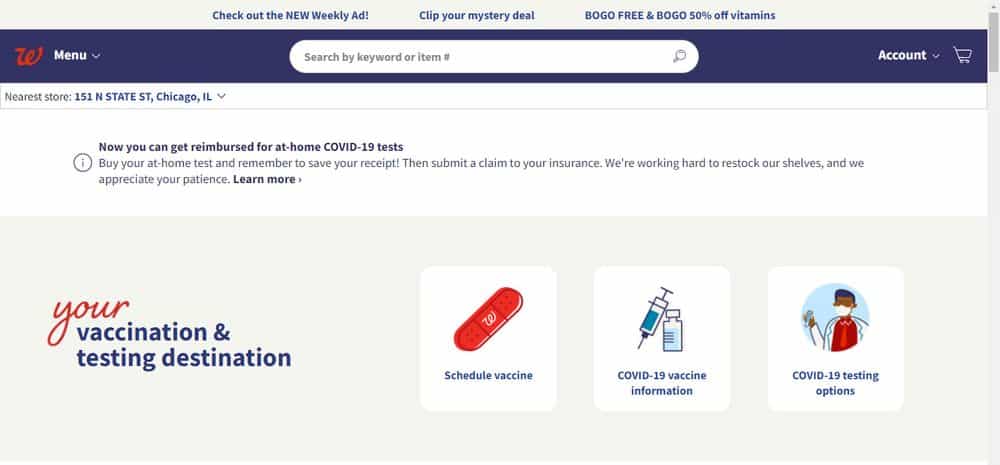 30. Woot

for Dropshipping in the USA
Woot is an American e-retailer founded in 2004 as a daily deals site. If originally they offered only one product per day with a special deal, nowadays Woot has multiple daily deals and other short-term sales across 7 different categories, along with special site-wide events like Woot-Offs and other offers. So you can find the products under the following categories: Home & Kitchen, electronics, computers, tools & garden, sports & outdoors, shirts, and grocery & household items. Since Amazon currently owns Woot, owners of Amazon prime receive free shipping and 30 days returns. But pay attention to the following information as it might cause problems: its shipping period is longer than other dropshipping suppliers USA offer (within the United States with 2-13 delivery days) and Woot doesn't offer international shipping.
Additionally, you can link your account in Woot with your Amazon account. The disadvantage of its supplier is that they don't offer a customer support service, if any problem pops up, it's necessary to contact the manufacturer directly or drop a message in the Woot forum. Besides, if you want to dropship from Woot, you need to keep in mind that they operate with a one-deal-a-day business model, so you will need to make sure that you renew your inventory daily. Besides, the site limits the number of products to 3 items a day per 1 customer.
Wholesale/retail: It's a US Retailer.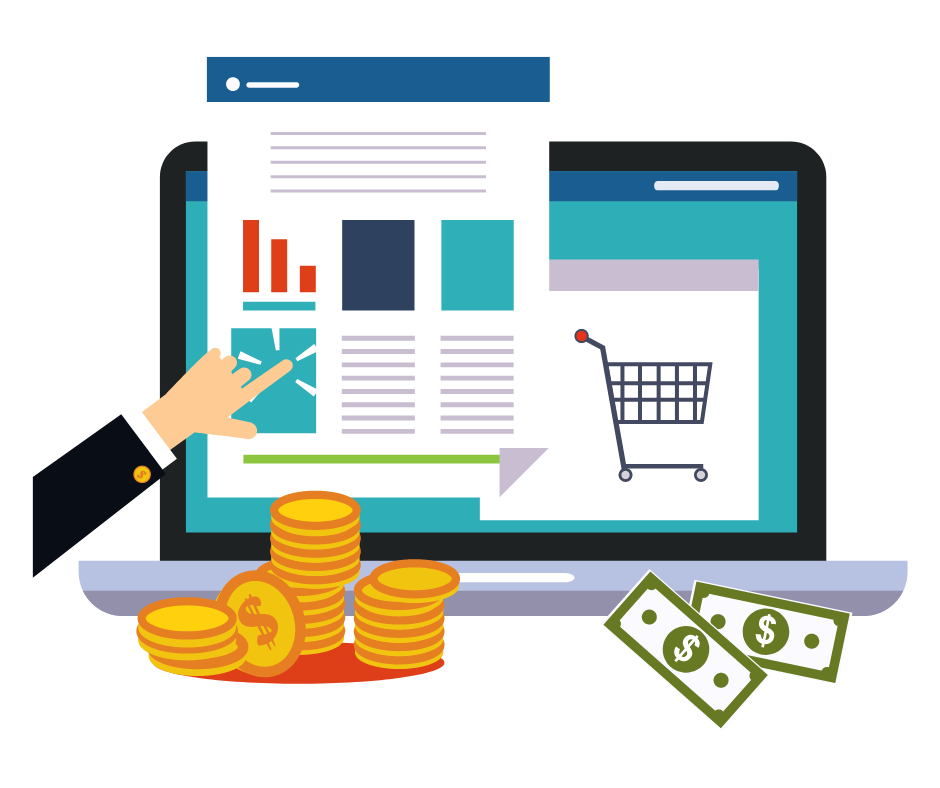 Don't wait for the profits, make them!
Start a profitable dropshipping business with DSM Tool. Get a free course and a free trial of the software.
31. Mirage pet – USA dropshipping supplier of pet products
Mirage pet products is an American manufacturing company with over 100 years of combined experience. It produces nearly 100,000 original pet products: fun pet apparel, holiday clothing, strong dog and cat collars and other accessories, cute pet toys, traveling items. All are with the wholesaling prices.
This dropshipping supplier is friendly for reselling and offers a special program. Mirage Pet Products does not charge a dropship or subscription fee, only shipping cost and the cost of the product. Mirage Pet Products orders are processed within 1 day and their shipping time is normally 2-3 business days. The shipping is paid to start from 4$. However, it is possible to get free shipping on orders over 1000$. You can find more information about the delivery fees here. If you decide to join their program, it's enough to create an account there and indicate the title of your selling shop to enter their program. You can notify them that you are willing to dropship and get access to an excel file with all important information about their products and get high-quality images for them. Note also that this supplier covers only defective products.
Wholesale/retail: USA Wholesaler.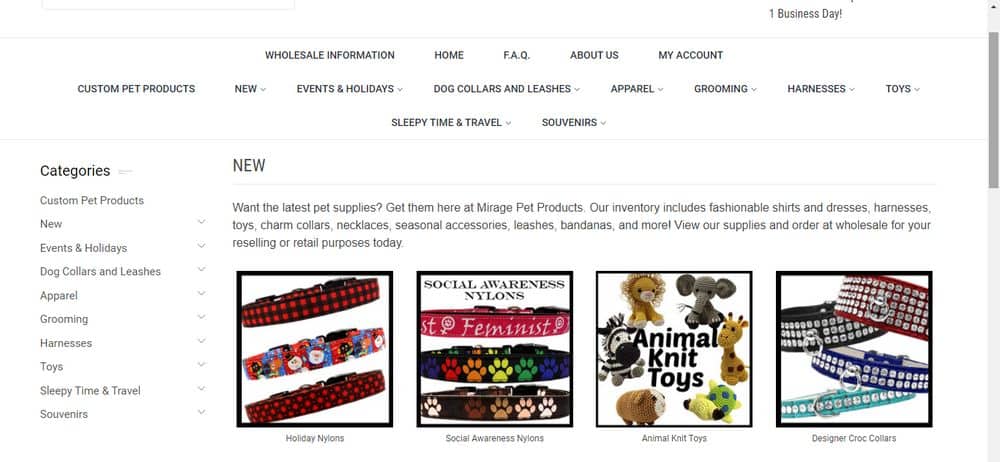 32. Dropshipping from Brandless
Brandless is an e-commerce company that manufactures and sells products under the Brandless label. The company was founded in 2015. During their crisis in 2020, Ikonifi and Clarke Capital Partners companies acquired it, so Brandless is back and offers quite a pile of items. Their site sells everything from beauty and hair products to grocery staples and home goods, travel, and baby products. Brandless provides free shipping on all domestic orders greater than 40$ and 100-day-returns for all their items. Although, first it is necessary to contact their support on help@brandless. com.
Wholesale/retail: It's a US Retailer.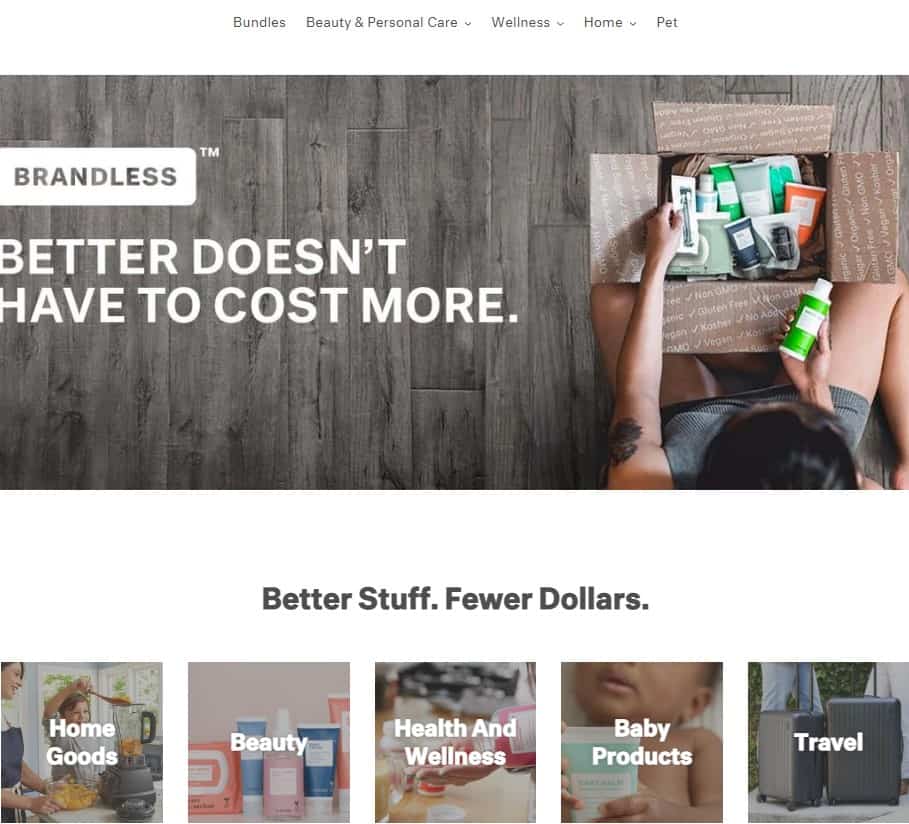 33. SeeBiz – Get Into Direct Contact With US Dropshipping Suppliers
SeeBiz is a B2B wholesale marketplace and business networking platform for manufacturers, wholesalers, distributors, and retailers. It features 1000+ verified vendors and 650,000+ products. SeeBiz is a free wholesale marketplace that caters to ten major industries including apparel, health, electronics, beauty, sporting, toys, art, and more.
This B2B website provides a platform for buyers and suppliers to connect with each other. However, the shipment of products depends on the terms and agreements between the supplier and buyer. This arrangement is great for dropshippers as there will be no third-party involved.

Wholesale/retail: Wholesaler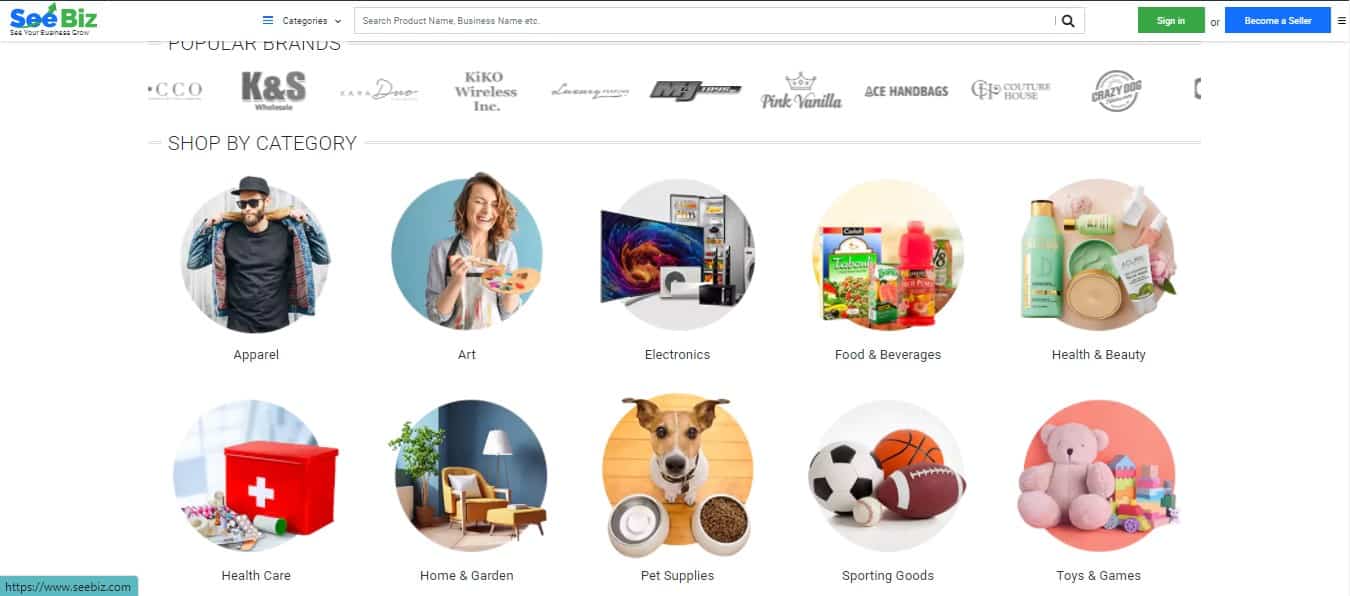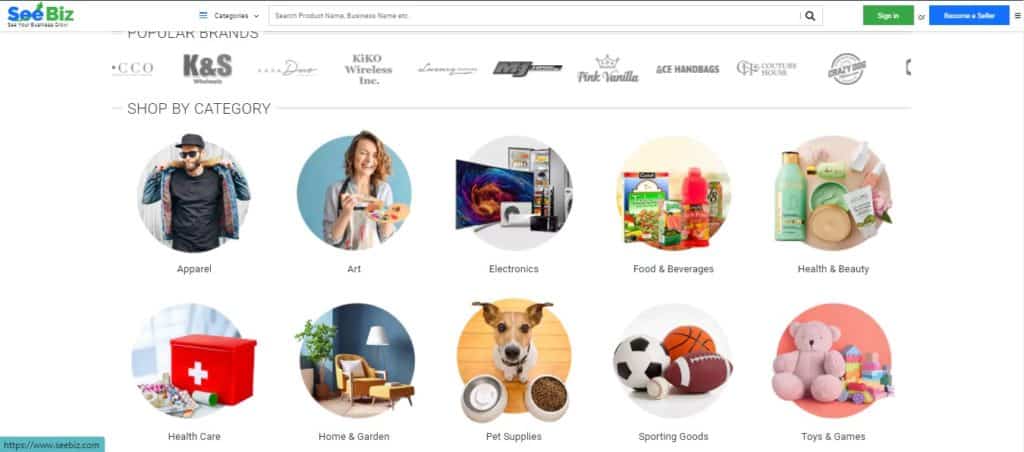 The fact that over 230.5 million Americans shopping online in 2021, comes as no surprise that the United States is one of the leading e-commerce markets. Customers are becoming more and more demanding in terms of quality and speedy deliveries meanwhile dropshipping business requires selling products that stay profitable enough for them and are still affordable for their customers. Who can offer an alternative to US suppliers?
The next five companies are not US-based dropship suppliers but have the great advantage of possessing USA warehouses while still offering low prices.
Free International Dropshipping Suppliers With US Warehouses
Many dropshippers are working to get a six-figure income and are asking if shipping from USA warehouses can help them to reach their goal faster. The good news is that dropshippers no longer have to rely on lengthy Chinese shipping schedules, as AliExpress for example also has warehouses across the USA and Europe.
Here is the list of the US drop shipping companies (+those who have warehouses in the USA) whom you can use for free to resell their products in your eBay or Shopify dropshipping store.
Let's get started!
34.

VidaXL
VidaXL is an international online retailer, with headquarters in Venlo, the Netherlands. The company was founded in 2006. This dropshipping supplier will help you to find any kind of home, garden, garage, sport, children, pet, and business stuff. There are 20 categories and more than 100 subcategories of the products with competitive prices. Besides, you can search for daily, weekly, and extra deals on their site.
Fortunately, VidaXl has a dropshipping program, available for 29 countries. It allows you to resell around 16,000 VidaXL products in your e-Commerce shop all around the USA, Australia, and Europe with 1-6 days of free shipping. But it´s not available for Australia and it doesn't ship internationally so far (it doesn't ship to Puerto Rico, the Virgin Islands, San Juan Municipio, Military Posts (APO / FPO), Hawaii, Guam, Palau, Federated States of Micronesia, Marshall Islands, and Alaska.). Except for the access to their products, VidaXL takes the responsibility to provide good customer service and fulfill your orders without putting invoices to the packages.
Wholesale/retail: Retailer.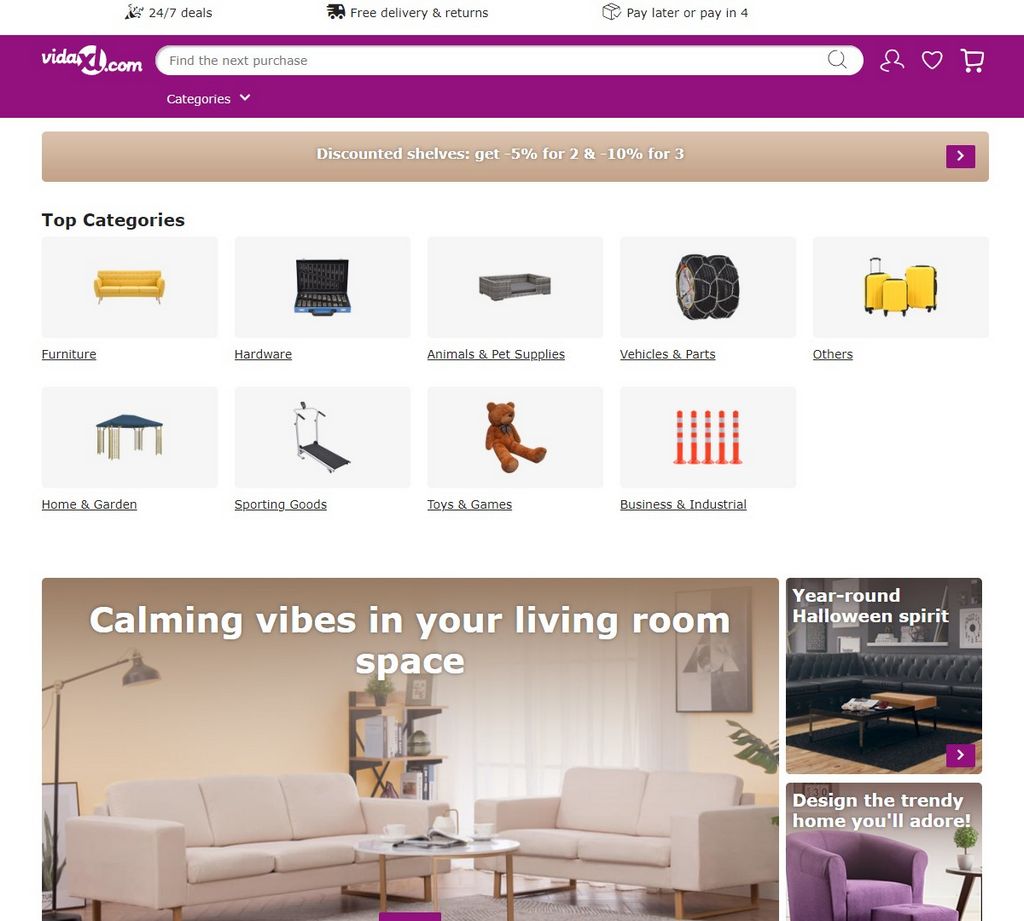 AliExpress is one of the world's largest e-commerce websites. It's a part of Alibaba Group and has more than 200 million active users around the world. The best thing is that you can discover manufacturers for almost any product, all at a low cost. And one of its warehouses is situated in the USA! You can also start your dropshipping business on AliExpress, which is a free drop shipping platform.
The site is compatible with AliDropship, a WordPress plugin for AliExpress dropshipping. Otherwise, you can simply dropship from AliExpress on other eCommerce platforms or web stores. Remember that Chinese manufacturers and different sellers sell the same products at different prices, so you would need to dedicate time to find a good Aliexpress seller and recheck the product quality.
When it comes to AliExpress shipping, most sellers are based in China and use different shipping methods: AliExpress Standard Shipping, ePacket, FedEx, etc. The shipping time is 3-4 weeks in average, but when you choose USA warehouses the shipping time is just 4-7 days. Most of the sellers on Ali Express tend to refund you if you can prove that the product is damaged, didn't arrive, or that the wrong item arrived.
Wholesale/retail: it's a Retailer.


Chinabrands is a leading global dropshipping company based in China with warehouses in the USA (and in other 45 countries). The company offers a full-service dropshipping solution, including product sourcing, product publishing, automation, and shipping, among other things.
ChinaBrands' catalogs contain over 500,000 products, including clothes, bags, shoes, accessories, jewelry, health products, and beauty products. Every day, the company adds new wholesale products to its catalogs.
With over 5000 certified suppliers in its network, Chinabrands allows you to find and dropship whatever you're interested in with no minimum quantity required. Plus, it can be integrated into more than 20 platforms (Amazon, eBay, Shopify, and others). Another great thing is that they provide a dropshipping agreement on reselling their products and as it has US warehouse it offers a shorter shipping time of 1-5 business days. If it's a product quality issue within the valid warranty period (3C products: 30 days, non 3C products: 15 days), returned shipping fees are undertaken by Chinabrands as well.
Wholesale/retail: Wholesaler.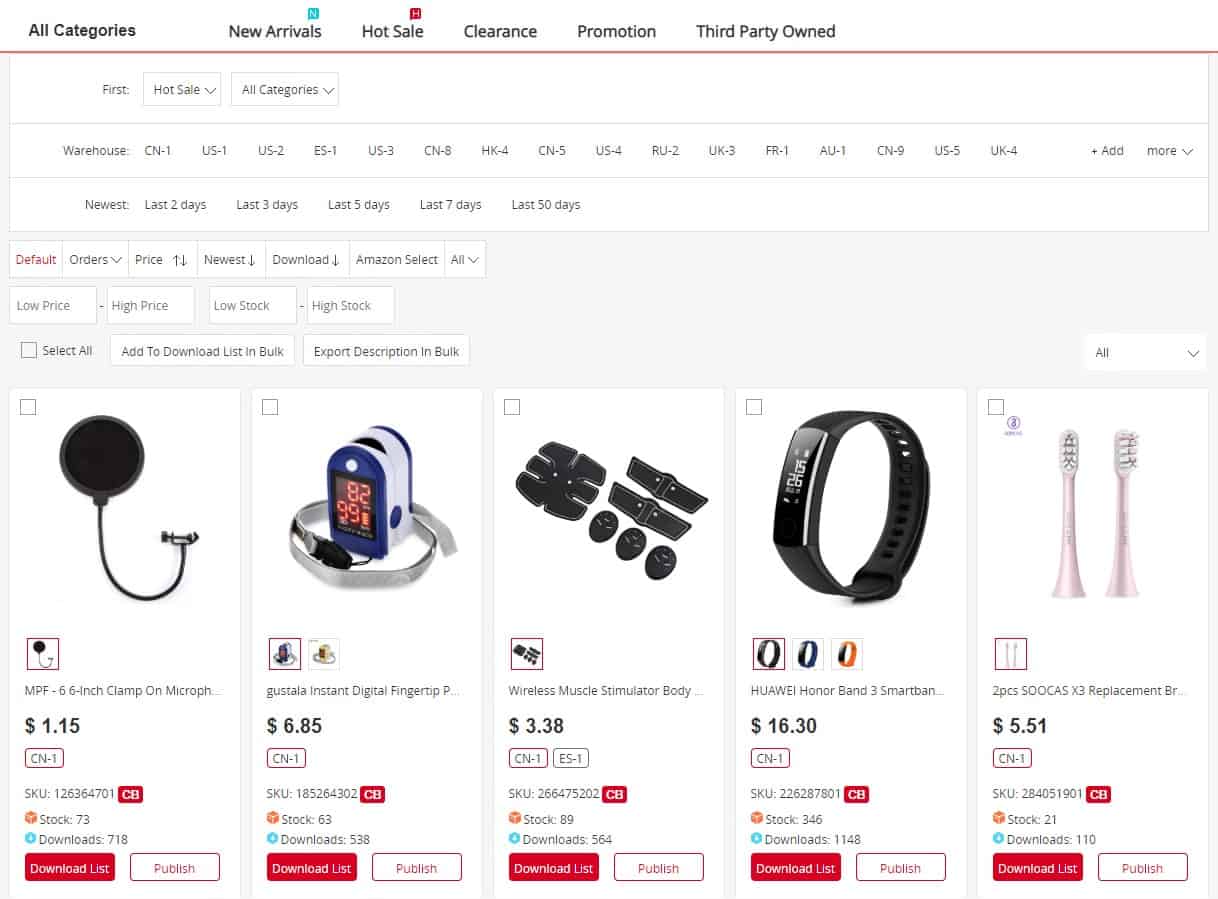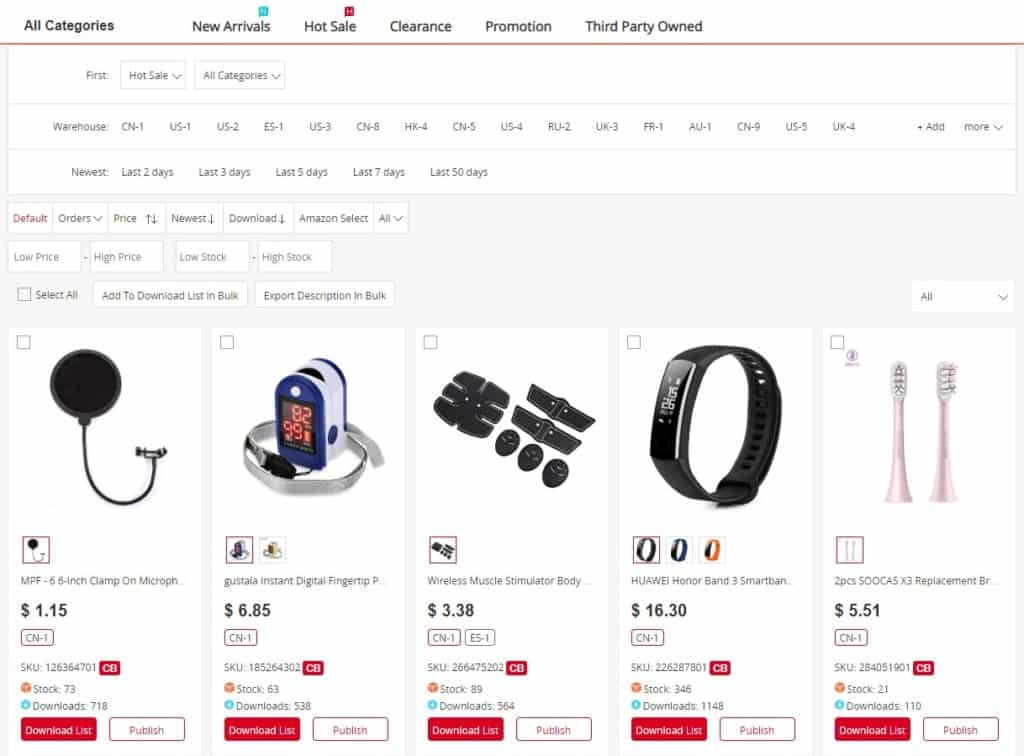 37. Wholesale Central – Another Directory Of Wholesale US Dropshipping Suppliers
Wholesale Central is another excellent dropship company without membership fees. There you can choose only wholesale suppliers through a big number of product categories (including "Made in the USA"). Once you've decided what you want, they give you a detailed list of products to browse directly from the manufacturer's website. It's a business-to-business page that doesn't sell to customers. No hidden costs, so you get a bigger profit margin potential.
You may also contact dropshippers there and use the site to search locations nearest to you, which can lead to a more reliable partnership. Shipping time and returns policy will depend on the seller.
Wholesale/retail: Wholesaler.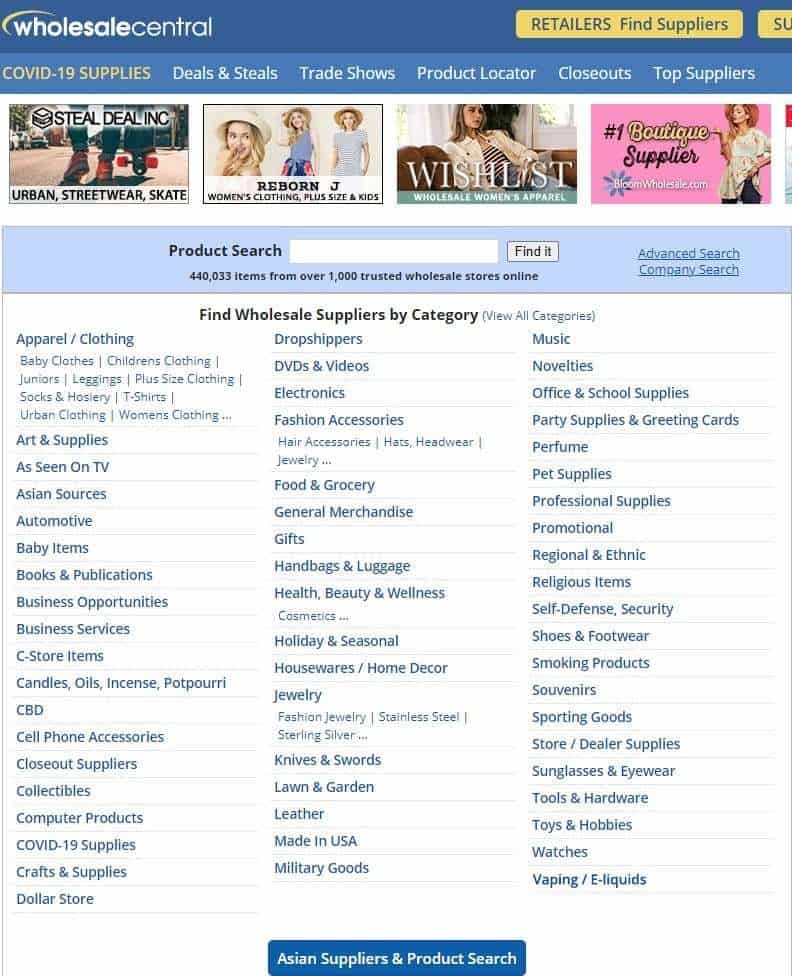 CJ Dropshipping is a Chinese company that provides a one-stop solution for dropshipping. They source goods, process orders, fulfill them, and ship to buyers. They also offer additional drop shipping services such as photo and video taking. Print-on-demand and white-labeling services are also available.
They have more than 200,000 product listings and warehouses in China, the United States, Thailand, Germany, and Indonesia. The featured products are often cheaper than what you'll find on AliExpress, and they can also source products on your demand. Besides, CJ Dropshipping performs the product's quality checks to ensure their high quality.
Despite CJdropshipping does not charge a setup or monthly drop shipping fee, some of their services are paid. For example, warehousing services and shipping fees. Finally, they offer their own fast shipping method, CJ packet, that can deliver packages to the United States in as fast as eight days. Returns and refunds are allowed by CJdropshipping within 30 days. Note, it doesn't send invoices or receipts automatically and it's not so profitable to dropship heavy products from it due to big shipping fees (the bigger is the item, the more expensive is the delivery).
Wholesale/retail: Wholesaler.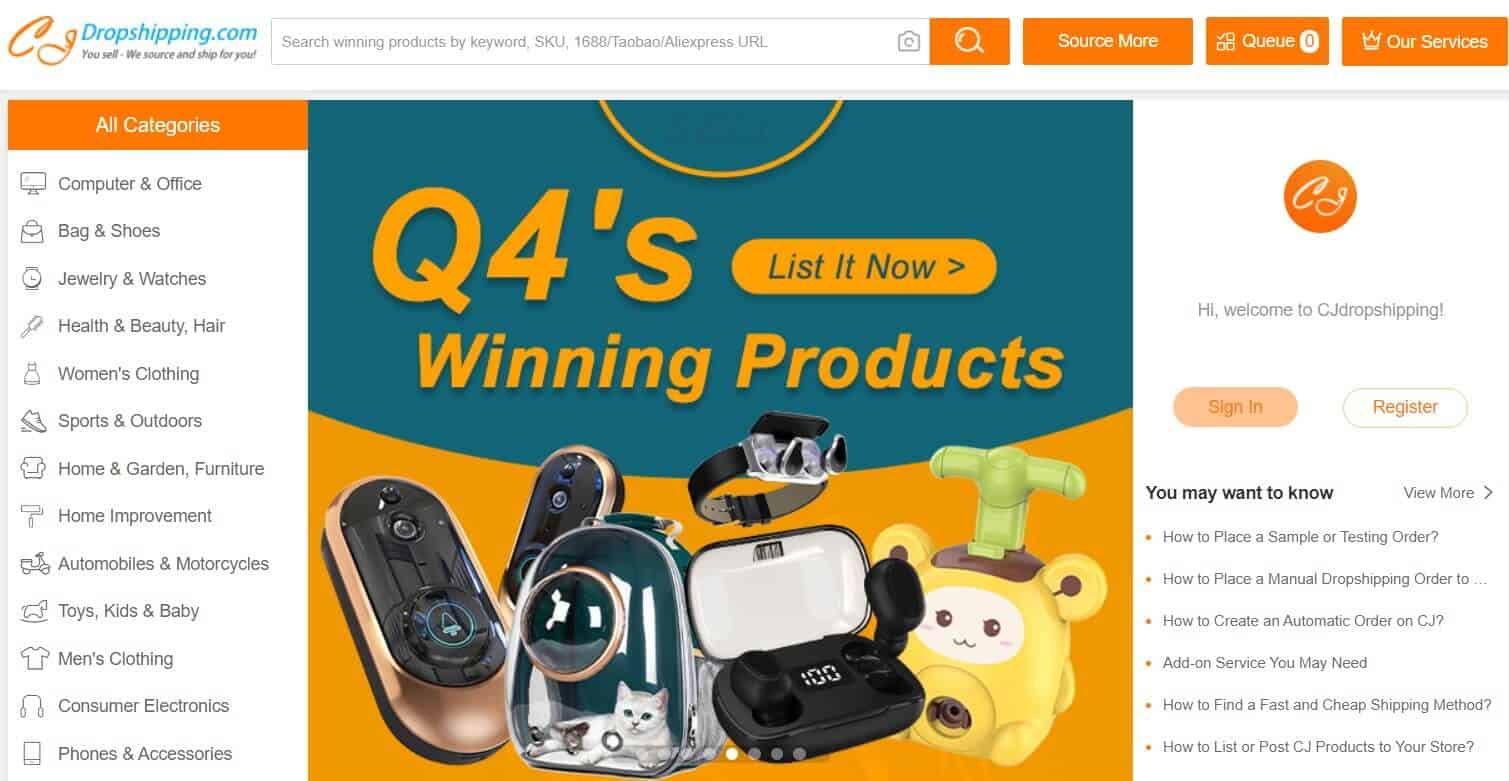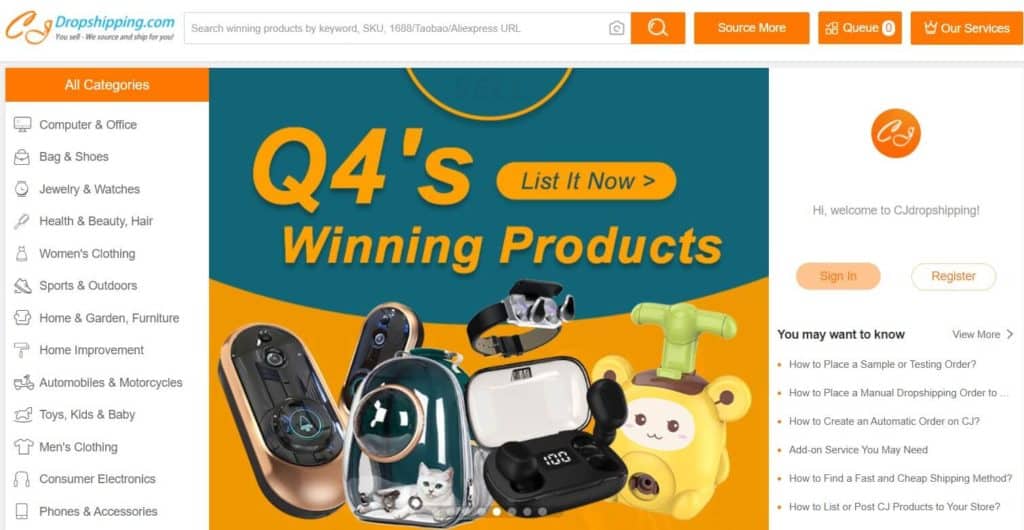 39. Oberlo – a Platform For Sourcing From US Dropshipping Suppliers
Oberlo is a dropshipping platform that makes it easier to run a dropshipping business, search products from legit and verified dropship vendors. Especially for dropshippers who dropship with AliExpress. The company offers various warehouses in the USA. Though it has many international users as well. It's possible to start for free but some services will require extra fees. Popular shipping methods like ePacket, Chinliexpra Post, AliExpress Shipping or UPS/DHL/FedEx.
You can choose the free Starter plan (completely free), and once your business has grown, you can upgrade to the premium Basic (29.90$ per month) and/or Pro (79.90$) plans.


40. Big Drop Ship – Free Dropshipping Site with Wholesale Products
Big Drop Ship was established to ensure that business owners do not suffer the responsibility of keeping and controlling big product inventories. Instead, they can focus their attention on increasing dropshipping sales, marketing, and promotion of their products. BigDropship has over 500 verified and pre-approved resellers with their own online store to sell your products (if you have your brand) and offers you 4-8 days shipping within the USA. No need to handle refunds, to pay shipping or warehouse fees. This supplier offers its service and doesn't ask for any fee for signing in or continuing using Big Drop Ship.
Wholesale/retail: Wholesaler.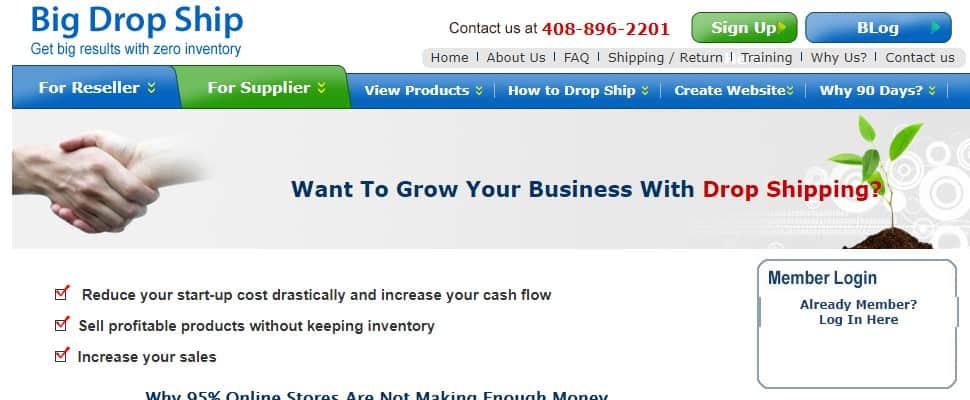 41. Toptenwholesale – a Directory of US Dropshipping Suppliers
Toptenwholesale is a leading whole trade network that links store owners and dropshippers, like you, with wholesale suppliers, distributors, importers, or resellers of both used and new products. Since this site is primarily a trade board, you can only see listings for products and suppliers.
The products are well laid out and categorized for easy navigation, and you can access the seller's site by clicking on any link. You can find the Hot Buys from the site's wholesale suppliers there as well, but some of the items can be bought only in bulk. It's also a useful tool for locating popular items and their suppliers. All their vendors are based in the United States.
Wholesale/retail: Wholesaler/Retailer.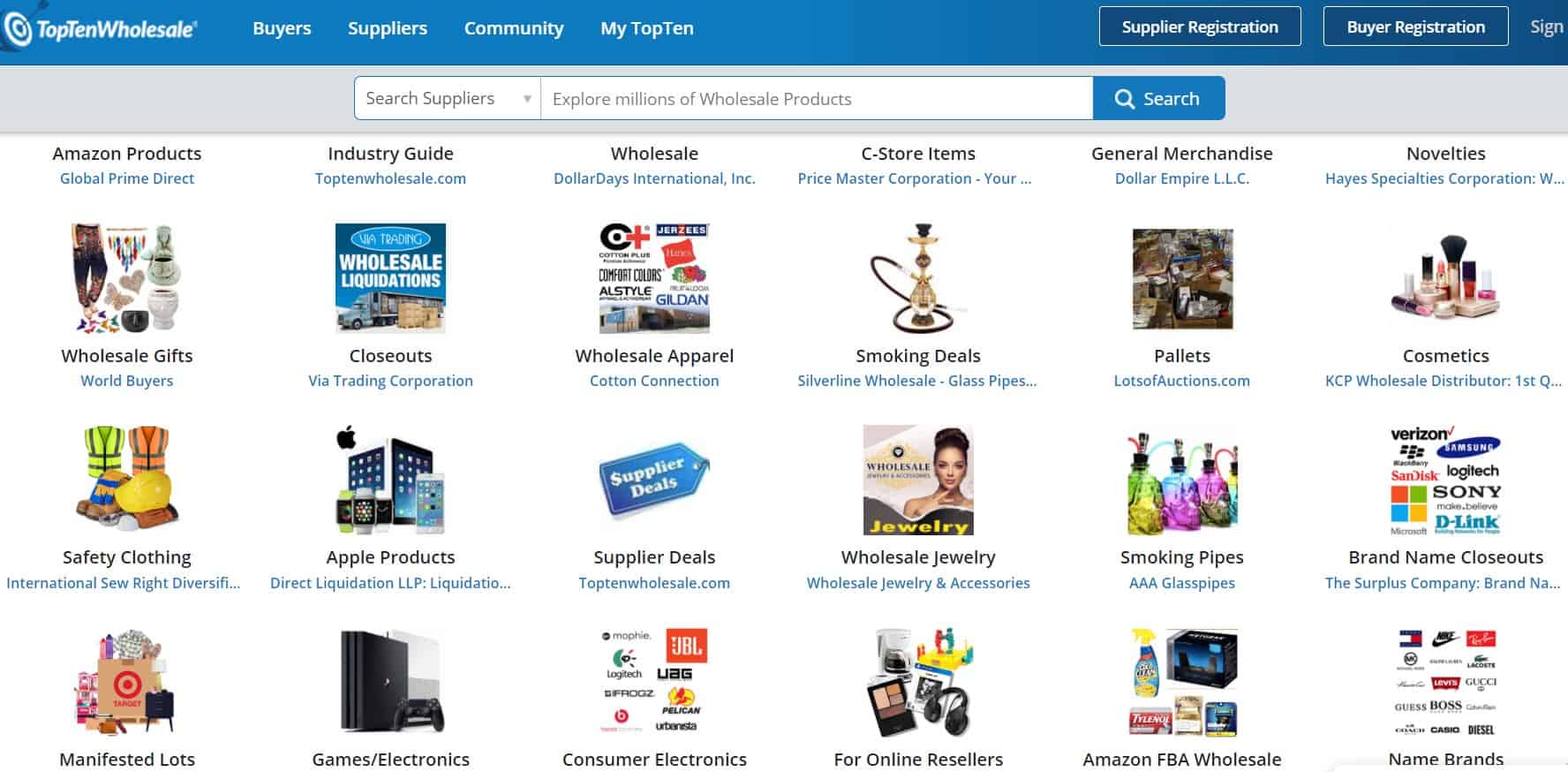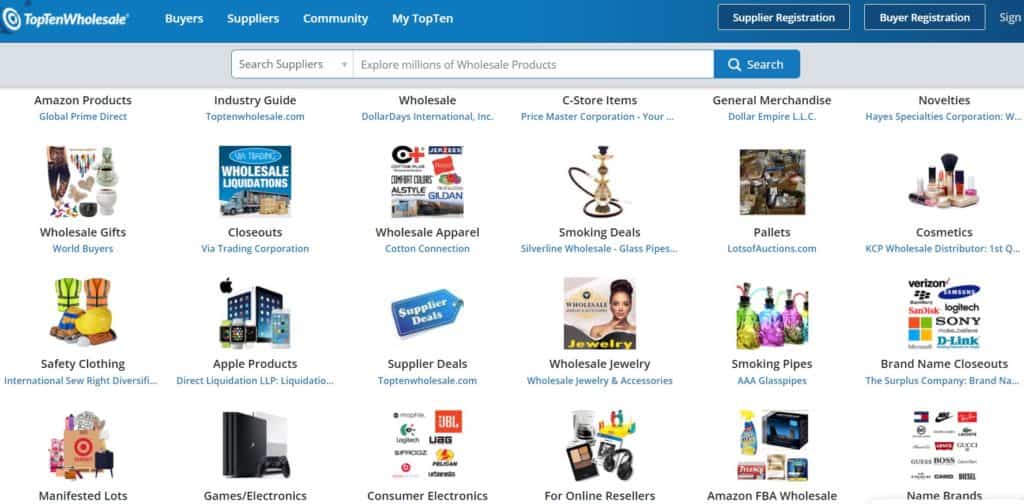 Dropshipping from dropshipping suppliers USA will give your American customers a much more streamlined service. This will include not only faster shipping times, but speedier delivery too. You will be looking at delivery of around 2-4 days in general which helps to build a much more sustainable and stable business model.
How to find US dropship suppliers?
Finding reliable dropshipping suppliers USA might be time-consuming, but these tips should help you:
If you want to find American dropshipping suppliers, check wholesale directories.
To locate suppliers, try keywords like "supplier," "distributor," "reseller," "wholesaler," and add words related to the products you are going to sell in your store.
You can also google phrases like "best us clothing dropshipping suppliers" or "top us pet dropshipping suppliers" as an example and check the first page of organic results. However, keep in mind that wholesalers aren't necessarily the best marketers, so even if they don't show up on the first page of Google, it doesn't mean they're bad at what they do.
Use Ali Express to find dropshipping suppliers USA. Surprised? Here is our article which will help you to learn more and benefit from the "Ship From (item location) filter".
You can also find many great options listed in this blog post.
CONCLUSION
Not all American dropshipping suppliers are the same – some are better, some worse. We hope this list of the highlighted US and worldwide dropshipping suppliers with US warehouses will bring you a truly reliable one for your eCommerce store. It's cool that you can start to work with some of them without paying membership fees! Some will stay free forever, while others will require you to choose a pricing plan. Now it's up to you to decide which one is the best for your dropshipping store.
What do you think about our list of the best US dropshipping suppliers for Shopify and eBay? And what are your favorite dropshipping suppliers USA? Let us know in the comments!