You've decided to start a drop shipping business, what do you do next? Do you need a dropshipping agreement contract? What is a reseller agreement? First things first.
Dropshipping is a great opportunity to increase your income, especially if you lack the physical infrastructure to store the inventory of a traditional store.
Finding a dropshipping supplier is one of the most vital, but also one of the most difficult aspects of this type of online business. It is the make-or-break decision for every drop shipper, which will either help to succeed or fail in eCommerce. And if a supplier provides a dropshipping agreement, it's definitely worth your consideration.
The Dropship Academy Team has prepared a guide for you that covers the next topics:
What is a dropshipping agreement?
Do you need a dropshipping agreement contract?
Where can I get a drop shipping agreement?
What to ask your dropship suppliers before starting to work with them and making a contract?
Dropshipping Agreement Contract Template
How do you get a dropshipping agreement?

ChinaBrands reselling certificate
GogoMall dropship contract
Costway dropshipping agreement
Banggood reselling contract
CJDropshipping drop shipping agreement
So, what is a drop shipping or reseller agreement, and how to get it? The answers are below.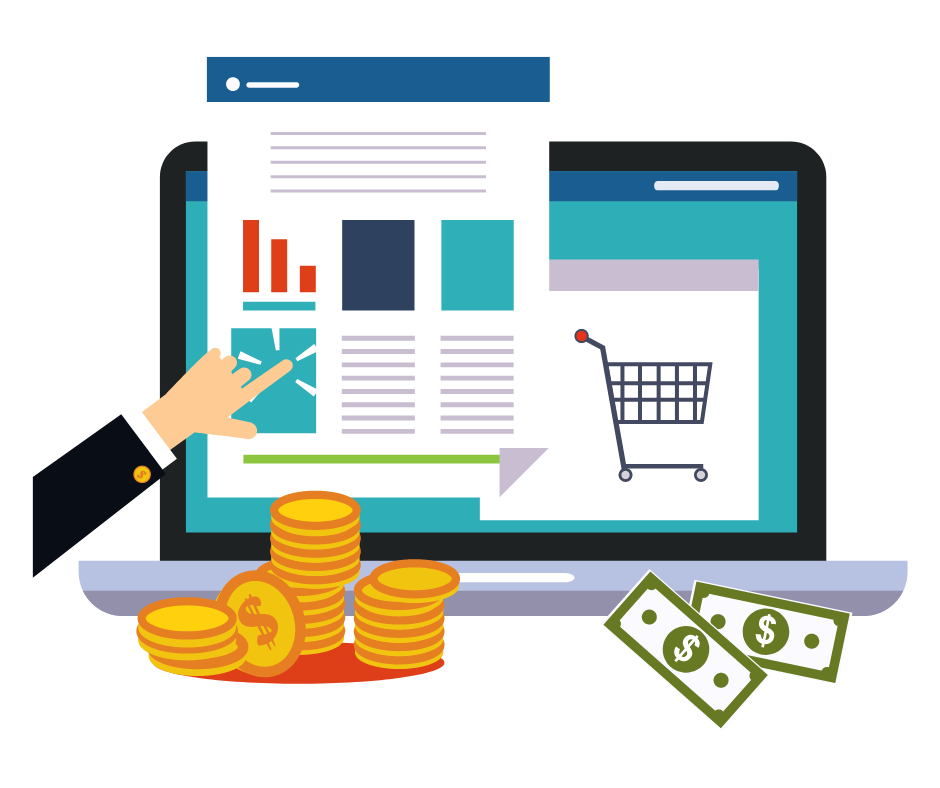 Don't wait for the profits, make them!
Start a profitable dropshipping business with DSM Tool. Get a free course and a free trial of the software.
What is a dropshipping agreement?
A dropshipping agreement is a contract between a business and the manufacturer or distributor of a product that the business wants to sell, in which the manufacturer or distributor (rather than the business) ships the product straight to the customers of this business. It is a legally enforceable agreement between a seller and a product supplier.
A Dropshipping Agreement, also known as a Reseller Agreement, is an important contract that defines fundamental conditions of the seller-manufacturer relationship, including their corresponding rights and duties.
To simplify, this type of contract allows sellers to resell products their manufacturers/suppliers provide.
Overall, a dropshipping agreement contract template is customizable and can be designed to protect the seller, the manufacturer, and the customer's interests.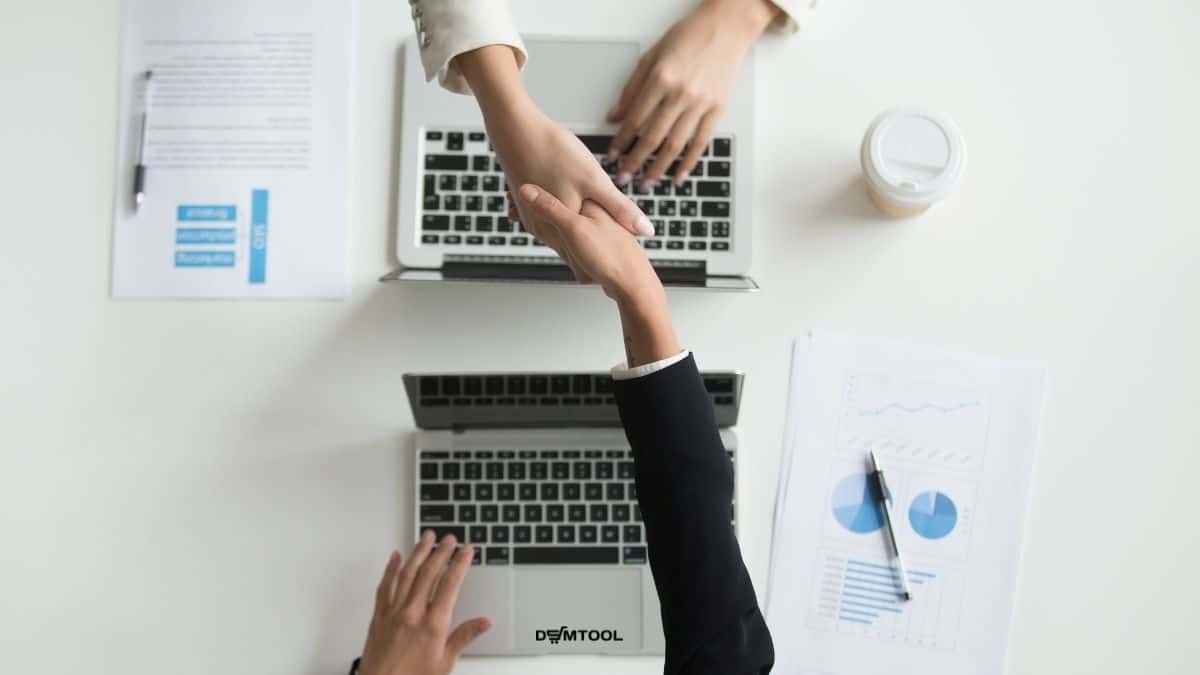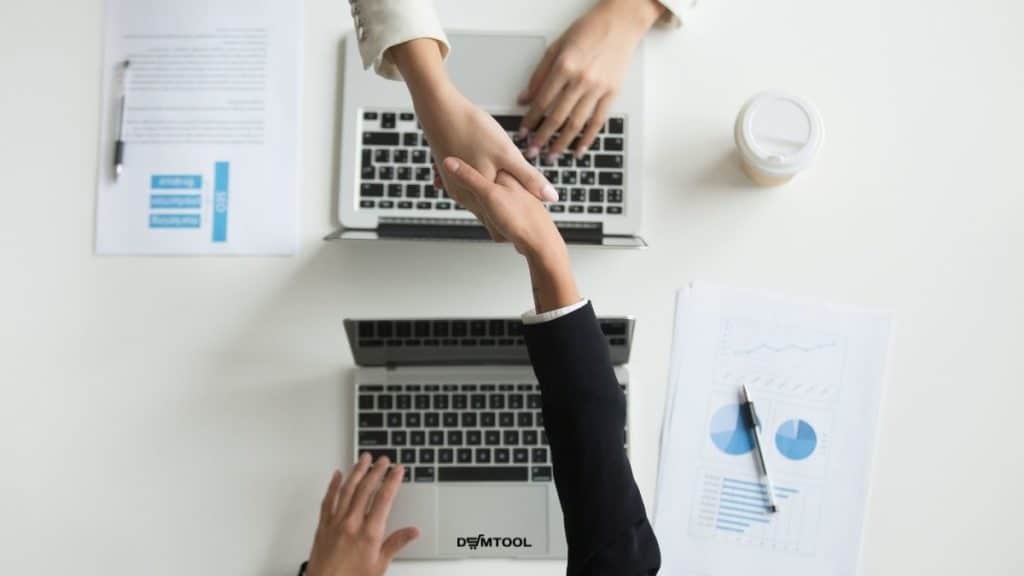 Do you need a dropshipping agreement contract?
If you're just getting started with dropshipping, a contract may not be necessary simply because you don't make enough sales for it to matter, but as your store grows, it will become necessary. Think about it, can you think of a big retail chain that isn't in any agreement with its suppliers?
You already know that you don't hold the inventory in this business model. Your supplier does it. They also ship products you've sold to your customers. They are those who are responsible for product quality, correct shipping time, the correspondence between products, and their photos or item descriptions. Any mistake your manufacturer makes will be a negative review for your store or a product return. And believe me, you definitely want to avoid it.
That's why entering a business partnership with the supplier will benefit both sides. A formal agreement that clearly specifies the consequences and costs of the situations where goods are delayed, damaged, or missing will be utterly handy. It's better than a good relationship only in words.
Additionally, to make every dropshipping business legal and transparent, many e-commerce platforms such as eBay, Amazon, Shopify, Lazada, Shopee, and others require dropshippers to upload a Dropshipping Agreement or a Fulfillment Agreement to begin selling online. Besides, certain online payment platforms or financial institutions, such as PayPal and Stripe, require such an agreement before opening a recipient account.
Where can I get a drop shipping agreement?
A drop shipping agreement must be concluded with a supplier with whom you want to cooperate by selling its products. Many dropshipping platforms provide a ready general reselling contact right on their site (find them below). If you buy from a seller from a marketplace, you can submit them the general drop shipping agreement template. But you will need to speak with him/her privately to make this contact happen. In doing so, there are a few crucial topics to negotiate with your manufacturer or distributor.
Most of them will be glad to speak with you about it; after all, you may sell their products for them. Just ask to talk with someone about becoming a seller of their products when you call or drop them a message.
What to ask your dropship suppliers before starting to work with them and making a contract?
The supplier with whom you enter into a reseller agreement must be reliable. Your business is highly dependent on the quality of the services provided by your dropshipping suppliers. To be sure the provider is reliable, you should ask as many questions as possible. Here are some examples:
Are they dropshipping-friendly?
Find out if your supplier doesn't mind you reselling their products and whether they make sure to send the packages without any branding or marketing material that will expose that they are the supplier.

What is the wholesale price they can offer you on their products?
You must ensure that the wholesale price they offer is low enough for you to comply with your profit margins. Take into account that buying from wholesale suppliers might require you to purchase ahead some inventory, that would then be dropshipped by the supplier – it's still called dropshipping as long as you don't handle the logistics of the sale.

Is there a handling fee for dropshipping? How much?
Some of the suppliers can charge dropshippers a handling fee to cover the cost of picking, packaging, and fulfilling your order. Make sure to specify to include this kind of fee in the product target price. 

How do dropship suppliers ship their products?
Ask them for a list of countries they ship their products to, and a list of carriers they work with. It's better not to presume this information, sell worldwide and then deal with order cancellations. Adjust your shipping policy in time. Most of them will use major nationwide or international shipping services. Ask them to provide you with tracking numbers in the order confirmations. Do not work with suppliers that don't offer a tracking number. it will cover you when your buyers will ask, "Where is my order?" and help you to provide better customer service.  

What is the shipping time and cost? 
In addition, get shipping times and cost for your eCommerce market (country where you sell). Include these fees in your break-even calculation or add them directly to your product's final price. Verify that your shipping policy corresponds to theirs to avoid potential misunderstandings with customers 

What is their return policy?
Find out what they will do if product returns happen. Do they provide a refund in such a situation? The most trustworthy suppliers can offer some kind of guarantee or warranty on their product quality and will handle returns for you. 
Remember that if your manufacturer does not accept returns, you will be responsible for replacing and refunding defective goods for your buyers.

How do they bill you?
It's another important question to ask your dropship supplier. It can be a singular payment after each of the orders you make. It's better to specify at the beginning if it will be at the wholesale price or not, if will it include only shipping fees or handling fees as well, and what payment method will it be. There will be a massive difference in your business's financial management depending on when you need to pay the suppliers, think of a supplier you can pay at the end of the month versus a supplier that asks to deposit a balance ahead.

Do they put the invoice in the box?
Ideally, your supplier will not put an invoice in the product box. It will save you from too many questions. Usually don't do it but it's better to highlight its importance for you.

Do they have boxes with their logo? 
If you dropship from famous eCommerce platforms (like Amazon, Walmart, Wayfair, etc.), products will arrive to your customers in boxes with their logos. However, not always. That's why it would be useful to know it beforehand.

Can your suppliers for dropshipping customize packages or orders?
Beginners, perhaps, can skip this question. But those who want to scale their dropshipping business and are working on creating their own brand can ask if it is possible to customize orders or packages there. Why? For example, some dropshipping platforms like Cj Dropshipping, offer to put a logo on the packages or add some thank-you-cards inside. Eco-friendly dropshippers care about packages' material and want to make them greener. There are also options for them. Of course, for an extra payment.  
Dropshipping Agreement Template
Below you will find a few examples of templates that dropshipping suppliers will provide you with when you ask them for a dropshipping agreement contract. These are simple documents without much legal complexity and they are mostly used for verification purposes for you. You could use them to prove to a platform like eBay or Amazon that you are an official reseller of these products.
But a reseller agreement can be customized to a much deeper level, big retailers work with an army of lawyers to write complicated contracts with their suppliers. If you are planning on a more complex agreement, here are some points that this contract should include:
 Service level agreements (SLAs), such as shipping times, acceptable and unacceptable levels of service.
It should specify the agreed wholesale price of goods, if possible.
It should set terms for returns, refunds, chargebacks, and handling fees.
It should set sanctions for handling breach of contract.
Moreover, your contract with the supplier should define your eCommerce store's policies, specifically the return and refund policy. A good store policy increases customers' trust, but you and your supplier should be prepared to back it up whenever necessary.
Well, now you know what it is and what it should include, let's find out where you can get a reseller agreement.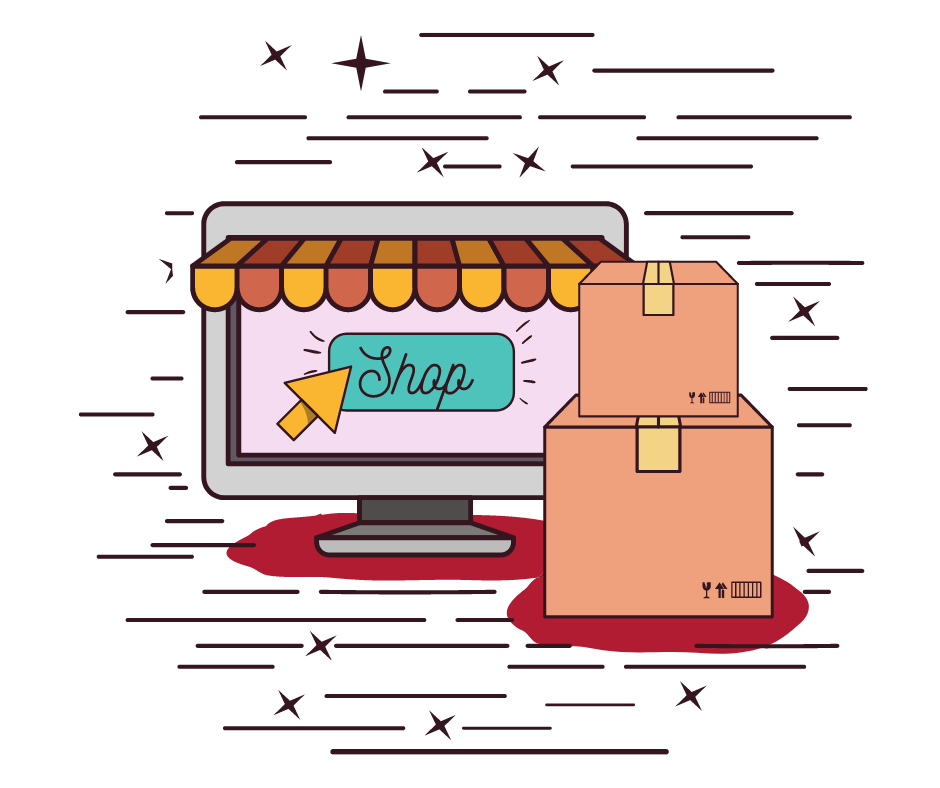 It's time…
Don't wait for success to come. Hire yourself and start your own dropshipping business
How do you get a dropshipping agreement contract?
While you can arrange a contract with almost any supplier, these are the companies that provide reseller agreements accepted by eBay, Shopify, Amazon, and others: ChinaBrands, GogoMall, Costway, Banggood, and CJ Dropshipping. Read below how to get a dropshipping contact from each of them.
ChinaBrands
ChinaBrands is an international e-commerce company with access to more than 10,000 product supplying companies to ensure the best product acquisition system in China. Their products can currently reach more than 250 countries all over the world, providing one of the best logistics services in the world.
It is a global dropshipping and distributing platform, offering cross-border e-commerce supply chain system solutions to global e-commerce sellers, which includes massive and high-quality product sources, global warehousing, cross-border logistics, IT support, etc.
ChinaBrands specializes in providing cross-border sellers simple and efficient cross-border selling experience, owning 300,000+ online products. Its' logistics channels cover over 200 districts and countries and overseas warehouses are built in 12 countries. Parcels shipped from local overseas warehouses can be received within 48 hours.
How to Get a Reseller Agreement from ChinaBrands Wholesale
First of all, sign-up for ChinaBrands dropshipping program.
Authorize your eBay store in your ChinaBrands dropshipping account. Take the same step if you sell on another platform. Click here to see the complete step-by-step guide on how to do it.
Reach $500 in sales from ChinaBrands before asking for the dropshipping agreement contact.
Send an email to likai@chinabrands.com using this format:
Dear ChinaBrands team,

My name is NAME and I would like to apply for a reseller certification letter. Please review my details below:
Registered email in ChinaBrands: your email.
Full Name: Name Surname
Store Name: your store name (for example, JohnDoeStore2019)
Sales from ChinaBrands: I confirm I have reached $500 in sales from ChinaBrands
Store Link: https://www.ebay.com/usr/johndoestore2019
Automation software: DSM Tool

Thank you,
NAME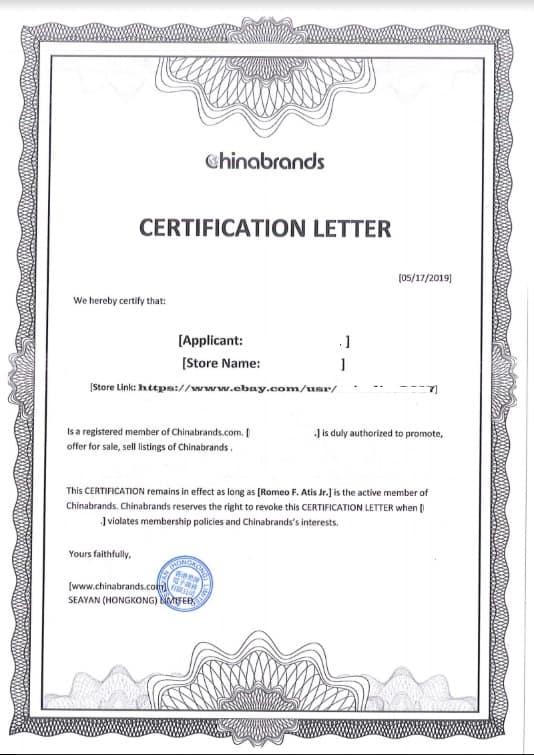 GogoMall
GogoMall is an online shopping platform in Singapore that sells a wide range of products in health, beauty, fashion, electronics, and more. GogoMall's mission is to facilitate trade between worldwide buyers and Chinese superior suppliers. They provide dropshippers with low-price and high-quality products, together with the customized services they need.
Dropshippers can find quite a diverse services on GogoMall: advertising, marketing, and promotion services, business management consulting services in the field of information technology, marketing, advertising, and promoting the retail goods and services, providing an online commercial information directory on the internet, online advertising on computer networks, sales management services and so on.
How to get a dropshipping agreement from Gogomall?
Getting the GogoMall dropship agreement is easy. The fastest way is to contact the customer support of GogoMall through Facebook, they are very responsive there. The first thing to do is to search "GogoMall Online Shopping" and click the page link.

Once inside the page, press the "Send Message" button at the right of the screen.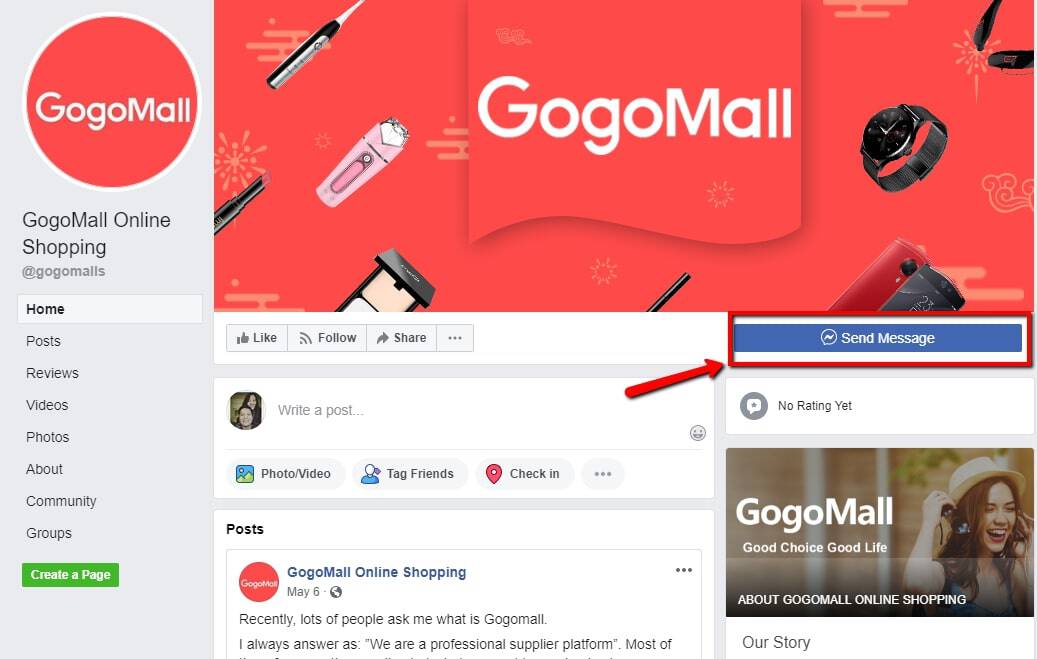 Lastly, you need to provide them the information below so that they can create the agreement.

Costway
Costway was established in 2008 and like many other online suppliers they started selling on third-party platforms like Amazon and eBay. In 2015, they set up their own online shop aiming to provide quality products and favorable prices.
With over 10 years of experience in the market, they've grown to be one of the top-tier retailers in North America and Europe. Right now, they have warehouses in the UK, Germany, Italy, Canada, France, Spain, and of course the US.
How to get a reseller agreement from Costway?
You need to create a Costway account, after that contact their support service@costway.com for more detailed dropshipping info. It will be helpful if you can give them your requirements if you are working on a specific niche for your store. Also, include in your email a link to your store and introduce yourself (as a seller) to them.
Use the following template to make sure you are sending all of the required information to the Costway team:
Hello,
My name is Name and I would like to apply to the Costway drop shipping program, please find my business details below:

Full name: Your Name
Nationality: USA/UK/Germany….
Entity type: Individual / Business / LTD company….
ID number: 12345678 (or: business tax ID)
Sales channel: eBay/Shopify/Amazon
Store links: http://ebay.com/…., http://mystore.shopify.com
Experience: X years
Automation software: DSM Tool
Notes: Once approved, please also provide me with a dropshipping authorization certificate.
Thank you very much!
Your Name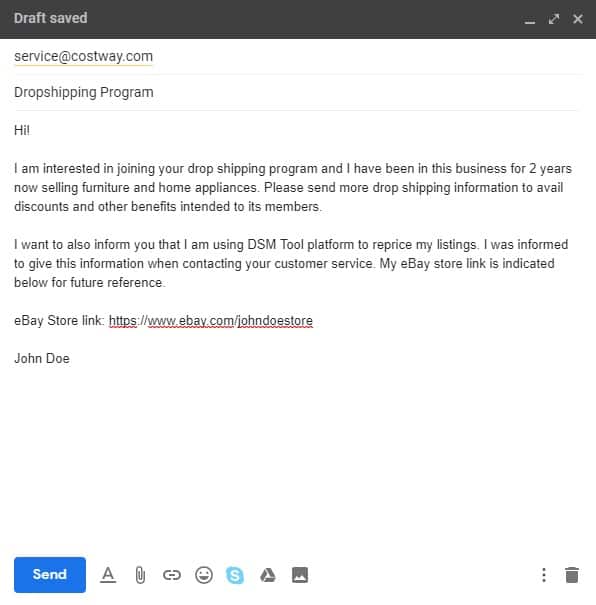 Costway response time is around 24 hours, see their message as a response to my request to dropship on their site.

When Costway acknowledges that you are authorized to sell their products for dropshipping, your account page will be updated to a dropship account page. You will receive an authorization certificate (the reseller agreement) from Costway customer support. Then you will be officially allowed to resell Costway products on the store, the link which you provided to them earlier. If you have other stores from other platforms or online marketplaces, you have to indicate them in the email message for dropshipping membership.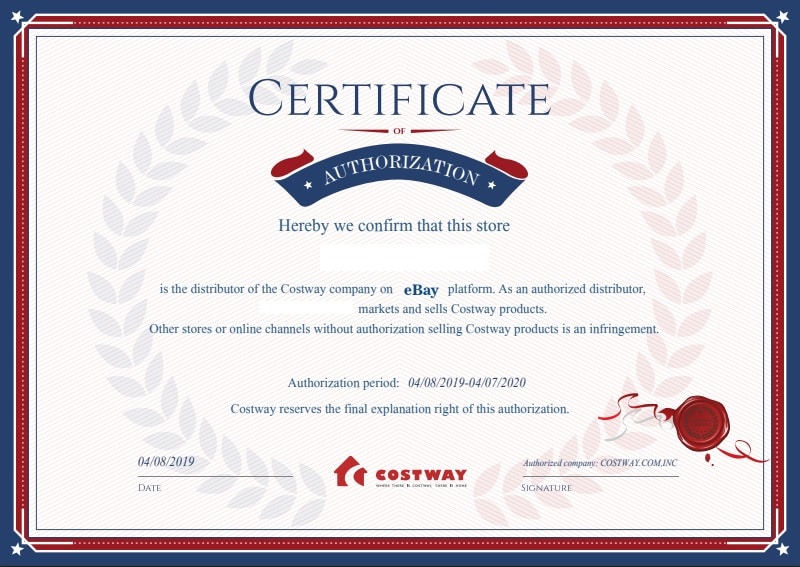 This certificate serves as protection from infringement issues from Costway, thus it protects you from eBay VeRO as well.
Banggood
Banggood focuses on B2C cross-border export e-commerce and is committed bring China's high-quality goods, efficient supply chain, and top-class customer service to the world.
Banggood has been running for more than ten years in China and has accumulated a wealth of supply chain resources. Their products are sourced from a network of trusted suppliers in 100+ regions of China to ensure only top-quality products are offered. Their supply chain sources products directly from manufacturers, removing any middleman; this allows them to offer you ultra-low prices. Banggood works closely with over 3,000 top-quality Chinese brands to offer more than 500,000 products.
How to get the Banggood Dropship Agreement
After you registered on Banggood and entered their Dropshipping program, contact dropshipping customer support with this email dropshipping@banggood.com.
Use the following format to request the agreement:
Dear Banggood Team,

My name is NAME and I would like to apply for reselling certification letter. Please review my details below:
Registered email in Banggood: teddy.p@mail.com
Full Name: Teddy A. Plouffe
Store Name: Plouffe Store
Store Link: https://www.ebay.com/usr/plouffestore
Automation software: DSM Tool

Thank you,
NAME
Once approved, you will receive an email with your Banggood dropshipping agreement.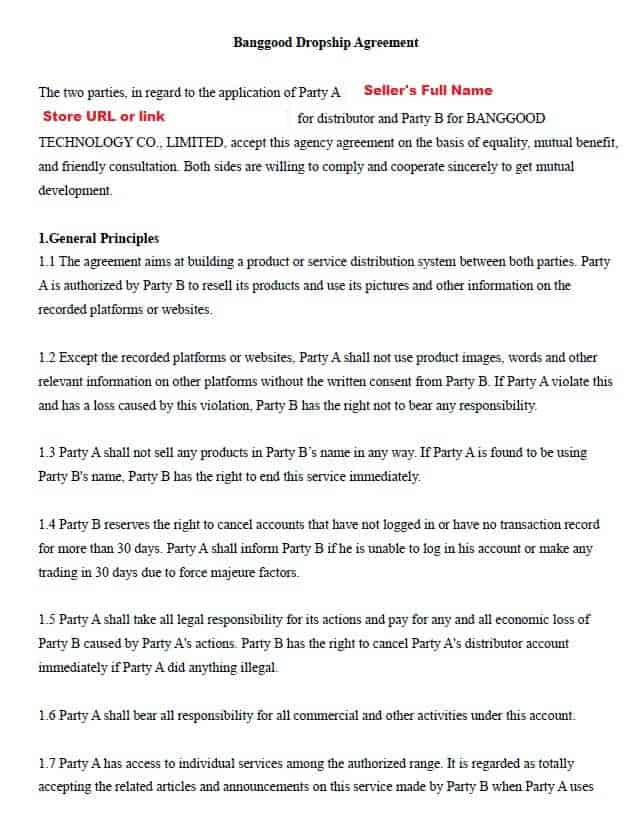 CJ Dropshipping
CJDropshipping is a Chinese company providing a one-stop-shop drop shipping service – from product sourcing to order processing right the way through to shipping fulfillment; CJDropshipping handles it all. On top of that, they offer a warehouse service, photo and video taking, an affiliate program, and API Support, amongst other additional services.
The principle of CJDropshipping is straightforward: You sell while CJDropshipping sources and ships for you. They boast a product catalog of over 400,000 items with a supplier base covering ¼ of the global market.
No matter what you want to sell, there's a good chance you'll find it on CJDropshipping. CJ also has thousands of print-on-demand products you can customize with your own designs. This service is available for both you and your buyers – so you can empower customers to add their own personalizations to the products you're selling!
How to get a dropshipping contact with CJ Dropshipping?
It is relatively easy to get a dropshipping agreement with CJ. You need to fill out the draft found here and fill in your details.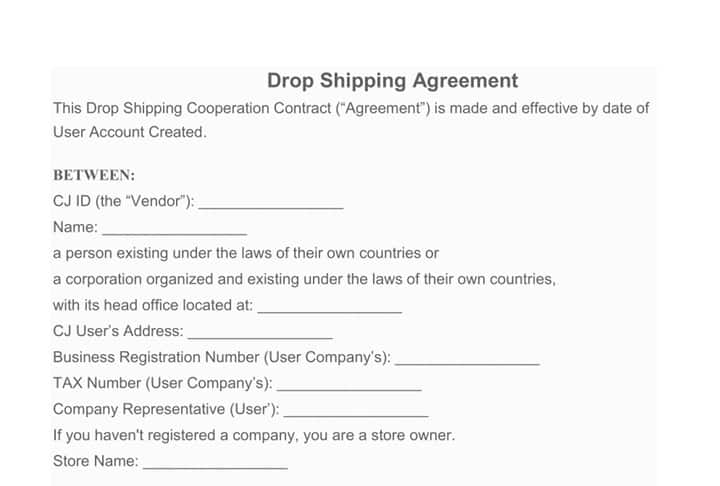 After that, send the filled document to your CJ agent to get the official seal. Any reseller agreement will be invalid without the seal or drafted by a non-CJ partner.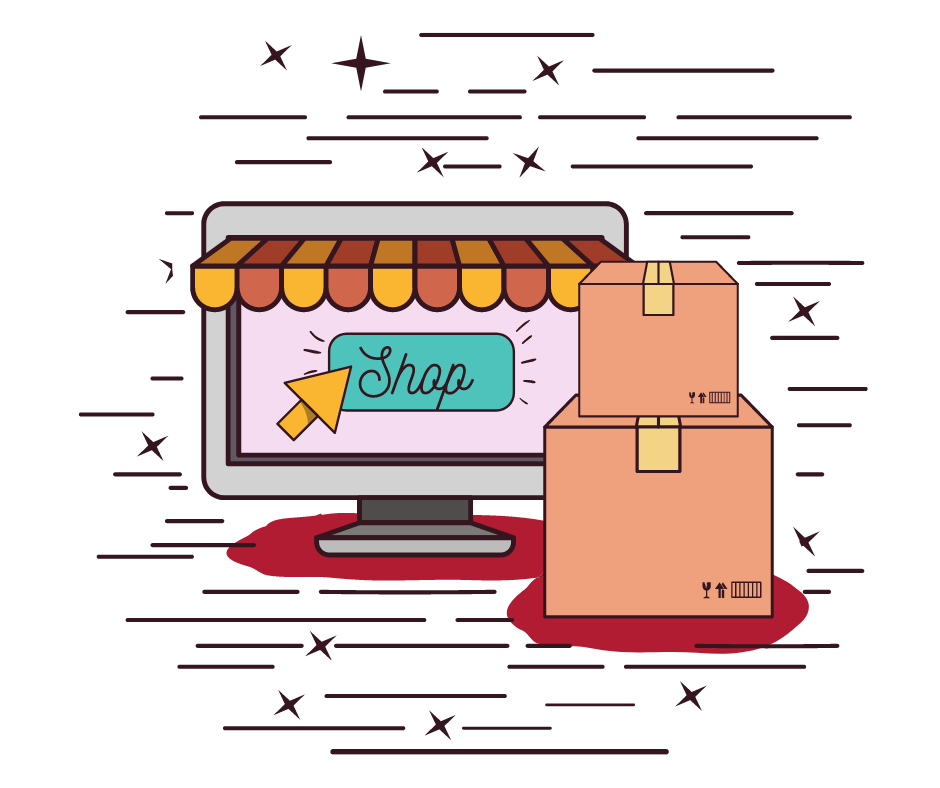 It's time…
Don't wait for success to come. Hire yourself and start your own dropshipping business
Conclusion
Dropshipping is becoming increasingly popular. Having an arranged reseller agreement with a specific manufacturer or distributor can protect you from many potential problems with customers and certain eCommerce platforms.
A well-drafted dropship agreement will define the relationship between the business and the manufacturer or distributor, explain how products will be delivered, detail how each party will be paid, and specify who is responsible for refunds. It will help avoid future disputes.
Remember that the success of your dropshipping business heavily relies on the suppliers you work with. It is essential to choose the most reliable dropshipping suppliers. Here are a few articles that should help you with this crucial task:
We hope that this article was useful for you. Do you know other good suppliers that provide a dropshipping agreement contract? Let us know in the comments below.
Best of luck!