Have you ever thought about Home Depot dropshipping? Probably not.
With dropshipping being extremely popular in recent years, it might be hard to find a profitable niche that is not overcrowded yet. Everywhere you look on eBay, everything is filled with cheap products from China – from gadgets and accessories to kitchen appliances and bathroom accessories, garden furniture, and tools. Because of that, many dropshippers look for other niches or try sourcing from US dropshipping suppliers – while US items are more expensive, they are of higher quality and have faster shipping.
When most of dropshippers choose to resell from Amazon, Walmart, and AliExpress, it leads to the same problem – limited product niches and identical items. Sounds familiar, isn't it?
Therefore, sourcing from different dropshipping suppliers can distinguish you in your eCommerce marketplace and bring new sales. For example, you can try to dropship from Home Depot, the leading home improvement retailer. That's why we created this new guide.
We will check the pros and cons of Home Depot Dropshipping, its products, policies, and many more.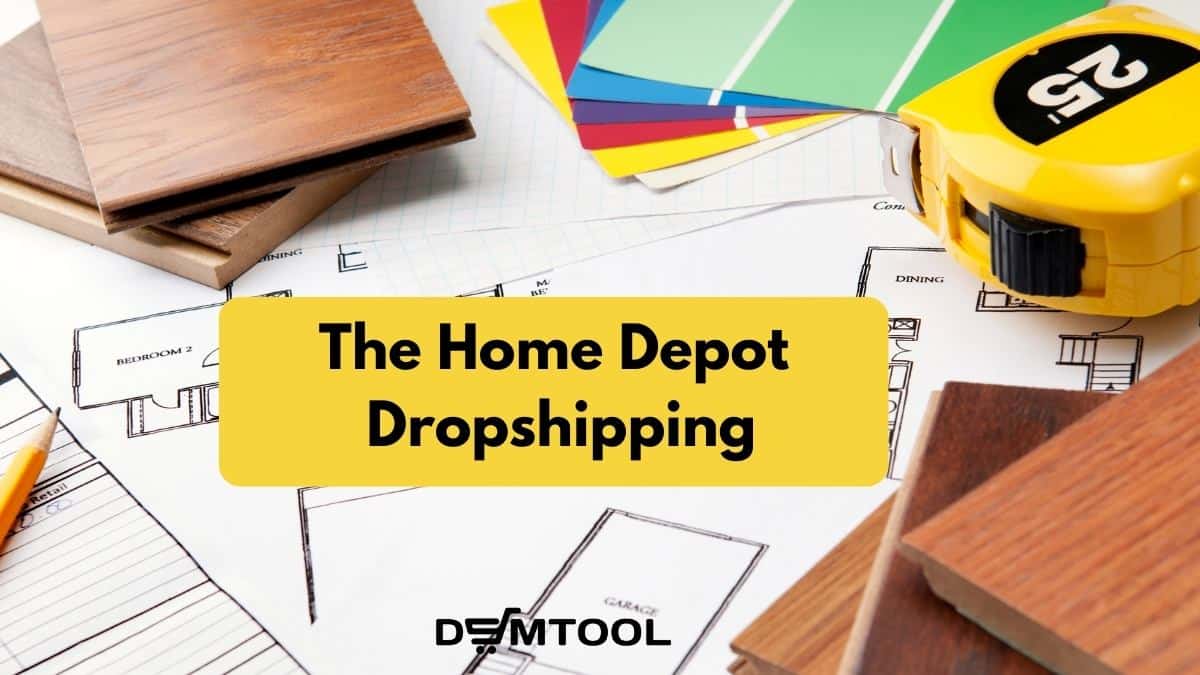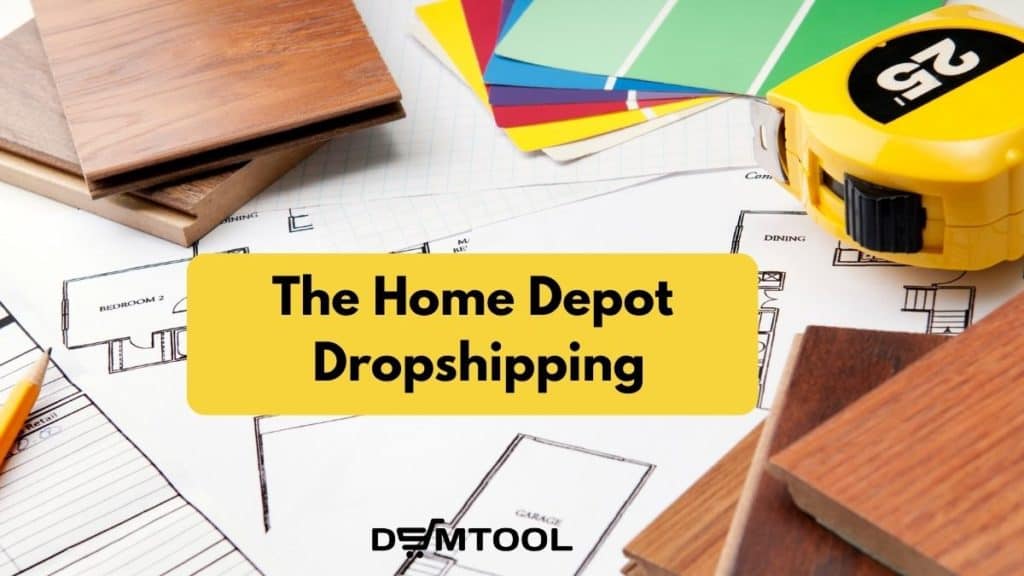 But first – why dropship home improvement products?
COVID forced many people to stay home, and more individuals and DIYers turned their attention to their apartments – this caused a significant increase in sales of home enhancements since 2019, and it keeps a steady growth even after.
If you look at different best dropshipping products ratings, I am sure that in every list you will find a few items from this niche – home security products, toolsets, storage boxes, and organizers of all kinds. Home improvement products are a big niche that covers such item categories as decor, furniture, appliances, tools, etc.
Besides, you need to know that the sales for home improvement products in the USA should reach 620 billion U.S. dollars by 2025. It gives you room to develop within this niche on the not saturated (yet) market and get a piece of its sales.
One might think that drop shipping all these items is rather frustrating and requires using different suppliers – this might be true unless you know about the biggest one – HomeDepot.
So, what is The Home Depot?
What is The Home Depot?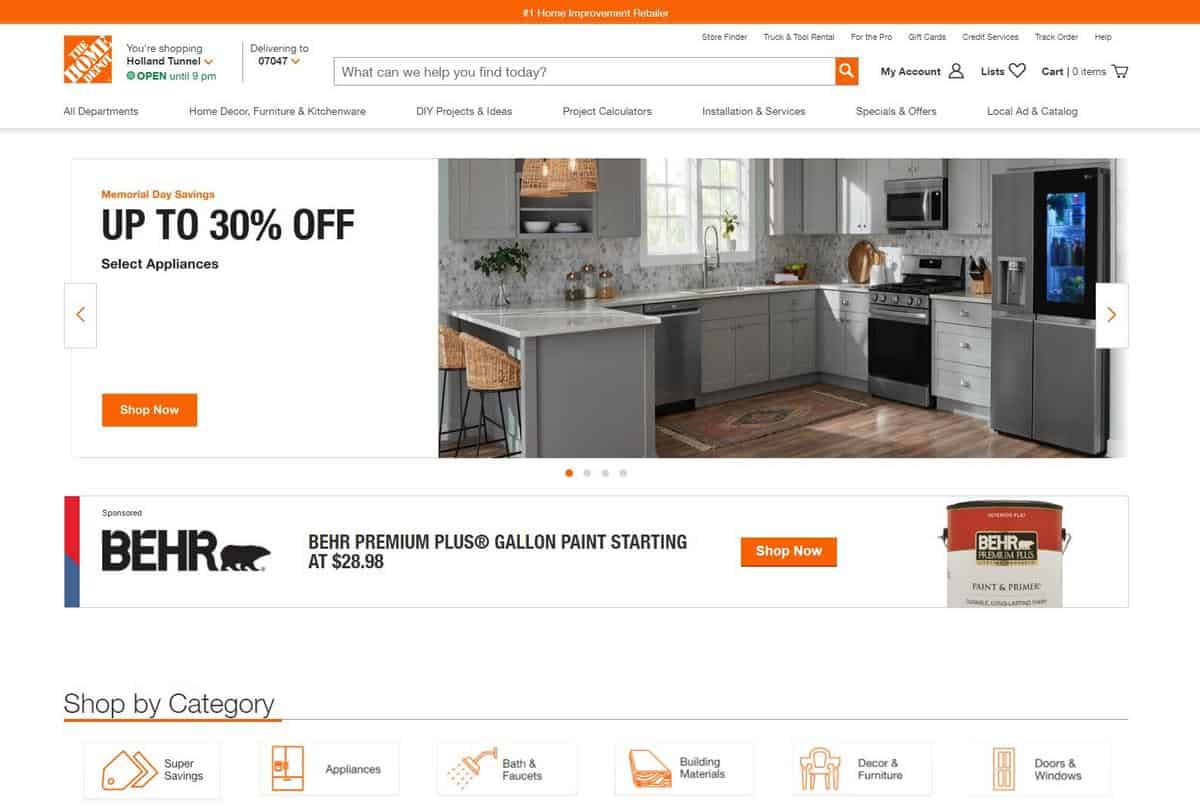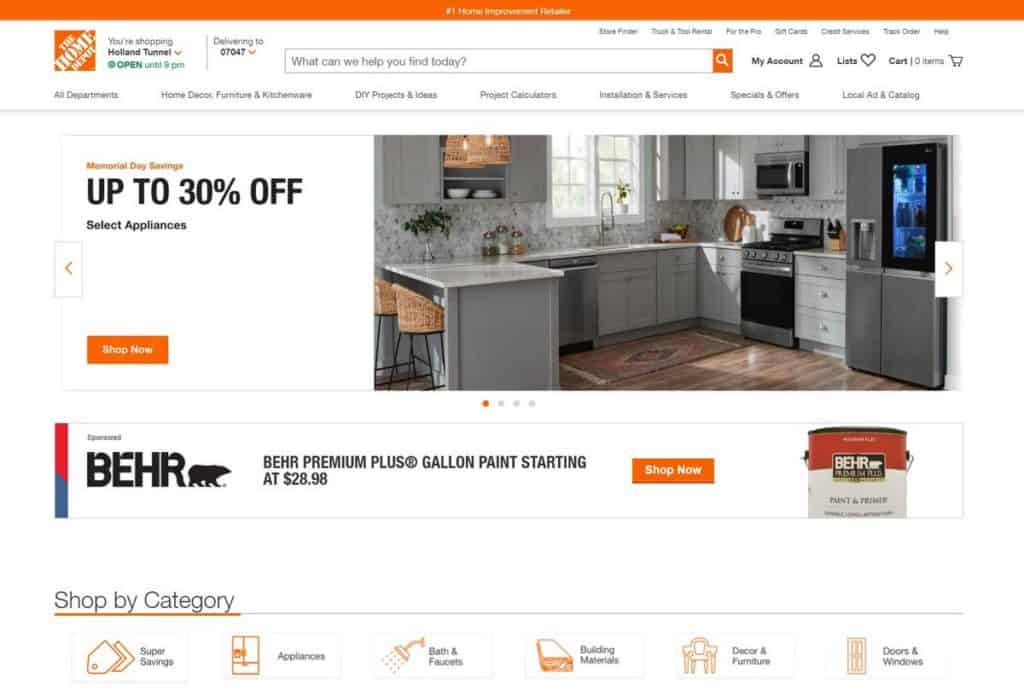 The Home Depot is one of the biggest home improvement retailers in the world, if not the biggest. It is the fourth-largest retailer in the US, making sales of $129.89 billion in 2021.
The company was founded by Bernie Marcus and Arthur Blank, who dreamed about a superstore with top-quality products at great prices and excellent customer support service. With the help of investors, they opened their first two stores in Atlanta back in 1979, and those were the largest home improvement specialty stores back at the time. Nowadays, the company operates more than 2300 stores and has over 500,000 employers in three countries while following the vision of its founders – the highest level of service, the broadest selection of products, and the most competitive prices.


The company specializes in home improvement products, appliances, hardware, power tools, garden furniture, decor products, and building materials. They have 36,000 products available in physical stores and offer over two million products online. It is a shopping paradise for DIY fans and those who want to change the style of their home. Their largest store, located in Union, New Jersey, is a whopping 225,000 square feet.
What makes the Homedepot unique is that customers are their top priority, followed by associates, then field and corporate support, with the CEO at the bottom of the inverted pyramid. "Put customers and associates first, and the rest will take care of itself" – the company's main principle that was laid down by the founders 40 years ago and lives on.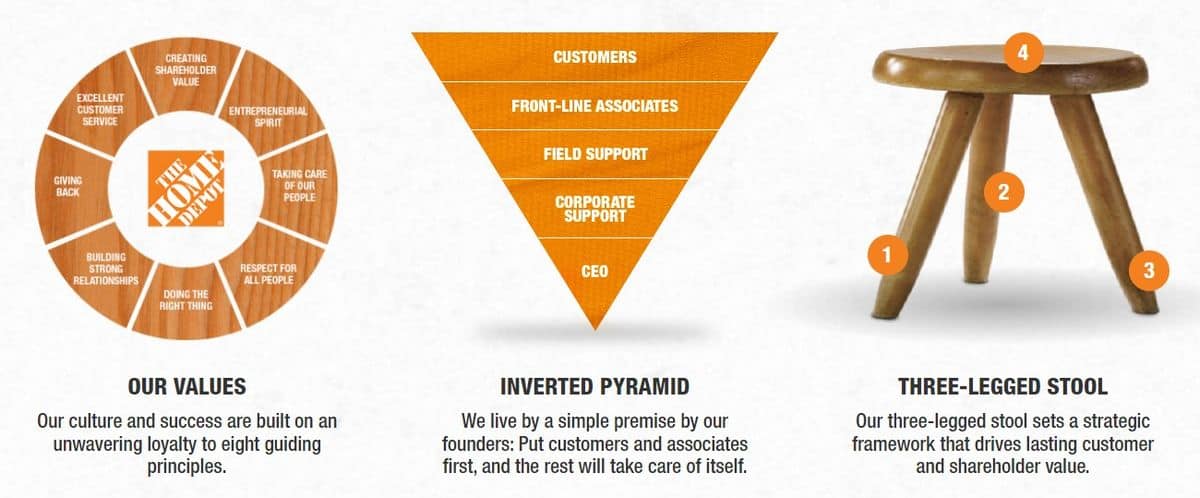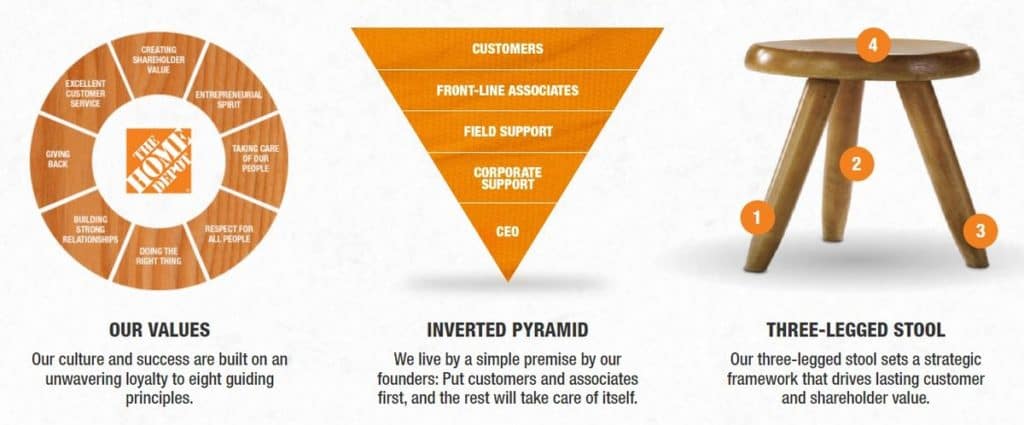 It is also should be noted that The Home Depot is well known for helping veterans and communities all over the country. They invested more than $400M in veteran causes and improved more than 50,000 veteran homes and facilities since 2011, and pledged to invest $500M in veteran causes by 2025.
Even more, The Home Depot founded the Path to Pro program, with the goal to educate people in skilled trades and help finding careers in the home improvement industry. That's quite a commitment, don't you think?
Why Dropship from The Home Depot?
Being on the market for such a long time, THD grew into a major player and even expanded into Canada and Mexico. While it is one of the biggest home products retailers, it is not the only one. There are also other companies that keep on their toes. Their main competitors are:
Lowe's – I would say this is the only real alternative to THD
Target
Kohl's
Bed, Bath & Beyond
Amazon
Walmart
IKEA
Ace Hardware
Costco
Wayfair
I will not compare Home Depot with each of these companies, but I will pinpoint the main advantages that made it the number one player.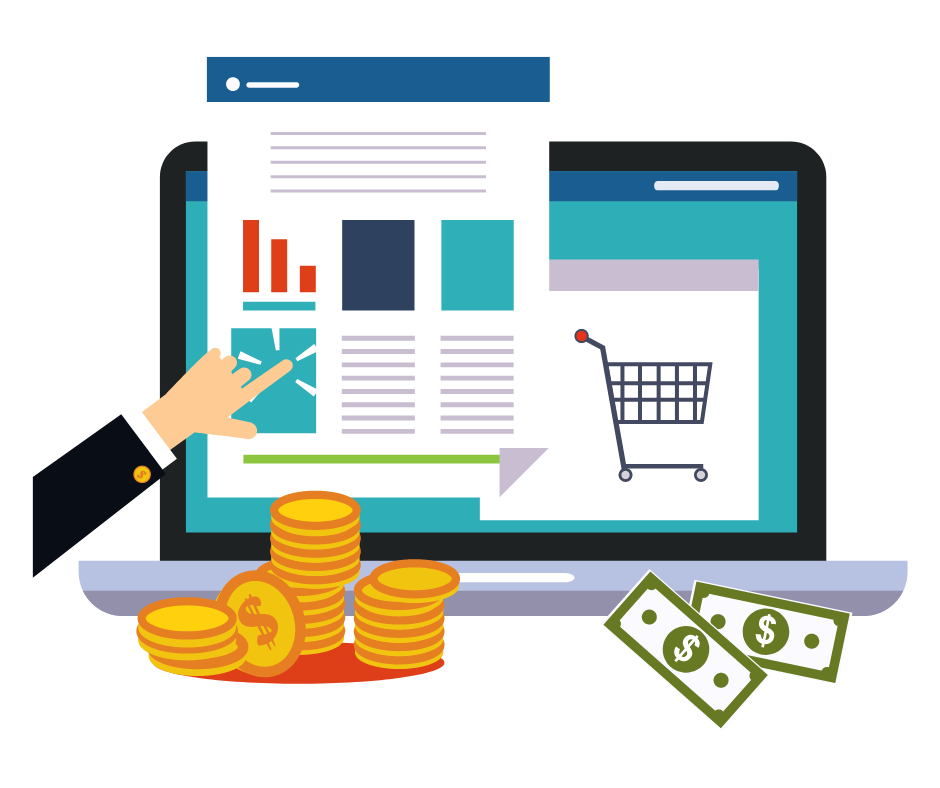 Don't wait for the profits, make them!
Start a profitable dropshipping business with DSM Tool. Get a free course and a free trial of the software.
What Are the Advantages of Home Depot dropshipping?
Let's go over the reasons why you should dropship using Home Depot.
Wide Selection of High-Quality Products
Home Depot has a massive range of products, serving almost 20-million customers every week. With an army of between 10,000 and 20,000 suppliers, THD offers almost every major home-related appliance or accessory you might need to fix, improve or beautify your home – anything from electrical, construction, and kitchen materials to gardening items and decorations.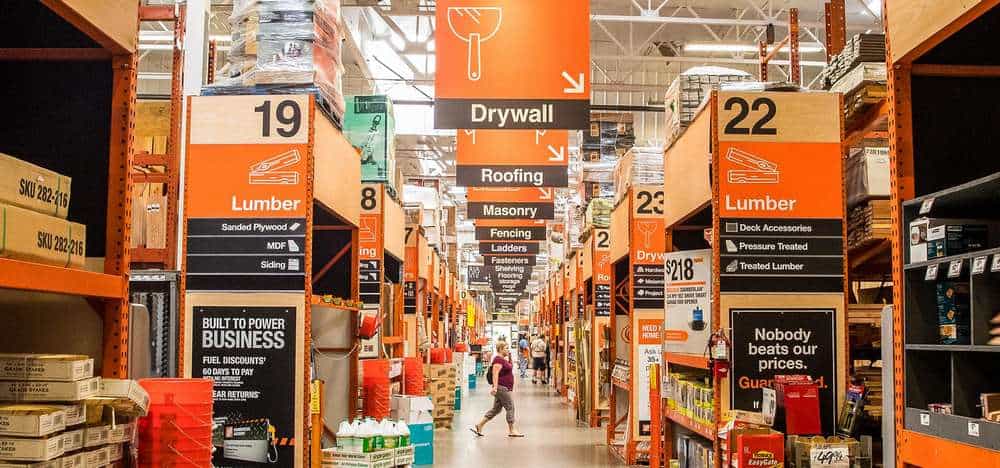 Those are some of the Home Depot categories:
Appliances
Bath & Faucets
Blinds & Window Treatment
Doors & Windows
Decor & Furniture
Building Materials
Kitchen & Kitchenware
Lawn & Garden
Lighting
Painting
Outdoor
Every category has many sub-categories, and each of them contains a huge number of products. Look at the screenshot below, it shows only a fraction of what you can find on Home Depot.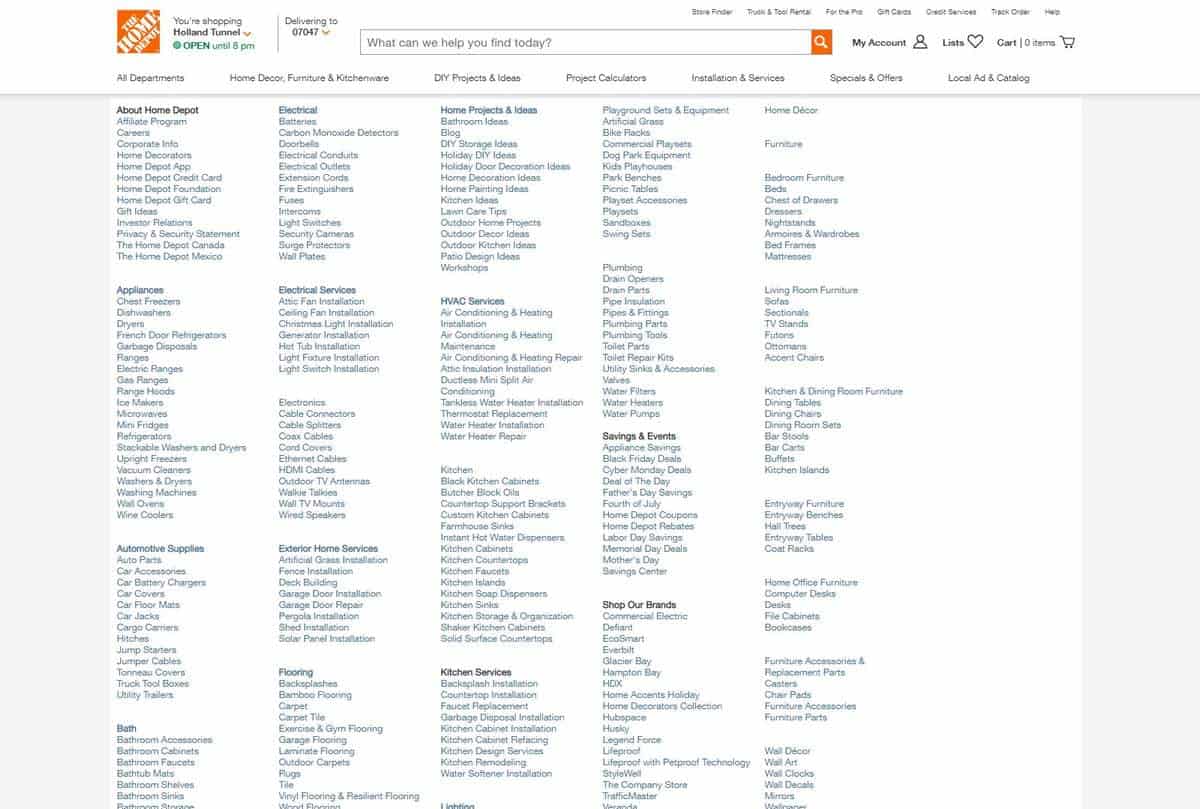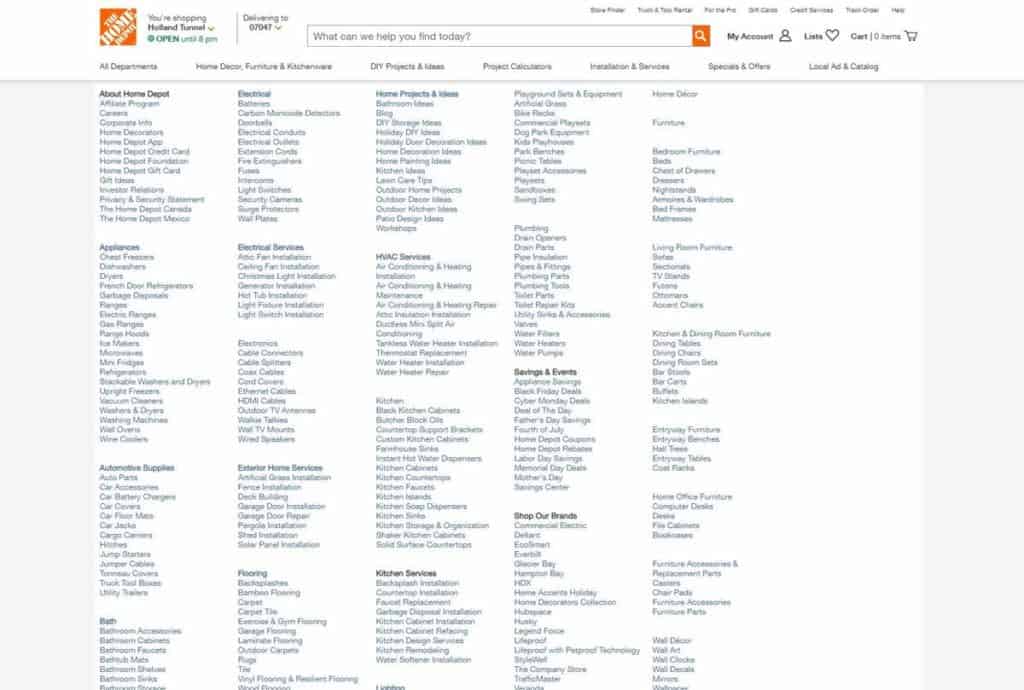 The Home Depot targets two different categories of customers – professionals (tradesmen, contractors, and companies who need equipment of the highest quality) and "usual" consumers, DIYers. As part of its competition-busting strategy, The Home Depot carries store brands and exclusive brands targeted at each customer category:
Husky
Homelite tools
Martha Stewart Living goods
American Woodwork
Thomasville Furniture Industries cabinetry
Workforce
HDX
Hampton Bay
Glacier Bay
Commercial Electric
Decorators Collection
Ryobi
RIDGID tools
BEHR
Products under these brands are sold exclusively at Home Depot, along with LG appliances, Toro lawn equipment, and Cub Cadet lawn equipment.


The Home Depot has its own quality degree system to separate these brands and target specific niches. There are three degrees: Good, Better, Best, – with Good being targeted at usual customers and DIYers, Best is targeted at professional customers.
For example, in plumbing, the Glacier Bay brand is graded as Good, the Delta brand is Better, and Kohler is considered Best. In tools, Husky is considered Good, Ryobi is Better and RIDGID tools is the Best brand. The proprietary paint brand, BEHR is the top-ranked consumer brand of paint in the US.
Competitive Prices
Keeping prices as low as possible is one of the main principles of the Home Depot. The company offers customers discounted prices and hundreds of discounted deals on its product range regularly.

Their prices are roughly the same on average as those of other companies (due to price matching between competitors), and they also have the low price guarantee – a powerful tool to overcome competitors. If a product is purchased online, they will match the price of a competitor, including shipping. The same works for in-store purchases. Here are all the stores Home Depot price matches:
Lowe's
Target
Walmart
Best Buy
Macy's
JCPenney
Staples
True Value
"Mom-and-pop" stores
They won't price match online-only retailers such as Amazon or eBay, and they won't price match wholesalers like Costco or Sam's Club.
You can check their Specials & Offers tab to find the daily deals and offers with discounts ranging from just a few percent up to 70%.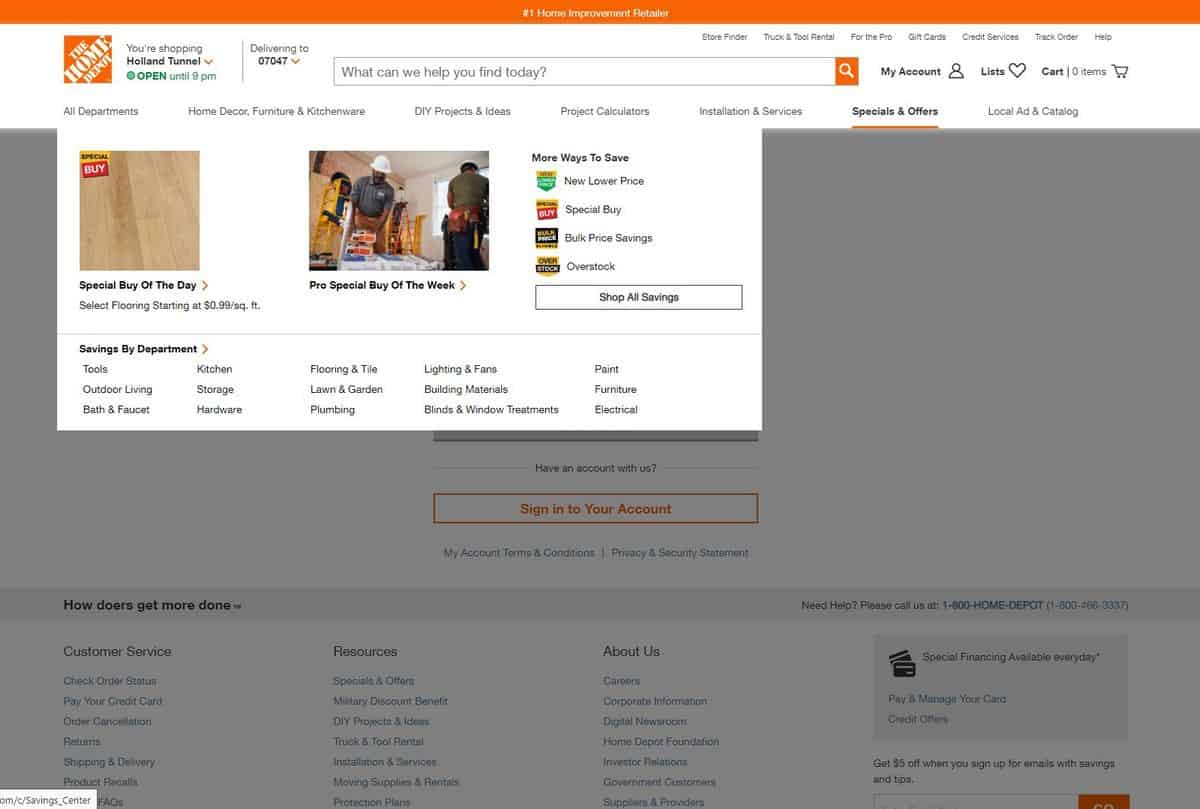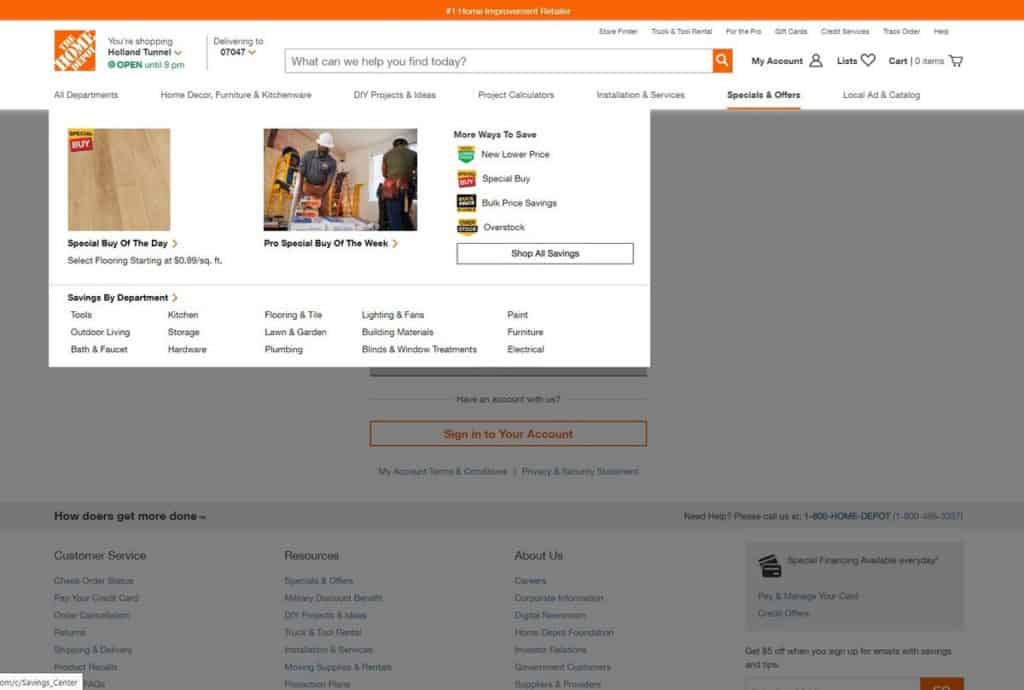 They also run regular sales and promotions, like Memorial Day Savings or Father's Day.


On major sales, like the Black Friday sale, almost every product category is discounted, while other sales promote sale-related items only. Here is the list of THD sales in 2022 (check their website for announcements and sales dates because that can change):
1st January: New Year's Day Sale.
2nd April: Good Friday Sale.
5th April: Easter Monday Sale.
8th – 18th April: Spring Black Friday Sale.
3rd May: Memorial Day Sale.
4th July: Red, White, & Blue Sale.
8th September: Labor Day Sale.
26th November: Black Friday Sale.
29th November: Cyber Monday Sale.
14th December: Green Monday Sale.
26th December: After Christmas Sale.
Even better, the Home Depot has a 30-days Low Price Guarantee. If you purchased a product and in a few days it is discounted, you can ask for a price difference compensation within 30 days after purchase. This is another great opportunity to earn a few extra bucks if you are dropshipping.
The payment methods of the Home Depot:
As for the payment methods, Home Depot accepts all the popular credit cards and their debit versions:
Visa
MasterCard
Discover
American Express
Home Depot Consumer Credit Card
Paypal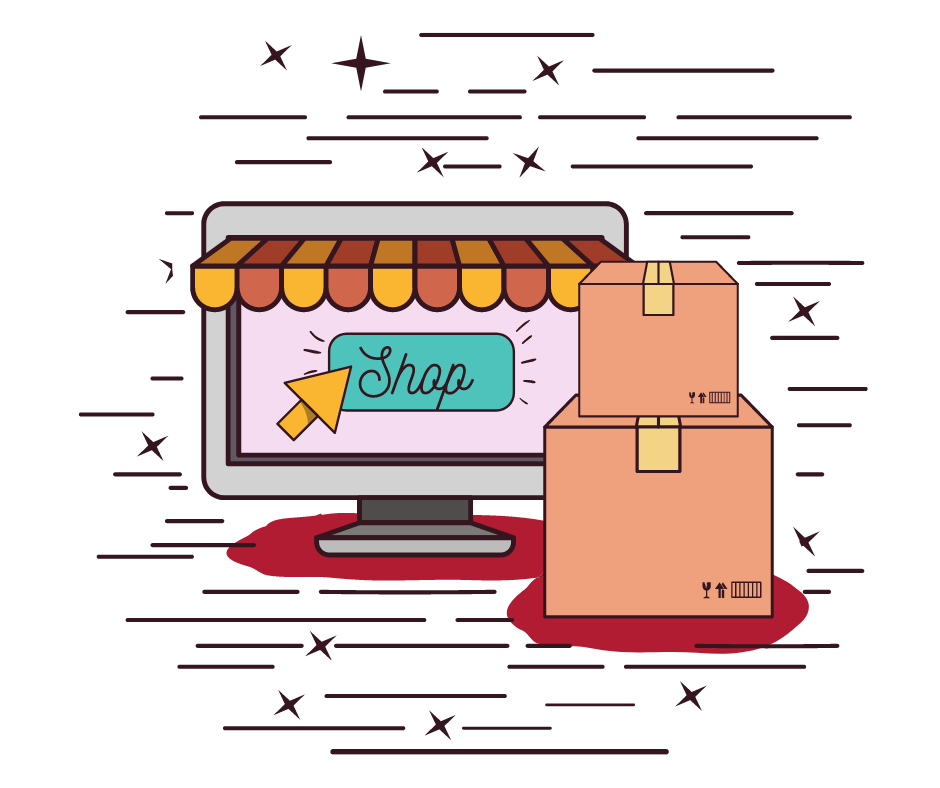 It's time…
Don't wait for success to come. Hire yourself and start your own dropshipping business
Shipping & Delivery of Home Depot
The Home Depot uses manufacturers and suppliers from over 40 countries, but because all their warehouses are located in the US (not talking about THD CA and THD MX), shipping & delivery is very fast. They offer free 2-day delivery similar to Amazon for thousands of their best-selling items, plus free shipping for over a million items for orders over $45 (you cannot split orders and send items to different addresses). Even 160,000 of their products are eligible for free delivery to Alaska and Hawaii, which is not common.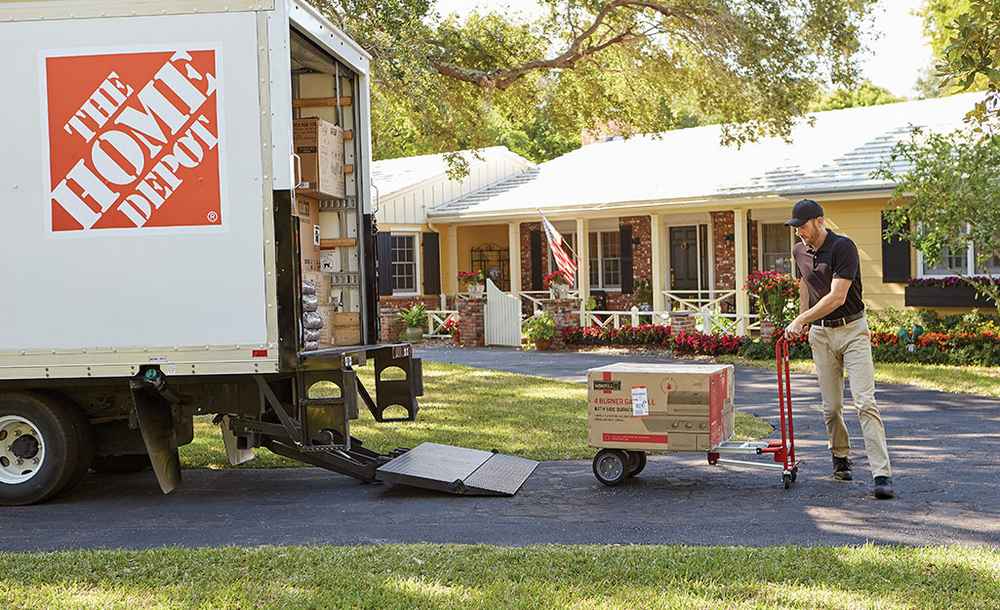 I would like to note that Amazon 2-days free shipping is available mostly for Prime users and it is against their policy to use this program for dropshipping. As stated in their policy 'Prime members are not permitted to purchase products for the purpose of resale or to ship to their customers or potential customers'. The Home Depot doesn't have such restrictions for its delivery services, which is a significant advantage.
Shipping methods available:
Standard – 3-5 business days – default shipping method for most items

Priority – 1-3 days delivery

Expedited – 2-day delivery

Express – 1-day delivery

Cost Saver – for small, less than 1lb packages only
Processing time depends on the kind of item ordered and may vary if several products are purchased. For more information, check the Home Depot shipping policy.
Home Depot uses many different third-party courier companies like UPS, USPS, FedEx, Reddaway, it depends mostly on the type of order.
The Home Depot Mobile App
The Home Depot has made its presence online with quite a delay due to the company being a brick-and-mortar retailer in the first place. This is one of the main reasons why they are behind Amazon and Walmart when it comes to online shopping, but they learned their lesson.
After establishing its presence online, the company saw that 50% of customers visit its website through mobile devices. In May 2010, Home Depot launched its first mobile site which has improved drastically since then. It resulted in mobile search being fundamental to the company's online success – only between 2011 and 2012, the number of visits from mobile phones has tripled. Today, two-thirds of the company's online traffic comes through mobile devices.

To expand its mobile audience even further, the company has also launched The Home Depot App for iOS, Android, and Windows. The app enables THD to explore native functionalities that only a mobile device can provide, such as the augmented reality function (it allows virtually "see" products in your space using the phone's camera).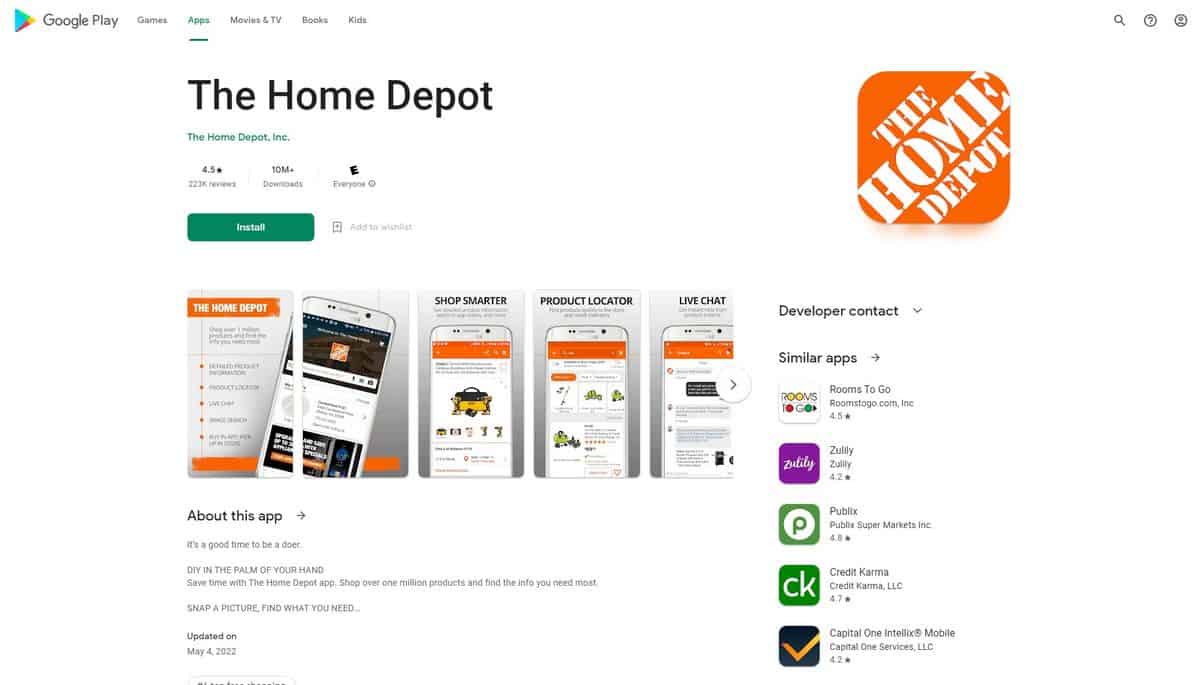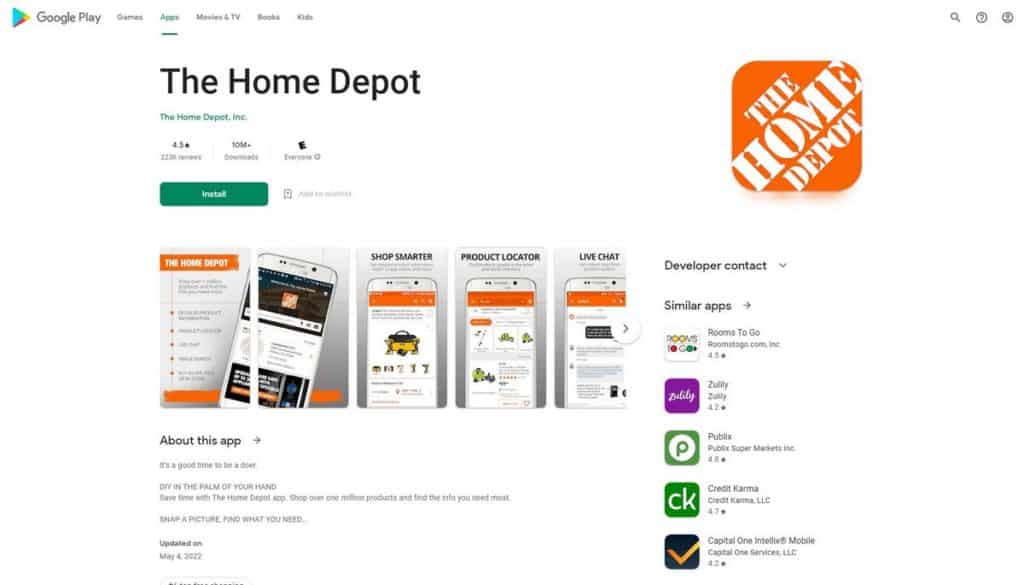 The Home Depot App is created primarily to help buyers visualize and locate items – it provides the exact layout of the specific store the customer is in. The app detects when a customer enters a store and switches to the Store Mode. It utilizes more precise search features and locates products down to the exact section and shelf in that store.
In 2017 HomeDepot expanded the functionality of the mobile app by adding the Augmented Reality feature that allows users to overlay Home Depot products on any space in their homes.
The app can determine the dimensions of select Home Depot products, ranging from refrigerators to chandeliers. This allows you to see a 3D visual of a product in any space you want it to be. You can resize and rotate the visual so it can fit and you can share a picture via email and social networks.


In addition to Augmented Reality, the app has the Image Search function – shoppers can point their phone camera at an item, and the app can identify such things as the product, size, manufacturer, etc. This also integrates with other online features that will show if a product is in stock at a store and where to locate in the store (what aisle and bay).
Its main features are (note that some of them are available on iOS devices only):
Store Mode
Image Search
Voice Search
Barcode Scanner
Augmented Reality
Shopping list
If to speak about Home Depot dropshipping, the app is not very practical because most of the features target DIYers and common buyers, but it is convenient and it allows you to proceed with orders without a need for a laptop or computer.
Why Not Dropship from The Home Depot?
Dropshipping is not simple work to do – it has a lot of pitfalls and tricks that you need to understand if you want to be successful in this kind of business. Even more, the dropshipping process differs depending on what supplier is used for sourcing – dropshipping from AliExpress and dropshipping from Amazon are completely different things. Home Depot as the source for drop shipping has its own nuances too, and there are a few drawbacks that you should be aware of if you decide to dropship using Home Depot.
So here are the disadvantages of the Home Depot dropshipping:
Home Depot Cancelations and Returns
The cancellation procedure differs depending on the type of your order and the stage of the order is in.
For Delivery/Ship-to-Home orders, proceed to your account or track order page and click on the Cancel Items button to cancel the order online. You have 45 minutes after placing an order to cancel it. After that, you can return items via the Return procedure.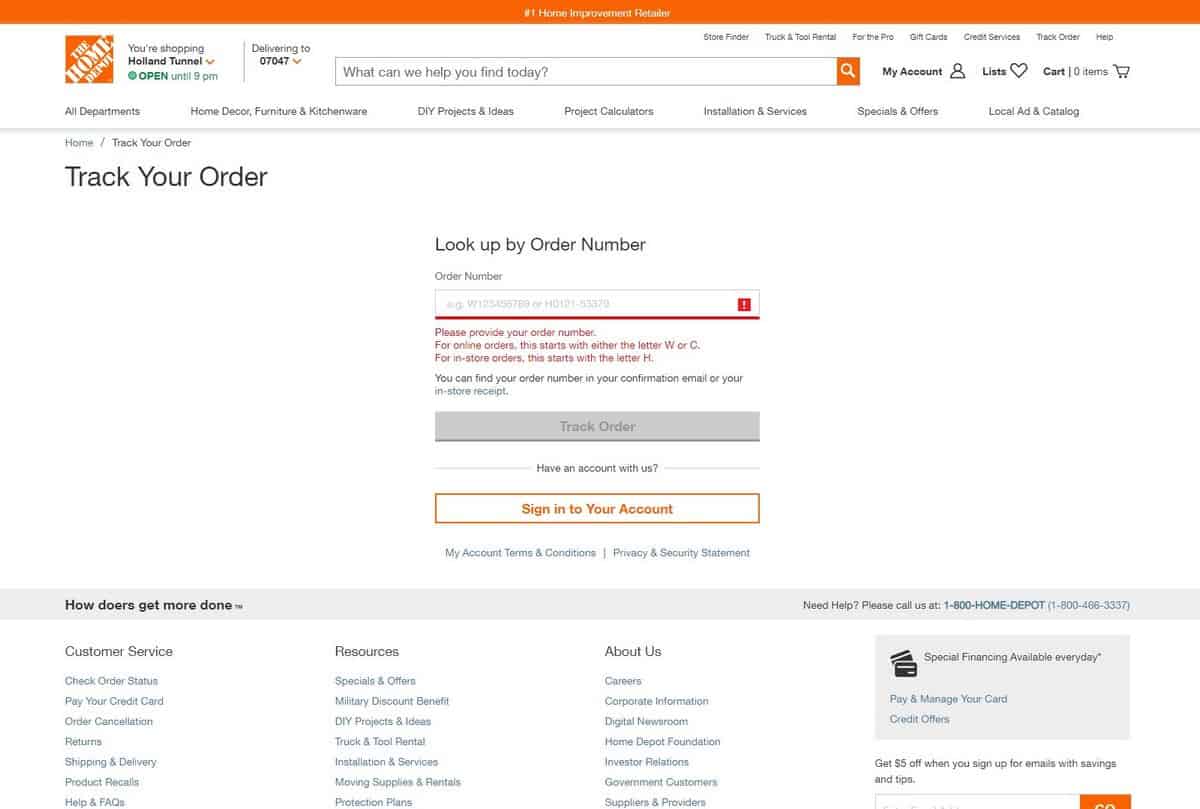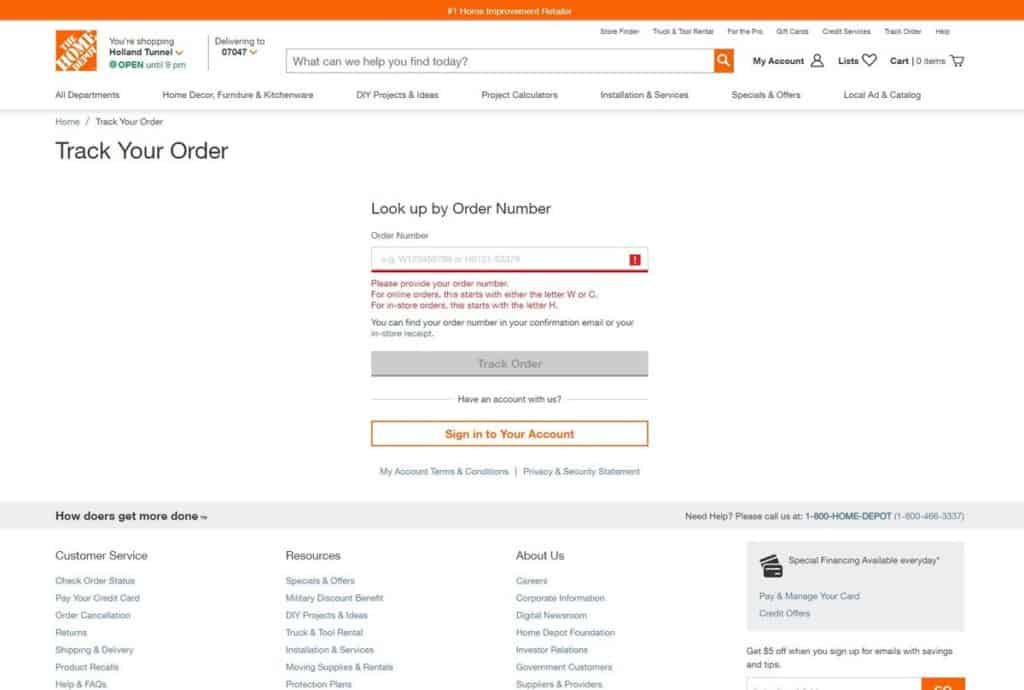 Purchases made with gift cards cannot be canceled online and require contacting Online Customer Support via LiveChat or by calling 1-800-430-3376. The same goes for Buy Online Deliver from Store orders – you need to contact customer support to cancel such purchases.
Home Depot follows a 90-day return policy. "Simply take your purchase back to any Home Depot and get your money back instantly or exchange for something else. Be sure to bring a copy of your receipt or shipping confirmation email, credit card you used for the item and valid I.D." stated on their website. Refunds will be issued to the original form of payment. Delivery costs will be deducted from the refund, but they will cover shipping expenses if the return is caused by THD.
For online orders, you have two return options:
Return to Store: You can return a product to any store. Credit will be issued in-store at the time of return, there are no return shipping charges.

By Mail: For most orders delivered by UPS or FedEx, you can use the enclosed small parcel return label to mail your return or you can arrange a return on your own, using the address specified on the return label. Credit will be issued at the time the merchandise is received in a warehouse. You pay for return shipping costs unless THD is responsible.
Should be noted that, depending on the payment method, it may take from two to ten business days for a refund to proceed. Also, Alaska and Hawaii non-UPS returns must be returned to retail stores.
If the consumer buys the product using The Home Depot Consumer Credit Card or the Home Depot Commercial Account, they have full 365 days from the date of purchase to receive a full refund or return.
The following items may only be returned within 30 days of purchase:
Furniture
Area Rugs
Gas Powered Equipment and Tractors
Generators (other than Whole House and Stationary Generators)
Consumer Electronics (Televisions & Computers)
There are some other limitations, so make sure to check their return policy exceptions.
The bottom line is:
You have only 45 minutes to cancel an order which is very short in case buyers changes their mind, and this happens quite often to be a problem.
You pay for returns unless the return is caused by Home Depot.
So if your buyer decides to cancel the order in a few hours, you need to wait till the order is delivered, and then ship it back at your own expense.
No Custom Packaging
This issue is not specific to Home Depot only, but it is a disadvantage. THD doesn't offer custom packaging – your order will arrive with Home Depot orange logos all over the parcel, plus invoices.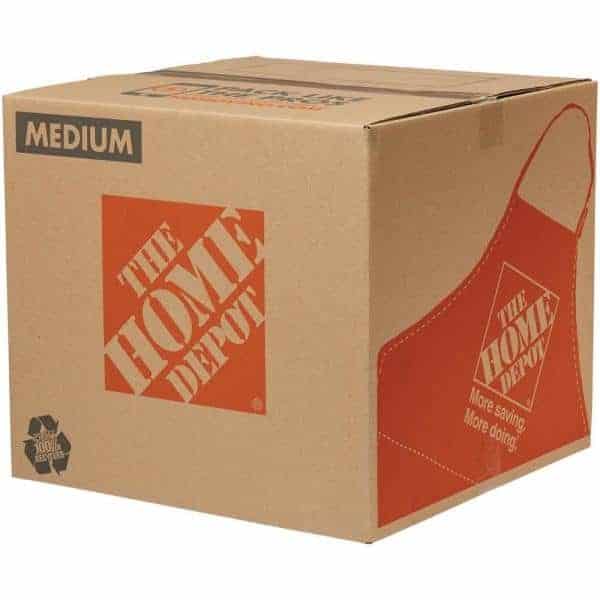 Imagine this: you purchase a product on eBay/Shopify/Facebook Marketplace only for it to arrive in Home Depot branded packaging. What's the first thing you do? Most people would go directly to Home Depot and search for the product, only to discover it listed for a much lower price, resulting in negative feedback or demand for a refund. And with returns shipping paid by you… you get the picture.
No Dropshipping Program
Regretfully, most suppliers don't have drop shipping programs and Home Depot is one of those. It should be obvious already that the HomeDepot doesn't encourage users to dropship in any way – no good rewards, paid returns, branded packaging. Of course, this is easily explained by the fact that the company is oriented toward its physical stores, but it is strange that they don't promote other people to resell their products.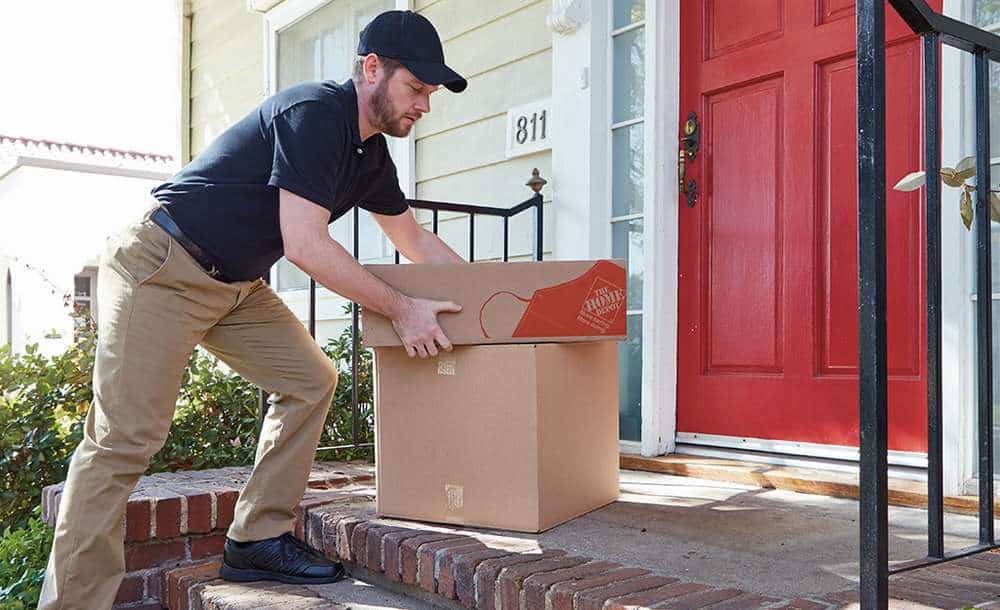 At least they don't restrict people from dropshipping as Amazon does in its Prime membership policy, but still, the company should be more online oriented – even with all low prices and promos you have to make an effort in order to make good profits.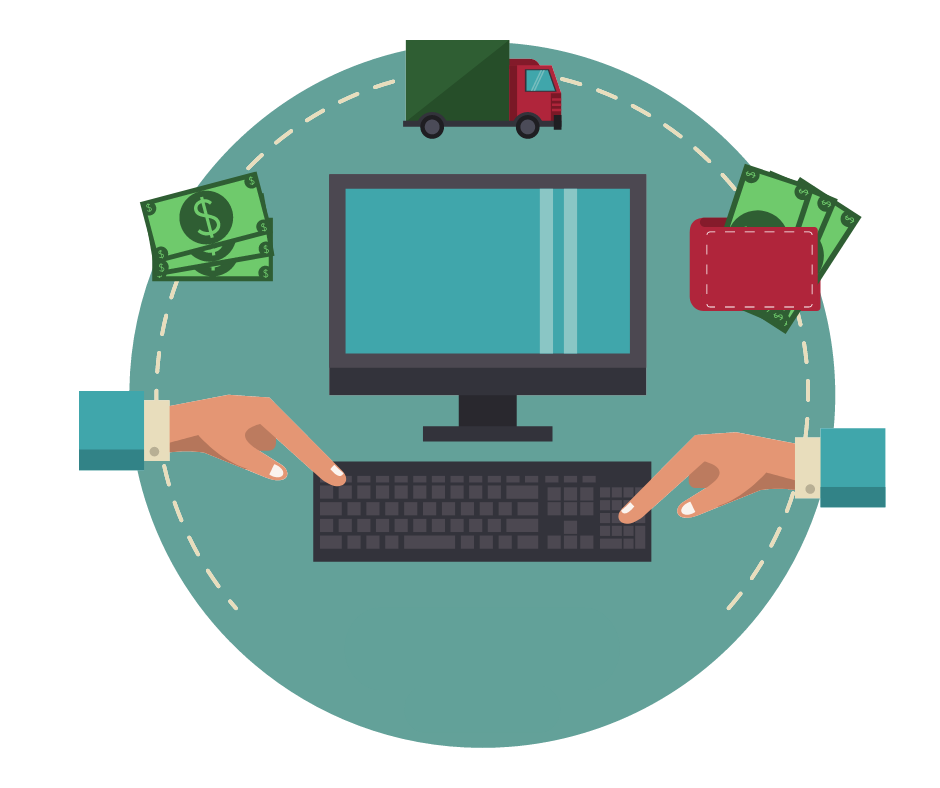 Not yet making money online?
Start your own dropshipping business. Sign up for a free trial of DSM Tool and we'll help you get started. Today is the day.
How to dropship from Home Depot?
If you're a complete beginner I would recommend you to start your dropshipping business on eBay or Shopify— it's much easier to start things off. Even though eBay doesn't allow this practice, you can still use the online retail arbitrage as previously mentioned. In this case, you can use a US retailer such as HomeDepot as your main sourcing site.
I would recommend using an Shopify and eBay dropshipping tool such as DSM Tool that'll allow you to scope up the best selling products and list them on your store. Furthermore, you will be able to automate your workflow and overall manage your store properly.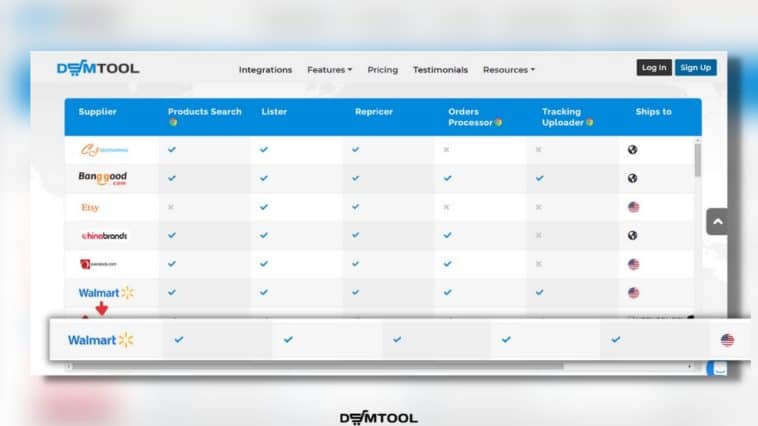 Of course, you do everything yourself: copy and paste the product description manually, fill all product specifications, monitor the prices and quality changes, checking if you get or not an order or product cancellation. But it will take you a lot of time and efforts… The question is for what? If automated dropshipping exists and saves your time for more creative tasks.
If you use Walmart as your sourcing website, it's important that you establish the correct shipping policies with the correct handling time. If you're in the US and you're dropshipping within the USA, you review Home Depot's estimated delivery time frame.
The Home Depot can vary the delivery time from 2 days for qualified products to 8-10 business days for standard shipping or 6-7 business days for expedited delivery (it may have an additional cost).
So, here is how to start Home Depot dropshipping and first steps for it:
Does home depot allow dropshipping?
Yes, Home Depot dropshipping is allowed, but you need to check the eCommerce marketplace's policy where you resell their products to see if they allow it.
Conclusion
Home Depot has a reputation as a reliable retailer and you can use that to your advantage – build your online store from scratch or diversity your existing product range with quality selection. Being one of the pioneers of home improvement products, Home Depot took the leadership in this niche and continues its expansion both in the US market and outside it. The company has over 40 years of experience in providing the highest quality products at attractive prices.
It is primarily known for its break-and-mortar stores and the services provided, but its online business is growing. Their competitive prices, fast and reliable delivery, and high-quality products make them a perfect source for USA dropshipping. Of course, there are alternatives for Home Depot dropshipping like their main competitor Lowe's, Walmart, and Costco. But good dropshippers use multiple suppliers – safer this way, plus wider product selection. Still, I think that Home Depot can be your one-stop supplier for all things DIY and home improvement.
I hope that you found this Home Depot dropshipping guide useful. What do you think about the pros and cons of dropshipping from Home Depot? And what is your favorite dropshipping supplier? Let us know in the comments!