The AliExpress dropshipping center is the business-oriented section of the AliExpress marketplace. Originally, the marketplace was designed for consumers. But when the dropshipping community found out how to use it to find dropshipping suppliers the practice of dropshipping from AliExpress was detected as a growth engine by Alibaba, the owner of AliExpress. Therefore, they created the AliExpress dropship center.
It started as a research tool designed to help sellers to dropship with AliExpress but over the years it evolved. It started providing services such as wholesale product sourcing, a discount program for volume buyers, and even a Facebook community.
The purpose of this article is to overview the AliExpress dropshipping center from A to Z and at the same time provide you with ideas on how to use it in a smart way that will benefit your user.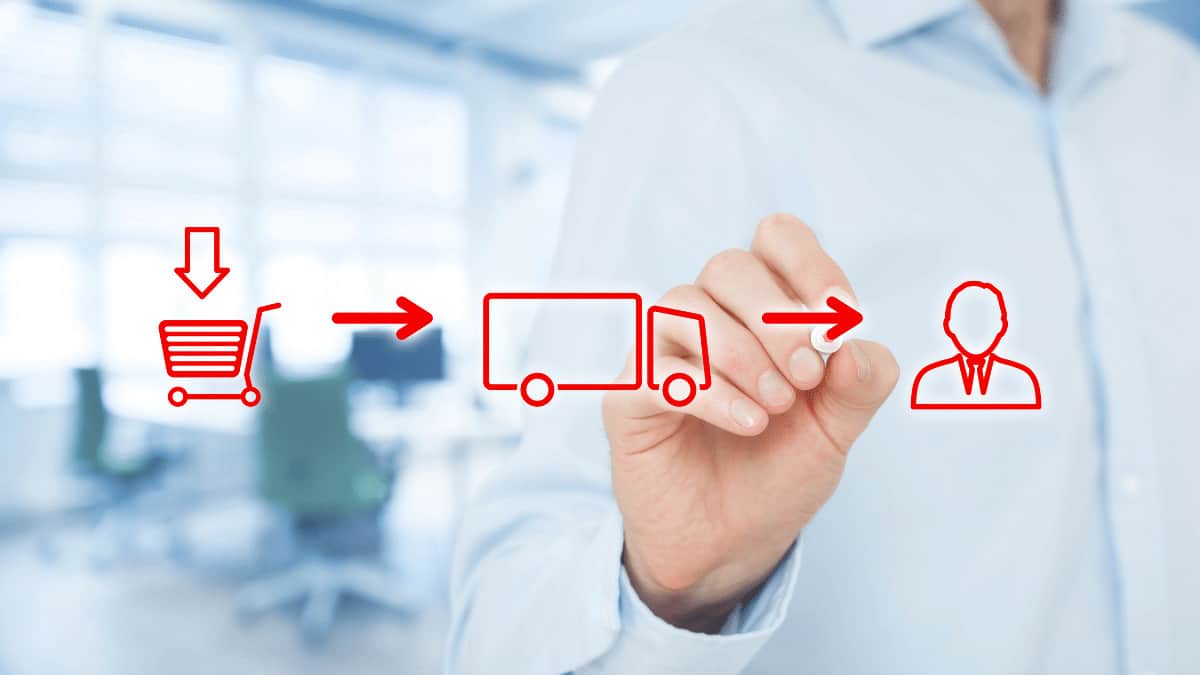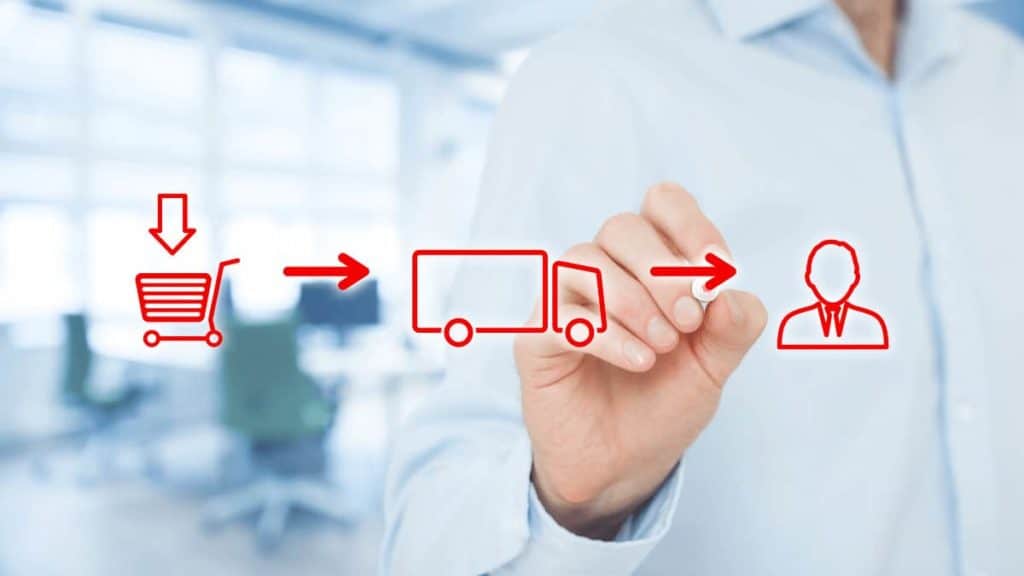 What is the AliExpress dropshipping center?
The AliExpress dropshipping center is free web-based software that comes together with every AliExpress account. The software includes various functionalities such as product research, wholesale product sourcing, a levels-based discount program, and dropshipping dedicated support.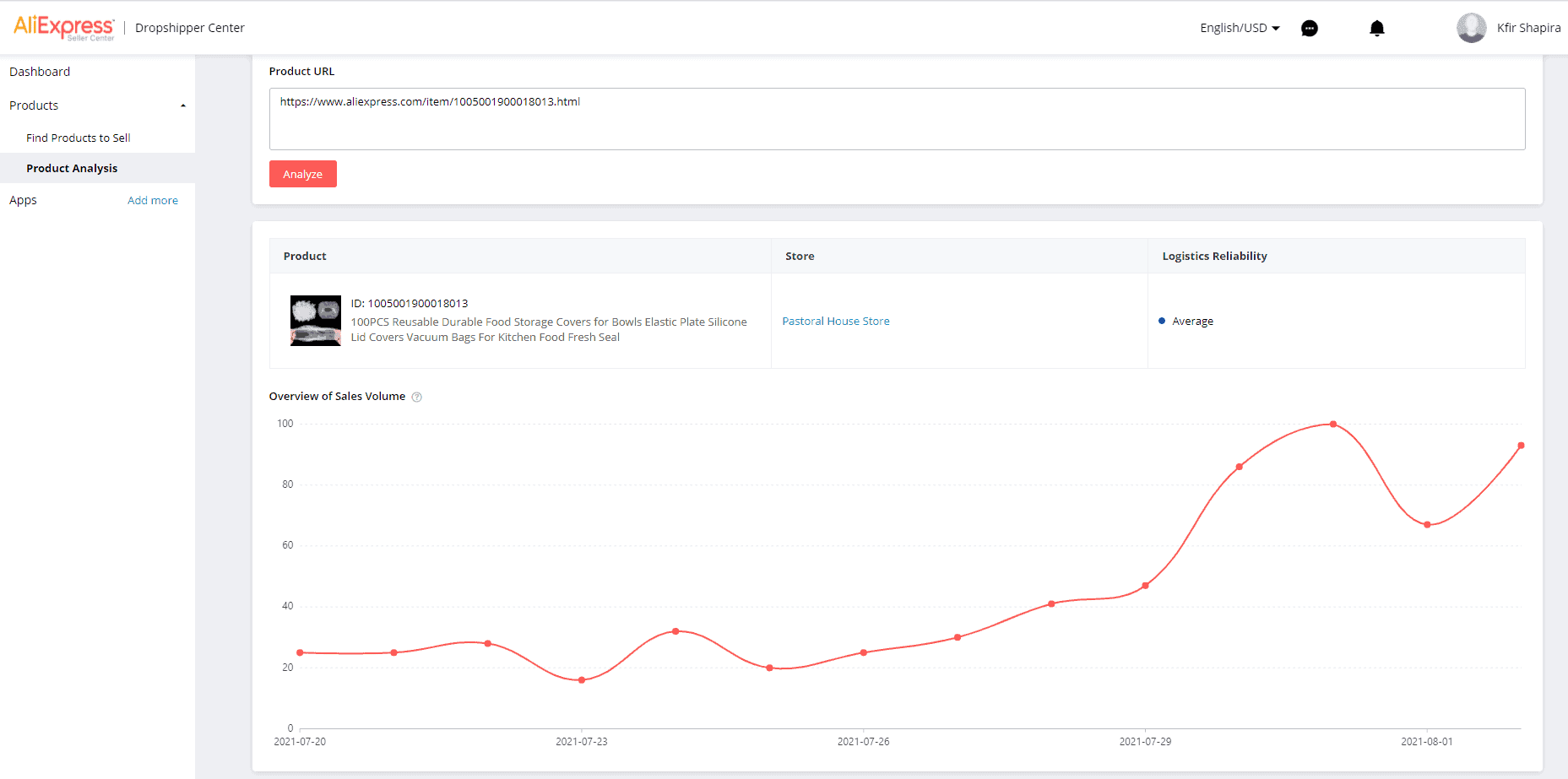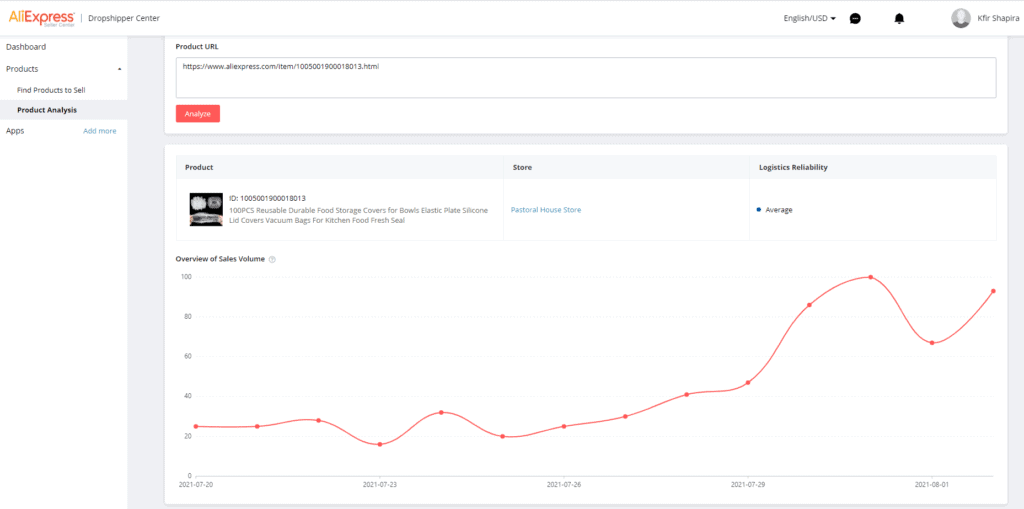 There are good reasons for you to learn how to use the AliExpress dropshipping center. First, it is FREE to use and second, over the years it has been updated with new services and functionalities so I expect it to continue to develop and to extend its offering.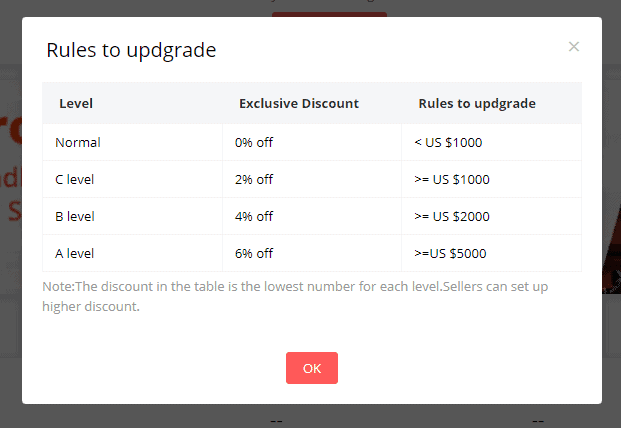 It seems like AliExpress is understanding the potential of the dropshipping business model and the number of people that want to start a dropshipping business.
AliExpress has an advantage in the dropshipping supply chain that comes from its massive collection of dropshipping suppliers. That is why they keep investing in creating tools and services for dropshippers.
I think that it's best to overview the different tools it offers, one by one, to give you a better understanding of how powerful it is.
To start using its features and services, you first have to activate it.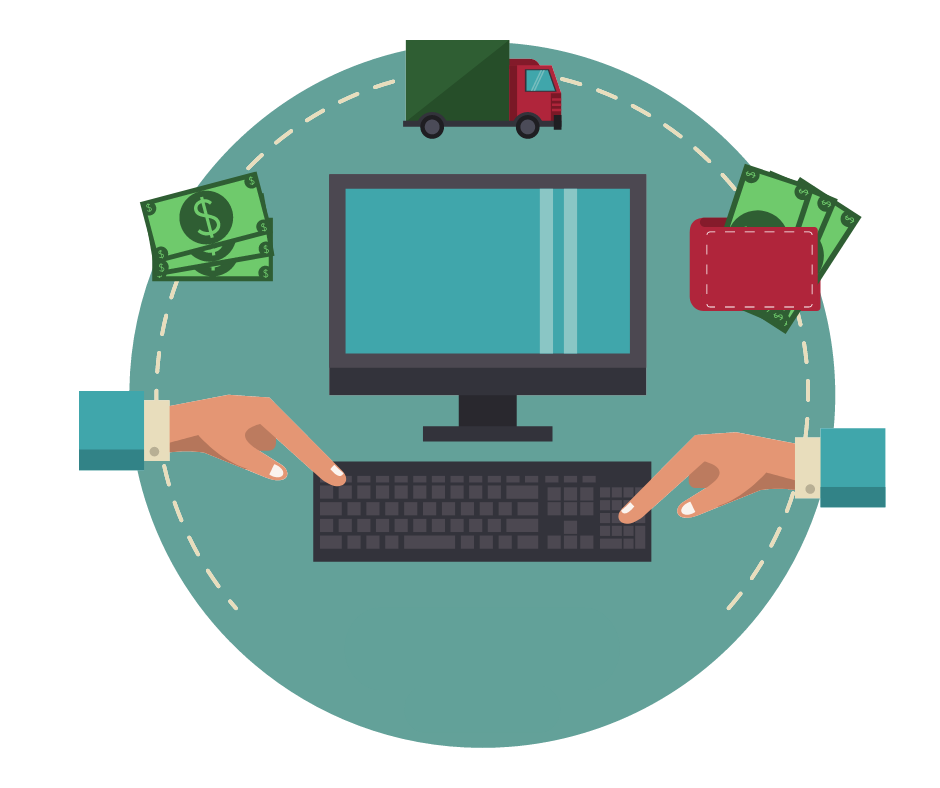 Not yet making money online?
Start your own dropshipping business. Sign up for a free trial of DSM Tool and we'll help you get started. Today is the day.
How to activate the dropshipping center on AliExpress?
First, you need to sign up for an AliExpress account. Then, you cannot get to the AliExpress dropship center from your account until you activate it by taking one of the following steps:
Access it directly through this link or by copy-pasting the full link here https://home.aliexpress.com/dropshipper/ds_center.htm or even by simply searching in Google the terms "AliExpress Dropshipping Center".
By integrating AliExpress to one of it's official partner apps, then it will appear in your AliExpress account under My AliExpress
If you start dropshipping from AliExpress and they detect you as a dropshipper it will automatically appear in your account under My AliExpress
Tip
Add the AliExpress dropshipping center to your browser bookmarks for quick access to it.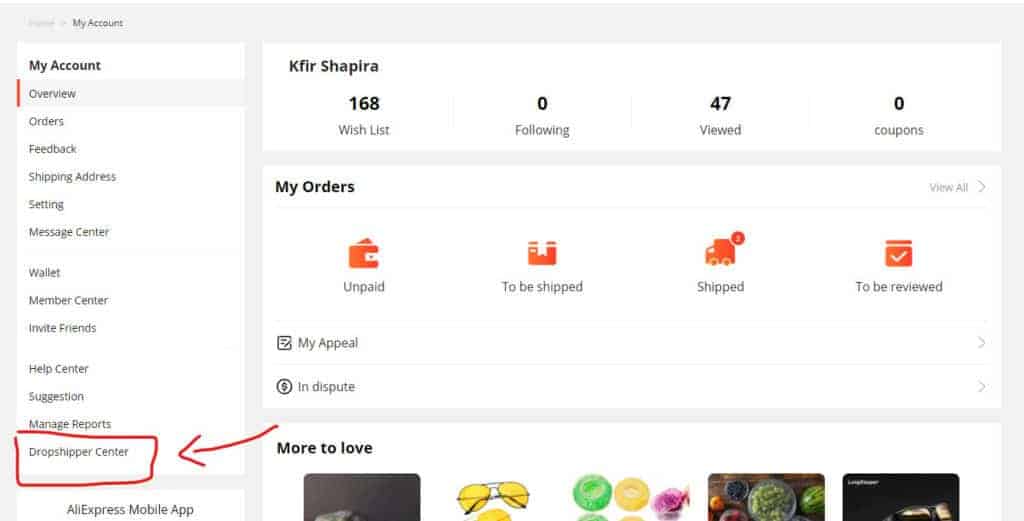 When you log in for the first time you will be asked to complete a few setup steps before you can access it for the first time. It takes about 2 minutes to complete them.
When you complete these steps, your dropshipping center is being activated. Now we can dive deep into the different tools it offers, one by one, to give you a better understanding of how powerful it is.
How to use AliExpress dropshipping center? (all its tools and services)
The AliExpress dropshipping center offers a variety of tools and services:
Dashboard – shows an overview of the performance metrics of your dropshipping account on Ali Express
Levels program – a volume-discount program
Product research – a tool that gives you an overview of complete categories of products on AliExpress
Product analysis – a tool that dives down to the performance trend of a specific product, from a specific dropshipping supplier
Dropshipping service – An AliExpress service of logistics handling at wholesale prices
Facebook community – For questions and engagement with other dropshippers
In this article, I am not going to cover the dropshipping service that AliExpress offers because I think that CJ Dropshipping is a superior alternative to it and you're better off learning how to use that one instead.
The dashboard of the dropshipping center AliExpress
The dashboard contains an overview of the performance of your account with different date ranges: today, yesterday, last 7 days and last 30 days. You can filter the timeframe and see the performance in a trend graph.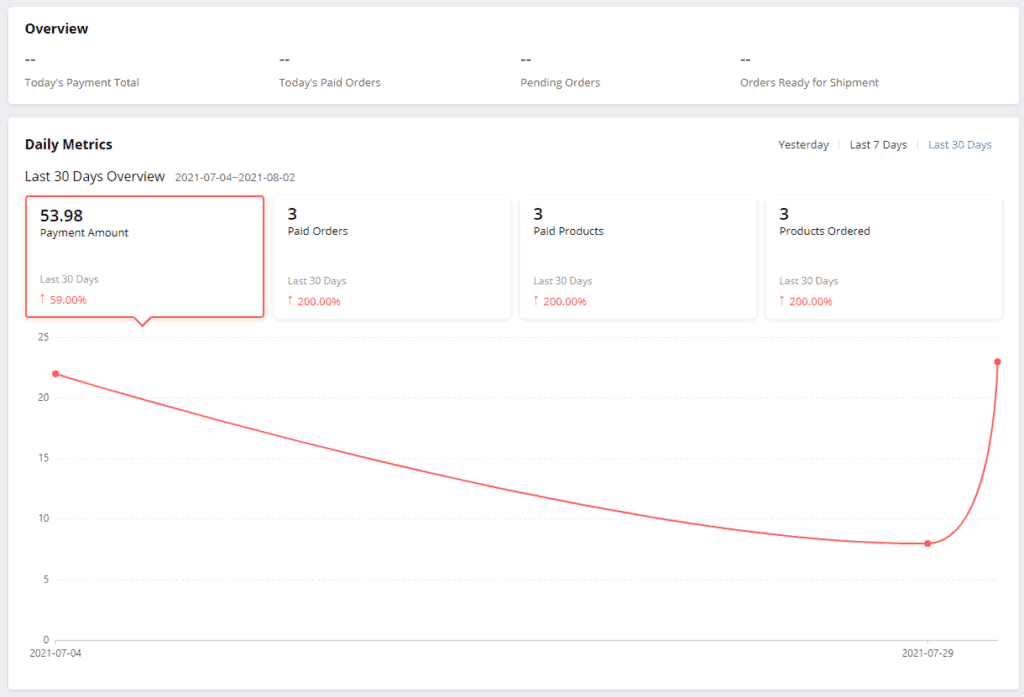 You might say that it's interesting to know which products are trending on AilExpress but why would I mind about my own buyer account's performance?
The reason you are going to find these performance statistics interesting is the Levels Program.
The AliExpress dropshipping levels program
The levels program is a discount-for-volume kind of a program, it's free to join and you actually don't even have to apply to join – you join it automatically once you sign up to the dropshipping center.
Usually, volume-based discounts are given when you buy wholesale and require you to sign a dropshipping agreement with the supplier. But buying in wholesale could mean buying ahead of a bulk of the products you plan to sell. The AliExpress dropshipping levels program gives you a discount without the need of buying in bulk.
All you have to do is to make enough sales to reach the next level. Once you've reached it, you get a discount for the next product you buy.
The table below describes the Aliexpress dropshipping levels and the minimum requirements to achieve them.
| | | |
| --- | --- | --- |
| Level | Discount | Upgrade Requirements |
| Normal | 0% OFF | < US $1000 |
| C Level | 2% OFF | >= $1000 |
| B level | 4% OFF | >= $2000 |
| A level | 6% OFF | >= $5000 |
Think about it, once you make enough sales and reach $5000 in purchases from AliExpress, you become eligible for another 6% discount on the sourcing price. This could be the differentiator between you and your competitors if you dropship on a marketplace like eBay, another 6% you could potentially invest in ads or simply 6% more profit.
To reach those levels, what you're going to need is the best dropshipping products to sell. Luckily that feature exists as well
Find Products to Sell in AliExpress
The advanced product research tool of the AliExpress dropshipping center can help you with your product research efforts.
This product research tool includes quite a few useful features in 3 tabs: hot selling, search by image, and sponsored products.
Hot Selling

on Aliexpress dropship center
The first and probably most important tab is the Hot Selling tab. It contains a table of products with 8 columns of information and powerful filtering and sorting functions.

The columns are:
Product – The image and title of the product, clicking on it will open the product page in a new tab
Price – The normal price, and if the product is offered at a discount then also the discounted price
DS Price – The price after your level discount, it starts showing up once you reach the C level (when you purchase for more than $1000)
Orders – The number of orders by regular buyers of the AliExpress marketplace, excluding the orders done by accounts that joined the dropshipping center
DS Orders – The total number of orders that were done on AliExpress by accounts of dropshippers, these are probably detected by people that joined the AliExpress dropship center.
Rating – Based on the reviews of the product between 1 to 5 stars
Seller performance – A metric that defines the reliability of the dropshipping supplier you're going to purchase the products from
Actions – Currently there is only one action, to analyze the product. Analyzing a product will be explained later in this article
The filters section includes powerful tools to help you filter the table by the products that are most relevant for your dropshipping business. Let's overview their functionality and the best practices on how to use them.
Search bar
You can run a free search of keywords, I personally always prefer keyword filtering over category filtering because then you can focus on specific niches within categories.
But you can still benefit from the category filter.
Product category filter
The product category filter is actually quite advanced, it drills down from category to subcategory to sub-sub category.

You can use it by starting from choosing a sub or sub-sub category just to get a direction and then look further into close niches using the search bar.
Tip
When looking into a specific niche using the search bar, try it once with a filter of the relevant category, and once without, you might get different results.
Ship From (item location) filter
AliExpress started originally as a marketplace for Chinese suppliers with warehouses in China only. But over the years these suppliers started working with logistics centers around the world.
Today you can order products from AliExpress and choose to ship them from the USA, Russia and different countries in Europe. You can use this filter if you sell on one of these markets and want to see only the products that exist locally.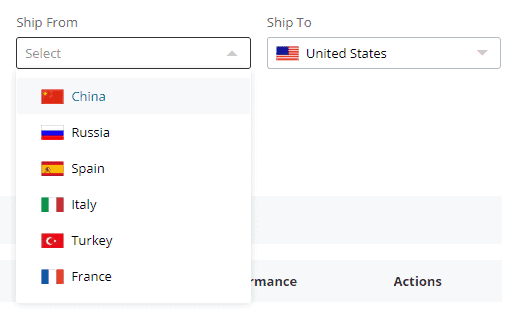 Having said that, you can't compare the scale of the products in China to the products in other warehouses. Don't limit yourself to a specific item location, the most important thing is to find the best product for your buyers – a great product shipped from China is superior to an OK product shipped from a USA warehouse.
Actually, you shouldn't even limit yourself to AliExpress exclusively there are so many dropshipping suppliers you can work with.
Ship To
You can use this filter to verify that the products will be shipped to the buyers in the market you're selling on. If you are selling worldwide you don't need to use this filter at all.
Delivery time & ePacket filter
The delivery time filter is used to clear from the table products that don't offer fast-enough shipping methods.
I recommend avoiding any shipping method that doesn't offer a tracking number. Shipping methods like ePacket and other Aliexpress standard shipping offer tracking numbers are ship by air. Other delivery methods that don't offer a tracking number are being sent by the sea in containers that can take longer and even get lost – avoid them at all costs.
Price range filters
You can filter by minimum price, I usually recommend beginners to avoid too cheap and too expensive products so between $10-$30 would be the ideal price range.
Exclusive DS Price
It's not clear what difference this filter makes and honestly, I don't think anyone uses it.
Free shipping filter
You might think that it's better to only look at products with free shipping, that's wrong, it's best to offer products with free shipping in your store. But when it comes to which products to source?
Simply include the shipping rate when you calculate your profit margin. I don't see a reason to use this filter
Video filter
This one is great in case you want to use the video of the product as a creative. It's usually not possible when dropshipping on a marketplace like eBay but if you do Shopify dropshipping you can use it as an ad or include it in your product page as well.
Search by image

on Aliexpress dropship center
To get to the search by image feature you need to change go to the second tab in the Find Products To Sell page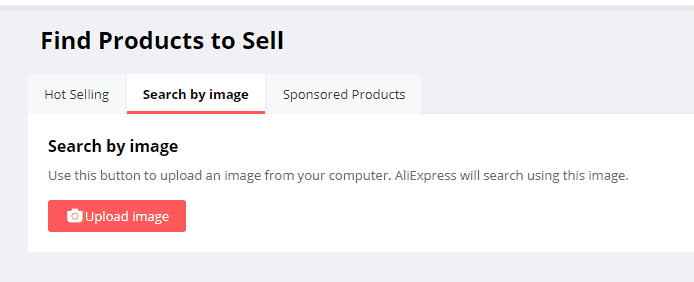 This is a great feature if you want to analyze a product of a competitor. For example, if you are analyzing another Shopify store where the stats of the product doesn't exist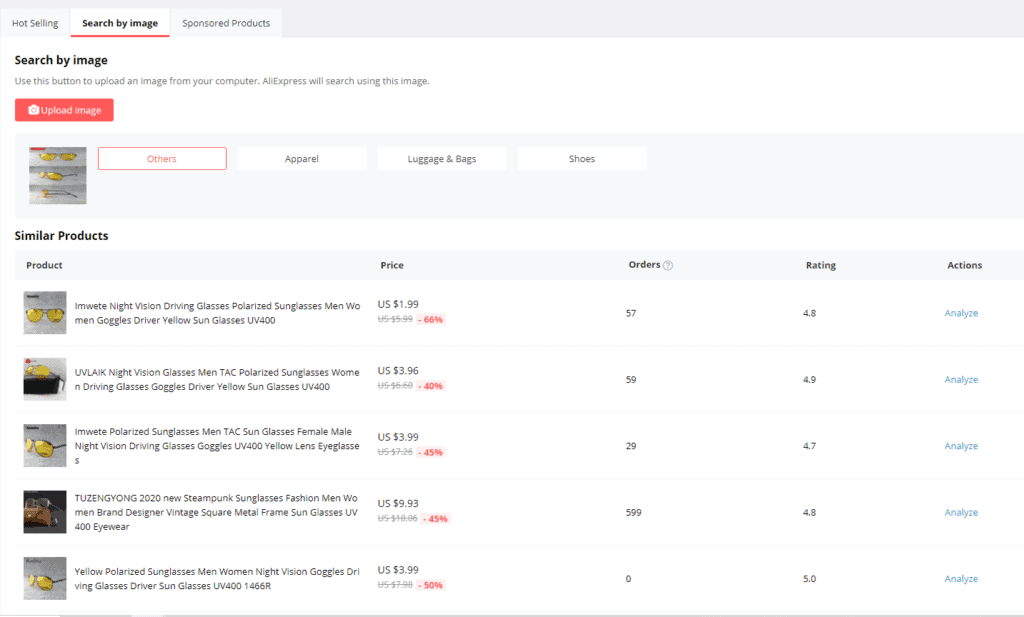 Sponsored products

on Aliexpress dropship center
This tab is probably the least used tab in the AliExpress dropship center. I really cannot understand why they created an entire tab for sponsored products. These are probably products that suppliers on AliExpress paid to promote there.
Why and how to use it? I am not sure I'd waste time on trying to understand when the other tools are so powerful.
Either way, whether it is a hot selling product, a sniped-by-image product or a sponsored product that you're thinking of dropshipping, the best way to tell whether a product is worth selling or not is by analyzing it.
Product analysis

tool of dropshipping center on Aliexpress
The product analysis feature lets you enter a URL of a product from AliExpress (or you can just click the Analyze button in the Actions column of the Find Products to Sell page). In return for the product URL, you get a trend graph of the sales volume.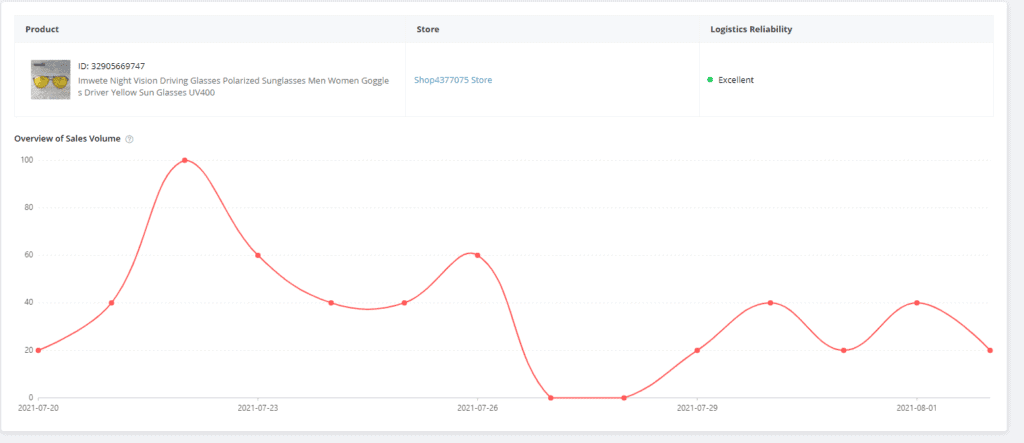 The graph is looking at the performance of the product in the past 14 days, personally, I don't think that a 14 days range is not a good enough tool to analyze the product's performance. It can assure you that the trend that you think that you find is still growing.
But how do you know what trends to look for, to begin with? In the example above I searched on August 4th for sunglasses, you can see that the graph is clearly declining and I guess it will keep declining until the end of the summer simply because most of the people that looked for sunglasses for the summer did it at the beginning of the summer – not at the end of it.
There is a way for you to predict what trends are going to happen in the near future, using Google Trends.
Finding trends using Google Trends
There are two kinds of trends that can cause a product's sales to soar: one-time trends seasonal trends.
One-time trends – when Netflix released the show "The Queen's Gambit", the sales of chess-related products soared. Even products such as chess-problems magazines got more popular. This kind of a trend is a one-time trend that usually passes, an example of a trend that already passed is the 2007 widget spinners.
Seasonal trends – Some products which are more of a "commodity" are trending per season. Anything that repeats again and again counts as a season, from the winter that pushes the sales of umbrellas to the NBA season finals that pushes the sales of basketball merchandise.
Google Trends is a free tool that Google created in May 2006, it follows the popularity of search terms in Google over time and shows a trend line of them. The trend timeline can be set to show the trend from the past hour to 7 days, 30 days, 1 year, and even since 2004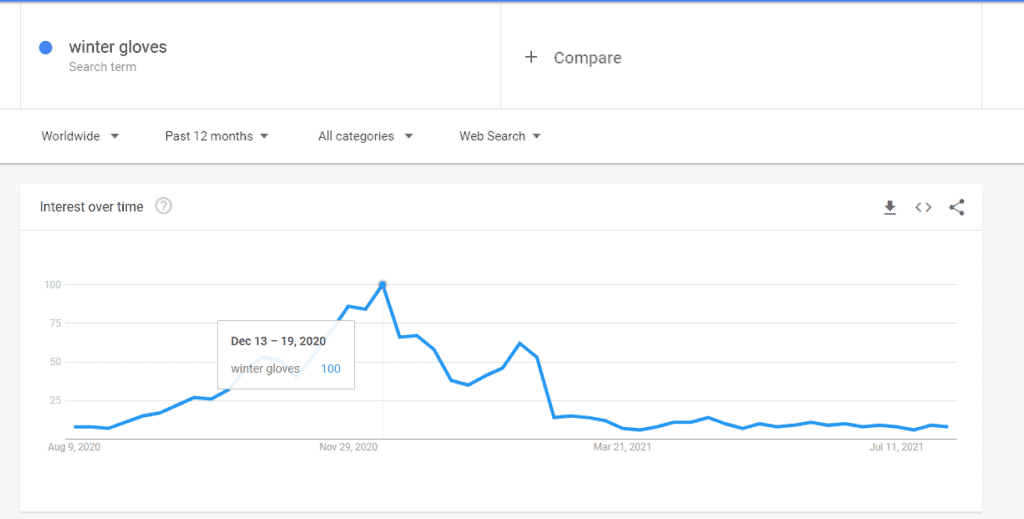 When you look at any search term at 12-months time fame you can easily recognize when the trend begins. I am writing this article during the summer so winter gloves aren't popular at the moment. But look how last year's search terms started becoming more and more popular from September on. That's a good enough prediction for what's coming this year as well.
If I'd plan on buying wholesale, August would be the time to start looking for my dropshipping suppliers. If I am to dropship from AliExpress one-by-one then I can wait a bit longer but pretty soon I'd start offering them in my store.
To demonstrate the difference between one-time trends and repeating seasonal trends I compared the keyword "sandals" which people buy usually at summer times to the keyword "fidget spinner" which was a popular trend in 2017.
I wasn't able to see it with the 12 months time range but when I set the range to "since 2004"…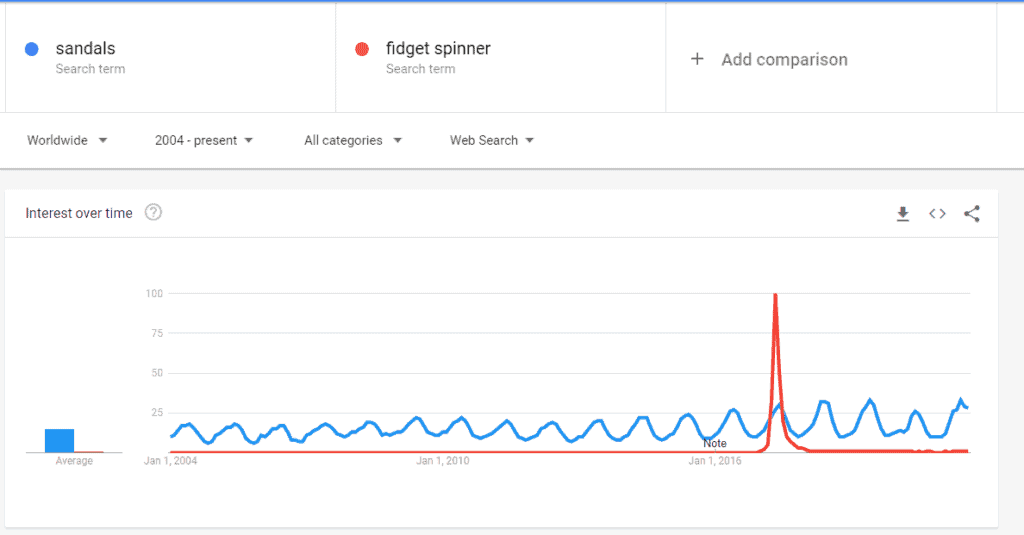 I think that this time range filtering is one of the things that are missing from the AliExpress dropshipping center product analysis tool. Until they develop it, you can use it together with Google trends to verify that the trend that you see makes sense with the trends of search terms in Google.
I hope that understanding the functionality of the AliExpress dropshipping center tools will help you find great products to sell. Once you find what you want to sell, it's a good idea to get familiar with good software that can help you add these products to your store.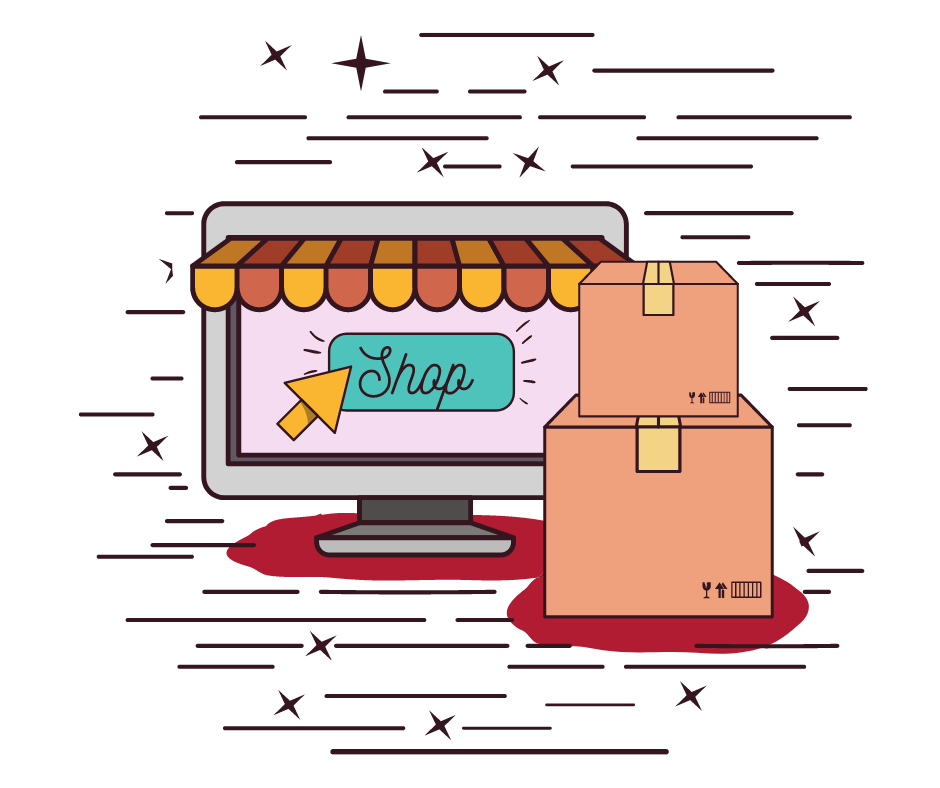 It's time…
Don't wait for success to come. Hire yourself and start your own dropshipping business
How to add products you find in the dropshipping center to your store
Using a dropshipping software you can add the products to your store in one click. With DSM Tool you are also protected from price changes, the product going out of stock and you can process the orders automatically using a bot that processes the orders for you.
When you download the dropshipping Chrome extension of DSM Tool you will find a blue button on the product page of AliExpress that says List in DSM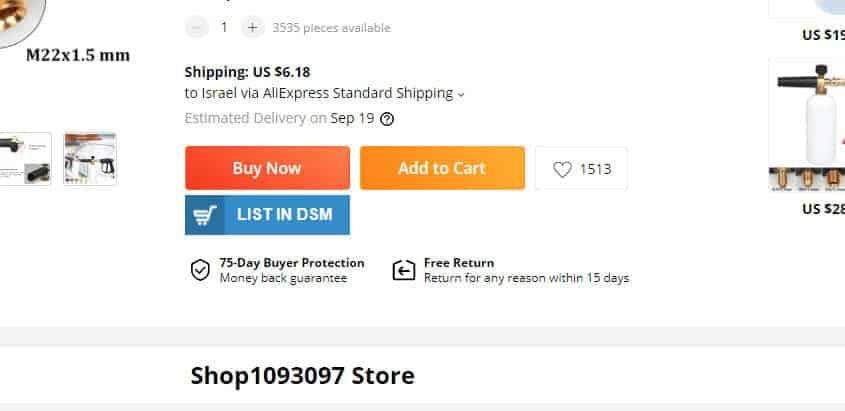 After you click on it, the DSM Tool lister imports all of the information from the product page and prepares it for publication in your store. You can choose to publish it right away, save it as a draft or schedule it later.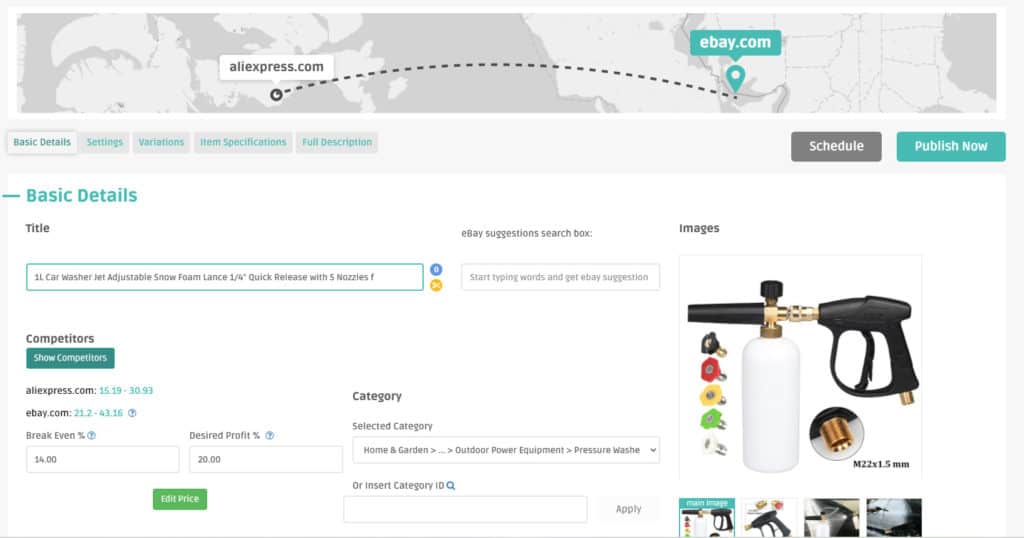 Tip
Take advantage of the eBay SEO optimization tools of this dropshipping lister
DSM Tool will then get into action and start monitoring the price and stock of the product on AliExpress. It will sync changes to your store and once you make a sale will help you manage the ordering process including the option to completely automate it.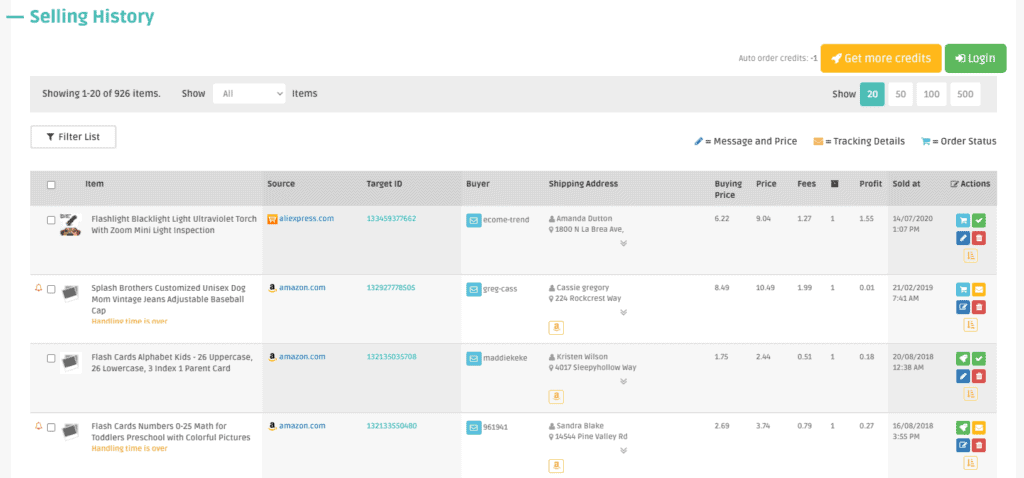 Conclusion
Probably the biggest advantage of the AliExpress dropship center compared to other product research tools is that it's free to use. It comes with a volume discount program, a wholesale service, and even a free product research tool.
It's hard to say if it could or should be used as a standalone product research software, but with the combination with Google Trends you can make wonders with it.
I hope that this article has been useful to you, let me know how much time it took you to find a hot product there using the comments below. And of course feel free to ask any questions, below you will find a list of frequently asked questions.
Frequently asked questions
Is the AliExpress dropshipping center free?
Yes, the dropshipping center on Aliexpress is free. All you need to do in order to get it is to signup to AliExpress and activate the dropshipping center using the steps provided to you in this article.
Can I dropship from Aliexpress?
Yes, you can do dropshipping from Aliexpress. You need to have an online store on one of the eCommerce platforms (like eBay, Shopify, Amazon, etc.) or an eCommerce website. Connect it with your dropshipping software. Find suppliers on Aliexpress of best-selling products to sell, and offer them in your shop.
Can you use Aliexpess drop shipping center if you are not dropshipping from AliExpress?
Yes, you can use the Aliexpress dropship center even if you don´t do dropshipping. Many dropshippers use it to find products to sell and then work with an agent like CJ Dropshipping for product sourcing.
How to activate Aliexpress dropship center?
Once you logged in to your Ali Express account, go to this link to activate your Ali express dropshipping center. Accept the terms and conditions, enter your name and start to use it to find hot products to sell online.
How to get to AliExpress dropshipping center?
If you have already activated the dropshipping center on AliExpress. You can access it from your profile: go to the My Account on the menu tab on Aliexpress. Then choose the section Dropshipper Center.
My AliExpress dropshipping center is not showing, what to do?
The dropshipping center shows up once you complete its activation, when you connect an official dropshipping app to AliExpress or when you are being detected as a dropshipper. Follow the steps provided in this article to find out how to activate it.
How to get to the next level in the AliExpress dropshipping center?
The level system of the dropshipping center on Aliexpress is based on your purchase volume. Once you purchase for more than $1000 on AliExpress you become eligible for Level C. Then you continue growing up to level A when you reach $5000 in sales.