Dropshipping suppliers are an important part of the dropshipping arbitrage business model because, first of all, they are the source of your products. Therefore, without suppliers, there is no dropshipping business. They are those who offer millions of products for any taste and they will be those who deal with fulfillment and shipping of your orders. 
Finding suppliers to dropship from is one of the biggest struggles new dropshippers deal with. There are plenty of eCommerce sites with millions of products. But not every source can fit your dropshipping style and in general, it can just be…not fitting for dropshipping business at all! 
In order to ease the process of how to find sources for drop shipping, we created for you this post with a free list of the local and international sources, e-commerce sellers use for dropshipping. 
In this post, you will learn: 
What is dropshipping?
If you would like to enter the fast-growing eCommerce and not hold the packages with products in your house, dropshipping arbitrage can be just for you. This business model supposes selling the products in your e-store without holding the inventory or handling the pre-orders.
You open your online store or selling account in one of the various marketplaces (for example, on eBay, Shopify or Amazon) offering the products from your suppliers. Once you get the sale, your dropshipping supplier ships the products right to your customer.
It sounds easy and low-risk. That's right! Unlike other businesses, you aren't forced to make big investments, take a bank credit, and run the risk of not selling pre-ordered bulk products.
Moreover, it´s easy to start drop shipping. Though, like any business, it has some peculiarities you need to know. And one of the first difficulties for beginners is where to source products to dropship?
Dropshipping suppliers to dropship on eBay, Shopify and Amazon
First of all, there are many eCommerce sites you can dropship from. All your sources can be practically divided in:
Local suppliers (those who ship items from the warehouses in your market, for example within the USA, United Kingdom, Australia, Spain, Germany, France, etc.). So you would get fast shipping among other things.
International suppliers (those ship from Chinese warehouses mostly. However some of them have warehouses all around the world). Logically, they offer longer shipping terms.
Secondly, all suppliers can be also divided into:
Retailers

(those that sell products directly to customers);

Wholesalers

(those that sell their goods in bulk to other businesses, including the aforementioned retailers).
If you are dropshipping on a marketplace, like eBay, Facebook, Walmart or Shopify, take into account the importance of following their dropshipping policy. On eBay, for example, while it won't get your account banned or suspended, it will have the potential to reduce the traffic to your store.
By learning how to work properly with those marketplaces you can make great profits at very low risk. Using techniques like eBay SEO and performing proper market research is required when dropshipping on a marketplace like eBay.
Below I provide the list of 50+ dropshipping suppliers you can source from. I especially paid attention to their type, warehouse location, availability of free/international shipping and its time, their return policy, an option to pay with PayPal, and if they offer any special dropshipping program or loyalty rewards.
Be sure to consulate with the policies of your marketplace before choosing the sources to dropship from.
One thing you should know…it's a huge list. Consider bookmarking it for future reference as you grow your business!
Dropshipping suppliers USA
1. Amazon as a supplier for dropshipping
Amazon is one of the dominating eCommerce sites nowadays. There you can really find products for every taste. Amazon offers more than 350 million products under various categories. They are famous for their reliability and service. However, they are not dropshipping-friendly. All their packages contain the Amazon logo. In regards to the invoice, you can mark the order as a gift and the package will not to include it.

2. Dropshipping from Walmart
Walmart is another US-based retailer with worldwide fame. It internationally operates hypermarkets, department stores, and grocery stores, and its website walmart.com has an estimated 294 million visits a month. Many online sellers choose Walmart for dropshipping. Walmart's online shop sells a diversified range of products under various categories. Despite the fact that they don't offer a dropshipping program, Walmart offers great customer support and fast shipping.
3. Etsy as a dropshipping site
Etsy is an internationally famous marketplace that focuses on selling handmade, vintage products, printable on-demand, and manufactured items under diversified categories. Since Etsy is a marketplace and not a retailer, they don't offer a reselling agreement, however, they allow reselling their products under vintage and craft supplies categories. Plus, you can contact the Etsy store owner and work directly with them as your suppliers.
4. HomeDepot as a dropship supplier
HomeDepot is one of the most popular suppliers used for dropshipping home improvement products. It's the largest hardware and home improvement supplies in the US marketplace. They sell tools, construction products, home decor, garden equipment, furniture, and associated services in their online store. Home Depot is an exclusive seller of many brands and has its own company-owned brands such as Husky tools, Workforce tools, HDX, and a few more. They have the dropshipping program, but more likely it isn't what you are looking for. HomeDepot drop shipping program encourages suppliers to become a part of their website: Home Depot will list their inventory and fulfill their orders.
5. Wayfair as a dropshipping site
Wayfair is an American e-commerce giant founded in 2002. It's one of the leading marketplaces in the home decor niche. Many eBay and Shopify dropshippers choose Wayfair as a dropshipping supplier. Wayfair offers more than 18 million products in 13 sectors related to furniture and home decor. Besides, they are constantly growing and adding new products and their own brands. However, you can keep in mind that their packages have a Wayfair logo and come without the invoices (usually).
6. Dropshipping from Macy's
Macy's is an American premier retailer, especially famous in the fashion niche. Their site offers a big range of products varying from women's and men's fashion, accessories, and children's clothes, as well as home and decoration products. Keep in mind that Macy's uses the dropshipping business model as well so when you choose to dropship from Macy's you actually source in retail price products that are in turn being bought for a lower price from the suppliers that work with Macy's.
7. Bed Bath & Beyond as a dropshipping website
Bed Bath & Beyond (aka BB&B) is an American popular home goods retailer. They are selling everything for home and garden, one of the most popular niches nowadays. It makes it an interesting supplier for drop shipping. They also often offer , coupon discounts, and clearances on their web. In addition, if you are going to dropship from Bed Bath & Beyond, it can be a good idea to buy their annual membership card (29$) to reduce your purchase prices and get free shipping.
8. Dropshipping from Onetify
Onetify is a social global sourcing and shopping platform, designed to provide the best hassle-free online experience. It assists dropshippers or wholesalers, discounted retail shoppers, and those who source products or do bulk discounted shopping. They sell a pile of items across most popular categories: electronics, drones, watches and accessories, fashion, pet items, home & living, kitchen, fitness, beauty, bags, mug, etc. Onetify offers 30,000 items from the US and Asia within their dropshipping program. You don't need to pay a fee per order and you get a discount of 20 or 50% (depending on free or paid plan there). Onetify pro plan also provides white-label shipping for your orders.
9. Overstock as a supplier for dropshipping
Overstock is an American e-commerce site that mostly focuses on selling furniture and home goods. Besides, you can dropship from Overstock clothing, accessories, beauty products, baby goods and toys, electronics, pet products, and sport items. In addition, they always offer some deals, seasonal clearances, and flash deals. Also, the Overstock loyalty program, club 0, costs 19,95$ a year. Its owners get 5% cashback on every purchase, premium customer support service, free shipping and returns, price match guarantee, and extra bonuses on leaving product reviews.
10. Costco as a dropship supplier
Costco is one of the largest wholesale brands in the world that has been operating since 1976. Costco runs on a "subscription business model," that is, customers who want to shop at the store must buy a membership in order to do so. In exchange for 60$ per year, you get access to a huge amount of products with low competition and at wholesale prices. Costco is famous primarily for grocery products, but they offer goods in other niches as well, for example, electronics, clothing, office products, etc.
11. Costway as a dropshipping site
Costway is one of the top retailers in North America and Europe. They sell everything people need starting from business activities to daily life whether that's home and garden items to sports and hardware equipment, from auto parts to DIY projects all the way to business and industry products. Costway is a dropshipping-friendly supplier that offers a reselling agreement (Amazon and eBay sellers will find it very useful). Costway orders come in packages with Costway orders but without invoices.
12. Target as a supplier dropshipping
Target is the 8th-largest retailer in the United States. It sells products that are ranging from fashion to home decoration and furniture, from groceries to electronics and hygiene products. Target often launches clearances and special offers. Moreover, they have a special program, Target red card. It gives an extra 5% off, access to the special items, free shipping on most of the Target products, and extra 30 days for item returns. Their other membership, Target Plus, opens more items in certain categories from Target-approved partners (however, PayPal for it isn't accepted).
13. Sears/Kmart as dropshipping suppliers
Kmart and Sears are merged into one corporation called Sears Holdings. It is the third-largest global retail chain after Walmart and target. They offer a big range of high-quality products under almost all categories. However, dropshipping from Kmart/Sears can be dangerous since both sites provide poor scanning results. It makes it hard to sync their products' stock and price changes. But you can still do it for certain products bearing in mind the risk of price and stock changes.
14. Dropshipping from Bangalla
Bangalla is famous to be one of the largest drop shippers of organic and natural food products in North America. They offer over 700 brands over 125 product categories. Being acknowledged that drop shipping of food products is prohibited, you can list health & beauty, sustainable products, home, and decor products from there to your shop. The Bangalla loyalty program has 3 plans with services varying from access to products to wholesale and dropshipping items, an extra 5% discount on all orders to the FBA services along with logo addition. By the way, the item price will vary whether it will be a wholesale order or dropshipping order.
15. BestBuy as a dropshipping source
BestBuy is an American multinational consumer electronics retailer headquartered in Richfield, Minnesota. It was founded in 1966. It focuses on selling different types of electronics. Although, you can also find the home gym, health, home, furniture & office, eco products, and toys with games. Additionally, you can opt-in BestBuy business program. It will allow you to get 10% savings, free shipping on orders of 35$, exclusive offers, volume purchasing.
16. Aosom as a supplier for dropshipping
Aosom is an eCommerce site, founded in 2009, that offers a variety of quality, affordable products from areas such as Biking, Fitness, Home Goods, Outdoor Products and more. The company has many warehouses around the world. They do not have a dropshipping program. And, unfortunately, their wholesale program is available only for the shops who want to sell on their site.
17. Dropshipping from Eloquii
Eloquii is a private company based in New York and Columbus, OH that is selling fashion apparel in sizes 14-28, shoes, handbags and accessories. It was founded in 2009. Currently, their goods count with approximately 25,000 brands (meaning the eBay Vero violations for eBay sellers). But, in total, owners of dropshipping stores specialized in fashion can find this source useful. However, you need to take into account that Eloquii doesn't offer any dropshipping program or a loyalty program.
18. Sam's Club as a source for drop shipping
Sam´s club site sells home appliances, clothing, sports equipment, furniture, household essentials, pet products, toys and games, and many more. They become accessible with Sam's club membership. Additionally, this membership gives you cash back, free shipping, extra offers, etc. It costs either 45$ a year or 100$ annually. There is no dropshipping program.
19. Droposhipping from Newegg
Newegg is a leading tech-focused American e-retailer, based in California. The company was founded in 2001 and it mostly sells electronics, computer hardware, entertainment, gaming, and smart home items. Currently, Newegg has over 20 million products from more than 2,700 brands. Moreover, the company offers excellent customer service, detailed product descriptions, and competitive pricing. There is no drop shipping program, instead, they offer collaboration to the vendors.
20. Lowe´s as a source for dropshipping
Lowe´s is an American e-retailer specializing in home improvement. Apart from furniture and decor, the company sells home gym products, tools along with equipment, lighting, storage, family fun items, and appliances. They don't offer a dropshipping program. However, many online sellers use it as a dropshipping supplier and leave negative feedback due to order cancellations or late shipping. Therefore, if you reselling from Lowe's, be attentive to these possible risks.
21. VidaXL as a dropshipping website
VidaXL is an international online retailer, with headquarters in Venlo, The Netherlands. The company was founded in 2006. In this dropshipping supplier, you can find whatever you need for your home, garden, garage, sport, children, pet, and business. There are 20 categories and more than 100 subcategories of the products with competitive prices. Besides, you can find daily, weekly and extra deals on their site. Fortunately, VidaXl has a dropshipping program, available for 29 countries. It allows you to resell around 16,000 VidaXL products in your e-Commerce shop all around the USA, Australia, and Europe. In addition, it opens free shipping (not available for Australia). Except for the access to their products, VidaXL takes the responsibility to provide good customer service and fulfill your orders without putting invoices to the packages.
22. Sourcing from Petsmart
Petsmart is the largest specialty pet retailer of services and solutions for the needs of pets. There you can find various competitively priced products by pet: dog, cat, fish, bird, reptile, and small pet. They are selling everything they need for pets' happy and healthy lives. They offer a Petsmart Treats program for US users. It consists of earning points on each service or product order, donations. Besides, it allows you access to member-only deals and discounts and free shipping on orders over 49$. The accumulated points will give you an extra discount on the order then.
23. Olay for dropshipping
Olay is an American skincare brand owned by Procter & Gamble and founded in 1952. On their website olay.com, it is possible to find their skincare products for every skin concern and type. It can be interesting for the owners of the online shops in the beauty niche or eco-friendly items since Olay is a cruelty-free brand. Discounts, clearances often appear on their site. Though, they don't offer a loyalty program or dropshipping program.
24. Dropshipping from Lululemon
Lululemon Athletica is a Vancouver-based fashion brand and a leading retailer in the Athleisure niche. It was founded in 1998 and was focusing back then on selling yoga wear. Nowadays, Lululemon is selling a big range of products for athletic apparel, including accessories, shoes, and sports equipment. They are also taking steps to become more and more sustainable and pay a lot of attention to the quality of Lululemon. They don't offer any dropshipping program.
25. Everything Kitchens as a supplier
Everything Kitchens was started in 2002 and became a popular one-stop for the best products at home and especially in the kitchen: from cookware to bakeware, dinnerware to glassware, appliances to gadgets, and all things in between. In total, Everything Kitchens offers 13,000 items within 200 kitchen brands. And they constantly add more products. Their customer support appears to be good. They highlight it frequently. Additionally, the company offers a rewards system where their buyers get a special point on each 1$ spent on Everything Kitchens products, leaving product reviews, and subscribing to their newsletters. These points will give an additional discount on the checkout process. By the way, Everything Kitchens commonly have discounts, special codes, and clearances. In regards to the dropshipping program, there is no such thing there yet.
26. Kohls as a supplier for dropshipping
Kohls is a famous American department store retail chain founded in 1927 and operated by Kohl's Corporation. On their website, Kohls sells everything you need for yourself and your home – apparel, shoes & accessories for women, children, and men, plus home products like small electrics, bedding, luggage, and more. They don't offer a dropshipping agreement. However, the site has the Kohl's rewards program: it allows you to earn 5% rewards on every purchase and collect cash. Moreover, you can find many deals, special offers, and clearances on Kohl's products here. The company raises the activity towards turning into a more sustainable supplier as well. Online sellers of eco-friendly products can pay attention to this dropshipping supplier.
27. Dropshipping from IHerb
IHerb is one of the largest US-based e-commerce retailers of natural products. The company, founded in 1996, sells more than 30,000 items, among which there are nutritional supplements, health foods, and personal care products. Besides, there are items for the home, children, and pets. A comprehensive website menu helps to find what you need among all those products. All iHerb orders are shipped to over 150 different countries from their US and South Korea warehouses. IHerb offers 3 ways of getting rewards on their site: by leaving reviews, answering user's questions about their products, and sharing IHerb products with others. They don't offer any dropshipping program.
28. Staples as a dropshipping website
Staples is an American office retail company. It was founded in 1986 and currently, Sycamore Partners owns it. Staples focuses on selling office supplies and related products. On their website, you can find, for example, business essentials, printers, computers and electronics, office furniture, printing services, safety supplies, and facilities maintenance products. Besides, the Staples site gives special discounts, savings, and perks every day. It's possible to join a Staples reward program for free. It gives cashback, free delivery, and access to bonus events. Unfortunately, they don't offer a dropshipping agreement.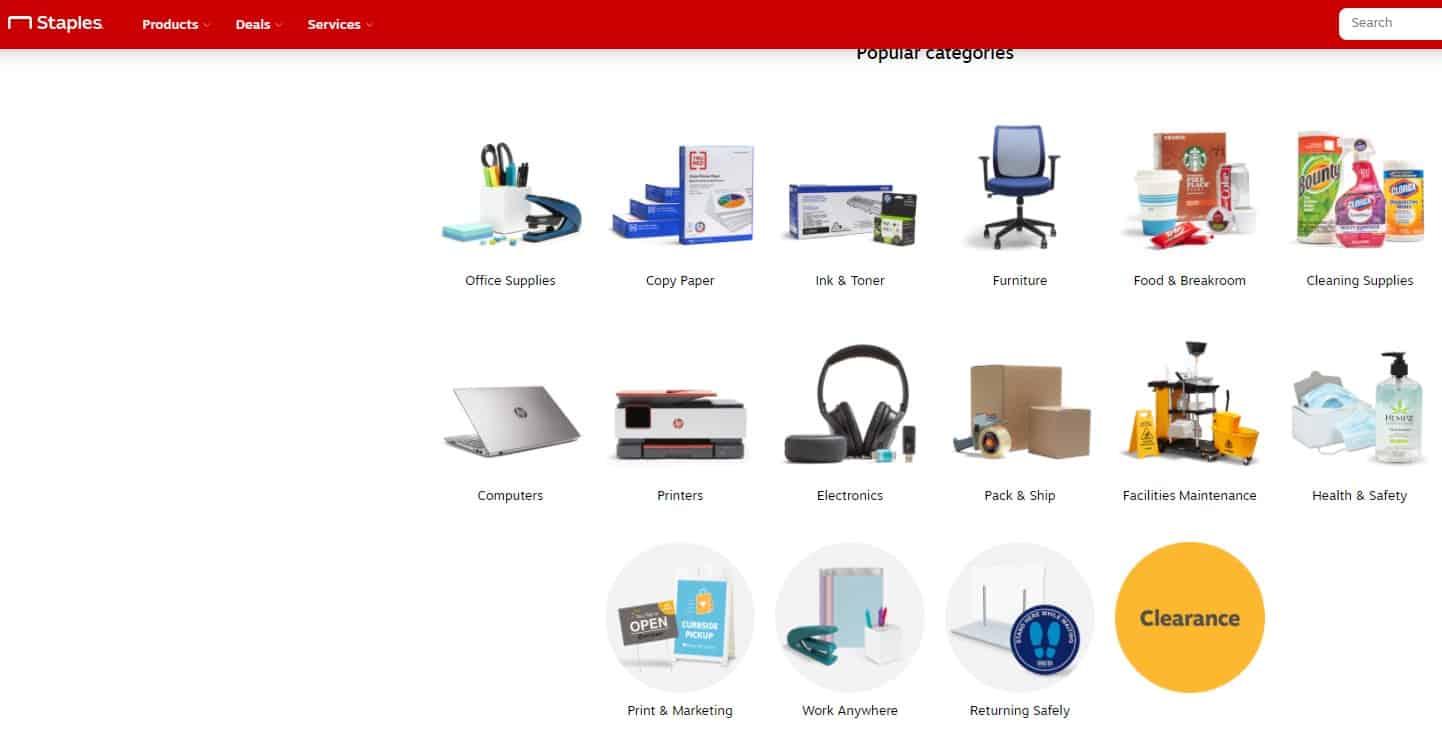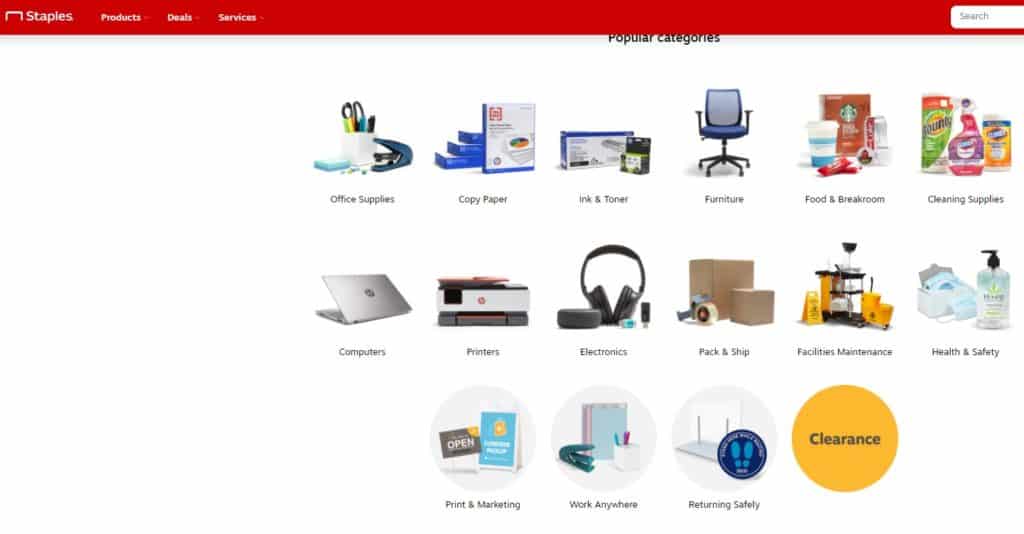 29. MidwayUSA
MidwayUSA is an American eCommerce company founded in 1977. The company is mostly selling various hunting, shooting, and outdoor-related products. It offers more than 84,800 items among which there are air-guns, ammunition products, archery products, black powder guns, camping and survival products, clothing, footwear, gun parts, gunsmithing supplies, hunting gears, knives and tools, military supplies, optics, reloading supplies, self-defense, and police products, shooting gears, as well as books, videos, and software. It's necessary to be attentive in choosing the products from their site for reselling, in order to not source the items that violate the policies of your marketplace or shop.
30. Walgreens as a supplier for drop shipping
Walgreens is an American company that operates as the second-largest pharmacy store chain in the United States. It specializes in health and wellness products. All of the Walgreens items are divided into 15 categories: beauty, personal care, medicines, supplements, household, toys, baby products are some of them. Besides, the company provides printing projects. They have clearances, special discounts, offers, and deals on their website, which allows you to gain extra profit. If you want to get more perks, you can join for free my Walgreens benefits program. This loyalty program will give you 1% cashback and an extra 5% discount on Walgreens branded products. In regards to the reselling program, there is no such one there.
31. Dropshipping from Woot
Woot is an American e-retailer founded in 2004 as a daily deals site. If originally they offered only one product per day with a special deal, nowadays Woot has multiple daily deals and other short-term sales across 7 different categories, along with special site-wide events like Woot-Offs and other offers. So you can find the products under the following categories: Home & Kitchen, electronics, computers, tools & garden, sports & outdoors, shirt, and grocery & household items. Since Amazon currently owns Woot, owners of Amazon prime receive free shipping and 30 days returns.
Additionally, you can link your account in Woot with your Amazon account. The disadvantage of its supplier is that they don't offer a customer support service, if any problem pops up, it's necessary to contact the manufacturer directly or drop a message in the Woot forum. Besides, if you want to dropship from Woot, you need to keep in mind that they operate with a one-deal-a-day business model, so you will need to make sure that you renew your inventory daily. Besides, the site limits the number of products to 3 items a day per 1 customer.
32. Mirage pet products as a drop shipping site
Mirage pet products is an American manufacturing company with over 100 years of combined experience. It produces nearly 100,000 original pet products: fun pet apparel, holiday clothing, strong dog and cat collars and other accessories, cute pet toys, traveling items. All are with the wholesaling prices.
This dropshipping supplier is friendly for reselling and offers a special program. Mirage Pet Products does not charge a dropship or subscription fee, only shipping cost and the cost of the product. It's enough to create an account there and indicate the title of your selling shop to enter their program. You can notify them that you are willing to dropship and get access to an excel file with all important information about their products and get high-quality images for them.
33. Dropshipping from Brandless
Brandless is an e-commerce company that manufactures and sells products under the Brandlesslabel. The company was founded in 2015. During their crisis in 2020, Ikonifi and Clarke Capital Partners companies acquired it, so Brandless is back and offers quite a pile of items. Their site sells everything from beauty and hair products to grocery staples and home goods, travel, and baby products.
Dropshipping suppliers UK
You have noticed that many of the mentioned US dropshipping suppliers, like Wayfair, Amazon, Walmart, Costway, etc., have their warehouses abroad, including the United Kingdom. So if you are an eBay UK seller or a UK-based dropshipper, don't skip the previous part. There is valuable information there for you as well.
However, we prepare for you some of the UK dropshipping suppliers with the headquarters in England and Ireland so far.
34. Big Furniture Warehouse as a dropshipping supplier
Big Furniture Warehouse is a UK e-commerce company that offers a wide variety of furnishing products at affordable prices and high quality. On their main website, you can browse furnishings for bedrooms, offices, gardens, hallways, kitchens, dining and living areas plus storage facilities. Big Furniture Warehouse, except their own site, has also an online shop on eBay. Therefore, eBay UK sellers will compete with this source on eBay. In regards to the special dropshipping program, they don't offer such one.
35. Dropshipping from Asda
Asda is a British supermarket retailer founded in 1949. On the company's website, there is a big amount of various products, their own brands, and services. You can find everything you might need from clothing (by the way, they offer a really huge selection of it across dozens of sub-categories, including maternity, post-surgery cloth, bride & groom outfits, etc.), baby products, opticians, tires to your garden and home furnishing, decor, home accessories and much more. Asda often put different offers and deals on their website.
36. Argos as a dropshipping site
Argos is one of the leading UK and Irish e-retailers. It was established in 1972. Argos website is the third most visited website in the United Kingdom. They showcase 89,000 products across thirteen online categories: kitchen & laundry, home & furniture, garden & DIY, sports & leisure, health & personal care, home entertaining, video games, photography, office, PCs & phones, toys & games, nursery, jewelry & watches, and gifts & hobbies. They do not have a loyalty program or a dropshipping one. Besides, if you are dropshipping on eBay UK, you will compete with them since Argos has their own store on eBay. But anyway you can give it a shot because they sell on eBay only some of their products.
37. Tesco as a dropshipping supplier
Tesco is a British multinational general merchandise retailer founded in 1919. Although they are famous for selling groceries, you can also find beauty, baby, pet products, home-school essentials, household and home goods in general, toys, games, DIY, garden, outdoor products, eco-friendly items, etc. Tesco doesn't offer a reselling agreement. But there is a club membership with special discounts and perks.
38. Currys as a dropshipping source
Currys, aka Currys PC World, is a British electrical e-retailer that operates in the United Kingdom and the Republic of Ireland. It focuses on selling home electronics and household appliances. Currys presents around 60,000 items across 6 main categories: appliances, TV & Audio, Computing, Gaming, Cameras, Phones, Smart tech, and Home & Outdoor. They are collaborating with many brands. Therefore, eBay dropshippers can get Vero violations on dropshipping them. But sellers from other marketplaces give them a shot. In addition, Currys provides 24/7 support and even video calls for the customers to give them a hand. And they help people to cope better with the pandemic difficulties by offering extended refunds and home delivery.
39. Dropshipping from Smyths toys superstores
Smyths toys superstores is an Irish multinational store chain that is a leader in selling children's toys and entertainment products. The company was established in 1989. Except for a big amount of toys and games, Smyths toys superstores also sell the children's books, goods for the baby room, traveling, and outdoor. Their user-friendly website allows searching by category and by age. However, there is no drop shipping program from them yet.
40. Marks and Spencer as a supplier for dropshipping
Marks and Spencer or M&S is a major British multinational retailer. The company was founded in 1884. Marks and Spencer dedicate to selling clothing, home products, and food products, in most cases of their own label. Besides, they offer baby products, including toys and early learning items, home along with furnishing, beauty products, food, wine, flowers, and gift sets.
International/China dropshipping suppliers
Dropshipping from international or Chinese suppliers has various pros. First of all, they are available for dropshippers all over the globe. No matter if you are selling on eBay France or Germany, or you have customers in Australia, Spain, Italy, or any other corner of the world, it much easy to find there a supplier that will ship an order to all your buyers. Secondly, the prices are normally cheaper there, for example, a product on Ali Express would typically cost less than the exact same product on Amazon.
Well, previously we discussed more in detail its advantages and disadvantages in our post: What to consider when you choosing where to dropship from: Pros & Cons.
I hope you are still here and are ready to discover international suppliers for dropshipping to source from. So we are going straight to the point!
41. CJDropshipping as a dropshipping supplier
CJ Dropshipping is a dropshipping platform integrated with product sourcing, order processing, and shipping fulfillment. It offers about 400,000 products for drop shipping in many different categories posted by the CJ team at the request of their users and current trends.CJDropshipping products are white-labeled and have quality control. They claim to offer normally prices lower than on AliExpress or eBay. Additionally, there is a print-on-demand service, a designing service, a branding service for your online shop, and same-day order processing. CJDropshipping doesn't place their logo or put a product invoice in the packages.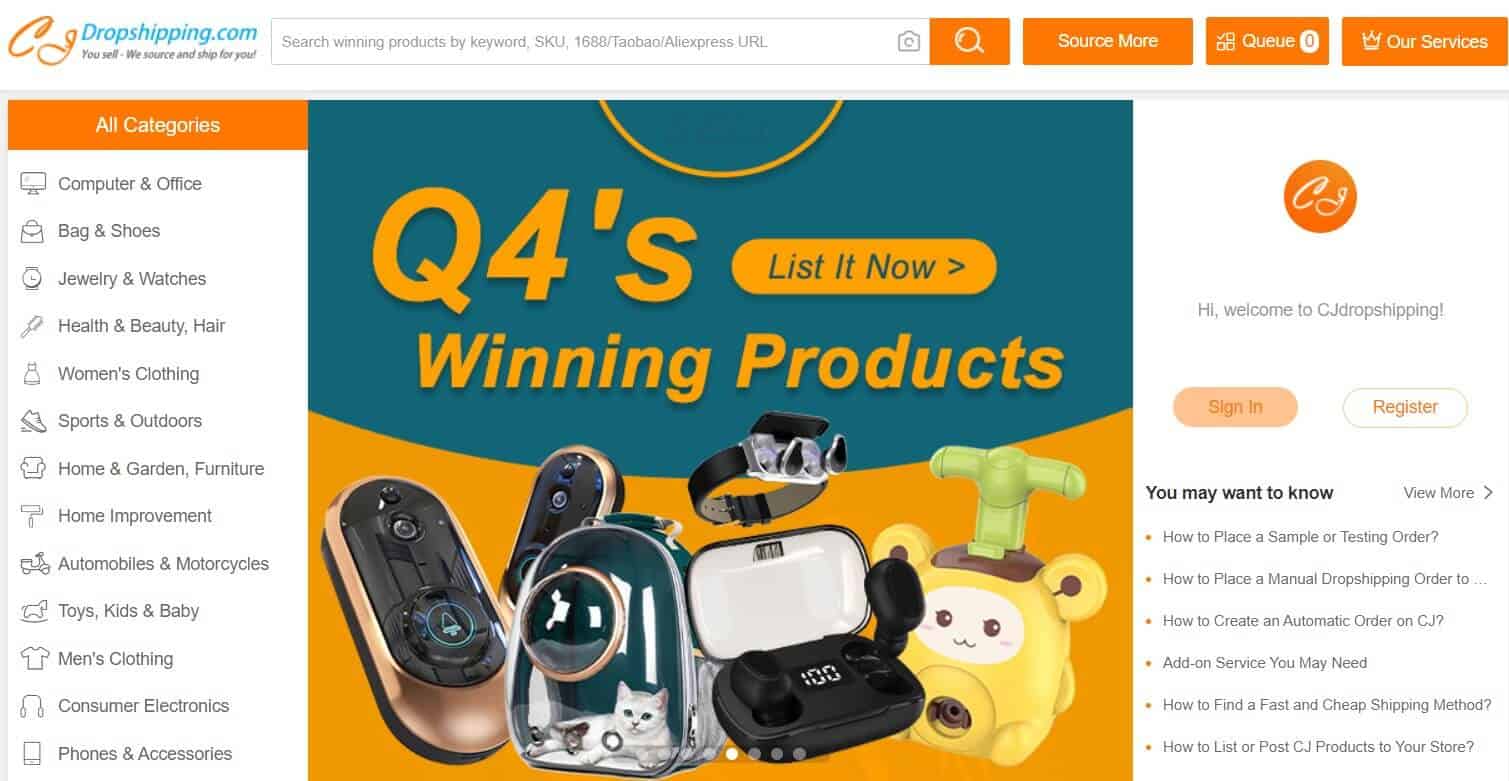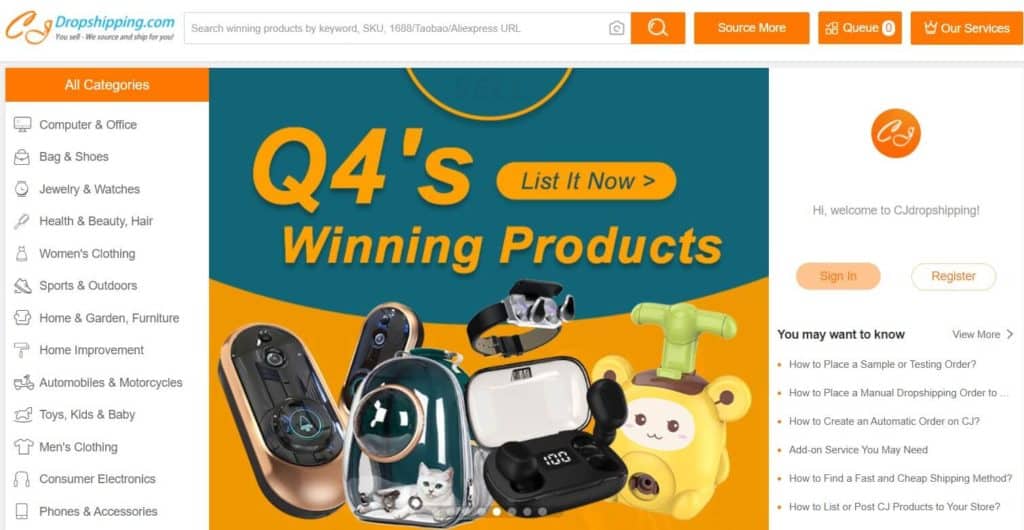 42. Aliexpress as a dropshipping site
AliExpress is one of the largest eCommerce companies based in China. The Alibaba Group launched this subdivision in 2010. Their business model is similar to Amazon as Aliexpress sells more than 100 million products in all possible categories but at cheaper costs. In addition, Aliexpress offers its own dropshipping program and it is dropshipping-friendly. Specifically for eBay dropshipping, is it the most recommended website to start dropshipping from if you are a beginner.

43. Chinabrands as a dropshipping company
Chinabrands is the world's leading wholesaler from China and a dropshipping platform. Therefore it's a dropshipping-friendly supplier that offers a special resell agreement, which is an authorization certificate to sell their products on online marketplaces such as eBay and Amazon (Shopify dropshippers don't need such one). In addition, Chinabrands offers millions of cheap goods that are processed by 3-layer quality inspection.
Chinavasion is another Chinese wholesale supplier. This dropshipping supplier specializes in electronic gadgets mostly. However, there are products for health, beauty, apparel, sport, pets, and garden. Good quality of product images and informative product descriptions are among Chinavasion's advantages. It doesn´t offer a special reseller program. Though, it is a dropshipping-friendly supplier. You can join their VIP program and get even lower prices.
45. GogoMall as a dropshipping website
GogoMall is one of the dropshipping-friendly suppliers that is open for worldwide online sellers. It is a global online shopping platform for the latest electronics, fashion, accessories, housewares, beauty & personal care, toys, and more. They are now over 5 years in the business of providing assistance to dropshippers all over the globe. They are relatively small and offer 2000+ sourcing products. One of their advantages is that they provide the GogoMall dropshipping agreement for Amazon and eBay sellers (Shopify dropshippers don't actually need it). Besides, they don't include the invoices in the orders and don´t print GogoMall logos on the packages.
46. Dropshipping supplier Banggood
Banggood is another Chinese-based supplier that offers drop shipping assistance and agreement on top of being an online marketplace for retail products. Banggood sells a little bit of everything from electronics, clothing, accessories, and beauty products, to name just a few of their categories. They emphasize doing that at the best prices.
47. Erpolo, a dropshipping sourcing agent
EPROLO is a free dropshipping tool for global merchants. Three hundred thousand users are using it now. It supports varied eCommerce platforms such as Shopify, WooCommerce, AliExpress, Shoplazza, eBay, and others. Services of EPROLO include free product sourcing, auto order fulfillment, global shipping, private inventory, 1 to 1 support agent, etc. One thing worth to be mentioned is that it offers branding and POD service. The EPROLO branding project goes live now and is available for customized products and packaging. It will be a great help for store owners who want to build their brand.


48. Tvcmall as a dropshipping site
Tvcmall (aka TVC) is a China wholesale and dropship company that has been operating since 2004. It's owned by a company called Shenzhen Tvc-tech Limited. Tvcmall is a legitimate dropshipping supplier of unbranded electronics and accessories. However, you can also source the products from other daily-updated categories like home & garden, toys, sport & outdoor, lights, health & beauty, baby & mother. In total, they have 100,000 high-quality items to offer to Tvcmall dropshippers. In addition, they offer design services and customized packaging. There would be no TVC logo in the shipped packages along with no invoices. Besides, Tvcmall promises 24/7 fast customer service.
49. Dropshipping from DealeXtreme
DealeXtreme is a well-known China-based retailer with over 10 years of experience. They offer a big range of products (over 300,000) under different categories: toys, beauty & health, sport, home, and garden, etc. They are mostly famous for electronics at low cost. DealeXtreme offers a free dropshipping program. Another advantage is that their packages don't have their logo or a receipt. However, their customer support response can take time since they are working according to HK working hours.
50. JoyBuy as a dropshipping website
JoyBuy is a global shopping platform, operated by the Chinese eCommerce giant JD.com. JoyBuy focuses on selling a wide range of products for the home, family fashion, accessories, health, and beauty, to name a few of its categories. In addition, JoyBuy offers the customized products as well. It has been successfully operating in the market since 2002. JoyBuy doesn't offer any dropshipping program or reseller agreement. But it offers 24/7 customer service and worldwide free delivery.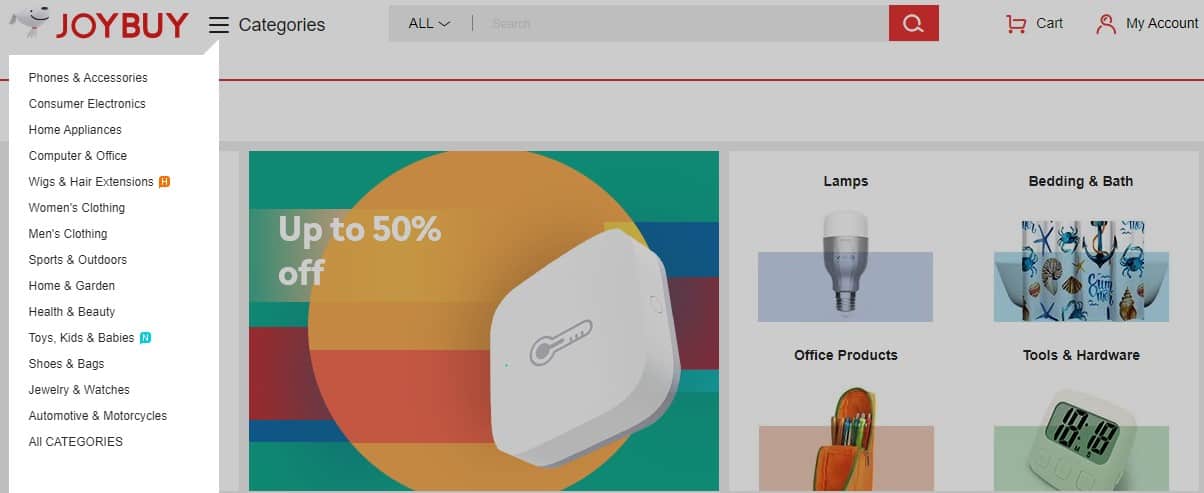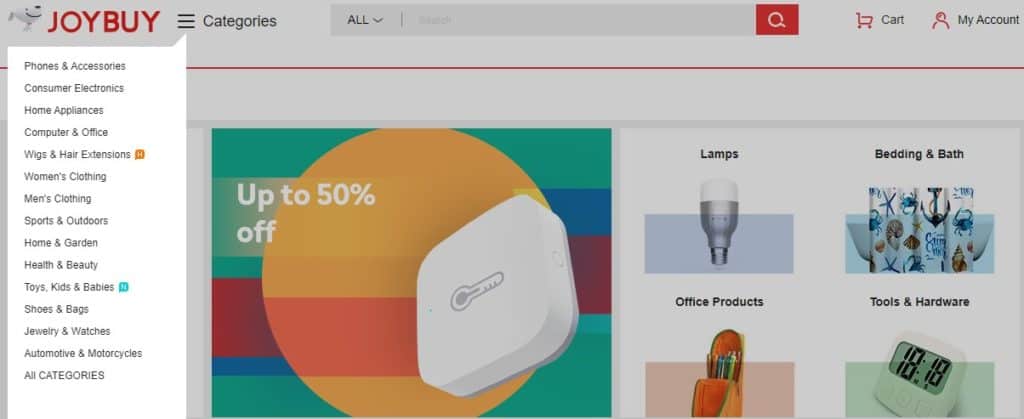 51. Lightinthebox as a drop shipping supplier
Lightinthebox is a Chinese online retail store, founded in 2007, that operates globally. Their user-friendly site is available in 23 languages. They offer a variety of products at attractive prices in different categories. Although, their three core categories are apparel, small accessories and gadgets, and home and garden. Lightinthebox claims to add 1000+ new items every day, which makes it an interesting supplier for dropshipping. In regards to dropshipping, they don't have any dropshipping program yet, but Lightinthebox is quite dropshipping-friendly as they write on their main site.
52. Dhgate.com as one of dropshipping sites
Dhgate.com is a Chinese wholesale platform that offers more than 30 million products under various categories on its website. Though some sellers can not support drop shipping, others can sell only in bulk. DHgate doesn't have a dropshipping program, but sometimes they have special discounts for members only.
53. Dropshipping from CreationWatches
CreationWatches is a Singapore-based online store that is specializing in selling a wide range of watches all around the world. They have been operating since 2006. When you are dropshipping from CreationWatches keep in mind that they are not an authorized dealer from the brand watches and they don't offer any dropshipping program. But they assure to provide brand new watches, 100% genuine with the inspected quality and at the low price.
54. Tmart as a dropship supplier
Tmart is a drop shipping friendly supplier and an online marketplace founded in January 2011 with its headquarter in Hong Kong. They are a leading e-marketplace in the consumer electronics products industry and constantly are growing. Tmart was marked to provide excellent customer support and competitive prices to their products, some of them are available only on Tmart. So, you will have a smaller competition. Except for electronics, they offer many more categories. Basically, all products a person needs for daily life are there. Besides, Tmart offers a dropshipping program. Using it, their packages arrive without a Tmart logo, nor contain product invoices. Another interesting advantage which the Tmart program gives is that all orders you make get accumulated and then you receive extra discounts.
55. Cocos Trade and Cocos Fashion as dropshipping sites
Cocos Trade and Cocos Fashion are dropshipping suppliers with the headquarter in Israel and warehouses in East Europe. It was established in 2018. The e-Commerce platforms are specializing in selling apparel products. Cocos, in general, unites different small and medium fashion businesses of various types in their site. This supplier for dropshipping will be interesting most of all to the online sellers in the fashion niche who are looking for not-saturated products. Cocos offers clothing and accessories of different types. Besides, it's a dropshipping-friendly source.
Dropshipping automation with DSM Tool
If you are planning to succeed in the dropshipping business, it's advisable to use dropshipping automation software. Why? The deal is dropshipping seems to have not so difficult business model, but still… it has its risks. One of those risks is the change of price or stock of the item you posted in your online shop. You can check your source manually a few times per day in case you have only a few listings, but what if you have dozens, hundreds, or thousands of products? Right, here is where you will find the automated monitoring software very valuable.
The DSM Tool syncs the price and stock changes of all of the above-mentioned dropshipping suppliers! All of them are integrated and available for eBay or Shopify dropshipping. Once you would have an account in DSM Tool, which by the way is free to get started with, it will be enough just to click on the DSM Tool drop shipping Chrome extension button on the item you want to resell on one of those suppliers, and this software will list it to your online shop. The process is straightforward and quite fast. Additionally, it will take care to move the product details, photos, description, monitor its stock and price, and help you in processing the order once you will get a wished sale.
Comment below, which of the suppliers mentioned above are using as dropshipping suppliers for your eCommerce business?