17

min read
For many years, there are various misconceptions when dropshipping from China. But the fact remains that China's exporting industry has developed tremendously since the 80's.
In 2010, China was nominated as the biggest exporter in the world (passing Germany, the previous world export leader). A great deal of manufacturing and assembly work is done in China. From clothing apparel, electronic items, down to toys and other gaming products. China has grown to be the center of sourcing and manufacturing of products that are being shipped to various parts of the world.
Dropshipping from China- Should or Shouldn't I?
China shipped US$2.119 trillion worth of goods around the globe in 2016, up by 76.3% since 2009 when the Great Recession kicked in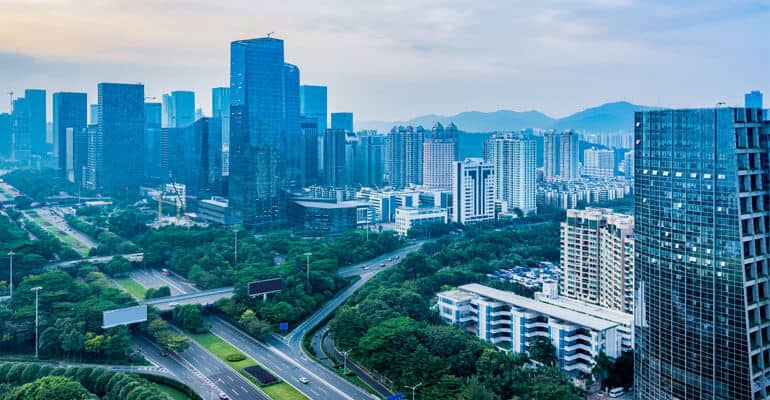 What are the advantages of dropshipping from China?
There are many advantages of sourcing Chinese products, especially to those who venture into the line of drop shipping arbitrage business.
Low Costs. The low labor cost in China offers great cost advantages in manufacturing. With this in mind, you know that the final product sells fairly cheap at wholesale and even retail prices compared to products manufactured in Western countries.
Improving Quality Standards in the Chinese Market. Through the years, China has developed greatly in terms of technological sophistication and capabilities. With these developments in the manufacturing system, Chinese suppliers are able to focus on quality while meeting the quantity demands of the market. With a great focus on quality, Chinese products are able to compete in the market in terms of worldwide quality standards.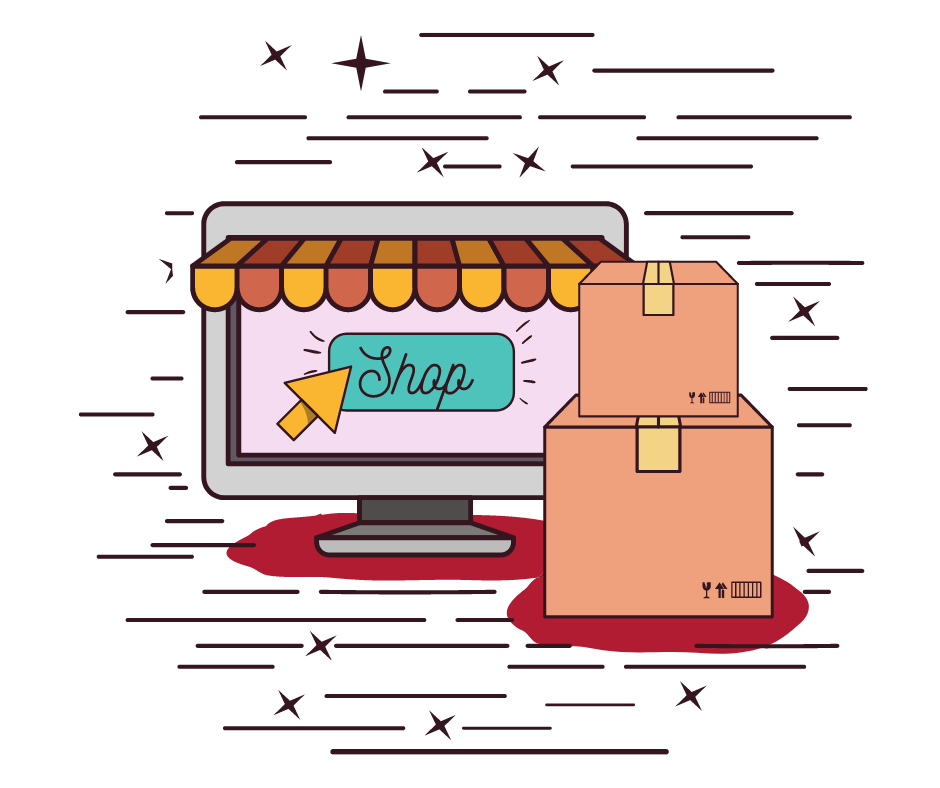 It's time…
Don't wait for success to come. Hire yourself and start your own dropshipping business
What are the disadvantages of dropshipping from China suppliers?
Negative impression on Chinese Products. The most obvious disadvantage of sourcing products from China is the stigma that comes with Chinese products. There are always negative comments but nonetheless, people these days are disproving many misconceptions about dropshipping from China, and have proven through time that product sourcing from China is at par with worldwide quality and standards.
Shipping had been an ongoing issue when dropshipping from China. The main concern is the cost of shipping and the time it takes before you actually receive your products at your doorstep. Typically, shipping by sea takes at least 30 days but the cost is a lot cheaper than shipping products by air which is much more expensive and may double the price of your products when sold in retail. However, China suppliers have already come with a few ideas to overcome this downside.
Quality could sometimes be an issue that is actually the root source of the Chinese products stigma. According to studies, sourcing electronic products from China calls for higher risk in terms of quality as compared to sourcing textiles such as clothing where the risk is lower. So you might as well consider what type of dropshipping products you plan to source before even starting your reseller business.
If you are dropshipping and sourcing products from China, you should always be ready to respond to the rapidly changing dynamics and the challenges of the modern world.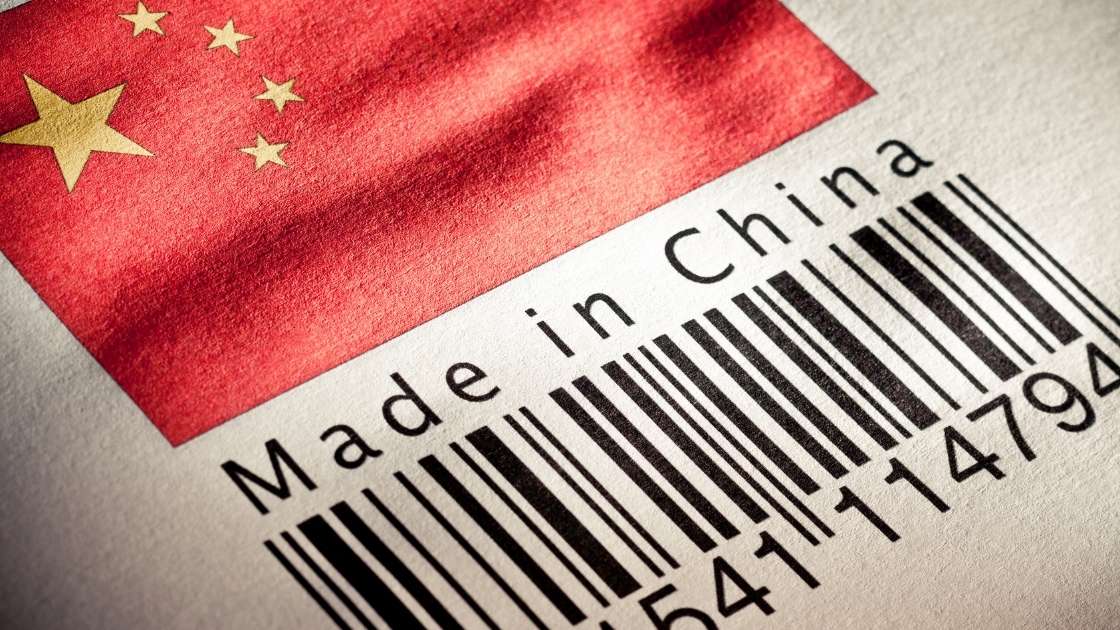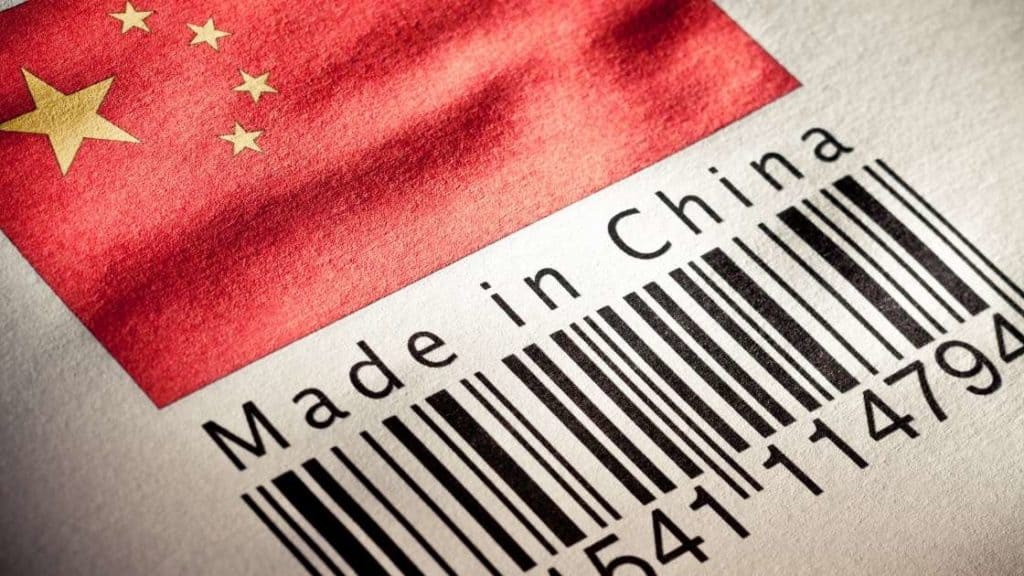 Where to find reliable Chinese Suppliers?
The key to success when sourcing Chinese products is to find reliable suppliers. Meaning, choose a dropshipping supplier who has established a good reputation for manufacturing wholesale products.
Generally speaking, there are some basic tips on finding a reliable supplier that is applicable to all Chinese suppliers. For example, normally they show the seller ranking. Pay attention to its level. Then always check if your Chinese supplier has buyers' feedback or comments. They can provide you with key information about products' quality.
Let's move forward with answering your question: "Where to find reliable Chinese suppliers". We have elaborated for you a list of Chinese dropshipping websites you can source from.
What are the best China suppliers?
1. CJDropshipping – a wholesale dropship supplier
CJDropshipping, or simply CJ, is a growing wholesale dropship supplier based in China. The company is located in Yiwu City, Zhejiang Province. They are totally focused on dropshippers, and provide all the necessary services for eCommerce sellers. Hence, CJDropshipping offers various drop shipping services like product sourcing, order processing, shipping services, product branding, customized packing, etc.
The number of products you can find there is limited, around 400k items. But you can request adding a specific dropshipping product and they will add it for you. Furthermore, the CJ products have a wholesale cost. It plays into the hands of your profit margins.
The greatest benefit is that CJ Team takes care of checking the product's quality from their cooperated suppliers and fabrics. Therefore, you will deal with their team only. It'd be not necessary to check each product seller one by one, as other Chinese dropshipping websites require.
When dropshipping from China, the owners of dropshipping stores pay attention not only to the affordable prices and product quality but also to the shipping time and the reliability of their delivery service. For example, if they provide traceable tracking.
In the case of CJDropshipping, they took it into consideration and created their own fast air shipping line – CJPaket with faster shipping times and traceable tracking information. Additionally, they cooperate with the world-famous delivery services and, popular in this niche, ePacket. CJDropshipping products can be shipped from China, the USA, Thailand, Germany, Indonesia, and some of their cooperated warehouses in other countries.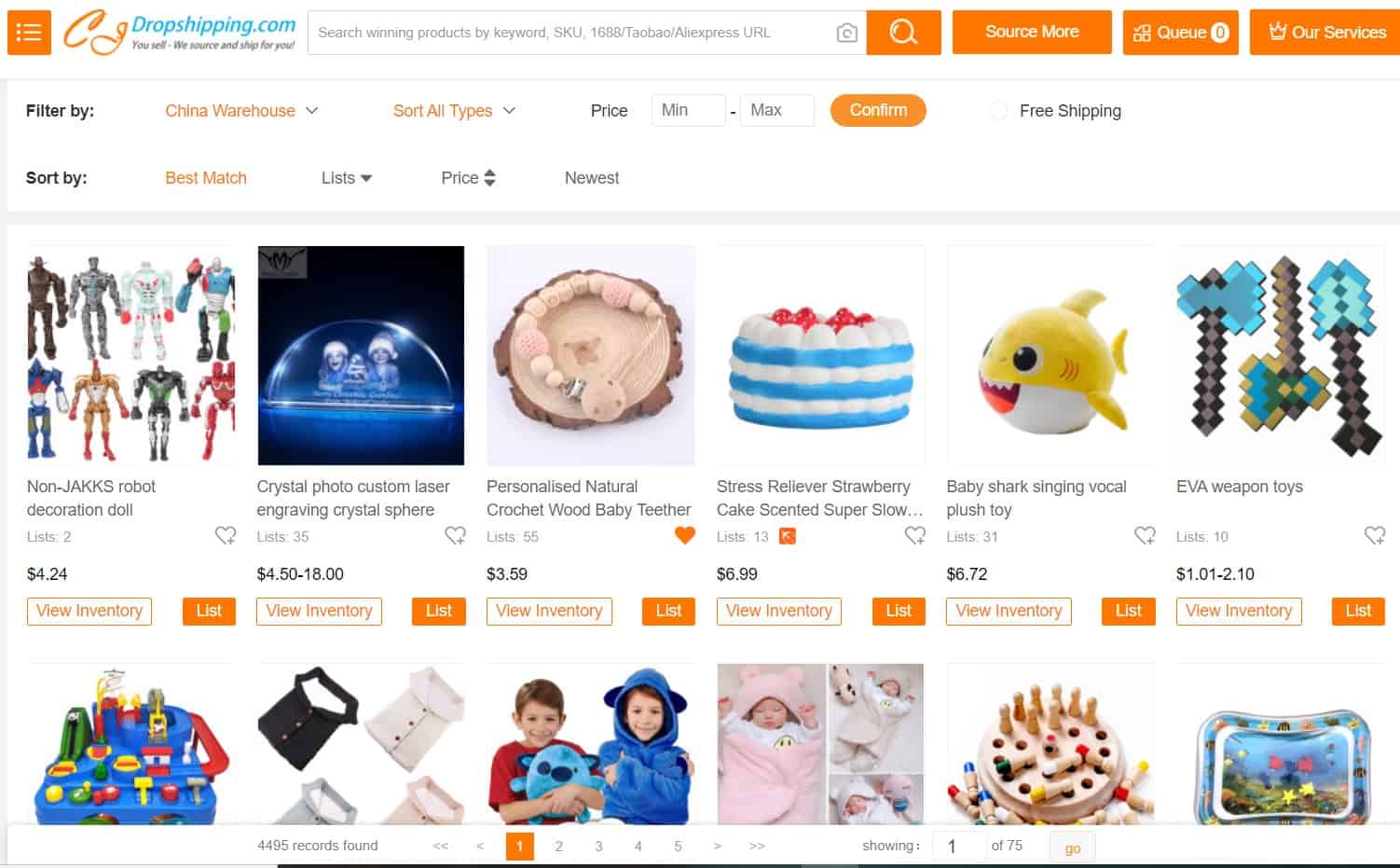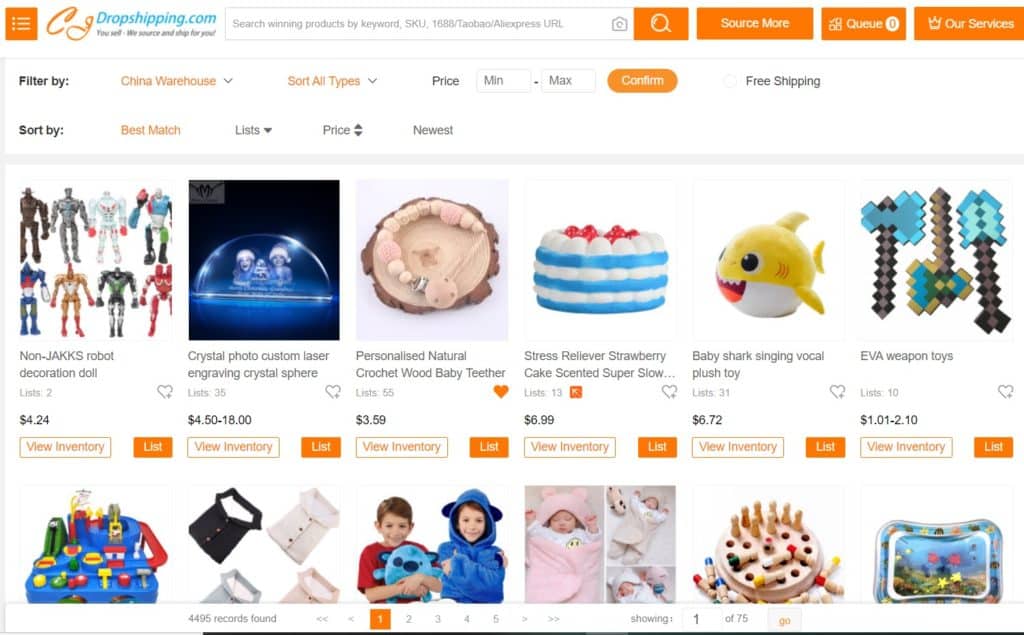 2. China supplier – Aliexpress
Aliexpress is our next Chinese dropshipping supplier. It had grown in popularity among buyers and drop shippers. The site provides various reliable Chinese suppliers in both retail and wholesale business with more than 100 million products. It also offers tools for dropshippers like the Aliexpress dropship center.
Like any other e-commerce platform, Aliexpress had been founded to help people find quality products and avoid dropshipping scams.  Unlike CJDropshipping, Aliexpress consists of many independent sellers whose products can repeat. Aliexpress doesn't control the quality of its products. Thereby, you need to know how to distinguish a reliable Aliexpress seller between them. However, Aliexpress ranks good sellers and makes them visible to you.
Additionally, it protects its buyers from unpleasant experiences dealing with bad product quality or scammers. It is safe to order from sellers with diamond indices. If you really like a product from beginners with less than 5 medals, look for positive comments about the seller and product description. It can still be risky to make orders from beginners.
Let's see other best Aliexpress alternatives for dropshipping.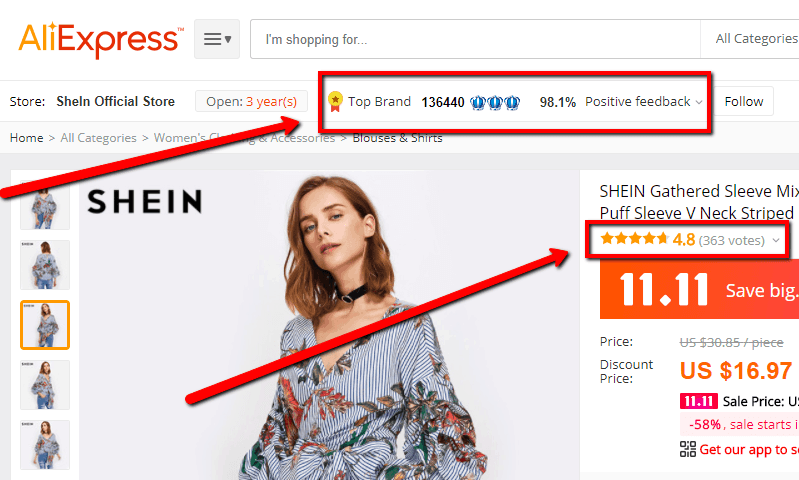 3. Chinabrands – a wholesale dropship supplier
This Chinese dropshipping website is the world's leading wholesaler and a dropshipping platform. It's a dropshipping-friendly supplier. If you'd source from Chinabrands, you can get a dropshipping agreement, which is an authorization certificate to sell their products on online marketplaces such as eBay and Amazon.
Chinabrands offers millions of cheap goods that are processed by 3-layer quality inspection. Additionally, they provide high-quality images and product descriptions. Thereby, it's considered to be a reliable Chinese supplier.
Besides, they have 46 overseas warehouses and offer to ship almost to each country. However, there is no free shipping. Online sellers like that they process the orders fast: it usually takes 12-24 hours.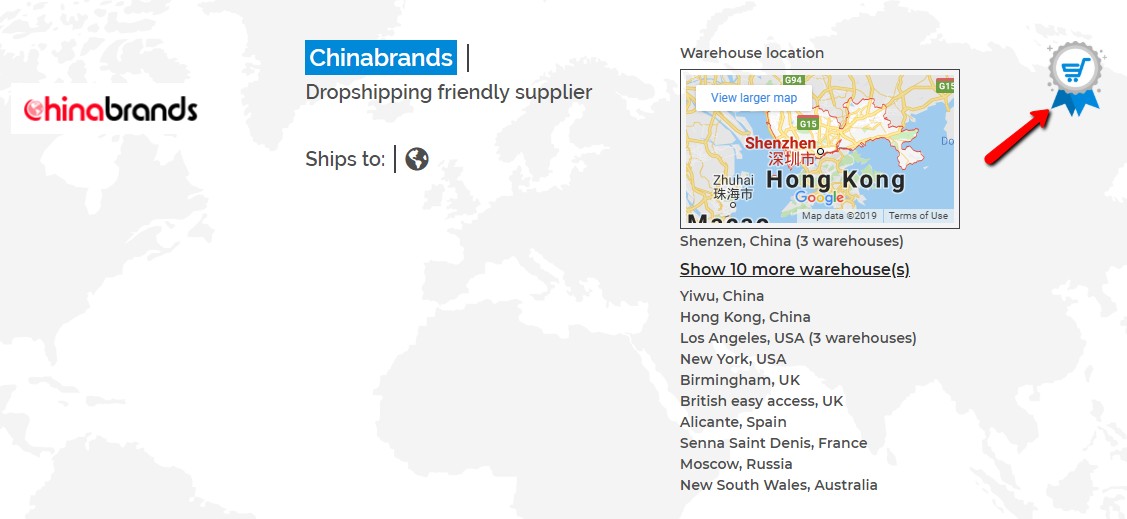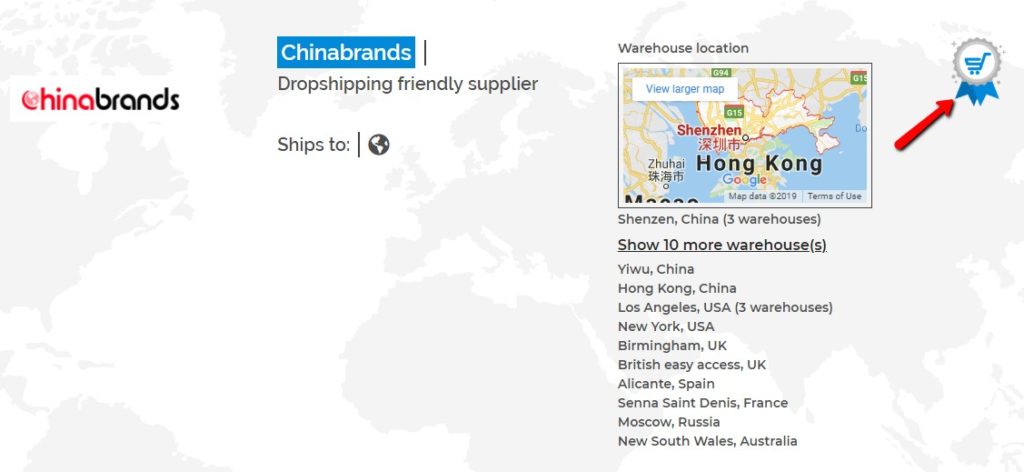 4. Banggood for sourcing Chinese products
Banggood provides dropshipping assistance and a reselling agreement on top of being an online marketplace for retail products. Banggood sells a little bit of everything and has warehouses in China, France, England, Spain, Russia, Australia, and the United States. Although it's a retailer, Banggood is popular among dropshippers.
Besides, Banggood guarantees to ship their items no longer than 30 days overseas. Besides, they provide returns and refunds for damaged or defective items.

Chinavasion is a wholesale dropship supplier that is mostly focused on selling electronic gadgets. Dropshipping products for health, beauty, apparel, sport, pet products and garden from this Chinese supplier is also possible. Good quality of product images and informative product descriptions are among Chinavision advantages. However, you can get there a reselling agreement, only at cheaper prices by joining their VIP membership. Chinavasion offers a 3-month quality guarantee for all its products.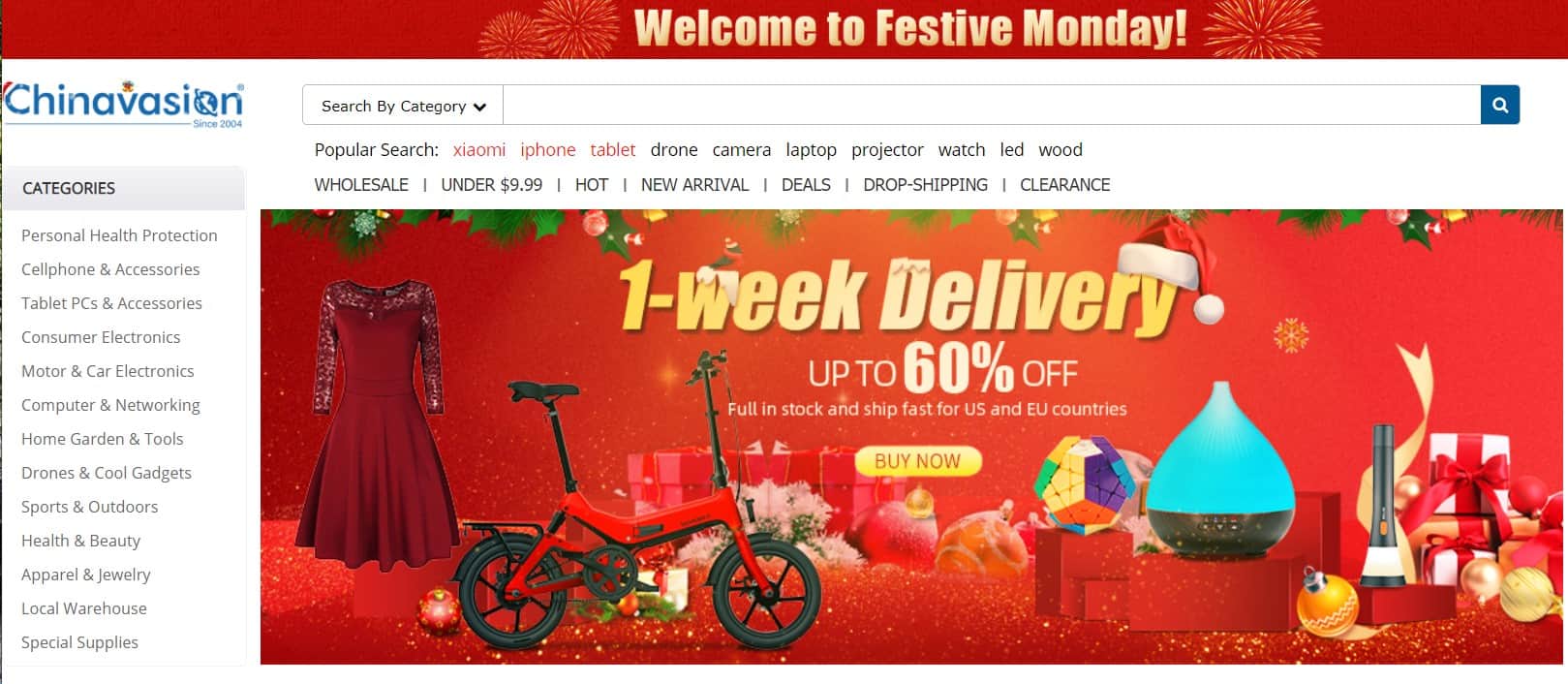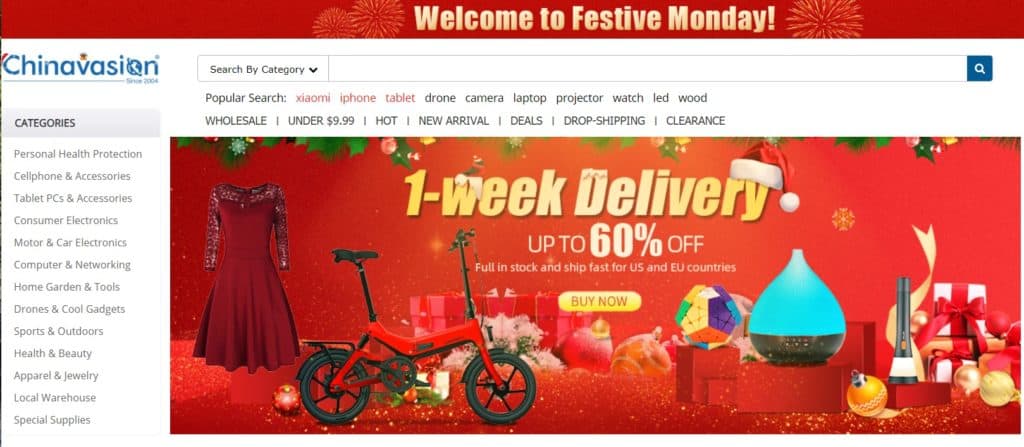 6. Gogomall for dropshipping from China
GogoMall is a global online shopping platform with around 2,000 different products for dropshipping. This Chinese supplier is dropshipping-friendly, and you can get a dropshipping agreement from them to resell on eBay, Amazon, etc. Additionally, they don't include the invoices in their orders and don´t print GogoMall logos on the packages. All of the GogoMall products are shipped from China. They grant different shipping options for almost all countries, including some free options and fast ones, like ePacket. Refunds are possible for damaged products.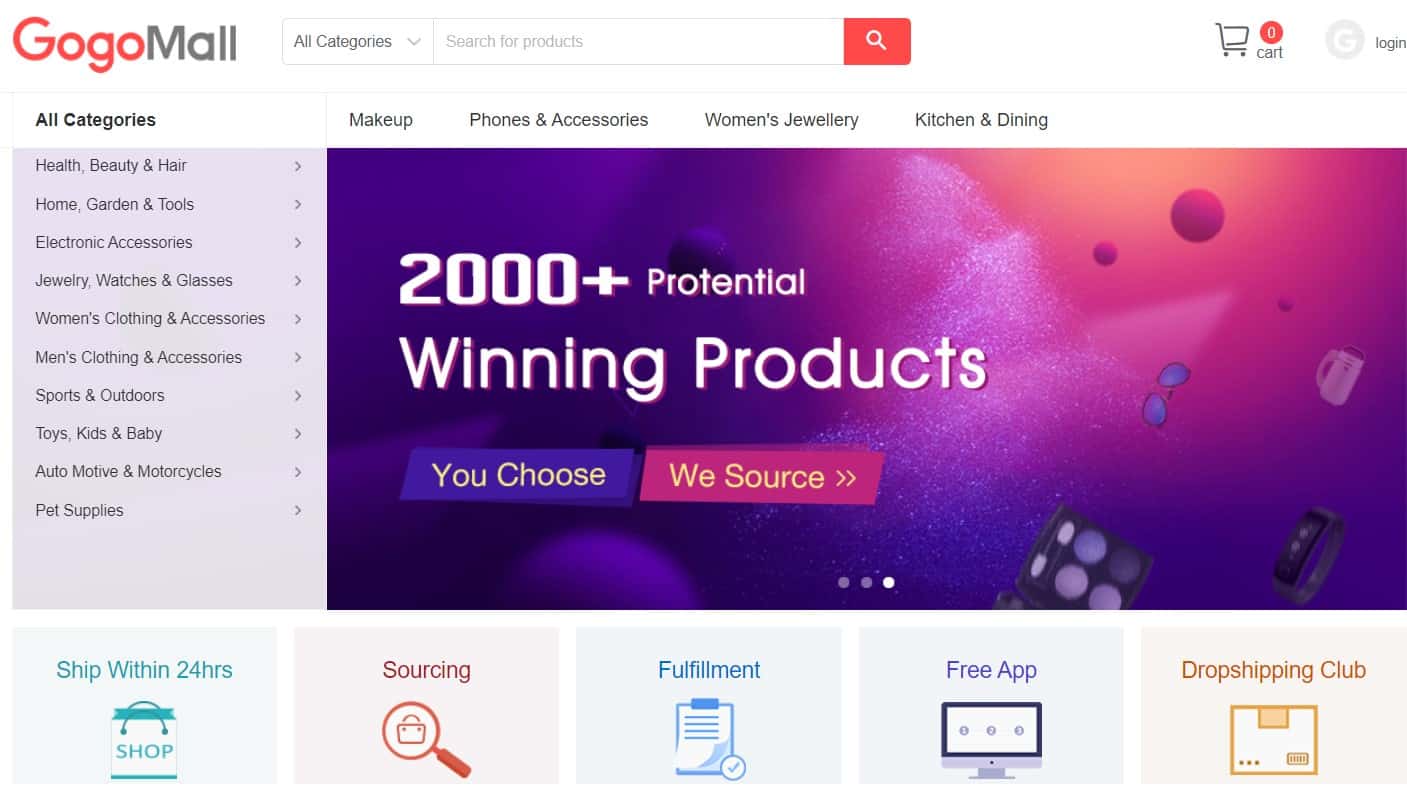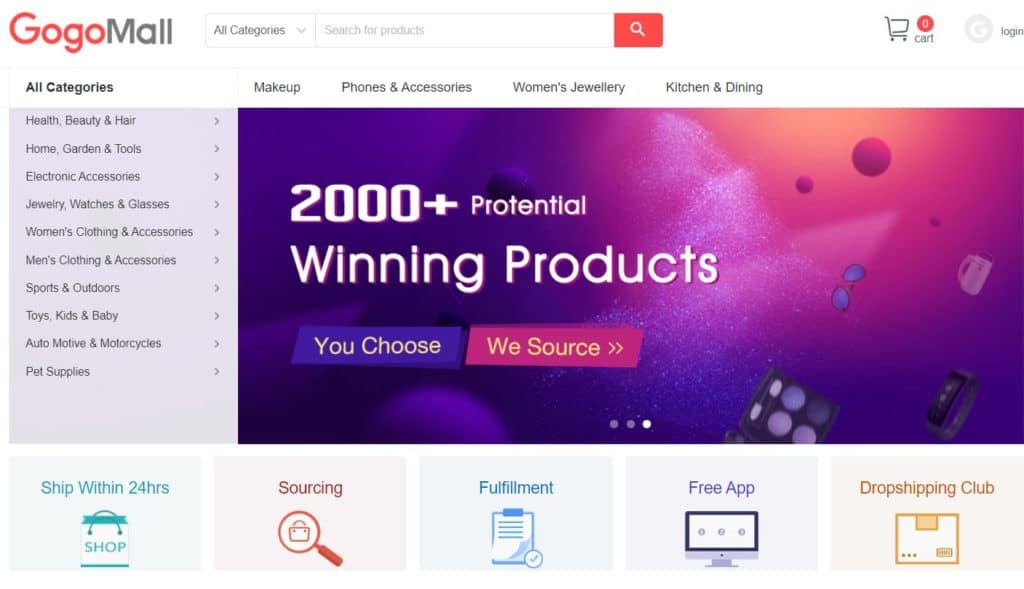 7. DealeXtreme for sourcing Chinese products
DealeXtreme is a well-known retailer with over 10 years of experience. They are mostly famous for electronics at low cost. Though, they sell approximately 300,000 products under various categories, like toys, beauty & health, sport, home, and garden, etc.
Additionally, a Free drop shipping program is also available. This Chinese dropshipping website doesn't print its logo on the packages and doesn't leave the invoices inside. DealeXtreme warehouses are situated only in the USA, UK, Australia. They provide free worldwide shipping.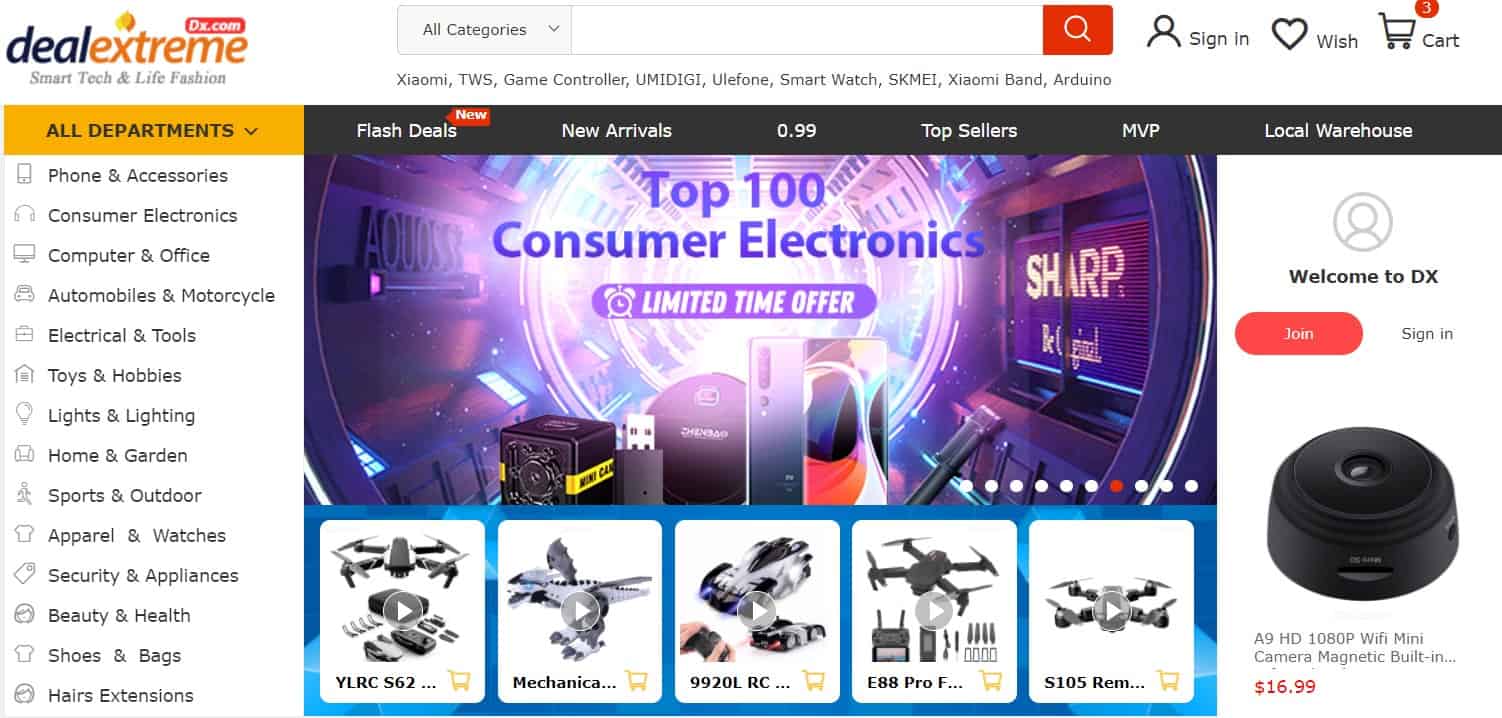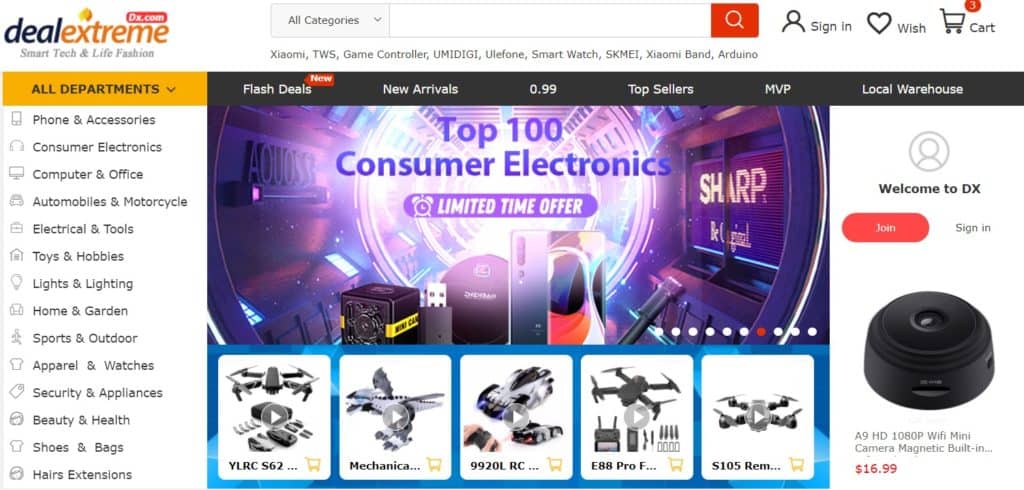 8. Dhgate – a wholesale dropship supplier
Dhgate.com is a wholesale dropship supplier with more than 30 million products under various categories. It is one of the oldest Chinese suppliers. Some sellers can not support drop shipping, others can sell only in bulk. Dhgate controls all the processes and communication between sellers and buyers. Tmart doesn´t provide a drop shipping program and they don't handle returns. In addition, their refund policy is quite limited. All of the Dhgate products are shipped from China. Anyway, it's one of the options for those who do China dropshipping.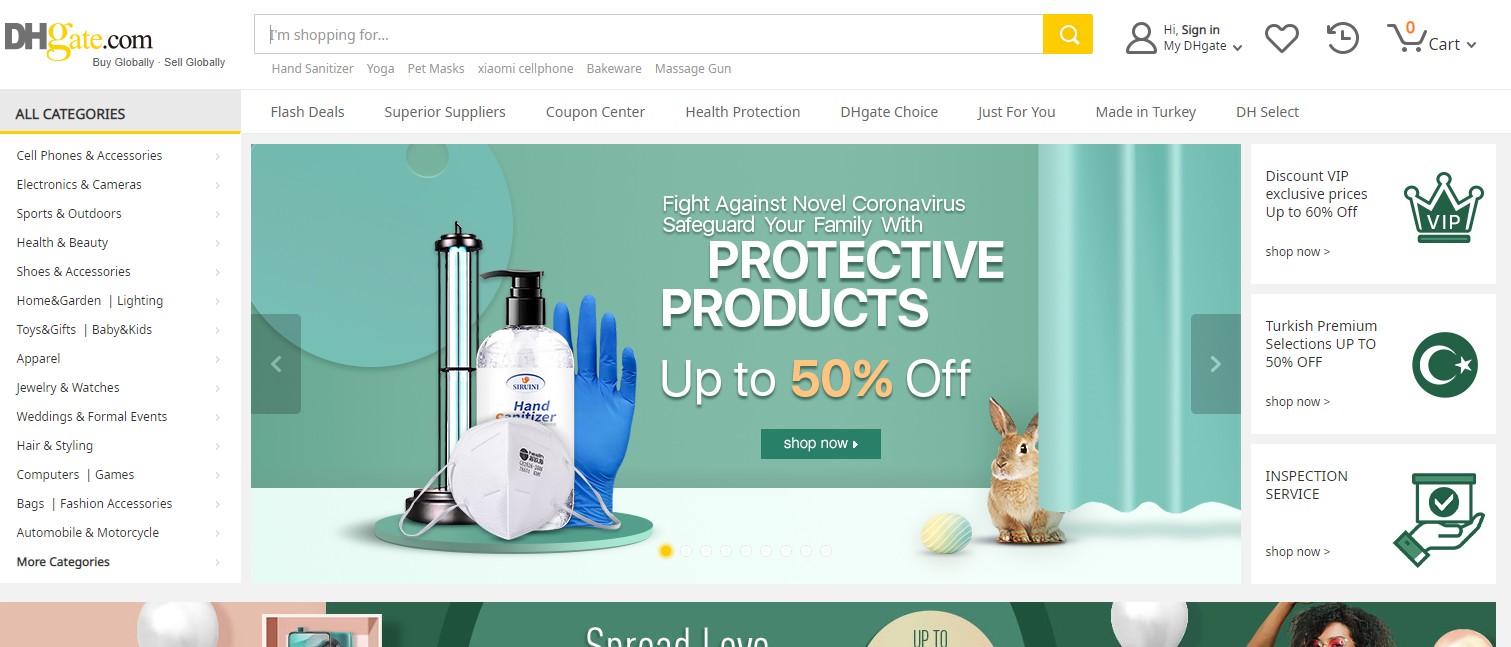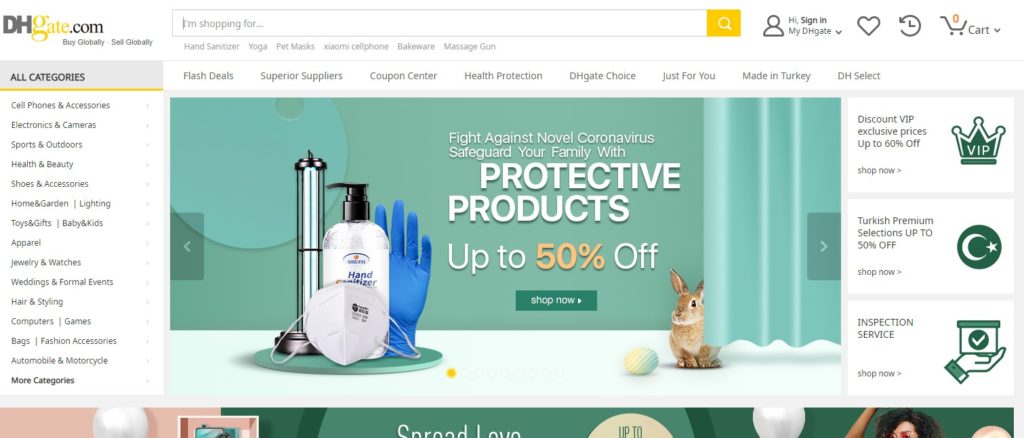 9. JoyBuy for dropshipping from China
JoyBuy is a Chinese dropship supplier, operated by the eCommerce giant JD.com. JoyBuy is mostly selling a broad spectrum of products for home, family fashion, accessories, health, and beauty, etc. Additionally, JoyBuy sells the customized products as well. Though JoyBuy doesn't offer any dropshipping program or reseller agreement, some online sellers use it for sourcing. It offers 24/7 customer service and worldwide free delivery. They provide refunds if the product quality isn't satisfactory.
10. Lightinthebox as a Chinese supplier
Light in the box (Lightinthebox) is one of the dropshipping-friendly China suppliers. They offer a variety of products at attractive prices in different categories. But the core categories of Lightinthebox are apparel, small accessories and gadgets, and home and garden. They are daily adding new items that can interest buyers and sellers.
This supplier has warehouses in China, the USA, Europe. Besides, Lightinthebox offers international and free shipping (under certain conditions) to nearly every country.
In addition, this China dropshipping website has tens of millions of registered users from all over the world, which speaks for the quality of their products.
11. Tvcmall – a wholesale dropship supplier
Tvcmall, or TVC, is a wholesale dropship supplier from China. This e-commerce platform was established in 2004 and is owned by a company called Shenzhen Tvc-tech Limited.
Tvcmall is a Shopify and eBay legitimate dropshipping supplier that focuses on selling unbranded electronics and accessories. Additionally, they offer various products from the most popular categories: home & garden, toys, sport, baby products, etc. They update TVC products daily. Altogether, TVC offers around 100,000 high-quality products for dropshipping.
Moreover, online sellers can become interested in their additional features, such as design services and customized packaging. All of the TVC products are shipped from China. Tvcmall shipping isn't free.
Furthermore, the Tvcmall refund and return policies are good. For example, they give 3 days for a no-reason return, and the 7 Days Return for the damaged Tvcmall products.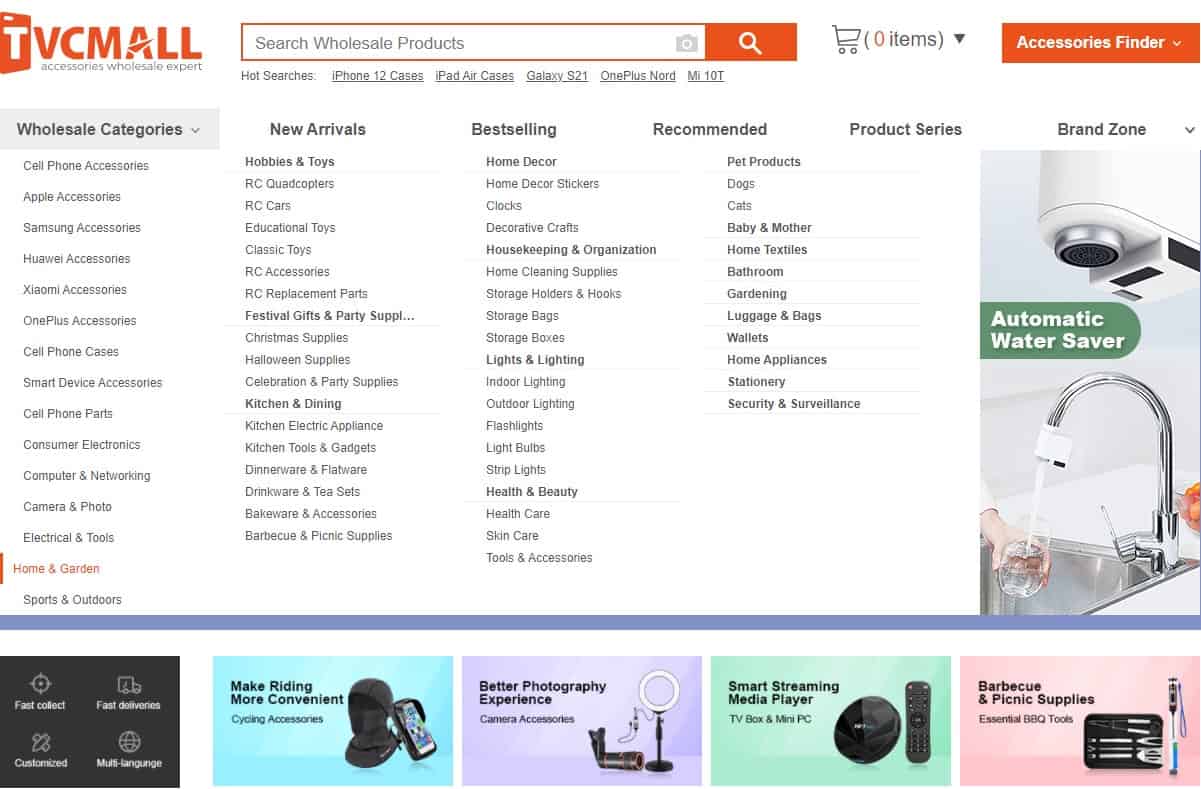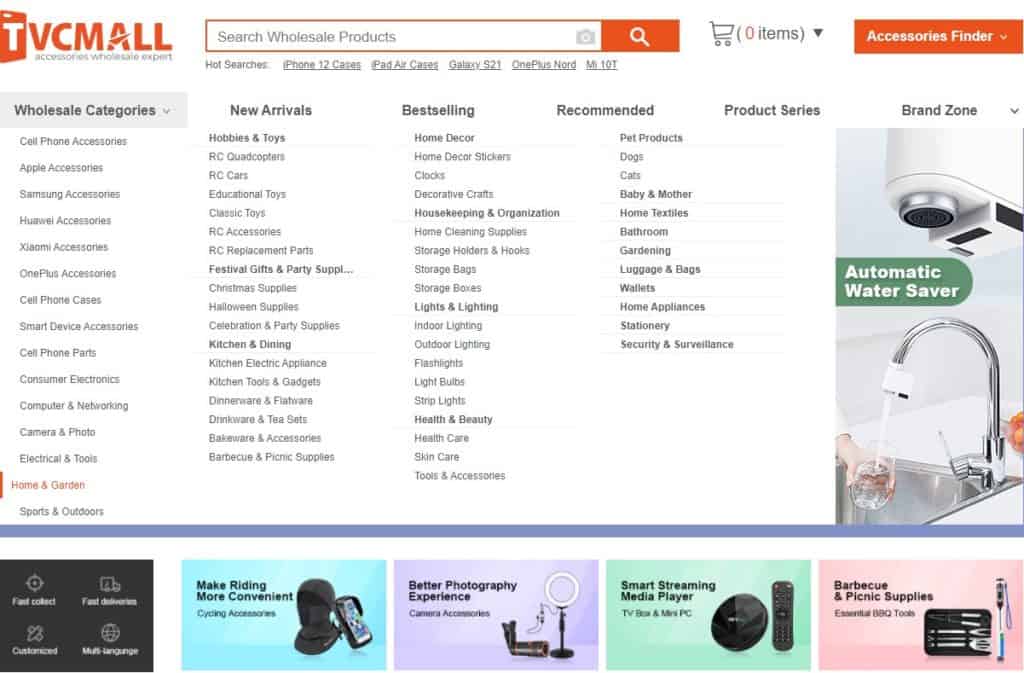 12. Tmart for sourcing Chinese products
Tmart is another Chinese dropshipping website based in Hong Kong. They are a leading e-marketplace in the consumer electronics products industry and constantly are growing. However, one can find other product categories on their website as well.
This supplier was marked to provide excellent customer support and competitive prices. Besides, Tmart has a dropshipping program. The Tmart products are shipped from the USA, UK, Hong Kong warehouses.
Tip
Check this Dropshipping from Tmart article to know more on how to dropship from this Chinese dropshipping website.
How to source Chinese products?
Generally speaking, you can source Chinese products from the aforementioned China suppliers manually. However, creating the listings on your dropshipping store manually can be an option only at the beginning of your path since it takes more time and effort.
If you want to boost your store, you will need to use dropshipping software. You can source Chinese products on eBay and Shopify with the DSM Tool. This dropshipping platform will not only list your single or multiple products in one click on your eCommerce store but also provide you with listing optimization hints.
DSM Tool provides all the necessary features for dropshipping, and even more:
Single and bulk products import to your store: Imports the product´s titles, photos, specifications, and descriptions applying a designed listing template in a matter of seconds. No need to copy all of these manually one by one.

Listing optimization: It suggested the possible optimizations for listing title; can apply your store logo to all of the product images, and make a collage; automatically rewrites the product description to avoid plagiarism; remove all the bad keywords from your title and descriptions.
Schedule your listing publishing:

You can prepare the products you want to source beforehand, and set a time when they will be published. For example, 5 items every day.

Monitoring of products:

it monitors all the changes in price and stock of your dropship supplier, and adjusts your listing price and stock accordingly.

Order processing:

you get notifications in case you have orders waiting for processing or updating of their tracking information. Semi-automatic ordering helps you to process your dropshipping orders faster, auto-orders do it automatically for you.

Messages center: check your buyer's messages and answer them from your DSM Tool account; improve your seller rating by setting auto-messages after the item is ordered, processed, and shipped.
Seller dashboard: optimize your store by checking the selling metrics of all your listings, and your number of sales.

eBay Vero protection to protect your eBay store from restrictions and account suspensions.
How to dropship from China with DSM Tool
Above all, the process of sourcing Chinese products with DSM Tool is straightforward: copy the link for the item from your China supplier and paste it into the DSM Tool Rapid lister, and, voila, all the product data would be copied automatically and available for the last touches.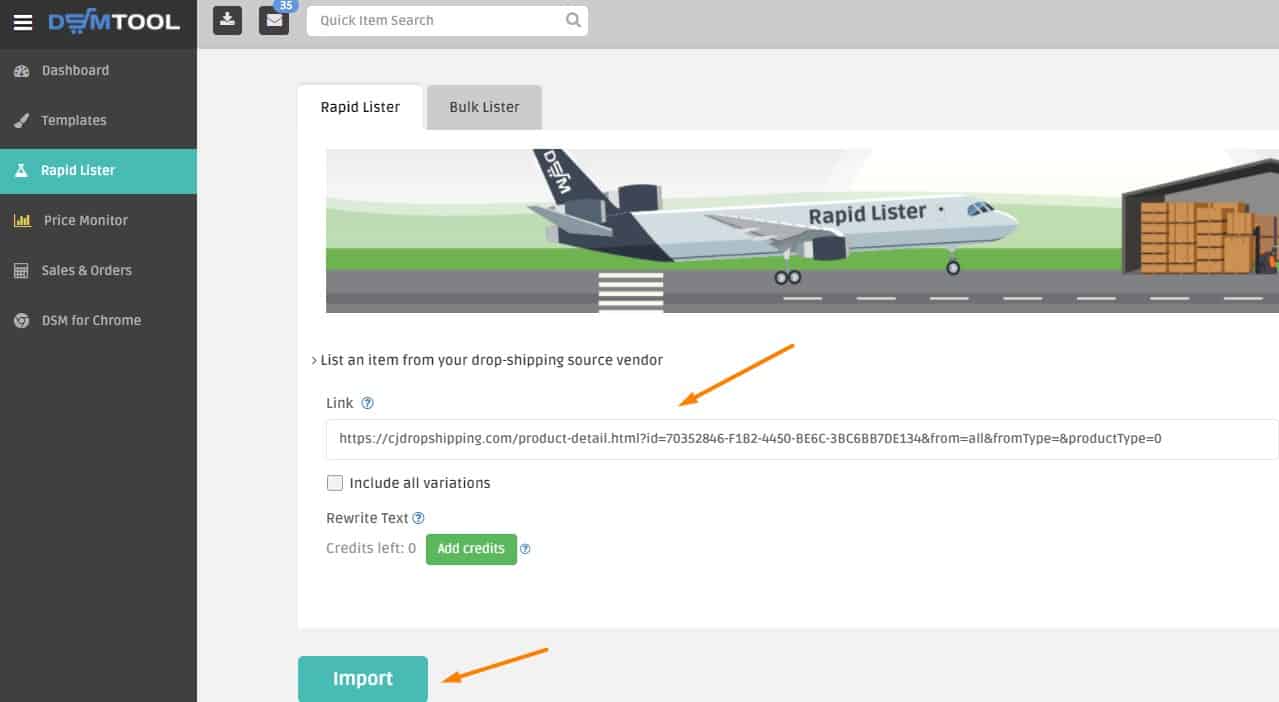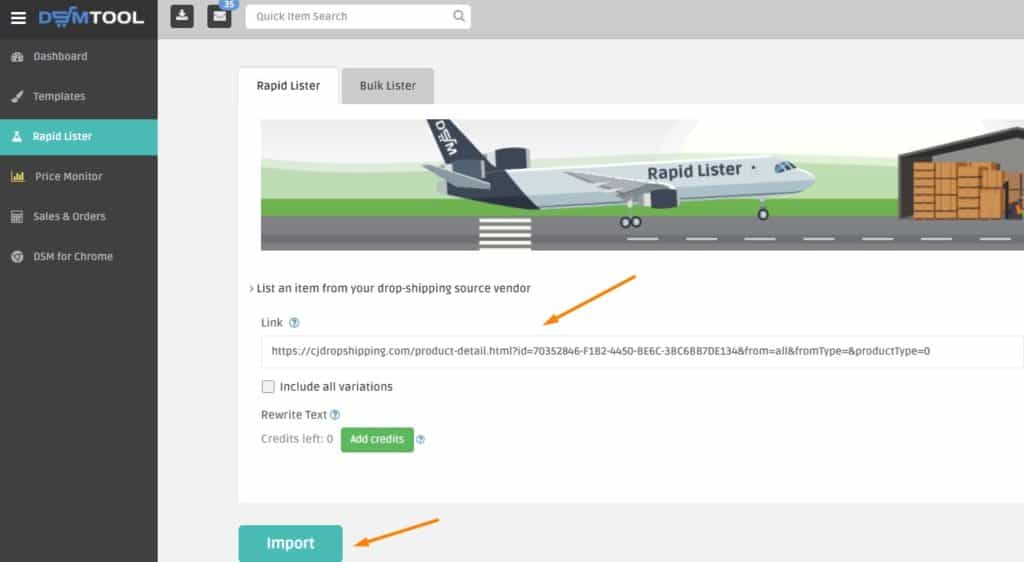 It seems easy, isn't it? However, it can be even easier with the installed DSM Tool extension. Then, you will need just to click on the List in the DSM Tool button.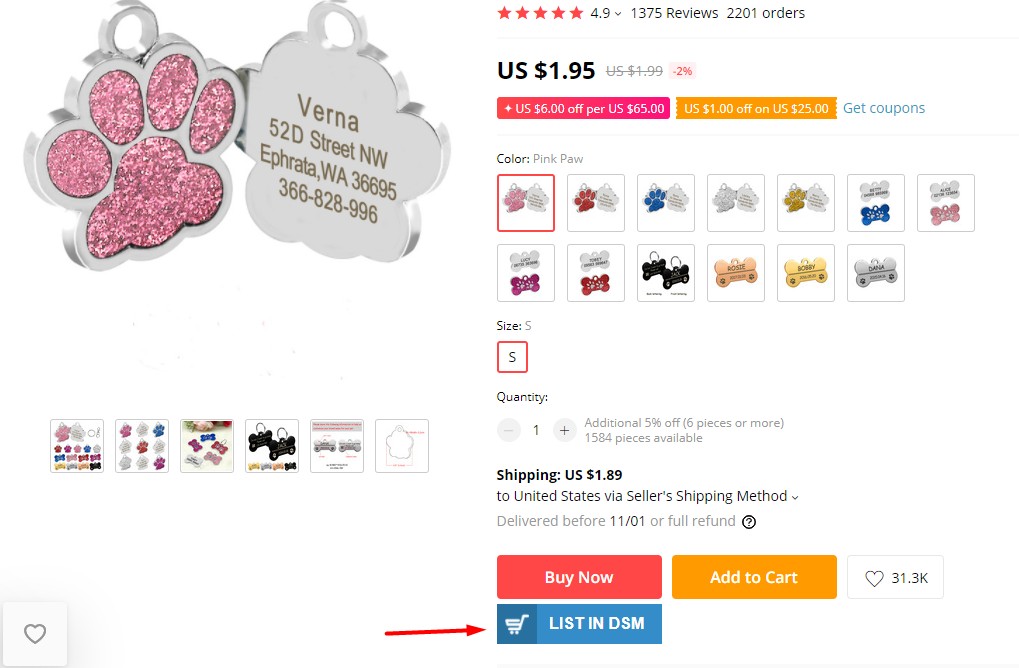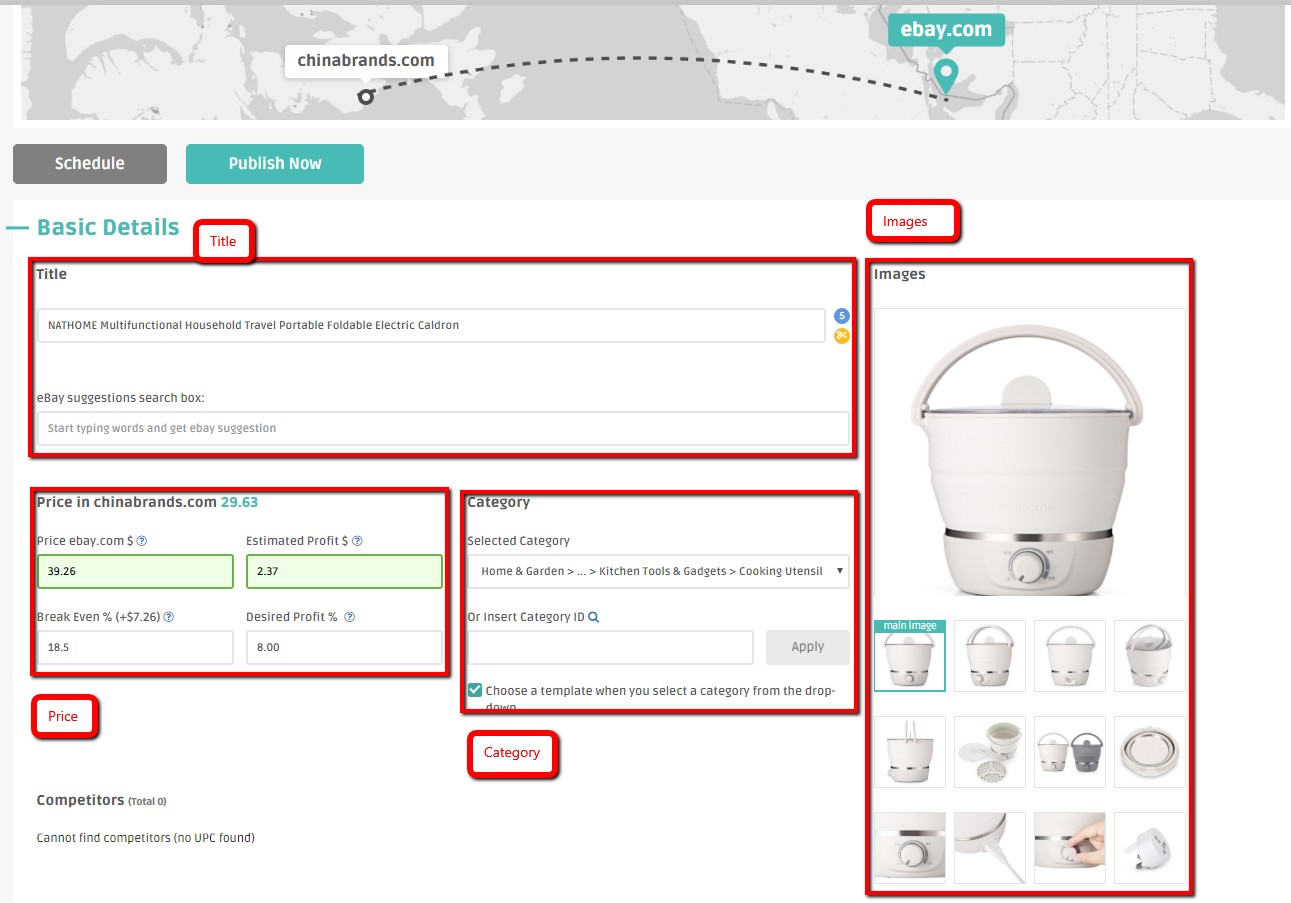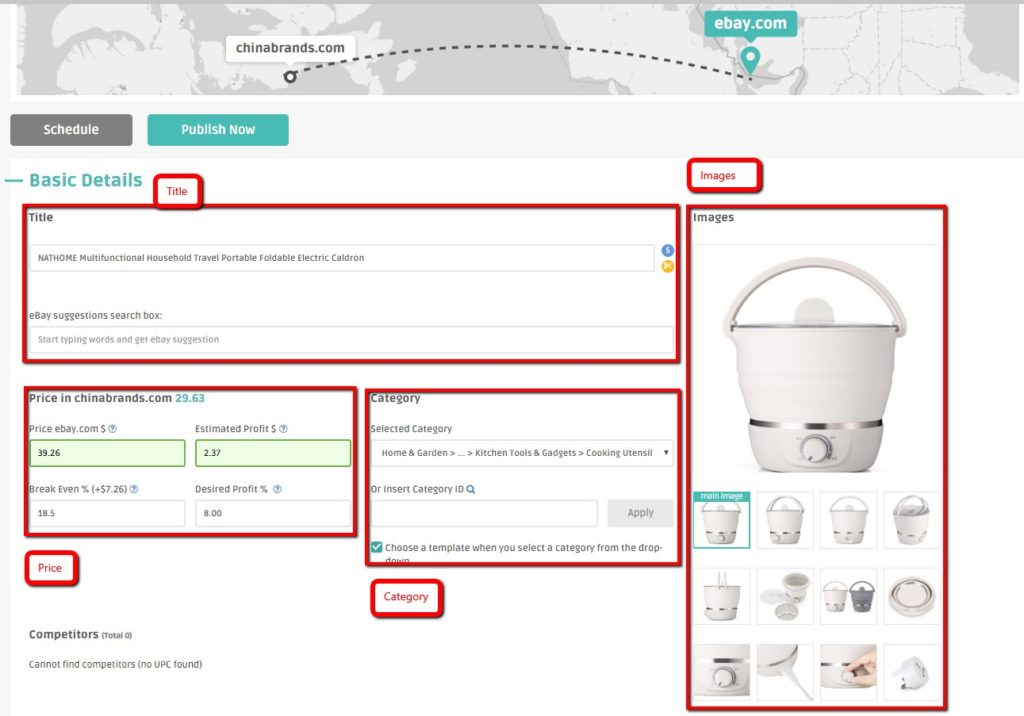 Conclusion
Dropshipping from China is a good option, especially if you are sourcing Chinese products from trusted companies like Alibaba, Aliexpress, etc. While the downside is the delivery time, customers won't really mind if the price is competitive. Especially if the product is of great quality. So any beginners who recently started the dropshipping business, can consider China suppliers from our list. There is nothing to lose and a lot of money to gain.
Have you tried sourcing products from Chinese suppliers already? Share your experience in the comments section below.