What is Chinabrands?
Chinabrands is an advanced dropshipping platform, one of the best wholesale sellers and now also an integrated drop shipping friendly supplier in the DSM Tool platform. Want to know how to dropship from Chinabrands? Keep reading!
To start with Chinabrands is based in China, under the Chinese top Cross-border Commerce Group Company, Globalegrow. Gearbest and Zaful are also under this group, which makes it interesting to learn more about this dropshipping oriented company inside the group.
1. 500 thousand SKUs online, 2 million in stock, all the products are processed by 3-layer quality inspection.
2. By far registered users exceeded 100,000, the number of authorized stores on the platform exceeded 50,000, and the number of daily orders exceeded 10,000.
3. 24-hour order delivery rate up to 95%.
4. 46 overseas warehouses worldwide.
5. 250 covered countries and regions to provide the quickest delivery.
In this article we will learn: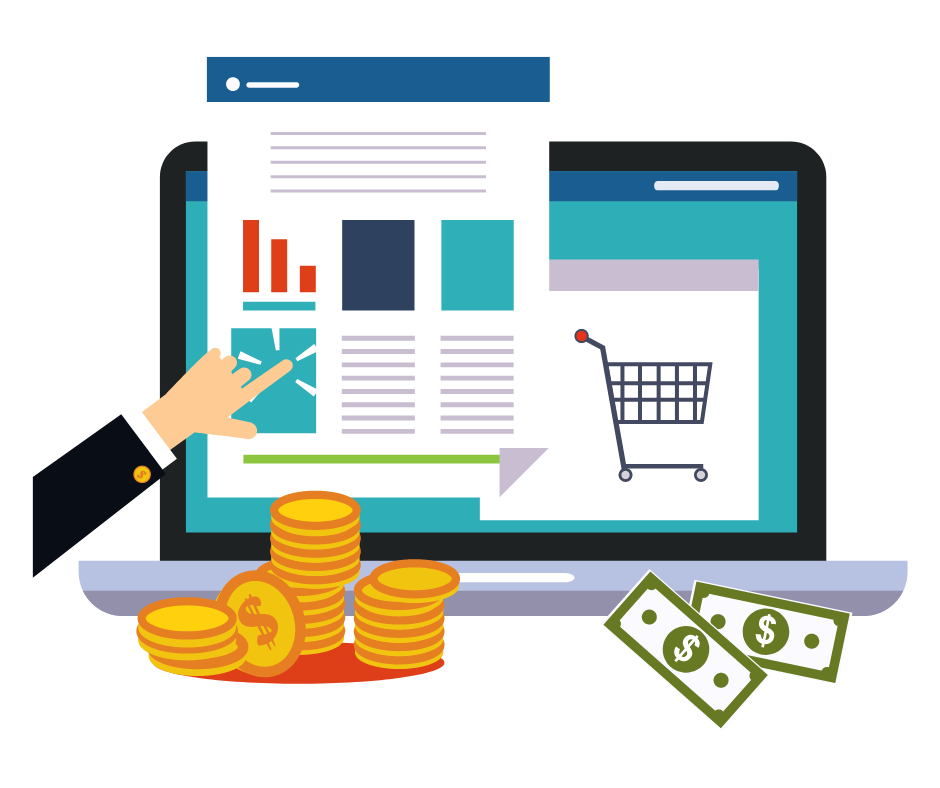 Don't wait for the profits, make them!
Start a profitable dropshipping business with DSM Tool. Get a free course and a free trial of the software.
Why Should You Dropship from Chinabrands
Chinabrands offers a re-sell agreement making it a legit supplier for marketplaces
First of all, while Shopify sellers do not need any agreement to sell Chinabrands products on their stores (find more information about creating your own Shopify store here), for marketplaces this is great news. Chinabrands provides a reseller agreement which is an authorization certificate to sell their products on online marketplaces such as eBay and Amazon. You can claim your seller agreement when reaching $500 in sales from ChinaBrands.
However, you might ask do I really need that before I can start dropshipping from Chinabrands? The answer is NO, as long as you have a dropshipping account from them, you can already start selling their products. The purpose of this reseller agreement is that Chinabrands wholesale is acknowledging that you are an official partner of their company.
If you are selling on an online marketplace such as eBay, Amazon, etc. would recommend using getting the resell agreement before posting your products for sale. You will find a step-by-step guide on how to get it in this article.
The packages deliver to your customers are dropshipping friendly
What is more, according to the customer service, they do not include an invoice on every delivery, and the boxes where they put the item is blank and no logos whatsoever. This is great news for dropshippers since it increases the good buyer experience you provide and eliminates disputes that open when the products came from another store and not from you.
More than half a million products to dropship
Chinabrands have 500K+ SKUs on their site. It shows how immense the number of their products on each warehouse where they hold it. Just like another Chinese dropshipping supplier that we have covered, they are also known for electronic products most especially those that are being used by consumers at home.
Also, Chinabrands works in partnership with over 200+ global localized logistics partners and dozens of specified airlines around the world. So, this means that prices for the products on their website might be lower even compared to other Chinese suppliers. Already interested in the Chinabrands wholesale?
Warehouses in China, Europe, and North America
By the way, Chinabrands has more than one delivery warehouse, even the same product may be stored in more than one warehouse. The product in each warehouse may have a different price, stock number, and product status.
CN – Chinese, HK – Hong Kong, US – United States, UK – United Kingdom, ES – Spanish, RU – Russia, FR – French, AU – Australia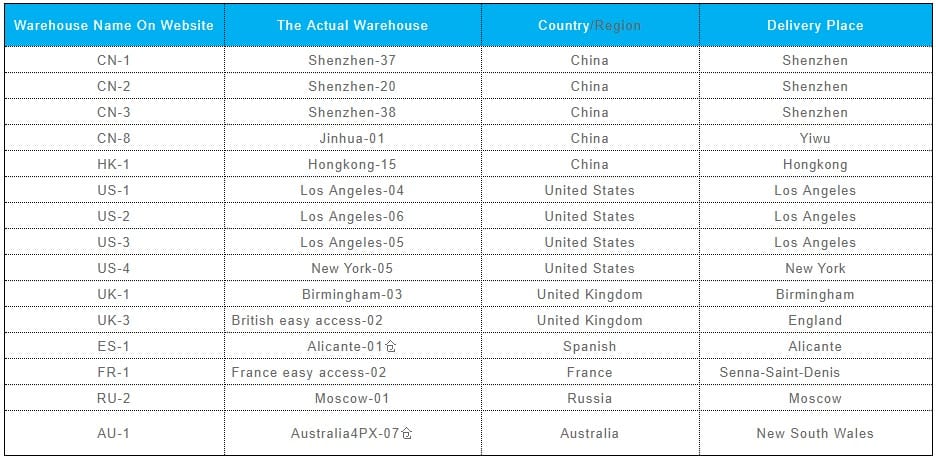 If you would like to be aware of where the item will come from, there is representation on the item's page. See the image below: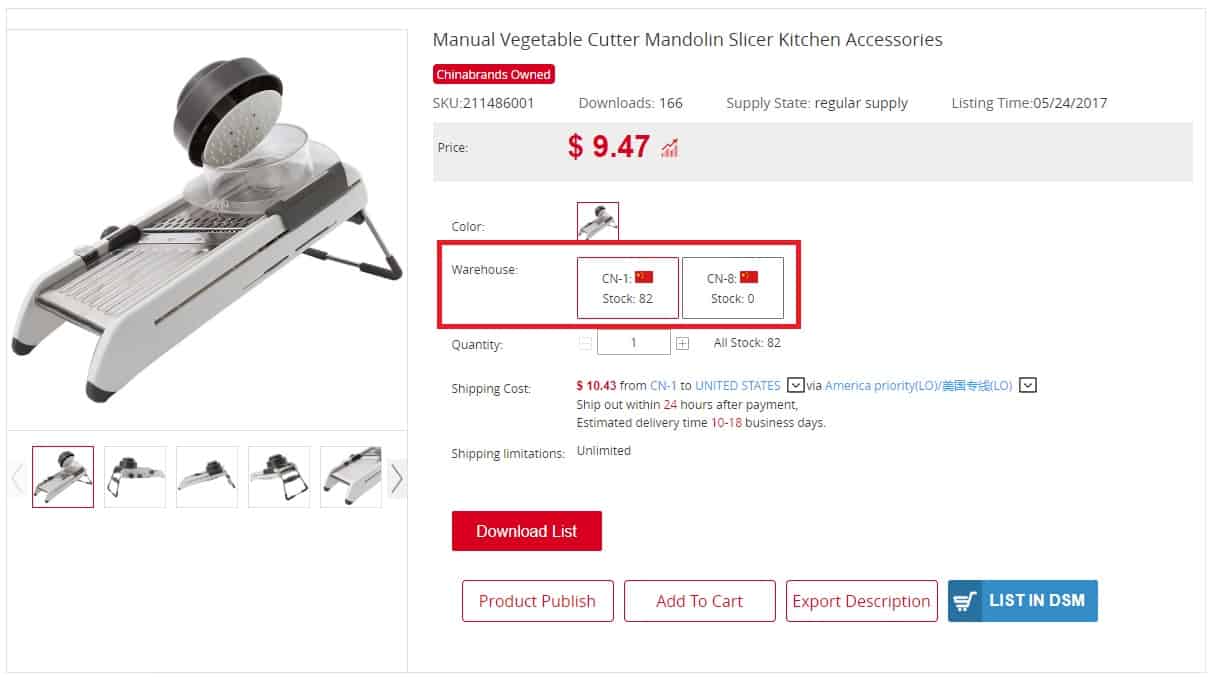 On the image above, you can see that the item is only available in the "CN-1" warehouse. This means, that the product is stored in the Shenzhen, China warehouse of Chinabrands. This information will help you in representing the correct location of the product that you are selling so that it will not violate the Item Location Policy of eBay.
Recommendation to read: How to Start Working with a New Drop Shipping Supplier.
Chinabrands Business Policies
Shipping
You can give the best shopping experience, the best prices, and remarkable buyer support dropshipping from Chinabrands, however, it's your shipping procedure that enables your clients to receive what they'd order from you.
With Chinabrands, they do have warehouses in each region where most of us are selling. You can refer to their Shipping and Handling article for the Chinabrands shipping time and many other details.
Returns
As a dropshipper, figuring out what your return policies will require adjusting the need to secure your business with buyers' likes. It's a decent best practice to survey your returns policy on a yearly basis to ensure its arrangements are as yet proper for your business.
Chinabrands allows returns and they also provide warranty and insurance to make sure that the shopping process is without drawbacks. You can refer to their Warranty and Return article for more details.
Payment Methods
Chinabrands wholesale main payment method that they accept is PayPal the rest is Payoneer and Wire transfer to their bank account. You can also top-up your Chinabrands account using the mentioned payment methods. You can refer to their Payment Methods article for more details.
Chinabrands Customer Support
There are multiple ways to reach the customer support of Chinabrands wholesale. See the image below: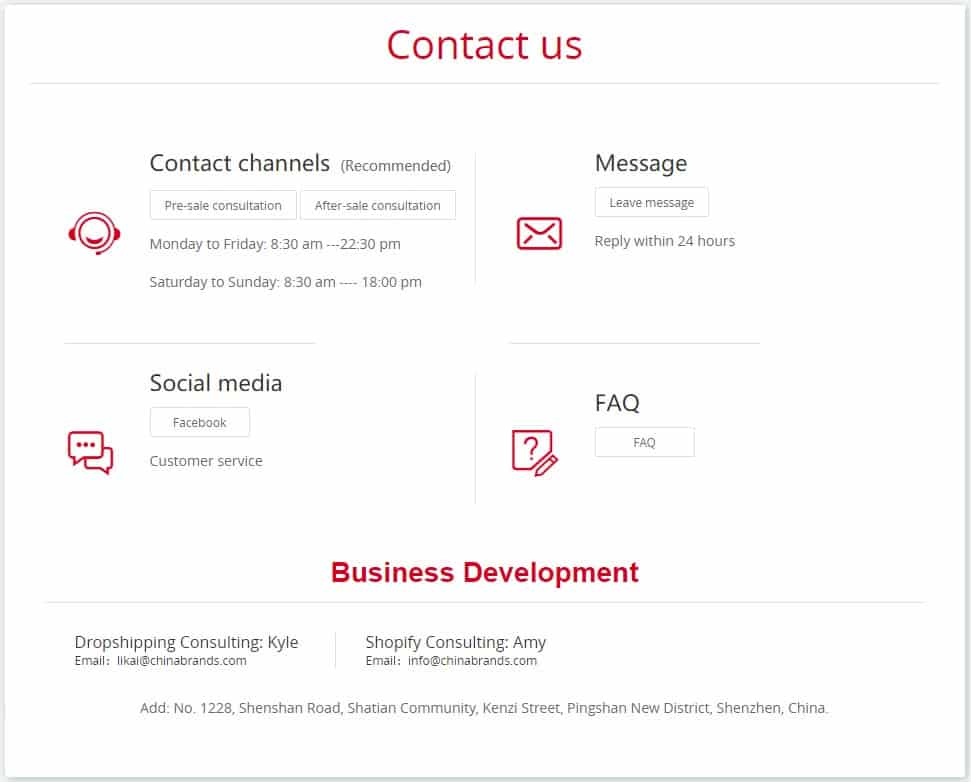 Moreover, Chinabrands has direct customer support for dropshipping concern and that is by sending an email to likai@chinabrands.com. I tried it myself and they responded within 1-2 hours answering all my inquiries about dropshipping.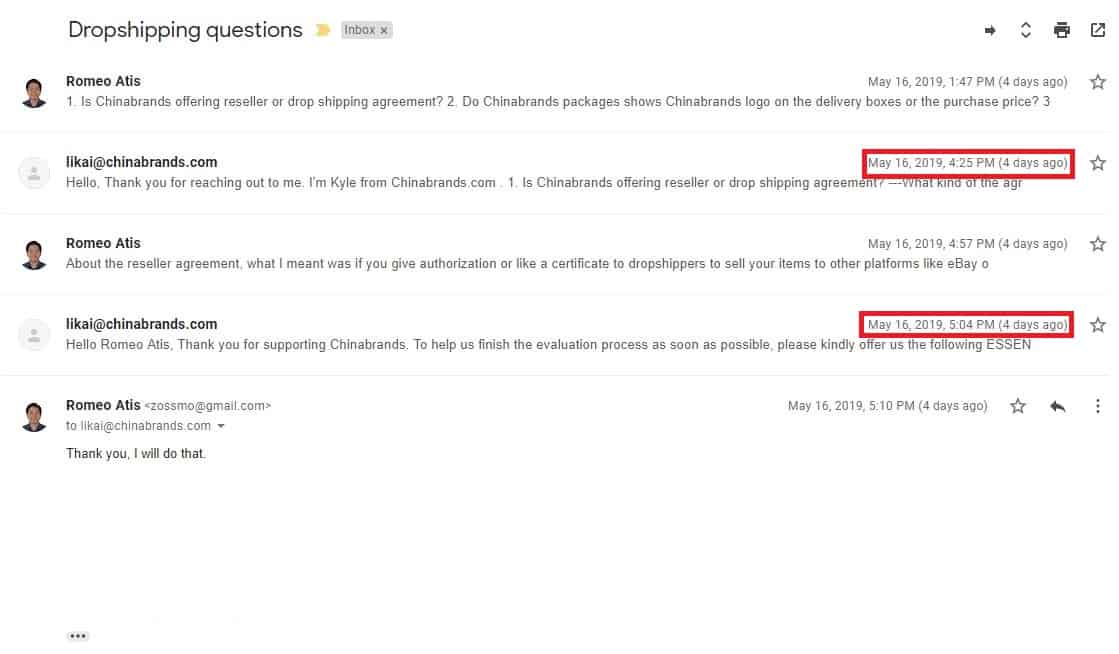 Chinabrands Dropshipping Program
How to sign-up?
Chinabrands is a dropshipping supplier that offers a dropshipping program for resellers. Setting up a dropshipping account is easy to do. DSM Tool has officially partnered with Chinabrands and using the link below you get free access to their dropshipping account which otherwise has additional costs. Click here to go to the registration page. Only using this link you will have an exclusive FREE Lifetime VIP access to this wholesale dropshipping program.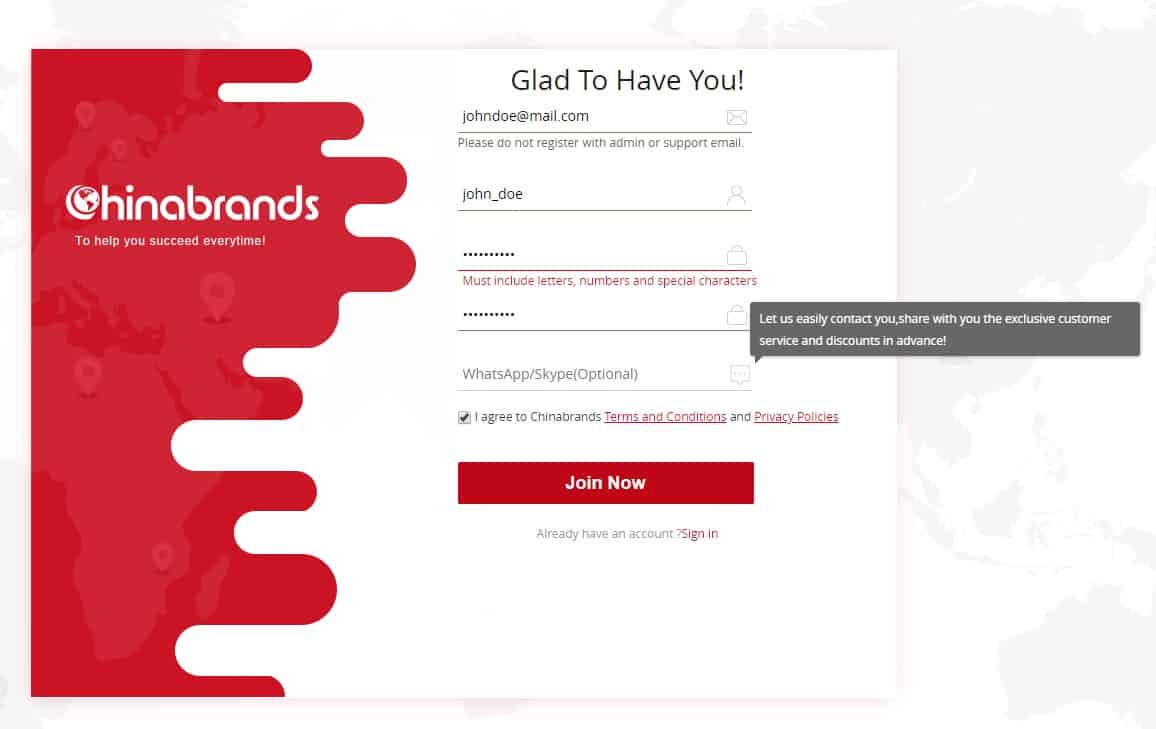 Once you click the link above, it will redirect you to the registration page and it will ask you your email address, preferred username, password, and WhatsApp/Skype (optional). Then after that, you click the "Join Now" button.
After you click the button 'Join now', a verification e-mail should already be sent to the e-mail you just entered. Furthermore, you need to check the Spam folder in your e-mail account if you cannot find the verification e-mail in the Inbox.

How to Get a Reseller Agreement from Chinabrands Wholesale
Sign-up to Chinabrands dropshipping program.
Authorize your eBay store in your Chinabrands dropshipping account. Click here to see the complete step by step guide.
Reach $500 in sales from ChinaBrands before asking for the agreement
Send an email to likai@chinabrands.com using this format:
Dear Chinabrands team,
My name is NAME and I would like to apply for a reseller certification letter. Please review my details below:
Registered email in Chinabrands: john.doe@mail.com
Full Name: John Doe
Store Name: JohnDoeStore2019
Sales from ChinaBrands: I confirm I have reached $500 in sales from ChinaBrands
Store Link: https://www.ebay.com/usr/johndoestore2019
Automation software: DSM Tool
Thank you,
NAME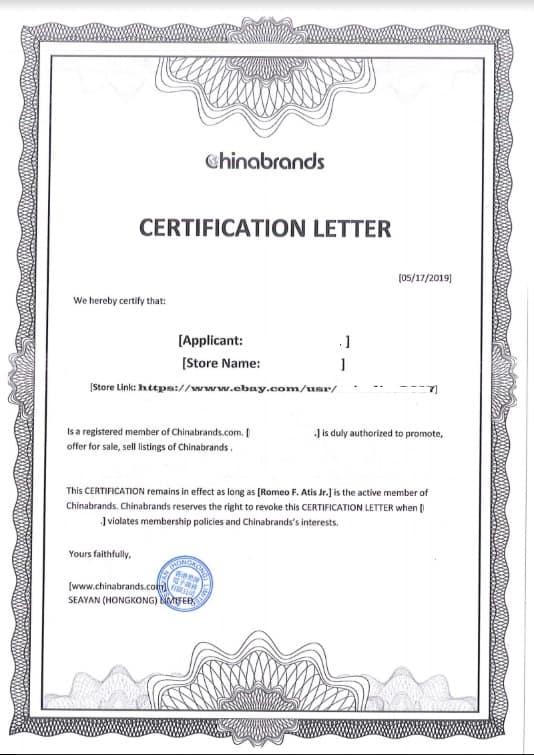 Dropship from Chinabrands and get benefits!
First of all, by using the DSM Tool official partnership link when registering to Chinabrands you will get lifetime access to their dropshipping program for free, which otherwise would have some additional costs to it. Click here to register to Chinabrands using the DSM Tool partnership link. (and keep reading, more benefits are waiting for you!)
Members of Chinabrands has given permission to download the images and the data of the items they need to sell. This encourages the seller who has recently begun dropshipping or selling on the web.
That is to say, they additionally have different distribution centers or warehouses, permitting you don't have to purchase any stock, for example, the US, UK, ES, RU, AU, HK warehouses. At the point when your buyer pays an order in your store, Chinabrands will get the information and ship straightforwardly to your buyer from the closest warehouse. They guarantee 95% of items are transported in 24-hour. In the meantime, there is a tracking number for you. The after-sale assistance is likewise available as long as you purchase the transportation insurance.
For more other information about the advantages and benefits of joining and using their dropshipping program, you can refer to their Chinabrands Membership Rules article.
More benefits for DSM Tool users in Chinabrands!
For DSM customers who are using Chinabrands wholesale as their supplier, you will get additional discounts if you meet the monthly sales rates. See the rates below:
Monthly Sales ≥5,000 USD, Orders Discount 1%
Monthly Sales ≥20,000 USD, Orders Discount 2%
and Monthly Sales ≥60,000 USD, Orders Discount 3%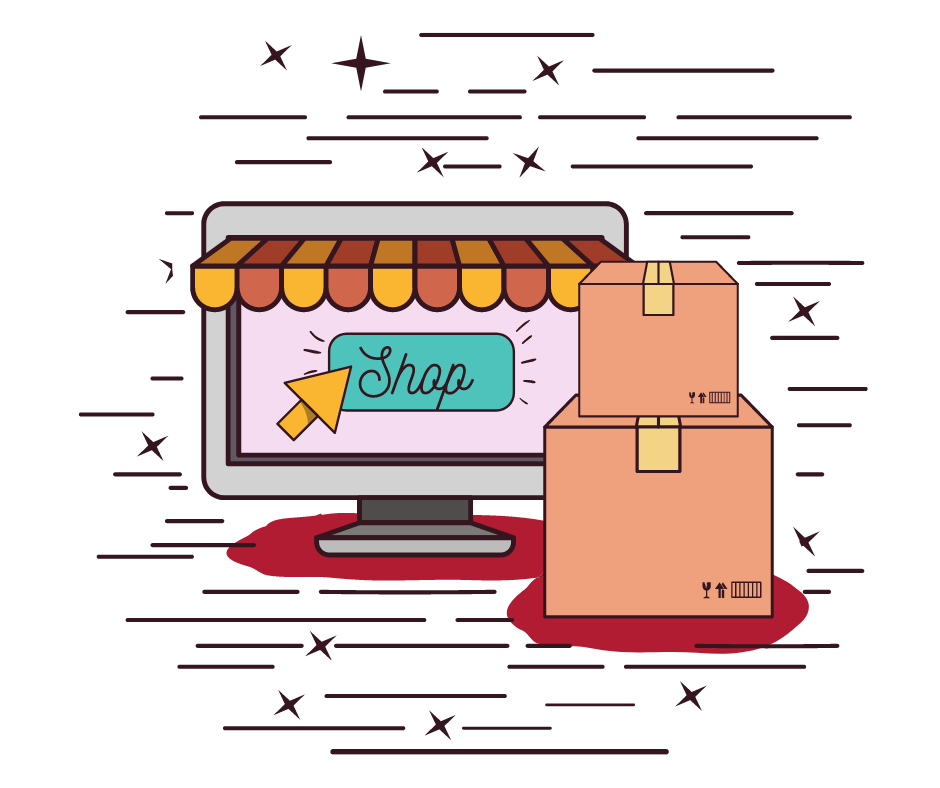 It's time…
Don't wait for success to come. Hire yourself and start your own dropshipping business
Products to sell from Chinabrands
ChinaBrands is a leading online dropshipping and wholesaling supplier from China. It caters to the needs of more than 10000+ merchants who use Chinabrands to dropship products to their customers.
Sections of their website you must know about
Hot Sale
The first and foremost section that you need to check or visit is the Hot Sale section. For obvious reasons, this is where you can see products that are really selling and being bought over and over.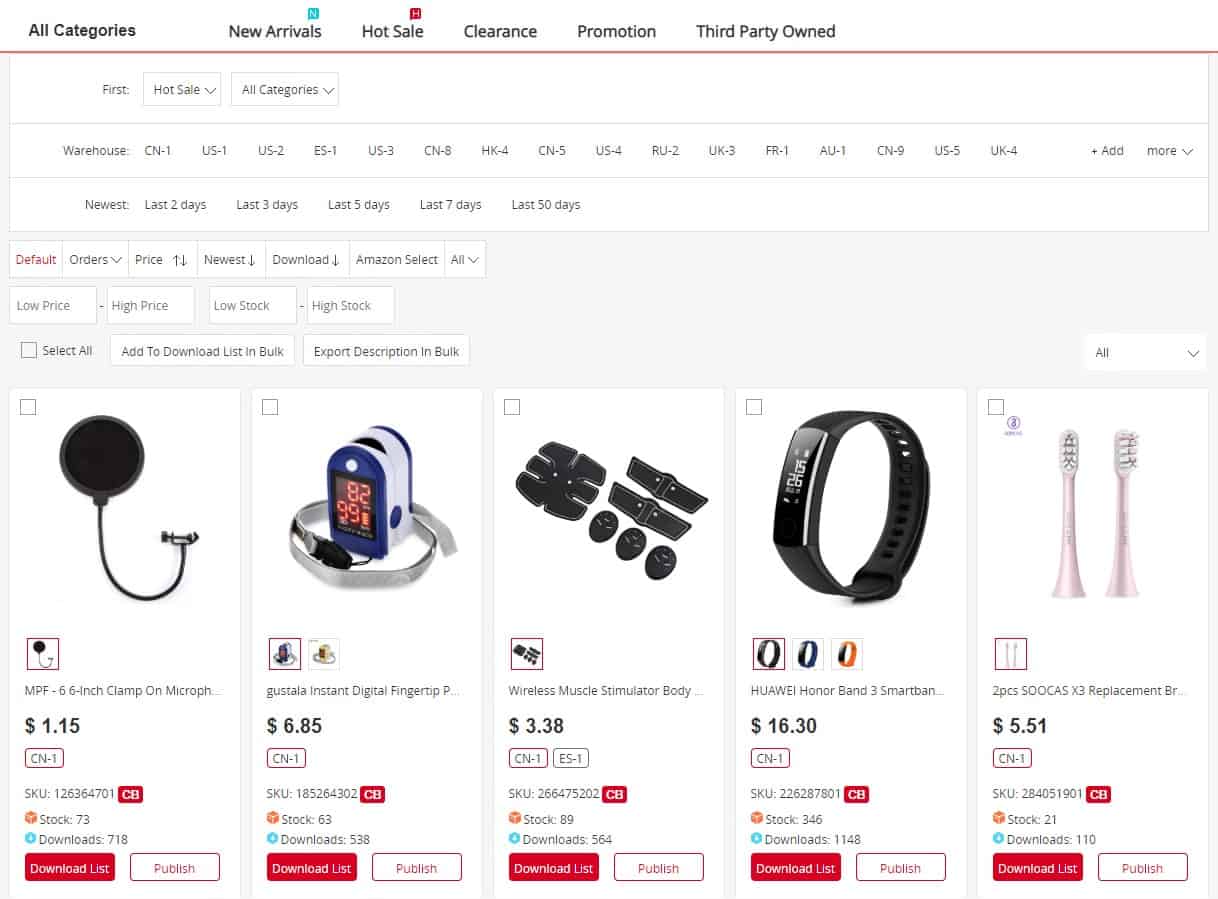 You can filter the page based on product warehouse, the number of days being sold, and many more depending on your preference for dropshipping them from Chinabrands to your e-commerce shop.
Third-Party Owned
Third-party-owned products, refer to the products sold by suppliers, Chinabrands offer the platform, warehouse, and logistics service, helping products to do dropshipping. The product information is operated by the suppliers and Chinabrands only authorize them.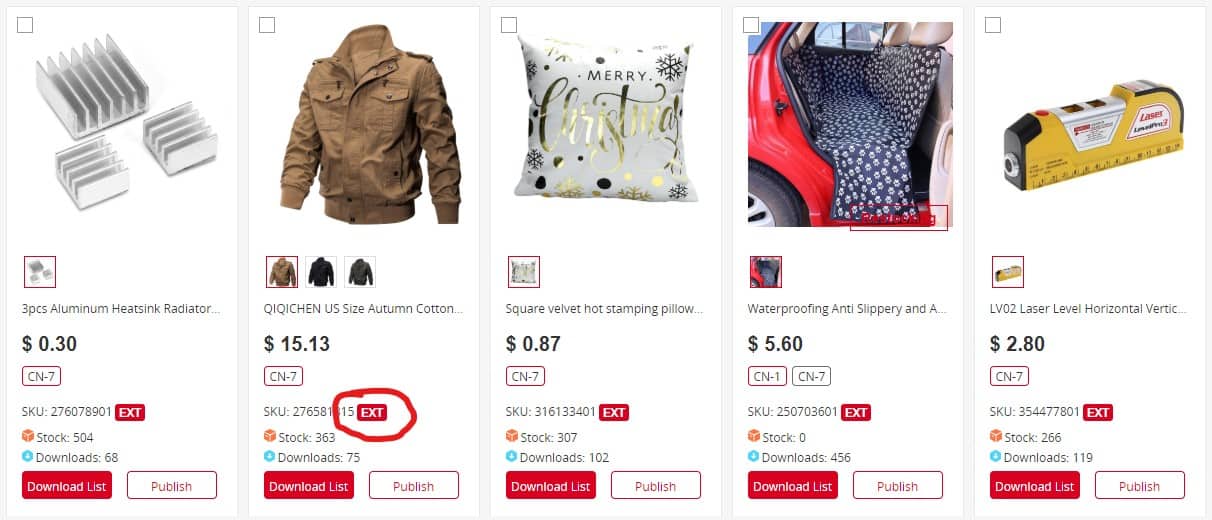 Third-party-owned products all have the tag of "EXT". This section is really cool to find super cheap items because they are being sold directly from the suppliers.
Dropshipping from Chinabrands using DSM Tool
DSM Tool integration with suppliers for dropshipping is built to cover the entire dropshipping flow from finding which products to sell all the way to the post-sale customer support automation.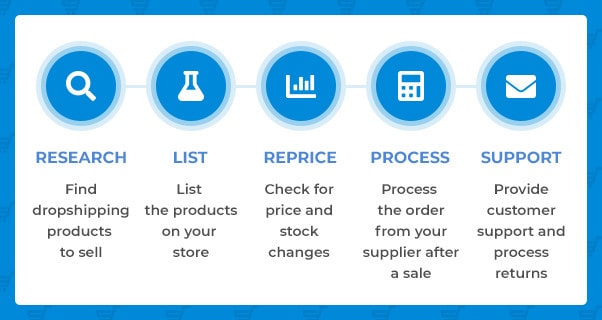 Let's go step by step and see how does DSM Tool helps you automate the dropshipping flow when dropshipping from Chinabrands.
Step 1: Find which products to sell
To quickly search products in Chinabrands and also compare the results to other suppliers you can use the DSM Product Search feature which is part of the DSM Auto Paste Chrome extension.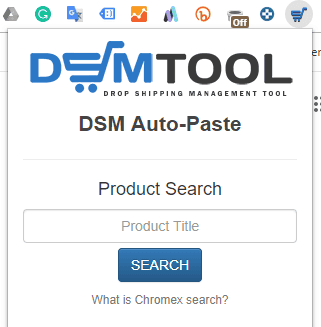 It allows you to open multiple tabs with search results from your favorite suppliers within a single click on a button. You can add Chinabrands to the tab-opening by checking the box next to it in the Chrome extension settings.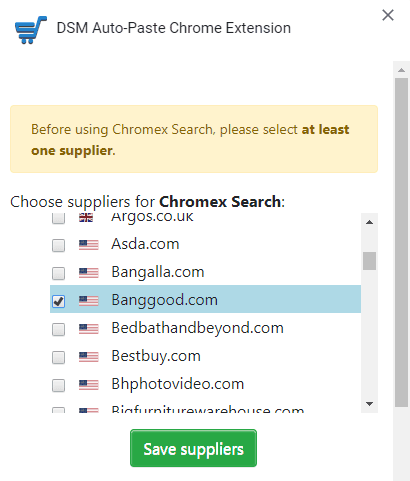 Step 2: Add the products to your store
The items collector
You can use the DSM Tool Auto Paste Chrome extension to list items either in Single or in Bulk.
Single
1. Hover the cursor to the item that you want to list and then click on the DSM shopping cart.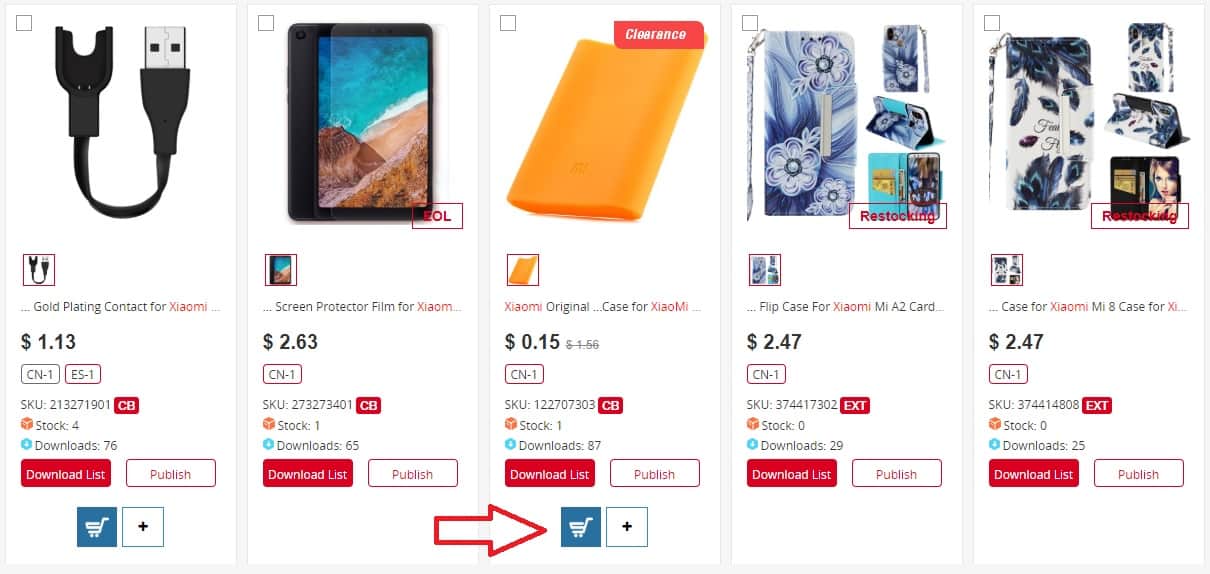 2. The product link will be copied and the page will be redirected to DSM Rapid Lister.

3. Then, the rapid lister will import all of the information from the Chinabrands product page and inject it to the rapid lister, calculating the final price automatically for you. It lets you optimize the price, title, description, and specifications for that product. You could also create an image collage, edit the different variants, change the description template, schedule the listing time and more.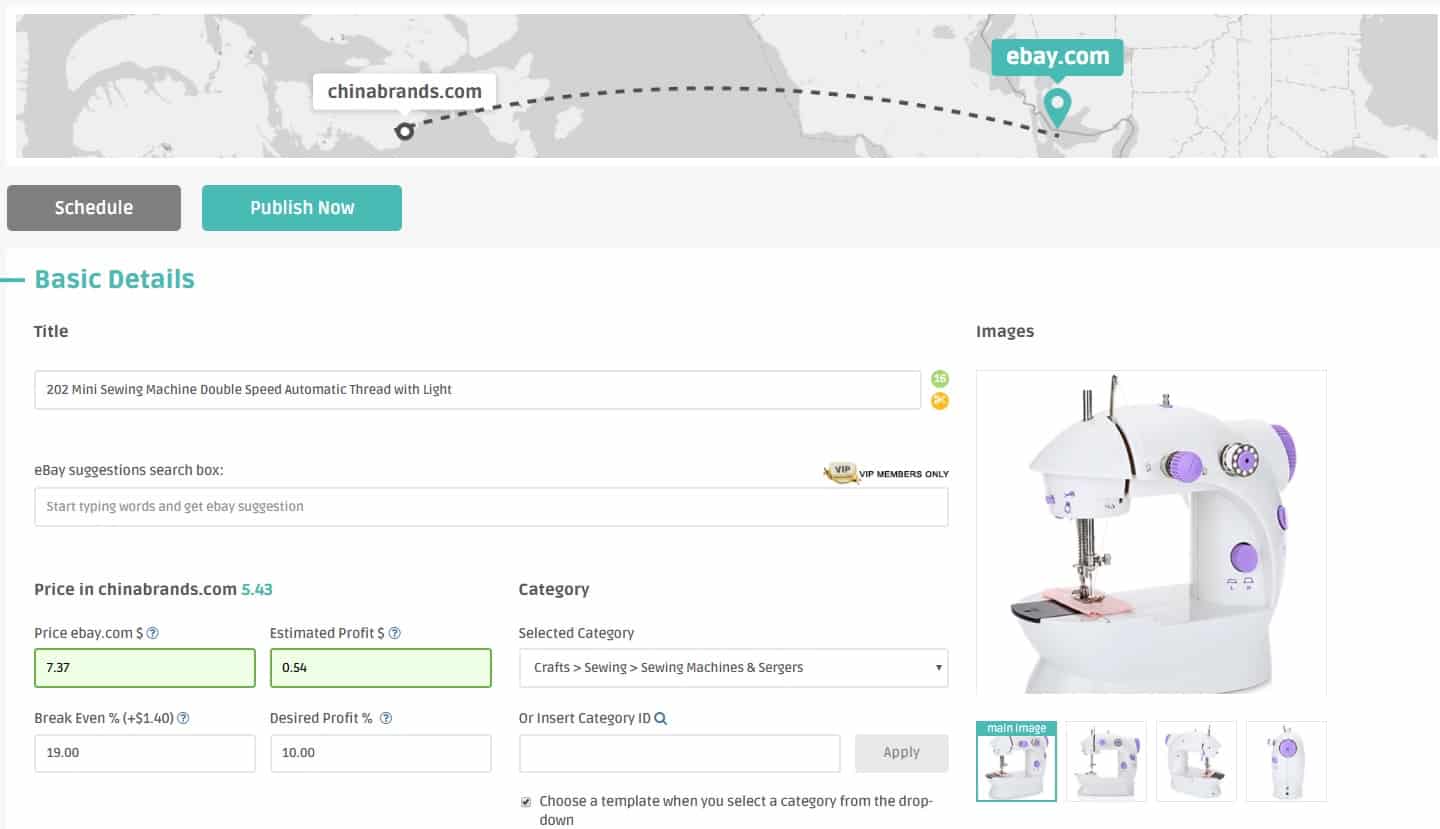 Bulk
1. Hover the cursor to the items that you want to list and click the "+" button.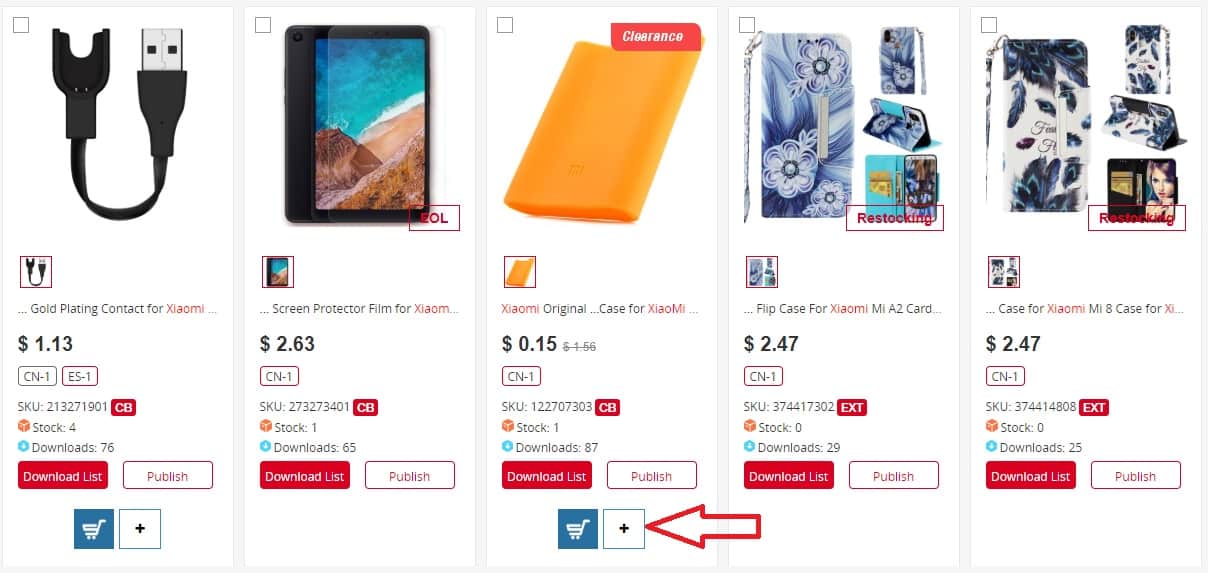 2. Once you have selected the items that you want to list, it will create a list on the right-hand side corner of the screen. Click the "Copy To DSM" button.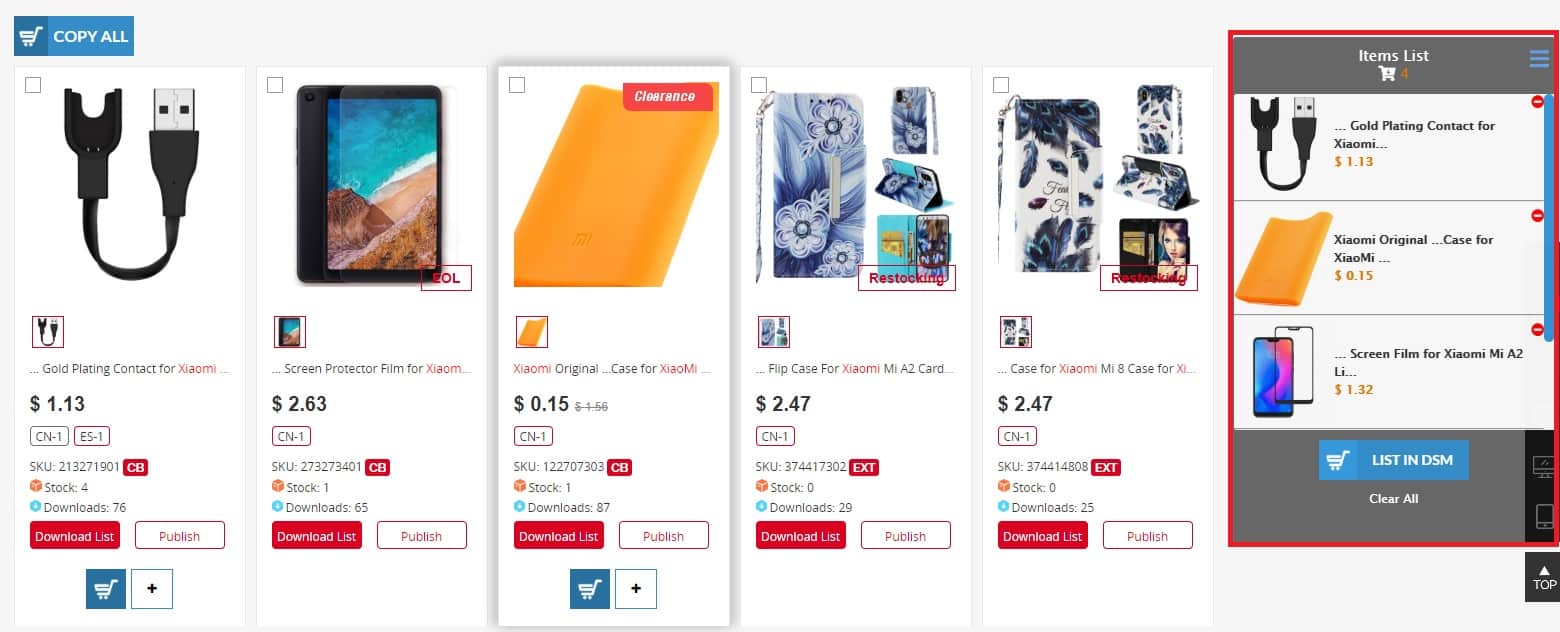 3. After that, the product links will be copied and the page will be redirected to DSM Rapid Lister for Bulk items, Chinabrands will automatically be selected as the supplier. To begin the bulk listing process click on the "Import" button.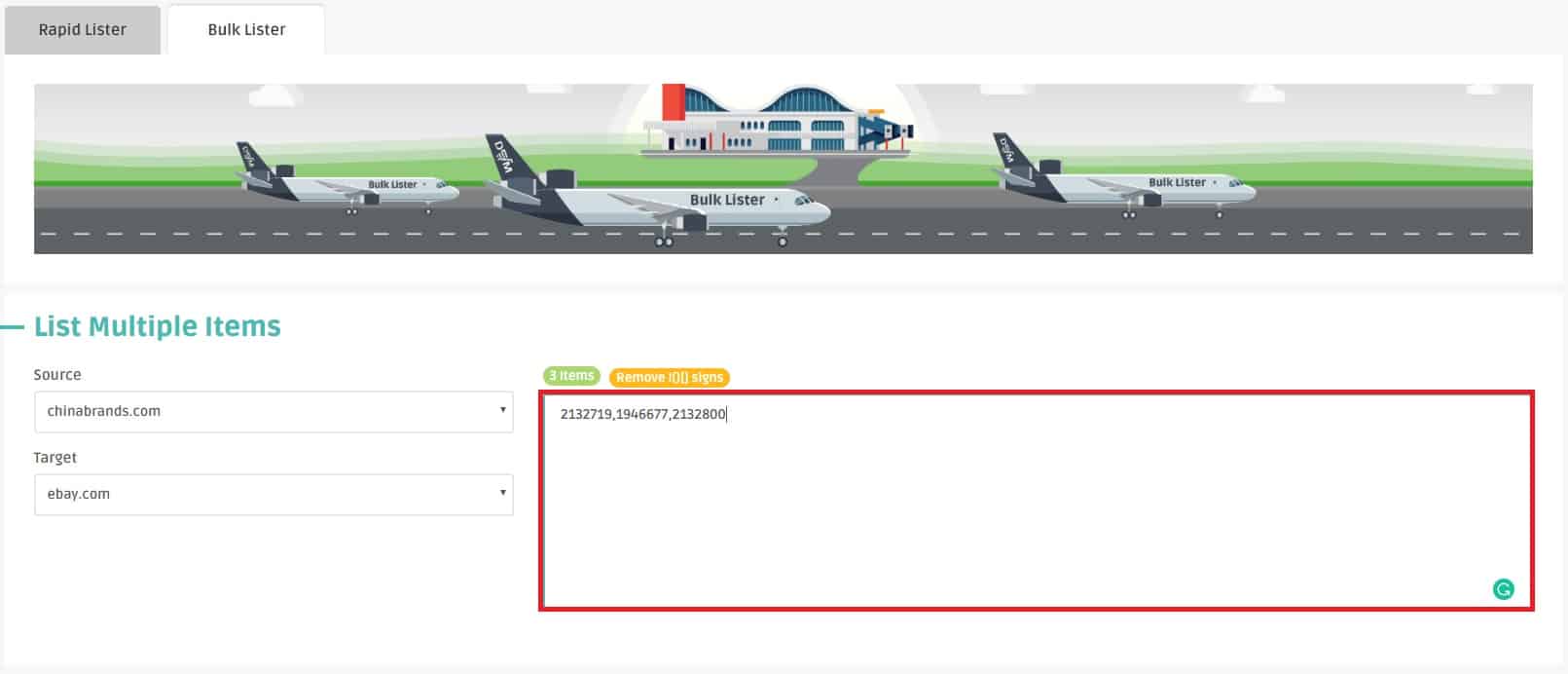 Step 3: Sync the price and stock on the Chinabrands and in your store
DSM Tool checks and reprices Chinabrands products every 60 minutes. The DSM system will apply the change in the price of your listing if it detects any movement in the price from Chinabrands website and set the listing out of stock if it goes out of stock on Chinabrands. If you want to learn more about how to set-up Chinabrands in your DSM Tool account, please refer to the help center article ChinaBrands – Working with ChinaBrands as a dropshipping supplier.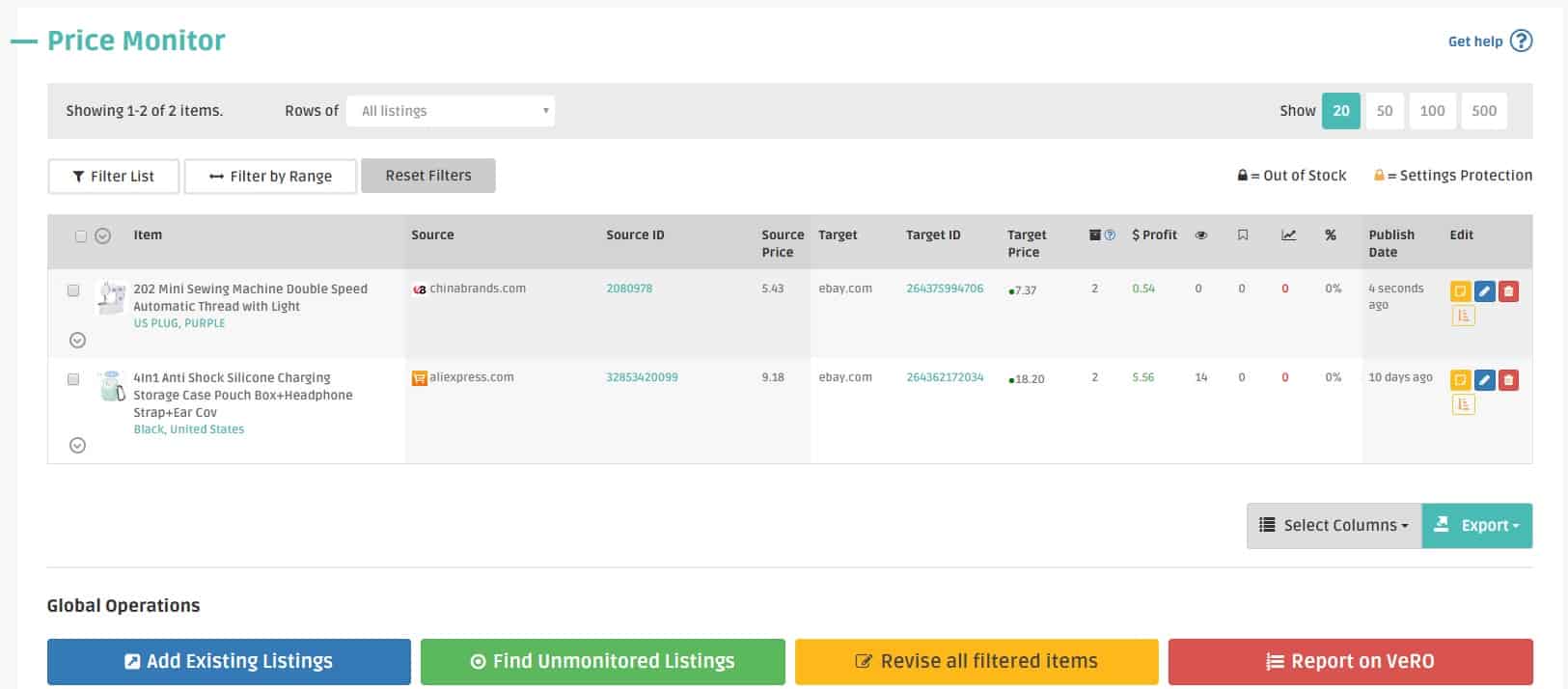 The DSM Tool repricer will also automatically put back to stock products that are sold out on your store, as long as the supplier still has available stock. This is a great feature for sellers in marketplaces like eBay where you are limited with the number of products you are allowed to publish to the platform.
Step 4: Automate the processing of your orders
DSM Auto-Paste: Order processing
Our Chrome extension also offers oders processing automation. Don't waste any time on copying the address of the buyer and paste it on the check-out page of the product in Chinabrands. Let the DSM Auto Paste do it for you.
Go to the Sales and Orders page and look for the buyer's address. A "Copy Address" button will be available to click and the address will be copied automatically.

To paste it, click on the "Paste Client Address" button in the address filling area at the Chinabrands checkout page.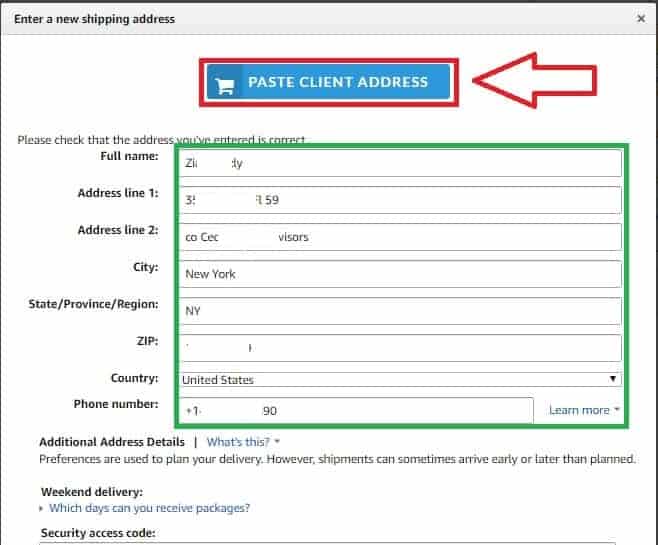 Step 5: DSM Auto-Paste: Updating tracking information
Another feature of our DSM Auto Paste Chrome extension is to update the tracking information once you received an email with the tracking information for the order. Use the DSM Auto-Paste Chrome Extension to update tracking information when you receive an email with the tracking information.
Pricing automation
Let DSM Tool change the prices for you – once you sold an item you can automatically increase the price as it is a signal for you for growing demand, and once an item didn't sell for a few days you can auto decrease its price to become more competitive. The Pricing strategy feature is found on the Sales & Orders settings page

Step 6: Provide customer support
The messages center of DSM Tool allows you to answer your customers from a single point of contact while reviewing all of the details of the product they are writing about. Next to each message you will find details about the price of the product on your store and at the supplier, the order status if it was ordered and even the tracking number for the package. All automated.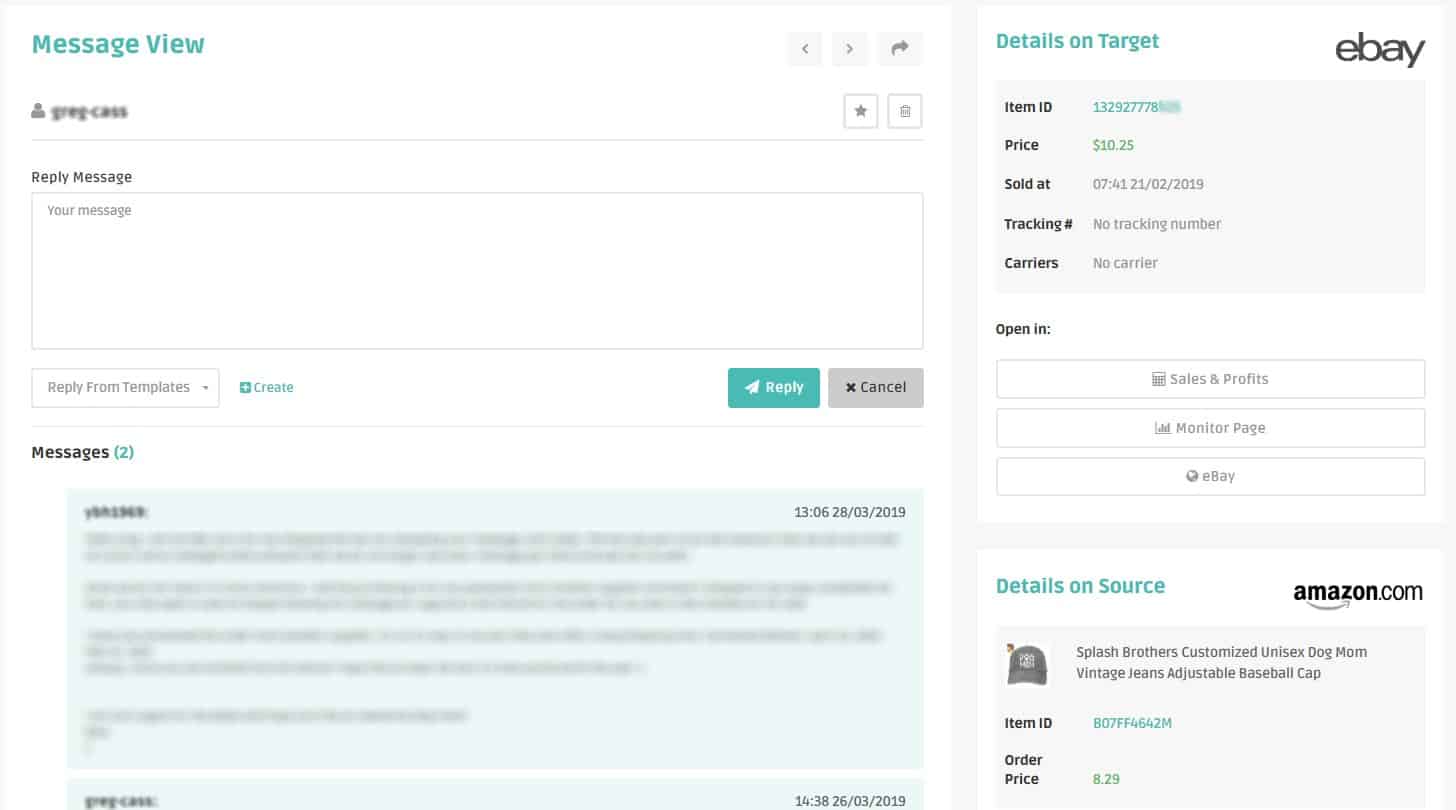 Increase your feedback rate using the messages automation feature that will take care of the post-selling experience of your buyer for you, all automatically.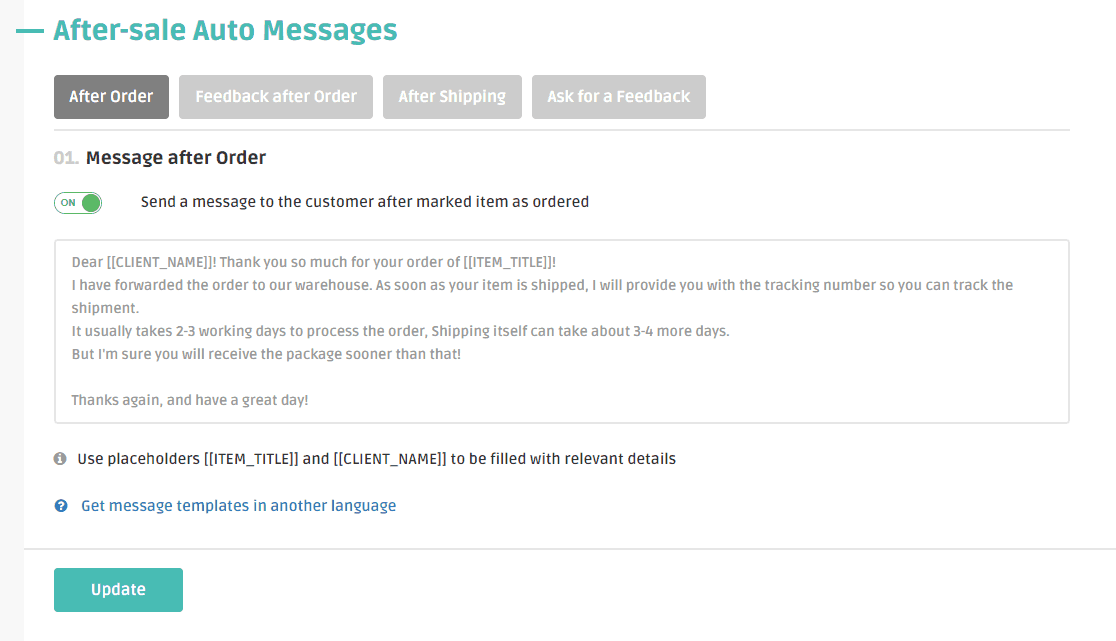 There is always more
Learn about other dropshipping suppliers in the Dropship Academy, we hope you find this information useful please comment below let us know if you like the article, and what can we add to it.
Conclusion
Finally, Chinabrands is a wholesale seller that offers a wider range of possibilities for dropshippers all over the globe. By allowing buyers to brand their products they are making it easy for anyone to start his or her own online business. Again, by leaving no invoice or quoted receipts, dropshippers can enjoy the privilege of fixing the prices they want by themselves, and make the maximum profit from their deals on Chinabrands.