26

min read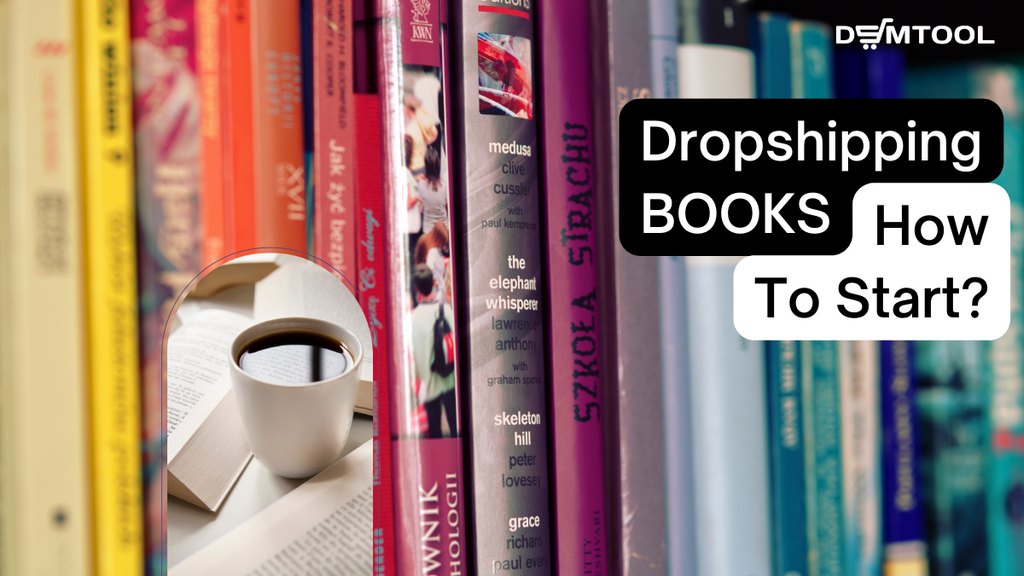 Is dropshipping books viable? Are books still popular? Reading still provides the most intimate and immersive entertainment experience, while for some people it still might appear old-fashioned in comparison to contemporary entertainment like virtual reality gaming. Writers translate feelings and concepts that exist only in their heads into stories. Readers consume those words and experience the same thoughts and emotions.
While multiple people and businesses suffered during the global pandemic, book publishers thrived. Books are an incredibly popular product all over the world, which means your potential customer base is huge. Read further to know how you can start dropshipping books and prosper.
How to Start Dropshipping Books
Well, the book dropshipping starts from the theory and food for thought: research about the sales statistics, popular niches, genre demand, suppliers review, and all that doesn't end with a first successful sales experience in practice, but only does a pause for another jump.
Today you will see that the process is much easier than you think. Have you already decided on a niche and a genre to focus on? It's actually our first step on the way to start dropshipping books:
1. Choose Your Niche 
It frequently works better to focus on a particular genre or niche. It's easier to target a certain group of book enthusiasts and produce marketing content after doing product research. Of course, no one stops you from selling a variety of books, including biographies, recipe books, and encyclopedias in addition to fiction, and children's books.
So, what's then?
2. Set Up Your Store
Once you've selected the niche and genres of the books you'll sell, it's time to work on your store and its design. Create a shop on one of the appropriate and popular eCommerce platforms for dropshipping using the tools it offers. To establish credibility, be sure to include your brand's logo, colors, typefaces, and graphics as well as any store-specific details. Take photographs of the book covers to get people's attention, and promote your best-selling titles wherever you can to increase sales.
DSM Tool can easily help you with most of the settings. One of the most unique features of eBay stores is the ability to costume design your store and product pages. The product description of your product can be customized using a template.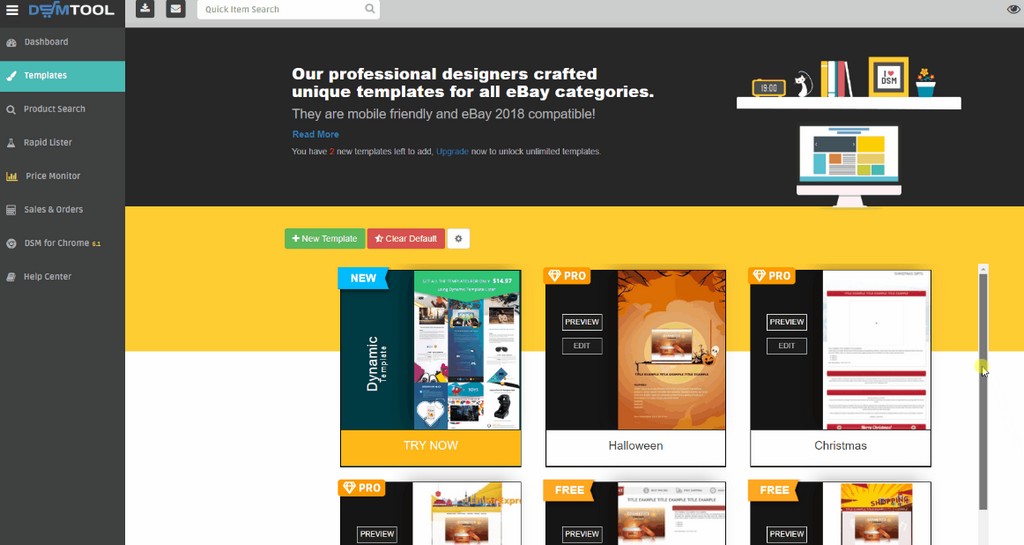 Step 1: Choose a template
Custom or default-designed templates built by professional user experience designers are available for all users (the page contains free and paid templates).
Step 2: Adjust the template settings text
DSM Tool is designed for working with multiple product-sourcing websites. Since different websites offer different shipping and return policies, you set up a different text to appear in your product descriptions according to the website you are sourcing products from.
Customizing the product description section for example on eBay has the potential to increase your sales. eBay sellers use the product description section to introduce themselves, brand their store, create trust and describe their shipping, return, and payment policies.
Building trust with your potential buyers can increase the chance they will purchase the product from you, and not from your competitors.
Check out other options by visiting the DSM Tool page and trying its 7-day trial for free!
We are now in the middle of the process. What's the next step? To choose the supplier.
3. Choose Your Book Supplier
You've started your journey in statistics and now is another good time to look into it for a moment. We all know Amazon as a huge seller. But did you know that when Jeff Bezos started Amazon out of his garage in 1994, he sold books and only books? Amazon's first tagline was "The World's Largest Bookstore." Let's look at its statistics a bit closer.
Amazon Book Sales Statistics
While book sales are a fraction of its overall revenue today, Amazon is still the biggest seller of books online. Amazon remains guarded about its exact book sales statistics, but from what we could find:
10% of Amazon's revenue came from book sales in 2021.
65% of all new book sales online in print and digital formats are made on Amazon.
41% of new print book sales are made on Amazon.
67% of all eBook sales are made on Amazon.
Later in the article, we presented a list of the top dropshipping book suppliers. Check out their pages and the variety of the books they sell, and any fees they have before you start working with them and get a sale.
Now we are coming almost at the end of the total process of how to start dropshipping books. The final, also important step is to think about your personal marketing strategy.
4. Create A Marketing Strategy
There are many ways to generate content to give visibility to your books for sale:
Podcast
Social media
Blogging
Advertisements (Facebook Ads, Google Ads, Instagram Ads…)
Influencers
Amazon
Digital reading platforms
Email Marketing
Unfortunately, we can't describe every step in detail because it deserves more than 4 different articles explaining the ways and directions of the search and all Pros and Cons of each of them. Instead, we offer you to look closer at the book's sales statistics of the latest years to see what this market represents by far and what you can expect from it in the future.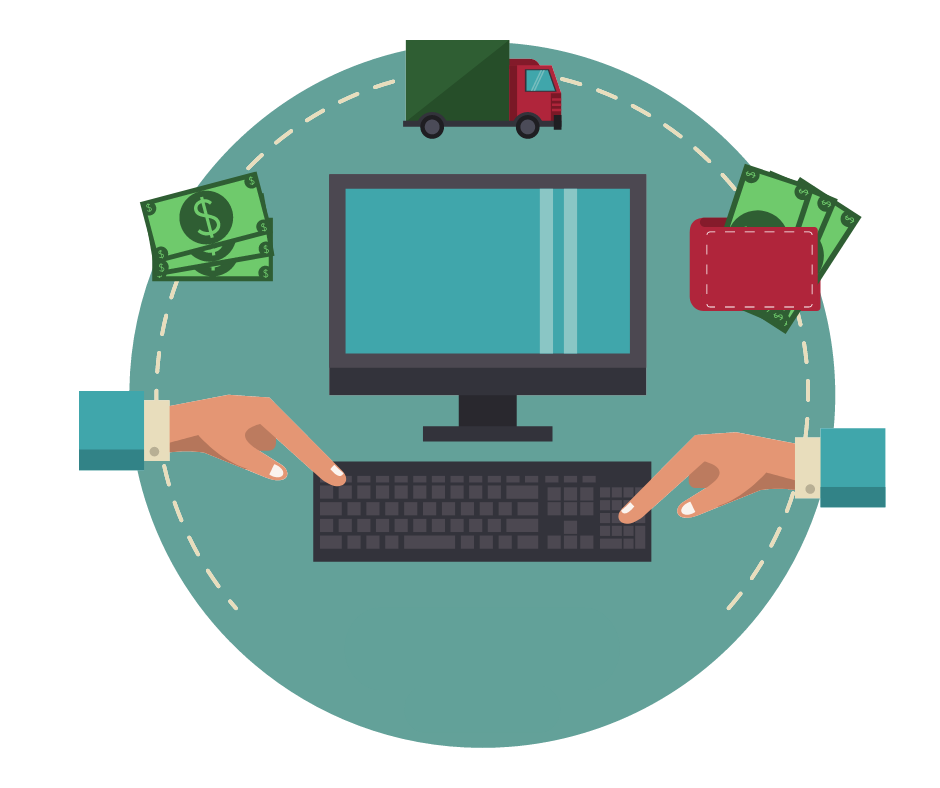 Not yet making money online?
Start your own dropshipping business. Sign up for a free trial of DSM Tool and we'll help you get started. Today is the day.
Reading And Sale Statistics Across The Globe
Readers from all over the world, regardless of age or place of origin, looked to statistics, data, facts, and a variety of topics to improve their lives. Statistics on reading indicate that individuals are once again reading for pleasure.
Just over half of the UK adult population reads regularly for pleasure.
Senior citizens in the UK spend an average of 5 hours a week reading.
UK readers under 25 read an average of 2.4 hours per week.
28% of China's total 2016 publishing sales were e-books.
Print still accounts for the bulk of total units sold.
E-book sales are strongest in Korea (80.1%), Brazil (54.6%), and Norway (29.1%).
Asians are among the most passionate readers on the planet.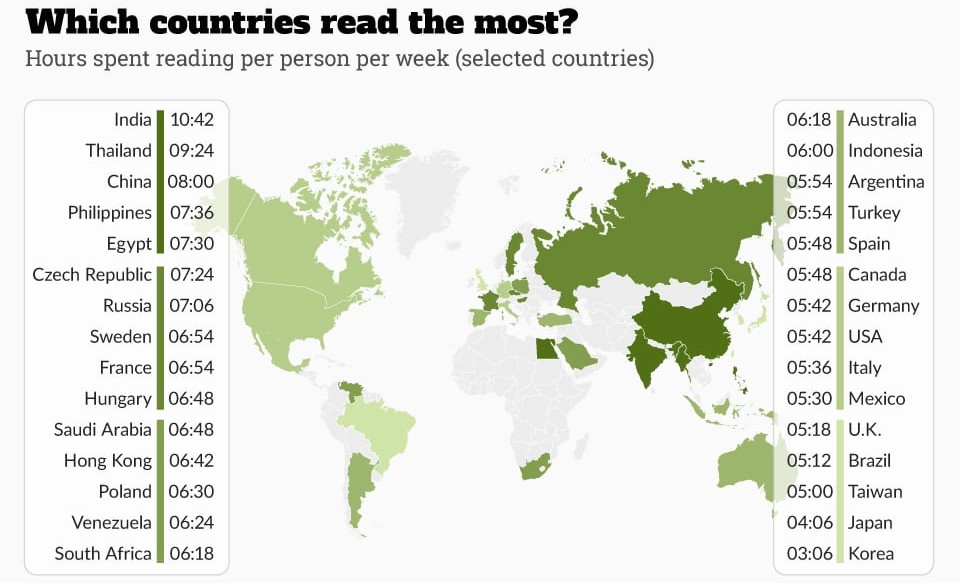 Global Book Sales Statistics 2021-2022
Publisher's Weekly reports that print book sales rose more than 8.9% since the start of the pandemic in 2020.
Asia and North America are the leaders when it comes to production, with both holding a 34% share of the publishing industry. Some numbers from the statistics:
The 2021 global book market was valued at $138.35 billion.
By 2030 this number is expected to be around $163.89 billion.
A global average of 16.44 Euros is spent per capita on print and audiobooks.
Print book sales figures have improved and unit sales now consistently surpass 650 million per year.
Print book sales have increased approximately 9% year-over-year since 2012.
Information and statistics provided by researchers at Publisher's Weekly confirm that people are reading more than ever. It means people who were already readers read more. What else might be interesting to know about reading to make sure we are on the right way?
Book Sales In The United States
Book publishing has shrunk but remains a cornerstone of American business. The pandemic drove an increase in book sales that hopefully will continue into the post-pandemic economy.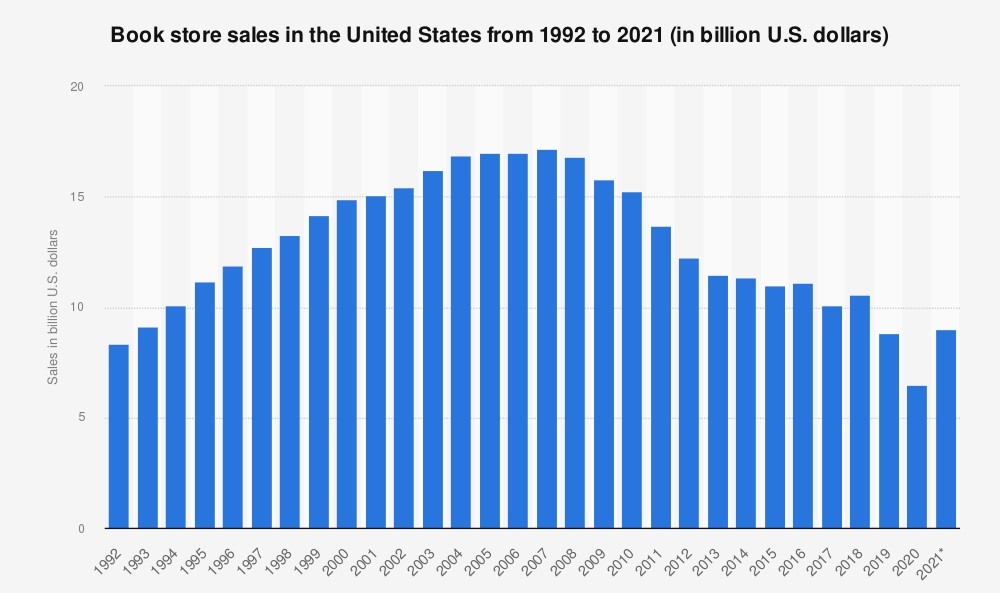 Book stores sales have gone up in 2021 due to the lockdowns and the COVID epidemic.
825.7 million print books were sold in the US in 2021, up from 757.9 million in 2020.
The U.S. book industry generated nearly $25 billion in 2019.
Approximately 2,600 different companies make up the U.S. publishing industry.
65% of US adults read a print book in 2021.
There are 4,100 independent bookstores in the United States.
The U.S. books market is expected to generate $46 billion by 2025.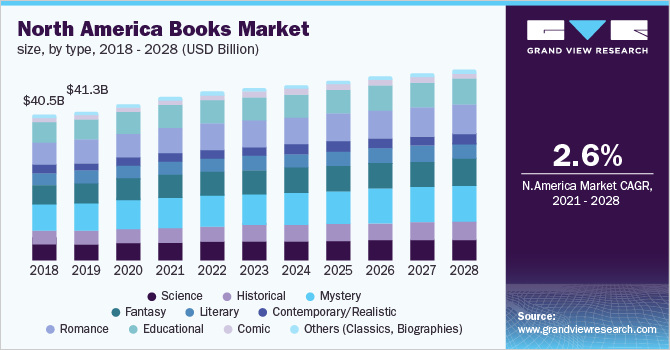 Online Book Sales Statistics
Online book sales in the United States totaled $16.7 billion in 2021.
The global online book services market is expected to grow at a compound annual growth rate (CAGR) of 5.8% between 2020 and 2027. Market size is expected to expand from $18.8 billion in 2020 to $27.8 billion in 2027.
In 2020, US books and magazines eCommerce sales value was around $18.6 billion (including audiobooks and eBooks). A $4 billion or 27.40% increase compared to 2019 ($14.6 billion).
In 2019, data from 29 national organizations of European publishers revealed that 23% of books were sold online in Europe.
Book Sales By Genre Statistics
All readers adore a good story, especially one that is real. Below is presented a comparison of book sales in 2021 and 2020.
Adult nonfiction sold 322,564 units, a 4.4% increase over last year.
Adult fiction sold 174,190 units, a 25.5% increase over last year.
Juvenile nonfiction sold 75,059 units, a 6.2% decrease over last year.
Juvenile fiction sold 201,868 units, a 9.6% increase over last year.
Young adult fiction sold 30,974 units, a 30.7% increase over last year.
Young adult nonfiction sold 4,316 units, an 8.3% increase over last year.
Hardcover books sold 249,788 units, a 10.3% increase over last year.
Trade paperback books sold 457,218 units, a 9.3% increase over last year.
Mass market paperback books sold 38,215 units, a 3.1% decrease over last year.
Children's board books sold 49,820 units last year, a 13.2% increase over last year.
Romance novels are the bestselling fiction genre ($1.44 billion).
Religious and inspirational books are the bestselling nonfiction genre ($720 million).
You've seen what the latest statistics say, some genre requests, and interest from the public, so now it's time for you to think about your store's filling for the year 2023.
Best Dropshipping Books in 2023
The list of books that you can add to your store will depend on you and your store's direction, but what we surely recommend is to look attentively at the best-selling books and genres of all time and the previous year's results. Learning from the past or present is a great way to gain the target with minimum errors. Let's make a start!
Top 10 Bestselling Books Of All-Time
The Bible – five billion copies (registered by Guinness World Records in 2021)
Genre: Religious
Author: Several authors
Year of original release: ~ 1st Century AD
Original language: Hebrew / Aramaic
The Works of Mao Tse-tung – 1.1 billion copies
Genre: Political
Author: Mao Zedong (a.k.a. Mao Tse-Tung)
Year of original release: 1964
Original language: Chinese
The Quran – ~ 800 million copies
Genre: Religious
Author: Several authors
Year of original release: ~ 7th Century AD
Original language: Arabic
The Harry Potter Series – 500 million copies
Genre: Fantasy
Author: Joanne Rowling (a.k.a. J.K. Rowling)
Year of original release: 1997
Original language: English
Don Quixote – 500 million copies sold too
Genre: Novel
Author: Miguel de Cervantes
Year of original release: 1605-1615
Original language: Spanish
The Lord Of The Rings – ~ 155 million copies sold
Genre: Fantasy
Author: John Tolkien (a.k.a. J.R.R. Tolkien)
Year of original release: 1954
Original language: English
The Little Prince – 140 million copies sold
Genre: Children's Novel
Author: Antoine de Saint-Exupery
Year of original release: 1943
Original language: French
And Then There Were None ~ 115 million copies sold
Genre: Mystery Crime
Author: Agatha Christie
Year of original release: 1939
Original language: English
The Hobbit – ~ 110 million copies sold
Genre: Fantasy
Author: John Tolkien (a.k.a. J.R.R. Tolkien)
Year of original release: 1937
Original language: English
The Dream Of The Red Chamber ~ 105 million copies sold
Genre: Novel
Author: Cao Xueqin (a.k.a. Tsao Hsueh-Chin)
Year of original release: 1791
Original language: Chinese
A good book collection to start from, but even if they all remain highly popular it doesn't mean people are not trying to find another best book for themselves. That's why every year it's required to check the latest bestselling book charts to see what book interest is also going up and join the wave.
The Bestselling Books Of 2022
"It Ends with Us" by Colleen Hoover was #1 on the adult list and #1 overall in the first six months of the year. In the children's category, the powerhouse authors remain powerhouses. Dr. Seuss's "Oh, the Places You'll Go!" was #1 — as it so often is by midyear, when graduation season prompts mass purchases of the title. And the YA list is topped by Holly Jackson's "A Good Girl's Guide to Murder".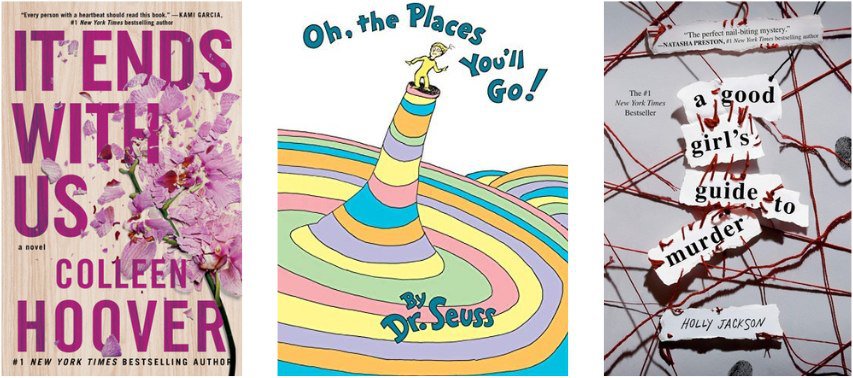 The Bestselling Books Of 2021
The bestselling children's book of 2021 was Dav Pilkey's "Dog Man: Mothering Heights. In fact, USA TODAY reported "Dog Man: Mothering Heights" was the bestselling book in all categories.
The second bestselling book last year was Kristin Hannah's epic love story, "The Four Winds." Coming in third was "American Marxism," Mark Levin's political tome.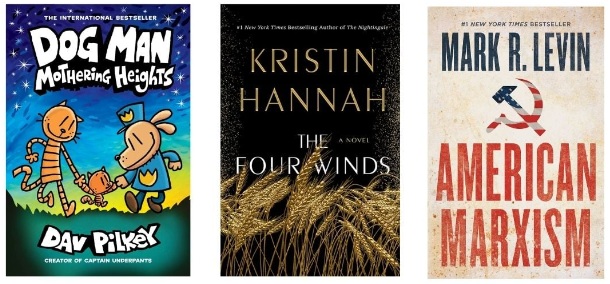 One thing is certain; diehard readers have their favorite genres and they stick to them.
Romance novels enjoy an audience of voracious readers; they buy a lot of books and read a lot! In 2021, romance novels raked in $1.44 billion.
According to Query Tracker, young adult is the most popular fiction category, followed by:
fantasy novels
children's fiction
literary fiction
science fiction
and thrillers
Romance placed 9 out of 10 on the list.
QT's most popular nonfiction genres are:
memoir
self-help
narrative
religion/spirituality
cultural/social issues
biographies
Proactive Writer says the bestselling print book categories on Amazon are:
Memoirs and Biographies
Self Help
Religion and Spirituality
Health, Fitness, and Dieting
Politics and social sciences
Since we are increasingly using Amazon as an example, let's begin discussing book suppliers and platforms to sell on, to see which one is the most attractive to work with in dropshipping.
7 Top Dropshipping Books Suppliers
Here are the top 7 dropshipping suppliers of books you need to pay attention to.
AliExpress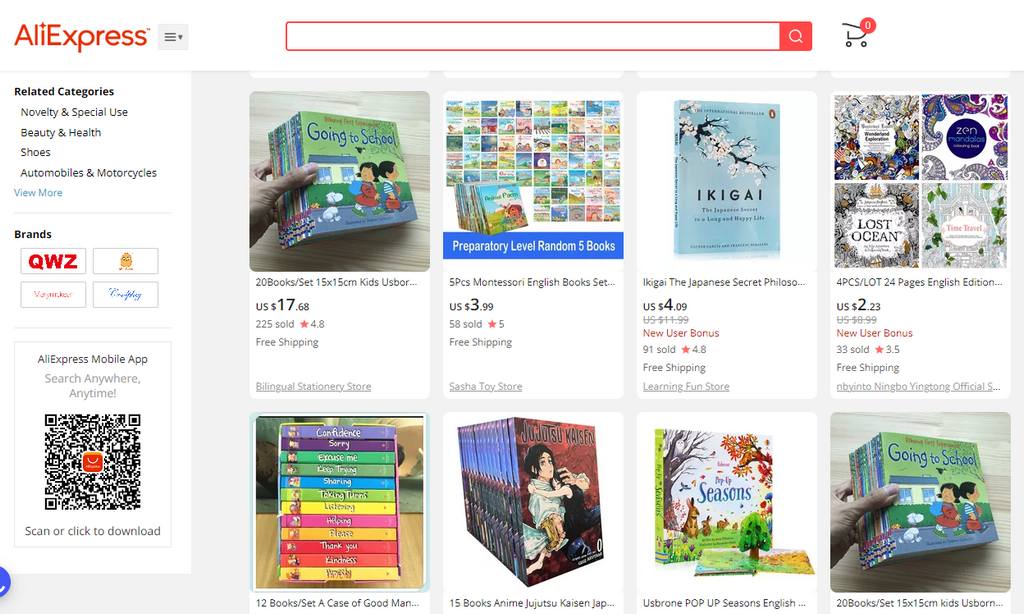 The most well-known cross-border B2C. In various dropshipping niches, there are presently more than 100M products. Since many of the books come straight from manufacturers, distributors will be eliminated.
Books Dropshipping Features
Dropshipping books at very low prices
Shipping fees in the majority of the cases are free.
Delivery to more than 200 countries and regions around the world
There are 20+ payment options, including Visa, MasterCard and Maestro, American Express Wire Transfer, Paypal, and AliExpress Pocket.
Pricing
Dropshipping from AliExpress is completely free. You just need to pay the shipping and product costs.
Amazon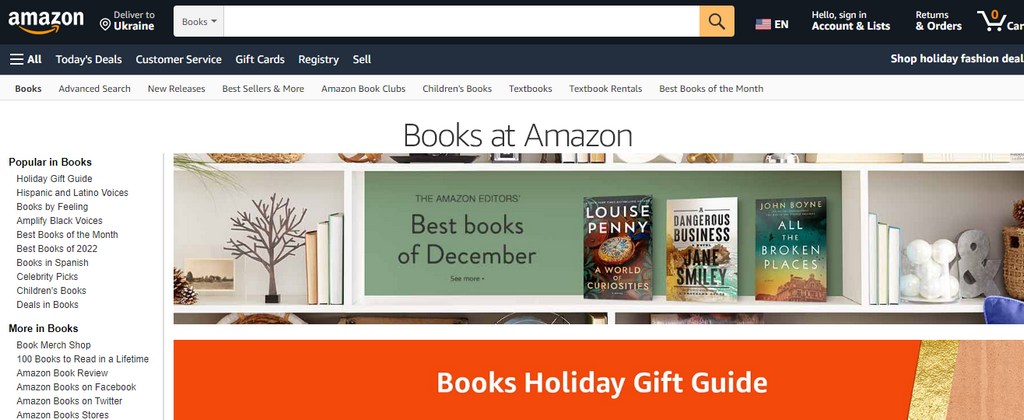 Similar to Aliexpress, Amazon FBA offers a significant customer base and a wide selection of books. At a very little cost, you can fill your shop with books by the top writers in a range of categories.
What types of books can you sell on Amazon?
new books online
used books online
textbooks online
books without an ISBN
collectible or rare books online
ebooks online
Pricing: free to use – you cover the cost of shipping fees.
HalfMoonBay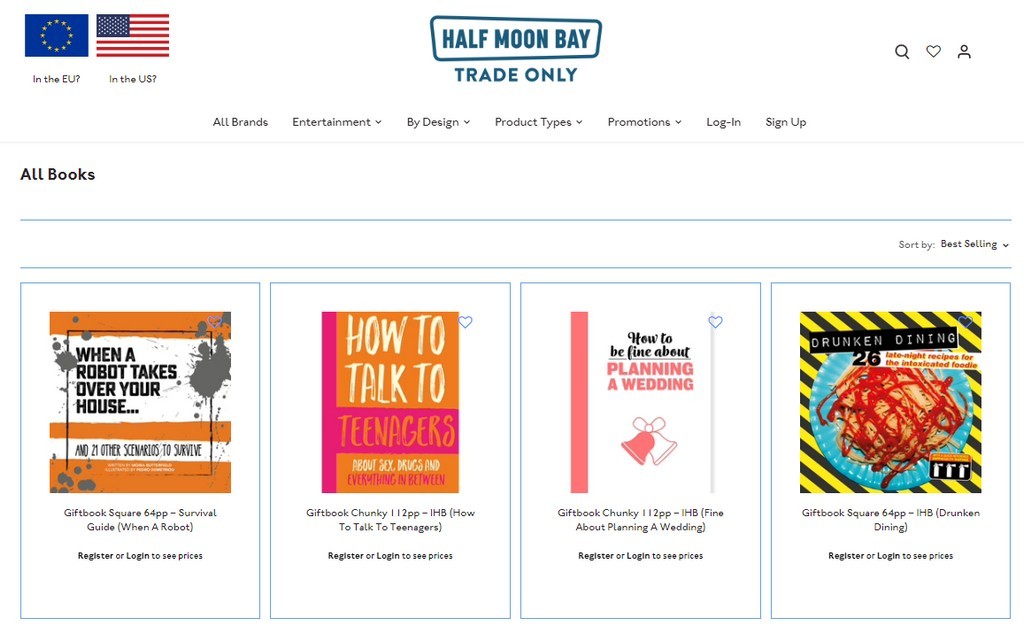 You may get high-quality comic books and gift books that you won't find anywhere else online. You'll get access to a wide range of well-known characters from Disney, Pixar, Marvel Comics, DC Comics, Minions, and many more businesses thanks to HalfMoonBay.
Books Dropshipping Features
Shipping fees for PS2.95-PS3.95
Due to licensing agreements, you cannot ship to certain countries other than the UK.
Payments through Papal, Apple Pay, and Google Pay as well as major credit cards
Pricing
HalfMoonBay has no subscription fees. It is important to remember that Dropship Branded Products from HalfMoonBay require you to contact them to request permissions and certificates.
AmericanBookCo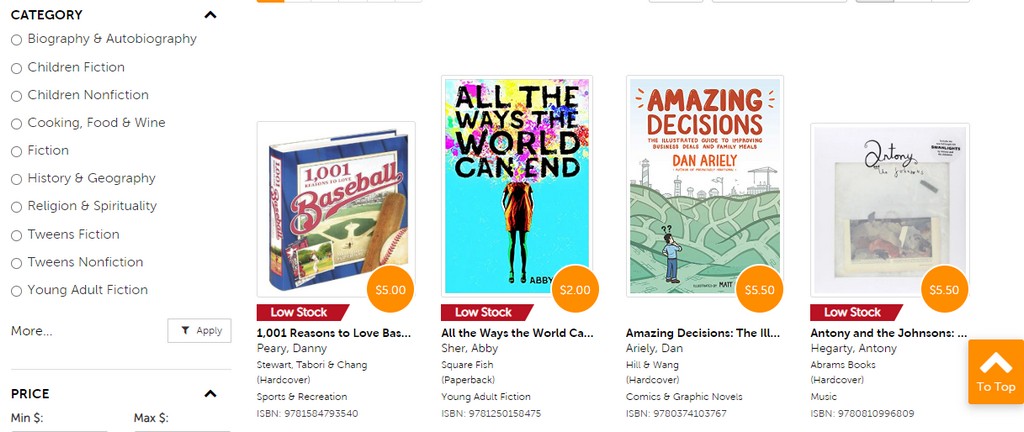 Next, AmericanBookCo focuses solely on wholesaling books. You can browse books in 23 different categories, including biographies, entertainment, history, and fiction. 
Pricing: 40% off traditional retail prices. Has a minimum order.
Lulu xPress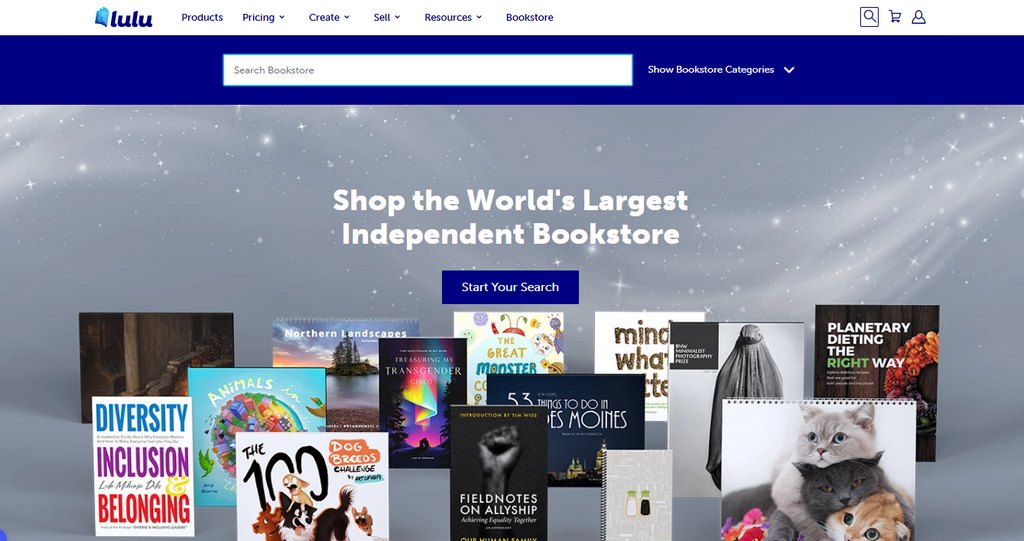 You may design and produce your own journals, books, calendars, and yearbooks with the help of Lulu. When you're finished, you can either sell them on the independent Lulu bookstore or on your chosen eCommerce and dropshipping sites.
All of the specifics, including printing, publication, fulfillment, and delivery to your consumers, will be taken care of by the provider.
Books Dropshipping Features
Express and expedited shipping options allow you to deliver to up 150 countries in 3 – 5 days (production time not inclusive).
Templates and guides to help you publish your own ebook or print book.
There are 3,000 combinations of format, color, and size options.
Accept PayPal, credit/debit cards, Google Pay, and Shopify Pay.
Integrate with Lulu Bookstores, Amazon, Barnes & Nobles, Ingram Networks, Apple Books, and Google Play.
Pricing
Lulu is totally free to use. Only pay for the books you print and ship to your customers.
IngramSpark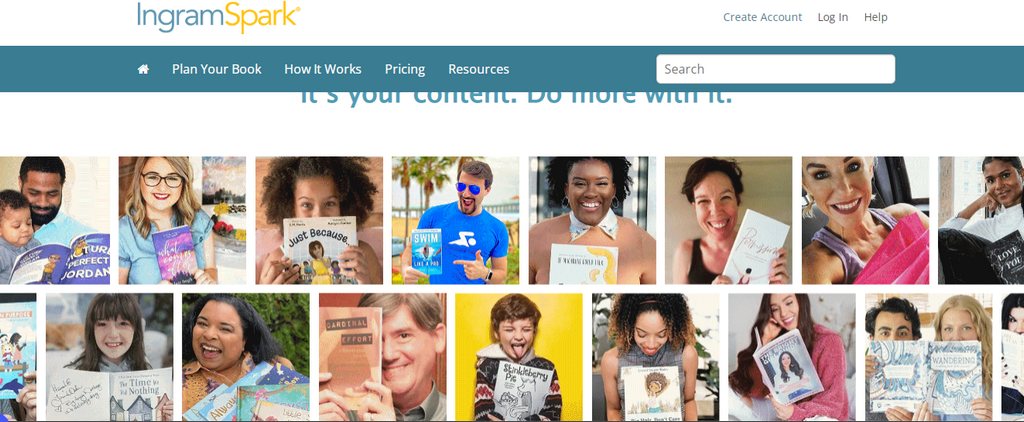 One of the leading providers of print-on-demand dropshipping is IngramSpark, which is similar to Lulu Express and other book dropshipping businesses. It is a subsidiary of the well-known publishing business IngramContent, which has served many small and major publishers with its services. With 7.5 million titles, IngramContent also has the largest book collection in the market.
Books Dropshipping Features
Fast global delivery.
Guidebooks available for free
There are many formats available to suit any book genre.
Support hardcover, paperback, and color printing as well as eBooks
Accept PayPal, credit/debit card payments, and bank accounts.
Compatible with Amazon, Apple, and Kobo.
Pricing
Uploading a book to Instagram costs between $25 and $49 You then pay for each book printed and delivered to your customer.
Amber Withers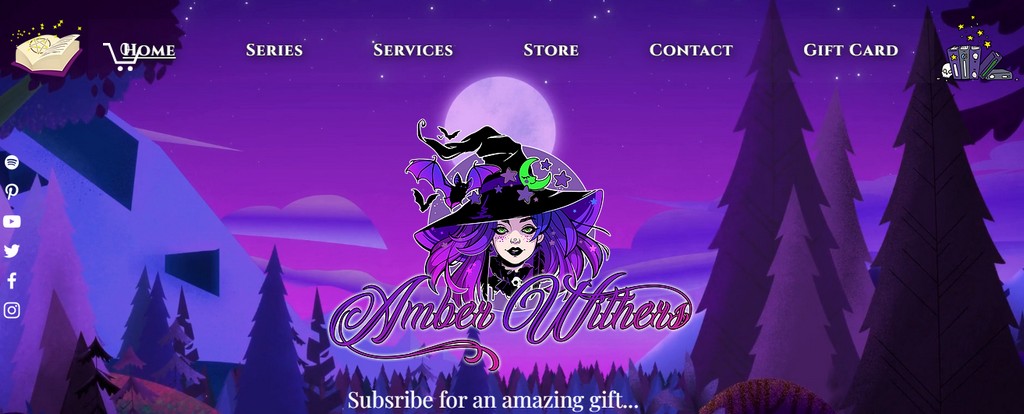 Up next, Amber Withers is an online shop named after Amber, a young author who wrote multiple book titles, including Winters Academy and Amulet of the Witch.
Dropshipping for Books
Worldwide shipping
Paypal allows you to process orders.
Pricing
Dropshipping books by Amber Withers is completely free.
Where To Dropship Books
As we highlighted at the beginning, there are a wide variety of ways and channels to sell books online. However, we would like to focus on two of the best options that you should consider.
Through Your Website
Whether you want to sell your own books or want to sell new/used books online, doing so through your website offers great advantages, especially if you have the support of a good eCommerce platform.
For example, if you choose to create your online bookstore with Shopify, not only will you be able to have a functional and attractive site, but you will also have countless applications and accessories ideal for selling books online.
Of course, you can save yourself the effort of creating your online store by selling your products through social media networks or in marketplaces, doing it through your own site can be more profitable in the long run. In addition, it gives more seriousness to your business.
Through A Marketplace Or A Platform
Obviously, if you don't want to have your own website and just want to sell used books online or just want to make direct sales of your books through social media, marketplaces, and platforms are an ideal option.
As we said before, platforms to sell books online such as Amazon or eBay are ideal for this purpose. However, if you have a good level of activity on social networks, using marketplaces like Instagram can also be a very good alternative.
Here we share with you some of the best platforms and channels that you can use to sell books online:
eBay
Amazon
Etsy
Apple Books
Bubok
Kobo
BookBaby
Starting Dropshipping Books on eBay
In order to start a dropshipping business on eBay you have to take the following steps:
Create an eBay account
Create a PayPal account or signup to eBay managed payments
Setup a seller account on eBay
Setup recommended settings for dropshipping on eBay
Setup a dropshipping software
Find products to sell, including products from home
Build a process for store optimization and growth
Let's go over these steps one by one.
Creating an eBay and PayPal Accounts
Both of these are quite simple, you can follow this step-by-step guide or just do it yourself. The process of creating an account on eBay and PayPal is pretty much self-explanatory.
Moreover, eBay has been rolling out for quite some time already their managed payments solution which replaces the need for a PayPal account to run an eBay store.
If you are an international seller you should also consider opening a Payoneer account, it will be used as a "bank" that you receive the funds into, and you get from them a credit card to make the purchases with – a pretty comfortable way to manage the business aside from your personal finances.
Setting Up A Seller Account
In order to turn your eBay account into a seller account, you need to connect a payment method to eBay. They use it to charge your eBay selling fees, which they invoice at the time of the sale and charge every 15th of the month.
Alternatively, you can sign up for the managed payments service, and then you could start selling as well. The selling fees for managed payments are deducted immediately at the moment of the purchase.
The easiest way to start this process, once you have signed up to eBay, is by clicking on the "sell" button and following the instructions.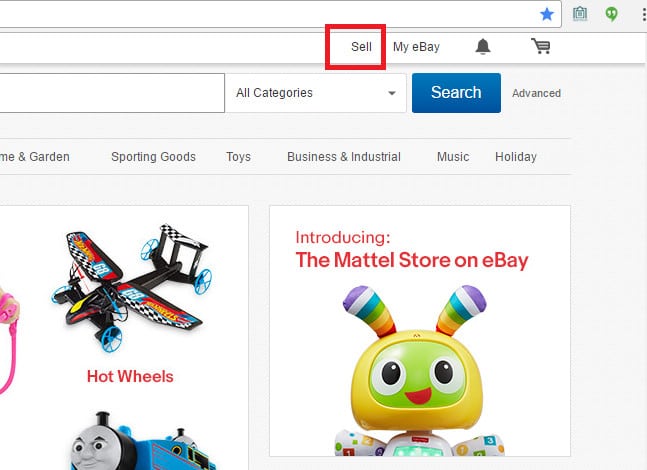 At this point, you should already have a product in mind that you want to sell from home. In many cases, in order for eBay to prompt the payment setup that turns your account into a seller account you have to manually list an item.
Take it as an opportunity to get to know the listing functionality of eBay. What kind of information are they asking you to fill up? Which options cost more or less? What is the insertion fee that they ask you to pay and what additions to the listing make its price go up or down?
Once you have at least one product from home that you are willing to sell on eBay listed and pending to get sold, you can start setting up the dropshipping settings.
Recommended settings to dropship on eBay
The recommended settings for eBay dropshipping are the following:
Business Policies
Store name
Payment method
eBay seller hub opt-in
Global shipping program opt-in
Enabling out-of-stock
Excluding shipping locations
Return preferences
Unpaid item assistant setup
Like every step until now, there are videos to cover and show you step by step which buttons to click to set up all of these correctly in the eBay dropshipping course. by DSM Tool.
If you prefer to follow a written guide, I recommend you to go through the following guides:
When these are ready, move to my favorite part – setting up the best software for dropshipping: DSM Tool.
Setting up a dropshipping software for eBay dropshipping
The dropshipping software is what makes this magic possible. It automates for you the most important aspects of the business:
Listing products from other websites in one click
Syncing the price and stock of the products from your dropshipping supplier to eBay
Automating the order processing
Automating customer support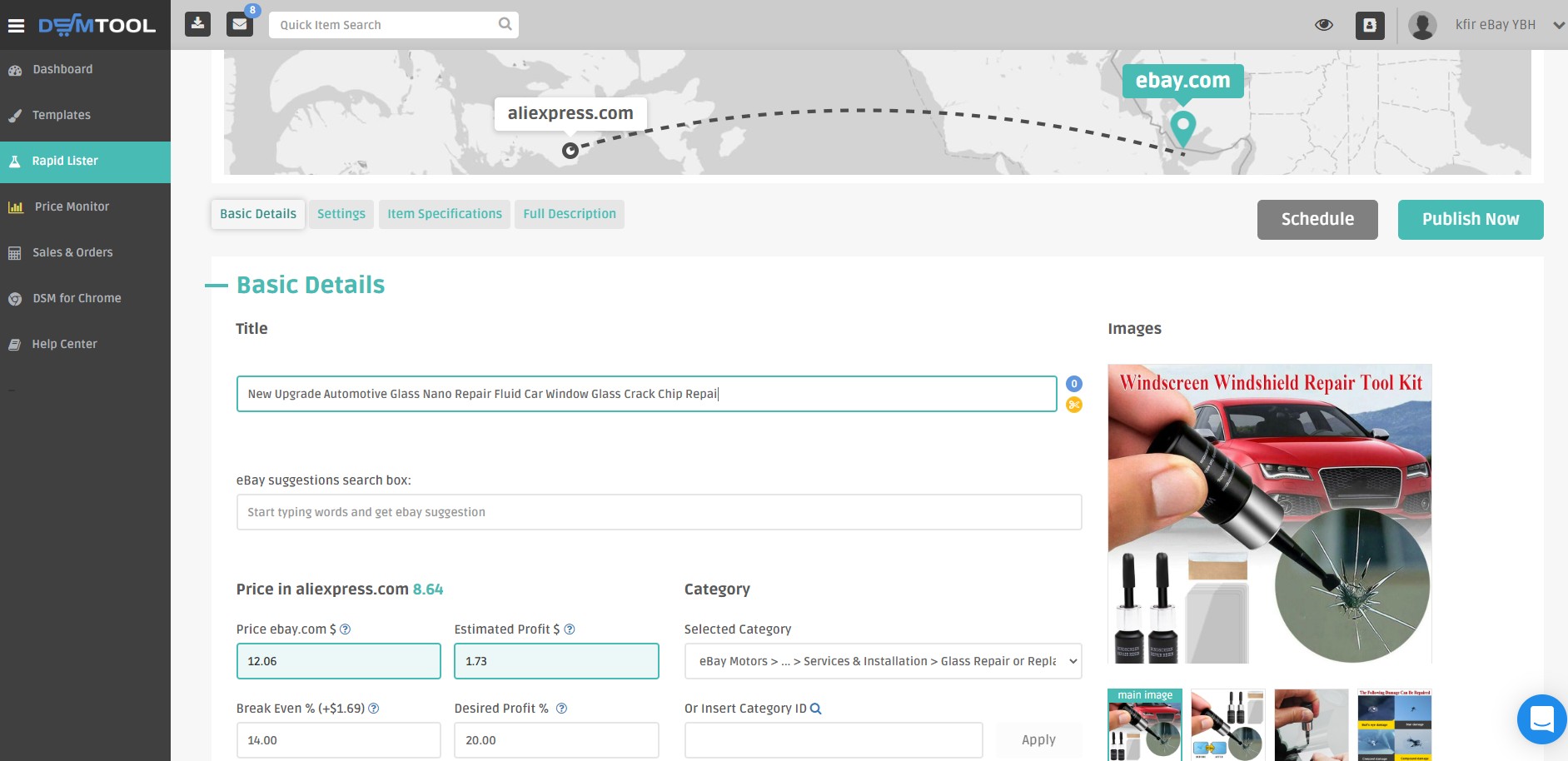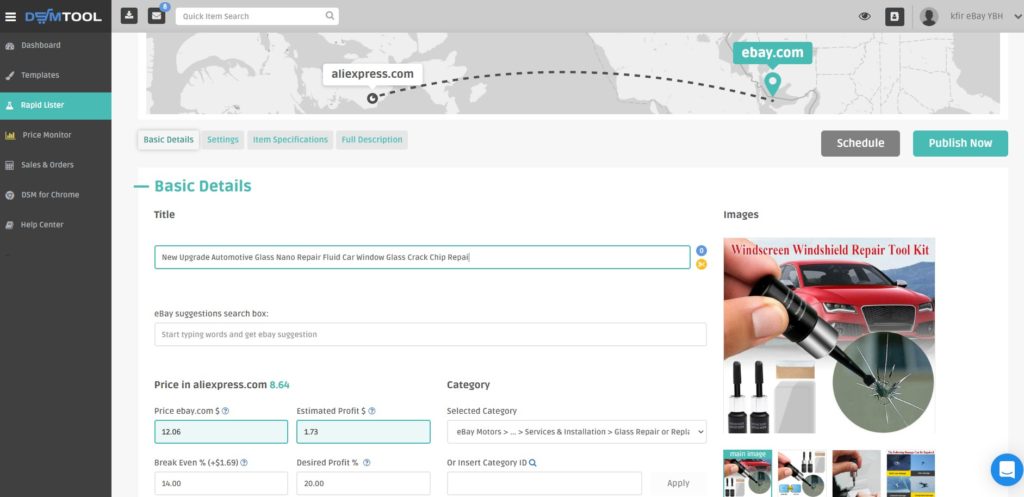 It even generates positive feedback automatically for you.
Such advanced dropshipping software will require learning how to use it in the best way possible (here I mention the eBay course again, right?). I recommend following these guides to optimize your dropshipping software as a beginner:
When the dropshipping software is ready, it's time to do dropshipping product research to find profitable products.
Developing a healthy routine for your dropshipping business
The last part of starting a dropshipping business is everything but "last". As a business owner, you are now responsible for the health of your account, traffic generation, and customer service.
eBay account health metrics
In the eBay seller hub, you will find the seller-level report that includes the metrics that you need to maintain good health.
I mentioned in the part about the eBay dropshipping policy that dropshippers cannot gain the top-rated seller rank. But it doesn't mean they can't go below standard. If you won't make sure to take care of your account's health metrics, you will drop below standard and it will become much harder for you to get that free traffic.
For eBay dropshippers, the competition with top-ranked sellers already reduces the total potential traffic their stores can generate. It's still enough to make great profits, but if you drop below standard expect a long period of time of almost no traffic while you fix it.
Make sure you provide excellent service at all times – your brand name depends on it!
However, good health metrics by themselves aren't enough, you need to develop the habit of traffic generation by learning how to optimize SEO for your eBay store.
eBay SEO
SEO stands for Search Engine Optimization. It is the practice of making your products appear in the first place in the results of search engines such as Google or eBay.
There are many parameters that the eBay search engine takes into account when deciding which listings will appear first in the search results. For example, your eBay seller level is one of them.
There are three things you need to know about eBay SEO:
How to perform an ongoing SEO optimization to the store
How to perform SEO optimization on a specific listing
How to use promoted listings to boost visibility
The first two you can learn by reading the complete guide to eBay SEO and the last you can learn by reading the eBay promoted listings guide.
I want to mention one thing about eBay SEO that you should remember. A lot of people think that the process of SEO is related to preparing and optimizing the listings before you publish them, things like writing a better eBay listing title or choosing better images.
They are important indeed, but it's only a part of the full picture of the eBay SEO practice. Think of SEO as a goal at the store level, the optimization of specific listings is just a way to support the account optimization as a whole.
Now you know as much as needed to start doing dropshipping books. The scheme is quite simple, you agree: just set up a storefront to display your product range once you know what to sell. When a shopper purchases a book, your chosen third-party bookseller is notified and ships the product directly from their own warehouse. This eliminates the need to store books or manage inventory, operations, and shipping. This is the best thing about dropshipping – no worries about inventory or shipping logistics.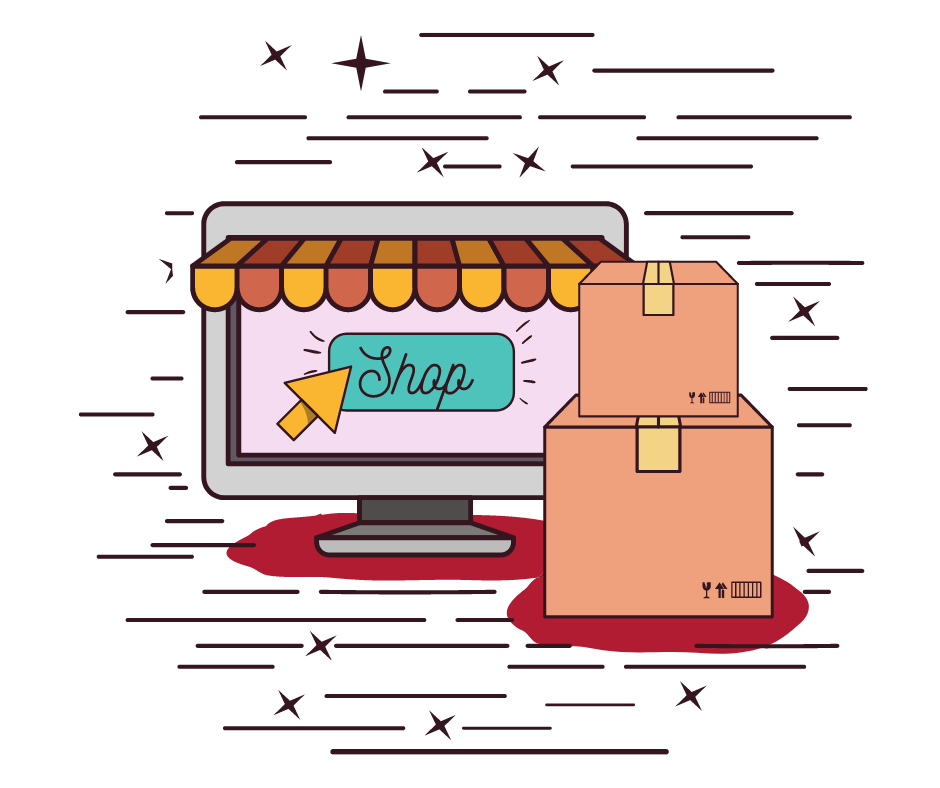 It's time…
Don't wait for success to come. Hire yourself and start your own dropshipping business
Conclusion:
Dropshipping books can be a good source of income or the start of a profitable online business. Furthermore, with the features available for sellers on different platforms, you can start dropshipping books in a matter of hours. Start simple and enjoy the process.
This guide will help you build your business successfully.