Choosing the right shipping option on AliExpress can easily get you confused. No wonder! It's a mix of specific shipping companies and general shipping methods like AliExpress standard shipping, ePacket, Aliexpress Premium Shipping, etc. It's even more confusing when you find out that some options there are not the shipping companies but rather methods, like a popular Aliexpress Standard Shipping.
That´s why we're here to help you sort things out and understand the difference between all of the AliExpress shipping options.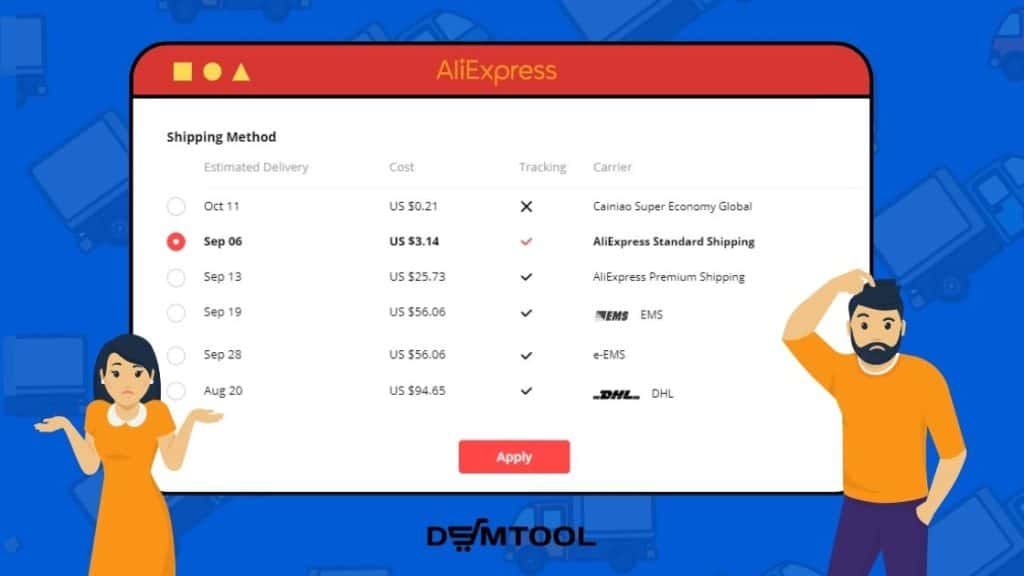 Whether you are trying to understand how long does AliExpress takes to ship your products, you wonder where AliExpress ships from, you're trying to compare the standard shipping with other methods (including ePacket shipping), or you just want to figure out how to get free shipping on AliExpress… This guide was created to give you the answers you are looking for.
But first thing is first.
Where does AliExpress ship from?
AliExpress ships mostly from China, but it has warehouses also in the USA, France, Germany, Russia, Spain, Poland, Belgium, Australia, Turkey. Some sellers offer shipping from these warehouses, additionally to shipping from China. However, AliExpress is expanding into more and more locations.
You can choose the necessary warehouses on the AliExpress product page.
Additionally, you can also filter items by "ship from" location on the Aliexpress search page.


When it comes to the dispatch location of your specific product AliExpress doesn't reveal the exact information about the location of the item, only the country. A lot of times they will refer to the location as "Country of origin".
But unless you choose a different country, all of the items will be shipped from one of China's port cities like Shenzhen, by one of the registered Aliexpress shipping.
It's time to learn more about Aliexpress different shipping methods. Let's go!
What is AliExpress Standard Shipping?
The Aliexpress standard shipping is a fast shipping method by air that provides you with a tracking number. It's not a shipping company. The AliExpress standard shipping delivery can be operated by any delivery company as long as it stands within the process that is called standard shipping.
Dropshipping suppliers from AliExpress that want to ship using the AliExpress standard shipping method send the products through one of the logistic centers that AliExpress count as eligible for the standard shipping method.
So instead of the "Seller -> Courier service -> Customer" process in which the supplier chooses which courier to deliver the goods with, using this method the supplier only needs to ship the product locally within China. The logistics center will then forward it internationally to the buyer using its courier service. The process then is "Seller -> AliExpress Logistics Center (in China) -> Courier service (chosen by AliExpress) -> Customer".
It's similar to the eBay Global Shipping Program where eBay is the one that prices the shipment and handles the logistics using its logistics centers. The eBay sellers don't even know what fee eBay charges the buyer for the shipment, the process is transparent to them.
Similarly, for the Chinese dropshipping suppliers it's a convenient way to do business, dealing only with local shipments. Besides, it allows them to expand to selling worldwide. Unlike eBay, AliExpress is aimed mainly at exporting goods from China so this service is widely adopted by the suppliers on it.
The packages that are delivered using this shipping method usually come in a blank package so you never know who is the company behind the operation of the delivery. It is also not clear what standards does AliExpress requires from the shipping companies to become eligible for this standard.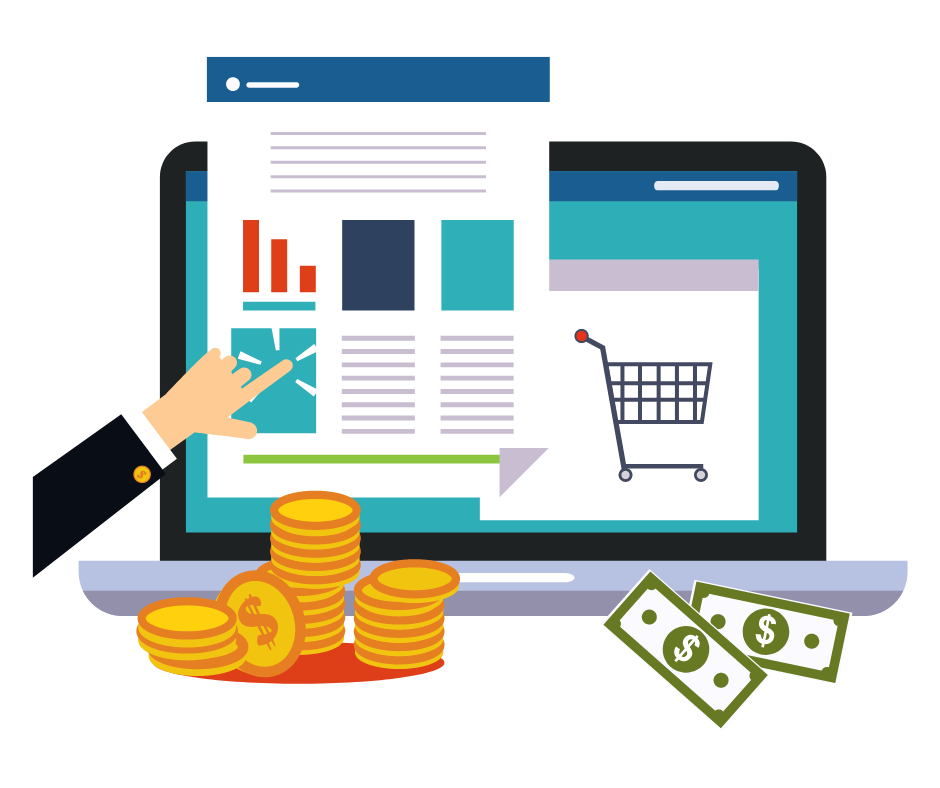 Don't wait for the profits, make them!
Start a profitable dropshipping business with DSM Tool. Get a free course and a free trial of the software.
Is there a contact number for the AliExpress Standard Shipping service?
No, Aliexpress standard shipping method doesn't have its own contact number. But you can contact AliExpress support through their help center. When you enter the help center scroll down to the end of the page where you will find the option to contact the AliExpress online chat support.
The service is based on a chatbot that tries to solve your problem before moving you to an actual human support agent, but it's quite advanced and might solve your problem with no human involvement.
So what makes the difference between this shipping method and others? There are two ways to look at it, by comparing shipping times in general and by looking into specific shipping methods and couriers one by one. We'll do both.
AliExpress Standard Shipping compared to other shipping methods
As you already know, Aliexpress has plenty of different delivery options. That is confusing when it comes to take a decision on which shipping method to use for your Aliexpress product. Not anymore! Here is a quick comparison of them and an overview.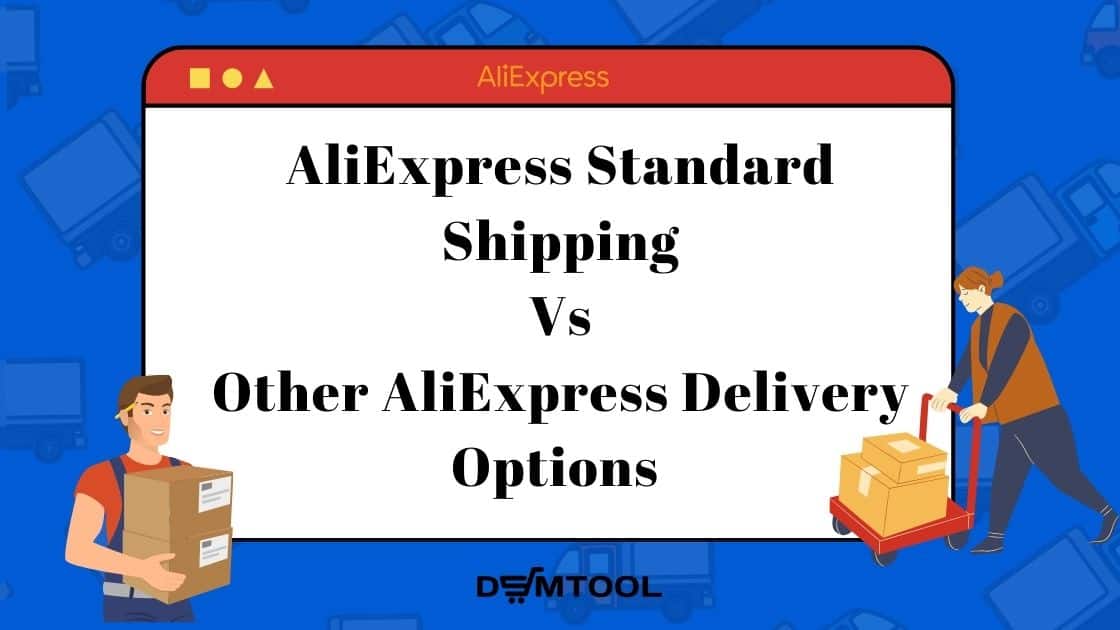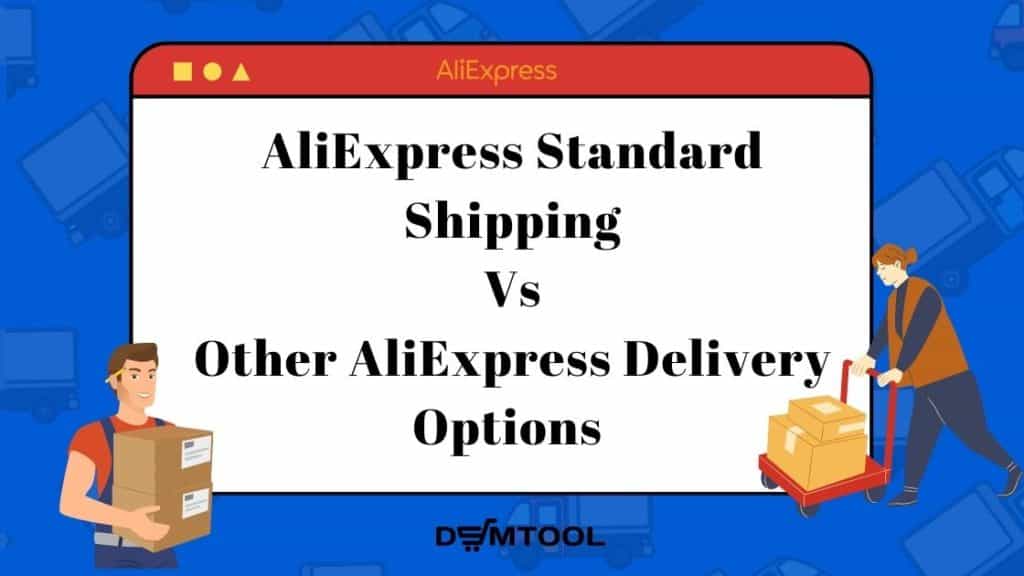 AliExpress Premium Shipping is a priority shipment option on Aliexpress that provides faster delivery of the goods from China by air. It's the premium and faster version of the Aliexpress Standard Shipping provided by AliExpress in association with Cainiao Logistics. The estimated shipping time for the Premium Shipping of Aliexpress is 7-14 days from the country of origin, whereas the Aliexpress Standard Shipping offers 15 to 45 delivery days.
The shipment is operated through private couriers such as DHL, FedEx, Seur, TNT, etc, and available for 183 countries. This method provides faster and reliable shipping with trackable tracking information. But also it has a bigger shipping fee and bigger customs fees.
The Aliexpress premium shipping tracking number usually starts with AECA, AEFP, AEWH + digit code+ combination of letters.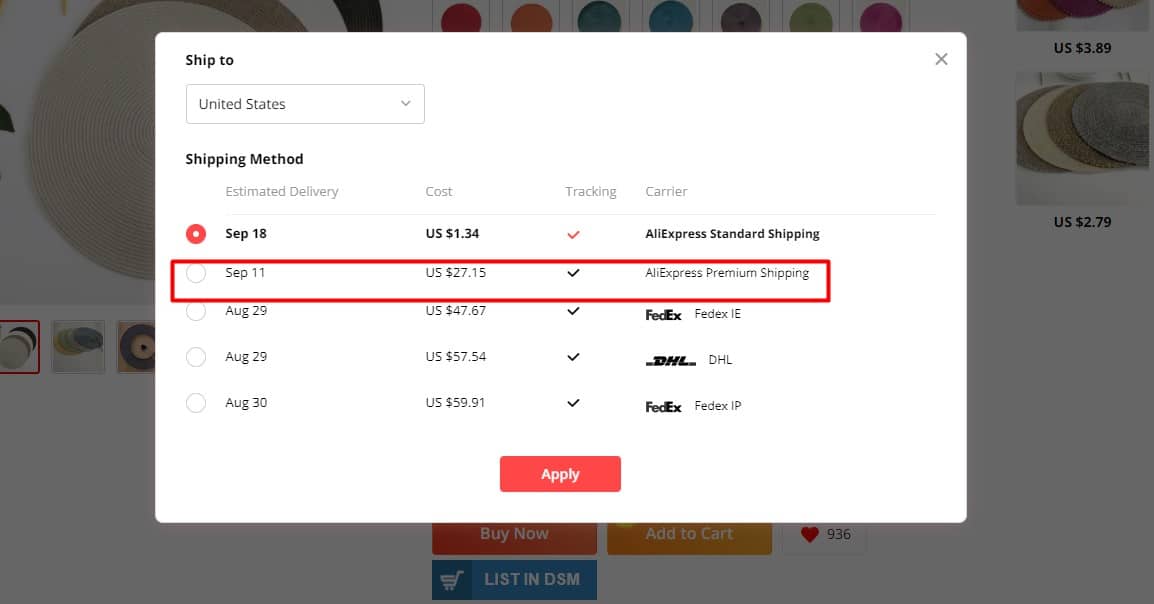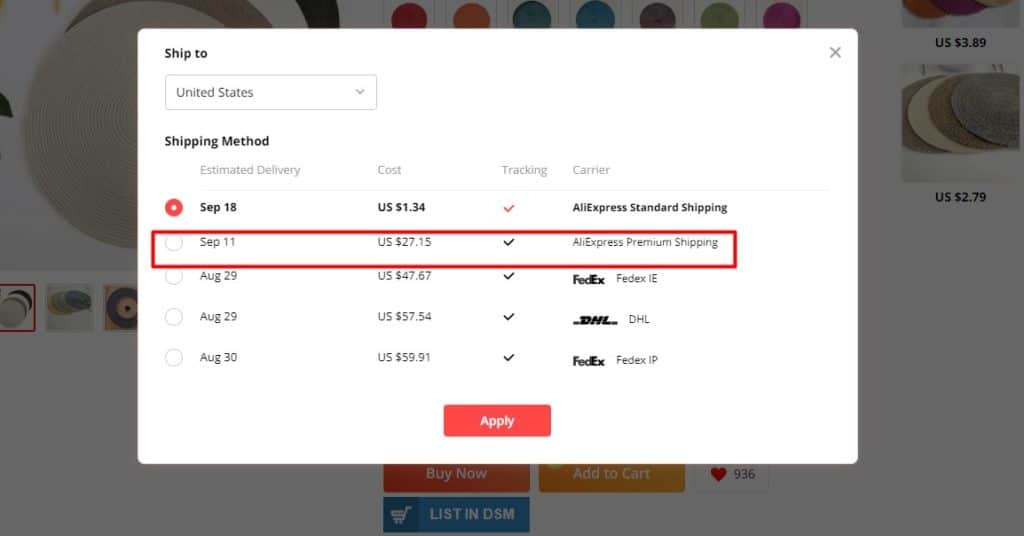 Aliexpress Standard Shipping vs. Unregistered economy shipping
The difference between these delivery options is the shipping time. Standard shipping is much faster than economy shipping. Economy shipping can be recognized in the AliExpress shipping options by looking if the package offers a tracking number.
Shipping methods that don't offer a tracking number are usually economy shipping methods that get delivered through a container on a ship. On the other hand, delivery methods that offer a tracking number are being delivered on an airplane, which is obviously much faster.
Economy shipping will usually appear with one of the following names:
Seller's shipping method
Cainiao Super Economy Global
China Post Ordinary Small Packet Plus
SunYou Economic Air Mail
Singapore Post (international: small Packets-ordinary)
AliExpress Standard Shipping vs. ePacket and other registered shipping
In 2011 AliExpress introduced the ePacket shipping method. ePacket, similarly to standard shipping, is a method and not a company although it was mostly operated by EMS.
Today ePacket is almost completely gone from AliExpress, it seems like it has been replaced by its successor – the AliExpress standard shipping. But you might still find it for some products, so you should know that in terms of shipping time and reliability they are pretty much the same.
Nonetheless, both of the methods ensure that the package is delivered by air and not by the ocean and therefore both of the methods offer a tracking number. This makes them ideal for dropshipping sellers who want to resell products from AliExpress.
The full list of registered shipping methods that uses a tracking number on Aliexpress includes:
AliExpress Standard Shipping
ePacket
Yanwen express
China Post Registered Airmail
AliExpress Standard Shipping vs. Fedex, UPS, DHL and other private couriers
The main differences between these Aliexpress shipping methods are price, speed, and insurance. Premium services come at a much higher price but ship much more quickly and sometimes may offer a better service in terms of the coverage for damages if you contact the shipping company and ask for it.
It also provides you with a specific address for inquiries about the delivery, when a product is shipped by Standard Shipping you don't know which company is operating the delivery and you can't contact them. FedEx on the other hand has customer service which you can contact.
In most cases, the shipping price won't make sense for ordering using these methods but in cases of sensitive products like rare items, very heavy or very big items the premium shipping methods might be handy.
The list of private courier delivery companies include:
AliExpress different shipping methods overview
This table with Aliexpress different shipping methods clarifies the main key factors buyers and Aliexpress dropshippers use in choosing the right delivery option for their needs and products. It includes such filters as AliExpress shipping time, shipment weight, shipment parameters, pricing, AliExpress shipping tracking, shipping limitations, and their rating.
| | | | | | | | |
| --- | --- | --- | --- | --- | --- | --- | --- |
| Features | Delivery Time (days) | Pricing | Tracking | Shipment Weight | Shipment Parameters (total sum of 3 sides | Limitations | Customer Rating (0-5) |
| AliExpress Standard Shipping | 15-45 | 0-3$ | Yes | Up to 30kg (depends on country/region) | Depends on the country/region. Not exceeding 300cm | Strict rules are applied with batteries. No cosmetic deliveries | 4 |
| Cainiao Super Economy | 30-50 | Depends on location, mostly free | Only in China | No more than 2kg | Flat mailpieces: not exceeding 90cm.Rolled up: 104cm in length and diameter | Batteries, cosmetics, electronic devices with user-replaceable batteries | 4 |
| China Post Ordinary Small Packet Plus | 20-90 | 2.63$/100g and 1.90$ every additional 100g | No | No more than 2kg | Flat mailpieces: not exceeding 90cm.Rolled up: 104cm in length and diameter | Batteries, battery suspected products, laser pens, liquids, powder, medicines, tools | 4 |
| Yanwen Express | 25-30 | Depends on country of destination and weight. Starting from 3.26$/100g | Only in China | Not specified | Depends on country of destination and weight | Special goods limited in certain countries (e.g. internal electrical goods and solid cosmetics) | 3 |
| SunYou Economic Air Mail | 40-70 | Typically free shipping or not exceeding 5$ | Only in China | No more than 2kg. Up to 20kg to some countries | Maximum l + w + h <= 90 cm | Dangerous goods, flammables | 2 |
| China Post Registered Airmail | 20-45 | 3.66$/100g and 3.37$ every additional 100g | Yes | No more than 2kg | Maximum l + w + h <= 60 cm | Toys that looks like firearms, portable electronics that contain batteries, cosmetics, food, beverages | 4 |
| Singapore Post (international: small Packets-ordinary) | 6-12 | Starting from 4.70$/100g | No | No more than 2kg | 32cm L2.30cm w6.5cm h | Dangerous goods i.e. flammables, lithium batteries | 4.3 |
| DHL Express | 15-45 | Starting from 18.83$/100g | Yes | No more than 2kg | 90cm² | Live animals, animal trophies, firearms, cash, loose precious and semi precious stones | 4.2 |
| UPS | 0-14 | Based on fixed-rate and destination zone. Starting from 8.25$ | Yes | Up to 68kg | Up to 274cm in length | Alcohol, tobacco, plants, Perishables, dangerous goods, precious metals | 4.1 |
| EMS (ePacket) | 7 to 30 days (depending on the country) | Starting from 22.24$/100g | Yes | Up to 2kg | Minimum 14cm long and 11cm wide. Maximum l + w + h <= 90cm | Explosive, inflammable, erosive, and poisonous articles. Perishable items, live animals, currencies | 4.4 |
Source: Alitools
I will give the same table in the form of pictures below as well. So you can see the whole picture with different AliExpress delivery methods: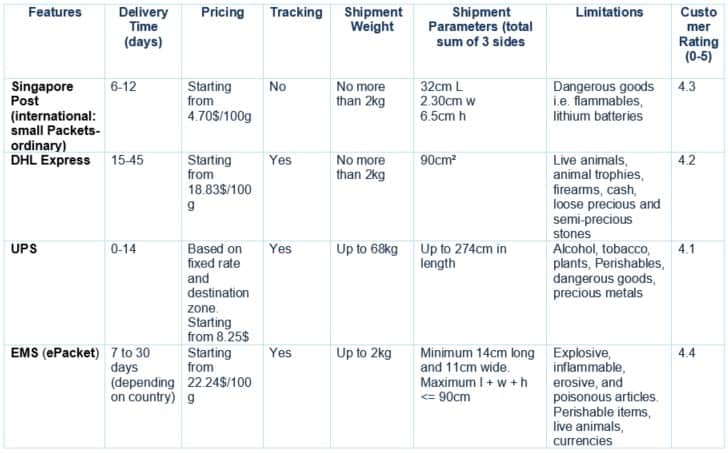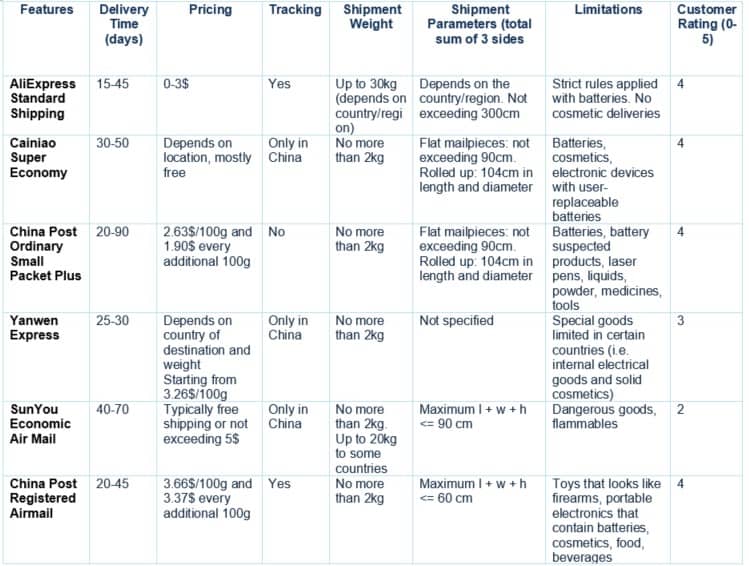 If you want to understand better the Aliexpress different shipping methods presented in this table, here is a short overview of some of the most popular:
China Post Registered Airmail as the AliExpress shipping option
China Post Registered Air Mail is an international airmail service for small packages by the China Post company. It only works for packages weighing up to 2 kg and it is available for 176 countries worldwide. The best part about it is that It is a reliable Aliexpress delivery method. The shipments which use this method are trackable and items are rarely lost and tend to arrive in good condition.
The tracking numbers for this shipping method uses the structure:
RP000000000CN
RV000000000CN
RG000000000CN
RW000000000CN
RQ000000000CN
RF000000000CN
AliExpress is often collaborating with China Post and uses it to send orders as part of the AliExpress standard shipping method. After processing orders in its warehouse, the store intermediary transfers them to China Post.
Besides, alongside AliExpress Standard Shipping, the China Post Registered Airmail delivery option is often free.
On average, the shipping time for these packages is 20-45 days. They can even arrive within 2 weeks during the low season. For shipments that do not arrive within 60 days, AliExpress guarantees a refund through the buyer protection program.
Cainiao Super Economy Global for shipping AliExpress products
The Cainiao company is a subsidiary of the Alibaba Group. On June 20, 2018, it launched the Cainiao Super Economy shipping method specifically for Aliexpress. This new shipping method is a direct competitor of the long-standing delivery options that already exist on AliExpress, such as China Post Ordinary Small Packet Plus, Yanwen Economic Air Mail, SF Economic Air Mail, and SunYou Economic Air Mail.
In the same year, Cainiao also launched the Super Economy for Special Goods. This premium service is slightly more expensive than the regular Super Economy but has a more extensive list of goods allowed for transportation making it the only possible delivery option in some cases.
Shipping takes approximately 30-50 days, Cainiao says the delivery is secured to arrive within a period of 60 days. For most countries, the standard Cainiao's delivery option is only available for goods that are worth up to $5 and that weigh up to 2 kg.
Tracking information for this Aliexpress delivery option is unavailable unless you are purchasing and shipping locally within China. In case you do ship into China, you can recognize their tracking numbers by the following structrure:
UA .. 9 digits ..HK for Cainiao Super Economy
UG .. 9 digits .. HK for Cainiao Super Economy for Special Goods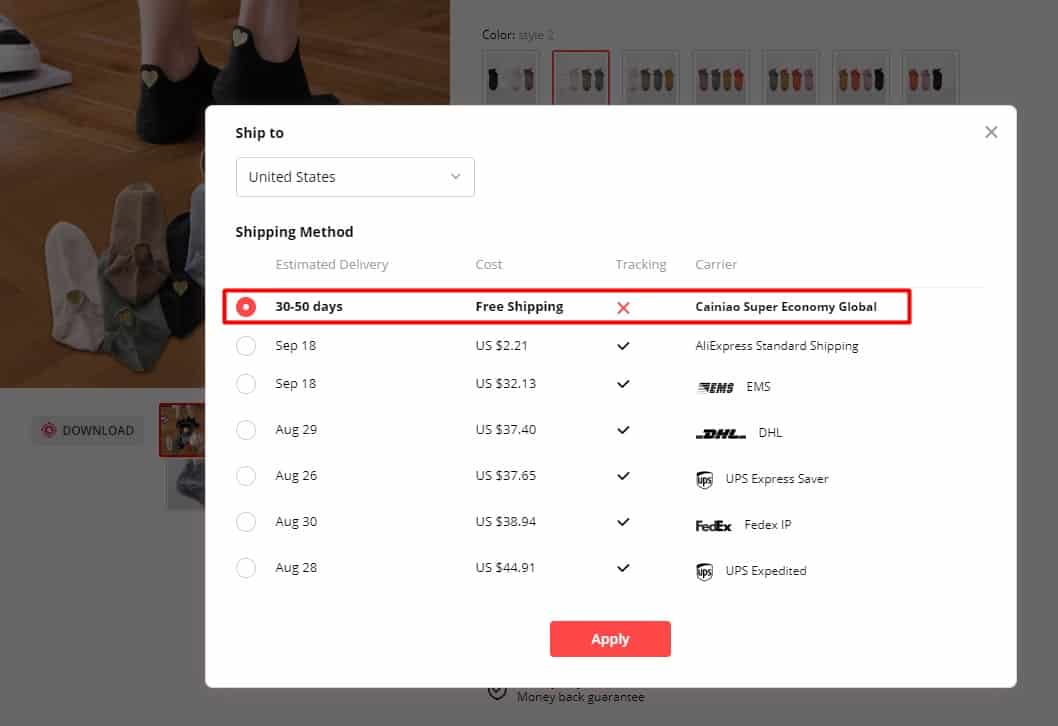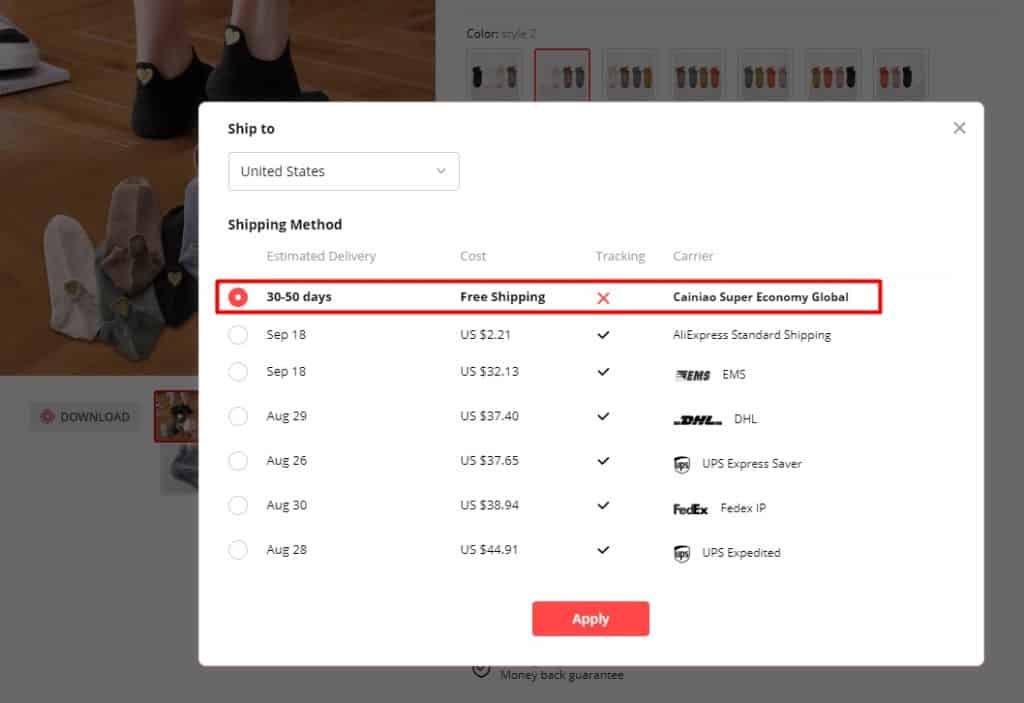 China Post Ordinary Small Packet Plus
China Post Ordinary Small Packet Plus, the delivery option that competes for the longest name, is probably the most popular shipping method for inexpensive goods with free shipping. It also tends to be used when the shipping option appears as Seller's Shipping Method.
This delivery method is by sea, in shipping containers. Therefore, the delivery time for it is 20-60 days and it may not offer any tracking numbers. In case, the tracking number is offered, it may appear in the following structure:
RE …… EN
Random 11 digits
Random 11 digits + BJ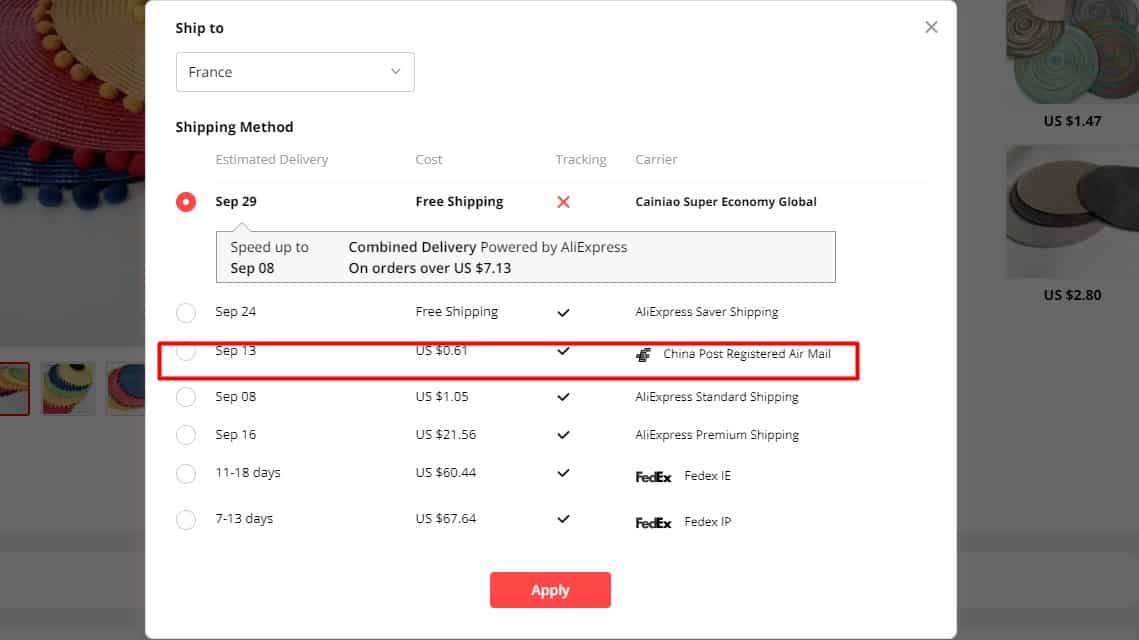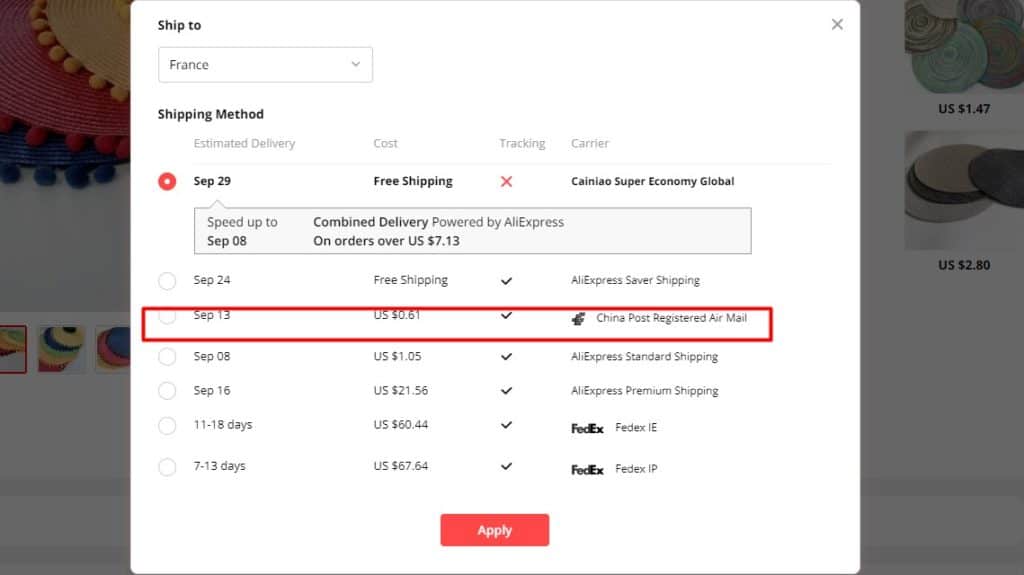 Yanwen Express as Aliexpress shipping method
Yanwen Express is a direct competitor of the AliExpress Standard Shipment service and the ePacket shipping method. Yanwen offers door-to-door shipping including tracking numbers. To the AliExpress sellers, they even offer free secondary packaging and professional consultation on international shipping.
To ship the goods, Yanwen Express cooperates with international postal services, such as DHL, China Post, Malaysia Post, Global Mail, etc. This is how Yanwen manages to offer an efficient delivery method when it comes to speed and cost.
The Yanwen Economic Air Mail is their most common shipping method, which is commonly used for transporting small goods purchased online from AliExpress. It is both low-cost and relatively fast which gives it similar characteristics to ePacket and the Standard Shipping by AliExpress.
The Yanwen Express shipping time is estimated at 25-30 days and it is offered with a tracking number that makes it traceable throughout the package journey.
The structure of the tracking numbers from Yanwen is recognized by the next patterns:
Yanwen Economy Air Mail tracking information is like this:
LP00012345874301
UA123456789YP
UB123456789YP
Yanwen Express tracking numbers are like this:
VR123456786YP
UR123456789YP
RH123456789CN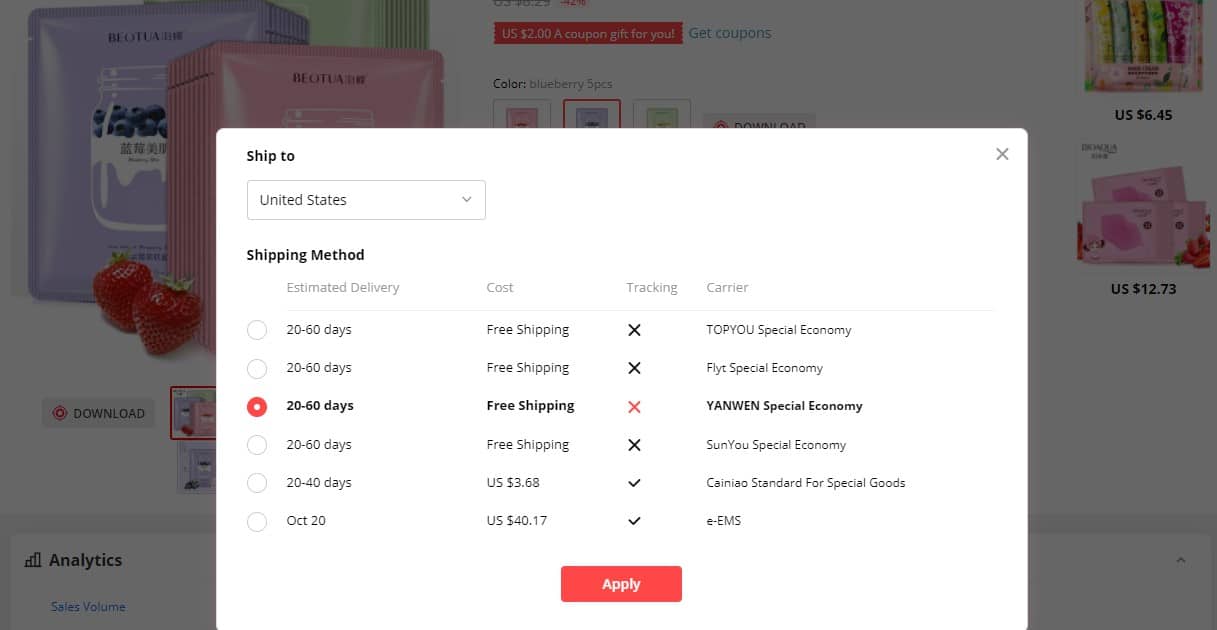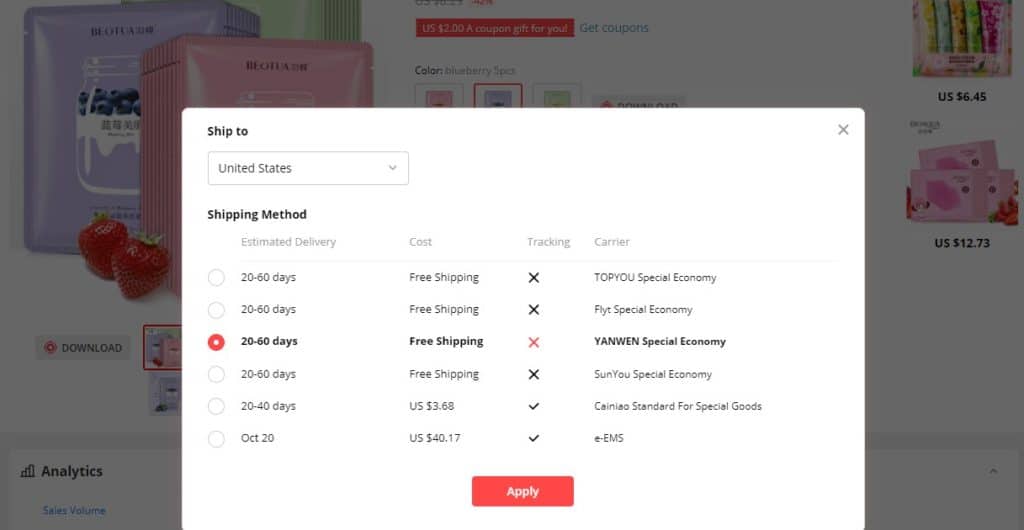 SunYou Economic Air Mail for Aliexpress free shipping
SunYou Post Air Mail is a low-cost shipping method that is commonly used for free shipping options in AliExpress. It doesn't offer an international tracking number so it cannot be tracked as soon as it leaves China.
The structure of the local SunYou Economic tracking numbers is the following:
SY00000000000
LP00000000000000
SYXXX00000000
The average delivery time with SunYou Economic Air Mail is 40-60 days. But since it is untrackable, delays often happen.
The number one complaint of customers about SunYou is the long shipping times. If you decide to pick it as a shipment method, make sure there is a buyer protection period for the product you've purchased, this way if the product doesn't arrive you will be eligible for a refund. As soon as the customer protection runs out, open a dispute with the seller to get it.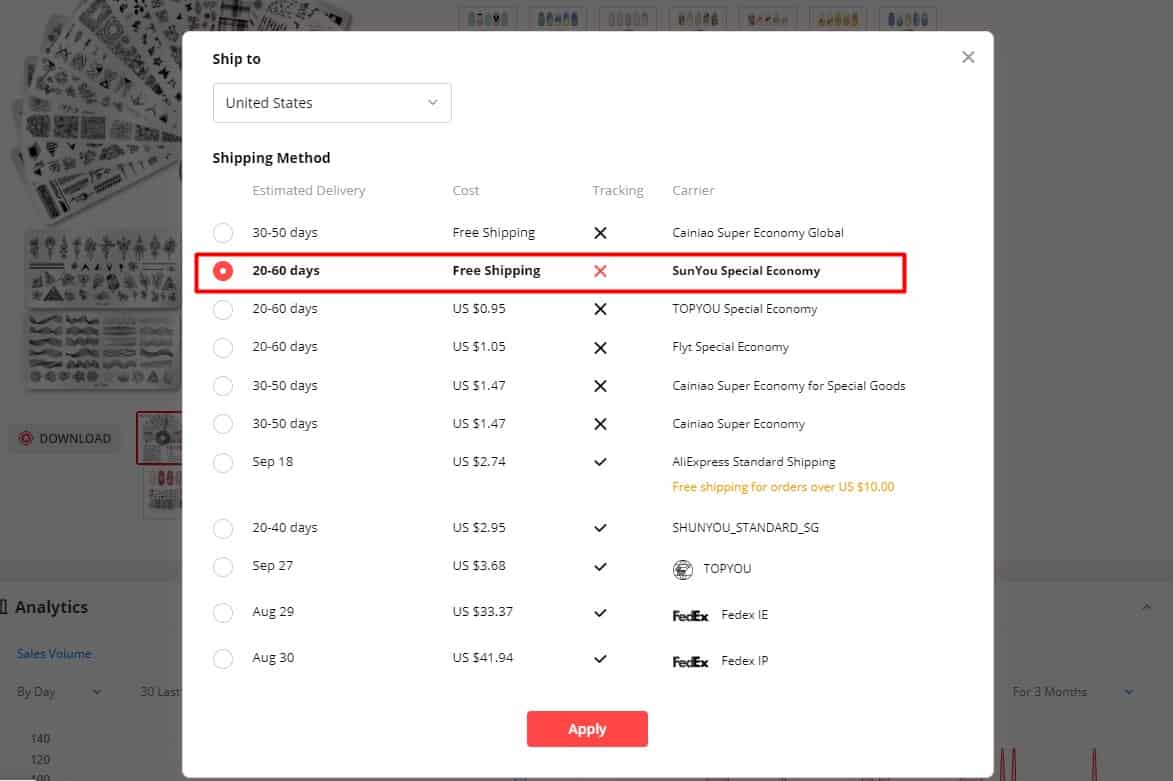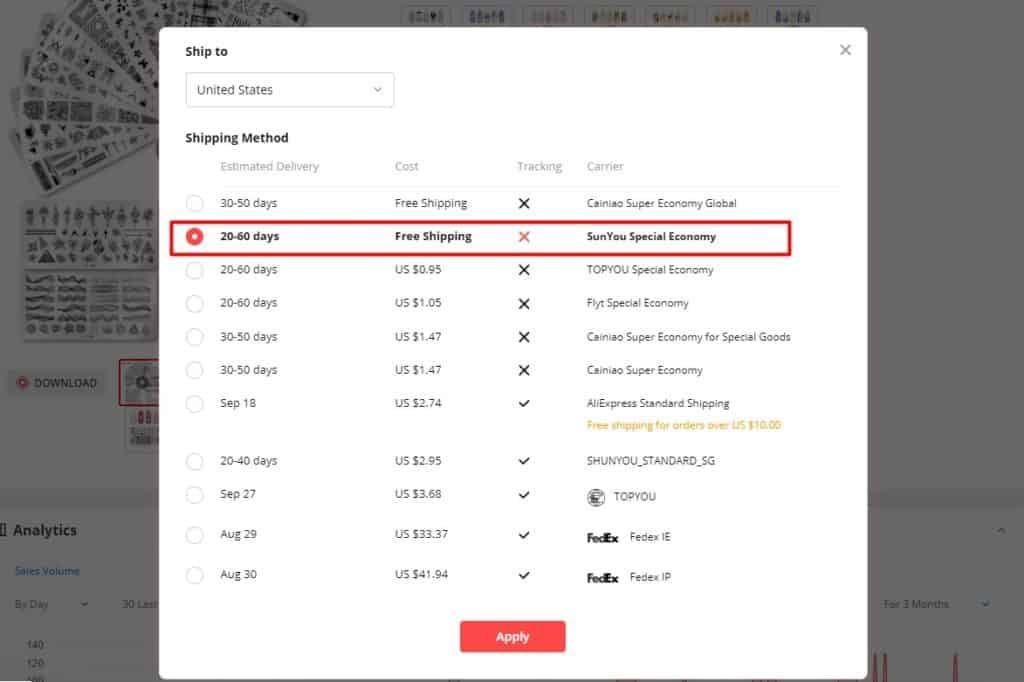 Singapore Post for faster shipping from Aliexpress
Singapore Post is operated by the state of Singapore. AliExpress sellers use it to ship items that are not shippable by the low-cost delivery services of China Post. Its price is a bit higher than China Post but the delivery time of Singapore Post is shorter which makes it sometimes favorable by AliExpress the buyers.
Singapore Post doesn't operate directly in China, it rather operates through logistics partners such as 4PX Express, which ships parcels from the merchant to Singapore Post.
The tracking numbers of the Singapore Post shipping option could be recognized by the following structure:
RA123456785SG
CD123456785SG
EE123456785SG
If you use this AliExpress shipping method you should take into account that due to the fact that 4PX Express handles the shipment first from China to Singapore the tracking is unavailable for some time after the initial order. The order starts to have tracking information only after the parcel arrives and operates by the Singapore post.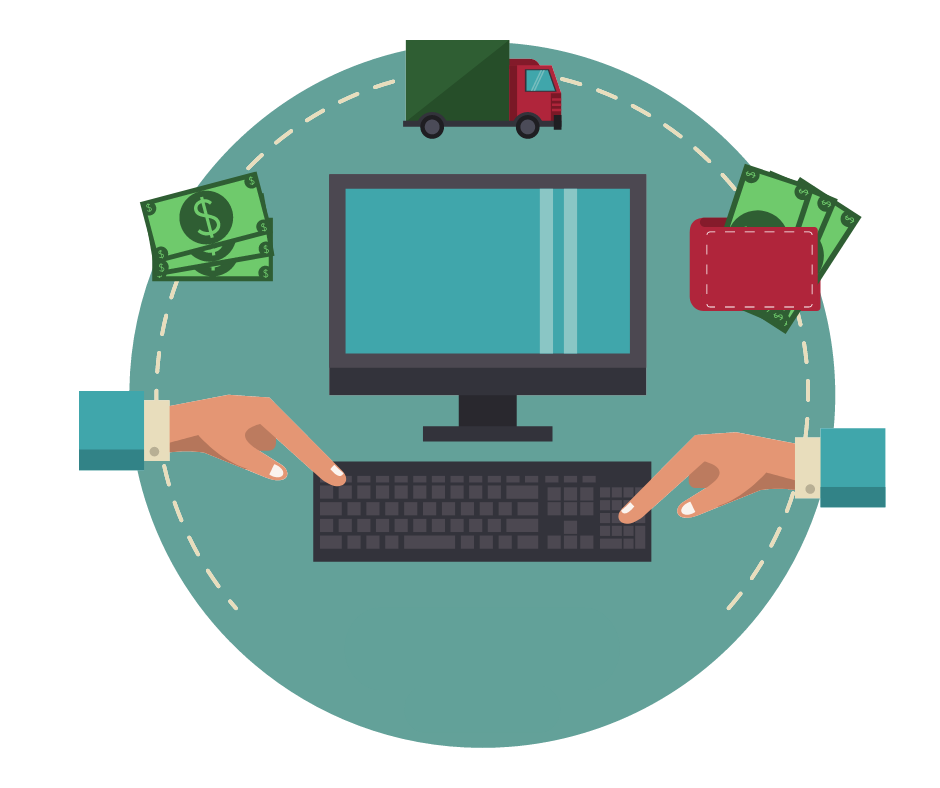 Not yet making money online?
Start your own dropshipping business. Sign up for a free trial of DSM Tool and we'll help you get started. Today is the day.
What delivery companies provide Aliexpress free shipping?
So which delivery companies can provide Aliexpress free shipping? Here are these delivery options:
Aliexpress saver shipping
Cainiao Super Economy,
SunYou Economic Air Mail,
China Post Ordinary Small Packet
Flyt Special Economy
TopYou Sepcial Economy
ePacket (sometimes and with a higher product price)
First of all, Aliexpress free shipping sometimes happens to be a utopian dream many buyers and drop shippers are purchasing on Ali Express. Aliexpress sellers can simply include the shipping fees in the product price you see on the product page there. And, as a result, they offer you so-called "Aliexpress free shipping". While other vendors choose a different tactic trying to get you to buy their product at a ridiculously cheap price, but with higher shipping fees.
As a matter of fact, you can see the same product from different AliExpress suppliers with free shipping and paid shipping (and of course with a different price).
Besides, as you have read above, the Aliexpress different shipping methods are divided by the private companies and not. And super fast delivery usually goes with paid shipping, often with super-high fees. That´s why while you are choosing the free delivery on this site, be ready to face a longer shipping time.
In addition, take into account that in some cases you can get free shipping on Aliexpress if, for example, you will buy at a certain sum. Some Aliexpress sellers offer such a possibility. It will appear when you will choose the delivery option for the product.
How to Find Out Which Delivery Options are Available?
On every product page on AliExpress, one of the shipping options is selected as a default shipping option. If you want to view the table of shipping options you need to click on the text part that shows the currently selected shipping method.
When you click on it, a table pops up with all of the available shipping options for this product. If you can't find the shipping option that you are looking for you can use keywords from the title to search other suppliers that might offer it or use the AliTools Aliexpress Chrome extension to do that for you.
How to track my order on AliExpress?
To track packages that are shipped by your supplier on AliExpress, go to the "My Orders" section in your AliExpress account.
Then, locate the order and click "Track Order."
You will be able to see the complete journey of the product including the shipping method, the tracking number, the order information, and the estimated delivery time.
There are also some services where you can enter the tracking number in order to track the order. In the past AliExpress did not provide such a detailed explanation of the package journey and external services were required.
If you still prefer to use an external service, here is a list of websites you can enter the tracking number into to see where the package is:
AliTools
PackageRadar
Track24
AliHelper
AliRadar
AliTrack
Conclusion
Whether you're dropshipping or just buying from the AliExpress site, understanding the Aliexpress different shipping methods that exist in the platform can help you make the right decision and set your expectations right.
For dropshipping sellers this is even more crucial, it is OK to get disappointed yourself by a misunderstanding caused by not knowing these services or their peculiarities. But it's NOT OK to disappoint your customers just because you don't understand what shipping time to promise them.
Which of these shipping methods have you been trying? Share your experience with the community in the comments below.