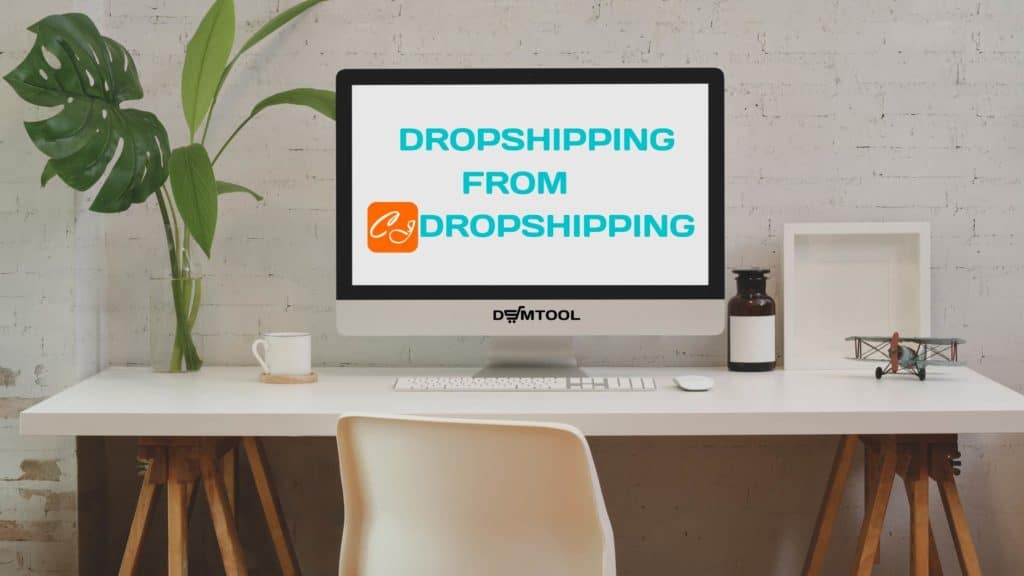 Today we are going to submerge you into the topic of dropshipping from CJ Dropshipping. We will provide you all the necessary knowledge you need to start using this supplier already today, explain to you all the important "how" and "why", and answer the most popular questions about this dropshipping platform.
In this CJ Dropshipping guide, you will learn:
Let's go… So what is actually CJDropshipping?
What Is CJ Dropshipping?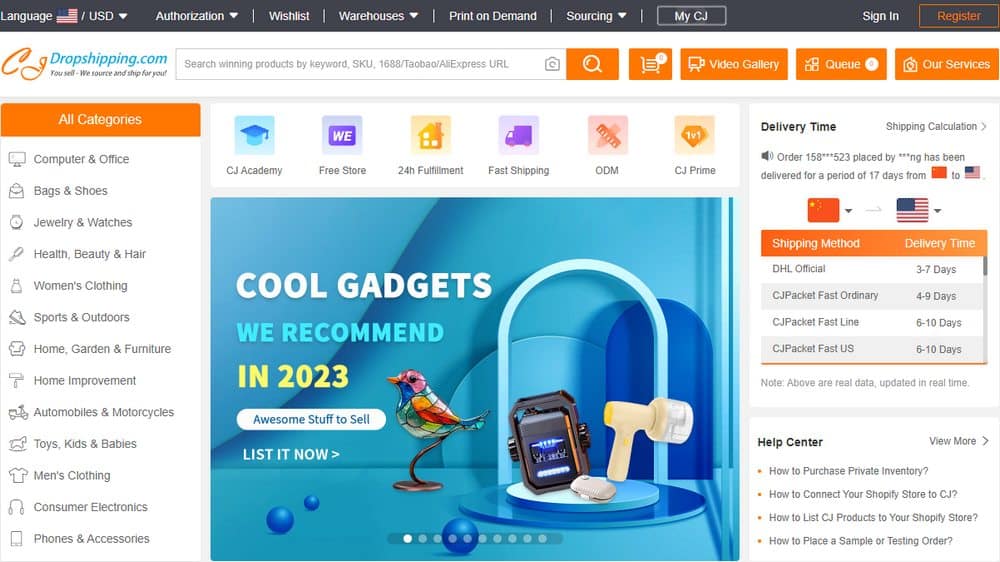 CJDropshipping, aka CJ, is a China-based wholesale company established in 2014 that provides various dropshipping services, including product sourcing, order processing, shipping services, product branding, customized packing, and some other useful features for eCommerce sellers.
CJ platform has the ability to connect with eBay, Shopify, Woocommerce, Shipstation, Lazada, and Shopee. It offers about 400,000 products for drop shipping across various categories posted by the CJ team at the request of its users and current trends. 29 of the CJ Dropshipping warehouses are located across the globe.
Why Dropship From CJDropshipping?
To start with, CJ Dropshipping performs as a one-stop service platform with all the services related to dropshipping business. Undoubtedly, dropshipping from CJ Dropshipping opens a lot of opportunities and cool services for online sellers.
Firstly, it's a wholesale supplier that offers the products for drop shippers at terms that allow them to use both business models: an online arbitrage (also known as a retailer arbitrage) and a wholesaler.
Generally speaking, CJ Dropshipping allows you to buy dropshipping products at wholesale prices without purchasing a large amount of their stock beforehand. And, obviously, you get even better margins by buying CJ products in larger amounts and keeping them in their warehouses.
Secondly, this platform is fully created for dropshippers. CJDropshipping professional customer-oriented team aims to comfort customers with the latest product trends and eCommerce tendencies.
Perhaps this explains their growing popularity. Just have a look at their growth during the last 5 years: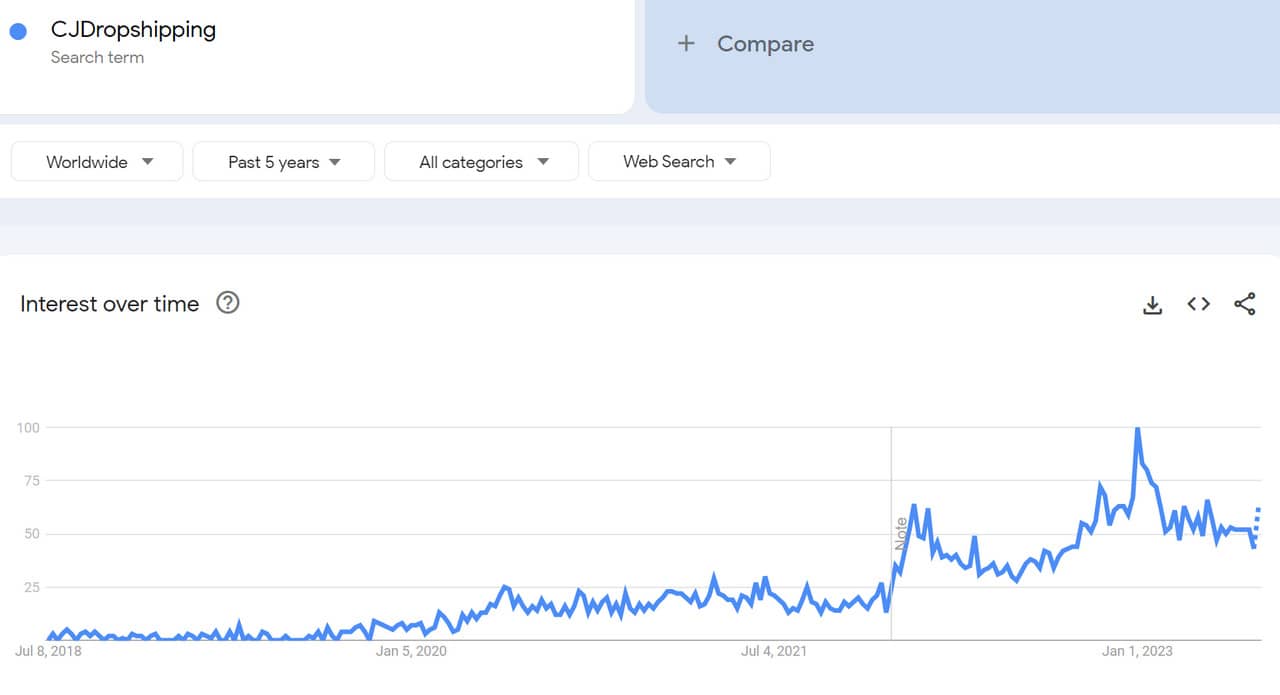 Following the trends smartly is an important skill when you are doing online business. Therefore, let's dive together into this topic and learn more about this Chinese supplier.
Does eBay Allow Dropshipping From CJDropshipping?
I'm sure that you've already learned the rule to check the policy of your marketplace before starting to source from any supplier because you want to ensure the security of your dropshipping store.
Great news! CJ Dropshipping is a legitimate eBay dropship supplier. It's an eCommerce website that has been completely oriented towards dropshipping business since 2015. It's important to mention it again: CJDropshipping is a wholesaler. Therefore, dropshipping from CJ Dropshipping is allowed for eBay dropshippers, Amazon, and Shopify sellers.
Reminder: the eBay dropshipping policy allows their sellers to fulfill orders directly from wholesaler suppliers, unlike a retailer source.
If you are an eBay seller and searching for a wholesaler for dropshipping, CJ Dropshipping is worth considering. You can be calm for your seller ratings when dropshipping from CJ Dropshipping. This source will not be a motive to flag your eBay account or even cancel it. However, don´t forget about other reasons that can lead to it. So, anyway, dropship wisely.
Similarly, If you dropship on Shopify. Shopify policies aren't as strict as eBay has. They allow using retail and wholesale dropshipping suppliers. So you are also safe to drop ship from CJDropshipping.
I think everything is clear with the marketplace policies part, and we can move further.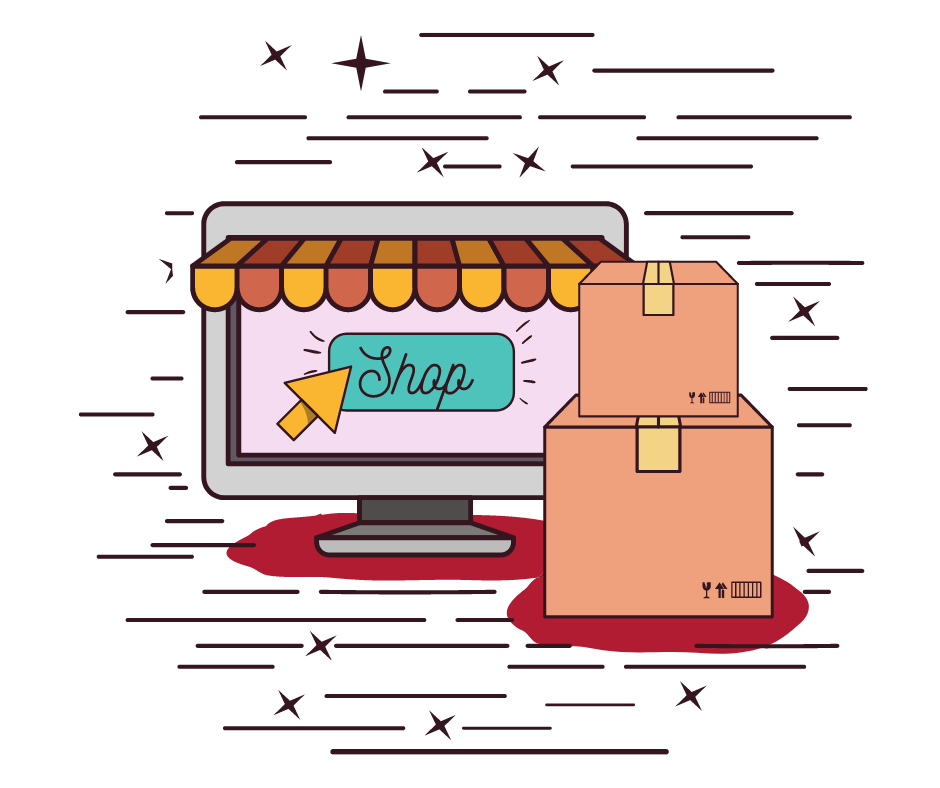 It's time…
Don't wait for success to come. Hire yourself and start your own dropshipping business
What Are The CJ Dropshipping Advantages?
We have mentioned that one of the main benefits of CJDropshipping is its wholesale prices for non-wholesale orders and that it is a legitimate eBay dropship supplier. What about the rest of the CJDropshipping advantages? We will name them here and describe more further in this article.
The CJ Dropshipping advantages are the following:
No setup fee/monthly fee;
No minimum order quantity (MOQ);
Free storage for CJ products;
Free product sourcing and listing;
Automatic order fulfillment and processing;
Reliable shipping time and reasonable cost;
Global warehouses: China, the US, Thailand, Germany, Indonesia;
Custom packaging/branding/white label;
Print on Demand (POD) service for sellers and buyers;
Quality inspection for each package;
Cash on Delivery (COD);
Product photo/video shooting service;
7/24 customer support.
What Are The CJDropshipping Disadvantages?
As CJ Dropshipping is a relatively young company, it offers a limited number of items for dropshipping. To be more specific, they browse approximately 400 thousand products. Therefore, the number of available products is smaller than, for example, in Aliexpress. On the other hand, they add products on request.
Secondly, their site is quite complex for beginners. It can take some time and a few of their tutorials to figure it out.
Thirdly, CJDropshipping doesn't send invoices or receipts automatically. They do it only upon request. It can be a disadvantage for those who get used to collecting invoices promptly.
In addition, this platform is more suitable for dropshipping small items. The shipping fees for oversized products are big, and the whole listing can be not so profitable.
As you can see, it is obvious that the benefits of drop shipping from CJ Dropshipping outweigh the disadvantages by far. Read our next chapter, "CJ Dropshipping Services", to learn in detail about some of the best perks you get.
CJ Dropshipping Services
CJ Dropshipping, as a fast-growing dropshipping supplier, has plenty of services to offer to dropshippers all over the world. The platform's main benefits are CJ products, their quality, and their prices.
CJDropshipping Products Quality Control
The company collaborates with more than 400 different fabrics to present trendy products on its platform. The awesome part of their collaboration is that CJ Dropshipping controls the quality of the products from their warehouses before shipment. It means that there is no need to dedicate time to finding reliable sellers, like, for example, on Aliexpress. All products are controlled by CJ Team. And there is only one seller there – CJDropshipping.
So, you can browse more than 400,000 products across 13 categories from different CJ warehouses to add to your dropshipping store right away. The interface is pretty user-friendly and similar to other shopping platforms you used to use: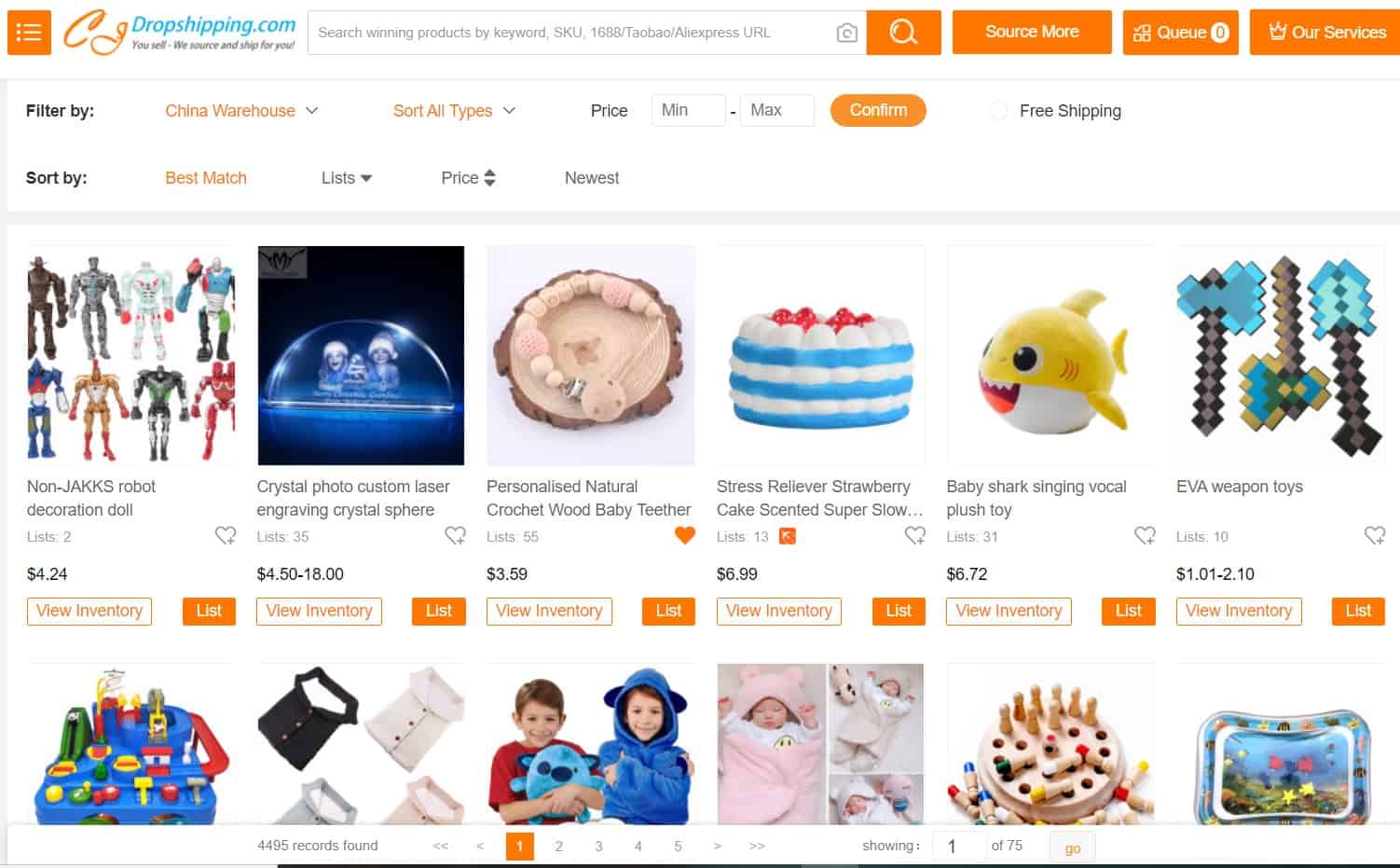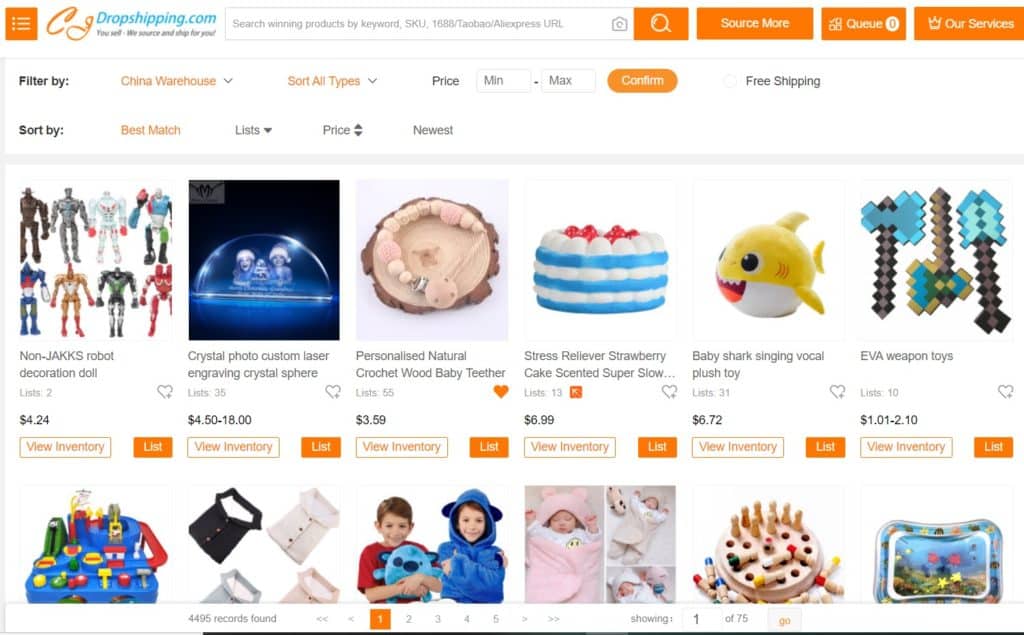 You can filter the products by warehouse location, price, free shipping, supplier products, product video, etc.
Pro tip:
Chinese CJ warehouse offers the biggest number of dropshipping products, but you will need to cope with a bit longer shipping.
The number of items is smaller than on Aliexpress. But it's not critical and has its positive side. Why? Because the CJ team picks only trendy products for dropshipping to offer on their platform.
Moreover, you probably have been in situations where the same product on Aliexpress can be sold by dozens of sellers at different costs and shipping times/prices. Therefore, you waste time searching for the best seller with better policies.
Here is a product on CJDropshipping: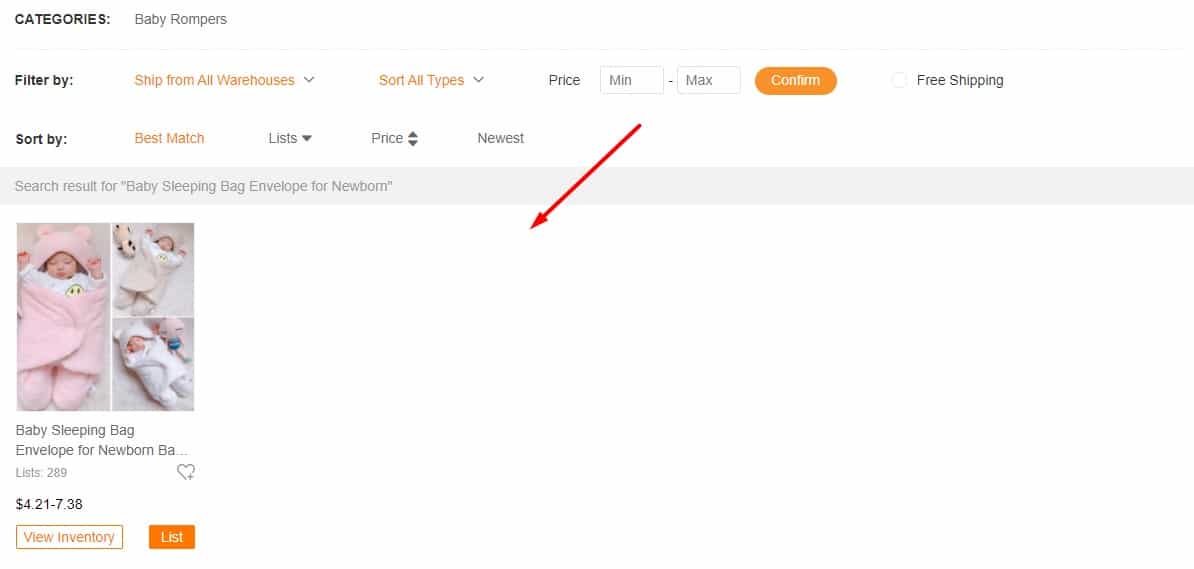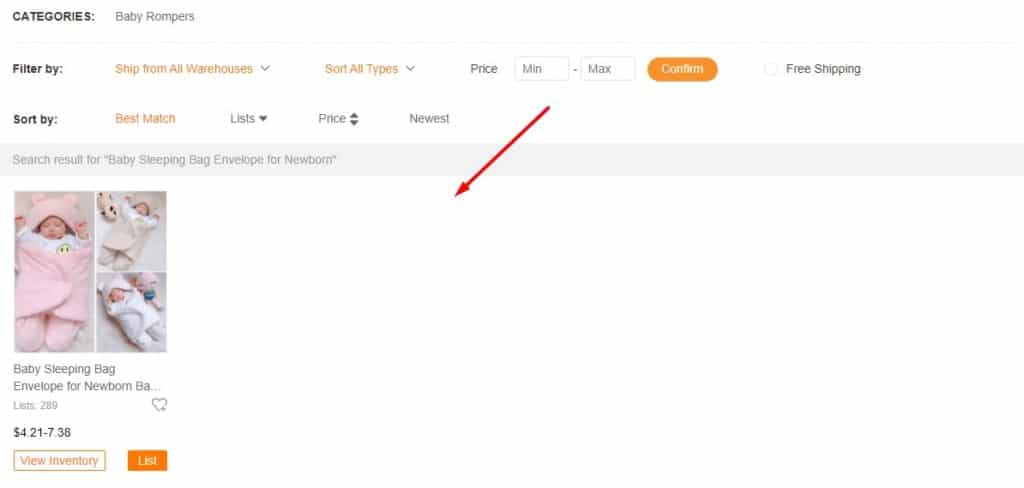 And here is the same product on AliExpress: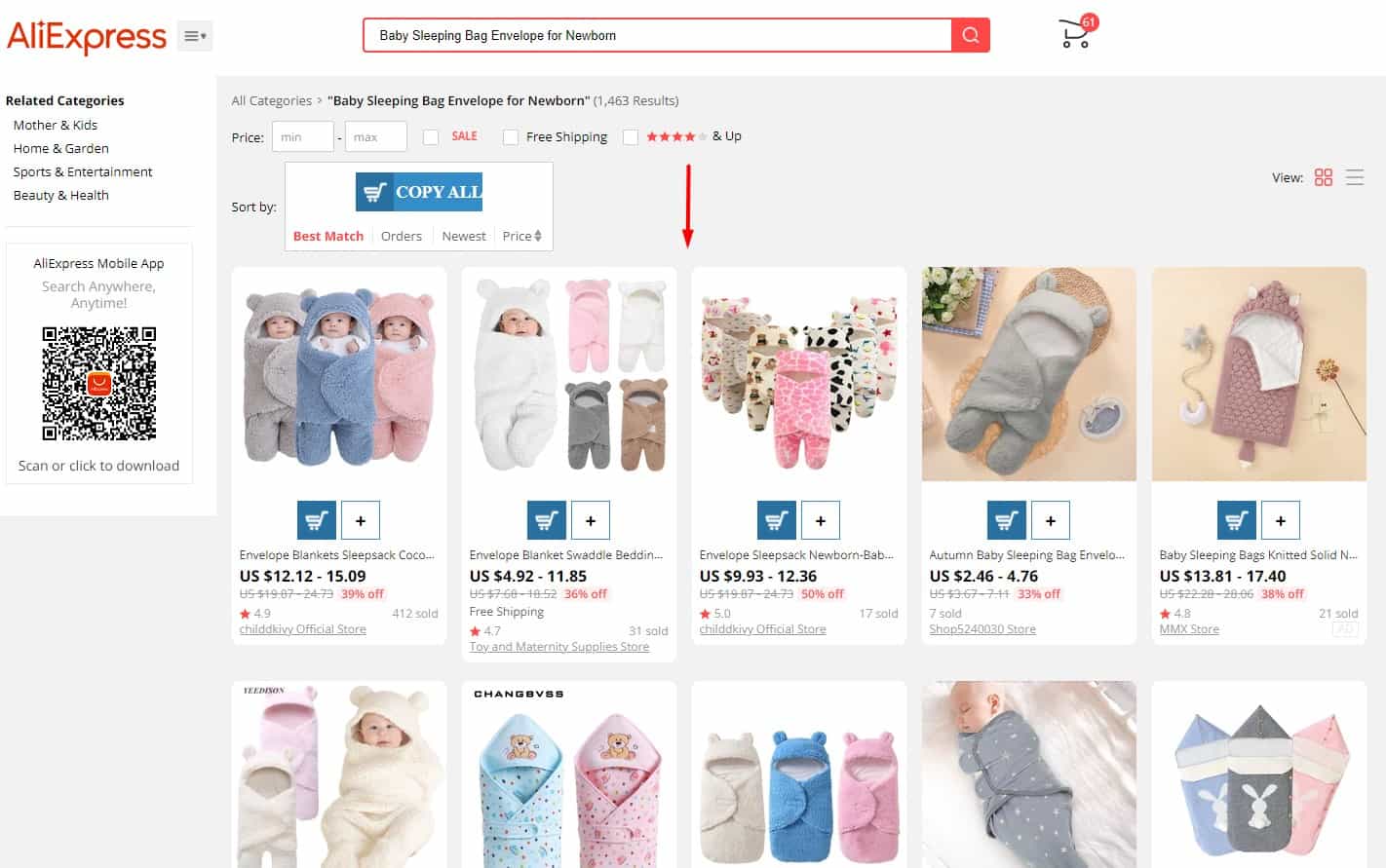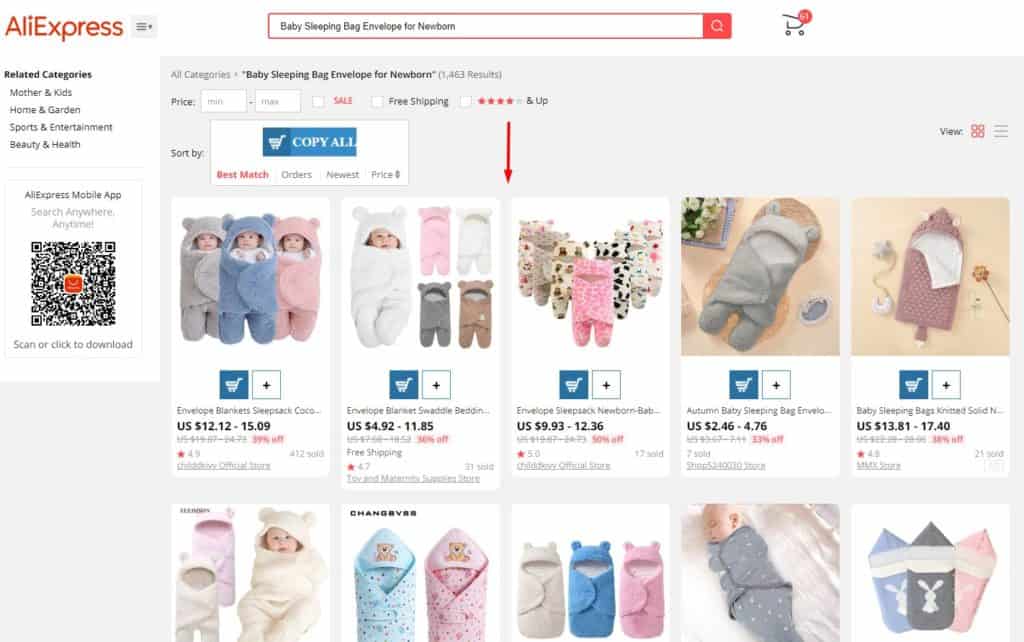 As you can see, on AliExpress, there are multiple sellers offering the same item. Dropshipping from CJDropshipping helps to avoid it. It helps you to save your precious time from comparing the same dropshipping product between dozens of sellers…because there is only 1 seller, CJDropshipping by itself.
A personal CJ Agent
CJDropshipping is a real customer-oriented company. You get a free CJ agent that will guide you from your very first steps on the platform and helps you understand better their services. Once you are on the homepage, you will see a small chat window at the left bottom part. There you can get in touch with your personal CJ agent. This person is going to be a Key figure between your dropshipping store, you, and CJ Dropshipping. Contact your CJ agent for anything you might need: store authorization, sourcing the items with variations, order fulfillment, etc.
CJ Order Fulfillment
CJ Dropshipping is a platform for dropshippers. It unites all the necessary services, including order fulfillment.
CJDropshipping takes care of order processing. CJ team fulfills all orders by themselves, unlike, for example, other platforms where sellers do it by themselves. It´s not necessary to hire other fulfillment agents from the beginning.
As it was mentioned, dropshipping from CJ Dropshipping opens 2 business models: online arbitrage, where you can order only 1 item if you want. It will appear on the site under the "dropshipping" name. There is no minimum order quantity required.
Additionally, they offer wholesale fulfillment. You can order a bulk of items on CJ Dropshipping, and the company will ship them to one of their warehouses in Germany, Thailand, the US, Indonesia, and China and store it for you. Or those can be products from your own supplier. Then CJDropshipping will charge the processing fees.
CJ Dropshipping Lister
Unlike other shopping sites, CJ Dropshipping offers a feature of listing CJ products right from their website.
It automatically copies the product details, including description (weight, inventory, packing) and photos, to the dropshipping listing in your store. You can find the List button below product details on every product page.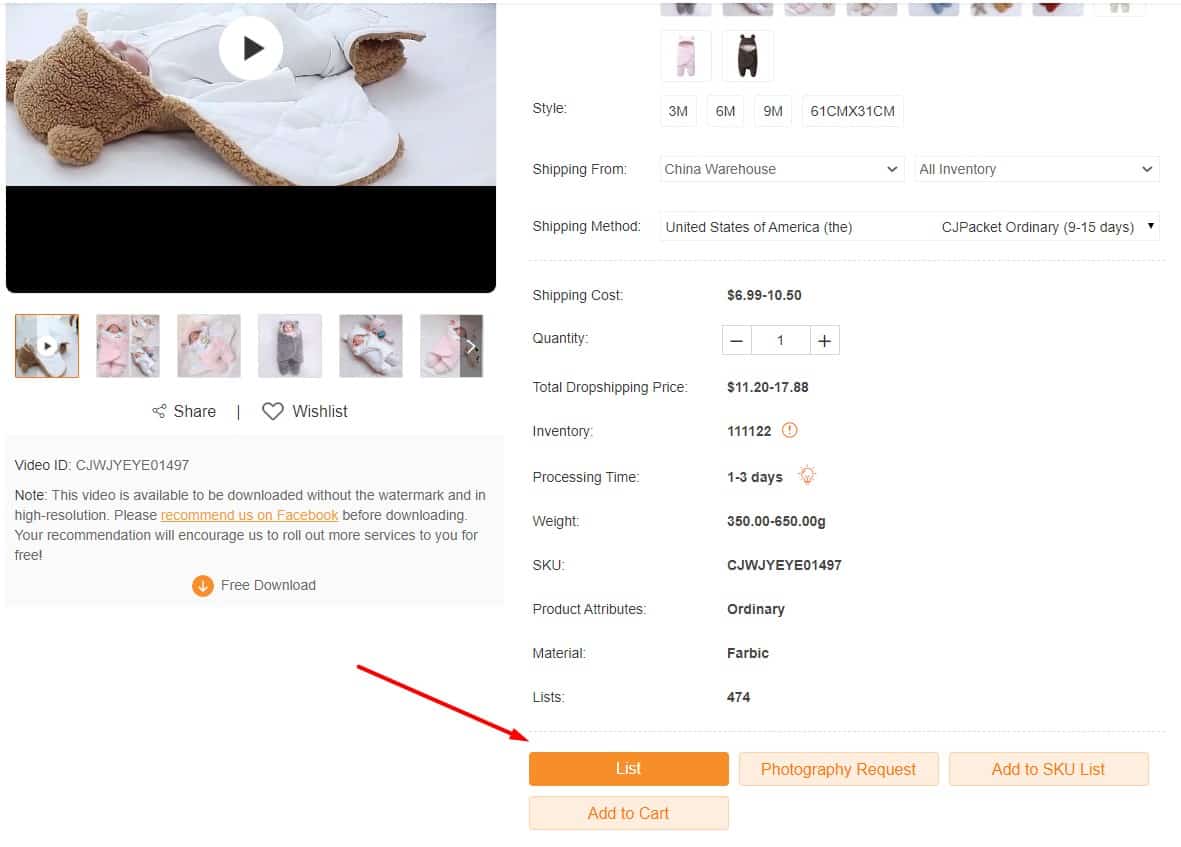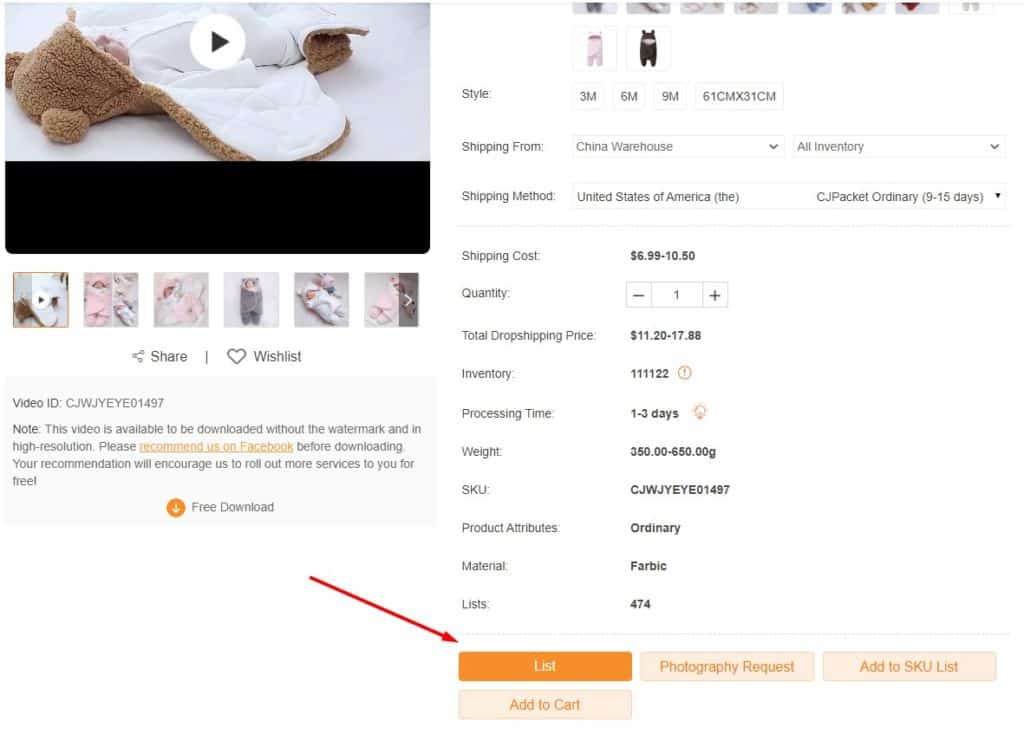 However, the CJ Dropshipping lister is very basic yet. There are no additional features.
In addition, CJ Dropshipping offers the "Connection" feature. When you click on "Add automatic connection", you help CJ understand better the type of products you are listing.
Sourcing Products On CJDropshipping
Another wonderful feature this dropshipping platform offers eCommerce sellers is to make a source product request. Let's specify straight away what it means because I faced another meaning for it.
So, sourcing products on CJDropshipping means the possibility to request a specific product to be available on CJ Dropshipping. To put it simply, you had in your mind a specific product you wanted to dropship. You have checked the CJ Dropshipping site and didn't find it there. However, you went to Aliexpress and saw they do offer this product. As you understand that usually, CJ Dropshipping provides your wholesale prices, you think that if you were able to take this product from their platform, perhaps, you would get a better price and higher profit. And here is where the CJDropshipping sourcing request feature enters the game.
Their users can request to source products from Aliexpress, 1688, Shopify, and Taobao on the CJDropshipping platform. Here is the video guidance on how to do it:
Moreover, it can be done with a matter of one click on the desired product page if you have installed the CJDropshipping free Chrome extension.
What CJ's team does when you send them a product sourcing request? They are looking for a manufacturer who has this item or can produce it for CJ Dropshipping at the lowest price. They are capable of doing it since they cooperate with approximately 200 factories and are a part of the International Trade Mart (Futian market), which covers 2,000 different categories of goods and 40 industries.
Keep in mind that CJ Dropshipping users have a limited number of product-sourcing requests per day. You will have 5 requests per day in the beginning, but if you will grow with them, your number of sourcing requests will increase to 10, 20, 50, and the possibility of having an unlimited number of requests.
You can follow the whole process in your CJDropshipping account.
In general, this is an excellent feature to try to get the necessary dropshipping product at a lower price. Anyway, it's necessary to be ready that the sourced product´s price is not so cheap.
Customized Photo And Video
CJ Dropshipping offers a product video feature. It's not a secret that a good video or image in your listing drives better traffic and leads to potential sales. CJ Dropshipping thought about it and provided dropshippers the opportunity to download high-quality videos and photos directly from the product description page. Moreover, it's available for free CJ users as well.
Click on the product video, and you will see the download button: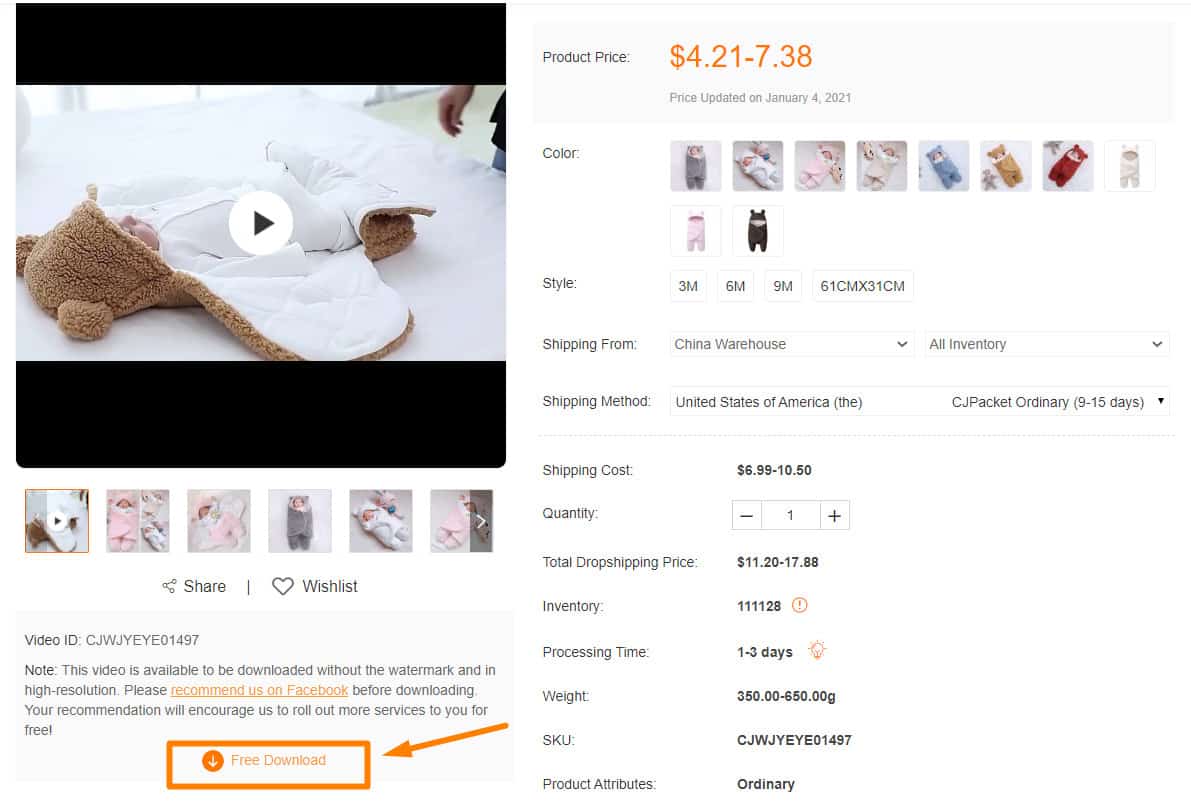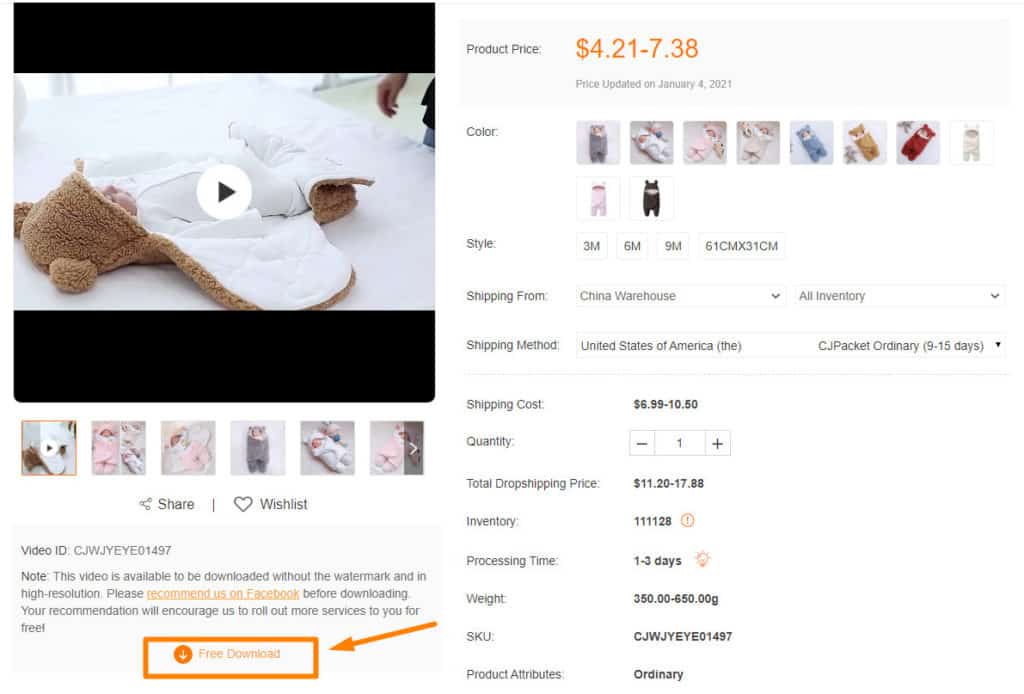 Additionally, you can save the product images in high quality. Each image has a download button on the right bottom corner.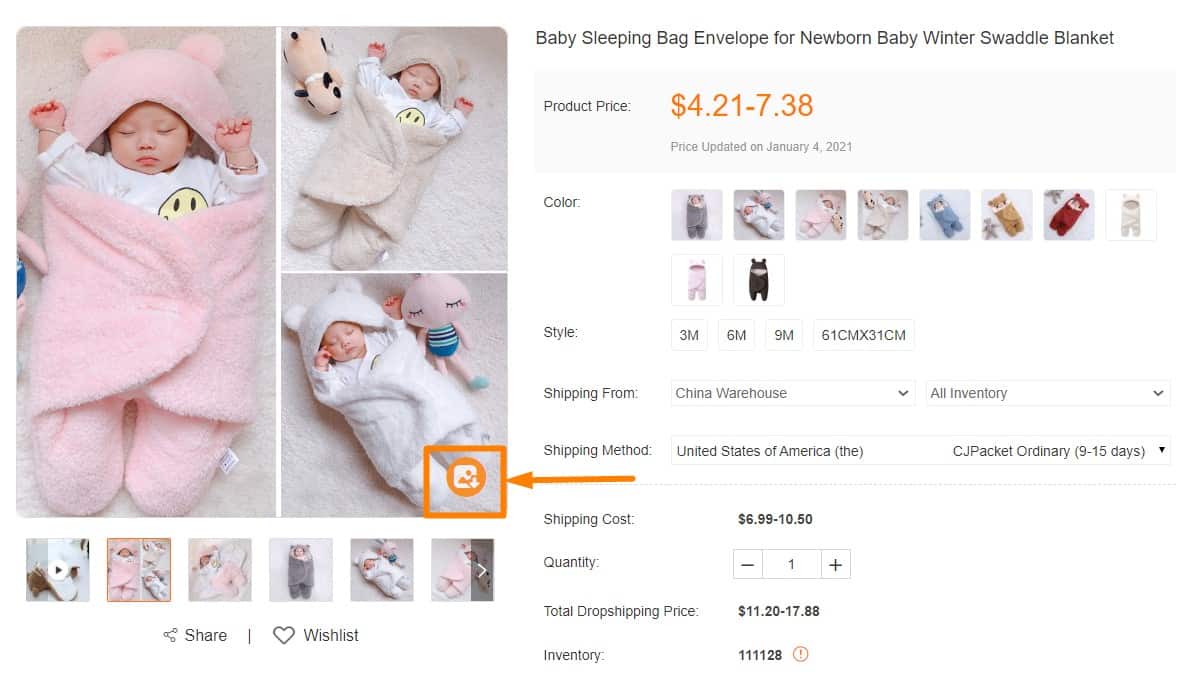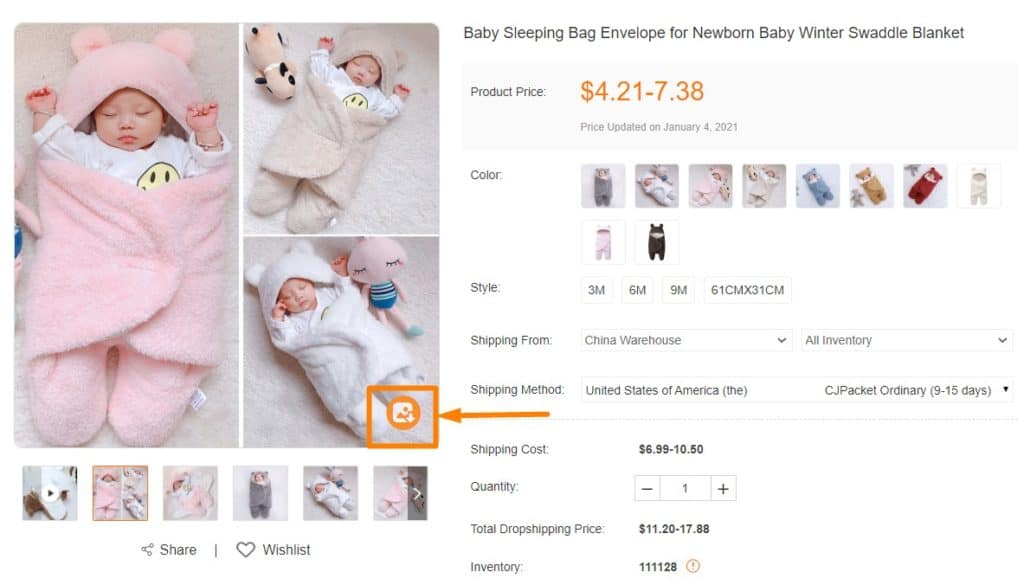 However, they go even further. Users can request a customized photo or video, giving specific instructions about what they want to see there. The request button for it is situated right under the product specifications: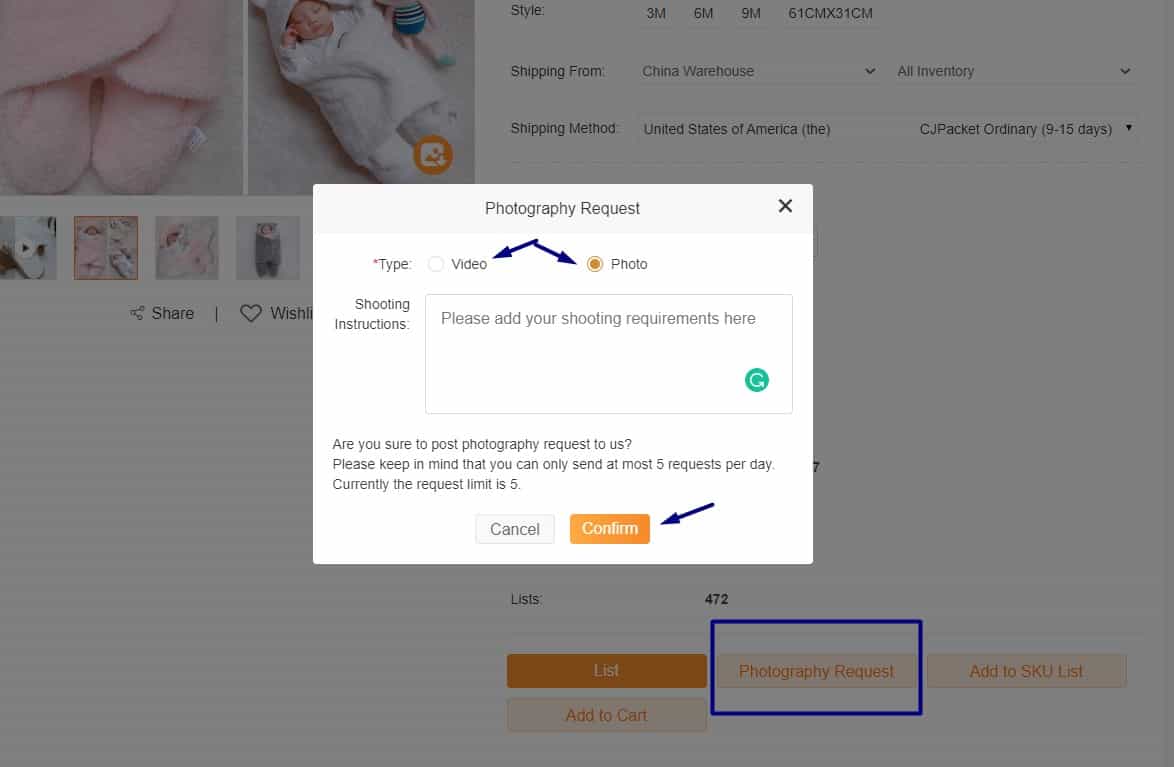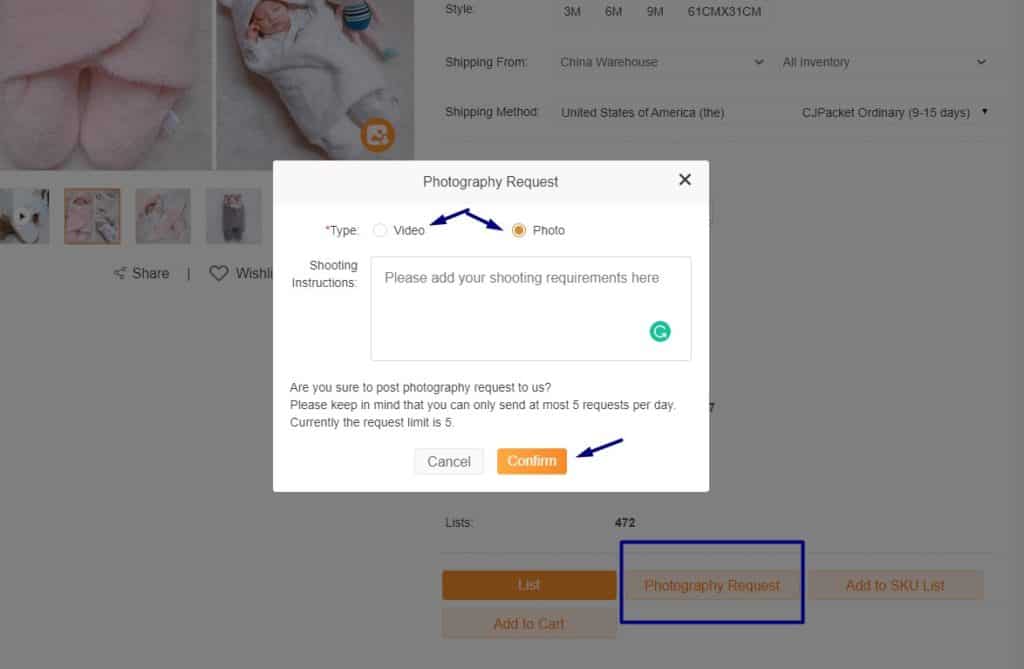 Follow the process on My CJ> My Photography.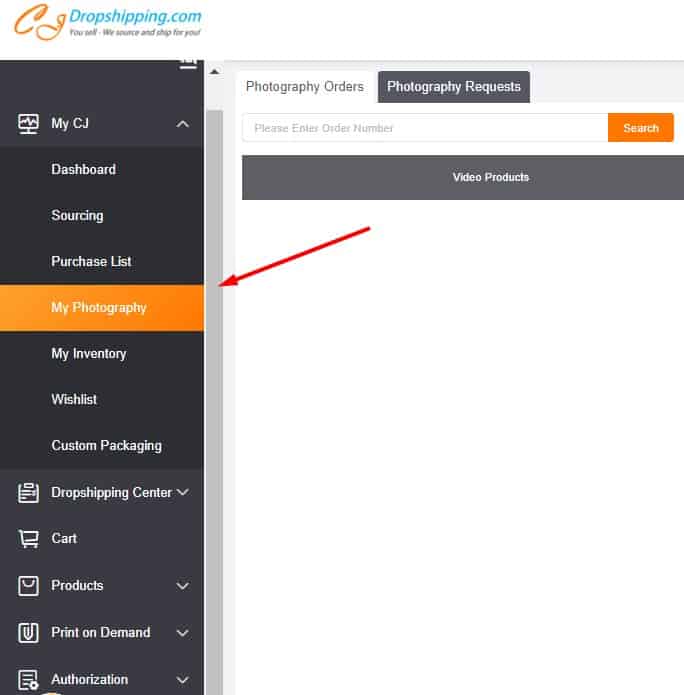 Normally it takes 5-12 days, and they will send you the results on CJ Dropshipping.
CJ Dropshipping Print-On-Demand
Print-on-demand, aka POD, is a CJ Dropshipping feature available for everybody. The main note is you can apply it only for certain CJ products. No worries, all of them are collected on the CJDropshipping print-on-demand marketplace.
All products are divided into 13 categories: jewelry & watches; toys, kids & baby; computer & office; home, garden & office; women's clothing; sport & outdoors; automobiles & motorcycles; Men's clothing; health, beauty & hair; consumer electronics; phones & accessories; home improvement; and bag & shoes.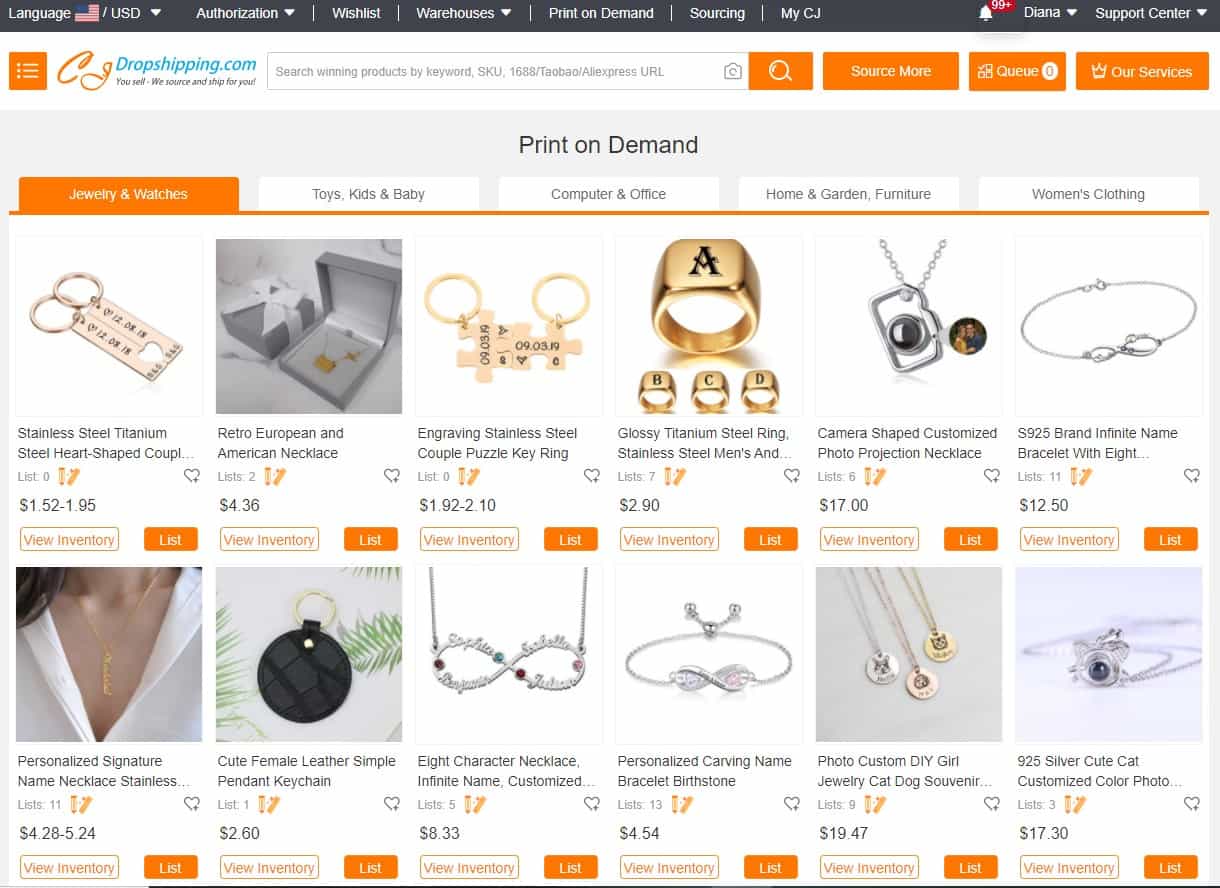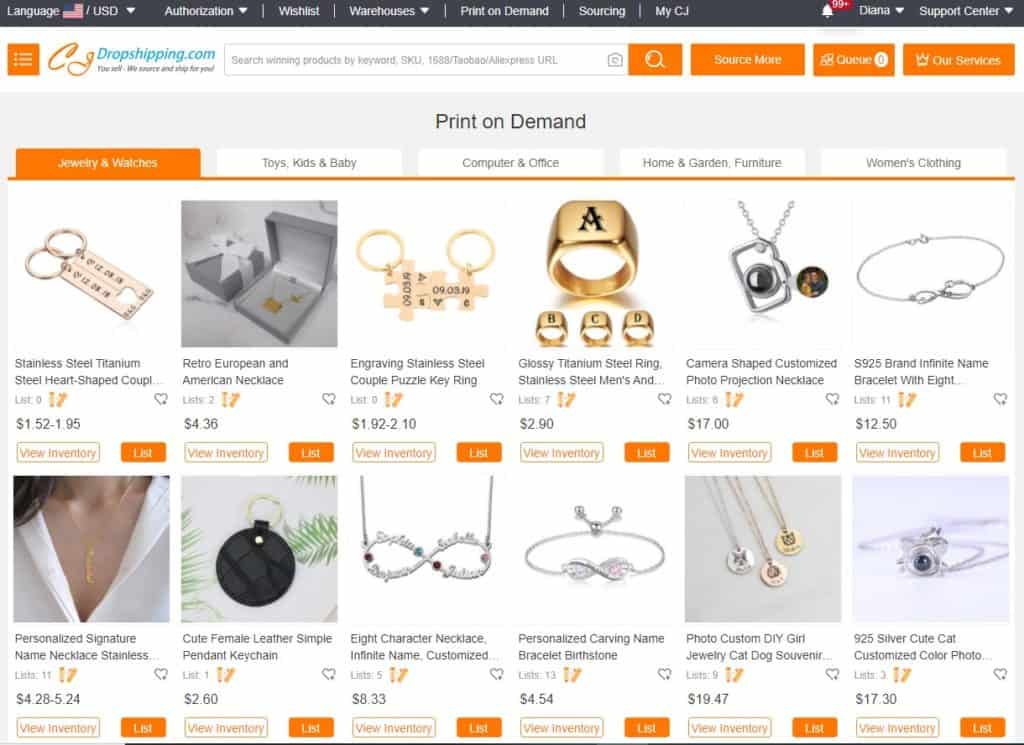 Choose a product for dropshipping and click on the button Start design: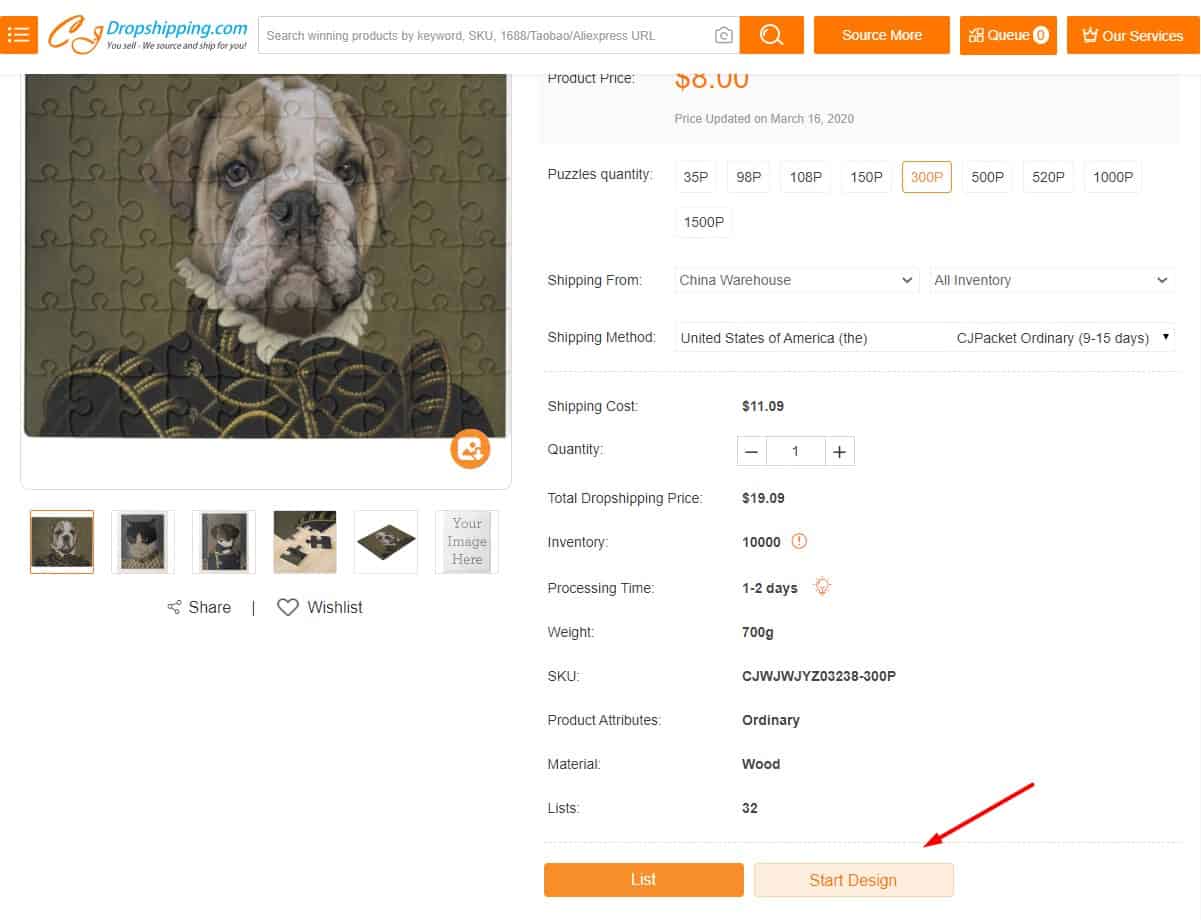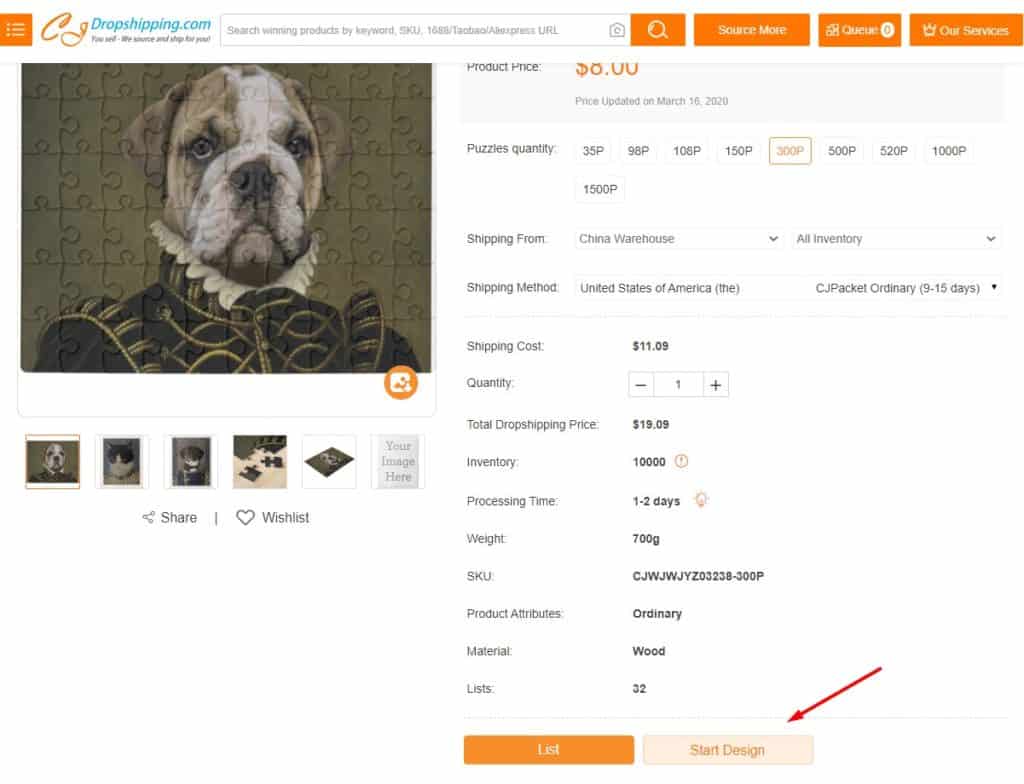 Upload a photo (bigger than 1000×1000 px) or your logo, pick the necessary product specifications, shipping details, and save it. Besides, it's possible to add your customized text for some of such products. In the end, you will be able to see the mockup of the product.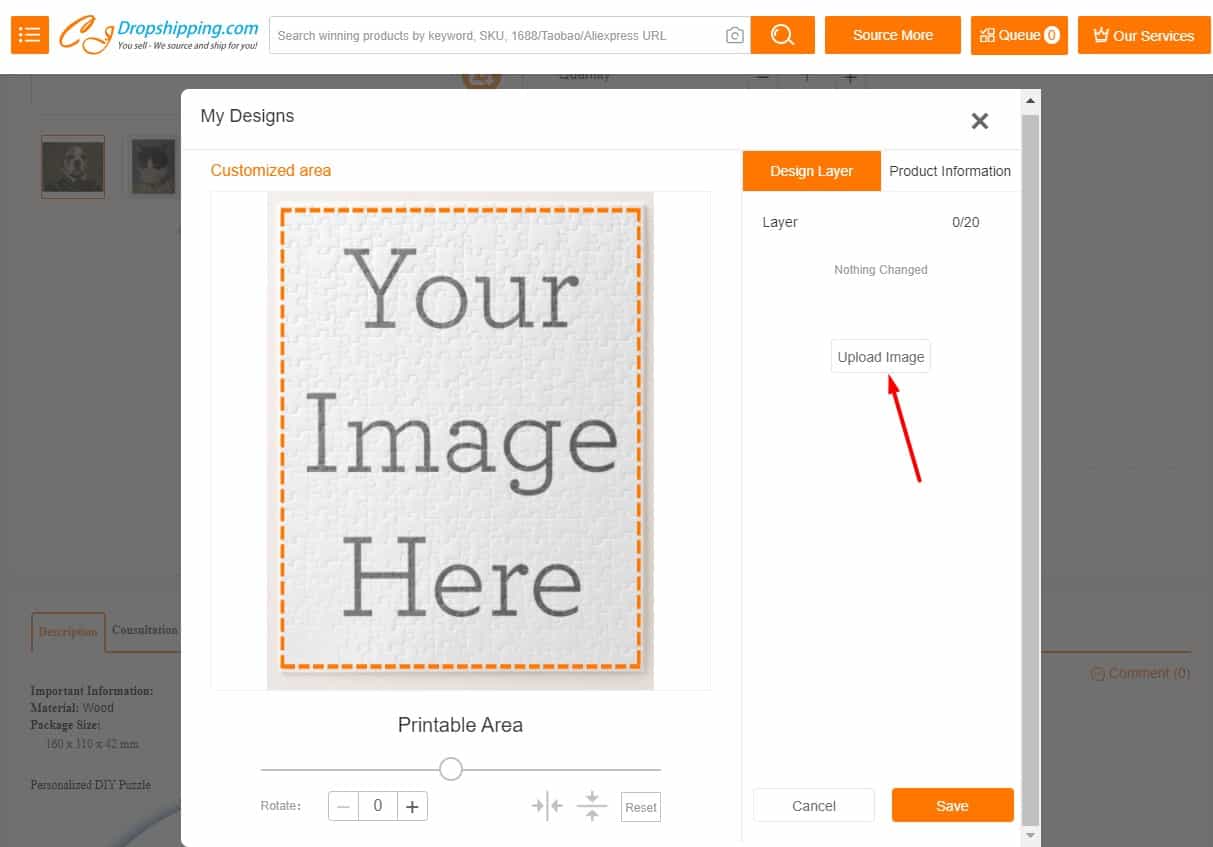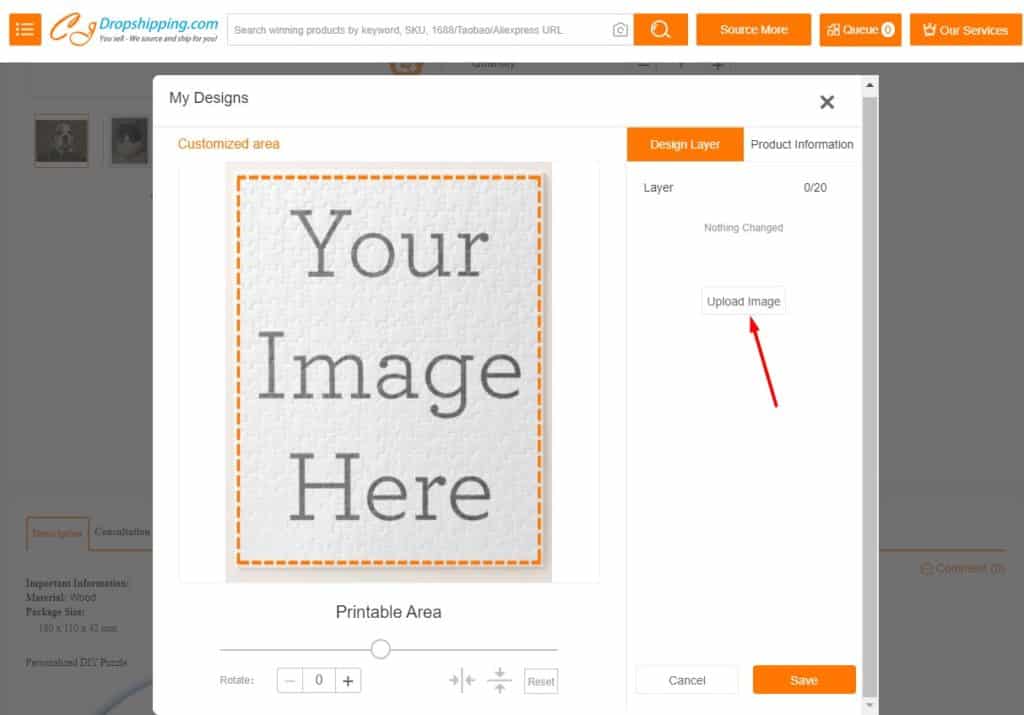 After saving it, you will be able to see your design in the My CJ > Print on Demand > Design by Myself list. From there, you can list this dropshipping product to your store or order it directly. However, make sure you enabled the POD feature on the authorization page, near the necessary dropshipping store.
Similarly, your buyers can develop their own designs for print-on-demand products. CJ Dropshipping thought about it as well. Here is the guideline on how to do it.
CJDropshipping Custom Packaging
Dropshipping with custom packaging is a great opportunity to distinguish your products from others, strengthen your own brand and show your buyers that they deal with professional eCommerce sellers. Dropshipping from CJ Dropshipping allows you to do all of this.
The CJ custom packaging feature is located in My CJ>Custom Packaging.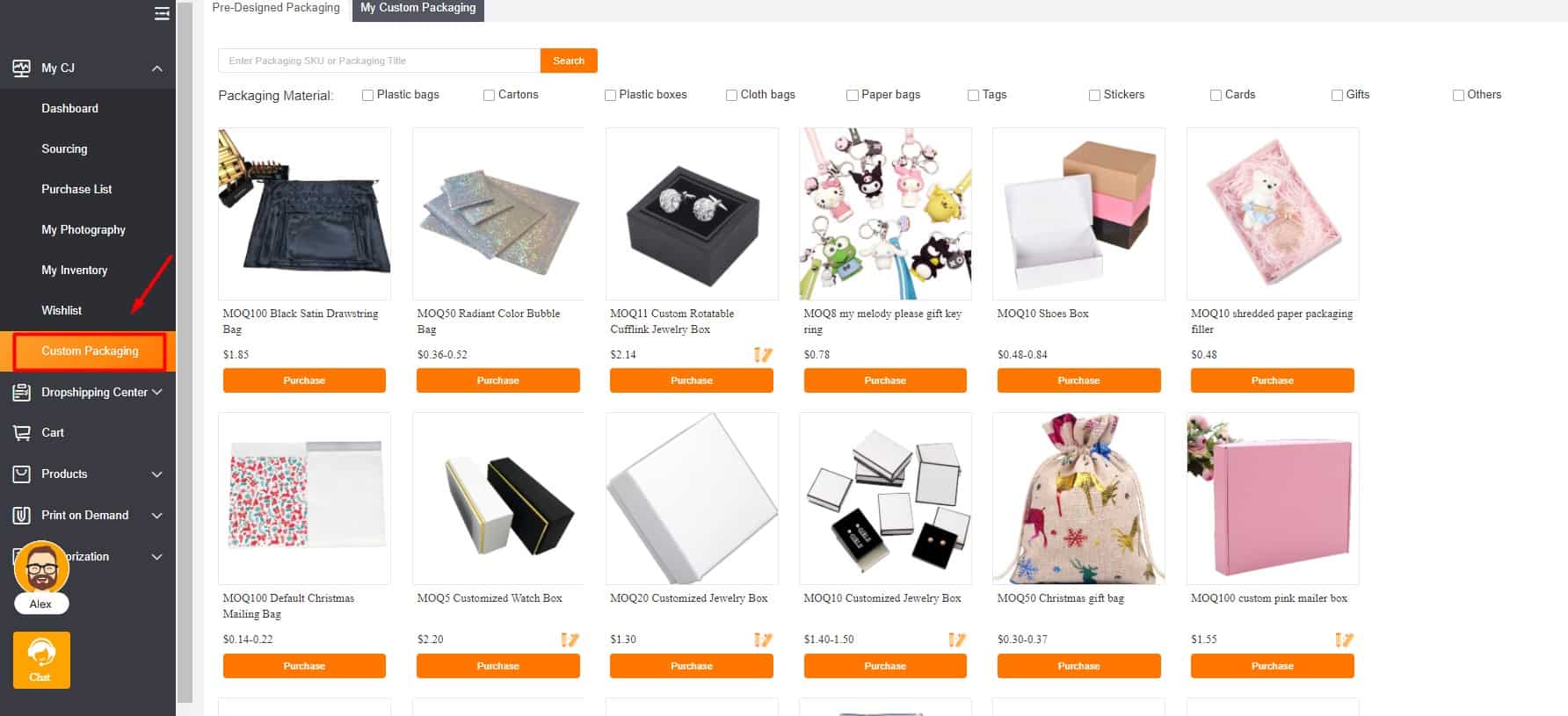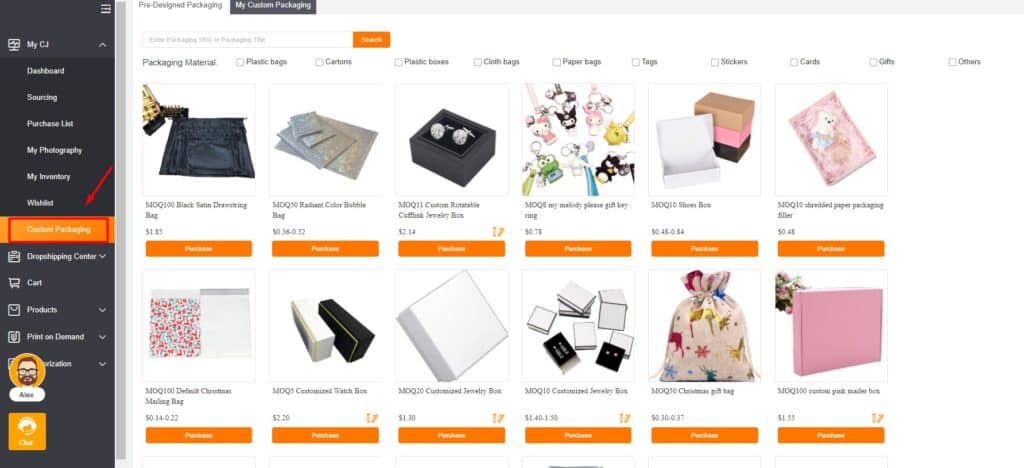 There are 2 sections: the Pre-Designed Packaging and My Custom Packaging.
The CJ's Pre-Designed Packaging offers existing packaging options from different materials, including sustainable packaging for green dropshipping. Additionally, there are tags, "thank you" stickers, etc. to put in your packaging.
If you are not going to add your own logo to the CJ packages, you can pick one of the options there. In case you want to add a customized logo to the product package, you need to contact a CJ agent and provide them with the SKU number and logo. Then it will appear on the Design Model. Similarly, if you want your logo to appear on the original CJ packaging, talk with your agent. It's possible to organize it.
In case you haven't found the necessary packaging on CJDropshipping, contact a CJ agent to make it happen for you.
It's important to know that you need to have the custom packaging already purchased, so your CJDropshipping orders would be fulfilled with them.
CJ Dropshipping Warehouses
Does CJDropshipping ship worldwide? Yes. As CJ Dropshipping states on their site, they offer "drop shipping worldwide from worldwide". The company owns and operates 8 warehouses all around the globe to facilitate dropshippers the opportunity to dropship internationally.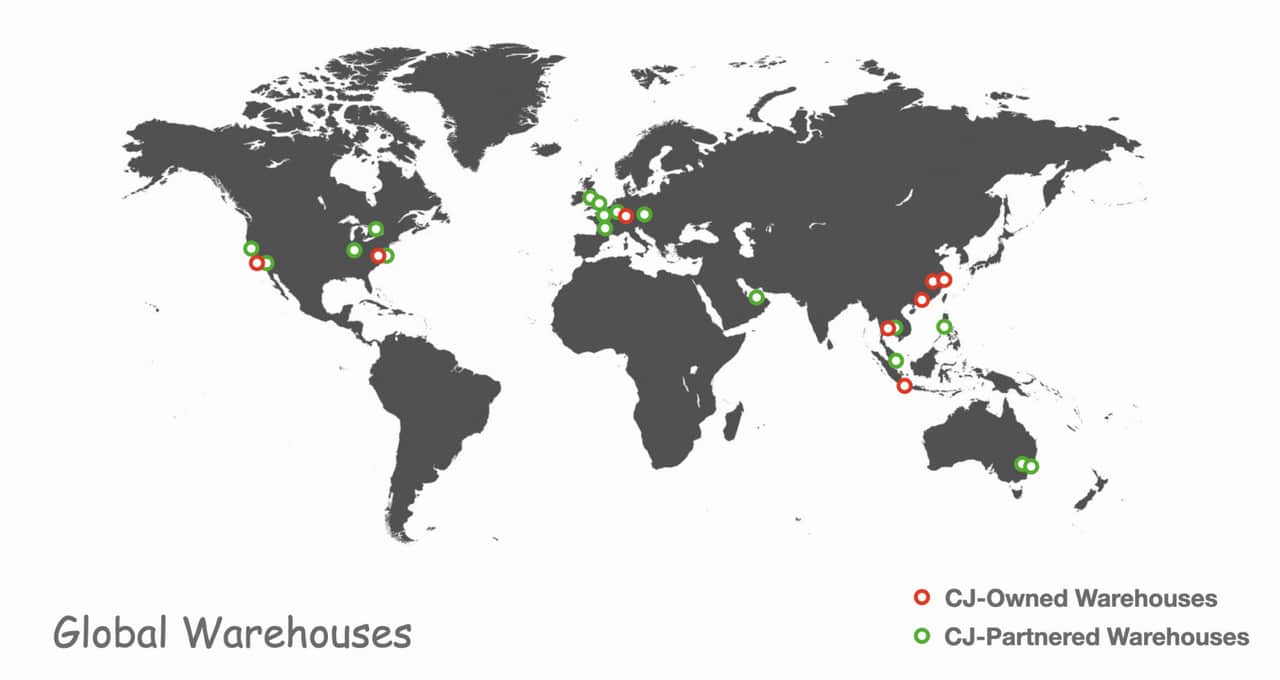 CJDropshipping own warehouses are situated: 3 in China, 2 in the US, 1 in Thailand, 1 in Germany, and 1 in Indonesia.
Though, CJ Dropshipping has more and more warehouses that cooperate with them. They are known as CJ Supplier Warehouses. They are located in China, the USA, Thailand, Germany, Indonesia, Australia, Japan, Canada, Mexico, India, Brazil, Russia, Great Britain, Singapore, Malaysia, France, Czechia, Uganda, Romania, Pakistan, Vietnam, Philippines, Laos, Cambodia, Saudi Arabia, UAE, Spain, Italy, Chile, and New Zealand. In addition, the company is working on adding more countries to this list.
You can click on the Warehouses section on the CJDropshipping site to see all of them and find products available for them: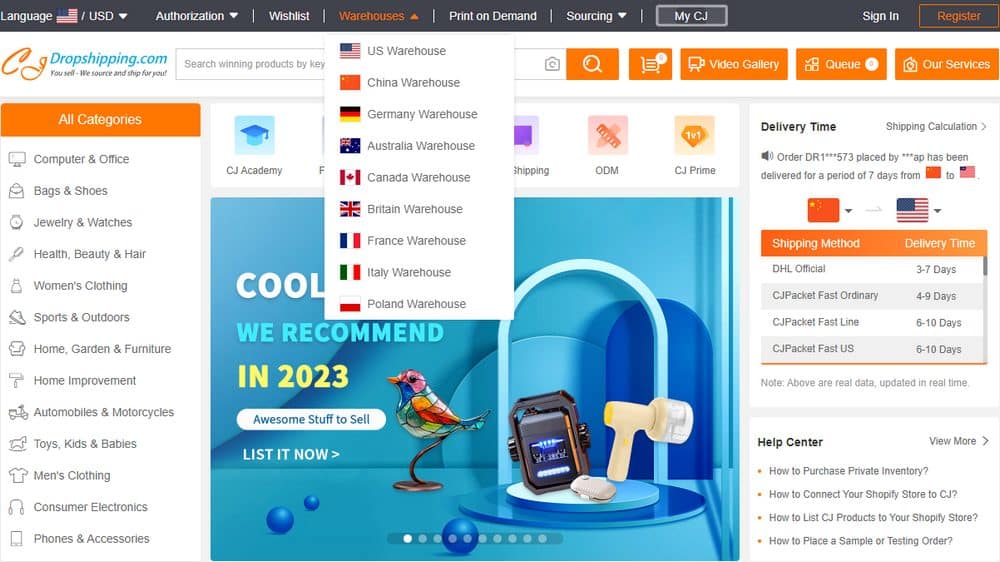 PRO TIP:
Products in the CJ supplier warehouse have free shipping (unlike CJDropshipping warehouses) and up to 1-week delivery.
CJ Dropshipping Policies
Let's take a look at CJDropshipping policies: payment, returns, and shipping.
CJDropshipping Payment Options
E-commerce sellers from all over the globe dropshipping from CJ Dropshipping. Since the company is very user-friendly, it offers common payment options from all continents.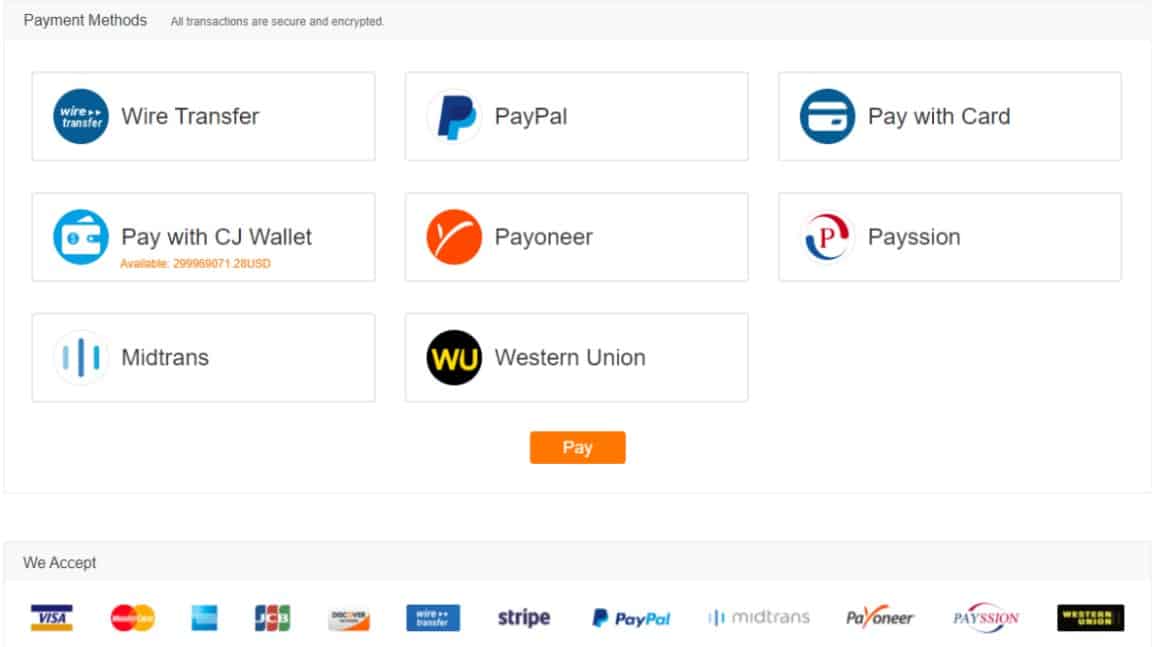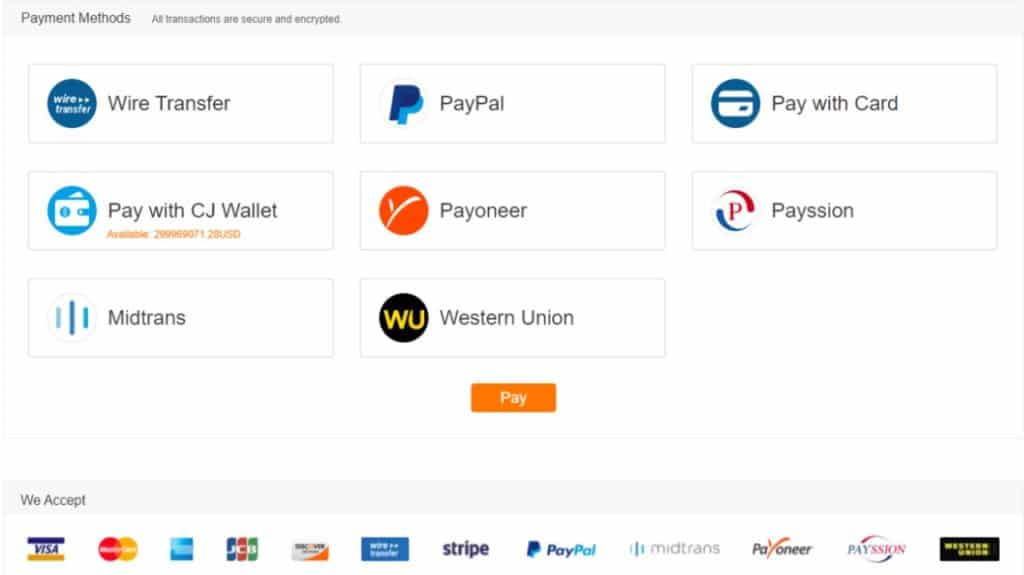 CJDropshipping payment methods are the following:
PayPal;
Wire Transfer (T/T);
Pay with a Credit Card;
Pay with CJ Wallet and combined payment;
Payoneer;
Payssion;
WeChat Pay;
Sofort;
iDEAL;
Boleto.
Diners Club.
CJDropshipping Refund Policy 
Knowing the refund and return policy of your dropshipping supplier is an important step in working with it. Now all suppliers offer the returns. It's not the case when dropshipping from CJ Dropshipping.
CJDropshipping refunds are possible in several cases:
If a CJ order was delayed.
The number of days when you can apply for a CJ refund varies on the country and the shipping method you've used. For instance, 45 days is a term for the orders shipped to the United States. 110 days for Brazil. In case an order was shipped by China Post Registered Air Mail or CJ liquid direct, you can apply for a refund if this order was delayed by 100 days.
If a CJ order wasn't received.
It's pretty tricky. If your buyer claims that he didn't receive a CJ order, and the tracking information shows the opposite… CJDropshipping will not refund you unless you can prove it with a non-delivery certification issued by the local post office with an official seal.
On the other hand, there can be a tracking information alert due to an incorrect address, uncleared customs, an unknown number, a non-existing person, etc. It's a motive to claim a refund.
If a CJ product was damaged.
It's possible to get a full refund or a product replacement if the CJDropshiping product arrived badly damaged. Of course, there would be needed proof for that: photos, videos, etc. Slightly damaged items get a partial refund.
If a CJ product was incorrect.
CJ offers a full refund or replacement in case their product is completely incorrect. In regards to wrong product variations, like a wrong size or color (again proved), the CJ team can partially refund. Same for the missing item details (or CJ will resend you them).
Additionally, a full refund is possible for order cancellation. Only in case the product wasn't processed by warehouses. It doesn't apply to the POD products and CJ photo or video orders.
It's worth mentioning that you can apply for a refund only when your CJ order status is still open. Besides, it's impossible if the tracking information is untraceable.
CJDropshipping also provides a list of countries where you can ship, but you can't open a dispute. Those are the next shipping destinations: Haiti, Kyrgyzstan, Madagascar, Mauritius, Bangladesh, Nepal, Nicaragua, Swaziland, Jamaica, Zambia, Ecuador, Peru, Bolivia, Chile, Argentina, Uruguay, Egypt, Sudan, Libya, Algeria, Angola, Bahamas, Benin, Belize City, Burundi, Dominican Republic, Gambia, Grenada, Cuba, Palestine, Paraguay, Guatemala, Reunion, The Commonwealth of Puerto Rico, Hawaii, Alaska, Guadeloupe, Martinique, and French Guiana.
Bear in mind that all CJ products can be returned only to the CJ China warehouse so far, and within 10 days after the product arrived. The CJDropshipping return process will require you to contact their agent first.
CJDropshipping Shipping Methods 
The CJ Dropshipping shipping methods include the most popular world postal services like USPS, DHL, PostNL,ePacket, etc., and their own special delivery service – CJPacket.
What is CJPaket?
CJPacket is one of the CJDropshipping shipping methods that works as an alternative to ePacket shipping or special line alternatives. It's highly recommended by CJ Dropshipping for fast product shipping.
The CJPacket tracking number looks like CJPJC8390056780YQ. Besides, its tracking numbers are traceable and accepted by eBay, Shopify, and other platforms. You can always check your parcel on the CJ Dropshipping order information page or other tracking services.
There are many different variations from CJPacket for different destinations and shipping ways. For example, CJPacket Fast Line, CJ Packet YW Sensitive, CJPacket Euro, CJPacket Sensitive GB, etc.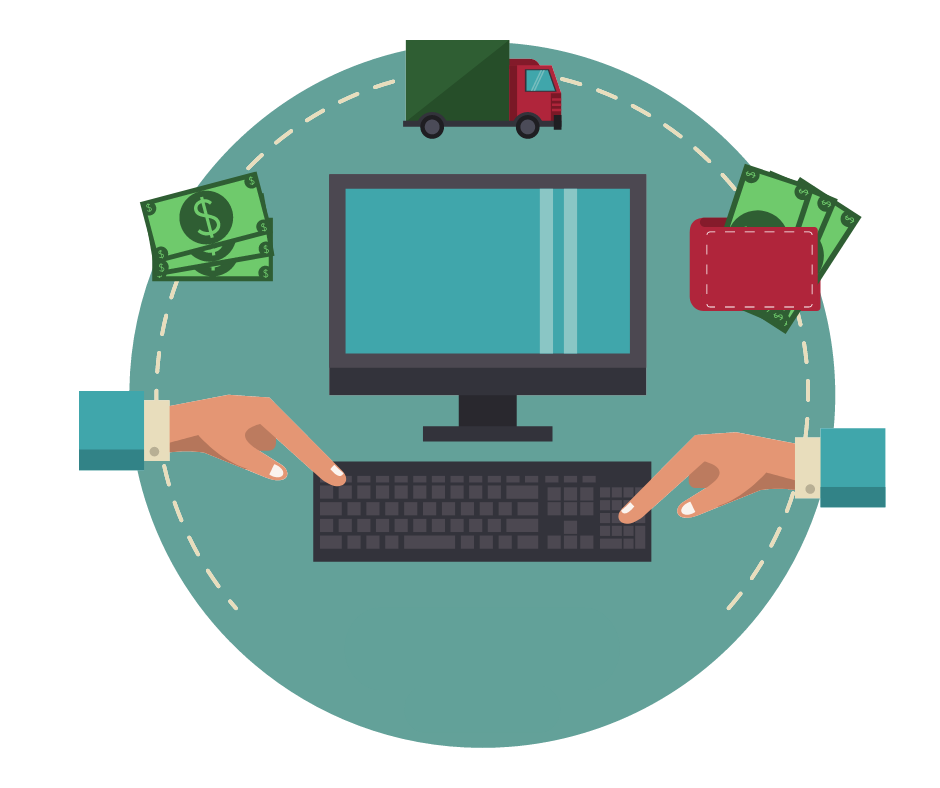 Not yet making money online?
Start your own dropshipping business. Sign up for a free trial of DSM Tool and we'll help you get started. Today is the day.
CJDropshipping Shipping Times 
In general, the CJDropshipping shipping times depend on a warehouse location, your destination country, and your delivery method. We gathered for you the information for the most popular destinations among dropshippers.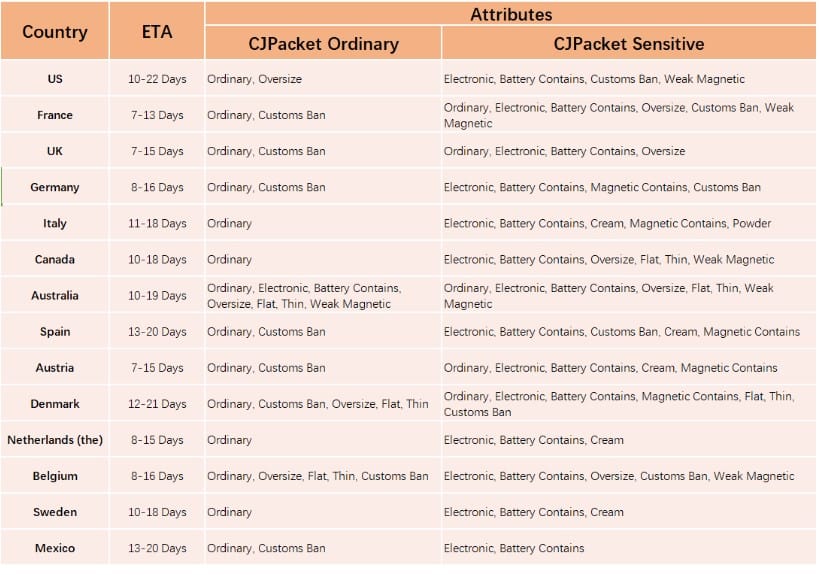 What are CJDropshipping shipping times to the USA?
The CJDropshipping shipping times to the US is around 10-22 days if shipped from the CJ China warehouse. CJPaket, an alternative to fast ePacket, ships products usually within 7-20 days, CJPaket YDS US takes 12-22 days, and it's 10-20 days with USPS (but the shipping fees will be bigger for it).
If you ship a parcel from the CJ USA warehouse, the delivery time takes normally 2-7 days.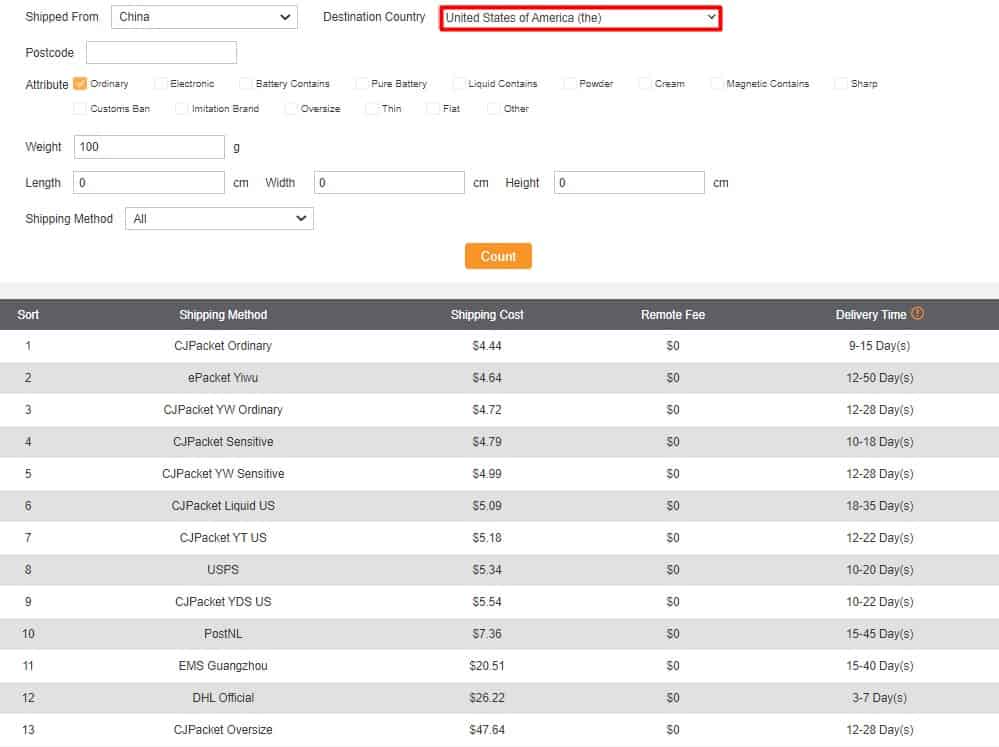 What are CJDropshipping shipping times to Canada?
The CJ Dropshipping shipping times to Canada take 15-25 days with the CJPacket shipping method from the CJ China Warehouse.
What are CJDropshipping shipping times to Australia?
The CJ Dropshipping shipping times to Australia take approximately 8-16 days if the products go from the CJ China warehouse. The fastest delivery option that is offered to Australian eCommerce sellers is the CJPaket Australia, with 8-14 shipping days. However, the CJPacket method takes 9-15 days, and the CJPacket YW Ordinary method, together with the CJPacket YW Sensitive, takes 10-16 shipping days.
What are CJDropshipping shipping times to the UK?
The CJDropshipping shipping times to the UK are 7-12 shipping days from the CJ China warehouse. The fastest delivery method for the UK is the CJPacket Sensitive GB with 7-12 shipping days. The CJPacket and the CJPacket Euro Ordinary ship products within 8-12 days.
What are CJDropshipping shipping times to France?
The CJDropshipping shipping times to France normally take 7-14 days from their Chinese warehouse. The CJ Team recommends using the CJPacket Euro Ordinary delivery method for fast shipping to France. Its shipping time is 7-14 days. The CJPaket or the CJPacket YW Ordinary with 8-16 shipping days can also be an option. By the way, the same shipping time and methods are applicable to Belgium.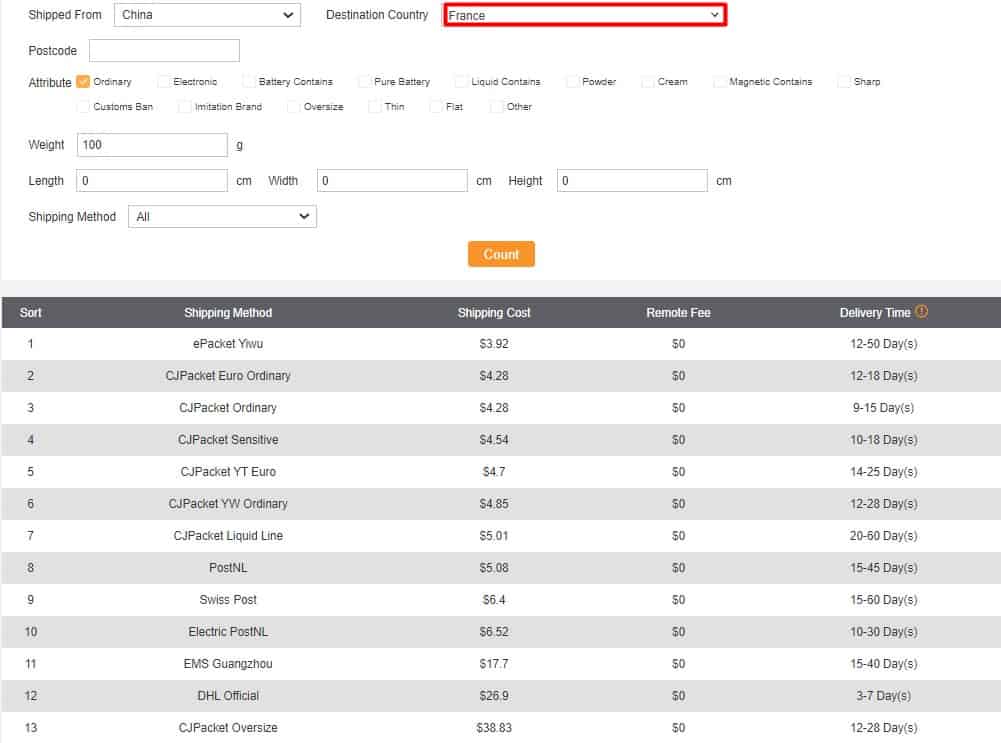 What are CJDropshipping shipping times to Germany?
The CJDropshipping shipping times to Germany are around 9-18 days from the CJ warehouse in China. The recommended fast shipping option is the CJPacket Euro Ordinary with possible 7-14 delivery days, and the CJPaket and CJPacket YW Ordinary.
However, if you are going to order the products from the CJ Germany warehouse, the shipping time can be shortened to 3-6 days with the Deutsche Post delivery service (but the shipping fees can be doubled).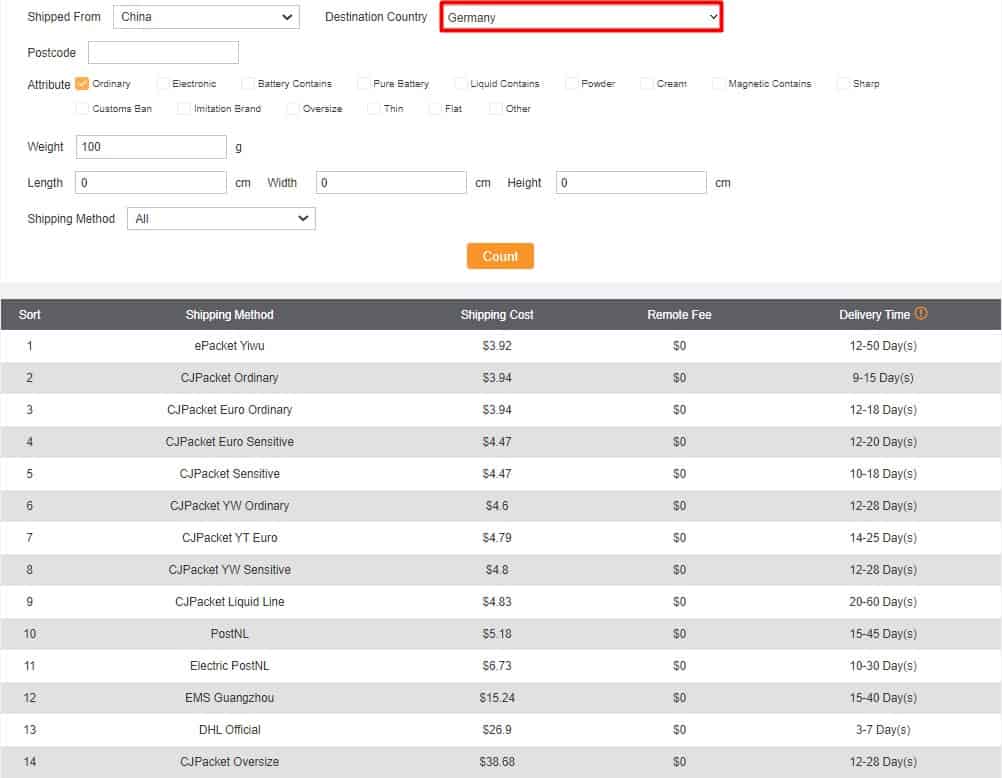 What are CJDropshipping shipping times to Italy?
The CJDropshipping shipping times to Italy for the products from the CJ warehouse in China are also about 9-18 days. The fastest shipping line they offer is the CJPacket Euro Ordinary, with 9-15 shipping days. The CJPacket Sensitive with 10-18 delivery days can be a fast option as well.
What are CJDropshipping shipping times to Spain?
The CJDropshipping shipping times to Spain for the orders from the CJ warehouse in China take 9-18 days. The top choices of the offered CJ shipping methods for this country will be the CJ Packet and the CJPacket Ordinary.
What are CJDropshipping shipping times to Mexico?
The CJDropshipping shipping times to Mexico normally take 15-25 days when ordering from the CJ China Warehouse. The CJPacket YW Ordinary and CJPacket YW Sensitive are the fastest CJDropshipping shipping methods for this destination.
How To Check CJDropshipping Shipping Times And Fees?
It's important to remember that the CJDropshipping shipping fees vary depending on the product's weight. Therefore, the oversized products have a pretty costly price, and it can be better to dropship them from the local CJ warehouse or local dropshipping supplier.
There are several ways to check CJDropshipping shipping times and fees:
In general, you can open a CJ Dropshipping shipping calculator to check the time and fees. On the homepage, go to your account > Tools > Shipping Calculator: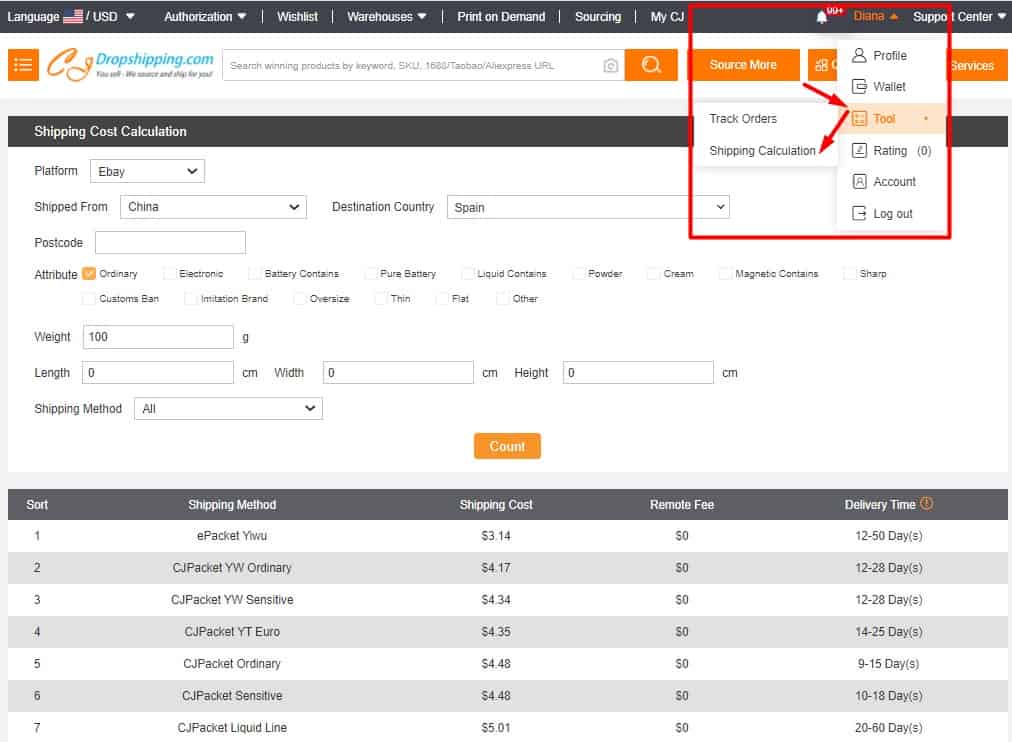 2. You can check shipping times and approximate fees right on the product pages: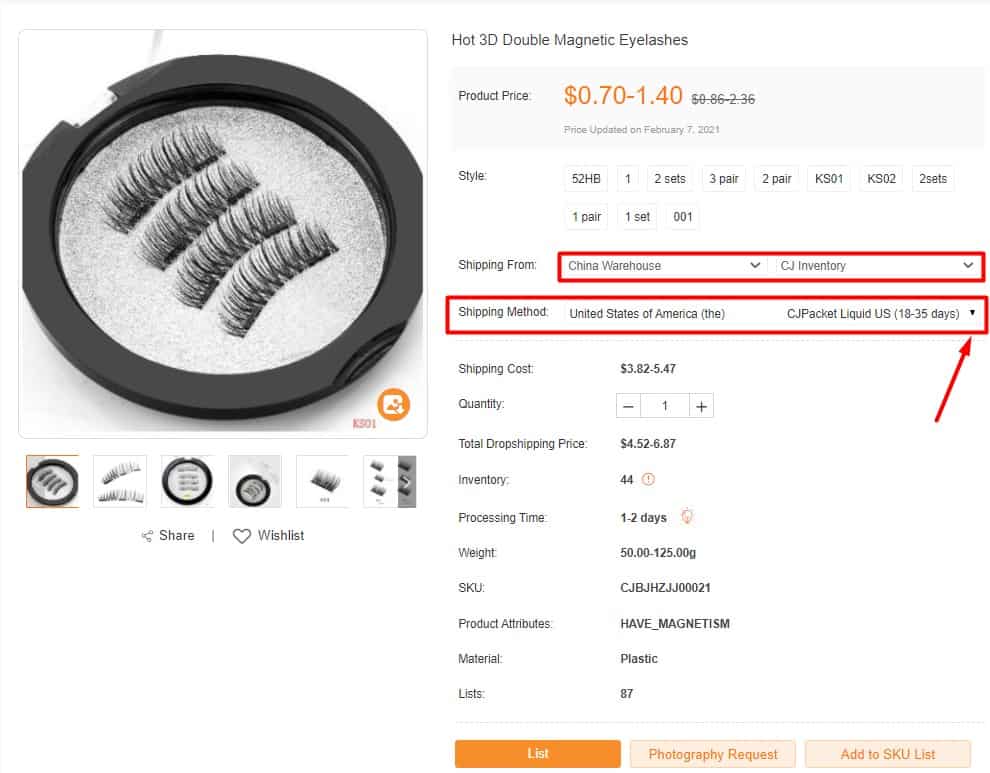 It's important to note that these shipping times are estimates and may be subject to delays beyond CJDropshipping's control, such as customs procedures or unforeseen circumstances.
When choosing between CJDropshipping shipping methods, it's crucial to consider factors such as the urgency of the delivery, customer expectations, and the specific requirements of your business. CJ Dropshipping aims to provide reliable and timely shipping services, allowing customers to choose the option that best suits their needs.
How To Dropship With CJDropshipping
Starting dropshipping with CJDropshipping is a straightforward process that involves a few key steps. Here's a brief guide on how to get started:
1. Connect CJDropshipping And Your Store
The process of registration is straightforward: Go to the top right part of the CJ homepage and click on the Register button.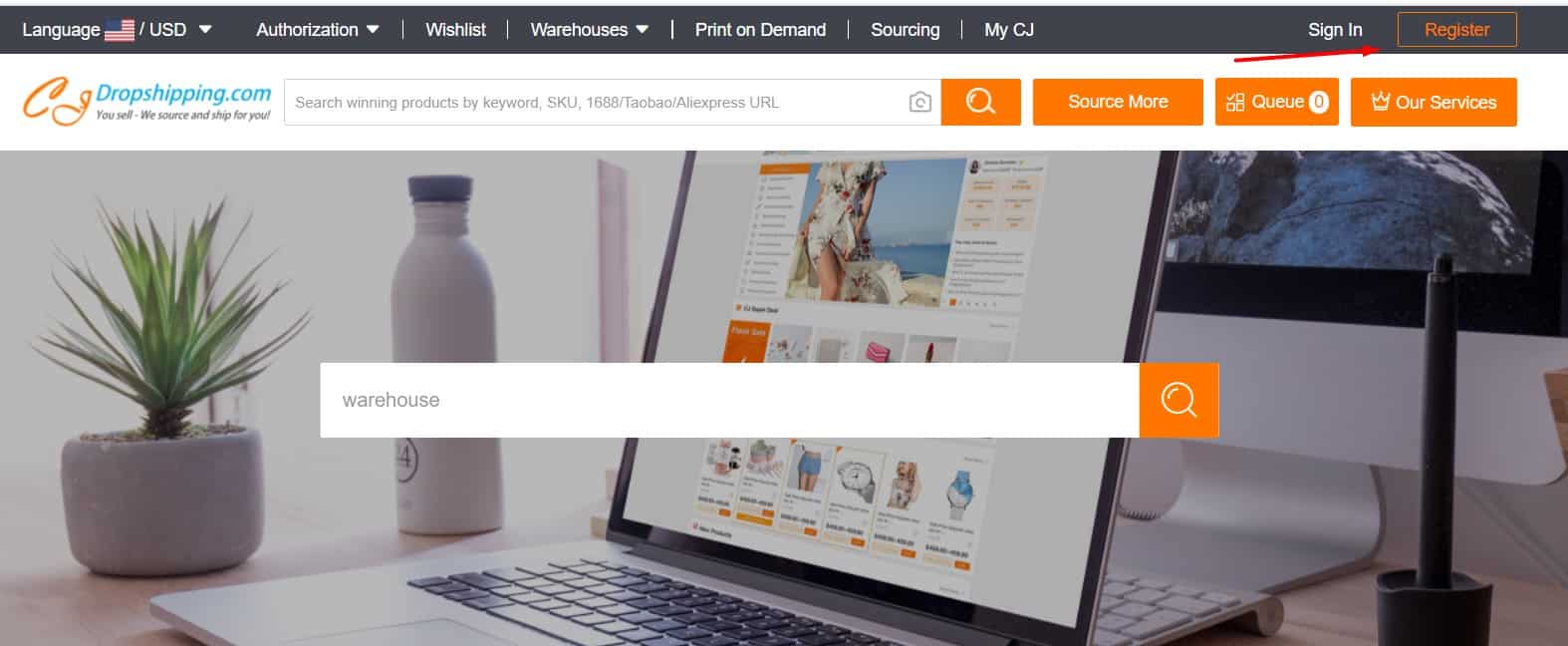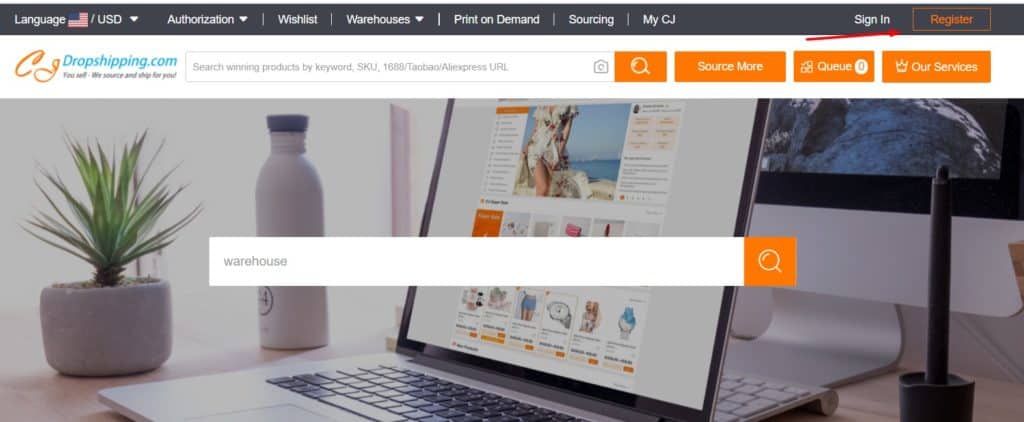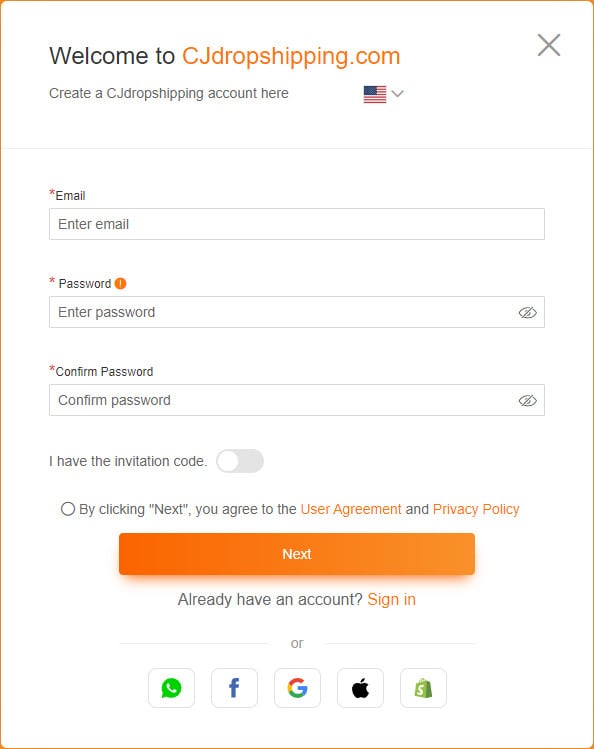 The site redirects you to the registration form, where you need to provide your credentials: email and password. Mark a field showing that you agree with the Terms and Policies, and click on the Next button.
Once it is done, you will get another form to provide your personal information: user name, first name, last name, and phone number. Besides, there is a possibility to modify your email on the top, just in case there is an error or you changed your mind.
When all the necessary data is there, click on the Confirm button, and the CJDropshipping signup will be done.
After creating an account in CJDropshipping and confirming your email address, you can log in and connect CJ to your dropshipping store on eBay, Shopify, Woocommerce, Shipstation, Etsy, Wix, Squarespace, ShopLazza, Magento, Bigcommerce, AllValue, PrestaShop and TikTok.
Everything will be done from the CJ Authorization section: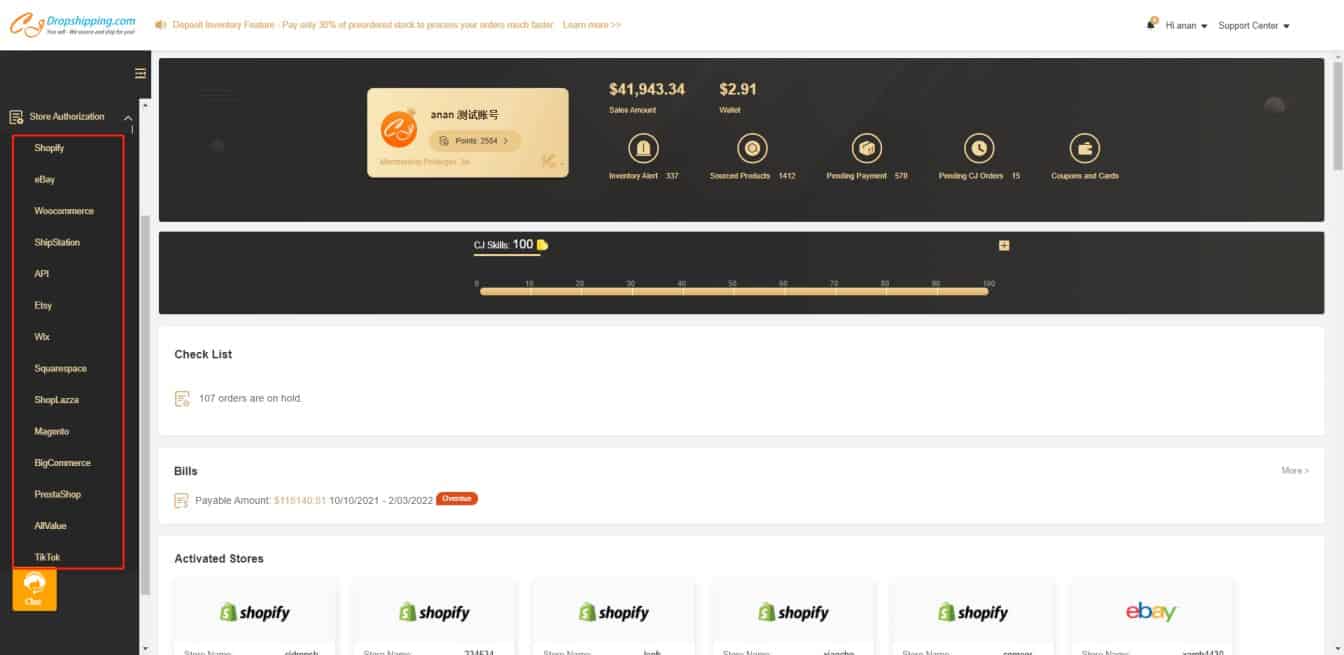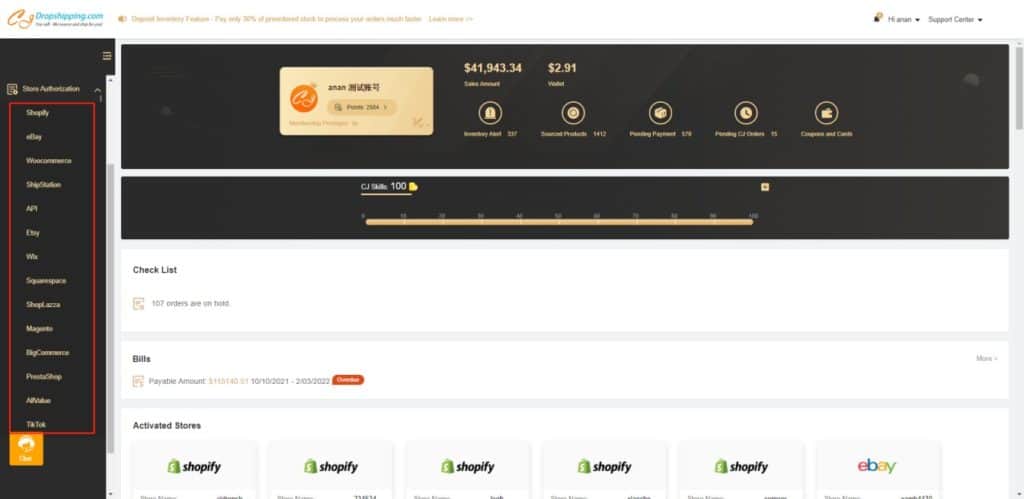 There you pick the necessary platform, click the Add Store button, and provide your store name. Click on Authorize, and you are done.
2. Find Products On CJ Dropshipping
To be profitable and get sales, you need to add winning products to your dropshipping store. There are different product research methods that you can use to get profitable product ideas. I will not speak about them here; if you want, check this eCommerce product research guide. Instead, let's see how you can find a product on CJ Dropshipping:
Search By Keywords
This is a basic simple feature that every online shopping platform will have. By writing the keyword in the search field, you can easily find out products whose title includes the keyword.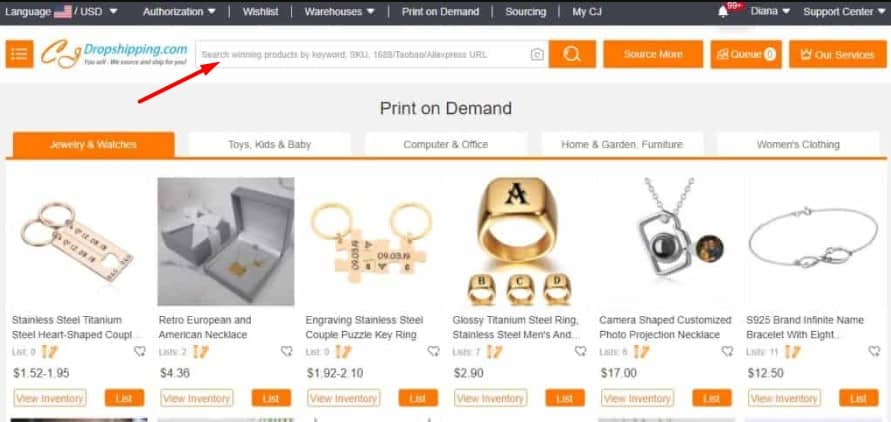 Search By Image
This function is also in the search bar. Differently, you can drag an image or upload it from a file folder to search. It's a useful feature when you know what exact product you want to dropship from the CJ Dropshipping platform. Especially if you want to compare the prices for it on CJ and another marketplace.
This is how you can search products on CJ by images:
Super Deals On CJ Dropshipping
They have a promotional plan for products that are enough in stock in the CJ Dropshipping warehouses. In this section, you will actually only discover discounted products. It helps dropshippers to increase profits.

CJ Dropshipping Trending Products
CJ team has professionals who carefully follow the current trends and add trending products to their eCommerce platform every week. These products should be of high sales, popular, seasonal, and have been searched many times. It's an extra paid feature on the Cj platform.
There you can find what trending is now and consider selling such products on your eCommerce or dropshipping store.

Hot Selling Categories
CJ Dropshipping analyzes what you are souring, saving, or listing, and based on that, will suggest you hot selling products within that category. CJ lists the first 4 categories. For a niche store, it will reduce the inconvenience of searching for products of one category one by one.
CJ Product Reports
CJ Dropshipping often collects popular products and creates product reports here. It's nice of them and very useful for us, online sellers. So you can search for the latest trending products in the Product Reports section as well.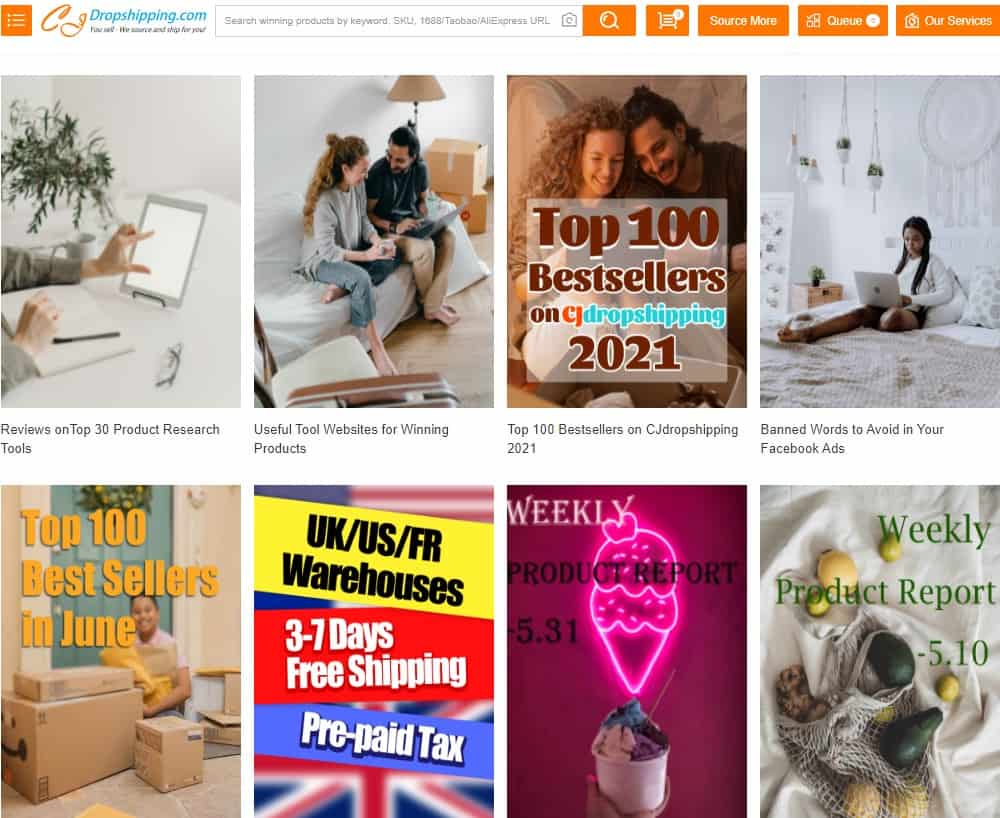 Recommended Products
Check this section on the CJ platform. They will show you recommended products based on your browser history. You may have orders of these products listed or added similar products to your Wishlist or SKU list.
Warehouses
CJ is always sourcing overseas suppliers to provide local delivery for products. In that column, you will see all warehouses, including CJ warehouses and supplier warehouses. It's a good option to see what they have in your nearest CJ warehouse.
For CJ products, they will arrange shipment, and you need to pay for the product and shipment.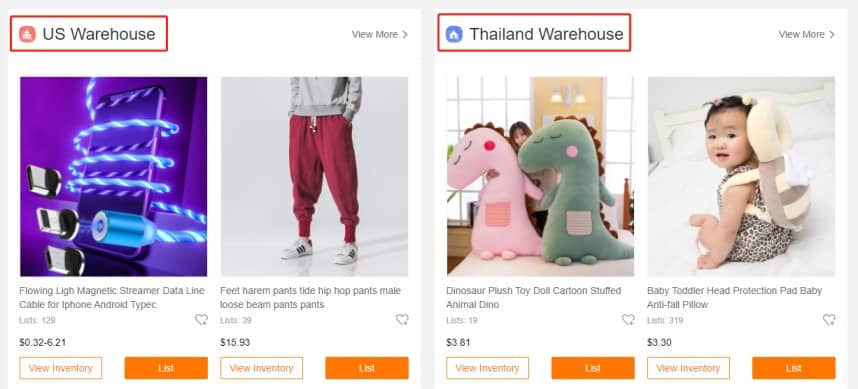 New Products Section
CJ Team selects the first 6 new products to show you there. But you can click "View More" to see other new CJ items.

CJ Print-on-demand Section
It's another section to get product ideas on CJ Dropshipping. Especially if you run a print-on-demand store. Here you can find products that support customization here and design yourself, including putting your logo on them.
3. Listing Products From CJ Dropshipping
It's possible to list from CJ Dropshipping straightforwardly from their site, manually (when you spend time copying and pasting all data on your selling platform), and via the automated listing software.
We'd stop on the last option because, usually, such dropshipping software offers way more than just a listing option. In other words, you get a bundle of extra features that helps you automate your dropshipping business. For example, product price/stock monitoring, auto-orders, the eBay VERO checker, automatic messages to your customers, etc. Just like in the case of AutoDS dropshipping software.
AutoDS integrates CJ Dropshipping along with other 25+ dropshipping suppliers. Moreover, it´s an official CJ Dropshipping partner. Both teams aim to improve your eCommerce journey.
Now straight to the point!
Listing products with AutoDS is quick and easy. It is as simple as copying the product link and pasting it to the AutoDS Product Importer, and clicking on the Publish to Store button: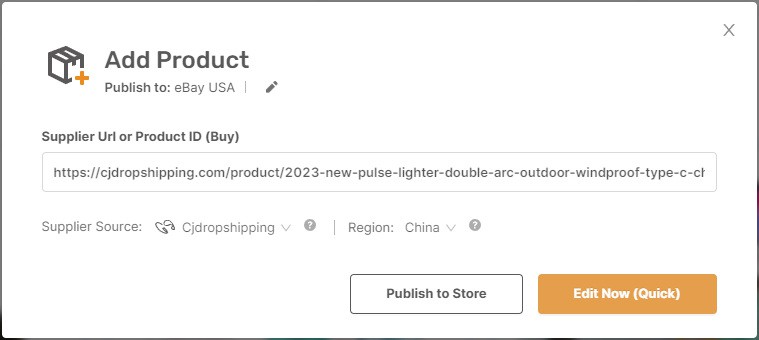 Yes, as simple as that. You can also edit product details before publishing. Press the Edit Now button, and it will take you to a window with product information. The software automatically copied all the available info about this CJ product. The next steps are on you. You can change the product description and title, manage variations and images, and add missing specifications (it´s one of the eBay SEO tips). Once done, press the Save & Import button to push the item to your store. If needed, you can save your draft and publish it later.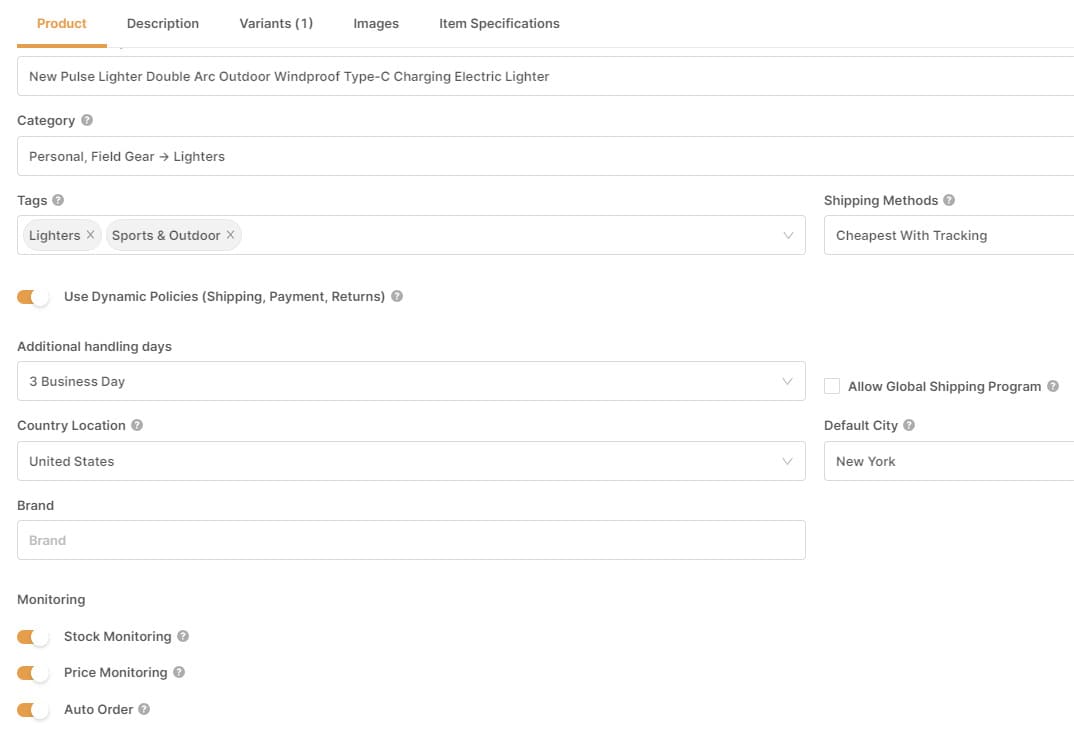 You can also import products by using the AutoDS Chrome extension button "Import to AutoDS" on the CJ Dropshipping product page.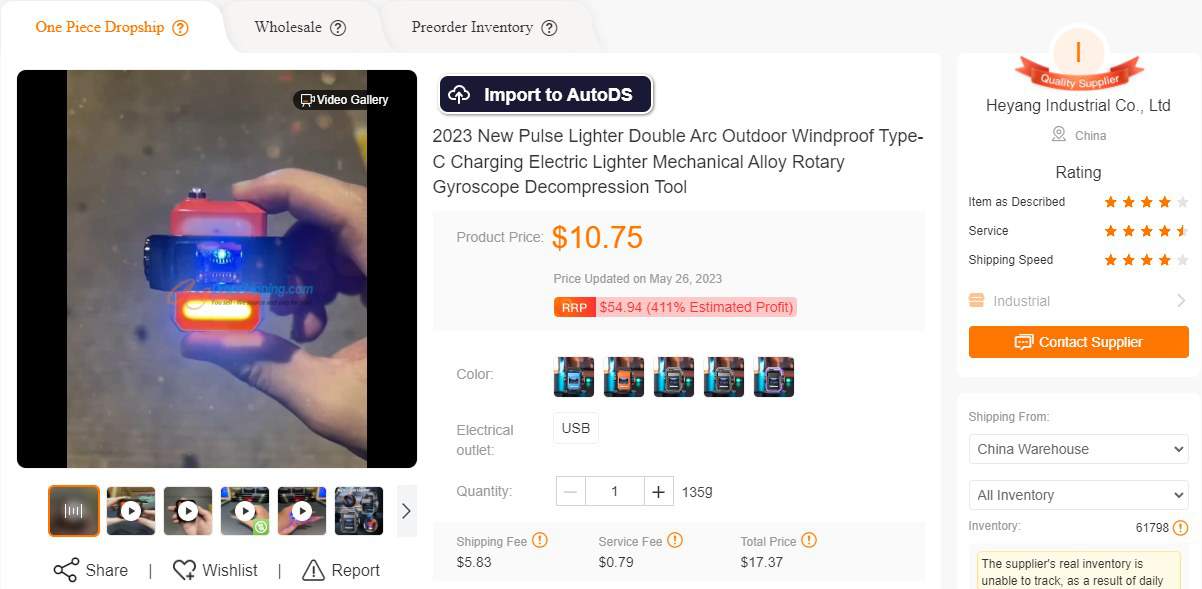 This way, you can skip the copy-paste link step, which saves time.
CJ Dropshipping FAQ
Here are short answers to some of the most popular questions about dropshipping with CJDropshipping sellers ask:
What Is CJ Dropshipping?
CJ Dropshipping is a leading dropshipping platform and fulfillment service provider based in China. It offers a comprehensive solution for online retailers who want to start or expand their dropshipping businesses.
Does CJDropshipping Ship Worldwide?
Yes, CJDropshipping is a global dropshipping platform that offers worldwide shipping services. They have a wide network of suppliers and shipping carriers that allow them to ship products to customers in various countries around the world.
Does eBay Allow Dropshipping From CJDropshipping?
Yes, eBay allows dropshipping from CJDropshipping. However, it's important to comply with eBay's policies and guidelines for dropshipping, including providing accurate product information and ensuring timely order fulfillment.
Is Dropshipping With CJDropshipping Worth It?
Dropshipping with CJDropshipping is worth it for several reasons. They offer a wide product selection, efficient order fulfillment, and competitive pricing. Additionally, CJDropshipping provides services such as private labeling, customized packaging, and fast shipping options, which can enhance your brand and improve customer satisfaction.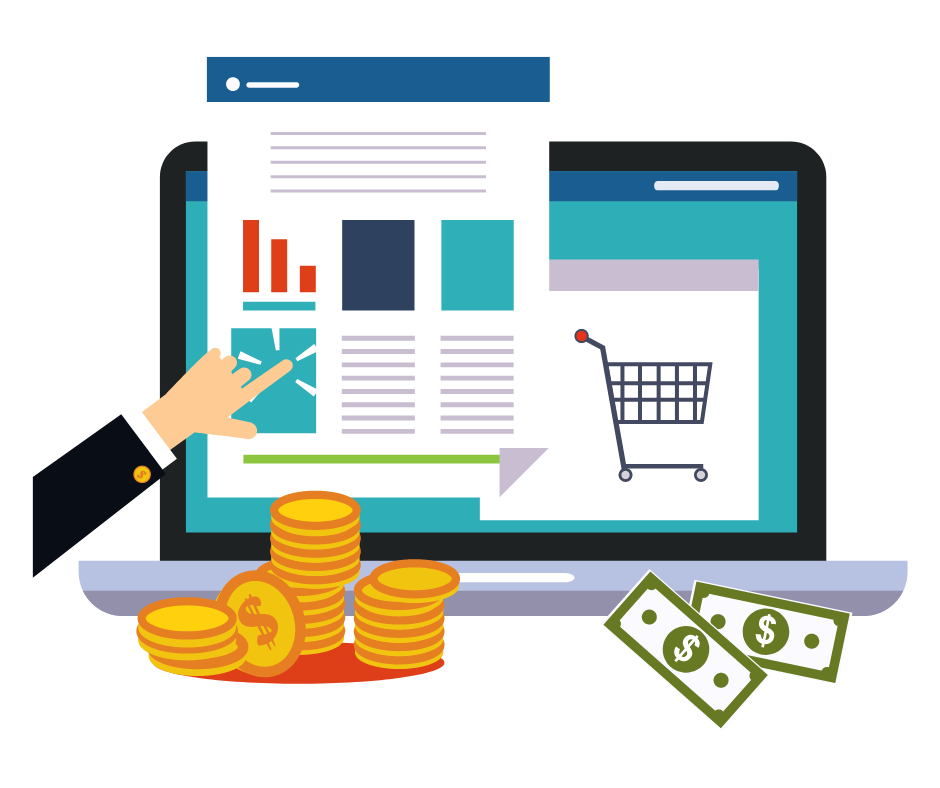 Don't wait for the profits, make them!
Start a profitable dropshipping business with DSM Tool. Get a free course and a free trial of the software.
Final Lines
Dropshipping from CJDropshipping is growing in popularity topic in eCommerce. It's a good alternative to dropshipping from AliExpress since it frequently provides better prices and shipping times, and, most importantly, it's an absolutely legit dropship supplier for eBay dropshipping. Besides, CJ Dropshipping is a one-stop platform for dropshippers with a wide range of free services useful for different businesses.
Have you tried CJ Dropshipping? Tell us in the comments below.