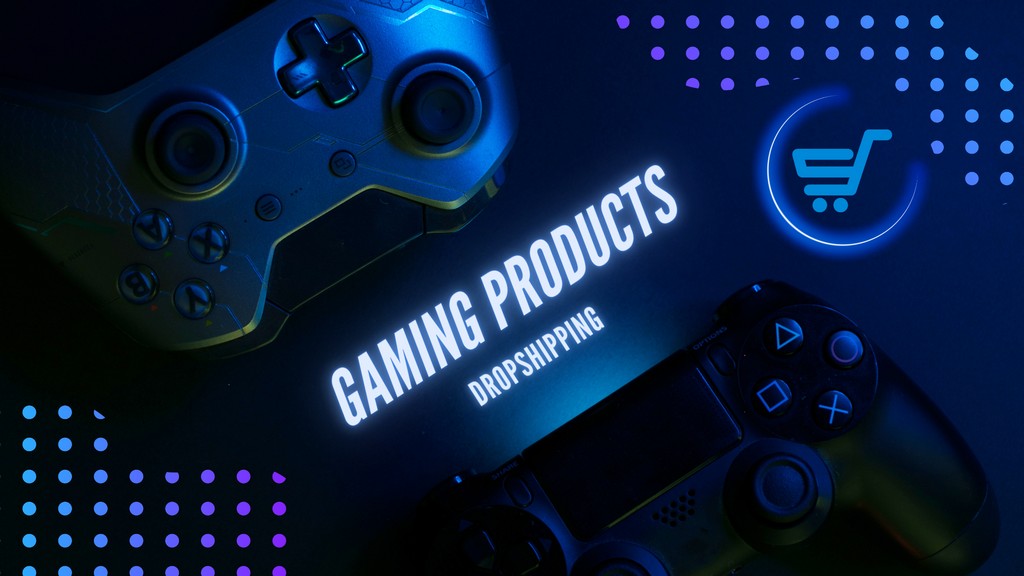 Dropshipping gaming products is our next eCommerce niche to consider for selling online. It's worth to dropship gaming gear since the gaming niche has 3.2 billion potential buyers worldwide and is expected to hit $268.8 billion annually in 2025, up from $178 billion in 2021. Besides, the most popular eCommerce markets, like the USA, Germany, United Kingdom, France, Canada, Italy, and Spain, are on the list of countries where these products are in high demand.
Before we get to the top 25 most popular gaming products to sell, let's go through the statistics that will help to understand better the gaming niche and your potential buyers. So, why you should dropship gaming gear?
Why Dropship Gaming Gear? Gaming Products Statistics
Why start dropshipping gaming products? With COVID-19 impact on dropshipping and eCommerce in general, it also boosted the gaming industry and the gaming products niche. As more people with a strong interest and skills in games, computers, and technology sought out the best products for gamers, the pandemic led to an increase in the number of sales of gaming gear.
First of all, there are more than 3.2 billion gamers worldwide today. And it is estimated that this share will grow to 3.8 billion gamers worldwide by 2027. Just look at how fast the gaming industry has been growing during the last couple of years. For example, in 2017, there were around 2.4 billion video gamers.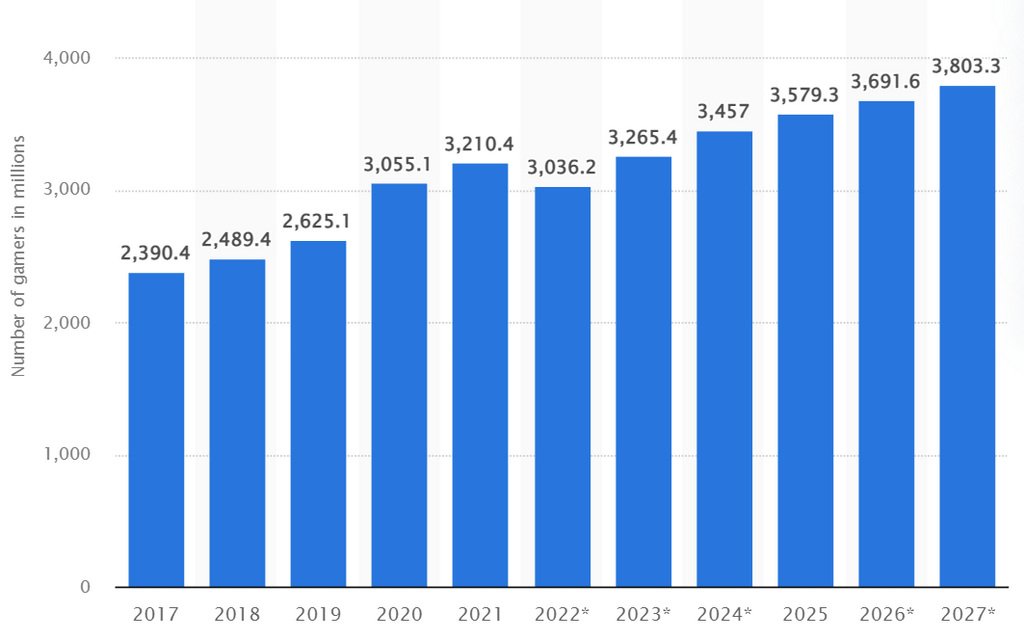 Gaming purchases have been increasing in popularity, and the COVID-19 pandemic caused this trend to accelerate in 2020 and 2021 while normalizing throughout 2022 as other activities became available again.
The second thing you need to consider when dropshipping gaming products is which market has a higher demand for these products. The higher the demand, the greater the number of potential customers. In 2022, the Asia-Pacific region accounted for 48% of the global gaming market, ahead of second-ranked North America with a 26% market share. Germany, the United Kingdom, France, Canada, Italy, and Spain are also among the top 10 gaming markets.
Thirdly, the global gaming market was worth over $184 billion in 2022. By the end of 2023, this share is foreseen to reach $200 billion.
The game market is seeing a resurgence which is only natural due to the enforced lockdown. The second-order effects are kicking in and we're seeing the adoption of all types of games increasing faster than expected.

Daniel Ndukwu, CoFounder of Getsolitaire
You also need to know that the gaming market, like any other niche, covers several sub-niches and sub-sub-niches, like mobile gaming products, PC gaming products, E-sports, and others where the PC gaming market is leading.
In 2022, PC and console revenues amounted to over $92 billion, which is not surprising, considering the prices of hardware, keyboards, chairs, and other gaming accessories. While there is a slight decline of 2.2% compared to the previous year, the gaming market's overall performance is still exceeding previous forecasts. With over one billion PC players and over 600 million console players, there are still plenty of dropshipping opportunities for growth.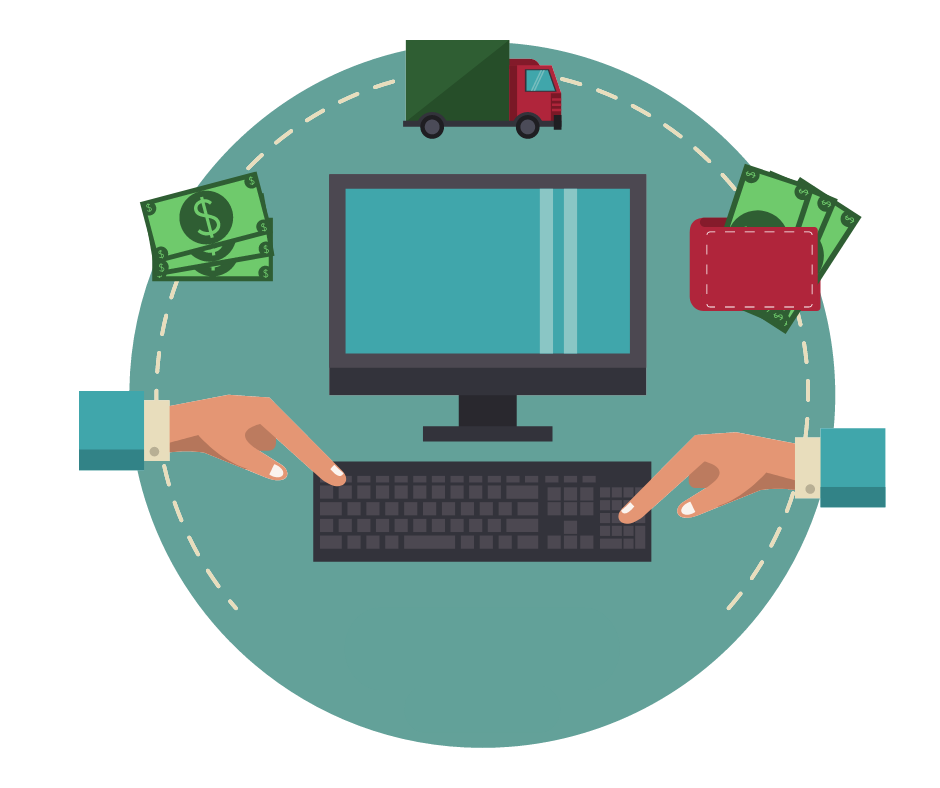 Not yet making money online?
Start your own dropshipping business. Sign up for a free trial of DSM Tool and we'll help you get started. Today is the day.
25 Best Dropshipping Gaming Products
Now that you know the important insights about this industry, let's go over the most popular gaming products to sell that can be highly profitable. We will take a look at the popular websites AliExpress and Amazon, but you can also source gaming products from other dropshipping suppliers.
We split dropshipping gaming products into the following categories:
Please note that we do not advertise any of the gaming products included in this list; you won't find links to them. These are just ideas of products to dropship gaming gear.
Let's get started!
1. Gamers Headsets For Dropshipping
Computer gamers need a decent headset (or gaming earphones, if you prefer) for online gaming. Without it, they can't have a solid chance to trash talk with the opposition or build strategies with their community. It's no wonder that gaming headsets are the most popular type of gaming product in this niche and bring a significant number of sales.
Interestingly, gaming headsets are also useful tools in a work environment. If you decide to dropship gaming gear, consider adding a couple of gaming headsets to your eCommerce store. Their price range varies a lot, which gives you an opportunity to test different profit margins.
1. HAVIT Wired Gaming Headphones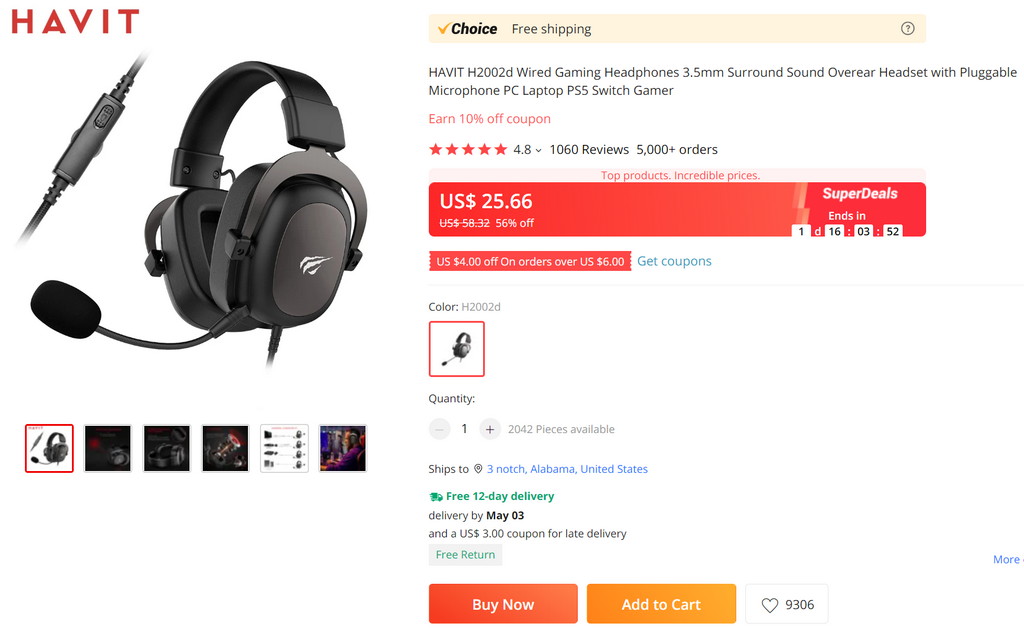 Virtual surround sound provides an upgraded level of audio precision that allows gamers not to miss any sound for fast action in games. A 360° adjustable built-in microphone provides a better voice chat. They are comfortable and ensure painless wearing with a great listening experience. This product is easy to use and compatible with Xbox Series X, Xbox Series S, Xbox One, PS5, PS4, Nintendo Switch, PC, Game consoles, and so on. You can target it as the best choice for games, online learning, and gifts.
Here is the same product when dropshipping on eBay: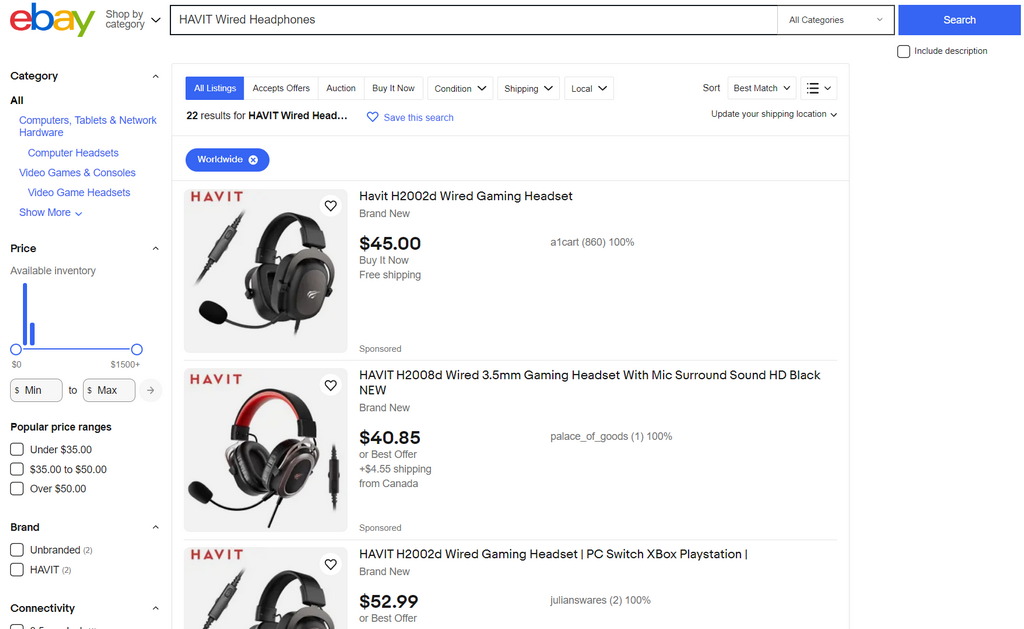 2. K2 Gaming Headphone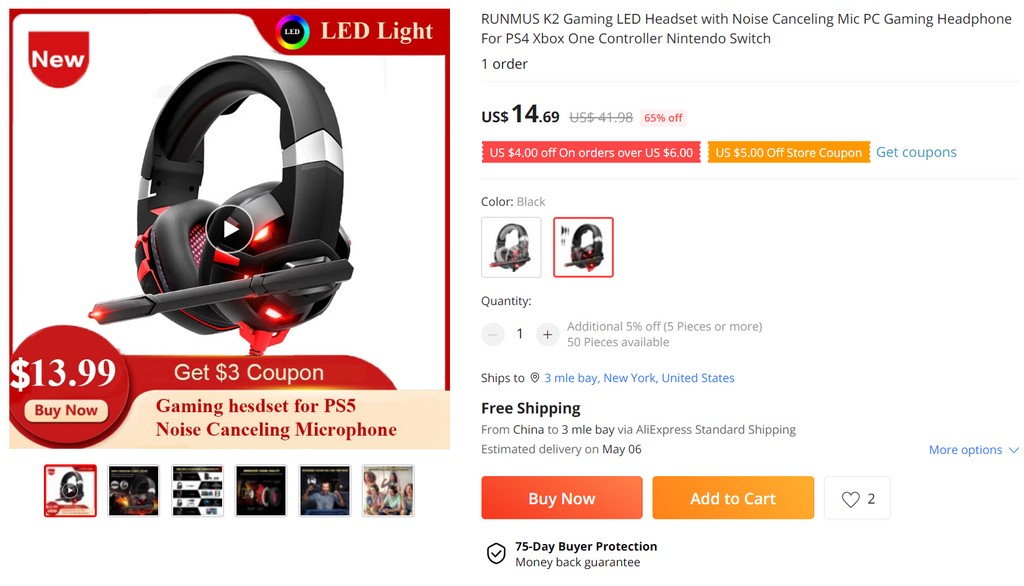 K2 Gaming Headset is another cool gaming product for dropshipping from AliExpress. This gaming headset offers high-quality sound and a built-in microphone to help gamers to communicate during their virtual journey. Its 360-degree stereo sound provides an immersive experience and a powerful rhythm. The headset is compatible with different devices like PS4, Xbox, mobile phones, tablets, and laptops (with a 3.5mm combo headphone/microphone port). The simplicity is what makes it cool and appealing to gamers.
The same products dropshipped on eBay: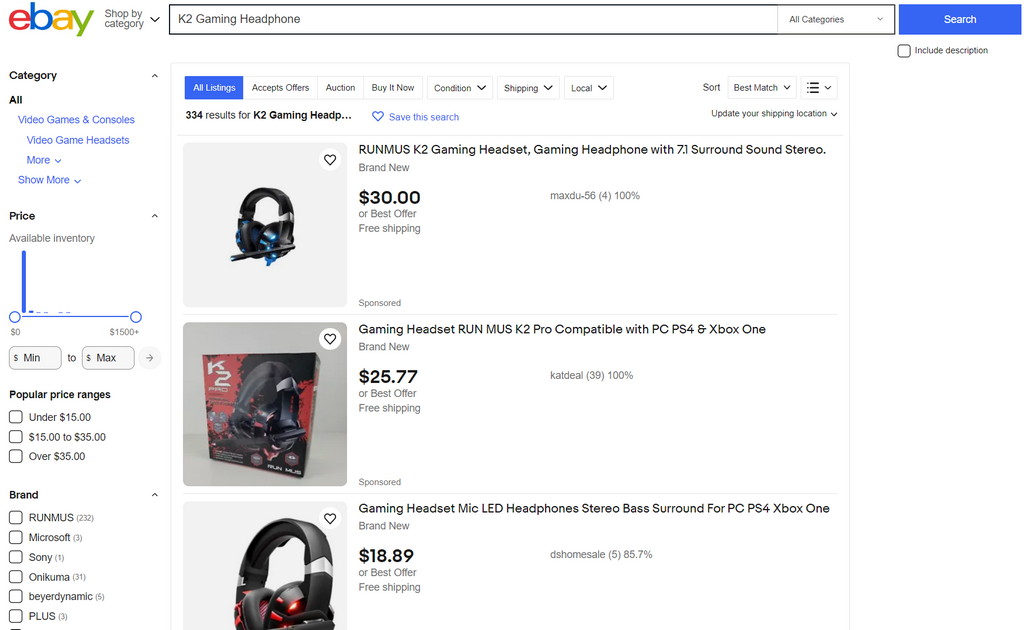 3. BENGOO G9000 Stereo Gaming Headset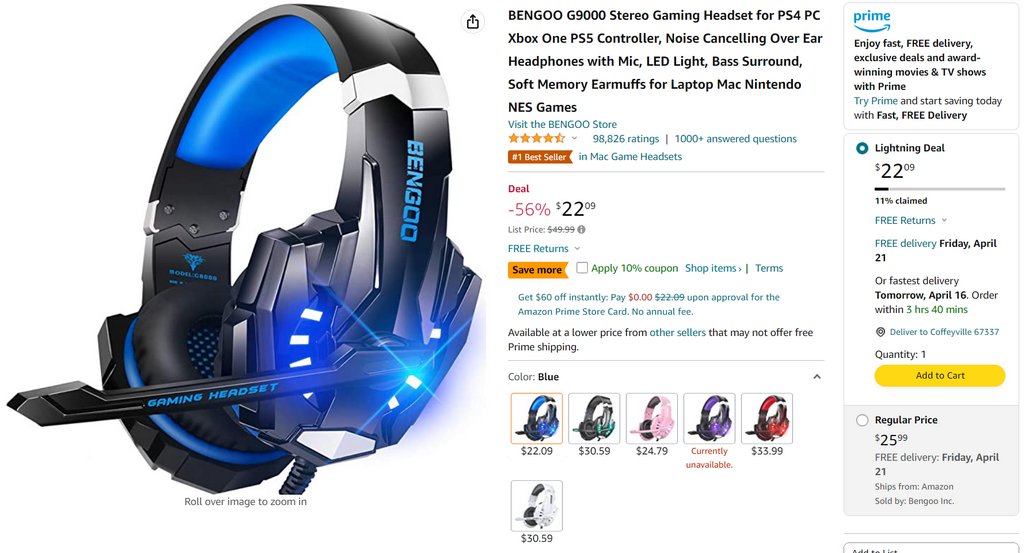 Here is another cool gaming product for dropshipping. It features a surround stereo subwoofer that delivers a clear sound with powerful bass and exceptional ambient noise isolation, providing gamers with an immersive sound field, excellent sound clarity, and a powerful shock effect.
What's more, fans of various games such as Halo 5 Guardians, Metal Gear Solid, Call of Duty, Star Wars Battlefront, Overwatch, World of Warcraft Legion, and more have praised its high quality, superior noise-isolating microphone, and comfortable and ergonomic design that reduces hearing impairment and sweat. Gamers also love the LED lights on the earcups that create an exciting gaming atmosphere.
A perfect example of a popular product used for dropshipping from Amazon to eBay: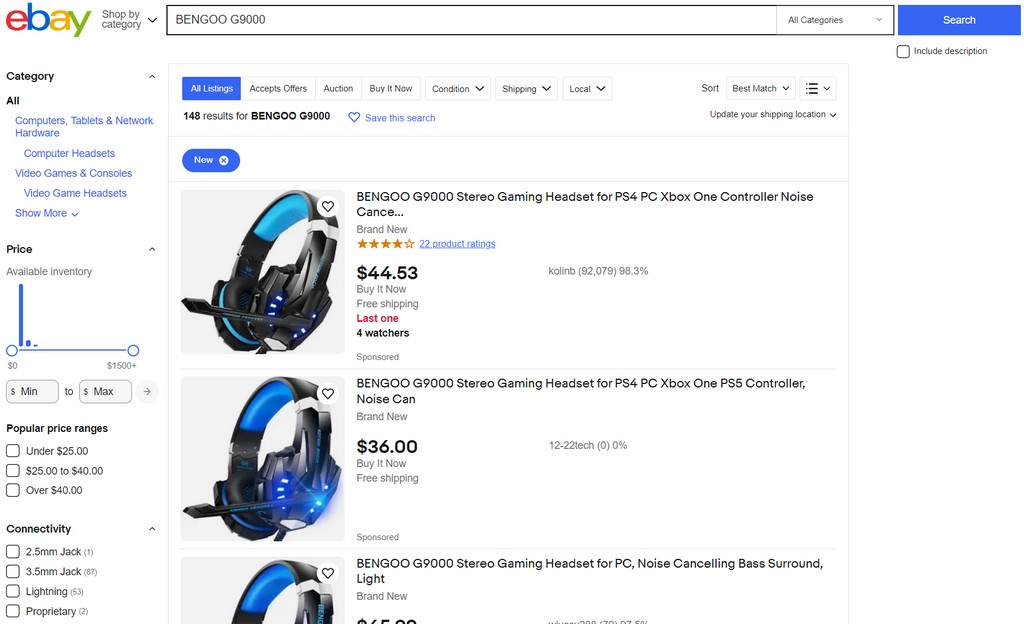 TIP
Don't forget to include its main advantages in the product description of your listing to catch more potential buyers and gain more traffic!
4. Logitech G432 Wired Gaming Headset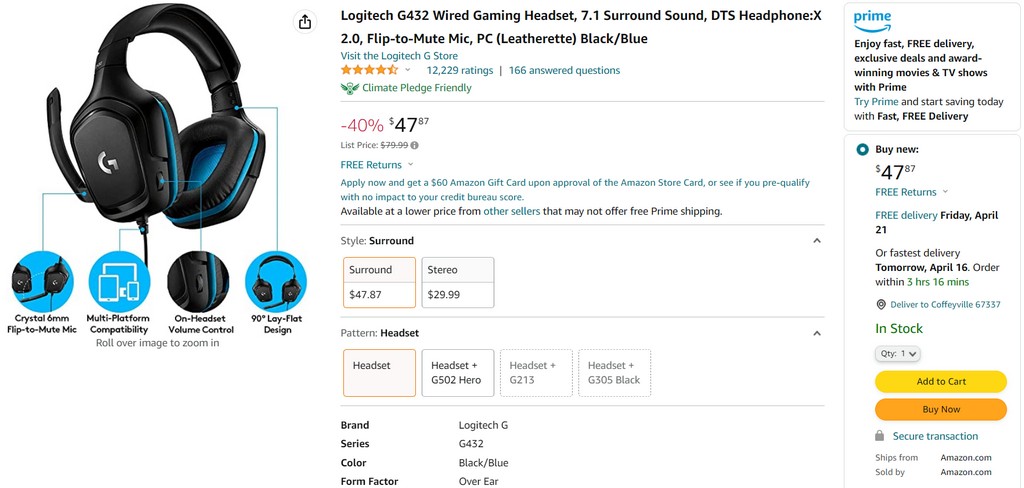 These headphones produce great sound for a more immersive gaming experience. It has volume control at your fingertips. It's comfortable to wear and compatible with various platforms. Thanks to the Logitech G HUB, the player can detect a sneaking enemy, understand that the enemy is using special abilities, or simply enjoy the sounds of the surrounding world – in a word, hear everything that is happening around.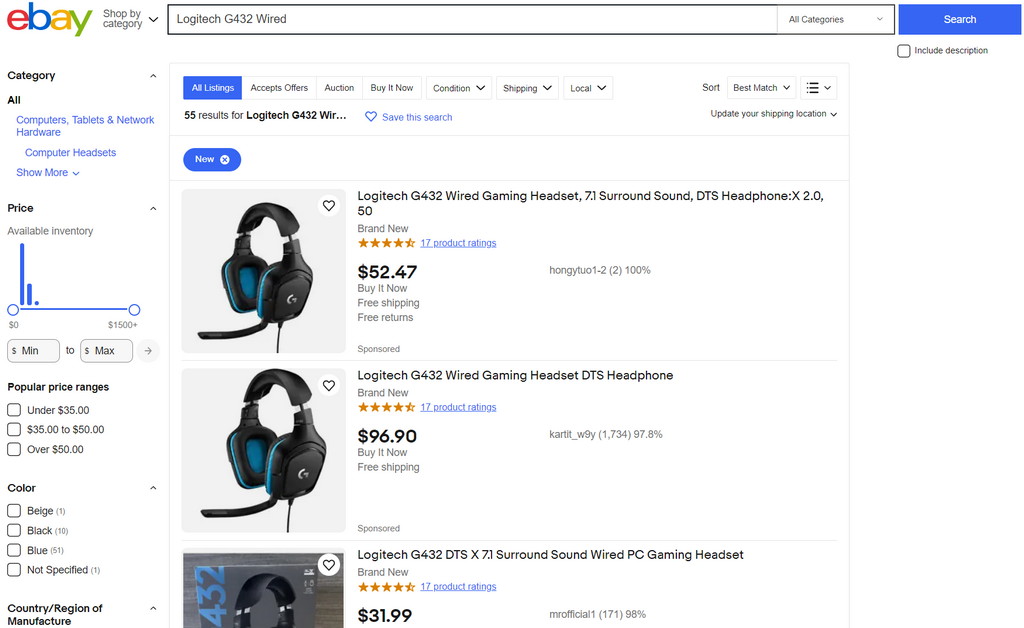 5. Razer Kraken Tournament Edition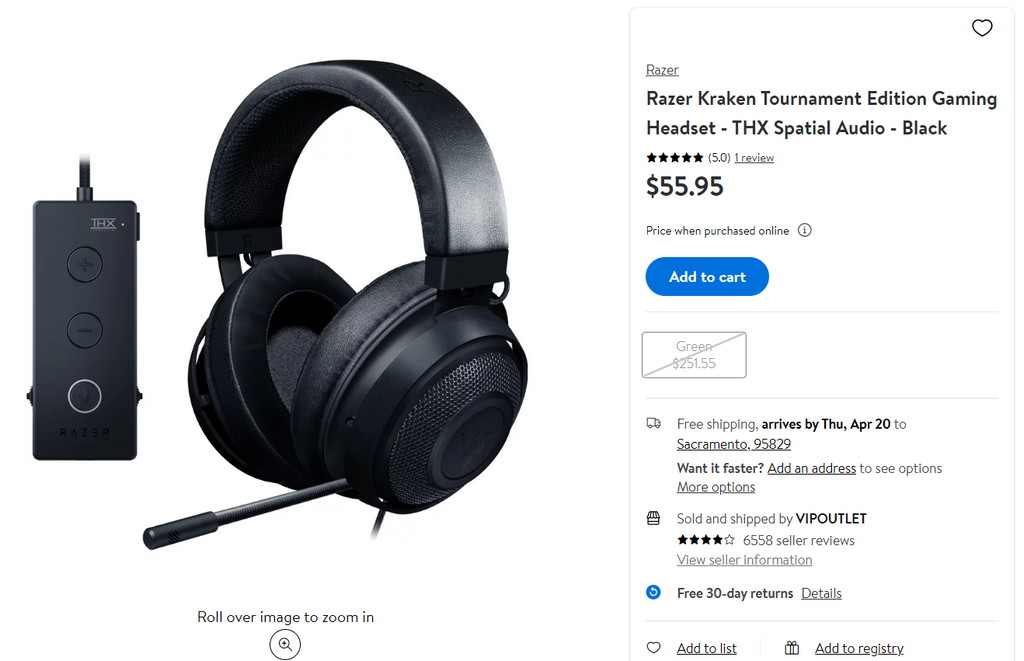 It is the first gaming headset with THX Spatial Audio technology, which creates precisely positioned 360-degree sound around the gamer for maximum orientation in his gaming environment with the possibility to customize the perfect immersion and communication experience.
Moreover, the earpads are designed for ultimate comfort with a cooling gel layer, heat-transfer fabric, high-quality memory foam, and hidden "eyewear channels" to relieve pressure on the gamer's temples, making it the ideal dropshipping gaming product for glasses wearers.
This is an example of a gaming product for dropshipping from Walmart to eBay: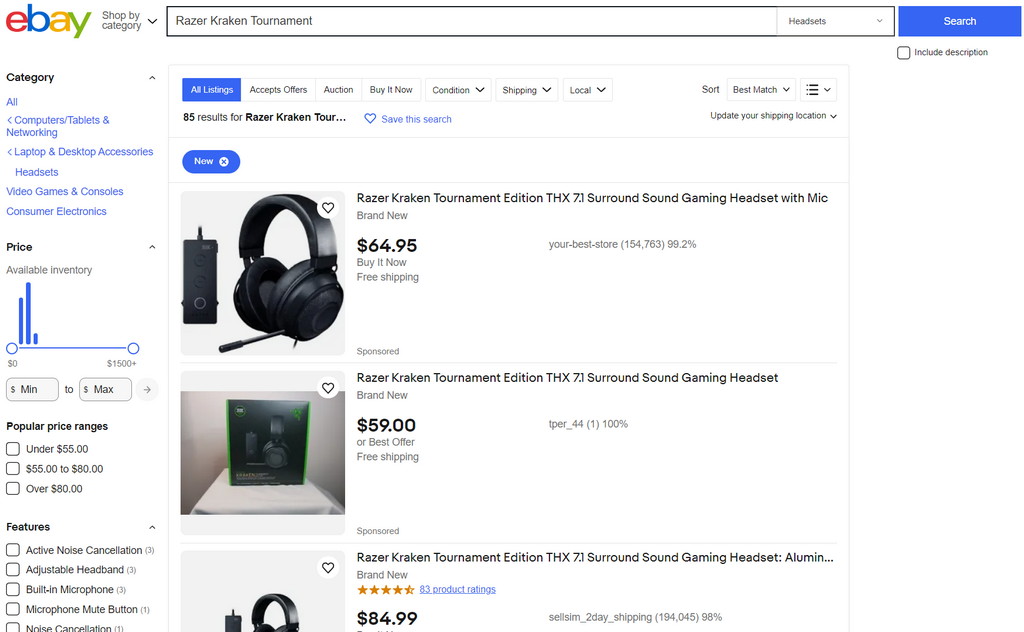 2. Gaming Mice Dropshipping
Picking a gaming mouse is quite a personal endeavor and very often one. Gaming mice are the second most popular gaming products to sell, which makes it perfect for adding them to your list of dropshipping niche ideas. Everyone's hands are different, as do preferences and needs, and we all play different games. But we're lucky to live in the golden age of gaming mice, with major manufacturers pouring engineering muscle into one-upping each other. The result is a market loaded with high-quality yet relatively inexpensive gaming mice.
The best gaming mice should provide your customers with extra accuracy and bold response and emit smooth and accurate movements with sensitive sensors and ergonomic handles. Let's see some gaming product examples you can sell in your eBay, Shopify, or Facebook dropshipping store.
1. Professional 5500 DPI Gaming Mouse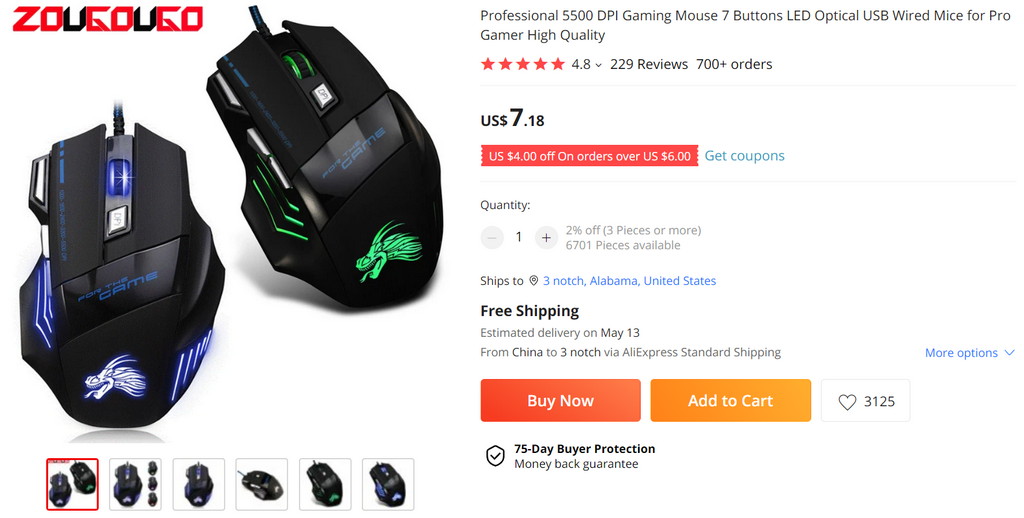 This gaming mouse design fits the palm to the maximum extent and offers exceptional comfort for the hand. Its LED-backlit design looks just amazing, especially in the dark. It is a popular dropshipping gaming mouse that meets all the needs of work or gaming with five adjustable DPI levels: 5500/3200/2400/1600/1000. The biggest advantage is the number of buttons: X7 buttons (left / right / scroll wheel / DPI / forward / back / double click). It is compatible with Windows XP/7/8/10 and the latest.
Here is this gaming mouse dropshipped on eBay: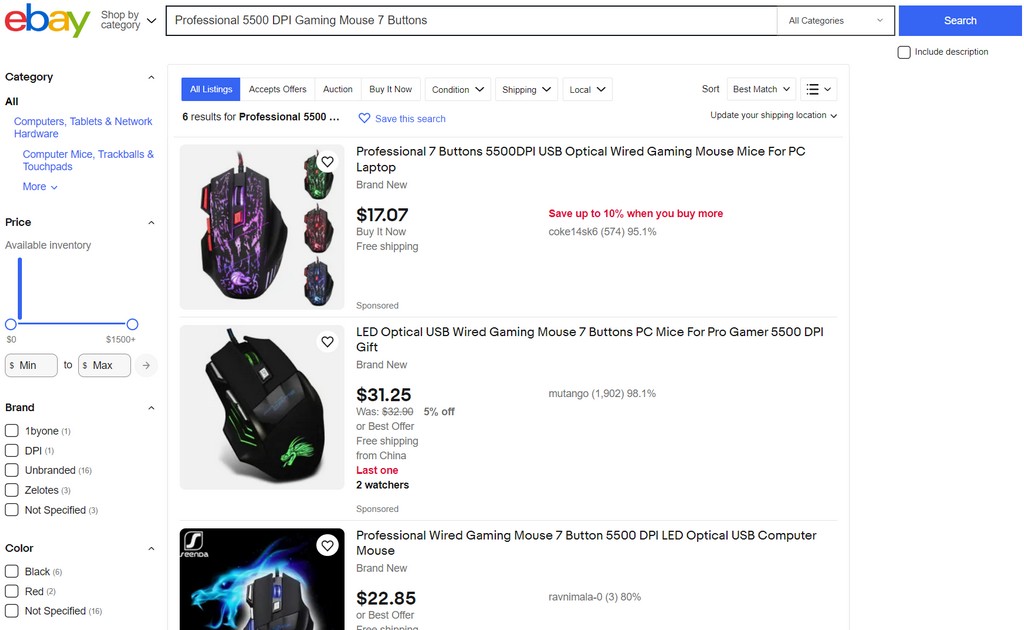 2. Razer DeathAdder Essential Wired Gaming Mouse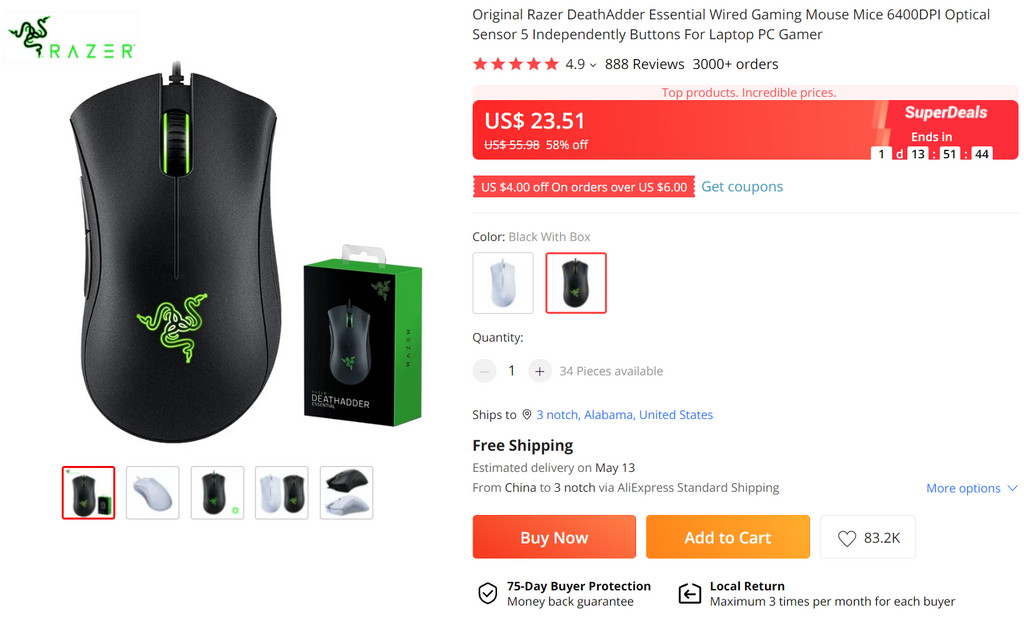 The next gaming product for dropshipping gives a whole NEW level of performance. Yes, it still maintains the iconic ergonomic shape, which is so loved by many gamers, because this design makes it comfortable to use during extensive campaigns without sacrificing performance, so the character always goes resolutely in battle. It contains a 6400 DPI optical sensor for fast and precise tracking and five buttons that can be mapped for quick access to frequently used functions.
And here is the same product used for Walmart dropshipping: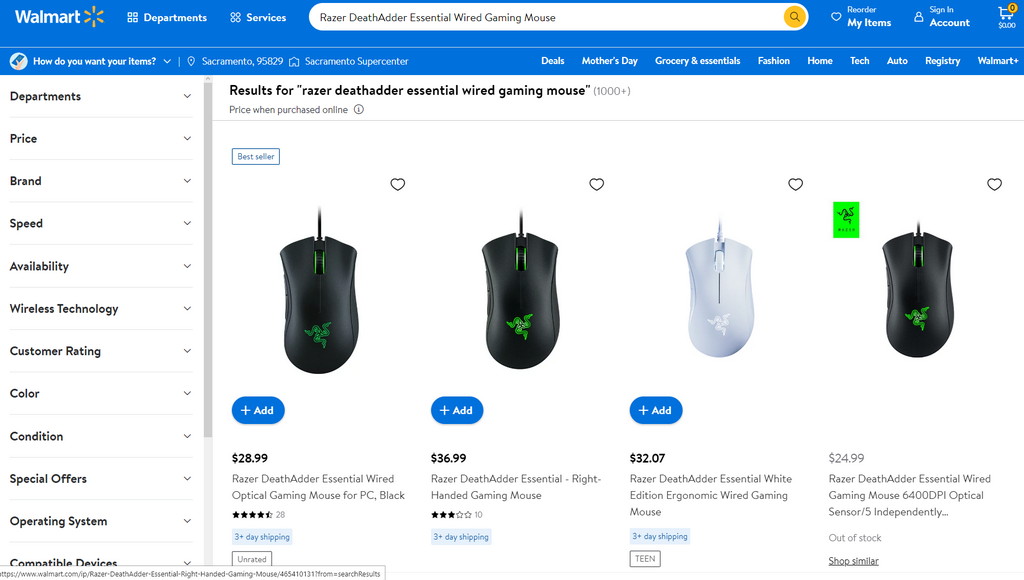 3. Razer Viper Mini Gaming Mouse 61g Lightweight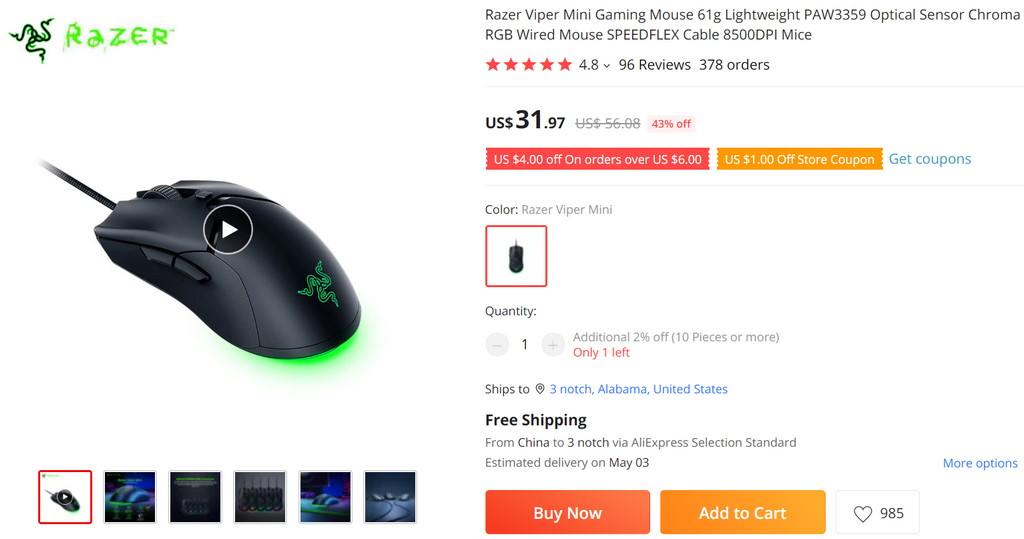 The Razer Viper Mini 61 gaming mouse is a popular and highly rated option in the world of gaming mice. Its impressive 8500 DPI optical sensor provides precise and fast movement tracking. The mouse is also lightweight, weighing just 61 grams, making it ideal for fast-paced games that require quick reflexes.
The Viper Mini also features six programmable buttons that can be customized to fit the user's needs and playstyle. Also, it has Razer's signature Chroma RGB lighting, which allows users to customize the mouse's lighting to match their gaming setup. This dropshipping gaming product is often included in different best gaming mice ratings for several years.
Here are some of the listings on eBay: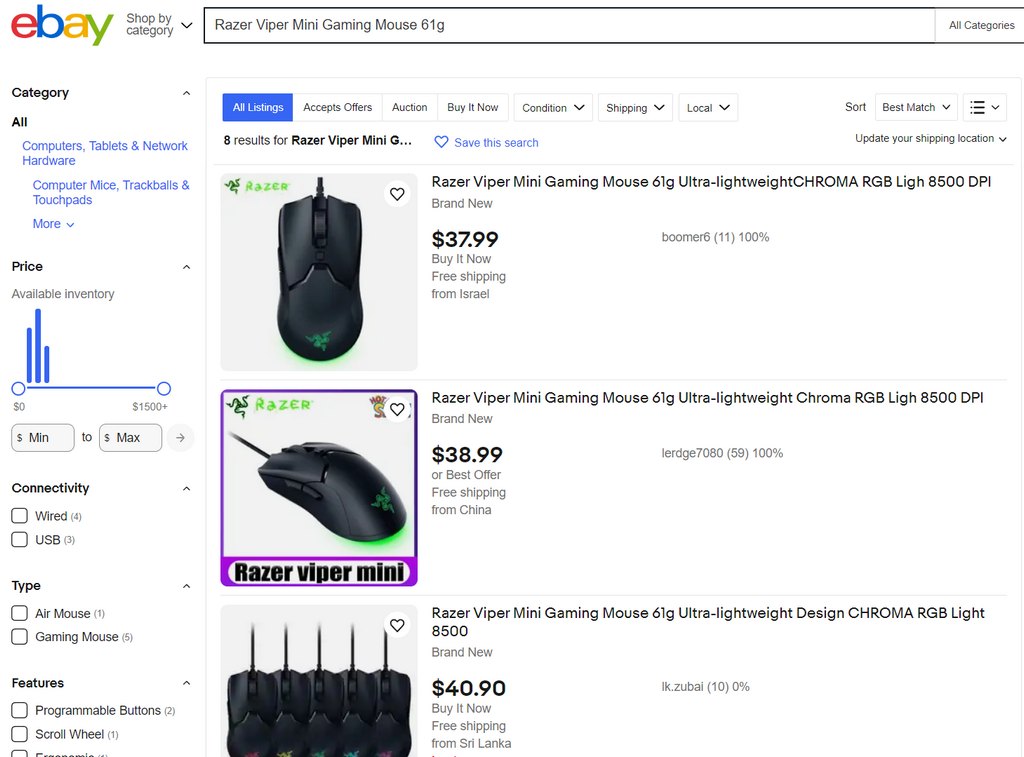 4. Logitech G502 HERO Wired Gaming Mouse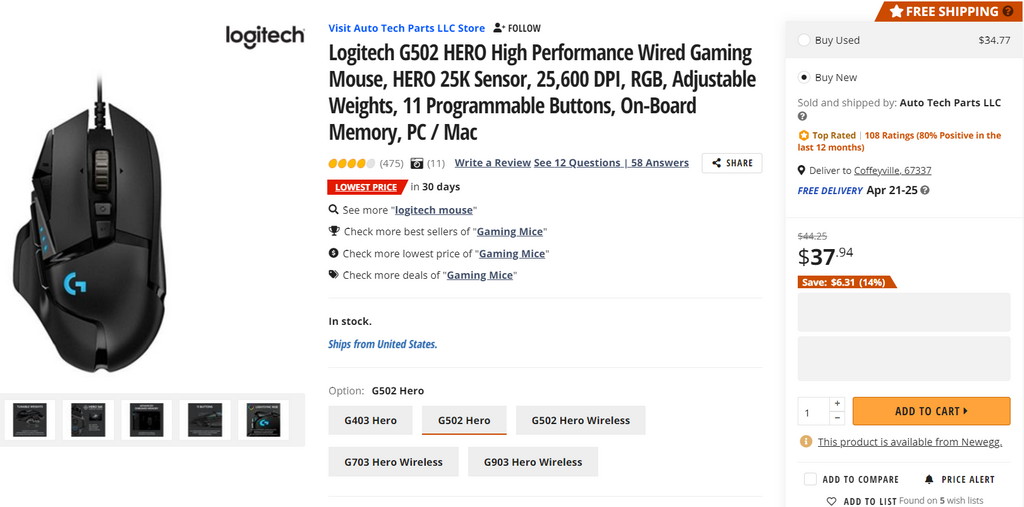 It is definitely one of the most popular gaming products to sell because it is highly efficient, and the customizable design features high build quality and thoughtful detail, which guarantee a high level of pleasure from gaming.
True gamers will go crazy about 11 customizable buttons and onboard memory: building, ducking, dodging bullets, fighting hand-to-hand, and recovering from wounds have become easier than ever – now all you need to do is press a button. Memory options are also incredible.
You can source it from NewEgg for reselling on Amazon: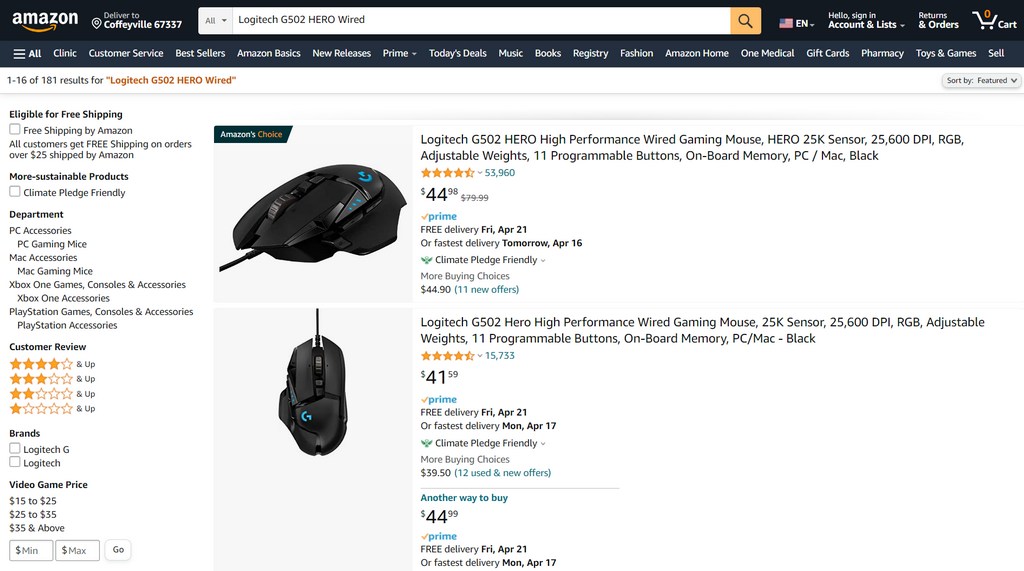 5. SteelSeries Rival 3 Gaming Mouse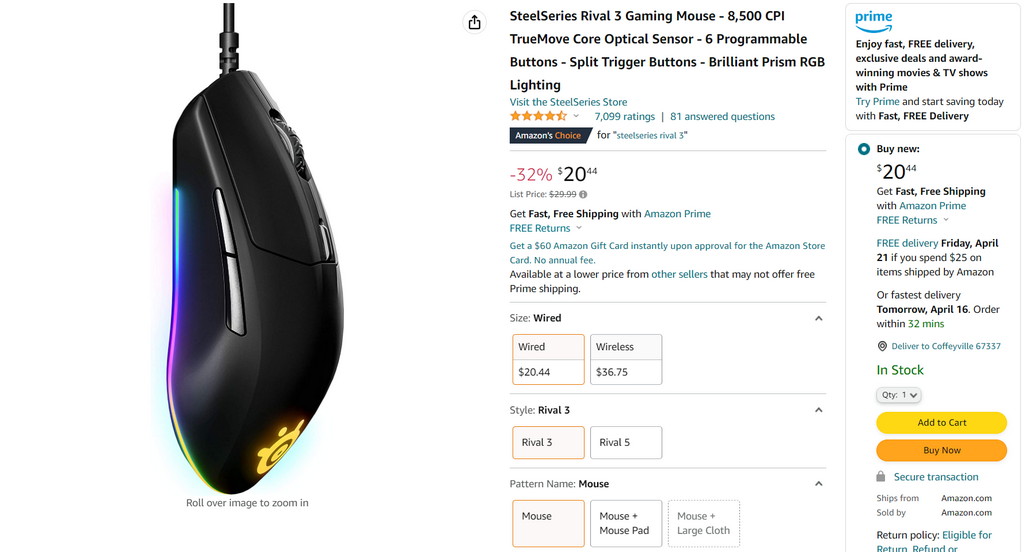 The SteelSeries Rival 3 Gaming Mouse is a popular gaming mouse designed for serious gamers who require high performance and precision in their gameplay. It is equipped with a TrueMove Core Optical Sensor that provides accurate and precise tracking for both slow and fast movements, making it ideal for FPS, MOBA, and Battle Royale games.
It has a maximum sensitivity of 8,500 CPI and a polling rate of 1000 Hz, ensuring smooth and responsive movement. One of the standout features of the Rival 3 is its six programmable buttons that allow gamers to customize their gameplay and have easy access to frequently used commands.
And here is this gaming product dropshipped on eBay: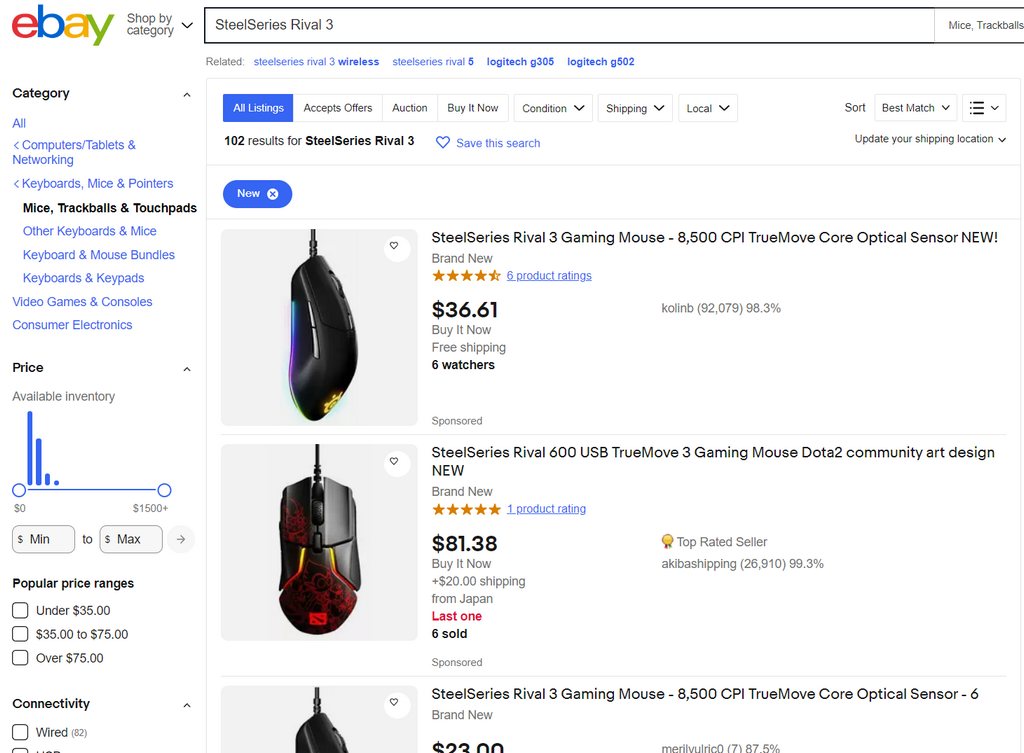 3. Gaming Controllers For Dropshipping
It's another gaming product niche idea you can pay attention to while doing dropshipping product research. Gaming accessories and controllers could be an excellent option, especially for e-sport and PC gamers. Responsive controllers are a must-have for serious gamers, making them an essential and popular product to sell online. The booming gaming market and the increasing number of players worldwide make this a vast potential customer base.
The range of products in this niche is extensive, from basic controllers to advanced gamepads with customizable features. Here are some popular gaming products to sell in this category:
1. 2.4G Controller Gamepad Android Wireless Joystick Joypad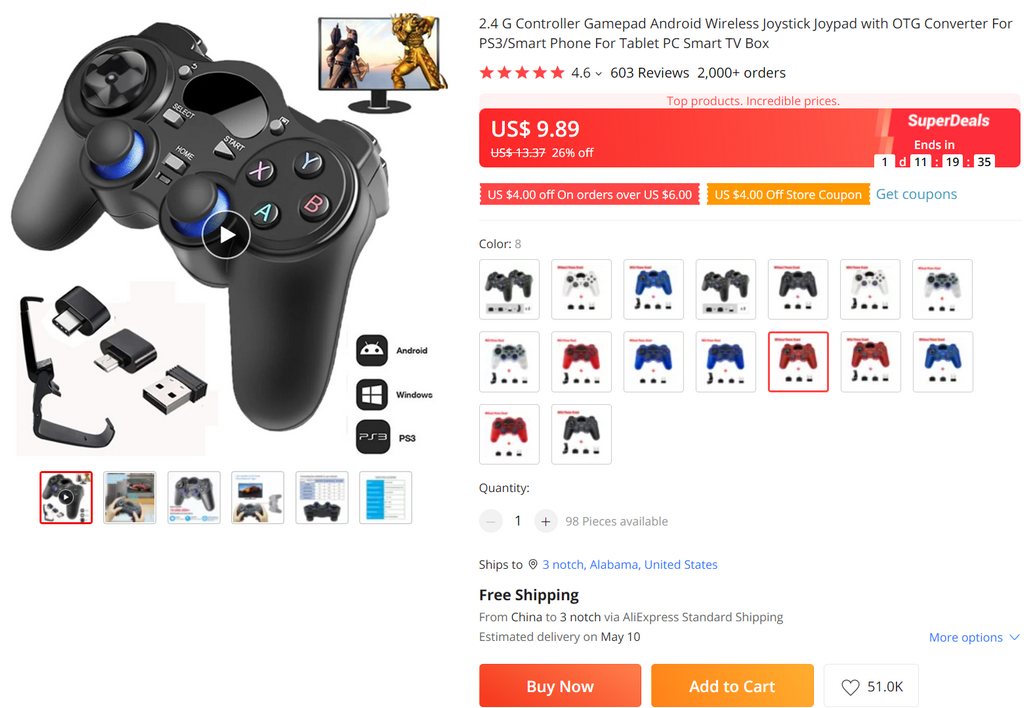 Get a retro vibe by playing your favorite games in retro mode! This controller enables gamers to play their favorite PC games by simply plugging it in. No additional drivers are required. Its wireless transmission technology allows for immediate downloading of the support handle game and connecting it to your phone. It's compatible with many different platforms, including PC, iPad, TV box, smart TV, PS3, and all types of Android smartphones. High-quality materials ensure reliability and provide fast charging and data transfer.
You can make a good profit margin by dropshipping this gaming product on eBay: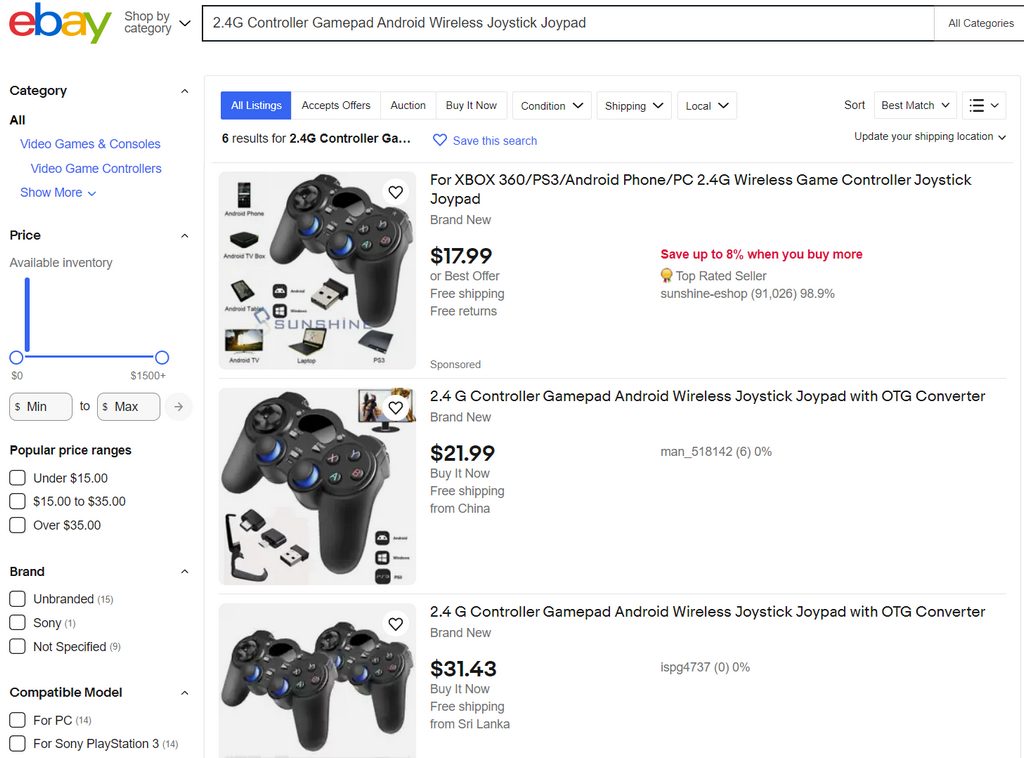 2. Logitech F310 Wired Gamepad Controller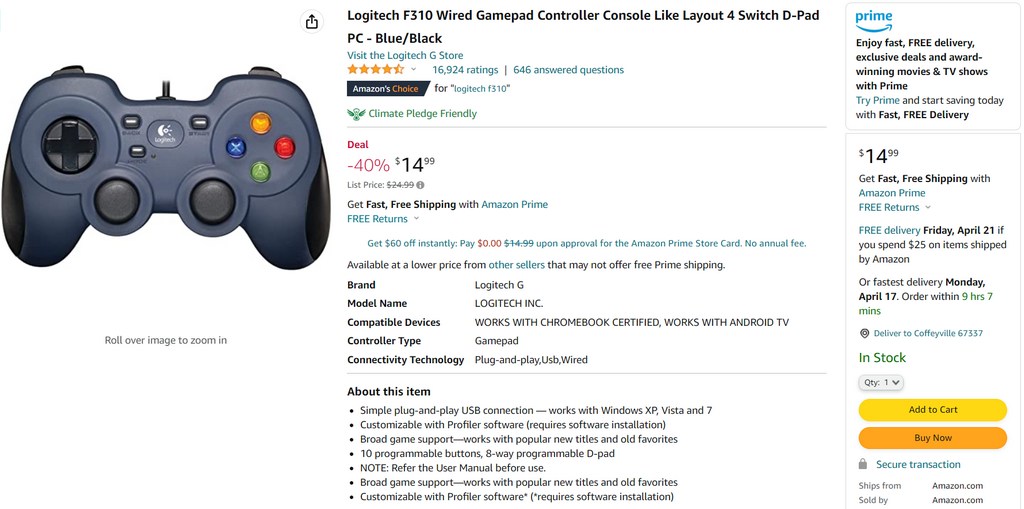 This gaming mouse is a low-cost gamepad especially designed for PC gaming sessions. Firstly, this controller has a carefully thought-out weight design, created for comfortable grip/holding by hand, and does not slip during the most intensive performance thanks to molded rubber grips.
It features a traditional gamepad layout with ten programmable buttons, a D-pad, and dual analog joysticks. The controller connects to PCs via USB and does not require any special drivers or software to be installed. It's designed to work seamlessly with most Windows operating systems, including Windows 11, 10, 8, and 7.
This gaming product is perfect for dropshipping from Amazon to eBay: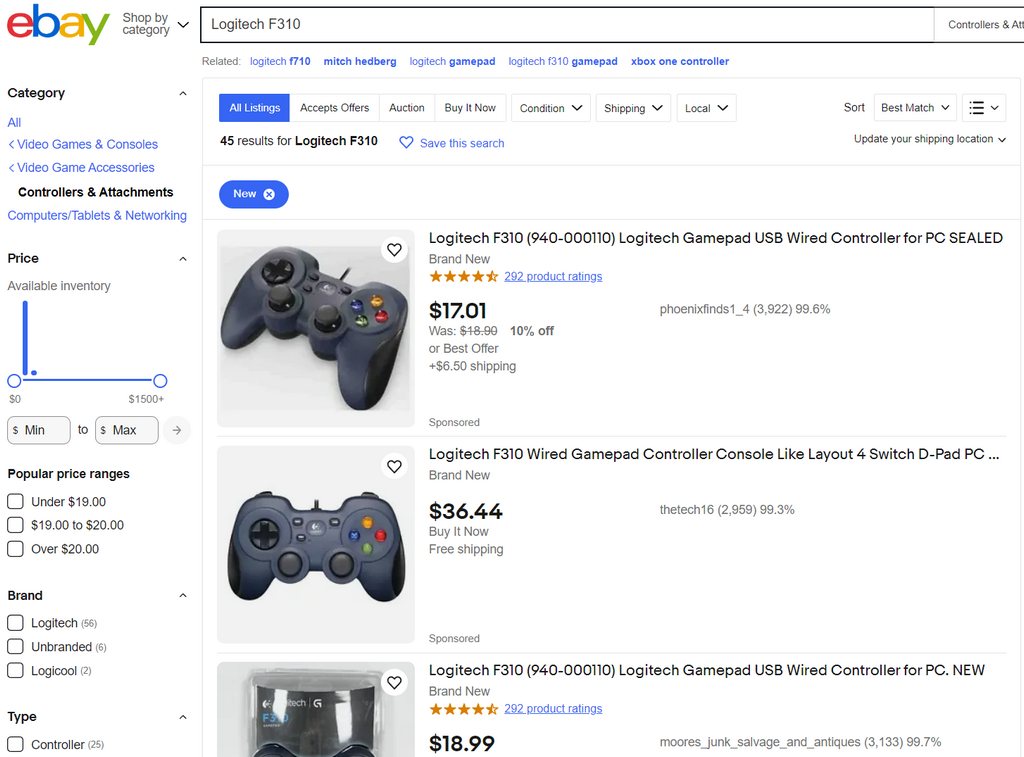 3. RIBOXIN 2.4G Wireless Controller for Xbox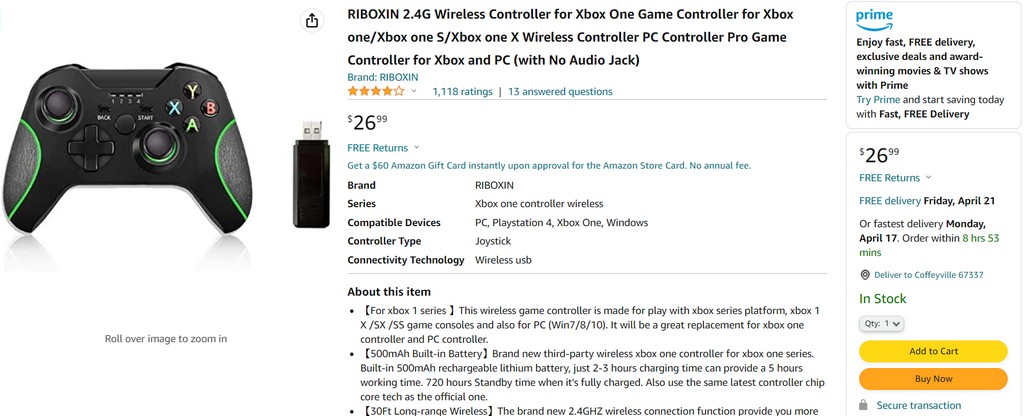 This product is popular among gamers due to its superior automatic connection. Thanks to its high-performance chips, this gamepad offers better stability and precision during gameplay, with 360° control. The controller's ergonomic design and lightweight construction make it comfortable for long gaming sessions. Gamers will enjoy greater precision, comfort, and control with no wires or mess – simply connect wirelessly to your device and start playing. Very cool gaming product for dropshipping!
This is a perfect candidate for gaming gear dropshipping on Walmart: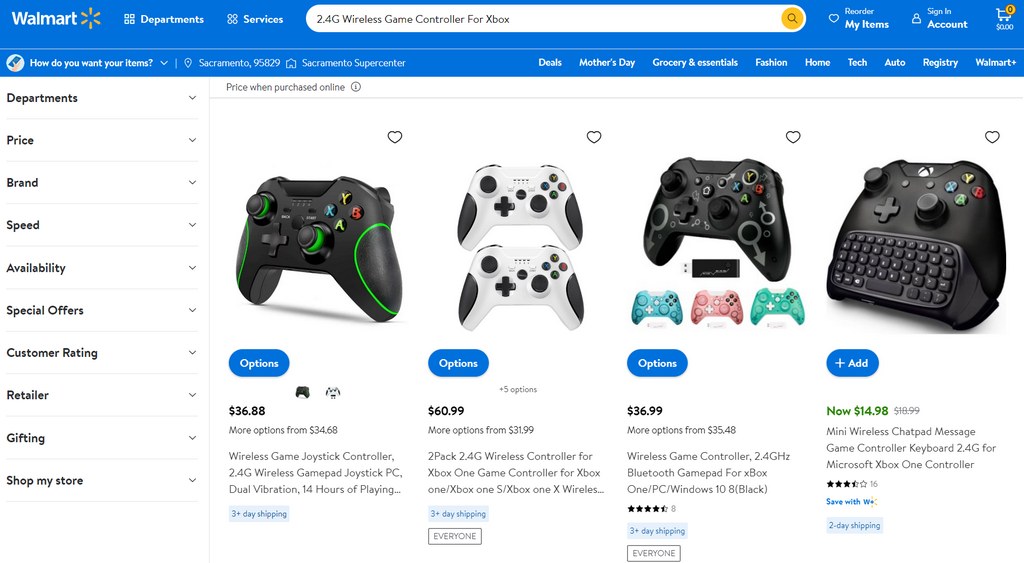 4. GameSir T4 Pro Wireless Game Controller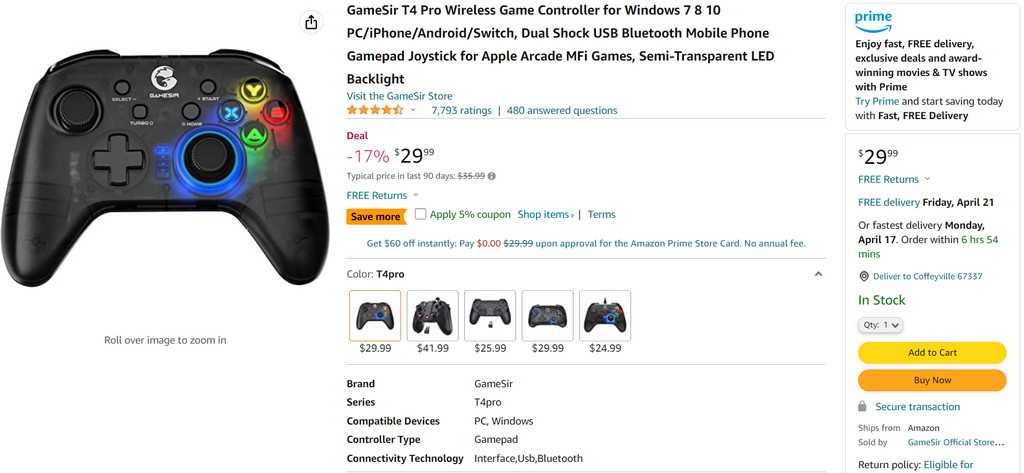 This gaming product for drop shipping is equipped with a six-axis gyroscope to support somatosensory control, which can sensitively capture the player's actions and accurately reflect them in the game. A more precise operation means that it is easier to surpass the opponent. You can offer the gamers to create their own personalized configuration and conquer other players with the help of it!
The same controller on eBay: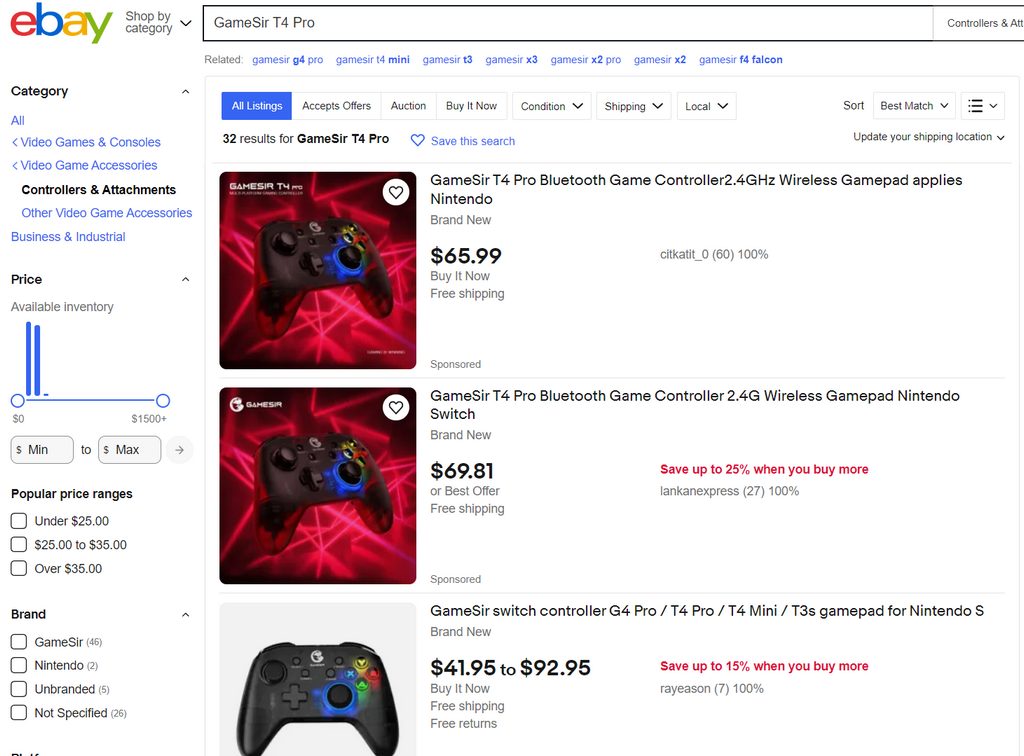 5. Xbox Core Wireless Controller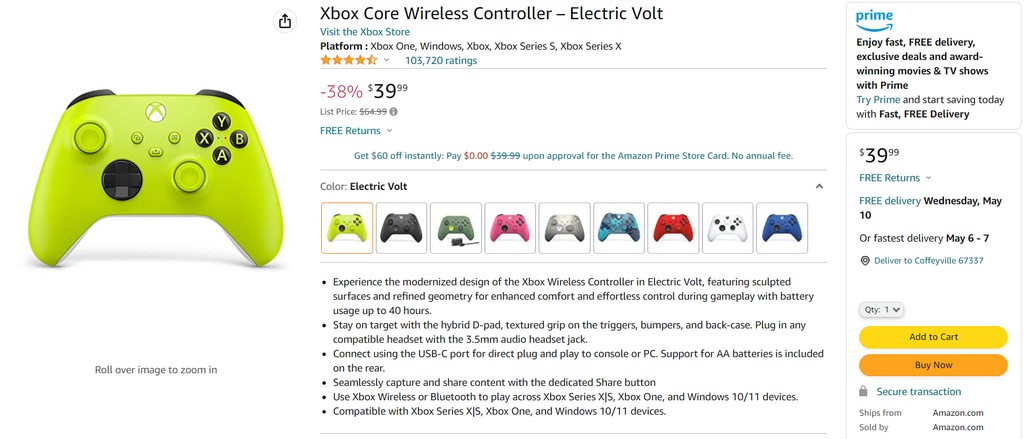 Xbox Wireless Controller is a popular dropshipping gaming product that works equally well with both the Xbox One game console and PC. The wireless design significantly improves everyday comfort. This game controller has carefully thought-out ergonomics, with grips perfectly textured for a comfortable grip during gameplay (with battery usage of up to 40 hours). The special impulse buttons make it possible to experience completely new sensations. It realistically simulates the recoil when shooting in shooters and collisions in racing simulators.
Here is the same controller on eBay: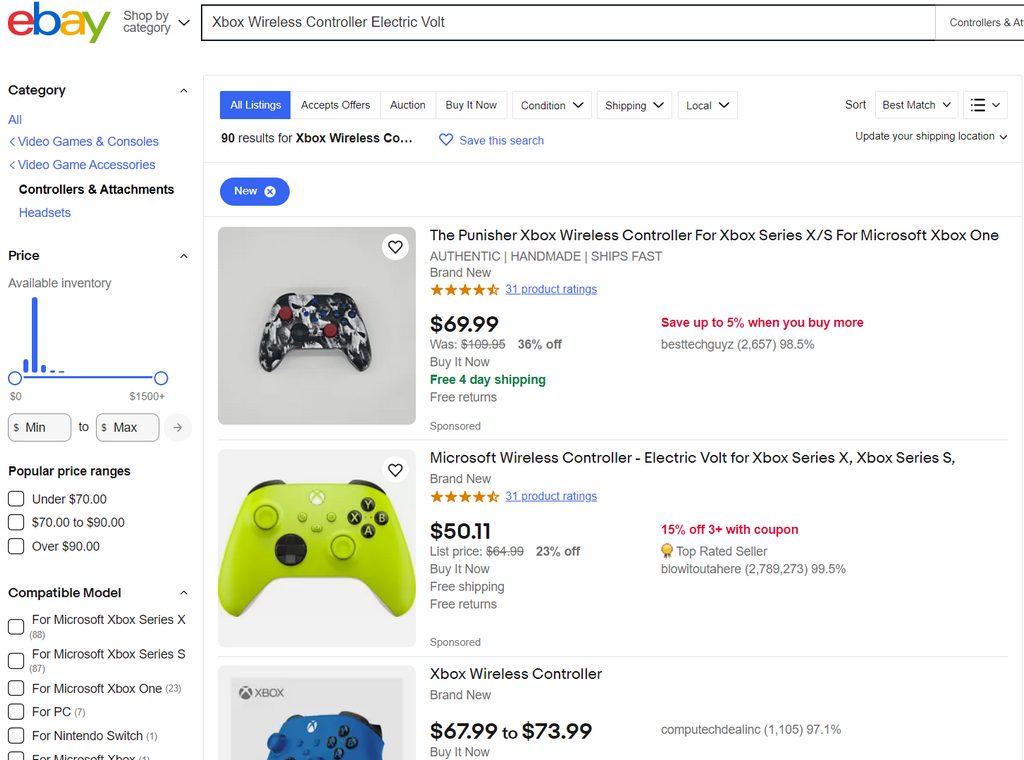 4. Gaming Keyboards

For Dropshipping
Keyboards are the 4th most popular gaming product in this niche. The first-class gaming keyboard along with a decent gaming mouse is essential equipment that most PC gamers play with. So it makes sense to dropship them together with keyboard accessories if you decide to sell in this eCommerce niche.
We know that keyboards come in all flavors and colors, but here is a list of the most popular keyboards you can sell online.
1. I8 Mini Wireless Keyboard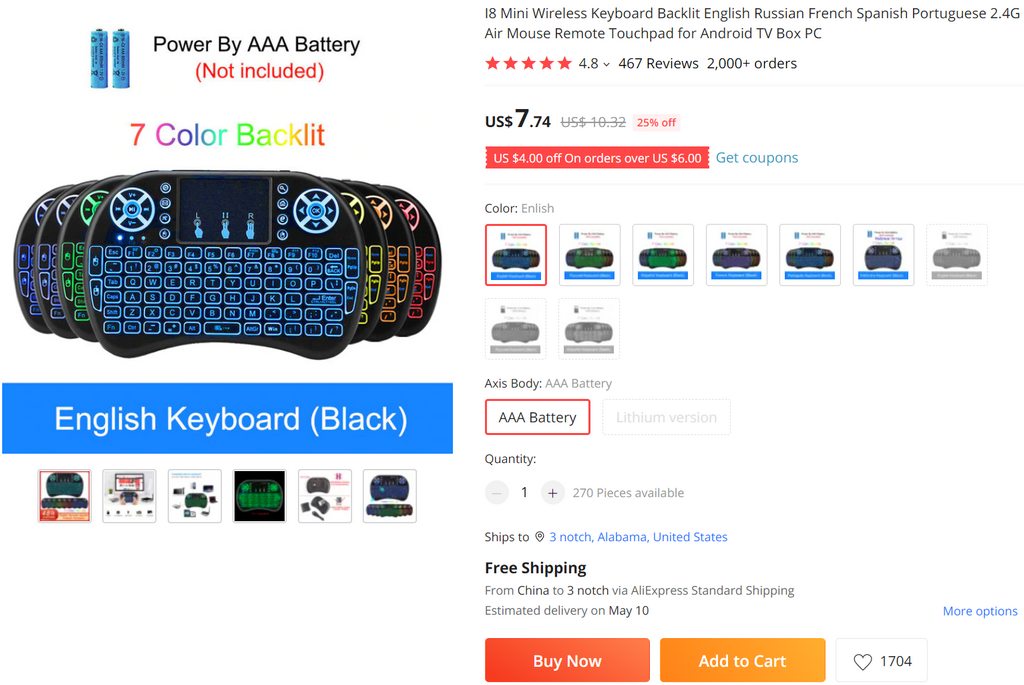 The keyboard is available in multiple language options to choose from, with a wireless connection and a portable size that allows for PC multi-media entertainment at home on a large TV or projector screen up to 3 meters. Weighing just 110g, this keyboard is very comfortable and lightweight, making it a convenient and efficient dropshipping gaming product suitable for non-gaming purposes: conferences, presentations, or lectures.
Just look at what profits dropshippers make with this product on eBay: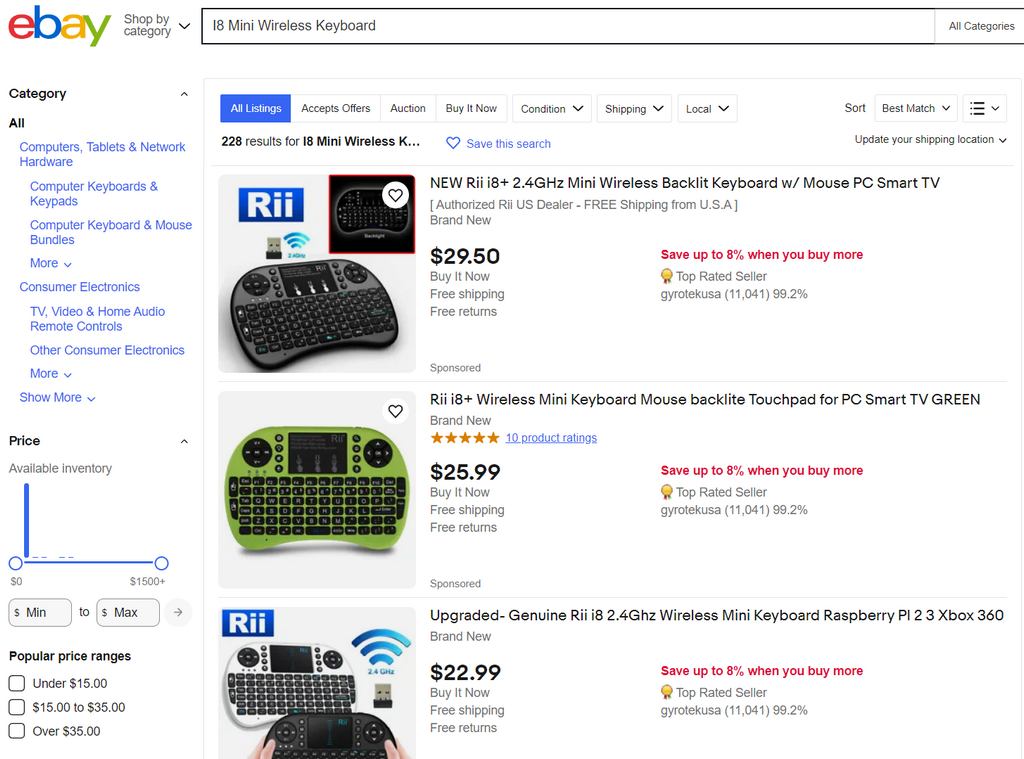 2. Metoo Edition Mechanical Keyboard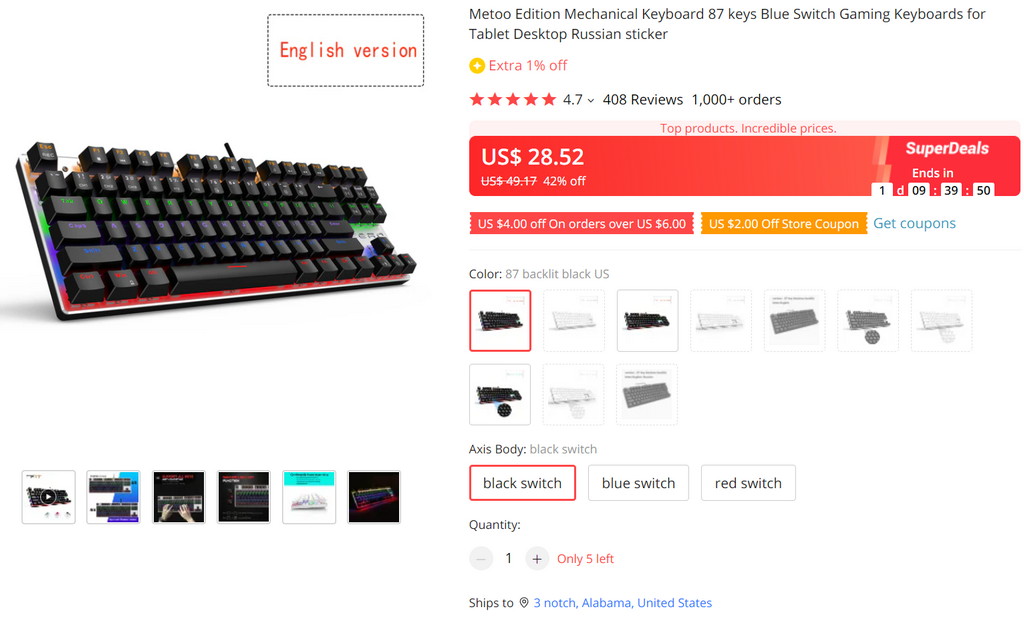 This backlit mechanical gaming keyboard is a popular choice among gamers due to its stylish design and high-performance features. The keyboard has a curved ergonomic design that fits the palm comfortably. It features a sturdy construction with an aluminum top plate and quality plastic bottom.
The built-in bright, colorful backlight offers 12 standard modes and three customizable ones. Each key has a resource of more than 50,000,000 keystrokes, providing increased comfort when typing and giving players a clear understanding of when keys are triggered during gameplay. This is one of the best gaming products to sell.
Check out these dropship gaming gear listings on eBay: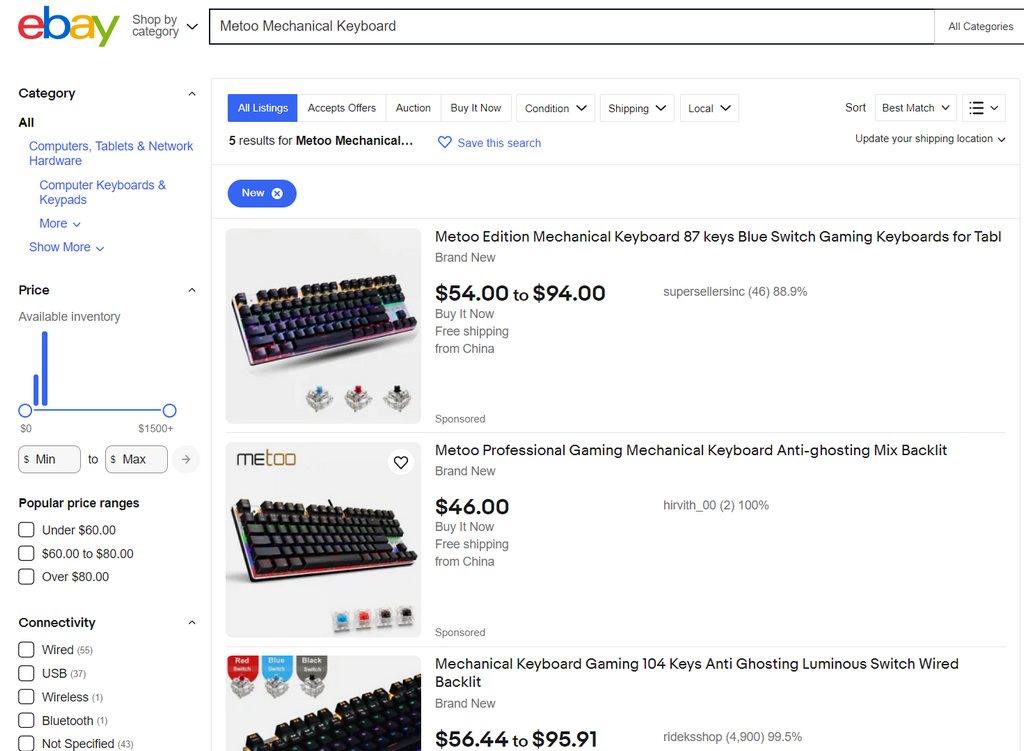 3. HyperX Alloy Core RGB Membrane Gaming Keyboard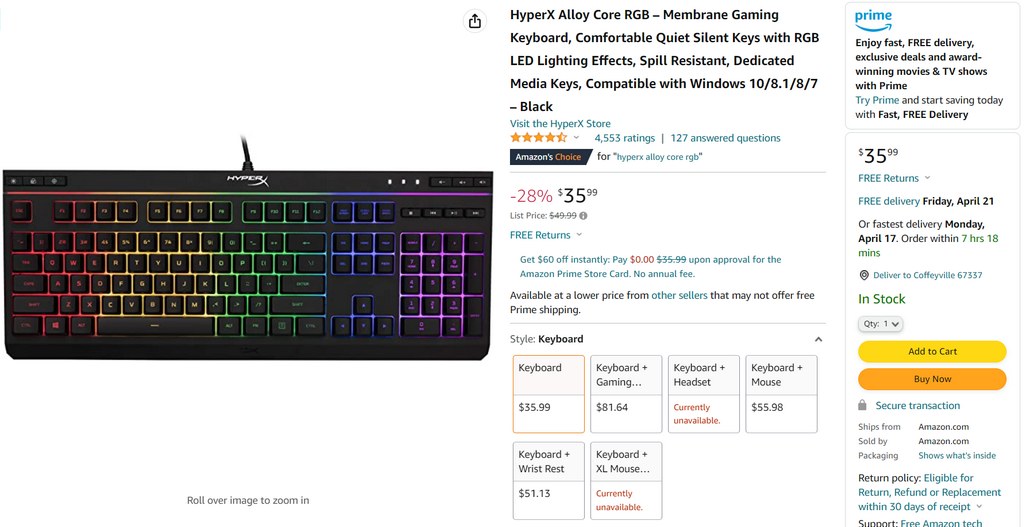 This keyboard with signature HyperX bright light bar and dynamic RGB lighting effects are ideal for gamers who want to add style and improve the performance of their keyboard without spending too much money. It features six lighting effects and three brightness levels. It's spill-resistant, so gamers won't face the problem of spilled drinks. And soft-touch keys have a tactile, quiet response.
Stylish, functional, and durable, the Alloy Core RGB keyboard is one of the perfect gaming products for dropshipping. It's one of the Amazon bestsellers for dropshipping in your e-store.
You can make good profits by dropshipping this gaming product on Walmart: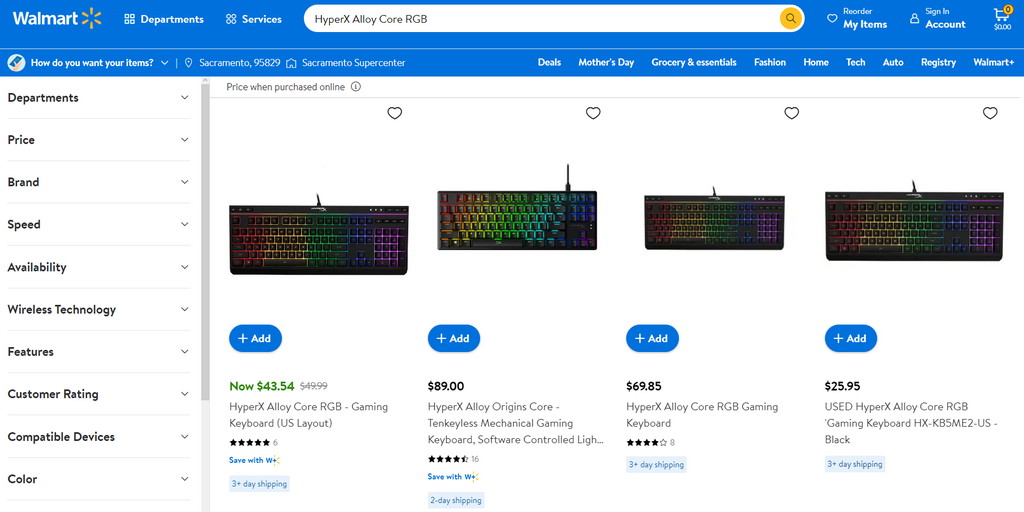 4. SKYLOONG GK61 SK61 Mechanical Keyboard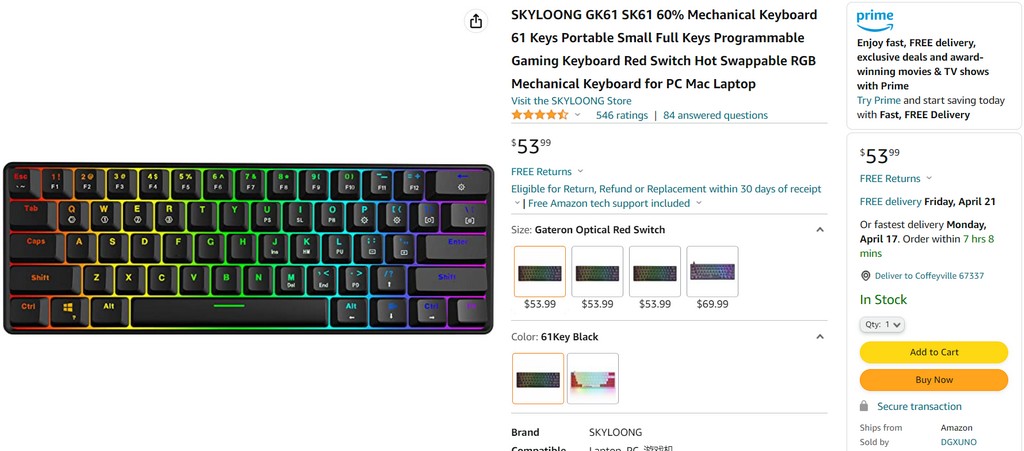 Here is another cool gaming product to sell, which has 16 million color combinations and multiple backlit modes. The tops of the keycaps are more textured and coated to be oil-resistant. It is adapted for all environments, Home & Office use, studying, and gaming. Gamers don't need any drivers. This keyboard reacts extremely quickly and is easy to plug in and start playing right away.
You can easily beat other listings on eBay by dropshipping this gaming product from Amazon: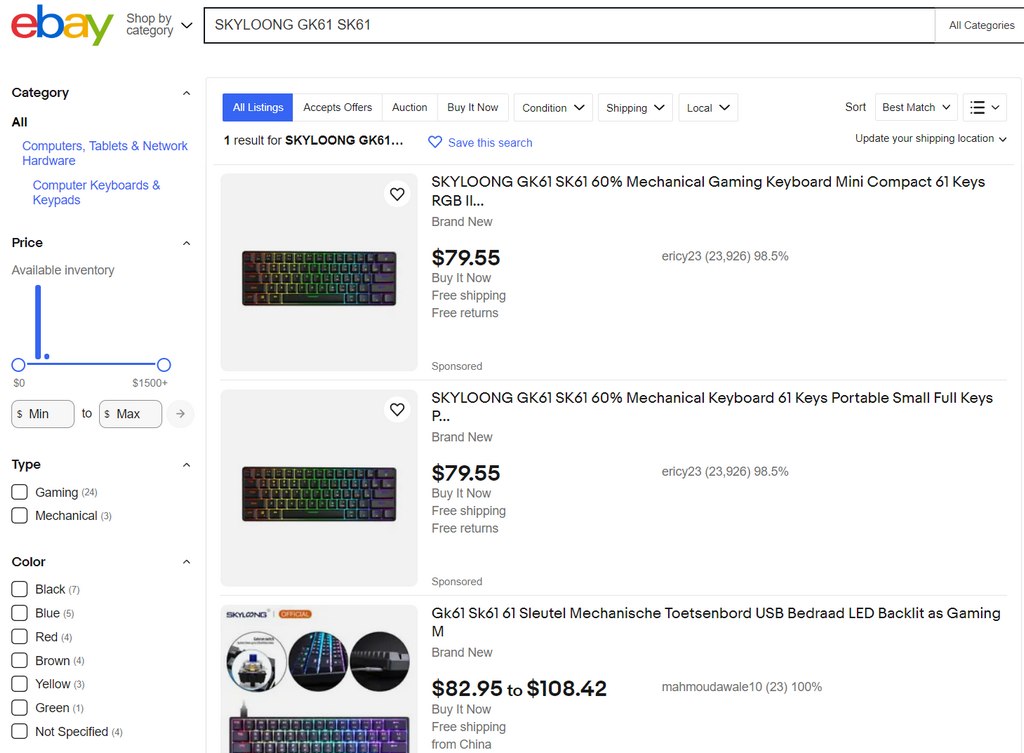 5. Corsair K100 RGB Mechanical Gaming Keyboard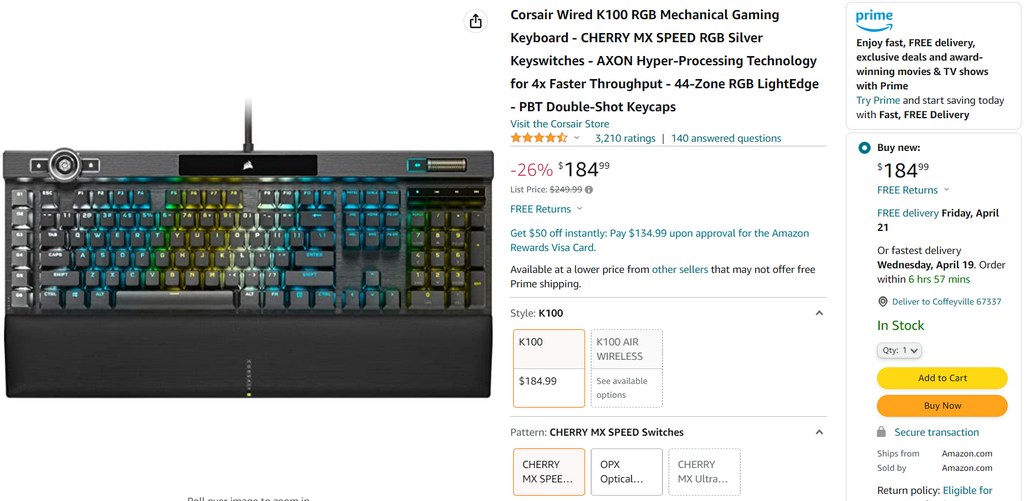 The incomparable CORSAIR K100 RGB Mechanical Gaming Keyboard costs far more than the previous examples. This high-ticket dropshipping product offers the cutting-edge performance, style, durability, and customization gamers need to stand above the rest. It combines stunning aluminum design, per-key RGB lighting with powerful CORSAIR AXON Hyper-Processing Technology, and CORSAIR OPX RGB key switches with a lightning-fast response. With Corsair AXON, it is 4x faster than standard mechanical gaming keyboards. It's hard to improve upon perfection. Corsair's trying, though.
This keyboard just begs to be drop shipped on Walmart: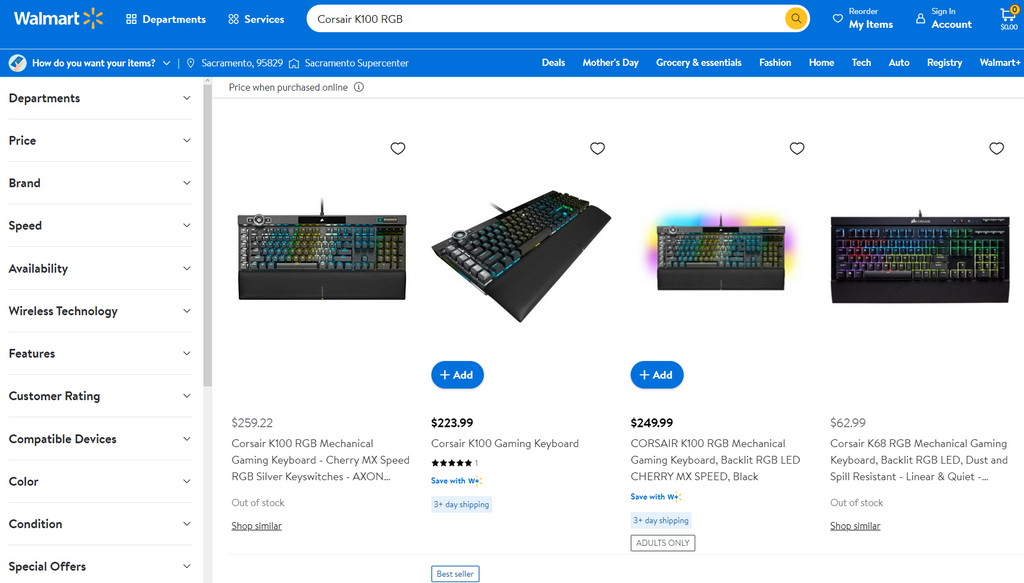 5. Gaming Chairs Dropshipping Niche
This is the last but not less popular dropship gaming gear idea that is number 5 in eCommerce sales in the gaming industry. The exceptional gaming chair completes the gaming setup. The choice of seat isn't always simply an aesthetic desire either; an excellent gaming chair must provide a healthier solution for the back. And it truly is why they can be so costly.
If a true gamer spent thousands of dollars on an extreme gaming PC build, he should give as much attention to his choice of gaming chair. Therefore, this kind of product can have higher profit margins but also a smaller chance to be someone's spontaneous purchase. That's why it requires the right marketing strategy, listing optimization, and a reliable dropshipping supplier.
So, the last five examples of the most popular gaming products to sell are below:
1. Homall Gaming Chair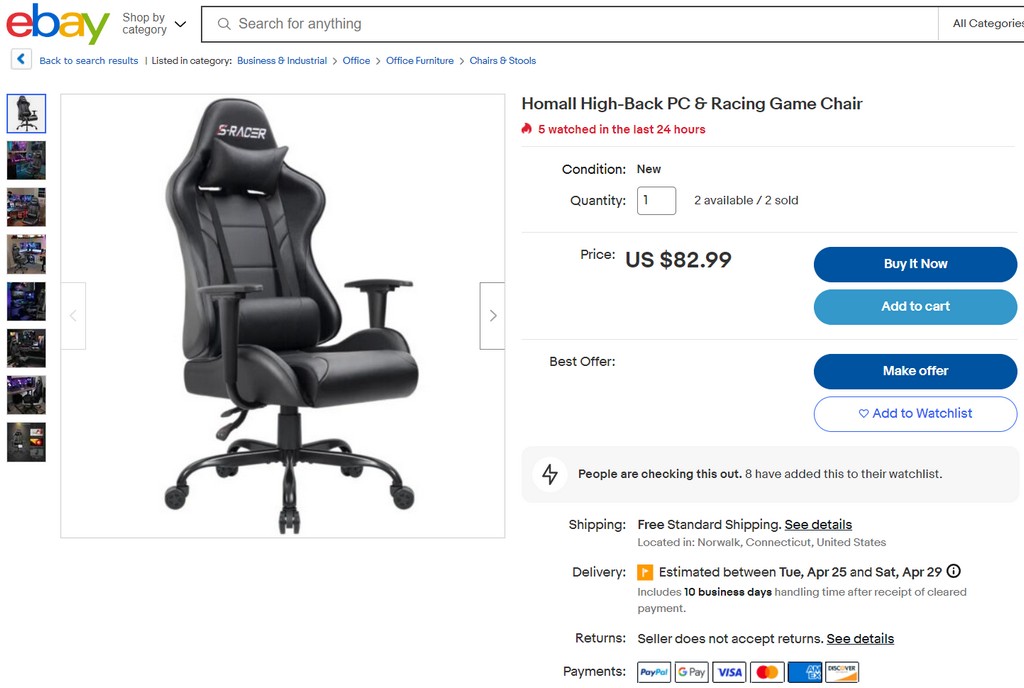 The back of this Homall Gaming Chair is fully extended, which provides great support for the shoulders, head, and neck. Homall chairs are handcrafted to perfection and intended to fit the natural body curve, ensuring complete comfort with its high-quality skin-friendly PU leather. It is very soft, durable, flexible, and waterproof. This gaming chair is ideal for playing computer games, watching television, working, and relaxing. It will make the buyer's space more trendy and stylish.
You can purchase these gaming chairs on eBay and resell them on Amazon: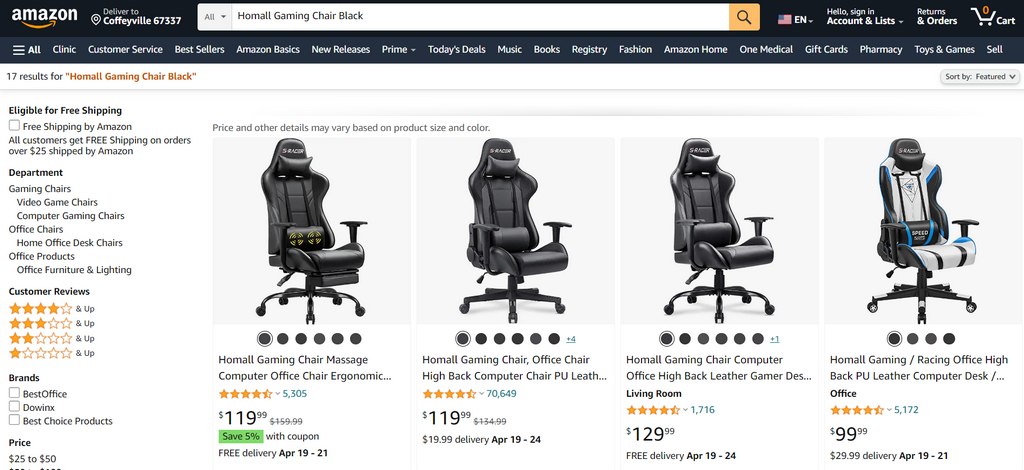 2. GTRACING Gaming Chair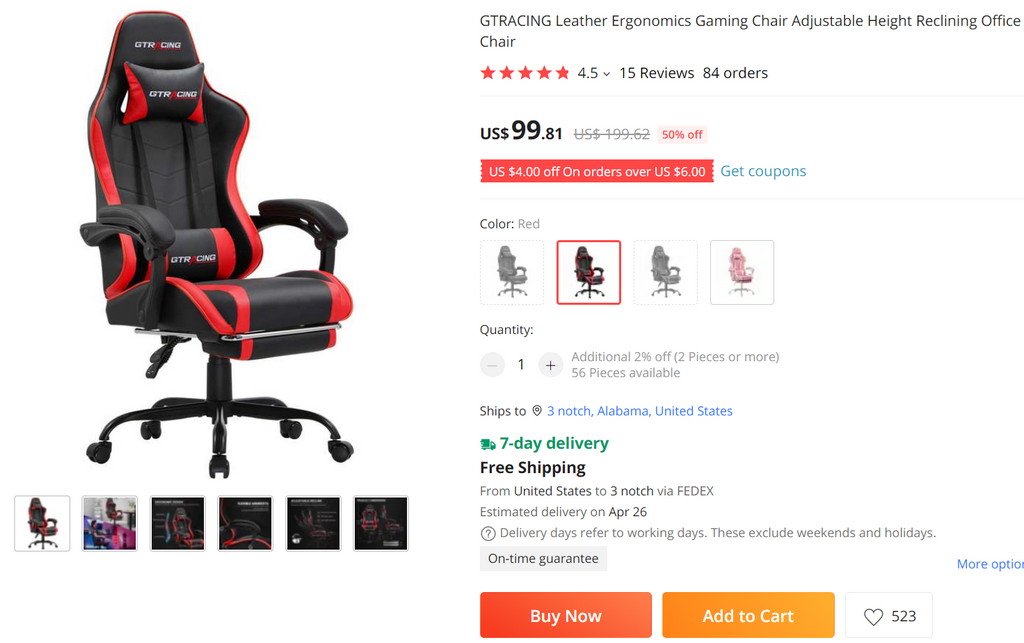 Working, studying, and gaming are all done easier with this chair. It has an ergonomic design and is made with high-quality materials. It supports the cervical and lumbar spines with an adjustable headrest and lumbar pillow and has a racing-style angle adjuster.
Here are examples of this gaming product on eBay: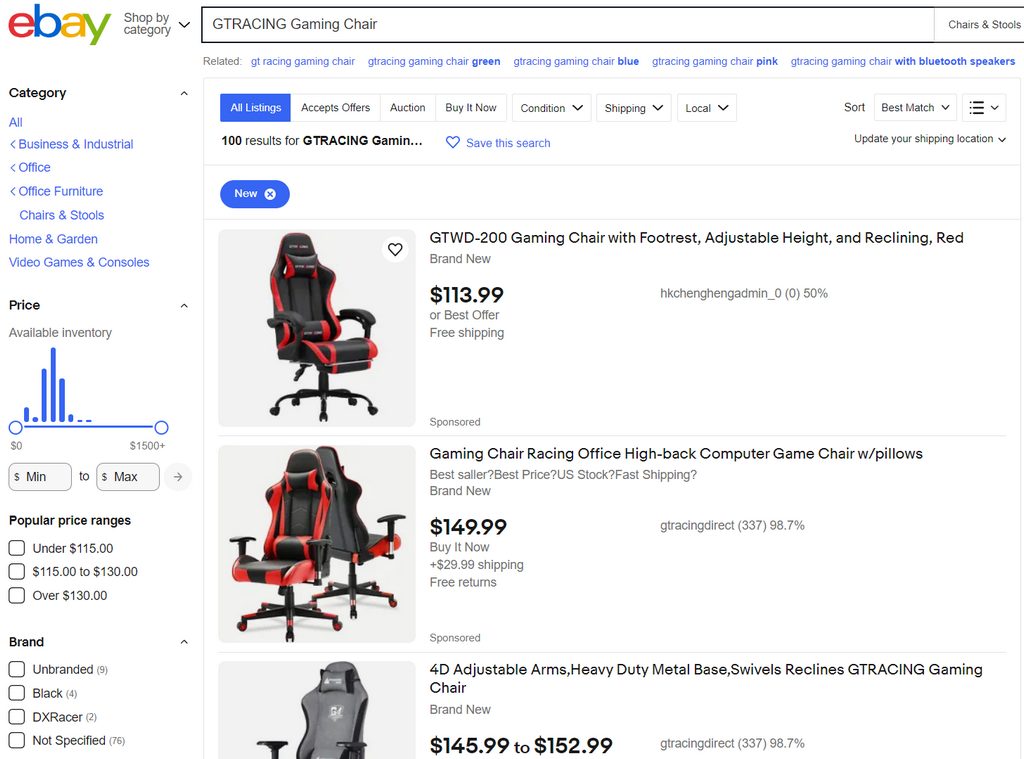 3. Cute Cartoon Chairs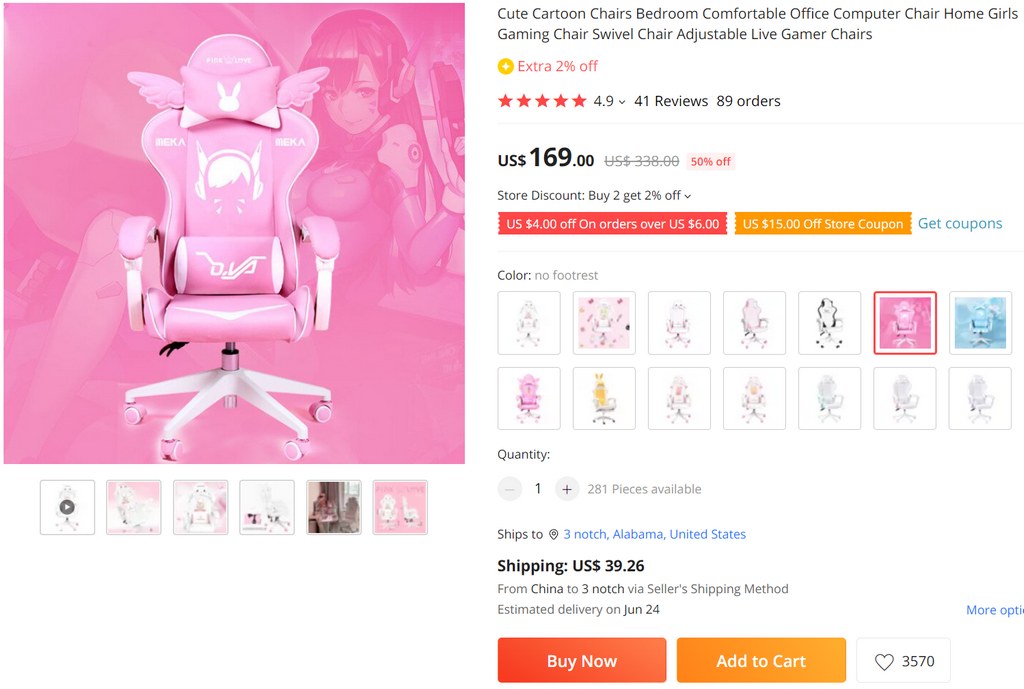 Many gamers want to embody the appearance and characteristics of their favorite game or anime characters. Sometimes, having a chair that resembles a character blurs the line between the game and reality, creating a feeling of being part of another dimension. These chair variants are cool, fun, and personalized, showcasing the buyer's creativity.
There is very little competition for this specific gaming product on eBay: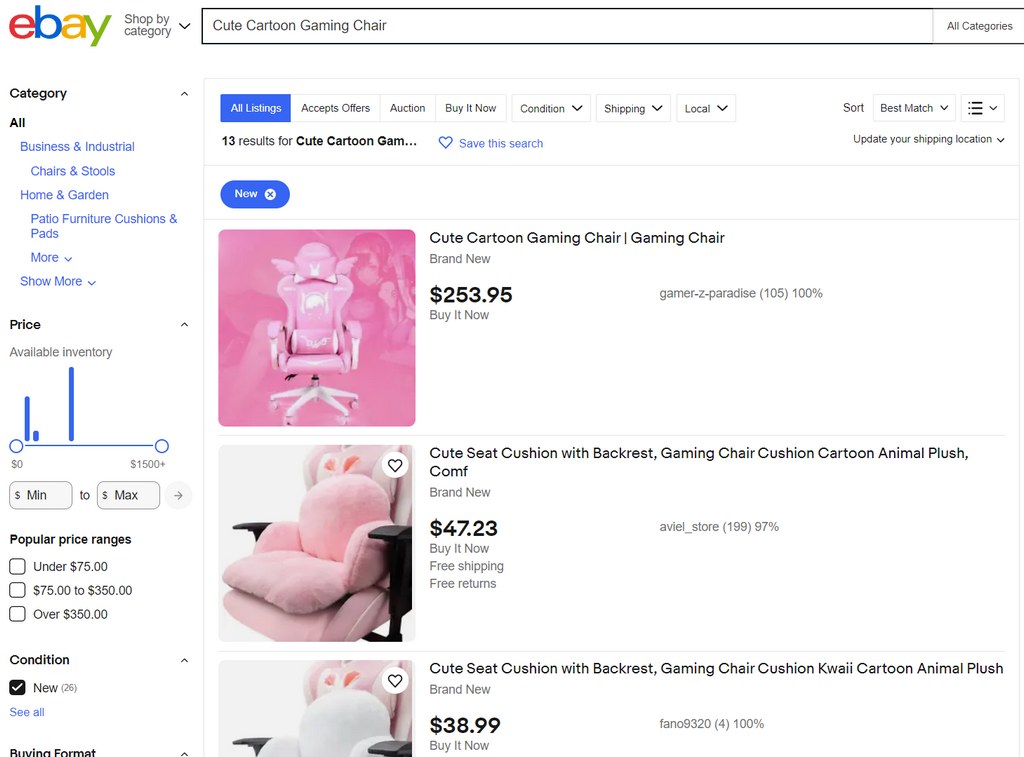 4. BestOffice PC Gaming Chair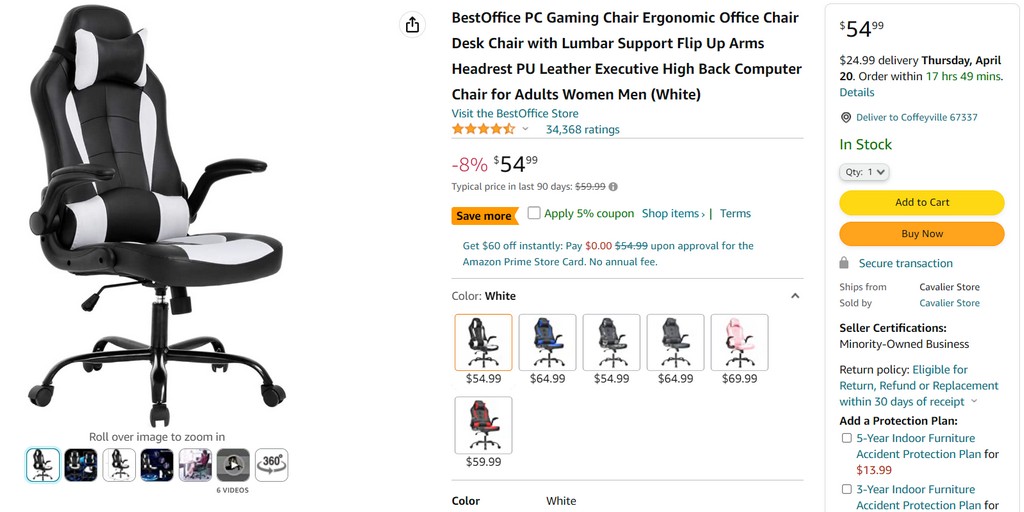 Built for comfort, ergonomic design, BIFIMA quality-certified, and easy assembly – it is all about this gaming chair. This leather office chair is created for long-lasting comfort. Wider than the average desk chair and easily adjusted for height, the locking mechanism keeps the back upright and relieves the stress and pain brought on by other office chairs. Designed with a human-oriented ergonomic construction, buyers have full mobility, whether gaming, working on the computer, or meeting in the office.
You can make really good profits by dropshipping this gaming product on eBay: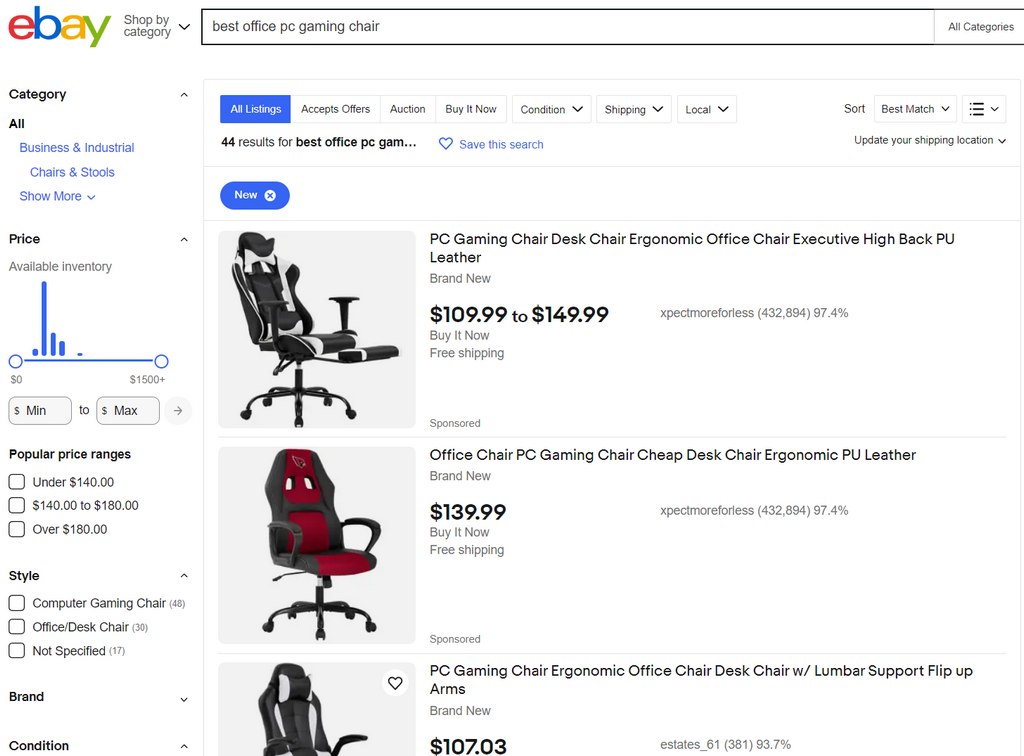 5. Dowinx Gaming Chair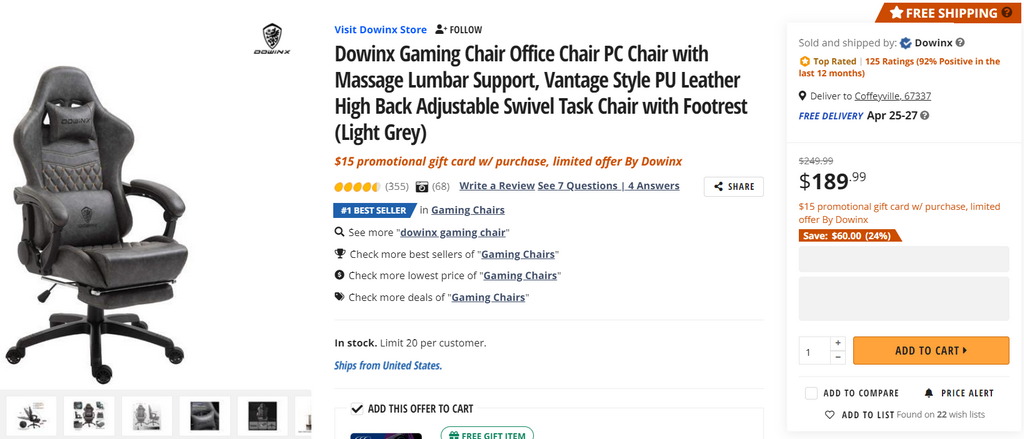 Finally, the last in the list of popular gaming products to sell! The Dowinx Gaming Chair is designed with the ultimate gaming experience in mind. Its high-quality materials and ergonomic design provides gamers with maximum comfort and support during long gaming sessions. The chair's frame is made of sturdy metal, with a class 3 gas lift and a heavy-duty base that can support up to 350 lbs. The chair also features a high-density foam cushion, a removable headrest, and a lumbar support pillow for additional comfort.
In addition to its ergonomic design and durability, the Dowinx Gaming Chair is also stylish and comes in a variety of colors and designs to fit any gamer's aesthetic. With its comprehensive features, the Dowinx Gaming Chair is an excellent dropship gaming gear to sell.
Look at these listings on eBay to realize what great profits can be made by dropshipping this gaming product: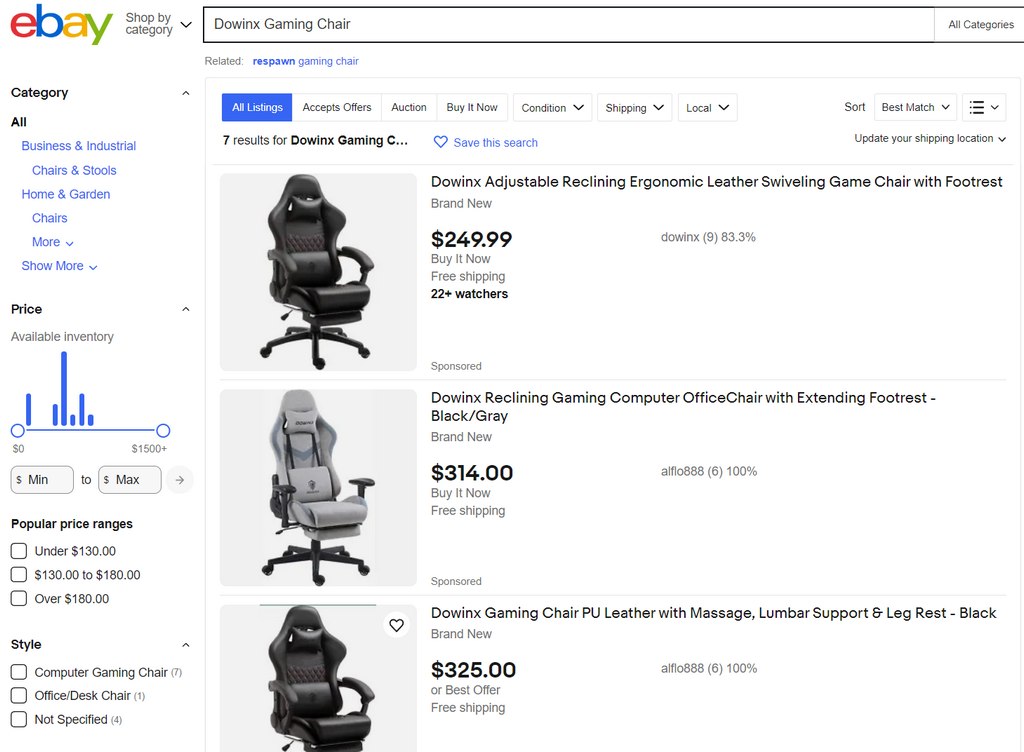 Conclusion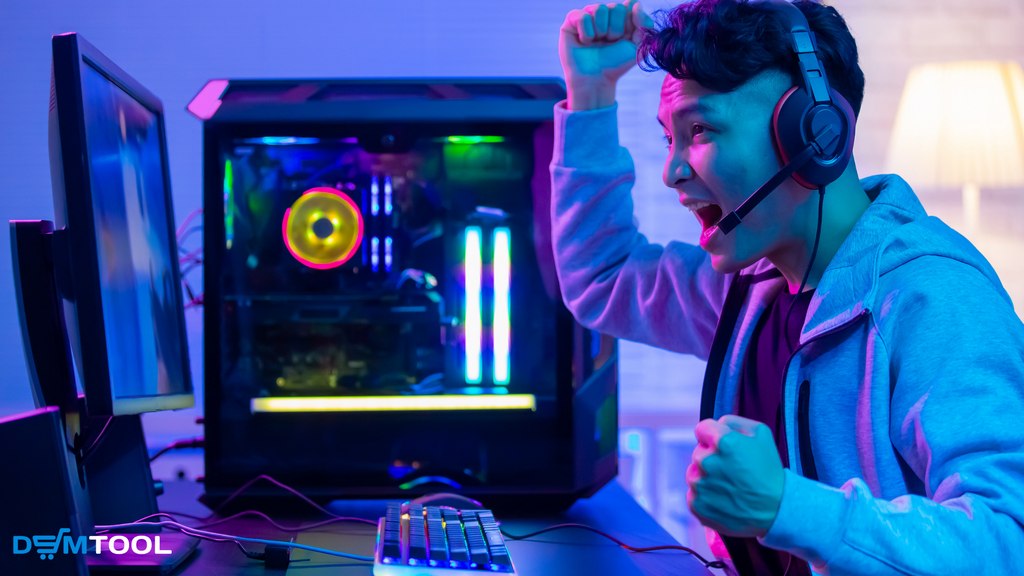 Is dropshipping gaming products profitable? Yes! The game industry's income is higher than some others in the diversion area. Video gaming is among the most popular activities in the world. In this way, it is safe to say gaming products rule the entertainment business.
If you want to make money and start dropship gaming gear, you can sell various gaming accessories and cheap video games. You already have a list of the most popular gaming products to sell. Use it for your personal product research. Most of the accessories lie nicely within the $10-$200 range, which is perfect for dropshipping with different budgets.
And last but not least: if you are a gamer yourself, you could benefit from the passion of selling in a niche you love. Isn't it awesome? 😉
Happy gaming products dropshipping!