36

min read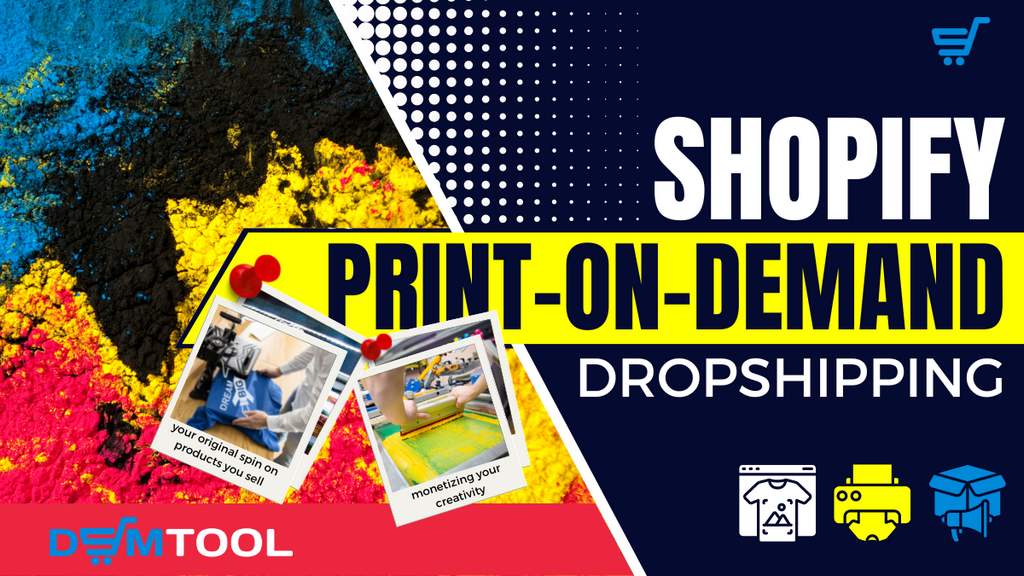 Are you an artist, designer, or just a creative person looking for a way to monetize your talent and hobbies? Or maybe you are a dropshipper trying to find a profitable niche or expand your business and build your own brand. In any case, Shopify print on demand dropshipping might be a way to go.
Realize and express yourself by creating unique designs that stand out and share your ideas with the world. Or simply put your brand name or logo on all kinds of products – from t-shirts and mugs to shower curtains and personalized pet accessories – and build your unique brand.
Dropshipping is a perfect option to enter into the eCommerce business since you don't have to customize products by yourself or keep a stock of goods in a warehouse. At the same time, you won't have to worry about stockpiling unsold merchandise on hand.
Shopify print-on-demand drop shipping takes the best of dropshipping and one of the most popular eCommerce platforms to combine them into a nearly ideal business model that almost anyone can start.
In this article, I will tell you about how to start a Shopify print-on-demand drop shipping business, and its advantages and disadvantages. You will also learn what pod products to sell and what print-on-demand services are the best. On top of it, I will show you some examples of Shopify print on demand stores you should look up to. But first things first!
What is Dropshipping? What Is Print On Demand? Why Shopify?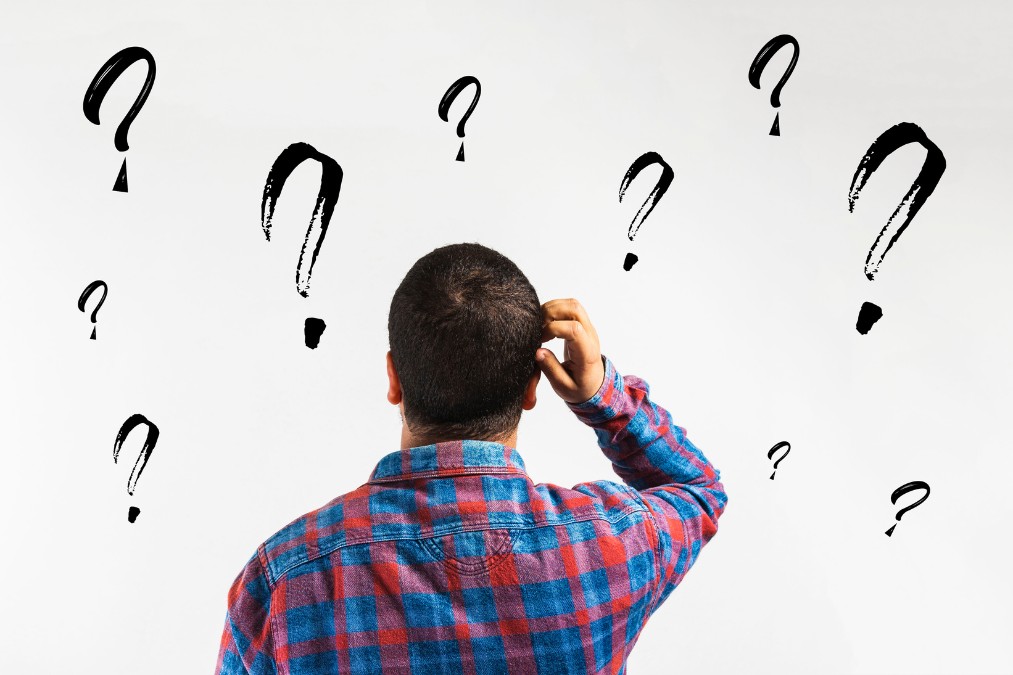 The concept of Shopify print on demand drop shipping combines three different terms: dropshipping, print-on-demand, and Shopify. To understand this eCommerce business model, you need to understand each of the mentioned terms.
Dropshipping is a low-risk business model where you sell items that you actually do not have in stock. Only after you sell them to your customers do you buy those items and ship them to the buyers. Simple.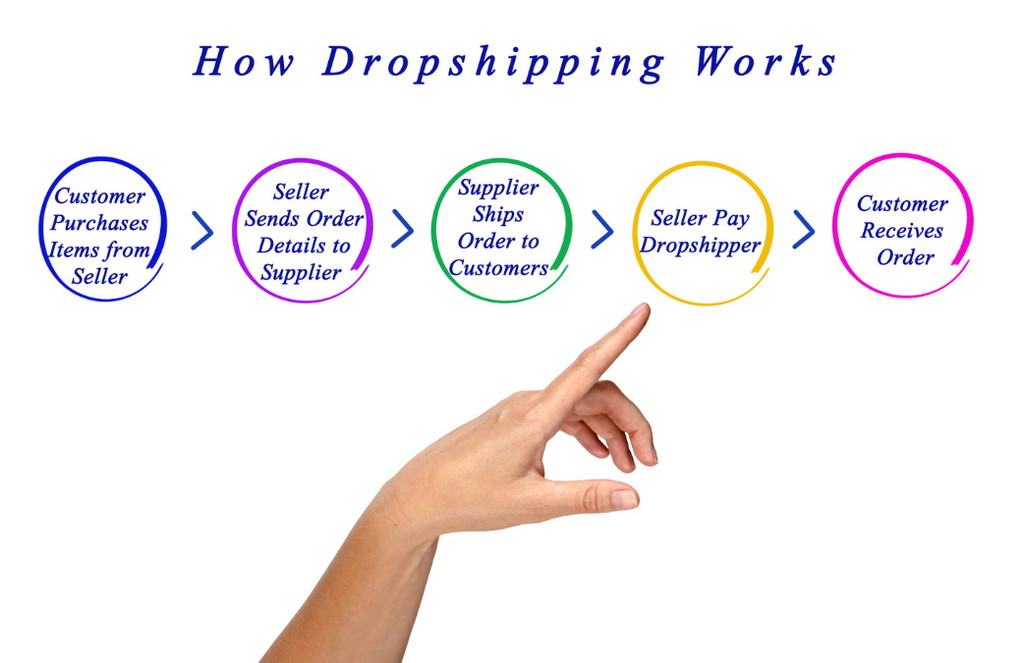 Think of it as a way to manage the logistics of your online shop. The idea is that you, as a seller, do not need to handle the inventory – you use a dropshipping supplier to manage it while you focus on making sales. In other words, you are simply the middleman between your client and the supplier you choose to source from. The buyer purchases from you, and you then place the order directly to your supplier with your client's information (name & mailing address), and they'll ship out the order to your consumer's doorstep.
Because you do not hold inventory, there are no risks associated with purchasing and stockpiling low-demand products: no need to pay for merchandise, no storage fees, and you don't pay for shipping. You do not risk investing in the goods and losing money if they do not sell. That is why it is called a low-risk business model.
What Is Print On Demand?
Print on demand, also called POD, is the process of printing or creating a customized design for a product and selling it under your brand name. Simply put, you create your own designs (pictures or logos), and the printing service provider uses them to customize white-label products of your choice. You then sell these products under your own label or brand on a pre-order basis.

You do not pay for the cost of the product until after you have actually sold it. Once you receive an order, you send details to your supplier, and they fulfill it – print the item and ship it to your buyer. You pay for the product, design (if you are not the creator), and shipping. The rest of the profit is yours to keep. This model significantly reduces costs because you do not have to pay for products upfront, and there are no warehousing expenses.
Selling custom print-on-demand products is quite a popular direction in dropshipping. It allows you to offer both unique items under your brand and products customized with a design of the buyer's choice (the buyer chooses one of the design options).
Some of the most popular pod products categories are:
T-shirts, hoodies, denim jackets
Sweatpants, leggings, and joggers
Caps, mugs
Notebooks
Framed posters, picture puzzles
Fridge magnets, clocks,
Buttons, and pins
These are just a few categories, but you can see already that the range of products available for customization is wide and varied.
Selling print-on-demand products is ideal for:
Trying new products and ideas to expand an existing business without significant financial investments.
Creating original merchandise for specific consumer niches (clothing and accessories for gamers, fans of music bands and performers, anime fans, etc.).
Creative persons to monetize talents and skills by selling products printed with their designs.
Influencers to monetize audiences by selling products under their brands.
Having a side hustle – because most of the work is handled by suppliers, Shopify POD doesn't require significant financial resources and time (relatively) to start.
Print On Demand vs Dropshipping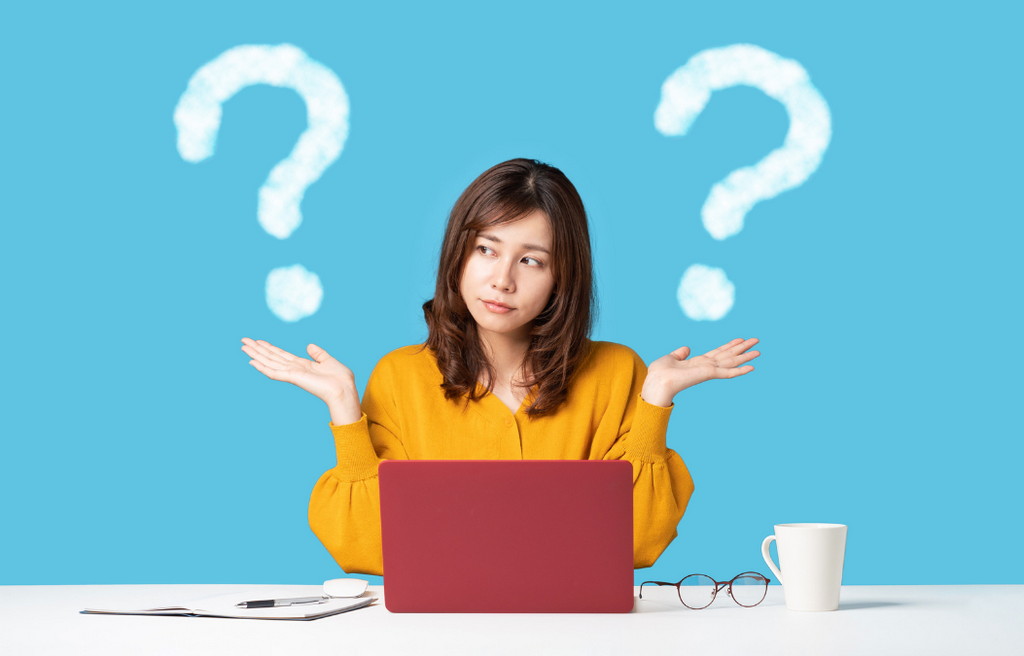 The print-on-demand business incorporates dropshipping model, or you can say that POD is the subtype of the drop shipping business. Both business models are very similar because they operate on the same premise and share common features:
No Inventory
Both models do not involve purchasing and warehousing product inventory. Sellers order items only after making a sale. It allows you to change the range of products you offer and test different items until you find your winning products without changing stock.
Low Risk
Because sellers don't have to purchase inventory upfront, there is no risk of ending with unsold products. You do not risk investing money into products that do not sell. Another advantage is that you can start both a POD business and dropshipping with no money.
Order Fulfillment
In both models, the orders are fulfilled by your suppliers – you only process them. When selling on Shopify, it comes down to simply clicking a button to send the details to the supplier and pay the cost of the items after you make a sale. And nowadays, even this can be handled by automated dropshipping software.
Required Skills
You will need almost the same skills to run both businesses: a basic understanding of marketing and advertising, sales skills, good communications, and customer service. For POD, however, you need additional graphic design skills, but this is not mandatory (I will cover it later).
As for the difference between these models, it all comes down to that with dropshipping, you sell pre-made products; with POD, you sell your own products. Other differences between the usual dropshipping vs print on demand lead to the following:
Advantages Of Print On Demand
Unique Products
Instead of already-made goods from the supplier, you offer custom, personalized, and unique products, which is an advantage for customers and helps establish your brand image. And if you are a graphic designer, this is a vast field of creativity opened to you.
High Product Quality
POD products are frequently of superior quality to items sourced from most dropshipping suppliers, especially Chinese ones. Even though, in both cases, the products are manufactured in China. Because of that, the percentage of returns in POD tends to be much lower.
Fast Shipping
As I mentioned, in most cases, POD products are manufactured in China. From manufacturers, they get to warehouses in Europe or North America, where they are stored until ordered. After you place an order, products ship from these centers. The best print-on-demand services have multiple processing centers in different countries and send orders from the closest one to the shipping address. It leads to products shipping much faster than from China.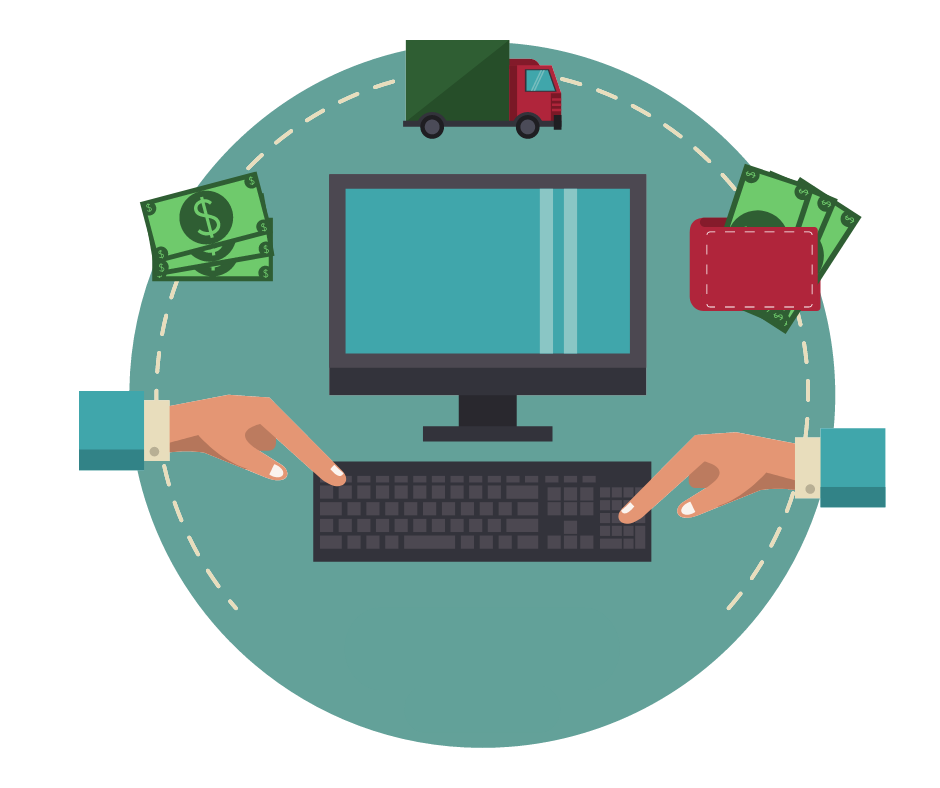 Not yet making money online?
Start your own dropshipping business. Sign up for a free trial of DSM Tool and we'll help you get started. Today is the day.
Disadvantages Of Print On Demand
Market Research
Unlike dropshipping, where winning products are relatively easy to find by using product research tools and checking reviews and ratings, it is more difficult with print-on-demand. All POD products are unique: the very same t-shirts, but with different prints, might have incomparable sales rates. You might think your designs are great, but consumers might not share your preferences.
Limited Product Range
While the range of POD products available has increased over the years, it is still quite limited. It's understandable – not all items can be printed. Still, the fact is that when dropshipping from AliExpress or a similar supplier, you have access to hundreds of different product categories. It can't be said for POD: even the best print-on-demand services offer under 300 products for customization. Yes, 300 products and not product categories.
Higher Shipping Costs
Most suppliers used for product sourcing provide very cheap and even free shipping. In print-on-demand dropshipping, delivery costs are higher because items ship from European and American processing centers. The shipping costs might be high enough to cause lower profit margins (you want your prices to be competitive).
Is Print-On-Demand Better Than Dropshipping?
What model is better? In the short term, dropshipping is better because you can simply list trending products and sell them for a quick buck. For example, remember how popular spinners were – resellers made good money back then. POD requires more thorough product research, and you need to create or obtain designs to print on the products you sell.
In the long run, print-on-demand is superior because it gives you control over how the products look and provides more branding and marketing capabilities. You can also make better profits if you offer designs that stand out. It is harder to establish a successful long-termed dropshipping business – you need to chase trends and find winning products all the time. Spinners are no longer popular, aren't they?
Now that you know what print on demand drop shipping is, we can proceed to why you should open a store on Shopify.
What is Shopify?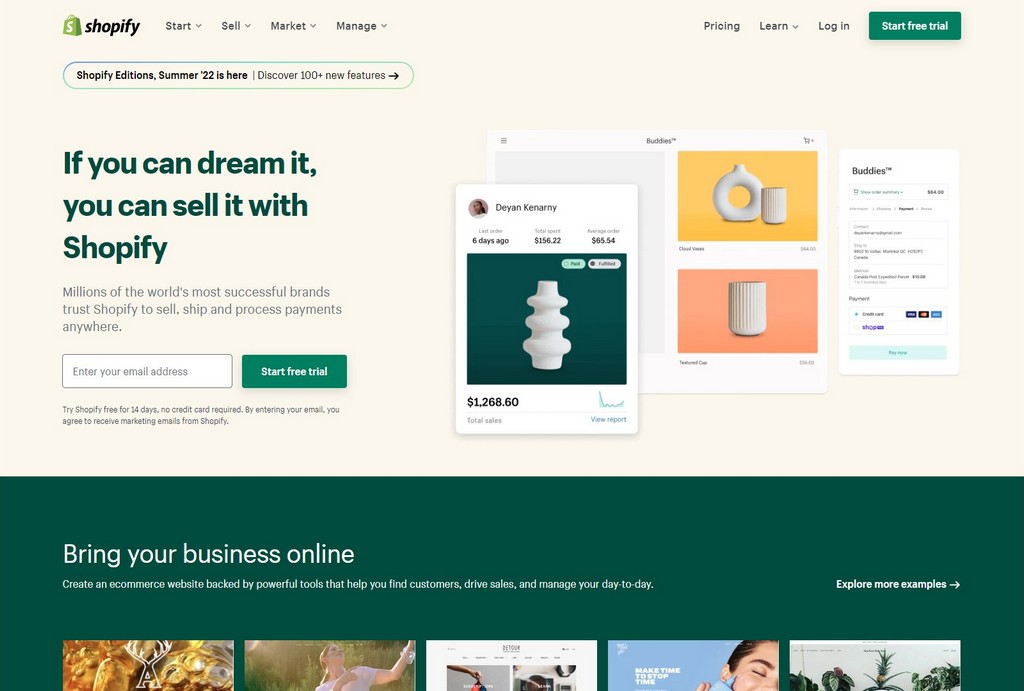 Shopify is one of the most popular SaaS (Software-as-a-Service) eCommerce platforms available on the market. It is beginner-friendly, affordable, and, at the same time, powerful. It combines both the simplicity of usage with high flexibility. You can start with a small online shop with basic functionality and grow it into a big dropshipping store with a powerhouse of commerce features.
Shopify made eCommerce accessible for everyone – almost anyone can run a web store today. Previously, if you wanted to open an online store, you needed extensive knowledge (hosting, domain, URL, DNS, etc.) as well as financial resources (buy hosting, develop a website or hire a specialist to do it, and establish an online shop).
All of this is in the past. Shopify transformed all the hassle into a simple procedure of registering and building your online store with one of the pre-built themes – the entire process takes less than an hour.
While Shopify is not the only solution available on the market, it is among the best due to its affordability, simplicity of use (which requires minimal configuration), available features, security, and it is mobile-friendly (mobile commerce is on the rise). One advantage is related to the service's popularity: the platform has a plethora of extensions (free and paid), and new Shopify plugins appear every day.
Being SaaS, Shopify requires a monthly subscription: the plans range from $29 for the Basic subscription to $299 for the Advanced plan. There is also the Shopify Plus enterprise-grade subscription for large businesses. You can try it for free during the 14-day trial period.
Why Start Print On Demand Drop Shipping With Shopify?
Shopify is one of the most popular eCommerce platforms, but it is not the only one. What makes it one of the best?
Simple Installation & Setup
Various guides often state that you can set up a Shopify store in under 15 minutes. It is true if you consider a store to be a nearly empty website with one product or the inscription "Hello, world!". However, it is indeed that simple, and you can create a fully functional, attractive Shopify store filled with products in a few days.
Easy to Use
Shopify is a hosted dropshipping platform: it aims at average internet users without technical knowledge as the target auditory. It also requires very little time and effort to learn the platform. Just register, subscribe, choose a theme and start filling your store. Their back-end interface is the most logical, intuitive, and easy to navigate.
eCommerce Features
Overall, Shopify has everything most sellers need by default: it has an email marketing tool so you can connect to your customers, discount codes and cart abandonment recovery functionality, multi-channel integration options (Instagram, Facebook, Amazon), customizable checkout, sales analytics tools and revenue reports, and many more.
Being extremely popular, Shopify has a plethora of extensions (free and paid), and new plugins appear every day. Currently, there are over 7000 plugins available on the Shopify app store, with over 4000 offering a free plan. Shopify plugins allow you to completely transform your online store and implement all the features you might need.
Scalability
Shopify is an easily scalable dropshipping platform – you can scale your business up or down by picking a different Shopify plan. It means you can start with a small 10-product store, then expand it to 100 products, then to 1000+ products without much headache.
As with SaaS software, the platform provider handles everything tech-related. So when scaling your Shopify store, you don't have to worry about the architecture, equipment, or other services. Still, you might need to install additional plugins for extra features to handle more customers, sales, fulfillment, etc. But it is a financial matter, not a technical one.
Customer Support
It is impossible to have an online store and never face any issues. You will eventually run into tech issues that require immediate technical assistance from the e-commerce platform provider. When this occurs, you'll want to contact a dependable, qualified support team familiar with the platform. You want to resolve any technical issues that might happen quickly and efficiently because time is money.
Shopify provides exceptional customer support. It offers 24/7 customer support via different contact channels: email, phone, and live chat. It also has its own official forum where users can ask for help.
Tip
Many dropshippers start with Shopify due to its numerous advantages. But to turn your one-page online shop into a big dropshipping store, you must utilize the Best Shopify Dropshipping Apps.
How To Get Started With Shopify Print On Demand Drop Shipping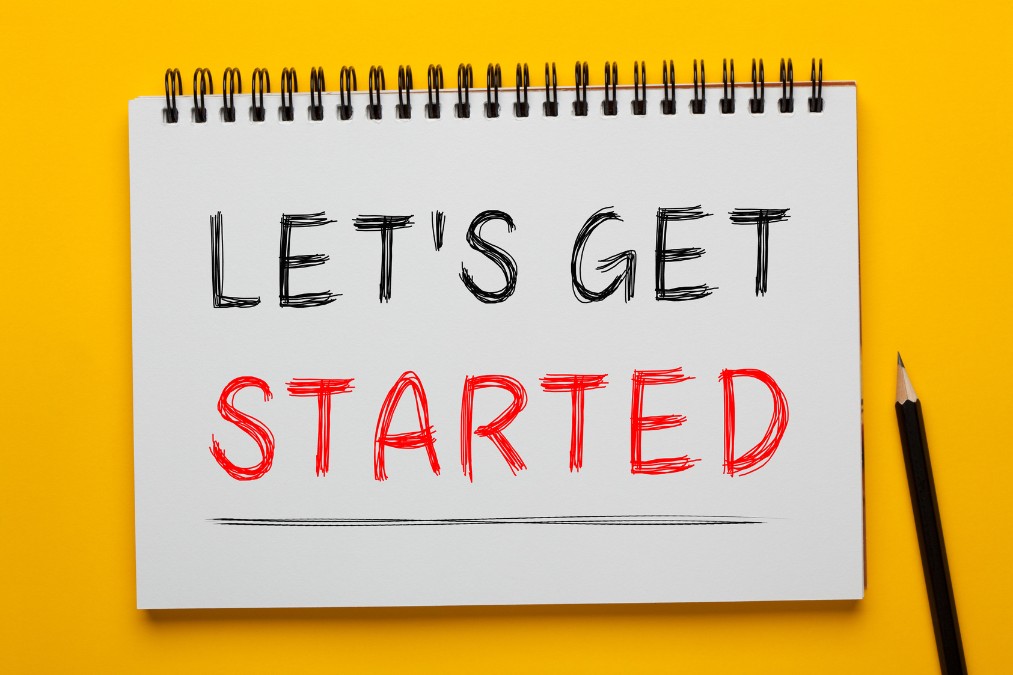 Creating a Shopify store, be it a general dropshipping or POD store, is quite simple. Of course, there are some nuances unique to print-on-demand, but the general principle is the same. Here are the main steps to starting Shopify POD:
Step 1: Set Up Your Shopify Store
Register on Shopify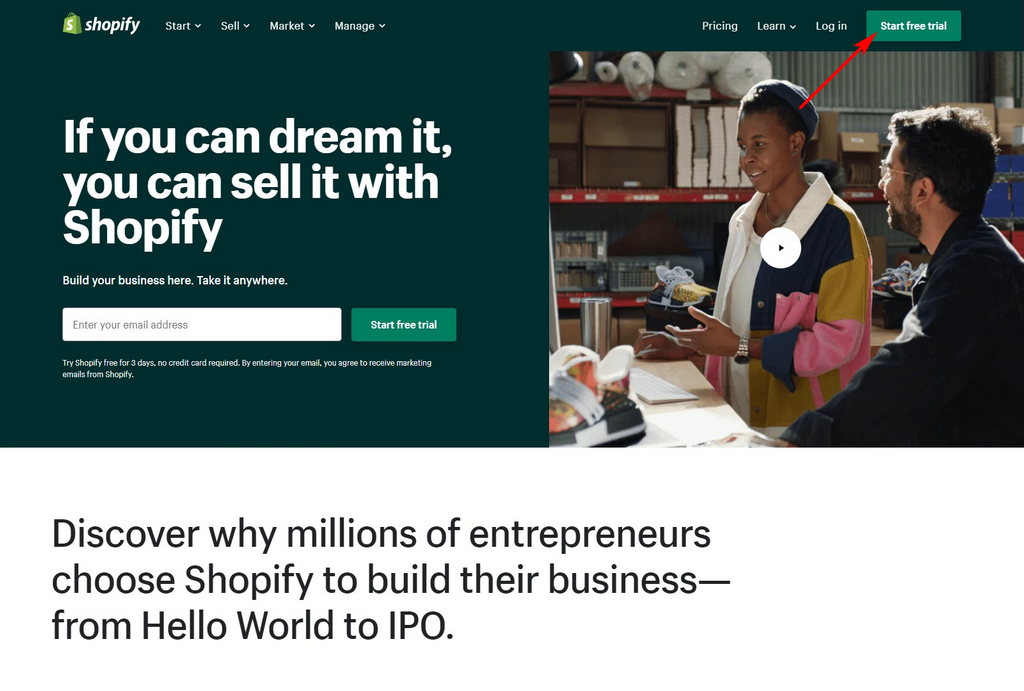 Before signing up on the Shopify platform, you have to pick a name for your store. It might seem trivial but this is very important. Make sure your store name has excellent branding potential. It is one of the first things your customers will see and what they remember when doing business with you.
Signing up on Shopify is easy; you will have 14 days of free trial to try the platform before deciding if you want to continue. Start the trial by pressing the Start free trial button.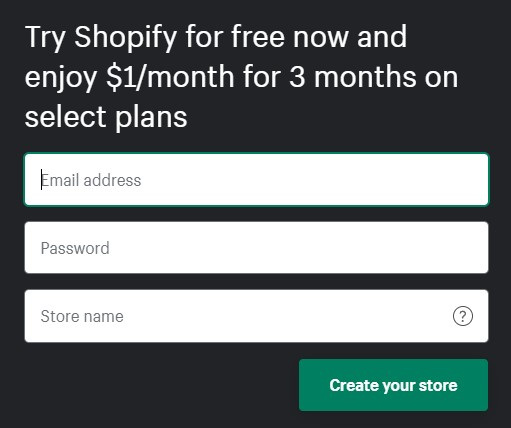 It will require only the basic information, including your email address and store name.
Shopify is a very user-friendly platform and provides customers with an easy-to-follow Setup guide. There should be no trouble when following the setup wizard, but there are a few points I can highlight: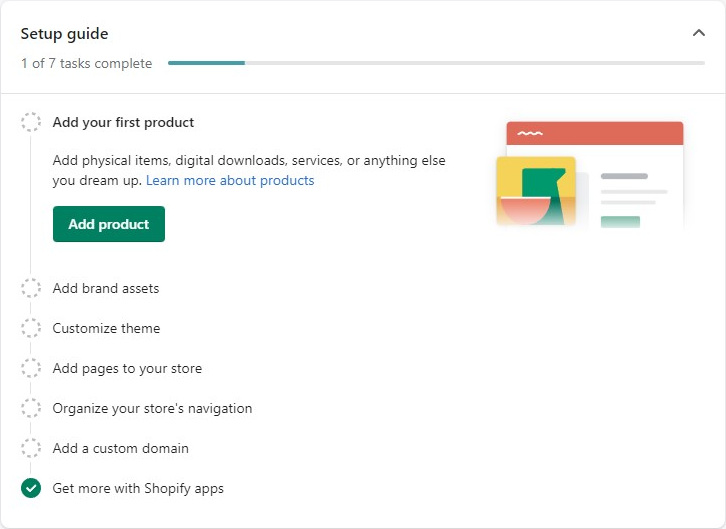 Configure your Theme
The platform provides a default theme, but you can pick another one by going to Online Store > Themes, and customize it according to your preferences. Shopify has hundreds of robust themes you can try and test with a few clicks. Users can personalize their Shopify stores with text, logos, photos, and videos to complement the aesthetics of their brand.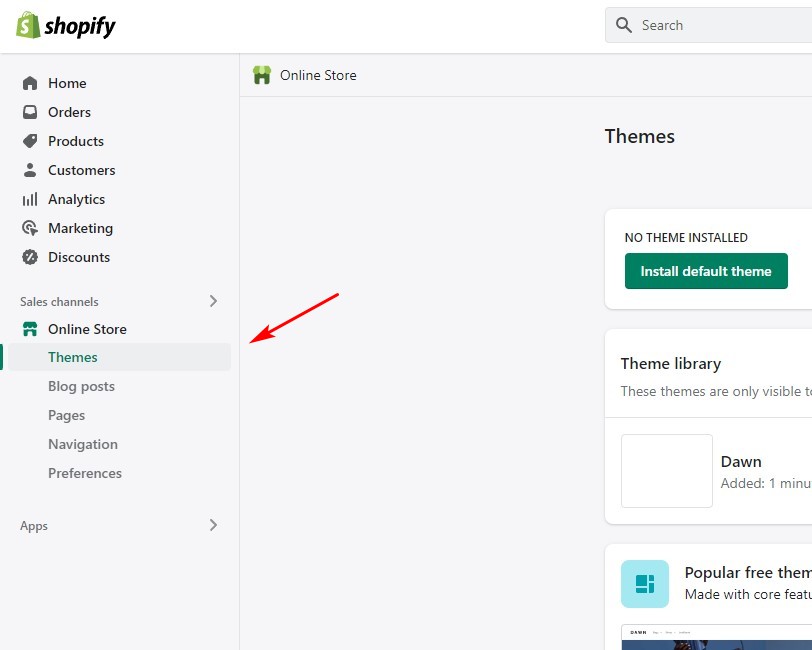 Setup a Domain Name
You'll need a domain name to get your site running. You've got two options.
The first option is to purchase a Shopify domain that automatically adds to your store. It saves you time, especially if you don't know about website hosting. Usually, these domains cost $15-100 annually.
Your second option is buying a domain for your store from a third party, such as GoDaddy. The drawback is that you need to do additional configurations manually (like setting DNS records).
Go to Settings > Domains to set up your payment options.
Setup Payment Options
A payment gateway allows you to take payments from your customers via your website. Setting up a trusted e-commerce payment gateway is crucial for winning your customer's trust and confidence. All payment gateways are different, so you need to pick the one that suits you best.
Go to Settings > Payments to set up your payment options.
Configure Shipping Rates
Based on what products you sell, you need to update shipping rates on your store for accurate pricing. Shipping costs are calculated based on product weight, packaging, locations, carriers, profit, etc. Don't forget to add supplier costs as well, as these are the expenses you pay the supplier to prepare and ship the goods.
Go to Settings > Shipping and delivery to set up your shipping rules.
Examples Of Shopify Print On Demand Stores
Before moving on to the next step, it might be a good idea to see what other printing stores are doing and what makes them successful. Nothing beats learning from other successful sellers, and this is true for Shopify POD businesses as well.
Sharpshirter
This Shopify print-on-demand store sells a range of arty designs that are printed onto household items, and their approximate $500K Revenue proves that these types of custom products are in huge demand.
Most designers typically choose to sell their art on a canvas. But Sharpshirter learned, that being unique gets rewarded and has taken a completely different route. Instead, they've applied their artwork to household accessories that people use every day, like shower curtains and bath mats.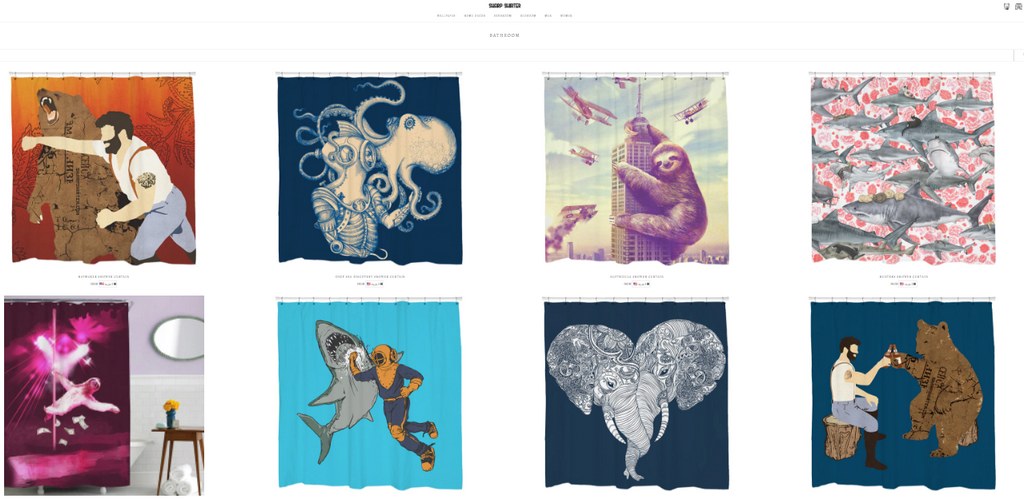 They are going against the grain; you can also place artwork onto pillows, aprons, towels, and even bean bags! It's up to you to decide!
TAMGA Designs
Eric and Yana Dales have built this Shopify print on demand store with the purpose of creating a sustainable movement in the fashion niche and building a company that's conscious of people, fashion, and style.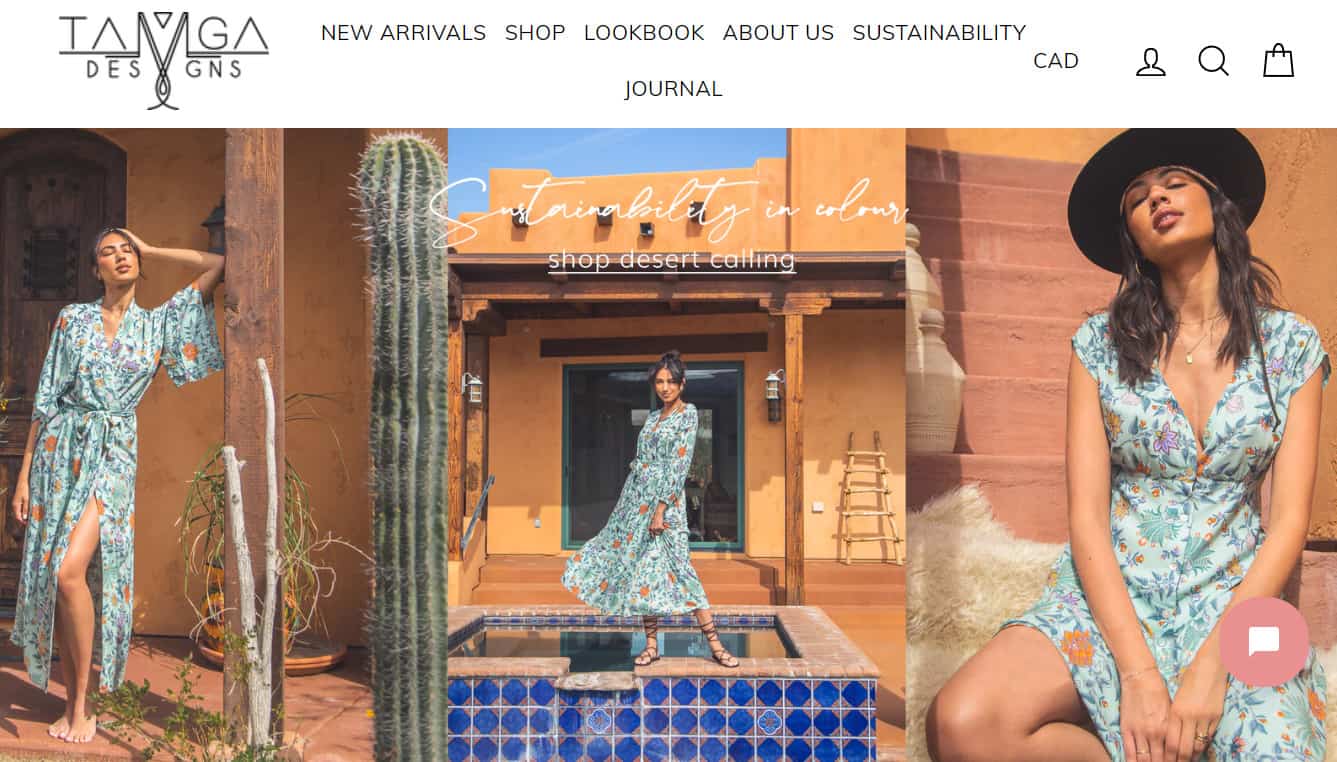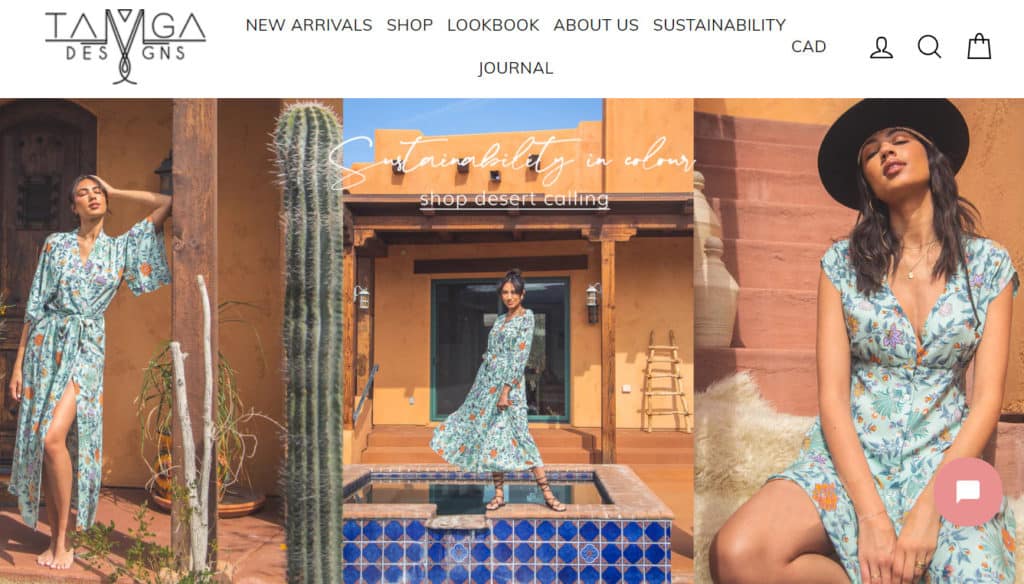 They were in Bangladesh when both saw what the larger players in the fashion industry were doing: draining the environment and social fabric from the labor conditions and the fast use of unsustainable raw materials. They decided to create their own fashion company that CARES.
TAMGA Designs' production partner produces fabric from sustainably grown beech wood and eucalyptus trees to create low-impact dye-colored pieces.
Be smart about building and producing your branded products. Care about your customers, and care about the world.
Classic Dad
This Shopify POD store began as a fun social media page dedicated to dad memes and jokes but, after establishing a loyal following on Facebook and Instagram, it quickly grew into a POD business. Followers started requesting merchandise, so the team behind it began seeking partners.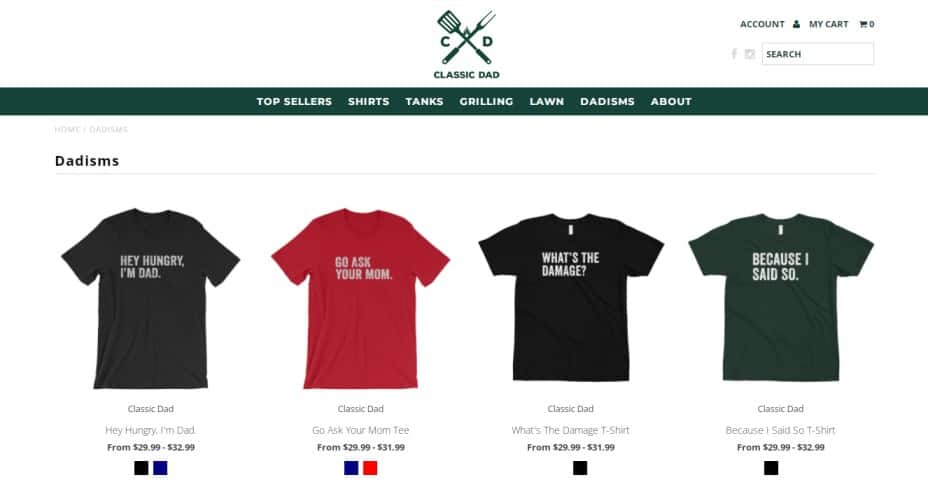 They set up a POD fulfillment service through an app on Shopify and this helped the brand succeed, with the very first sale coming from a Shopify feature.
Classic Dad sells various custom products including hats, t-shirts, mugs, and aprons, plus clothing tailored to first-time or older dads with different tastes, sizes, and preferences.
iLikeMaps
Olivier Gratton-Gagne, the founder of iLikeMaps, started his Shopify print on demand store in 2012. It was simply a pastime for Gagne at the time, and he was drawing map posters and developing his website, so he didn't expect it to turn into a full-time job.
With the growth of his customer base and the development of new sales channels, Gagne decided to get more from his hobby and started working on a Shopify store business, though he also runs one on Etsy.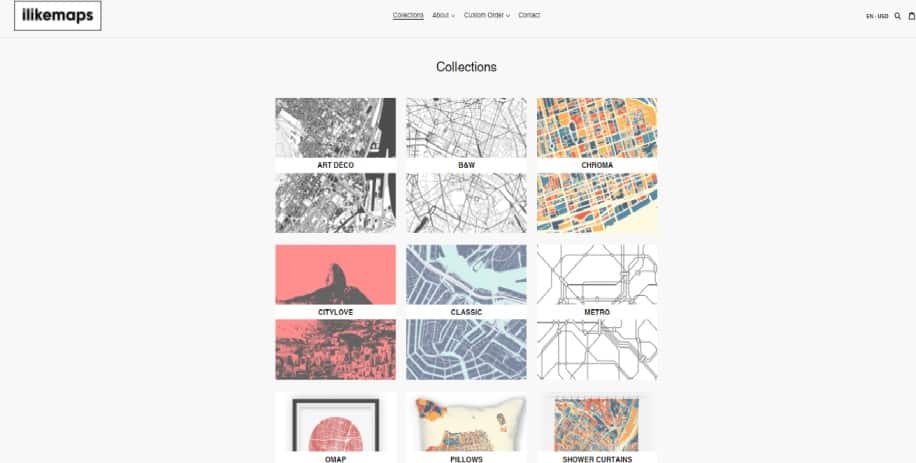 The site and the business infrastructure are custom-coded and run on the Shopify platform. Plus, he has a large retail network that sells his custom products in physical stores.
IKONICK
IKONICK, a top Shopify print-on-demand powerhouse, specializes in motivational prints like Muhammad Ali and the Monopoly Man quotes. IKONICK's site itself gives plenty of motivation for any new Shopify entrepreneur interested in trying out a similar business concept.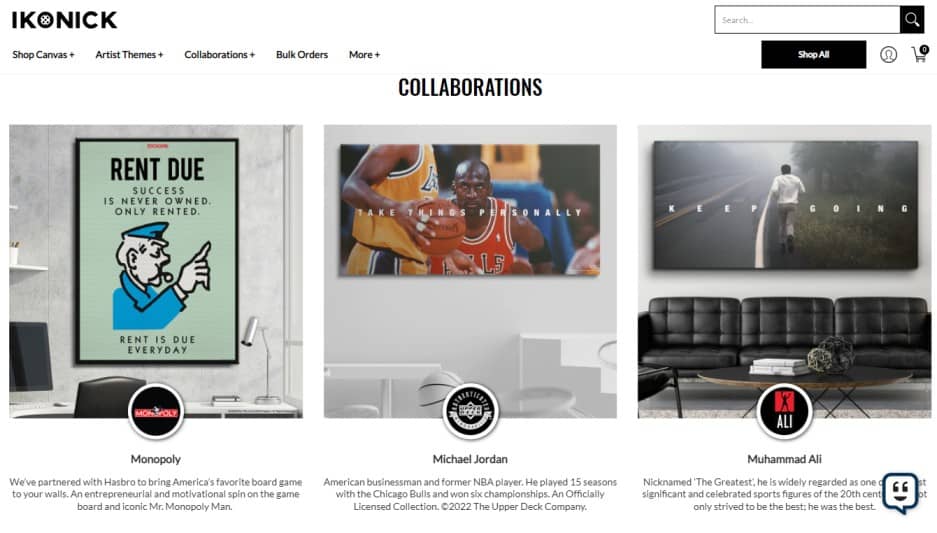 In addition to powerful prints, the IKONICK site has a CTA button "Shop Now" to make their customers not only watch. The "Our Fans" section has photos of genuine customers posing with the brand's prints, demonstrating the power of social proof, by the way.
IKONICK features a small live chat pop-up for anyone who needs help. Users may choose from a variety of pre-made shipping, price, and return guidelines, or they can talk with a support representative in real-time.
Learning from other successful stores can be the best way to fast-track your success. As you can see, the above 5 Shopify print-on-demand stores are all different. But there's one thing that all these stores have in common: they're some of the internet's greatest print-on-demand Shopify stores.
Step 2: Select A Print-On-Demand Service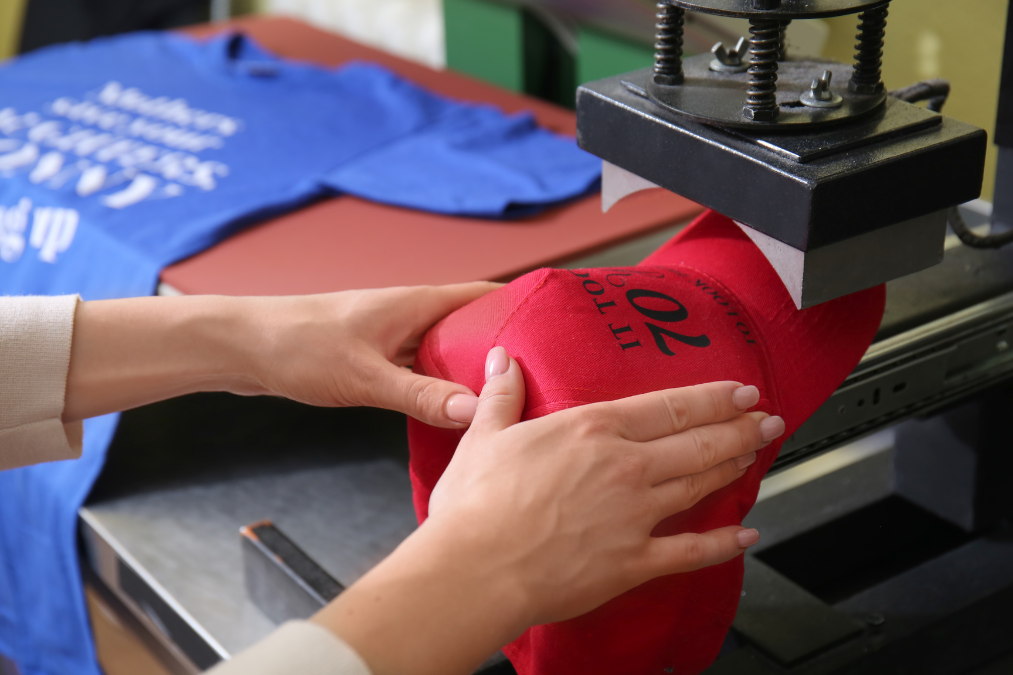 Now is the time to choose what print-on-demand service (supplier) to use. Finding the best supplier might not be a simple task, but it is crucial if you want to succeed. It is a make-or-break decision for every reseller, which will either help to succeed or fail in e-commerce. More importantly, dropshippers can and should work with multiple suppliers to diversify their product stock. It is also advantageous for safety reasons if something happens with one of your suppliers. You won't risk losing all your stock at once if you source from multiple suppliers. But this is not the case when doing print-on-demand – you should choose one primary provider and stick to it. This way, you ensure that all your products are of the same quality and that all your customers get the same level of fulfillment services.
Tips For Choosing Best Print On Demand Service
Here are some tips to help you find the best Shopify POD service providers:
Check Reviews
It should be your first step. If a provider has reviews, see what customers say about the quality of their products and customer support. It can give insights into how customers perceive your own quality when you will sell those products yourself.
Check Policies
I already described the importance of paying attention to shipping and return policies when looking for a good supplier, but it is worth mentioning again. Because the supplier's policies will apply to you and your customers, you must understand how they handle defective products and missing packages, process returns and refunds.
Processing Centers
Check how many processing centers (it is where products are printed) a service has and where they are located. Depending on the country you want to sell to, you should select a provider with the closest processing centers and the fastest shipping time. It takes 3-5 days to fulfill POD orders, so even one day of shipping time makes a huge difference.
Product Range
Another thing to note when doing Shopify POD. Dropshipping suppliers offer hundreds of thousands of different products to sell. Because only some items can be printed, POD suppliers offer only a few hundred products at best. 200 and 300 products to choose from is a big difference, especially for those who want to sell other than t-shirts and mugs.
Check Mockups and Designing Tools
Creating designs is a mandatory part of the POD business, so you should check what designing tools and how many mockups a service provides. You are going to work with the tools for creating high-quality designs often, so you want them to be powerful, flexible, and user-friendly. Mockups enable clients to see how a product would look when printed and can prod customers to purchase.
Try The Merchandise
You should order the products you intend to resell before listing them in your store. This way, you will check the quality of products, shipping speed, and packaging. Many dropshippers ignore this crucial step, but you should not. This way, you can be sure of the services you will provide and make corrections or improvements to the process if needed. If a supplier doesn't meet your standards, look for another one.
For better or worse, the number of services available is relatively limited, so you do not have to choose from such a vast number of different suppliers as when dropshipping.
Best Print On Demand Services
Here are the 5 most popular print on demand services:
Printful – Best Quality, Largest Product Range
Printful is one of the most popular on-demand printing and fulfillment companies that helps people turn their ideas into brands and products.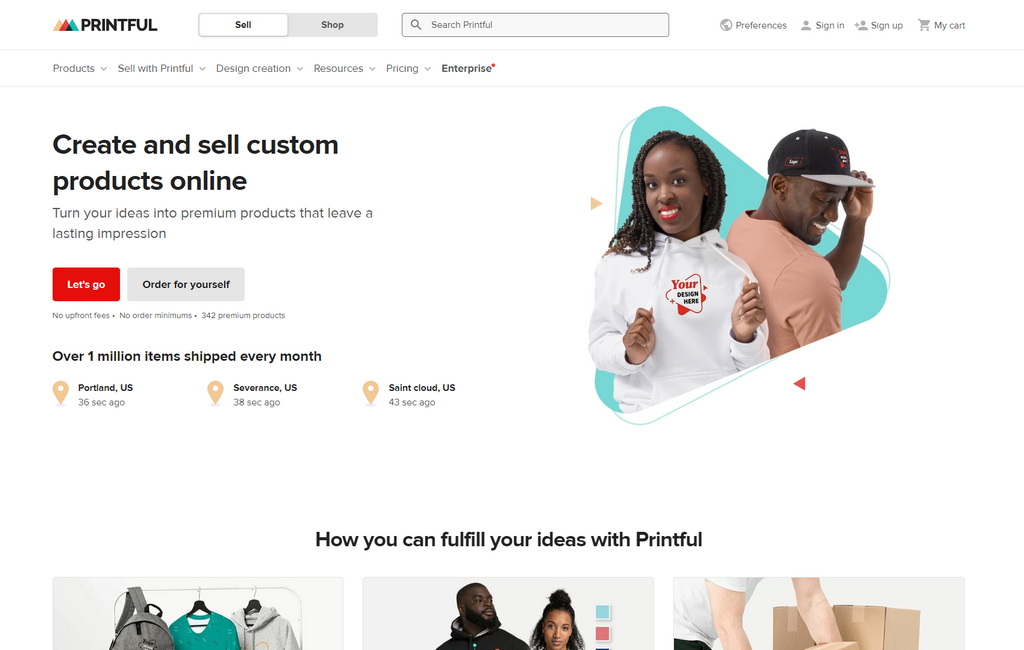 The service offers over 300 different customizable products like t-shirts & tank tops, hoodies & sweatshirts, bags, hats, jewelry, phone cases, wall art, mugs, posters, keychains, and many more. Add the fact that Printful has fulfillment centers all over the globe, and you get one of the best suppliers with top-quality products and fast shipping.
You can use Printful services for free, but pro packages give you access to advanced tools and premium images that will help make better designs.
Printify – Best Price-To-Quality Ratio
Probably the main competitor of Printful, Printify print-on-demand service offers some unique items like jewelry and clocks on top of the usual POD product selection.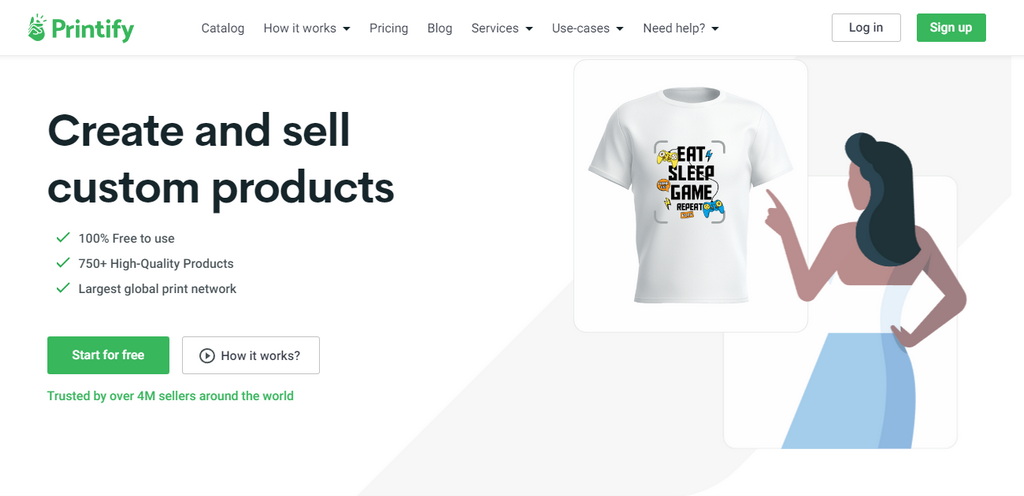 Printify operates a network of printing facilities primarily in the United States, Europe, and China. The product range is smaller than that of Printful, and the quality of some products might be spotty, but the price-to-quality ratio is better.
Printify is free to use, with a premium subscription available. For $29 a month, it gives a 20% discount for all products, which is nice if you are looking to scale your business as it gains momentum.
Gooten – Solid All-Rounder
Gooten is somewhere between Printful and Printify: it combines a wide product selection similar to Printful with product prices (and quality) similar to Printify.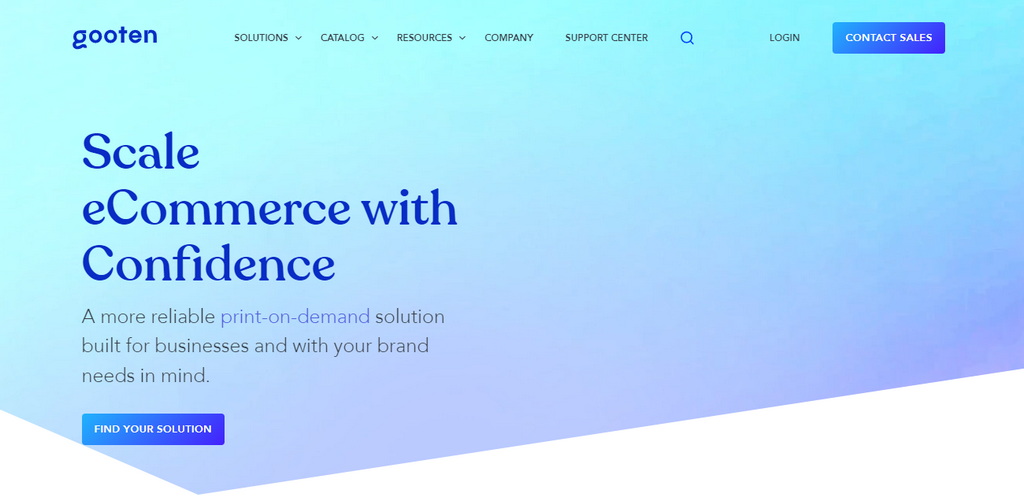 Gooten offers over 150 products with a wide selection of unique items you won't find in other POD services. Gooten partnered with a global network of over 30 top manufacturers and offers flat-rate shipping to every location it delivers to.
The service is free to use. You get perks like an assigned manager and access to new features based on your annual spending with Gooten.
Spod – The Fastest Shipping
SPOD has a feature no other print-on-demand service can beat – it offers 48-hours shipping inside the US and Europe.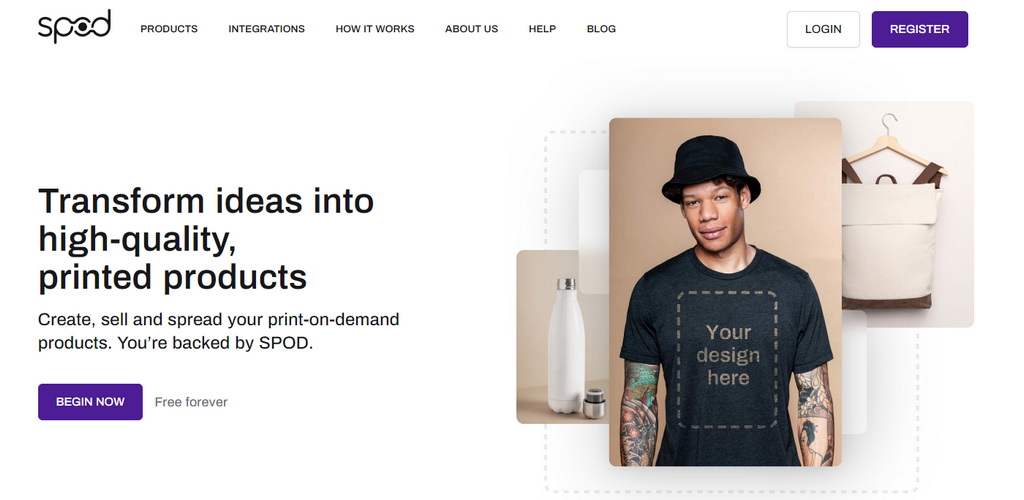 SPOD provides different printing options like digital and laser transfer, digital direct, thermal sublimation, and special flex. The service offers over 200 products and provides a product customization tool that lets customers personalize their purchases with their own images and designs.
SPOD is free to use and offers a 20% discount on sample orders.
Teelaunch – Best Homeware Print-On-Demand
Teelaunch has the smallest product range of all Shopify POD services on the list, but they focus on what they offer.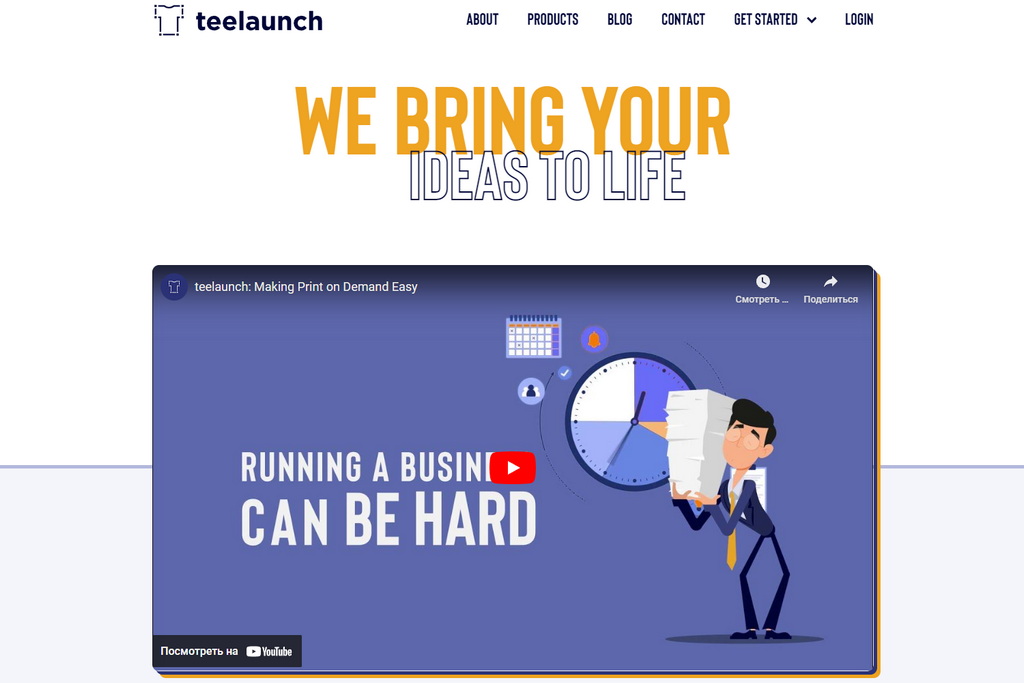 Teelaunch offers over 120 homeware products and garments. They specialize in all kinds of drinkware (mugs, glasses, water bottles), kitchenware (cutting boards, plates and bowls, oven mitts), and home goods (rugs, shower curtains, blankets, pillows). And they do that well. Their garment printing technology is also one of the best in the market. If you are interested in creating a brand around these types of products, Teelaunch should be your primary POD service.
Teelaunch is free to use.
Integrating Print On Demand Services
Here is one of the main advantages of the Shopify eCommerce platform: integrating these print-on-demand services takes just a few clicks. Once you have settled on what fulfillment service to use, proceed to the Shopify App Store, search for the provider and install its plugin. Simple!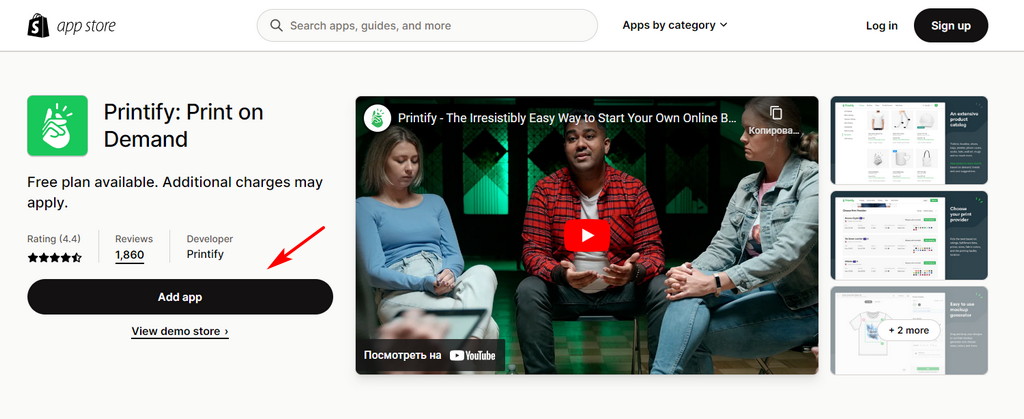 The same goes for all Shopify apps you might need – you can install them in no time!
Step 3: Create Your Designs And Products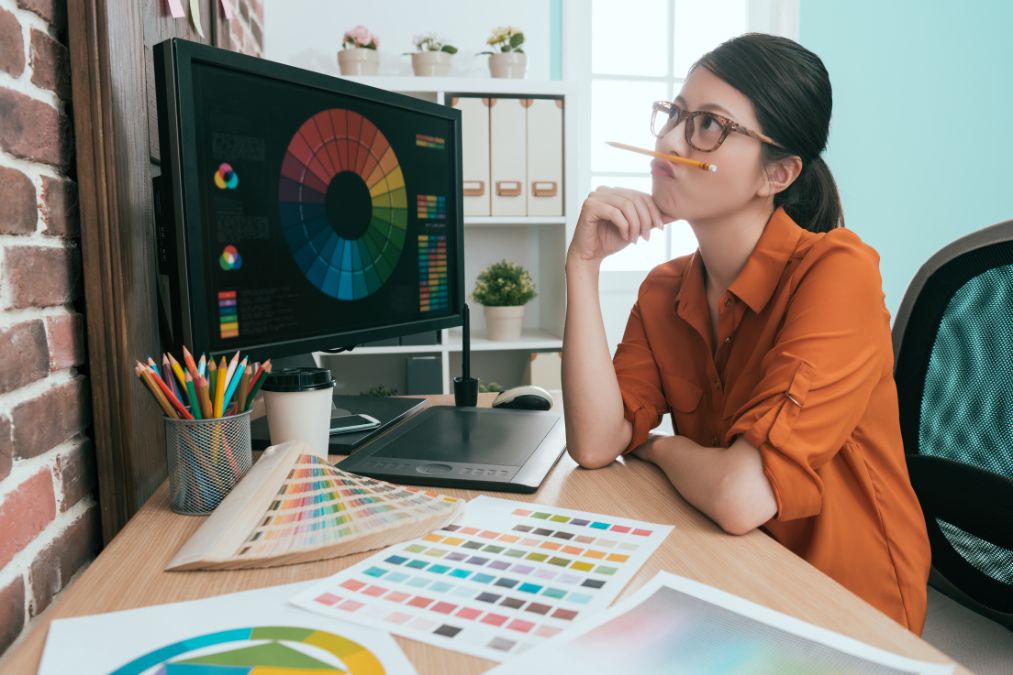 After you have integrated the Shopify POD service, it's time to upload your designs. While the process of uploading is super simple, it is the designs themselves that matter. This is the most crucial step in setting POD business. Designs are the essence of print-on-demand. The products you choose and their quality are important, but designs are what you actually sell – they are vital. Consumer look for great-looking products that stand out.
If you already have designs ready, simply upload them by following instructions from a supplier you integrated. All the popular print-on-demand services provide setup wizards that are easy to follow. If you don't have designs yet – create them. You can use software like Adobe Illustrator or Photoshop, Canva, etc. But what if you don't have the skills required?
How To Create Designs If You Don't Have The Skills?
It is more like where to get the designs if you lack the required skills. You have two options here:
Buy pre-made designs – you can buy artwork from stock photo websites like Shutterstock or iStock, buy designs on Etsy, or even use royalty-free artwork from Pixabay, Pexels, etc. The downside is that these designs are available to other users, including your competitors. Especially true if you use free artwork.
Hire a designer – you can hire a professional designer on sites like Fiverr or Upwork. A designer can help you create the perfect design in the right size and format for POD. If you have some ideas or materials that inspire you, show them to a designer to help them understand what you want. The advantage of this approach is that you will get unique designs. The obvious downside is that this is the most expensive option.
Some services like Printful offer a mockup generator to design your products.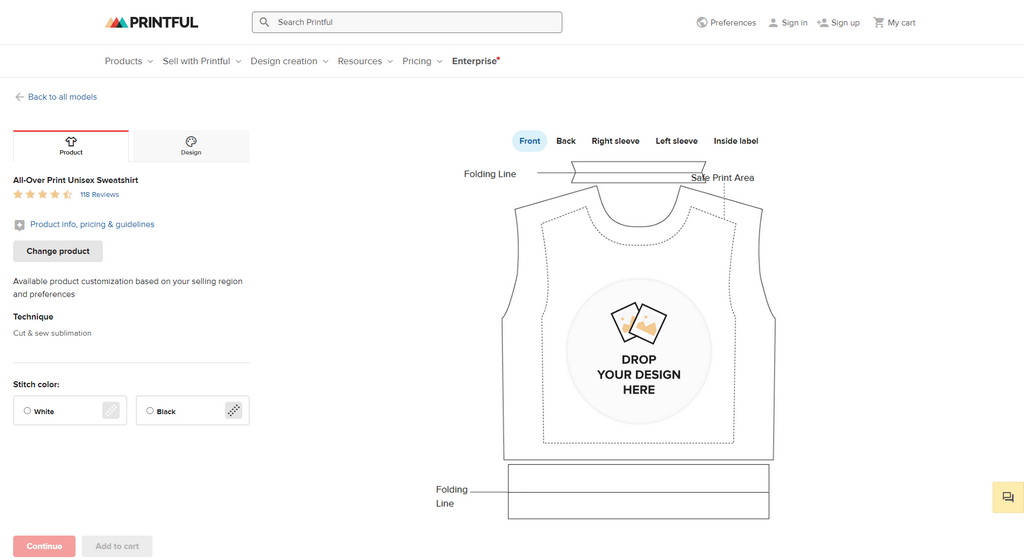 Step 4: Add POD Products To Your Online Store
It is time to create product pages on your Shopify store so you can start selling them! When dropshipping, it is up to a reseller to obtain high-quality product images and descriptions that sell. This is not the case with print-on-demand – all the decent Shopify POD services provide these. That doesn't mean that you should do nothing, though.
Create mockups that showcase your products from different angles – the more angles, the better. Be creative and write unique product descriptions that tell a story of each item design – convince customers to buy your products.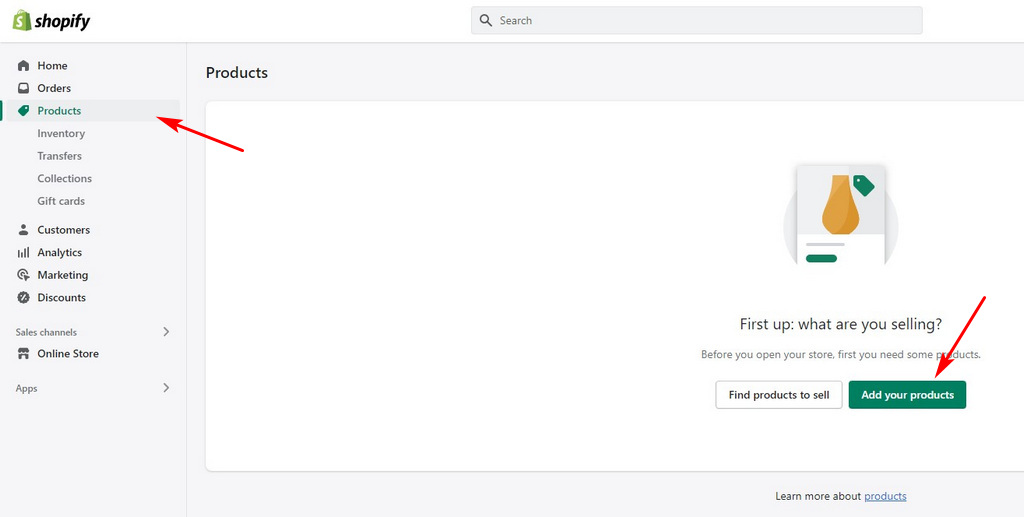 Go to Products to add your product. Make sure you include as many details as you can. Add catchy product titles and informative product descriptions, and use keywords. It will make it easier for customers to view and purchase products from your store. Do not forget to display your goods by uploading high-quality product images to showcase its features. Once done, press the Save button to finish listing your product.
Best Print-On-Demand Products To Sell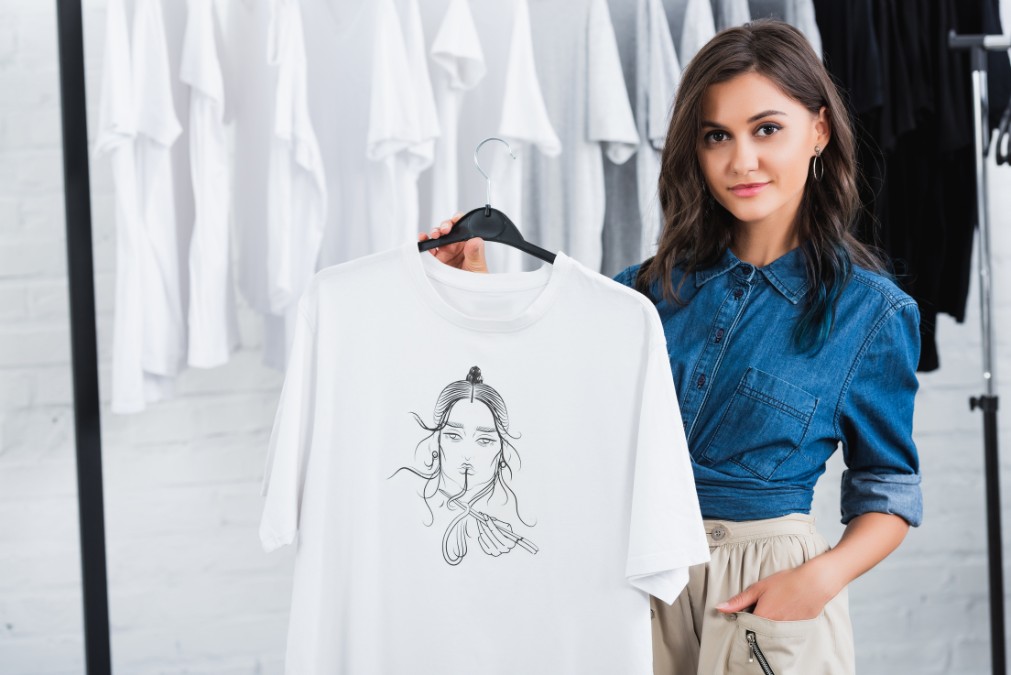 Talking about the products, let's take a look at your options. Here are the most common print-on-demand product categories you will find in most printing stores:
T-shirts
Hoodies
Denim jackets
Sweatpants, leggings, and joggers
Socks
Tote bags and backpacks
Luggage tags
Caps
Mugs
Coasters
Water bottles
Notebooks
Framed posters
Picture puzzle
Fridge magnets
Clocks
Stickers/Wall decals
Buttons
Swimwear
Bathrobe and kimono
Shower curtains
Towels (bathroom, beach)
Blankets
Cushions
Yoga mats
Jewelry
Electronics Accessories
Printed pet products
Metal prints
Custom prints (greeting cards, invitations, calendars)
Tip
Exactly which are the best POD products to sell online this year? We prepared 30 great ideas of print-on-demand products for you to add to your Shopify store.
Step 5: Launch Your Shopify Print On Demand Drop Shipping Store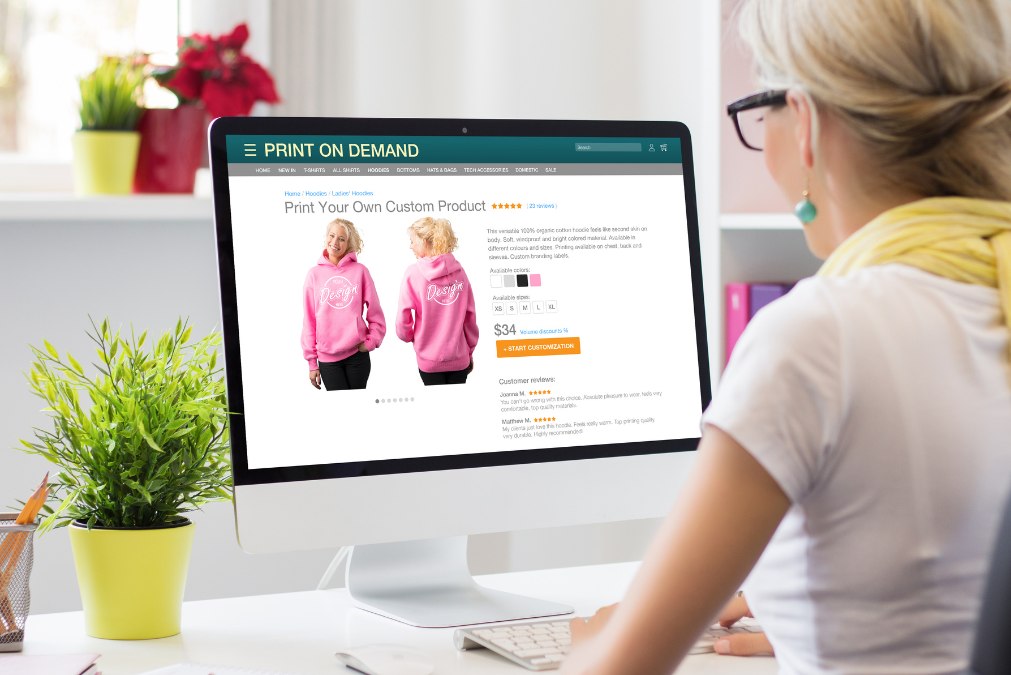 Almost finished! You are ready to launch your very own Shopify print-on-demand store! I know you are itching, but before going live, check that all your settings are in place, your store looks as you intended, and all your products are set up correctly.
Connect Sales Channels
Now that you have a Shopify store ready to go live, it is worth considering connecting it to other sales channels to reach more potential customers.
The Sales Channels feature allows you to connect your Shopify store to other marketplaces, like Facebook Marketplace. You can even integrate a Buy button into almost any website or blog. The best part is that you can still keep track of orders, inventory, and reports through the Shopify Dashboard.
It is a great tool to grow your reach and boost sales by promoting your store on other platforms.

Press the Sales channels button and choose from the list of available options. Shopify makes recommendations based on your setting, location, etc., but you can add more channels by typing the name of the marketplace you are interested in.
You are ready! Make sure you test your store before launch to ensure it is both desktop and mobile-friendly.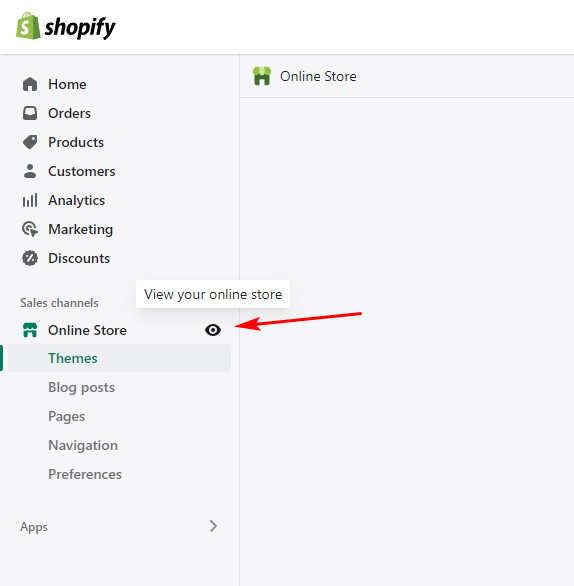 You can launch your Shopify store by going to Online Store and clicking Customize. Click the Publish button on the top-right corner. TA-dah!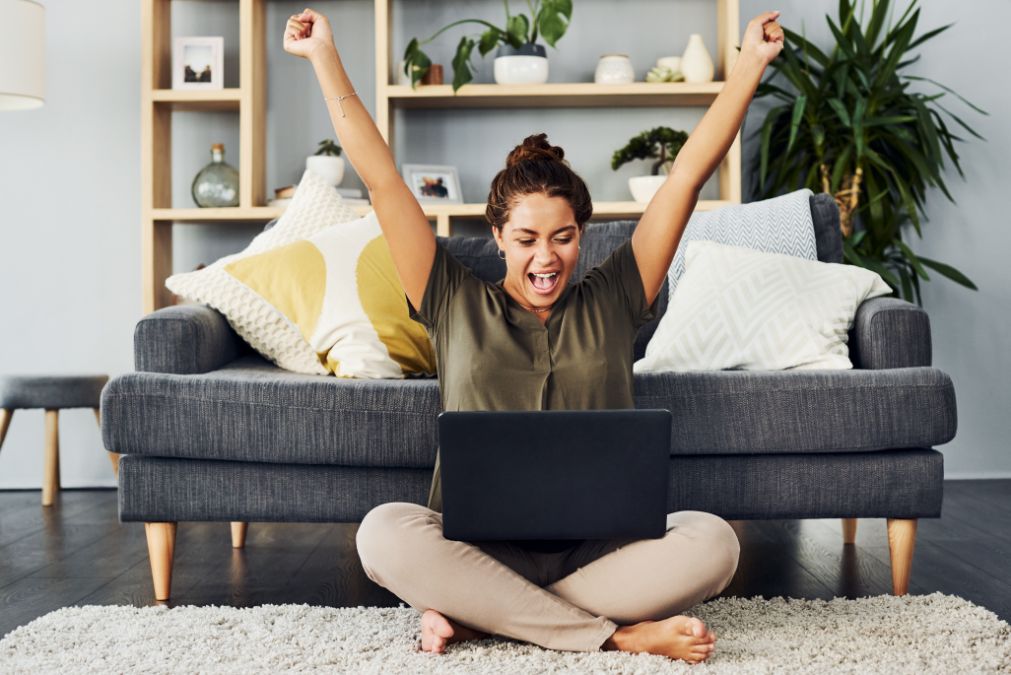 Marketing is an essential part of any eCommerce business and also the hardest. The competition is fierce, so you should use all the tools you can. There are many different ways you can advertise your products, like paid ads, working with influencers, and email campaigns. What you need to understand is that print-on-demand products require a creative approach because what you sell is art. The usual principle "determine a problem and offer (sell) a solution" used by most eCommerce businesses won't work.
What I suggest is to go with social media platforms and try Instagram Shopping or TikTok Commerce. These platforms are perfect for promoting creativity, personality, and art. Use hashtags, create ads, post regularly, and engage with other users and your followers.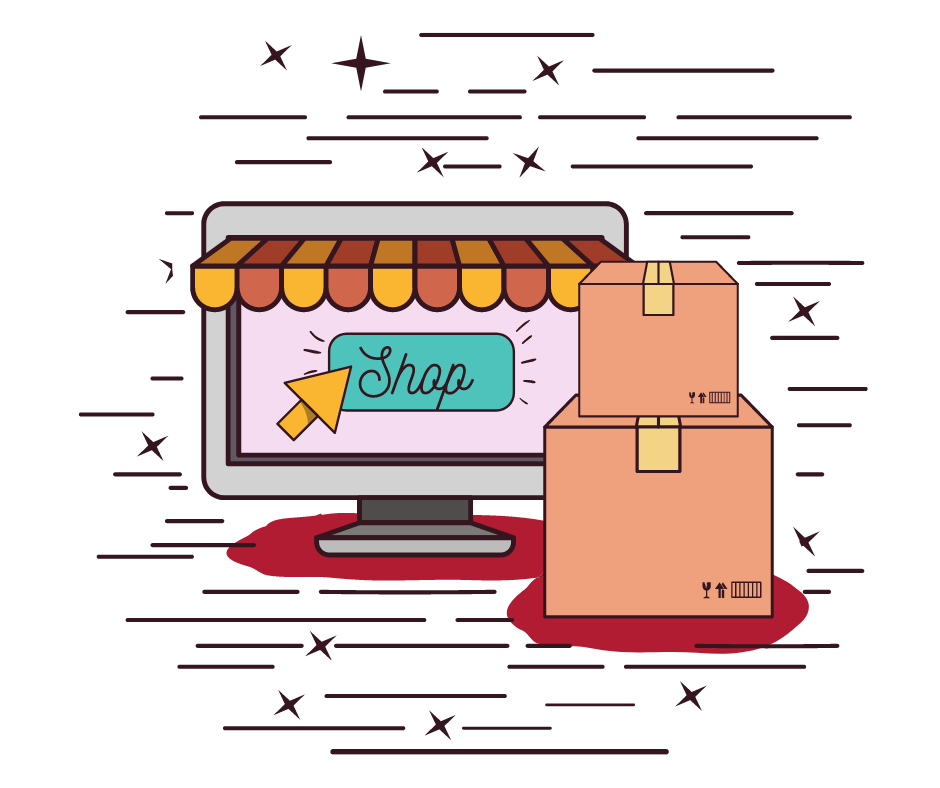 It's time…
Don't wait for success to come. Hire yourself and start your own dropshipping business
Conclusion
That was a long read, but you've made it! I hope that you find this guide helpful and it uncovered for you what print-on-demand is and how to start a Shopify POD store.
Print-on-demand is a great way for artists to monetize their talents and convert followers into customers. It is also an opportunity to explore new business horizons without serious risks. Just remember that, as with any dropshipping business, your success relies on the quality of services your suppliers provide, so choose wisely.
Make sure to check these Shopify POD related articles:
If you have insights about running Shopify Print On Demand Drop Shipping store, feel free to share them in the comments. Good luck!