25

min read
Wayfair, an American e-commerce giant, offers more than 18 million products in 13 sectors related to furniture and home decor. Shopify, eBay dropshippers, and other eCommerce shop owners choose to dropship from Wayfair to grow their online business and diversify their dropshipping suppliers.
How to dropship from Wayfair? Is it worth it? We decided to dig deep into this topic to show you the things you need to know about Wayfair dropship business.
Eventually, it's always a good idea to make a small research in starting to dropship from a new supplier. Our team got you covered!
Read further to find the answers to the most common questions about this dropshipping supplier and its peculiarities: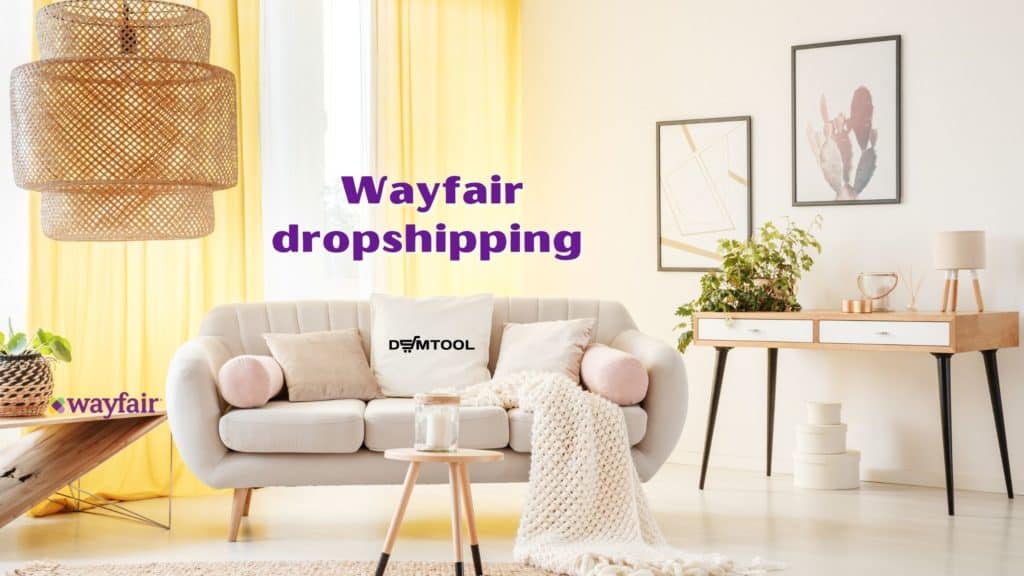 What is Wayfair?
Wayfair is an American company, which is one of the biggest online-only home products retailers in the world. It has more than 17 thousand employees, 20 million active customers, 18 million products, 1 physical store, 1 outlet, and big popularity of its online shops all over the world. It has offices and warehouses throughout the United States as well as in Canada, Germany, Ireland, and the United Kingdom.
This retail focuses on furnishings, décor, home improvement, housewares sections among others encouraging shoppers to purchase their products from their homes.
Their efforts make them dominate the furniture market. They are even called "Amazon of the furniture" due to its popularity in the online furniture sector. Here are the results of their work in 2019: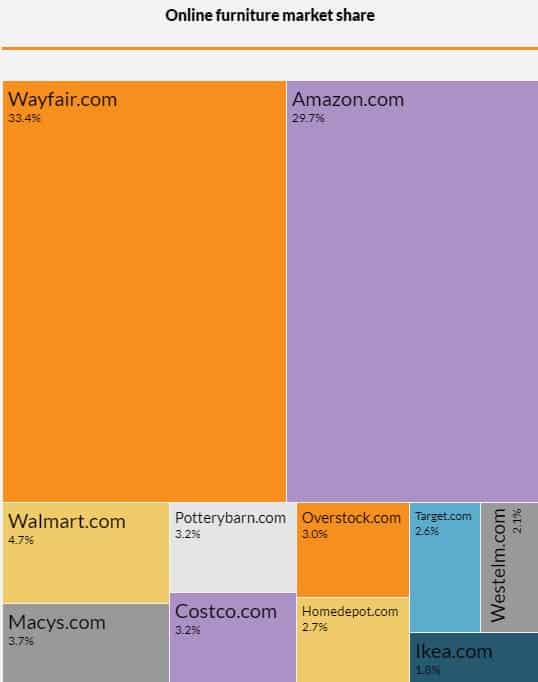 Nonetheless, the history of the Wayfair foundation is quite inspiring. The most interesting part is that the base of Wayfair´s success is the dropshipping business model.
Does Wayfair dropship?
Wayfair started as a dropshipping business. The company was founded in 2002 as CSN Stores by two entrepreneurs Niraj Shah and Steve Conine. After analyzing the market, they came up with an idea to sell stereo racks and stands online.
The results of their work were 250 stand-alone sites in different niches, which were merged into one e-commerce site Wayfair in 2011.
Nowadays, Wayfair gets the products from thousands of dropship suppliers (around 95%) and fabrics to sell their goods on their sites.
"Wayfair operates on the dropship model, so we send the customer order to your warehouse, then you pick, pack, and prepare to send the product directly to the end customer. Wayfair arranges and pays for 100% of the shipping cost."
If you aren't dropshipping yet and considering starting a dropshipping business Wayfair is a great example for you of what happens if you manage to massively scale the business. The dropshipping business model allows both Wayfair and yourself to focus on the marketing side of the business, making them sales, letting dropshipping suppliers operate the logistics.
Besides, Wayfair offers a dropship program based on the wholesale cost model.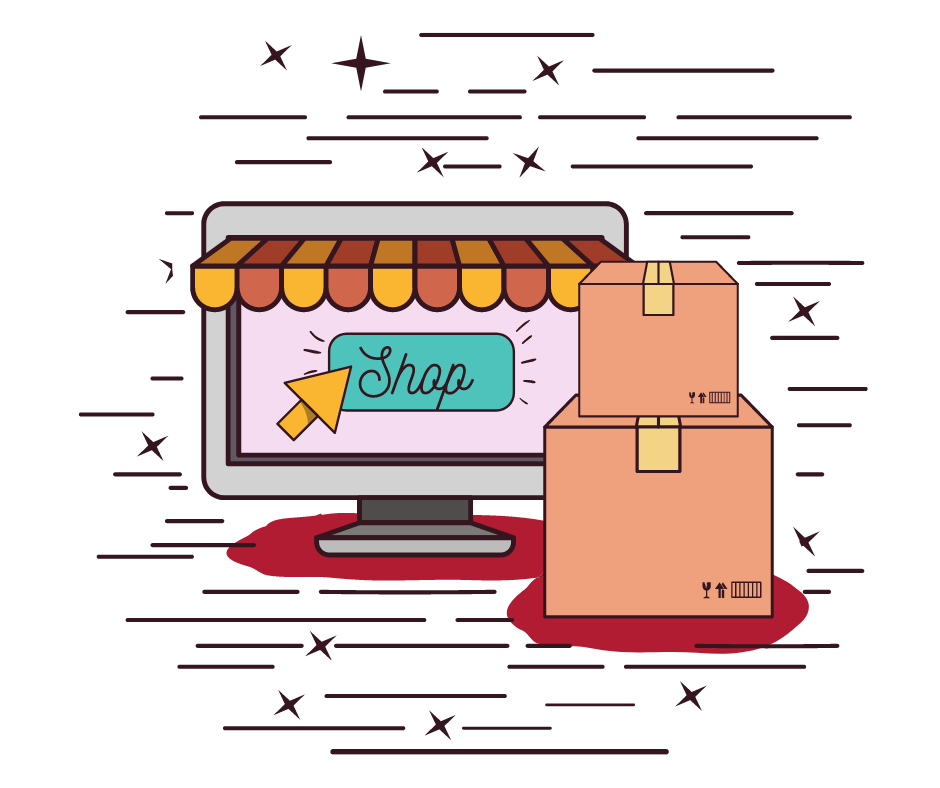 It's time…
Don't wait for success to come. Hire yourself and start your own dropshipping business
What are the Wayfair sites?
Let's start with that Wayfair Inc. is not only about the Wayfair site. It also owns Joss & Main, AllModern, Birch Lane, Perigold brands.
However, Wayfair.com is the main "all-inclusive" site, where the shoppers can find most of those brands' offerings.
Wayfair offers to shop from its major retail websites:
USA – wayfair.com

UK – Wayfair.uk

Germany – wayfair.de

Canada – wayfair.ca
How to use Wayfair as a dropshipping supplier?
Wayfair collected many dropshipping suppliers into a few websites. You can leverage that and use the Wayfair websites as a supplier for your store using a dropshipping software that automates your tasks.
Wayfair.com, wayfair.co.uk, and wayfair.de, and more than 50 other dropshipping suppliers are integrated into the dropshipping software DSM Tool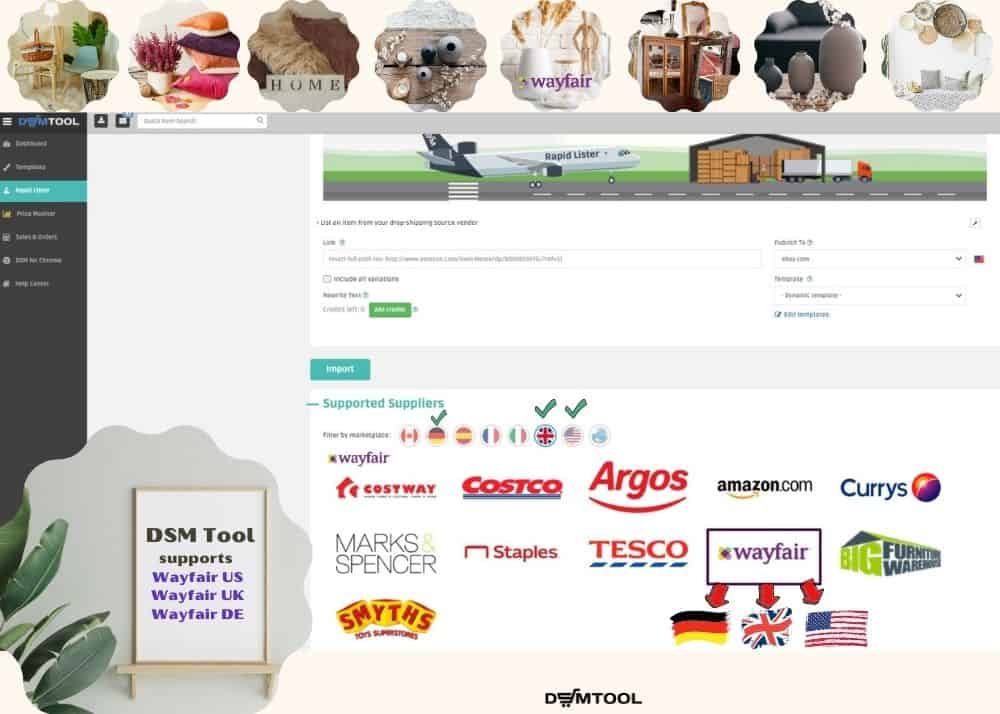 Wayfair Dropshipping
Let's start from the beginning. Dropshipping is the type of eCommerce business where the sellers don't hold the inventory. Once they receive the order, they order the product from their supplier who ships it to their buyers. If you already own your online store, you can consider Wayfair dropship.
Since Wayfair is the leader in home decor and furnishing in eCommerce, overcoming even such a giant like Amazon, it could be one of the best partners for your online business.
Besides, if to check the statistics about the best-selling items on eBay, Home & Garden along with Garden & Patio categories are in the top 3 most popular eBay niches: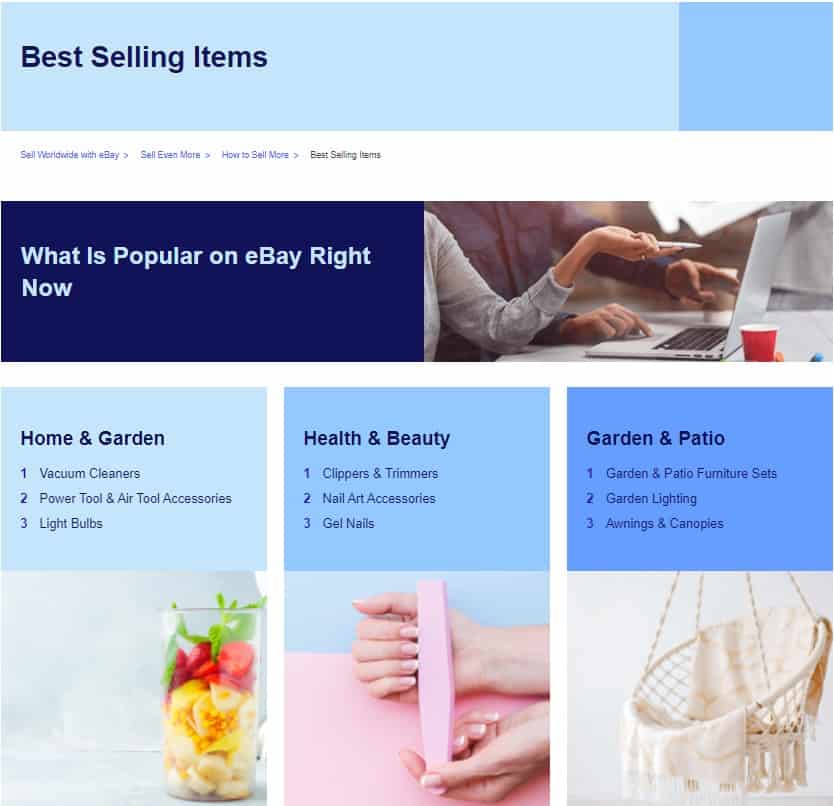 Therefore, Wayfair, the leader in these categories, should be the best dropshipping supplier for these categories. No matter if you dropship on eBay, Shopify, Amazon or another marketplace.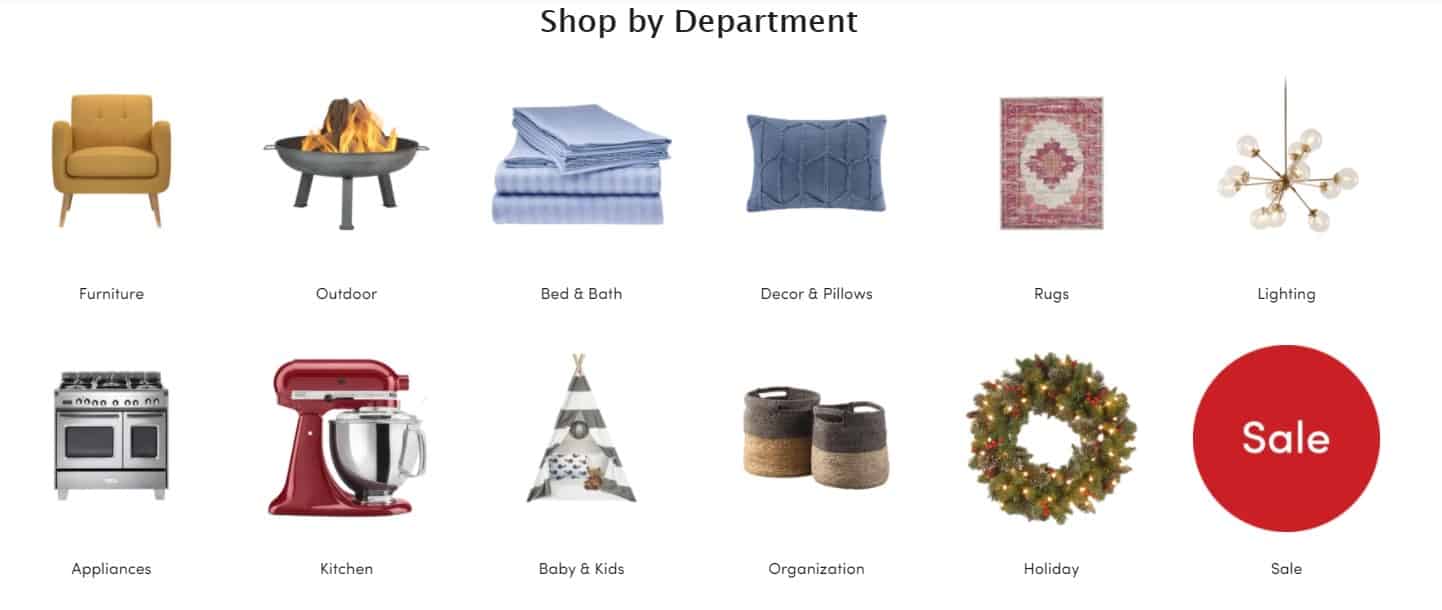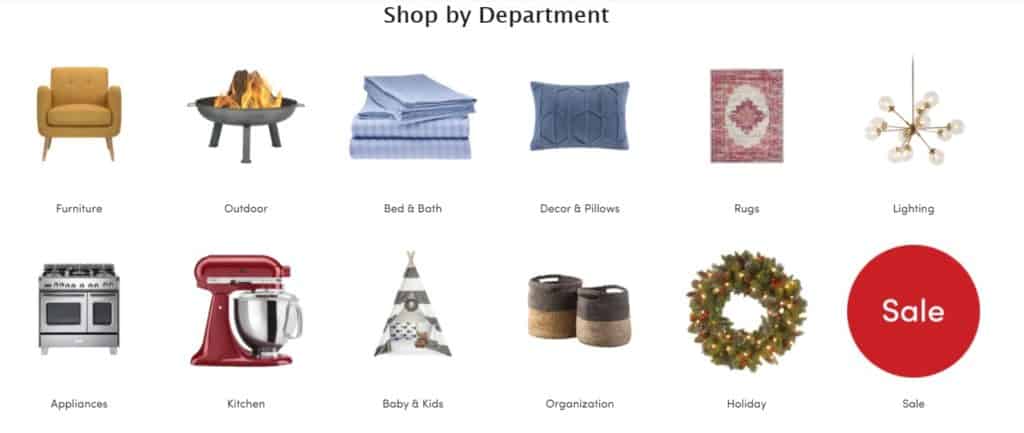 As you already know, Wayfair is an online store mostly with decorations and furniture. Currently, they offer millions of products in such categories:
Furniture

Outdoor

Bed & Bath

Decor & Pillows

Organization

Rugs

Lighting

Renovation

Kitchen

Baby & Kids

Appliances

Pet furniture

Holidays.
Opening each of them, you will also find a big number of sub-categories. The site is super shopper-friendly. All the categories and subcategories are organized in such a way, that their online shoppers can easily find what they are looking for and sort out not necessary goods.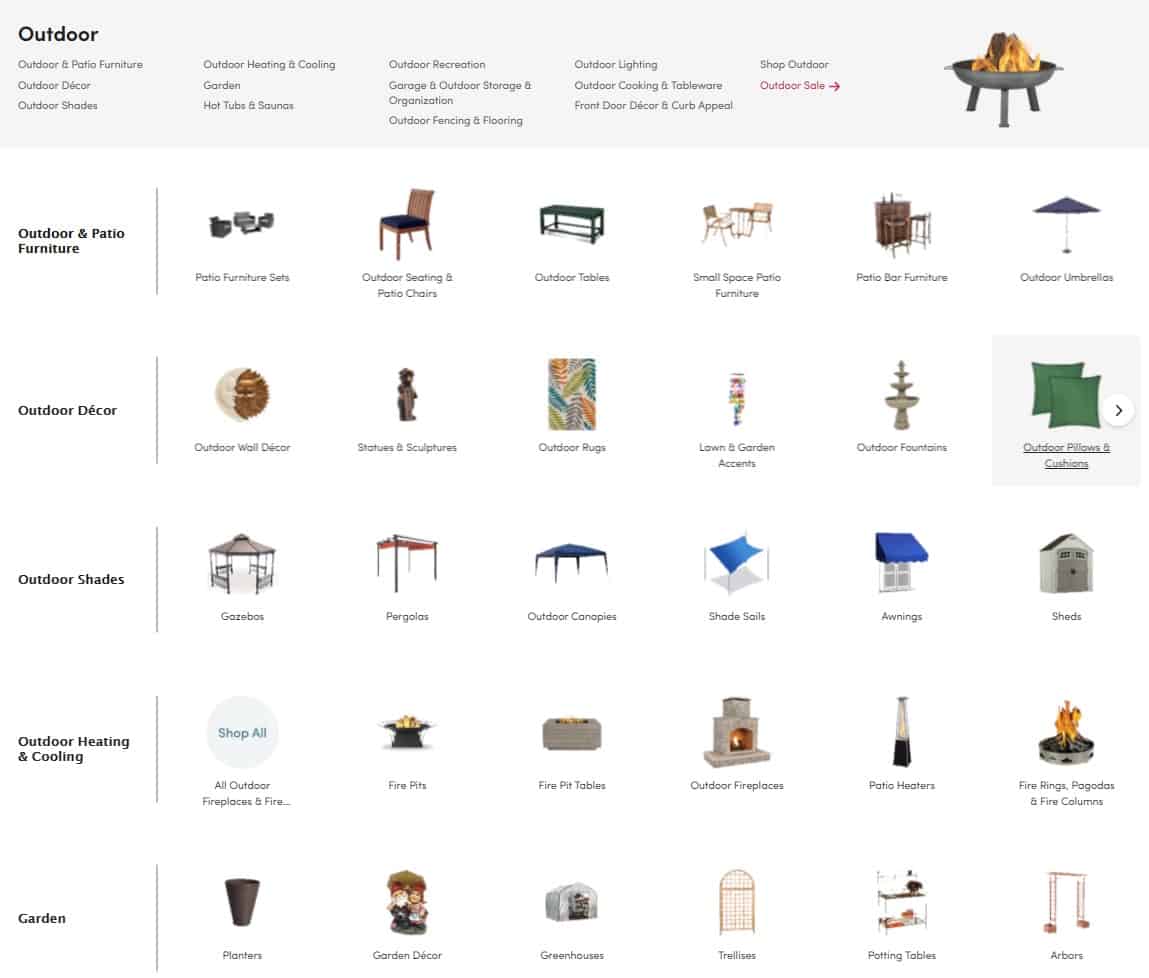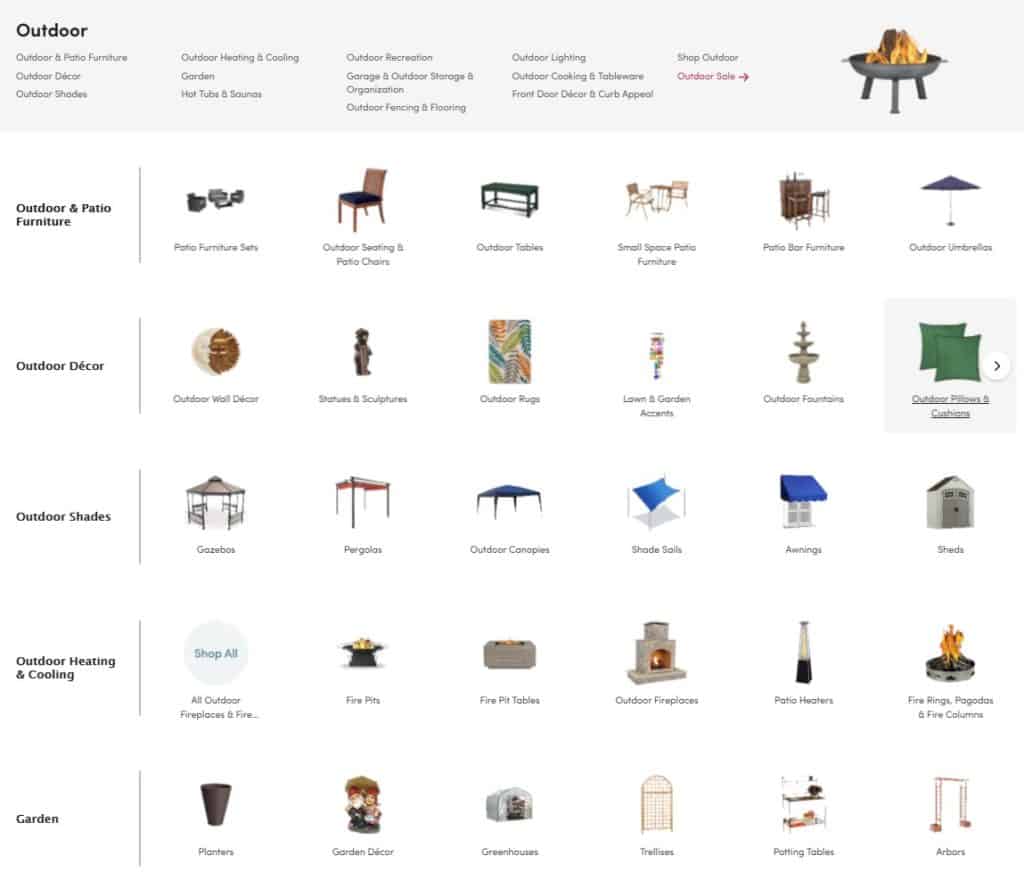 Dropshipping in these categories is better for beginner eBay sellers. They are less dangerous than the electronic category, to sell in which, by the way, first you need to confirm your reliability as an eBay seller. When I am saying "less dangerous", I mean that there are fewer chances to get the product returns.
If you dropship from Wayfair, it does not necessarily mean that you need to have a home decor niche-based e-store. Their products are easily combined with other niches so far.
For example, if you are a fan of raising in-demand green dropshipping. Wayfair has sustainable items for dropshipping as well. Their "Shop Sustainably" filter offers various parameters to find the necessary green item whether the product is recycled, with low environmental impact, or has a special certificate (like the Greenguard one).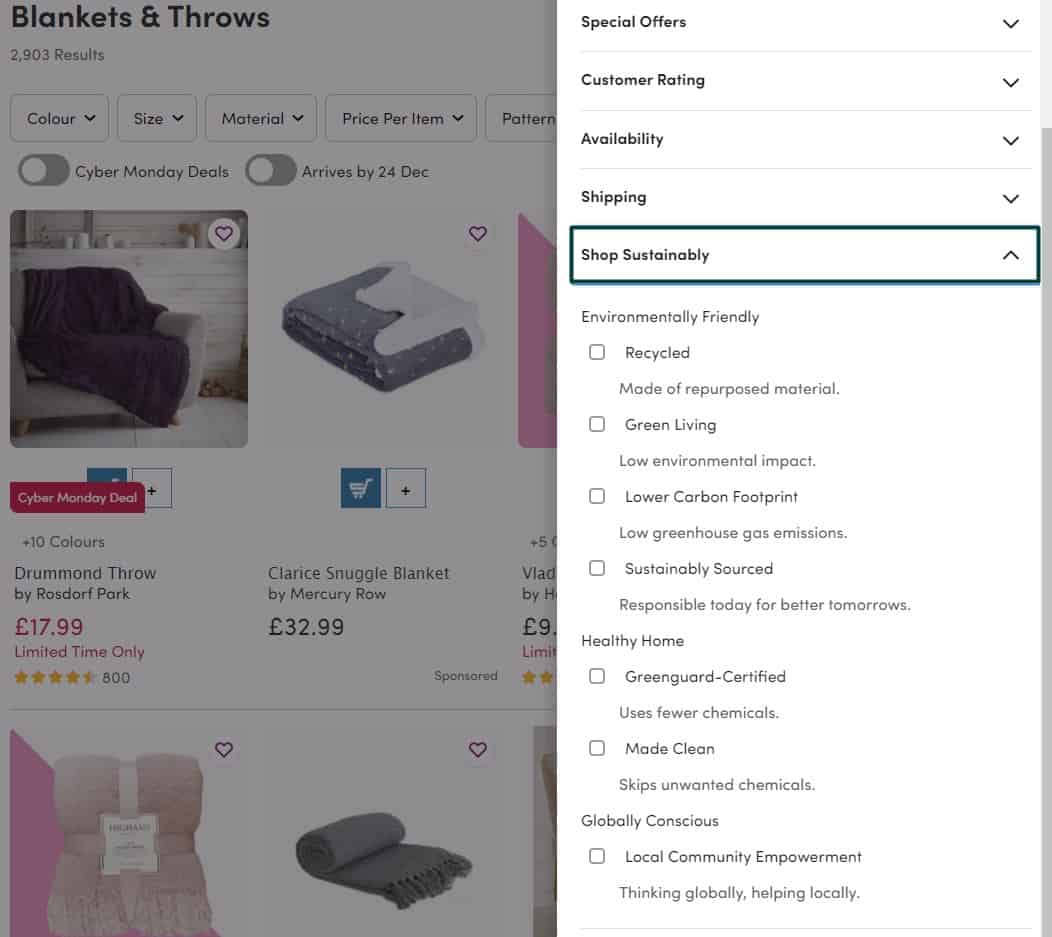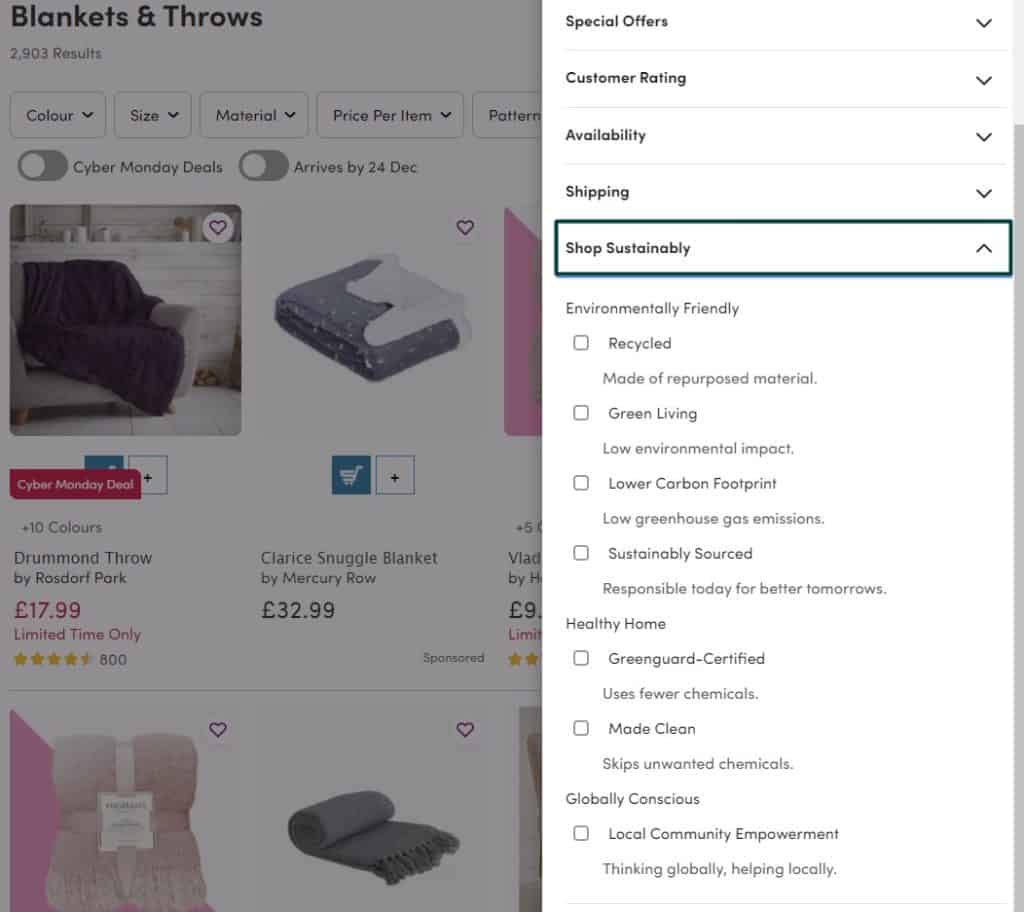 Handy tip: Usually it's recommended the general dropshipping store for beginners. It paves an opportunity to learn how to find profitable dropshipping products for different niches with the possibility to build in future one niche store.
Speaking about the product's price range in Wayfair, it is quite different. You can find there exclusive fancy products from their "home brands" together with stylish universal items at an affordable cost. You won't be able to dropship all of the products from Wayfair, some brands are part of the eBay VeRO program, but many aren't and will be dropshipping friendly.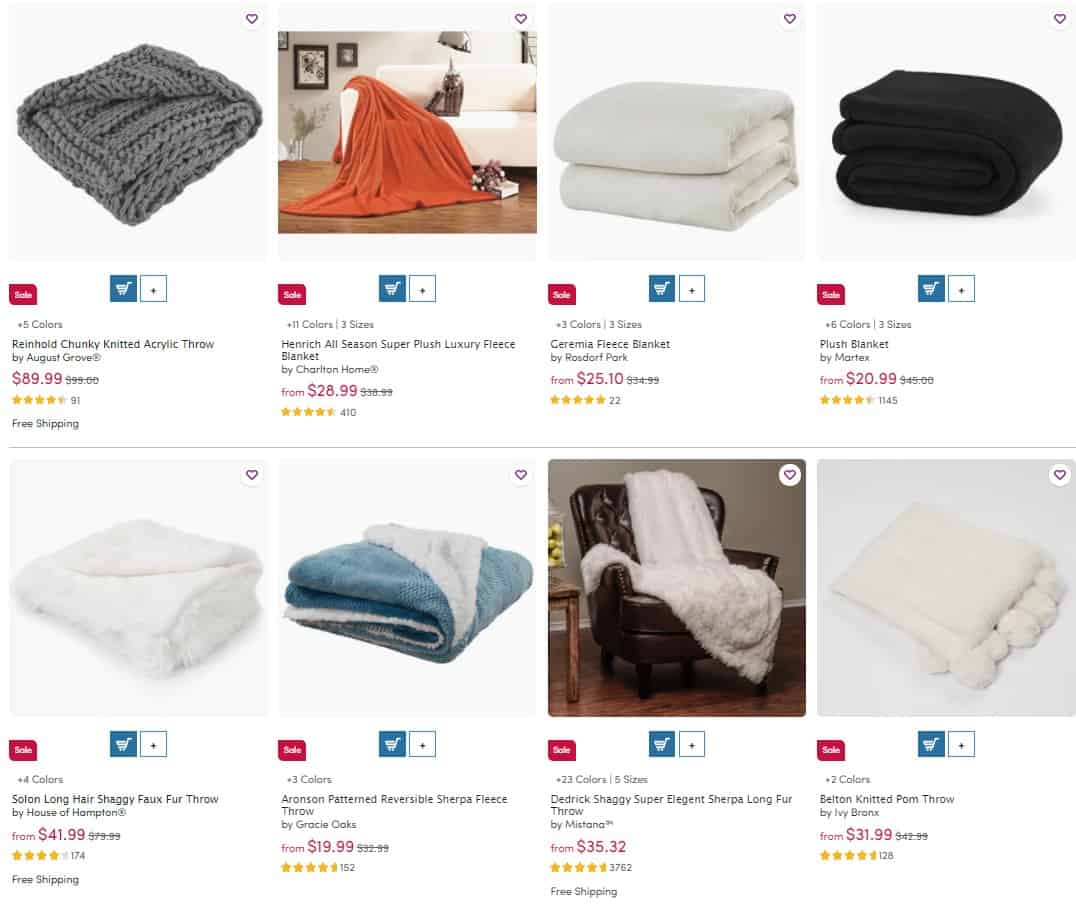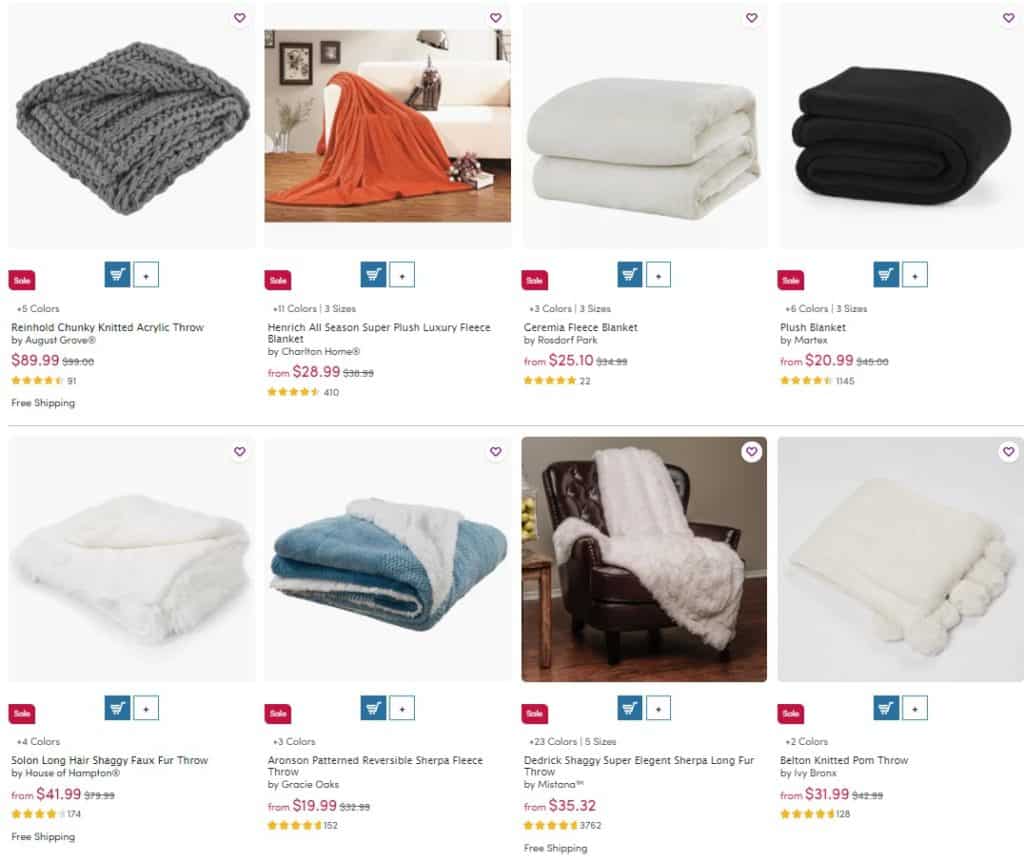 A good thing about Wayfair's brands is that many of their products don't have competitors in Chinese markets. You can check it, for example, by using Alitools search by the photo for a specific Wayfair product. It will show if there are the same items in Aliexpress. Hence, it gives the opportunity to provide more unique and not saturated products in your eCommerce store.
Knowing the range of products, you also need to pay attention to such crucial information as Wayfair shipping, paying, and return policies. It's a must-do in working with any dropshipping supplier.
Another advantage of Wayfair dropshipping is that it's possible to dropship from its international sites to different eBay marketplaces. It is a useful supplier for those who sell on eBay Uk, eBay De, eBay Canada, and eBay US or in other dropshipping platforms with the buyers from those zones.
If you would dropship from Wayfair on eBay, make sure to set the correct eBay business policies. To do that, you have to make research and get to know its shipping, payment, and return policies. We got you covered! Read further to find out the policies of all Wayfair sites.
Shipping, Payment and Return Policies of Wayfair's Sites
Almost all marketplaces indicate the shipping method and term and the return conditions on each product page. Wayfair isn't an exception. They offer the shipping information on every product page and the general overview of their shipping terms in their Help center.
Wayfair shipping methods and fees vary on their international sites. We made a quick overview of them for you:
Shipping
Wayfair US
Wayfair UK
Wayfair DE
Wayfair CA
Free shipping
-For products with Free shipping label;

– For products over $35 US.
– For products with Free shipping label;

– For products over £40 UK.
– For products with Free shipping label;

– For products over 30€ EUR.
– For products with Free shipping label;

– For products over $50 CAD
Shipping fees for usual paid delivery
$4.99 US
£4.99 UK
3.95€ EUR
$8.99 CAD
The comparison of the shipping fees and the order sum for free shipping for different Wayfair sites
Unfortunately, Wayfair does not offer the option to collect a couple of products that together reach the value $35 into one cart and then ship them to multiple addresses, so there is no way around that one.
Wayfair drop shipping during Covid-19
The company takes Covid-19 precautions. If the buyer has the Covid-19 symptoms, a positive test, or stays at home in the quarantine, Wayfair recommends contacting them to reschedule the shipping time (with no additional shipping fees for that). Besides, it offers the possibility of no-contact delivery.
Wayfair US shipping methods
Wayfair US primarily uses UPS or FedEx to deliver small products (less than 150 lbs). The shipping time is usually fast. The shipping time can depend on the ZIP code, but in any case, it takes no longer than 8 business days. Hence, you might want to set your eBay business policies accordingly.


In regards to the shipping fees, they have an option for free shipping. In such a case, an item will be marked Free shipping on its product page. In other cases, you get free shipping from Wayfair if your order amounts ≥ $35. Otherwise, you will need to pay $4.99 shipping fees for the Standard Shipping Cost.


If you're using the dropshipping software DSM Tool you can it up to automatically calculate the product cost with extra $4.99 to cover the shipping when products cost less than $35.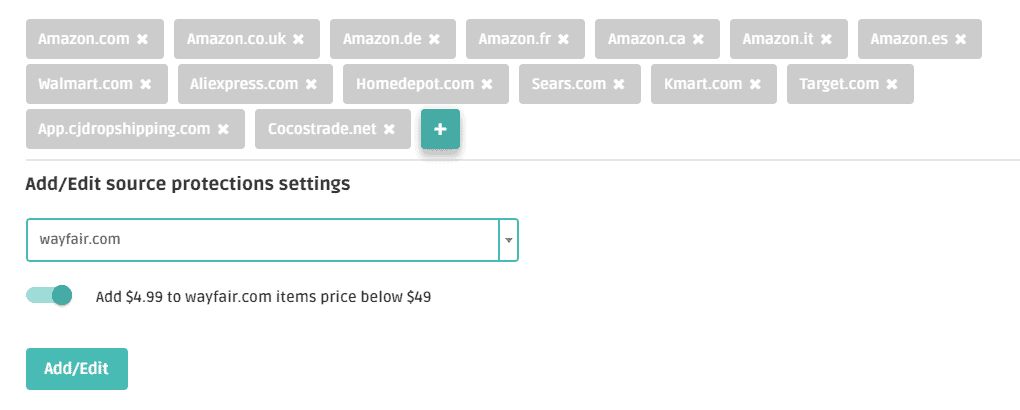 Handy tip: Offering free shipping, you raise the chances to get a sale. Besides you improve the eBay SEO of your listing (of course if you dropship on eBay) by this way. So if you list a product with paid shipping, include its shipping fees into your final listing price.
Nonetheless, free shipping does not always mean there would be no additional costs. Don't forget about the taxes.
Wayfair US charges the sales taxes if you ship to Alabama, California, Colorado, Connecticut, Florida, Georgia, Illinois, Kentucky, Maine, Maryland, Massachusetts, Michigan, Minnesota, New Jersey, New York, North Carolina, Ohio, Pennsylvania, Rhode Island, Texas, Utah, Virginia, Washington, Wisconsin.
Besides, additional fees or shipping restrictions can be applied for Alaska, Hawaii, Puerto Rico, or the U.S. Virgin Islands.
Wayfair USA also doesn't ship to P.O. boxes or military APOs.
Can I pay with PayPal on wayfair.com?
Yes. Wayfair USA payment methods include:
Credit/Debit Cards (Visa, Mastercard, American Express, Discover, Diners, JCB, China UnionPay).

PayPal & PayPal Credit

Apple Pay

Wire Transfer

Wayfair Gift Cards

, Store Credit, and Rewards

Wayfair Financing (Affirm, Acima, Fortiva, Genesis, Katapult, Progressive Leasing)

Personal Checks, Cashier's Checks, and Money Orders
As you see, plenty of payment options are available for Wayfair USA.
Wayfair United Kingdom shipping
Wayfair UK cooperates with various delivery couriers (DHL UPS, DX, Dp, Hermes to name a few). Once the order is made and processed, the seller sends all shipping information about the courier and tracking with a message in your Wayfair account.
Currently, they do not ship to the addresses within the Channel Islands or the Isle of Man.
The shipping time can take from a few days up to 2 weeks. It´s necessary to keep an eye on the processing time the sellers indicate there ("Dispatched within.."):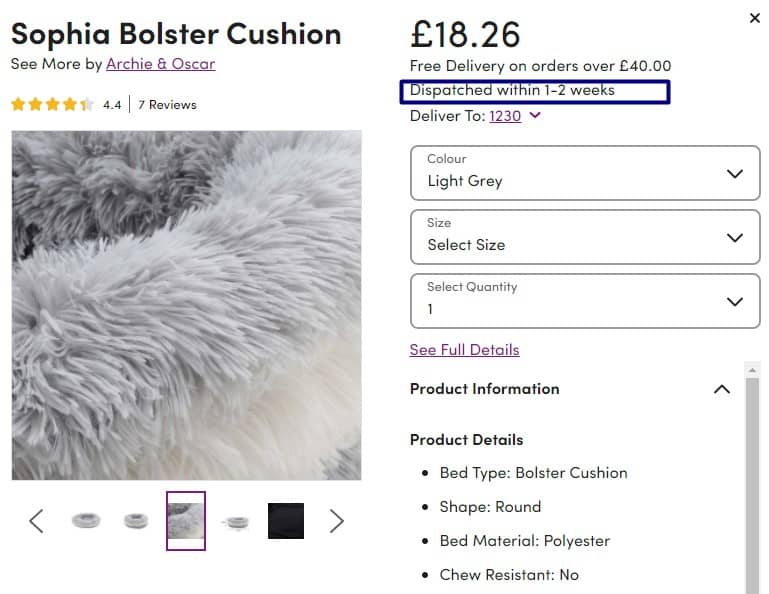 Regarding the shipping cost for the orders from Wayfair Uk: the items with a cost over £40 UK or those marked with FREE DELIVERY will be shipped for free. The shipping fee for orders of less than £40 UK is £4.99.
However, it isn´t applied to Ireland. Deliveries to the Republic of Ireland are paid. Wayfair Uk charges £10 per small item, £95 per item for the doorstep delivery, and £190 per item for a room of choice delivery. Take into account that the last option isn't available now in Wayfair Uk due to Covid-19.

Wayfair UK payment options
Wayfair Uk payment methods offer to pay for the order in the next ways:
Wayfair Canada shipping options
To begin with, Wayfair Canada mostly ships the packages via Purolator, UPS, or FedEx delivery couriers. They have fast 2-Day shipping and Ground shipping, which includes 5-10 business days of delivery. Nonetheless, pay attention to the indicated Lead Time (processing order time: "usually ships in…"). Sometimes the shipping time together with the Lead Time can take 2-4 weeks.
As for the shipping fees for Canada, the system is pretty similar to Wayfair USA. There is a Free shipping option for the products over $50 CAD and those which have a Free shipping label. The items that are cheaper than $50 CAD get the Standard Shipping for $8.99 CAD.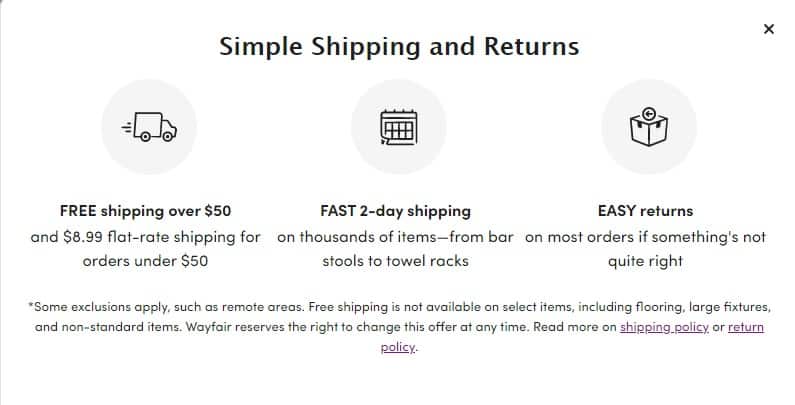 It's possible to ship the products from Wayfair Canada only within Canada. It is impossible to ship the products ordered from Wayfair Ca to the USA, Uk or Germany since the company has the sites for them. But if you want to ship to another country the order over $5,000 CAD, it is possible. Just contact Wayfair support to find out the details.
Wayfair Canada payment methods
Ordering in Wayfair.ca you can pay with such payment options as Paypal, credit or debit cards, AMEX, ApplePay, PayBright (for the orders that cost more than 50$ CAD, pay later option is available), and with the Wayfair Credit card.

Wayfair Germany shipping methods
Wayfair De ships the orders with DHL, UPS, DPD, GLS, and Hermes shipping couriers. Buyers can't choose the delivery courier by themselves since it depends on the sellers.
The orders over 30€ EUR and those which marked Free shipping have free delivery. Wayfair DE charges 3,95 € shipping fees for the products with the cost less than 30€ EUR within Germany. Take into account that the shipping to Austria requires extra shipping fees which depends on the shipping way you will choose.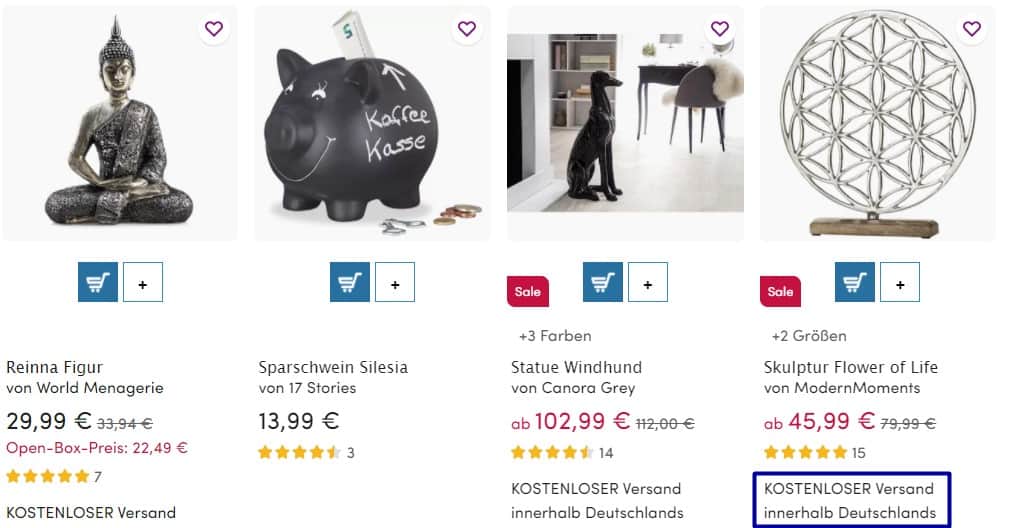 The shipping time currently is longer than usual due to Covid-19. Anyway, the delivery time takes from 1 to 3 weeks. You can see the shipping terms on the product page and in the cart: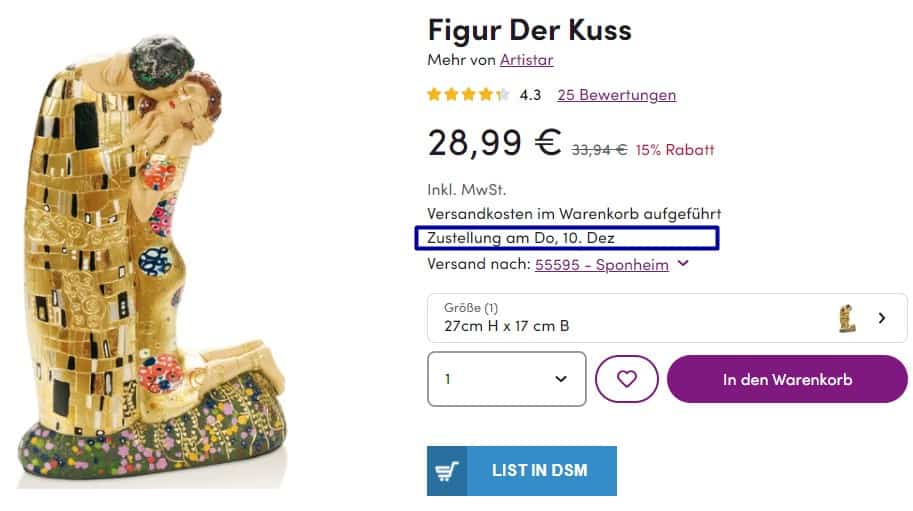 Wayfair Germany payment options
The payment methods for Wayfair DE are the following:
Credit/Debit Cards (Visa, Mastercard)

PayPal

AMEX

ApplePay

Vorkasse
To sum it up, we can see that it's possible to pay with Paypal, credit/debit cards, ApplePay, and Amex on every Wayfair site. That's very shopper-friendly.

Wayfair's Return Policies
When it comes to the Wayfair product returns, you need to know that there are 2 types of returns.
Returns of not damaged or defective items.
Wayfair doesn't offer free returns for such items. Buyers can return the product within 30 days with applied shipping cost fees (so returns aren't free). The conditions of this item must be in its original state and have good packing. The product return supposes a refund or store credit. However, clearance and personalized items, bundled items

at a discounted rate, products initially marked as "Non-Returnable", open box items, and

gift cards

can't be returned

.

Additionally, Wayfair prolongs the 30days term for returns during Christmas Holiday. The products brought between November 1 – December 31 can be returned till 31 January.
Returns of damaged or defective items. In case the buyer got damaged or defective Wayfair product

, Wayfair does not apply the

shipping cost fees for returns (so returns are free). It offers a refund or replacement within 30 days after the delivery date.
Those who need to return the items but are Covid-19 positive or are quarantining can contact Wayfair to find out the solution for it.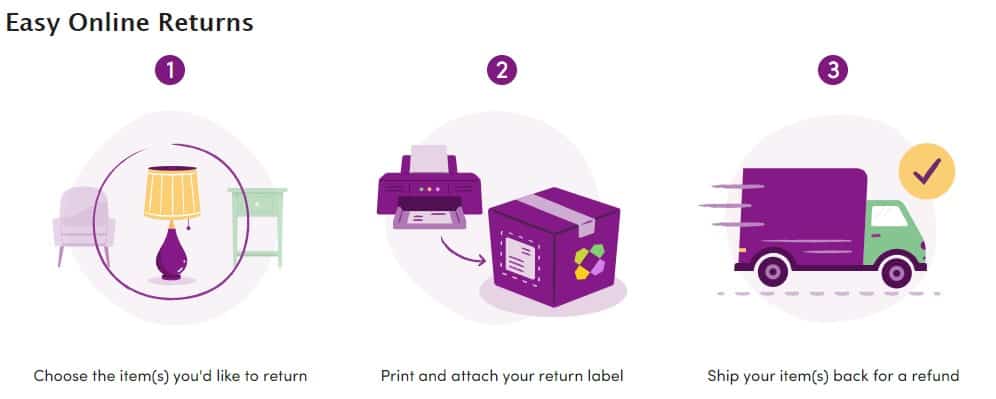 In conclusion, take into account Wayfair's policies in setting your business policies on your dropshipping store.
Now, knowing all Wayfair policies, let´s see what else the company offers their shoppers.
What is the Wayfair Professional Program?
Well, the Wayfair professional program is basically a special membership they can get on site. Customers who use it get new sales offers every day, a personal account manager (an industry expert) for everything they need from product delivery to shipping options. They also get commercially rated products,hand-curated collections for exclusive brands, and complimentary design services. Nevertheless, free shipping conditions are the same as from usual Wayfair accounts.
You can join it for free.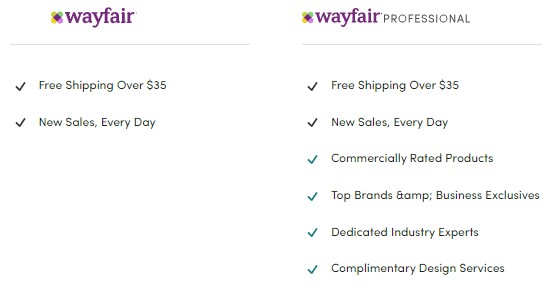 The company also offers Wayfair gift cards and Wayfair Credit Card along with their professional program. It's noteworthy that the Wayfair Credit card payment option is available only on their US and Canada sites. It's possible to see more information about it and order them right on their sites. 
Additionally, they offer the Wayfair registry program for bride and groom but it isn't useful for dropshippers. Hence, I skipped its overview. The only thing it tells us is that Wayfair really puts a lot into its marketing and eCommerce development. Just think…they invested $310.9 million in marketing and driving traffic in 2020. It makes it a great supplier for dropshipping. 
Does MyWay program of Wayfair still exist?
No. Wayfair terminated their loyalty program MyWay on March 25, 2020. The program was dismissed within all Wayfair sites and brands. We recall that the MyWay program of Wayfair was their loyalty program for permanent customers which provided them additional benefits like free 1-day shipping on any order or access to the exclusive products. Nevertheless, the existing MyWay members will keep receiving these benefits till the end of their membership.
How to Take Maximum Advantage of Wayfair Dropshipping?
Here we put together the handy dropshipping tips to help you take maximum advantage of dropshipping from Wayfair.
1. Don´t miss the sales
Wayfair sites daily offer new sales in addition to the general big sales events like Black Friday or Cyber Monday. Discounted prices can help you to lower the target price to win over the competitors or to set the bigger profit% for the item. Usually, the sales last 2 days.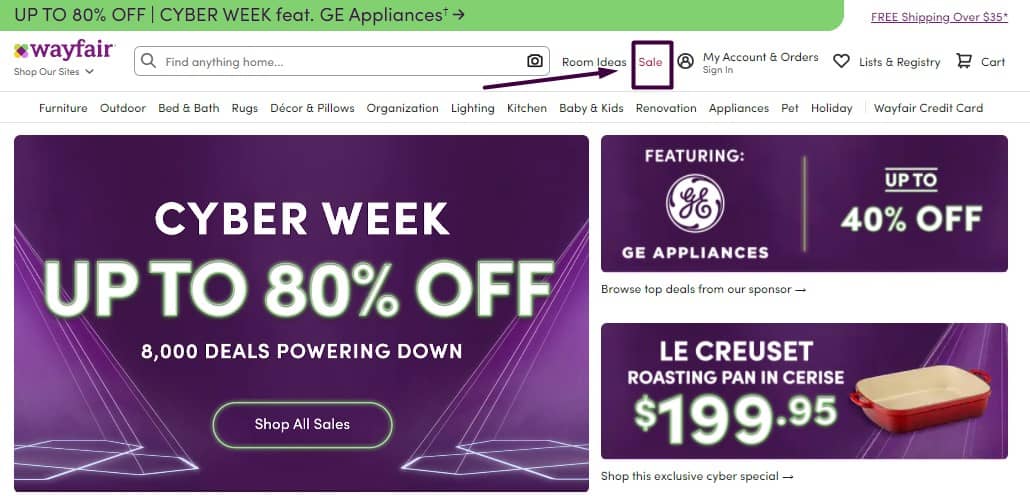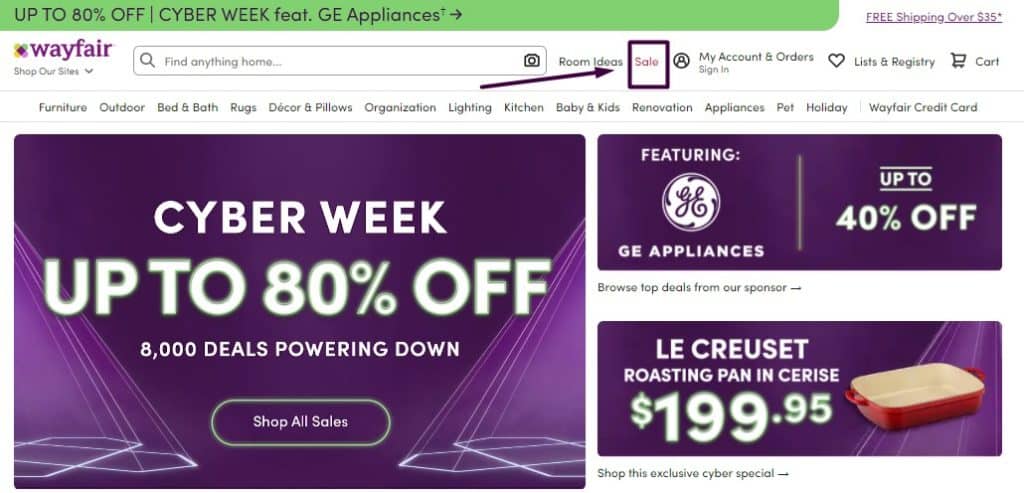 2.Check the sellers´ reliability
You can check the feedback for the item and its quality on every product page. Many buyers´ comments include the photos of the product, so you can verify if the item fits its description.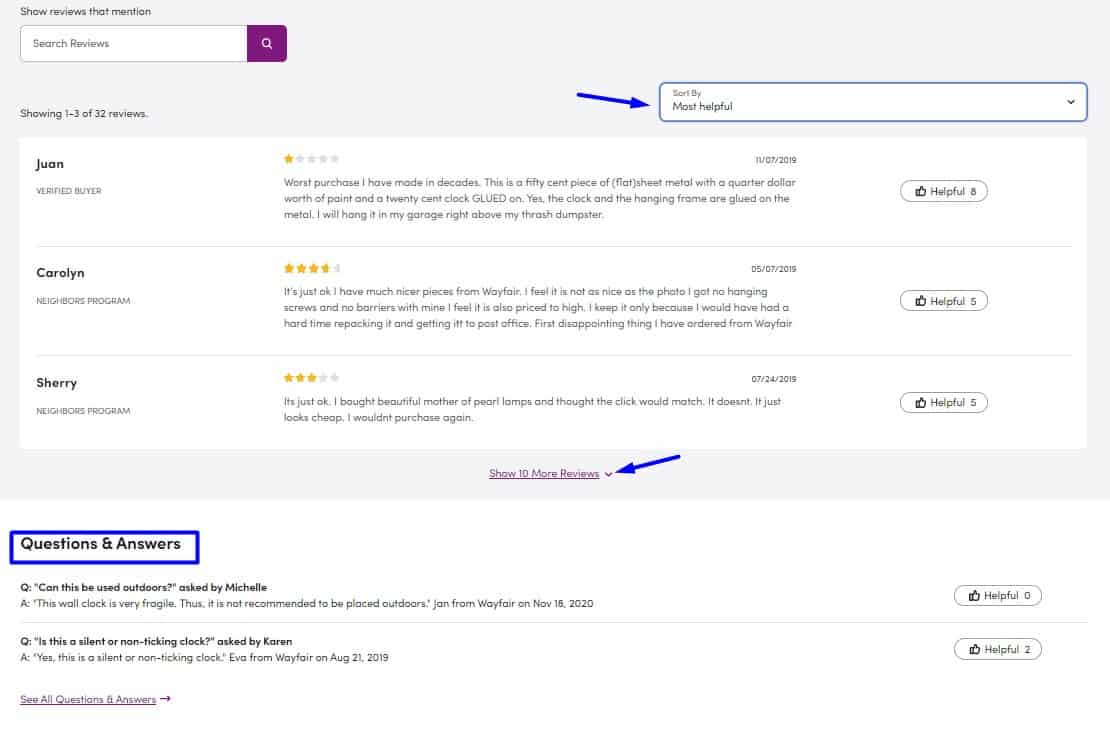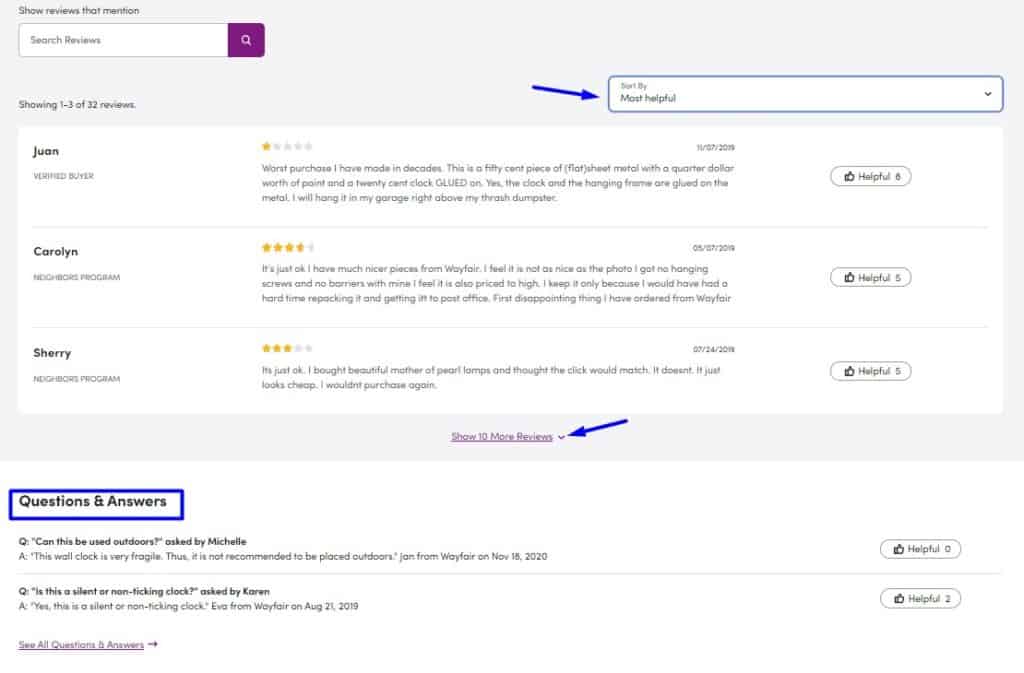 3. Use an automation dropshipping software
Save your time with an automation dropshipping software that facilitates all the listing and monitoring processes.
For example, use DSM Tool all-in-one dropshipping software for Wayfair dropship business. You can list from Wayfair US, UK, and Germany to the corresponding eBay or Shopify store.
It copies the title, the photos, item specifications, and its text description into the listing in a matter of seconds. After publishing the listing in your eCommerce shop, DSM Tool also monitors the price and stock changes and updates your listing.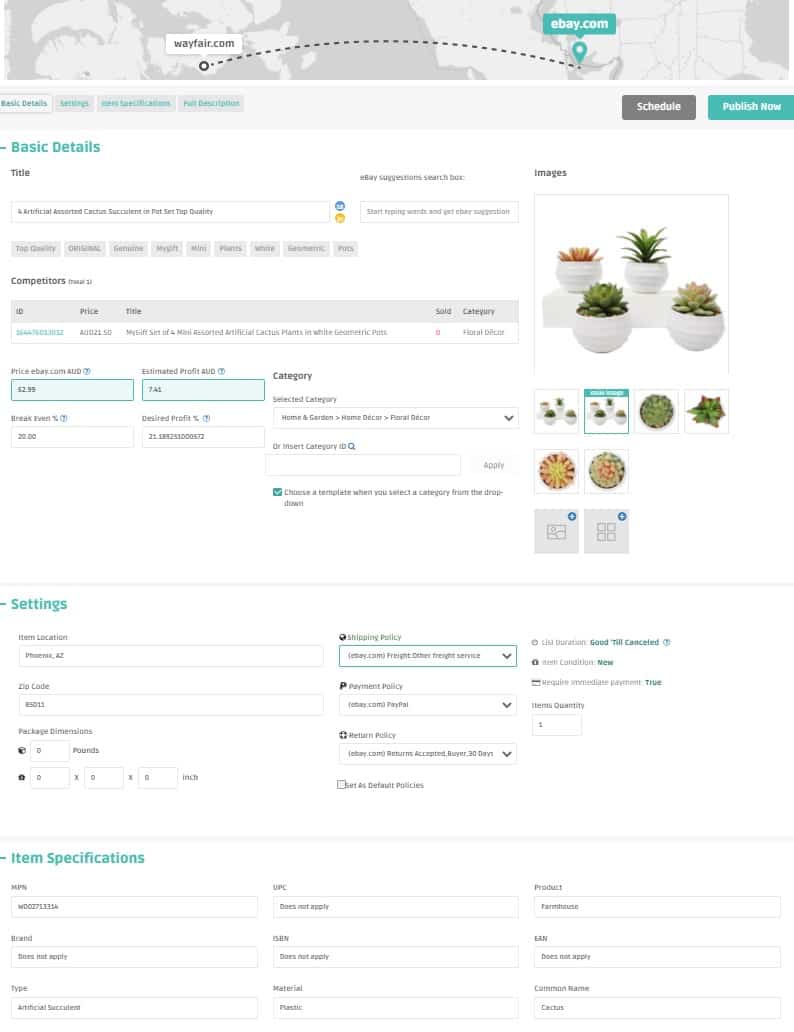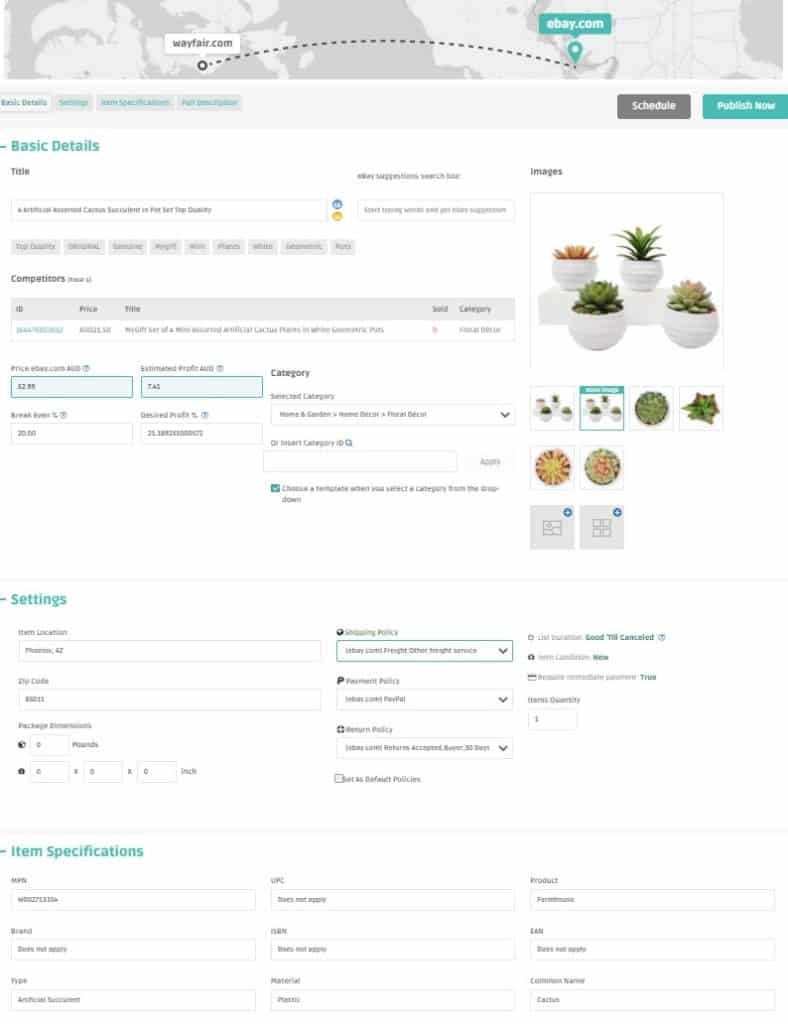 4. Get extra income with Wayfair coupons sites.
Check the available coupons for Wayfair, for example, in Honey, and receive the sale offers and cashback for Wayfair professional accounts with Giving Assistant. It will allow you to save money in drop shipping.
5. You can contact Wayfair and ask a few questions to check their customer support.
Why do you need it? You will know then how much time does it take them to answer and the quality of their support (normally it's good). As a consequence, in case there would be any problem in the future with an item shipping or conditions while you dropship from Wayfair, you would be prepared.
6. Order a small Wayfair order (optional).
You can even order a small Wayfair product for yourself to check their services. For example, you will see their packing (it will be a box with the Wayfair logo) and see if they attach the invoice to the package. Usually, Wayfair doesn't put the product invoice in the box. To double-check it, drop them a message asking them not to put the invoice in the package.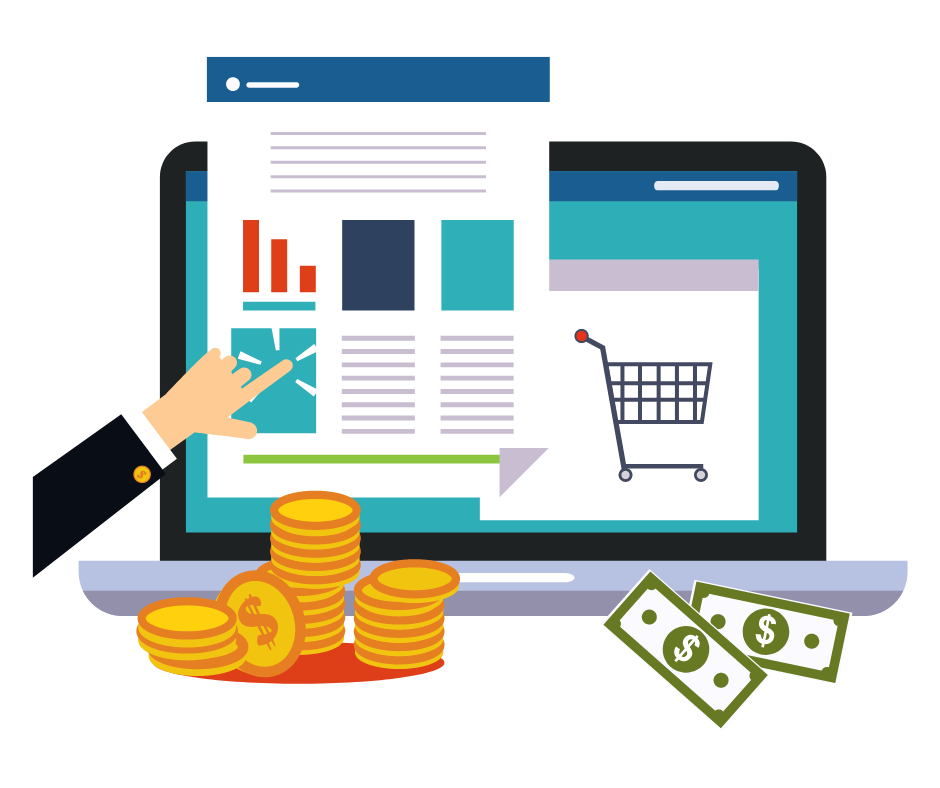 Don't wait for the profits, make them!
Start a profitable dropshipping business with DSM Tool. Get a free course and a free trial of the software.
The Bottom Line
It's worth to give a shot to dropshipping from Wayfair. Especially if you have a nice-store related to the furnishing or home decor products. This company dominates the online market in these categories and, as a result, offers millions of good products at affordable prices, so you can make a profit. However, you should double-check their shipping time. Since they run their business using the dropshipping model (with verified suppliers), the shipping can take up to a few weeks. Read the shipping conditions carefully. In addition, returns are not free for not damaged items.
Speak your mind
Have you tried to dropship from Wayfair? Share your experience with other dropshippers below in the comments.