37

min read
In this article, we will cover top Aliexpress alternatives and answer the question what are the best sites like AliExpress on the market which you can use for dropshipping and online shopping.
It doesn't matter if you are already a dropshipper or just looking to start, I am almost sure that you heard of AliExpress. This is a well-known name – AliExpress is a mastodon of eCommerce, just like Screen Print Direct, eBay, or Amazon.
For years, eCommerce sellers used the dropshipping from Aliexpress business model due to various advantages it offers: affordable prices, free shipping (sometimes), and a big choice of products for any taste and multiple warehouses in China and abroad.
I won't dwell on what dropshipping is or what is AliExpress, you should know that already if you are reading this article (if not, make sure to check the links I've left throughout this guide).
So what are the sites like Aliexpess? And how do these eCommerce sites differ?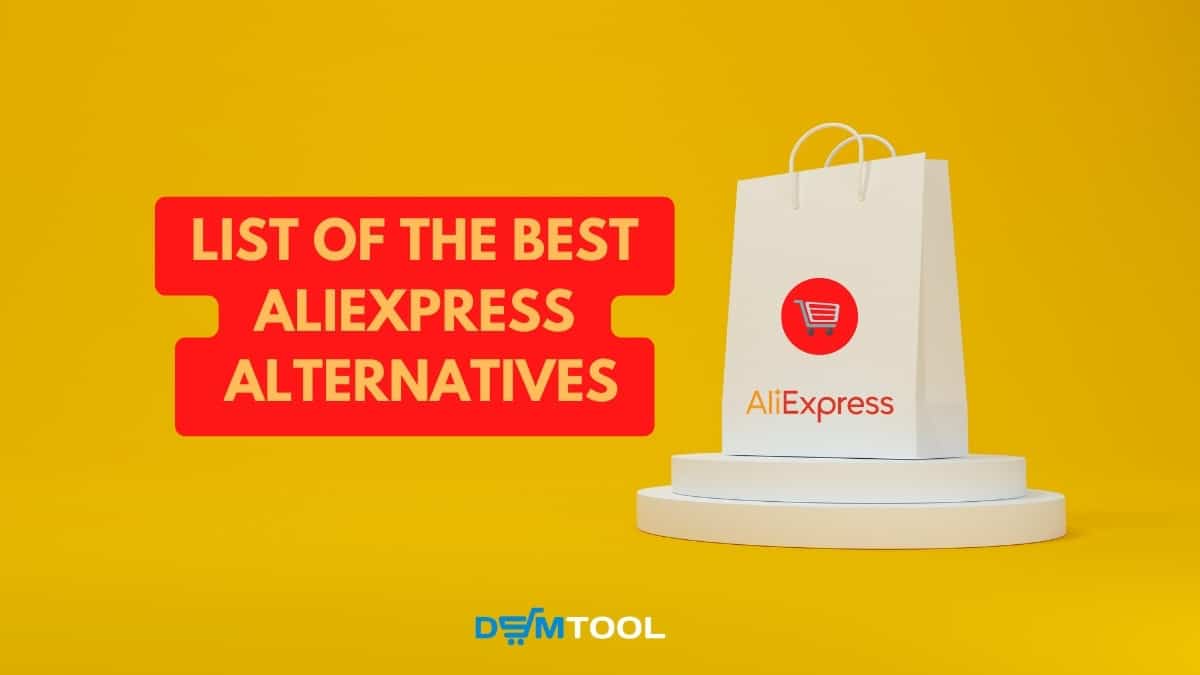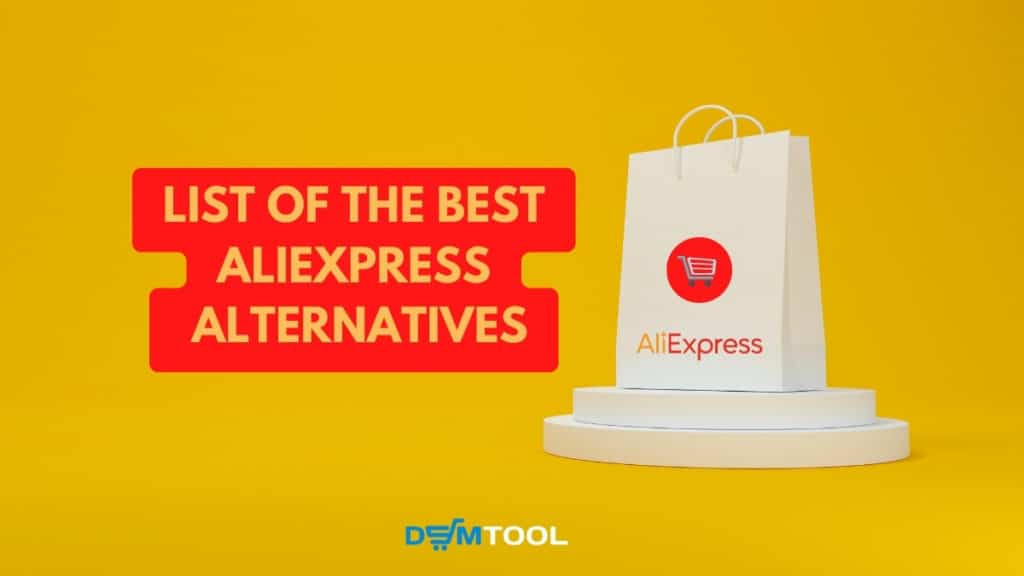 Why Use AliExpress Alternatives?
AliExpress is one of the most popular dropshipping sources due to an overwhelming quantity of products available at cheap prices and even provides free worldwide shipping. But almost every advantage has its price: cheap prices – low quality, free shipping – long delivery (up to 45 days and sometimes even more). While most of the AliExpress products are not protected by eBay VeRO, the number of counterfeit items is very high. Communication with sellers might be an issue too, most of them don't speak English.
Here are the main reasons someone should look for an alternative for AliExpress:
Competition
Because of its advantages, AliExpress is immensely popular. No matter what market you choose – Amazon, Walmart, or eBay – what product niche you aim for, you will find a lot of other sellers and companies that already dropship the same products from AliExpress.
Aliexpress Product Quality
The number of products available on AliExpress is staggering – everyone will find something for themselves, but the quality varies greatly. Most items come from unknown brands without proper quality control. Of course, there are plenty of Chinese brands that offer amazing price to quality ratios, but you need to find them first.
Even though, Aliexpress resolution center will support you in most such cases, you run a risk to disappoint your buyer and get a negative review. So, it is highly advisable to purchase an example product on Ali Express and check its quality before selling it in your dropshipping store. In addition, you need to put efforts to find good Aliexpress sellers.
Low Profits
This problem is very much related to product quality – when buying cheap items, you can't add too much extra, especially if a product is not of high quality. And don't forget about the competition, it minimizes your profit possibilities – other sellers might sell the same items at low prices to attract new customers or build a brand name. Low prices usually mean low-profit margins.
Aliexpress Shipping Times
This issue exists since AliExpress foundation – shipping from China takes 3-4 weeks at least, often more. They try to improve the situation by opening warehouses in the US and several throughout Europe, but the majority of items anyway come from China.
You can improve shipping time by using more expensive AliExpress shipping methods (like ePacket), but this will increase the prices of your products and make them less competitive.
Refunds and Returns
Just imagine this – someone buys a product from your store, waits 20-30 days for it to arrive, and the item turns out faulty. The buyer sends the item to you and you forward it back to China, which takes another 20-30 days. It is good if your supplier sends a replacement right away, but it will take another 20-30 days for it to deliver. And what if a seller refuses to send a replacement and you have to open a dispute – it might take another month and more.
The return process might get very difficult and take up to several months.
On the Trustpilot review platform, AliExpress has a score of 2.9/5 from more than 125000 reviews.

If you scroll through the negative reviews, most of them are related to the same things – long delivery (1-2 months), lost deliveries, and refund issues. Besides, as a dropshipper you should always have a backup source for products you sell online.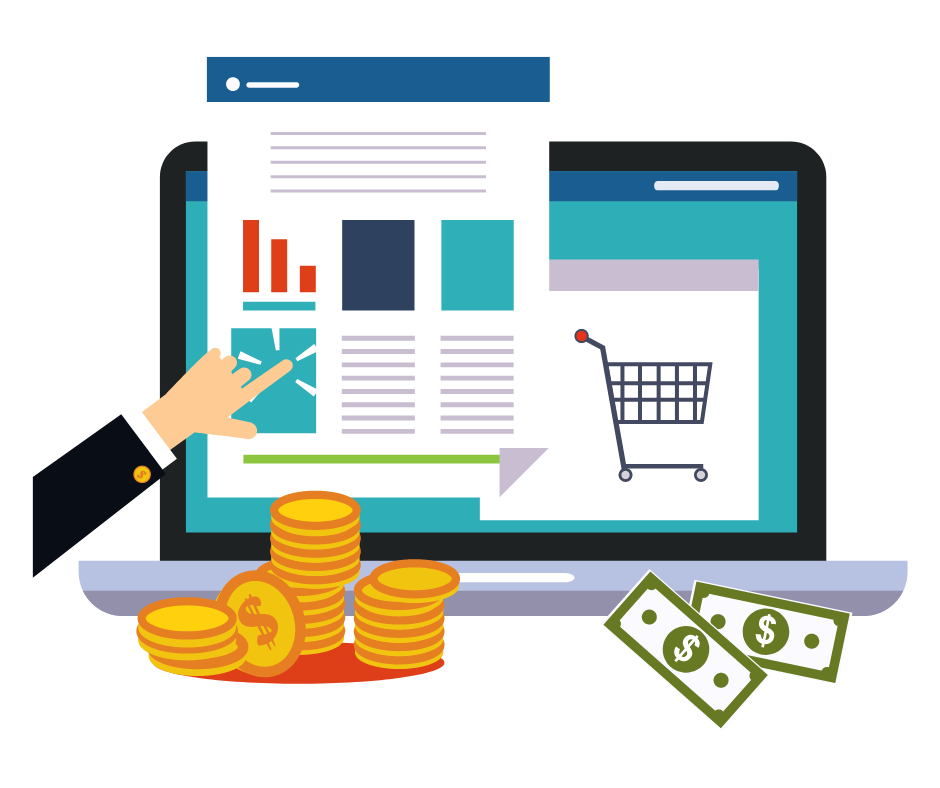 Don't wait for the profits, make them!
Start a profitable dropshipping business with DSM Tool. Get a free course and a free trial of the software.
15 AliExpress Alternatives for Dropshipping
While AliExpress is a great source of low-cost items, some of its disadvantages might make you look for another supplier. Here is the list of 15 best Aliexpress alternatives for dropshipping – all of them are good places to source items.
I will start with Banggood. Why? Because it is one of the main AliExpress competitors. This is eCommerce site is very alike to AliExpress and, probably, it's the best AliExpress alternative in terms of similarities.
1.

Banggood (CN, US, EU Warehouses)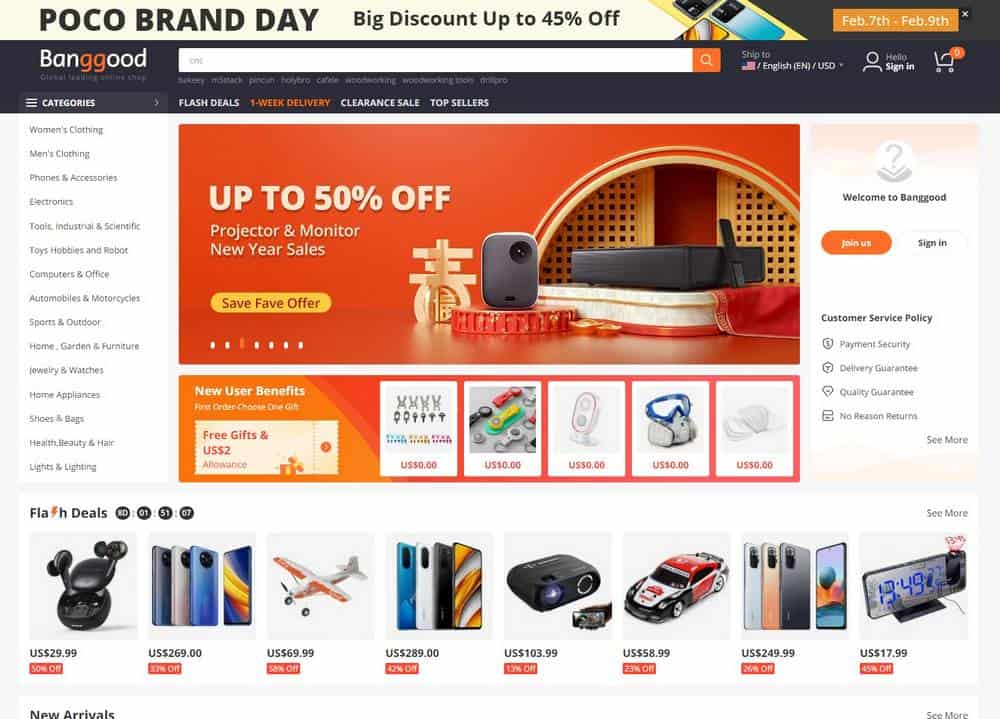 Founded in 2006 in Guangzhou, Banggood started in the development of computer software. Later they became one of the first online players in the electronics business. In 2021, Banggood APP emerged as one of the Most Downloaded Shopping apps in Europe according to App Annie, an authoritative app analytics platform.
Today, Banggood offers up to 30 categories and 1,000,000 superior-quality products from consumer electronics, home appliances, tools, sports, to clothing.
Banggood is very similar to AliExpress, offering low prices on a wide range of great products. If you're looking for sites like AliExpress that offer everything from smartphones to furniture, then you're going to love them.
The best part is that they have a partnership program for dropshipping that gives you access to additional discounts.


Also, it's worth noting that many dropshippers are still new to this site, which means the competition for some of the products isn't quite as high.
Banggood Shipping and Delivery
They ship internationally with delivery ranging from 2 to 30 days for the US, Europe. If you are selling your products to countries like Argentina, Peru, Venezuela, and South Africa, shipping will take up to 90 days. They do not ship to: the Chinese mainland, South Sudan, Yemen, Crimea, and Syria. Free shipping option available.
Banggood Payment Methods
Banggood accepts all the standard payment options.
BGpay (Banggood wallet) – You can top-up money into your BGpay account and then use the balance to pay for Banggood orders. Save more with exclusive BGpay deals and events.
Paypal
Mastercard
Visa
American Express
Banggood Reviews

On TrustPilot Banggod scored 4.0/5 from almost 42 thousand reviews which is a great result.
The Bottom Line
While the delivery might be slow for some countries of destinations and some Chinese products are of poor quality (just like with AliExpress), the variety of items plus fast shipping to the US, secure payment outweigh the disadvantages. Banggood is for sure one of the best alternatives to AliExpress for dropshipping and one of the best sites to sell products online worldwide.
2.

CJDropshipping (CN, US, EU Warehouses)
The next on the list of sites like Aliexpress and good alternatives is CJdropshipping. The reason is that they provide a complete A-Z solution and many features to help you source and ship your dropshipping products.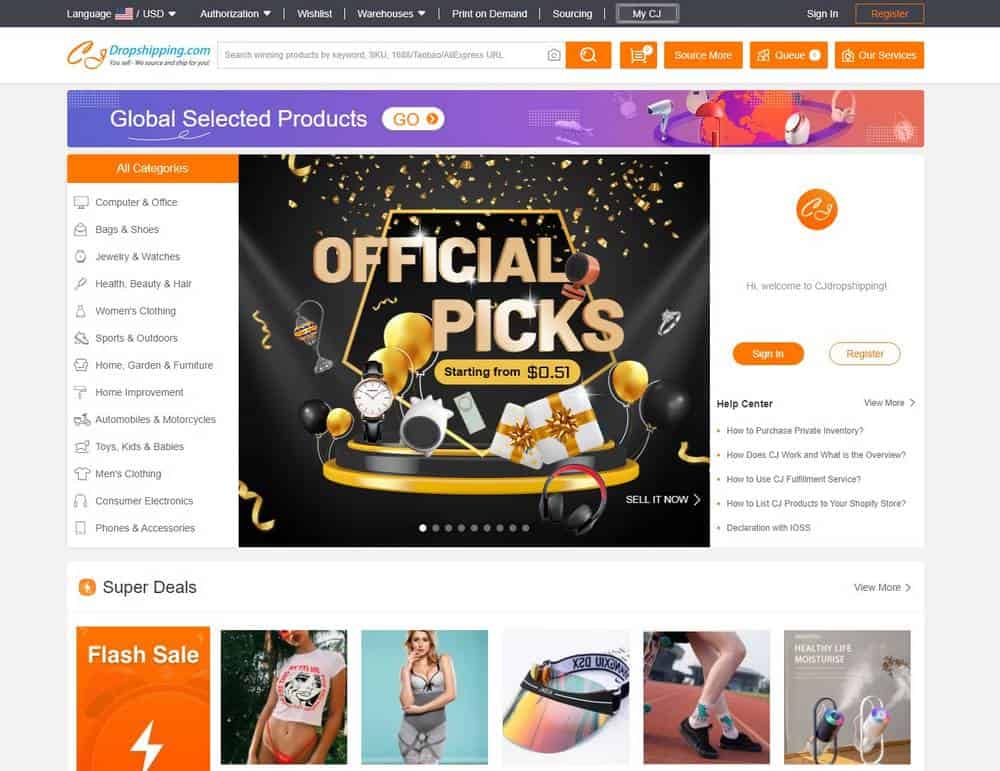 Established by Andy Chou (CEO) and his team in 2014, they started with jewelry. After four years they launched the CJ platform. Today CJDropshipping is one of the leading dropshipping suppliers with warehouses in China, the USA, Germany, Thailand, and Indonesia.
CJDropshipping stock products from every imaginable category and even offer print-on-demand. In addition, they offer warehouse services, photography and videography, an affiliate program, API support, and other value-added services. Thus, CJDropshipping is like a mixture of Aliexpress and Oberlo.
One of the advantages of CJDropshipping is the lack of commission, which also makes it to be a good free dropshippign supplier. There is no minimum order, no monthly subscription, no storage fees. In addition, there is no fee for the item sold.
They provide a suite of powerful tools for integrating directly with popular selling channels like eBay and Shopify.

CJDropshipping Shipping and Delivery
CJ delivers its products within 3 to 15 business days normally. It depends on the warehouse location and shipping method chosen. Delivery from a US warehouse takes 2-7 days. Even if the product is located in a warehouse in CN, it can still be shipped to customers in the US within 10-17 days via CJPacket (CJ's own shipping option).
You can check CJ shipping cost calculation here.
CJDropshipping Payment Methods
There are 10 payment methods that CJ Dropshipping would accept currently. The most common are:
CJ Wallet (different bonuses depending on your ordering volume; currently 0.5% bonus for an amount under $5000)
Paypal
Mastercard
Visa
Payoneer
Wire Transfer
CJ Dropshipping Reviews

CJDropshipping hit a 4.9/5 score from more than 5 thousand reviews on TrustPilot. Quite remarkable!
The Bottom Line
CJDropshipping is a great source for drop shippers due to being a one-stop place for all your dropshipping needs. Their carrier services are a perfect compromise between delivery speed and shipping costs. And don't forget that you can add your own designs to their print-on-demand service and personalize your order packaging, which might be your main advantage over competitors. One of the best AliExpress alternatives for dropshipping.
3.

Taobao (CN Warehouses)
Moving next on the list of sites like Aliexpress is Taobao. At first glance, Taobao might seem confusing because it is a Chinese website designed specifically for Chinese dropshippers.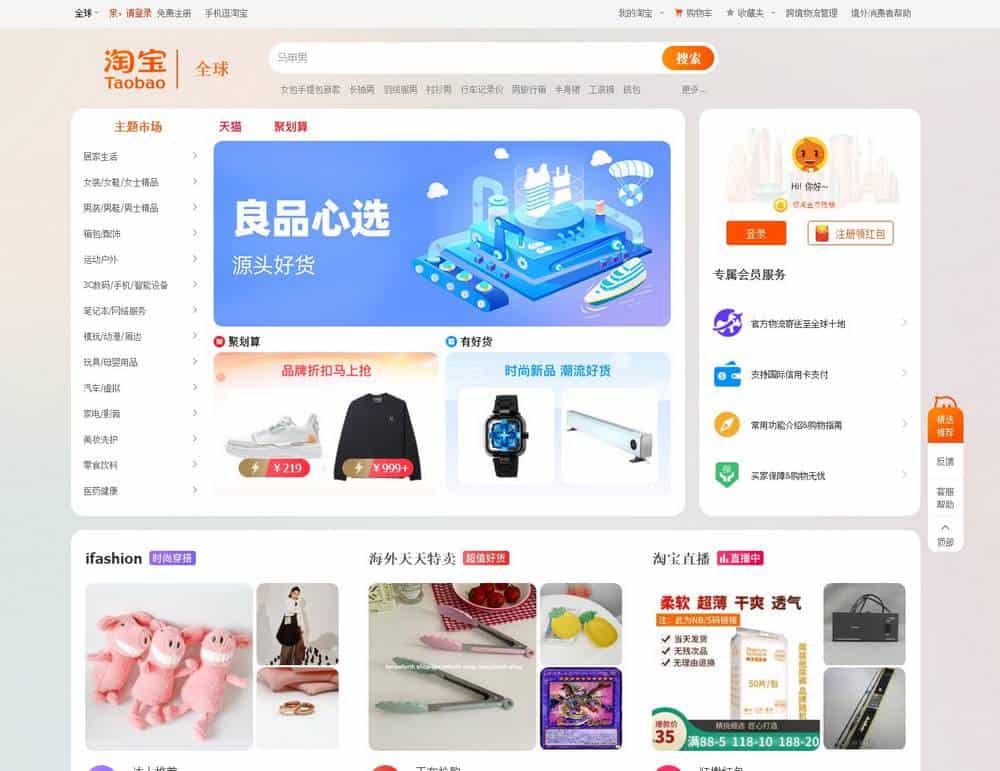 Like AliExpress, Taobao is part of Alibaba Group, and its headquarters are also situated in Hangzhou, China. The difference is that AliExpress is a B2B (business-to-business) platform, while Taobao is a B2C (business-to-consumer) platform. Because of that, on Taobao manufacturers and businesses can sell products directly to customers.
Taobao is by far one of the best AliExpress alternatives for businesses looking to dropship clothes. With a huge selection of products, including clothing from well-known brands, there are plenty of ways to make money on this site. However, you might have a hard time navigating the website as it is entirely in Chinese.
Shipping and Delivery
Taobao does not provide delivery services. It is the sellers on Taobao who can provide these services. Most of them sell to mainland China only and don't have much experience delivering products internationally.
The shipping time normally takes 12 business days for US and Canada, to Australia 12 business days by Air, up to 35 business days by Sea. Of course, delays are possible during peak seasons.
Payment Methods
Taobao doesn't support common payment methods, like Paypal or international credit cards (only accept domestic credit cards). You will need to use Alipay and connect your payment method to it first. Then you can shop using your Alipay account.
Taobao Reviews

The score on TrustPilot is far from good, but it is based on the small number of reviews. Don't forget that Taobao is oriented toward Chinese & Asian clients, so difficulties with customer support are expected if you don't know the Mandarin language.
The Bottom Line
While this site is very similar to AliExpress on the surface, it also offers a lot more variety than most other alternatives. Unfortunately, Taobao isn't known for its good customer support either, so you may have to invest more time to find what you need.
If you are new to dropshipping, skip it – chances are that you will mess with it completely. But if you are an experienced drop shipper, this might be a good source of cheap products.
The best way of dropshipping from Taobao is to use a reliable agent or supplier (like CJDropshipping's Source feature) that will help you source products from those platforms for you to sell. This will allow you to avoid language issues, payment, and shipping difficulties.
4.

DHGate (CN, US, EU Warehouses)
Our next option is DHGate. This is one of the most popular AliExpress alternatives and is used by many dropshippers worldwide. The site supports 8 languages.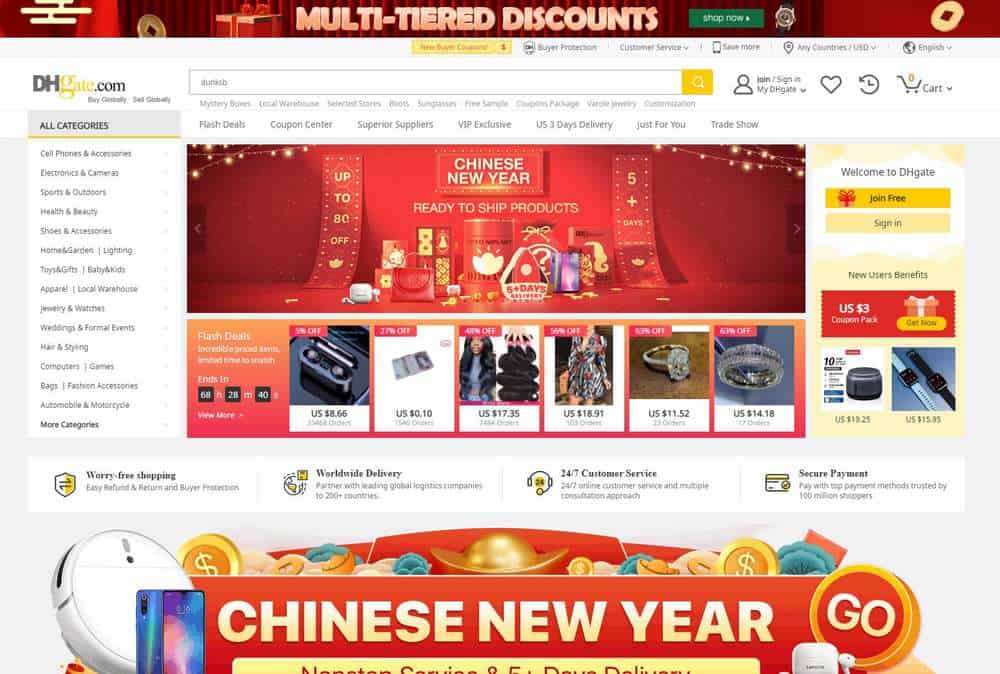 Founded in 2004 by Diane Wang, DHGate is one of China's largest B2B cross-border e-commerce platforms. Actually, it supports both B2B and B2C platforms.
Based in Beijing, DHgate is an independent marketplace for wholesalers and dropshippers with digital trade centers all over the world. There are over 2 million sellers on the platform from 222 countries and regions with more than 30 million product listings.
The company can provide you with all kinds of products at low prices, most items with no minimum order quantity limit.
DHGate Shipping and Delivery
Delivery times are much better than other suppliers, shipping takes from 3 to 15 days to most countries. Your options are: TNT, HK Post, Post Link, EMS, UPS, DHL, FedEx, ePacket. Free shipping option available.
DHGate Payment Methods
All the popular options are supported.
PayPal
Visa
Mastercard
American Express
Western Union
Wire Transfer
DHGate Reviews

The score on TrustPilot is quite low, but 59% of 28 thousand reviews are positive. Also, they reply to most of the negative reviews, and this is a good thing.
The Bottom Line
If you are looking for one of the best dropshipping sites like AliExpress, that are very similar in style and features, then you will probably appreciate DHGate. The navigation and look of this site are very similar to what AliExpress offers, so you should be able to find your way around straight away.
DHGate generally ships faster than AliExpress, and they have better Customer Support, but it may not be the best pick if you are buying in bulk.
5.

ChinaBrands (CN, US, EU Warehouses)
To the next supplier – ChinaBrands. It is a very active marketplace from China (obviously) where you can start your dropshipping business.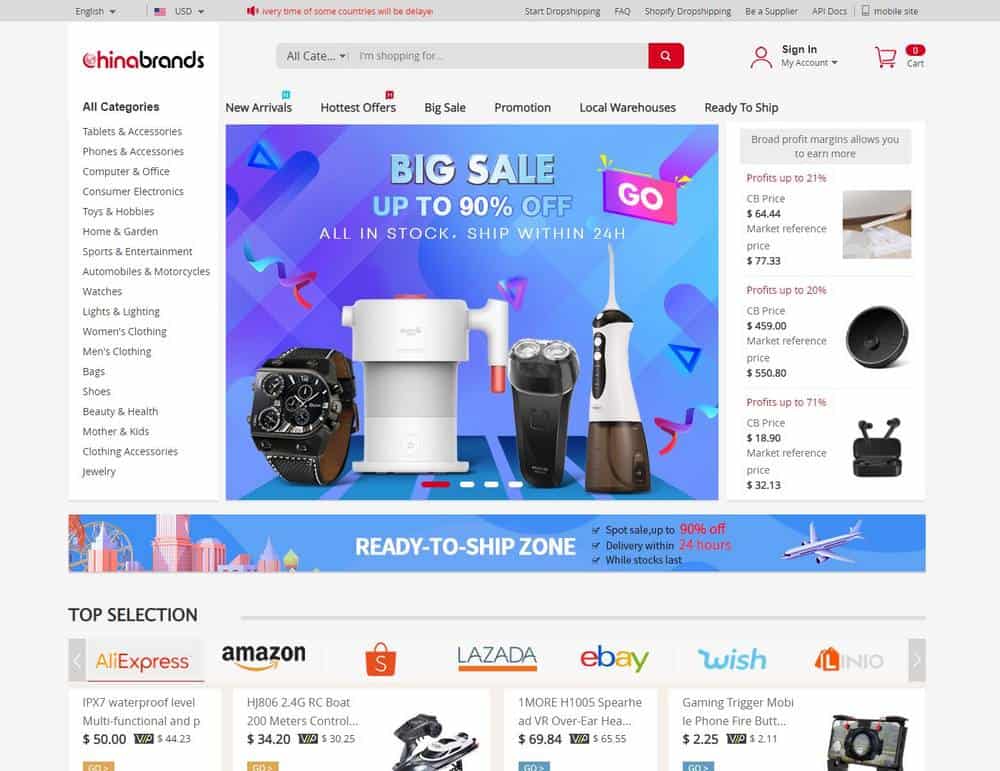 Chinabrands is an international dropshipping and distribution platform. I wrote dropshipping because they don't require minimum order quantities and drop shipping is one of their most important services. They offer a great B2B service, which allows small and medium businesses to access wholesale prices at competitive prices.
Chinabrands offers more than 300,000 products in every category including electronics, clothing, and toys with warehouses located in 12 countries.
On the homepage, you will find the tabs "New Arrivals", "Hottest Offers" and "Big Sale". There you can find very good deals with potential high-profit margins. You have to be quick though, as they sell out fast.
The product page includes some important information for dropshippers, such as how many products are still available in stock and what the shipping costs are to a certain region.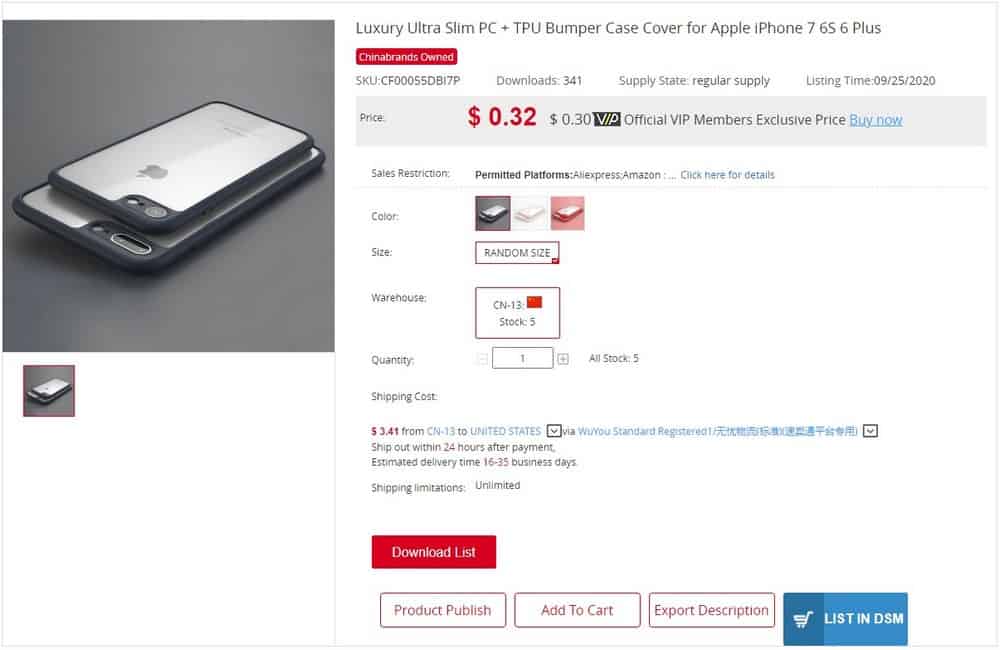 Shipping and Delivery
Most shipping options are slow and cheap. Consider paying extra for faster delivery times.
They stated that shipping takes about 7 to 25 business days to most countries in the world. This information is taken from their website.
For the USA, Canada, Australia customers, it takes about 7 to 14 business days.
For the United Kingdom, France, Germany, Italy, Spain, and most other European Countries, it may take 7 to 20 business days.
For customers in South America, it may take 15 to 30 business days.
For other countries, it may take 15 to 25 business days.
ChinaBrands Payment Methods
The allowed payment methods in Chinabrands are Paypal, Payoneer, and Bank Transfers.
CB Wallet
Paypal
Payoneer
Wire transfer
ChinaBrands Reviews

A poor score on TrustPilot, but the number of reviews is very low and the majority of issues with ChinaBrands dropshipping are related to products, not the platform. Just be careful about the products you pick for your store.
The Bottom Line
This is another AliExpress-like source with low prices and cheap shipping and long delivery times unless you order from a local warehouse. There are better options on the list, but still, it is worth checking out.
6.

DealExtreme (CN, US, EU Warehouses)
DealeXtreme, also known as DX, is an online trading platform that offers over two million products.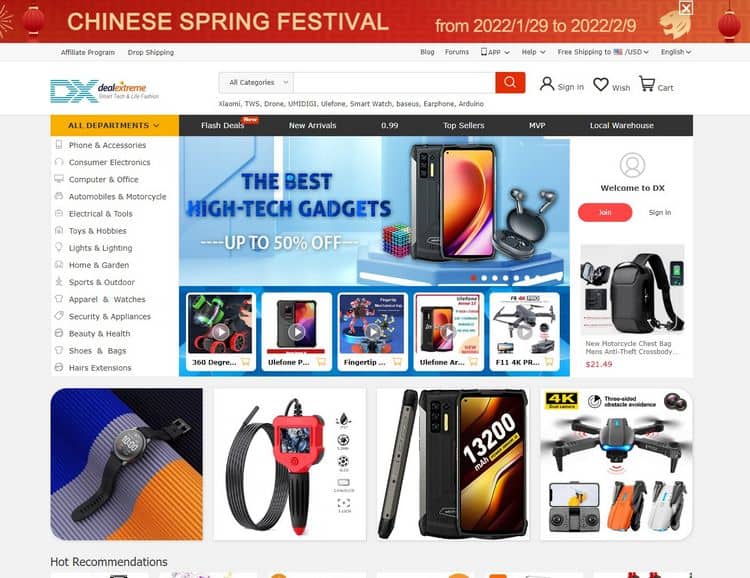 DealExtreme is yet another Chinese B2C dropshipping online marketplace based in Hong Kong. It was founded in 2005 and is affiliated with MadeinChina. com. They offer a wide range of products, mainly electronic, that are made in China. Although it's a Chinese store, the majority of its customers are from the US and Europe.
DX has a wide product catalog, listings include consumer electronics, apparel, and even car or motorcycle accessories. Both suppliers and retailers offer their products for sale here, around 1000 new products are added every day.
Their price is a bit higher than for similar products on AliEpress, but the quality is better too, so it is worth paying that little extra. There are often discounts and promos so prices get lower regularly. In the Flash Deals section, you can often find products with almost a 50% discount. As the name of the site suggests, this website is known for its good deals.
DealExtreme Shipping and Delivery
If you were in China, DX would only take a single day to ship. In US and EU, the delivery time often takes 7-18 days. Free shipping option available.
DealExtreme Payment Methods
DealExtreme accepts such payment methods:
American Express,
MasterCard,
Visa,
Diners,
Discover,
PayPal,
Webmoney,
Ebanx,
iDeal,
Boleto,
COD.
DealExtreme Reviews

The score on TrustPilot is low with half of 2700 reviews being negative. Most of the negative reviews are related to delivery issues, so paid shipping options are advised.
The Bottom Line
Many dropshippers choose DealExtreme as their supplier due to competitive prices and worldwide free shipping. But there are other options with the same or even better services and fewer disadvantages. There is no reason to pick DX over AliExpress, especially for dropshipping. So it is not a good Aliexpress alternative.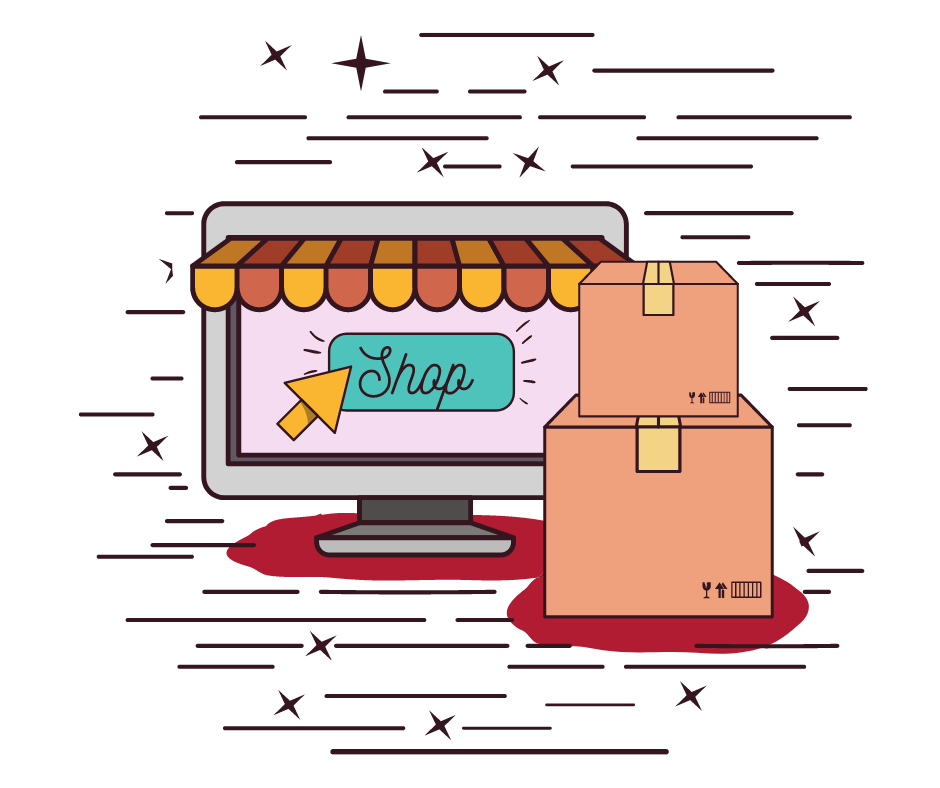 It's time…
Don't wait for success to come. Hire yourself and start your own dropshipping business
7.

LightInTheBox (CN Warehouses)
LightInTheBox is another Chinese e-commerce platform that is like Ali Express. It's particularly good for e-commerce if you want to source cheap clothing and accessories, including jewelry.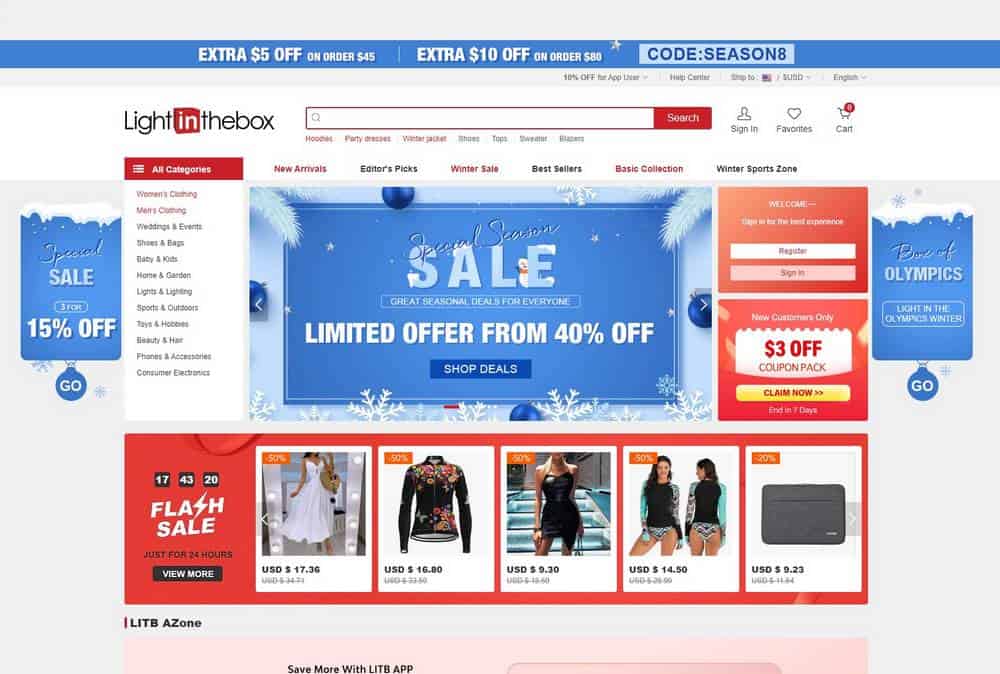 Lightinthebox, founded in 2007, is a popular Chinese wholesale marketplace that sells a wide range of trendy products to consumers and retailers around the world. This site is especially known for its clothing, electronics, and jewelry selections.
The quality of the items is very variable because they are products from China, you have to be careful about what types of products you buy and remember to read the notes and notices about the product you purchase.
One of the strengths of Lightinthebox is that it is not a marketplace. This means that all products are listed not by sellers, but by the store itself. Lightinthebox has them in the stock itself. They have quality control and more reliable service than some marketplaces like Chinabrands, for example.
Shipping and Delivery
Processing time might be different from category to category, but it is <24 hours for most items. Shipping time takes up to 30 days.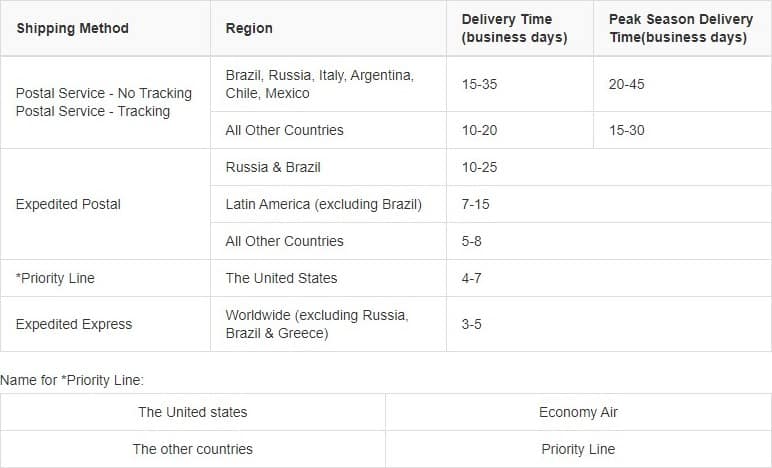 Payment Methods
All the popular methods are supported.
Paypal
American Express
JCB
Diners Club
Discover
Visa
Mastercard
Hypercard
LightInTheBox Reviews

It scored 3.9/5 from 87 thousand reviews, which is very good. Negative reviews are related to shipping and delivery, this is common for shipping from China.
The Bottom Line
The prices of the wholesale suppliers on this website are low, but there is no direct automatic integration for the main shop systems. Nevertheless, LightintheBox is one of the best alternatives to AliExpress and you should find it easy to source the right products for your dropshipping store from the large selection.
8.

TomTop (CN, US, EU Warehouses)
TomTop is another alternative to AliExpress which offers a huge selection of dropshipping products.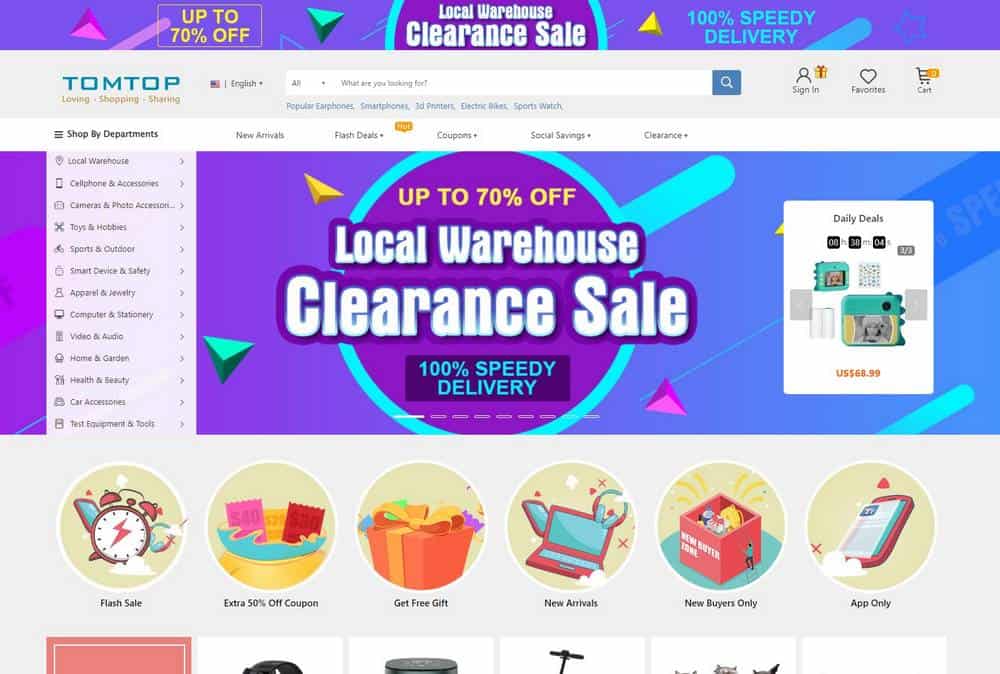 Established in 2004, this is one of the oldest Chinese webstores. They are specialized in video games, computer accessories, mobile phone accessories, clothing, home and garden items, jewelry, media player, car accessories, etc.
TomTop is a verified platform and one of the suppliers of Alibaba. This e-commerce store has been verified on multiple other platforms as well such as PayPal.
Compared to many other providers, TomTop has several warehouses in Europe. Including one in Germany, France, Spain, England, and Italy. This is a huge advantage over sources that ship from China.
Shipping and Delivery
Shipping from Chinese Warehouses takes 7-15 days to most countries. Shipping from Local Warehouses takes 3-7 days. For more information check their shipping FAQ. Free shipping option available.
TomTop Payment Methods
They accept PayPal, Credit Cards, Wire Transfer, BOLETO, QIWI as secure payment methods:
Visa
Mastercard
American Express
PayPal
TomTop Reviews

A great score of 3.9/5 from almost 16 thousand reviews. Both positive and negative reviews are related to shipping and delivery. Obviously, if you order from local warehouses, you wait for less.
The Bottom Line
TomTop provides good services while lacking serious disadvantages. One of the best AliExpress alternatives, especially when it comes to warehouse locations.
9.

Gearbest (CN, US, EU Warehouses)
Gearbest is a leading Chinese marketplace with thousands of goods and a huge network of trusted 3rd party sellers.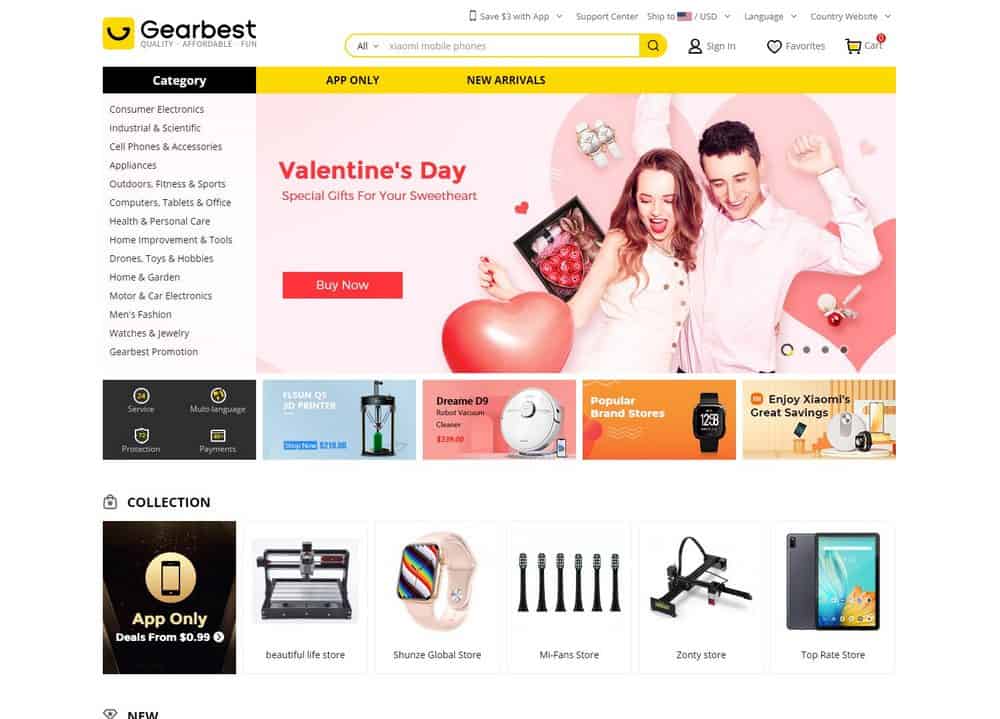 GearBest features a rather strict supplier system where every and each of them is provided with a rating, so you can filter top sellers and control the quality overall.
Because GearBest is oriented toward western markets, they make sure that all the products listed are genuine and of high quality. Each item passes through multiple quality checks such as inspection, testing, tracking, etc.
They deal primarily in electronics and tech but also have plenty of products listed under fashion and accessories.
Shipping and Delivery
They ship worldwide, excluding South Sudan and Palestine. Shipping times from local warehouses take 3-7 days, 7-30 days from China.
While the cheapest option is tempting, my recommendation is to pay extra for a better service. No sense to pay cheap for delivery if you ordered an item worth a few hundred dollars. This applies to other sources as well, not just GearBest.
Payment Methods
All popular methods are supported.
Visa
Mastercard
American Express
PayPal
I advise you to place all orders through Paypal, it will save you time if a refund is needed.
Gearbest Reviews

The score is not great, but 68% of reviews out of 28 thousand are positive. Most negative reviews address delivery issues or items being damaged. I highly recommend using Paypal when purchasing from GearBest, it is the most secure option and it is easier to receive a refund this way.
The Bottom Line
Overall, GearBest is a good Aliexpress competitor with good quality items and fast shipping. AliExpress is better in general, but if you target selling electronics, GearBest is your choice. The quality is good and there are a lot of exclusive presale deals available only on Gearbest.
10.

LighTake (CN Warehouses)
LighTake is our next site like AliExpress. It's an online store that heavily focuses on toys, but they are progressively expanding into other categories.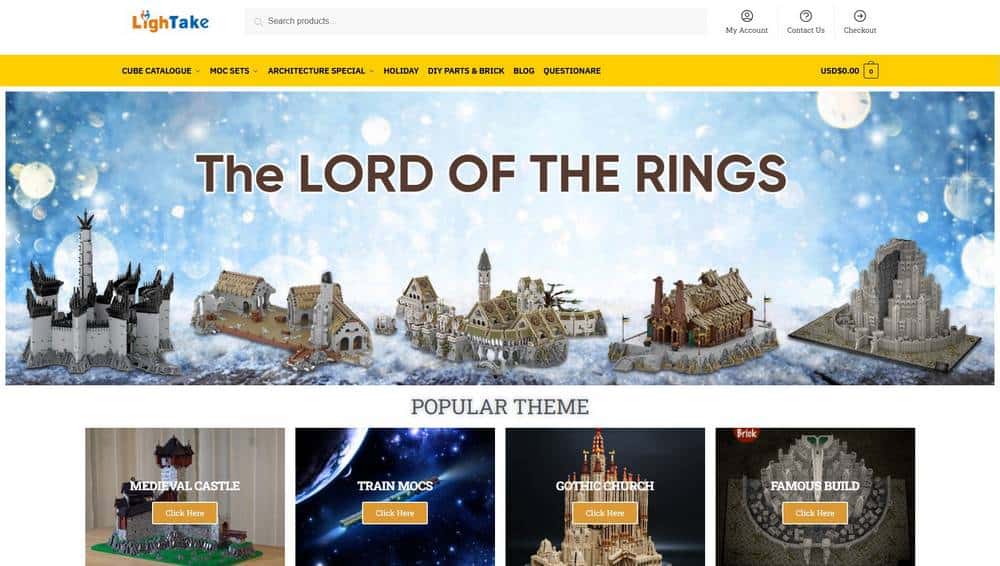 LighTake is a Shenzhen, China-based company that specializes in a variety of cubes and puzzles, DIY MOC sets. They manufacture high-quality customized items for Lego fans – conversion kits, lighting kits and accessories, MOC kits.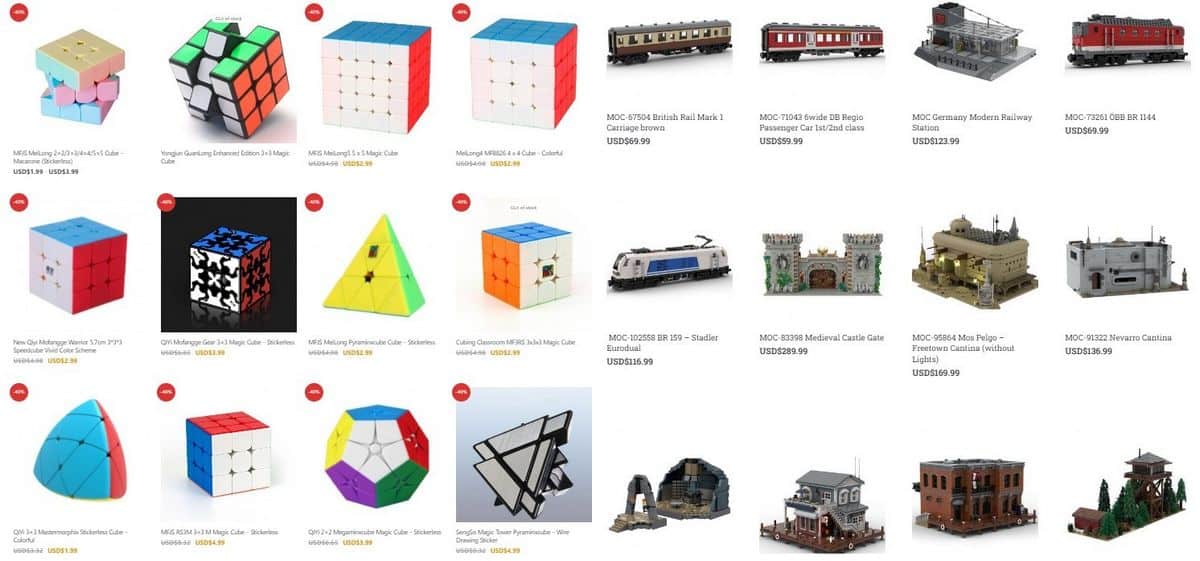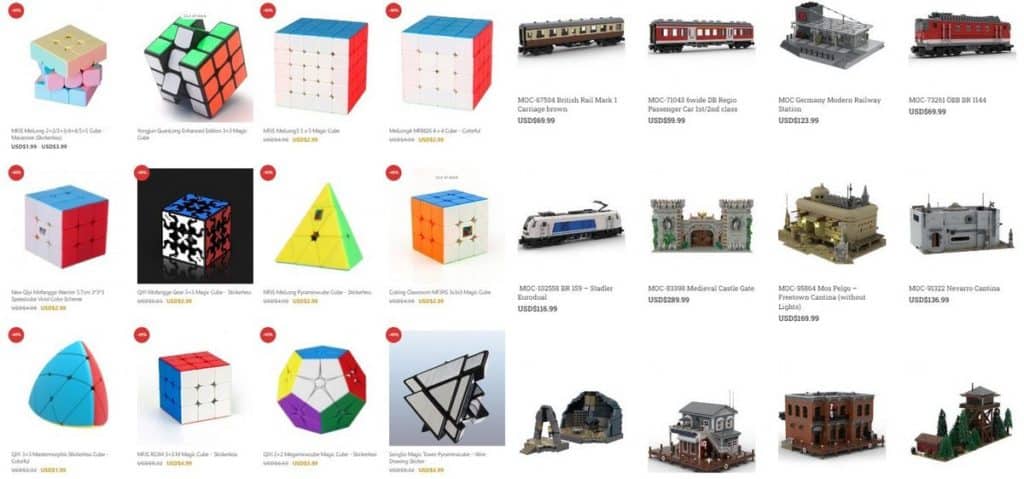 The target audience of products is not limited only to children, here you can find expensive and high-quality figures and toys for adults.
Shipping and Delivery
They offer free worldwide shipping. The processing time takes 2-5 business days, shipping 15-35 business days depending on the destination location, which results in 17-40 business days total delivery time.
LighTake Payment Methods
While LighTake accepts credit cards, PayPal is your best option. They offer 30 days money-back guarantee but customer support is not great when it comes to refunds – this is why PayPal is highly recommended.
Paypal
Visa
Mastercard
American Express
Discover
LighTake Reviews

LighTake has a score of 3.5/5 which is not bad. Most of the negative reviews address lost packages or long delivery, but this is common for most Chinese suppliers, especially with free shipping.
The Bottom Line
While you might face delivery issues, they offset this with high-quality products – their items are better than what you may find on most of the other sources. If you want to set up a toy dropshipping store, Lightake is a good choice.
11.

Printful (US, EU, CA, AU Fulfillment centers)
Printful is an on-demand printing and fulfillment company that helps people turn their ideas into brands and products.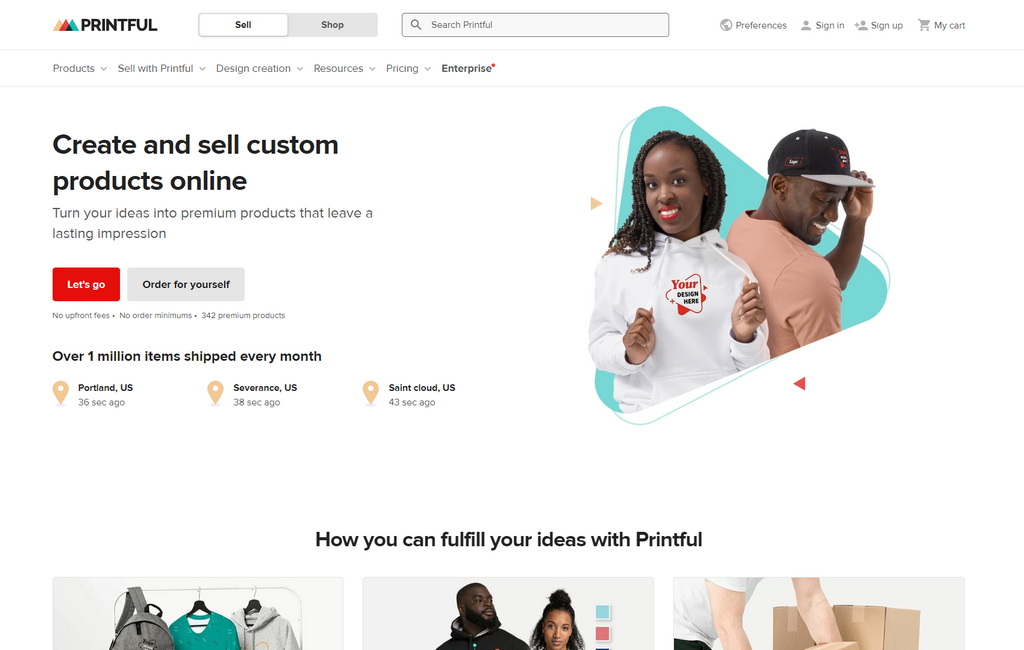 Printful is a leading print-on-demand and dropshipping fulfillment service that offers over 300 top-quality, fully customizable products such as t-shirts & tank tops, hoodies & sweatshirts, bags, hats, jewelry, phone cases, wall art, mugs, posters keychains, and many more.
It should be noted that Printful is one of the more expensive print on demand companies, but this is the price to pay for high-quality products of your own designs.
Printful can be integrated with all modern store systems. Whenever someone buys something from your store, the vendors on the other end of the app will automatically print and submit the order on your behalf.


And the fact that they have fulfillment centers all over the world makes them a perfect solution, especially if you want to drop ship to the United States and Europe. They offer monthly discounts (based on your previous month's sales volumes), bulk discounts (at least 25 of the same item), no order minimums, and no monthly fees.
Shipping and Delivery
It takes 2–5 business days to create a product and fulfill an order. Shipping times and costs differ based on the type and quantity of products in an order. Delivery times range from 2 to 15 business days. Here you can see estimated shipping times and costs for the Shirts category.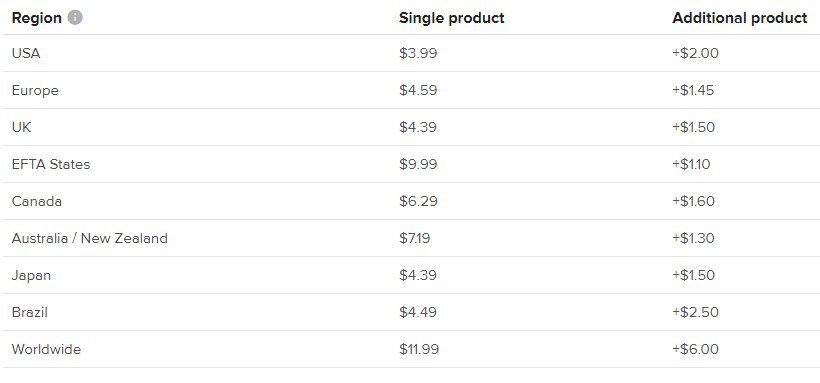 More information about their shipping rates is here.
Payment Methods
They accept credit cards, debit cards, and PayPal, also you can pay with Printful Wallet.
Printful Reviews

They hit a great score of 4.1/5 from 1200 reviews which is another argument to source from them.
The Bottom Line
Printful is one of your best options if you are looking for an AliExpress alternative and want to sell unique and personalized products on your online store.
They integrate all the popular eCommerce platforms, their products are of great quality and the shipping is fast. Of course, this comes at a price – higher prices and paid shipping.
12.

Geekbuying (CN, US, EU, Warehouses)
As the name suggests – Geekbuying is another site like AliExpress that mainly sells electronic and tech products.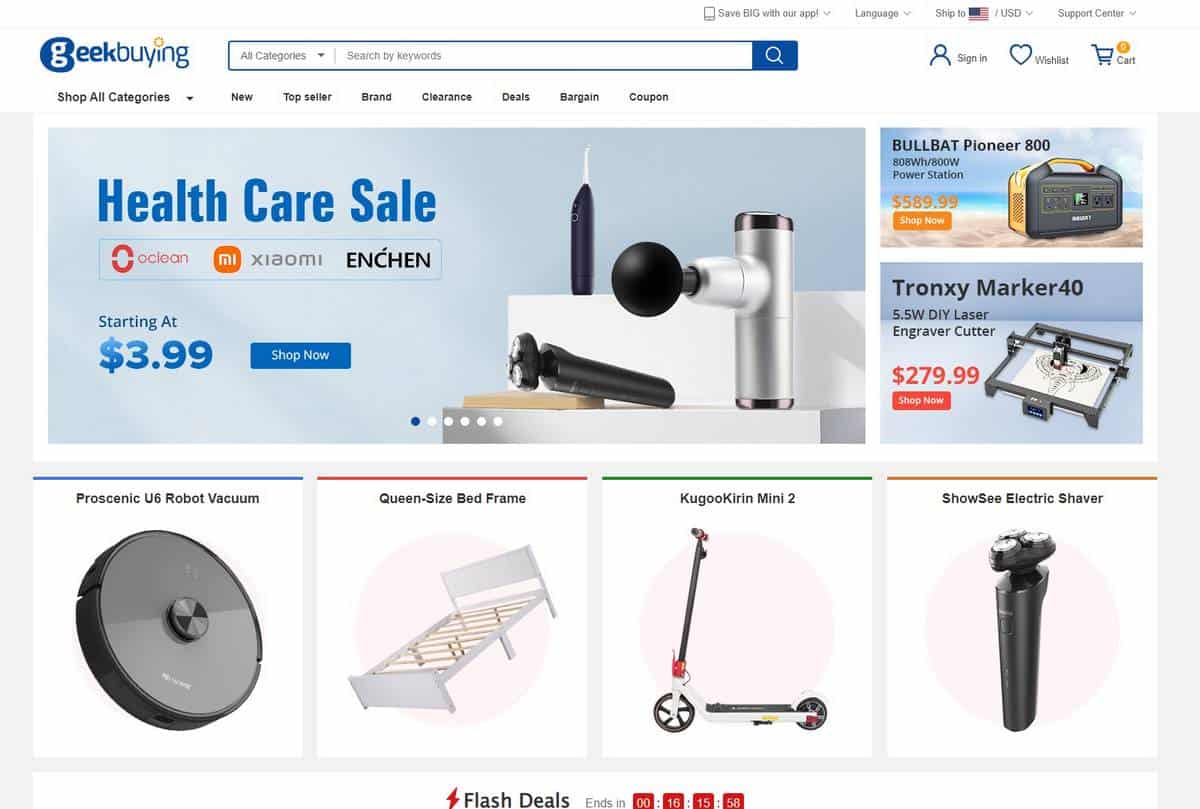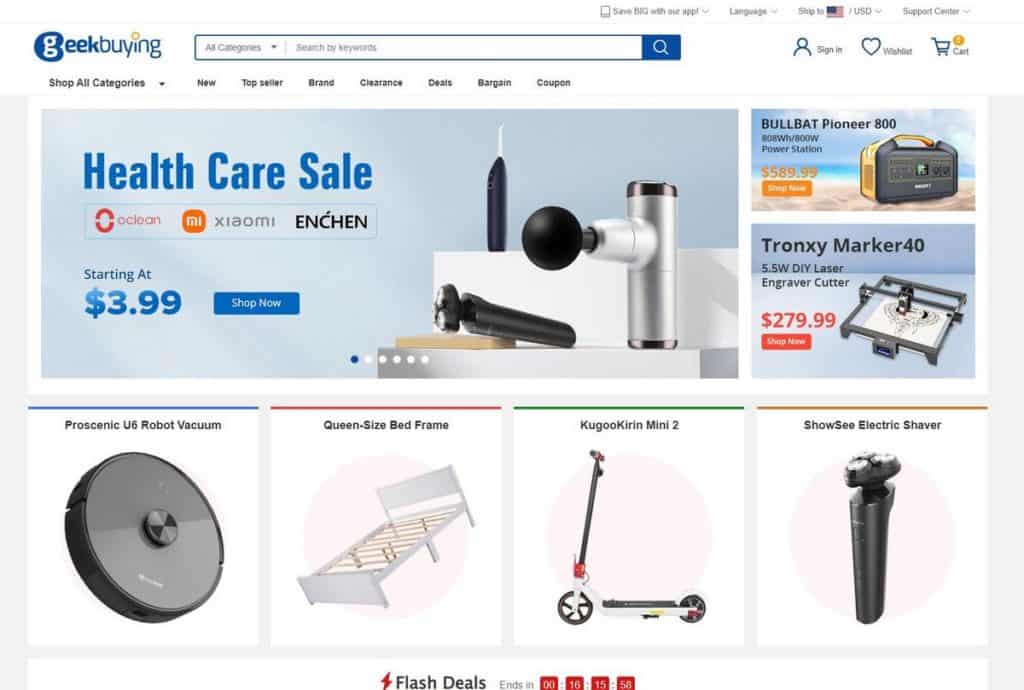 Geekbuying is a well-established China supplier of the latest tech gadgets and electronics with warehouses in the United States, Europe, and China. Of course, most of the items come from cheap unknown electronics, but here you will also find popular brands such as Xiaomi, OnePlus, Lenovo, and Huawei. They also offer clothing, watches, and jewelry.
Unlike other Chinese suppliers, this platform has multiple warehouses across the world that allow faster shipping to most counties. Affordable prices and fast shipping make it one of the best sources of electronics and gadgets. Even more, they have discounts and special bulk offers.
Shipping and Delivery
From their website: "Order processing time usually takes 2-7 business days, but it only takes 1-2 business days for overseas warehouse orders." The usual delivery time is approximately 5-10 business days to most countries. Free shipping option available.
Payment Methods
They provide multiple secure and friendly payment options.
PayPal
Visa
Mastercards
American Express
Diners Club
Discover
JCB
Geekbuying Reviews

Geekbuying is a reputable supplier with a 4.0/5 rating out of 12000 reviews which makes them one of the most trustworthy suppliers on the market.
The Bottom Line
Geekbuying as an AliExpress competitor offers both unknown brands at the lowest prices and well-established names with higher quality products. Even better, they have warehouses all over the world which means faster shipping. If you want to sell electronics, this should be one of the first sources to consider.
13.

TVC-Mall (CN Warehouses)
TVC-Mall is another viable source of good quality phone accessories and replacement parts, cheap electronics.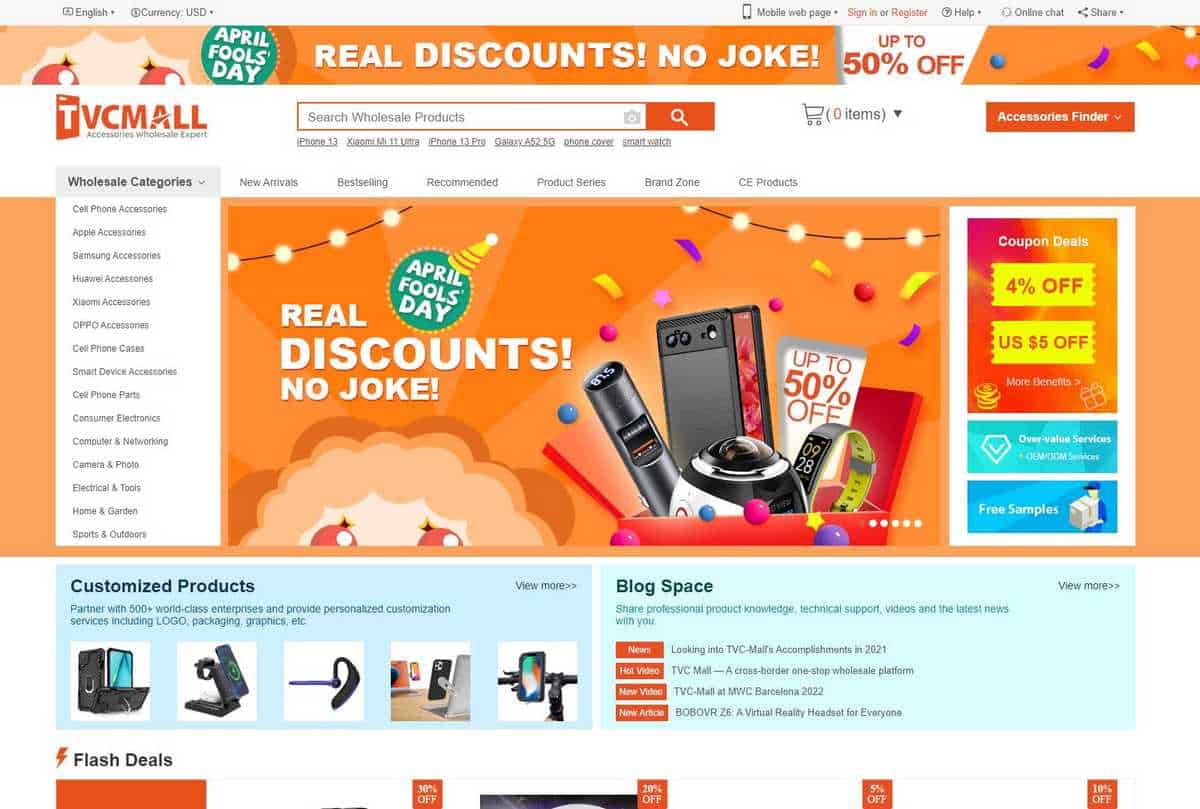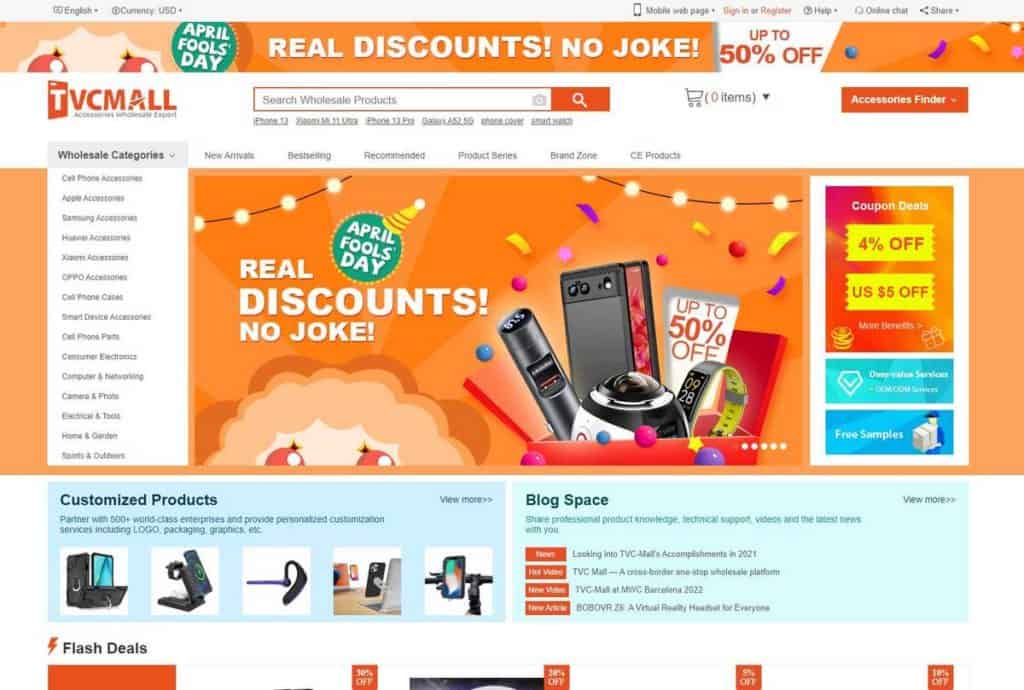 Founded back in 2008, TVC-Mall is a cross-border online wholesale marketplace that specializes in mobile phone accessories, replacement parts, consumer electronics, computer & networking peripherals.


They offer a user-friendly interface, available in 7 languages. The navigation is very simple, and they have the New Arrivals and Bestsellers tabs where you can find potentially high-profit items.
Shipping and Delivery
They process orders in 1-3 business days. Delivery times heavily depend on the shipping method, with DHL, FedEx, and UPS being the fastest options – 5-10 business days. YunExpress is a good compromise with low costs and shipping times between 10-15 business days to most countries.
Payment Methods
Your options are PayPal, credit cards, or bank transfer.
PayPal
Visa
Mastercard
Citibank
TVC-Mall Reviews

They have more than 1200 reviews on Trustpilot with an average score of 4.0/5 which is a good result. Most of the reviews complement fast shipping and the quality of products.
The Bottom Line
While TVC-Mall has fewer product categories than AliExpress, this is a good source for dropshippers dealing in phone accessories and parts. Their prices are cheap as well but the quality is generally better. The only downside is that TVC-Mall doesn't offer free shipping, but you still have space to make good profits.
14. SaleYee (CN, US, EU Warehouses)
SaleYee is another wholesale and dropshipping sourcing platform with over 30,000 products and multiple international warehouses.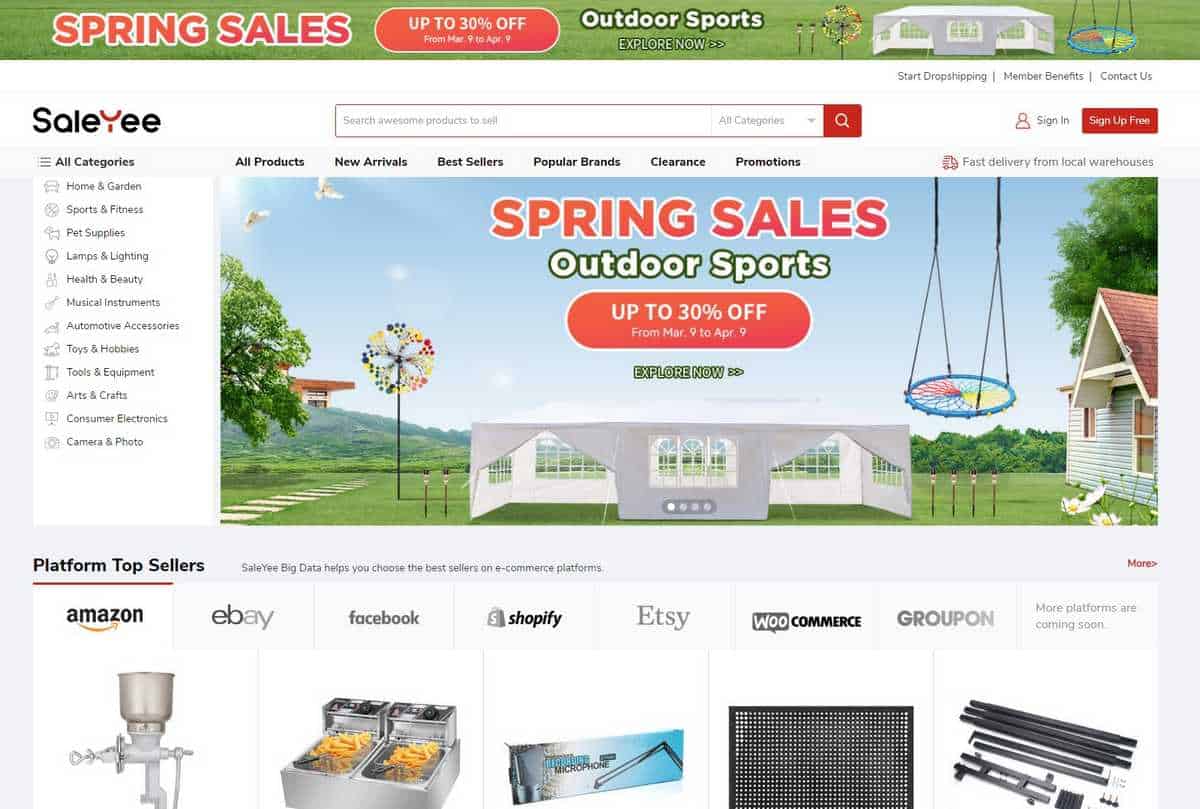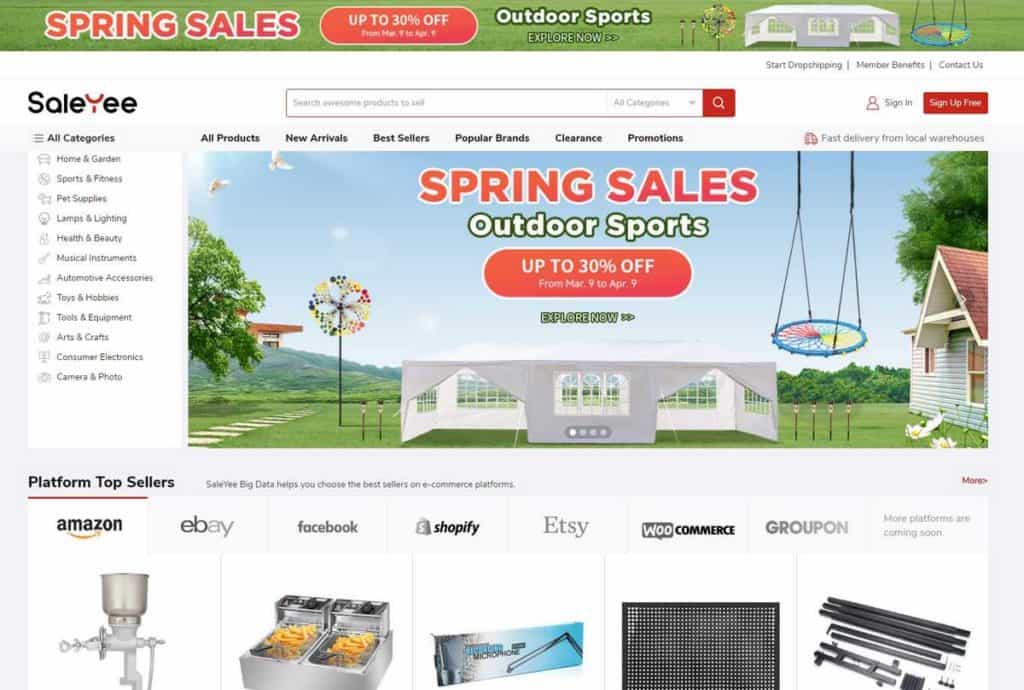 SaleYee is a global dropshipping and wholesale platform under Tengming Limited. They offer a wide range of products from different categories – home & garden, pet supplies, health and beauty, kids & toys, electronics.
On their website, you will find the New Arrivals and Best Sellers tabs just as on some other sources, but what is interesting is their Platform Top Sellers overview where you can see their most selling products filtered by target marketplace.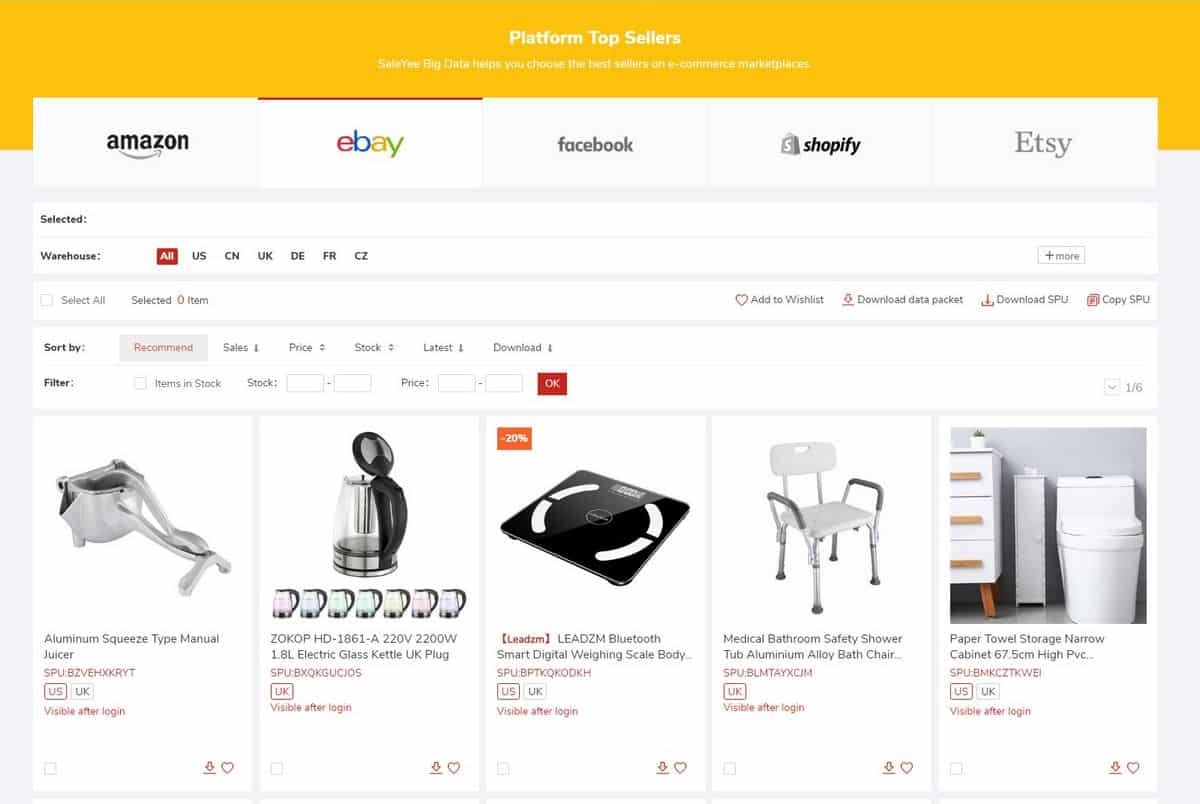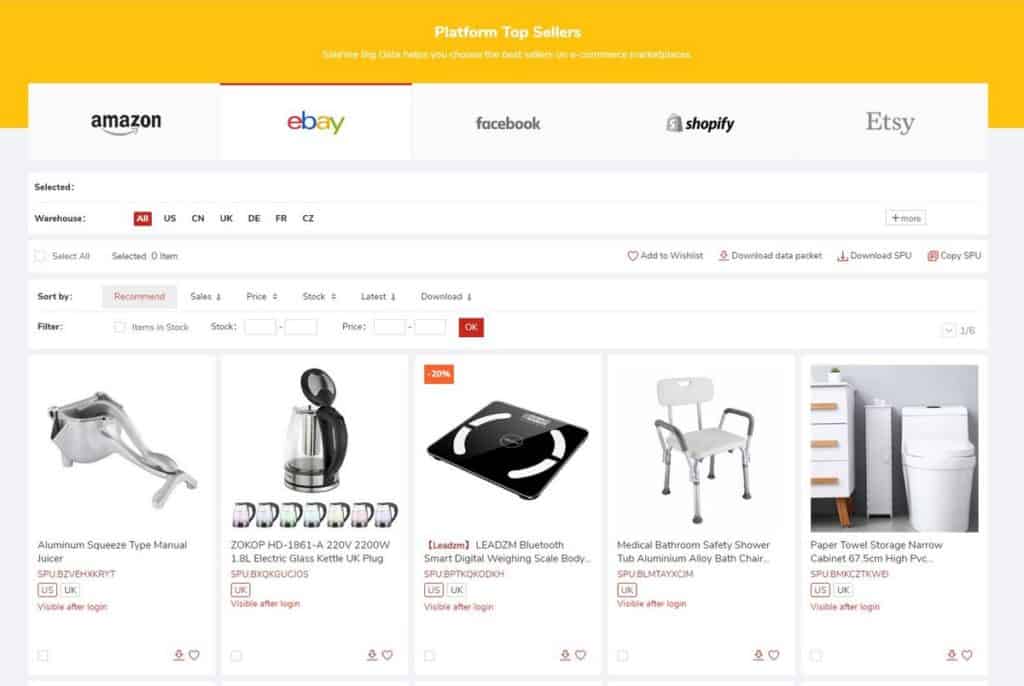 Under each product, you can see the warehouses from which it ships, or you can set the filter to your preferred warehouse location and see only the products that ship from there.
SaleYee is free to join and there are no order processing fees.
Shipping and Delivery
According to their website, orders are processed within 48 hours, and the delivery can be completed within 2-7 business days. Shipping is free.
Payment Methods
You can pay with credits cards, Payoneer, bank transfer, and SaleYee Balance (chargeable via credit cards and Payoneer)
Visa
Mastercard
Payoneer
Bank Transfer
SaleYee Balance
SaleYee Reviews

The score on Trustpilot is very high, 4.4/5 but the number of reviews is too low for this to be an argument. This indicates that this source has not yet become too popular, which opens up great opportunities for dropshipping.
The Bottom Line
SaleYee offers a wide range of products from different categories. Prices are higher than on AliExpress, but it includes shipping fees. Their main advantage is that they have warehouses in the US and across Europe, and orders are delivered very fast.
15. Kole Imports (US Warehouse)
The last on the list of AliExpress alternatives is Kole Imports – a wholesale supplier from Los Angeles.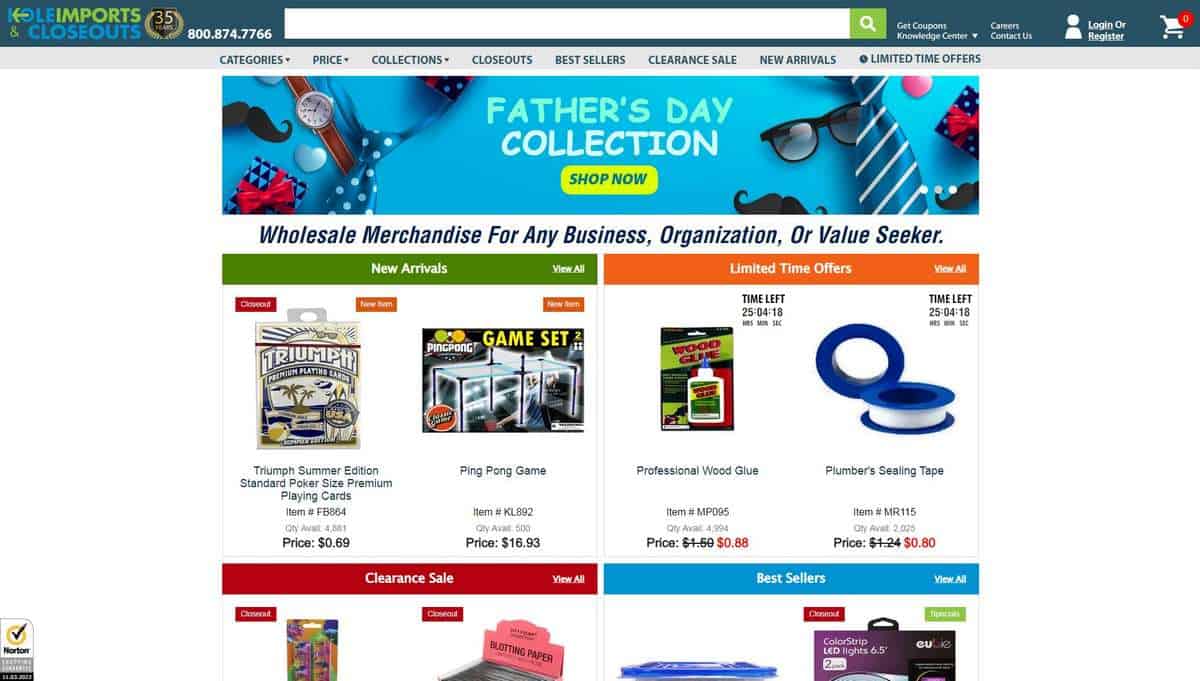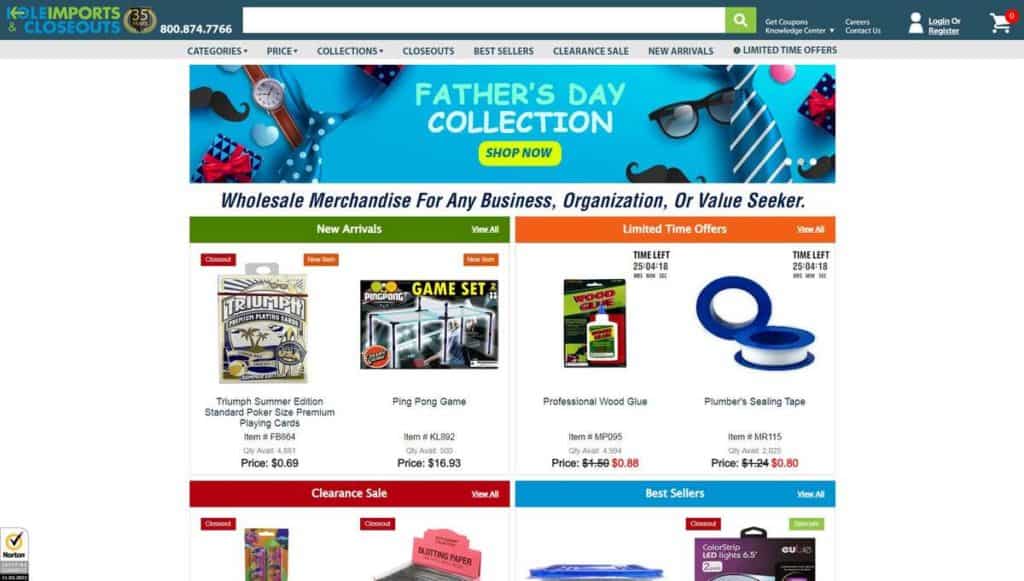 Kole Imports and Closeouts is a family-owned, one of the largest direct importers of general merchandise in the US, selling a wholesale variety of goods and closeouts. According to their website, they import large quantities of bulk merchandise directly from manufacturers overseas, warehouse them, and sell them to wholesalers and retailers.
The website is a little dated and confusing, but the company has many years of drop shipping experience and offers good customer service.
It should be noted that they sell in bulk quantities only, but they have the dropshipping program which allows you to list their items in smaller quantities on your online store. Because they import in huge quantities at very low prices, you need to consider first what items to dropship from them. From the reviews, it follows that it is best to avoid electronics and cheap items from unknown manufacturers. Products from well-known brands with good quality control can be purchased safely. Your best bet would be household and kitchen equipment, hardware, apparel.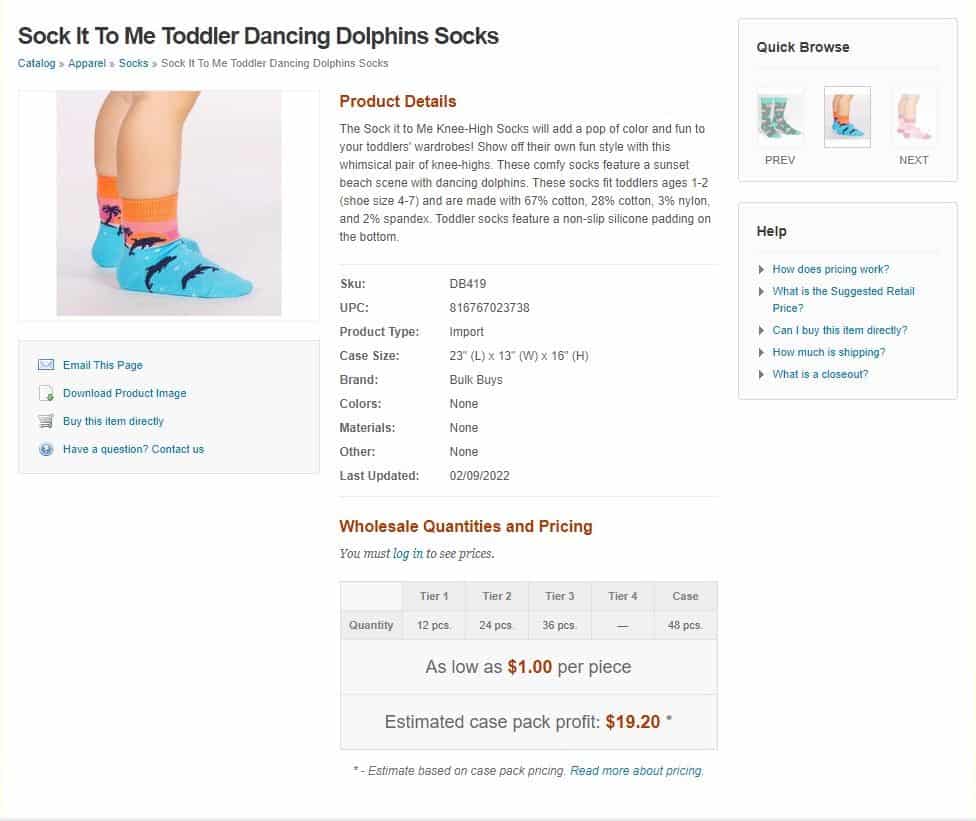 Shipping and Delivery
Most orders placed through their site will ship with either FedEx, UPS, or USPS. They can ship their products to more than 100 countries worldwide.
Payment Methods
Kole Imports accepts Visa, Mastercard, American Express, and Discover.
Reviews

They have a great score of 3.9/5 on Trustpilot. Most negative reviews point to the bad quality of cheap products from unknown brands, and most positive reviews point to low prices and fast shipping.
The Bottom Line
In comparison to AliExpress, the selection of items is relatively limited. In terms of pricing, this supplier can definitely keep up with Chinese marketplaces. Add the fact that these products are already in Los Angeles, you can get a huge advantage in terms of fast shipping and product prices. If you are targeting at US market, you should definitely consider this source.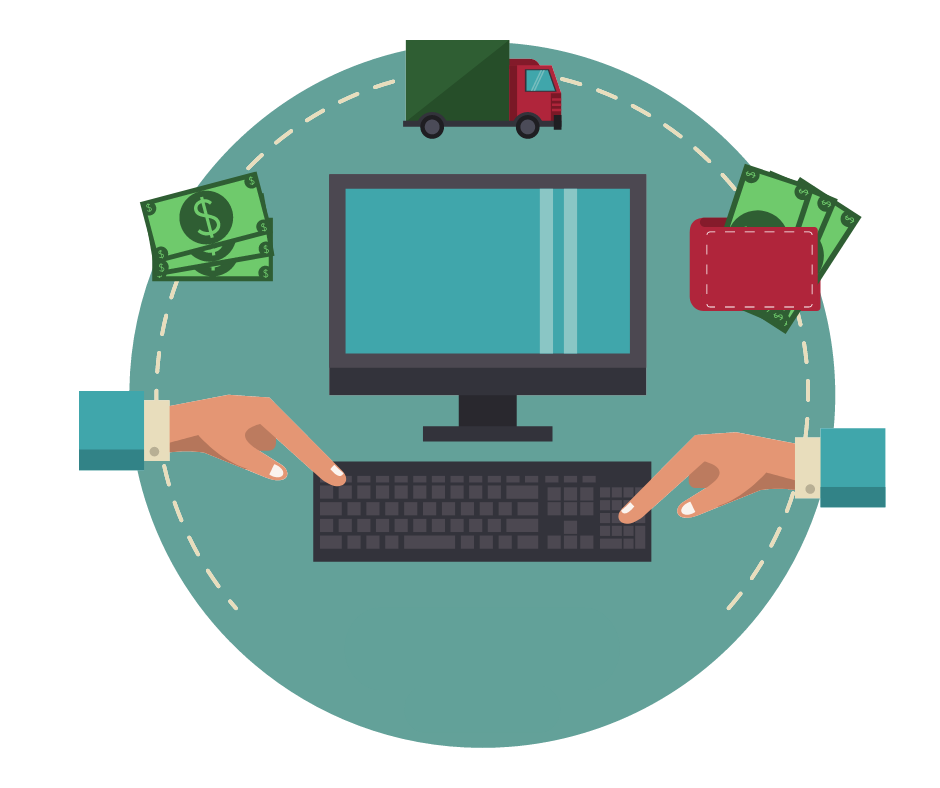 Not yet making money online?
Start your own dropshipping business. Sign up for a free trial of DSM Tool and we'll help you get started. Today is the day.
Conclusion
AliExpress is a very good supplier of products for dropshipping and I think that one source can hardly replace it, so it might be better to use several suppliers to cover your needs. For example, you can source Gearbest for mobile phones and TVC-Mall for phone accessories and replacement parts.
There are many sites like AliExpress, but you should be careful when choosing one. Make sure to check the features, policies, and terms of each supplier, read reviews, and order a few items before selling them in your store.
All of the suppliers listed in this article are viable AliExpress alternatives, but not every source suits everyone. Some of these are beginner-friendly, some require an understanding of how dropshipping works and some will work out only if you are an experienced dropshipper.
If AliExpress is still your choice, I highly advise you to use only reliable suppliers. It will help you to reduce the risks and the number of returns, build your dropshipping store and establish a good reputation as a seller. If you are looking for other options and not just AliExpress alternatives, make sure to check these dropship suppliers. Want to source from US dropshipping suppliers only? We've covered them too!
And what are your favorite AliExpress alternatives? Let us know in the comments!