11

min read
Dropshipping is notable due to the fact that you don't have to invest your own money in inventory. In theory, you only have to spend money when you are making money. As a business model, dropshipping generally has the lowest cost of entry in comparison to other models, such as Private label, Wholesale or Retail Arbitrage.
As a dropshipper, the items you sell need to have visibility and they need to reach customers online. There are many extremely successful entrepreneurs that have managed to grow their business in this way. However, the advertising requirement is the most challenging part of this business model.
Dropshipping on Amazon is a different story entirely. There are already products with extremely well-established visibility and reviews to sell. What's interesting about Amazon is that you can sell any product that is already being sold by someone else. You simply have to have the ability to offer it to customers. This makes dropshipping on Amazon the perfect business model, right?
Not exactly. Dropshipping on Amazon is not a standard business model, like the private label or retail arbitrage. While there are many people that are doing it and doing extremely well, there are downsides to Amazon dropshipping.
Amazon's Terms of Service on Dropshipping
Amazon's terms of service are a major hurdle to overcome. Dropshipping is technically allowed, however, there are strict rules about how you can conduct yourself as a dropshipper on the platform. Here is what the Amazon TOS states:
Drop shipping, or allowing a third party to fulfill orders to customers on your behalf, is generally acceptable. If you intend to fulfill orders using a dropshipper, you must always:
Be the seller of record of your products;

Identify yourself as the seller of your products on all packing slips, invoices, external packaging, and other information included or provided in connection with them;

Remove any packing slips, invoices, external packaging, or other information identifying a third-party drop shipper prior to shipping the order; and

Be responsible for accepting and processing customer returns of your products.
Examples of drop shipping that is not permitted:
Purchasing products from another online retailer and having that retailer ship directly to customers, if the shipment does not identify you as the seller of record or if anyone other than you (including the other online retailer) appears on packing slips, invoices, or external packaging; or




Shipping orders with packing slips, invoices, external packaging, or other information indicating a seller name or contact information other than your own.
What this boils down to is that you are not permitted to buy your items from another retailer and sell them as your own. Basically, you should not do digital retail arbitrage. What this means is that the product that you are reselling cannot be an item that you bought from another seller and then resold it. This is most likely forbidden by Amazon since they don't expect sellers who practice this method to provide proper customer service. They are possibly also concerned that sellers in this situation could take advantage of the customer.
To Amazon, sellers that do have their name and stamp on a product are "more committed", especially private label sellers that have inventory in FBA warehouses. This is most likely why Amazon has taken a stand against dropshipping. However, the terms of service are not stopping dropshippers from doing their business and making a decent amount of profit, while simultaneously risking their account being suspended.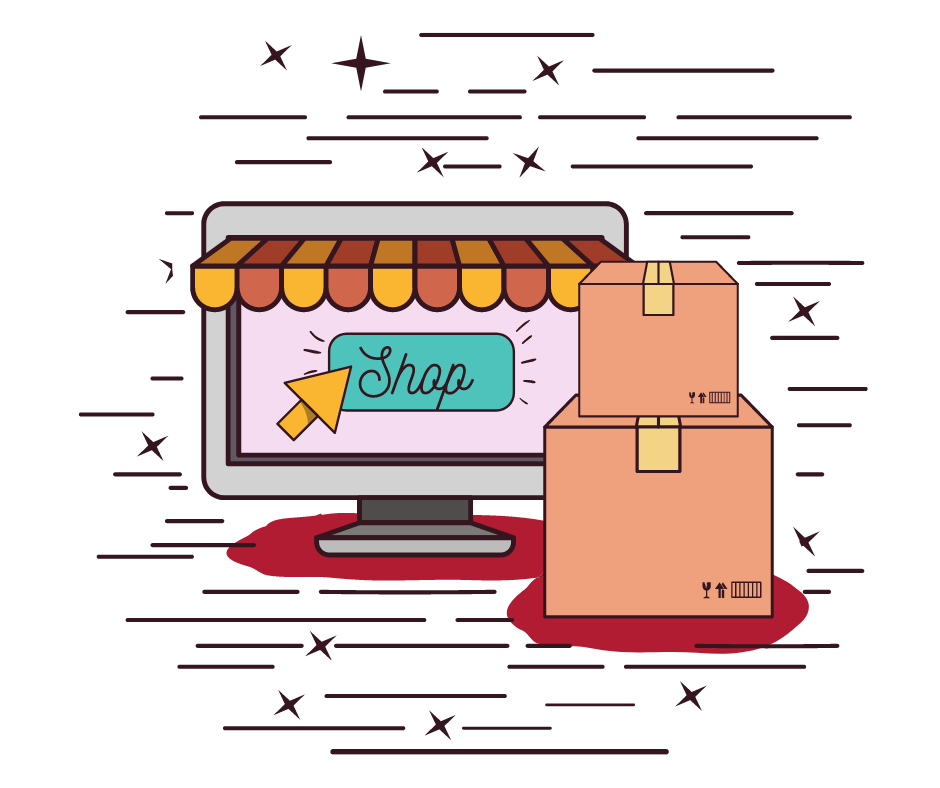 It's time…
Don't wait for success to come. Hire yourself and start your own dropshipping business
The shady way of dropshipping on Amazon
The following method is not recommended since it doesn't abide by the rules and guidelines of Amazon. Let's say that you are looking to find a product to sell on Amazon and you find it for a lower price on another eCommerce platform. Once you receive an order, you can simply enter the shipping information from the customer that ordered it on Amazon. This is something that is not allowed by Amazon. However, many sellers are doing this.
This practice can be a high-risk high-reward strategy. By doing it, you can ensure a fast delivery, unlike if you were dropshipping from China. However, you can get into major trouble with Amazon. In fact, many dropshippers that employ this strategy tend to buy older Amazon seller accounts. They also engage in a practice called "account seasoning" that involves listing a few items on FBA and selling them just so that they can try to "bypass" Amazon's radar.
It's obvious that Amazon isn't cracking down too hard on this kind of dropshipping, since it is such a common and widespread tactic. The practice is very common despite the fact that it is explicitly forbidden by Amazon. Even though there are a lot of people engaging in this, it's probably only a matter of time until Amazon cracks down on the practice, much like they did with fraudulent reviews. At this point, they have completely removed the practice of fraudulent reviews from their platform.
The proper way of doing dropshipping on Amazon
The conventional way of dropshipping is a much more straightforward process and it is aligned with Amazon's terms of service. If you are buying your items from a supplier and sending them from the supplier directly to the customer, you don't have to worry about getting into any trouble with Amazon. When it comes to deciding on a perfect product to dropship, it's best to look for products with the following properties:
High monthly sales and a high number of reviews (since you won't be doing any PPC you need to have an item that is well ranked organically).


A price that's in the $40 to $100 range (the rules are a little bit different than private label since the margins are slimmer).




A product whose listing has a FBM seller holding the buybox (you won't have the buybox from the get go. You need to be selling for a while in order to be buy box eligible and ungated in certain categories. However, if a listing has a FMB seller in the buybox you can eventually take the buybox.).



A dropshipping margin that's worthwhile.
Keep reading to get more insights and a step-by-step guide on finding the perfect product to sell on Amazon.
Tip
Product returns are an inevitability of selling online. Here are a few ways to potentially reduce your Amazon product returns.
How to find and source products for Amazon Dropshipping
For all of these purposes, you would want to use a tool like AMZScout Pro Extension and the AMZScout Product Database. You will need tools to support you, especially considering the fact that there is no limit to how many products you can list as a dropshipper. Because you don't hold inventory, you can be constantly adding new products to your store. With these tools, you can access all of the necessary information and even calculate your margins on the spot. Let's go through an example:
First, let's go into the AMZScout Product Database in order to enter some criteria. First, we select the Categories we want to search in. For this example let's go to the major categories that have sample products. Good candidates would be:
When it comes to a price range we already said that it would be ideal to be between $40 and $100, so that's exactly what we are going to be entering.


When it comes to reviews and sales, we want well established products with high monthly sales. So we will enter the minimal monthly sales at 500 units a month and the number of reviews at 300 minimum.


The Product database will also provide the option to look for products sold by sellers using FBA, FMB or being sold by Amazon themselves. We don't want to piggyback on a listing that Amazon is selling. We also want to actually be on a listing that is being sold primarily by FBM sellers since this way we have a shot at the buybox.
When it's all said and done your Product Database filters should look like this:


5. When you press search, the tool will scour through all of the products that are being sold on Amazon that meet your criteria. You will receive a big pool of results to choose from. In this case one item that stands out is this all purpose extra thick yoga mat:


This is an example of a perfect dropshipping product. It's being sold by a FBM merchant, it has over 33 thousand reviews and it's right in the price range at $49. We can click on the result and we will be led to the product page on Amazon.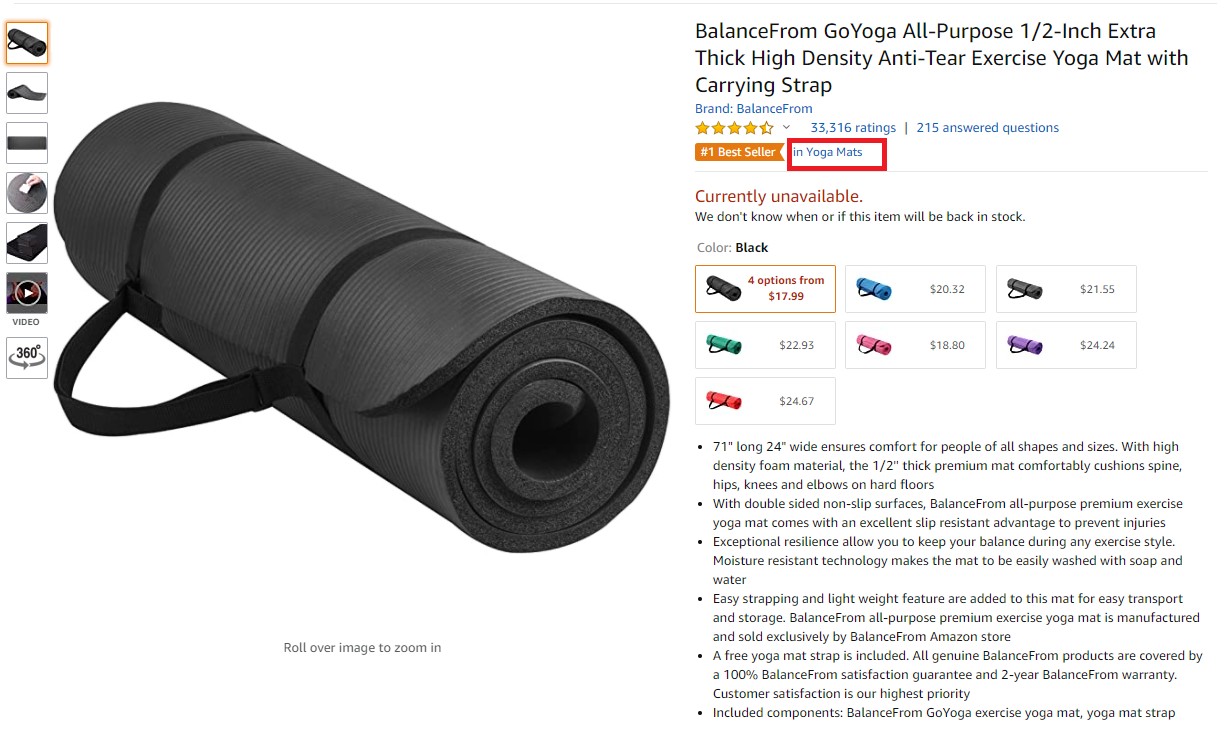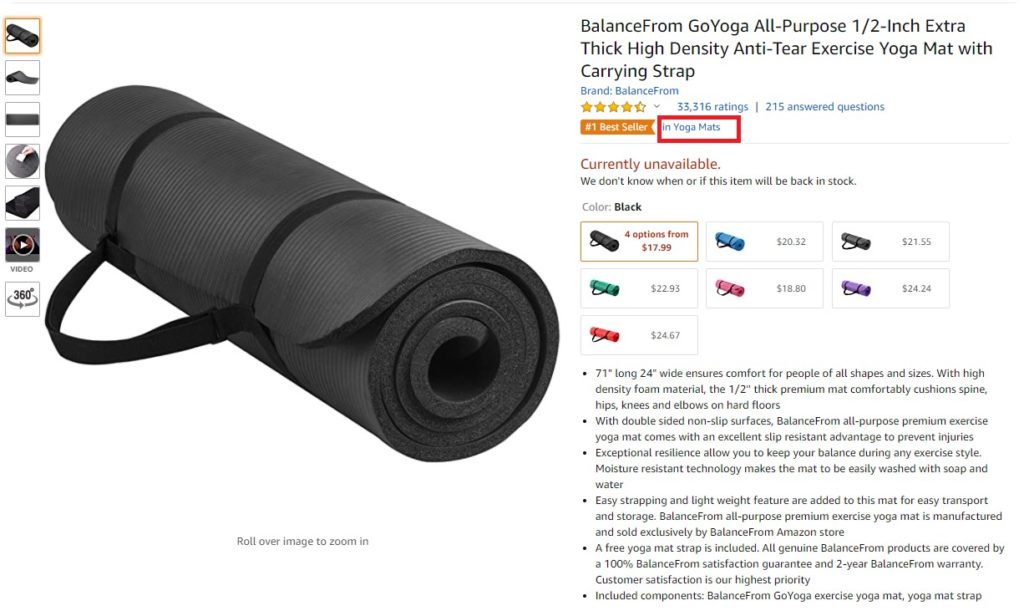 6. From there we can click on the category "Yoga mats" and can then inspect the niche as a whole using the AMZScout Pro Extension: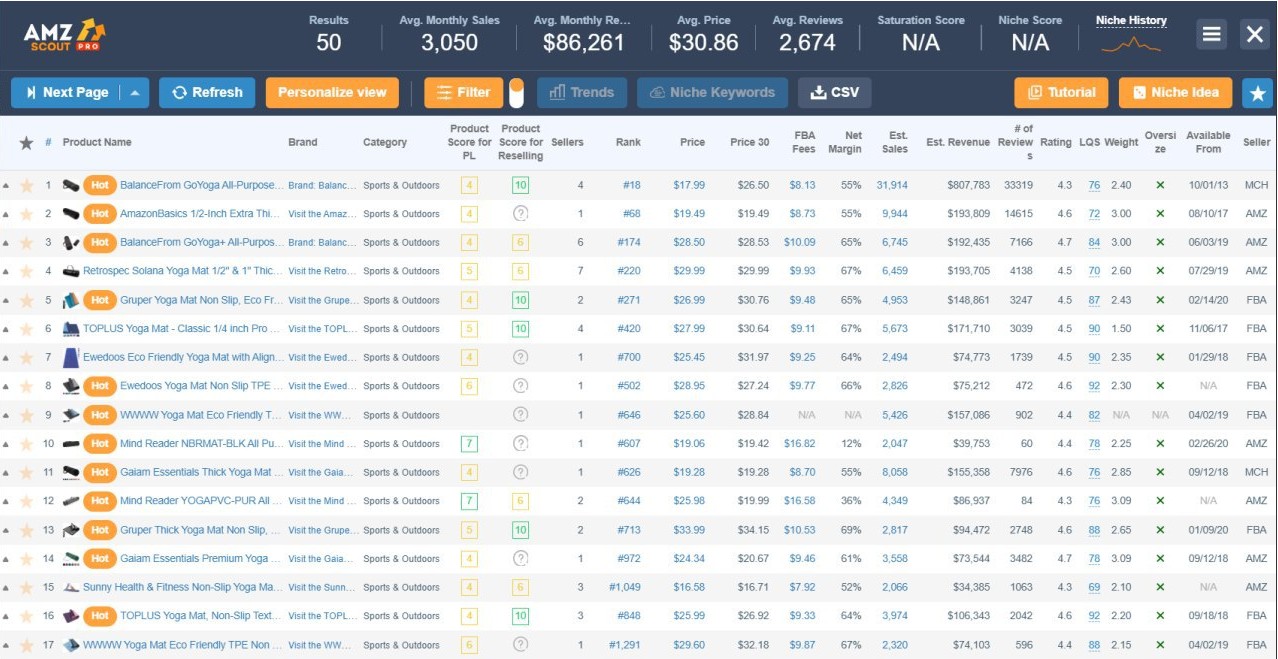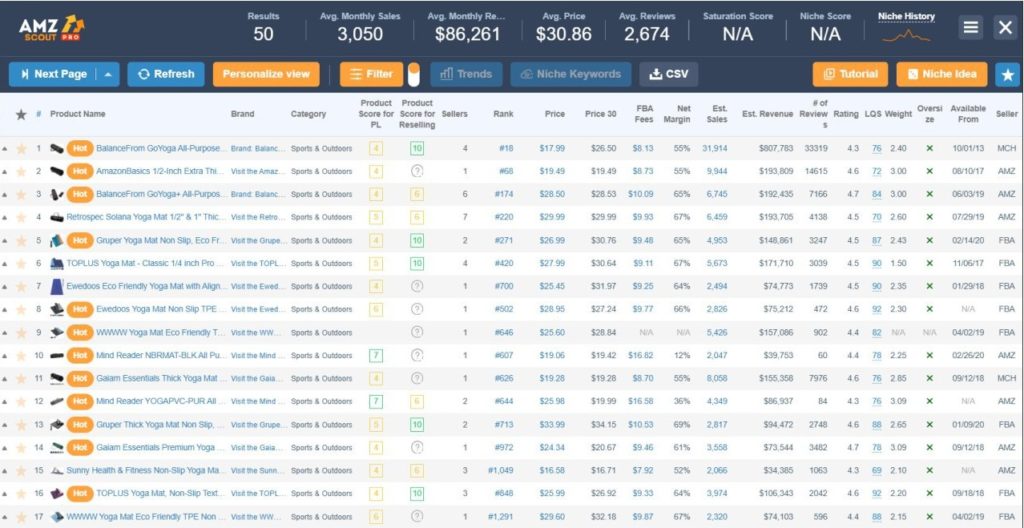 As we can see, this is an extremely profitable niche and this particular product is at the very top of it. That product in particular is making over $800.000 a month with 30.000 + sales. If you create your own offer, you are sure to get some piece of that $800.000 a month pie. A great thing about this extension is that you can click on a single button and it will lead you to Alibaba and point you to the suppliers that you need.
You can also use the built-in calculator that already has all of the fees for each product to calculate your margins once you receive the information from the potential supplier. Using these 2 tools you can find and validate great product ideas in minutes. As a dropshipper, this is something you will have to do quite frequently, which makes these perfect tools for Amazon dropshippers.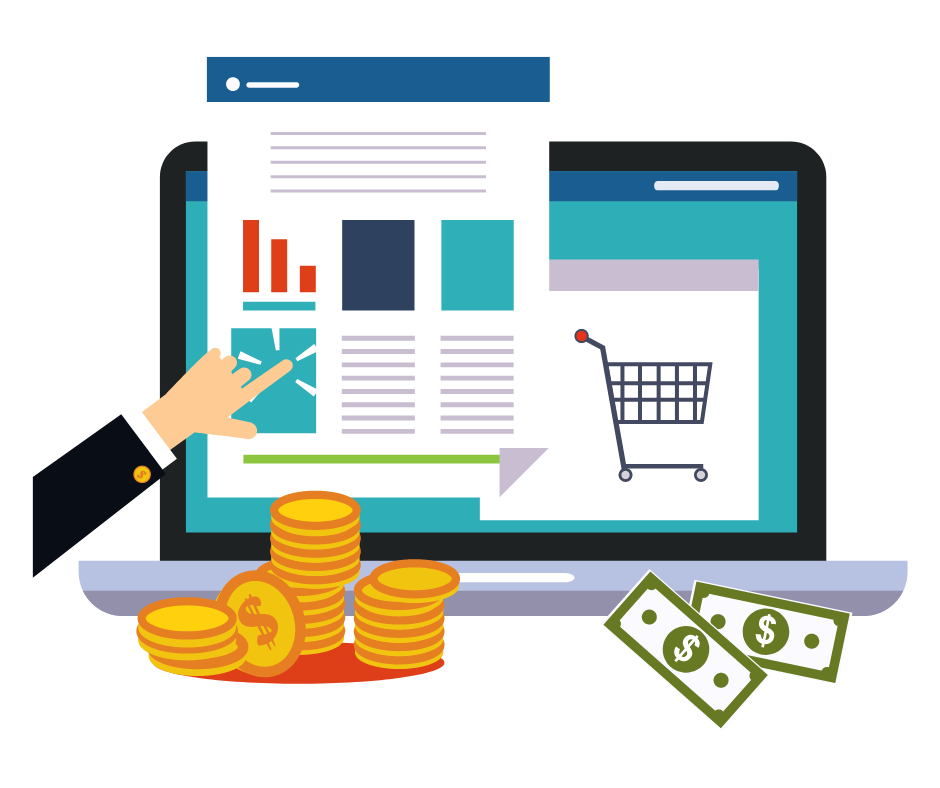 Don't wait for the profits, make them!
Start a profitable dropshipping business with DSM Tool. Get a free course and a free trial of the software.
Once you find a product you would like to dropship, the next step is to find a supplier. A great source for finding reliable dropshipping suppliers is AliExpress. You can also try Alibaba. It's true that Alibaba suppliers are primarily looking to find sellers that order larger quantities. However, you might be surprised at how many of them will strike a deal with a dropshipper if you simply ask. Once you find a good reliable supplier, it's not a bad idea to look into their catalog and see if there are any items they offer that might be a good idea to dropship down the line. What's important is that you make sure you find the exact item that's being sold on Amazon, since you will be piggybacking on that listing.
Conclusion
In conclusion, dropshipping is the leanest eCommerce business model. You don't need to spend any money on inventory upfront and you can theoretically list hundreds of products without any overhead cost. One downside of dropshipping is that you will rarely have the buybox. Another downside is the fact that many customers on Amazon will not be willing to wait for the item to get shipped as long as it usually takes to get from China.
On the other hand, if you decide to take the shady route you won't have the shipping time issue. The buybox issue will still be there, but you at least know that the "supplier" is extremely reliable and that your orders will arrive in a relatively short amount of time. The only thing that you have to do in order not to mess up your seller rating is to properly and very carefully input the correct order information and make sure that every customer receives exactly what they ordered. Good luck sellers!
This post was written by AMZScout Amazon Expert Team. AMZScout is one of the top Amazon research tools for online sellers and has been in the field for more than four years now. We love to share our expertise and identified trends to guide sellers to success.