11

min read
When it comes to answering the question about the profit margin for dropshipping, it's not only about the profit margin alone. Let me explain my idea. How many units of that product you sell is a key factor in the equation. Selling 100 units a month of a $5 product that has a 50% profit margin will result in the same total profit as selling 10 units of a $50 product with the same profit margin (it's $250, feel free to check yourself).
In this article, we will cover 3 ways to make profits when dropshipping. We will focus both on the selling price and the buying price and try to optimize them both. Then, we will discuss how to find products for dropshipping so you could start looking for products to dropship as soon as you finish reading this article.
High Dropshipping Margins, Cheap Products
Selling relatively cheap products on eBay and sourcing them for a much lower price (usually from Chinese suppliers) can result in quite high profit margins for dropshipping. The "high margin – cheap products" concept works due to the ability to sell in high volumes, unlike expensive products that customers purchase less often. Cheap products can sell on a daily basis and in many cases multiple times per day. And you will still get dropshipping profits.
Selling cheap products for a high margin is not only something eBay sellers are attempting to do in their product research. If you choose to dropship on Shopify the product research process is aiming to find items that could be sold for enough high dropshipping margin to cover the advertising expenses.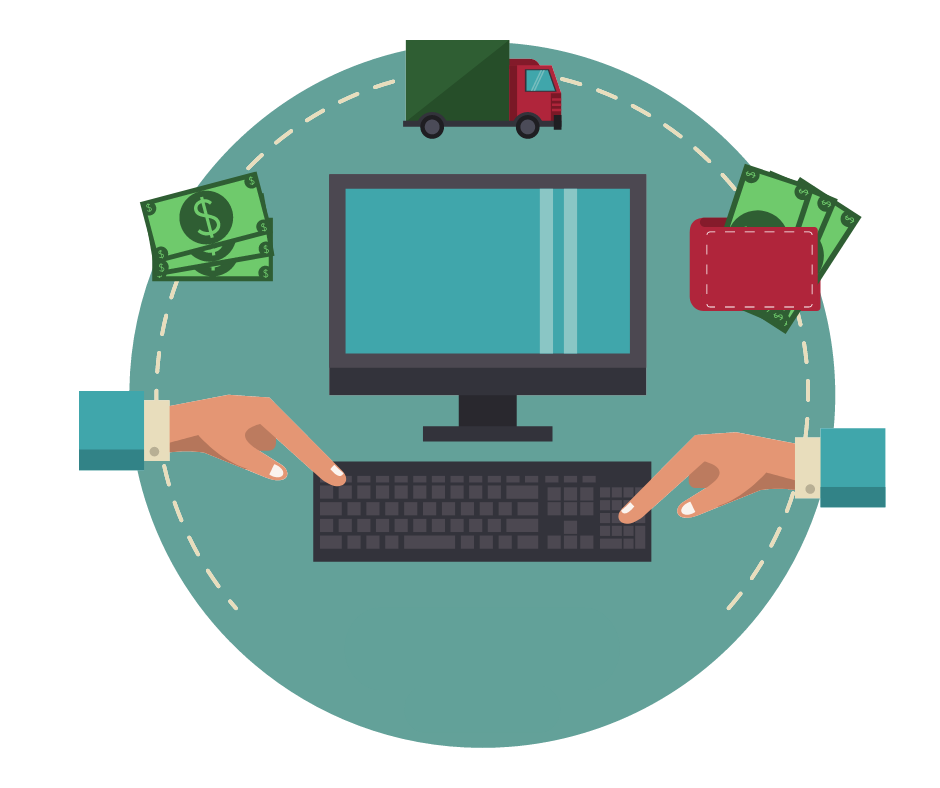 Not yet making money online?
Start your own dropshipping business. Sign up for a free trial of DSM Tool and we'll help you get started. Today is the day.
Cheap Buying Price, High Selling Price
In the example below, we have found an item that sold 6 times, its price is $14.71. If we find a cheap supplier for this product or for a product similar to that one, we could try to sell it as well for a similar or a bit lower price.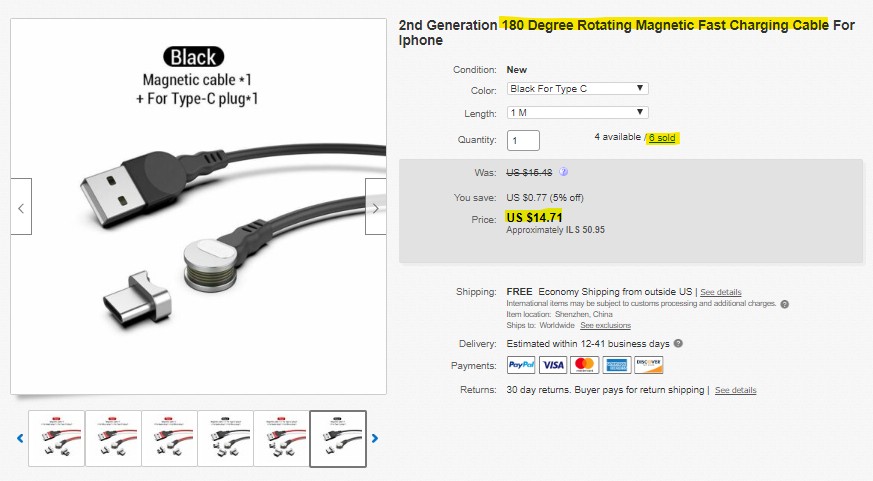 We've been using the DSM Tool Product Search to browse products from 50+ dropshipping suppliers using the keywords "Rotate 180 degree Magnetic USB Cable". As you can see in the results below, we've found suppliers that sell the product starting at $4.21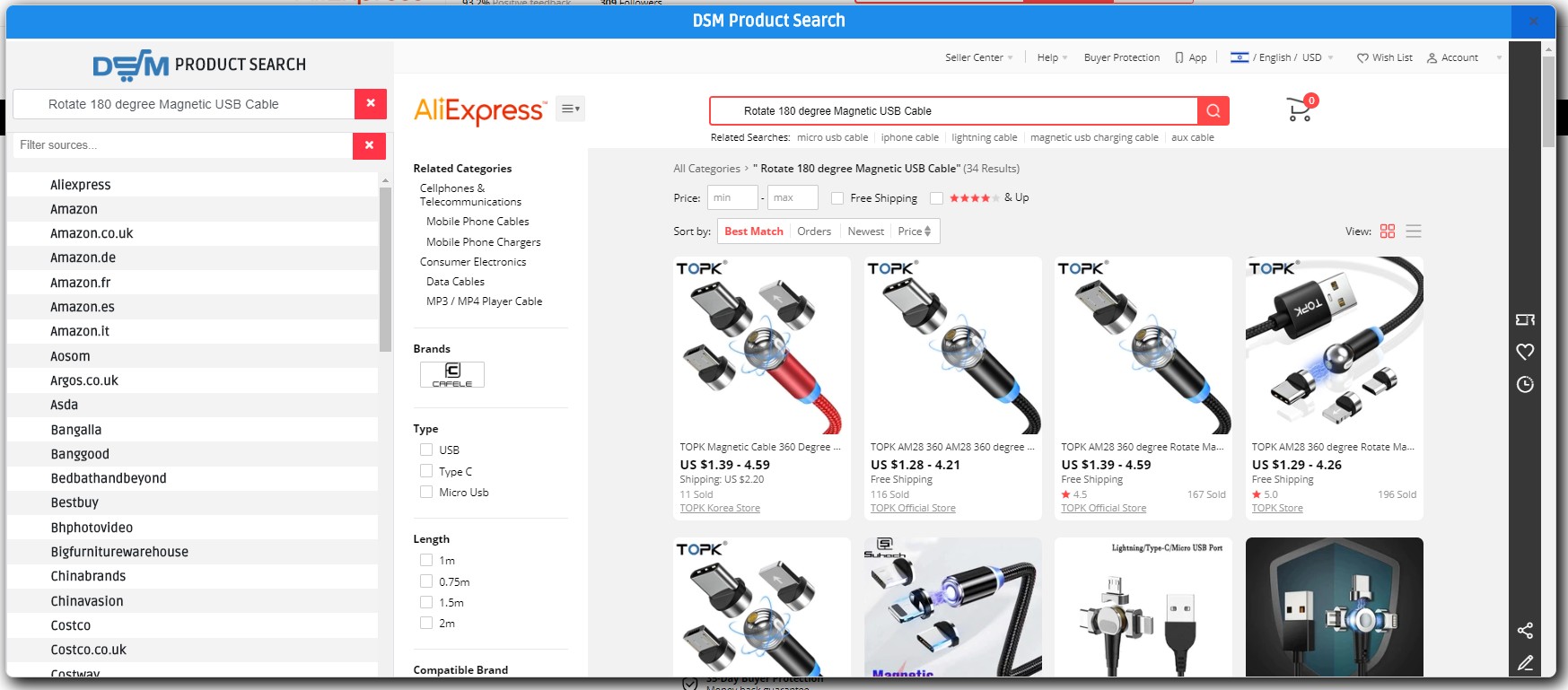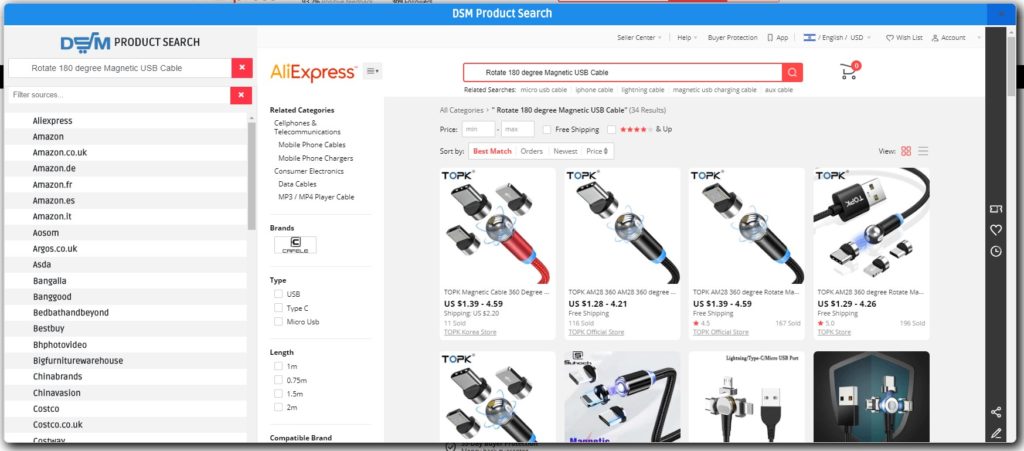 How to calculate average dropshipping profit margins?
The simple way to calculate dropshipping profit margins is to calculate the difference between the price for the item on your supplier's shop, your planned price, and to add additional fees (PayPal, eBay or another marketplace fees, dropshipping software, shipping, etc.). That's why the average dropshipping profit margin is between 15-20%.
But since calculating the average eCommerce profit margins depends on many above-mentioned factors ad especially the selling potential of your product, it can be also higher.
For example, let's calculate the profit we're expecting to make from selling this dropshipping product:
Selling price:

~$14.71

Buying price: ~$4.21
eBay & PayPal fees: ~$1.9
Estimated profit per sale: $8.6
Profit margin: 58.4%
To make sure the product is profitable use the free eBay dropshipping profit calculator created by the DSM Tool team to help you to sell and earn. Make a copy of it and use it to calculate your profit margins for dropshipping products considering their source price, shipping fees, and other additional fees.
Dropshipping Commission Rates
One of the parameters we used to calculate the profit margin is the commission rate, which is usually referred to as "break-even". The break-even is the fees you pay to the services you use for dropshipping. Those are usually eBay insertion fees, eBay selling fees, PayPal fees for selling and accepting payments and in some cases taxes on purchases.
In the example above, and in general, we use 14% as the break-even commissions rate, which is the average of 9% for eBay selling fees, another 5% for PayPal fees, no eBay insertion fees and no tax. That is of course just for the sake of an example.
Recommendation:
if you want to learn more about eBay dropshipping, you can check this A to Z course that covers 45 lessons and showcase all steps you need in order to start a dropshipping business there, making first sales and scaling your own new business.
Low Dropshipping margins, Expensive Products
Selling in low eCommerce profit margins could sound like a boring way to make money online. If you are making a 2-5% margin you can find yourself wasting too much time and efforts on store management for a very low profit. That is why you might want to consider selling products with a cost price above $50, some say you should even consider going over $500 where even a 2-5% margin can result in a nice income (just think how awesome can a 10-20% margin be).
Take a Look at This Example!
Let's check this example to clarify this topic. Below is an example of an opportunity with a high-priced product. The product's price on Walmart is $59.99 with a free 2-days delivery.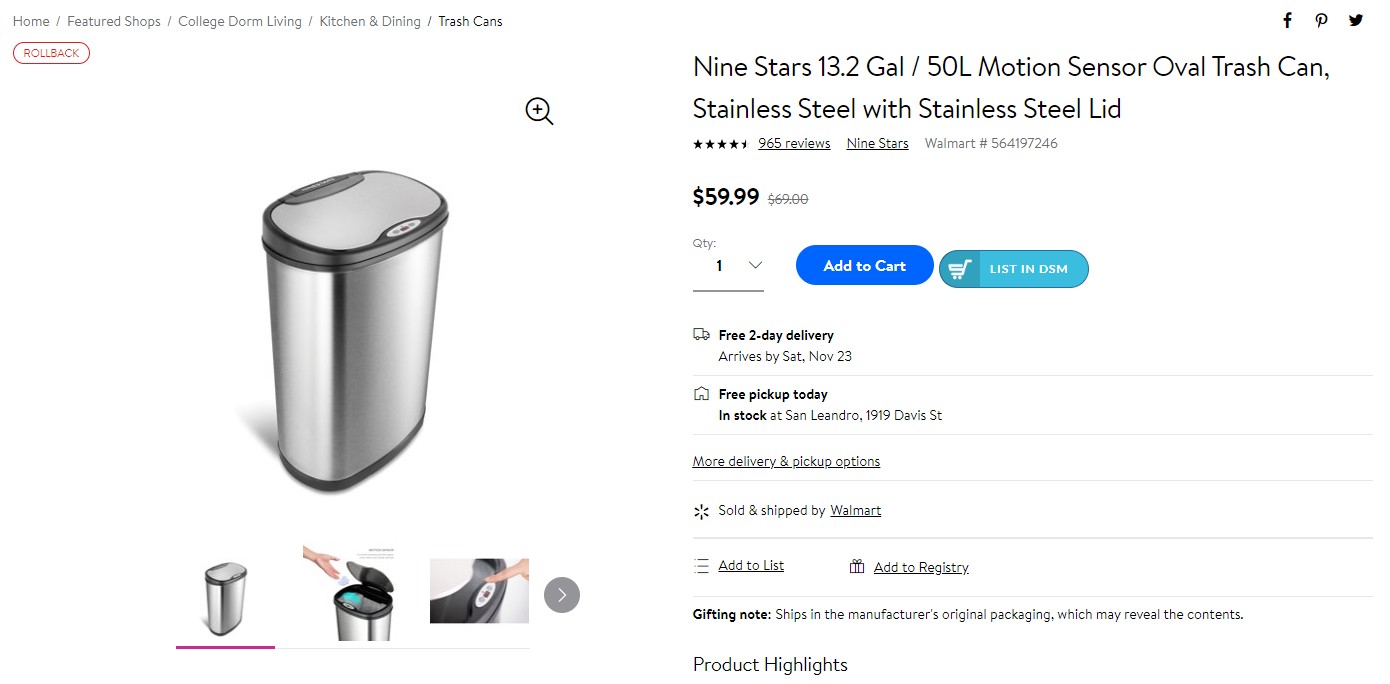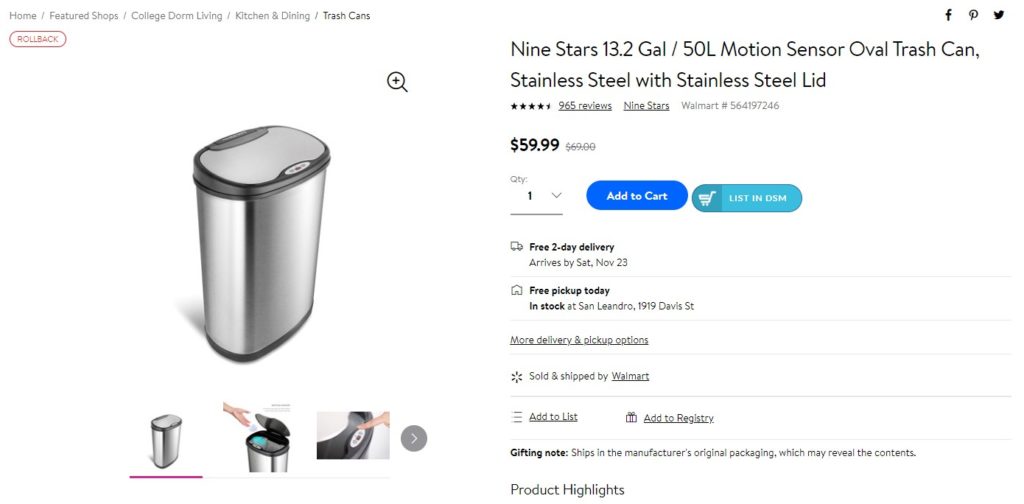 Now let's see what is eBay's price for it. To do that, you can search the product on eBay, and on the left filter, the menu selects the "sold items" filter.
While writing this article, we found out that this particular item and similar items were sold for prices a few times lower than Walmart, which might mean that the competition on selling this specific product is not going to be as simple as we thought. Yet, we also found some evidence for very interesting sales that can generate very nice profits.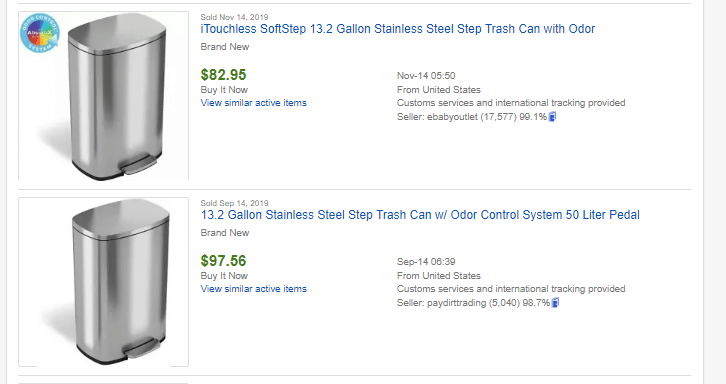 We even found a seller who managed to sell this product for nothing less than $191.96 which according to our estimation resulted in a profit of at least $100!

What is Long Tail in eCommerce
You might be asking yourself if you should after all dropship products that sell on average maybe 5-10 times per month, and that is a correct thought. Looking for products that have a higher volume of monthly sales would mean a higher chance for you to make a sale, right?
But that is half-true. In some cases, items with a high rate of sales are naturally more competitive and it is the long tail products that you might be able to sell. Since you do not hold any inventory, you generally want to keep an 80-20 ratio between products that are more trends-oriented and long-tail products. Even more important than the ratio between the two, you should keep optimizing your eBay store to make sure you clean up products that do not perform at all.
The Back-End Profits Method
The first two methods we presented are more price-oriented techniques that focus on the selling price. Namely, the higher price you can sell – the higher your eCommerce profit margin is. Now let's pay attention to the cost side by reducing the cost of the product you will purchase and dropship.
Back-end profits is maybe the most beautiful method of making money while drop shipping, you are taking advantage of your knowledge and ability to research online to generate profit. The back-end profits are all of the profits you make by discounting the purchase price using cashback, seasonal discounts, coupon codes, discounted gift cards, etc.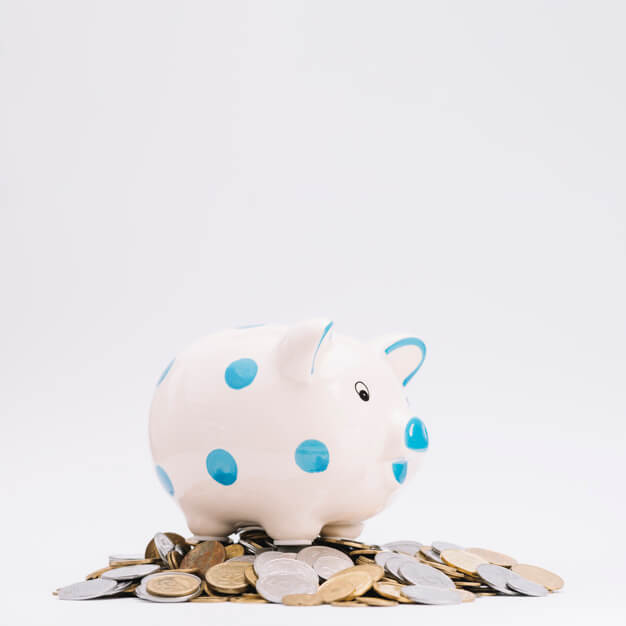 One of the tactics used together with back-end profits on eBay is the "0% margin". While using this technique drop shipping sellers find products they can sell for a price similar or lower than the current selling price on eBay. The gained profit is entirely from the discount on the cost price.
To help you find back-end profit opportunities you might want to read the article on how to use cashback for dropshipping where you could learn about cashback websites for dropshipping. Also, you can read one of the dropshipping supplier's guides (like the guide on how to dropship from ChinaBrands or the guide about CJDropshipping) where you could find information about their dropshipping program and discounts. If you have more back-end profit ideas, comment on them below and help the community grow! We try our best to provide useful dropshipping information!
How to Find Profitable Products to Dropship
We talked about 3 selling techniques, and we showed some basic examples of actual products that were drop shipped. However, eBay dropshipping sellers tend to change their products very often, they optimize their store by "cleaning up" the products that do not perform well, replacing them with new ones. Shopify sellers, who tend to focus on a very small amount of products is completely another story, for instance. So you need a way to find a number of cheap and a number of expensive products. How to do it?
When it comes to cheap products (with high eCommerce profit margins) a popular technique for finding what to sell is using "trends exploration". Using eBay Explore to find products for dropshipping, for example, might be a great way to source many cheap trending products.
For more expensive products, there are not as many eBay Explore opportunities as you can find with lower-priced products and trend-exploration alone is a limited technique. In that case, you might want to consider using a different sniping technique for product sourcing which is finding another successful seller and trying to sell the same or similar products to their best-sellers. Zik Analytics software and others are experts in sniping.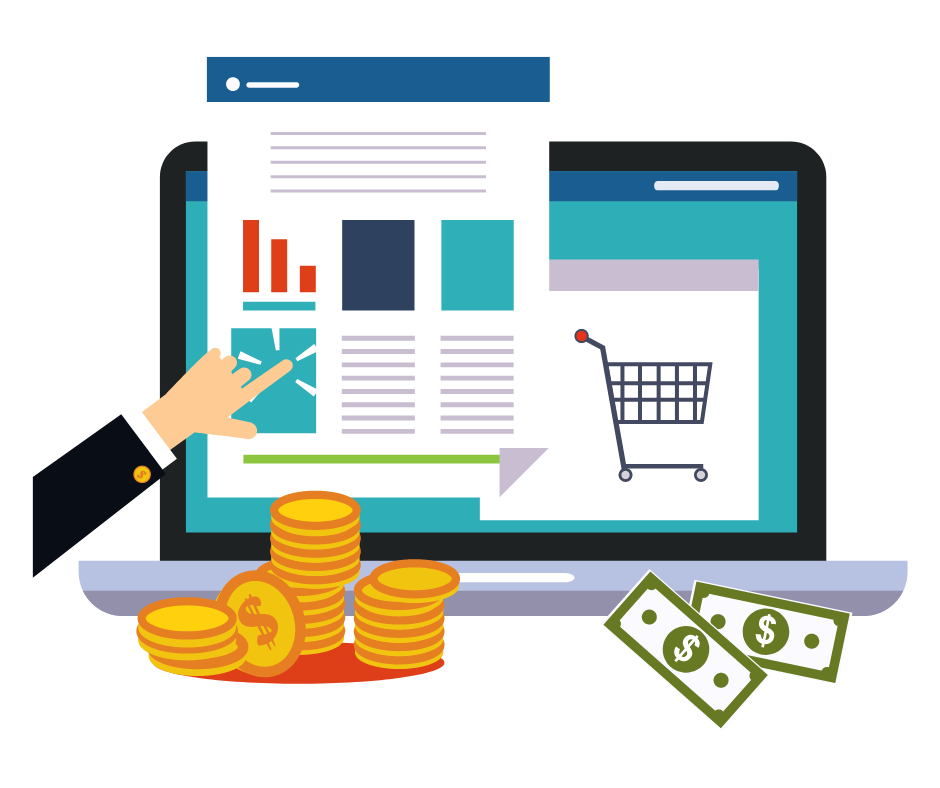 Don't wait for the profits, make them!
Start a profitable dropshipping business with DSM Tool. Get a free course and a free trial of the software.
Summary
The truth is that it is entirely wrong to say that cheap products should not be found using the sniping technique, or that you should not sell expensive products that are hot and trending. You can combine everything you have learned in this article. And remember to maintain an 80% trending products and 20% "long tail" products ratio, no matter if they are cheap or expensive. Additionally, try to also maintain a similar ratio between cheap and expensive products. You can use both sniping and trend exploration because there is no unified formula for success, and you have to find what is a good profit margin for drop shipping for your eCommerce store, check different profit margins, and understand which one works better for you.
Don't forget also to optimize the content of the listings you post. Titles and product descriptions that sell is a great way to increase the chance your product will sell!