23

min read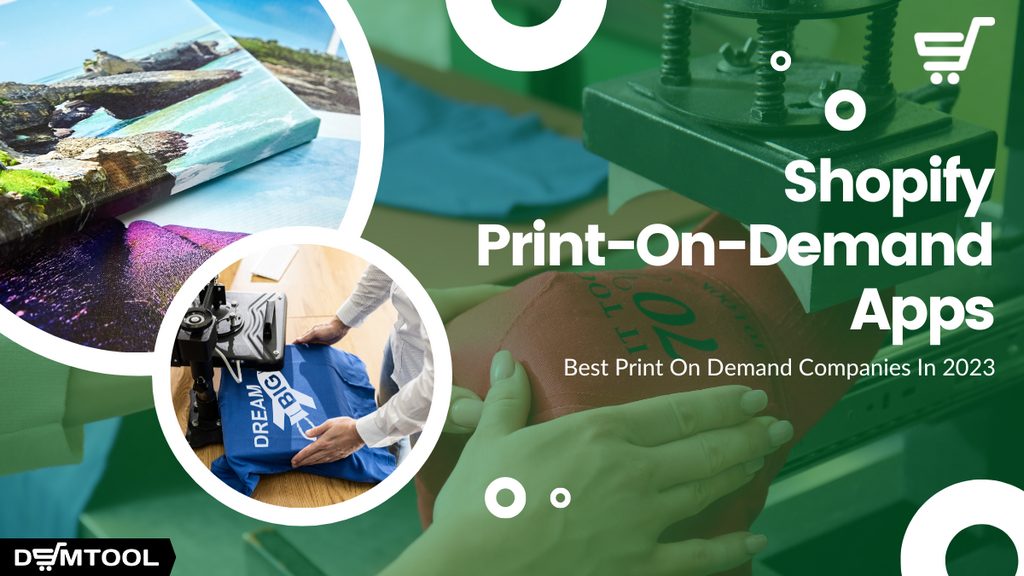 In my guide about how to start Shopify print-on-demand dropshipping, I mentioned the 5 best POD apps Shopify you can use for order fulfillment. But the thing is that there are far more great print on demand companies there that you should consider. The reason is very simple – there is no single best company: all of them have advantages and disadvantages that make them more or less suitable depending on preferences a seller might have. That is why I decided to make an expanded list of the best print on demand Shopify apps to use in 2023. I will highlight the strong and weak points of each print on demand service so you can decide which is the best for you.
If you have not checked my Shopify Print On Demand Drop Shipping Guide yet, I advise you to do so. I won't cover again the basics of what print-on-demand is and why you should open a store on Shopify. In this article, you will learn what are the best print on demand companies to work with and what print on demand Shopify Apps to install.
What To Know About Shopify Print On Demand Apps?
Before diving into the list of the best POD apps Shopify to use, there are a few things to learn if you want to make the right choice when choosing which print on demand Shopify apps to use.
What are Shopify apps or Shopify plugins? You can think of them as small "programs" that enable additional functions and features for your store. Shopify apps can either improve existing features or add new ones. Using Shopify apps will help improve your ranking on search engines (SEO), enable successful marketing campaigns, boost customer engagement through loyalty and affiliate programs, increase conversion rate, reduce abandoned baskets, and improve overall customer experience.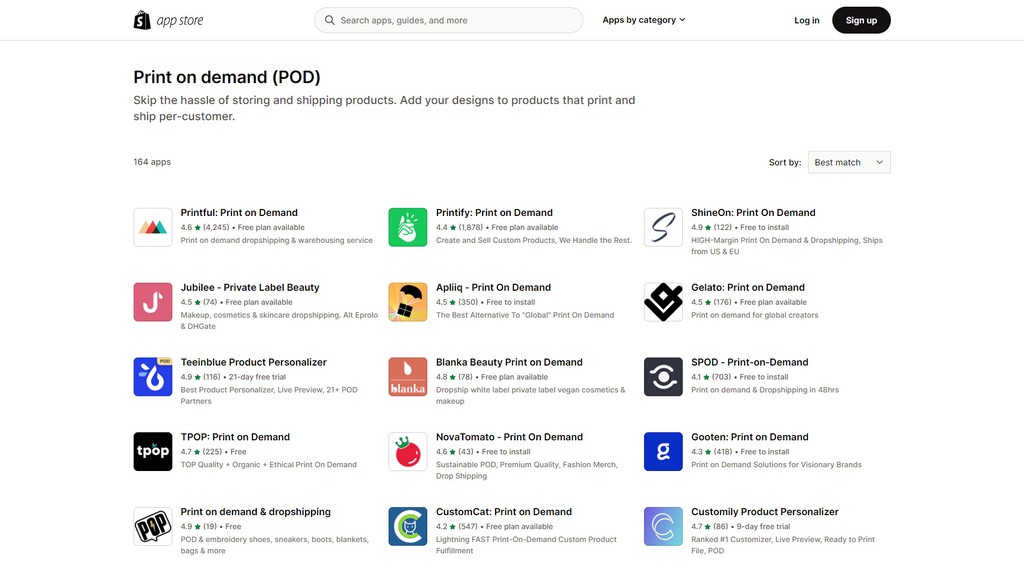 Currently, there are over 7000 Shopify extensions available on the Shopify App Store. Over 4000 of them are offering a free plan. Overall, Shopify classifies them into the following categories:
Find products to sell – Dropshipping apps, print on demand, migrate your own products.
Bring in customers – Run ads, SEO apps, and reach out via email or text.
Deliver the goods – Inventory and fulfillment, better Shopify shipping apps, local delivery.
Sell more stuff – Offer discounts, show reviews, sell on different sales channels.
Customize your store – Build custom pages, add video, optimize images.
Scale the business – Manage finances, measure success, optimize your operations.
It should be noted that though many Shopify apps state to offer a free plan, the more advanced and useful features are available on paid plans only.
There are many Shopify apps, but you need to know that not all of them are good, especially the free ones. Some are too difficult to install and configure properly, others will significantly slow down your store loading speed, and some are just not as good as other options. That is why I put together the list of Must Have Shopify Apps Your eCommerce Shop Needs. All these Shopify apps tested by thousands of users provide significant improvements or additional features and are either free or have a high value-to-functionality ratio.
What Are Print On Demand Companies?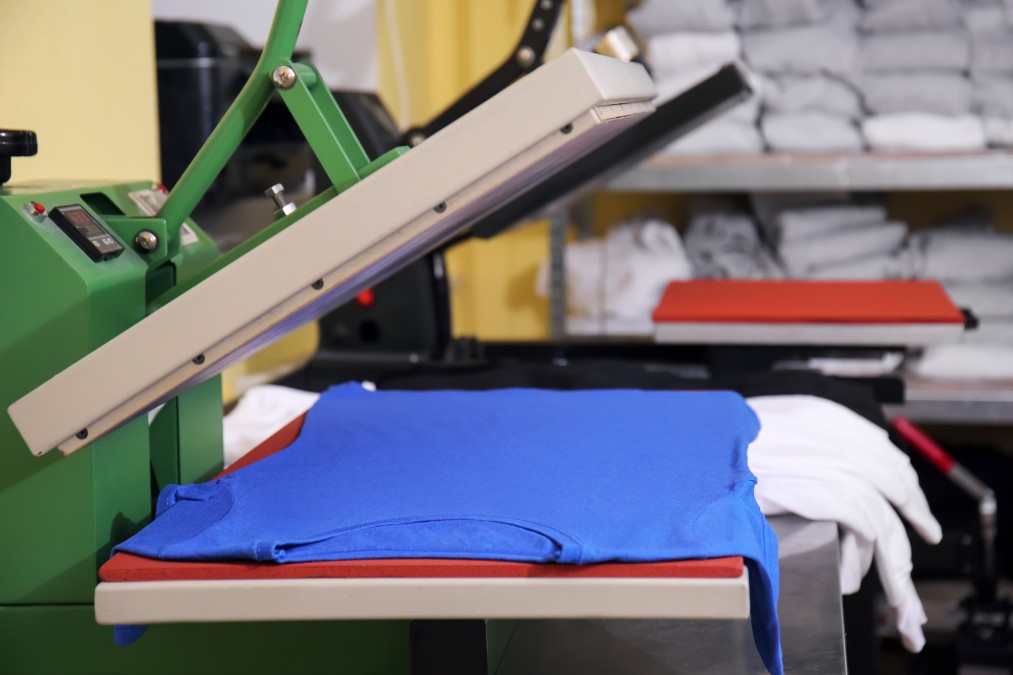 Print on demand companies provide complete fulfillment services, including sourcing and warehousing white-label products, designing and printing, packaging, and shipping them to your customers. Because POD is a subtype of dropshipping, you can think about print-on-demand services as suppliers for product sourcing. The difference is that in dropshipping, you sell pre-made products; in POD, you sell your own products (white-label products printed with your designs).
Finding the best supplier might not be a simple task, but it is crucial if you want to succeed. It is a make-or-break decision for every reseller, which will either help to succeed or fail in e-commerce. More importantly, dropshippers can and should work with multiple dropshipping suppliers to diversify their product stock. It is also advantageous for safety reasons if something happens with one of your suppliers. You won't risk losing all your stock at once if you source from multiple suppliers.
But this is not the case when doing print-on-demand – you should choose one primary provider and stick to it. This way, you ensure that all your print on demand products are of the same quality and that all your customers get the same level of fulfillment services. But this also makes it even more important to choose a POD service that is best for your business.
Wait! Print-on-demand Shopify apps, print on demand companies – what exactly is this article about?!
What Is The Connection Between Shopify Apps and Print On Demand Services?
Remember me mentioning that Shopify apps "enable additional functions and features for your store"? To integrate POD services, you have to install a corresponding plugin from the Shopify App Store, which takes just a few clicks. Once you have settled on what fulfillment service to use, proceed to the Shopify App Store, search for the provider and install its plugin. Simple!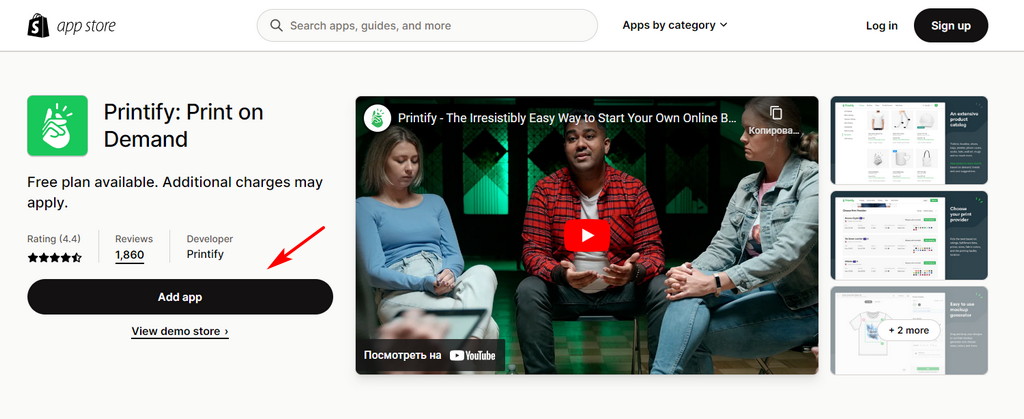 The thing is, when deciding what Shopify print on demand app to use, you actually choose a supplier to work with! The app is needed only to integrate this supplier into your print store. You will be using a plugin only to process your orders and send details to a POD company that will be fulfilling them.
So, when choosing what print-on-demand app to install, you will be considering a supplier's qualities, like product range, product quality, prices, shipping times, etc.
The 12 Best Print On Demand Shopify Apps in 2023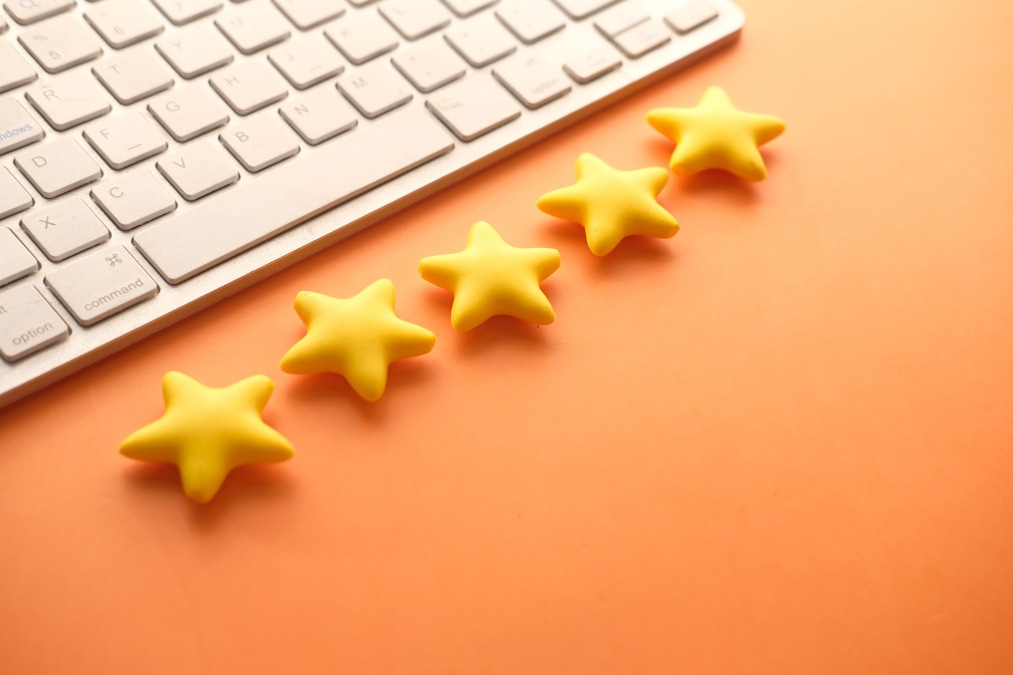 Here are the best print on demand Shopify Apps to use in 2023. These are the best POD apps to use, and you won't go amiss with any of them. I highlighted the key advantages and disadvantages that make them stand out. Please note that if I stated that a supplier provides high-quality products, it means higher than its average alternatives. If I didn't state the product quality at all, consider it average. The same goes for other characteristics and features.
1. Printful – Best Quality, Largest Product Range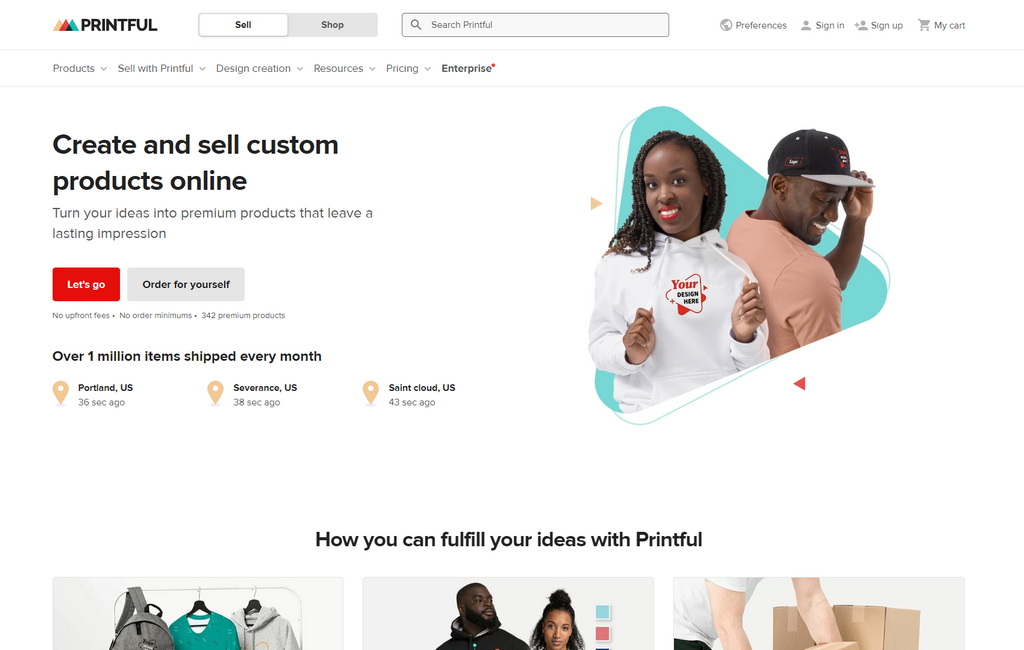 Printful is one of the most popular on-demand printing and fulfillment companies that helps people turn their ideas into brands and products.
The service offers over 300 different customizable products like t-shirts & tank tops, hoodies & sweatshirts, bags, hats, jewelry, phone cases, wall art, mugs, posters, keychains, and many more. Add the fact that Printful has fulfillment centers all over the globe, and you get one of the best suppliers with top-quality products and fast shipping.
Pros:
High-quality products.
Large product range.
Extra features like free-to-use design creation tools.
20% discount on sample orders.
Cons:
Higher product prices.
Higher shipping fees.
Longer-than-average shipping times.
You can use Printful services for free, but pro packages give you access to advanced tools and premium images that will help make better designs. Printful Plus gives access to additional tools for mockup creation; it costs $9/month + location-based tax for US citizens. Printful Pro includes tools from Printful Plus and gives access to premium images, digitized embroidery files, and a carrier-based shipping option; it costs $49/month or $539/year + location-based tax for US citizens.
2. Printify – Best Price-To-Quality Ratio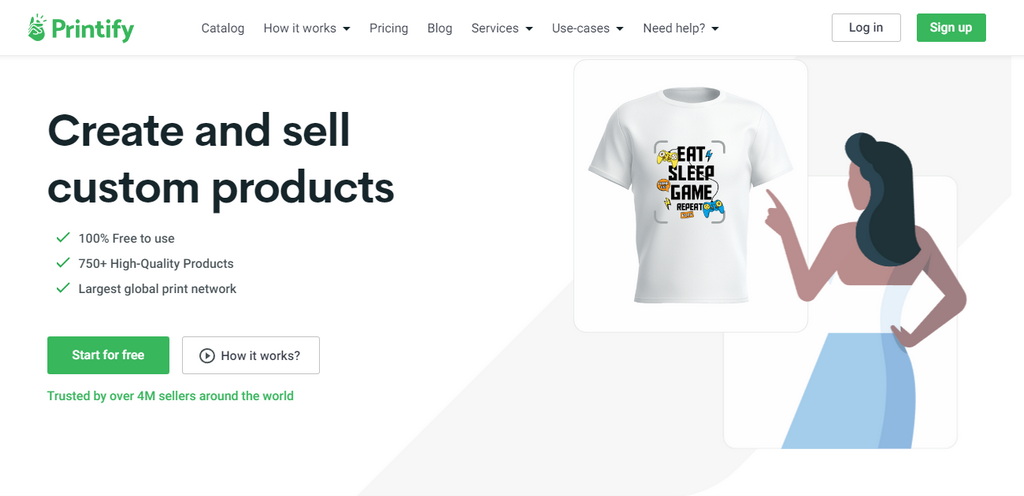 Probably the main competitor of Printful, this print-on-demand service offers some unique items like jewelry and clocks on top of the usual POD product selection.
Printify operates a network of printing facilities primarily in the United States, Europe, and China. The product range is smaller than that of Printful, and the quality of some products might be spotty, but the price-to-quality ratio is better.
Pros:
Lower-than-average product prices.
20% off all orders for premium members.
Global shipping network.
Cons:
Print consistency across different suppliers.
Product quality varies depending on the supplier.
Printify is free to use, with the Premium subscription available. For $29 a month, it gives a 20% discount for all products, which is nice if you are looking to scale your business as it gains momentum. There is also the Enterprise plan with custom API integration and a dedicated account manager, but you need to contact their support to get custom pricing.
3. Gooten – Solid All-Rounder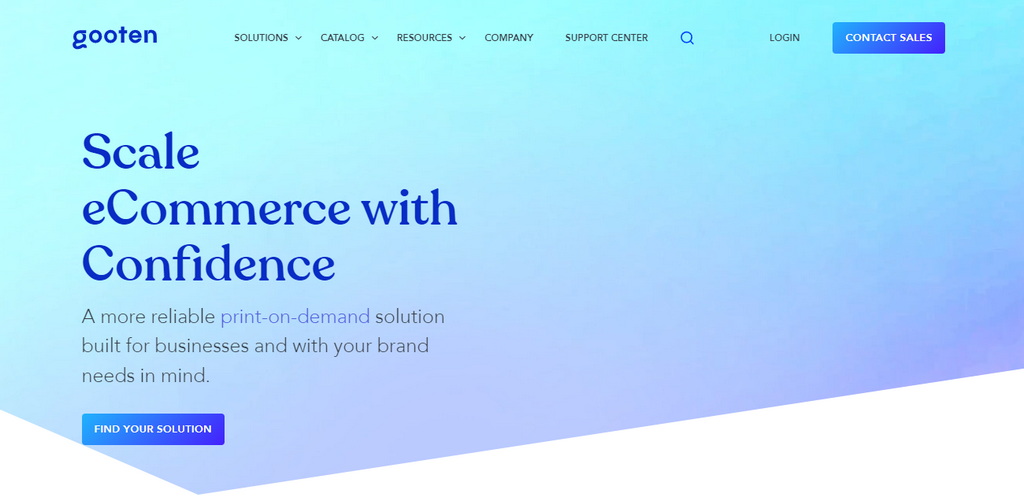 Gooten is somewhere between Printful and Printify: it combines a wide product selection similar to Printful with product prices (and quality) similar to Printify.
Gooten offers over 150 products with a wide selection of unique items you won't find in other POD services. Gooten partnered with a global network of over 30 top manufacturers and offers flat-rate shipping to every location it delivers to.
Pros:
Flat-rate shipping.
Exceptional customer service.
"Trending" tab for products that are currently in demand.
Cons:
API and integration options are more complicated than most alternatives.
Expensive shipping outside the US.
Lacking mockup templates number compared to competitors.
The service is free to use. You get perks like an assigned manager and access to new features based on your annual spending with Gooten.
4. SPOD – The Fastest Shipping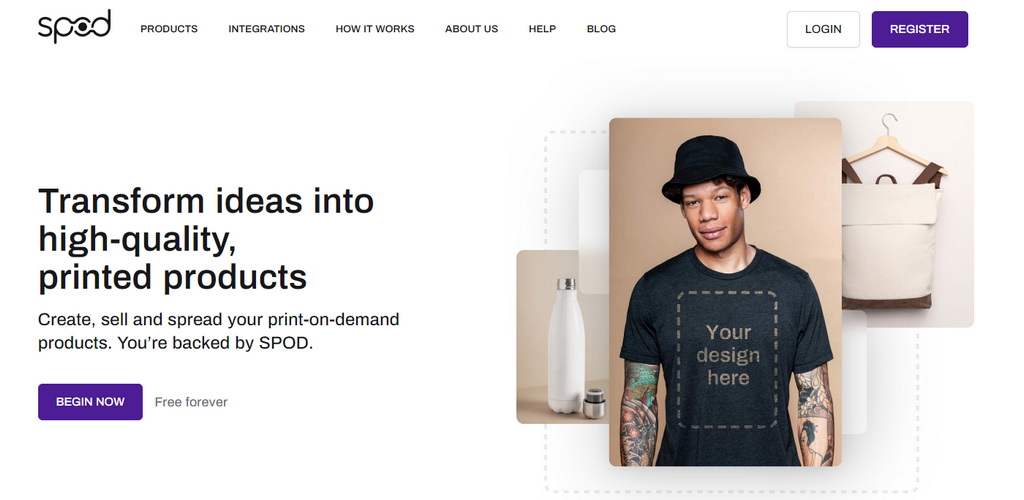 SPOD has a feature no other print-on-demand service can beat – it offers 48-hours shipping inside the US and Europe.
SPOD provides different printing options like digital and laser transfer, digital direct, thermal sublimation, and special flex. The service offers over 200 products and provides a product customization tool that lets customers personalize their purchases with their own images and designs.
Pros:
48-hours shipping.
50,000 free designs.
20% discount on sample orders.
Simple shipping model based on the products' value.
Cons:
Limited product selection compared to other POD services.
SPOD is free to use.
5. Teelaunch – Best Homeware Print-On-Demand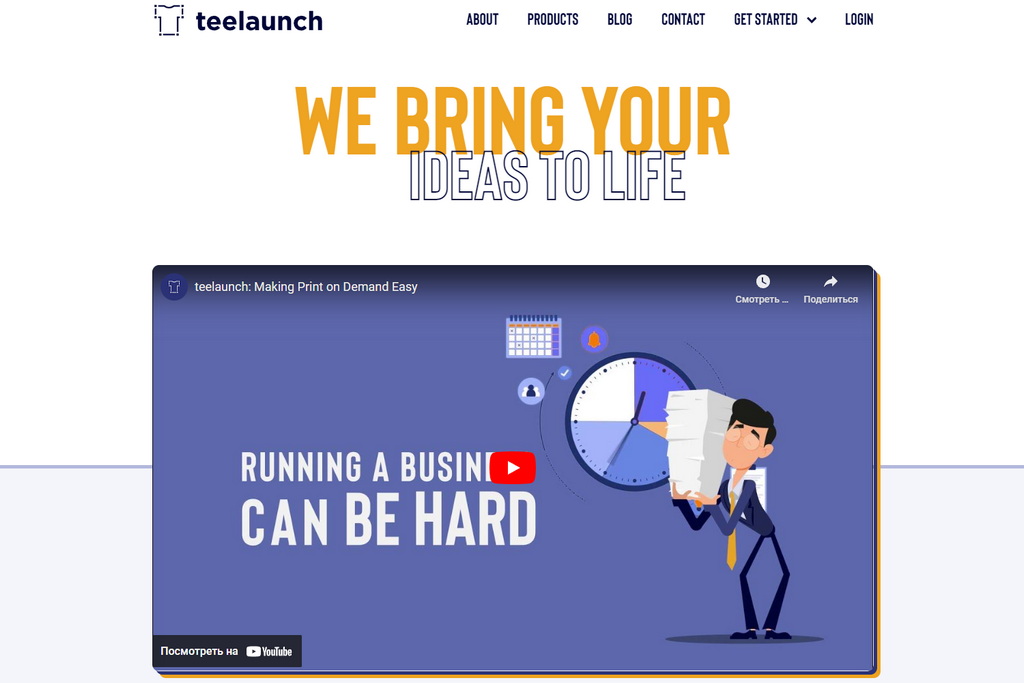 Teelaunch has the smallest product range of all Shopify print on demand companies on the list, but they focus on what they offer.
Teelaunch offers over 120 homeware products and garments. They specialize in all kinds of drinkware (mugs, glasses, water bottles), kitchenware (cutting boards, plates and bowls, oven mitts), and home goods (rugs, shower curtains, blankets, pillows). And they do that well.
Their garment printing technology is also one of the best in the market. If you are interested in creating a brand around these types of products, Teelaunch should be your primary POD service.
Pros:
High printing quality.
High-quality mockups.
Easy to use.
Cons:
Limited product selection.
Long shipping times.
Teelaunch is free to use.
6. Apliiq – Top Quality Clothing Print On Demand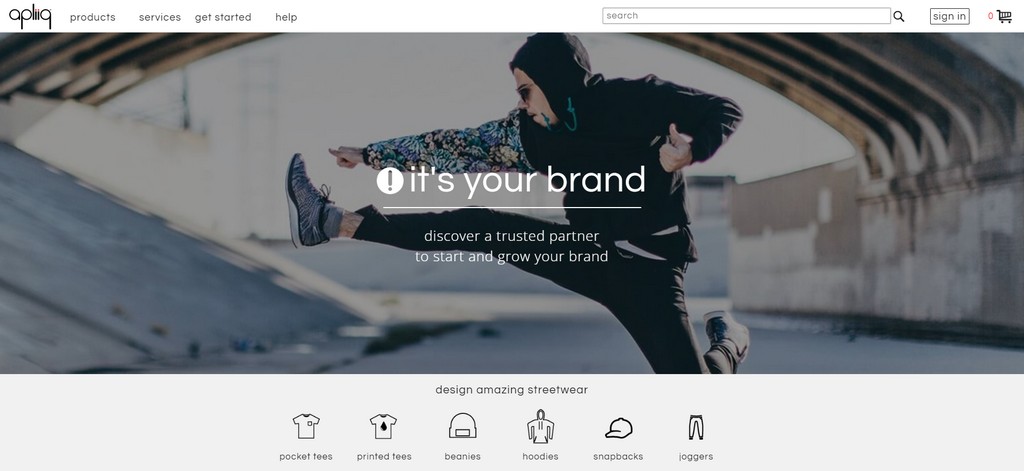 Based in LA, Apliiq is probably the best print-on-demand company to work with if you want to dropship clothes, especially streetwear-style clothing. It is one of a few companies that enable you to create retailer-quality private-label products with numerous customization options like custom labels, clothing tags, adding pockets, patches, and more.
Their fulfillment times are longer than average, with some products taking up to 7 days to produce. You can request a rush order or expedited shipping for an additional fee to make it faster.
Pros:
Wholesale discounts (starting at 25% off for a bulk order of 10).
In-house production ensures consistent quality of products and prints.
Tag removal is great for private labeling.
Cons:
They deal with clothing only.
Longer than average production and shipping times.
Apliiq is free to use but you have to pay for shipping costs. For private labels and guaranteed delivery, you need to contact the sales department.
7. CustomCat – An Excellent Clothing POD Service With Fast Fulfilment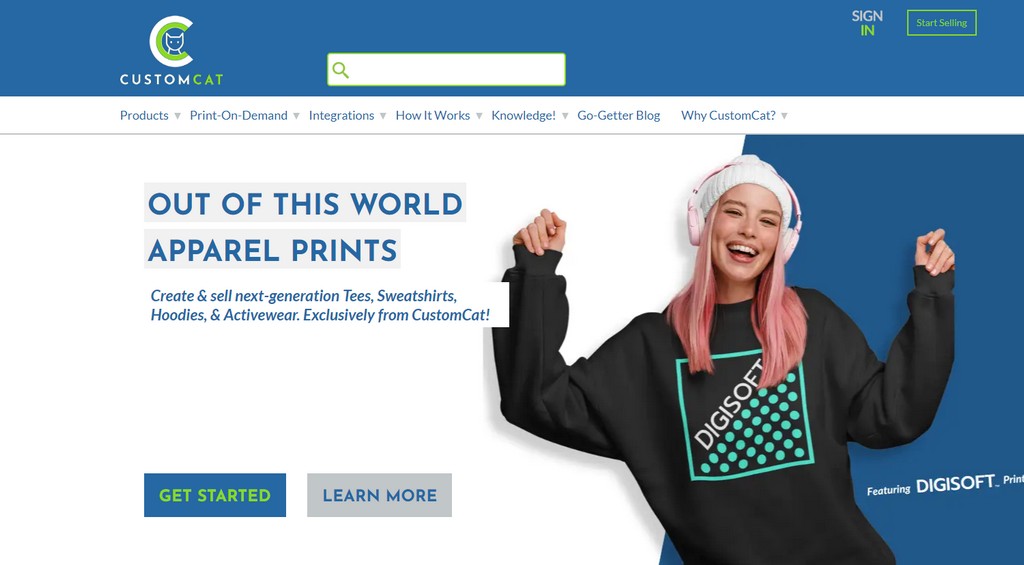 CustomCat is another print on demand service from the US. They offer over 100 hundred products from three categories: apparel, housewares, and accessories. In their Apparel category, you will find many unique products you can't get from other suppliers. CustomCat is known for one of the fastest fulfillment services of two business days or less on average (after you place an order).
Their mockup generator is quite simple, but their 3D dye diffusion printing technique is among the best in the market. It makes some of the most durable and colorful clothing prints.
Pros:
Fast fulfillment times, with orders taking 2-3 business days.
In-house production ensures consistent quality of products and prints.
Cons:
No private label options.
Their only warehouse is in the US, which makes international orders very slow.
CustomCat is free to use, but you should consider upgrading to their PRO plan for $30 per month. It gives you 20-40% off standard wholesale prices throughout their entire catalog.
8. TPOP – Eco-responsible Print On Demand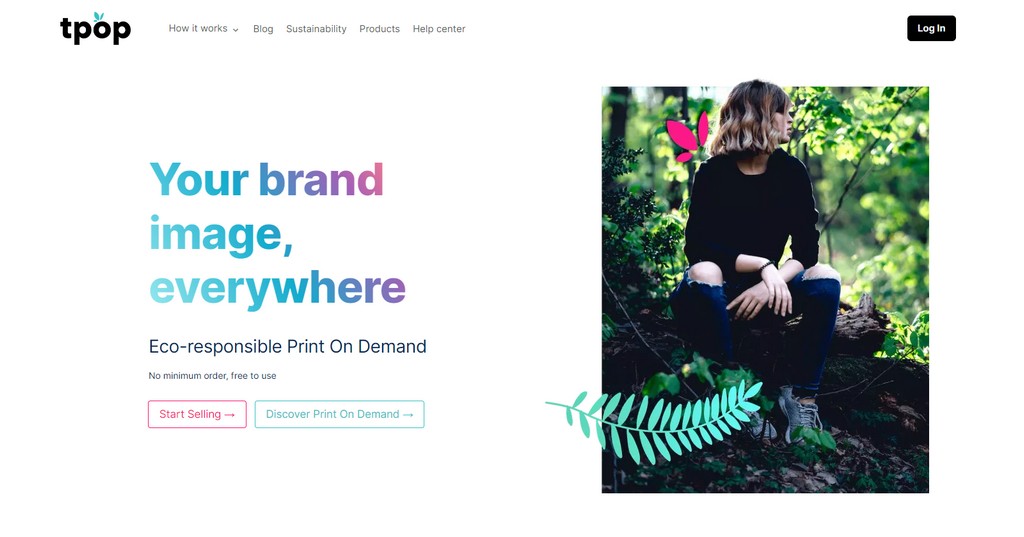 TPOP is a print-on-demand company based in France specializing in eco-responsible apparel and accessories with multiple variations, colors, and sizes.
On one side, their commitment to eco-friendly products is what makes them so special. The service offers green products and uses environmentally-friendly printing techniques, and ships all packages without using plastic. On the other side, this leads to a limited product range and relatively higher product costs.
The service provides less than-average fulfillment times and ships fast, but only to EU countries. TPOP also puts your brand logo on each package and packing slip for free.
Pros:
This green supplier is among the few eco-friendly services.
Fast shipping across Europe – between 48 and 72 hours.
Free brand logo on every order package.
In-house production ensures consistent quality of products and prints.
Cons:
Very limited product range.
More expensive products due to operating costs in France and focus on eco-friendliness.
Long shipping for customers outside the EU.
TPOP is free to use.
9. Gelato – Print On Demand Service With Global Network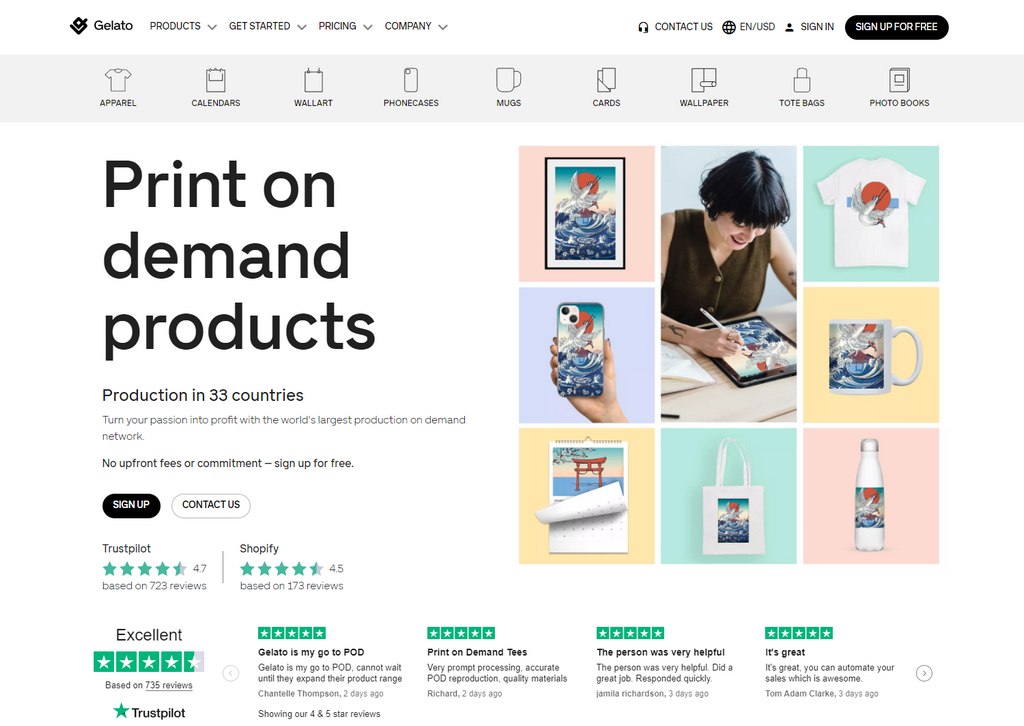 Gelato is a relatively new print on demand service that rapidly established a name for itself. The company operates a global network of over 100 partners from 33 countries. This makes them a perfect choice for international sellers. Even better, such a network enables them to fulfill most of the orders, or it is better to say to most countries, as fast as local print on demand companies.
You would expect that, similarly to Printify, which operates a global network too, Gelato offers a wide range of products, but no. While you can find quite a few unique product categories, and the product range is reasonable, it is not as extensive as others. Most of their products are apparel, wall art, and stationery.
Pros:
The average delivery time is under 72 hours for most orders.
Good quality printing.
Competitive product prices.
Cons:
You can't see the shipping fee until the end of the checkout process.
Shipping fees can be pricier compared to most other suppliers.
The product range is not very extensive.
Gelato is free to use, and there are two paid plans that offer a discount on the shipping fees.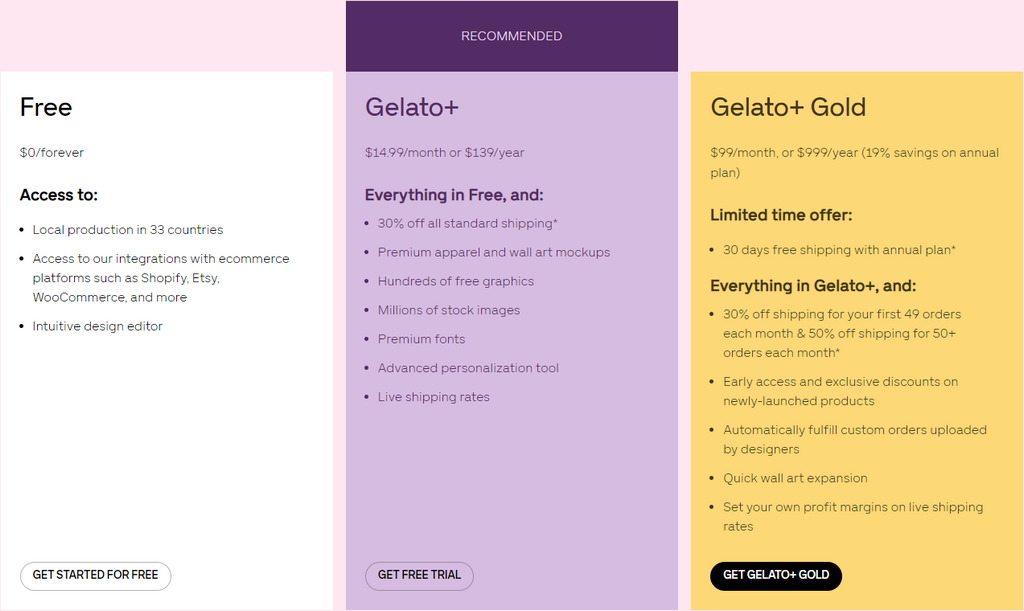 10. JetPrint – Print On Demand Watches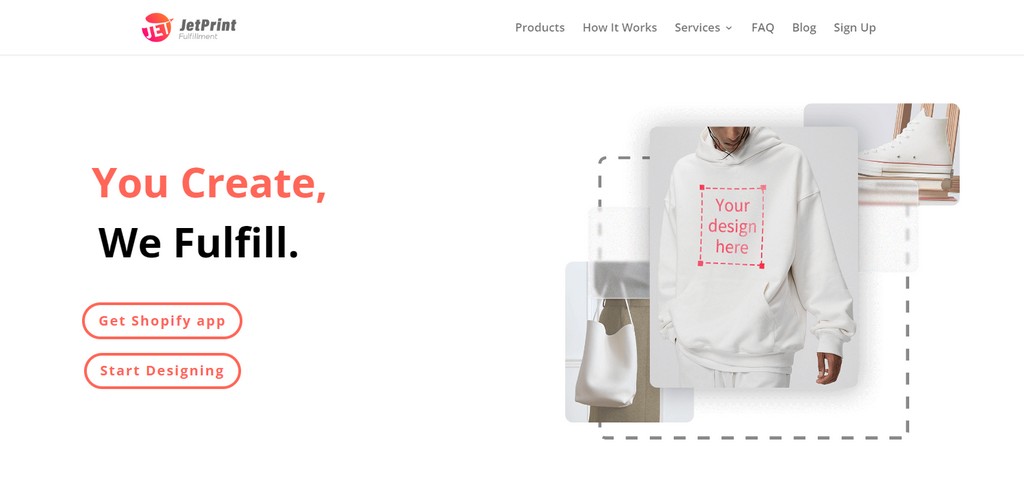 JetPrint is print on demand company based in China that specializes in a unique product category: watches. They also offer shoes, clothing, and home decor, but what makes them stand out is watches – you can choose from different styles, straps, and colors.
JetPrint is an example of a "classic" Chinese supplier – cheap but low-quality products, free but long shipping. Honestly, product quality is not that low, but it is below the level of other companies on the list. That's the trade-off for low prices. To compensate for long shipping times, JetPrint offers within five to nine business days express delivery for a $15 fee.
Another strong point of JetPrint is the real-time mockup generator. It automatically produces a collection of professional-looking product photos that show your products from different angles.
Pros:
Below the average product prices.
Automatically generated professional-looking product photos.
Cons:
Mediocre product quality.
Long shipping times.
JetPrint is free to use without any paid tiers available.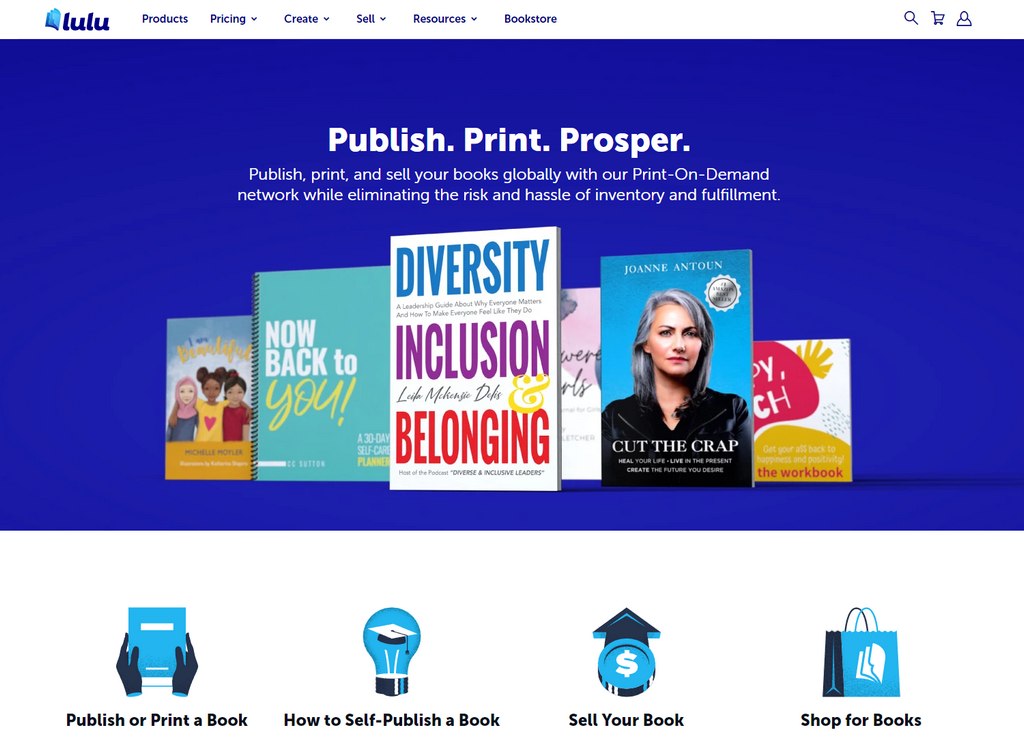 Lulu Direct is a Shopify print-on-demand app that integrates Lulu, an online platform for self-publishers, artists, and content creators. This print on demand company enables you to create and sell books, photo books, notebooks, calendars, and magazines and ship to customers in over 150 countries from fulfillment centers in the US, Canada, Europe, and the UK.
You can upload your own design and preview it on a mockup or choose from the existing templates. The are plenty of product customization options like paper type, trim size, print quality and color (standard black and white, premium black and white, standard color, and premium color), binding type, and glossy or matte finish.
Pros:
Product customization options.
Fast printing and shipping, around 3 to 5 business days.
Cons:
Higher printing costs.
Low author royalties.
Publishing a book through Lulu is free of charge, but there are expenses for book production, printing, marketing, and distribution.
Tip
Books are an incredibly popular product all over the world, which means your potential customer base is huge. Learn more in our Dropshipping Books: How To Start? guide.
12. AOP+ – All-Over-Print Products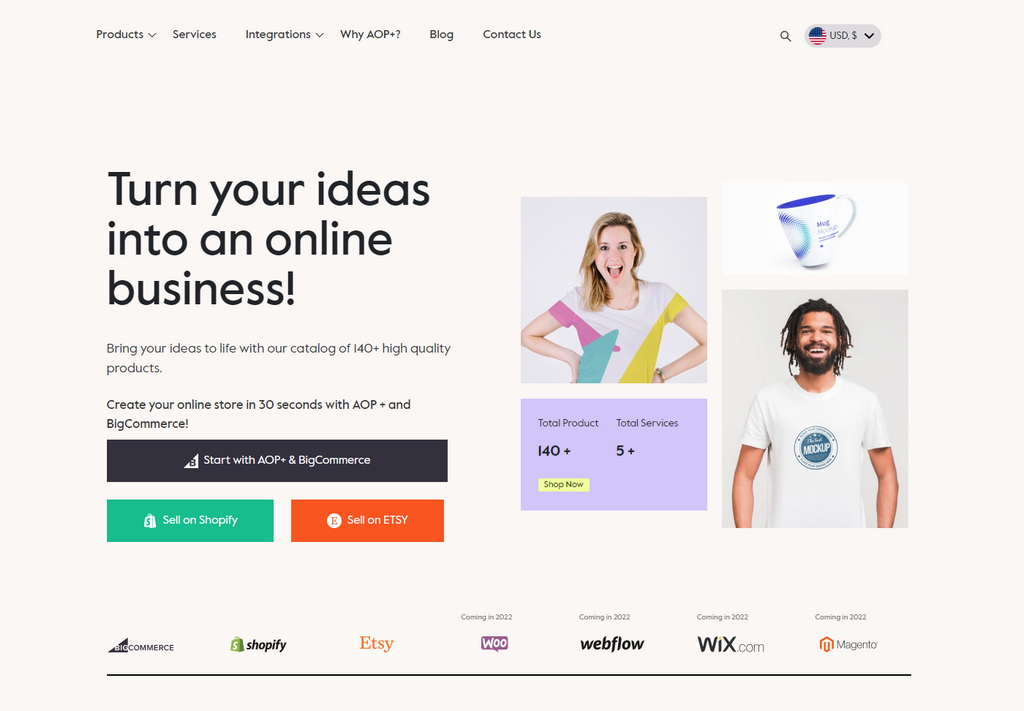 AOP is an abbreviation for all-over-print, which means printing directly onto the fabric, then cutting and sewing it into the final product. As you might guess already, most of the products they offer are apparel, but there are also mugs, home decor, accessories, phone cases, etc. Overall, AOP+ offers over 140 different products to choose from.
Their production times are average, between three to five business days, but all-over-print products take between seven to ten. AOP+ has fulfillment centers in the US, the UK, and Europe, and their international shipping times are better than most competitors.
Pros:
In-house production ensures better quality control.
Fast international shipping within 5-15 business days.
Cons:
7-10 business days production for all-over-print products.
Most of the perks are available for paid users only.
The AOP+ Shopify POD app is free to use, but they have monthly subscription options. The Super Member plan offers a 5% discount on all products and gives access to branded labels for $11.99 per month. The Hero Member plan includes a 10% discount on all products and enables additional branding features for $19.99 per month.
Tip
Many dropshippers start with Shopify due to its numerous advantages. But to turn your one-page online shop into a big dropshipping store, you must utilize the Best Shopify Dropshipping Apps.
Tips For Choosing the Best Print On Demand Shopify Apps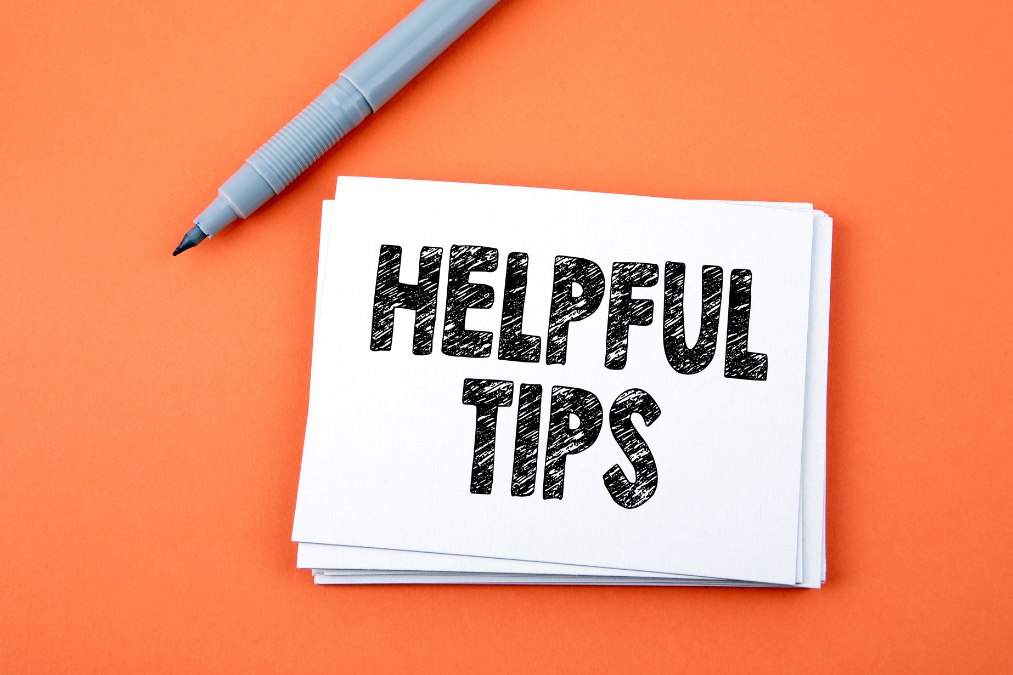 Here are some tips to help you find the best Shopify POD service providers:
Check Reviews
It should be your first step. If a provider has reviews, see what customers say about the quality of their products and customer support. It can give insights into how customers perceive your own quality when you will sell those products yourself.
Check Policies
I already described the importance of paying attention to shipping and return policies when looking for a good supplier, but it is worth mentioning again. Because print on demand companies' policies will apply to you and your customers, you must understand how they handle defective products and missing packages, process returns and refunds.
Processing Centers
Check how many processing centers (it is where products are printed) print on demand companies have and where they are located. Depending on the country you want to sell to, you should select a provider with the closest processing centers and the fastest shipping time. It takes 3-5 days to fulfill POD orders, so even one day of shipping time makes a huge difference.
Product Range
Another thing to note when doing Shopify POD. Dropshipping suppliers offer hundreds of thousands of different products to sell. Because only some items can be printed, POD suppliers offer only a few hundred products at best. 200 and 300 products to choose from is a big difference, especially for those who want to sell other than t-shirts and mugs.
Check Mockups and Designing Tools
Creating designs is a mandatory part of the POD business, so you should check what designing tools and how many mockups a service provides. You are going to work with the tools for creating high-quality designs often, so you want them to be powerful, flexible, and user-friendly. Mockups enable clients to see how a product would look when printed and can prod customers to purchase.
Try The Merchandise
You should order the products you intend to resell before listing them in your store. This way, you will check the quality of products, shipping speed, and packaging. Many dropshippers ignore this crucial step, but you should not. This way, you can be sure of the services you will provide and make corrections or improvements to the process if needed. If a supplier doesn't meet your standards, look for another one.
For better or worse, the number of services available is relatively limited, so you do not have to choose from such a vast number of different suppliers as when dropshipping.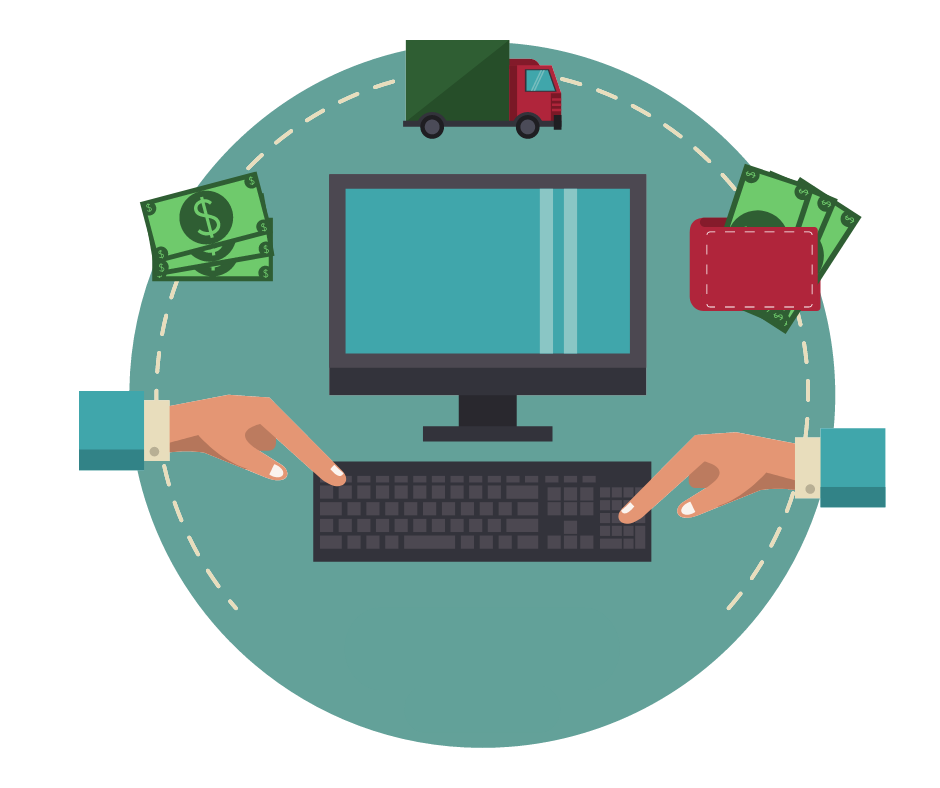 Not yet making money online?
Start your own dropshipping business. Sign up for a free trial of DSM Tool and we'll help you get started. Today is the day.
Conclusion
As with usual dropshipping, a print-on-demand business is relatively easy to start, and there is no risk of losing money by investing money into the wrong products. At the same time, it is very easy to fail if you work with bad print on demand companies. To help you avoid that, I prepared a list of the best print on demand Shopify apps to work with if you are running a Shopify store.
Why all these POD apps Shopify are the best and not a single one? Because they are all different! You need to make product research and decide what POD products you want to sell and to what country. Then compare which printing company suits your needs the best and work with it. This might seem simple, but you should also take note of pricing, printing quality, product range, etc.
There are also other print on demand companies in the market, but you won't make a bad choice when picking one of the print on demand Shopify apps from this list.
Check out these related articles that should help you run your Shopify print-on-demand business:
Good luck!