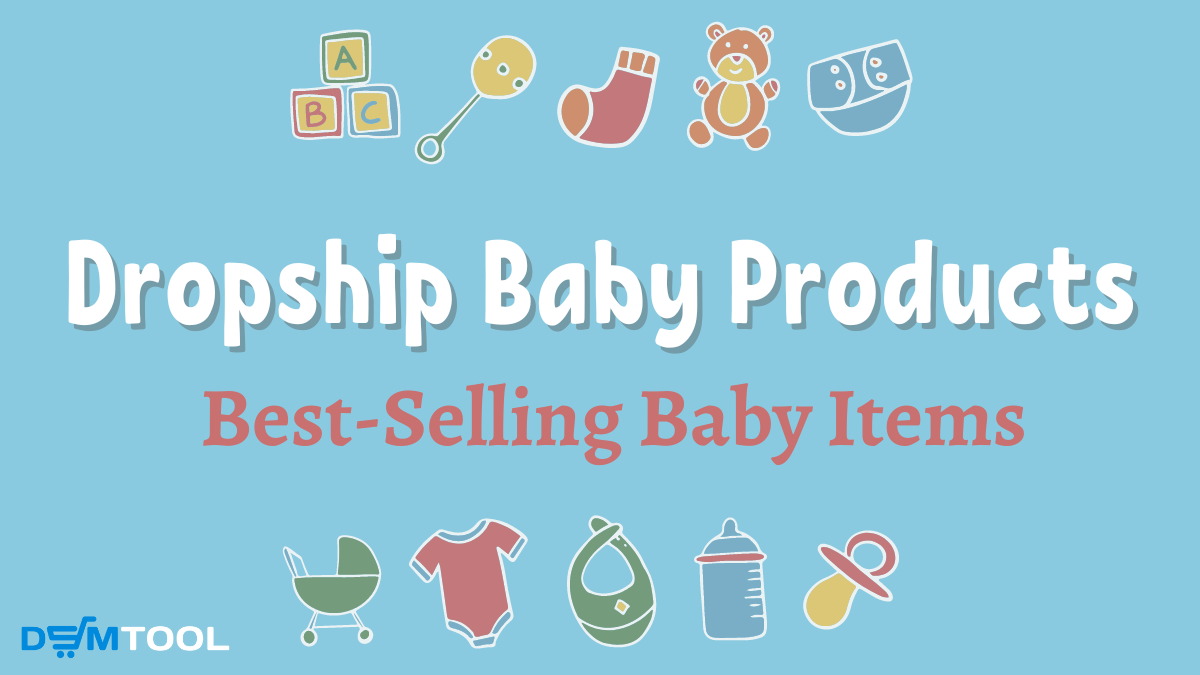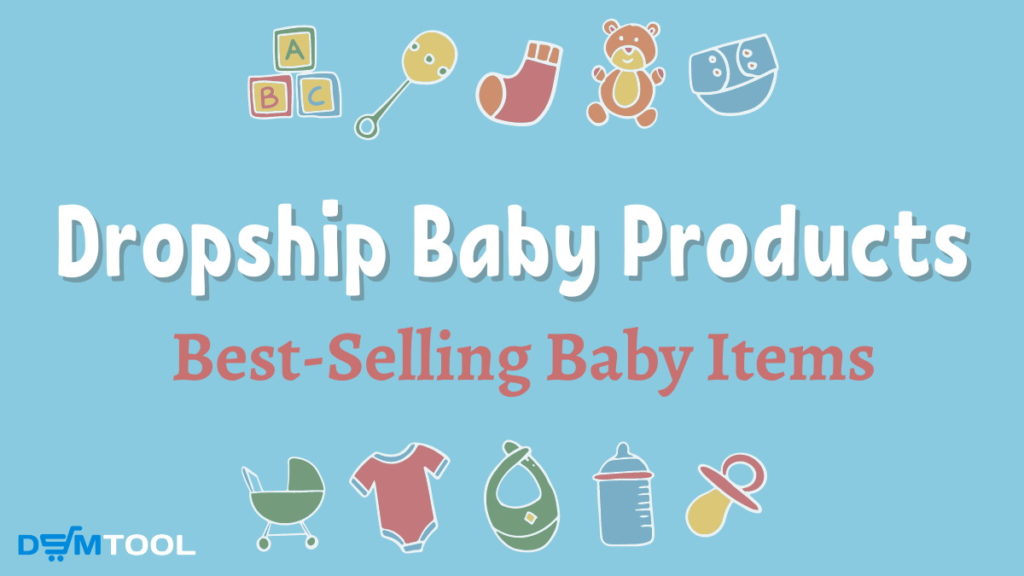 Most in the baby products dropshipping business sell baby clothes and toys. But as you will learn from our list of top selling baby products, there are many high-profit and high-demand items that you can list in your dropshipping store that can help you stand out from competitors and maximize sales. We understand that one of the biggest challenges for those new to dropshipping on eBay, Shopify, or other eCommerce platforms is finding profitable products and niches. So, continue reading to get ideas on how to sell baby stuff!
At Dropship Academy, we want to make it easier for you by taking on the hardest part of dropshipping product research. That's why we've prepared a series of blog posts featuring top dropshipping products in different niches. Our team has years of experience, and we are excited to share our knowledge to help you achieve success in your own dropshipping business.
In this article, you will learn the top baby products for dropshipping. We divided them into the following groups:
The list is long, so let's get started!
About Baby Products Dropshipping
Before diving into the list of the best selling baby items, we will answer a few questions so you get a picture of the dropshipping baby products business. Let's start with the main one – Why Dropship Baby Products?
Why Dropship Baby Products?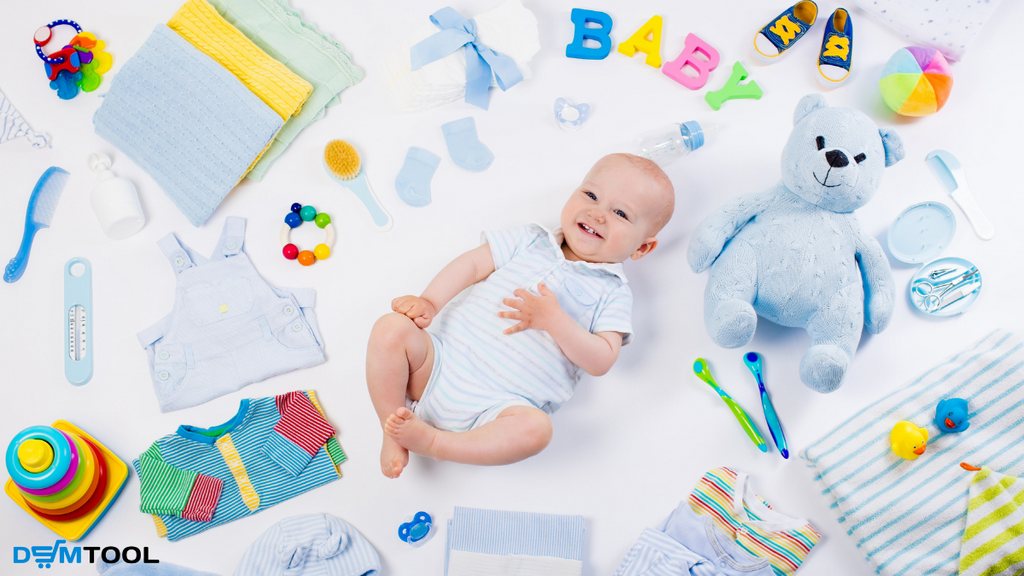 Straight to the point, over 385,000 babies are born around the world every single DAY. Just imagine how much money new and soon-to-be parents spend on their babies! A lot, trust me! I am a mother, and I know what I am talking about.
If you are looking to tap into a lucrative market, consider dropshipping baby items. With the global baby care product industry projected to be valued at over $88 billion by 2026, there's no better time to get started.
How To Dropship Baby Products?
If you don't have prior experience in online sales, marketing, advertising, shop design, or importing/exporting goods and have a low budget or no startup costs, you can still start selling baby items from home. One way to do this is with the dropshipping business model.
Nonetheless, first, you must understand how baby product dropshipping works. The main advantage is that all you need to do is to determine what baby products to sell, set up an online store on eBay or Facebook Marketplace, or one of the eCommerce platforms, and select your dropshipping suppliers. Everything related to the storage, packing, logistics, and shipping to your buyers will be handled by dropshipping suppliers. This frees you up to focus on marketing and increasing revenue!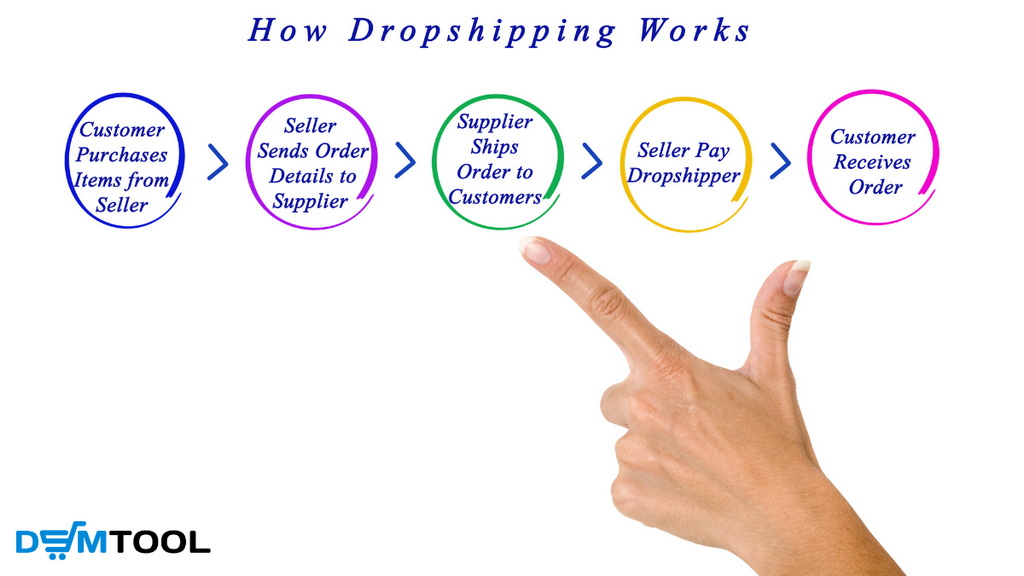 Therefore, your profit will be the difference between the wholesale price you pay for the baby products and the retail price you sell them for in your dropshipping store. By selling baby items, you can earn a steady income, gain valuable experience in eCommerce, and establish yourself in this growing niche.
Another advantage of the dropshipping business model is that you can easily adjust your online inventory to include the most popular baby products and eliminate those not selling well. It makes sense to focus on selling baby items that generate good profits rather than wasting time and resources on products that don't.
Where Is The Best Place To Sell Baby Products

?
As I mentioned already, you can dropship baby products on eBay, Facebook Marketplace, Shopify, and other eCommerce platforms of your choice. All you need to do is open a selling account there and conduct product research to identify trending baby products (luckily, you have such a list below) you want to sell online and secure reliable dropshipping suppliers.
eBay dropshipping is the best for beginners since it's easy to start and doesn't require design, marketing, or technical skills. eBay already has a huge user base, so you don't have to worry about getting customers. So you can start with it and then expand your online business to other selling platforms.
When dropshipping baby products, it is crucial to provide accurate shipping times to your customers. Ensure you have reliable automated dropshipping software connected to your online store to monitor and update price and inventory changes in real-time. This way, you can keep your future orders under control and ensure that your customers receive their purchases on time.
Top Selling Baby Products Dropshipping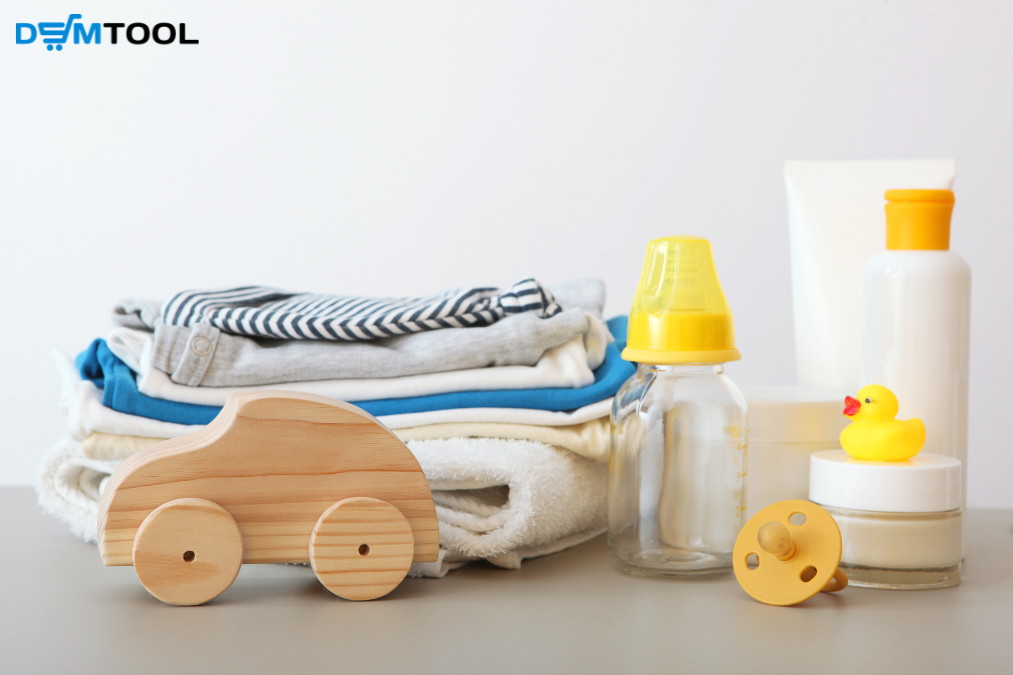 Online sellers dropship baby products in their general stores or dedicated niche e-stores. They focus on sub-niches such as toys, feeding accessories, wipes, disposable diapers, body care products, soothers, eco-friendly baby products, baby gear, newborn items, child skincare products, and baby clothes.
The following dropshipping product ideas can serve as niche ideas as well. So, let's look at what baby products sell the most: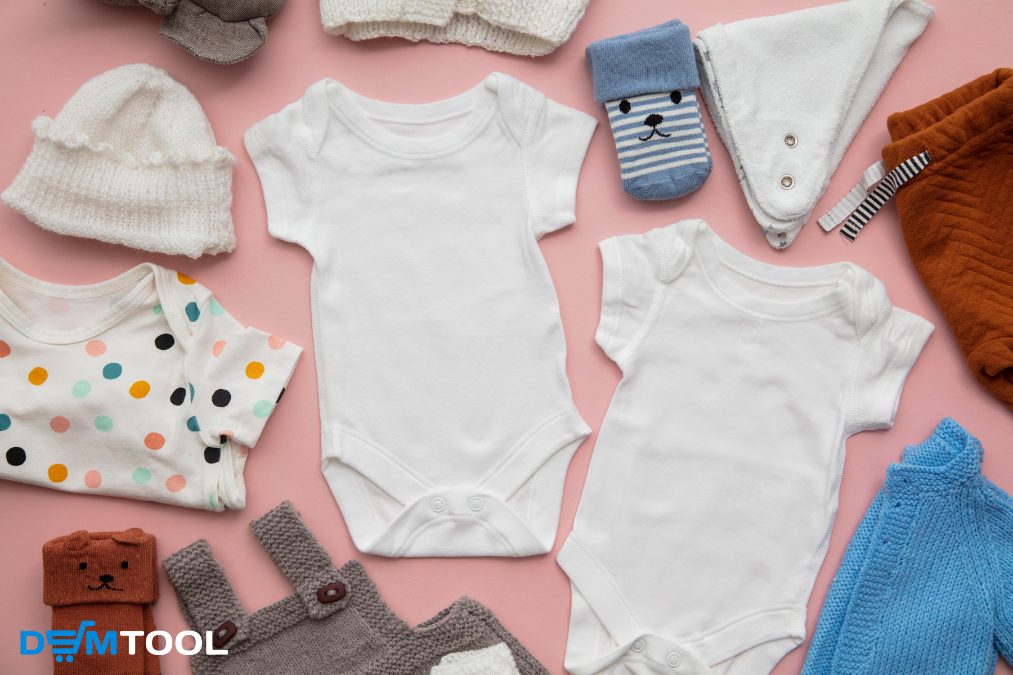 Kidswear products are always in demand, so you can always sell baby clothes. And it's estimated that the demand for kidswear will grow in the upcoming years even more. In the US, it is projected to reach $207.1 billion by 2026, rising at a market growth of 8.8%.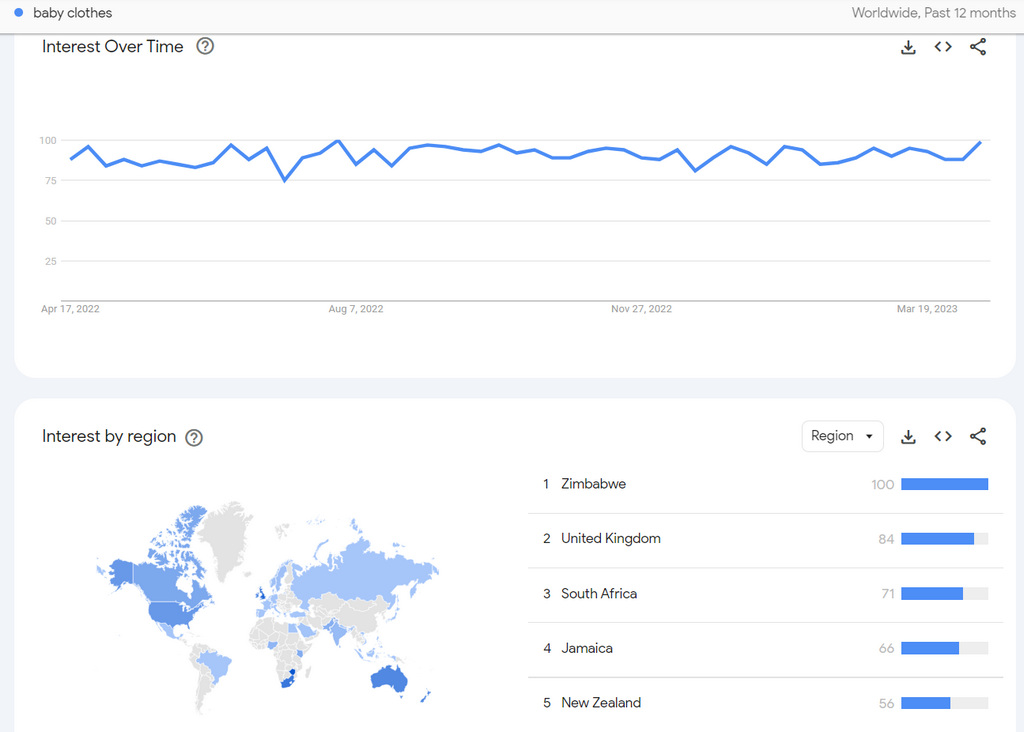 As you might notice, baby clothing products have high demand all the time during the last 12 months. However, not everywhere. These items are trend the most in Zimbabwe, the United Kingdom, South Africa, Jamaica, and New Zeeland. Other regions in the top 10 include Australia, Ireland, the United States, Canada, and Kenya. Dropshipping baby clothes there would be a good idea.
Kidswear is quite a big product niche, so we have a separate article for it. Check out the Top Products For Dropshipping Baby Clothes in 2023.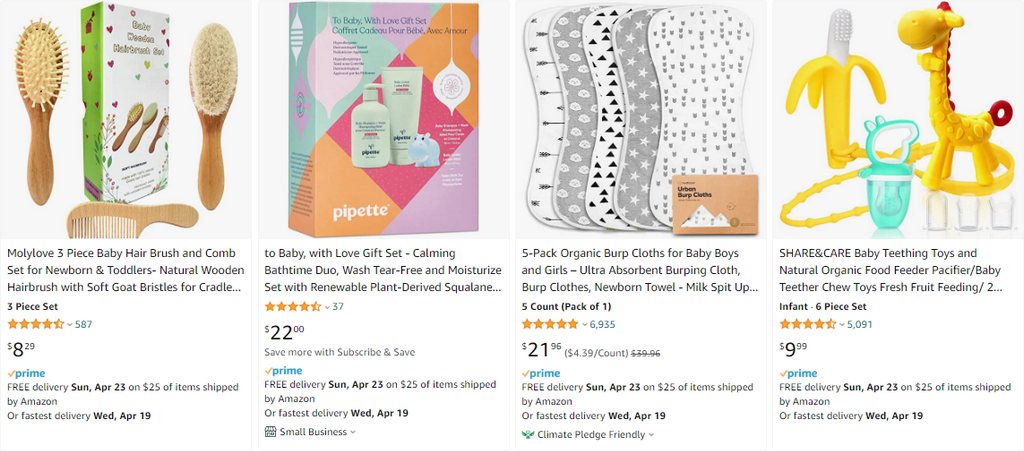 The natural baby products niche is another sub-niche growing in popularity. It presents many opportunities for eCommerce store owners and those who want to dropship baby products or sell them in their general stores.
Check our article Natural Baby Products to Dropship or Sell Online. We will walk you through various possible sub-sub-niches and give you many baby dropshipping ideas across organic baby products, eco-friendly baby products, non-toxic baby toys, plant-based infant products, natural baby bath products, reusable baby products, and others.
3. Baby Accessories For Dropshipping
Various baby accessories, particularly stroller accessories, can boost your dropshipping sales. Now, let's look at the best selling baby accessories valued for their practicality and helpful features rather than just their stylish appearance. However, they still have a modern and interesting look. I suggest you start your business and nurture your "financial child" by offering tools and toys that parents use to create a happy environment for their kids. Check them out!
Baby Bottle Trainer Kits And Compatible Baby Bottle Handles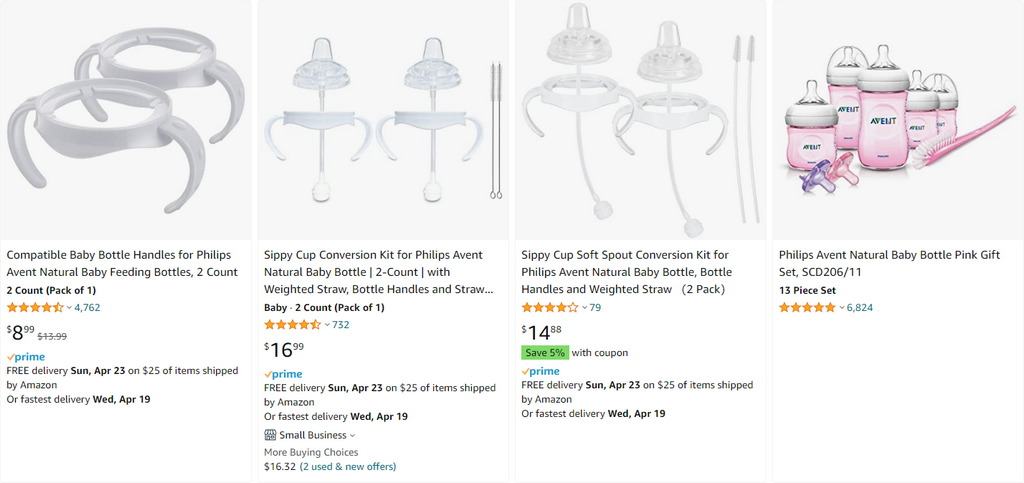 With its help, it is easy to go from bottles to sippy cups without buying a whole cupboard worth of new paraphernalia.
Here is a perfect example of a baby product for dropshipping from Amazon to eBay:
Baby Bottle Warmers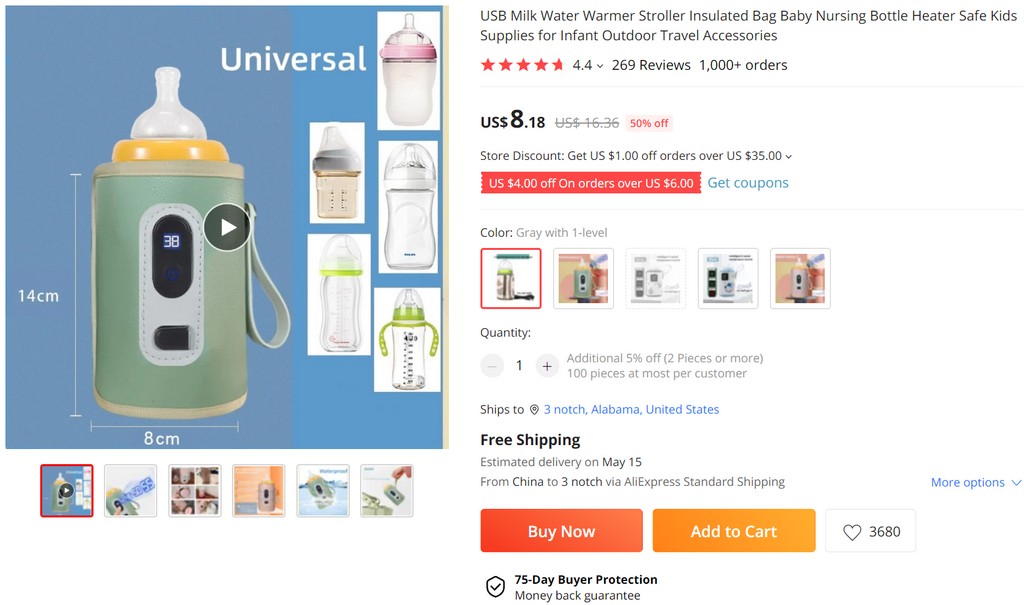 This is one of the most purchased baby products, and it's very popular among parents, who often refer to it as "miraculous." It has a cooler for storing pre-made bottles and can heat one in the time it takes to change a diaper, which saves new parents a lot of time. It deserves to be on the top of the list of best selling baby items.
There are different variations of this product. For example, a car baby bottle heater can be your best selling dropshipping baby product among baby accessories.
This a perfect baby product to dropship on eBay from AliExpress:
Diaper Pail Refills Cassettes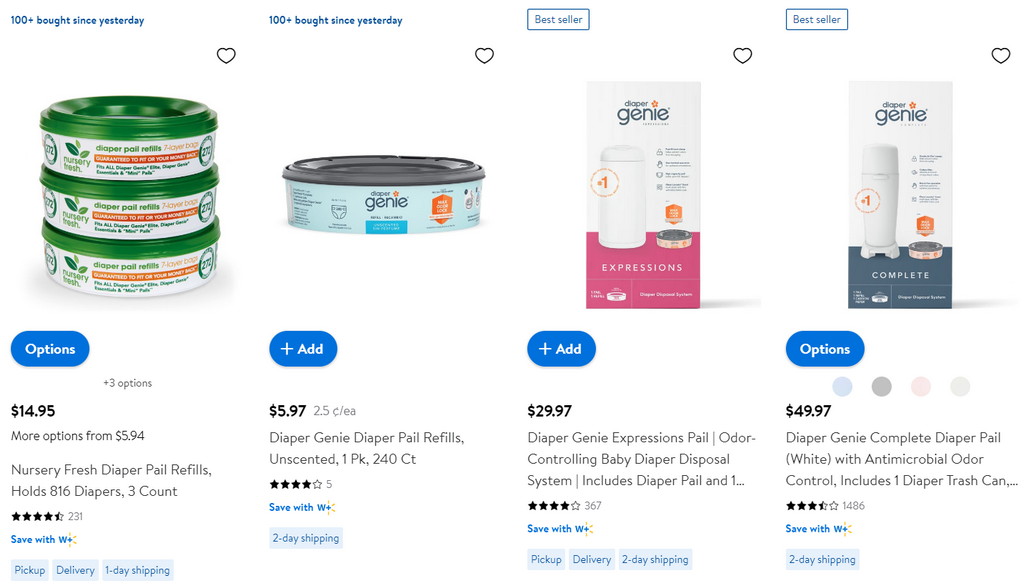 The parent's dream has come true! These refill cassettes are great at keeping nasty odors at bay and mean those used nappies will never be touched again! Such baby accessories are also good baby dropshipping ideas.
Here are a few examples of this best seller product for dropshipping from Walmart to eBay:
Baby Nasal Aspirators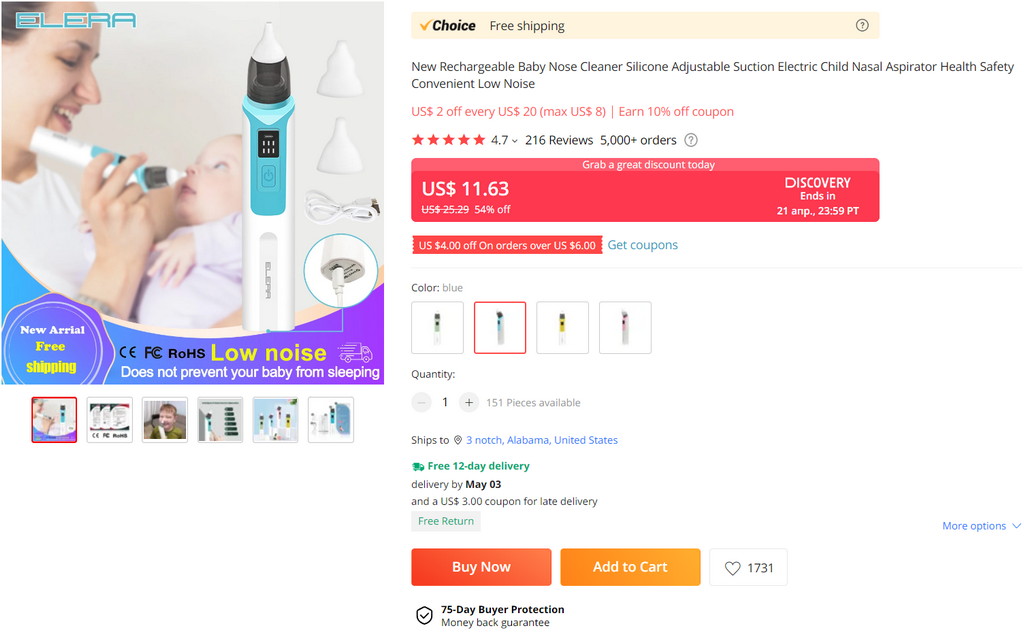 Way better than traditional nasal bulbs. Baby nasal aspirators make a baby breathe way more comfortably. They are easy to clean and safer due to disposable hygienic filters.
Dropship Baby Travel Accessories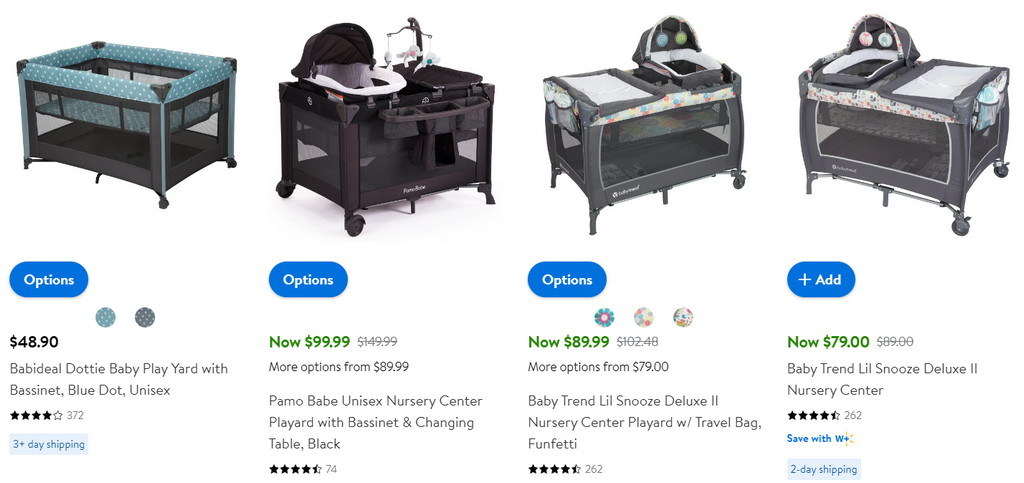 Baby travel accessories present another niche store possibility. They are some of the best selling baby items, especially when the holidays approach.
Baby gear accessories are a popular choice for families on the go. They are incredibly light, portable (it all packs into a bag), secure, and they come with a comfy mattress.
Breast Pumps

Travel-friendly breast pumps are compact and convenient for moms on the go, making them a great product to include in your baby products store. They are affordable and perform the important task of helping moms express milk for their babies, making them popular in selling baby items in many shops.
Baby Diaper Caddy Organizers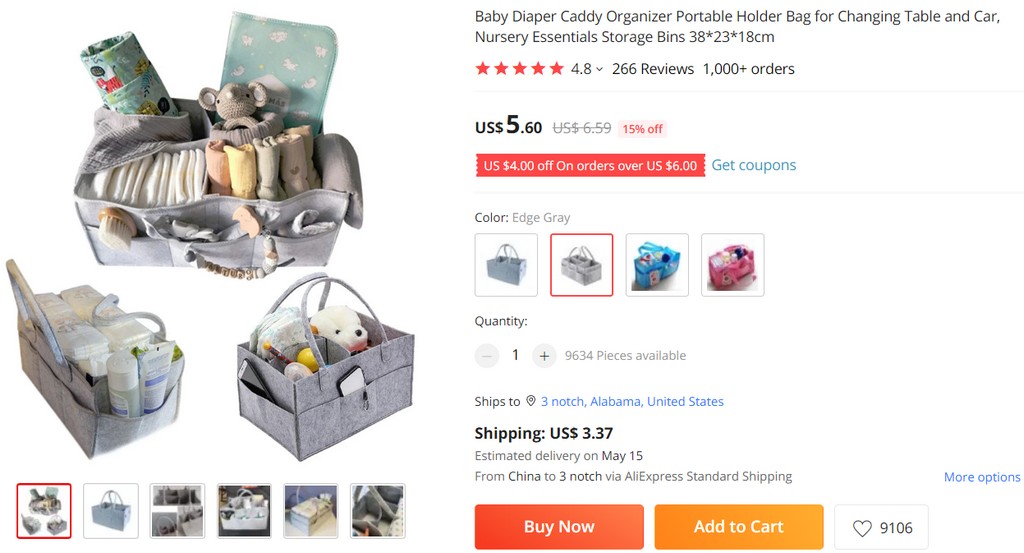 You might think this baby product for storage is similar to a diaper backpack, so why would you dropship this baby item? The answer is simple: a backpack is used outdoors, while an organizer is mostly used at home. Parents can store many things with it, such as diapers, organic baby clothes, bottles, toys, and more.
Baby Stroller Accessories

Stroller accessories are enormously popular among buyers. Besides, there are many very affordable accessories that you can dropship and raise your profit. Add a different variety of them to increase your chances of getting sales. Examples of products are baby stroller covers, attachments, bags, etc.
Baby Hair Accessories
Baby hair accessories are among the top selling baby products. So, it's an excellent idea if you are selling baby items online. They are cheap, they are popular, and they are in demand.
Baby Bath Accessories

Baby bath accessories are one of the most popular baby products for dropshipping. You can offer a range of products, including organic baby bath products, different bath accessories, baby washcloths, bath toys, and non-toxic and non-plastic toys. As we mentioned in our article about natural baby products, offering these eco-friendly options can attract environmentally conscious parents looking for safe and sustainable baby bath products.
4. Baby Gear Dropshipping
The secret to cracking the code of new parenthood is getting the scoop from more experienced parents on the baby gear they used! Boom! That's the hint we followed: we have collected the top selling baby products for dads and moms they can't live without!
Baby Gear Diaper Bags For Dads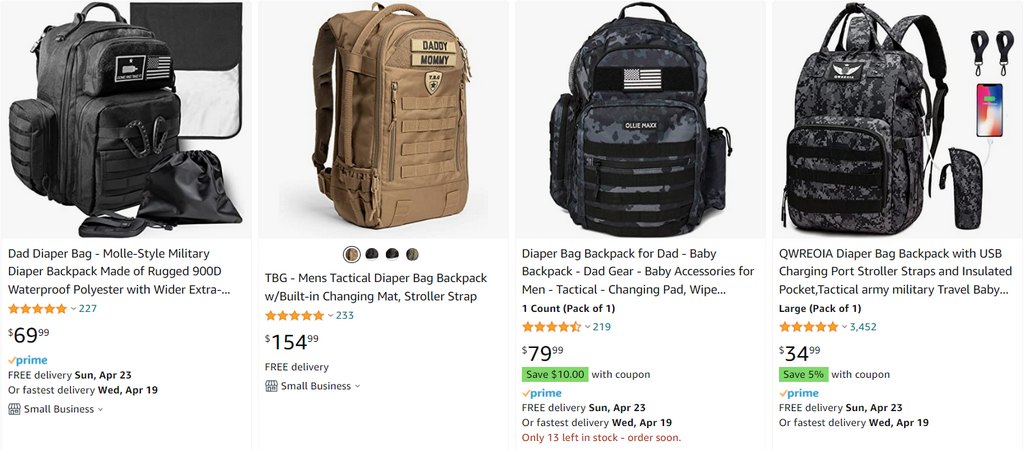 While there are hundreds of diaper bags on the market, only a few are designed specifically for fathers. Dropshipping baby products for dads sounds like an idea for your sub-niche baby store.
Tactical Diaper Bags

This baby gear looks like a heavy-duty, military-grade diaper bag because it was designed exactly for dads, not babies. It covers all the needs and even more. A great choice for active fathers and mothers, thus a perfect choice for baby products dropshipping stores.
Tactical Baby Changing Mats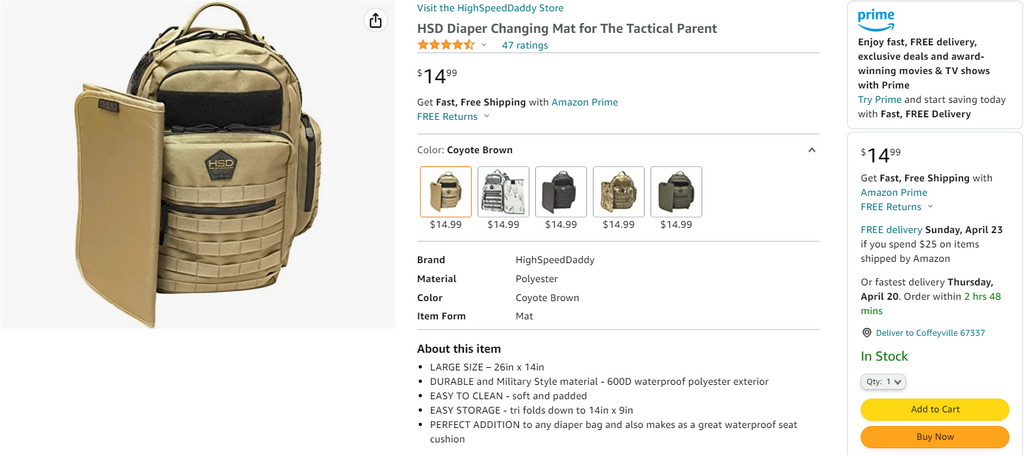 To continue the previous idea, here is another example of baby gear for dads you can consider if you are selling baby items online.
Infant Car Seats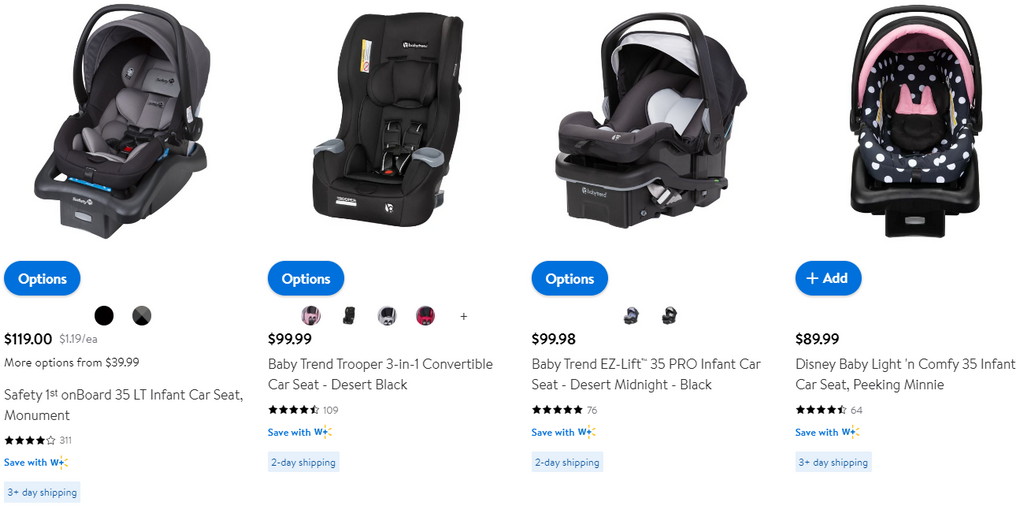 Safe car seats are a really cool idea for baby products dropshipping. They are easy to install, have tons of safety features, and compatibility with a wide range of strollers.
Backpack Car Seat Travel Bags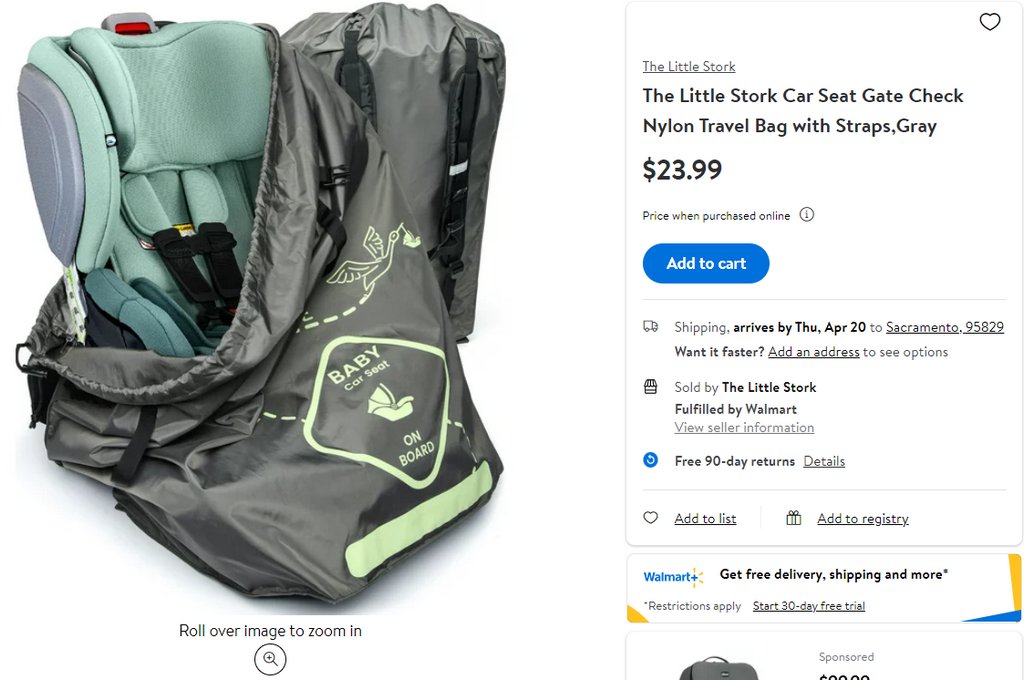 This baby gear for dads and moms is a real saver. It helps tremendously on multiple occasions because it allows one to carry the car seat and still have two free hands. Besides, it's easy to wear and includes extra room for storing diapers and other baby essentials.
Baby Strollers

Parents love travel strollers for their minimalistic design and range of colors. These strollers make great baby travel accessories because they can be folded quickly with just one hand. Whether traveling by plane, train, or subway, being able to fold the stroller in seconds and carry it with ease is a big plus. That's why they are a great choice for a dropship baby products store.
Jogging Stroller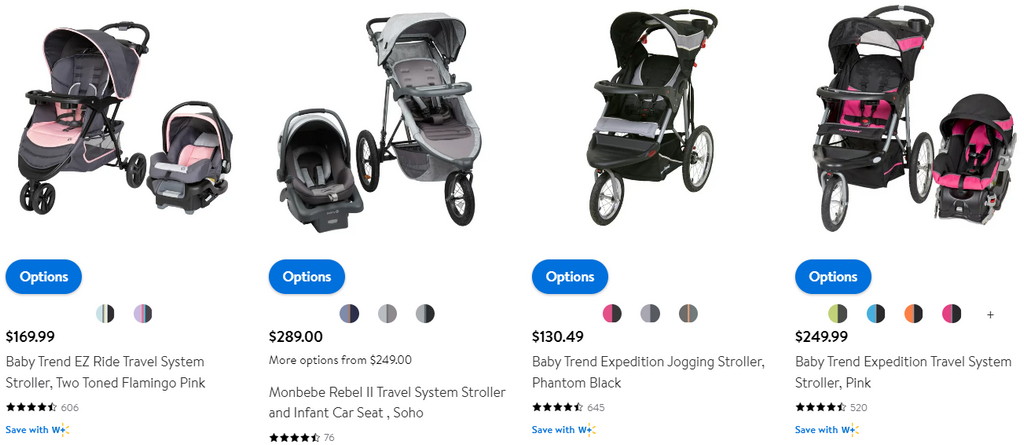 When dropshipping baby strollers, it's important to keep in mind that many buyers prioritize compactness and ease of use. This is especially true for jogging strollers, which need to be easy to collapse and transport. Make sure to offer strollers that meet these criteria to appeal to your target audience.
5. Baby Toys Dropshipping
Toys often associate with fun, but they also serve a more practical purpose. From the very beginning of our lives, we go through various growing and maturing processes that can be challenging. However, with the help of toys, we can make these processes smoother and achieve better results. As society continues to develop, so do the toys we use to aid our growth.
When dropshipping baby products, you can offer parents a wide range of toys that serve as "helpers". These toys not only provide entertainment for babies, but they also aid in skill development and pain relief. The variety of toys available is vast, ranging from basic toys like bright, soft, or noisy toys to teething toys that soothe teething pain and those that promote motor skill development or make play more coordinated and complex.
Baby Teethers

When a baby is teething, it can be difficult for parents to see their little one in pain. Teething toys can offer a safe and effective remedy. These toys, often kept on hand by parents, should be bright and easy for the baby to grab.
In addition to teething toys, you may also consider selling anti-dropping toys. These toys are popular among parents living in areas with poor sanitary conditions. They can help prevent the baby from picking up and chewing on a dirty toy dropped on the ground. Silicone toys are a good option as they can be easily sterilized with boiling water.
Nursery Mobile

These dropshipping baby products stimulate vision and develop attention span, so parents won't miss the chance to improve their kid's skills while they do their stuff.
Ring Stackers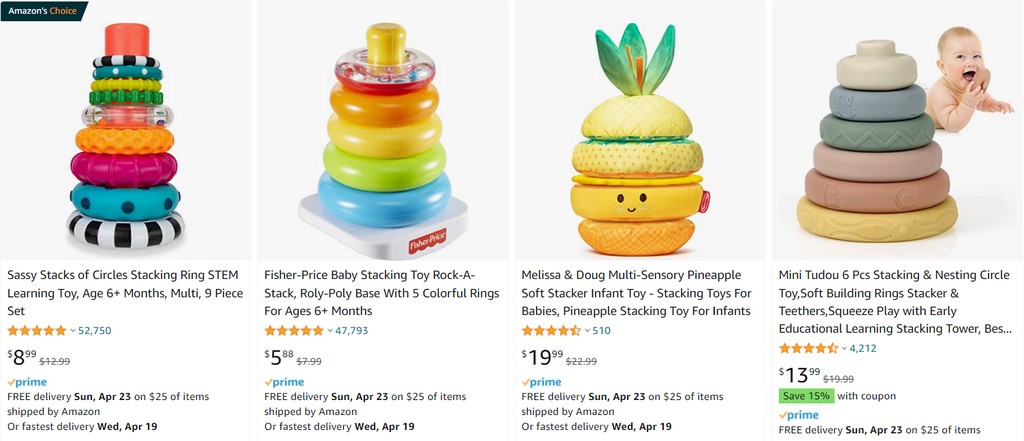 It's a classic toy with many benefits, and it's such a popular choice for dropshipping baby products for a good reason. Stacking rings help develop eye-hand coordination, encourage problem-solving, and teach color recognition and size sequencing. And all that just in a single toy.
Push-Pull Toys
The more babies push and pull, the more they work the muscles necessary to turn them into runners and climbers. Do parents want their kids to be sporty and healthy? Surely. Go offer them these top selling baby products.
Baby Balls

Whether they're bounced, rolled, caught, or thrown, balls encourage gross motor skills, hand-eye coordination, and dexterity. Another great item for dropshipping baby products.
Shape-Sorting Toys

Pegboard puzzles, nesting cups or blocks, and buckets with holes for different shaped blocks challenge hand-eye coordination and problem-solving skills. These toys are a must if you want to sell baby stuff.
Busy Boards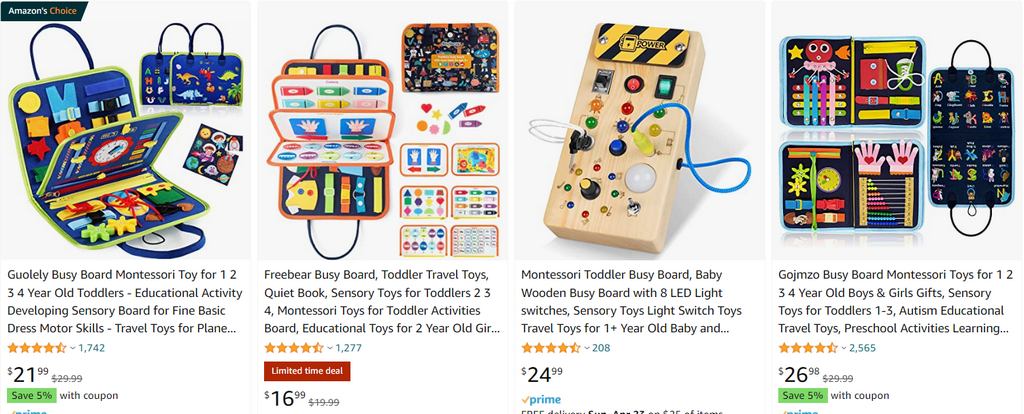 Pop-up toys and "busy" boards/boxes with knobs, buttons, and levers encourage fine motor skills and problem-solving and teach cause-and-effect. They were, are, and will be one of the most trending dropshipping baby products for their multitasking options and great results!
Role-Play Toys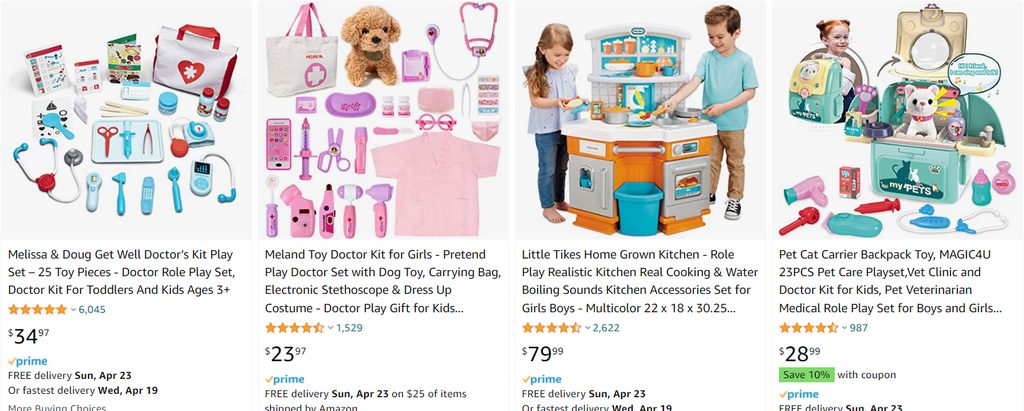 Play kitchens, doctor's kits, and golf sets help children learn how the world works by imitating the actions of you and other influential adults. Dolls and stuffed animals encourage pretend play (a tea party for teddy bears, perhaps?) and aid social and emotional development by teaching tots how to express emotions and take care of something they love.
Smart-Bot Toys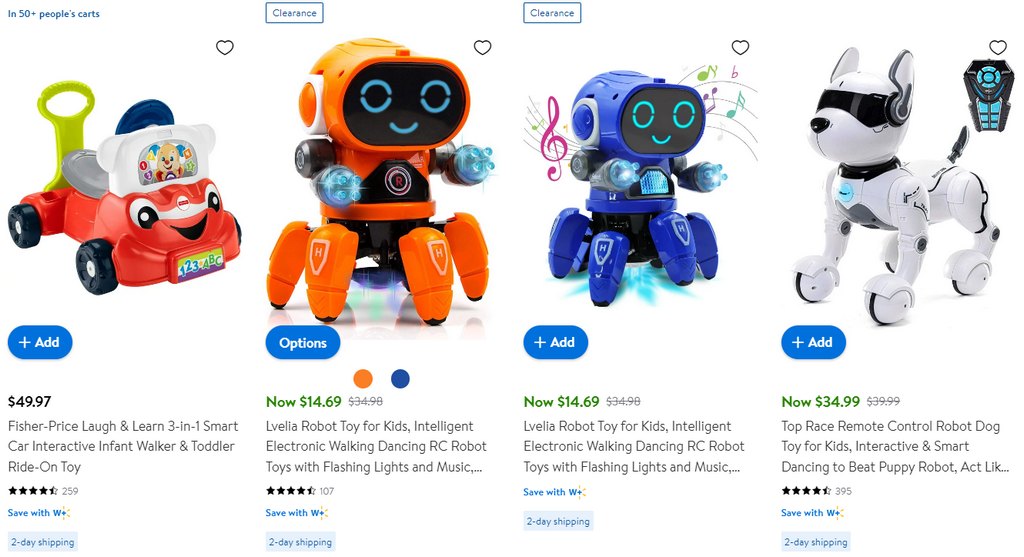 Dropshipping baby products shouldn't happen without one of the most UPGRADED versions of all toys: a developed toy that can sing songs, read poems, record and reproduce the voice, possess a list of animal sounds, letter pronunciation, and number counts. All that allows this toy to be useful for a long time (including preschoolers and older kids).
Wrist Rattles And Footfinder Sets

The bright and fun colors on these soft toys will be appealing to babies, and as they wear them on their feet and wrists, it will help them develop eye-hand coordination.
Hide-n-Squeak Eggs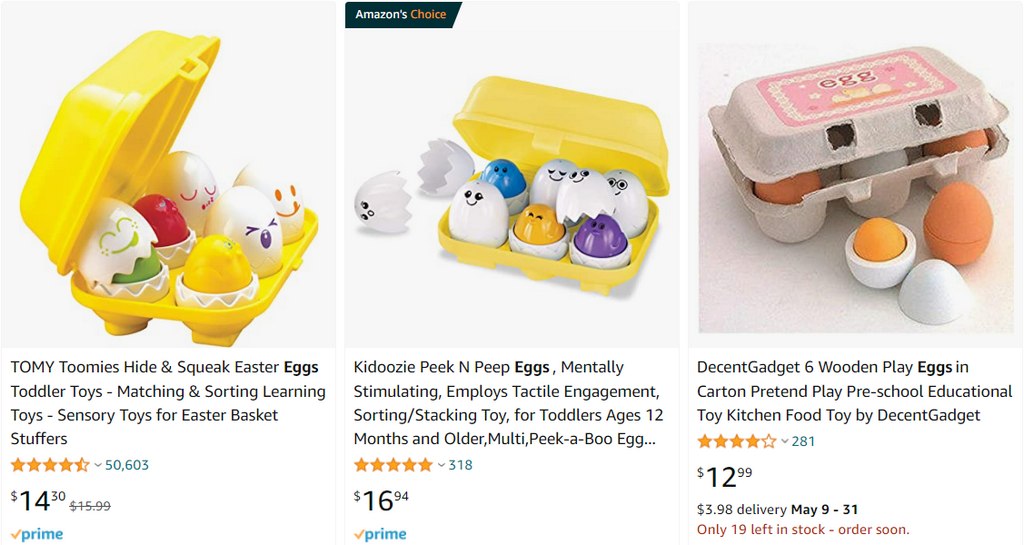 Very cute and funny characters. Of course, every entertaining toy can still teach something. This one can help learn about size and shapes through how the eggs fit into their egg box. The ideal choice to dropship baby products.
Stroller Toys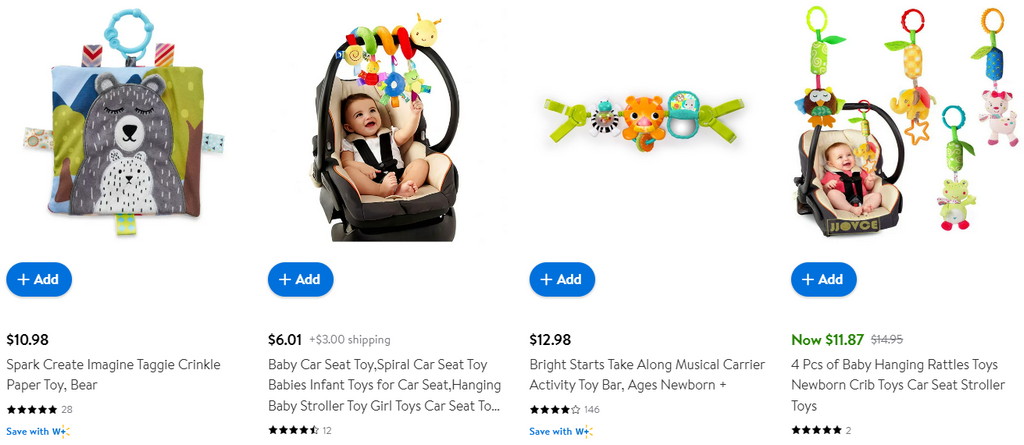 Stroller toys are a great addition to any baby's stroller, keeping them entertained while on the go. These toys come in various designs, from plush animals to interactive toys, and are perfect for dropshipping baby products as they are lightweight and easy to ship.
Bath Cartoon Toys

They can be simple – only swim, or more advanced: create bubbles, sing songs, or do complex movements like jumps or show tricks. Dropshipping baby products allows you to list any number of cartoon characters, which raises the chance to hit the target and touch your customer deeply into the heart.
We all know that for babies, the perfect toys are Moms and Dads because toys are a tool to help kids develop, but parents are the ones who nurture that growth.
In the modern world, we suffer from a lack of time, so toys are extremely useful for the baby's development. Sell baby stuff niche offers multiple variations for dropshipping baby products. Add 5-10 to your e-Store, and you can see the result almost instantly.
6. Bedding And Decor Baby

Products Dropshipping
Bedding and decor is the category that has been growing in popularity over the past few years, and continued growth is projected through the nearest five years. What to say… bedding and decor category is growing in popularity with every pregnant lady on the Earth!
I recommend you consider for your dropship baby products store different furniture, décor elements, and other baby care supplies which will fit everyone's home.
Baby Room Wall Decorations

Decorating the baby's room is a pleasant process for parents and educational, relaxing, and entertaining for babies. There are tons of diverse ways to decorate the walls: Stickers, 3D Figures, Luminous Fluorescent, Magnet, Letters, and much more. They cost nothing but are extremely trending baby products for decoration.
Newton Baby Crib Mattresses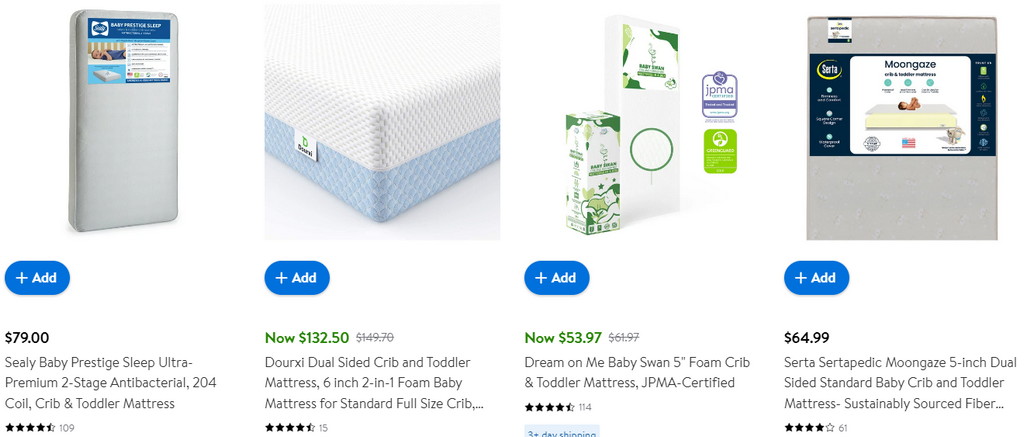 These innovative mattresses are breathable and non-toxic. The core is made of 90% free air and 10% food-grade polymer. Easy to clean thanks to the fabric cover, which unzips. So, these mattresses are one of the best baby products to sell online, which "whispers" you have nothing to worry about.
Baby Sound Machines With Night Light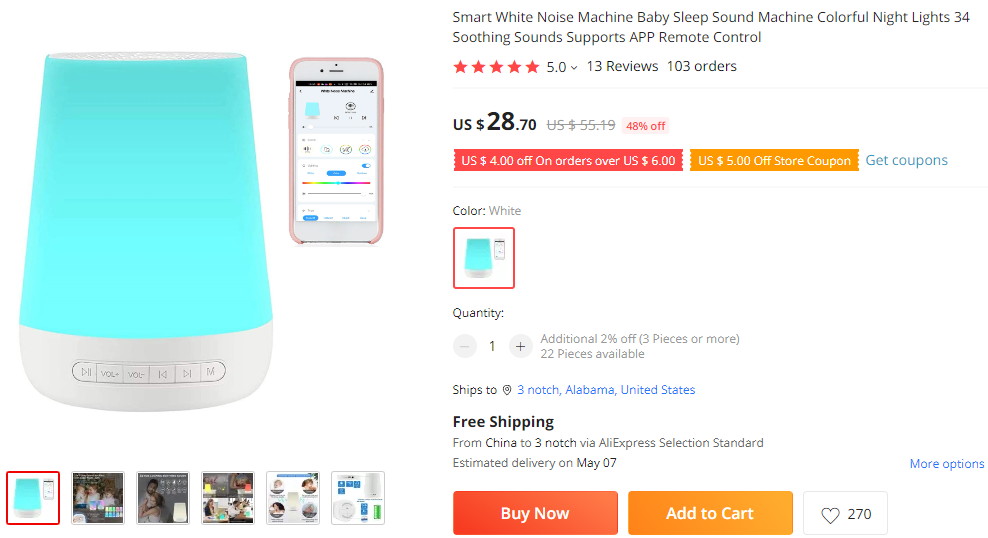 It's a nightlight, sound machine, and okay-to-wake clock all rolled into one gorgeous package. Your buyer can choose from pre-programmed light and sound settings or customize their own – all controllable from the phone.
Swivel Sleeper Bassinets And Accessories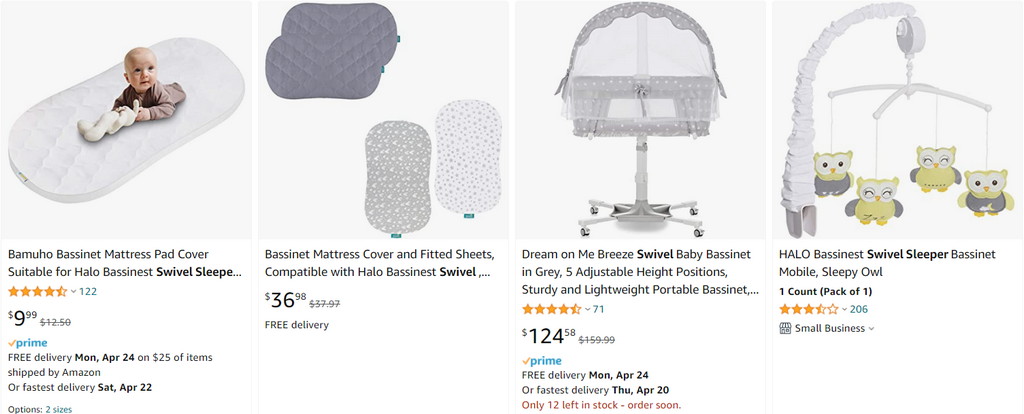 This trending product is an ideal way to keep babies close during sleep and keep them safe in their own sleep space. Also, the buyer has an opportunity to position the bassinet right over the mattress for keeping the baby close and safe. A mommy keeps an eye on her baby and can lower it for easy soothing or feeding.
Surveillance Baby Products Dropshipping

Surveillance baby products are a popular and in-demand niche in dropshipping. With advanced technology, these products allow parents to keep an eye on their baby's activities, including sleep patterns, feeding, and overall safety. They provide peace of mind for parents, making them an essential addition to any dropship baby products store.
7.

Gifts

Baby Products Dropshipping
Making a baby come into this world and helping him throughout life is not only a huge responsibility but also years of joy and tenderness. It's a time when you go back to your memories and enjoy toys and carelessness.
The parents try to find the balance between the seriousness of the situation and the desire to see their lovely bird as soon as possible. Imagine you are about to visit your friend's baby shower. Do you have any gift ideas in mind? If not, check out my top-selling baby items gift ideas!
Baby Handprint And Footprint Kits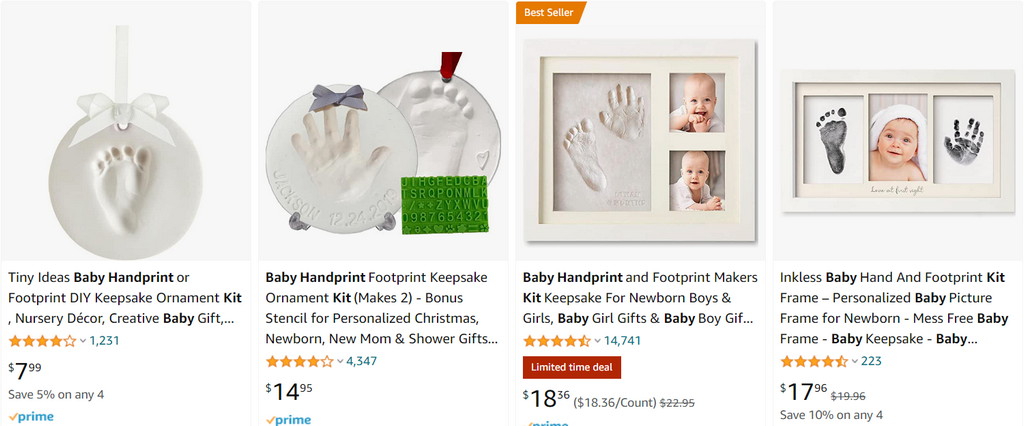 Of course, it is #1! It is a TOP present all parents dream about, and some might miss the appropriate time when their kids are already grown! Your buyers will be those lucky ones who do not want to miss any precious moment. Only two steps are needed, which is simple but will be an unforgettable memory for the rest of their lives.
It's popular in recent years and suitable for all kinds of babies, boy or girl, one, two, or three years old (but, of course, you will never again see those tiny feet like the first day after the birth).
The potential audience includes parents, grandparents, aunts, and uncles. Just keep in mind: materials of these dropshipping baby products in your store must be safe and non-toxic.
Handmade Toys

More people choose handmade gifts to impress any new mama/daddy and gift their baby the first-ever friend in their lives. Here are just a few amazing handmade baby gift examples (can be any character, real or fictional) from Etsy.
Memory Sets, Keepsake Boxes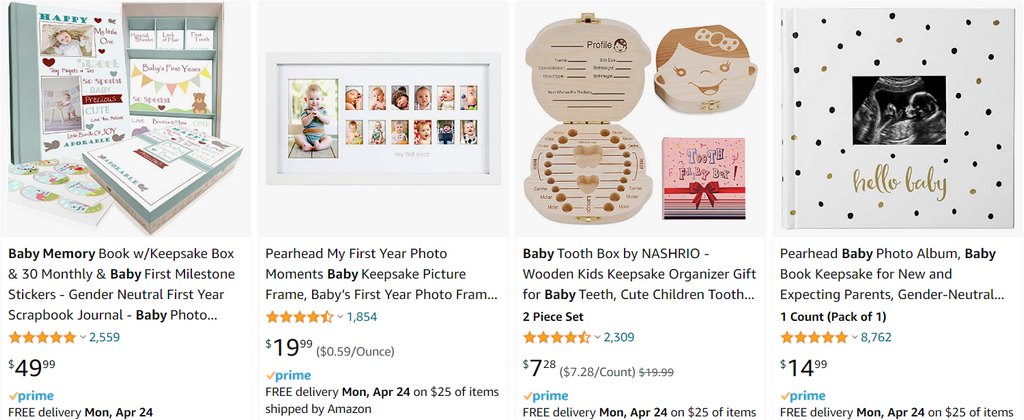 What else do some parents save and like to check and sometimes even show to the family when their babies have grown up? It might seem weird to some of you, but teeth and curl sets are popular to sell baby stuff.
Haven't seen it yet? Please enjoy 🙂
Baby Gym Mobiles, Wooden Play Gyms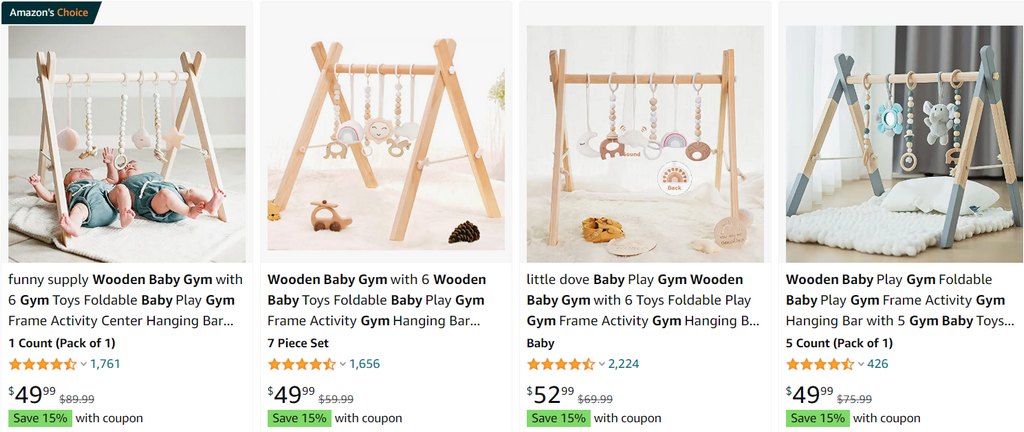 A creative, unique, and very tender gym will melt parents' hearts and boost your sales statistics if you add it to sell baby stuff from home.
These baby gyms come with crocheted rattles attached that can be removed and used as toys once the baby is too big for the gym.
Pacifier Clips

Everyone knows that once a baby starts dropping (and throwing) everything, any new parent will be grateful to have one of these to keep pacifiers from landing on the floor every two minutes.
Anti-Scratch Baby Mittens

To avoid that whole baby-accidentally-scratching-their-face thing that often happens with newborns, here's a pair of fun little mittens, the best baby products to sell online.
Baby Photo Albums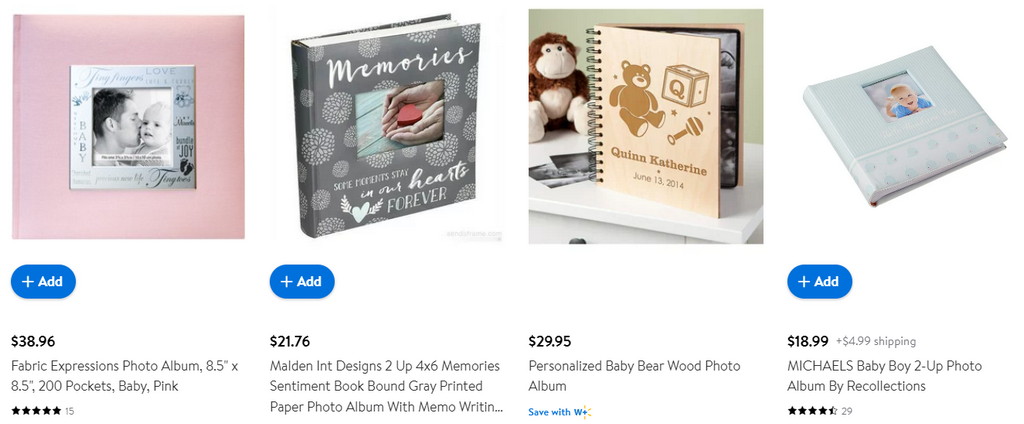 Dropshipping albums is always a popular idea, and a memory book is a great way to keep track of all the exciting events and milestones in everyone's life, especially in a baby's life.
Baby Swaddle Sets

A must-have nowadays, which makes it one of the best dropshipping baby products. New parents can never have too many of these! These super-soft cotton-bamboo blankets can be used as swaddles, burp cloths, or covers for the stroller or even for themselves.
Final Lines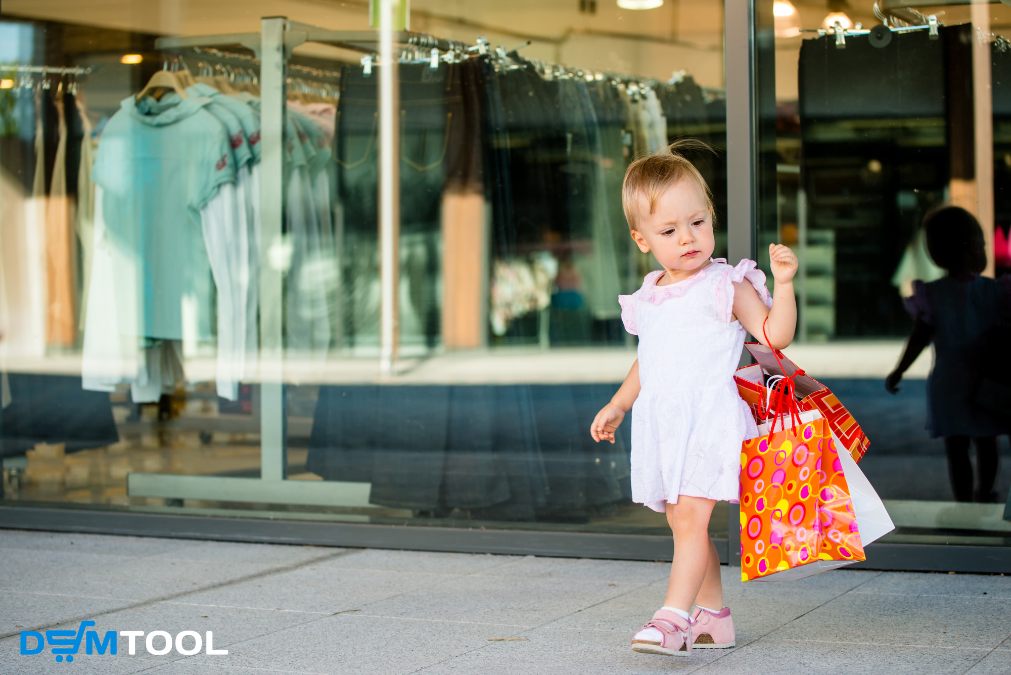 There are many shopping channels dedicated to parents and kids, offering a plethora of baby products for dropshipping. While this may make it seem easy to start selling baby items online, this business has its challenges, especially when it comes to choosing the right dropshipping products.
I hope this article has helped you to take the right direction. Remember that browsing what baby products sell the most is a great starting point for your own experience in this niche. All you need now is to take action. If you're interested in dropshipping baby products and want a slice of the pie, start your eCommerce business today.