22

min read
Are you about to start dropshipping or looking for sources of products to sell online without paying extra fees? You are in the right place. In this post, we give an overview of free dropshipping suppliers.
We understand that online searches give you thousands of results on both dropship suppliers and directories, making it difficult to pick a trustworthy one. Besides, after long research, you still can get into dropshipping websites or directories that charge membership fees.
We will go over the information on how reliable these free dropship suppliers are, their range of products, order processing time, service prices, quality of customer service and products, and if they provide fast shipping and save payment methods.
But first, what are dropshipping vendors, and who are dropshipping vendor directories?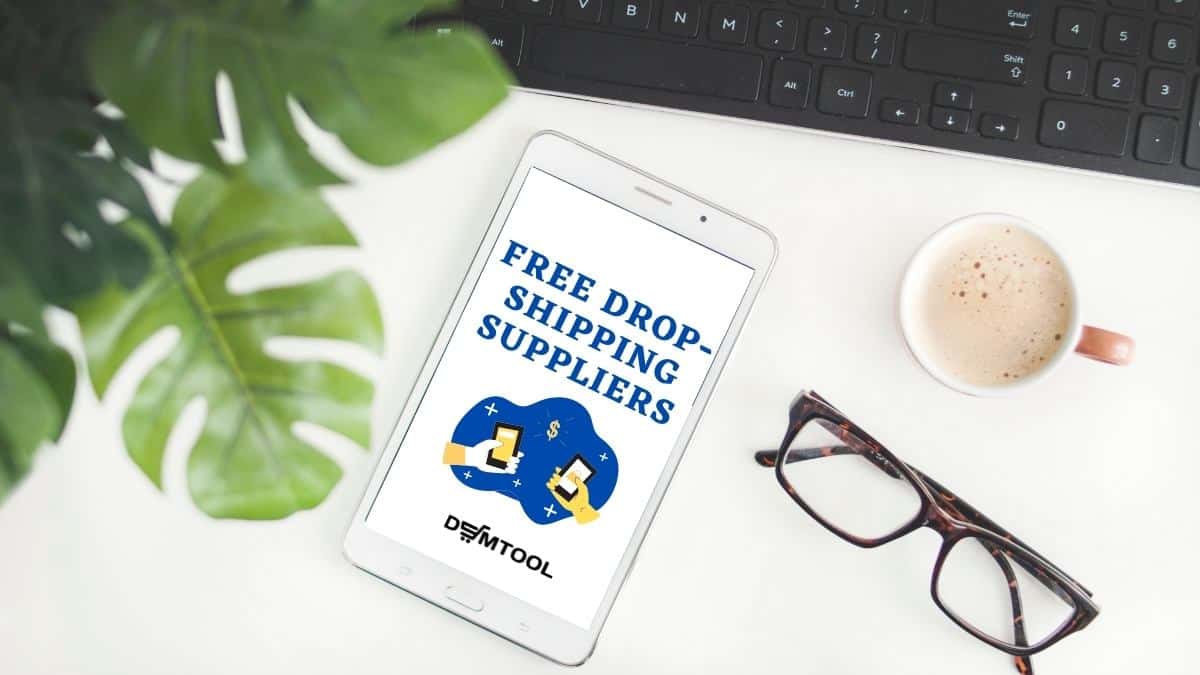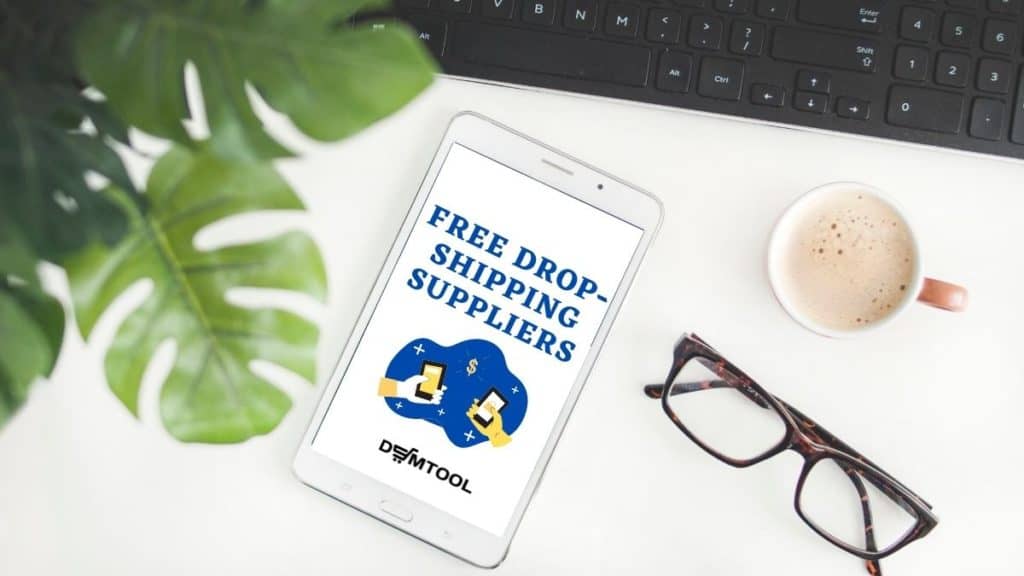 What is a dropshipping supplier?
A dropshipping supplier is an eCommerce site that dropshippers use as a source of their products. It can be a retailer, a wholesaler, or a dropshipping vendor directory. Thereby, a dropship supplier offers a range of products people can buy. It is responsible for product quality, item descriptions, delivery, and can provide some extra services like customized packages, wholesale or drop shipping programs, order fulfillment, etc. Dropshipping suppliers allow you to sell products without investing time and resources in designing your own products.
Going over lists of suppliers on the Internet, you can find dropshipping vendor directories as well. But it's a bit different and you need to understand that difference.
What is a dropshipping vendor directory?
A dropshipping vendor directory is essentially a giant database with suppliers, wholesalers, dropshippers, auctioneers, eCommerce sellers, etc., that can be arranged by market or niche. In most cases, these sites pay extra fees to be on such a database. That's why it's always good not to limit yourself to the presented lists and be open to new product sources.
In the nutshell, such drop shipping vendor directories come in handy for a quick search or browse on the internet, and for brainstorming new product ideas to sell online. Besides, you can find a dropship vendor directory useful if you are short on time and willing to pay dropshipping membership for access to such data. Otherwise, you can go for free dropshipping suppliers.
Take into account that every dropshipping vendor has its pros and cons. You need to understand If the suppliers fit your business's specific needs and standards.
Tip
There are also companies like SourcinBox – a dropshipping agent company that specializes in dropshipping fulfillment services. Such companies help dropshippers source products directly from manufacturers.
The list of best free dropshipping companies to source products from
This section provides an overview of the most popular free dropshipping sites with their pros and cons. The common thing between them is the ability to make the dropshipping process simpler and help you to save time and money. Let´s check them!
Free dropshipping suppliers USA
Most American dropshipping companies charge monthly, annual membership fees, a one-time payment for a membership fee, or dropshipping membership fees. Though these fees are a vital source of income for many companies, there are still few free USA dropshippers.
Here is the list of US drop shipping companies (+those who have warehouses in the USA) and whom you can use for free to resell their products in your dropshipping store.
1. AliExpress – a free dropshipping supplier with US warehouse
AliExpress is one of the world's largest e-commerce websites. It's a part of Alibaba Group and has more than 200 million active users around the world. The best thing is that you can discover manufacturers for almost any product, all at a low cost. And they have one of the warehouses in the USA!
You can also start your dropshipping business on AliExpress, which is a free drop shipping platform. The site is compatible with AliDropship, a WordPress plugin for AliExpress dropshipping. Otherwise, you can simply dropship from AliExpress on other eCommerce platforms or web stores.
The advantages of using Aliexpress include:
More than 10 million products at competitve prices across 300 categories.
8 warehouses in China, USA, France, Germany, Russia, Spain, Poland, Belgium, Australia, Turkey for faster shipping across the world.
Aliexpress dropship center for free to use for winning product research.
No minimum order.
Affrodable prices for millions of products that allows to make higher profits.
Well organized logistics infrastructure with fast ePacket shipping and its own free AliExpress standard shipping service.
Verified payment systems.
Guaranteed buyer protection for some Aliexpress sellers.
Among the disadvantages of AliExpress is that their products are from Chinese manufacturers and different sellers sell the same products at different prices. So you would need to dedicate time to find a good Aliexpress seller and recheck the product quality. It also has a limited number of payment gateways and a limited number of products in its US warehouse.


PRO TIP
Find more useful information about this dropshipping site and learn how to use it in the complete guide on How to do dropshipping from AliExpress.
2. Chinabrands, a wholesaler for free dropshipping USA
Chinabrands is a leading global dropshipping company based in China with warehouses in the USA (and in other 45 countries). It allows you to start a dropshipping business with a minimal initial investment. The company offers a full-service dropshipping solution, including product sourcing, product publishing, automation, and shipping, among other things.
ChinaBrands' catalogs contain over 500,000 products, including clothes, bags, shoes, accessories, jewelry, health products, and beauty products. Every day, the company adds new wholesale products to its catalogs.
With over 5000 certified suppliers in its network, Chinabrands allows you to find and dropship whatever you're interested in with no minimum quantity required.
Chinabrands gives you these benefits:
Products are sourced from over 5000 certified high-quality suppliers.
There are over 500,000 goods in over 170 categories.
There is no minimum order quantity.
You will receive a lovely wholesale price starting at $0.3.
Chinabrands is highly demanding about quality control and thoroughly inspects all suppliers before allowing them into its system.
Importing listings with SEO-optimized product descriptions is completely free.
Orders are filled automatically.
Chinabrands can be integrated into more than 20 platforms (Amazon, eBay, Shopify, and others)
They provide a dropshipping agreement on reselling their products.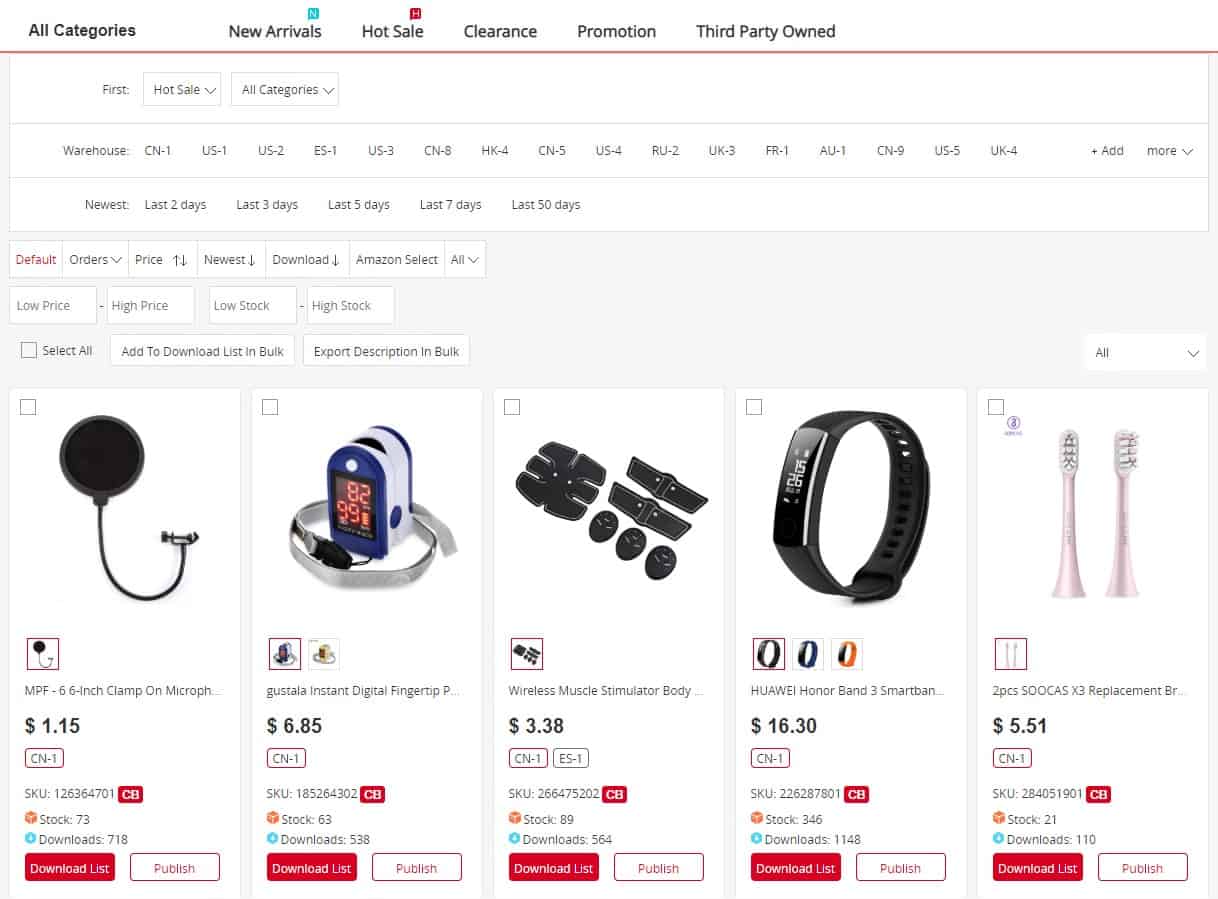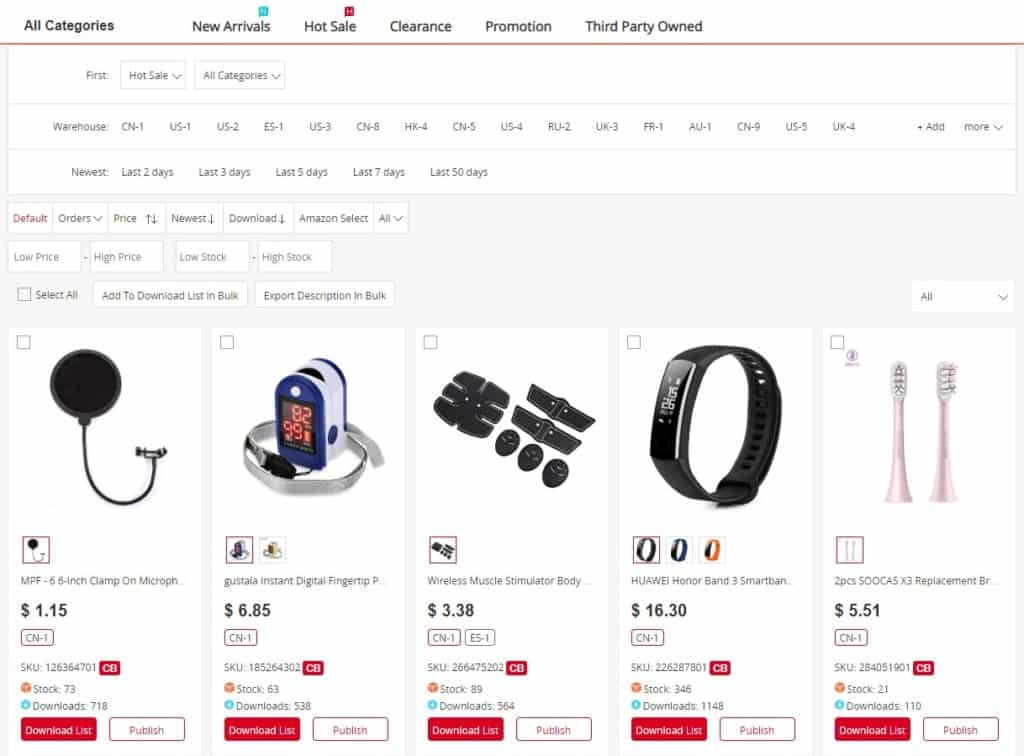 3. Wholesale Central – cool and free dropshipping supplier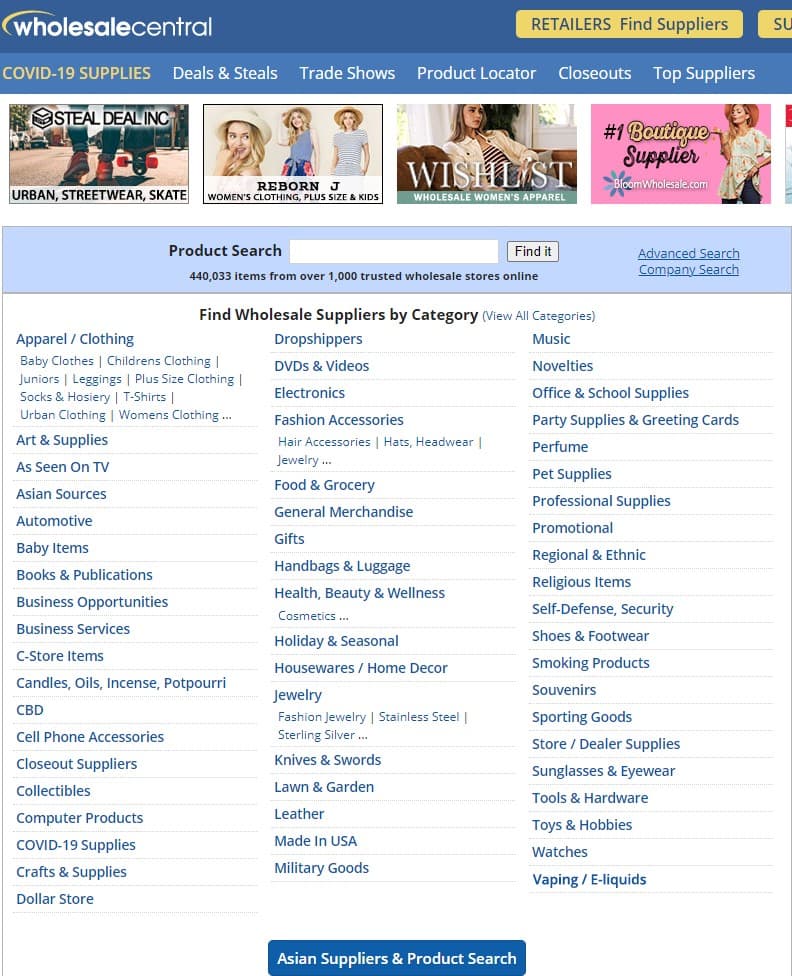 This is another excellent dropship company without membership fees. There you can choose only wholesale suppliers through a big number of product categories (including "Made in the USA"). Once you've decided what you want, they give you a detailed list of products to browse directly from the manufacturer's website. It's a business-to-business page that doesn't sell to customers.
You may also contact dropshippers there and use the site to search locations nearest to you, which can lead to a more reliable partnership.
The advantages of Wholesale Central:
1,400 wholesale supplies.
Over 700,000 products.
No commission on your sales.
No hidden costs, so you get a bigger profit margin potential.
Buyers can reach your website through Wholesale Central.
There are no costly or time-consuming PPC campaigns to handle.
Each member has an equal chance of appearing on page 1 of search results on any given day due to the daily random rotation of listings.
Wholesale Central will generate traffic to your company once it has been listed.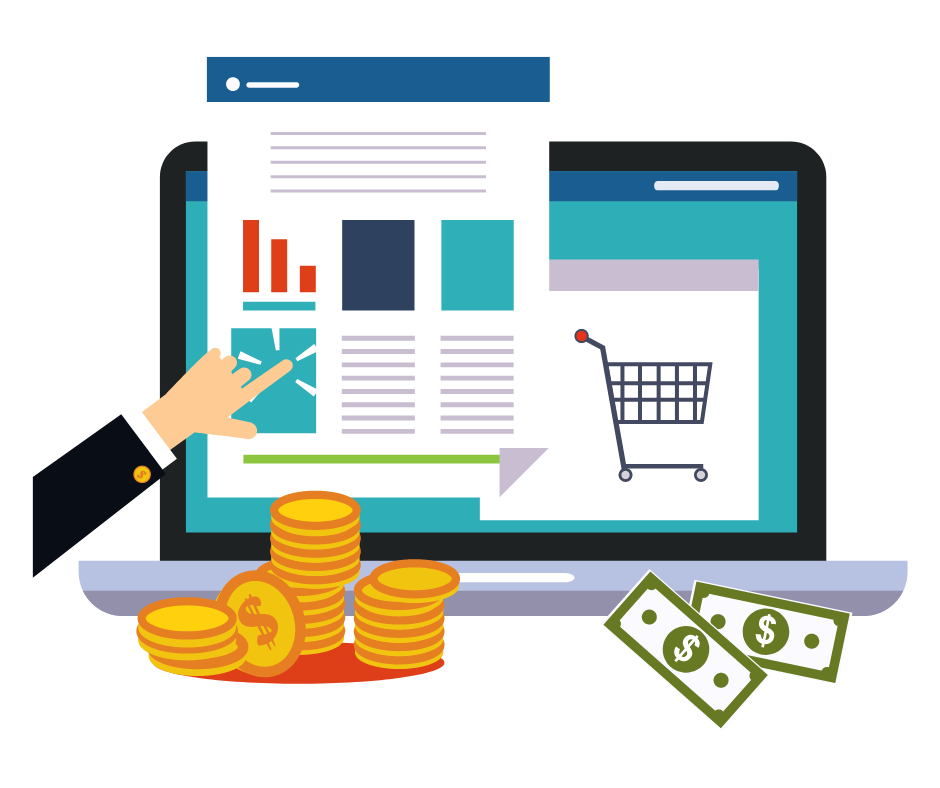 Don't wait for the profits, make them!
Start a profitable dropshipping business with DSM Tool. Get a free course and a free trial of the software.
4. CJ Dropshipping – free dropshipping platform
CJ Dropshipping is a Chinese company that provides a one-stop solution for dropshipping. They source goods, process orders, fulfill them, and ship to buyers. They also offer additional drop shipping services such as photo and video taking. Print-on-demand and white-labeling services are also available.
They have more than 200,000 product listings and warehouses in China, the United States, Thailand, Germany, and Indonesia. The featured products are often cheaper than what you'll find on AliExpress, and they can also source products on your demand. Besides, CJ Dropshipping performs the product's quality checks to ensure their high quality.
Despite CJdropshipping does not charge a setup or monthly drop shipping fee, some of their services are paid. For example, warehousing services and shipping fees. Finally, they offer their own fast shipping method, CJ packet, that can deliver packages to the United States in as fast as eight days.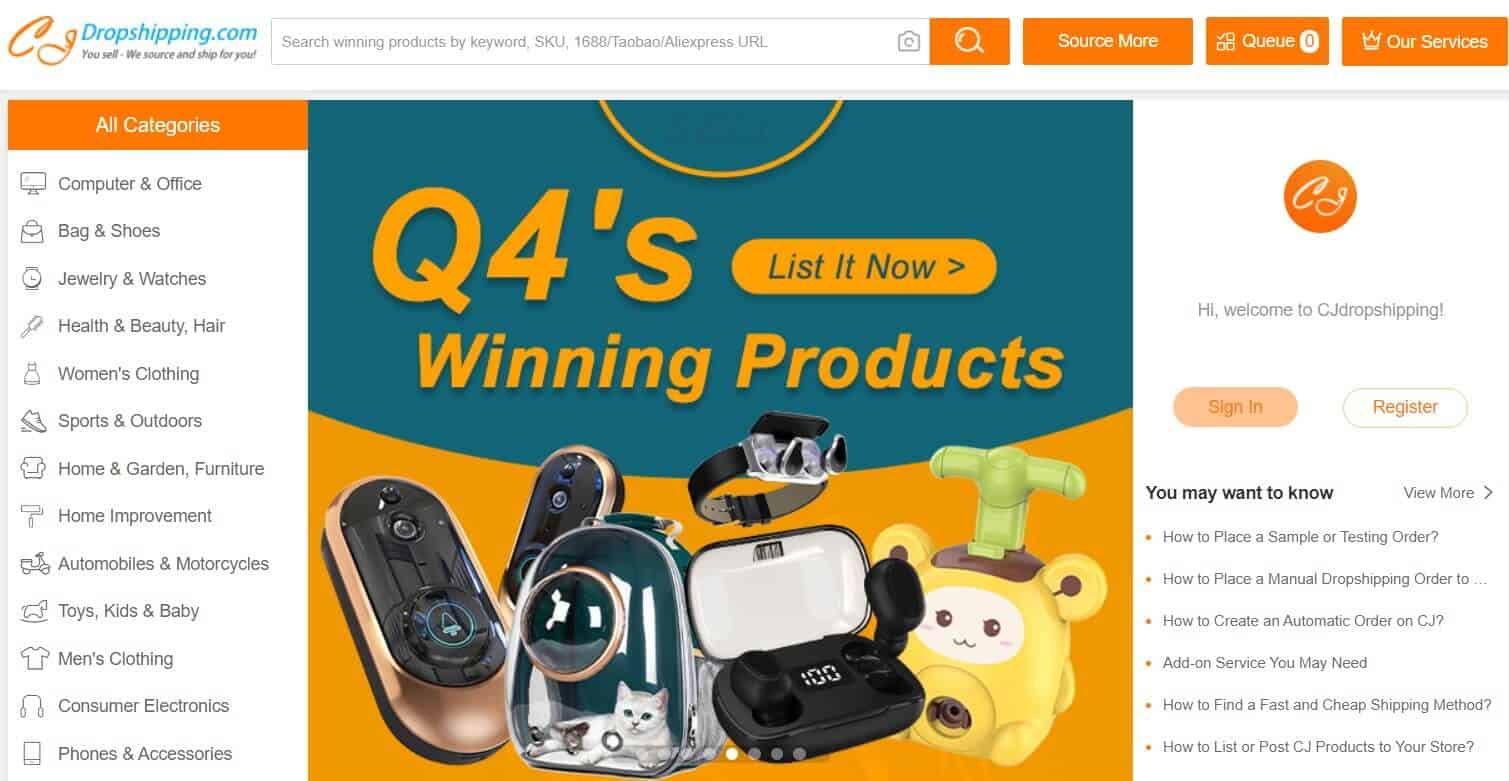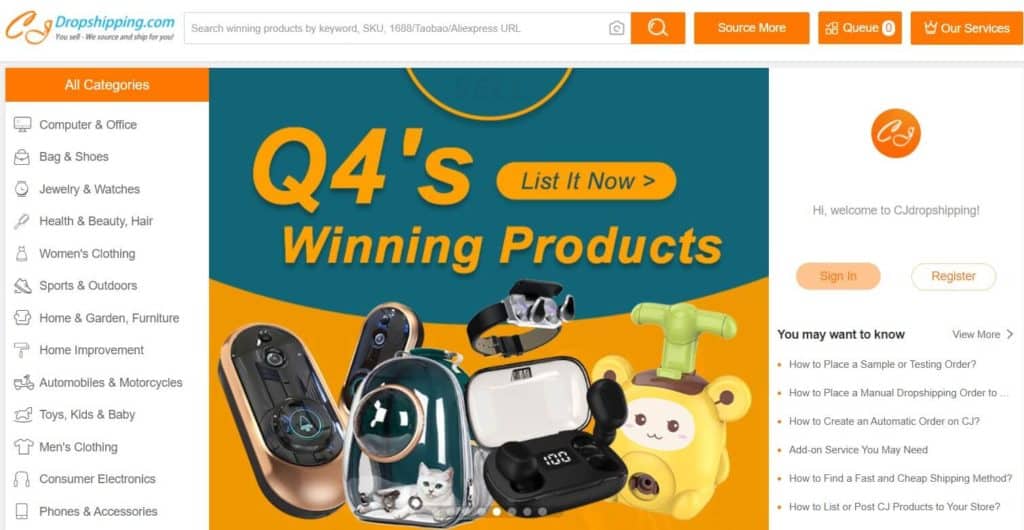 Pros of CJ Dropshipping:
is a dropshipping-friendly platform.
Orders can be combined to save money on delivery.
Has a CJ packet for quick delivery.
Integrates with most eCommerce platforms.
Customer service is available 24/7.
Offers many dropshipping services.
Possibility to pick products on Aliexpress and other eCommerce platforms and request CJDropshipping to add them to their platform.
possibility to get reselling agreement.
easily integrates with eBay, Shopify, Woocommerce, Shipstation, Lazada, and Shopee.
Cons of CJ Dropshipping:
Their website can be difficult to navigate.
There is charge for warehousing, processing, and shipment.
There is not that big amount of wholesale products on their site.
A small amount of products on the US warehouse.
They don't send invoices or receipts automatically.
It's not profitable to dropship big products from there due to big shipping fees (the bigger is the item, the more expensive is the delivery).
5. Oberlo is one of the best free dropshipping companies for you


Oberlo is a dropshipping platform that makes it easier to run a dropshipping business. Especially for dropshippers who dropship with AliExpress. The company is located in the USA. Though it has many international users as well. It's possible to start for free but some services will require extra fees.
Oberlo advantages:
An easy way to research dropshipping products to sell online and importing them straight to your store.
Products from legit and verified dropship vendors.
Various warehouses in the USA.
Popular shipping methods like ePackets, Chinliexpra Post, AliExpress Shipping or UPS/DHL/FedEx.
Automatic order fulfillment.
Prices and stock monitoring.
Product personalization (including title, photos and descriptions). You are free to modify them as you see fit.
Integrated order and shipment tracking, so you always know where your orders are.
The ease with which you can swap suppliers and connect current products in your store to Oberlo.
You can choose the free Starter plan, and once your business has grown, you can upgrade to the premium Basic and/or Pro plans.
6. Big Drop Ship – Free Dropshipping Site with Wholesale Products
This dropshipping organization was established to ensure that business owners do not suffer the responsibility of keeping and controlling big product inventories. Instead, they can focus their attention on increasing dropshipping sales, marketing, and promotion of their products.
BIG Dropship advantages:
No dropshipping fees.
No labels on the packaging.
Secure order processing.
Market surveys for the best deals.
No need to handle refunds.
No need to pay shipping or warehouse fees.
4-8 days shipping within the USA.
Good customer service.
Offering products from the best suppliers for an easy, simple, and profitable experience.
No fee is required to sign in or continue using Big Drop Ship.
BigDropship has over 500 verified and pre-approved resellers with their own online store to sell your products (if you have your brand).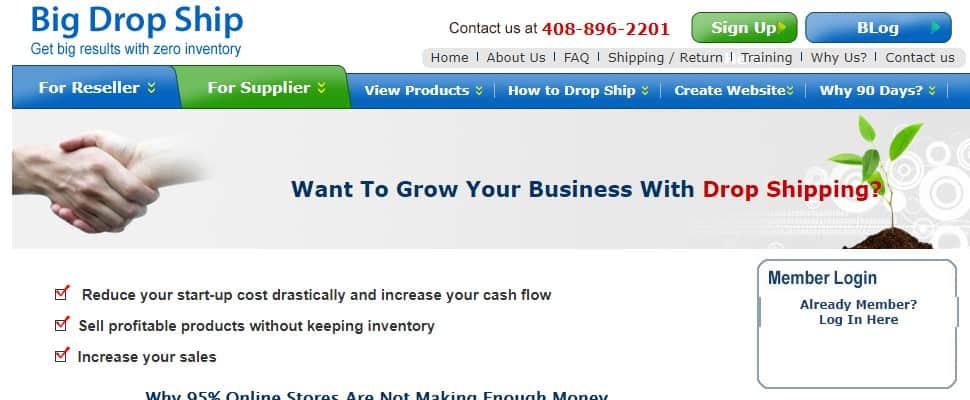 7. Toptenwholesale – Free Dropshipping Vendors Directory
Toptenwholesale is a leading whole trade network that links store owners and dropshippers, like you, with wholesale suppliers, distributors, importers, or resellers of both used and new products. Since this site is primarily a trade board, you can only see listings for products and suppliers.
The products are well laid out and categorized for easy navigation, and you can access the seller's site by clicking on any link. You can find the Hot Buys from the site's wholesale suppliers there: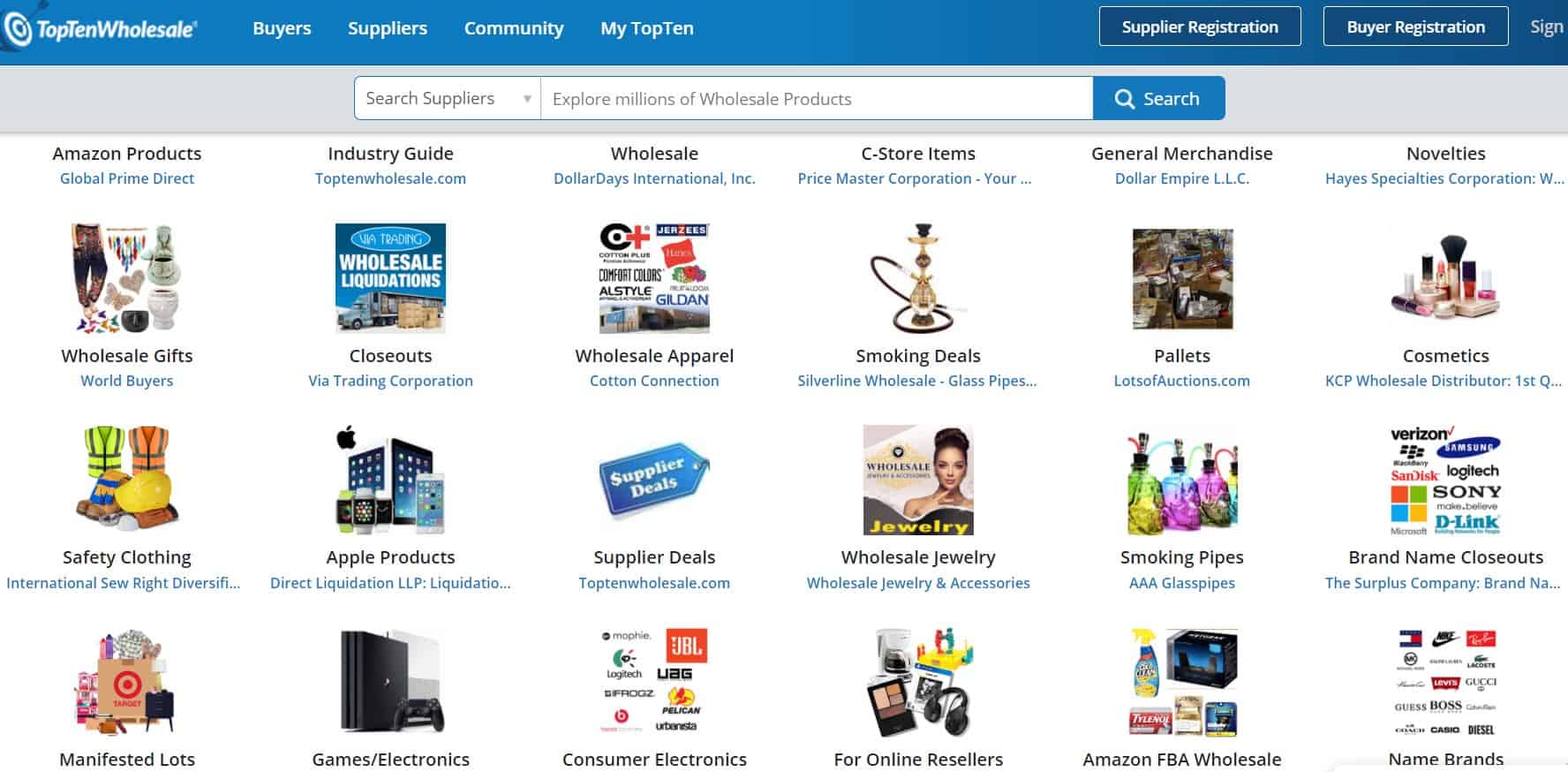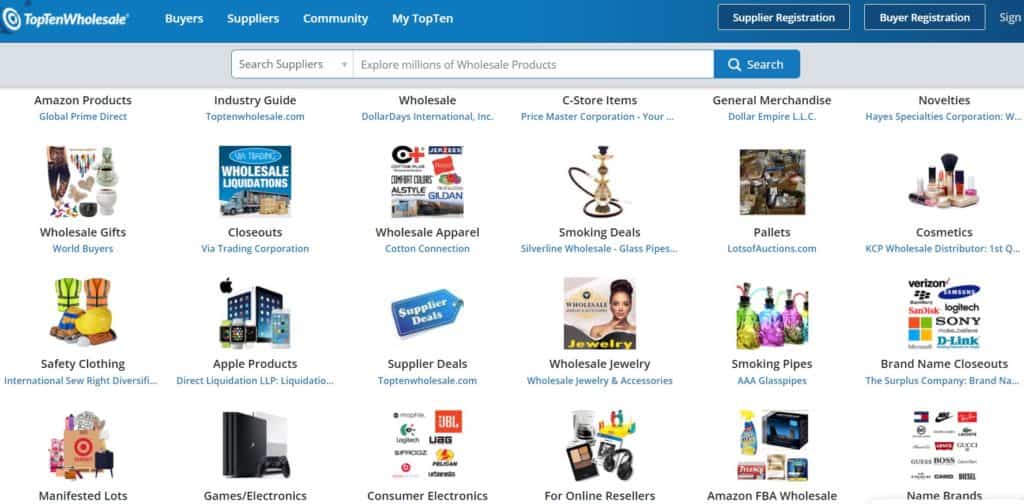 It's also a useful tool for locating popular items and their suppliers. All their vendors are based in the United States.
Pros of Toptenwholesale:
Extensive suppliers directory with clear categories.
Wholesale product across many popular categories.
is dropshipping-friendly.
All its vendors are located in the United States.
Cons of Toptenwholesale:
A lot of products can only be purchased in bulk.
Methods of contacting suppliers and filtering them can be difficult for new users.
quality of product pictures aren't always of high quality.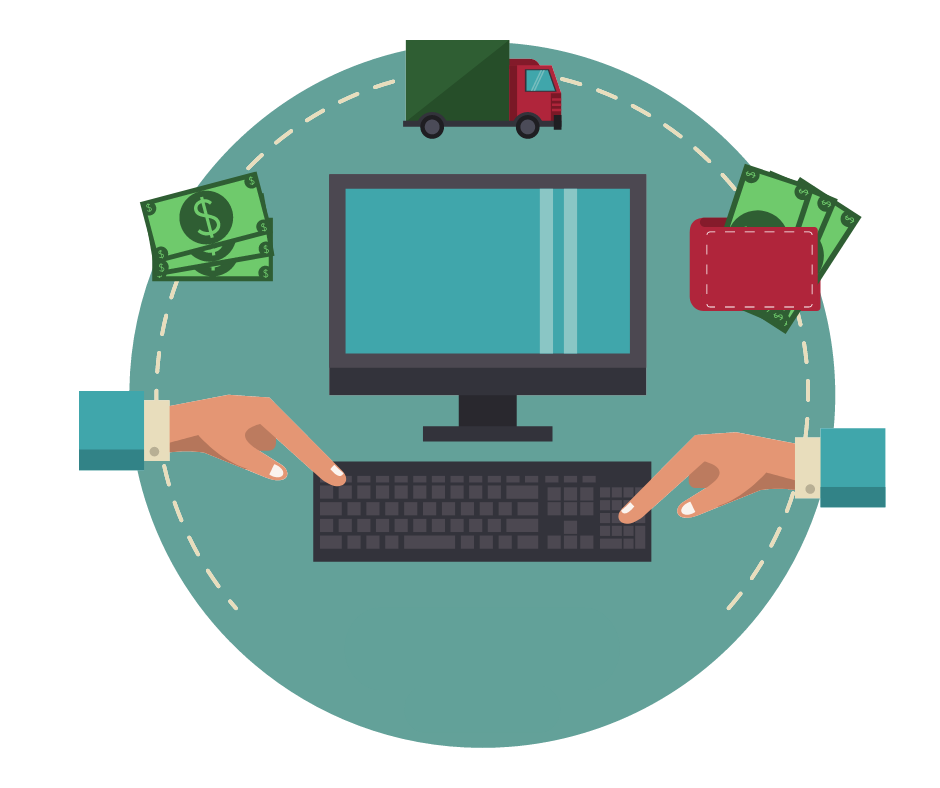 Not yet making money online?
Start your own dropshipping business. Sign up for a free trial of DSM Tool and we'll help you get started. Today is the day.
Other Free Dropshipping Suppliers (in Europe, China)
We decided not to limit this list of free dropshipping sites only with the American dropshipping companies. Here are more dropship suppliers from Europe and China you can use for free to resell their products on your dropshipping store or eCommerce site.
8. BigBuy – Big Dropshipping Wholesaler
BigBuy is a well-known European wholesale dropshipper. It's a B2B marketplace located in Spain, where you can buy wholesale and take advantage of bulk order discounts.
The company imports and wholesales a diverse selection of new products and interesting gifts: including inventions, joke gifts, electronic devices, small appliances, and beauty products. Their collaborations with manufacturers allow them to provide the cheapest pricing while minimizing intermediary expenses.
BigBuy is a young and competitive company that uses cutting-edge logistical infrastructure and employs qualified professionals. The qualities that have made it become Europe's largest dropship supplier.
Pros of BigBuy:
159k products across the most popular product categories.
Weekly updates of the product catalogues.
eCommerce software integration with PrestaShop, Shopify, Woocommerce, etc.
Integration of marketplaces like AliExpress, Amazon, eBay, FNAC, Cdiscount, etc.
fast delivery for mostr European countries.
their catalogue is translated into 24 languages of the European market.
take care about packing and logistics.
wholesale prices including for single products.
Custrom packing is available.
Catalogue of products in CSV, XML, FTP, and order uploads via CSV, API.
Top-selling section of the BigBuy site to get product ideas.
Turnkey dropshipping shops.
Cons of BigBuy:
Fees on many of their dropshipping services.
45 euro registration fee to be able to use their catalogues for free then.
You have to adapt to its sending options.
High competition on the market for many of their products.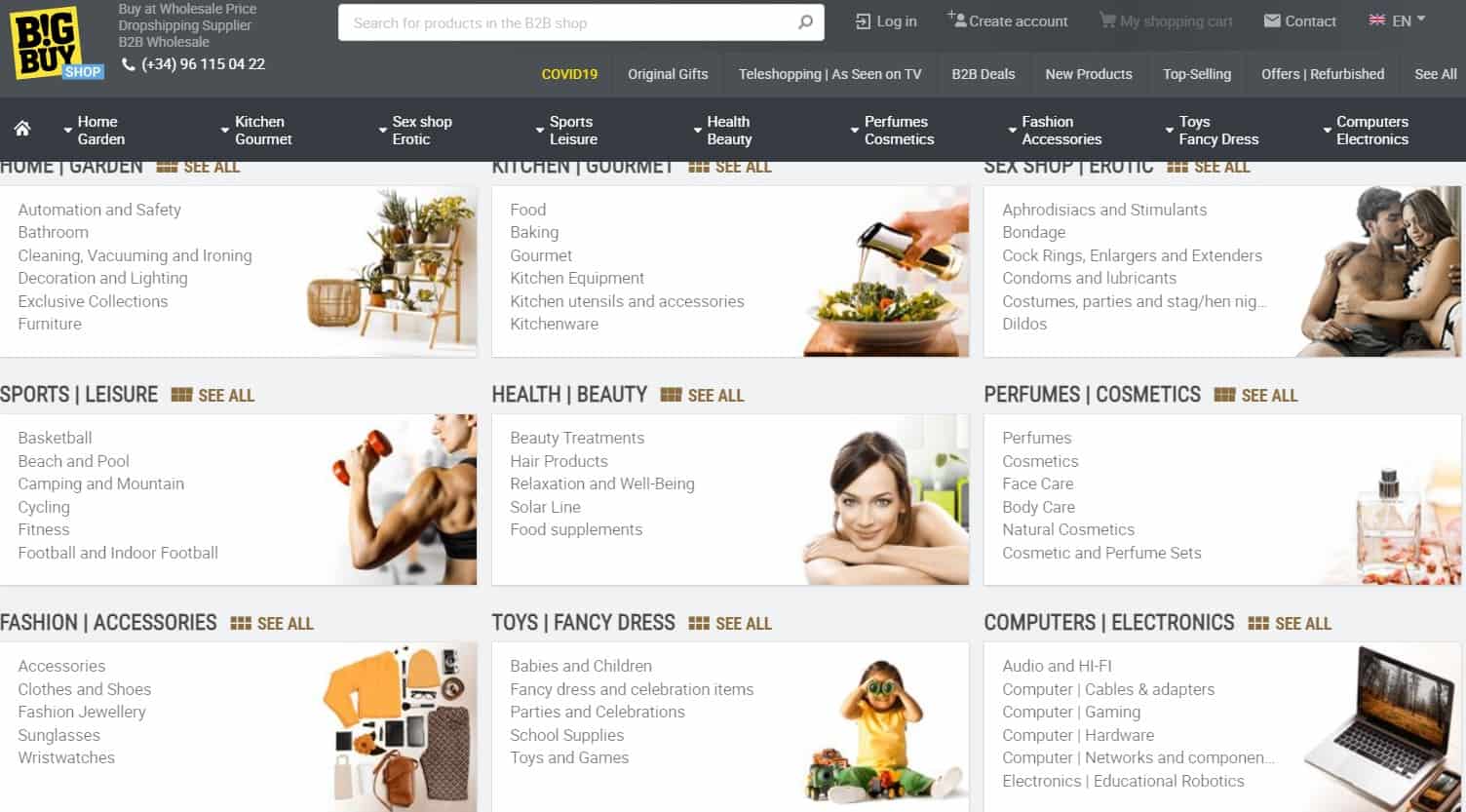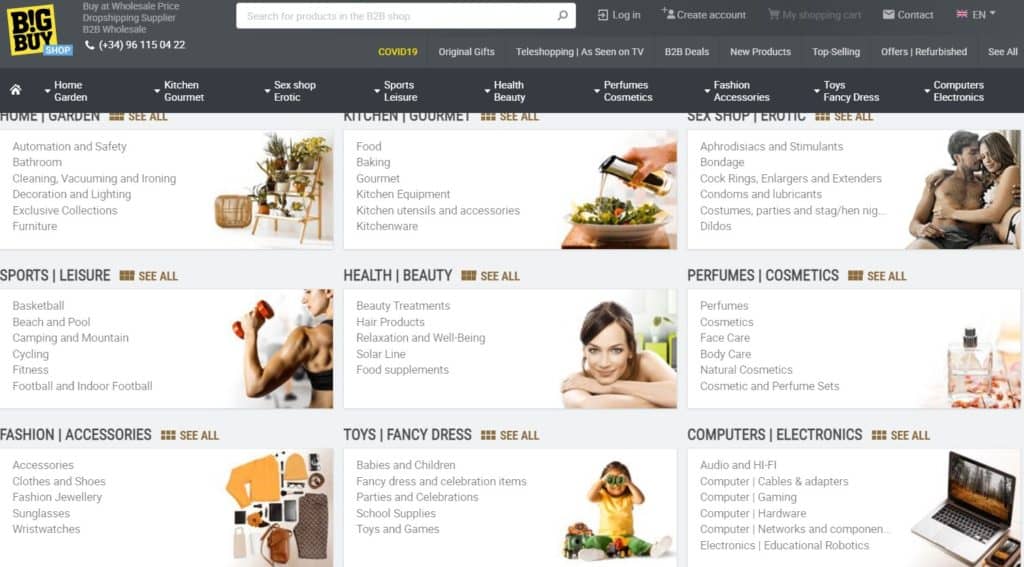 9. Printful – Europe and US free drop shipping company
Printful is a leading print-on-demand and dropshipping fulfillment service that offers over 300 top-quality, fully customizable products such as t-shirts & tank tops, hoodies & sweatshirts, bags, hats, jewelry, phone cases, wall art, mugs, posters keychains, and many more.
It´s located in both the USA and Europe, so the shipping speed isn't a problem with it. Besides, the site integrates with more than 14 eCommerce platforms, allowing you to access thousands of products with a single click.
It should be noted that Printful is one of the more expensive print on demand companies, but this is the price to pay for high-quality products of your own designs.
Printful can be integrated with all modern store systems. Whenever someone buys something from your store, the vendors on the other end of the app will automatically print and submit the order on your behalf. Orders placed at your e-commerce store are seamlessly incorporated into their system for fulfillment. The best part is that you only have to pay when you receive orders. You will be able to test your items while saving 20% on shipping costs.
Printful Pros:
no dropshipping fees.
well-organized and user-friendly site.
3-5 days fast and free shipping.
All domestic orders come with tracking information.
Product Guarantee that covers the cost of lost or damaged packages.
Branding services are available.
24/7 Support in many languages.
In-house designers/photographers/videographers on demand to help grow your personal brand.
Discounted Product Samples for those who want to test a product before reselling it.
Product personalization, white labeling, warehousing, and fulfillment services are available.
Printful Cons:
Only a few product categories for all products.
Some products have an expensive starting price to have good eCommerce profit margins.
Limited refund policy.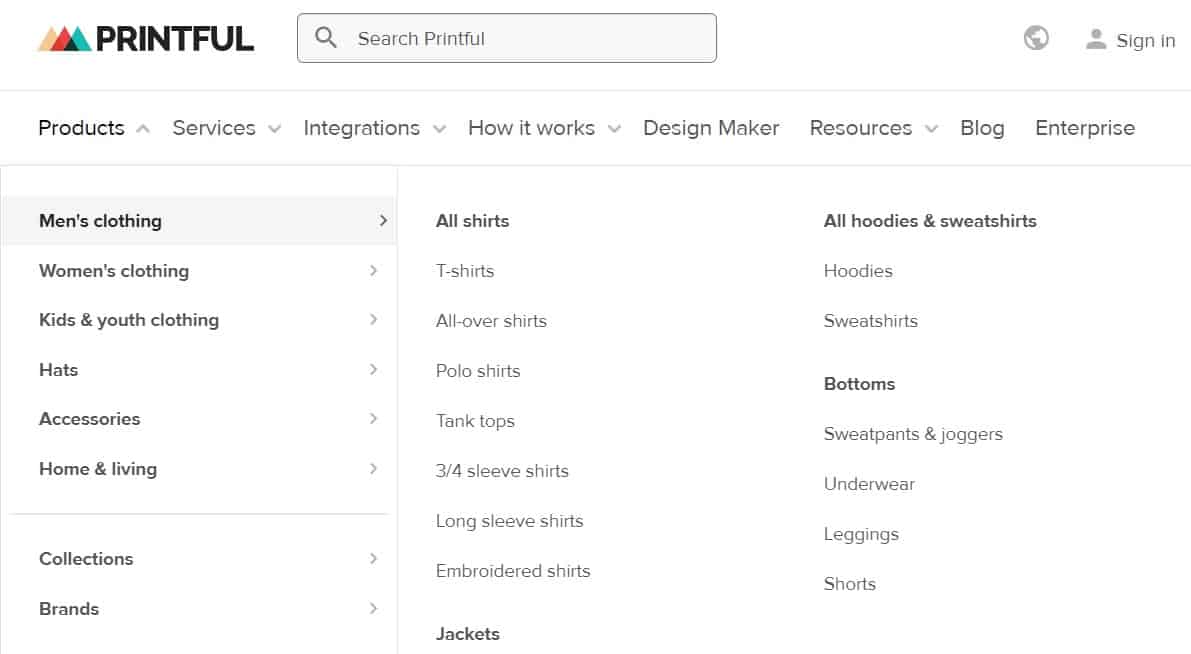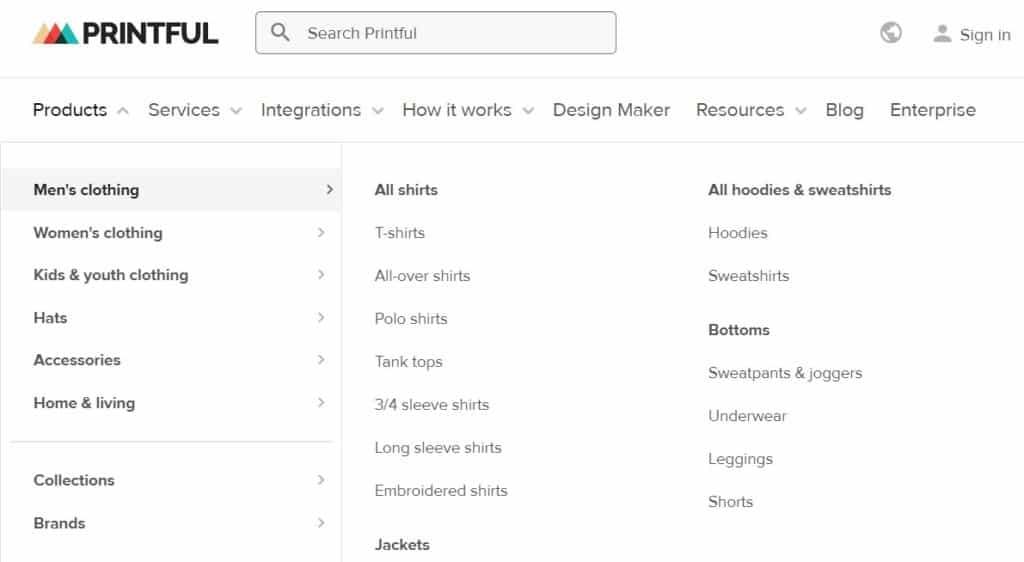 10. B2B Griffati – free clothing supplier
B2B is the most reputable and well-known online free dropshipper for designer wholesale clothing fashion brands. They provide a diverse range of brands to online stores, retailers, and boutiques all around the world. They have also specialized in women's clothing.
If you're seeking the best online wholesale designer for your dropshipping clothing store, look no further than B2B Griffati. You will be able to obtain all of the clothing designs that you like thanks to the highest quality products and inexpensive wholesale costs.
They provide competent, friendly, and dependable client service at all stages, including pre-and post-sale. Their primary goal is to provide full customer satisfaction.
Griffati Pros:
+20.000 designer products in the clothing category.
Daily product updates.
Product descriptions in 24 languages.
e-Commerce platform integration with Shopify, Prestashop, Magento and WooCommerce.
fast and monitored shipping, including international shipping to 180 countires
​No minimum order.
Wholesale luxury clothing at discounted prices up to 75%.
offers dropshipping program.
Griffati Cons: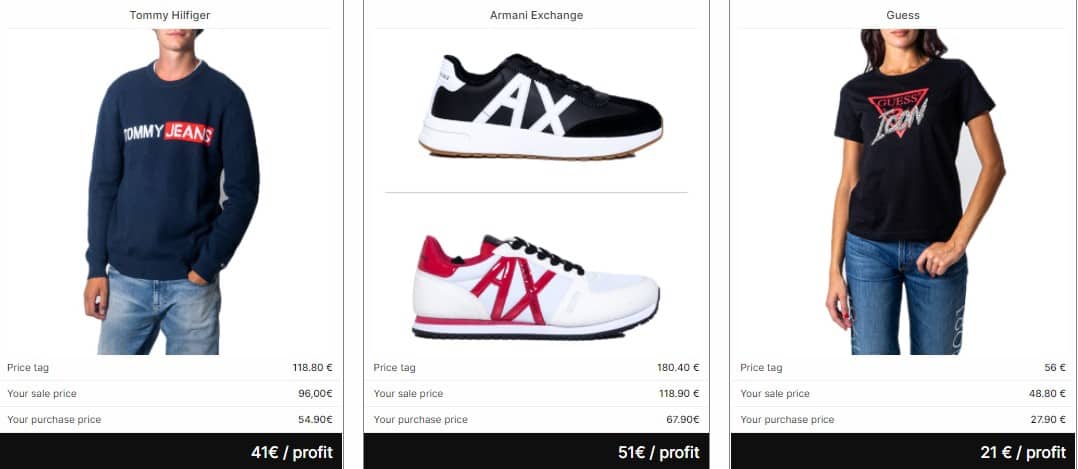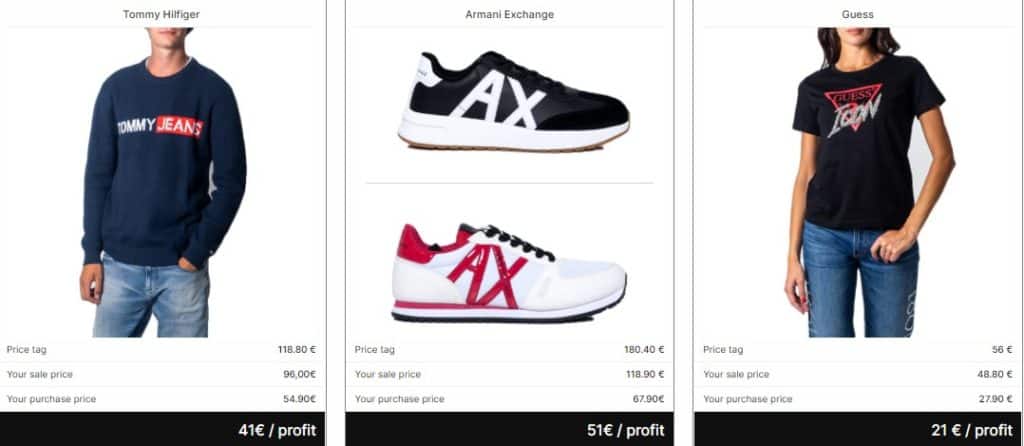 11. Bagzone Ltd – Supplier of wholesale bags
Bagzone is one of the major wholesale handbag providers in Manchester, UK. They import and sell high-quality fashion handbags and wholesale bags at a low and affordable price.
Their design team is in charge of designing beautiful, high-quality fashion bags and accessories that retailers and market traders can buy wholesale from their online stores.
Pros of Bagzone:
big amoung of sub-categories for bags at wholesale prices. Example: vegan bags.
Different verified payment methods.
Free delivery to UK-mainland.
Personalization services are possible
Cons of Bagzone:
not that many products intheir catalogue.
You can see the product prices only after registration.
£5 VAT charge on orders cheaper than 200£.
Minimum delivery charge to all European Destinations of £7.
Minimum order.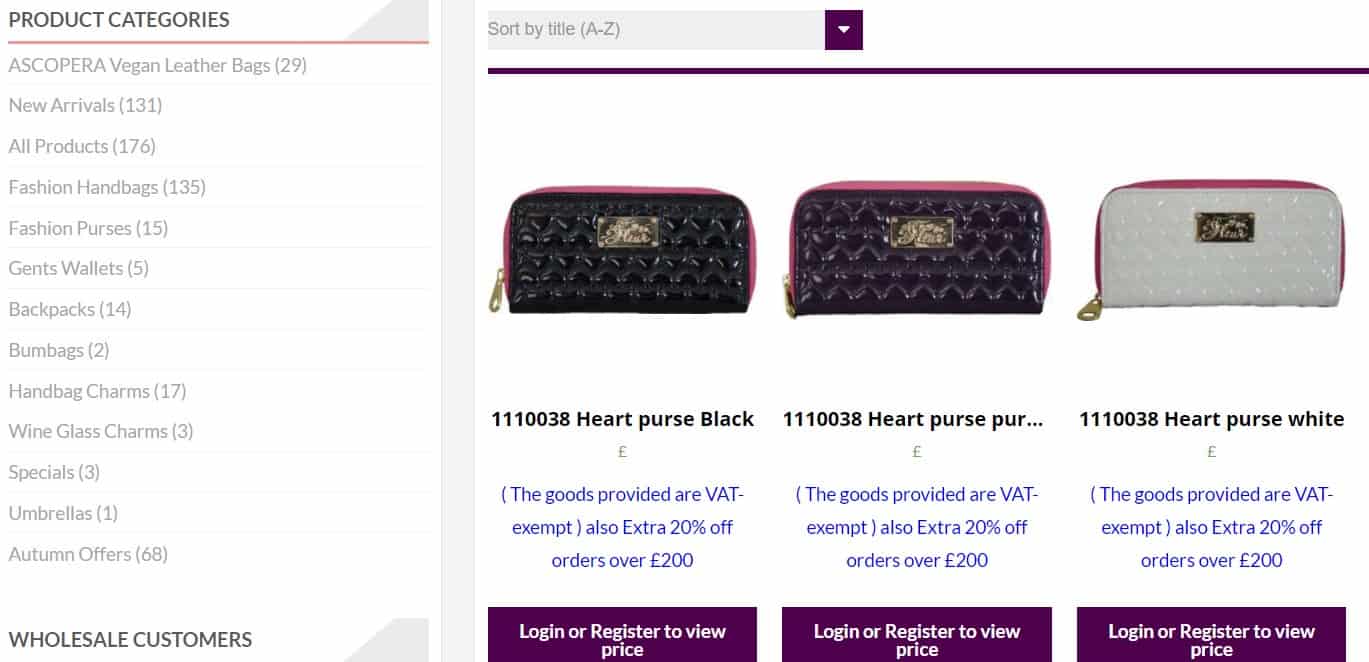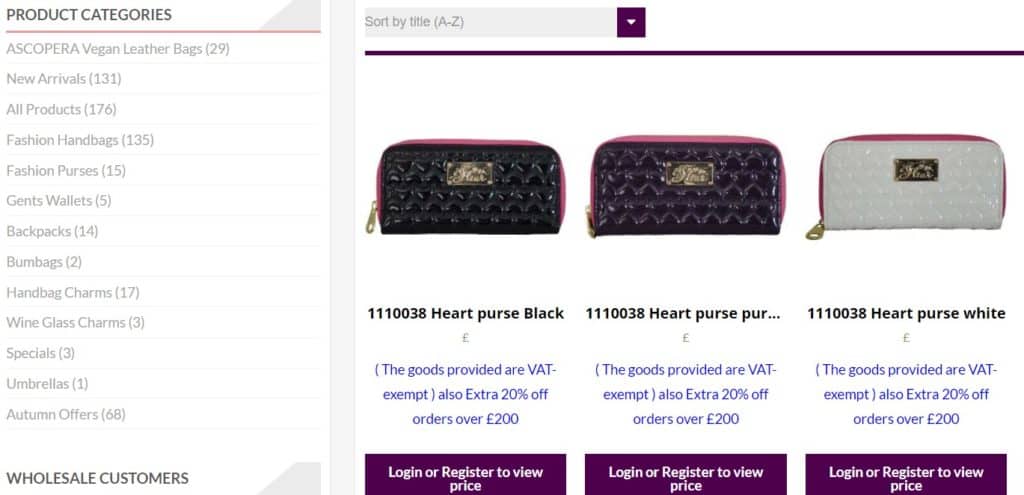 Chinavasion is one of the dropship companies with no membership fees. It covers a wide range of product categories, including electronics, accessories, and gadgets. Chinavasion is concerned about product quality, thus they conduct extensive inspections before allowing vendors to display products on their marketplace. They are so confident in the quality of their product that they offer a 12-month quality guarantee to their consumers.
Chinavasion Pros:
It's free to register, and you won't get charged any extra fees for the dropshipping service.
No MOQs are required.
High stock for all electronics and gadgets.
No minimum order quantity
You will get discounts when your order history increases.
Download Customized Datafeeds.
World-class support service.
A 12-month quality guarantee for all their products.
Professional images and product descriptions.
Offers four tiers of VIP service with extra discounts
Chinavasion Cons:
It has a warehouse in China, so shipping delays can happen.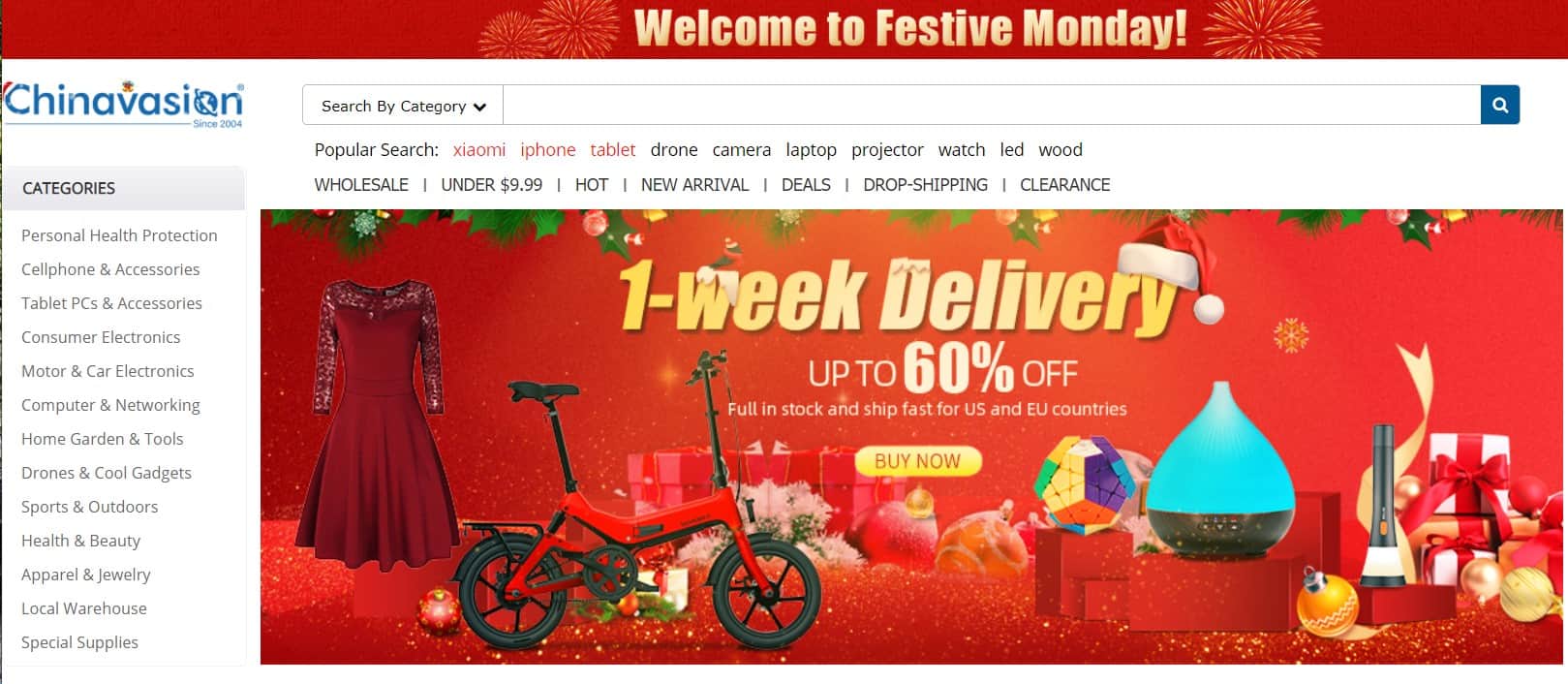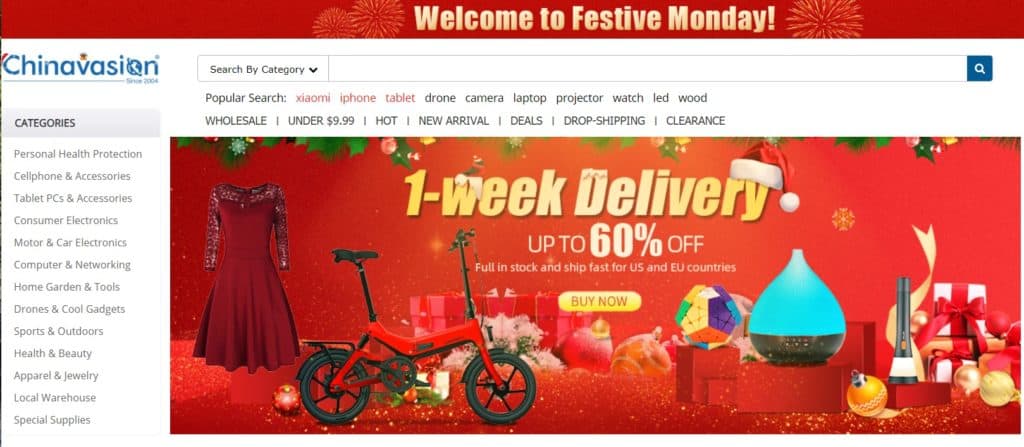 Now when you have some examples of free dropshipping suppliers, pay attention to the things to consider when choosing your product supplier.
What characteristics do good dropshipping suppliers have?
Let's see what characteristics good dropshipping vendors have. In other words, where to pay attention when choosing a dropshipping supplier.
The free dropshipping vendors, we included in this post, were chosen based on the following criteria:
Trustworthy. A reliable dropshipping supplier must be trustworthy. You don't want to work with a provider who makes promises, like one-day order processing, but can't keep them. Since you rely on your suppliers so much in the dropshipping business, make sure you really can trust them.

Fair prices. Making money is the primary goal of dropshipping. A supplier is useless if their pricing does not provide a good profit.

Product range. A provider must have a diverse product selection so that you can pick and test a variety of products. Since anyway, you don't hold the inventory, so you can experiment with different products to find winning ones.

Fast order processing. The top providers will process orders in one day, while others will take two days or more. This can make a significant impact because picking a dropshipping provider with short processing times can save you at least a day in estimated delivery time.

Customer service. When there is an issue with a product or a delivery, it is essential to be able to contact your supplier and receive a quick response in order to keep your buyer informed. So, anytime you work with a new supplier, check their SaaS customer support by yourself. Pay attention to how quickly they respond and how well they communicate in English.

Safe payment method. Check to see whether your supplier accepts secure payment methods, e.g. PayPal. This is one of the safest payment gateways to use.

Country targeting. When selecting a dropshipping supplier, always check to see if they offer shipping to the country you intend to target. Some dropshipping vendors have warehouses in different countries which can cut the shipping time.
As you can see, it's a lengthy list of requirements! However, if you want to be a successful drop shipper, you must choose a free dropshipping supplier which follows these criteria.
So, to summarize, good dropshipping suppliers:
Offer a variety of shipping options, including limited-time delivery.
Take full responsibility for mistakes.
Provide excellent service support.
Process orders on the same day.
Concerned about quality control.
Keep you updated on issues such as delivery delays or inventory shortages.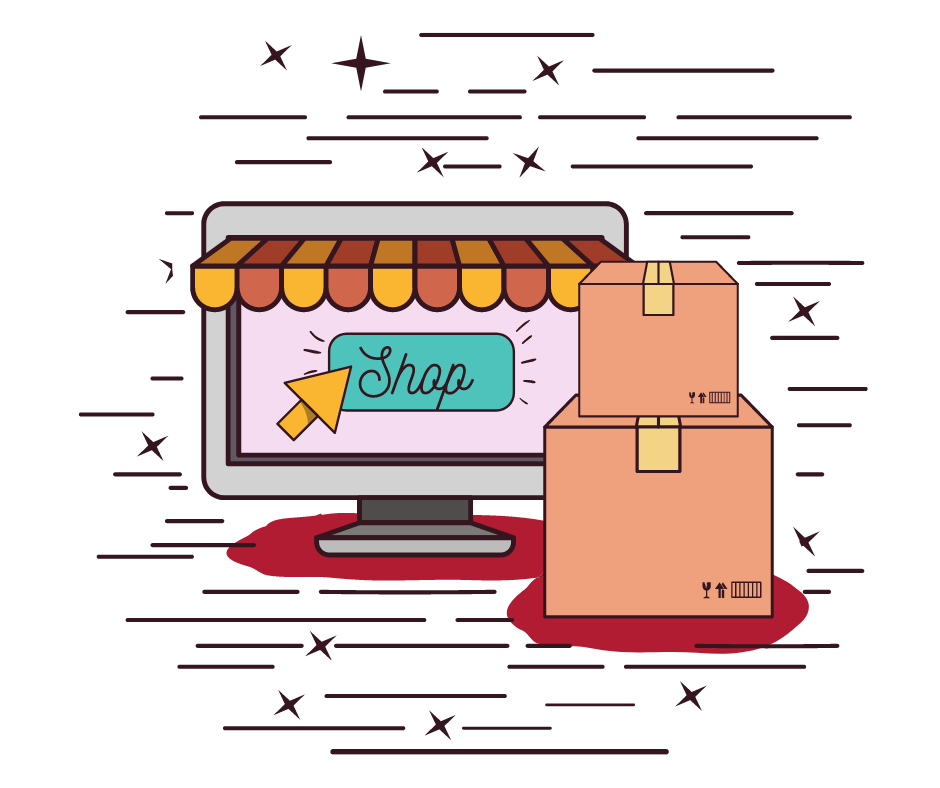 It's time…
Don't wait for success to come. Hire yourself and start your own dropshipping business
What characteristics do a bad wholesale dropshipping supplier have?
Many dropshippers look for wholesale suppliers because they usually are dropshipping-friendly, provide reselling agreements, and provide more affordable prices for their products (which, by the way, they are NOT ALWAYS sold in big quantities). However, not all such suppliers are good. Here is how to detect a bad wholesale dropshipping supplier:
Ongoing fees. Wholesalers will not charge you a monthly fee to do business with them. This is usually an indication of fraud. Wholesalers, as opposed to the companies mentioned in this article, should only charge you when orders are placed.

Pre-order fees. So, what is the usual fee per order? $1 – $4 or more, depending on the product size and shipping method. Because you are probably doing wholesale and bulk orders, your packing costs are also lower. If they charge more, you can renegotiate or walk away.

Minimum order size. The idea is to limit the minimum amount you can buy with your orders. They do this to restrict window-shopping retailers, but it might be a problem for dropshipping businesses because your buyers may not require that many items.

Public selling. One of the most alarming signals is that they already sell items to the general public at "wholesale pricing" on their website. These companies will not provide you with the greatest pricing, so consider avoiding them.
Conclusion
Surely, there are hundreds of more free dropshipping suppliers that we could include on this list. But we wanted to introduce you to the world of free dropshipping and show you that it´s not necessary to pay big money for being in this eCommerce niche. Nonetheless, feel free to check our big list of 55+ free and paid dropshipping sites to find more product suppliers for your e-Commerce or e-marketplace store.
Dropshipping is an excellent business model, particularly for startups as well as small and medium-sized e-commerce businesses. From any of these no membership & free dropshipping sites & suppliers, we hope you will find one that's just right for you to get started.
Know any other good free dropshipping suppliers that are not on the list? Let us know in the comments!