Dropshipping on Walmart, likewise, its greatest competitors eBay, Amazon, and Facebook, attracts a lot of eCommerce sellers who want to get maximum from this e-business. No wonder, the marketplaces have already built their brand, invested in getting big amounts of traffic, and built a good fast site that you can use to sell your products.
While most dropshippers started selling on eBay, Facebook or Amazon, it is worth checking Walmart as well. Being already one of the leaders in the retail business for quite a while, it relatively recently started to cooperate with third-party sellers and allowed to sell products next to Walmart's listings.
Since 2019 up to this date, Walmart has surpassed over 100,000 sellers. Furthermore, Walmart saw a 79% eCommerce growth in 2020 and the numbers have been increasing this year as well. With an eCommerce revenue of 75 billion $US in 2021, Walmart is growing more than 5 times faster than Amazon! All these facts mean that Walmart dropshipping is worth your consideration!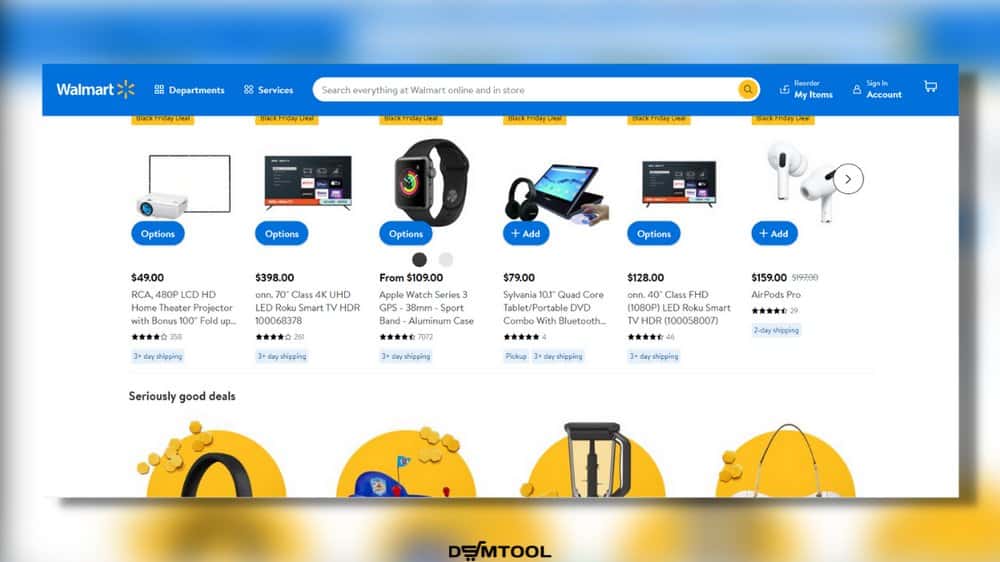 Let's dive into it and see how to sell on Walmart, how to be approved to become a Walmart seller, how to do Walmart dropshipping, and see tools that can be helpful. Besides, let's find out if it is worth it, and get many other useful tips.
Pros of Selling on Walmart Marketplace:
Alright, here's what you need to know when it comes to dropshipping or selling products on Walmart — This is why every eCommerce seller wants to grow their business on this platform:
Expanding your business's reach: One of the biggest advantages of selling on the Walmart marketplace is that there are over 120 million monthly unique visitors worldwide visiting the website according to the media measurement analytics data company, ComScore.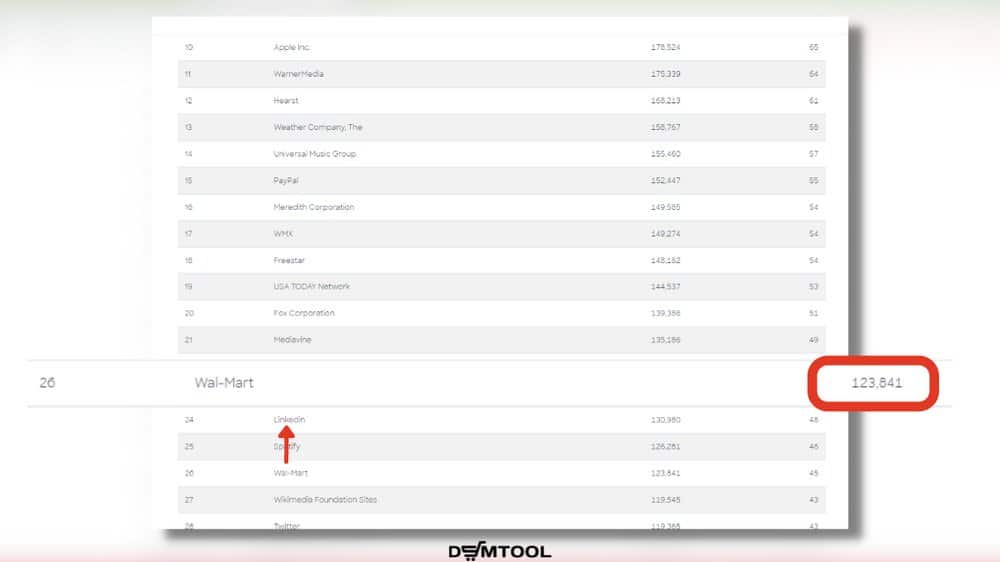 Pay only for what you sell: When it comes to the website's fees, Walmart's structure is very straightforward to the point. For every completed transaction, the seller would have to assume a referral fee that is up to 15% for the majority of categories. Learn more about the Walmart marketplace referral fee breakdown here.

Access to Walmart Marketing tools: Another big advantage of using this retail marketplace is that you have access to great eCommerce tools on your seller dashboard. For example, an advanced listing quality tool which allows you to analyze what are the most relevant metrics you would need to work on your listings in order to gain more organic traffic.

Low competition: Walmart has a high bar of entrance, not anyone can become a seller on Walmart — trust me! A seller must complete a set of prerequisites in order to submit an application form and get Walmart to approve of them. This means that the competition level in terms of quantity of sellers is limited. Therefore any Walmart seller will have a good chance of making sales on a month-to-month basis.

Higher profits: Walmart marketplace offers a profit margin between 20-45% to sellers — that's a juicy profit margin percentage if you ask me! Any seller who does their due diligence in terms of applying proper selling practices, could easily hit a high profit margin.
Of course, you will also face disadvantages on Walmart dropshipping. For example, similarly to eBay dropshipping, you would need to build a good seller rating to be able to get more traffic and potential sales to your listings.
Secondly, Walmart has certain requirements for listing prices. Because one of their goals is to offer the best prices to their shoppers.
So how to start selling on Walmart?
How to sell on Walmart

?
Alright, so far you've got a general overview of what Walmart offers to sellers. Let me explain how you can start selling on the Walmart marketplace.
First off, unlike eBay where you can easily open up a seller account, you would need to have a couple of things before you enter Walmart.
The Walmart marketplace is a selective eCommerce platform that seeks respected, professional sellers who offer only top-quality products. Therefore, you need to get approval from Walmart firstly. For that, you need to fill up an application form where Walmart wants to know if you will be a good fit to enter their online retail marketplace.
Overall, you can start to sell on Walmart with 5 steps:
To fill the application, submit it to Walmart com and get an approval.
Normally it takes 24-48 business hours to get a response from an agent.
To sign the retail agreement.
To complete your seller profile and connect your payment account.
To pass the onboarding process and add your eCommerce products.
To request launch to get a final review.


Let's start off with the application process which takes between 10-15 minutes to fill up. Here are the things you need to have ready in order to get Walmart's approval — so pay close attention!
Step 1 Application process: How to get approval to sell on Walmart?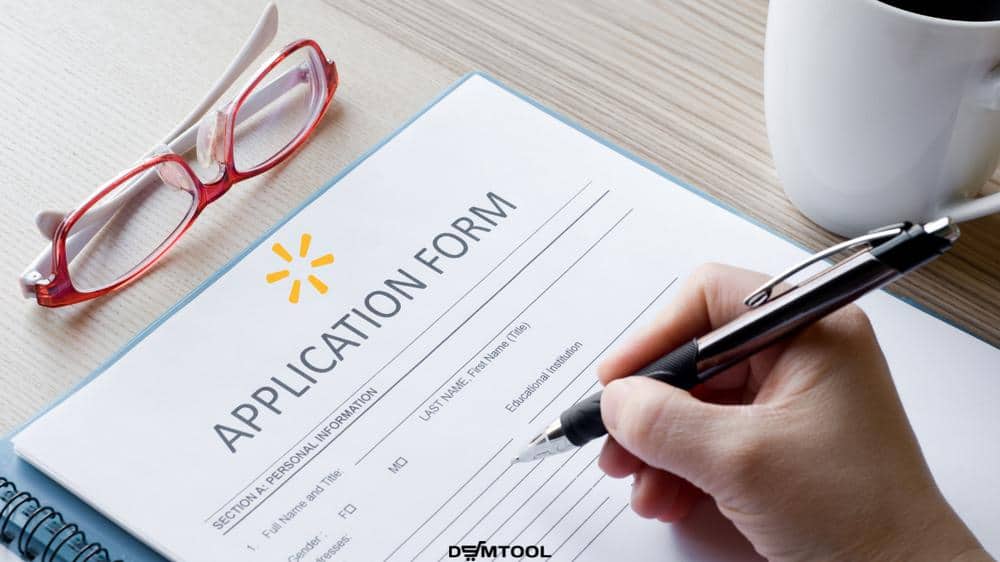 The required information any marketplace sellers will need on the application process are the following:
US Business Tax ID: In other words, you would need to have a legitimate US based business registered with an Employee Identification Number (EIN). Social Security Number does not count.
In this case, you have different types of corporate structures you can register:
— You can get your business registered here!
W9 tax form: This is a document in which it will request information of the individual and the business. You will need to report your income, your business and/or warehouse physical address, how much you pay on taxes, contributions made, etc.

Product catalog: You need to present Walmart the list of products you would want to sell. It is important that your product stands out to make an appealing offer to Walmart. Look for items that are not in a saturated niche within the marketplace and that don't violate Walmart's prohibited products. An example of a good category to look into would be Home & Garden, Baby Products, Healthy Choices, etc.
— Continue reading to understand exactly how Walmart's market works and how to properly product research.
eCommerce history: Walmart is looking to incorporate sellers on to their marketplace who already possess eCommerce background such as selling on eBay or Amazon.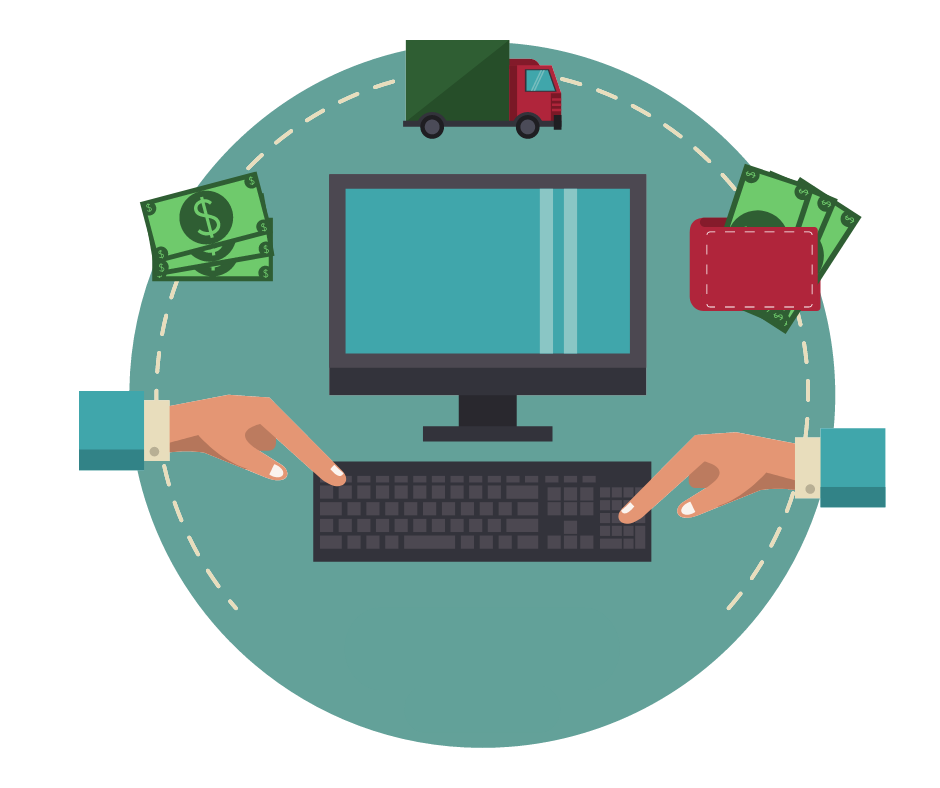 Not yet making money online?
Start your own dropshipping business. Sign up for a free trial of DSM Tool and we'll help you get started. Today is the day.
Bear in mind that providing as much information as possible about your business will save you some time afterward. That way, you avoid any back-and-forth with Walmart in order to fill any gaps on the application form — trust me, you don't want to delay this process.
Once you finish the application form and you submit it to Walmart, simply wait up on their final response. If everything goes well, you will then be admitted to their online retail website in which you will need to start the business registration and Onboarding completion process.
Registration process on Walmart marketplace: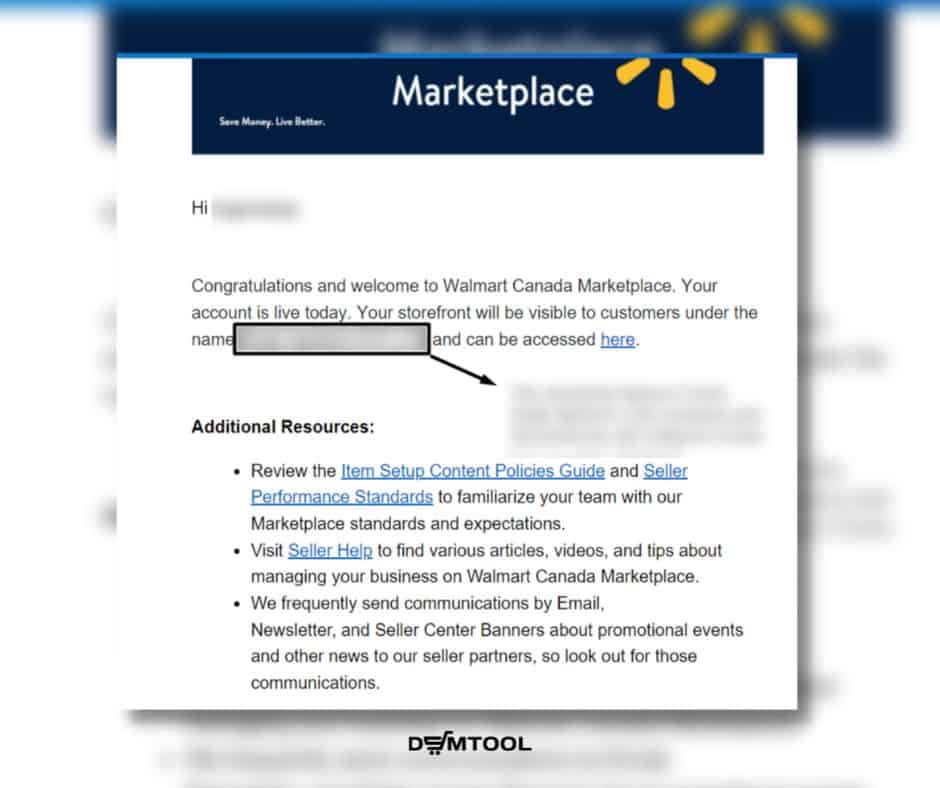 So now you received Walmart's approval — congratulations, you're in! Now it's time to properly register your business on the Walmart marketplace.
You will initially receive an email from Walmart in which you will find a link to start the registration process. These are the steps to take when it comes to registering your online business:
Account creation.
Walmart Retailer Agreement.
Company registration.
Tax form.
Payment processor.
Shipping information.
— Let's briefly discuss each point.
How to create an account on the Walmart marketplace:
The first you'll do is the most common thing to do when it comes to creating an account — establish your user name along with your password on this page.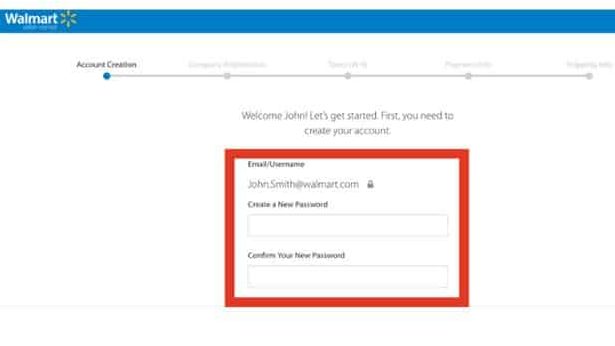 Step 2 Walmart Retail Agreement
This is a legal agreement between the seller and the retailer Walmart. In this case, you'll find documentation with every term and condition the Walmart marketplace has. Please, make sure you read it carefully in order to understand and comply with the terms.
You can already see that simply entering Walmart is hard enough, so avoid breaking their rules if you want to have a successful business or successful Walmart stores.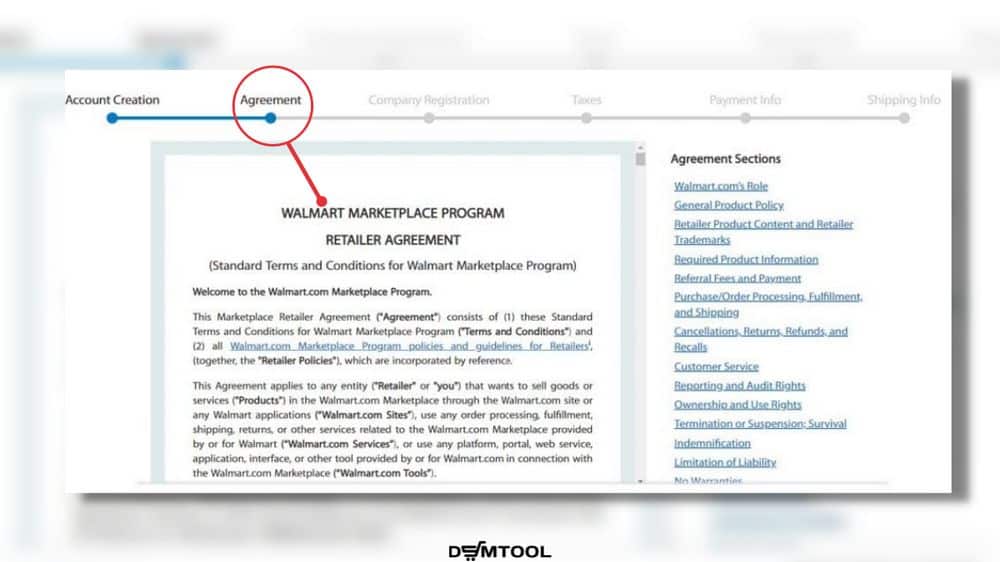 Step 3 Complete your Walmart seller account
3.1. Company registration:
It's time for you to officially register a business. Make sure you place the same name as the one you registered your corporate structure and placed it on your application form, to begin with (LLC, S Corporation, C corporation, Partnership or Non-Profit) along with the same physical address.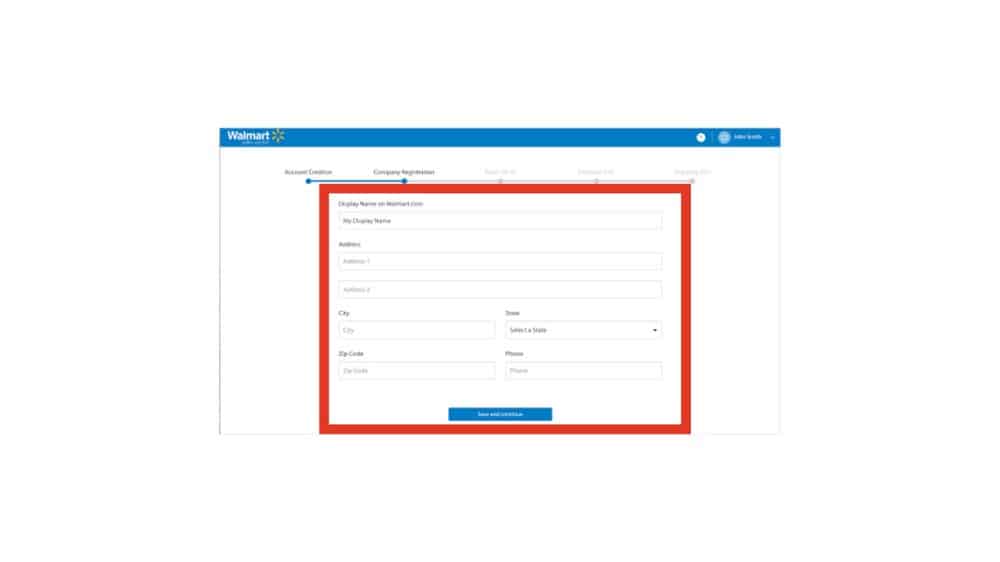 3.2. Tax form:
In this section, you would need to fill out the W-9 form for tax purposes. The required fields are:
Full name,
physical address (same one as your business),
Taxpayer Identification Number (TIN).
3.3. Payment information for the Walmart seller account:
Walmart partnered up with Payoneer and Hyperwallet which is a PayPal service provider. This means that you'll have only those two options to receive your payments.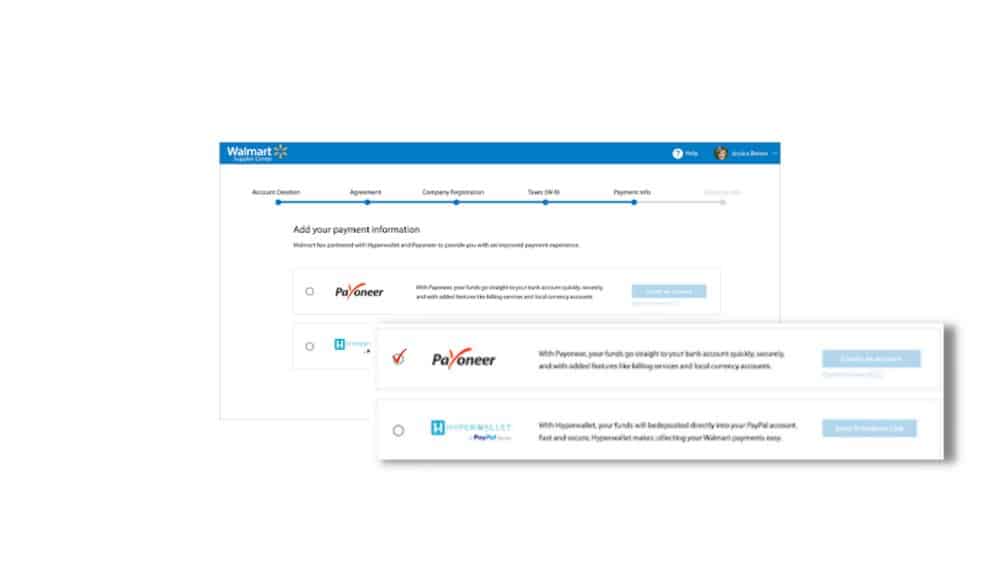 3.4. Walmart Shipping information:
Before launching your Walmart store, you will need to select your shipping method, set if you will be giving free shipping, and how you will overall fulfill orders, etc.
Time to go LIVE:
Once you've finished completing all of these steps, it's time for you to start building up your Walmart store and start gaining traffic along with sales.
Walmart Dropshipping
That is why I want to start addressing how to target your audience, how to upload your inventory, work on your listings, customer service, inventory management, ship products, etc. — Especially to every seller who gets into the Walmart marketplace dropshipping!
Alright, first off I need to answer the most common question every dropshipper has — does Walmart allow a Dropshipping store?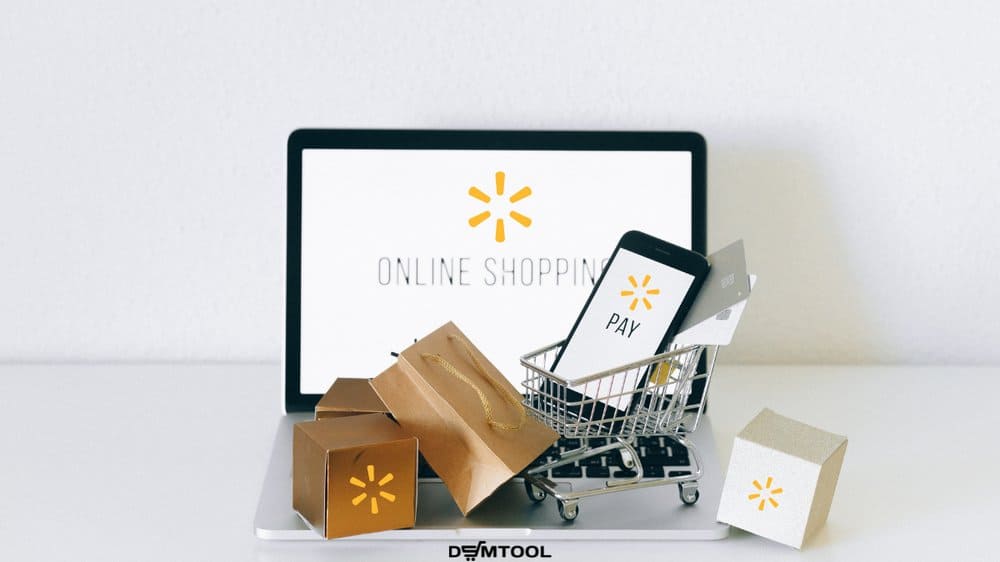 Does Walmart allow Dropshipping?
Well, Walmart allow only certain types of dropshipping. Sellers can dropship on Walmart under three main categories:
Walmart Dropship vendor (DSV).
Reseller Walmart items through other retail websites such as Amazon or eBay.
Selling dropshipped products on Walmart com.
The classical retail arbitage model, where you resell products from third-party suppliers on this eCommerce marketplace, is not allowed on Walmart.
We will discuss all of these 3 options further.
However, before diving into this topic, I'd like to point out that even though Walmart Dropshipping is possible, it is not quite the same as dropshipping in other marketplaces such as eBay — and here's why:
Walmart Dropshipping vs eBay Dropshipping:
When it comes to retail arbitrage also known as dropshipping, all you need to do is find a demanded product with a low competition level and source it for a lower price on another retail website.
On eBay, this is not completely allowed, however it is possible to simply create a seller account and start sourcing profitable products to dropship. When it comes to Walmart, you need to first enter the marketplace through a verification process and then you're only allowed to dropship items through third-party suppliers.
Differences between Walmart Dropshipping and eBay Dropshipping:
Let's start off by addressing the elephant in the room. As previously mentioned, starting a traditional dropshipping business on eBay is easier than trying to start off on the Walmart marketplace.
According to Walmart's terms, they reserve the right to prohibit sales from resellers from Walmart or other retail marketplaces — also known as dropshippers.
For example, If you directly list a product from another website such as AliExpress, Amazon, Facebook, or eBay applying a markup price in order to profit, or you decide to purchase a product from Walmart with the sole intention of engaging in a commercial transaction to a user.
If Walmart catches you doing this, they will immediately cancel your orders and suspend your account. That is why you may find dropshippers complaining about this issue on Dropshipping forums.
Furthermore, if you're marking up your prices to make a profit, your customers will realize they can just buy for a lower price straight from Walmart — trust me, you will find racional buyers who will be able to notice this.
That is why it is not that easy to apply this dropshipping model on the Walmart marketplace. Not to mention that there is a process of simply entering the marketplace in order to become a seller.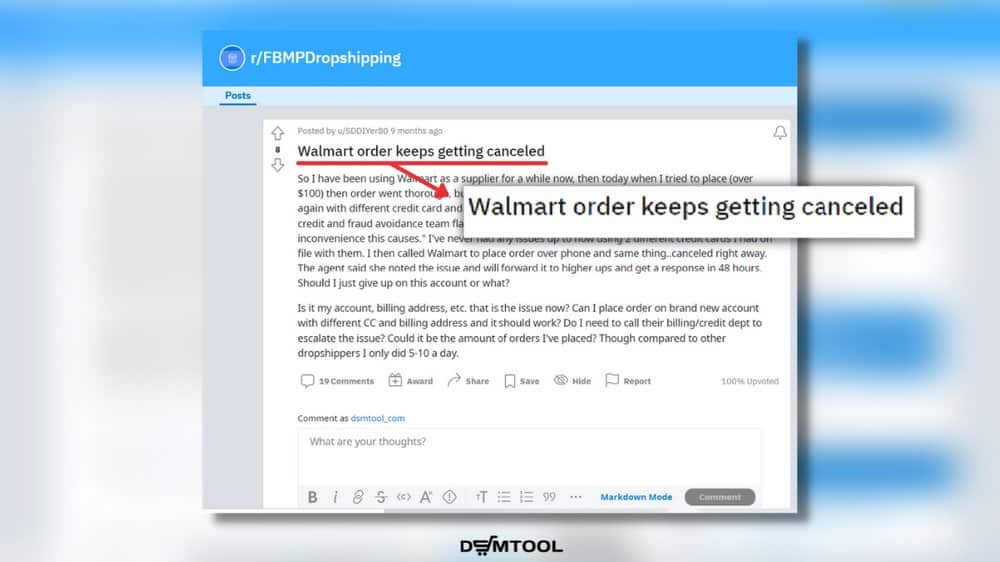 Now, don't get me wrong, eBay doesn't allow sellers to list items from other RETAIL websites either. That goes against the eBay Dropshipping Policy.
However, it is much easier to apply this model. Not to mention that there are numerous ways to avoid eBay suspensions.
Moreover, a dropshipper can source highly demanded items with a low competition level on eBay on other platforms such as AliExpress for a substantially lower price. Not only that, there are other providers such as CJ Dropshipping that'll offer good products to sell for a considerable price as well.
So, in essence, a dropshipper has more chances of starting a business on eBay with more options in terms of suppliers to source from.
Please note that dropshipping on eBay it's not only easier in terms of retail dropshipping, but it is also cheaper. You see, when you dropship on Walmart, you need to choose wholesale suppliers — therefore buy inventory ahead in bulk.
Furthermore, when it comes to Walmart dropshipping, you would also need to invest in a monthly fee depending upon the supplier you choose to work with. Not to mention that it is required to work with a Shopify store on this Marketplace.
This is important to point out because a lot of dropshipping beginners don't have the capital to make a substantial investment nor the experience. That's why I would advise you to start dropshipping on eBay — if you don't have enough working capital to start your own business.
To summarize, here is a table of comparisons between these two eCommerce marketplaces when it comes the traditional dropshipping method: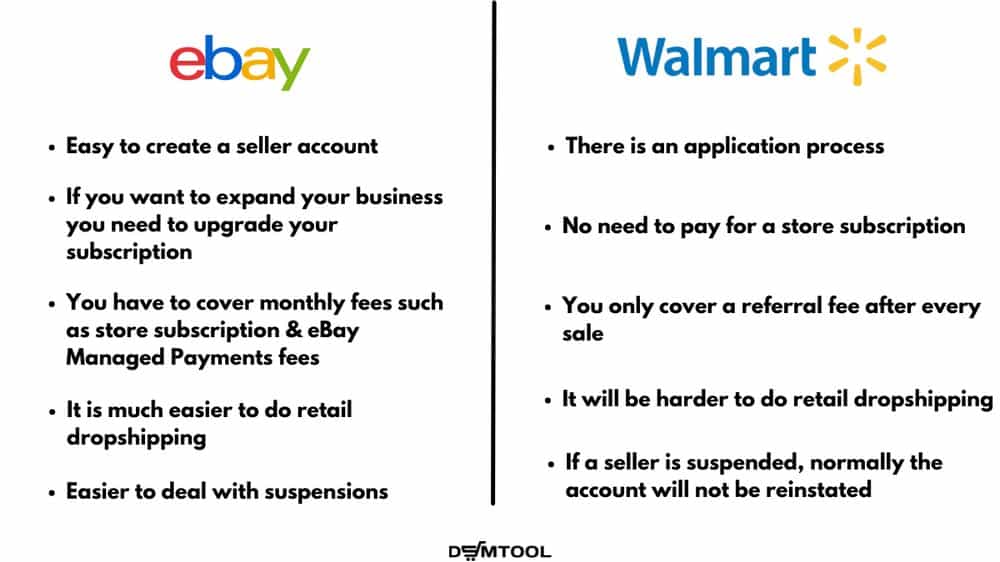 If you're a complete beginner I would recommend you to start your dropshipping business on eBay — it's much easier to start things off.
Even though eBay doesn't allow this practice, you can still use the online retail arbitrage as previously mentioned. In this case, you can use a US retailer such as Walmart as your main sourcing site.
I would recommend using a Walmart to eBay dropshipping tool such as DSM Tool that'll allow you to scope up the best selling products and list them on your store. Furthermore, you will be able to automate your workflow and overall manage your store properly.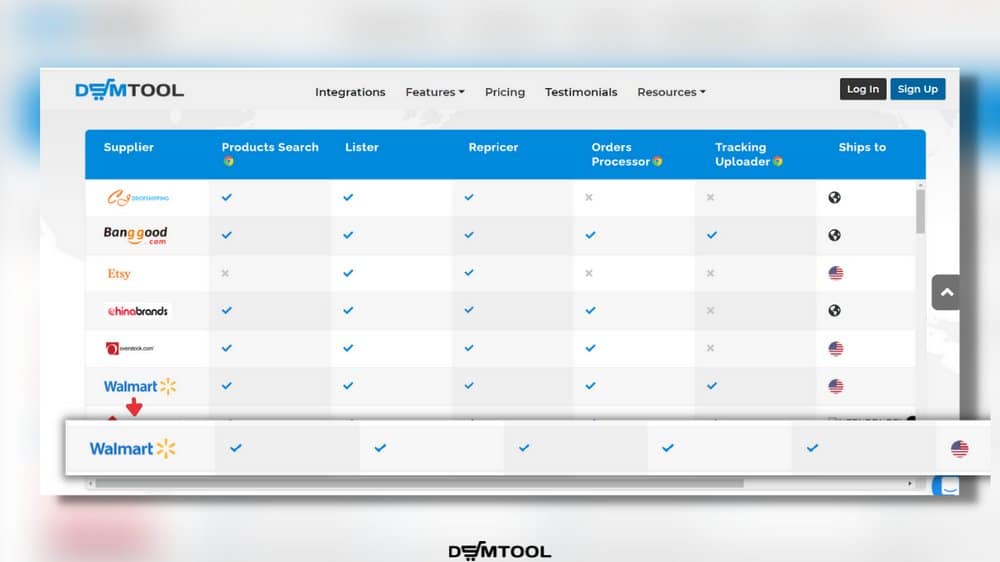 If you use Walmart as your sourcing website, it's important that you establish the correct shipping policies with the correct handling time. If you're in the US and you're dropshipping in USA, you review Walmart's estimated delivery time frame.
Walmart can vary the delivery time from 2 days for qualified products to 8-10 business days for standard shipping or 6-7 business days for expedited delivery (it has an additional cost).
How to dropship on Walmart
Alright, if you decide to start your dropshipping business on the Walmart marketplace, then the question is, how can you dropship on this marketplace since it is not allowed?
Well, the regular dropshipping model is not allowed, however, you should know that Walmart allows sellers to dropship under three main categories:
Walmart Dropship vendor (DSV).
Reseller Walmart items through other retail websites such as Amazon or eBay.
Selling dropshipped products on Walmart.com.
— Let's take a look at each aforementioned category.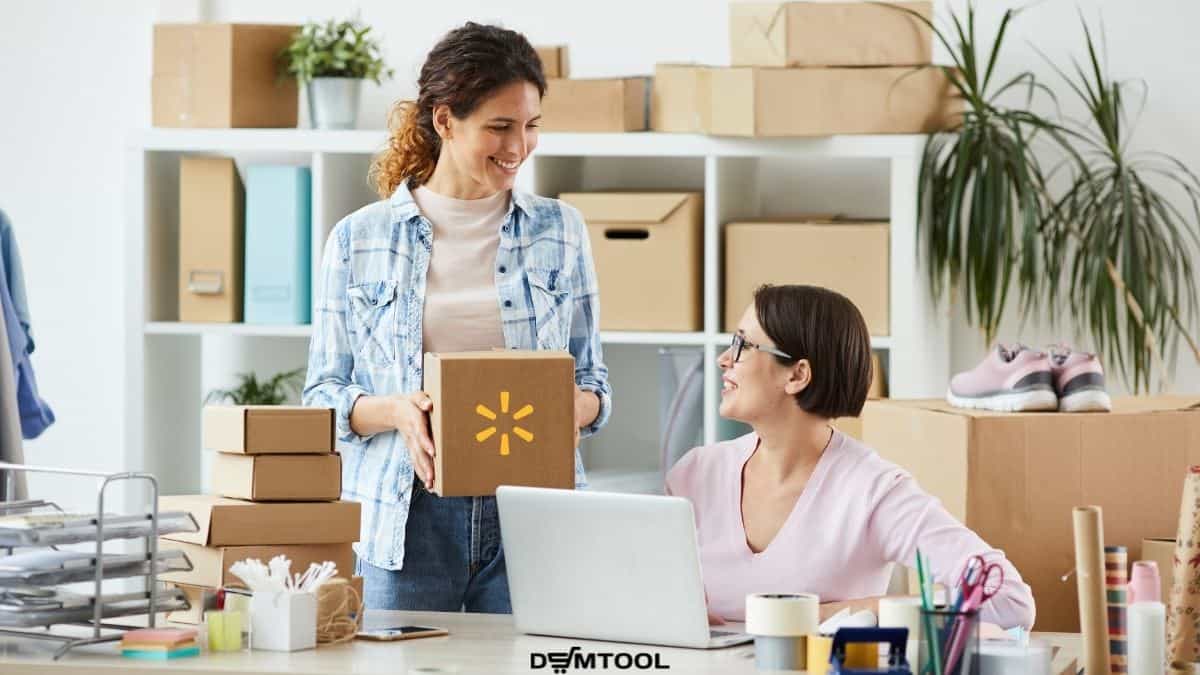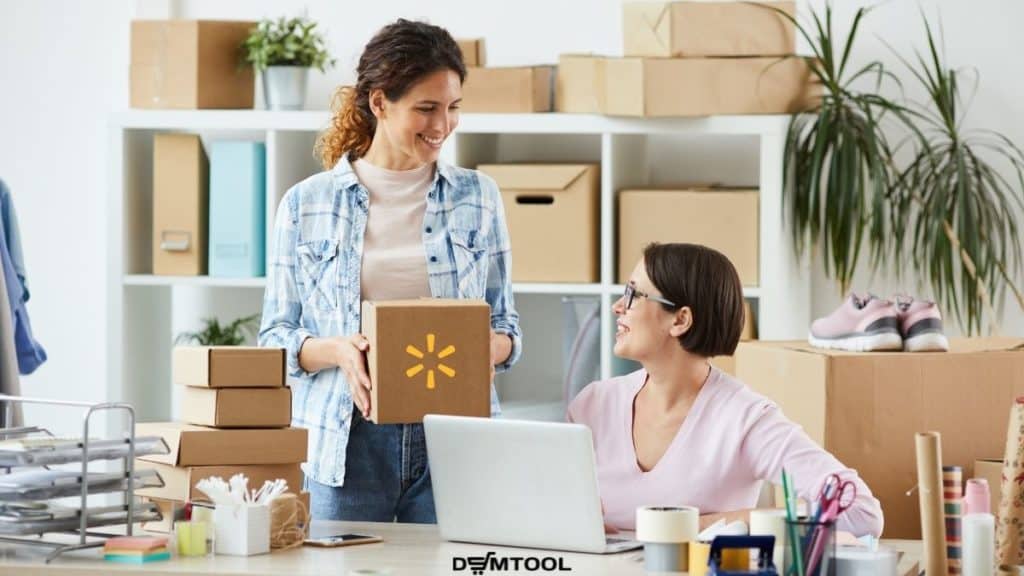 Walmart Dropship Vendor Program:
Walmart marketplace has an interesting program that allows online entrepreneurs to dropship by becoming the "official" suppliers of the company. In other words, the seller will act like a manufacturer or a wholesaler supplying products to Walmart.
In this case, you'll have two options: You either send the products you're selling directly to a Walmart warehouse or you can ship it over directly to the buyer. The cool thing is that when the product is shipped out, it'll include Walmart's packing slip.
Advantages of being part of the Walmart Dropship Vendor Program:
There are four major advantages of this program. Let's review them all — perhaps this might interest you.
Ship to store:
An interesting approach Walmart offers to their customers is that they have two options when it comes to delivery: They can either have the product delivered to their home address or they can conveniently request the product to be delivered to the nearest Walmart store.
So, every seller who's in the Dropship Vendor Program will be allowed to use the Ship-To Store option in Walmart com.
Sold by Walmart:
This advantage is basically based on the customer's credibility — let me explain.
Suppliers in this program will be able to list their items on the marketplace under the "Sold by Walmart" category making it look like Walmart is directly selling that product.
For the buyer, this will certainly add some credibility to the item, not to mention more confidence to purchase it from "Walmart" than from a third party.
Free shipping:
One of the coolest things that this program has to offer to sellers is that there are no shipping costs, Walmart will cover all of the shipping expenses. That means that when sellers list their products, they'll be able to list them with "free shipping".
Buy Box:
The buy box feature consists of a small white box on the right side of Walmart's product detail where buyers can add products to purchase in their cart. Different sellers will offer a variety of prices for the same item on their listings. Walmart will focus its attention and boost any seller who offers the most competitive price.
Being this said, the topmost contender will be able to win the Buy Box feature. When a buyer clicks on the "Add to cart" button, this top seller's products will go into the buyer's cart.
Anyone who is in the Dropship Vendor Program will be able to have enabled this feature.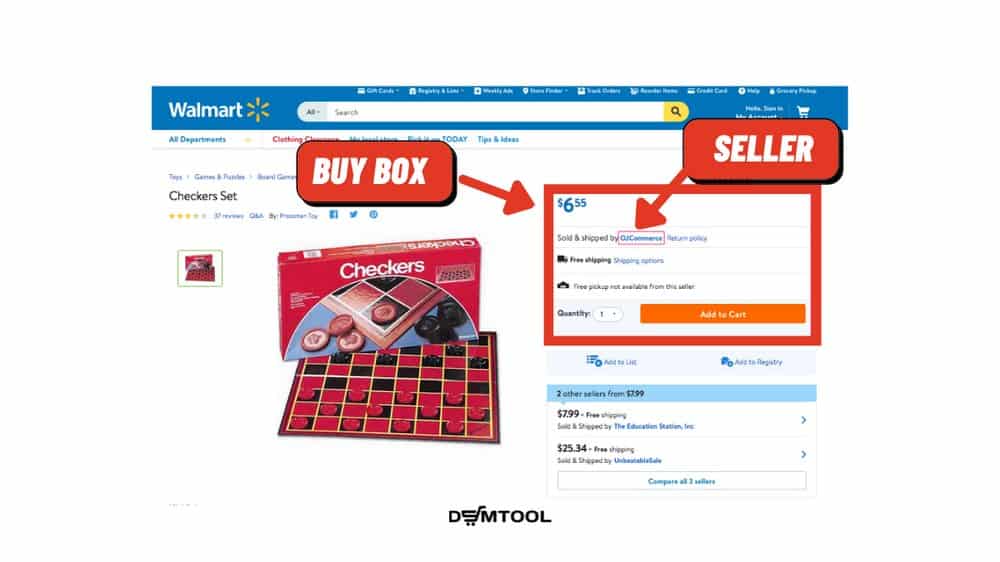 Disadvantages of the Walmart Dropship Vendor Program:
Just like anything else in life, there are pros and cons to every situation. We just reviewed the advantages of this program. However, it is fair to point out that there are a few disadvantages as well.
Let me briefly explain the drawbacks of the Drop Ship Vendor Program:
Application process: Unfortunately, the process of getting a verification from Walmart and joining this program is quite long. Walmart has a thorough process in order to check every vendor selling under their brand — and it's completely understandable!

Chargebacks on returns: Being a drop ship vendor will mean that there are higher risks receiving costly chargebacks. When a supplier sells a product under Walmart's brand, a customer might return it due to damaged goods. Walmart will liquidate the returns and the seller will receive a high cost chargeback for refunds.

Warehouse items: Part of this agreement is that every item is shipped out from the supplier's house. Walmart will not keep the products in any of their distribution centers. This means that any added cost (without shipping) will go to the vendor.

Walmart will be in total control: Even though it is nice to think that your items will appear under Walmart's brand, this will give them total control over how the products will be showcased on the website. This includes how your listing will be shown on the product's page, shipment methods (every order will have to be shipped via FedEx), etc.
Apply for the Walmart Dropship Vendor Program:
If you went over the pros and cons of this program and you've decided to go ahead and give it shot, here's what you need to know in order to apply:
First, here's a quick checklist that you'll need to provide to Walmart:
Tax ID information
DUNS number
Banking information
Product information
Global Location number
RFID onboarding
After having everything needed, create your account here. Afterward, simply wait for their reply — remember, it might take some time!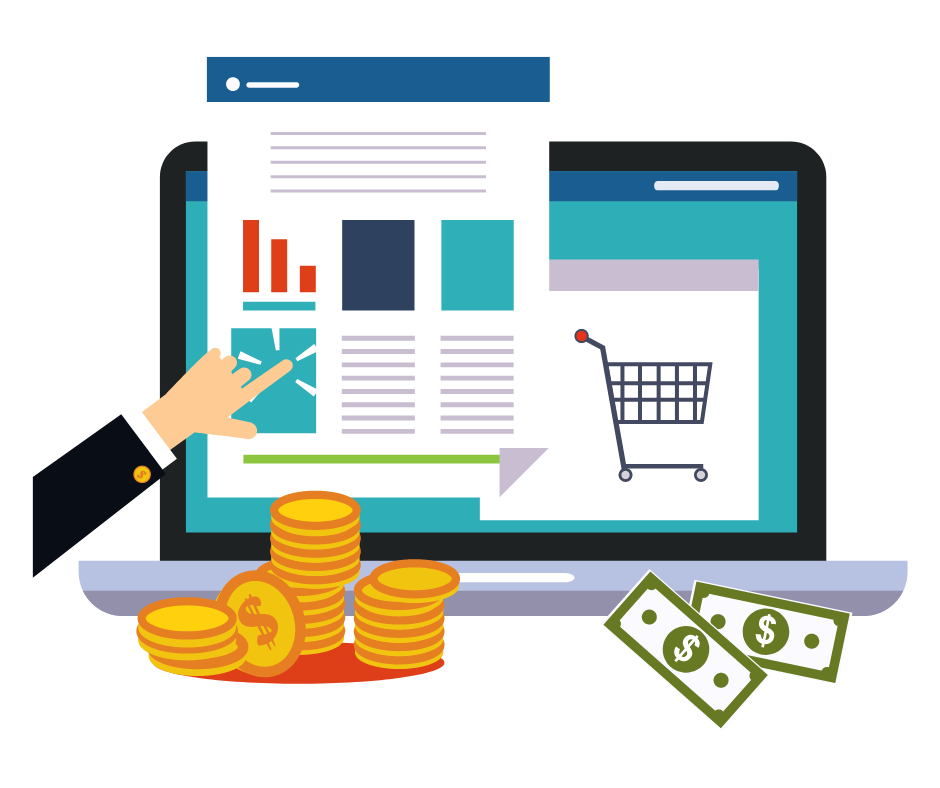 Don't wait for the profits, make them!
Start a profitable dropshipping business with DSM Tool. Get a free course and a free trial of the software.
Reselling Walmart Products
In this case, the way you go about this approach is by purchasing products from the marketplace and then having them shipped directly to you. From there, you'll have to send it over to your customers.
In other words, it is basically purchasing inventory ahead in order to resell it somewhere else.
Dropshipping on Walmart Marketplace:
Dropshipping products from Walmart directly to customers isn't allowed. However, dropshipping on Walmart's platform is completely permitted.
When it comes to Walmart dropshipping, it is important to point out that this model is a hybrid between the aforementioned "Walmart Dropship Vendor Program" and the "Reselling Walmart's Products" approach.
Walmart will purchase your product from you at a wholesale price and list the items on Walmart com — just like the Drop Ship Vendor Program.
The company will then handle everything when it comes to listing optimization, pricing, etc. However, in this case, you as a dropshipper will be able to control your own inventory and you will be in charge of shipping the items off to your clients.
Is dropshipping on Walmart worth it?
Even though Walmart marketplace is a tough market to hack into even for regular sellers, dropshipping on this eCommerce website might be a little complicated. Although done correctly it could be advantageous.
The best thing about this marketplace is that you will get access to a reliable ecosystem of high-quality products along with fast shipping timeframes and good customer support.
According to Walmart's report on Q4, the annual revenue was nearly $560 billion. This means that Walmart marketplace has gotten a 69% eCommerce growth in sales for the year 2020-2021. As previously mentioned at the beginning of the article, Walmart is relatively close to other huge marketplaces such as Amazon.
Being that said, let's quickly cover the main advantages of dropshipping on Walmart com:
Low expenses: Unlike eBay; For example, Walmart doesn't have a monthly fee for creating a store. You would only have to cover a referral fee when you make a sale. This would be between 8-15% depending upon the category you choose to sell in.

Fast shipping: Walmart's shipping logistics partners can ship out items to your clients almost immediately with a next-day delivery option (expedited shipping).

Launch quickly: The best thing about Walmart dropshipping is that it takes off the edge of focusing on store creation or branding your store on the marketplace. That way you can only focus on growing your business, by increasing sales, revenue and profits.
How to make your first sale in Walmart marketplace:
Let's dive into the essential steps of getting your business up and running. First, it is important to understand that you would need a third-party supplier which could be a Wholesale supplier.
But before I dive into this subject, it is important for me to address Walmart's user behavior. This is relevant because if you understand Walmart's market, you will have a compass as to what type of dropshipping products are demanded — therefore what type of products you'll add to your listings.
Understand Walmart's target audience: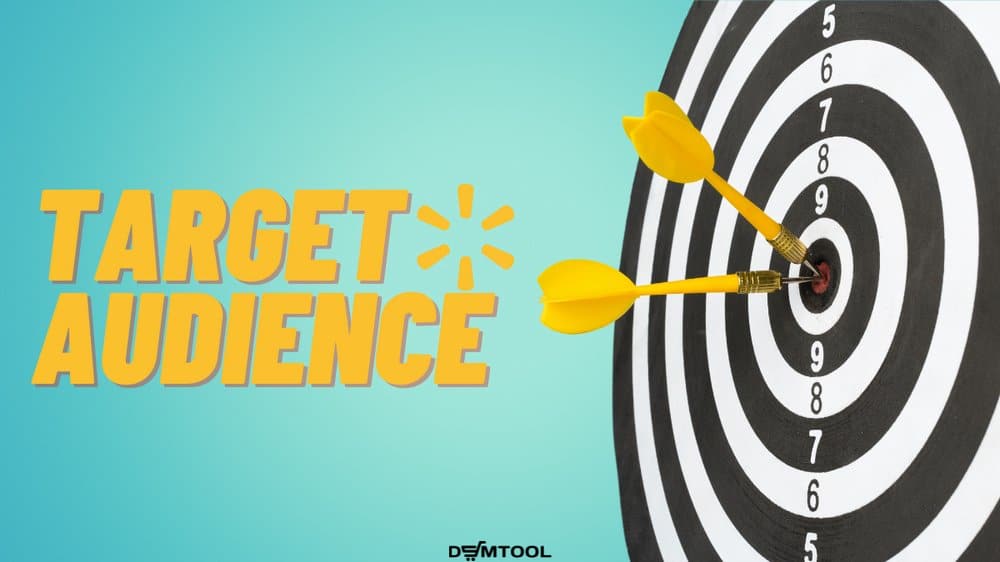 You might think that it is not that important to understand Walmart's target market since you just simply want to know what are the best products to dropship rather than getting to know the consumers.
However, from a Marketing perspective, it is very important. In fact, this way you'll know what Walmart's buyers want therefore you will be able to offer it — make sense?
Buyer Persona:
In order to dive into Walmart's market, it is crucial to get to know the audience that is constantly navigating the website.
When it comes to Marketing Segmentation strategies, there is a tactic to pinpoint the type of users the company, in this case Walmart, is looking to target.
Buyer Persona is the fictitious representation of the ideal client. It is based on real data about the behavior and demographics of the customers, as well as a creation of their personal stories, motivations, goals, challenges and concerns.
Walmart Marketplace Buyer Persona: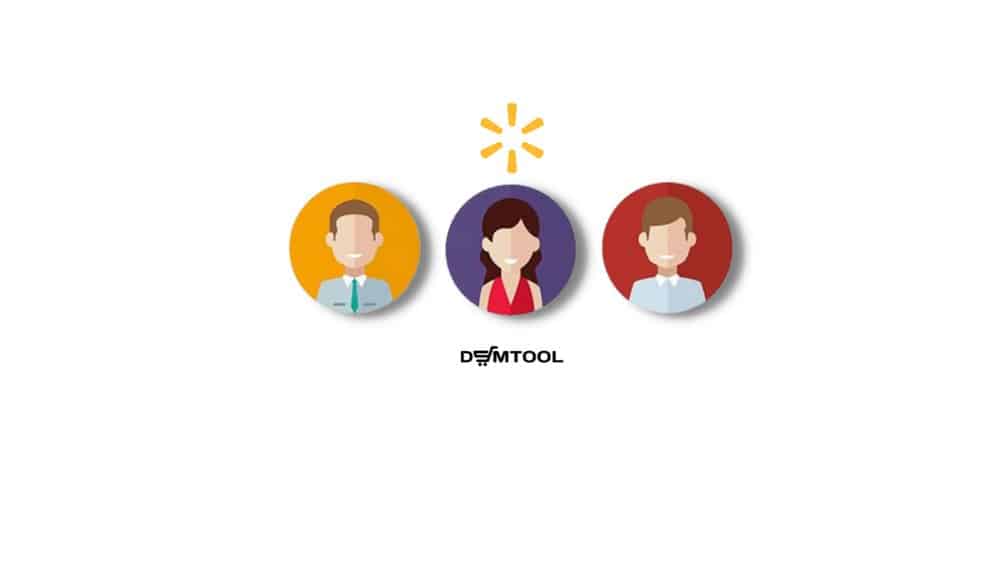 The Walmart marketplace audience is different from the in-store consumer. More than half of online shoppers have a medium to high income. Moreover, the majority of these consumers are between the ages of 23 – 38 — in other words, consumers from Generation Z up to Millennials.
As more consumers are staying indoors nowadays, Walmart is more focused on building a great user experience online. That is why the website is able to offer a number of buying options, including buy-online-pickup-in-store, prime memberships where the user will be able to have free deliveries included on their orders over $35, and other perks.
Let's take a closer look at the variables of Walmart's Buyer Persona. The information I am about to present are stats found on the 2020 Anual Walmart Report:
Demographics: Walmart reports that a little over a third of its online shoppers are between the ages 23 and 38. Furthermore, the majority are married or partnered with kids.
Buying power: More than half of Walmart.com buyers are homeowners of medium-to-high household incomes.
Motivations: Although discounted prices and the promise of a good deal are driving factors for purchase on Walmart, online grocery sales drove a majority of the website's recent eCommerce growth.
The best category to sell on Walmart Marketplace:
As mentioned above, one of the best categories is groceries. According to the user's online behavior, the majority of them are looking for online grocery hauls. This is why I want to address the importance of knowing the market. That way, you'll have an idea on what type of products to sell.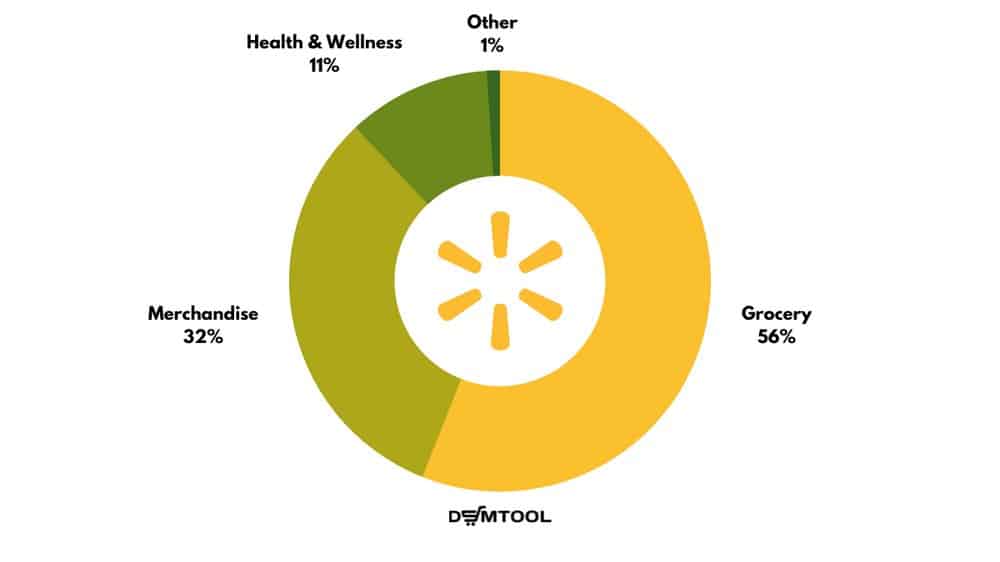 — Learn more about Walmart's customer demographics here.
Walmart Product Research: Find a supplier & profitable items to sell.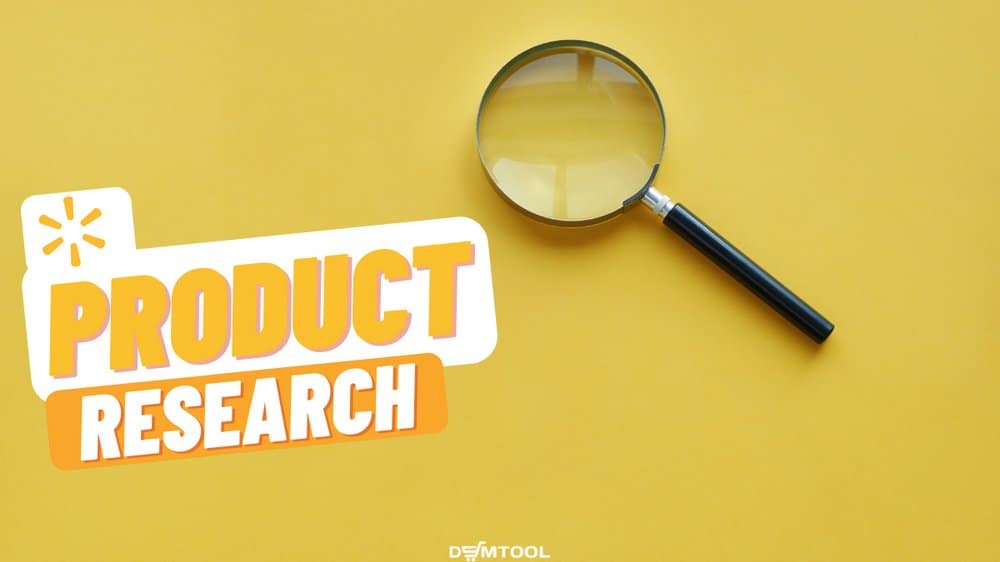 Taking your time to understand exactly what types of products you can sell on Walmart is crucial in the long-run. So now that we know what type of online shoppers are constantly visiting the website, it's time to prepare some offers.
One thing I need to quickly point out is that unlike eBay, Walmart does not accept used, vintage, or even handmade items — also be wary about what type of products are prohibited on the website. Learn more about it here.
Scope the competition:
It's important to look for items that are already for sale in the target market. Look how many results appear when you enter the relevant keyword. For example, Grocery.
See what's the tendency of the search results and you'll get an idea of what you might be able to offer.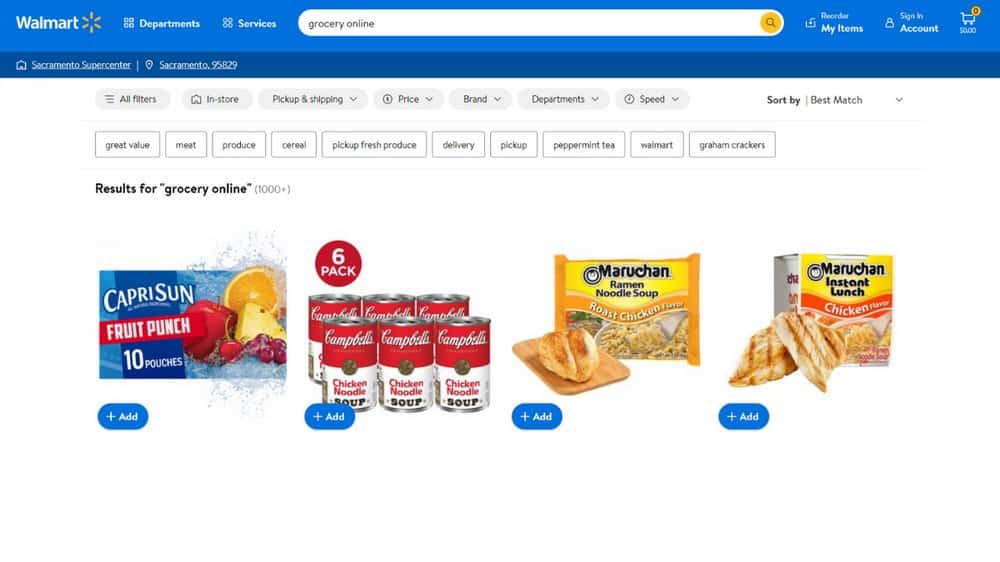 Pro tip:
Click on the "Best Sellers" filter on the left side of any search results page to easily identify best-performing items.
You can also check out "Walmart's Growth Analytics" where it can be found on your Seller Center and you'll be able to hack into Walmart's analytics where you can find the best selling items.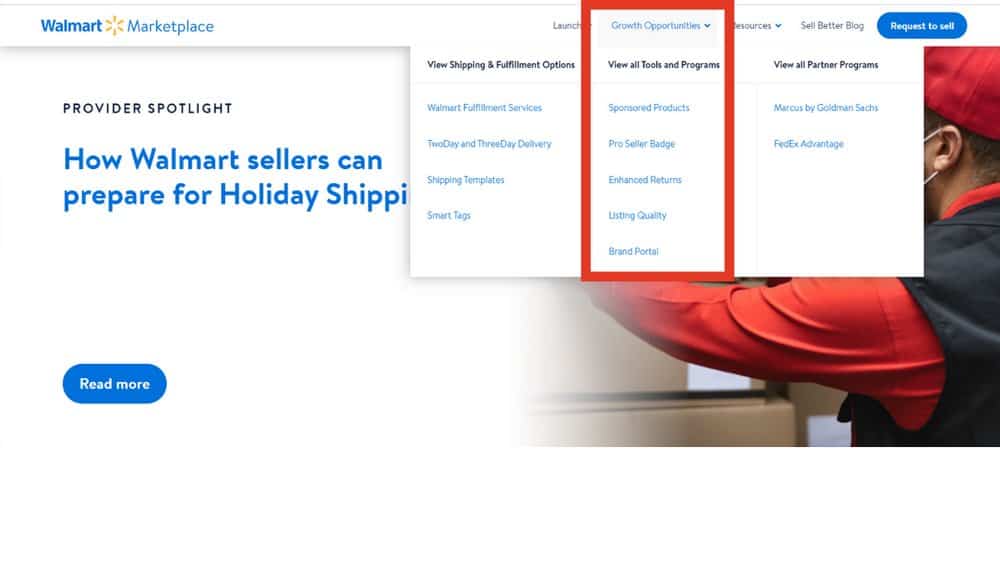 This report will show you a ranking of products within any given category, brand, number of reviews, number of sellers, and more.
If you're reselling or dropshipping on Walmart, this report will certainly help you because it'll show you if somebody else has listed the item you're selling. What this means is that this report can indicate if there's a lot of demand for your product and whether competing with other sellers will be worth your while.
Lastly, you can notice which products are marked for clearance or reduced price on the marketplace — this way you can see which items are struggling to gain traction.
Find the correct suppliers for your business:
When you're looking for a good supplier to support your business in the Walmart marketplace, you will have to set a couple of standards:
The quality of their technology. Evaluate how up-to-date the supplier's website is and whether they can take orders by email.

Location. Local suppliers are best when dropshipping on Walmart because they're often able to ship products faster.
Furthermore, you have a bunch of different Walmart Dropshipping Automation softwares available that can certainly benefit your business. Learn more about them here.
You'll need to choose wholesale suppliers in order to buy in bulk (have inventory) to then sell it on Walmart. I'll list three main dropshipping suppliers you can look into:
Oberlo for selling on Walmart: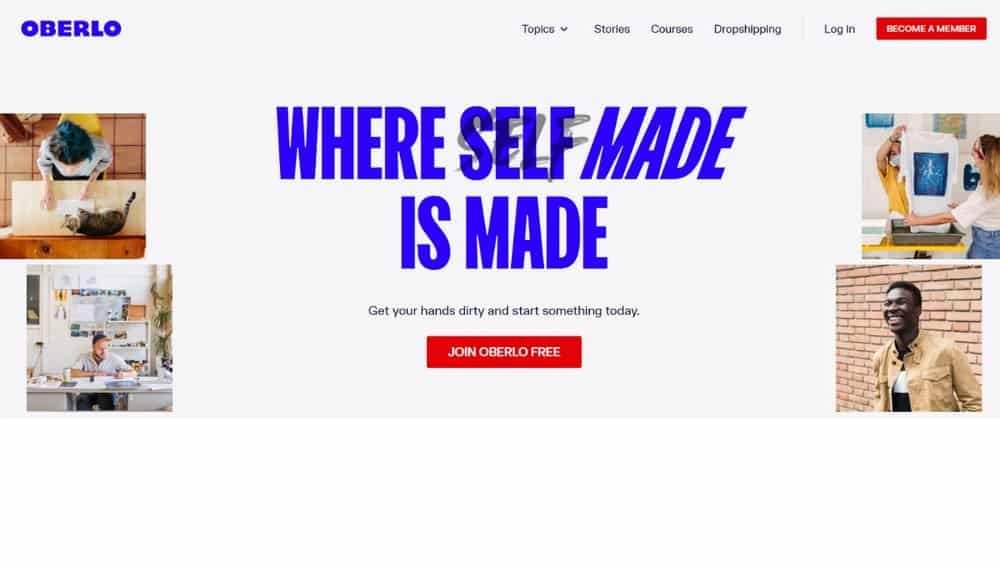 Oberlo is a dropshipping platform that makes it easy to find products on AliExpress to sell in your Shopify store which will be linked to your Walmart account. The site offers over 30,000 of the best dropshipping products in 60+ niche categories.
Oberlo will connect you with different suppliers in different locations worldwide. Each of these suppliers offers various shipping options, so you can choose the method that'll fit best your customer's needs.
Among the popular shipping methods, you'll find:
China Post: Free or affordable shipping costs. Delivery can take 20–50 days.
ePacket: Free or affordable shipping costs. Delivery can take 15–30 days.
AliExpress Shipping: Affordable shipping costs. Delivery can take up to 15 days.
UPS/DHL/FedEx: Express shipping costs. Delivery can take between 5–15 days.
CJ Dropshipping for Walmart Dropshipping: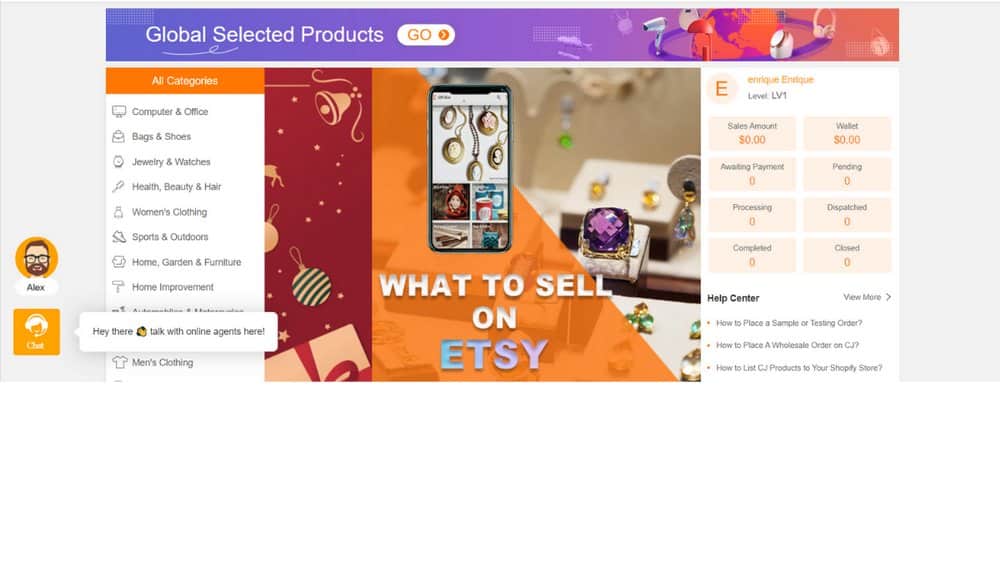 CJ Dropshipping is a great Chinese marketplace and wholesale dropshippers list that enables retailers to scale their dropshipping business in an affordable way. You can easily import low-priced products with great demand into your Shopify store.
The way CJ Dropshipping operates is that they'll allow the seller to source items within the website and an assigned agent will find a manufacturer or supplier that offers the same product and negotiate an affordable price, normally at a price lower than on AliExpress.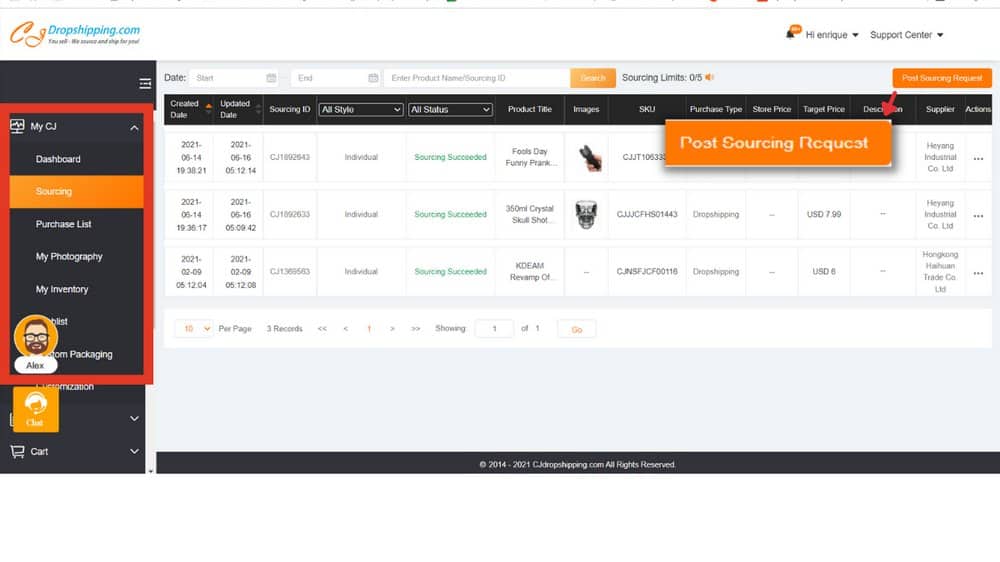 3. Supplymedirect for Walmart marketplace dropshipping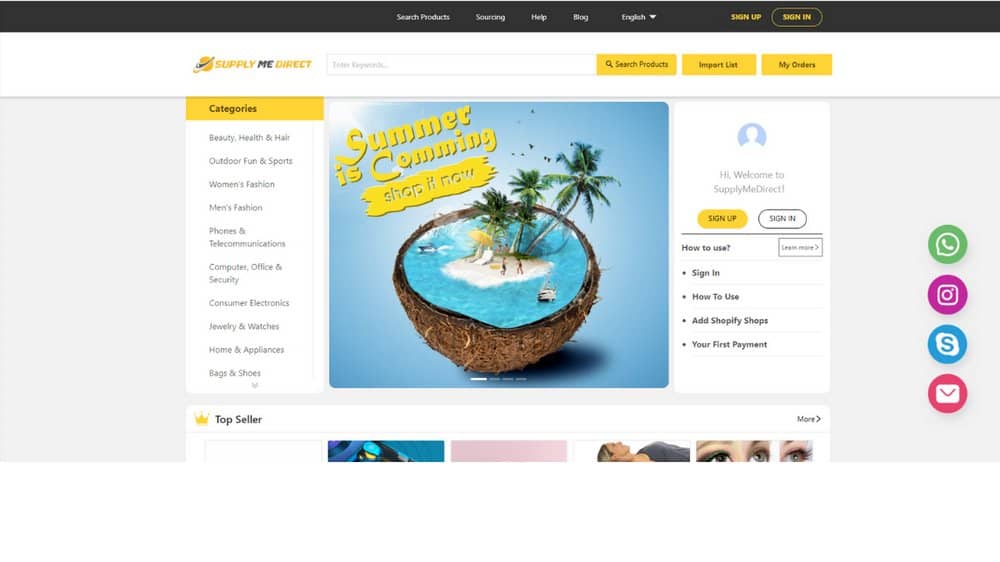 SupplyMeDirect is one of the wholesalers that offer dropshipping to help you scale. The app offers private labeling and reliable sourcing to sell branded products and increase profits.
Location and shipping options: Nearly 60% of SupplyMeDirect's stock resides in warehouses based in the United States, Canada, the UK, and Europe. This makes shipping more convenient for sellers with fast and reliable methods.
These are 3 of the major Dropshipping suppliers you can look into — the good thing is that they all offer reliable, affordable, and fast shipping.
Tips for Walmart Dropshipping
It's important to understand Walmart's market and offer demanded categories to users. However, it's equally important if not more important to properly manage your dropshipping business.
Therefore, I will give you a breakdown of the things you need to be wary about when it comes to overall store management.
Seller Metrics:
Seller ranking is a scorecard provided by the Walmart marketplace which showcases the overall performance the dropshipper or Walmart sellers has on the store.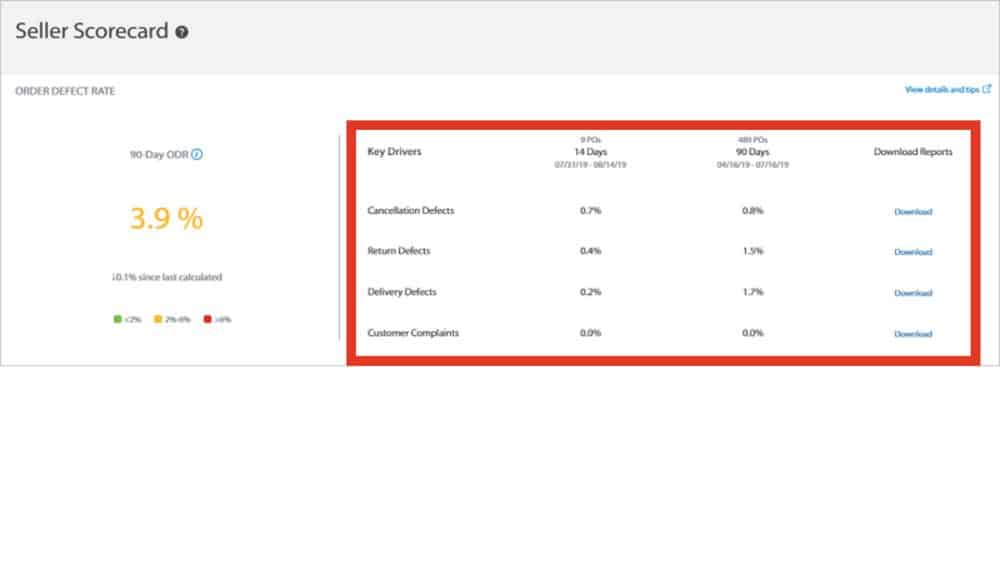 Walmart's Seller Scorecard
These metrics are based on four main key factors:
Cancellations defects,
return defects,
delivery defects, and
customer complaints.
— Please note that just like any business, the reviews and ratings left by consumers is one of the most important key drivers when it comes to performance.
Customer Expectations:
This is based on the quality of the service you as a seller hand out to your customers on Walmart com. This means the type of products you offer, reliable and fast delivery, product's quality, etc.
Here are the most basic customer expectations a seller must meet:
Creating clear Return Policies: Walmart provides a return policy section in the Partner Profile that offers up to 4,000 characters. Here, you can detail the information you need customers to know about returns.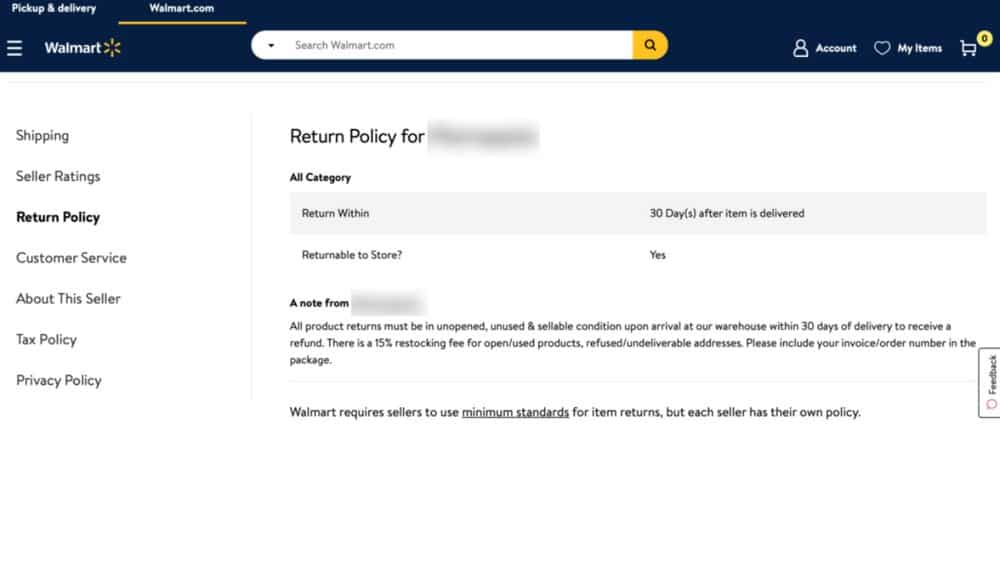 Example of detailed Return Policy.
Provide shipping information: It's important to upload a valid tracking number and let customers know the status of their order.
Order fulfillment: The order fulfillment process needs to match up with the delivery timeframes given to your client.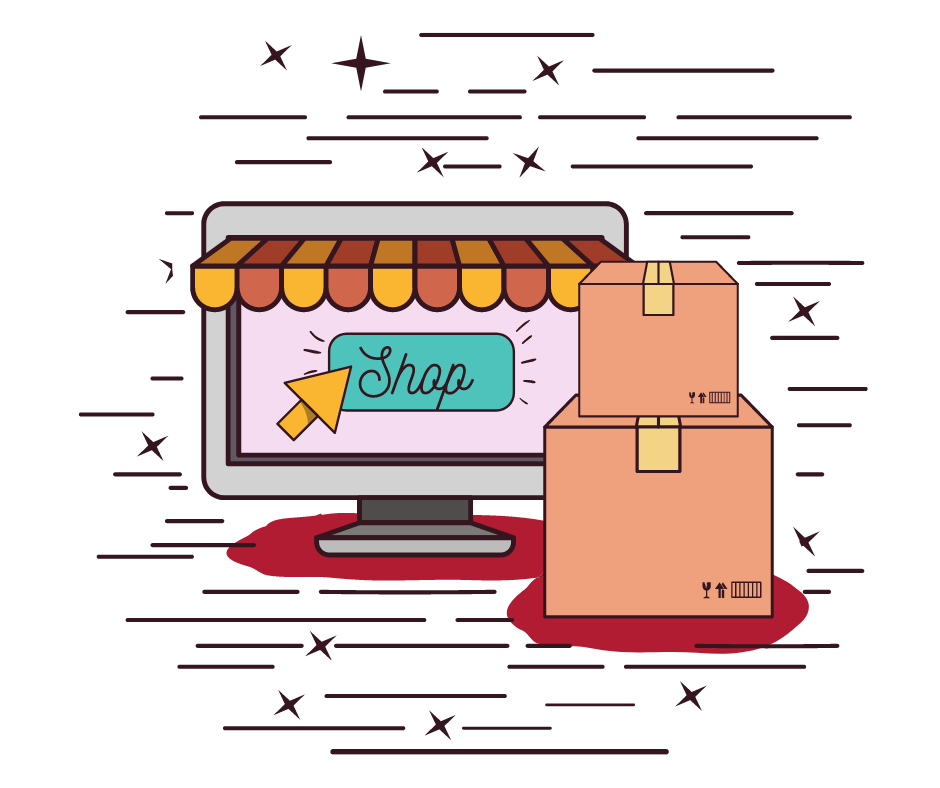 It's time…
Don't wait for success to come. Hire yourself and start your own dropshipping business
Final thoughts
Walmart marketplace is a great place for sellers to grow and expand their online business. The website not only offers a great profit margin rate, it also has a low seller fee and low competition due to their strict application process.
When it comes to Walmart Dropshipping, vendors need to understand that they can choose between three different categories which are completely allowed on the marketplace. The idea is that the dropshipper acts as a third party that will obtain inventory from a supplier and/or wholesaler in order to sell the item and Walmart will take care of the rest.
You can also use Walmart com as a sourcing website to dropship on another marketplace such as eBay. If you're a beginner with a low starting capital, it would behoove you to start there and as your business grows, more capital to invest and more experience, you can move over to Walmart or Amazon marketplace.
Furthermore, I hope this article was helpful to you. Now you understand the benefits of the Walmart marketplace dropshipping, what is allowed and especially how Walmart's market works.
As an online entrepreneur, it's important that you understand not only how to execute a specific business model such as dropshipping, but also how the market works as a whole. That way you'll have a better grip of what to sell, how to sell, when to sell, for how much and to what audience.