26

min read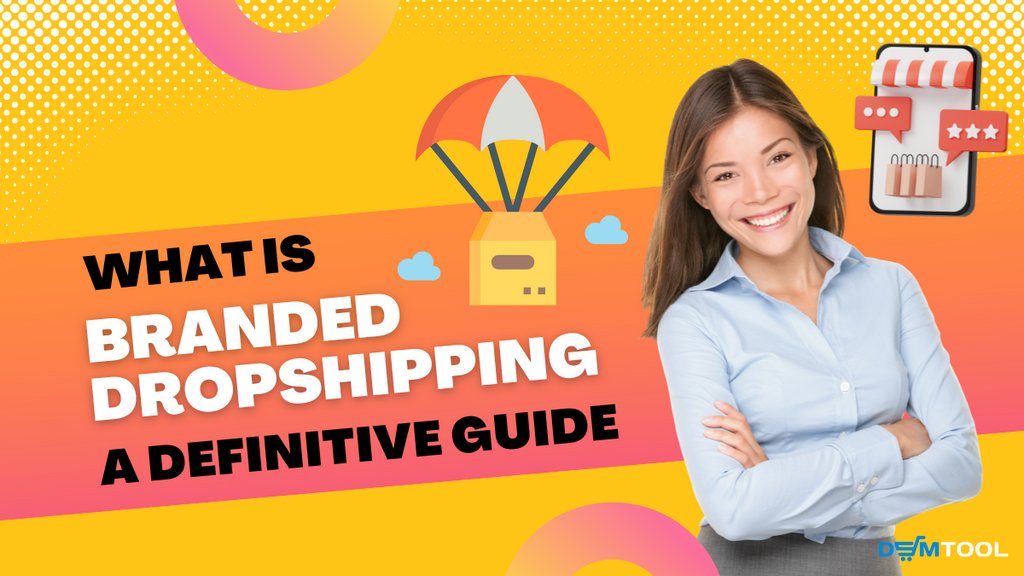 To get familiar with branded dropshipping, you first need to know what a brand is, and how branding affects your business. Thus you'll see and understand the difference between regular dropshipping and branded drop shipping, and learn its benefits and disadvantages.
A brand is one of the most valuable assets of any business as it serves as an identifier that distinguishes your products and services from your competitors. Is it too hard to develop a brand? Not at all. It's rather easy if you have the right knowledge and resources, but quite challenging as it requires a deal of effort.
Let's find out more in this article.
What is a Brand?
A Brand is about Name, Reputation, and Trust. The way a product, company, or individual is perceived by those who experience it and what differentiates it from its competitors – it's what we call a brand. The collection of associations that people create meeting your product or service creates a brand that depending on your success or failure experience goes up or down. Which factors stand for your brand?
As easy as people have personalities, businesses have brands and as you might understand the logo is not the only thing that matters. Your store must suit your customers' needs and tastes. Offer a well-organized website/designed physical store, with high-quality photos and detailed descriptions, a smooth and quick checkout procedure, and excellent customer service.
What is Branded Dropshipping?
Shortly, branded dropshipping means to dropship products under your own brand, customize unbranded products by adding your dropshipping brand logo, etc. Don't confuse "branded dropshipping" with "dropshipping branded products", where the last simply means reselling products of other brands. Can you dropship name brand products? No, unless you have a dropshipping agreement.
Selling non-branded, generic products is certainly something you already have experience with as a dropshipper. The well-known formula: selling the products that you get from your vendors without keeping any stock. Regular dropshipping and branded drop shipping are both effective revenue streams but have one important difference. Branded dropshipping is the practice of customizing unbranded products by imprinting your company's logo on them. Logos, slogans, and brand stories are just a few components of a brand's DNA and total value.
Note
Branded dropshipping is similar to drop shipping print-on-demand products. The difference is that you customize products with your dropshipping brand name/logo only.
Branded products usually offer high quality, thus customers set you apart from other sellers who offer the same or similar products. Smart branding and correct work bring your business a loyal customer base, reputation to your online store, and high revenue range as in the complex it all leads to an increase in sales. The following information will be interesting for those who rely on the forecast and statistics.
The global dropshipping market is predicted to reach $196.78 billion this year and is expected to increase almost two and a half times in four years.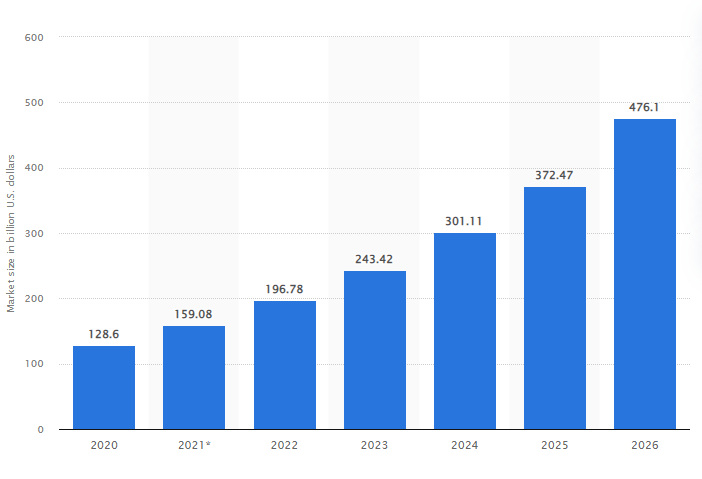 But it's not just about market growth, there's also continued interest from online users on this topic. Let's have a look at some Google Trends data:

As you can see, the general trend for the word "dropshipping" is upward, meaning the term continues to generate a lot of interest from online consumers. People search in order to learn more info about it.
At the first sight seems like excellent news, but the market increase also means there will be fiercer competition from similar dropshipping businesses. This is where branding as a powerful advertising strategy comes into play. Statistically speaking, 72% of US customers favor shopping with brands that reflect their values. As a consequence, loyal clients are more likely to recommend your company to others.
Before you continue investigating the steps of managing branded dropshipping, it's worth mentioning that "branded dropshipping" and "dropshipping brands" are not the same terms and actions. Many beginners in eBay dropshipping might be confused. So, let me clarify it for you.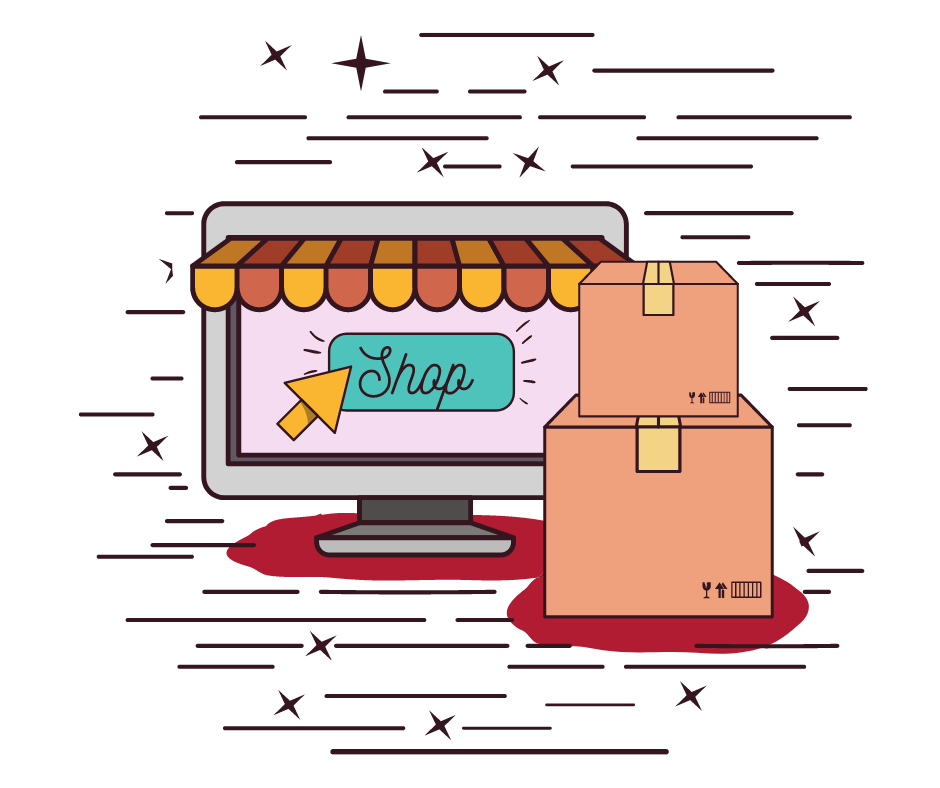 It's time…
Don't wait for success to come. Hire yourself and start your own dropshipping business
You should really pay attention to this topic. Otherwise, you can get your eBay seller account restricted or suspended forever for listing eBay items that are protected by the Vero program (an eBay program that protects the intellectual property rights of brands). In brief, avoid selling any popular brands such as Nike, Adidas, Prada, Dolce&Gabbana, Lego, and others, if you are not an authorized representative.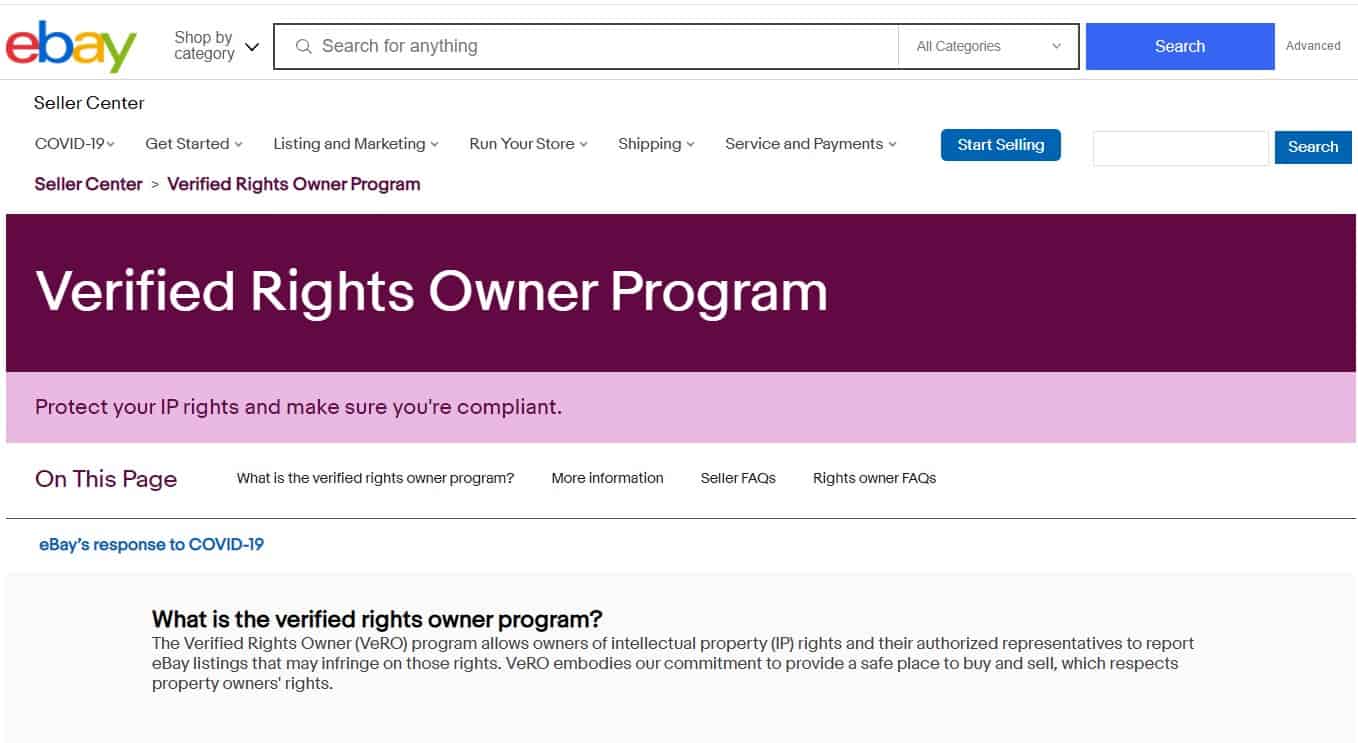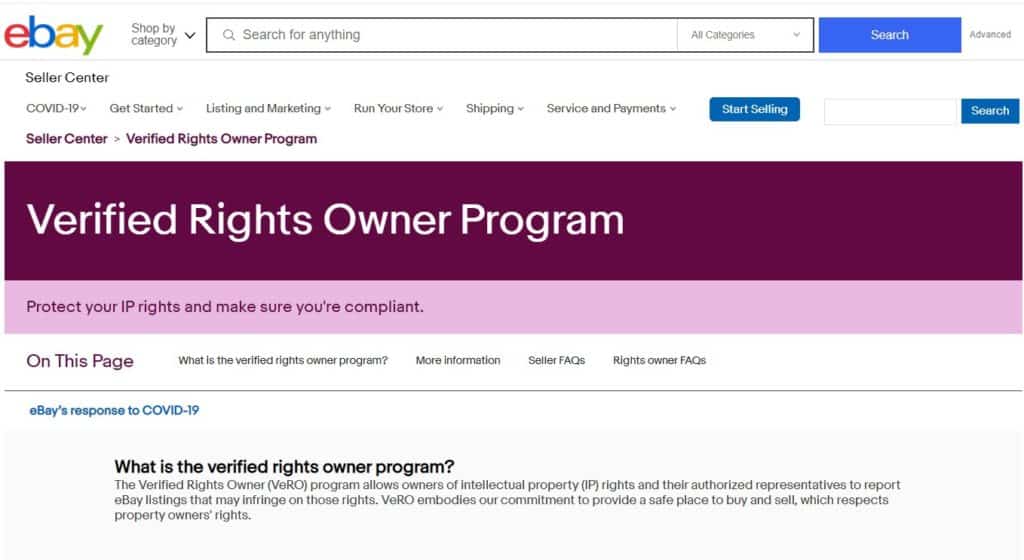 The best practice to avoid dropshipping brand products that appear in the Vero list is to check this list constantly. Click here to see the list of Vero participating brands. Vero list changes every minute, brands add/remove Vero every second, and to be honest, even eBay doesn't provide an up-to-date Vero list, so it takes time to make sure the brand is NOT Vero.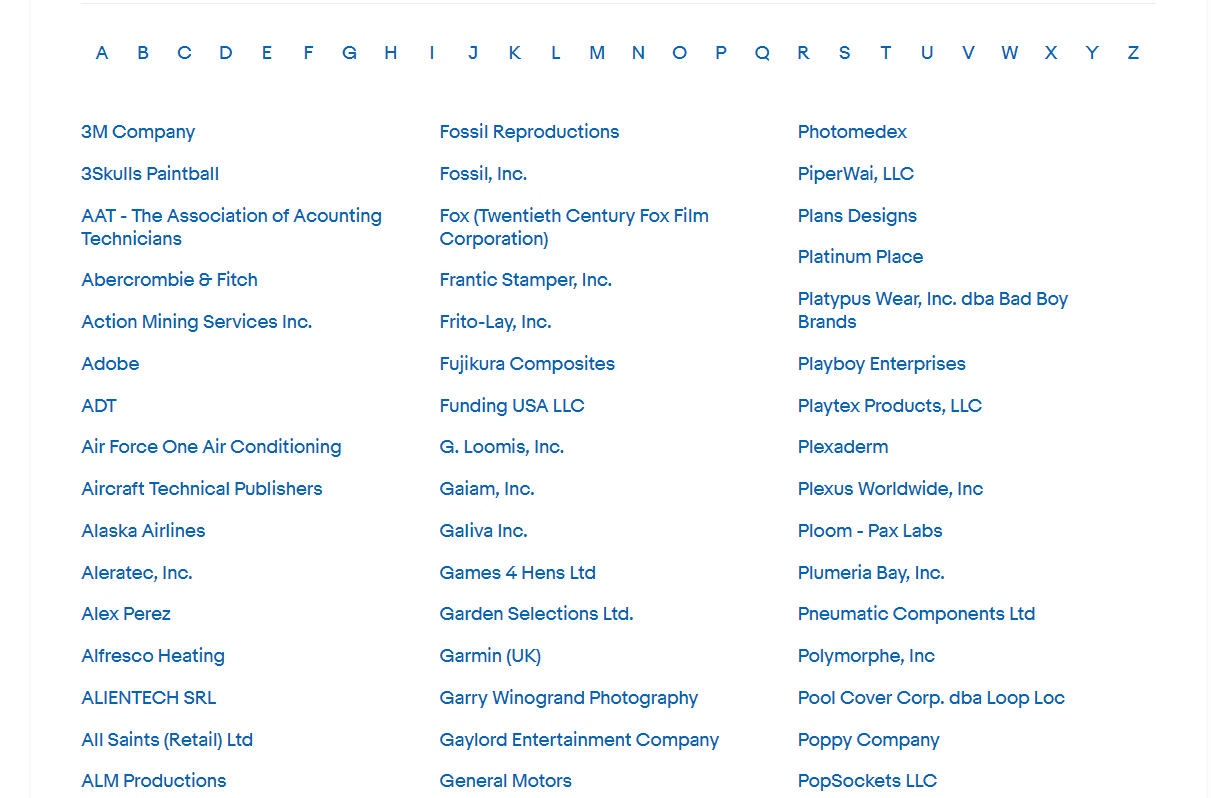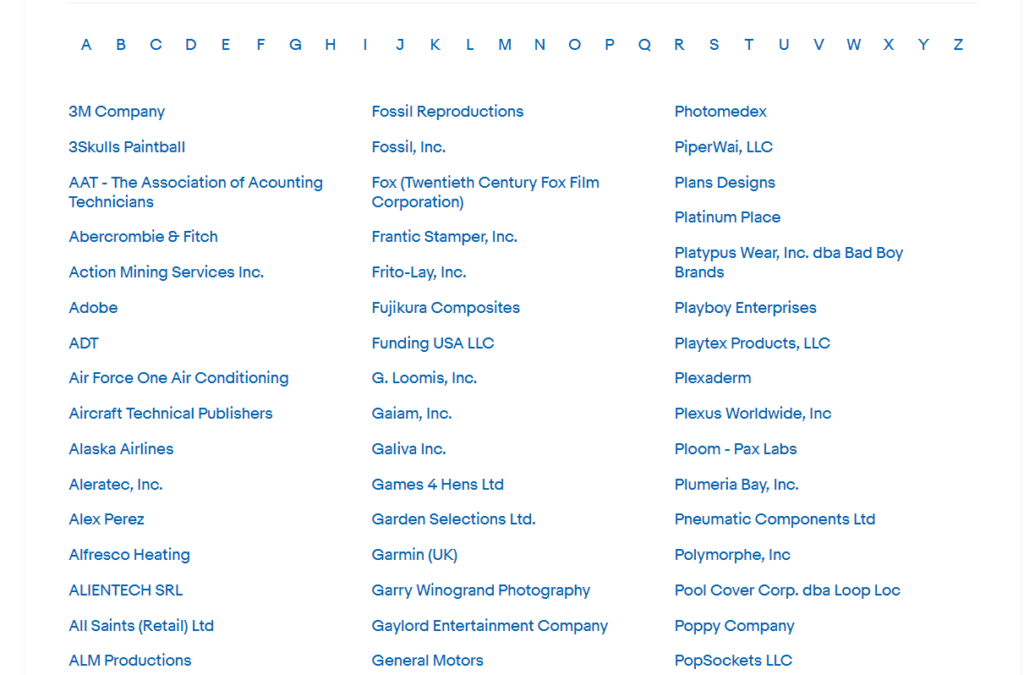 DSM Tool offers a great option to check Vero while you are importing items to the monitor. There are 2 Vero lists in the system: eBay Vero list and DSM Vero list (items of which have reported other users). While there is no tool, program, or complete Vero list even on the eBay page, DSM Tool still tries to provide the users as much protection as possible by offering up-to-date checks.

It's not legal to use unauthorized by-owner logos or very similar logos to the branded ones. But, of course, it is possible to use the words "compatible with", "fits", or "for" before the brand name if you sell non-branded products related to the brands (like a case compatible with iPhone).
Here you can read more information about the DSM Vero list and how to stay protected while listing products on eBay with DSM Tool Chrome Extension. Now we are back to the question about branded dropshipping and how to manage it.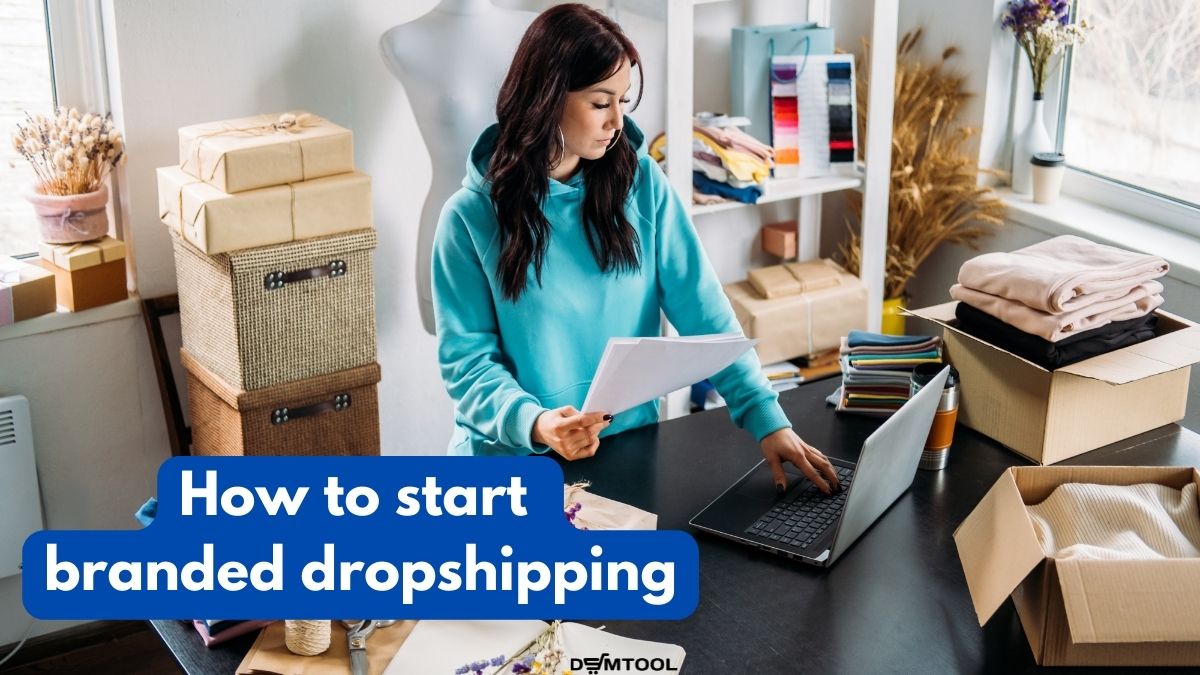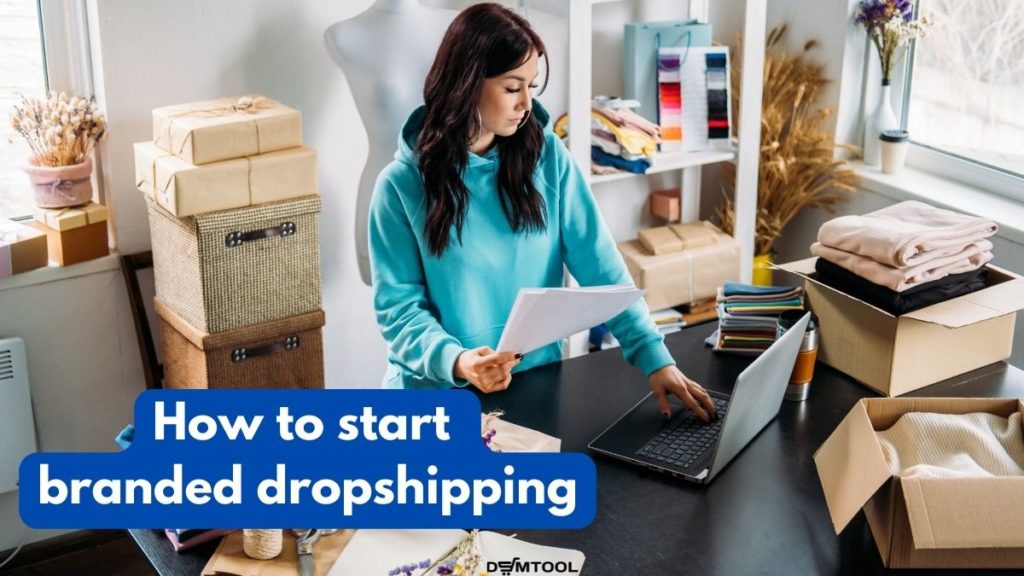 How to Start Branded Dropshipping
All you need to do is to select the appropriate niche for your eCommerce business and do deep research + the following steps:
Find information about the top products in your niche.
No matter who you are: an enthusiastic newbie or an experienced online seller who wants to take his online business to the next level and find the best items to lead branded drop shipping in the best dropshipping niches. Basically, the success of your dropshipping store largely depends on winning items you sell, so think carefully about what you want to offer to your audience.
Analyze leads and prospective customer base.
Think about your future audience, what people need, how much, does your target market have a need that other companies haven't been able to fill? Will people need to come back to you often? Does there exist any unexplored niche that may be profitable?
If you don't have an e-store yet, you can navigate the internet checking some market statistics, research, and forecasts. Offer a free consultation to get more knowledge about your customers. In case you already run a general dropshipping store but plan to change the direction and convert it into a branded store, pay attention to the strategy salespeople and marketers follow. They strive to convert people who are interested in their products and services into customers. As an option you can make your customers aware of who your ideal customers are, offering incentives to encourage your customers to join and refer contacts to you.
Analyze your competitors.
Do some kind of competitive analysis. Is a strategy that involves researching major competitors to gain insight into their products, sales, and marketing tactics. Be aware of what your competitors do, what tools they use, and which tactics and you will find what they miss. You can use this information as a point of comparison to identify your company's strengths and weaknesses relative to each competitor. Thus it will help you to make your brand unique and special.
Find out and choose the best private label supplier.
To start working with a third-party dropship supplier is the simplest option to brand your own line of products. Multiple private label suppliers offer their service and it's up to you to decide which one fits your needs, budget, and preferences.
Don't forget that some brands don't put their logo only on the items, but on cards (inner packaging), and Cardboard shipping boxes as well.
Aside from logos, companies also utilize the power of QR codes. Setting up QR codes and placing them on the packaging, and other promotional material is a great way to familiarize the customers with your brand and offering.
Create a dropshipping brand name and logo.
The name is something that will be with you from the very beginning. It can be something fun or symbolic, creative or as simple as a day. Think about the ages that pass and your brand will still be important and popular. Does it still sound nice? Great, that's it!
Let's talk about visual elements. What's that? Logo, palette, and store font. How to showcase your brand identity? Via the following things:
website;
colors;
packaging;
labels;
logo;
packaging inserts.
All those things should be harmonically united representing the whole business idea. Something always can be changed, so no worries.
When all is done, you can stamp your own logo on anything you want, but before, of course, you need to figure out which companies can help you to make it real. Creating a logo and watermark can be completed in different ways, starting from the easiest one, using free apps or sites which offer to design it for you according to your name or motto. A more creative way is to hire a graphic designer or contact a design company. Use freelancer services like Fiverr or Upwork to get customized graphics for your brand (cover image, banners, etc.).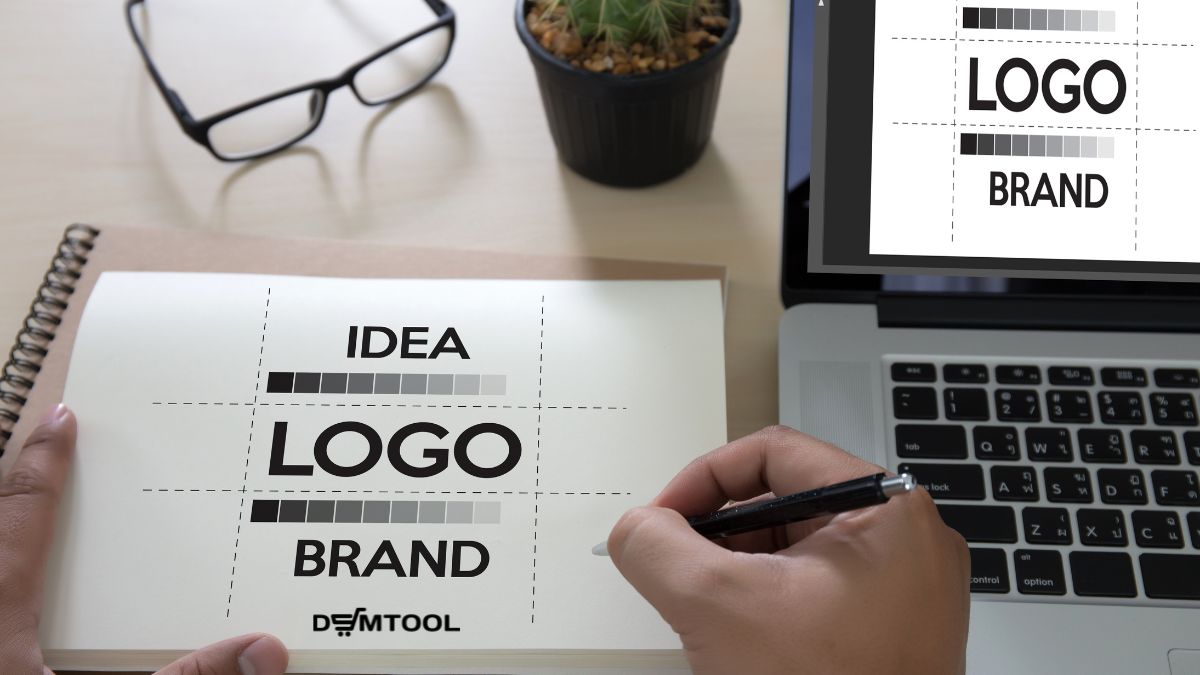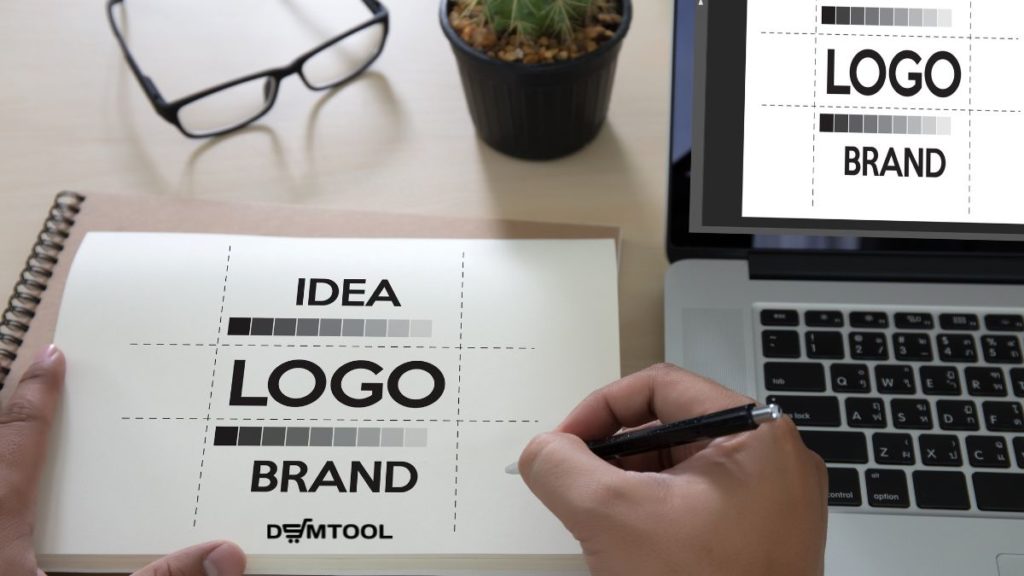 Find a platform to sell your branded products.
There is no one best dropshipping platform for all dropshippers. It's indeed one of the crucial steps as they all are for different tasks and needs, while some can help your business grow, others can destroy it. Choosing the right marketplace or an eCommerce platform, consider all your requirements (both present and future), your budget, and what you expect from it.
Tip
If you are one who still hasn't made the decision where to dropship, and isn't sure which eCommerce platform is the best for regular and branded dropshipping, we are ready to help. These questions and many others are covered in our recent post about the most popular eCommerce marketplaces.
Prepare your store, products, and service.
Think about engaging with your customers. There are two options: manual or automated. To be clear, the manual option is when you send all the messages and organize the process from the very beginning manually (adding the product on the site, adding the appropriate description, you are the one who chats with the clients, enters client contact information to make an order, send messages to customers to thank them or ask for the review. This procedure may be time-consuming and stressful all around.
Tip
Use monitoring and automation software to facilitate the dropshipping process and enjoy the sale as much as the buyers do.
Promote your store.
Once the store is ready you can generate traffic. As we mentioned before you can bring customers from other platforms, your previous store if you have any, or offer people special deals "to join the club and bring someone with them". Learn more about Facebook Ads, Influencer Marketing, and Email Marketing Campaigns.
Pay attention that your dropshipping brand can stand out from the crowd and become quickly unique and personalized if you add gift packaging with personalized notes for your buyers. Wepik's AI text-to-image feature can help you to easily create personalized notes for your customers and thus, essentially, personalized notes portraying the brand values are an excellent way to promote any branded store.
Complete the sales.
Let a robot process your dropshipping orders. It's our sincere recommendation. Once you try an auto-ordering system you won't want to do it manually. A personal approach is good, but only when you work with people. While ordering the item it's all can be automatic.
The list above seems to be not small and for some even look complicated. To make you breathe out I would like to mention that you shouldn't forget about dropshipping automatization and optimization. Use automation for your website to minimize tasks.
How to Do Branded Dropshipping With DSM Tool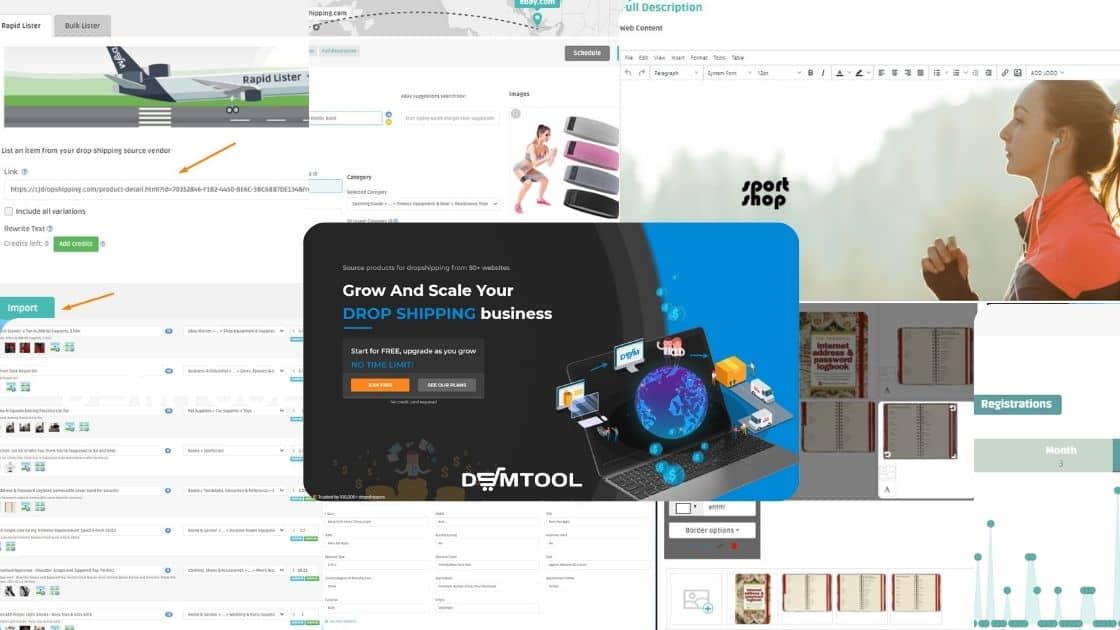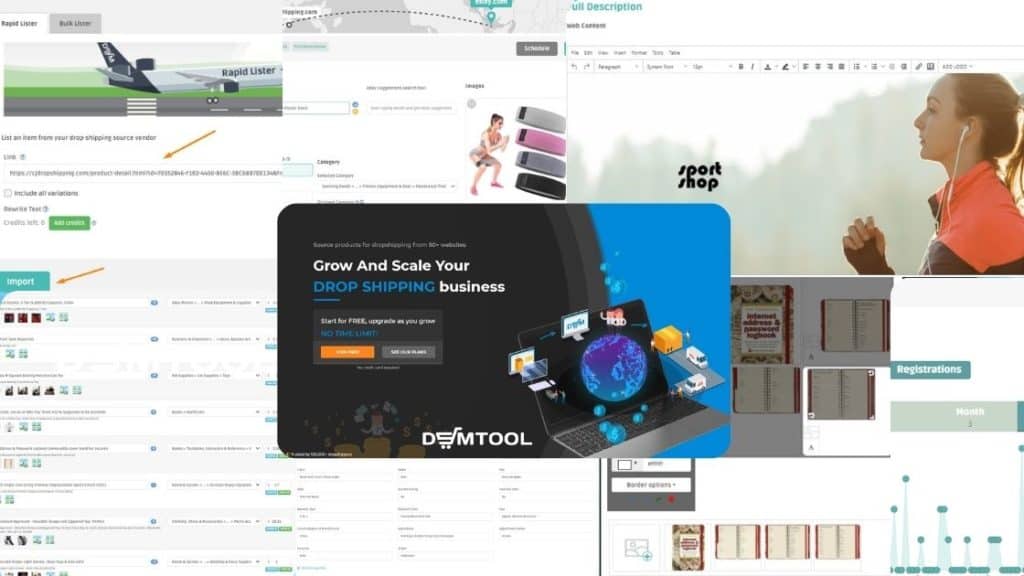 1. Logo or Watermark
For example, if you have your own watermark or logo, how do you imagine putting it on every image you add to your store? DSM Tool will help you with it!
The brand Logo feature is an option in DSM that allows you to add logos on your listings to improve your branding. If you already have an existing logo, you can simply click on the Your Brand Logo tab, and then click the Upload Logo button to have it shown on all images of your listings.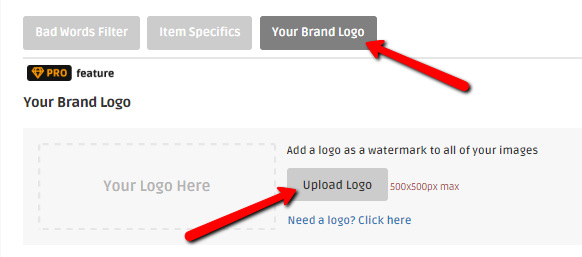 And if you have no logo yet, click on the link to create one and you will be routed to the logo creator's website.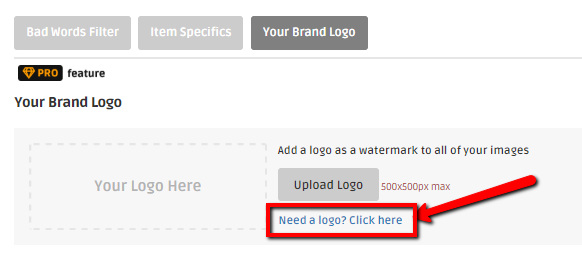 Isn't it cool?
2. Auto Ordering System
Processing your orders takes time, a lot of time. That's why DSM Tool offers the auto-order feature for the items you have sold. The auto-order feature is an add-on product that requires activation and setup to work.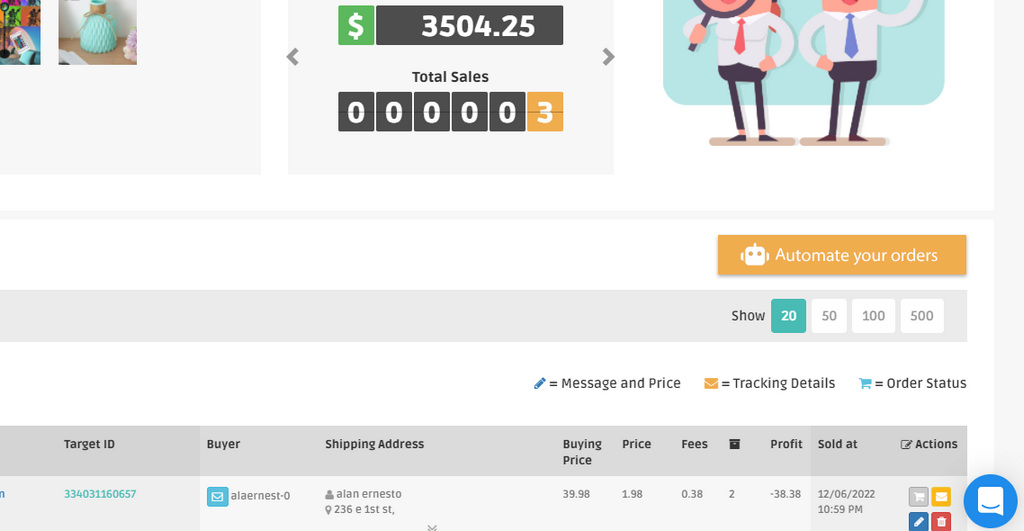 You can track the status of the orders of your sold items in the tool. 24 hours after an item is ordered automatically, the DSM Auto-Order system scans the sourcing website and looks for tracking information, it then updates the order.
What do you do meanwhile? Anything you want!
3. Messages Center
Moreover, it is possible to automate your communication with your clients via the automatic messages feature and improve your customer experience. That is very important in getting positive feedback and more impressions for your items in the search.
You can set ways to thank your customers for orders and create moments of delight post-purchase. Also, there will be available canned responses for different eBay situations. DSM Tool sends feedback and requests feedback from your buyers automatically. This feature automatically sends a message to your buyers after the order has been made. Once the tracking number has been added and 7 days after, it requests feedback. The DSM Tool team has already created editable message templates for every category that you can personalize.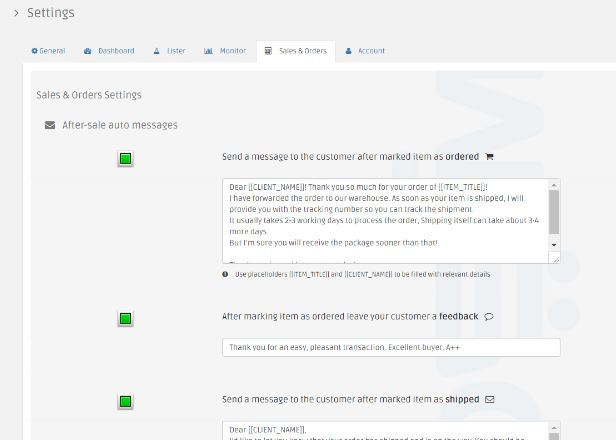 Everything you need to know about Auto Messages & Feedback, plus positive engagement with your customers is presented in the guidelines for the tool. Customer service will gladly help you to learn everything.
Well, last, but not least thing to do before making a decision of starting branding dropshipping is to learn all its advantages and disadvantages. Let's have a look at some of them: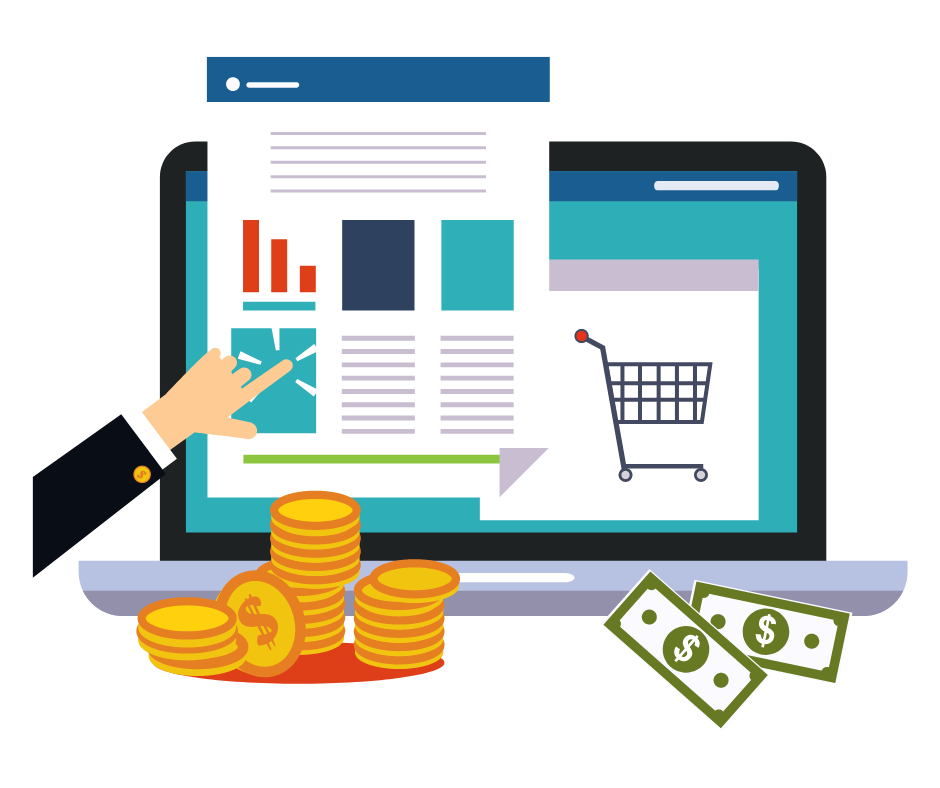 Don't wait for the profits, make them!
Start a profitable dropshipping business with DSM Tool. Get a free course and a free trial of the software.
PROs and CONs of Branded Dropshipping Business
It's recommended to make a decision after you learn all advantages and disadvantages of drop shipping under a brand. Let's have a look at some of them below.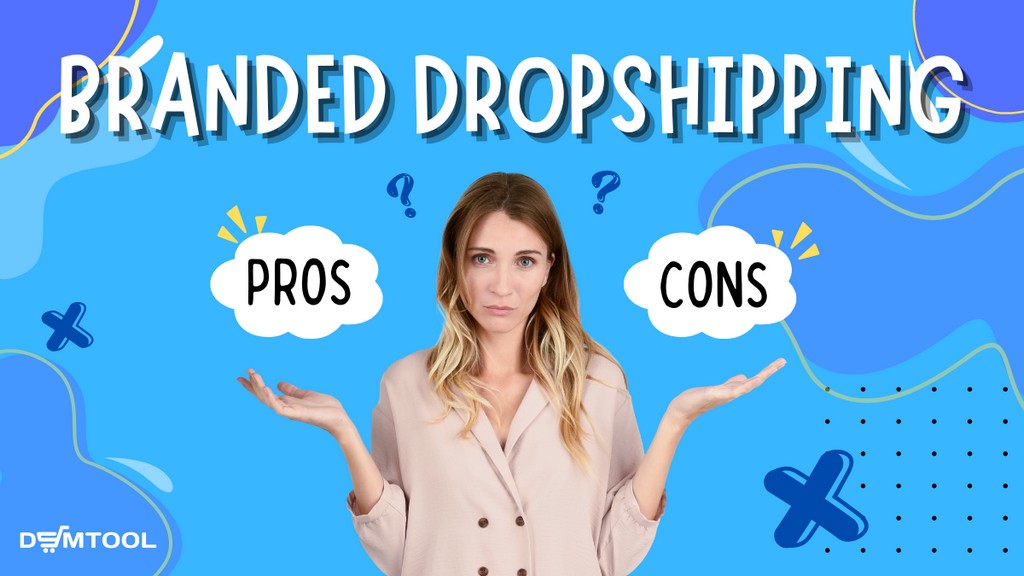 Advantages of Branded Dropshipping:
It's Created a Sense of Belonging: By assuming the identity of a well-known brand, a store may have a better chance of getting that customer's first purchase. In addition, if a store has a trustworthy identity, it is more likely to get that customer and make him come back.

You Keep Your Shopping Stress-Free: Don't add tons of products if you can't control the stock and quantity! This is key to making online shopping less stressful. Seeing too many products, the customer will get overwhelmed and won't buy anything. Having everything under control makes your product selection manageable. By curating the stock, you ensure your site is easy to navigate by multiple customers, plus help them actively select what they need and quite often add to the cart some additional stuff.

Your Product Gets a Value: This strengthens your market presence when you offer products from your own unique brand. Doing this helps you to increase sales and earn extra profit.

Refund Rates Are Reduced: Well-known brands tend to be way trusted by customers. Thus purchasing something from a brand you know, like and habit to use reduces return or refund rates.

Built Clear Products Identity: When it comes to engaging with customers, brands always have a response. Having a close relationship with your customers helps you to build precise identity products.

It's Developed a Sense of Safety Among Customers: You know that making a purchase, especially online, from an unknown seller might be risky. People try to avoid risks, so prefer to buy from a store that has a reputation and NAME. Of course, it takes time to create a name, but it's what we need to gain. Take your time to offer them what they are familiar with, in the future you will decrease the risk factor and help your customers feel safer.

Branded Dropshipping Strengthens Customer Relationship: Dropshipping branded products helps you to create a uniquely personal experience that ultimately strengthens your relationship with consumers.

It Makes Your Customers Come Back for More: As we previously mentioned, dropshipping your own brand with high-quality products grows an essential key, you keep your existing customers happy. You know, making new ones to come and the test is about 5x times more difficult than keeping the ones you've already got.

You Stay Ahead in The Competition Race: You can easily stay ahead of your competition by offering exactly what your customers need and making them get familiar with your brand, thus liking it.
Besides having multiple pros, brands dropshipping also have a few cons that you cannot ignore.
Disadvantages of Branded Dropshipping:
Order Completion and Shipping Period Are Less Controlled: The biggest problem with branded dropshipping orders is the lack of control over order completion and shipping. If a customer orders an item from you, but it takes too long to create and deliver it from one of your suppliers, you will probably lose the customer forever.

Your Brand Anyway Depends on Stock of Other Companies: Dependency is the worst thing in business. Dropshippers are aware of this fact, and they also prefer to work with brands that have up-to-date stock and are reliable. This is the major disadvantage of branded dropshipping as you never know 100% if the goods your store offers will be available at the time you get an order. In case you fail, your store can get negative reviews due to out-of-stock items.

Less Profit Margin at the Beginning: Step by step your task is to become known and well-trusted. Start from something small, but great and make it grow. Usually, dropshippers focus on minor profit issues before starting a branded dropshipping business. If you want to own a branded dropshipping store, careful planning and cost estimation will help you overcome fewer profit issues at the beginning. In case you don't have a financial limit, then you can skyrocket from the very beginning by following the appropriate marketing strategy. If you have a budget, consider dropshipping high-ticket products.

Poor Customer Service Can Affect Your Brand Severely: Poor customer service can not only impact the present/future sales standard but can negatively impact a business in a variety of ways. This is especially true for businesses that rely on repeat business and positive word-of-mouth advertising for its success. In addition to running the risk of alienating current customers with sub-standard service levels, chronically poor service can impact the business potential for attracting new customers as well. Be ready to deal with angry customers as well.

Your Supplier's Mistakes Are Your Mistakes: If a supplier from which you are sourcing your products is late in delivering products, ships the damaged or inappropriate items, or has issues with replacing the items – YOU and your BRAND will be responsible for it ultimately. If a customer faces a poor shopping experience, they will not want to purchase from the same brand again. If a customer does not come back to buy from the same brand again, it creates a competitive disadvantage for the brand in its target market.
As we see, branded dropshipping is better than non-branded dropshipping because product branding is an effective marketing strategy, but at the same time, it has some serious disadvantages which you should have under control or be ready to solve without affecting your Brand's reputation. By branding your products, you can earn more money through increasing brand awareness, adding credibility, improving brand growth, and more, but be attentive if any issue appears from the customer side.
Increase

Brand Awareness for your Dropshipping Business
Brand awareness is a marketing term that refers to how well people recognize a product by its name. You can say that it is the ease with which consumers recognize your brand when they hear your brand name or see your logo. The idea of brand awareness implies a positive judgment of the qualities that make the product stand out from the competition. Consumers are more likely to purchase products and services with a higher level of brand awareness.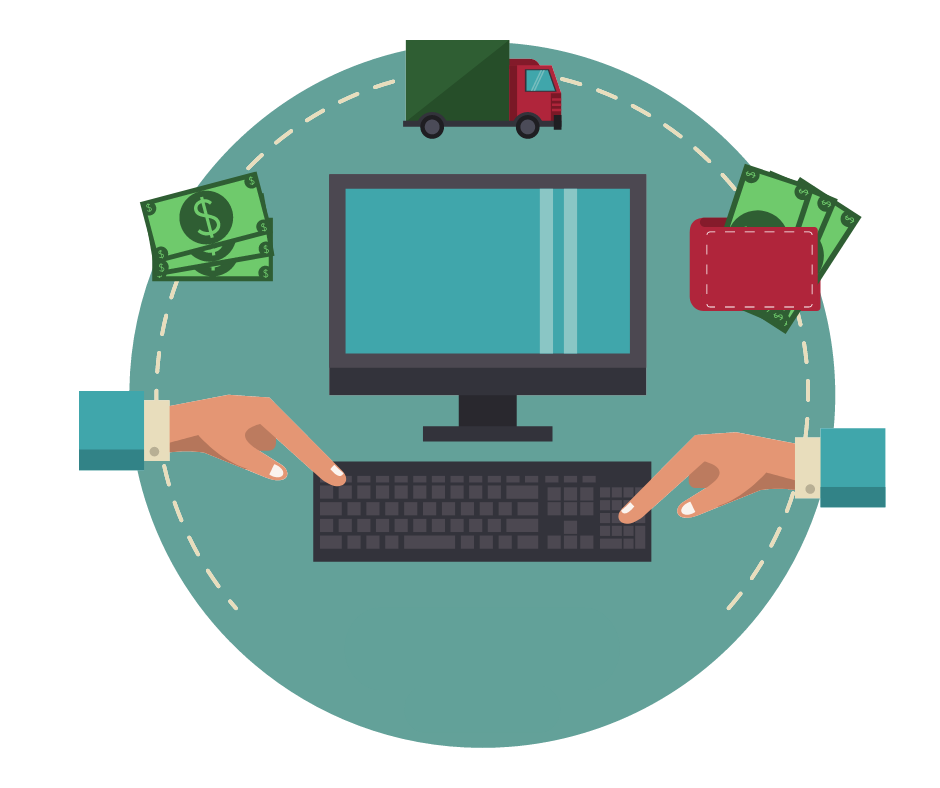 Not yet making money online?
Start your own dropshipping business. Sign up for a free trial of DSM Tool and we'll help you get started. Today is the day.
How to Create Dropshipping Brand Awareness?
Nowadays, social media have become the major platforms for building and growing brand names. As of April 2022, users spend 45 minutes on TikTok and YouTube, 35 minutes on Twitter, and 30 minutes on Snapchat, Facebook, and Instagram. Every day.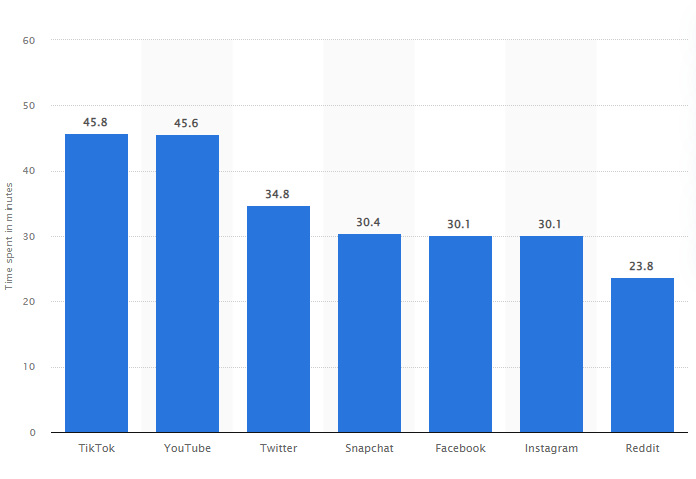 Not surprisingly, companies spend a lot of resources promoting brand awareness on these platforms. Social media created new forms of promotion where users by themselves generate discussions about products and services they like. Or vice versa, users share negative experiences, and brands adapt to that reality. It is crucial for a company to respond to negative comments and reviews and resolve customers' problems to build customer trust. And trust builds customer loyalty, which increases awareness.
Brand awareness increases as users view, discuss and share business social media posts and updates. For maximum effect, users should be able to easily connect to the company's website via the social media platform. The most advanced platforms, like Facebook and Instagram, even have in-app purchase features, so users can find and purchase a product without leaving the platform.
Here are 8 Tips for an Effective Dropshipping Brand Awareness Campaign:
Know your audience. You do not want to promote every item to every audience in every way. Learn who you are actually targeting. If you already have followers on social media, check out their profiles. Look at what interest them and what problems they have. Your product should help resolve the problems they might have. Try to understand those people because these are the consumers who already identify with your brand and can give you insights into what kind of customers your service or product attracts.

Research the market. See what products and services your competitors provide. What are their benefits and drawbacks? Compare with your products. Research keywords related to your products and business to see what people search for the most. Analyze trends to see changes in demand for the products you sell so you can predict their increase/decrease with time. It would help with your planning and marketing campaign greatly.

Focus on the platforms your audience uses most. Social media platforms attract different audiences. According to Statista, as of January 2022, Facebook's largest age group, around 31%, is 25-34, with 43% female and 57% male users. Instagram's largest age group, nearly 31.7%, is 25-34, with 49.3% female and 50.7% male users. TikTok's largest age group, around 25%, is 10-19, with 61% female and 39% male users. So you can see that Facebook and TikTok audiences are totally different, if not opposite. Remember the first tip about knowing your audience? Use that knowledge and promote your brand on the platforms they use the most. There is no sense in spending time and effort in a place your potential customers don't visit.

Define your goals. What are you trying to achieve with your campaign? Attract new customers? Build trust? Increase engagement? Every goal requires a different approach and tactics. Will it be targeted ads, social media posts, or influencer marketing? A campaign without an achievable goal or clear purpose will likely get you nowhere, and you will be unable to utilize its results fully.

Give your brand a personality. What makes your business special? What does your company offers that others don't? Why use your services or purchase your products? Highlight what makes your business unique so customers can associate it with your brand. It might be your own way of doing marketing, like funny posts and engaging content.

Improve customer experience. While this mostly applies to your online store and the process buyers make a purchase, show that you care about your customers in awareness campaigns. Do not talk only about your business and how great it is. Show people that you value your customers, that your products solve their problems, and that you build your business for them, not for money. Run surveys, ask for feedback, and start discussions, encourage customers to leave reviews. Showing that you value your customers will make them return again, attract new customers, provide feedback on what should you improve, and increase brand awareness.

Engage, be active. Reply to comments, answer messages, like and share the content of others – everything adds to your brand awareness. Of course, ensure you make the right impression. Post regularly, at least four times per week, and try to create new content as often as you can. Most social platform algorithms promote active accounts.

Monitor your results regularly. Whether you use monitoring software or by keeping track manually, you need to measure the results of each campaign. Otherwise, how do you know it was successful? Depending on the goals you set, check the number of views, likes, comments, etc. If the results aren't great, correct your strategy.
Most businesses with an online presence have an account on different platforms. And so should you. If you don't know what platforms are there, check out this 10 Best Social Commerce Platforms guide.
Conclusion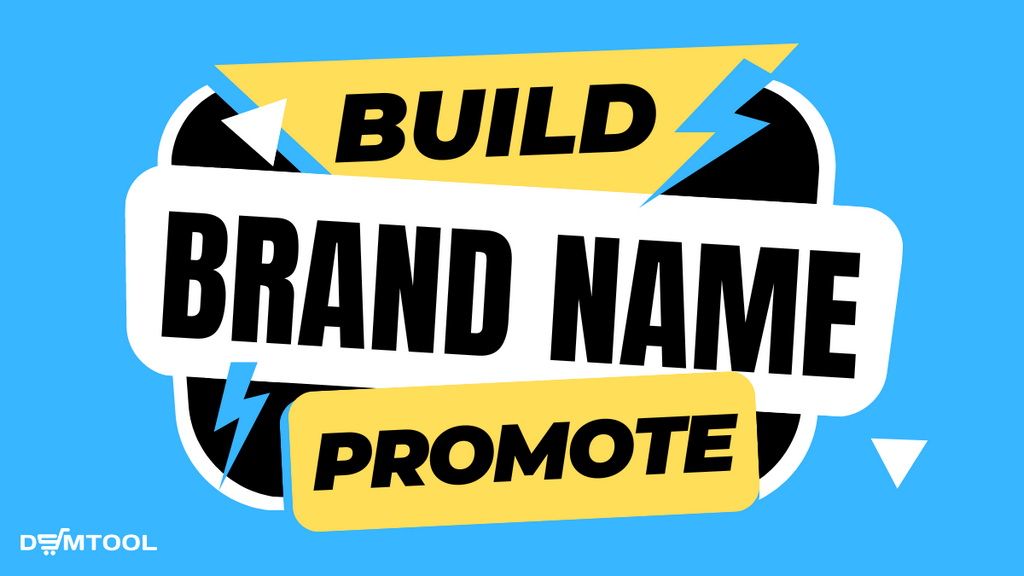 Let the world know your dropshipping brand name! Take your time, be creative and smart using all your knowledge and helpful tools and apps to help you to grow your business from small to something very meaningful. Don't focus on the sales as much as on keeping your customers happy. That's how you create a long-lasting relationship and a great brand name.
First, you work on your brand, then it works for you.
Best of luck!