9

min read
The reason to market on Facebook is quite obvious. Facebook is continuously growing and it presents a massive potential market for all your social media efforts. It is by far the largest social networking service to date with two billion active users and an average of 1.45 billion logging in every single day. Facebook is a phenomenon and there seems to be nothing stopping it from growing. And with this huge number of users, dismissing Facebook isn't a choice for many marketing experts.
No wonder that Facebook Marketplace dropshipping is becoming so popular. The good thing about Facebook is that it has an advertising platform that enables you to identify your target audience. This allows you to filter and target people according to interests, location, and demographics.
Facebook 1st Quarter of 2018 Statistics

image source: dustn.tv
Facebook recently launched their 1st quarter of 2018 statistics. This highlights some useful Facebook facts that may eventually allow you to get around the social network better, increase your returns (ROI), and lead to better marketing results. Statistics also show that Facebook continues to grow with more users, logging in every single day and being active on the platform.
As of April 2018, Facebook reports an estimated 2.2 billion Monthly Active Users.
Facebook also says it has 1.4 billion Daily Active Users.
There are over 300 million photos uploaded to Facebook every day.
On average, 5 Facebook accounts are created every second.
Approximately 30% of Facebook users are aged between 25 and 34 years.
Facebook video is still in high demand with approximately 8 billion video views per day.
With these stats in mind, it is feasible to include Facebook in your marketing plans. Check out the full report here: Social Media Statistics 2018: What You Need to Know
5 Facebook Marketing Features for Business – Everything You Need To Promote Your Business Organically
Through the years, Facebook is continuously improving to meet the needs of business owners who also hold a Facebook account, whether they are small businesses, large businesses or even a one-person business like many of us – drop shippers. Their newest feature, launched in 2016, The Facebook marketplace is an ideal place for drop shippers and retailers to sell their products. It works like Craigslist, only better.
1. Facebook Marketplace (A Closer Look)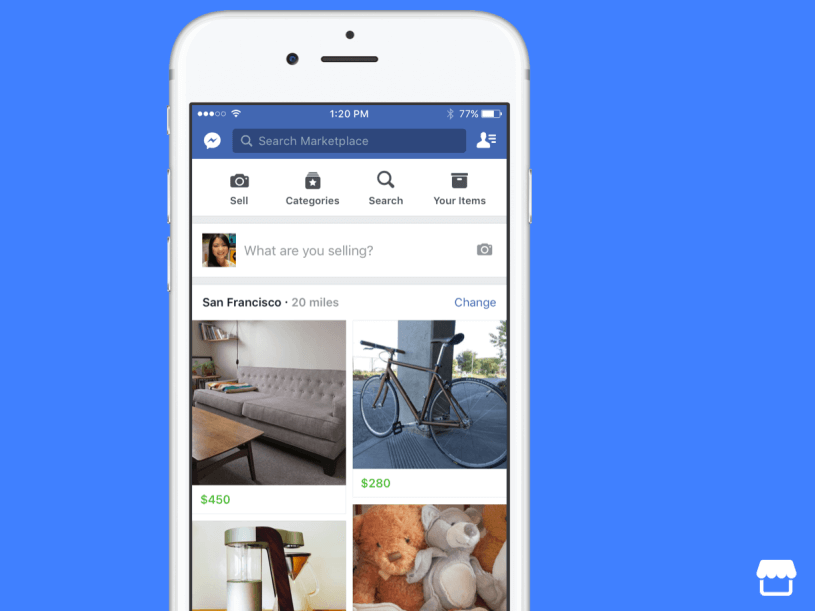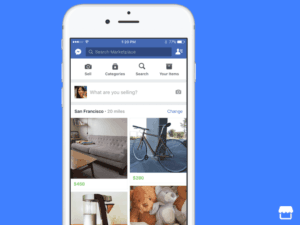 Facebook has seen users who are actually using the platform to the next level. Members connect, communicate, and then buy and sell. The buy and sell activity has started with Facebook groups. It has proven effective and thus other members used the same technique to buy and sell items, from pre-owned to brand new items. Surprisingly, there are over 450 million people who actually visit buy and sell groups every month. All of them are either actively selling or buying items.
The Facebook Marketplace had been launched in 2016 to provide a convenient destination for sellers and shoppers to communicate and do business better. Marketplace makes it effortless to locate fresh items to buy, find a new home, and services you need. As a drop shipper, this is the best place you could post and promote your products. Imagine the large audience your products can reach.
When you found something on the marketplace, just tap on the image for details, or you have the option to ask the supplier by clicking on a single button. What's even better? Suppliers can chat with you in real time as the Facebook marketplace is connected to the supplier's profile. Isn't it just getting better? An easier and simpler place to promote, sell, or buy products and services.
Is Facebook marketplace relevant for drop shippers? Well, at the moment we couldn't find any information about people drop shipping to Facebook marketplace, maybe simply because there is no "Buy Now" button in it. But we definitely think its worth following the upcoming changes and additions to the marketplace, it might become the next hot drop shipping platform!
2. Facebook Connects People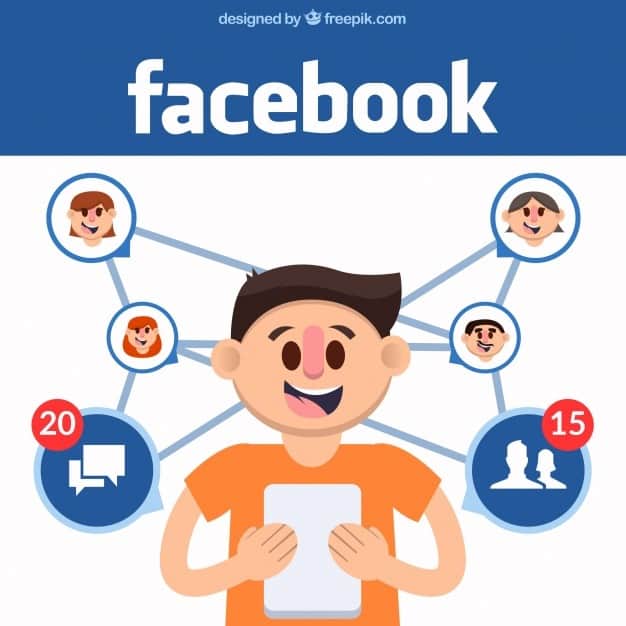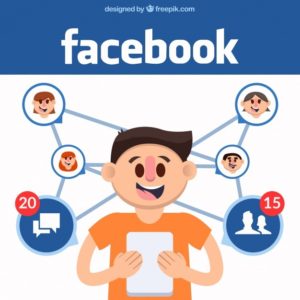 Majority of Facebook users utilize the site to connect with other Facebook friends. Other than members connecting, Facebook also allows you to:
Publish status updates on your profile, known as your timeline. Updates can be in the form of text, image, video, or a link that leads to a particular website. You can also check in at a certain location.

Post messages that could be set to public or only to the person you want to share files with. You can post it on your friend's specific wall or timeline.

The platform's private messaging feature allows you to exchange messages only to select friends. Communication can be done in real time if they are online, or you can just leave a private message and get a response later. You can also detect if your friend has seen your message by the seen zone feature.
Facebook has a lot to offer in terms of communication. Just recently, they have launched a free mobile messaging app – the Facebook messenger. This messenger feature allows buyers and sellers to communicate. Dropshippers can utilize this app to provide better service and faster closure of sales.
3. Facebook Page
If you are a business (or a dropshipping business owner) hoping to start organic promotions on Facebook, you can start by building a Facebook page. This feature in Facebook is not limited to businesses only. It is open for places, organizations, brands, products, companies. Even celebrities and other public figures actually create their own Facebook page to promote themselves.
Set up your Facebook page here
Here is a step-by-step tutorial on how to create a Facebook business page by Ranking Academy.
What can you do with your Facebook page?
Grow your fan base. Customers will need a place to know more about your business on Facebook. So like a general rule of thumb, create a Facebook page for your business for your customers to easily communicate with you via Facebook chatbot, for example.

Learn more about your followers. The Facebook insights allow you to see who among your fanbase are potential buyers. This Facebook analytics tool shows you what your followers had been liking and thus gives you an idea of what your followers are looking for.

A place for your products on Facebook. You want to be organized as a business. You want a common place to post all your products for your customers to refer to time and again.

Customize your Facebook page URL. You can set your Facebook URL with your business name. Example: https://facebook.com/momworkingathome/ where "mom working at home" is your business name or preferred name to appear on your URL.

Change your Facebook page name. In the event that you need to change your page name, you can always change it from the settings area.

Add your website to Facebook in the About section. You can also add embed Facebook page to your website to get more fans and followers.

Target potential buyers by their interests to promote your products and content on the Facebook advertising platform.
4. Facebook Groups
As soon as you have a profile in place, you can request to join Facebook groups structured on common interests and activities. Facebook groups are mini communities that share the same passion, interests, and even business. Joining Facebook groups that buy and sell, that dropships on eBay or on Amazon, online business opportunities, business opportunities, online selling, and etc are the groups that you want to join if you are a retailer and a drop shipper at the same time.
Find "groups" at the left of your homepage to find relevant groups to join. Alternatively, you can also establish your own Facebook group for you to post your products, promotions, and other new items. Invite members to the group. You can either make the group public or private.
5. Facebook Shop
A Facebook Shop is a display of your products. Find Facebook shop within Facebook Page Tab. This is a good way for followers to search, share and buy your items without needing to leave Facebook. This enables retailers and drop shippers to promote to a massive audience without paying large costs. By creating a Facebook Shop, sellers can:
Generate new sales

Allow fans to directly engage with offered popular products

Present promotions, discounts, best deals, and contests

Compensate brand promoters
Can I use my Facebook shop for dropshipping? Yes indeed! You can sell products directly on Facebook Shop and even get paid using a payment processor like Stripe, if you already own a Facebook page this might be a great way to expand your dropshipping business!
Want to move further with Facebook? Check out Advertising on Facebook
The Facebook advertising feature comes with a small fee but the rewards are great. For those who have a Facebook account, it is possible to shell out a little investment to sponsor a story or start an advert. This can appear to millions of Facebook users who are potentially your target audience. If you want to make use of this feature, Facebook's business page will take you through a detailed process to determine your target audience for your advertising.
Here is a step by step tutorial by Fred Lam – How to set up a Facebook Ad – updated 2017

Summary:
Concentrate on what you value the most and decide whether Facebook delivers you something that is in line with your set of values. Facebook is open to everyone but it may not be for everyone. Evaluate your business goals and determine if these Facebook features are worth your time and investment.
Facebook is a valuable tool created practically for any type of business. When used with the best-proven strategies, it could be the best marketing tool you will ever use to connect, to discover new things, to better educate yourself, and finally expand your business.