9

min read
One day my business partner told me: "Hey, have you noticed that the more positive feedback we get, the more sales we make? So what if…"
He didn't finish the sentence and we both look at each other and knew that we have an epiphany moment, we can develop a feature that will give us nitrogen injection to our sales!
Before we launched this feature and I was testing it with one of my stores it was getting 1 positive feedback for every 8-10 sales, on average. Now it makes positive feedback for almost every sale!
The most important aspect of managing a dropshipping business is your customer experience.
Let me say that again, you hear? The experience that your customers are going through when they purchase a product from your store will determine if you are going to be successful or not.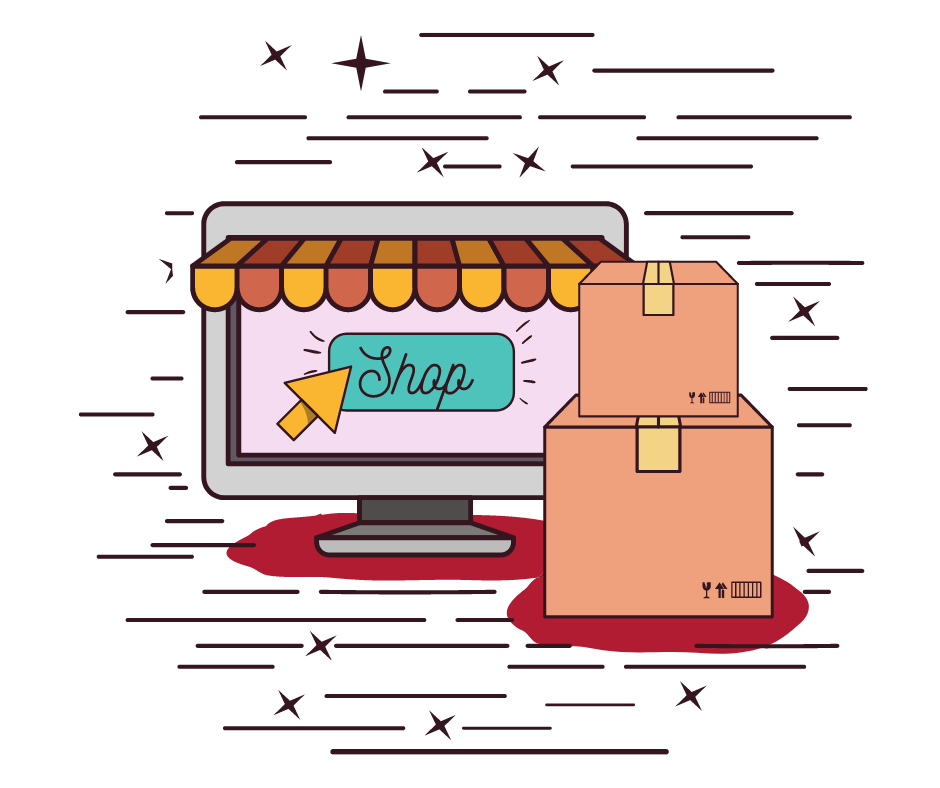 It's time…
Don't wait for success to come. Hire yourself and start your own dropshipping business
When you generate positive feedbacks for your eBay store you increase the performance of your seller account. That leads eBay to give your listings more exposure on the first page of the search results. And we all know already the rule of eBay dropshipping since it's based on Search Engine Optimization (SEO): Getting to the first page means more sales.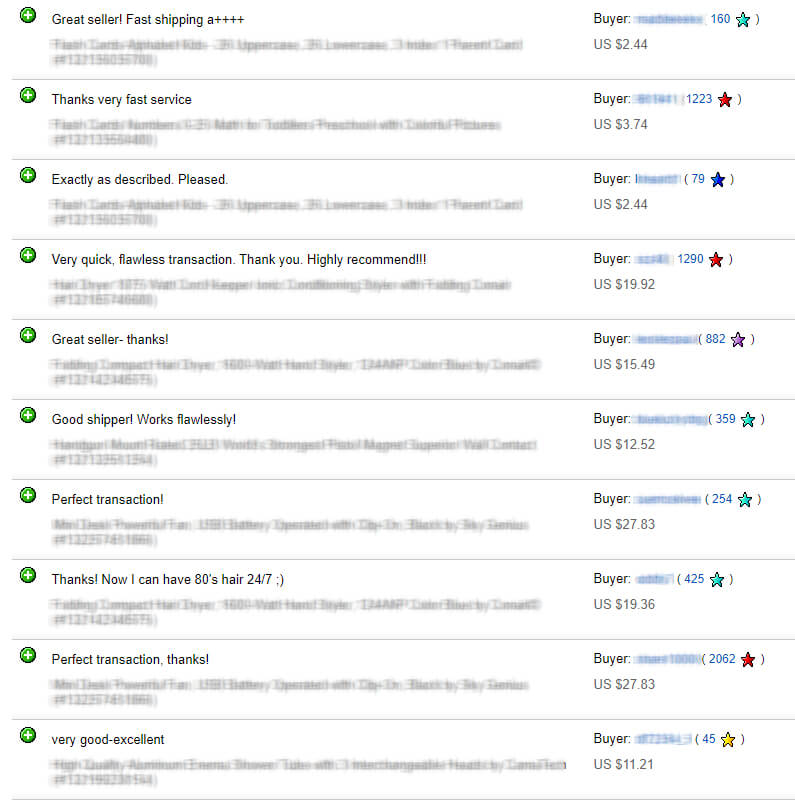 How do I give my customers an awesome experience?
Do you want to know what is the biggest secret of the top-rated sellers with hundreds of thousands of feedbacks on eBay? What is the unique knowledge on how to give their customers an excellent experience only they know?
Well, guess what? There is no such thing. Giving your customers an excellent experience is simple, straightforward, known to everyone who has ever been getting any service anywhere, and it drives results.
Think of the known real-life rule, when you are satisfied with a product and you choose to recommend it, you help the seller of that product get more exposure. More exposure is usually directly translated to sales. That is exactly what happens on eBay when you get positive feedback.
What causes a customer to give positive feedback?
Customers tend to give positive feedback when their experience meets their expectations. If you want to provide excellent customer experience, your store must meet the following buyer's expectations
High-quality products
The most important aspect of getting positive feedback is to provide a good quality product. This is why it is highly recommended to source your products from a reliable supplier. When you source products for eBay dropshipping from big retailers like Home Depot or Overstock, you know that your supplier (the retailer) is reliable. But when you source products from a marketplace like AliExpress or Iherb you must be even more careful.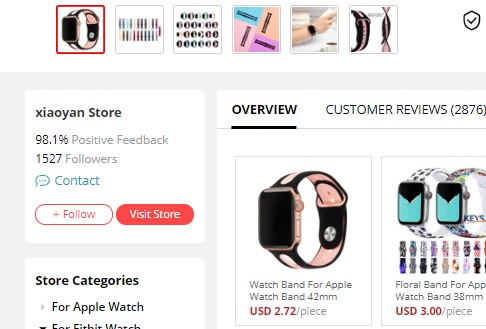 In either case, what you want to check when you choose what to sell is the feedbacks and reviews the product got, when sourcing from a marketplace also check the reviews the seller got. For beginners, I recommend choosing products with no less than 4.7 stars and at least a few hundreds of feedbacks. And seller with no less than 97% positive reviews.

Provide clear shipping and return policies
Some of the first questions buyers ask themselves when they decide on purchasing a product is "when will it get to me?" and "will I be able to return it if something is wrong with it?". You can figure out the answers to these questions when you choose the best dropshipping supplier for your eBay dropshipping business.
In any case, you have to make sure that you set up your business policies correctly both on eBay and in DSM Tool. And I recommend also setting it up in your templates. If you are not sure how to, it is explained at the end of this article under "Setting up the website for product sourcing in DSM Tool".
Handle the delivery on time
In the shipping policy set to the product you are selling, there is one important parameter called "handling time". This parameter refers to the time it takes you to deliver the goods. Since this is all done electronically, eBay counts the tracking information you update as the moment you "handled" the package.
Therefore, the time you set for handling is the time you commit to. You have to enter the tracking information within that time. I recommend setting no less than 3 days when only getting started. You should also definitely use the DSM Tool Auto Paste Chrome extension which just like it's called, automates the copy-paste work for you and helps you automate your business.
Provide great customer support
Take care of your customer's questions on time. If you did not yet install the eBay app, that's the time to do it. You should be able to respond to your buyer questions as fast as possible, and there is no need to wait until you open your computer to do that. Plus, you'll get to hear the Chi-ching sound every time you make a sale. Warning: it is addictive!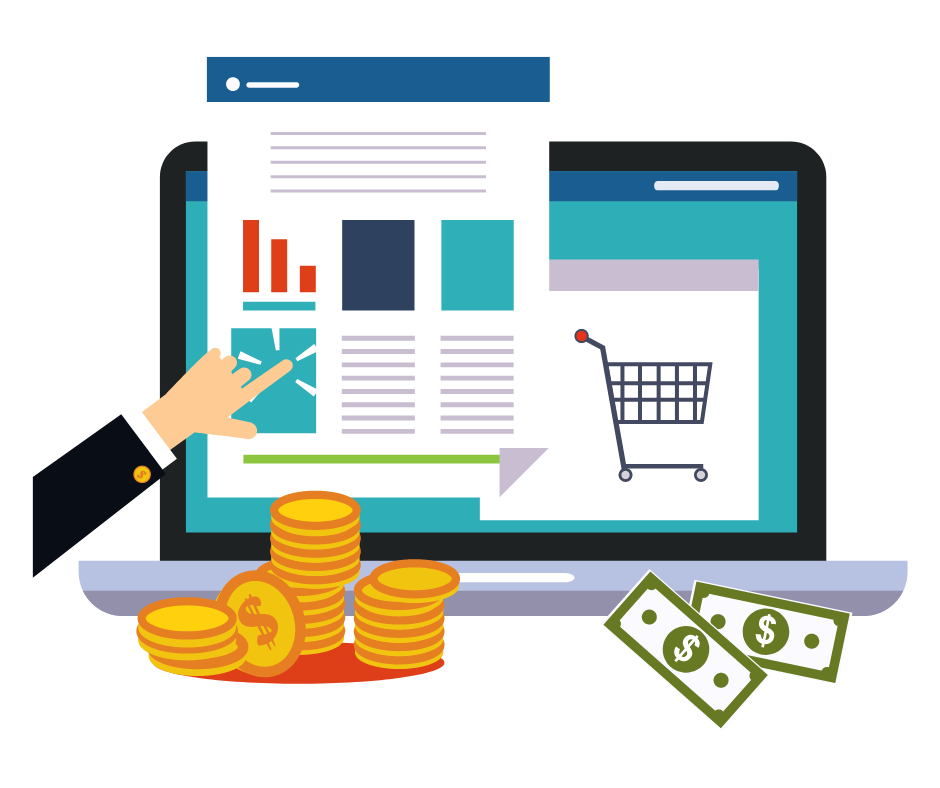 Don't wait for the profits, make them!
Start a profitable dropshipping business with DSM Tool. Get a free course and a free trial of the software.
Our magic weapon: How to give freakin' AWESOME customer experience?
Back to the story of me and my partner figuring out how to get more feedbacks automatically.
We have developed a feature that started sending our customers messages and give them positive feedback automatically: 4 messages in total, the last one 7 days after the purchase when the product is sourced locally, and 30 days when it is sourced from China (the store was on eBay.com, so it aimed at US buyers). And then we waited…
and… BOOM!!
I can't even explain to you guys how crazy it was! Wanna see how it works? Ok then!
What is an auto-messaging feature?
It's called the auto-messaging feature, it saves you time so you don't have to send the feedback requests yourself, but it is much smarter than that. It sends 4 different messages at the perfect moment to create the best experience for your buyers.
Auto messaging system for generating positive feedbacks
The first message is being sent right after the buyer made the purchase, it is your chance to thank your buyers during processing the dropshipping order. You can also refer to the shipping time especially if you are dropshipping from China where the shipments take longer.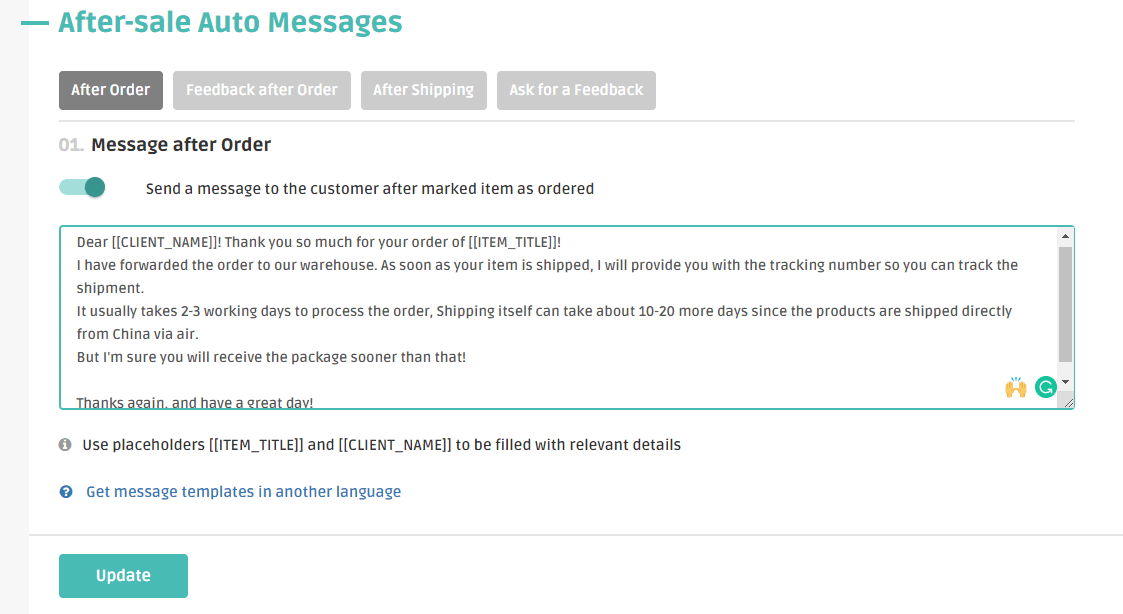 The second message is actually not a message, DSM Tool will save you time and give positive feedback to your buyer automatically. At this point, you might already get positive feedback from the buyer.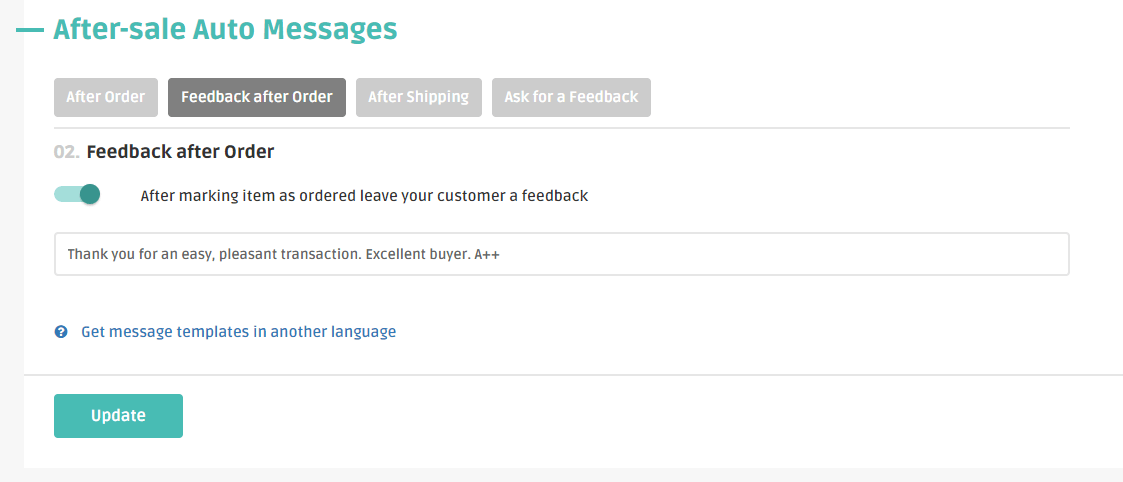 The third message is sent right after you add the tracking information for the package. eBay also sends a notification to the buyer, but you want to give an excellent service, remember? That is why unlike other sellers on eBay you personally contact the buyer to make sure they got the tracking info. Well, unless you use the automated messages then it's done for you automatically.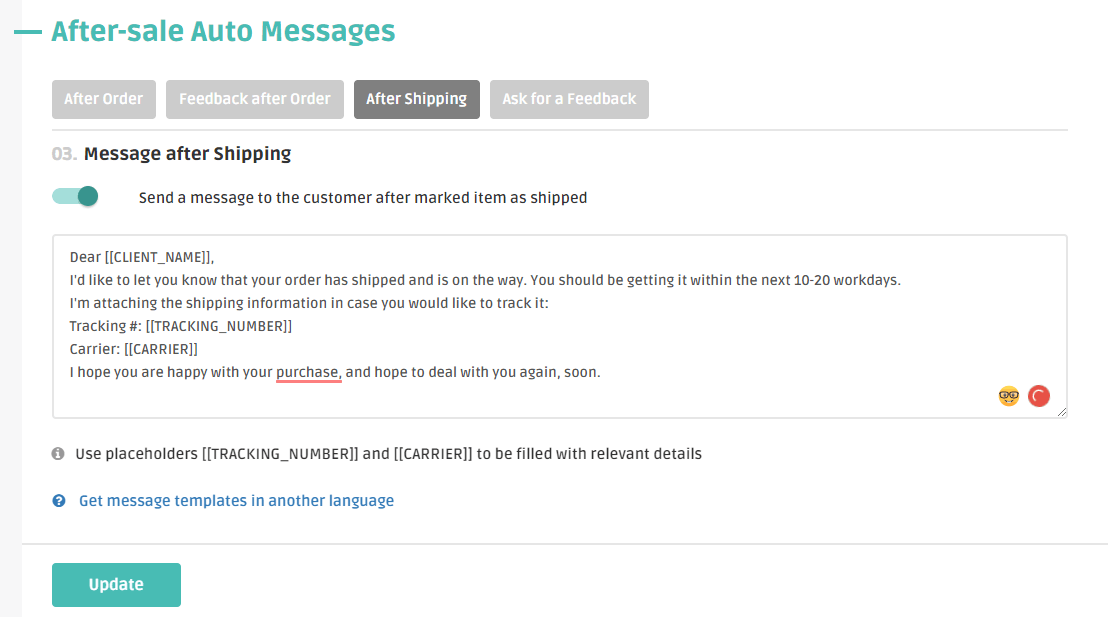 The fourth message is the cherry on top of the cake. A feedback request that is sent after the package arrived to the buyer. You could share your e-business card in this message so they can contact you easily alongside the request for feedback.
Besides, you can set the time for the message to be sent to fit the products in your store. If you only sell products you source from local websites, I suggest setting 7 days. If you source products from China or other international websites, I suggest setting 30 days.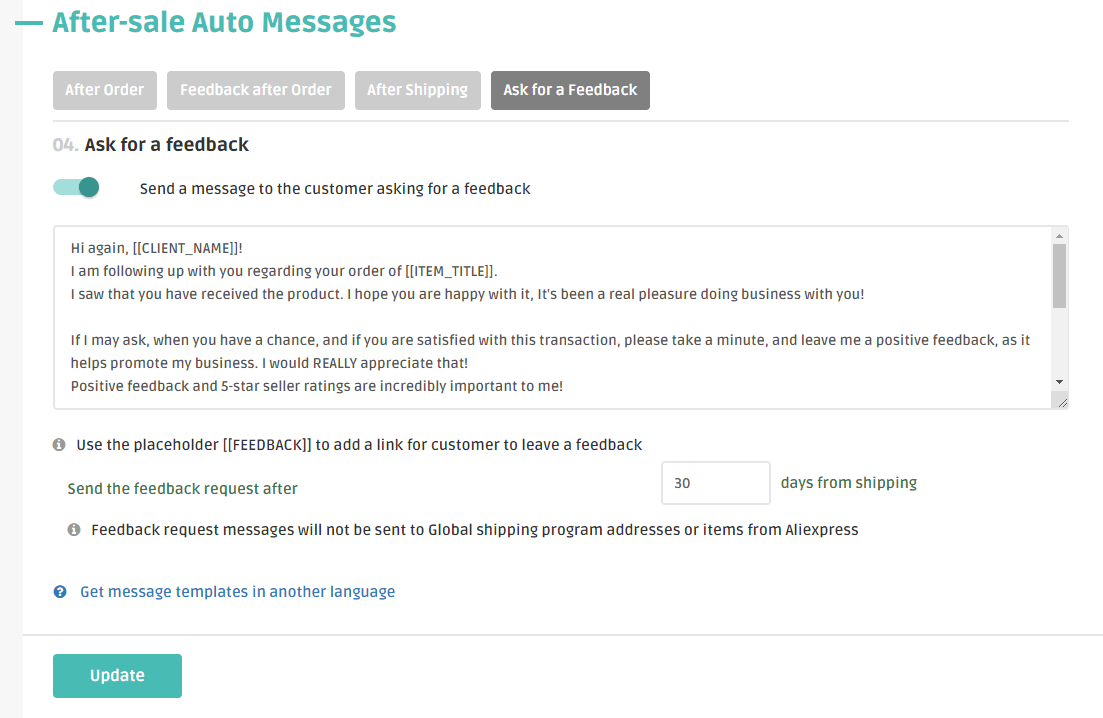 You too can set up the automated messages. Go to the Sales & Orders tab in your account settings and find the After-sale Auto Messages section. Then, turn on the messages you wish to send automatically and go over the texts, personalize it according to your store.
To get the best results, there are two simple and technical things you must know
Must-know #1: Learn how to use place holders
Placeholders are text parts inside the message that DSM changes dynamically according to the actual details of the sale. For example, you can use the [[ITEM_TITLE]] or [[CLIENT_NAME]] place holders in the middle of the message and DSM will replace them with the title of the product, or the buyer's name.
Must-know #2: Cancel the messages if you get the feedback earlier
If you reach your goal of getting feedback before all messages were sent, it is best practice to stop sending the messages. That is while the messages are being sent a green clock icon appears in the Sales & Orders page next at the left side of the order details.
You can click on the green clock icon, and the messages will stop sending to the buyer.
Go ahead! Use this brilliant feature for the automatic generation of positive feedbacks! And may your customers always be happy!