39

min read
Instagram is such a powerful social media platform that really offers tons of options for building and sustaining long-term and trustful relationships with your target audience. It has different features which help people and brands to convert their followers into consumers. That is why it is crucial not only to decide what to post on Instagram but also what kind of content to produce. But don't you worry – we've got you covered! These IG post ideas will help your business grow on Instagram organically.
Creating worthy content is one of the best ways a business can grow through Instagram. But what type of content works best on Instagram? We've put up a list of IG post ideas for business with visual examples, so you could see what works best for different successful businesses on Instagram (whether you have an eCommerce store, physical store, or sell services). You'll learn how to present engaging content for your audience, advertise your products and services, and attract more buyers with this list.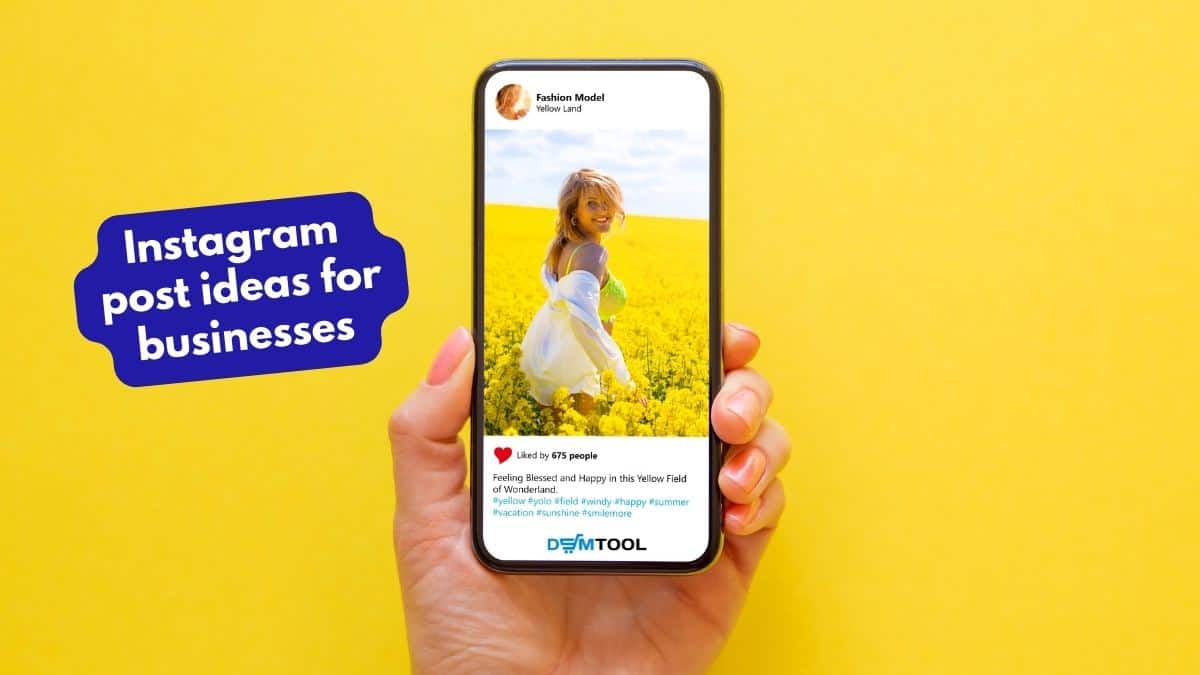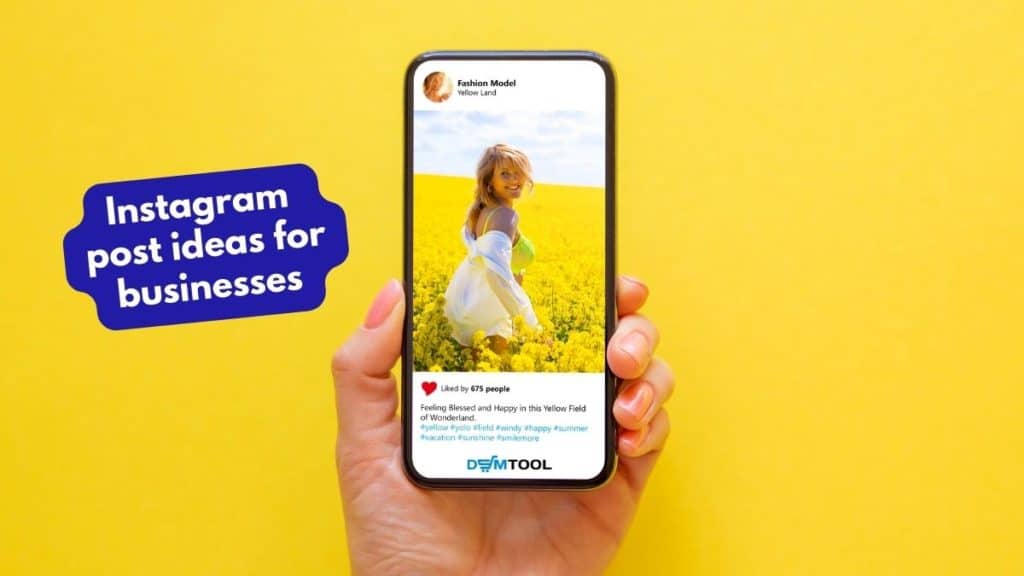 List of Instagram Post Ideas for Stores and Services
We are one step from showing you multiple Instagram post ideas and it's up to you to decide whether to choose just a few of them or ALL. Having a mix of Instagram post ideas for business in your account is as essential as presenting worthy content.
Remember that one of the forms of content presentation can emphasize the idea while the other one can devalue the information. Our tips and advice will clarify how most of the IG post ideas can contribute to your social media goals. Your Instagram posts should increase engagement, build your brand, and provide diversity while being unique.
To plan 1 month of content just in 3 days? Easy! Let's do it!
Here are post ideas for Instagram businesses that we will cover:
"Introduction" post
Real-life post (show personal aspects)
Your business's story post
Your involvement in charitable causes
Promotion content
Product/service update post
Upcoming events
Special moments captures
Future ideas post
Seasonal content
Current event contribution
Goals post
"Schedule" post
Hack/tip no one knows
Inspirational quotes
Trending products post
"Spotlight" post
Customer's journey
Behind-the-scenes
Brand's related story content
Your biggest mistakes
Your latest failure post
Cross-promotion
Your day in brief
X reasons to do smth
Top X tools to use
Comparison post
FQA post
Post of Advice
Controversial topic
Tutorials
Post for comments
Before and after post
Meme post
Expectation VS reality
Discount/offer
"Encourage to tag" post
Online offline store
Online shopping
Influencer's collabs content
Collaboration plus interview
Contests and giveaways post
"Let's meet" post
Long-form content promotion
Content repurposing
Old post rewriting
Announce discounts
Reposting posts
Let's get some examples of such posts and see what content you can post on your Instagram.
1. Tell or Re-tell about Yourself
It's a common thing to remind your followers who they are looking at. Actually, it's recommended to tell about yourself in a post or a video that you add as a post, and in the future, you will easily help your newcomers to get to know you. The ways of retelling are numerous and depend on the stage at which your business is. For example:
You have just opened a business, for example, an eCommerce shop, and you post about yourself, and your brand and tell more information in stories;
You save your stories in the highlights, so in the future, all newbies will find additional information about you and your brand without spending much time on the search;
When you have thousands of subscribers and get many DMs with a request to tell more about yourself, you can cut a DM with one of such questions and attach your old post about yourself. This way you will always increase the views and other post criteria.
Of course, there might be a few posts about yourself, updated according to your life changes. Posts will complement each other and give a bigger and brighter picture of who you are.
Your life's story can easily intertwine with a story of your brand, a story of your business, just like Jess did with "The Moon & Two Stars":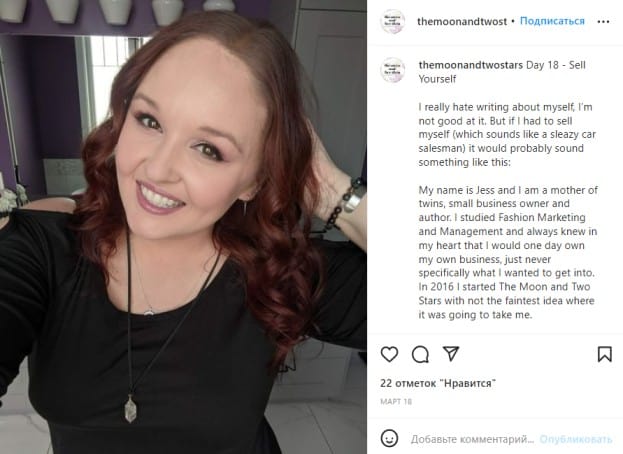 People love interacting with real people, not soulless pictures. Show who stands behind the brand, and tell your story. A person can replace 100 books with exciting stories and where a man sees nothing remarkable in his life, a stranger may see a chance, decision, solution, advice, and an endless list of things.
We are all people. And the next Instagram post idea for businesses is to share this aspect of your life. Even though some brands you look at and think they are gods or wonderful sellers, designers, influencers, etc – they are still people and we all have something to learn from them. NOT TO COMPARE! But to learn. Share with your audience that you are a real person from blood and bones and that you have (or do not) a family, routine, and life besides work or hobby.
It can be a post where you congratulate your mom on a birthday or share a family image opening up to your audience about how you've spent a weekend or evening (hiking, BBQ, whatever!).
We are all people and it's always a great idea to show how you combine your different life roles. Be sure – sometimes people just wonder so much about who you are behind your business.
Elenfhant is a kid's boutique, the store's IG page is filled with hundreds of goods for kid's photos in a good resolution, in the same color gamma, but it's so cute to see the owner's daughter on a post in honor of her birthday.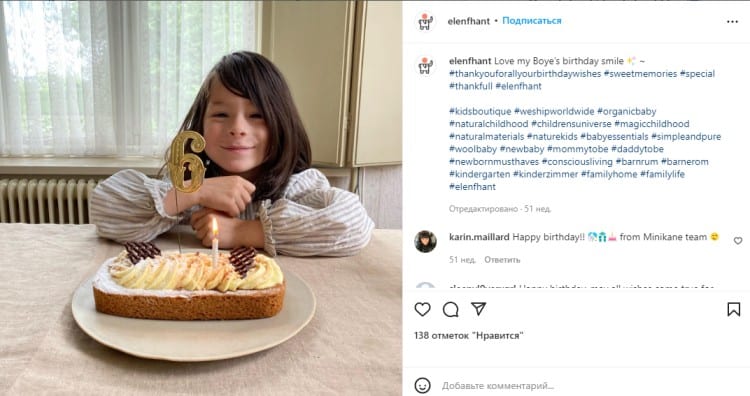 Another example is brock11johnson IG growth coach whose niche has nothing to do with personal lifestyle concepts according to his words, but adding this appreciation post for his soon-to-be wife was the best idea:
3. Tell Your Business's Story
Those who are about to start their own business (not necessarily in the same niche) or your brand's lovers would love to know where and how the brand started, how much it's grown by far, and furthermore if you can show it visually in an Instagram post your brand's history would be a heavy plus!
A single father made Black Fathers Exist by the name of Charles. He was seeing stereotypical jokes that African American communities don't have father figures due to the lack of responsibilities. Charles knew this was an unfair mindset and decided to bring it to the world so that his culture could be supportive and responsible adults to their children.
That's why they have apparel designs to showcase they are good fathers and can be an example. Look at this precious video post from their POD store's IG page.
4. Post About Your Involvement in Charitable Causes
Many brands take part in charity events or donate part of their income to charity thus showing their supporting position in society and inviting others to join and think widely. Some people care about climate change, homeless animals, or those who suffer, supporting different online communities or organizations, so their IG blogs, Youtube channels or brand name is another "tool" to speak to the world and ask to join to take a step to significant change or support.
Your Instagram post idea with charity information will definitely help you to meet like-minded people and become a community with common opinions and goals.
Our example will be taken from Meowingtons – one of the biggest Shopify stores. Appealing mostly to cat-aholics, they built up their brand by designing an adorable cat logo, expanding their cat product lists, and building social media channels dominated by adorable cat images, videos, and photos. The brand that has a big heart and part of the profit they spend on a Charity, has also created an ambassador program and the link in Bio includes the information on how to adopt cats: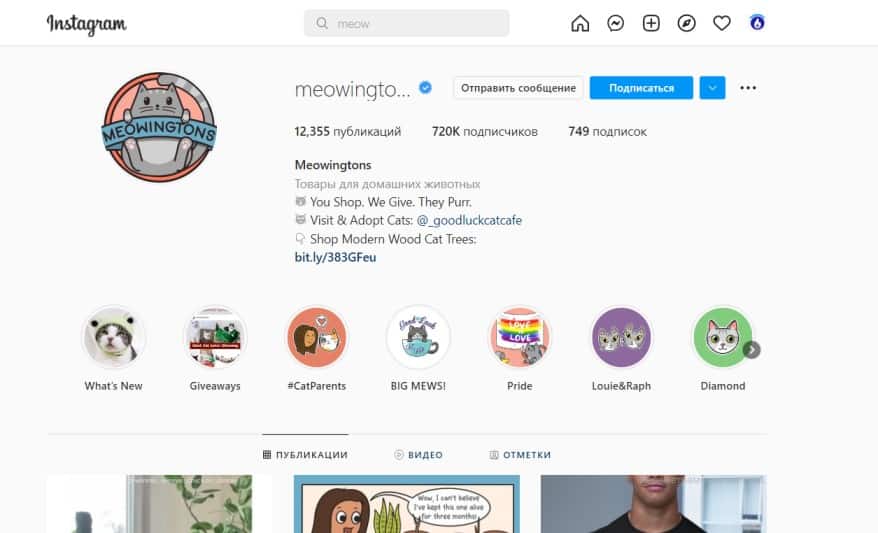 5. Promote the Product or Services You Offer
Your services and goods don't exist in a vacuum, but there is always a culture, an occasion, and circumstances that surround them. Try Lifestyle Content to promote your brand, products, and services. Think about posting fantastic lifestyle Instagram pictures where your brand's personality and spirit are reflected on its full. If you want to increase the popularity of your brand on Instagram, consider buying Instagram likes to make your posts more visible to a wider audience.
You can use services like BuySocialMediaMarketing to stand out from the rest.
6. Unveil the New Product or Service
A great option to merchandise the service is to show just a part of it in a process that customers can feel. Thus, your audience can experience a partial result, but in order to get a final/better result – they need to buy a full product. For example:
You are an athletic coach who's selling a 21-day exercise course for healthy and productive training for those who want to lose weight in 3 weeks.
You can create 3-5 posts with exact exercises from a course to let people try and see the effect, so they won't want to stop after 5 days
Another example is to make an engaging Instagram post to show your followers the merchandise. WP Standard, a leather goods manufacturer, uses a carousel post to recreate the feeling a buyer would have while unwrapping a new purchase: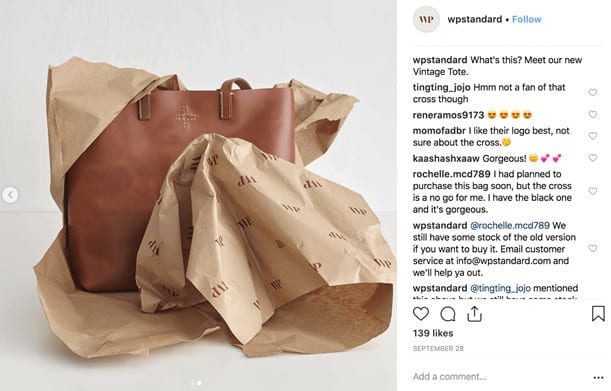 7. Post-update about the Upcoming Events
Maybe your store and business are not just about "to buy"? If you arrange meetings, special events, and celebrations (your brand's anniversary for example) or release big sales, there are significant changes in your business – LET PEOPLE KNOW it via IG post! You can easily create and share digital business cards with links to registration pages or event schedules. It's another good idea to make people visit your store more often and you'll also get feedback about the upcoming occasion. 
I've found a wonderful example with a personal approach of New Origin Shop inviting you to celebrate with them and will be happy to share it with you.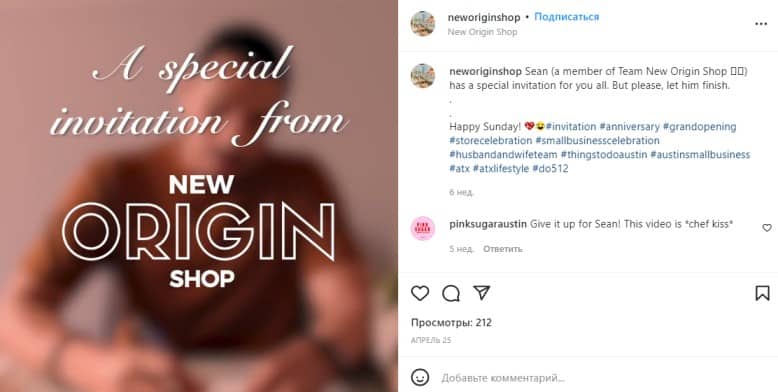 8. Capture Special Moments Instagram Post Idea
previous Instagram post idea for business where your loyal customers could even have participated! Just let people remember the event forever or show others what some of them have missed, but would love NOT TO the next time.
Check out how New Origin Shop has captured that special celebration on their Instagram carousel post. Surely, there is not just one post, you can keep watching and reading others: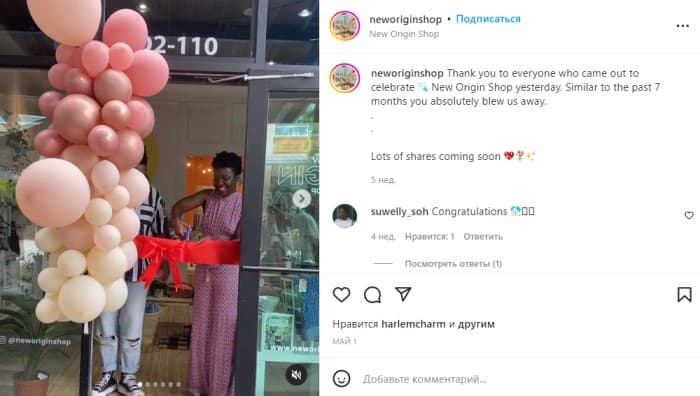 Very simple Instagram post idea for your business as all entrepreneurs of e-commerce stores (and not only online, but offline too and all businessmen in general) have ideas of how to improve their business or product, how to manage it better, and spend less time, etc.
Share your targets, dreams, and plans for your business and future. This Instagram post idea can include your personal life aspect and be not related to brand ideas.
There's always something seasonal going on that your Instagram post can embrace. Related photos, videos, or images play the main role in it. Add capturing, mesmerizing, interesting photos, videos, or images to the post because it plays the main role in creating and compiling content. It can be a photo made by you once upon a time or intentionally for this post.
Not a photographer? No problem! It's not too difficult to create quality videos and images on Instagram via your cell phone. Take your time and choose bold, high-quality images with lots of contrast from the internet. I also recommend you not be afraid of changing it. Instagram itself puts a wide range of filters, special effects, and photo editing tools at your fingertips.
One of the biggest advantages of seasonal posts is that the hashtags are directly relevant right now, meaning more users are likely to search for them. Fill your post's description with plenty of timely, holiday, and seasonal hashtags for the best results. To make it easier for you, try Flick to analyze and find the most viral and trendy hashtags.
Try seasonal reels as well. Usually, they have specific trending music and trends which you can use for your business and eCommerce shop:
Tip
You can use our content calendar with all upcoming holidays and promotions. They literally give you dozens of Instagram post ideas.
11. Contribute to Current Events
The world is full of events, so just choose which one you like and take part in it! Your brand's products or services can show their relation to what's going on whether it's a print-on-demand store or your brand is just against the war and violence in the world. Give your voice!
The Womenswear brand from Ukraine Toté Collection stands with all Ukrainians since its beginning. Multiple mentions in fashion magazines like Vogue, Harper Bazaar, and Elle always highlighted the brand's trending clothes and the Ukrainian spirit. Its founder Alina Frendiy was, is, and will always be proud to be Ukrainian and during the horrible period in Ukrainian history, a bloody war which Russia began, Alina reminds the again and again to all the world on the brand's page that business is not about selling/buying, it's about the soul and idea. Well done!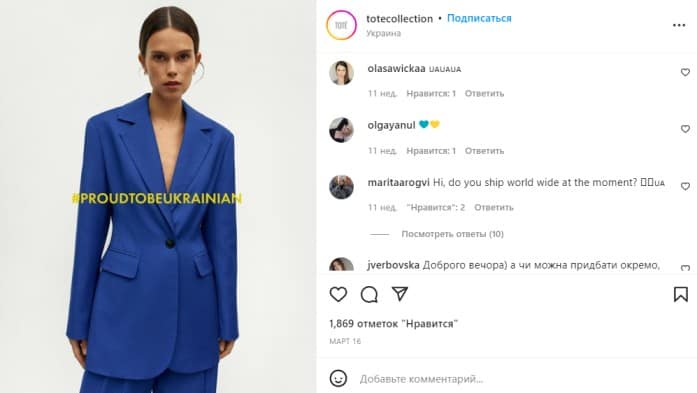 DogPawty is a dog-centric dropshipping niche store with a huge base of loyal customers to whom they presented their patriotic t-shirts on Memorial Day:
Again we have a very simple idea for posting to your account. This is a great example of increasing engagement and supporting interest. Business is full of success and failure. Share with your clients all the variety of the goals which you achieved, so such ig posts will stimulate them to keep going to theirs or just be happy for you.
13. Schedule Post Instagram Idea
Show your Instagram followers that it's a good habit to plan and have things organized. It might be a plan for a day/week or a sprint. Don't confuse it with #9 (sharing ideas post) as #9 is about dreams and wishes while #13 (this one) is about steps to reach #9. Complicated? I don't think so, but if you still have questions, look at this example: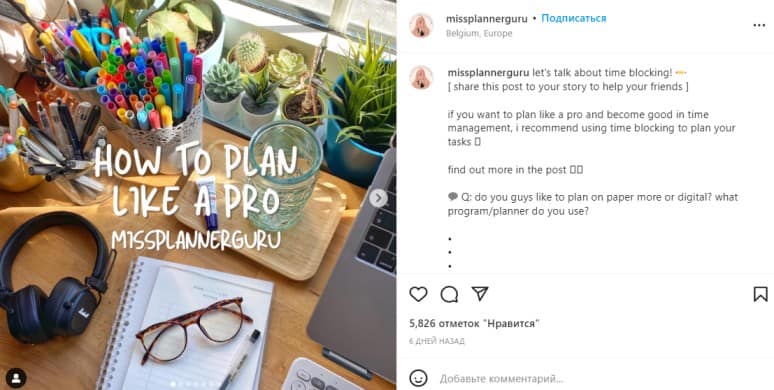 Post descriptions can be related to your business, niche in particular, or commerce in general. Your strategy can be educational, so people would expect you to share with them your experience and knowledge.
You can release such posts systematically, so make sure to save the themes that you fall back on.
Discover024 is an Instagram-growing guru of candles and Elevated Home Fragrances. Look at their post and I am sure 90% of you indeed didn't know about that cold/hot candle's throw hack:
15. Give Them an Inspirational Kick
Everyone needs some encouragement from time to time, so your Instagram page will not be spoiled with positive quotes. Instagram is full of such inspirational posts, but if your account is not focused on quotes only, there is no need to compete with anyone. Your quote's choice will on one hand highlight your mood and brand's style and on the other hand, quotes can get new users to comment on your posts and follow your account.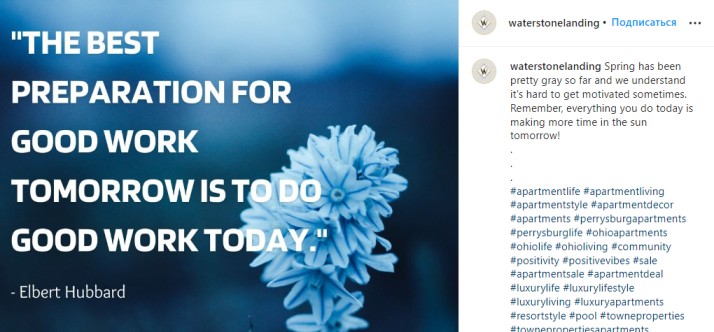 Tip
Do this using dynamic colors and layouts. You can use tools like Canva or Colorcinch to help you create these images quickly. And don't forget to credit the quote to the person who initially said it.
Remind customers what they love, need, or wish, on what to pay attention to this season or year. The way you present it depends on you, and your niche. Can be images, videos, or reels which you reload as a post. Make sure to add to the description Trend's name or period when it's viral using hashtags, so the post flies to the sky.
Tip
You'll also want to include rich, interesting captions, not just product names and a few trending Instagram hashtags. To make it easier for you, try Flick to analyze and find the most viral and trendy hashtags.
17. Give Your Followers the Spotlight
Post on Instagram an image of your upcoming product/service or a piece of work you are about to finish to show them soon. You can also add some kind of a mystery to it leaving it without a description or using emoji from Quicktools' vast emoji library.
New product development may be a thrilling experience, so don't miss out.
Look at this gorgeous Victoria Beckham's coming soon "fishing rod" example. She has 2 businesses: fashion label and cosmetics. She is not only a designer, an entrepreneur, and a mom of 4, but she is also a great marketer. Look at how she promotes the new product: a simple, but feminine total black look is amazing, the top is about to come and we can't wait to see it. She actually uses other strategy hacks, such as personal tagging, brand hashtags, and cross-promotion with "The River Café London"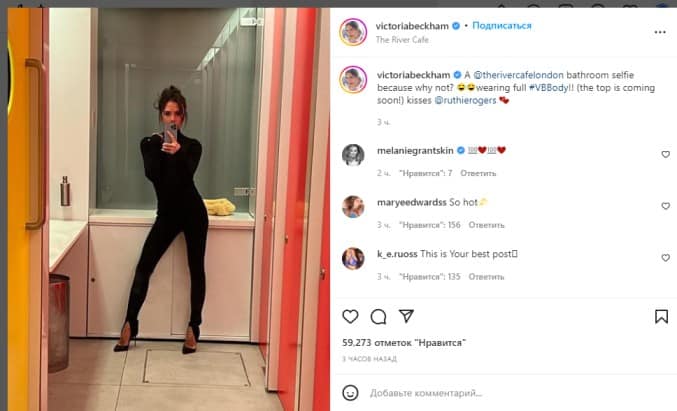 Social proof is a marketing superpower and a strong human trigger to take action. Carousel with client testimonials cheers to client's results, and many other options showcase the value and build client's trust. Use it!
Gunnarkennels posted testimonials composed and presented the way I've never seen before in stores: a heartbreaking video with car accident images and a dog owner's interview proving that the only reason the dog stayed alive was that she was in Gunner's cage:
19. Take Your Followers Behind the Scenes
Lately, it has become a popular Instagram post idea, because e-commerce entrepreneurs stopped being afraid to reveal the secret of their success, they don't think about someone copying them. It's a new level when you know that you are so cool, you have your community that loves your brand, and your behavior, and they appreciate the feeling they have when they get your service or product. Brands stopped comparing who is better, they value what they do and want other people to learn from it or show what it cost to create the thing they love.
If you are not afraid to laugh at yourself, post a fun #behindthescenes video just like this example.
It's like watching the movie credits: it's curious, interesting, and indeed an integral part of a masterpiece.
Tip
Behind-the-scenes videos can encourage repeat purchases and support from loyal customers.
Already now you can have a thought about what impacted or affected your business, or what is that story that you've heard or seen on Netflix that is somehow connected to your brand or niche. Share it via your Instagram post! Here is a nice example of Converse:
21. Create a Post with Your Biggest Mistakes in This Business
We all make mistakes and even if we follow someone's successful strategy or way, there is still a chance to fail, to make our own mistakes. I'm sure you definitely have what to tell, so other people will think twice if they really want to live that experience or would be better to skip it and save nerves and time. Compose a post about what to avoid or what you have learned thanks to mistakes.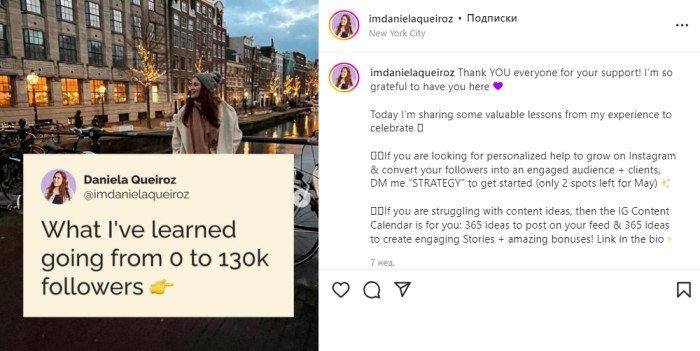 Tip
Create a curiosity Story without mentioning the "juice" and promise to tell the whole story in the post.
22. Post about Your Latest Failure
Again, don't confuse this Instagram post idea with #21 (biggest mistakes), because there you would speak about the past and which are those things or actions others should avoid, while #22 is about NOW, how you deal with it, how you've solved the problem or plan to overcome it. It can be something other brands or niches are suffering from too (like losing a wonderful collaboration or a client).
Business is full of success and failure. Don't be afraid to tell your followers about something that didn't work. It's a part of life and any successful brand.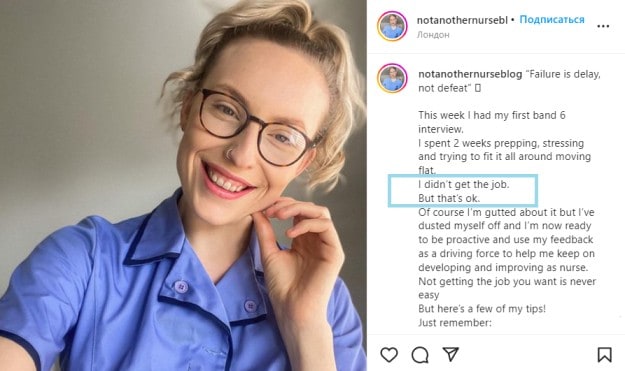 23. Cross-Promote with Other Brands
Cross-promotions with other brands might be planned or just an inspiration. But anyway it may generate valuable relationships and show customers that you're involved in the community, whether you're forming a partnership or simply mentioning them in your post.
A community means an industry, a neighborhood, or something totally else. As an example, imagine that you are a yoga gear seller and you can partner up with a merchant who offers your favorite mats. Why not?
Here is an example of cross-promotion mixed with friendship. "The River Café London"'s post is warm and personal on one hand and professional on the other hand. Talking about a wonderful designer of clothes she lets her subscribers know about their friend's business while still transmitting the idea to the community of being happy to meet someone you love.
Choose a carousel or video format, so you would show as much as possible and it would have a very interesting view. Also, you can go further and add Reels with the same idea, but add some fun and jokes to make it viral, just like this one.
25. Post about X Reasons They Need Your Products or Service
Gunnerkennels release exactly this post idea throughout almost all their social media page:
But hey! No one says it should look like you are trying to convince customers to buy. It can be an unobtrusive post with "a red thread" throughout it that leads to your brand. For example:
You are selling bath bombs, so you can compose a text including a part of the health research where it's said that relaxation is needed
Name a list of the things which can help people to relax, among which bath bombs are mentioned.
Voila!
26. Post about the Top X Tools/Services You Use in Your Niche or Business
For a comfortable review of the information, I recommend you create a carousel where every slide is dedicated to the tool's description, main advantages, and your personal update on what you use it for.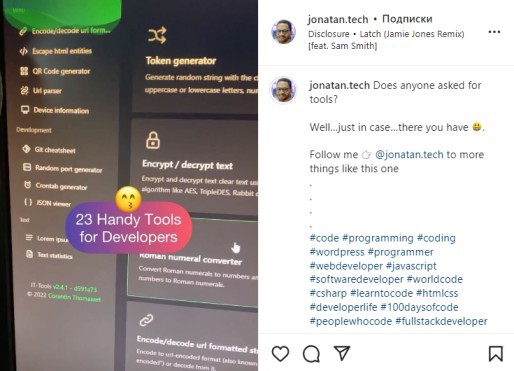 27. Compare Two Tools You Use
Another Instagram post idea for a business, but again about the tools is the following: for sure there are tools you use for the same purpose, they are both cool, but have something that distinguishes them. What is it? Is it a price: a paid tool or a free one? Or this one is better for photo and video editing, but this one has extra feature for design editing? Different analytics tools? Whatever you use and can compare and recommend.
28. Q&A Post / Answer Some FAQ
If there are things you need to clarify for your audience or you get multiple requests to update about anything about your brand or product – FAQ sessions are welcome!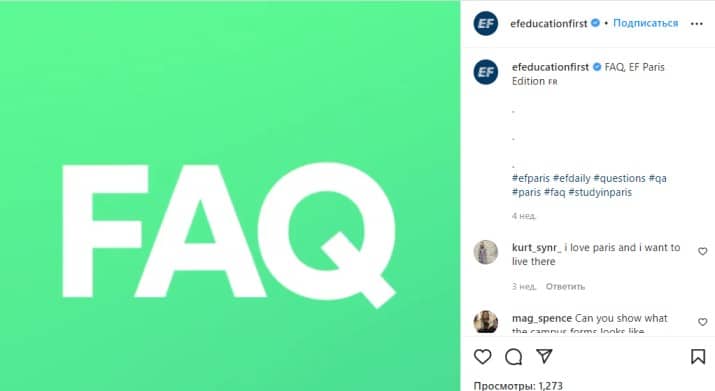 Video is important in today's current social setting, and using more of it in your feed will help you stand out. What types of videos you create is up to you. You can share product videos, brand storytelling videos, vlogs, or Q&As.

You can add audio, effects, and other attention-grabbing elements.
29. Opinion Instagram Post Idea
Ask your followers to help you or say their opinion, post a question or situation which they can comment on, help you to solve the dilemma, recommend anything, help to choose a design, etc (Note: NOT DM you!)
Customers adore being useful too!
Created a new design? Want to know if they like it? ASK like an INSIDE online Instagram store for adults has done!
30. Give Your Opinion on the Controversial Topic in Your Niche
A scandal! No, no need to go so deep… I mean, we all know the internet is full of opinions and there are people who can't pass by without mentioning theirs. Depends on you how big and active you want that conversation to become 😉
31. Post Step-by-Step Tutorials on How to Do Something in Your Niche
You are an expert. People want to know how you do it so great, so why not show them?
Step by step, lesson by lesson, managing the professional process up to the end. It can be even a guide on how to start a biz, why not? Or how to create something unique with your own hands? Just an option.
32. Solicit Comments Instagram Post Idea
Post an image or a video and ask subscribers to comment on it. For example:
You have a clothes store or a jewelry store.
Post an image with a model wearing pieces of clothes/jewelry
Ask them to comment on what they see.
Or the simplest one "Ask me anything in the comments" post.
Both examples increase engagement thanks to the personal presence and they get the feeling that you are there for them.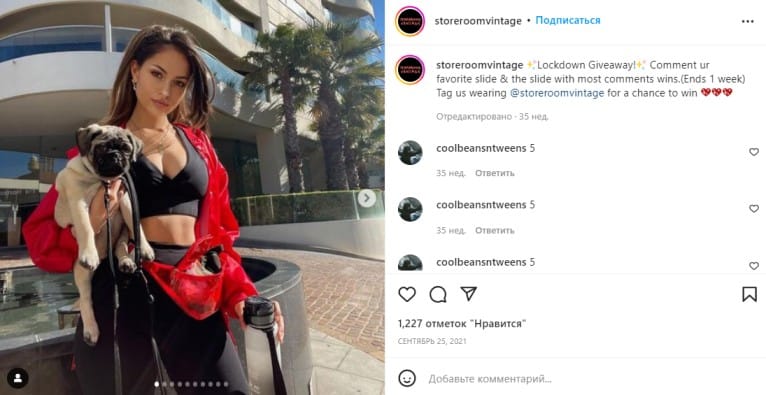 33. Before and After Instagram Post Idea
Share something you can compare publically about your brand/business and show the growth: number of followers, sales, old office and moving to a new one, new team, etc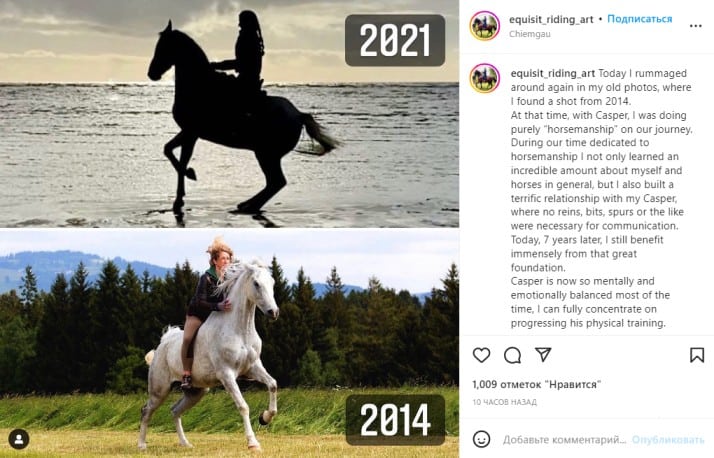 Be not only the company that sells something to people but be their dude. Share your energy with them. Like "Meowingtons" does: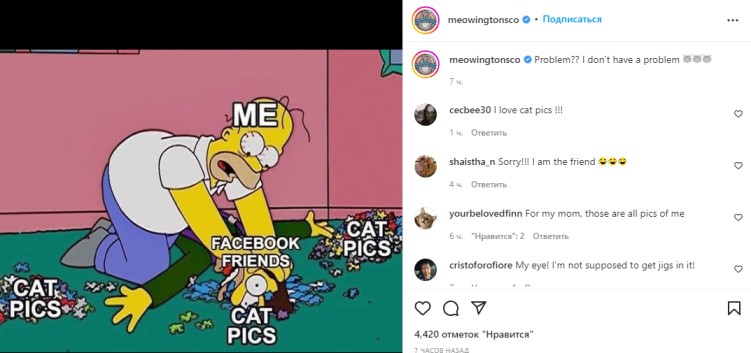 Tanya Aliza, a marketing coach, says that she sells the most when she is close to her customers, shares the energy, and shows her character in posts/conversations. Be ready to have fun with them at a distance.
There's been a lot of changes in Instagram's algorithm lately which affect all IG stores and this social media platform doesn't plan to stop changing. So there always be something to get through (changes, rules, followers). Can't affect or change? Let's have fun!
35. Myth & Reality Post/ Expectation & Reality Post
I'm sure you have seen such posts and it won't be hard to create your own with business or brand-related moments to bust or have fun from.
36. Promote a Special Discount or Offer
Discounts and offers are a powerful way to boost sales, celebrate something with your customers, or free space for a new collection.
An example is already here, simple, reasonable, and joyful: Elenfhant organic kid's boutique is celebrating its 6th anniversary!
Convert customers with product tags:
Instagram tags and stickers for products are unique formats for posts and Instagram Stories, respectively, that enable direct purchases through Instagram. Product tags and stickers can convert followers who are ready to buy now.
Users can click on product tags, for example, to get more information about a product, like its name or price. If they click again, they'll be taken to a screen where they can make a purchase.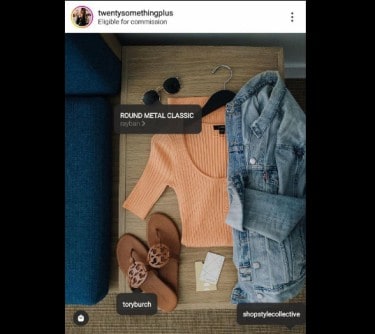 Product tags make it easier and more convenient for users to purchase immediately on mobile, increasing the likelihood they'll follow through. You might consider using product tags when you're running a sale or offering a discount.
Tip
Instagram recently released product stickers for Instagram Stories that let users click to view product information and then decide whether to buy.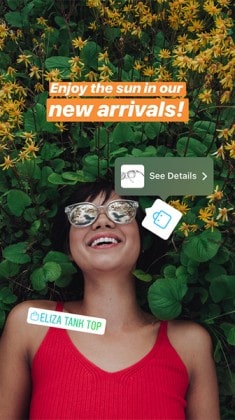 37. Encourage Your Followers to Tag You or a Friend
Nice to meet you, another type of social proof! Be my friend and grow my followers.
Yes, yes, we all know that social proof provides confident buyers. Encouraging your subscribers to tag a friend increases the number of comments and engagement rate while also exposing your account to new people in the most effective way – through a personal referral.
Some stores take it one step further by encouraging buyers to take pictures of their products with their brand's hashtag or tagging them. Best Choice Products, a general dropshipping store has done exactly what we are talking about: they ask their customers to take pictures of their products with the hashtag #mybcp.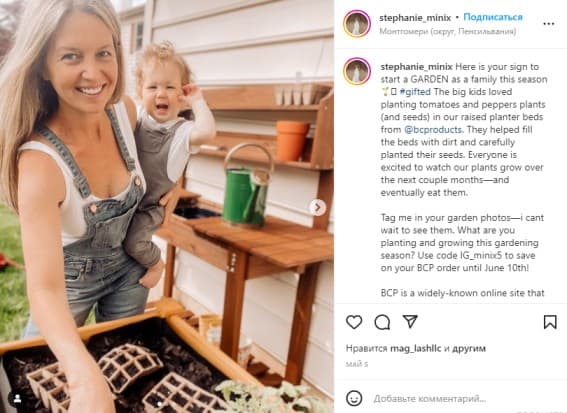 Create your own hashtag. It can be used everywhere online. In every post or video. To make it easier for you, try Flick to analyze and find the most viral and trendy hashtags.
38. Introduce Your Offline Store
Record and post a video of your offline store, its location, atmosphere, and the variety of products or services people can get there. Don't forget to invite followers to visit it and see everything with their own eyes! An example is here.
39. Online Shop Tour or Online Shopping
It's a CTA post (call to action) in which the idea is interesting but requires some time to prepare. Show your audience a well-edited screen record/video of your online website and take your followers on a sales journey.
Or a simpler version of this post idea just shows the video of online shopping and the clothes than on you or someone else in real life.
Video example you can check here:
40. Post about Collaboration with Influencers
If you want to help your brand garner some extra credibility and attention quickly, influencer marketing is a good way to go. Besides, sharing your collaboration via Instagram QR code can help you understand how your audience is communicating with the brand
Let's check some examples of such effective collaborations:
Off Hours is a great Shopify clothing store example with just one product whose social media marketing strategy is based on Instagram. This Shopify store collaborates with influencers and wins from it.
Another example is King Ice which offers uniquely designed collections of accessories and creates premium wearable art. This Shopify jewelry store has partnerships with premium brands including Warner Bros., Viacom, 20th Century Fox, NBC Universal, and Snoop Dogg: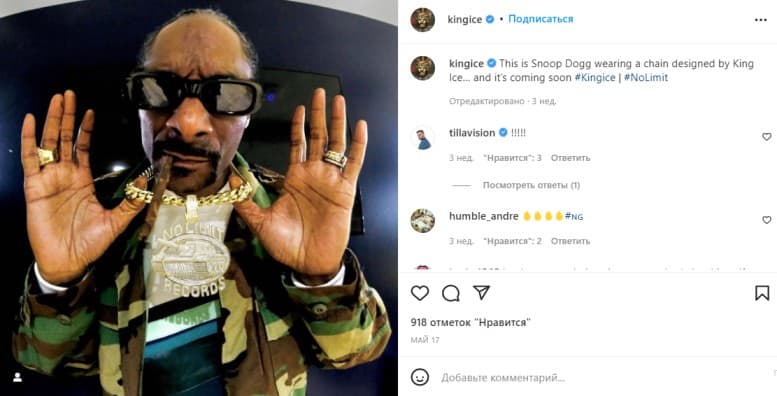 41. An Interview Instagram Post Idea
To get the desired result every step requires a needed background. This IG post idea can´t perform well if your interviewer is average or not very experienced in your niche person.
You can start building relationships with influencers or business/niche experts whose position in society, brand, or IG blog fits your brand´s idea. Start from small steps in that direction: keep an eye on big accounts which you can later collaborate with, meanwhile put an effort to develop your brand awareness using other IG post ideas, and raise the trust level of your customers.
Once you have grown your business to the level to show a meaningful interview to your followers and clients, please feel free to take advantage of it!
42. Contests and Giveaways Instagram Instagram Post Ideas
There are many growth tactics to increase your average engagement organically. From follow-unfollow automation to collaborations and giveaways.
WP Standard shows a recent example: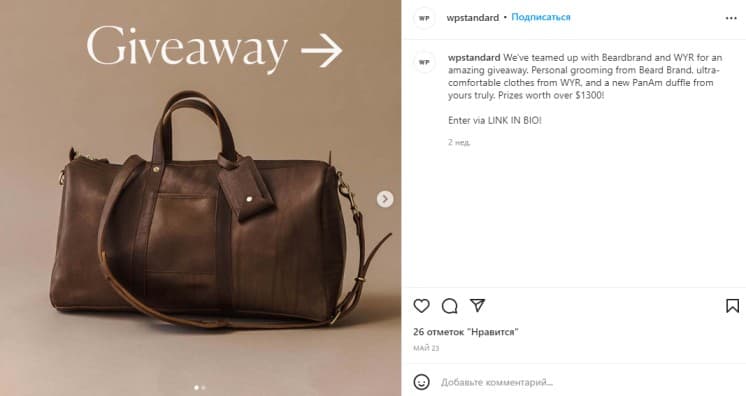 But be careful! Giveaways indeed can grow your account from 0 to X, but at the same time if you have already reached quite a big organic growth level this tactic can kill your existing growth.
What? How is it possible?
In brief, such a method increases your total number of followers but decreases the percentage of engaged followers. It ends with lower engagement for your posts = which results in your account being shown to fewer followers.
So, who knows, maybe it is better to create a giveaway on your own?
43. "Let's Meet" Instagram Post Idea
Quite a short and simple post idea. Post's cover can be any kind of the image (put your product or niche-related image or use Canva to create a designed image) and ask your followers to tell in the comments what's their occupation, where they are from, so there is a chance for other people who read the comments to meet a professional they need or are looking for right now.
44. Promote Your Long-Form Content
Blog, Youtube channel owners, or podcast performers, this Instagram post idea is for you! Instagram posts can be used to promote your long-form content to your IG followers. Direct your IG followers to your long-term content via the link in your IG bio.
In case you want to boost your IG post's engagement, you can ask your subscribers to comment on the post to be sent the link in a direct message. Promotion+engagement! Cool!
Here is an example where the Instagram post is about their new Blog article "update":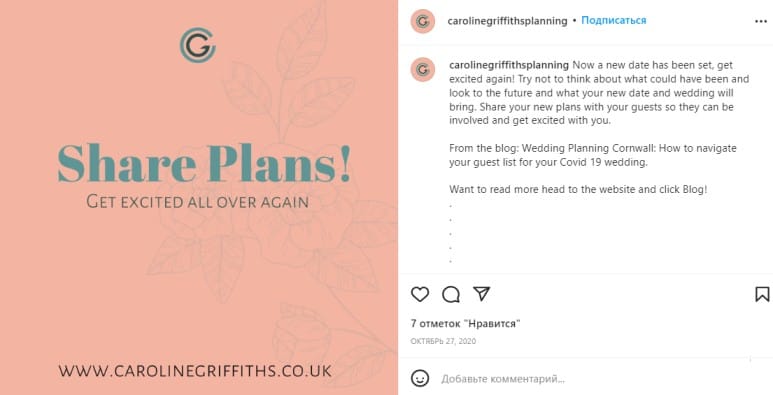 45. Repurpose Your Other Content
Numerous ways of repurposing:
Repurpose your big research report into a blog post by creating catchy blog titles;
Turn a Twitter thread or LinkedIn post into an IG post or a screenshot with a topic for discussion.
A quote in a blog post could become a standalone IG post.
Resize blog graphics as visuals for IG social media content
Design infographics from blog content.
Create video content from your written content or vice versa.
And much more. Just an example: Ricardo Molina does the interviews, after the video is released – adds the ideas from the video into his IG post: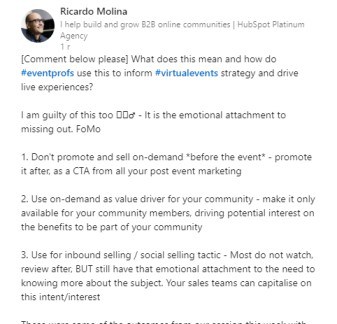 46. Rewrite Your Old Post with Updated Info
Time passes quickly and some information becomes outdated or not complete. Find your best-performing post or video, do new research on what has changed, add this info and present it to your audience as a new, fresh "food" to enjoy.
47. Announce Discounts on your eCommerce Products or Services
Always share your business news with your followers. Announce discounts and special offers together by doing it in email newsletters or posting about it on other social media channels. It is a good idea to increase sales 😉 Here is an example of the Nobufil eShop:
This Instagram post idea is so popular as not all of us can create something yours, own, unique, or original. Nevertheless, reposting content created by others can be the easiest posting because of a few reasons:
How much time do people spend on creating content themselves? Zero.
Which ads do they use? None.
How many tools do they use to create and release the content? Only Instagram.
The best part of it is that reposting can be way more profitable. A good example of it is one of the most famous curators in the world – 9gag which counts 58M subscribers. Think about how many sales could YOU get with 58m followers?
But, you know, it's not so easy, though. Reposting the wrong content can harm your organic growth as one of the ranking factors of Instagram is the history of interactions of your followers with your account.
The less they interact with your content, the lower new content will rank in their feeds. If you don't show up in your followers' feeds – you can't reach other feeds like the explore feed. That's why you need to avoid reposting low-engaging content and that's why I recommend you to use Flick to find the most viral and trendy content to post or repost. It is very simple to use, designed to save you time, and provides you content to curate in no time compared to trying to do it manually.
Tip
Whether you are a marketer, content creator, eCommerce seller, or just a fan of Instagram, there is plenty of opportunities to earn on this social media network. Find out more about reposting UGC in our How to Earn Money by Reposting on Instagram guide.
A Few Instagram Post Ideas Tips
Well, growing on Instagram was never easy. Just bcoz people are doing it online sitting on their couch doesn't mean it's easy. It's a Real Business & it requires a lot of effort too. The opportunities are endless, it's true! Don't use all of these 45+ Instagram post ideas for business at once. To start, choose those IG post ideas which you can turn into regular themes and follow these rules:
Create engaging-worthy content, you do it for PEOPLE. Don't make the mistake of talking only about your business and nothing or so small % about your loyal customers.

Boost your content, and let other people talk about you: influencers, free giveaways, rewards for doing something for your company, etc. Use Instagram managing and growing software like Flick to find viral hashtags and content.

Create IG posts with high sparks of conversation and meaningful interactions. Yes, yes, and yes! Interact with your followers! The business is yours but isn't about you only. You open a door to a variety of personalities with their own concerns, ideas, plans, and fears, so let people talk with you/about them, share their ideas, or vote for anything and they start feeling more connected with your brand and become your loyal friends.
To learn more about Instagram and Instagram Shopping, make sure to check out the following guides:
Value the audience and they will reward you!