16

min read
eBay VeRO. The one thing that dropshippers hate the most, except for eBay suspensions, is which VeRO violations can actually lead to. So what is that? Why does it exist if dropshippers don't like it? and how to avoid getting VeRO violations?
That's what we'll clarify today.
Many beginners in eBay dropshipping might not hear about it yet. But let me tell you, you should really pay attention to this topic. Otherwise, you can get your eBay seller account restricted or suspended forever for listing eBay items that are protected by the VeRO program.
If you're a more experienced seller and you already know about the VeRO program, jump straight to the section of the article about the list. The statistics about the safety of the list that is listed on vero.ebay.com is something you must know.
Good to know
This article is going to discuss ways to reduce the risk of listing VeRO protected products. But let me already tell you that the best method of reducing the risk to basically zero is to dropship from Chinese suppliers like Ali Express and CJ Dropshipping instead of from US retailers like Amazon, Walmart, and Home Depot.
In this post, we will show you everything you need to know about the eBay VeRO program and share the best dropshipping practices on how to avoid VeRO violations on eBay.
Let's start with eBay Vero meaning.
What Is eBay VeRO?
VeRO stands for the Verified Rights Owner. It is an eBay program that protects the intellectual property rights of brands. It allows only owners and authorized representatives of a certain brand to sell their products on eBay.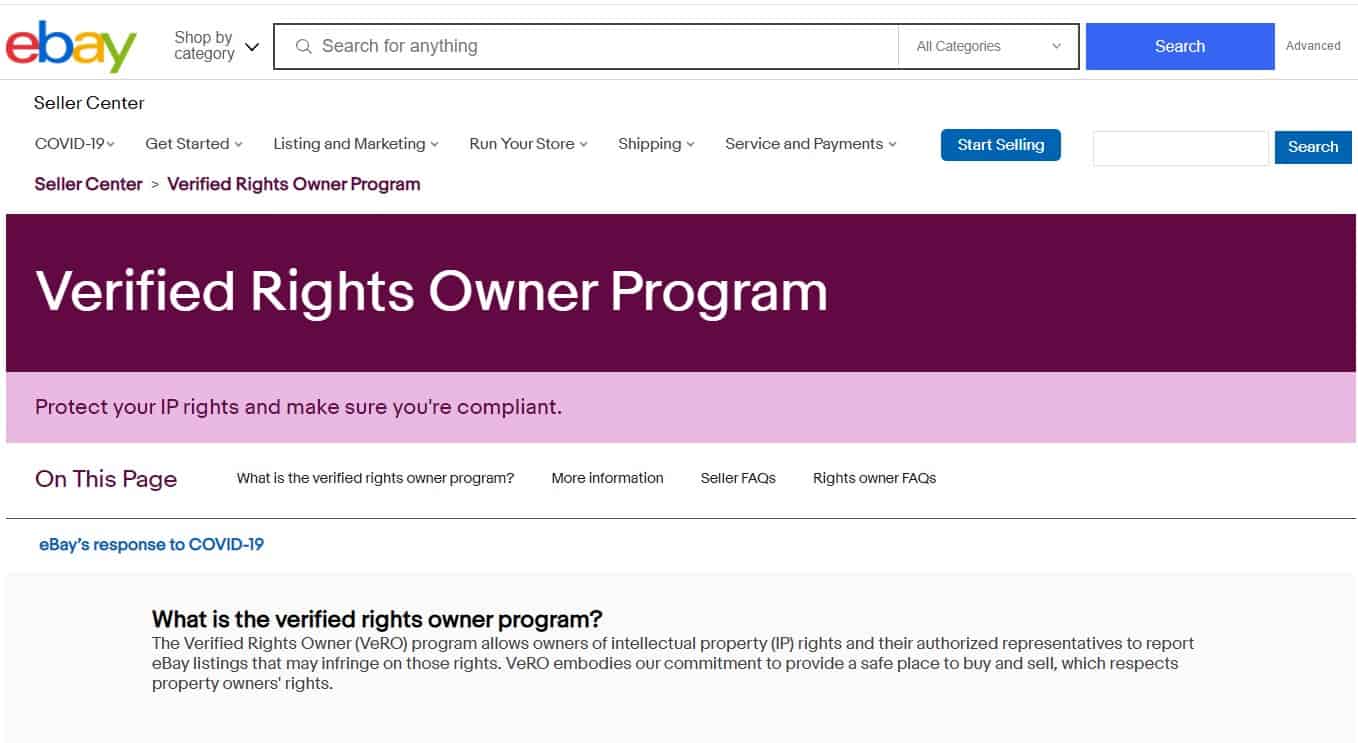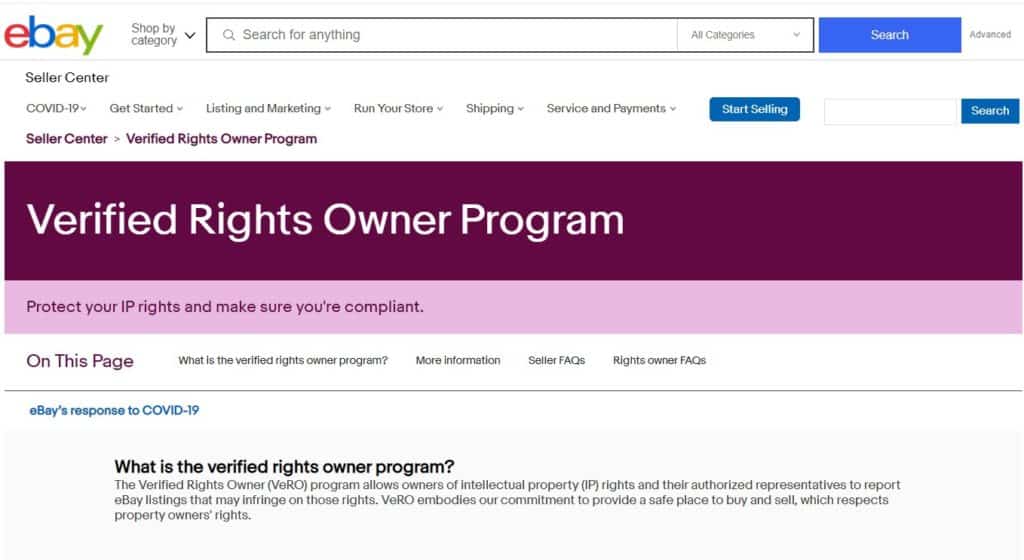 To understand it deeper, let us clarify the meaning of intellectual property.
Intellectual property is work or invention that is the result of creativity, such as a manuscript or a design. One has rights for it and one may apply for a patent, copyright, trademark, etc.
Typically, the intellectual property of a brand that participates in this specific program refers to the product stock images. They are owned by the company that owns the brand and therefore you cannot use it.
But in general, the best practice is to avoid dropshipping products of brands that appear in the VeRO list (more on the list and its problems later in this article).
Don't worry, we will showcase different types of eBay VeRO Infringements below with simple examples.
So, if we put it on an eBay perspective they don't allow us to post or sell a product included in the eBay VeRO list unless you obtained the authorization of the intellectual property rights owner to do so.
Good to know
Guess how many eBay dropshippers attempt to get these required authorizations…. Yep, zero.

It just doesn't worth the effort when you have millions of products you can dropship to choose from (OK, a bit less if you do the product research right) and you can simply avoid selling VeRO protected items.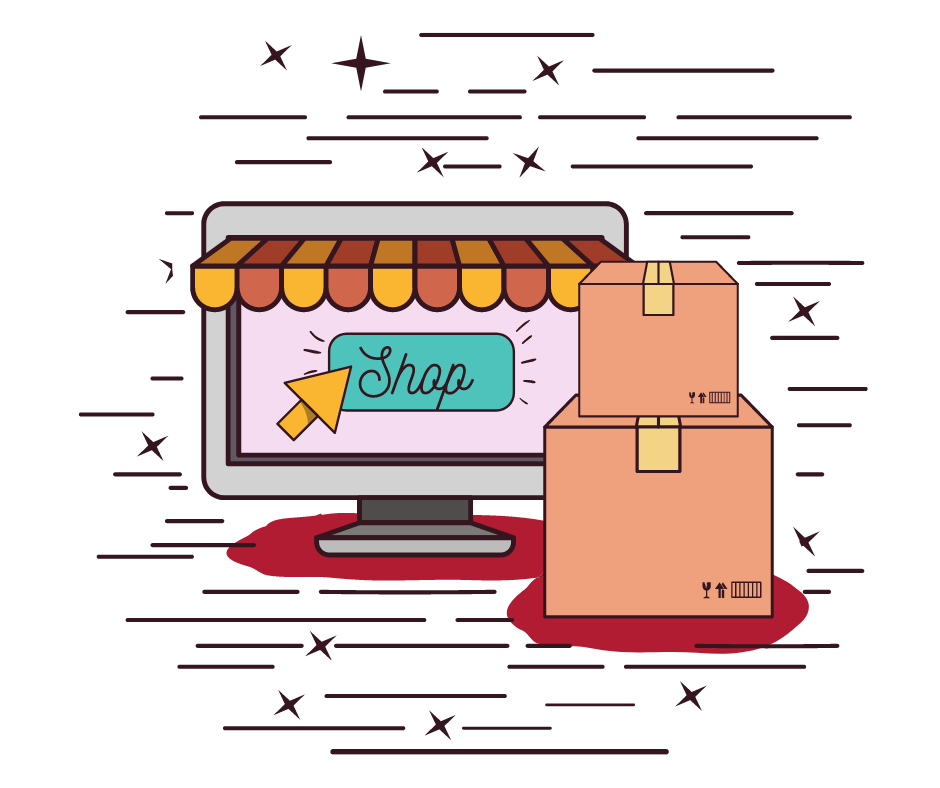 It's time…
Don't wait for success to come. Hire yourself and start your own dropshipping business
Examples of VeRO Infringements on eBay:
Altogether, the eBay VeRo program is targeted to protect intellectual property. This service is available only for the right owners and their authorized representatives. Only they can report the Vero violations.
It is because of the specific requirements to submit a VeRO complaint that eBay reviews all of these reports. And it's because eBay needs to go one by one through these reports that you pay the price if you get caught selling VeRO items.
It's cheaper for eBay to suspend your account than keep an army of people to go over all of the reports, it just makes sense from the business point of view.
If you dropship on eBay or sell there, be aware of the next types of eBay verified rights owner program to protect your store:
eBay Trademark infringement

It concerns the usage of the trademark (a unique sign

such as a name, word, phrase, logo, or symbol) which creates the confusion of the original products of the company with those of another.

Replica and counterfeit

Selling counterfeits, fakes, or replicas of brand-name items are illegal.

Brand name misuse

It's prohibited to use the brand names in the eBay listings unless you have authorization from the distributor.

However, it is possible to use the words "compatible with", "fits", or "for" before the brand name if you sell non-branded products related to the brands (like a case compatible with iPhone).

Logo misuse

It's not legal to use the unauthorized by owner logos or very similar logos to the branded one.

Warranty

Misrepresentation of an item's warranty is also unlawful. You should never misrepresent the information related to the warranty of a product. Read the product's warranty carefully before mentioning it in your listing.

eBay copyright infringements

Copyright protection prevents others from using the work without the author's permission. For example: using someone else's

image or description

or selling unauthorized copies of

media products, software, or paintings

without authorization violates copyright laws.

Design right

(Europe, Asia, Australia, and New Zealand only)

Design right applies to the way something looks, the shape and configuration of a product, but not its functionality. For example, using the same shape and material to create a lookalike-designed sofa.

Patent rights (Europe)

A patent is a specific set of rights granted to inventors, giving them the right to exclude others from making, using, and selling their invention. Patents are registered with each region's patent and trademark office.

Parallel imports

Some products can be sold only in a particular eBay marketplace or country. The sale of these products into another country or market could violate trademark or copyright laws. If you sell internationally double check if your items are not subject to copyright in the countries in which you are selling.
What happens if your eBay listing violates VeRo?
Let's see what are the consequences of listing eBay Vero items. These happen gradually as you "collect" violations. eBay is starting gently and slowly getting… rough.
eBay remove listing:
If your listing allegedly violates eBay VeRo policy, and somebody has already reported it, eBay will remove it as soon as possible.

eBay will not contact you beforehand. But they will send you an email with details about why your listing was reported and how to contact the rights owner directly for more information.

Besides, eBay wpn't even try to ask you for authorization. They can't verify you have the rights for the IP of the product. The reps that check the reports aren't an expert in the intellectual property rights of third parties.
They will recommend you contacting the rights owner directly.

Which means also something good for you if you are indeed a using these images with the brand's consent. If your listing was reported and you believe your eBay listing was removed in error, contact the rights owner directly. The brand could then contact eBay and make sure your listings is restored.

Selling restrictions or permanent suspension of eBay account.


The constant violations of eBay Vero can lead to selling restrictions or the permanent suspension of the account.
Hence, it is important to know how to avoid sourcing the eBay VeRo items and where you can check the eBay VeRo list.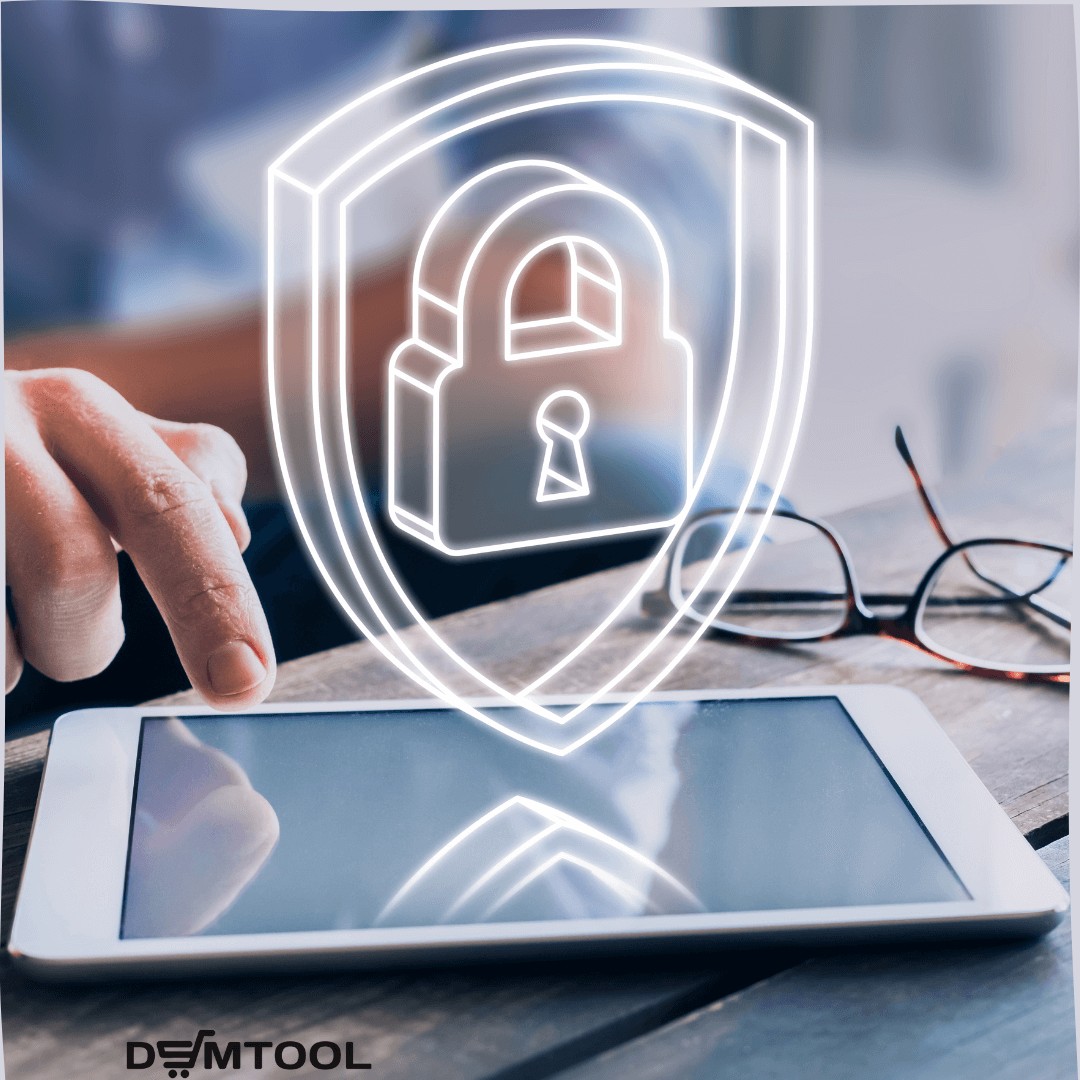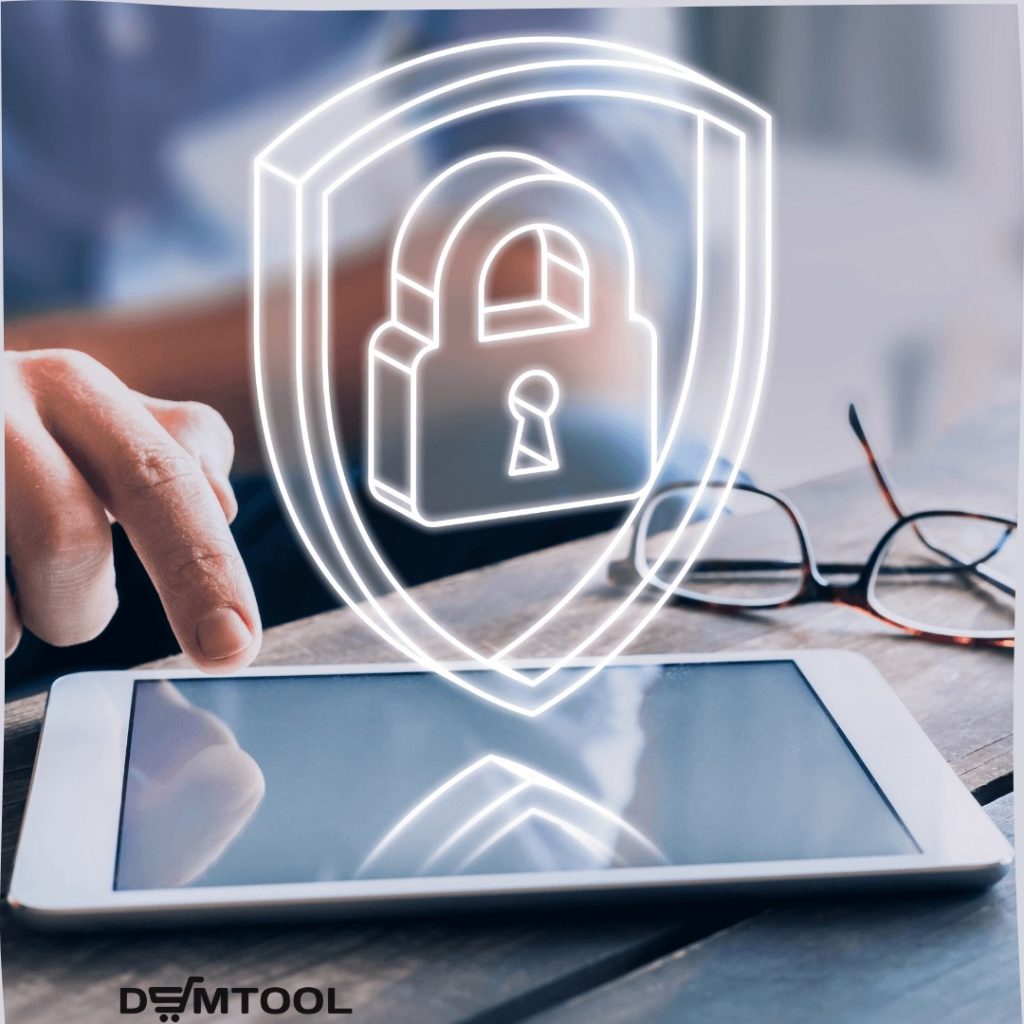 Where to find eBay VeRo list?
You can find the eBay Vero list on this page of eBay. Click on the VeRo participant profiles to see the A-Z list of brands you can't sell on eBay.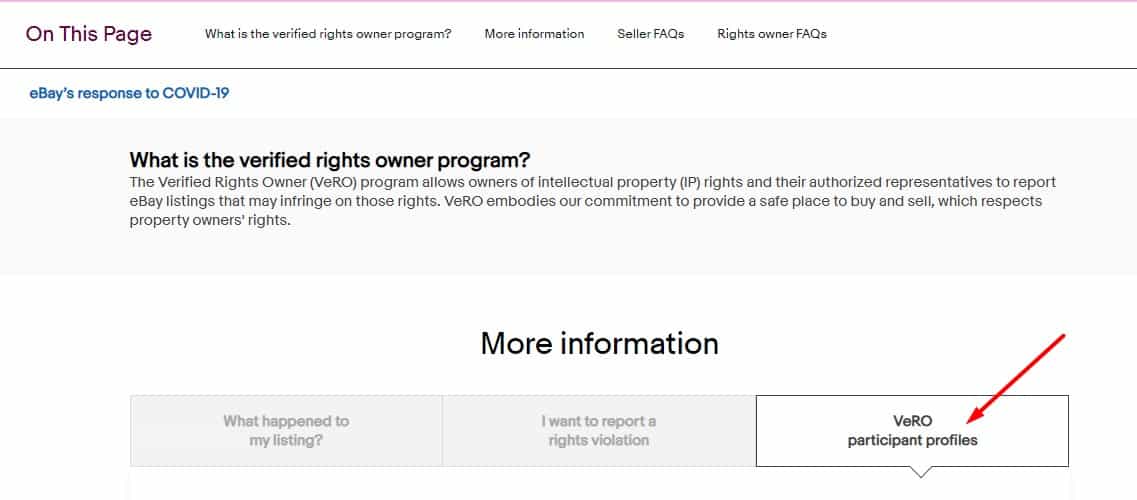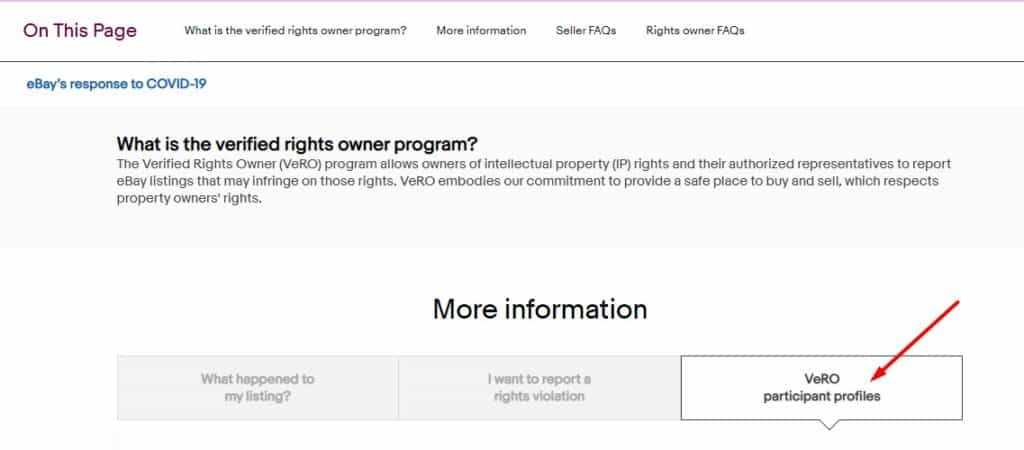 Otherwise, click here to see the list of VeRO participating brands.
You will see a list of companies and brands that are a part of the eBay verified rights owner program. Each of those companies submitted a written statement or a detailed explanation of how they view and enforce their intellectual property rights.
You can click on the brand name on the next list to see the summary about it.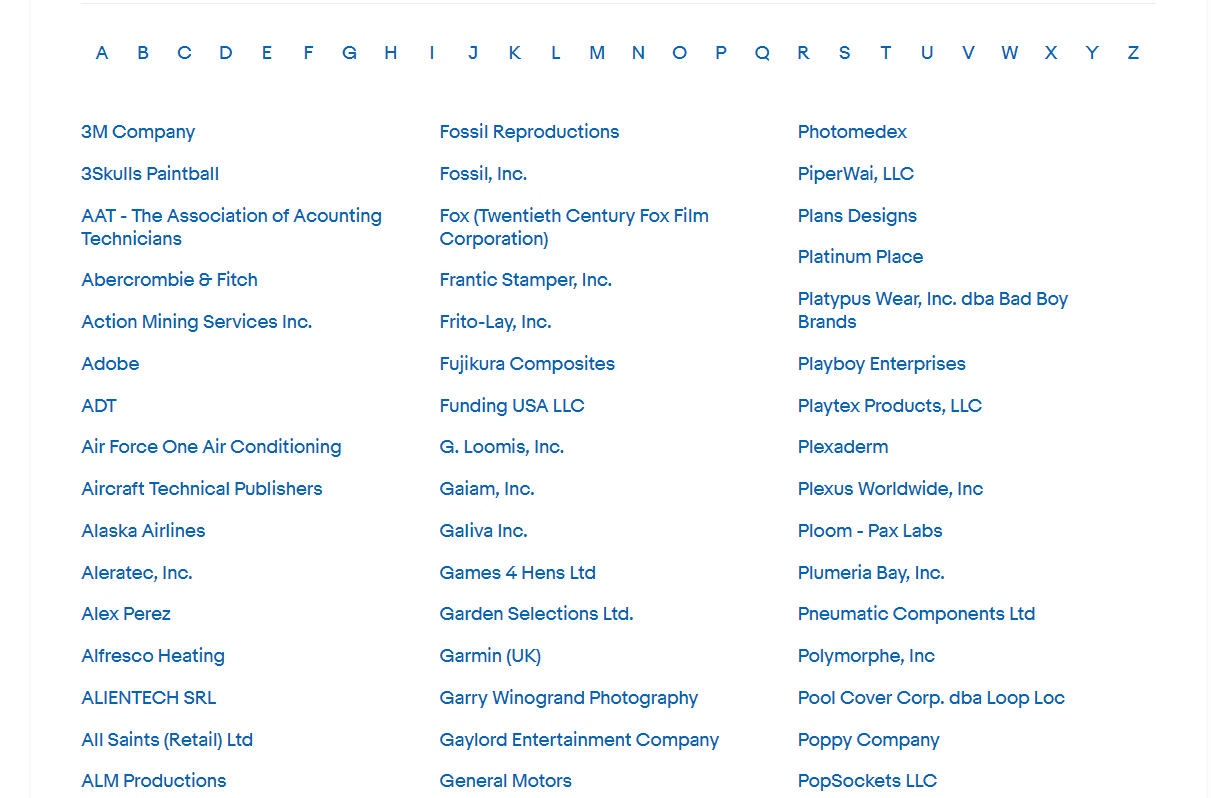 Remember that the vero list on eBay is continuously renewing. More and more brands submit their application to become a part of this program.
In any case, you need to have the special right to resell their products on eBay. Breaching the Vero program will lead to the listing removal or even your account cancellation. So it's better to be careful!
Caution: The eBay VeRO List is missing A LOT of brand names.
The list of brands doesn't fully contain all brands with Intellectual Property rights. Neither is this a complete list of all Rights Owners currently participating in the VeRO program.
Actually, no one really has the full list of brands that are protected by the VeRO program because it doesn't exist. Any brand that owns intellectual property rights can join the program and report you, and eBay doesn't update the list dynamically with every brand that joins.
We've collected since 2016 cases of brands that were reported by our community of dropshipping sellers, collected automatically using our machines, and purchased from other companies for the purpose of protecting our users.
While wrtig this article, we've collected the numbers and found out that the list of brands that doesn't appear on vero.ebay.com counts to 81.2% of the total number of reported brands.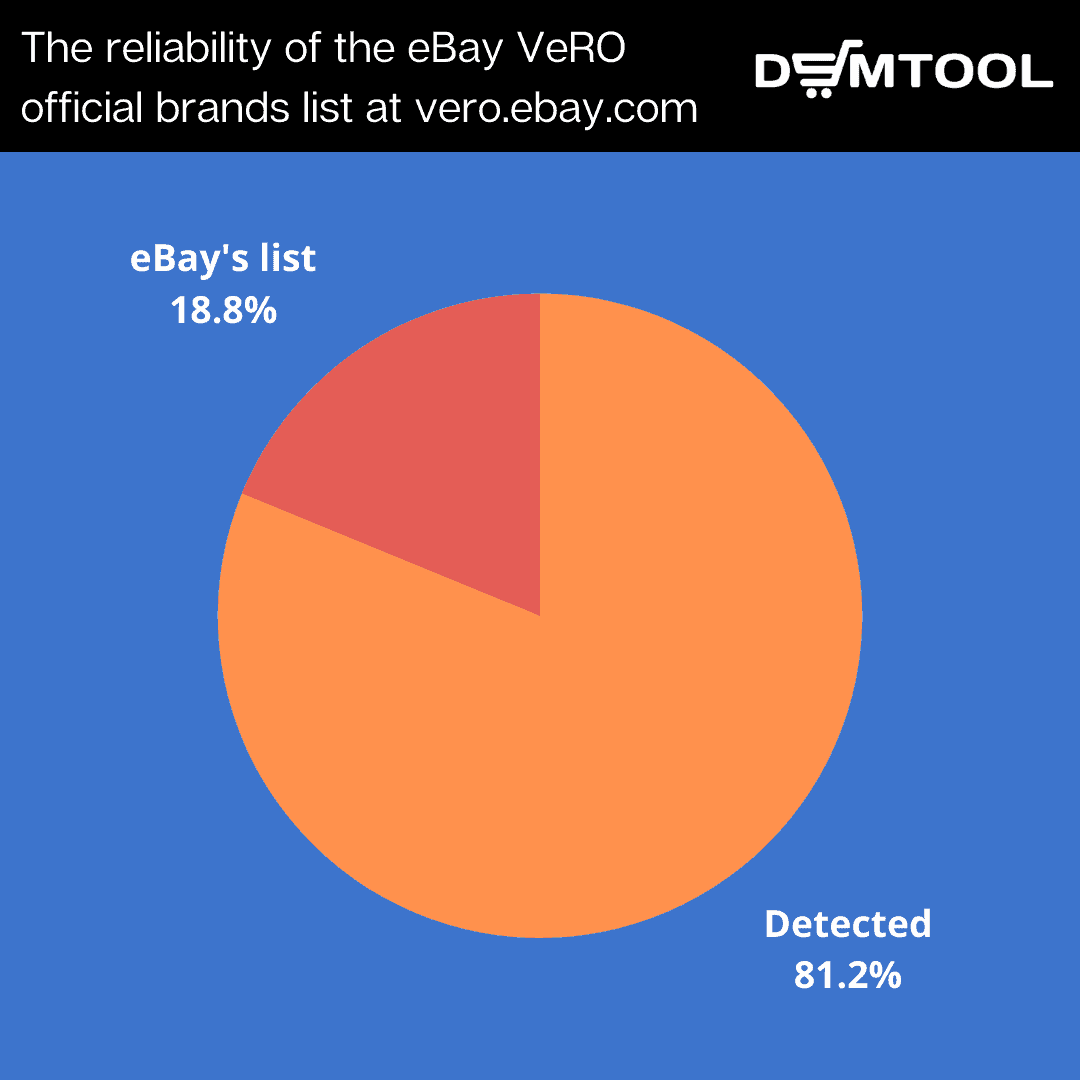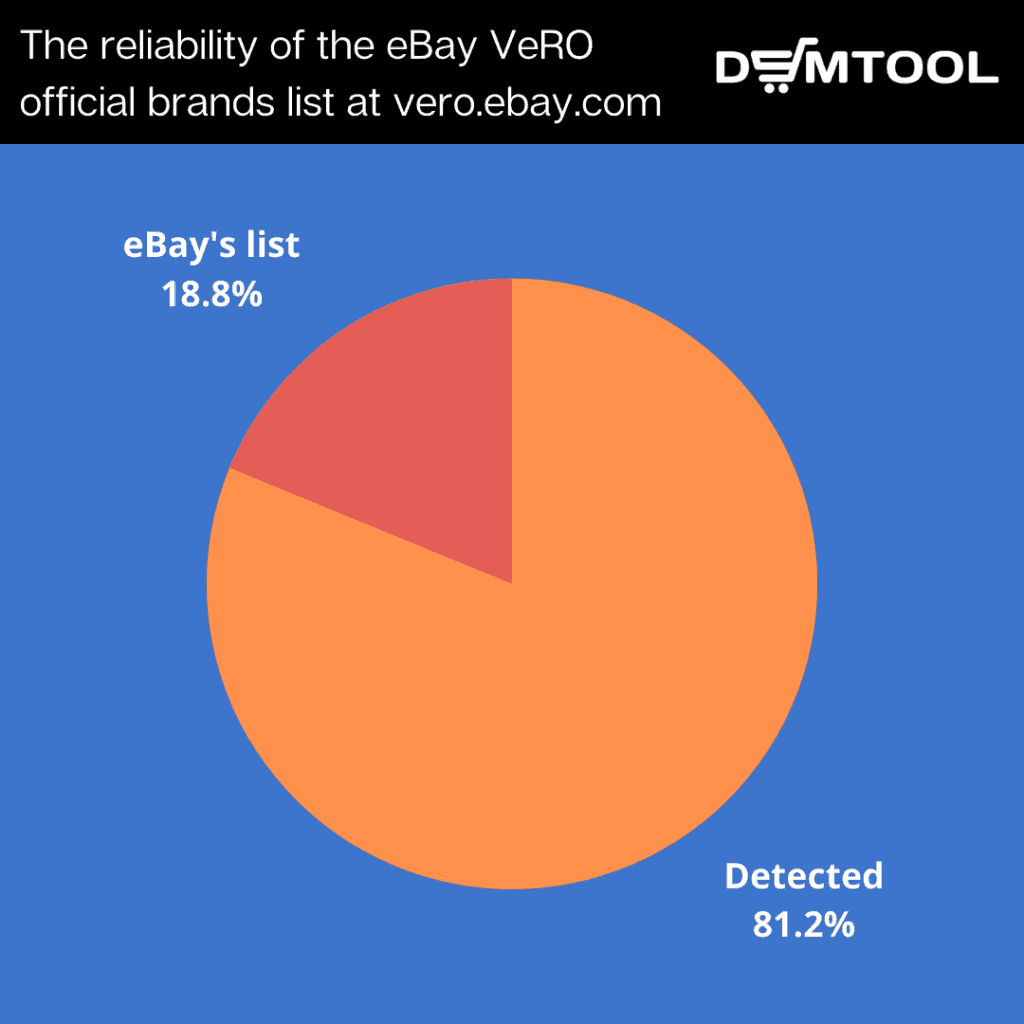 I have personally talked to many eBay sellers that listed a product and got a VeRO violation from a brand although it didn't appear to be in the list.
The note, included above, is the same statement eBay gave on their own VeRO article. This simply means that the list is not complete so there are other intellectual property rights owners that participated in the program but are not yet included in the list of Vero products on eBay.
Don't be fooled. Even if you see that your listing was removed but similar products from other sellers were not it can mean that the brand hasn't yet reported these listings or they are different from your listing in an unobvious way.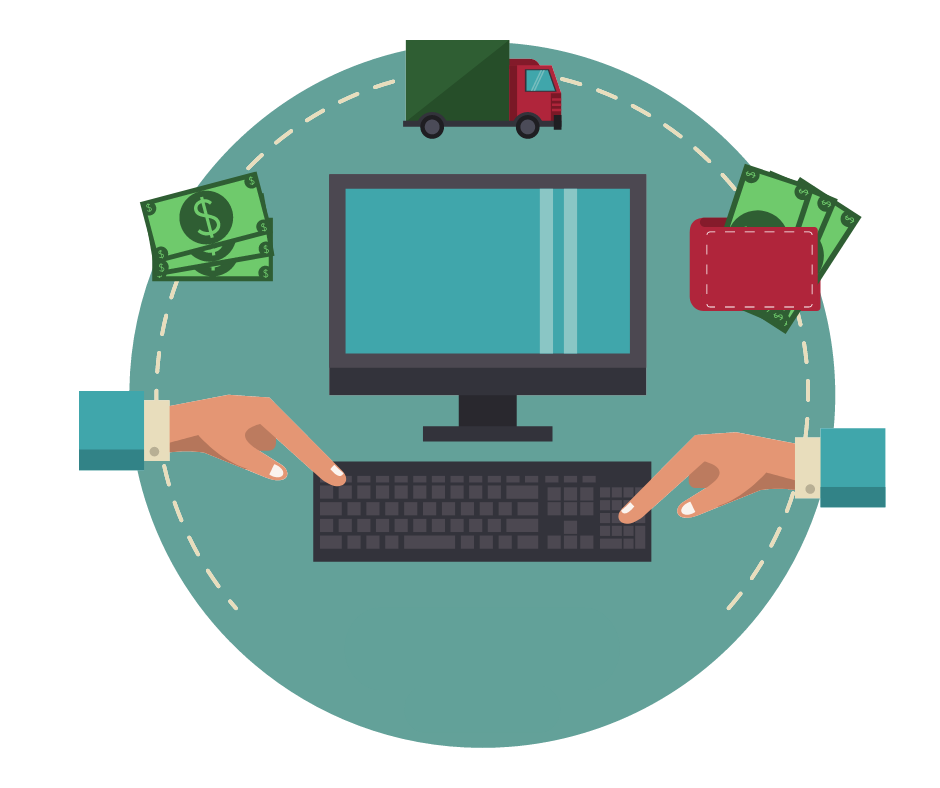 Not yet making money online?
Start your own dropshipping business. Sign up for a free trial of DSM Tool and we'll help you get started. Today is the day.
How to Avoid Listing VeRO Items?
As I have mentioned already at the beginning of the article, VeRO violations are usually related to dropshipping from US retailers, mostly the big 3: Amazon, Walmart, and Home Depot.
The reason is that in the east, especially in China, the enforcement of intellectual property isn't as popular as in the west.
It makes sense, for Chinese manufacturers don't have the same marketing power as western brands (that anyway manufacture in China). When they take the risk and manufacture a large quantity of the same product they want to get as many sales as possible, by whoever it is that can generate the sales (that's you!).
But what about using US based products? And more importantly, how will you prevent from listing eBay Vero items? Those are good questions, These are the best practices that can help prevent the eBay VeRO infringements.
Tip
This list of recommendations is quite general for all eBay sellers and it's based on manual work. Below you will find how DSM Tool gives you extra layers by automating this process.
When sourcing a branded item, always make sure to check if the brand is in the official eBay VeRO list, be very strict about not publishing items that appear in the VeRO list.
Once in a while, choose a batch of random items and make sure that their brand name is not on the list of eBay Vero program. Items could be on your store for months and sell well before they get marked as a violation.
While it's very hard to tell – simply try to avoid listing branded items, the trend of private-labeled brands causes a growing risk potential for VeRO violations.
Don't add images with brands' logo. Creating photo collages for your eBay listing is a well-known practice to avoid your listing be reported as VeRO.
You can use the eBay listing software with free eBay VeRO List Checker (see below what it is).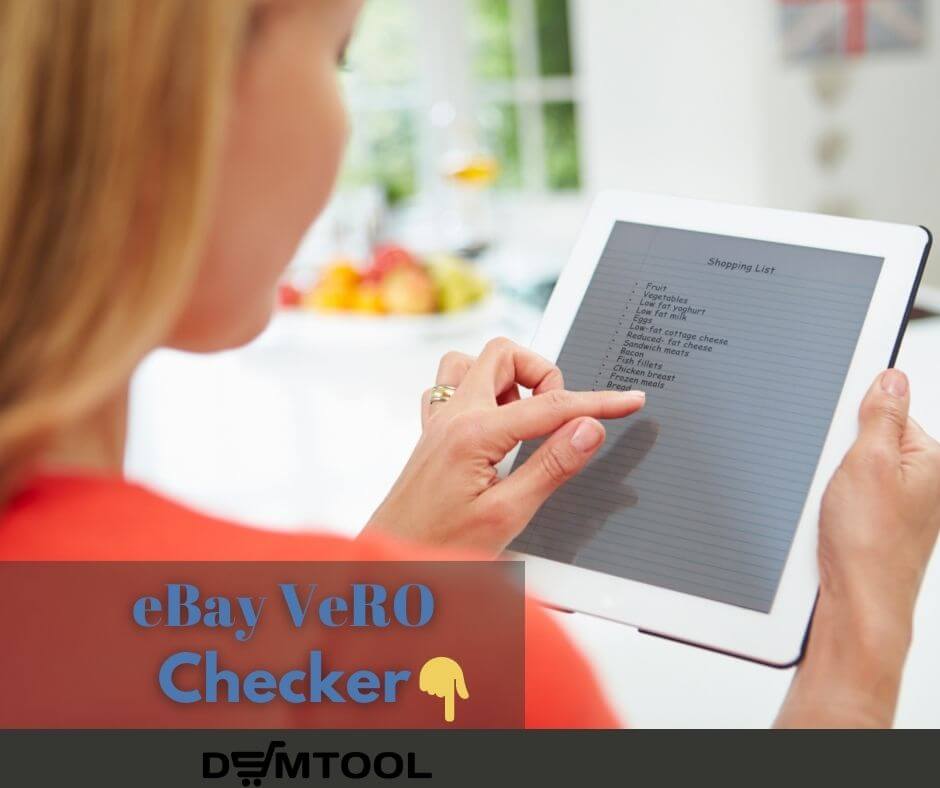 Layered VeRO Protection from Free eBay Vero Checker
The list above is almost impossible to accomplish manually. This is why using a drop shipping software with VeRO protection feature that handles the risk for you is almost a prerequisite in today's drop shipping ecosystem. Well, DSM Tool has 3 layers of protection for brands and products that violate the eBay VeRO program.
Here is our CEO and Co-Founder, Kfir Shapira with more about this topic:
Layer 1: Official eBay VeRO Blocking
When using the eBay dropshipping lister of DSM Tool for listing single or multiple products on your eBay store, it detects every item that also appears on the official eBay's VeRO list and blocks it from ever getting published.
It's especially comfortable when you list hundreds of products every day. To track manually brands, members from the eBay VeRO program is quite difficult and time-consuming. Automatical detection BEFORE you list a product is much faster and more efficient for sure.
Layer 2: Report VeRO Brands
The dropshipping community might seem to one as a competitive field, but actually, without each other, we all could not progress. Learning from each other's experiences is an essential part of growing our online businesses. The second layer of VeRO protection is of brands that were reported as risky by other dropshipping sellers.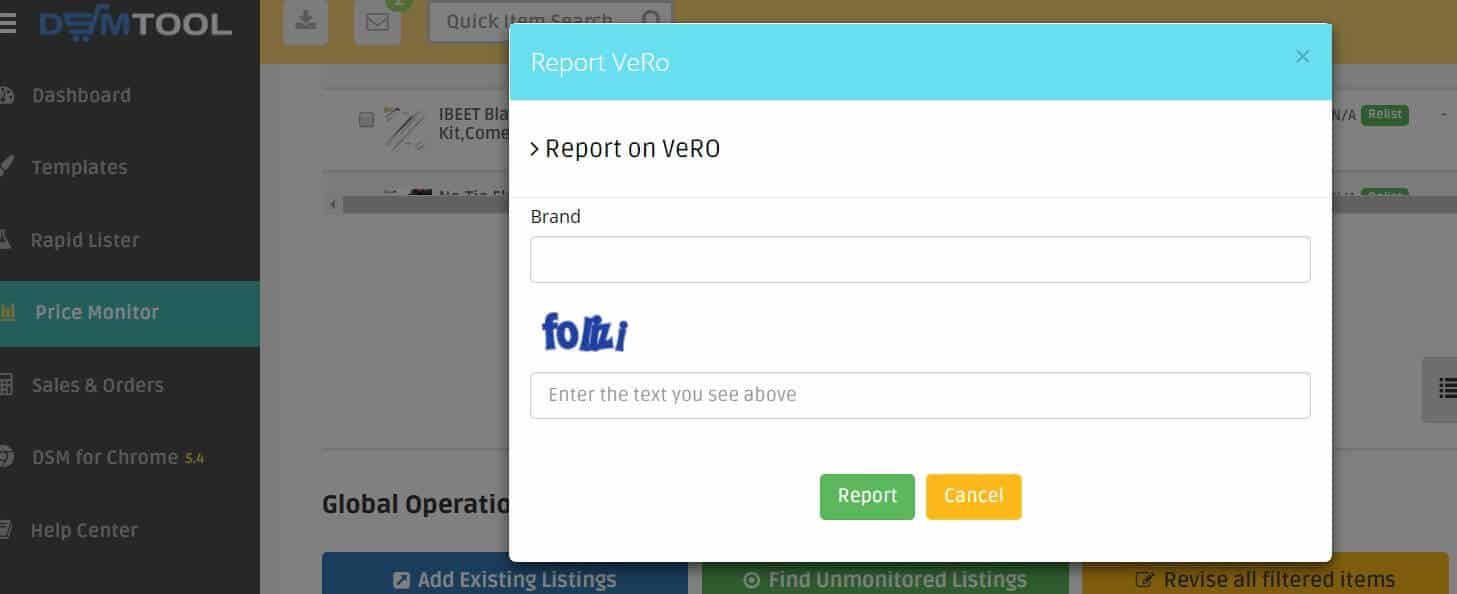 If by any chance you encounter a VeRO product on eBay, help the dropshipping community and report it. We will verify it and assign it to the VeRO brands that we have on our database so that in case you or anyone else will try to list an item of the same brand, the system will automatically block it. To report, just go to Price Monitor of your DSM account and click on "Report on VeRO" button.

The brands reported by other users could also be blocked from publishing via the lister settings. If you are an authorized representative of a specific brand you wish to list, you can disable it. To do that, just go to the Settings of your DSM account then go to Lister Tab from there you will find "Block VeRO brands reported by other users", all you need to do is to turn the slider to OFF.

If you want to block the VeRO brands reported by other eBay dropshippers, just turn the slider to ON.

For both layer 1 and layer 2 protections, you will receive the following error when trying to list an item with a brand name in the blacklist:

Layer 3: The eBay VeRO Scanner
As mentioned above, eBay can mark the products as a VeRO violation even a long time after you listed them. In order to save your precious time looking for such products and violations, just check your Dashboard page alerts in your DSM Tool for the VeRO alert. That's an alert generated by a scanner that checks your existing item brand name and locates VeRO brands. Clicking on the alert will take you to the price monitor showing the list of products that are in risk, so you can take immediate action.

Stay Protected While Listing Products on eBay with DSM Tool Chrome Extension
You can also install the DSM Tool for Chrome extension which detects VeRO brands at the suppliers' websites directly as you collect items from your dropshipping supplier store. It will show you the sign of Vero brands right on the product page.

Conclusion
If you're a beginner, make things simple and just choose to dropship from Chinese suppliers. Save yourself from the hustle of dealing with VeRO violations.
But if you still want to dropship from US retailers, join the effort and help the community by reporting violations you get.
So… How many violations did you get already? Comment below.