You have probably heard how people make huge money through social commerce platforms like Facebook, Instagram, Tiktok, and others. For example, you can become an influencer or open your store on social commerce platforms and earn via commerce.
Social commerce, a process of promoting and selling products on social media platforms, has a huge potential and developing super fast. Forecasts studies state that the value of social commerce sales would reach around 2.9 trillion U.S. dollars by 2026. So, it's time to look at this business possibility.
The question is what are the best social commerce platforms where you can sell?
Obviously, everyone knows about those three giants – Facebook, Instagram, and Tiktok but what about other platforms?
In this guide, I covered a short history of social commerce, what social commerce platform is, and provide you with a list of the best social commerce platform examples.
We will speak in detail about the next social commerce platforms:
Facebook
Instagram
TikTok
Pinterest
Snapchat
WeChat
Twitter
Youtube
Amazon Live
Verint
Let's get started!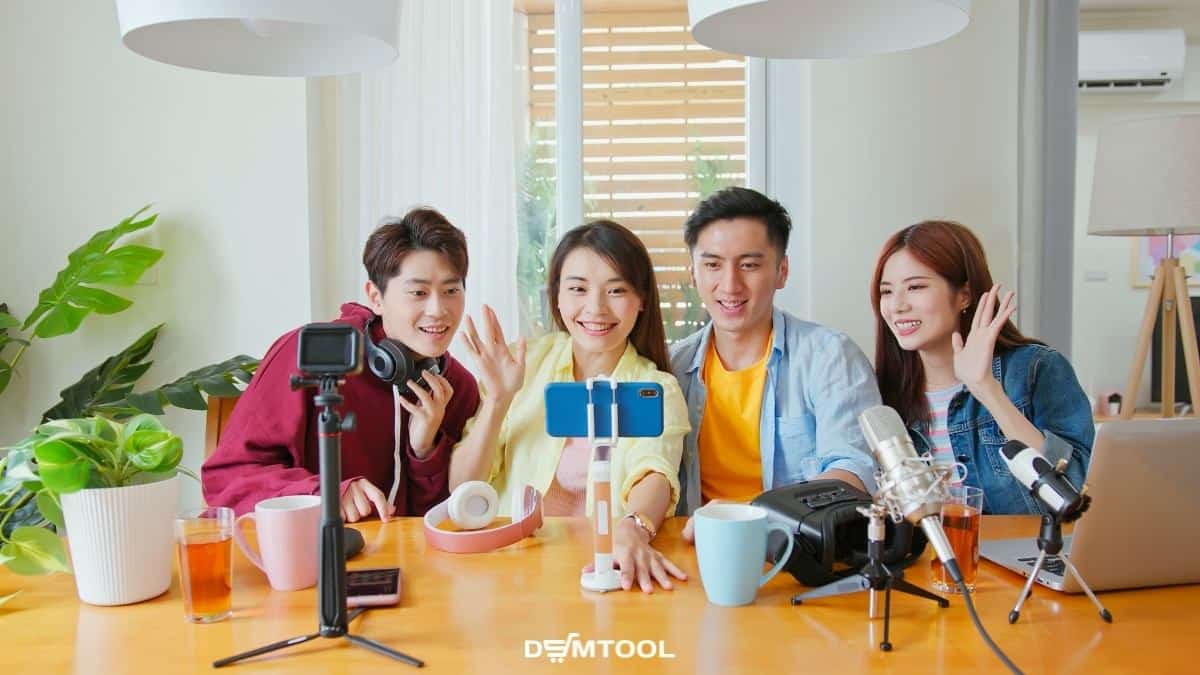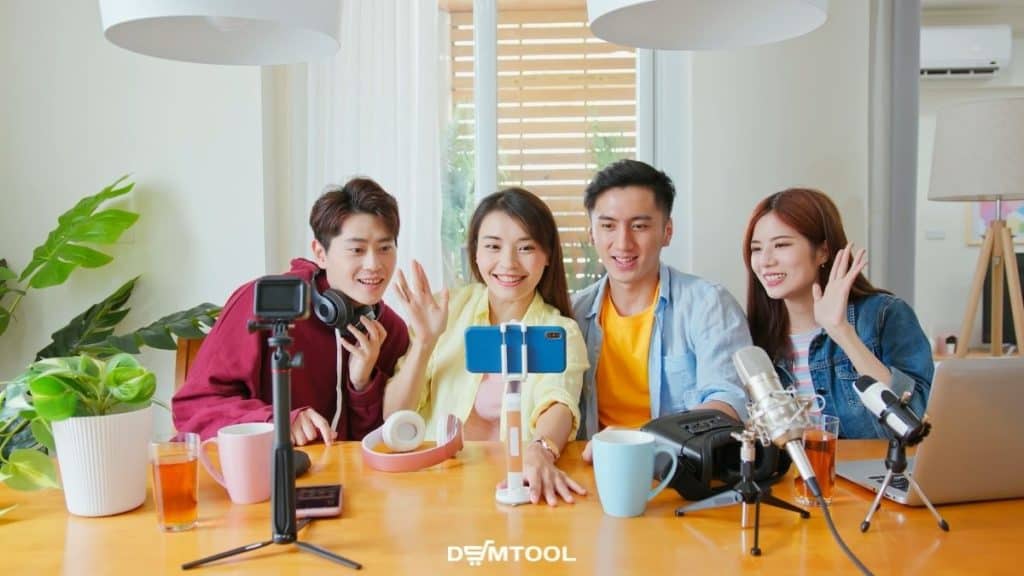 Early forms of social media appeared in the 1970s. The first social network to reach a global audience was Myspace (2003), and Facebook was founded in 2004 as a student-only network. In the 2010s all major social platforms received their mobile apps.
For ten years, these areas practically did not intersect, and only in 2005 did Yahoo! introduced the term "social commerce" to describe a set of collaborative online shopping tools, such as shared picklists, user ratings, and other user-generated content for sharing information and advice about products online. But it was not a complete merger of the two businesses yet. Companies used social networks to promote their brands, and social networks made money by providing advertising services to these companies – it was a kind of cooperation. It took almost another decade for this cooperation to transform into the level of services that we see today.
The first major push for social commerce growth happened around 2013-2014 when the number of mobile users finally exceeded the number of desktop users worldwide. Mobile app usage has grown by 115% in 2013, and the growth was propelled by messaging apps that doubled their numbers of users.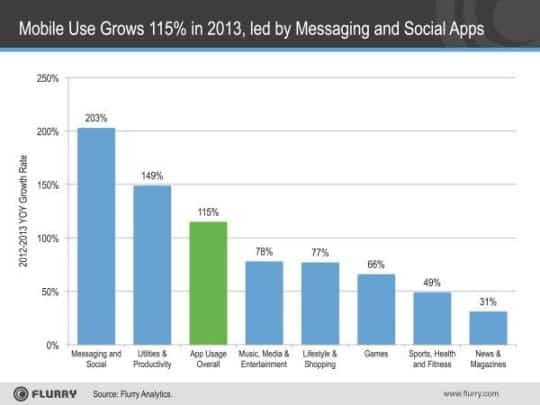 As more users got connected to the Internet on mobile devices, brands got an opportunity to reach a new audience – people who are on the move. It allowed companies to record our lives and use our locations to show history online in real-time.
Geolocation allowed brands to provide content that matches the user's physical world and enhance products based on user-generated content.
As a result, businesses received a massive influx of new data, allowing them to improve targeted advertising and make it much more accurate. The rise of online companies and brands has increased competition for viewers while decreasing attention span. Brands faced the challenge of treating customers authentically, which means relying more on compelling visuals and content that both informs and entertains users.
One of the most challenging aspects of social commerce is connecting social media marketing to actual sales. Although there are some encouraging statistics on brand engagement and in-store purchases, marketers who want to shorten the sales cycle prefer shoppers to click on a product link.
The main innovation of 2014, in-app purchases, made social payback even faster. Companies started allowing users to buy products without even leaving the platform. That made it more comfortable for both, shoppers and sellers.
The second push happened around 2019-2020 when the COVID-19 hit the world. It forced billions of people into lockdown at their homes and caused a massive increase in everything online. Although this did not lead to a drastic increase in the number of new users, the lockdown caused almost all purchases and services to migrate to online platforms. So, companies that already had an Internet presence received new customers, and companies that previously focused on physical stores had to adapt to new realities and go online.
As the result, more brands and shoppers went online, and because most users use their mobile phones… you get the point. Amid the pandemic, the e-commerce market has grown to $26.7 trillion.

This trend continues, today's most successful e-commerce brands want to not only draw attention to social media but also participate in the conversation. This is because social commerce is growing year after year:
Facebook, for example, had 1.13 billion daily active users in 2016, and more than 2.9 billion monthly active users as of 31 March 2022.

Instagram is another good example, with around 500 million active users in 2016 and over 1.2 billion monthly active users today.

Twitter has over 310 million monthly active users.

Pinterest has over 430 million monthly active users.

Crazy numbers, don't you think? As a result, businesses that use social media presence for commercial purposes must be aware of future trends and tendencies, and the opportunities that social commerce opens them!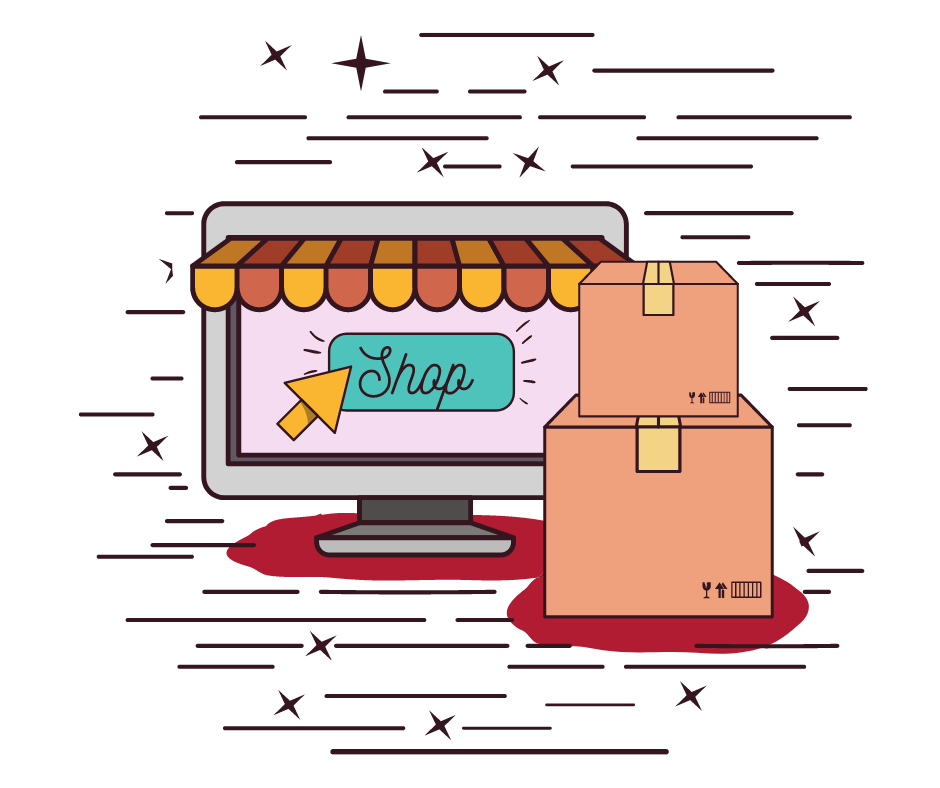 It's time…
Don't wait for success to come. Hire yourself and start your own dropshipping business
Simply saying, the social commerce platform is a social network where you can showcase and sell your products without leaving this platform. This means that the platform offers a commerce feature for businesses and also shows products and shops to social media users. Like Instagram, Facebook, TikTok, etc. Everything is implemented in one platform.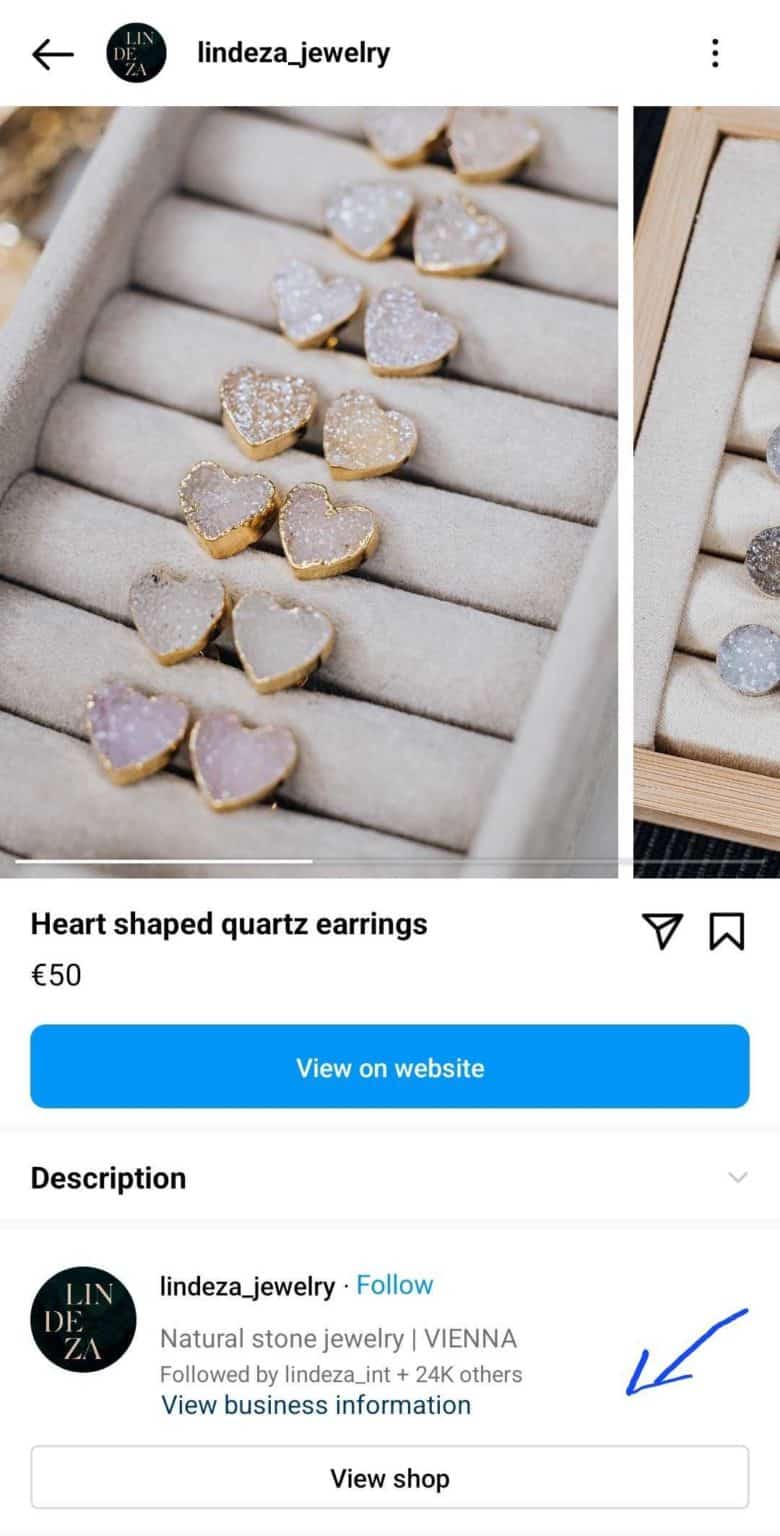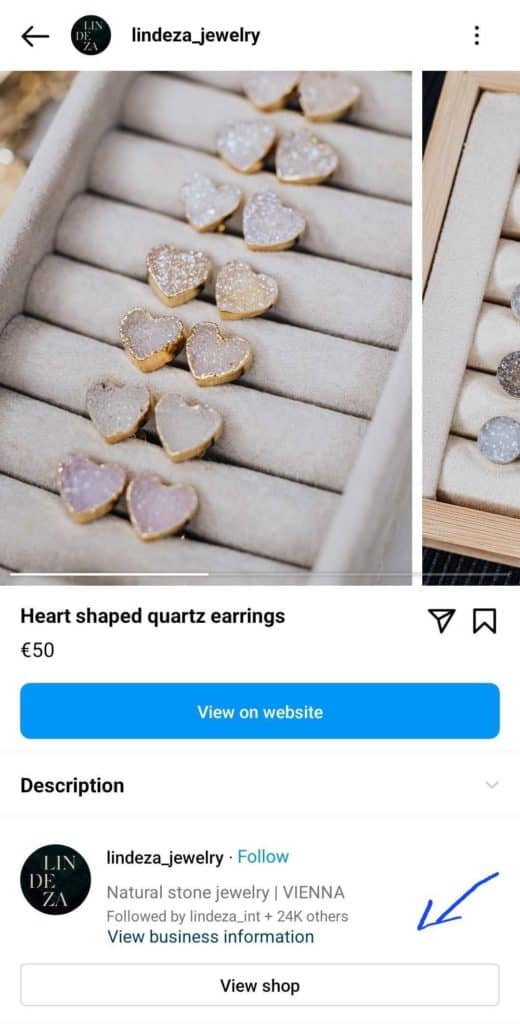 However, there is no clear concept of what social commerce platforms are. The platforms are all different and provide various services in different ways.
To grasp it, you must first understand how social commerce work. One of the fundamental principles of commerce says that communication with consumers should be designed in such a way that they either implicitly or explicitly agree with the arguments you made. Can likes be used as a proxy for approval, and can social commerce platforms convert them into sales?
Yes. After all, even before businesses paid attention to social media as a trading channel, users posted sales announcements in their feeds and social network groups.
Social commerce promotes and sells products and services using social networking sites such as Facebook, Instagram, and Twitter. Pretty clear. If not, social commerce is selling on social networks.
Usually, a user, when viewing a feed, sees an advertising post and, if he is interested in the offer, follows the link. The customer is then directed to the company's shop page or product's website, where they must complete a few more steps to complete the order.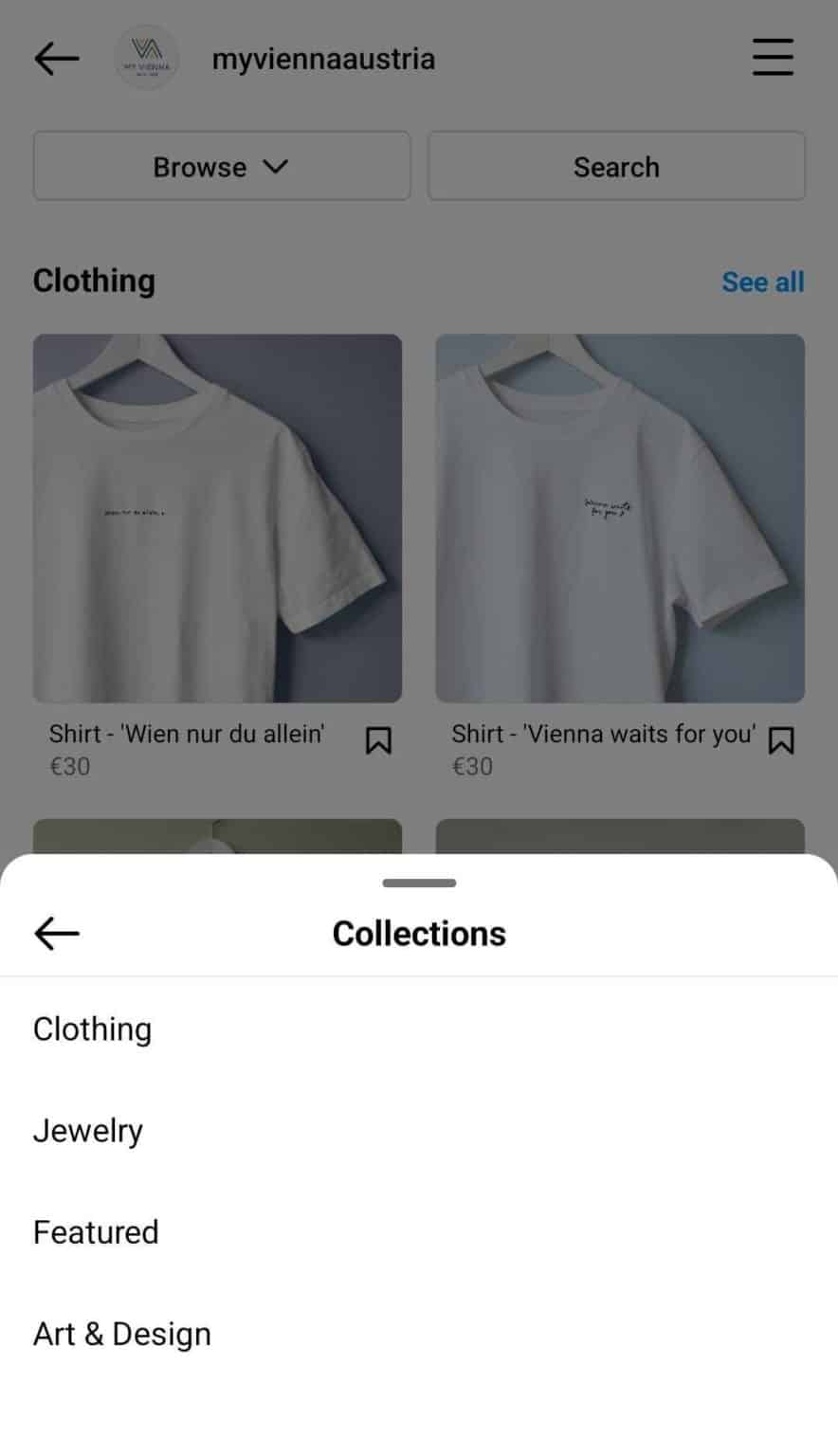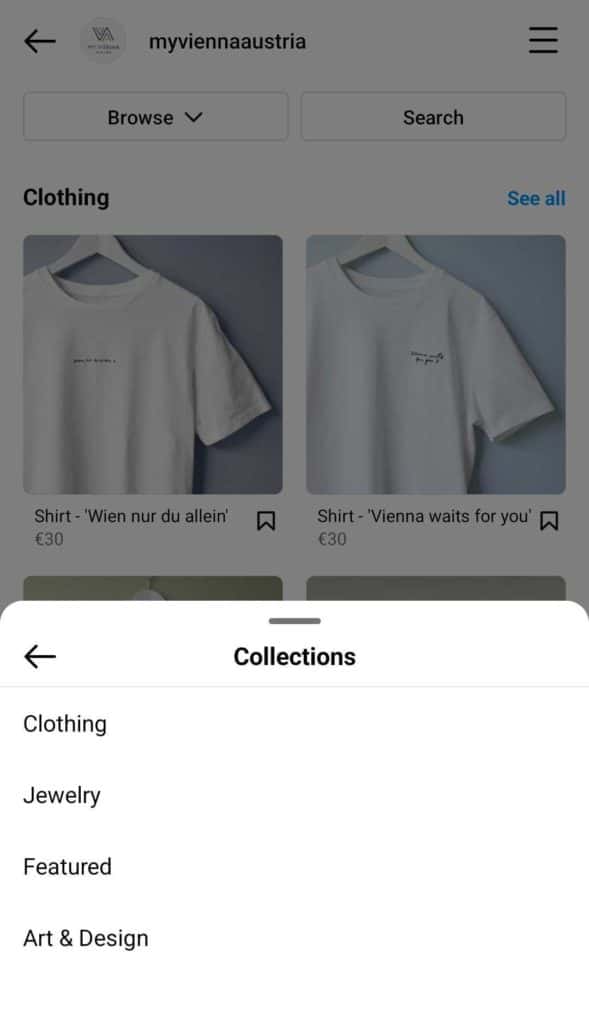 While social commerce works to attract potential customers. The product itself finds buyers in their usual environment – social networks. The idea is to integrate sales seamlessly into the social interaction process. Users share likes, reviews, and other product information with their followers.
The advantage for shoppers is that they do not need to go to other websites and platforms to buy the product they liked. Besides, they are not distracted from communication and entertainment to make a purchase. In addition, choosing products becomes even easier thanks to recommendations from friends and influencers. you just click on the post they share or on the shopping label and you are viewing this product on social media.
Unlike social media marketing, social commerce gives customers the option to purchase products directly from social platforms (in-app purchase) or provides links that lead to the seller's product page where the buyer can also make a purchase. The degree to which customers participate in the company's marketing through retweets, likes, shares, and sales shows the effectiveness of a social commerce campaign.
Social commerce has become a really broad term that includes many different technologies. For example, there are two types of social commerce that involve different approaches: onsite and offsite. Onsite social commerce is when retailers include social sharing and other social functionality on their websites, like Fab. com which allows seeing what other shoppers are buying via a live feed. Offsite is when commerce activities take place outside of a retailer's website, like posting products on Instagram shop.
Here are some of the most common practices and tactics that companies use:
In-app purchases
Product endorsements from celebrities, bloggers, and influencers
Videos that showcase products from different angles
Advertising personalized buyer options
Inviting users to polls on product options/styles/choices
Encouragement of user-submitted photos, comments, and reviews
Discounts and giveaways for users for shares on their feeds
Attention-grabbing images that attract clicks, likes
Based on all this, we can define a social commerce platform as a tool that enables social commerce to occur.
So, what top social commerce platforms can you use for selling online?
Now that we know what social commerce platform is, so let's browse through the best of them. Some of these platforms you already know and some might be new to you. But each of them has its own features and peculiarities you need to know if you are going to showcase your products (and services) there.
Meta (formerly known as Facebook Inc.) has one of the most advanced collections of commerce tools incorporated into social networks. If you don't know yet, there are actually two different Facebook commerce platforms – Facebook Marketplace and Facebook Shops.
Facebook Marketplace is less like an online store and more like a classified advertisements website, similar to Craiglist. It serves as a platform where users – whether individuals, retailers, or manufacturers – may list their products together at a price. I would say that Facebook Marketplace evolved from user groups and communities where people were selling staff since the early days.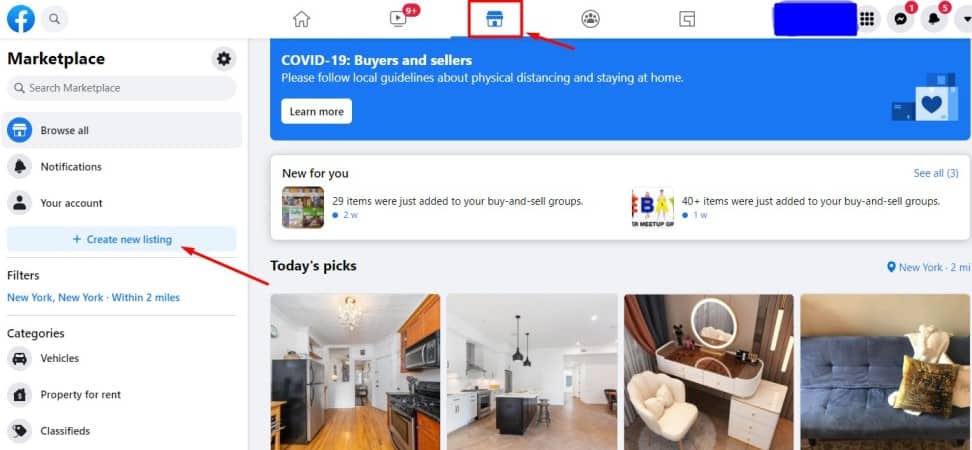 Shoppers can browse items on the listing and then contact the owner to negotiate, purchase, or enquire about the product or service. Facebook Marketplace serves as a place for businesses to connect with buyers and vice versa. There is no own payment gateway on Facebook Marketplace.
Facebook Shops is more like what you expect from an online store, it allows you to list products and sell them via your Facebook page. Businesses can set up shops on Facebook for users to discover, browse, save, share and buy their products. It has various useful features, such as the ability to create catalogs (from scratch or import from an existing website), creates product collections, and customize the appearance of stores (color selection, text size, button shapes).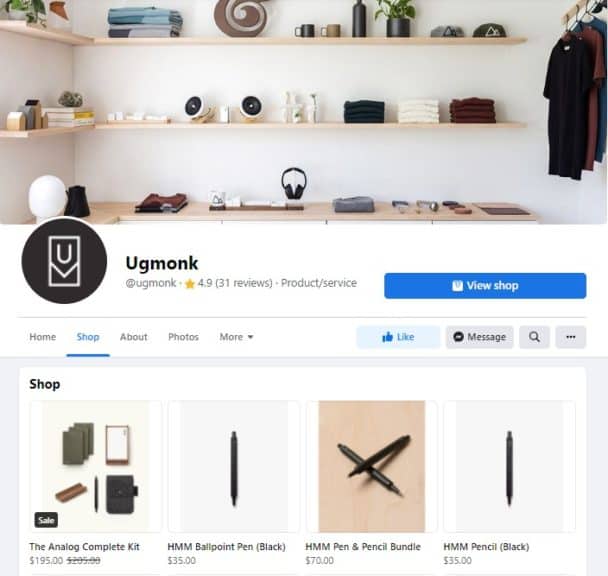 You can also sell on Instagram if your Facebook page is linked to your Instagram profile. Because Meta owns Facebook, Instagram, and WhatsApp, you can manage your company profiles on all platforms through the Commerce Manager app. That makes it one of the most comfortable and popular social commerce platforms.
Using Facebook Shops requires you to have a business account, you can use Facebook Marketplace with your personal Facebook account.
Having seen the latest news from a blogger or influencer, or a new arrival in an online store account, subscribers are looking for a convenient way to purchase the things they like. In 2020, Instagram launched a wide range of features called Instagram Shopping, designed specifically for this purpose.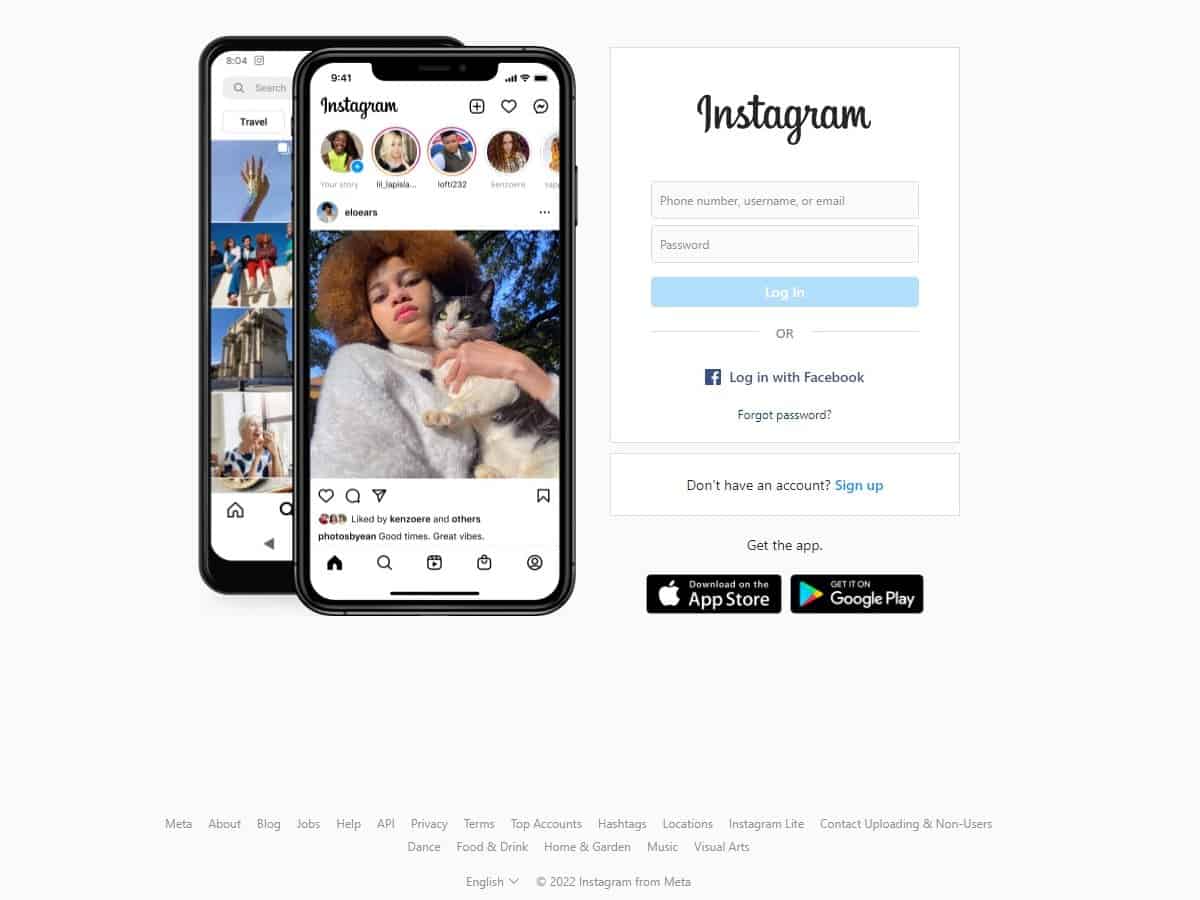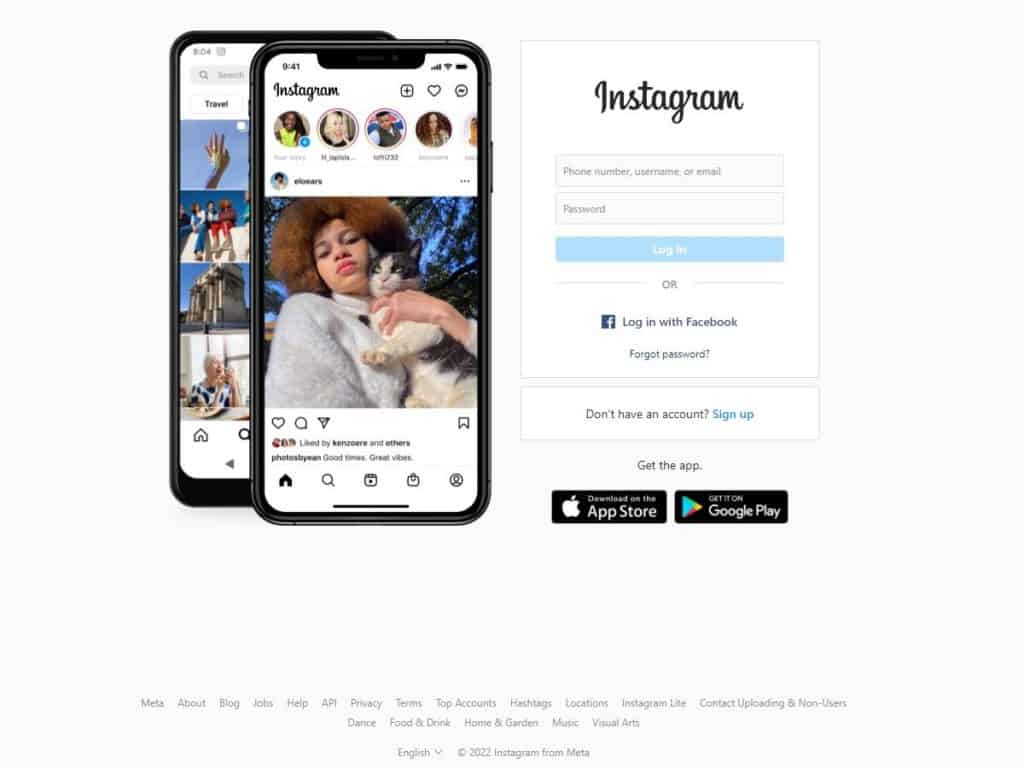 Instagram Shopping is a set of features that allow users to buy products directly from photos or videos in any section of the app. This feature set includes:
Shopping tags – product tags in posts and stories that allow you to access product information directly in the feed/description of publications.
Instagram shop – a product showcase within the platform, a section within the Instagram app with navigation to search for products and favorite brands.
Instagram сollections – a feature that allows you to personalize your Instagram store by selecting products and categorizing them.
Guides – the perfect tool for sharing curated, scrollable content with products and their descriptions. All together looks like blog posts.
Product page – this is up-to-date information about your product: prices, detailed descriptions, media files, and all of the tags associated with this product in your Instagram posts.
Ads with product tags in the posts and stories section. Allows you to direct users to the company's website or to the Instagram checkout page.
In-app purchases – with the Facebook Pay feature, users can purchase products directly in the app.
Shopping with authors – sell your products directly from influencers' posts.
Live Shopping – you can sell products and communicate with users in real-time.
Announcements – businesses can announce new product launches on Instagram, and users will be able to find out more information and set notifications when sales start.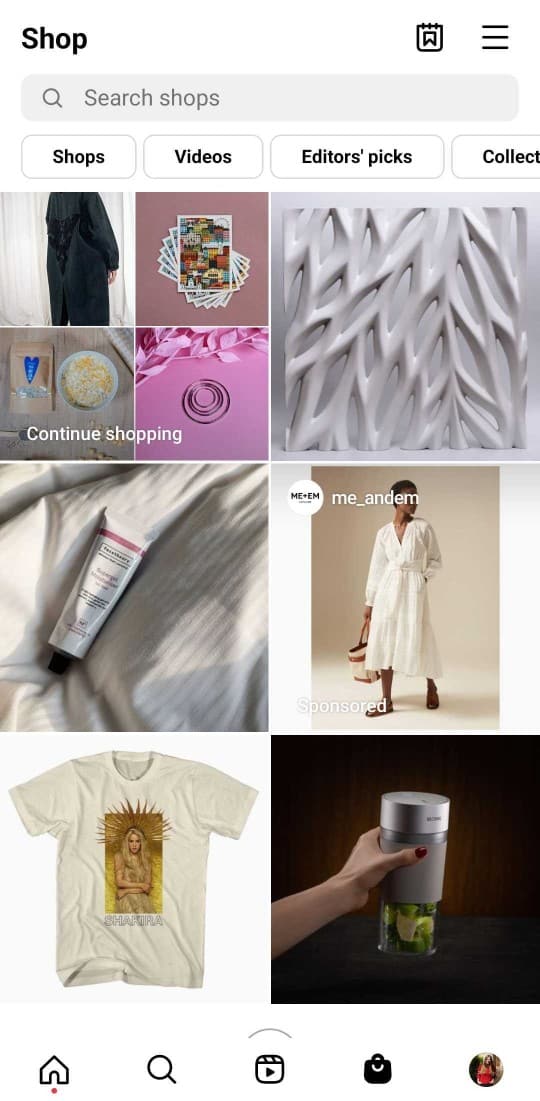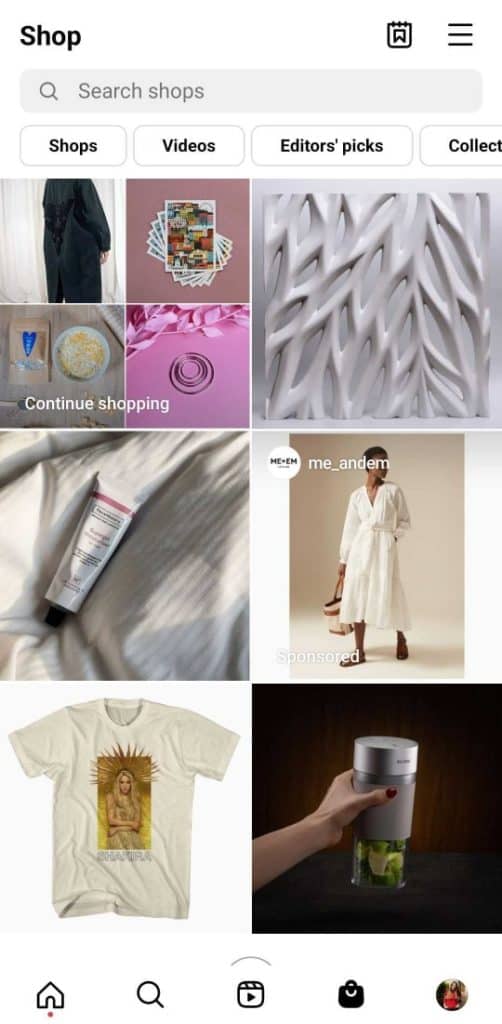 When creating a store, you can choose whether purchases will be made on your website, Facebook, Instagram, or via private messages. Companies decide for themselves whether to connect the checkout feature on Instagram or not. If they decide not to connect, they will be able to transfer the user to the site and use Instagram solely to showcase products.
Unlike Facebook, Twitter, or Instagram, TikTok works differently. This platform was targeted mainly at younger (compared to other social networks) people to create videos of themselves singing, or dancing to their favorite music. With increased popularity, the audience grew and so does the diversity of video genres. The increase in users and video diversity brought businesses many commercial opportunities.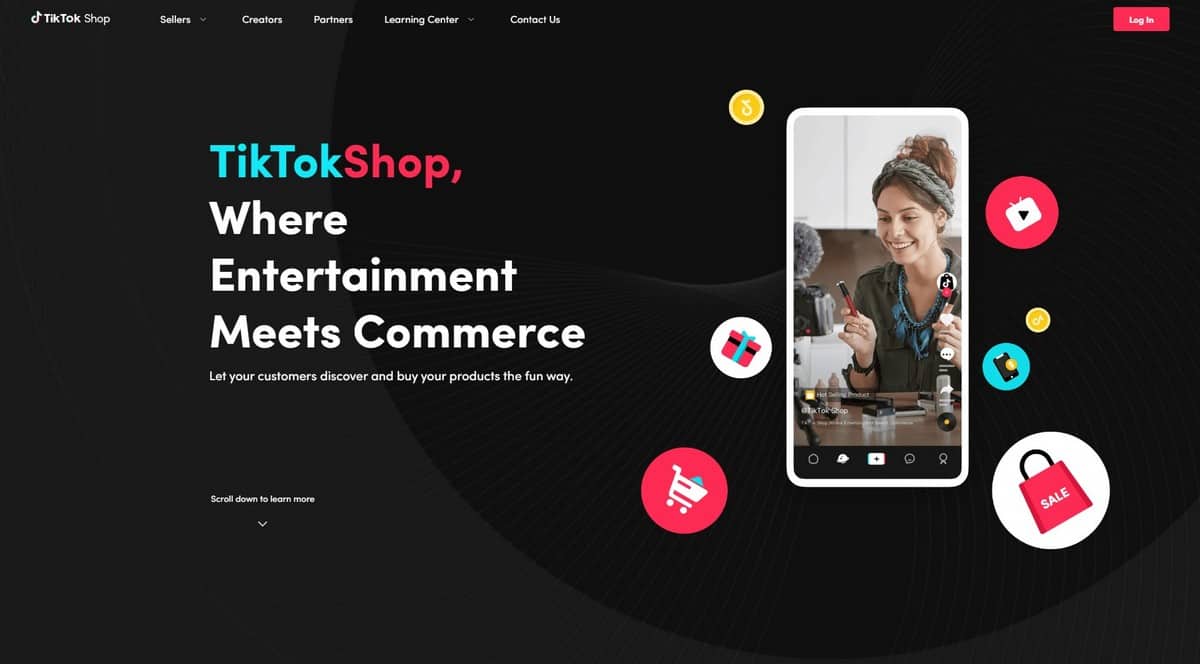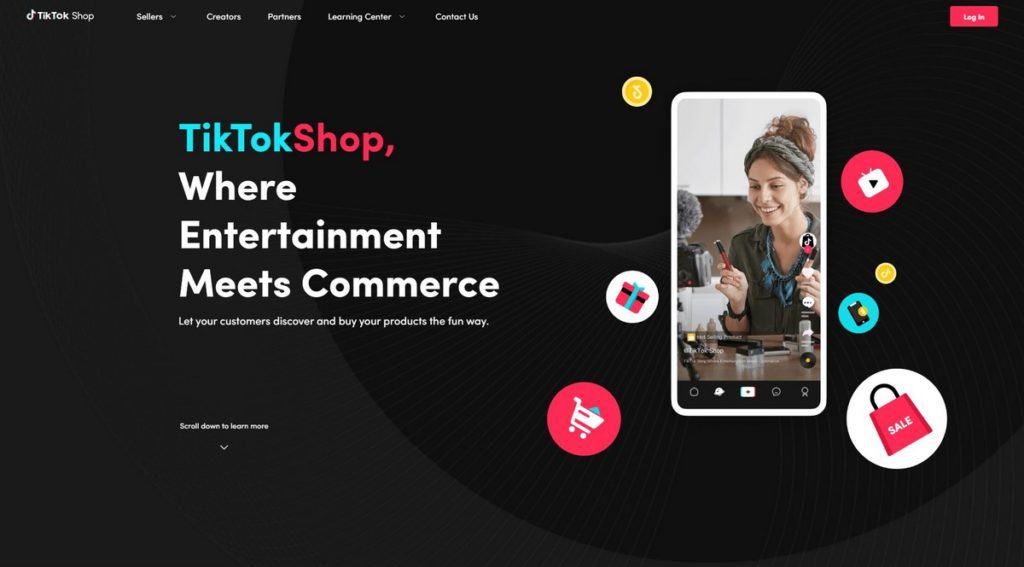 Until the launch of TikTok Shopping in August 2021, TikTok-inspired commerce occurred organically – authors showcased products in their videos, and followers rushed to eCommerce shops and local retailers to find them.
"TikTok Shop is an innovative new shopping feature which enables merchants, brands and creators to showcase and sell products directly on TikTok through in-feed videos, LIVEs, and product showcase tab.", according to the company.
With the Shopping function, users can purchase everything featured in the video clip with a single click without leaving the app.
The company originally limited its Shopping suite to select Shopify sellers in the US, UK, and later Canada, but it is now available in most countries. It also supports or will support soon integration with such eCommerce partners as Prestashop, Base, Square, BigCommerce, OpenCart, Ecwid, Shopline, and Wix eCommerce. Their TikTok Shop Open Platform enables merchants to integrate with Open API and sell their products across the TikTok ecosystem.
Pinterest is a social media platform for image sharing that allows users to explore and save images and videos to personal boards.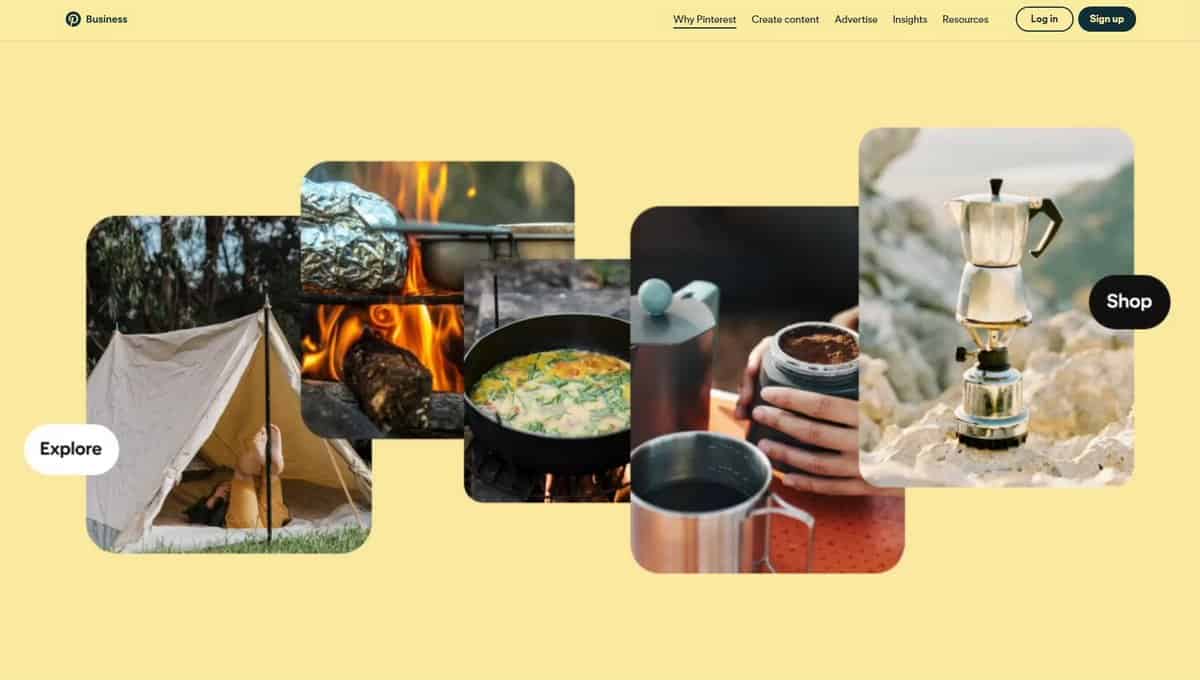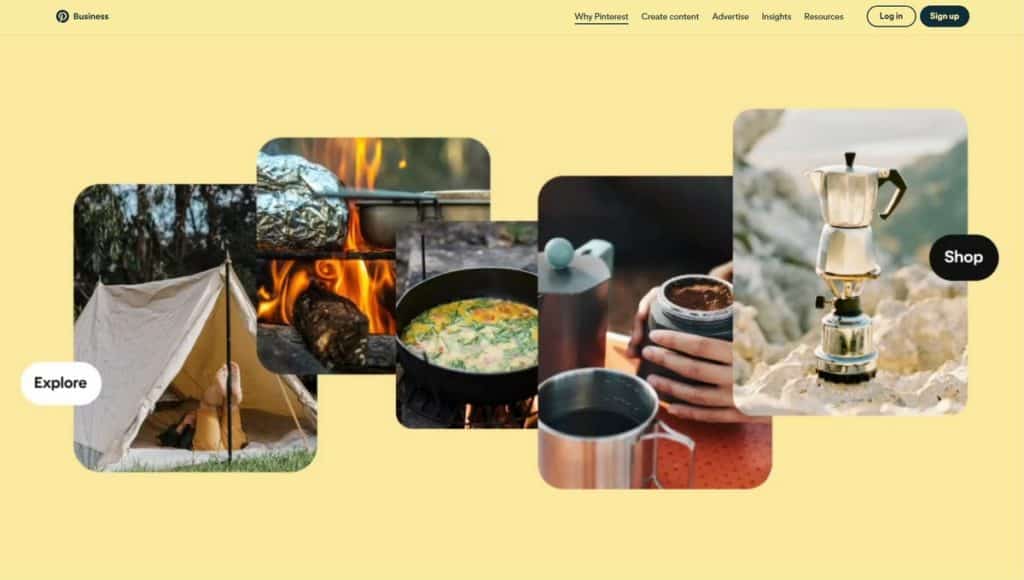 It is developed around a visual search engine that helps you to discover something new by exploring Pins (Pinterest content). For example, if you want something, but don't know what exactly or don't have the right words to describe it – Pins can help you by visualizing your interests – sometimes you have to see something first before you know it. This makes Pinterest one of the only social platforms where it actually makes sense to buy things: you see something – you want it – you buy it.
Businesses found Pinterest to be a great platform for social commerce due to its contextual relevance for shopping and brand awareness. Its entire premise is built on providing inspiration and ideas for what to buy. Here are some of the Pinterest shopping features that companies and brands can take advantage of:
Product Pins – similar to usual Pins but have a unique format to spotlight your product information, such as a customized title and description, price, and stock availability.
Shopping List – enables users to find every Product Pin they added to their own boards in one place. Also, it notifies users if there are price decreases.
Shop in Search – when a user searches for a term, it displays Product Pins relevant to that term.
Pinterest Lens – users can point their smartphone camera at any object to find relevant products from Pinterest sellers.
Shopping Spotlights – showcase selections of Pin products as chosen by "influential fashion and home tastemakers as well as publishers".
Pinterest Shopping Ads – you can promote your Product Pins in several ways and even feature multiple products in a single ad.
These are only a few of the features and Pinterested is working on new updates. During their Pinterest Presents 2022, the company announced Your Shop (a customized shopping surface that displays products and brands based on individual users' preferences and activities), Checkout (enables in-app purchases) features, and many more. While Pinterest's audience is lesser than that of Instagram and Facebook, its users are more shopping oriented and usually looking for shopping ideas.
Good news! You can connect your Pinterest Shop with your Shopify shop and expand the auditory of your existing dropshipping or eCommerce store.
Tip
If you are running an e-commerce website, you should consider including social media in your marketing efforts.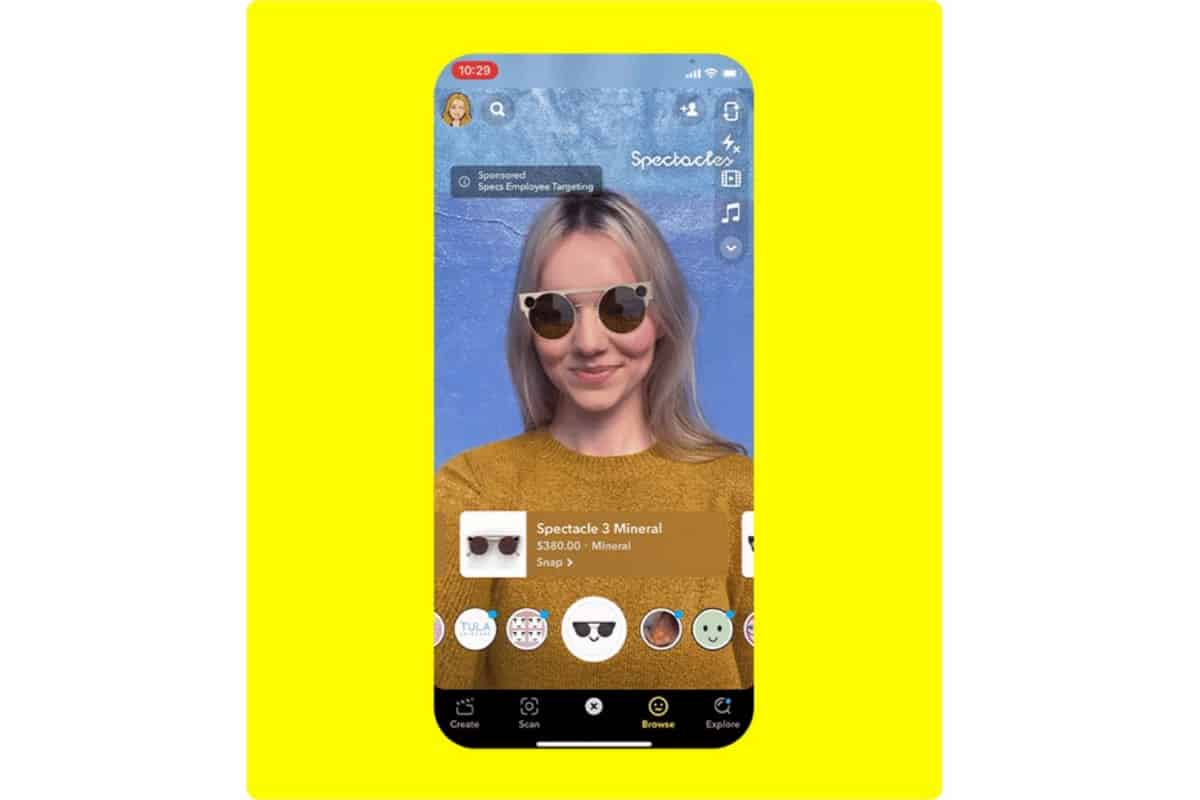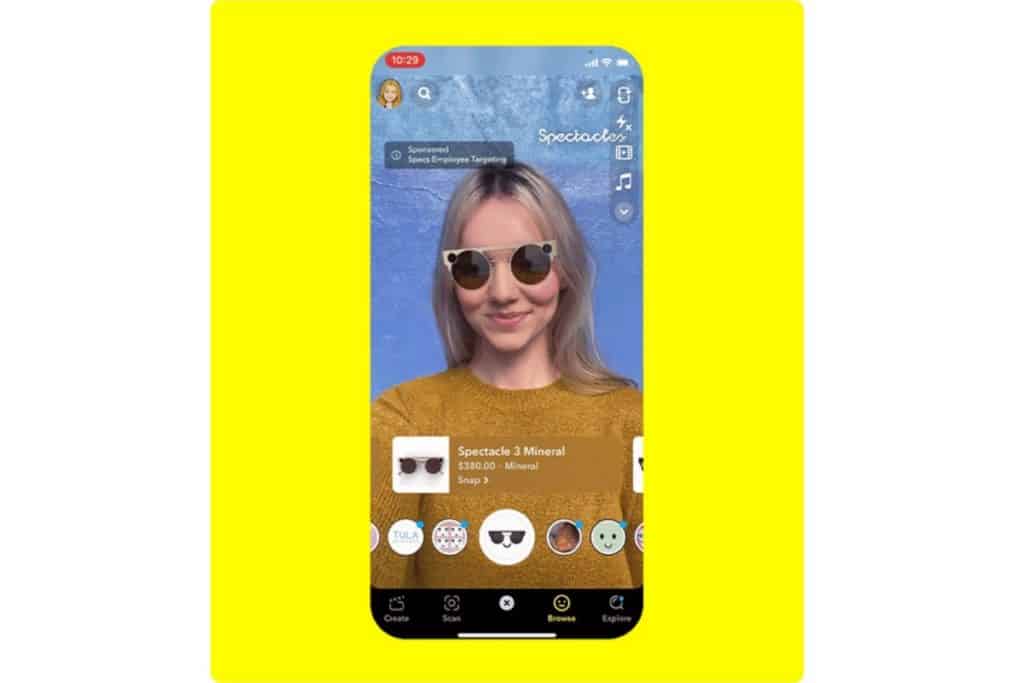 Snapchat's approach to commerce is different from other social media platforms. The company is focused on branded AR filters that come with buy links when users try them on. Products are automatically overlaid on faces, bodies, and other spaces through augmented reality and personalized for each user. When you want to try on a product, the app will project the garment onto your smartphone and make it look as if you're wearing the item in real-time.
"Shopping Lenses are specifically designed to offer Snapchatters a way to seamlessly interact with, try on, and click to purchase multiple products in a single Lens by simply swiping through the Lens Product Cards".
According to Snapchat, users have tried AR Lenses on different products over 250 million times, and Snapchatters who experience shoppable filters are 2.4 times more likely to purchase than those who do not. Also, Lenses have proven to drive a +14% higher increase in sales than videos. Of course, because someone tries on a product on Snapchat and shares it with friends doesn't mean they will buy it — many users try Lenses for fun only. Still, while AR technology is quite new and not so widespread, I think that Snap is far ahead of its competitors and is moving in the right direction. I am sure that Instagram will incorporate this technology after some time too.
Snapchat doesn't support in-app purchases as of now, the users are directed to the product page on the company's website. It also should be noted that Shopping Lenses features are limited to makeup and beauty products, apparel, and garments due to the nature of the target audience and how the technology is tailored to this audience. So if your business focuses on other kinds of products, you might skip Snap for now.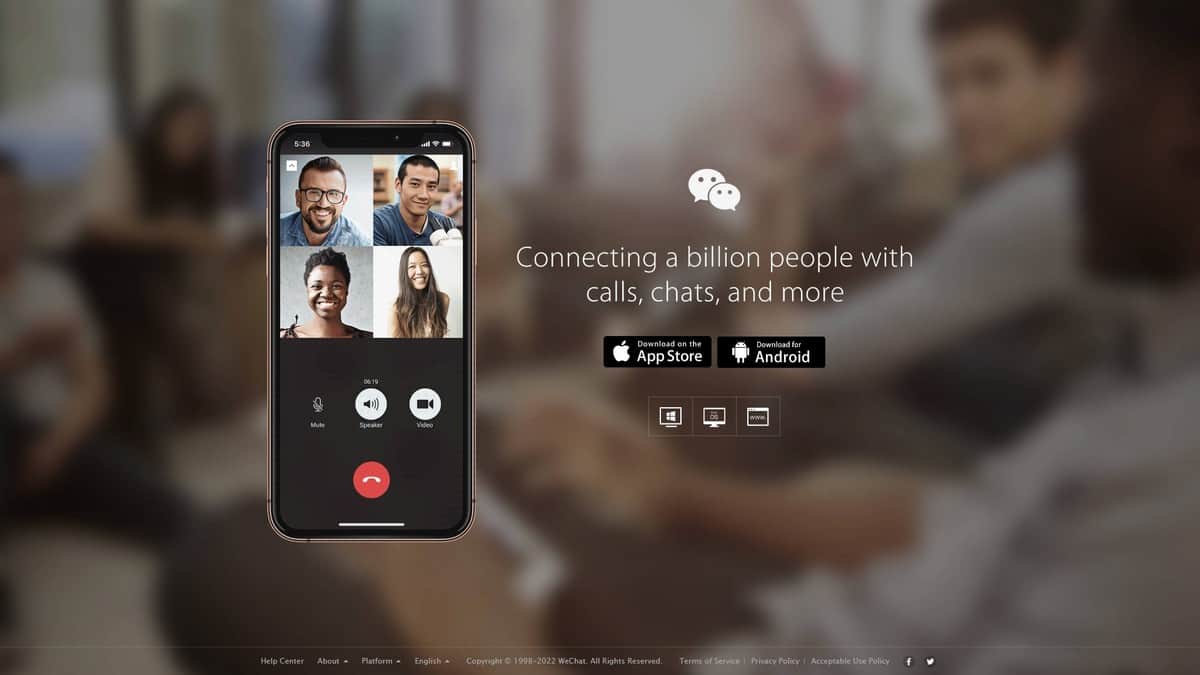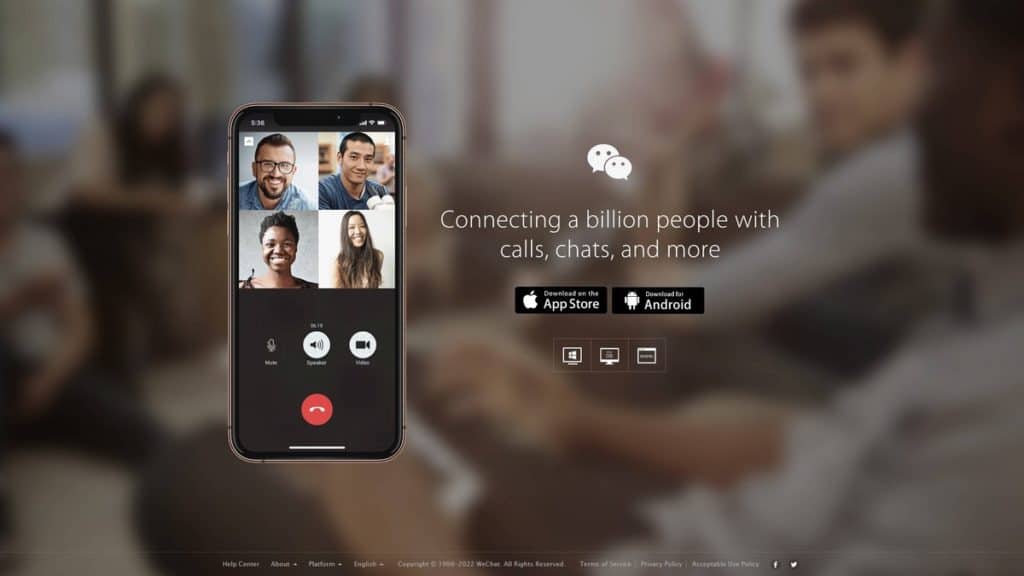 I probably should have started with WeChat, because China is where social commerce truly rocketed ahead of time.
WeChat (Weixin in China), also called Chinese Facebook, started as a social media platform and messaging app in 2011. Taking advantage of its growing popularity, the app started adding new monetization features such as abilities to play games, call a taxi, and pay bills. The introduction of WeChat Pay in 2014 was a game-changer, followed by the ability to pay at stores with QR codes, which gained push in 2016 and made WeChat a pioneer of social commerce. WeChat had almost 1.27 billion monthly active users at the end of 2021, which ranks it fifth in terms of active users number.
WeChat has three functions that enable commerce functionality:
WeChat Stores
WeChat Mini-Programs,
WeChat Good Product Circle.
WeChat Stores are mini eCommerce platforms that exist within the WeChat ecosystem. They are like mobile websites hosted in WeChat and connected to a WeChat Official Account (this enables users to make purchases from a store with one click through WeChat Pay). You don't need to have a Chinese bank account or Chinese business registration, you just have to open a WeChat Store if you want to sell on this platform. It is one of the easiest ways to start selling through shopping apps in China, however, the ability to promote these stores is limited because they don't have 'organic traffic'. Still, first-time users will find the process of creating a WeChat store very easy and it doesn't require much effort.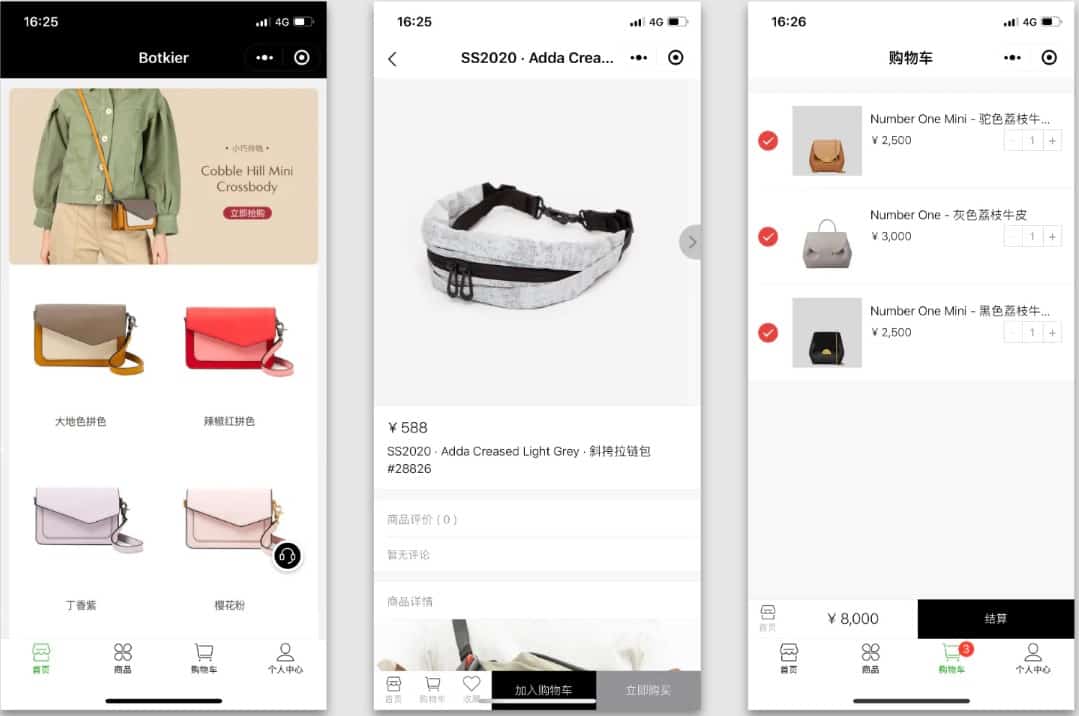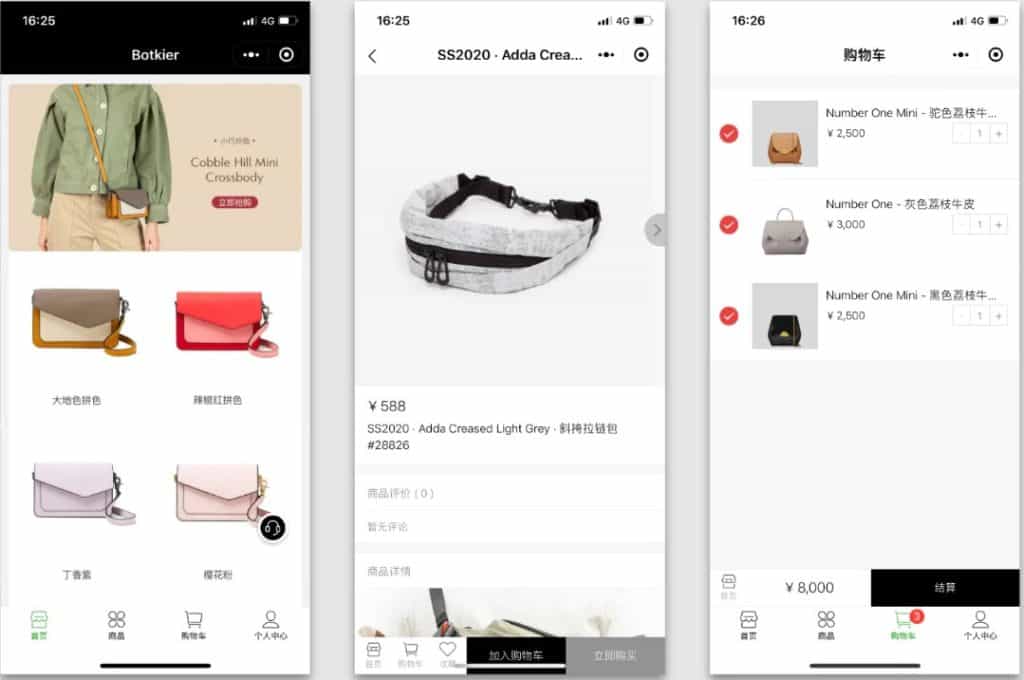 WeChat Mini-Programs – sub-applications within the WeChat that allow users to access app-like functions without leaving WeChat. They are small, lightweight mobile apps that don't require installation. The majority of WeChat mini-programs are games, but around 20% of mini-programs are dedicated to eCommerce. Creating a mini-program enables additional features for businesses, like:
Scan & Go – allows users at retail stores to turn their smartphones into virtual checkout counters to scan and purchase products without waiting in line.
Omnichannel solutions – order online and pick up in-store, or scan the QR code of a product for home delivery.
Group buying – users coordinate their orders for a product and receive a discount by purchasing in bulk.
KOL (Key Opinion Leader) sales – allows businesses to place banner advertisements within the content of an influencer's posts.
Unattended stores – shoppers can enter a store, scan the product they want, leave with it, and get billed through their WeChat account… without a cashier or front staff.
Data control – Mini-Programs enable businesses to manage their own private domain traffic and gain actionable insights for sustainable long-term sales growth.
Mini-Programs only work with WeChat Pay, whereas WeChat stores can have other options.
In 2019, the company launched a feature called Good Product Circle – an interactive module, which allows users to recommend products, access friends' recommendation lists, and also socialize on the interface. Simply put, it allows people to see what others users are purchasing. Users can create their own private groups where they can share the products they would like to recommend – the possibility that lets usual people become influencers.
WeChat is regarded as one of the best apps for approaching or entering China's e-commerce business but be aware that, as part of the mass surveillance network in China, user activity on WeChat is tracked, analyzed, and shared with Chinese authorities. Data transmitted by accounts registered outside China is surveilled, analyzed, and used to build up censorship algorithms in China.
7. Twitter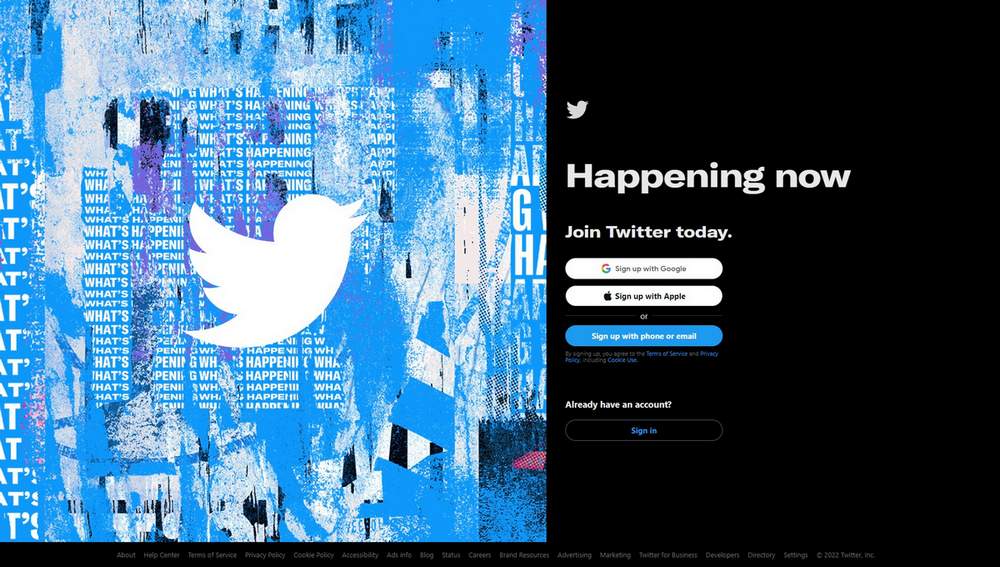 Twitter is probably the least popular social platform when it comes to social commerce despite the fact that it was the first major social platform to try social commerce capabilities back in 2014. The company allowed some businesses to place a Buy button on posts, but they stopped that development in 2017. So why did I put Twitter on the list?
In 2021 they started to roll out new shopping features that allow concluding that Twitter intended to become a social commerce platform (again).
Location Spotlight enabled companies to display their business' location, hours of operation, and additional contact methods. The Shop Spotlight feature allows businesses to showcase their products in a dedicated space at the top of a profile. When users browse a profile with the Shop Spotlight enabled, they can scroll through the carousel of products, tap through on a single product they are interested in and purchase it in an in-app browser without leaving Twitter.
On the 28th of November 2021, Twitter launched the "Cyber Deals Sunday" stream, partnered with Walmart.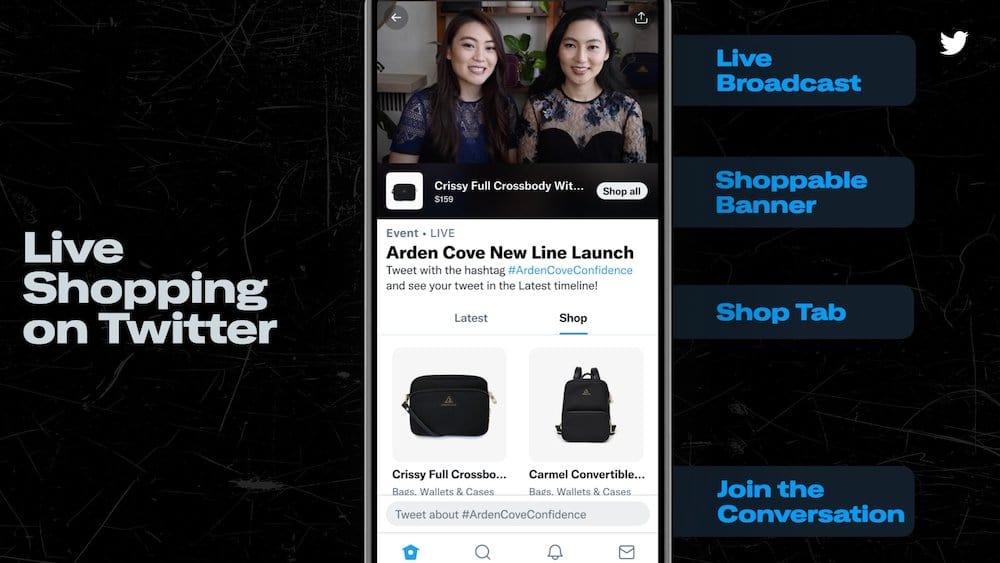 During a Live Shopping stream, users can take several actions that make the shopping experience on Twitter seamless, such as:
Check out the Shoppable Banner and Shop Tab on the Live event's page.
Toggle between the Latest Tab and the Shop Tab throughout the stream.
Continue to watch the stream on the seller's website within an in-app browser, so they don't miss a thing while making a purchase.
In March 2022, the company launched Twitter Shops – a beta program for a very limited number of pilot testers. With Twitter Shops, businesses can handpick a collection of up to 50 products to showcase to users on Twitter. Some of the beta testers are @GameStop, @Verizon, @ArdenCove, @LatinxInPower, @GayPrideApp, @AllIDoIsCookUS, and other brands across the gaming, lifestyle, media, and tech industries.
For now, only businesses from the US and users who visit Twitter through iPhone in English can access these shopping features. While these features are limited, it is clear that Twitter wants to return to the social commerce business, and they make some significant developments in that direction. I advise you to stay tuned for future updates from Twitter, and maybe you will be one of the first businesses to utilize this social commerce platform once it is fully launched.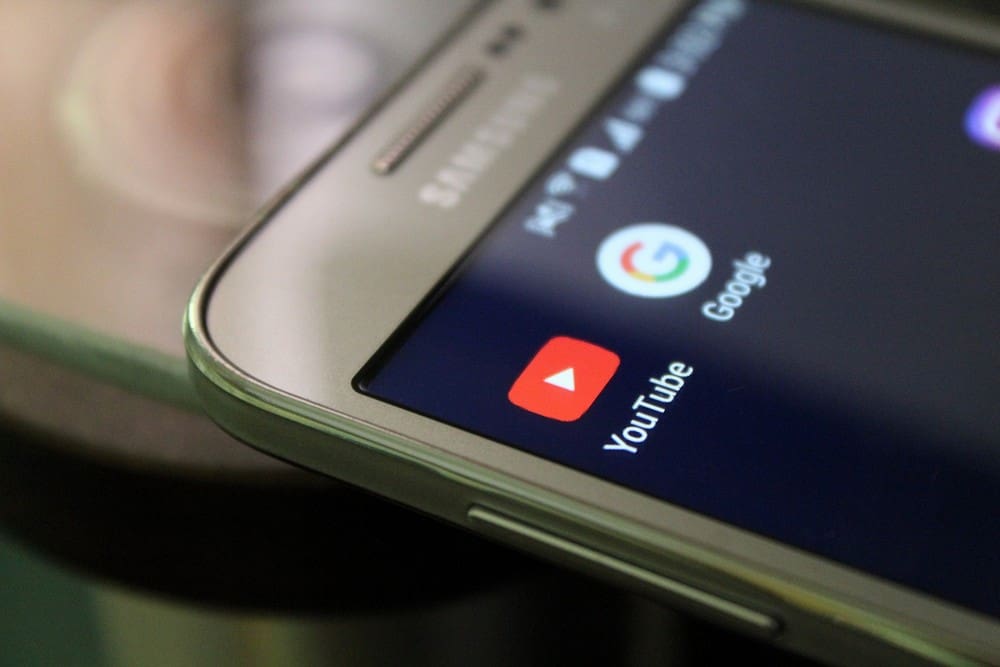 Surprised to see YouTube on the list, don't you? While the platform runs ads and offers monetization opportunities for bloggers for a relatively long time, its commerce tools suite is quite limited… at least for now.
While the platform had major growth in 2021, its ad revenue fell shorter than what the company expected. YouTube tops turned their attention to live shopping and other commerce integrations with content creators.
According to Neal Mohan, YouTube Chief Product Officer:
As the shift to e-commerce continues, video will play an increasingly important role. Consumers want the convenience of researching and reviewing products online at home, but with the trusted guidance of an in-store experience. That's where YouTube's creators come in. They've committed considerable time and effort into building authentic connections with fans, and as a result, deliver trusted brand and product recommendations to their audience. In this installment of our Innovation series, our shopping team discusses how we're integrating live shopping directly into YouTube
People want to shop on YouTube, 89% of users agree that YouTube creators give recommendations they can trust.
The platform already has the shoppable ads feature that integrates browsable product images underneath ads to drive traffic directly to businesses' product pages. Seeing other companies implementing live shopping features, YouTube also focuses on this direction, which allows YouTubers to purchase products via live broadcasts.
The company wants to make it easier to shop by integrating commerce directly into the platform, removing steps in this process, and making the entire shopping experience smooth and fun for its users.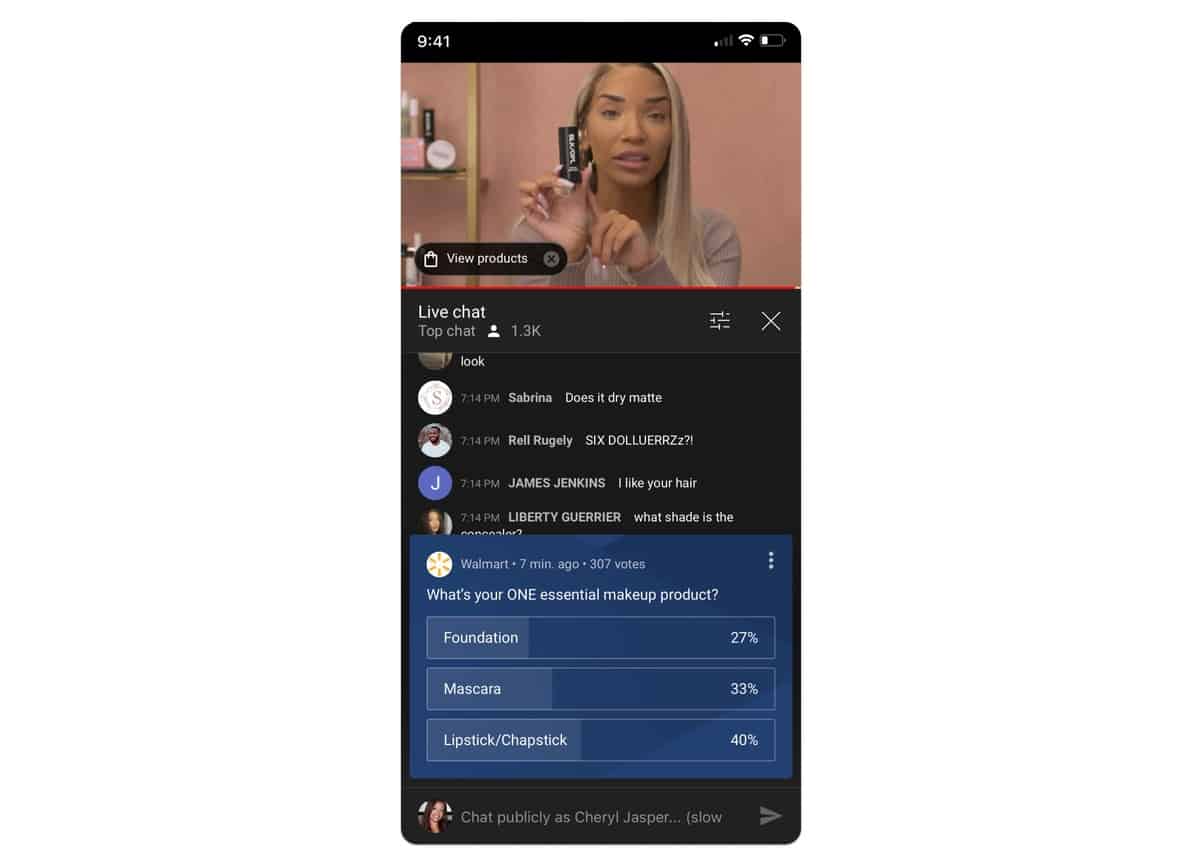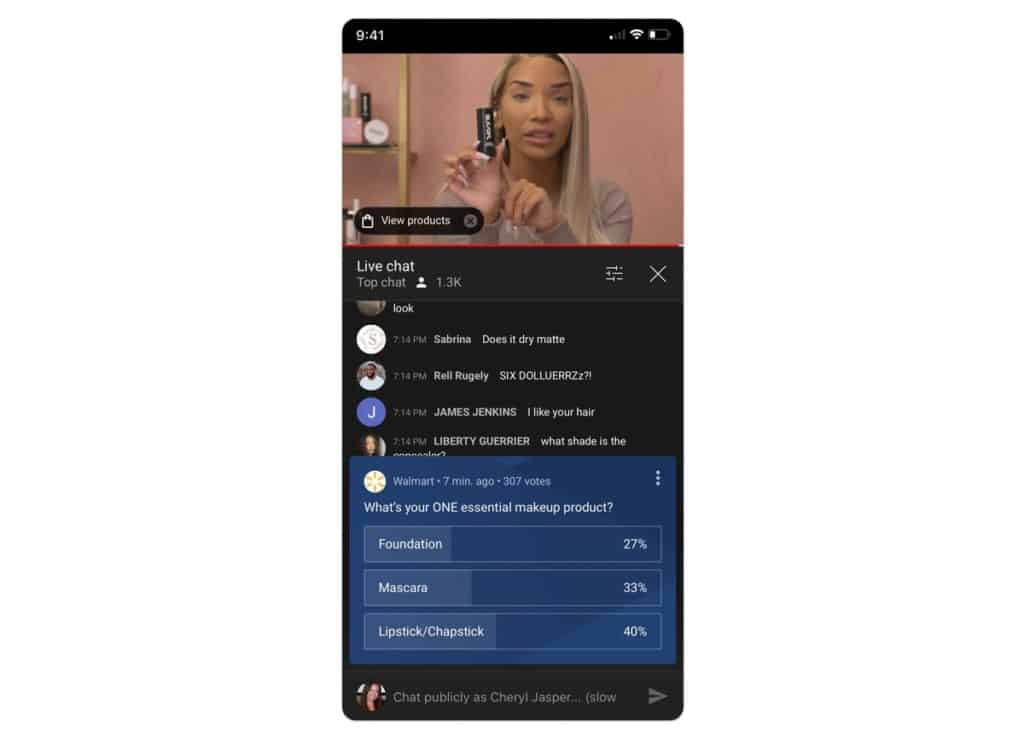 Considering the number of users visiting YouTube every day – looking for what to buy, watching reviews, and making decisions – it is strange that the company, being the leader of video platforms, turned its gaze to these features only now, after Facebook, Instagram and TikTok made their attempts. Among the most recent innovations are new monetization options for creators of Live content and short-form videos limited to 60 seconds called "Shorts" (don't tell TikTok), and the platform is beta testing in-stream shopping within live-streams features that should be rolled out soon. Being one of the major players, Youtube has a lot of potentials that you should not miss – the platform's reach is massive, this is second the most popular social media network after Facebook.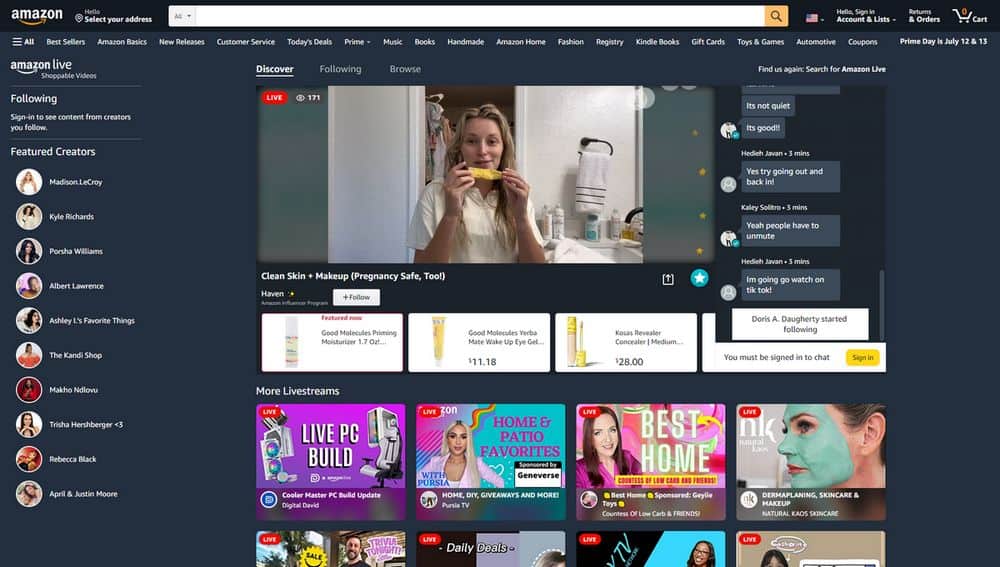 I bet you didn't expect to find the words "Amazon" and "social" in one sentence! But here it is – Amazon Live is a video streaming service that allows businesses to communicate with customers in real-time.
This is the ideal solution for companies and brands that want to offer live services – it can also be used to launch new products product, inform about product features and special offers, live demonstrations, and more. It allows users to tap on the different videos to change streams, browse through recordings of those videos that were recently live, or view which lives are coming up next.
Here are some of the features to engage your customers:
Chat – communicate directly with customers through the chat or address their comments and questions verbally during the live stream.
Product carousel highlighting – you can highlight the products being discussed during live streams.
Promos – add promo codes to your streams. Users can add discount codes by clicking on the 'Redeem' button directly from the live video player.
Follow – users can follow you to get notifications in the Amazon mobile shopping app whenever you go live.
Built-in analytics – businesses can see and analyze how well their live session performed (total views, unmuted views, etc.).
The service is free for sellers, but there are some restrictions – it is available in the USA to vendors who have an Amazon Store and professional sellers enrolled in Amazon Brand Registry. You can create your own live streams via the Amazon Live Creator app, or collaborate with Amazon for an Amazon-produced Livestream.
10. Verint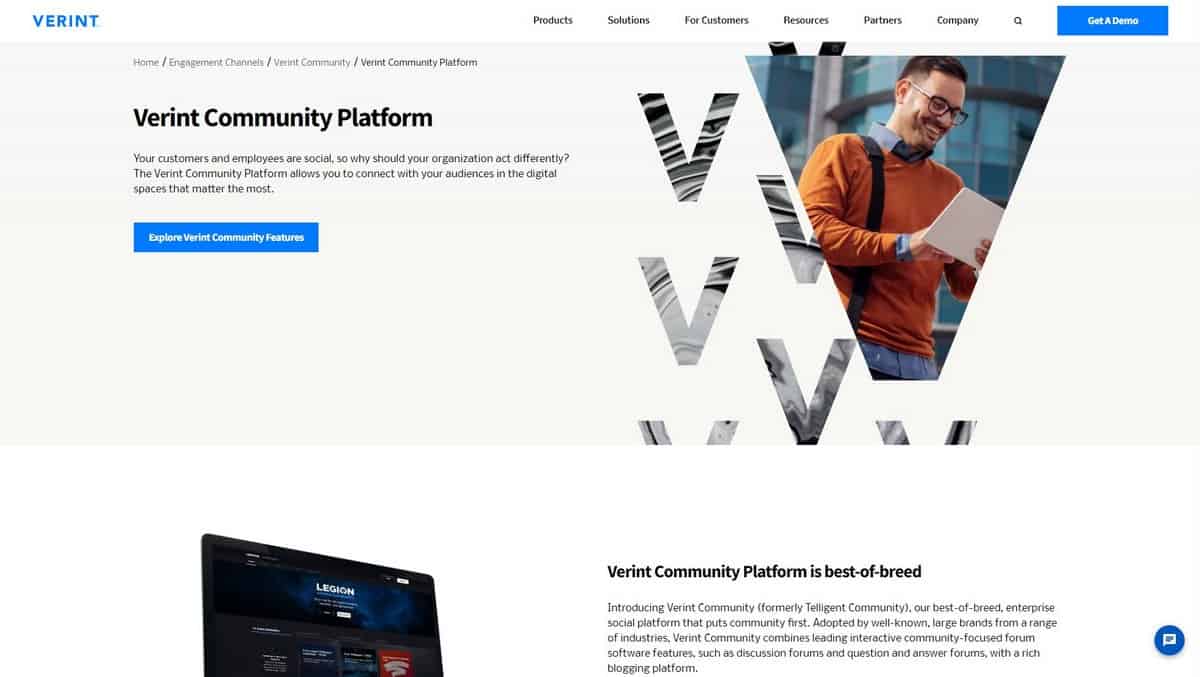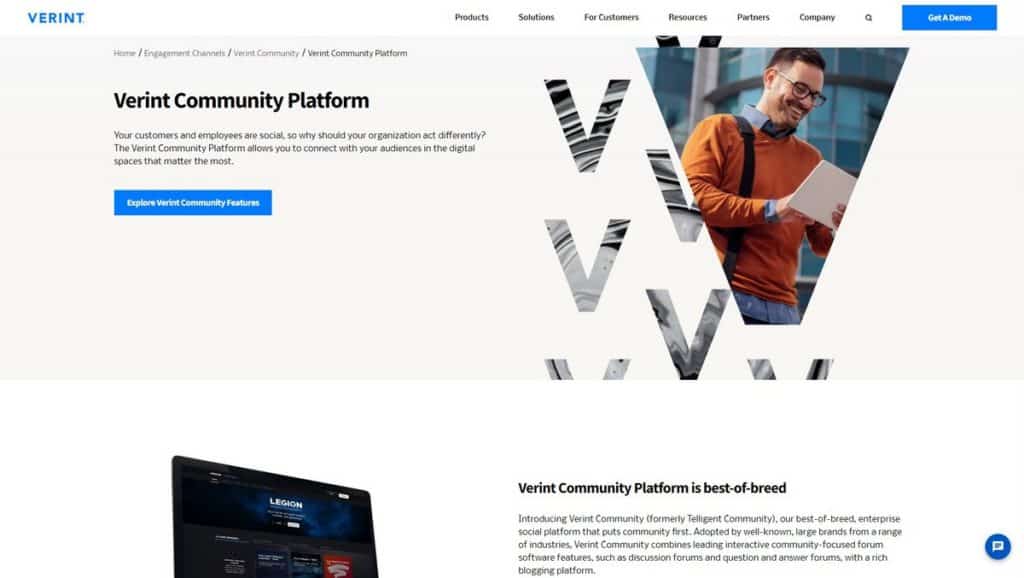 Now, this social commerce platform is something different: where previous examples are social networks with the addition of commerce tools, Verint has the opposite approach – it is a platform that incorporates social features into e-commerce websites.
Verint helps to bridge the gap between businesses and their customers, and boost organic conversions and brand trust by providing a fully customizable forum where people can share their real-life experiences and communicate with each other and companies.
According to the company, their platform "combines leading interactive community-focused forum software features, such as discussion forums and question and answer forums, with a rich blogging platform.
Additional features, such as wikis, articles, activity streams, ideation, calendar, file galleries, automation rules, moderation, and gamification, are all available as standard functionality on the platform giving you what you need to create engaging online community experiences."
The platform enables brands to combine different social media channels into a single unified social customer engagement workspace. It integrates with popular e-commerce platforms such as Shopify, BigCommerce, and Magento, as well as various social media networks:
Facebook
Instagram
Twitter
YouTube
Google Play Store
Google My Business
The platform allows full visual customization of Discussion and Q&A forums, provides a user-friendly interface and helps to define and utilize the important customer interaction points – Verint enables you to build a community based on the specific needs of your business.
Conclusion
Social commerce is evolving rapidly because it moves in three directions at the same time: social networks develop new and improve existing commerce tools, so businesses learn how to use them effectively, and users increasingly use them for shopping.
The future of retail is where the consumers are. Companies that combine diverse channels like web, mobile apps, social commerce platforms, marketplaces, etc., will be better able to communicate with the target consumer segment and sell merchandise and services more effectively than companies with a less diversified distribution strategy.
The advantage of social commerce platforms is that there is no need to create your own online store website or integrate it with social networks to implement sales. Everything works within the framework of social media platforms. Thus, social commerce is an independent distribution channel in addition to other types. And the coolest part is that you can sell products on various social media platforms at the same time!
At the same time, this is a great way to make the product available to a vast audience of potential buyers. It makes it possible to interact with customers in an organic environment for them by using easy and convenient tools.
Happy Selling!