Why do eBay and other tech giants suspend accounts if that's what they make money from? In 2020 eBay suspended 83,000 accounts, and if you think that's a lot then Facebook suspended 1.3 Billion accounts! These numbers, they tell us something.
Not all users contribute to the platform they're using. In 2019 eBay announced their dropshipping policy after they estimated that too many dropshippers are causing more harm than good. You might think that it killed the eBay dropshipping industry and… you'll be completely wrong.
The policy, since launched, is enforced on accounts that underperform and that makes more damage than contribution. Dropshippers used to spam eBay with millions of products, deceive customers, and what not. That's no longer a good strategy.
Today, if you are keeping your account performance metrics in good health, you keep generating sales by continuously listing new items and removing underperforming items – you decrease the chances for a suspension dramatically.
And yet, If you're dropshipping on eBay or selling there, you might encounter getting your eBay account suspended.
Luckily, there are solutions for almost every use case of suspension:
If you didn't get an eBay indefinite suspension, there are still ways to get your account back.
If you got suspended, there are ways to get new "stealth" accounts and
If you are just getting started you can learn ahead how to avoid suspensions
In this article, we will speak about different types of eBay suspensions, Mc011 eBay, actions that lead to them, tips on how to avoid that your eBay account will be suspended, and what to do if it will happen.
No need to worry, we've got you covered!
"eBay suspended my eBay account"
Just take a look at some comments referring to eBay suspensions we've had in our DSM Tool Dropshipping Community Group. These are concerned users that have encountered these types of suspensions.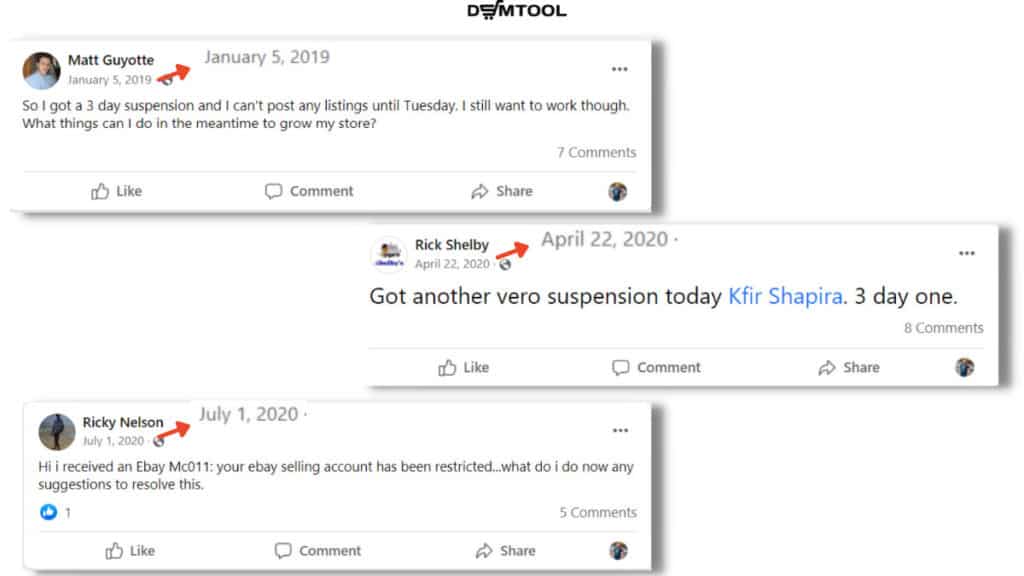 As you can see in the screenshots posted above, this is a recurrent issue. A lot of users have experienced their eBay account suspended throughout the years. From 2019 – 2021 there have been lots of similar cases. And we keep receiving messages like "eBay suspended my account" often. Especially from the newbies in the eBay marketplace.
And it's not only the group. Here is a breakdown of the total number of eBay suspensions in 2020: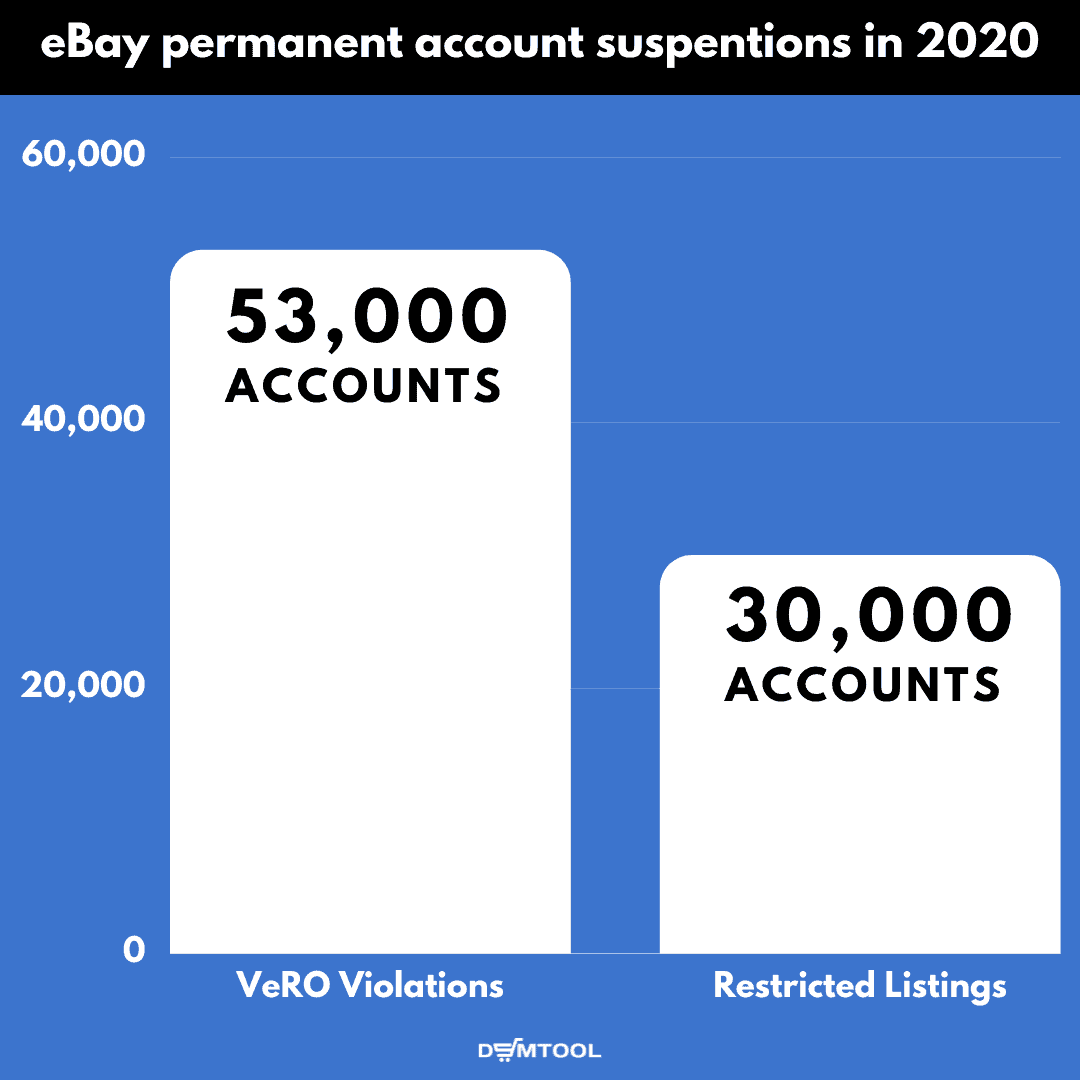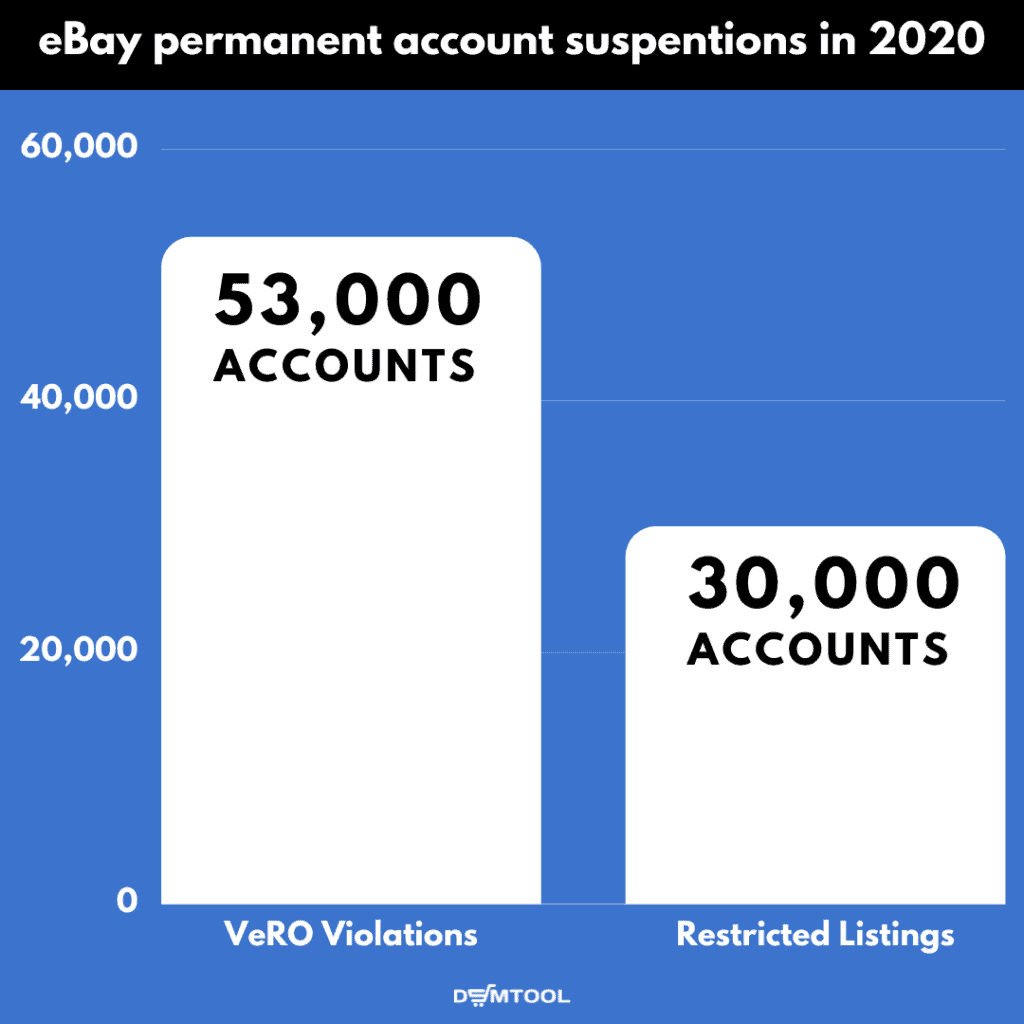 You can see that 83,000 accounts in total were suspended in 2020 according to the Global Transparency Report issued by eBay Inc. As shown in the graph, 53,000 eBay accounts were suspended permanently due to copyright infringements. 30,000 of eBay accounts were suspended due to listing prohibited items on the marketplace.
So, in this article I will explain the types of eBay suspensions, what to do when eBay suspended your account and what to do to avoid this situation — no need to worry, we've got you covered.
Your eBay account has been suspended email
Let's start with an example, this is the email that you would normally get if your eBay account gets suspended: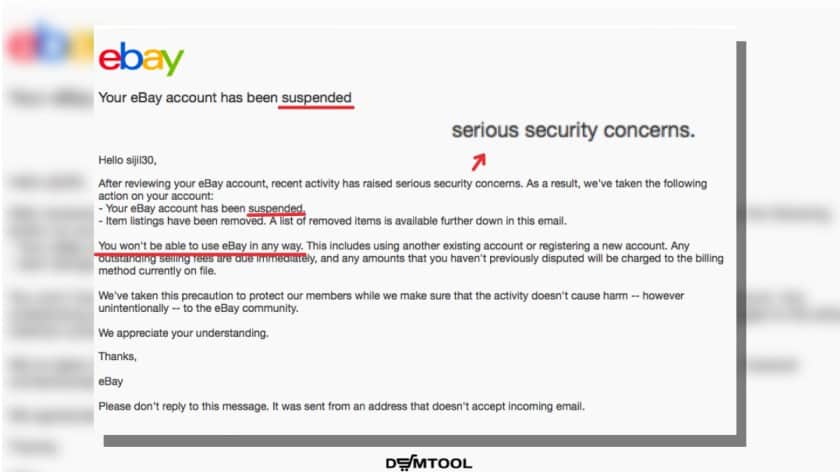 As you can see in the image above, the first sentence expressed in the email is crucial: "After reviewing your eBay account, recent activity has raised serious security concerns." — this is a strong statement coming from eBay.
To quickly summarize this statement, with your eBay account suspended, you can't sell, bid, or contact customers — as simple as that.
I know that this can easily overwhelm you, especially if you are barely starting your eBay journey. However, this has a quick fix. But before we dive into the steps you need to take, let's first address what this eBay ban means and the types of suspensions you can expect.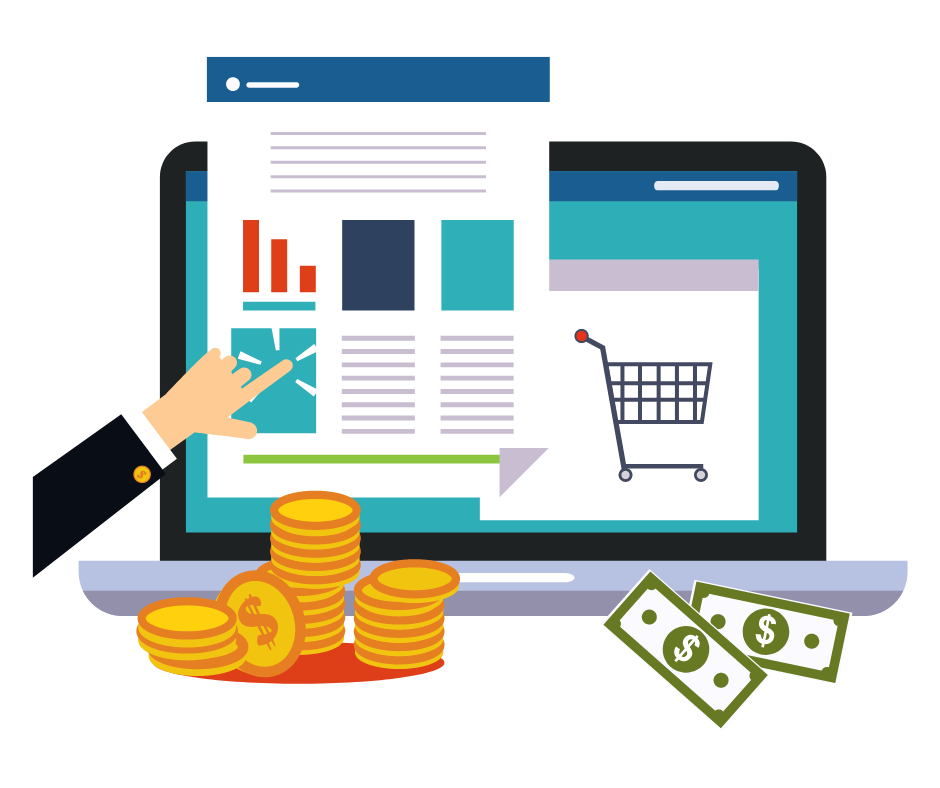 Don't wait for the profits, make them!
Start a profitable dropshipping business with DSM Tool. Get a free course and a free trial of the software.
Reasons for eBay account suspensions
There are three types of eBay suspended accounts you need to be aware of. I will be starting from the least concerning cases to the most complex suspensions cases where the website can close your eBay account.
eBay Account Holds: No need to worry too much about these types of situations. When your account is put up on hold, it is usually for minor slip-ups. For example, when you need to quickly verify your account for security reasons. Or any payment method issues you might encounter — so as soon as you fix the issue, your account will be reinstated.
eBay Account Restrictions: When you get an account restriction, it is mainly because your account is not in good standing. For example, your seller performance is below standards.
Moreover, it is important to be on top of your overall performance (customer satisfaction, avoid open return cases, ship out products on time, etc).
eBay Account Suspensions: This is the most complex situation any dropshipper or seller can be in. However, you can resolve it by following a few steps. I want to emphasize this article on this point since there are cases of eBay account suspensions for a couple of days, weeks, months — even indefinitely!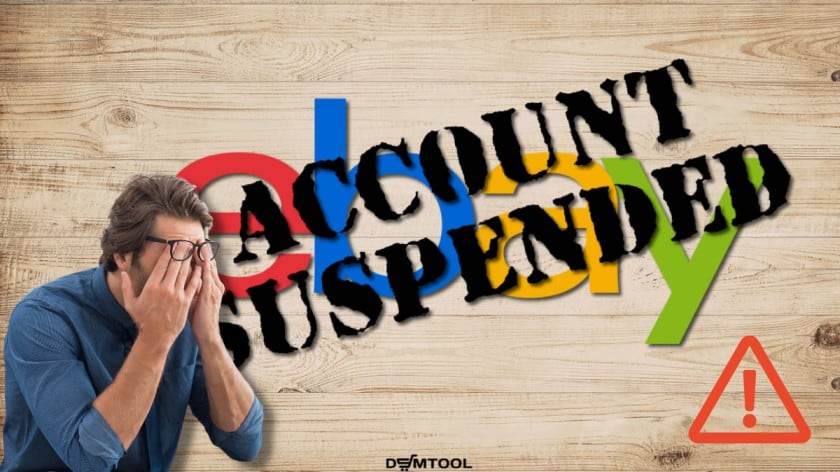 This normally happens when there's a serious violation of eBay's rules. This can also happen if you do a horrible job at managing your store being an under-performing seller.
I will be going over each of these situations and what to do in each case. However, sometimes dropshippers think that they get a suspension out of the blue. This is far from the truth.
Let's get to the most common assumption most eBay sellers and dropshippers have.
eBay suspended my account for no reason: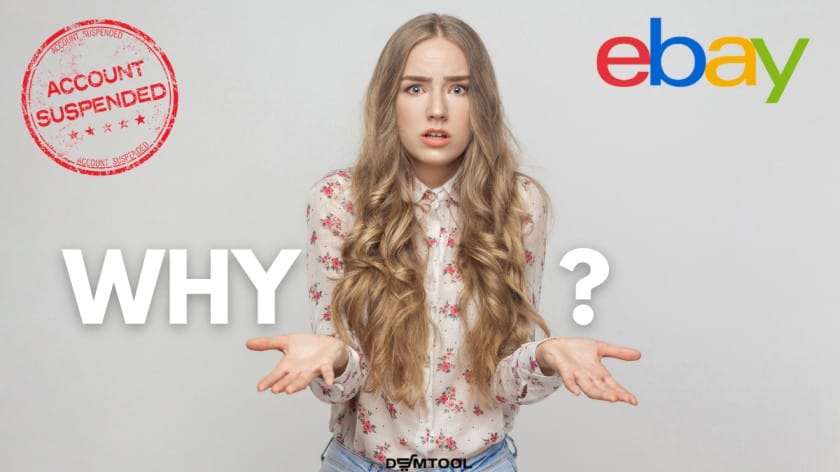 When eBay suspends an account, the seller is usually notified by email. In most cases they will provide details on what you did wrong and if it is a temporary suspension or not.
However, in some cases, you don't get a reason whatsoever — how frustrating right?!
In other cases, you might be able to find this notification in "My eBay messages". The way to access your eBay messages is very simple. Just hover your mouse on where it says "My eBay" and in the dropdown menu click on "Messages".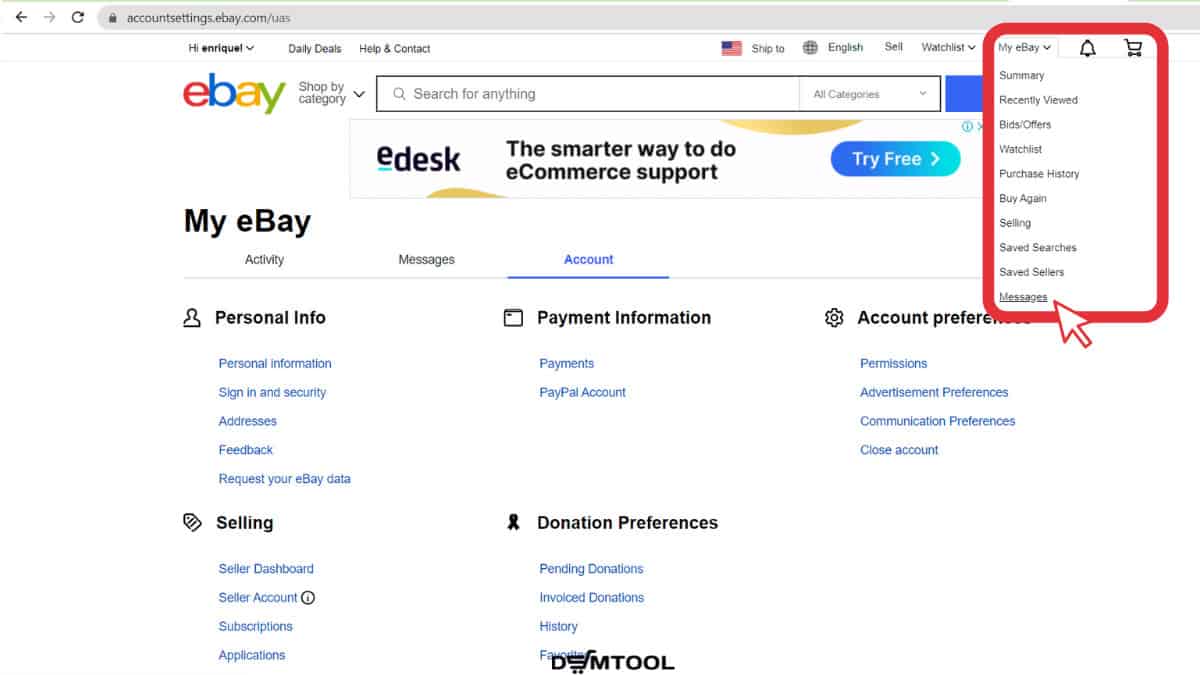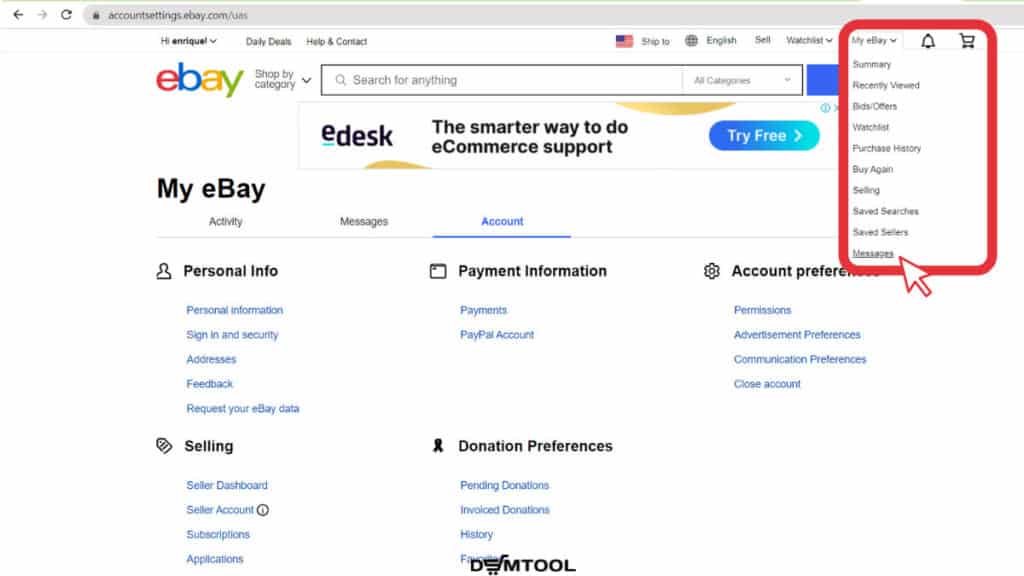 As you can see in the image above, once you access your messages, you will be able to identify eBay's notification regarding your account.
So why does this happen? Well, let me clarify that this is not eBay just simply suspending your account because they don't personally like you. Maybe you were not given the full explanation on the suspension email you receive but there is always a reason — trust me.
What happens when eBay suspended your account?
When the worse scenario happened: eBay account suspended, you won't be able to:
Bid, buy, or sell on eBay.
Leave feedback.
Create new listings or edit existing listings.
Contact bidders or reply to your eBay messages.
Though, there are several reasons why it can happen. Some reasons can influence even more activities during a certain period of time (eBay will specify it).
The eBay suspension will usually be 7 days, 10 days, 30 days, or indefinite (with a total loss of privileges).
So, let's see the reasons why eBay suspend seller accounts.
Type of eBay account suspensions
I will be explaining the legitimate reasons why eBay would suspend your account temporarily or indefinitely. Those are possible reasons:
Violating eBay's rules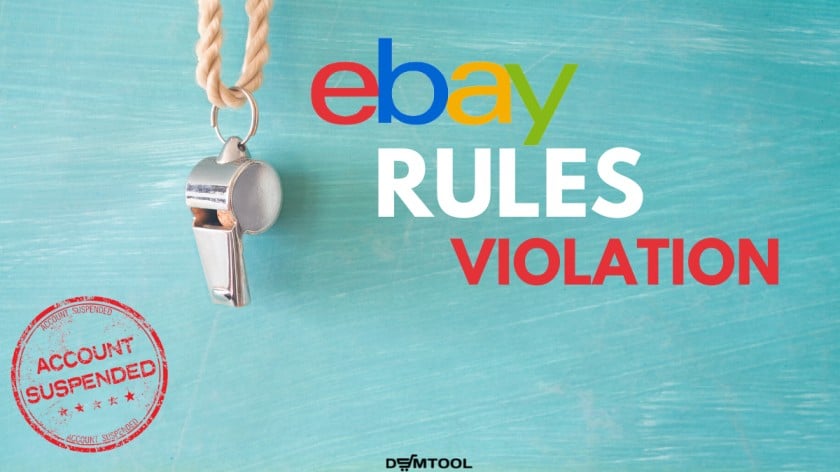 Listing prohibited items

on eBay
This is a big deal to eBay. Sellers must comply with what type of products are allowed to sell on the website and what others don't. This may seem obvious but there are some sellers who like to jump the fence on this one — and trust me, there are a lot of these types of sellers!
So, there is a long list of prohibited items on eBay. I will list just a few, such as:
Drugs & alcohol.
Live animals.
Counterfeit products.
Recalled items.
Cultural Heritage.
— you can learn more about this topic here: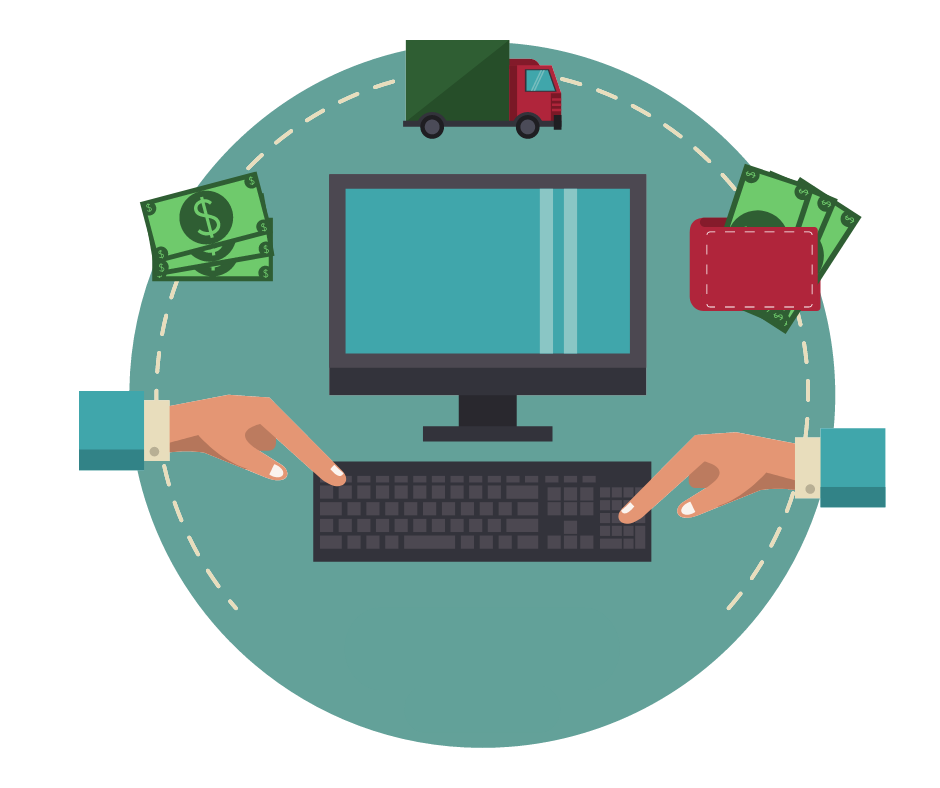 Not yet making money online?
Start your own dropshipping business. Sign up for a free trial of DSM Tool and we'll help you get started. Today is the day.
Wrongful content in your eBay listings

/ eBay Vero suspensions
This means two things, the first one would be offensive material or "hate speech". For example, listing anything that would be considered racist or profane.
The second one would be having anything with a copyright strike and/or stock photos. For example, the Verified Right Owner policy (VeRO). It does not allow sellers to list products with the right owners' trademarks such as logos among other copyrighted items.
The Right Owners is a program that eBay offers to protect trademarks and other intellectual properties.
By 2020, according to eBay's Transparency Report, their VeRO program registered 97,000 intellectual properties. This allows the right owners to report any potential counterfeit on eBay listings.
Just looking at their graph where they showcase the Intellectual Property listings removals by region. You can see that there are a lot of American users violating this program and getting eBay Vero suspensions with 42% of cases globally.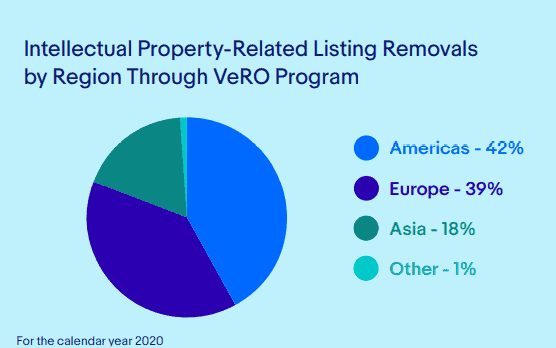 .
TIP
You can learn more about the VeRO program and how you can keep your seller account protected in the article about eBay VERO.
Bad eBay seller practice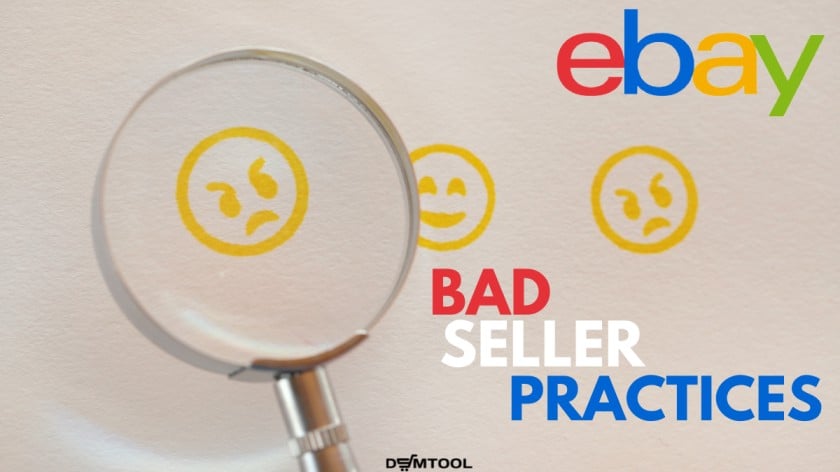 This is another reason eBay will suspend your seller account. It is your responsibility to be on top of your store. Let me give you the top four reasons you might encounter an eBay suspension due to bad store management:
Outstanding payments: If you do not pay your seller fees or your customers reimbursements, you can suffer a temporary eBay suspension.

This is why it is always recommended to set up an automatic payment method. Avoid any pending transactions.

Late shipping: eBay will not tolerate late shipments. If you ship out your product after the handling time and it arrives later than expected to your customer, this will affect your seller metrics.

That is why it is very important to set your eBay policies properly. Avoid these kinds of issues — read more about setting your shipping policies here!

Transaction defect rate: To put it in simple terms, this correlates to the amount of orders you cancel due to stock shortage. For example, as a dropshipper this is very important because you don't hold your own inventory, you highly depend on your chosen supplier and if the supplier has the item out of stock, you will need to forcely cancel the order — you don't want this happening.

Customer service: As one the most important aspects of managing a store, it is vital that you handle your customers needs. If the client has an issue with the product, resolve it as soon as possible. A buyer tends to leave feedback and that is highly reviewed by eBay.

You can learn more about the customer satisfaction best practices here.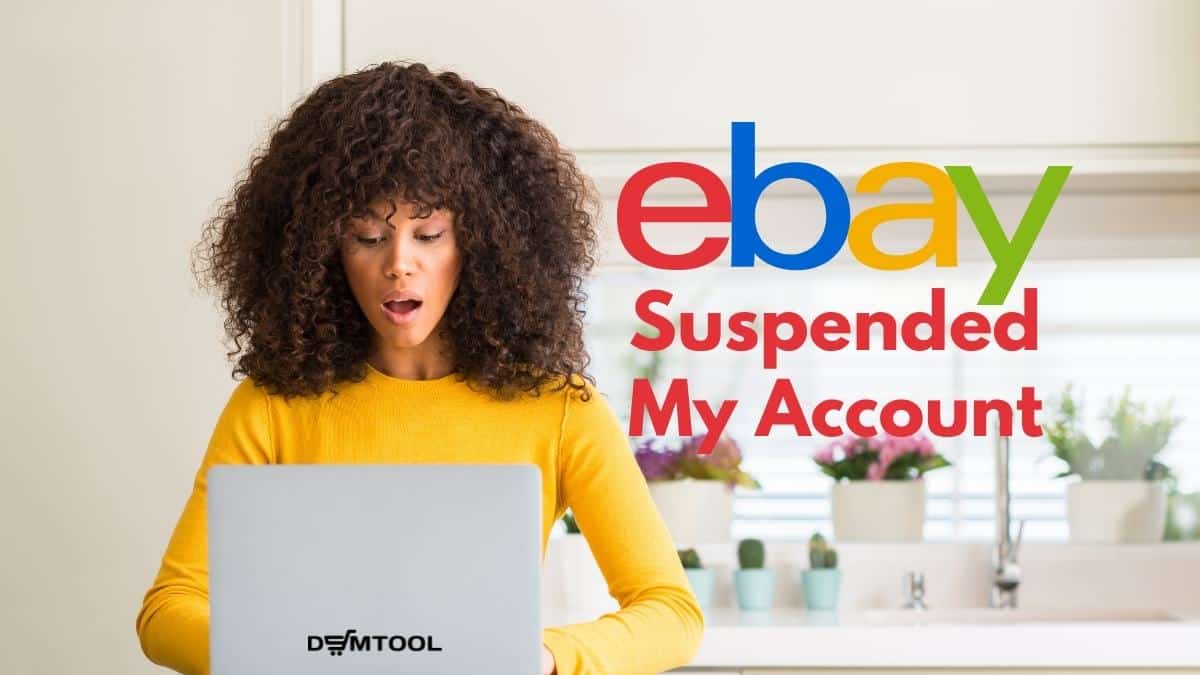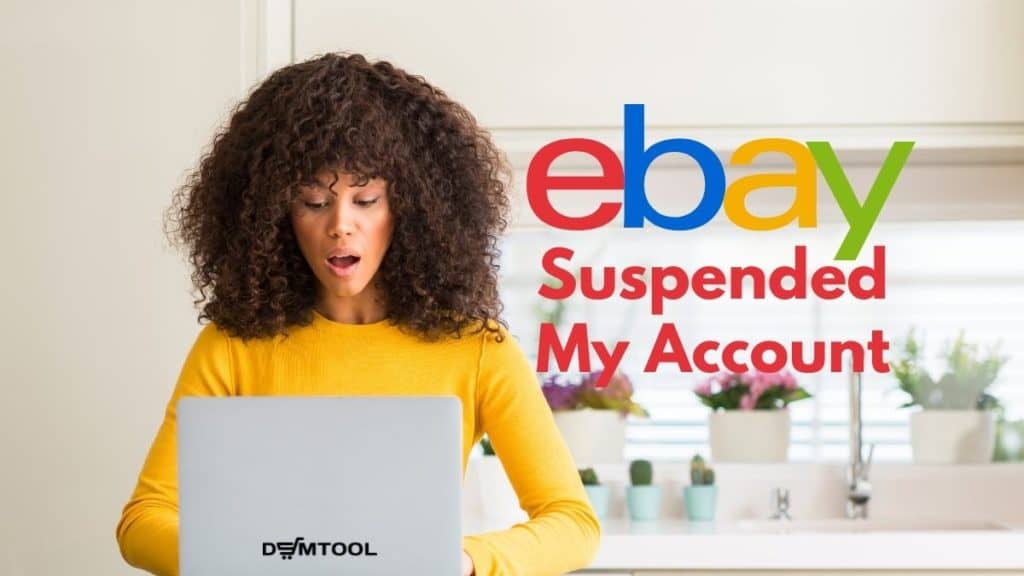 What to do when your account gets suspended?
Okay, now that we covered the reasons for eBay account suspension, let's figure out what to do when this happens.
First and foremost, do not lose your cool — I repeat, do not lose your cool! Trust me, eBay will not reinstate your account just because you made an angry call.
So, take a breath and read your email notification carefully and understand what happened in the first place. From that point, move forward.
Depending on the reasons you got an account shut down, fix the issue. For example, if you listed items with stock photos or with the right owner copyright, just simply remove them.
Contact eBay
Once you've corrected everything, contact eBay and follow these steps:
First, you can get eBay contact information by typing "eBay contact" on Google:

Let me save you the trouble though, click here to go directly to their contact information page. After that, just click on where it says "Account".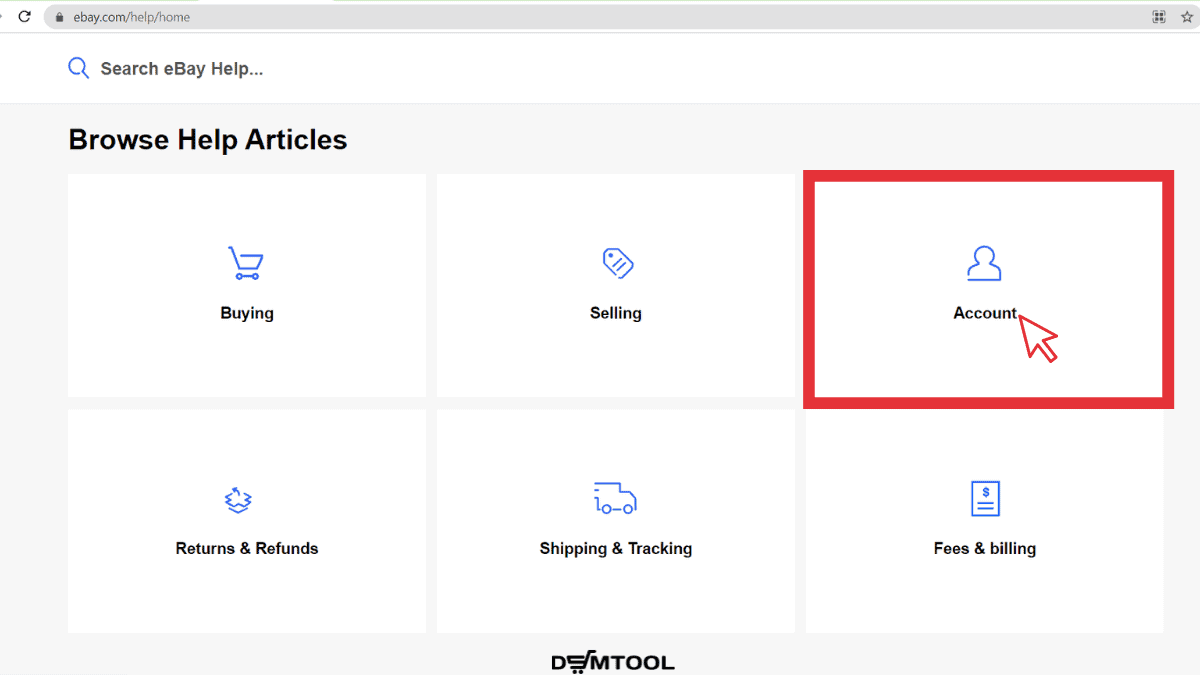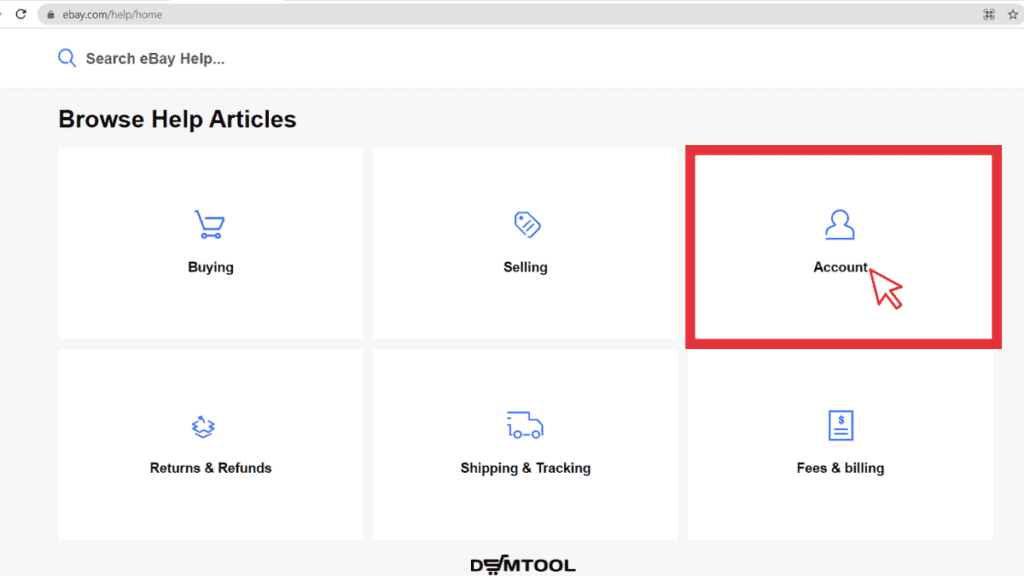 Click on where it says "Account holds, restrictions and suspension" once you've done that, just scroll all the way down and click on "email us" to send eBay a direct message.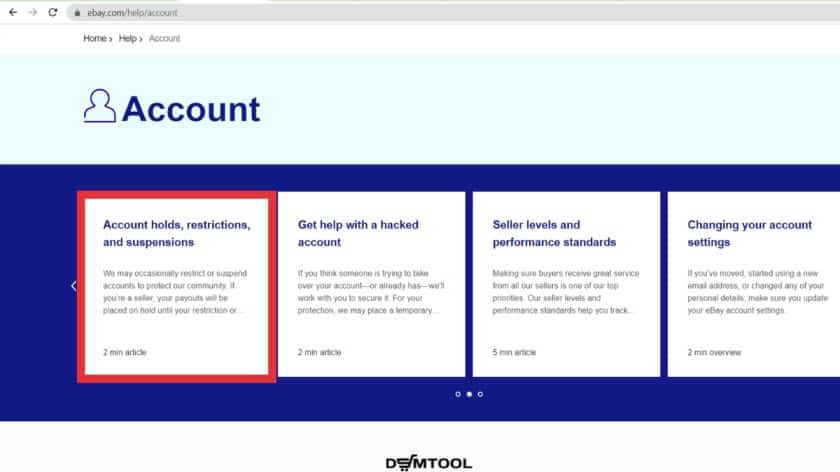 It is time to send eBay a message. I'd like to point out that it is important that eBay thinks you're a complete beginner. The reason is because that way they might have more empathy for your case. So, just build a message in a way that will make you look like a complete noob.
Pro Tip: Just make sure that in your email you ask eBay the steps to take in order to get your account back — in other words, just ask them what to do.
Followed by your email will come eBay's reply which might take between 1-3 days. In that email, eBay will let you know the proper steps to take in order to reinstate your account.
I have an example of a test message I sent to eBay pretending to be a concerned seller who got an eBay account suspended. This image below is eBay's response, perhaps not all of the email replies are the same but the structure is very similar.
eBay will ask you the next questions (answers to them are below)
They will ask you a couple of questions to understand and ensure you don't do anything illicit on the website — these are protocol questions every eBay agent needs to ask.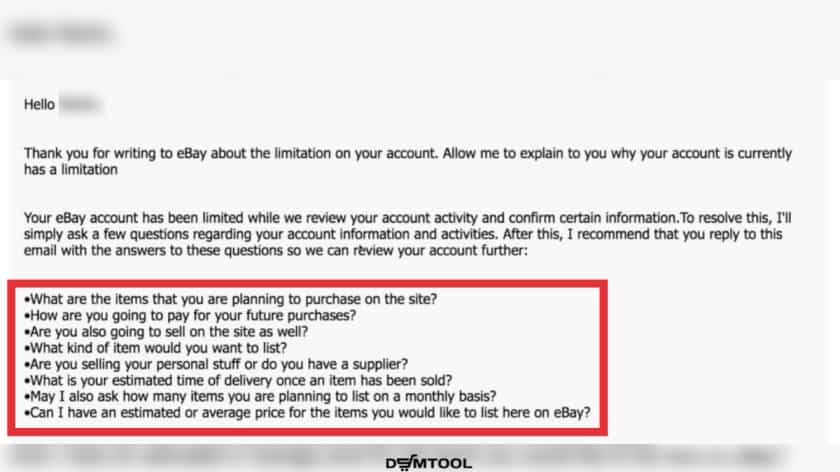 As mentioned before, all you need to do is answer each question and pretend to be a complete beginner who does not know how eBay works. Let me give you an example response for each question shown:
I will be mainly buying home improvement tools in order to fix up my house and entertainment electronics for me and my family.
I will be using my Visa credit card.
Yes, I will be selling as well. I want to have a secondary income aside from my current job at the bank.
I will be mainly listing Home Improvement products and maybe some furniture and Home Decor items.
I am considering purchasing items in bulk since I have a friend who has a contact supplier for the type of products I plan to sell on eBay.
I don't think I will be shipping internationally, I want to focus here in the US suppliers. So maybe from 6-10 business days.
I don't exactly know since I am doing this for the very first time! Maybe from 30 items or perhaps 100.. Depending on how well I am doing at the beginning!
Since we are talking about; Home Improvement Tools, Furniture and Home Decor, it could be between $10 – 50 at most.
You do not need to answer them exactly, this is just to give you an idea of what to say. Try to be short, precise and let them know that this is your first time. Trust me, it works!
Here's eBay's response to my email where I had the great "luck" of getting the account reinstated. At this point you'll be able to access your account: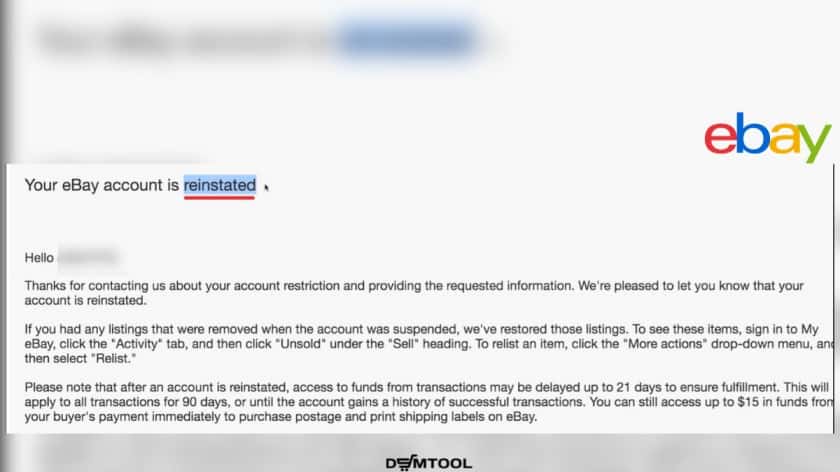 So, now you know the exact steps to take in order to get your account reinstated. Now, it is time to show you how to avoid these types of situations.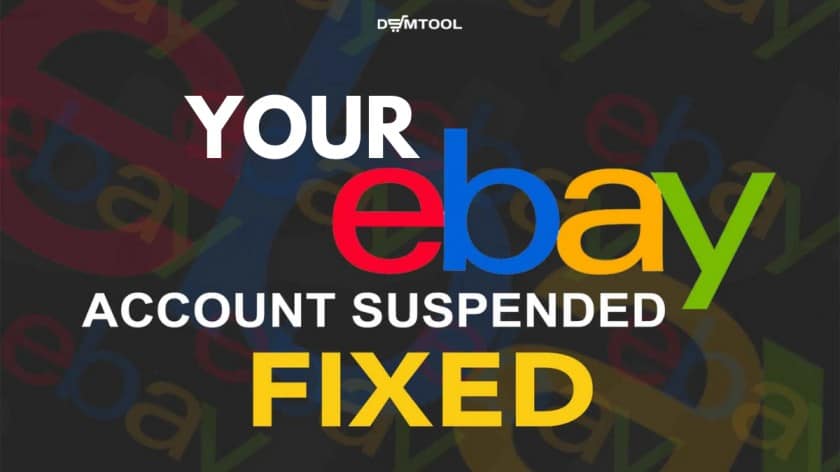 I just opened a new account and got immediately suspended:
This happens to many eBay sellers and dropshippers as well. After listing their first item, they immediately receive an email from eBay telling them that their eBay account has been suspended.
It may be very confusing to simply create a new account and get a suspension instantly, right? Well, let me explain the reasons for this happening and how to fix it!
Listed below are the main reasons why this could happen along with specific recommendations to avoid these issues.
Cookies: These files are stored up in your search history after you enter a website. So, when you create a new seller account on eBay and it is your first time visiting the website, there is not much stored in your history therefore eBay will notice it.
This will definitely trigger some mistrust from eBay because it is very rare to find a user who has "never" visited the website, creating a seller account and listing items.
So, I recommend you to do it simply, just build some browsing history and fill the cookies before you even start listing — this might be a little silly but it works.
Spend at least 15 minutes per day during at least the first two weeks browsing through eBay. You can check out products (specifically the ones that you plan to eventually list), read other sellers' policies, check out prices, etc. This is mainly to create the history database to earn eBay's trust.
However, you can do this strategically from a seller's perspective, check out the competition. Once you've done that, you can start listing.
IP Addresses: Every seller whose account was suspended before, does not attempt to open a new account with the same IP address, laptop and/or computer along with the same browser. eBay will immediately detect that and you won't have a chance of getting the account up and running.
For this specific situation, we have another solution — eBay stealth accounts.
eBay stealth accounts
This is very important for me to explain in the most simplistic way possible. This might be a little bit confusing for those folks who are not very familiar with this topic and it should be because it is not easy to understand it let alone execute it.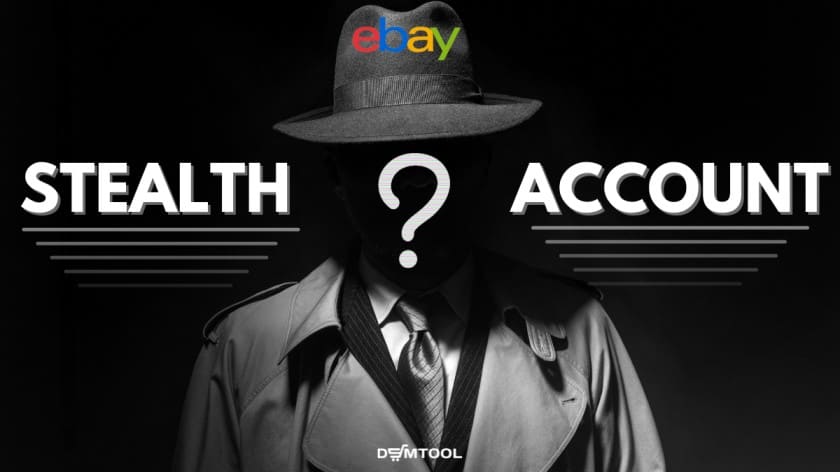 First, let me address what an eBay stealth account is. This is when an individual has different or multiple accounts under a different IP address and different browsers. Think of this as having multiple identities.
Every website can track your IP address which is the Internet Protocol. This is a port that allows information to be sent between your device or devices and the network you're using.
Is an eBay stealth account safe?
The answer is yes as long as you have more than one stealth account. Let me explain why — this will make sense in just a few seconds.
The whole point of making stealth accounts is to hide your identity from eBay to ensure that you don't get banned from the website entirely. So even though eBay can track your activity from one account, therefore, you have a chance of getting that specific account suspended, you can still rely on other accounts and profit from them.
In other words, the platform will have a hard time tracking the activity of all of the different accounts and so when eBay decides on closing your account, you'll still be able to be active in your other accounts.
Not only that, you can understand why you got a ban initially as I explained earlier in this article — learning from your mistakes.
Normally eBay will send you an email explaining why they are suspending your account.
Is creating an eBay stealth account illegal?
I know, I know, most of you might think that this move is sketchy therefore it might be illegal in some way. The direct answer is no, it is not illegal since you're not actually doing anything fraudulent.
So do not worry about this — you won't go to jail for it.
The only catch here is that eBay, as a private company, does not approve of it. So it is best to keep things under the radar to avoid any problems with eBay — that's all.
How do I get an eBay stealth account?
Okay, first it is important to address the fact that if you decided to take this route, you would need to consider a couple of things:
It is not easy whatsoever. Creating a stealth account is tricky and something might go wrong.
You would need to spend a couple of bucks. You need to invest in a few things in order to get your accounts up and running. I will be explaining further in the article.
With that said, I will quickly go over the two roads you can take in getting yourself several eBay stealth accounts:
Creating your stealth account: This is one of the most complex roads to take. It is not quite simple to create a stealth account let alone several. However, if you want to take matters into your own hands, you can read more about the topic and how to properly handle this type of account here.
Buying stealth accounts: This is the easiest way to get an eBay stealth account but you would need to spend a few bucks in order to get them. There are some internet users who are offering already established accounts you can purchase and start using. You can check out the site like blackhatworld where you will find different users selling eBay accounts at different prices.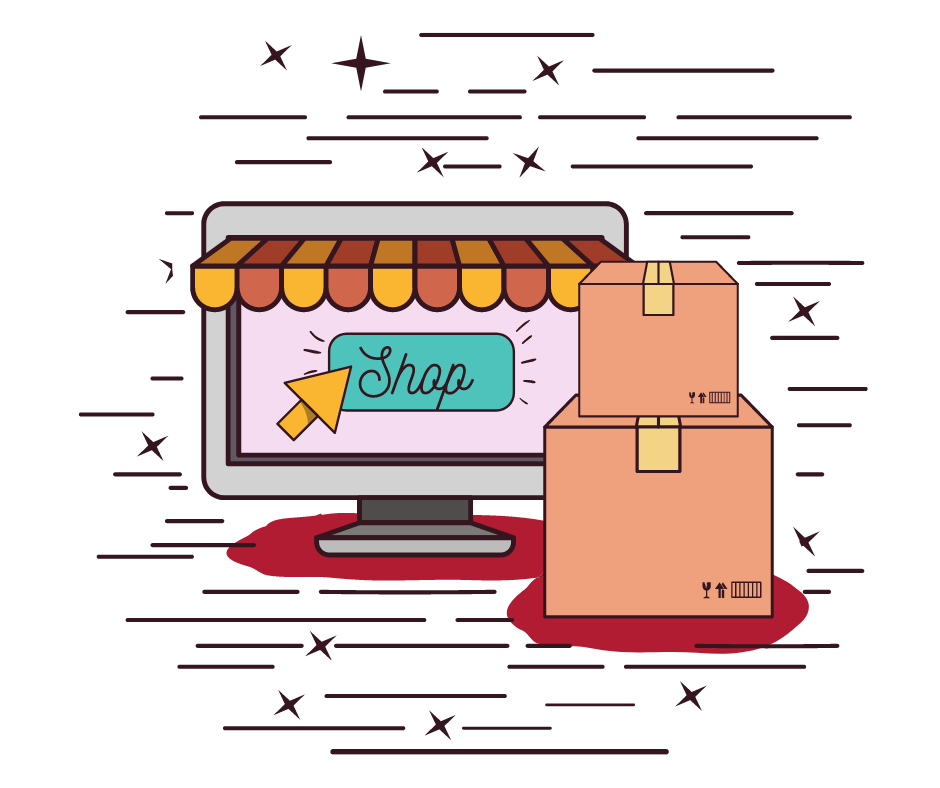 It's time…
Don't wait for success to come. Hire yourself and start your own dropshipping business
How to avoid being suspended from eBay

?
In this section I will be explaining why growing too fast is a bad thing — yes, eBay gets very suspicious when your store grows at a very fast pace!
So, what happens when you start growing fast?
eBay may send the verification email asking you to provide information about your supplier along with your identity documents.
So the first thing you need to do is identify how many sales you're making on a monthly basis. If you are listing high demand – low competition products at a low price, you will definitely boost up your sales but in this case, we want to maintain a somewhat low profile.
Increase your prices:
Alright, you need to do a little trial & error here. Bump up your price just a little on each product you sell. You might go for a 5-10% price increase.
If your sales dramatically slow down, then just lower your price a little bit in order to maintain a good sale ratio while avoiding eBay raising their eyebrows because you're making too many sales — they might think that for a simple beginner, the success is too good to be true therefore they need to have you under a magnifying glass.
List expensive products:
Piggybacking on the previous reasons in terms of how to avoid suspensions, this would be a good approach — let me explain:
So, if we're saying that if we grow too fast, eBay will most definitely be suspicious of our account therefore we need to try to avoid making too many sales per month. I know that the whole purpose of having a successful store is to — well, make a lot of sales, right?
However, it is equally important to sustain your account and try to be under the radar. One of the best ways to slow down sales is to list expensive products.
Moreover, this will definitely help you gain more profits per sale! More expensive items will definitely be hot products people would want to buy and you can sell them at a relatively high price and gain more profits out of the deal.
To summarize this point, by listing more expensive products you can slow down sales since they don't generate as much traffic as a cheap item would and you can also benefit from the profits generated by each sale.
Final thoughts
Having an eBay account suspension is never good. However, it could happen to anyone — so don't feel bad about it if it ever happens to you!
Good news is that in this article you've learned how to deal with such suspensions, how to avoid them, and also the main reasons why your account would get suspended in the first place.
This is simply part of being an entrepreneur, surpassing any challenge ahead. Lastly, remember that the best way to avoid suspension is to have your account in good standings!
Was your eBay account suspended? Let us know in the comments below.