Canada dropshipping has a big potential that you can use during the rise of eCommerce business in Canada, particularly, and all over the world. Long story short, Canada is the ninth largest market for eCommerce.
This country has a sizeable digital population: 72% of all people buy products online. Online shopping there is rapidly growing along with demand and the number of dropshipping suppliers. It's a good time to learn about this market and start dropshipping in Canada or expand your online business there.
In this post, we walk you through the Canada dropshipping topic, the latest eCommerce business statistics, and trends in this market.
You will also find a list of 23 dropshipping suppliers for Canada.
The article content:
Let's get started!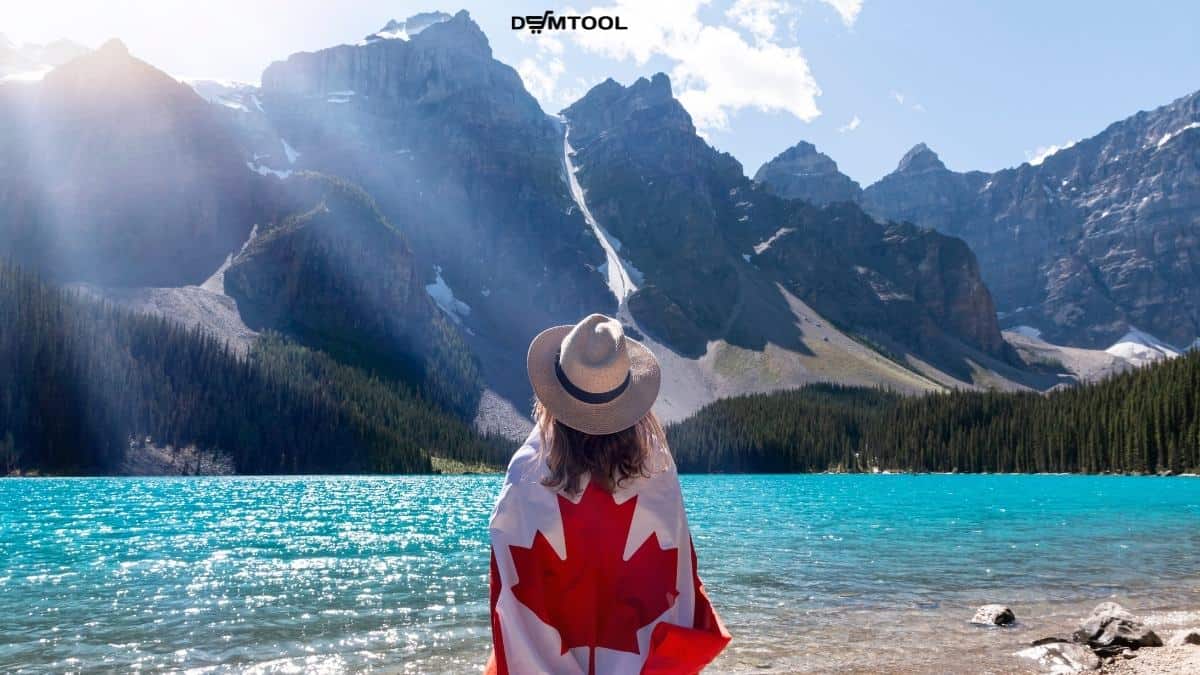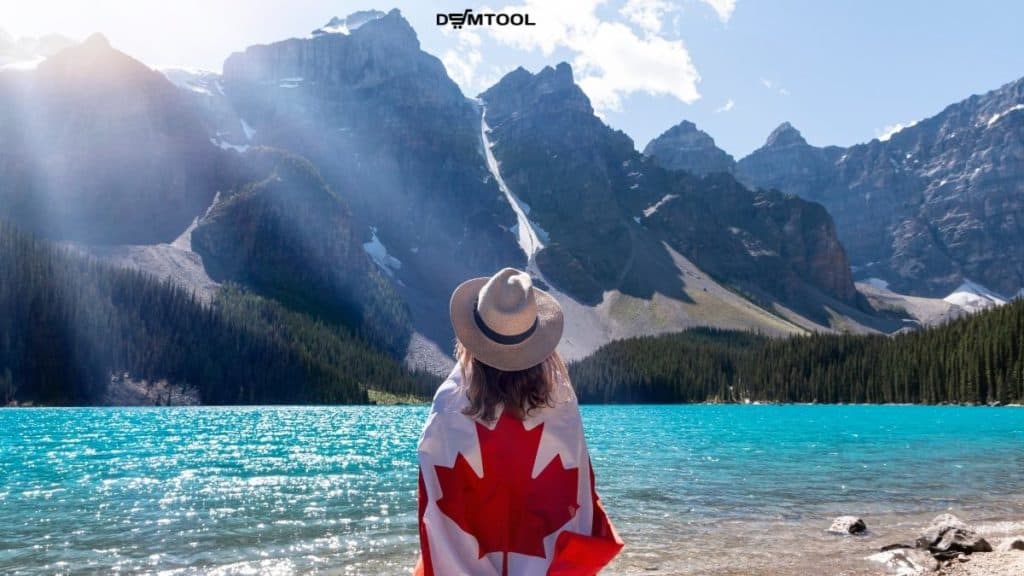 What is dropshipping?
Dropshipping or retail arbitrage is a form of reselling products that consist of selling products in an online store or a selling account on an online marketplace (e.g. eBay CA, Amazon, Shopify, etc.) without holding the inventory. It means that you don't obligatory need to preorder items you sell and store them in your house, garage, etc. The suppliers of these products store them in their warehouses. Once you get an order, you purchase the item from your supplier. This supplier will ship the item directly to your buyer. 
Does dropshipping work in Canada?
Yes, dropshipping also works in Canada. Basically, one can do dropshipping from everywhere since it doesn't require you to hold the inventory you sell. The most important thing is to find dropshipping suppliers for Canada who ship items within this country or to this country from abroad and open a store or a selling account on eBay Canada, Shopify, etc. to sell these items.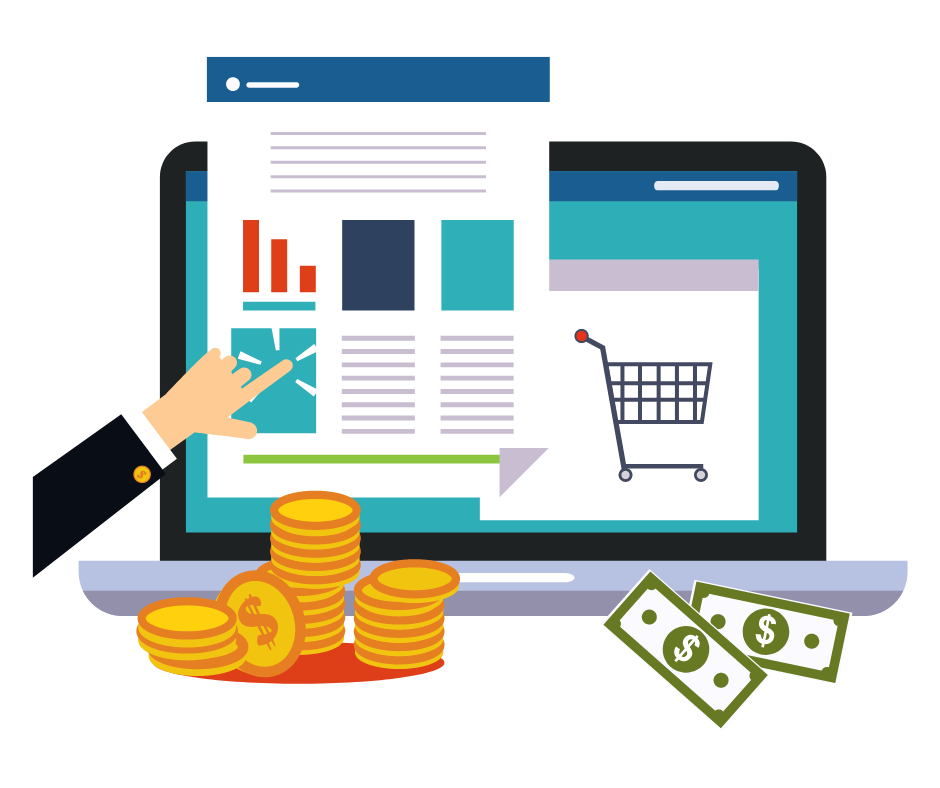 Don't wait for the profits, make them!
Start a profitable dropshipping business with DSM Tool. Get a free course and a free trial of the software.
Why to start dropshipping in Canada?
Before starting doing Canada dropshipping, it's always recommended to learn better this market eCommerce peculiarities. They usually help to better understand your shoppers, customer expectations, the type of products you can sell better, and suppliers you can use for it. That's why we prepared for you the most important facts about the eCommerce business in Canada.
The Facts About eCommerce Business in Canada:
Let's have a look at some statistics about eCommerce business in Canada.
72.5% of Canadians buy online (27 million potential buyers).
Thanks to its significant digital population, Canada has become a particularly profitable market in recent years. In 2021, the number of digital buyers in Canada reached over 27 million users. This means that 72.5% of the Canadian population purchased goods and services online Furthermore, this share is expected to grow to 77.6% in 2025.
14th in the world for internet penetration rates (110 hours per month online).
The average Canadian spends around 35 hours per month online using the desktop and 75 hours per month using the tablet or mobile devices. Overall, Canada is ranked 14th in the world for internet penetration rates (being 15 spots ahead of the U.S) with 33,38 million Internet users.
Continually growing e-commerce sales.
Also the statistics give information that retail e-commerce sales of physical goods amounted to almost 37.2 billion Canadian dollars (29.9 billion U.S. dollars) in 2021. This number is forecast to increase to 50.1 billion Canadian dollars (40.3 billion U.S. dollars) in 2025.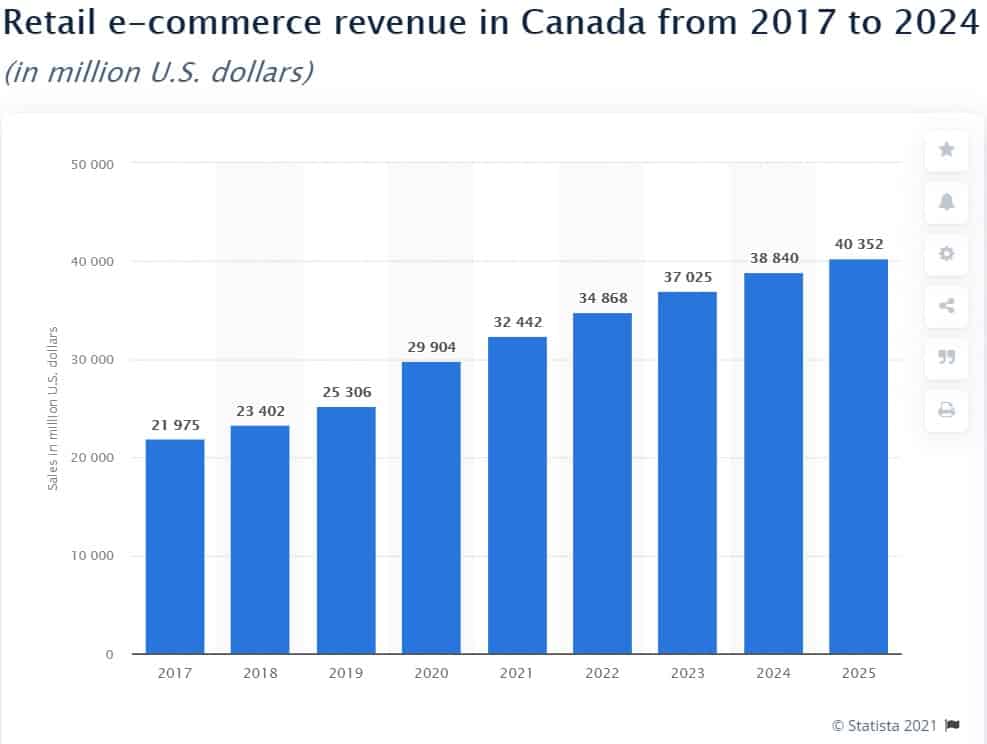 Ranking 20th in GDP per capita ($43,278 USD).
If you check the standard of living of Canadians, it's quite high in the world rating. Usually it's measured with the help of the Gross domestic product (GDP) indicator. It shows the country's economic performance and strength. The GDP per capita of Canada in 2020 was $43,278. It's on the 20th place in the world. To put it briefly, this indicator is smaller than in the USA, Australia, Germany, but is bigger than in the United Kingdom, France, New Zealand, Italy, Spain, etc.

Ranking 7th in eCommerce spending per capita (1,746$).
Despite their high standard of living, Canadians aren't that big spenders like people in the UK, the US, Australia, France. Although, they still spend a lot: Canadian eCommerce spend per capita is 1,746$. It's the number 7 in the whole world, and it's 4,41% of their salary that goes for online shopping. They are not so impulsive buyers and like sales even more than their neighbours.
Therefore, there are plenty of opportunities for eCommerce there. It is still a good time to start a dropshipping business in Canada or expand your existing eCommerce business in this country.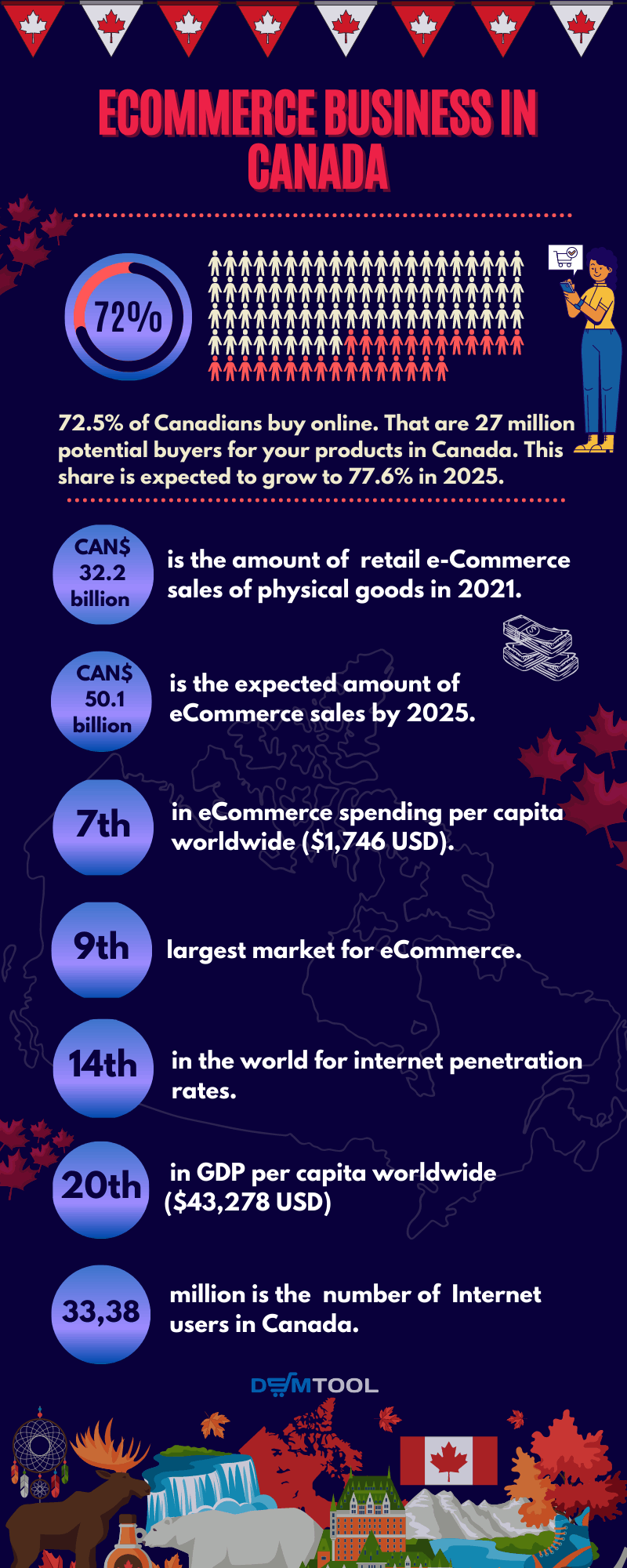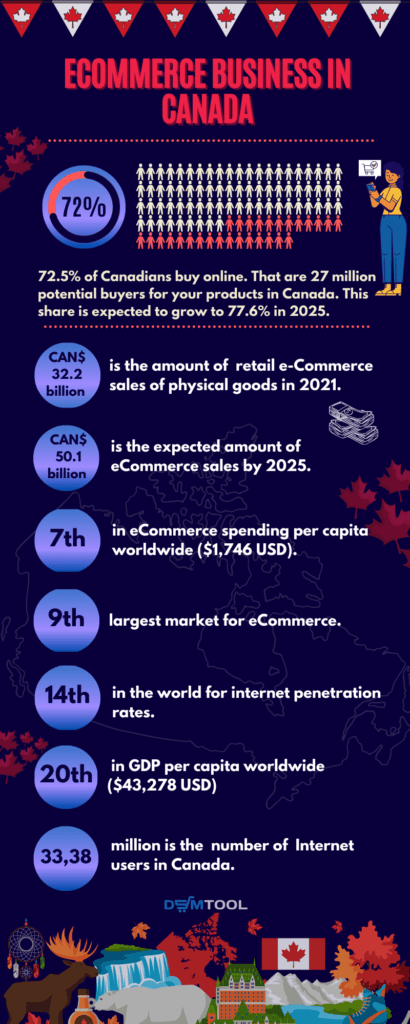 Is Dropshipping Legal in Canada?
Yes, dropshipping is legal in Canada and is allowed. One who dropships in Canada needs to make sure to follow all necessary policies of an online marketplace, import restrictions, declarations, taxation, and sell allowed in Canada products. Owners of eCommerce websites need to include Terms and Conditions and Privacy Policies to their websites. Besides, dropshippers mustn't use misleading or false information for the products they sell or on their sites or online stores.
What about the eCommerce Taxes in Canada?
If you sell products online in Canada, you may need to charge sales tax for eCommerce transactions. Knowing how much you should charge helps you to adjust your dropshipping profit margins and add these taxes to the prices of each of the products you sell. The eCommerce taxes in Canada depend on the type of business you operate and where exactly in Canada you and your customers are located.
Note:
It's your responsibility to consult with local tax authorities or a tax professional to make sure that you charge your customers the correct tax rates, file and remit your taxes correctly.
The federal government summary page shows the sales tax rates in all Canadian provinces and territories.
Overall, Canada has three systems of sales taxes:
Federal system of taxation called GST (goods and services tax).
Provincial system of taxation called PST (provincial sales tax).
Harmonized sales tax, HST, which combines GST and PST to make 1 tax.
The federal goods and services tax (GST) in Canada is 5%. It applies nationally and you pay it to the federal government.
The provincial sales tax (PST) depends on the province and is paid to the local government. Some provinces charge their own PST rate in addition to the GST. So in these provinces that charge PST additionally to the GST, two tax lines need to be shown on an invoice. It usually ranges from 0% to 10% depending on the province. For example:
British Columbia and Manitoba have 7% PST;
Quebec has 9,9% PST;
Saskatchewan has 6% PST.
Northwest Territories, Nunavut, and the Yukon don't have provincial tax.
However, certain Canadian provinces harmonize their provincial sales taxes (PST) with the GST to implement the HST (harmonized sales tax): The following provinces are:
New Brunswick,
Newfoundland and Labrador,
Nova Scotia,
Ontario,
Prince Edward Island.
The GST rate in provinces without an HST is 5%, and the GST/HST combined rates are 15%, except in Ontario where the rate is 13%. This tax is charged as one tax.
An overview of eCommerce sales tax amounts for each province and territory in Canada is below:
| | | | | | |
| --- | --- | --- | --- | --- | --- |
| Province | Type | PST | GST | HST | Total Tax Rate |
| Alberta | GST | | 5% | | 5% |
| British Columbia | GST + PST | 7% | 5% | | 12% |
| Manitoba | GST + PST | 7% | 5% | | 12% |
| New Brunswick | HST | | | 15% | 15% |
| Newfoundland and Labrador | HST | | | 15% | 15% |
| Northwest Territories | GST | | 5% | | 5% |
| Nova Scotia | HST | | | 15% | 15% |
| Nunavut | GST | | 5% | | 5% |
| Ontario | HST | | | 13% | 13% |
| Prince Edward Island | HST | | | 15% | 15% |
| Quebec | GST + *QST | *9.975% | 5% | | 14.975% |
| Saskatchewan | GST + PST | 6% | 5% | | 11% |
| Yukon | GST | | 5% | | 5% |
Source: Sales Tax Rate by Province in Canada
Note:
Once again, the information above doesn't replace the official information or regulations. Contact a local tax authority, tax consultant, or LLC services to make sure you understand eCommerce Canada taxes.
How to Start Dropshipping Business in Canada
If you are about to start Canada dropshipping, firstly, you need to choose a type of dropshipping that corresponds to your skills, goals, and financial capabilities. For example, you can start your dropshipping business on eBay, Shopify, Amazon, etc.
We made a small summary of each of these online marketplaces for beginner dropshippers in this video. Watch it to know what you can expect from each of these dropshipping types:
Open a selling account/ online store.
Once you decide and pick your selling platform, you will need to open a selling account there. For example, you decided to start dropshipping on eBay Canada, then open a selling account on eBay Canada (it's not complicated at all) and a business account on PayPal to receive payments.
If you will do Canada dropshipping on Shopify, you will need to open an account there and create a website for your eCommerce store. You can do it alone  or, in case, you don't have any technical or designing experience, you can hire someone else to do it for you professionally.

It goes without saying, you need to name your online store (on whatever eCommerce platform you will sell). Do it at the beginning, and you will start to build a reputation of your small brand with the very first sales and reviews.

Pick a reliable supplier.
One thing you need to remember is to cooperate only with reliable suppliers. A supplier is a key part of the dropshipping flow. Dropship suppliers manufacture items, store them, provide the description, photo/videos, and, most important, ship products you sold to your customers. 

Obviously, create an account on the site of your supplier. You will order the products from there. Remember to check the sellers' reviews, selling rating, delivery methods, costs, and shipping countries (if you source from international suppliers). You can check the item's quality by ordering some samples by yourself, or checking carefully all comments and photos that buyers left for it. Also communicate with your supplier to verify the Customer service and its speed on your own.

It's important to read the policies of your eCommerce platform before starting selling there to be sure you do everything legally and to choose the right dropshipping supplier. For example, if you picked eBay Canada, read its dropshipping policy. You will find out that eBay Canada allows sourcing products only from the wholesaler vendors (e.g. CJ Dropshipping, Chinabrands, Wholesale2B, etc.). If you are dropshipping on Shopify, you have a bigger choice because you can also use retail drop shipping suppliers (e.g. Wayfair, Amazon, Walmart, etc).  
Create an account on the dropshipping software.
There are different dropshipping softwares that will help to automate many of your daily tasks and save your time from the routine tasks. For example, the DSM Tool dropshipping software helps to list multiple items or a single product in a matter of seconds on your online store, taking all the essential data (photos, title, product description, and specifications) from your Canada dropshipping supplier. Moreover, it can automatically optimize it, add a beautiful design, and alert you if you get a negative income or you violate rules.

Above all, this software will monitor your product's price and inventory, and update it if any change will happen in your product source. It's particularly useful when you sell more and more products online and can't keep an eye on all of them manually.
Make a product research to choose profitable products in demand for dropshipping in Canada.
The next step is more complicated. It requires you to learn how to do dropshipping product research. It's possible to learn how to do it alone or with the help of additional tools. For example, you can spike popular products from one of the popular eCommerce sites and find them in your supplier to sell online by yourself.
The following 45 minutes-webinar teaches it in detail, so I will skip its explanation and go to the other important part you need to know before starting dropshipping in Canada.
Tip
Learning how to sell on eBay Canada is not a difficult task, however, you need to understand the user base that navigates the platform and what they want.
What are popular niches for dropshipping in Canada?
By analyzing a Canadian eCommerce market and shopping behavior, you get starting points for further dropshipping product research, store optimization, and marketing campaigns. The Dropship Academy team gathered for you some facts about the most popular niches for dropshipping in Canada.
46% of Canadian buyers buy in the clothing/apparel niche.
35% buy books, movies, music, games.
30% buy consumer electronics in eCommerce stores.
29% of Canadian shoppers buy shoes online.
26% of online buyers purchase cosmetics & body care products.
21% purchase food & drinks online.
19% of shoppers buy online health care products.
17% of online buyers order hobby-related items in online stores.
16% of Canadian people buy bags and accessories online.
15% of shoppers buy DIY, garden and pet products online together with furniture, household goods, and baby products.
13% prefer buying online household products.
12% of Canadians buy online sports and outdoor products.
5% order products online from other niches.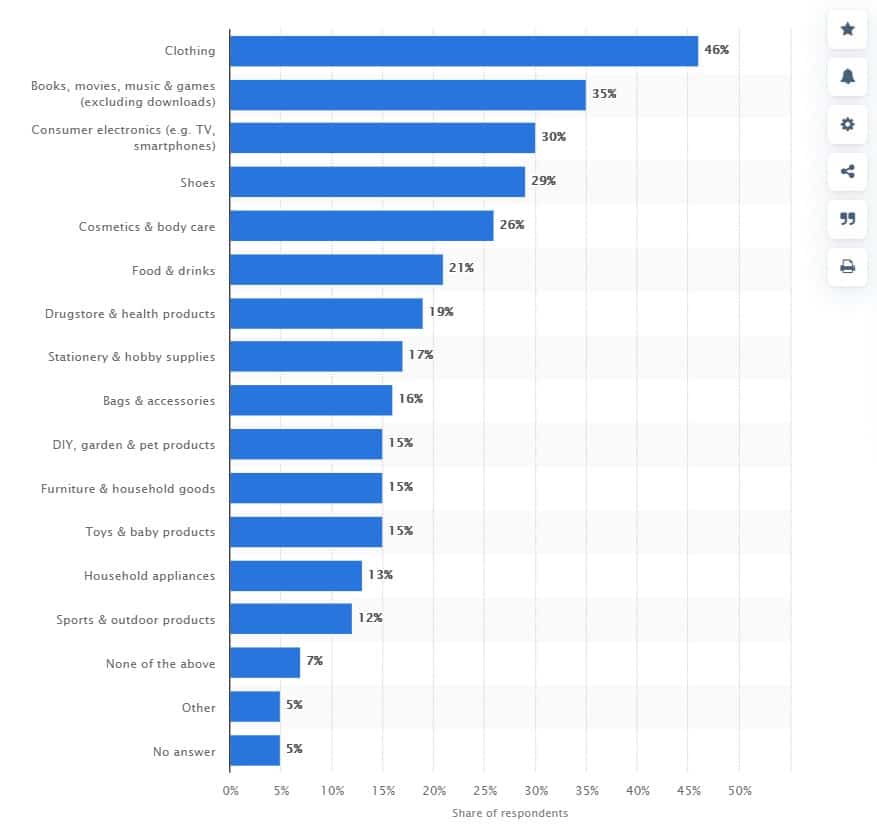 That's why one of the most popular niches for drop shipping in Canada is clothing, apparel, shoes, books, games, cosmetics, body care, and health care products.
Tip
You can learn a lot by analyzing examples of niche stores. For example, you can check these examples of Shopify fitness stores to get inspired.
However, consider that many beginners in dropshippers open a general store where they combine products in demand from different niches. It's a good way to learn this business at the beginning of your journey in eCommerce. With more practical knowledge, experienced dropshippers expand the number of online stores, adding more niche-focused products. Although, it requires more in-depth research to find the right niche.
Dropshipping suppliers Canada
As it was mentioned, suppliers are an important part of the dropshipping flow. They are sources of your products who correspond for products quality, shipping, right item description, etc. That's why is important to work only with reliable suppliers. To do it, take into account their standards about checking the product quality, shipping and return policies, payment options they accept, speed of communication with buyers, and order processing. You don't want to lose your customers due to some mistakes on the side of your dropshipping supplier, so double-check all of it before starting to cooperate.
Canada dropshipping suppliers with local warehouses tend to provide fast shipping, which can be your advantage. Dropshipping from China offers higher profits but also higher shipping time. However, many Chinese suppliers have warehouses in the United States or Canada that speed up the delivery time.

Local dropshipping suppliers for Canada
Here is a list of popular suppliers for dropshipping in Canada that have local warehouses there. Some of them are wholesalers, some retailers. But all of them are used by different dropshippers for sourcing products on their online stores.
Note: if you dropship on an online marketplace, consult their dropshipping policies to know what type of suppliers you can use (for example, only wholesalers for eBay dropshipping).
Let's go!
1. Amazon for dropshipping in Canada:
This eCommerce giant is frequently used as a dropshipping supplier. Besides, it's one of the dominating eCommerce sites in the Canadian market. You can find 350+ million products across dozens of categories. They have a warehouse in Canada. That's why the shipping time will be fast: a couple of days. However, all boxes will have the Amazon logo which can bring some questions from your buyers.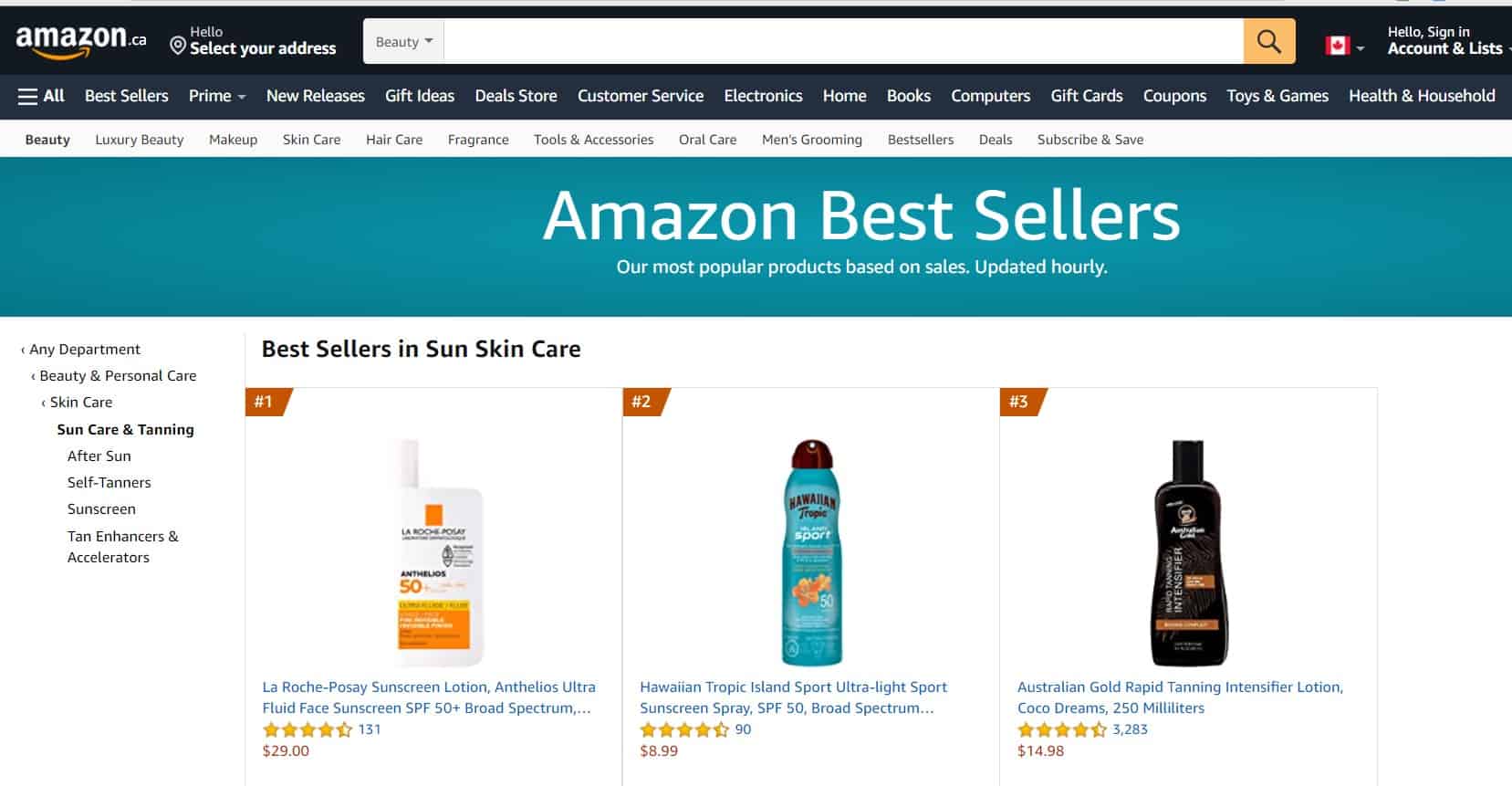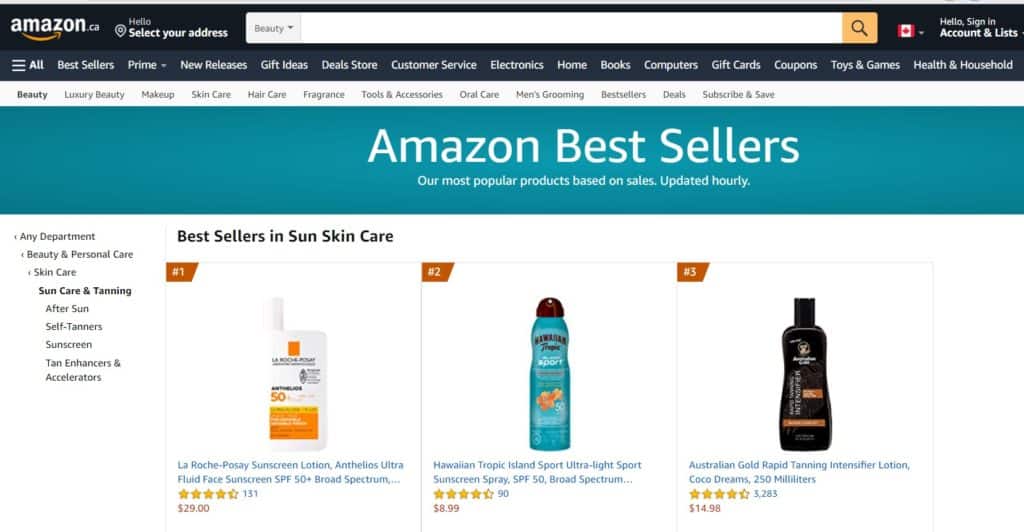 2. Walmart Canada
Walmart is another famous retailer used by dropshippers as a source of their products. Though it's not dropshipping-friendly, it offers a big variety of products across quite different categories and fast shipping. Walmart has a warehouse in Canada to make it happen.
3. Lululemon Athletica, a Canadian supplier for dropshipping
Lululemon Athletica is a Vancouver-based fashion brand and a leading retailer in the Athleisure niche. It was founded in 1998 and was focusing back then on selling yoga wear. Nowadays, Lululemon is selling a big range of products for athletic apparel, including accessories, shoes, and sports equipment.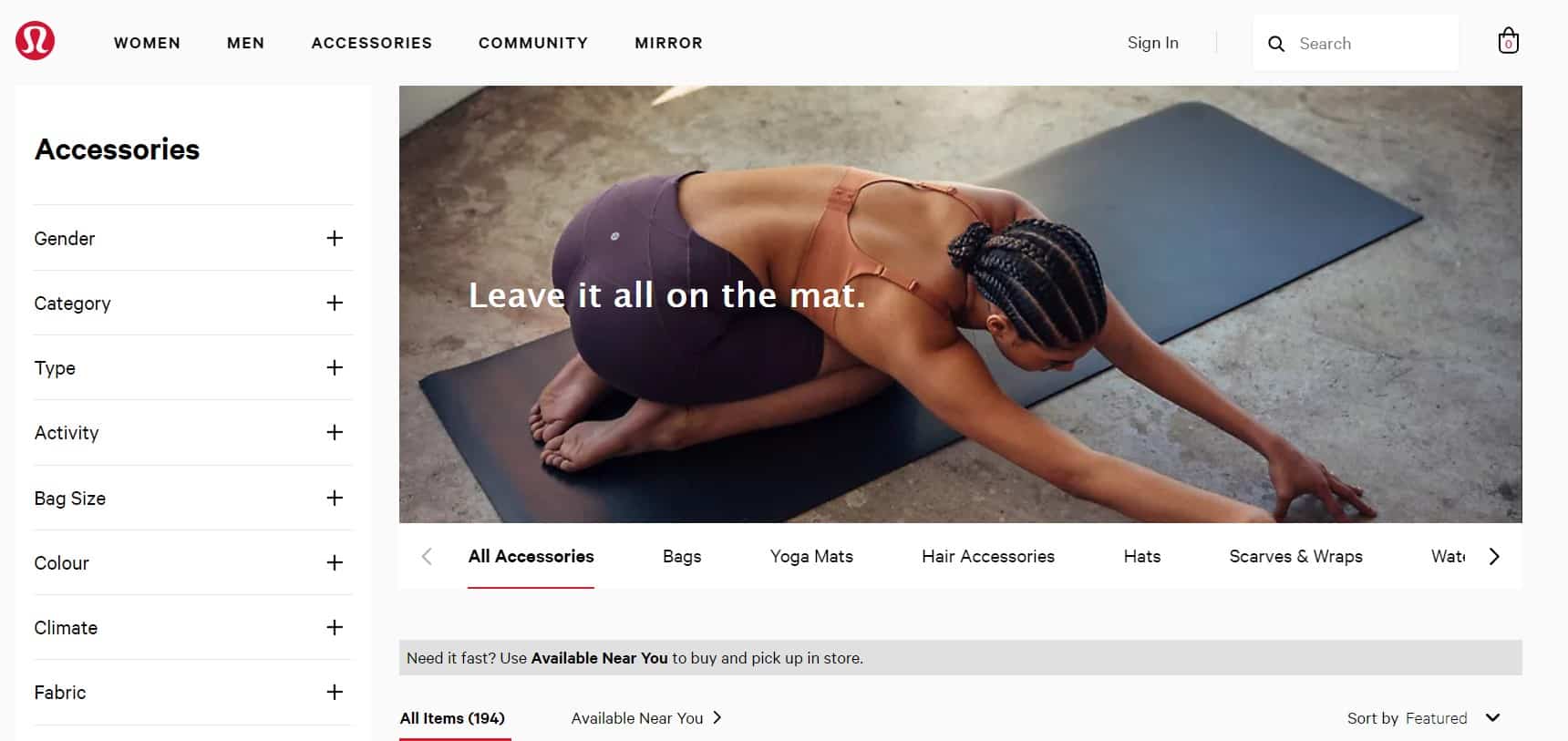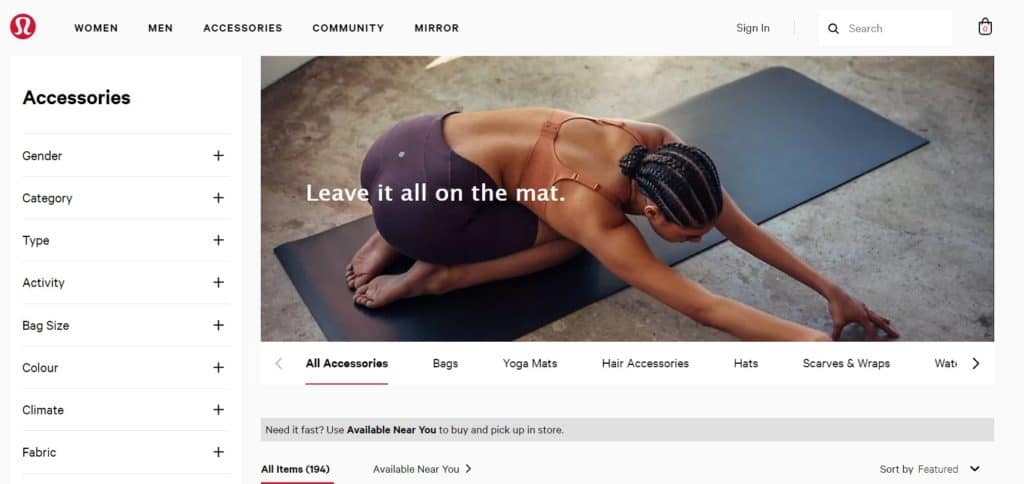 4. Wayfair
Wayfair is one of the leading marketplaces in the home decor niche. Dropshipping from Wayfair in Canada is possible because this American company has its subdivision in Canada as well. The company provides more than 18 million products in 13 sectors related to furniture and home decor. Take into account that their brand logo will be in the packages if you will pick this supplier.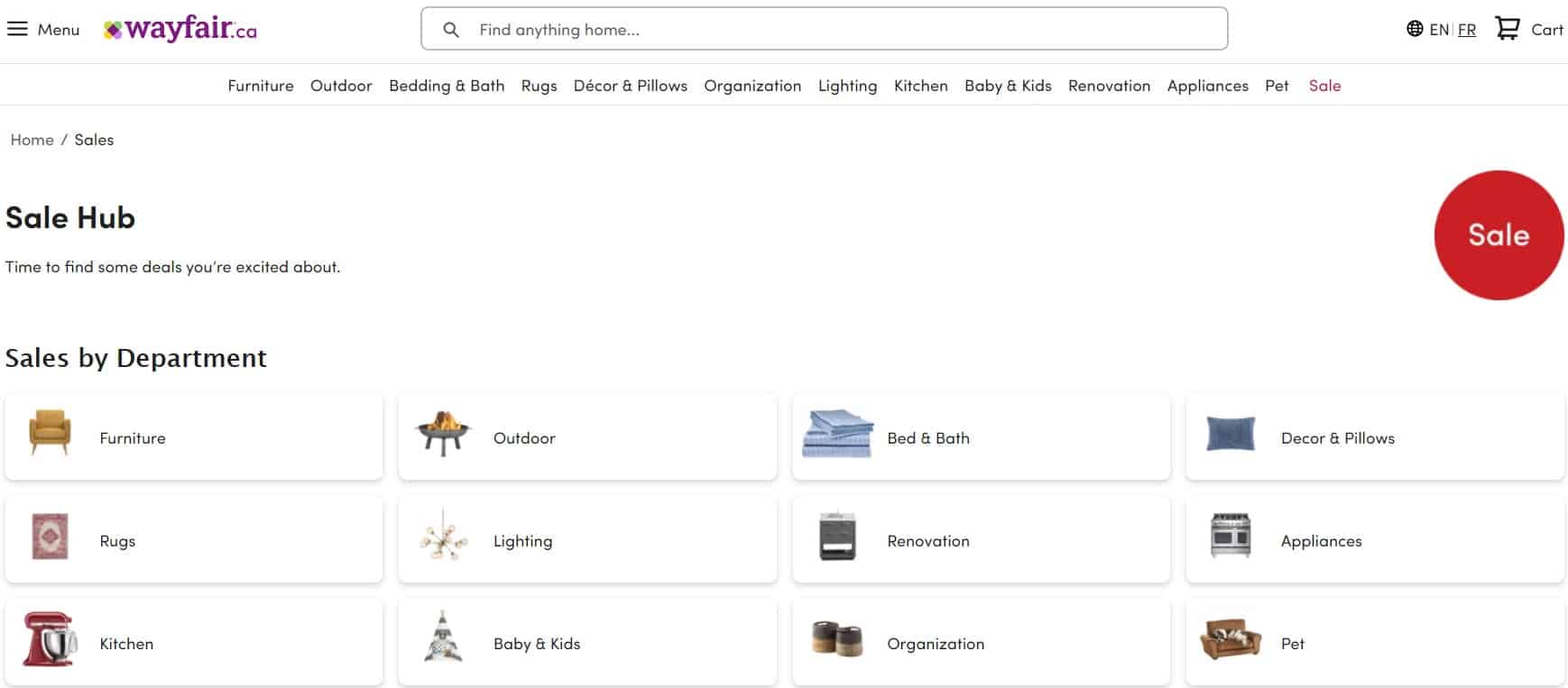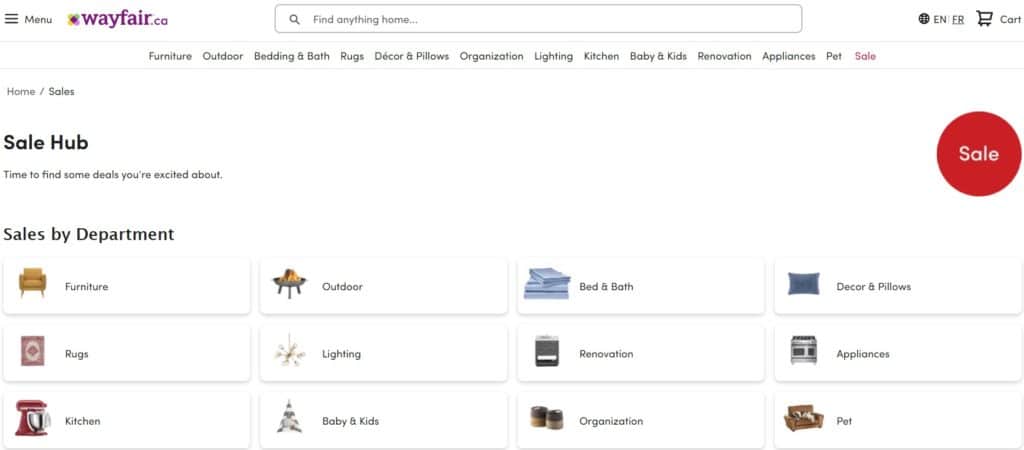 It's one of the best wholesale suppliers in Canada that focuses on selling clothing. They provide casual clothes, prom dresses, party dresses, formal dresses, tops, outerwear, and accessories. Now they are powered by Shopify. This supplier is dropshipping-friendly, offers fast shipping and the most common payment options.
6. Costco for dropshipping in Canada
Costco is one of the largest wholesale brands in the world that also has warehouses in Canada. Despite being famous for grocery products, it also offers goods in other niches, e.g. electronics, clothing, office products, health & beauty items, etc. Nevertheless, this supplier runs on a "subscription business model, which means that customers who want to shop there must buy a membership.
7. Jerico – a Canada wholesale supplier for clothing
Jerico is a Canadian wholesale supplier for clothing that has been operating since 1987. It's a leading supplier of blank apparel in Canada and the United States. Currently, the company specializes in producing eco-friendly clothing. For example, they use sustainable bamboo and eco-fleece fabrics for their products across different clothing subcategories to offer green authentic Canadian apparel.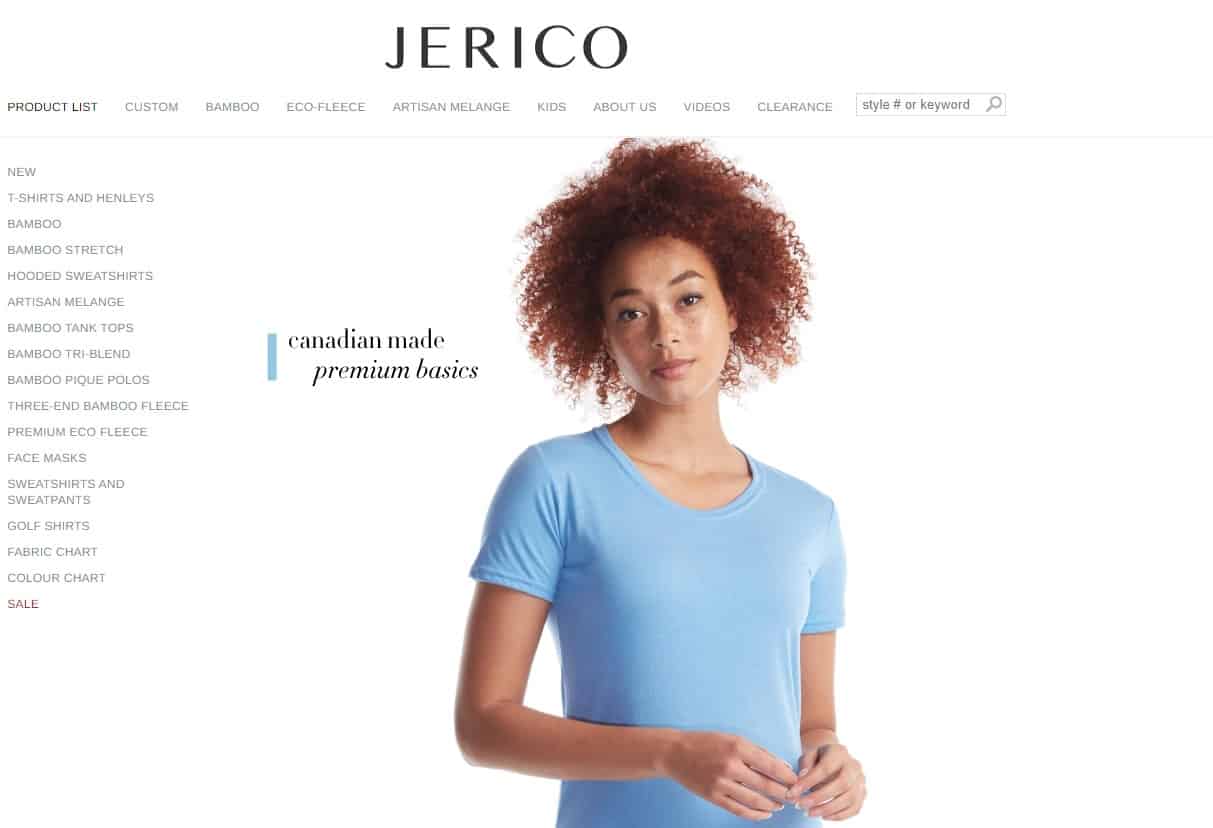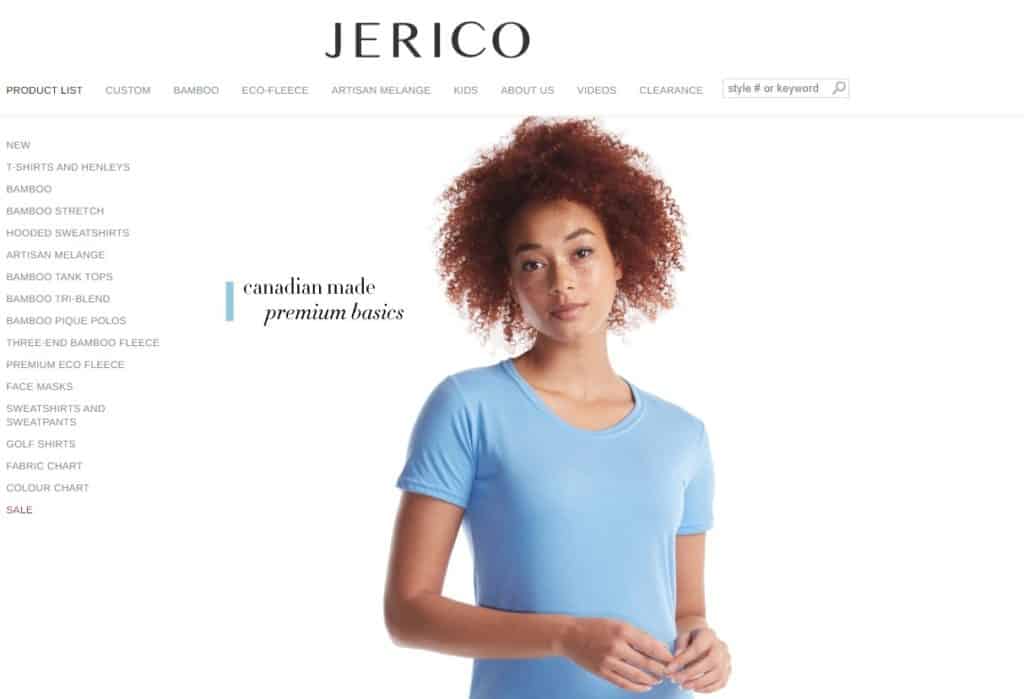 8. Costway for Canada dropshipping
Costway is one of the top retailers in North America and Europe that sells everything people need. A big range of products vary from home and garden items to sports and hardware equipment, from auto parts to DIY projects, and many more. Dropshipping from Costway is friendly for retail arbitrage. You can get a reselling agreement to sell their products on your website or eCommerce store. Costway Canada provides 5-7 business days shipping time within Canada.
9. Coastal Contacts, a wholesale dropshipping supplier in Canada
Coastal Contacts is one of the best Canadian wholesale suppliers for eyewear. They offer more than 2000 styles for contact lenses, glasses, sunglasses, and everything for eye comfort and health.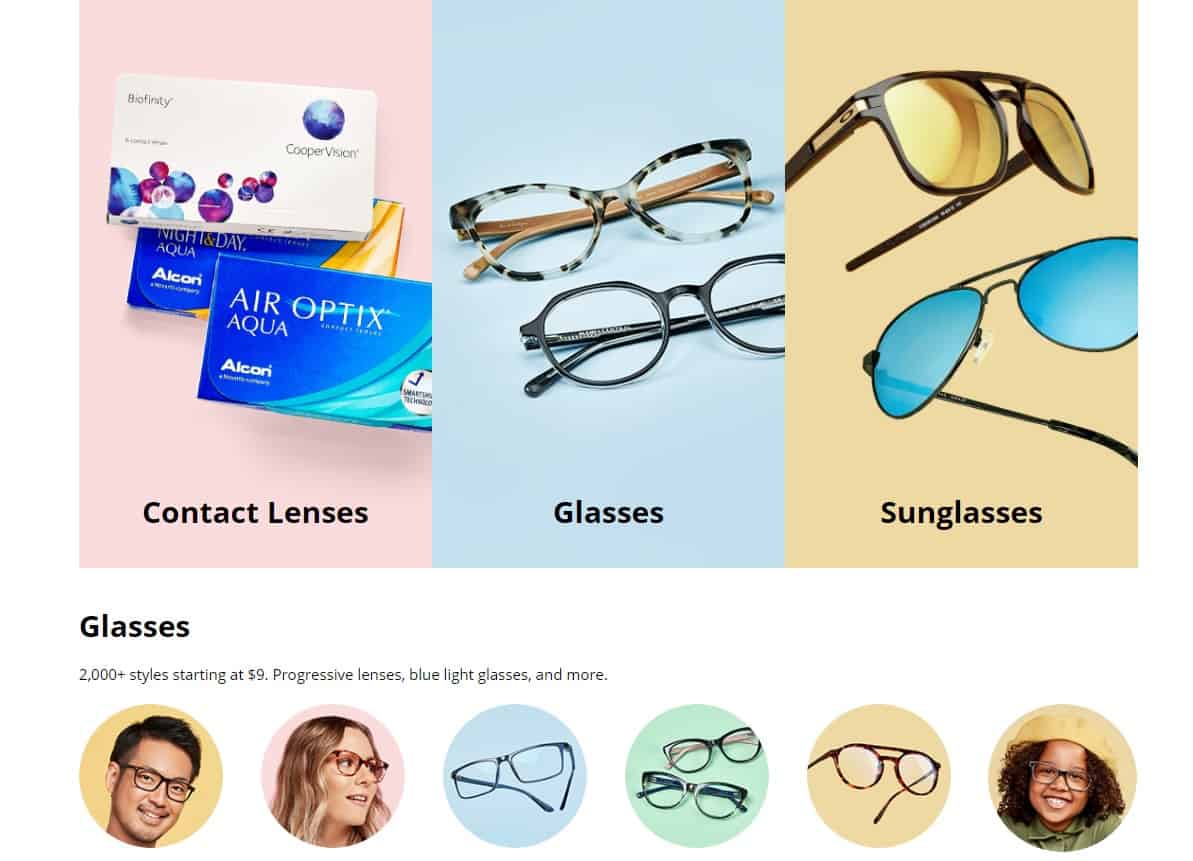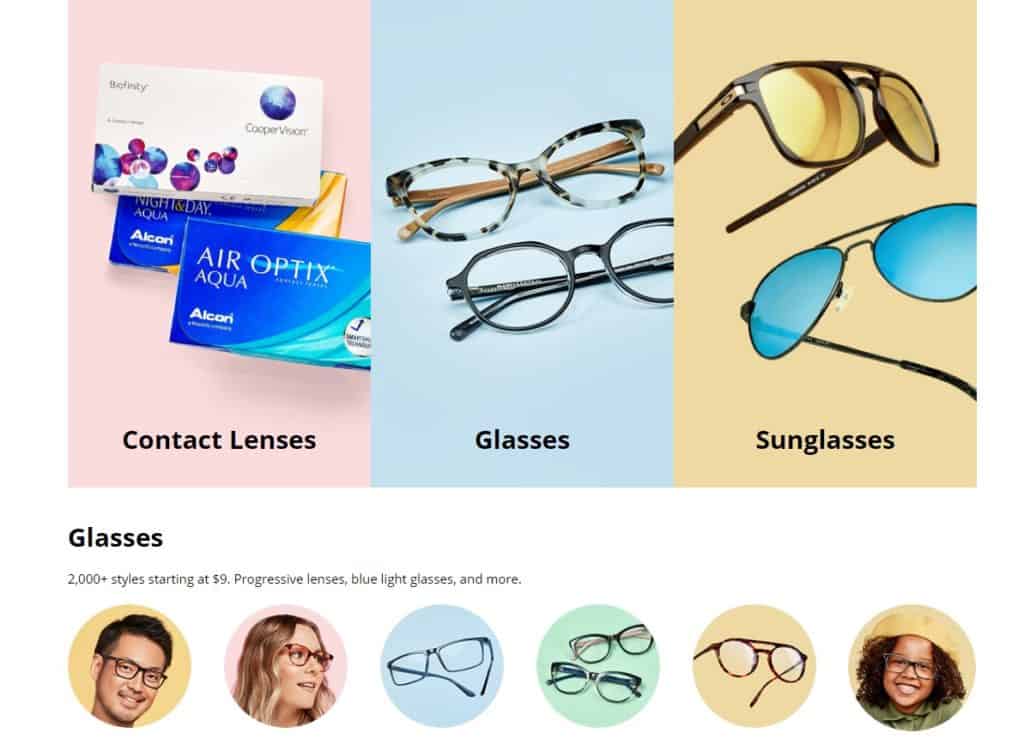 10. Alanic Clothing, a Canadian supplier for apparel
Alanic Clothing is a Canadian supplier for dropshipping apparel products. It's one of the largest clothing manufacturers in Canada. It sells a big range of clothing for all ages and styles. You can find men and women casual clothing, beachwear, sportswear, kids clothing, accessories, shoes.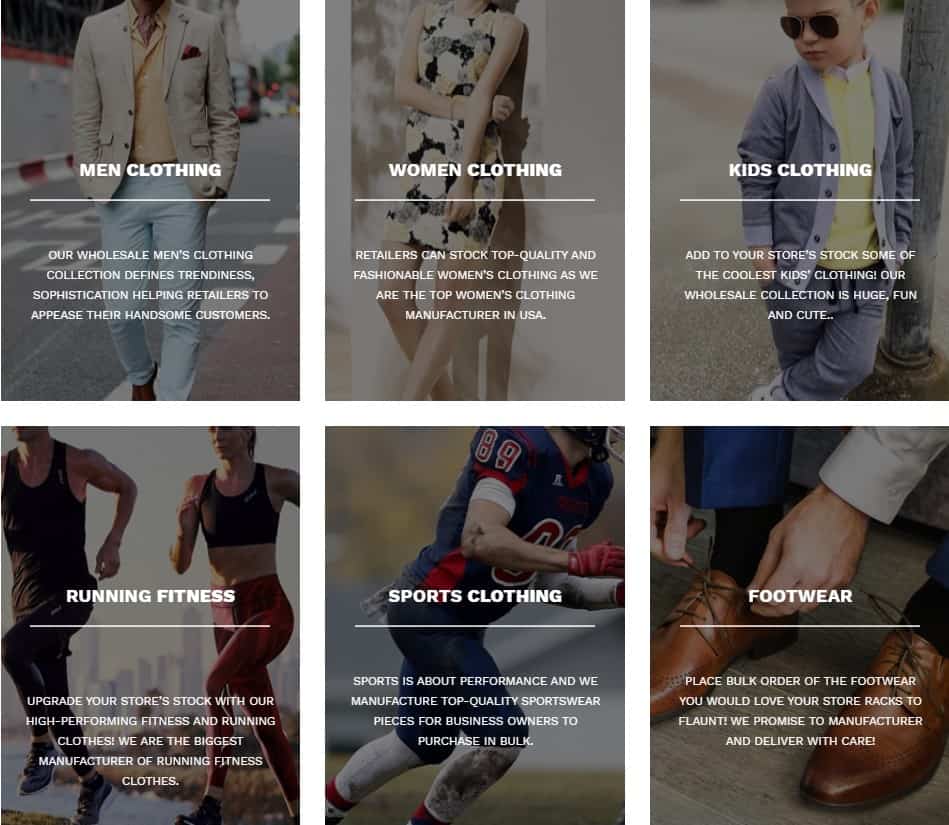 11. BestBuy for Canada dropshipping
BestBuy is an American multinational consumer electronics retailer. The company has a subdivision with warehouses in Canada. Many dropshippers use it as their product source for dropshipping in Canada. The company specializes in selling different types of electronics. They also sell home, gym, health, home, furniture & office, eco products, toys, and games.
12. Petsmart Canada as a dropshipping supplier
Petsmart is famous retail in the pets niche. This site specializes in selling products, services, and solutions for the needs of pets. They are selling everything dogs, cats, fishes, birds, reptiles, and small pets might need for their happy and healthy lives. They frequently offer discounts and have a special program for their members which gives free shipping and bonuses.
13. Lowe´s Canada dropshipping
Lowe's is an e-retailer specializing in home improvement. Apart from furniture and decor, the company sells home gym products, tools along with equipment, lighting, storage, family fun items, and appliances. They don't have a dropshipping program, but it doesn't stop dropshippers from using Lowe's as a dropshipping supplier for Canada.
14. Newegg Canada for dropshipping
Newegg is a leading tech-focused retailer. It sells over 20 million products across electronics, computer hardware, entertainment, gaming products, and smart home items. They also have a subdivision in Canada that provides fast shipping. However, there is no drop shipping program, instead, Newegg offers collaboration to the vendors.
PRO TIP
If you do dropshipping in the USA and want to expand your eCommerce business to Canada, check with your US dropshipping suppliers if they ship to Canada as well. It can open for you additional product sources for Canada.
Suppliers for dropshipping from China to Canada
Chinese suppliers are popular among dropshippers. First of all, China offers great cost advantages that allow dropshipping store owners to increase their profits and compete with manufacturers on online marketplaces. However, the main disadvantage is the shipping time which is obviously a couple of weeks longer than from the local suppliers. Nonetheless, sellers all over the world still choose Chinese suppliers for their products. Let's see which suppliers you can choose in dropshipping from China to Canada.
1. CJ Dropshipping for dropshipping in Canada
CJDropshipping, aka CJ, is a growing wholesale dropship supplier based in China (in Yiwu City, Zhejiang Province). They are totally focused on dropshippers. They provide all the necessary services for eCommerce sellers, such as product sourcing, order processing, shipping services, product branding, customized packing, etc.
Around 400k items are available on their site. Besides, there you can request products they don't have yet but you would like to dropship. The CJ Team takes care of checking the product's quality from their cooperated manufactures and fabrics. That's why you will deal only with their team members. It'd be not necessary to check each product seller one by one, as other Chinese dropshipping websites require.
Regarding the delivery, the CJ Dropshipping shipping time to Canada takes 15-25 days with the CJPacket delivery method from the CJ China Warehouse or 3-7 days from the Canada warehouse. Although, the last one doesn't have many items to offer you. As CJ Dropshipping also offers storage and fulfillment services, online sellers can stock the goods in their Canadian warehouse.
2. Aliexpress as a Canada dropshipping supplier
Aliexpress is another supplier used in dropshipping from China to Canada. This division of Alibaba was launched in 2010 and now is one of the largest Chinese eCommerce companies.
You can find more than 100 million products in all possible categories with cheaper prices than, for example, on such a giant as Amazon. However, doing Canada drop shipping from Aliexpress, the skills on how to find a reliable seller is important for Aliexpress. Because it's also an online marketplace used by different companies, sellers, and also by dropshippers.
A disadvantage is that they don't have a warehouse in Canada. The shipping time from China to Canada can take up to 1-2 months (the faster, the bigger shipping fees to pay). Besides, faster shipping is available from their US warehouse.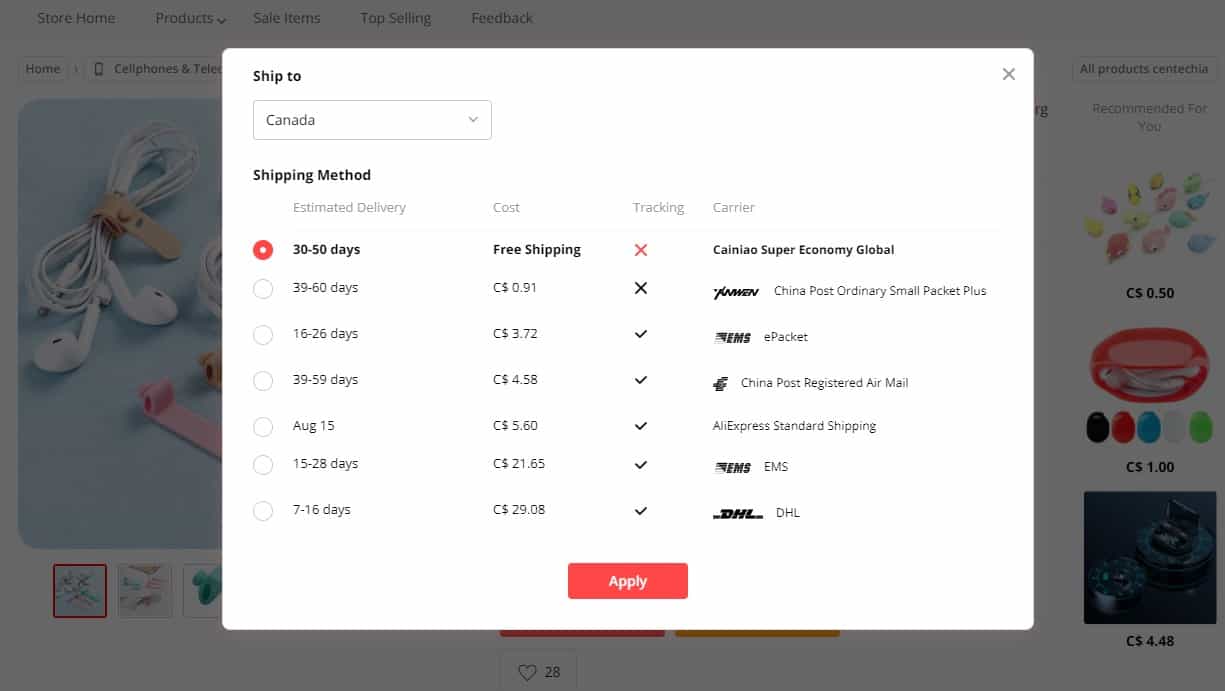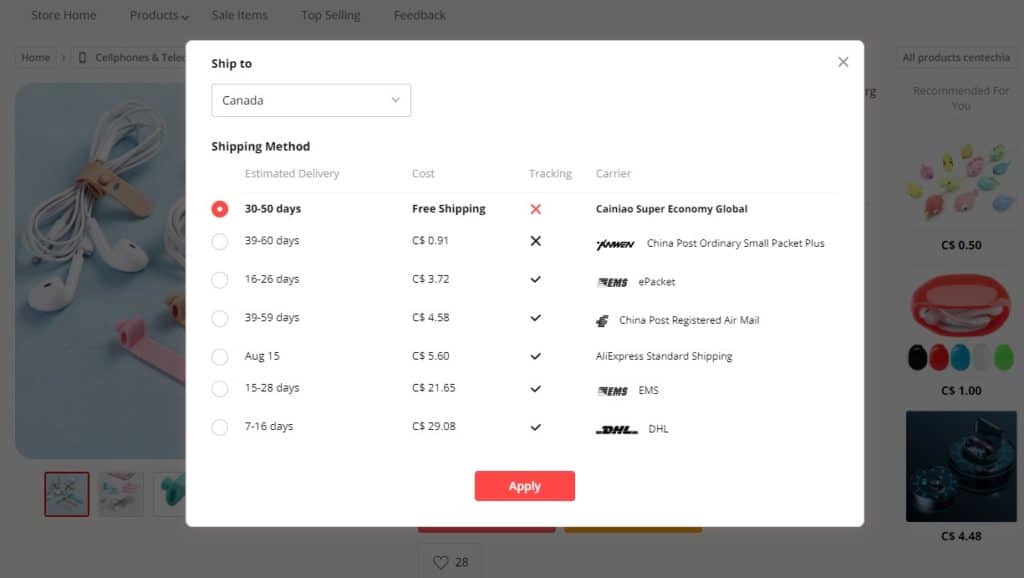 3. Chinabrands for as a dropshipping supplier for Canada
Chinabrands is the world's leading wholesaler that also offers a drop shipping agreement, which is an authorization certificate to sell their products on online marketplaces such as eBay and Amazon. This Chinese dropshipping website offers millions of cheap goods that are processed by 3-layer quality inspection. Additionally, they provide high-quality images and product descriptions. However, they don't have a warehouse in Canada and don't offer free shipping. Regarding the shipping time, ChinaBrands provides 16-35 business days delivery time to Canadian customers.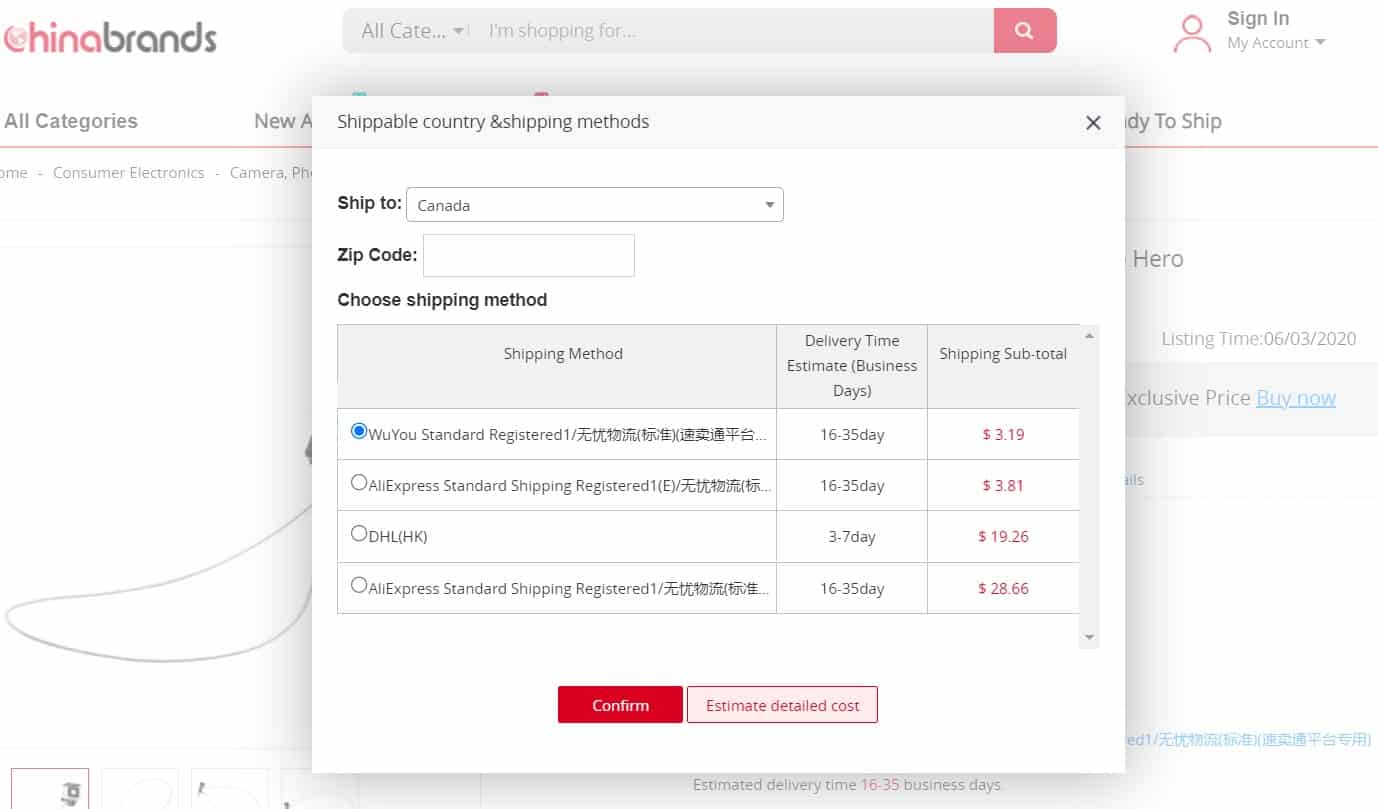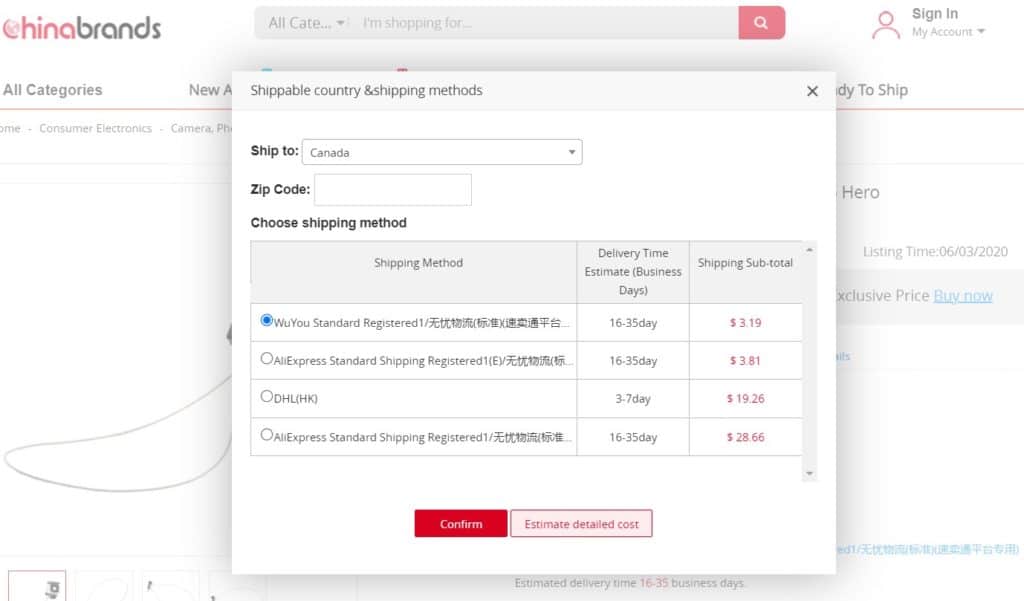 4. Banggood for dropshipping from China to Canada
Banggood is another Chinese eCommerce giant that is dropshipping-friendly. The company provides reselling agreements (aka dropshipping agreements) that allow you to resell their products on your eCommerce website or store. Banggood sells a little bit of everything from electronics, clothing, accessories, and beauty products, to name just a few of their categories. They emphasize doing that at the best prices. In regards to the shipping, it takes 10-25 business days.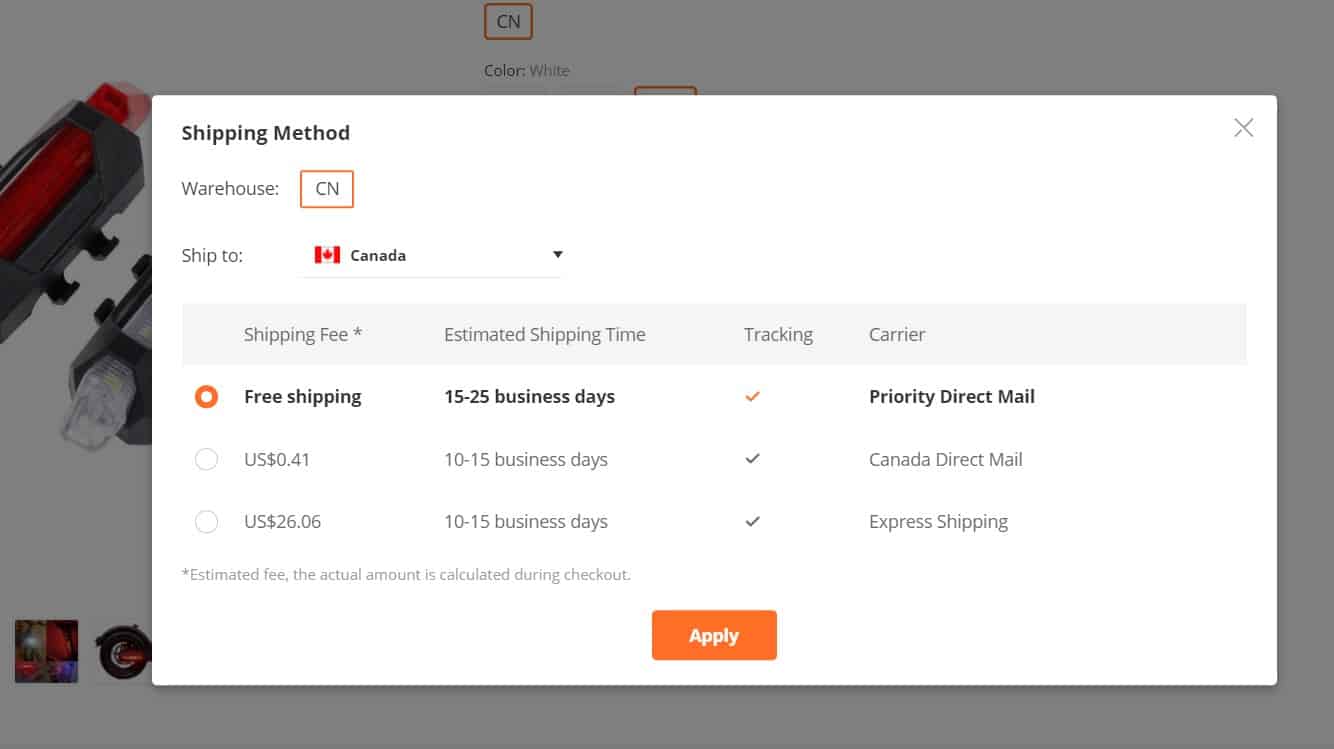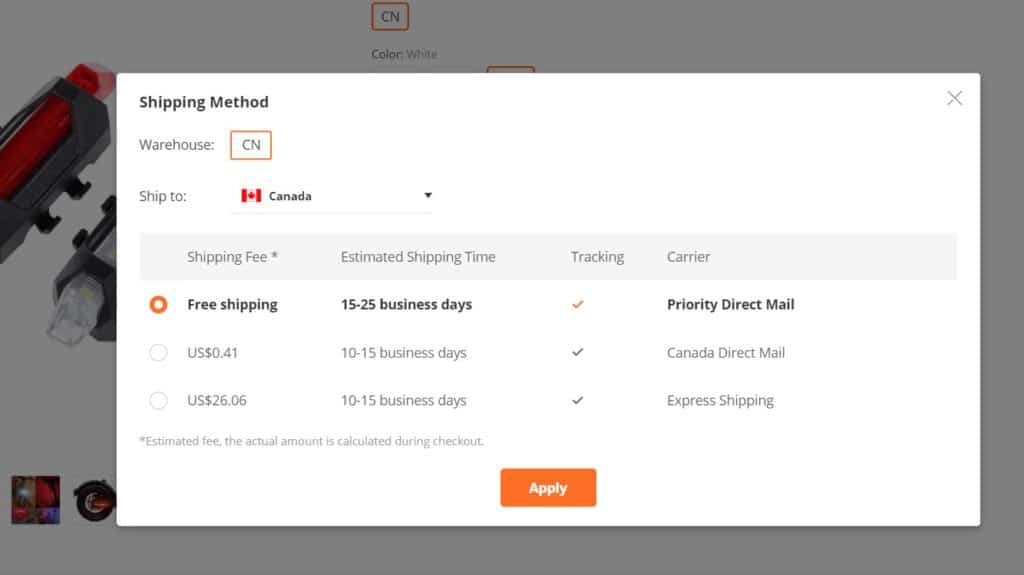 5. DealeXtreme for Canada dropshipping
DealeXtreme is a Chinese supplier, mostly famous for electronics at low cost. The company offers a big range of products (over 300,000) under different categories: toys, beauty & health, sport, home, and garden, etc. They have a free drop shipping program and are dropshipping-friendly. For example, they don't publish their logo or a receipt on the DealExtreme packages. The estimated shipping in Canada takes 7-18 business days.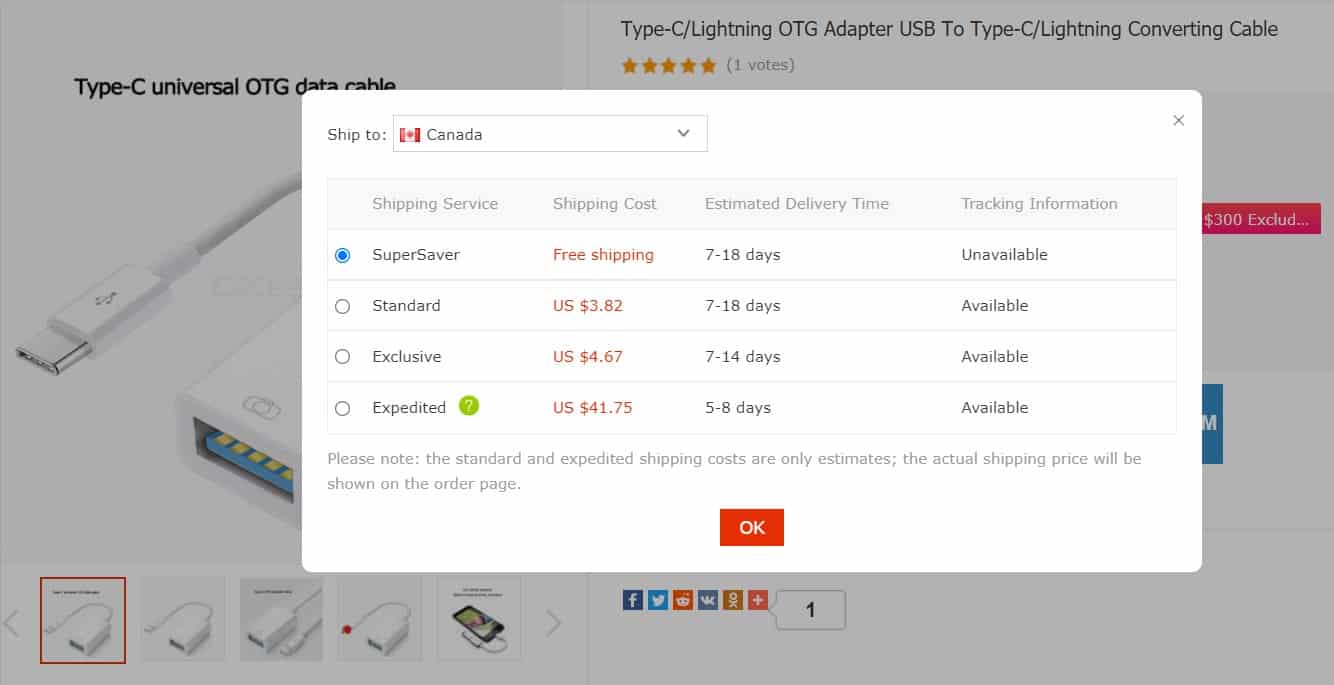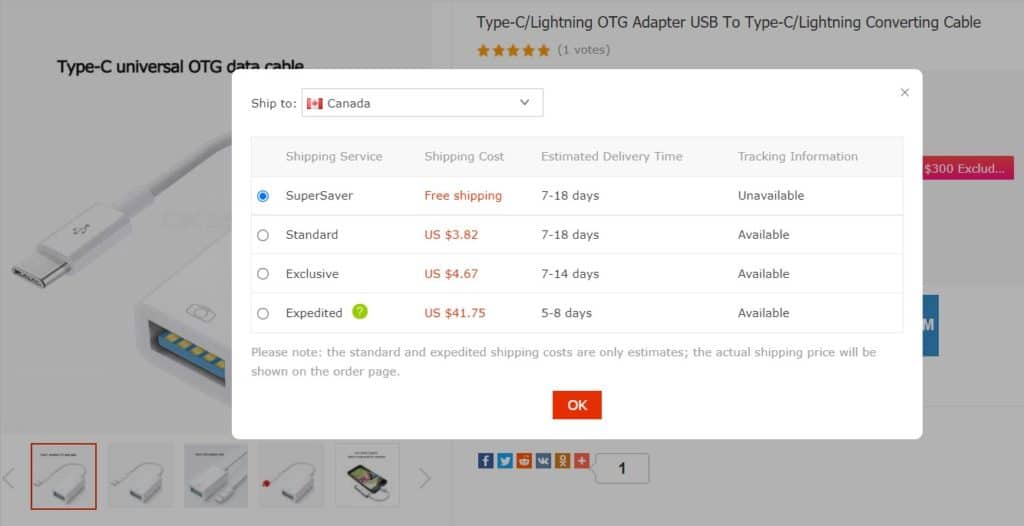 6. Lightinthebox for dropshipping from China to Canada
Lightinthebox is a Chinese online retail store that operates globally and has warehouses in the USA, Europe, and China. Unfortunately, not yet in Canada. Their three core categories are apparel, small accessories and gadgets, and home and garden. However, you can find products from other categories there as well. The Lightinthebox shipping time to Canada is 5-9 business days.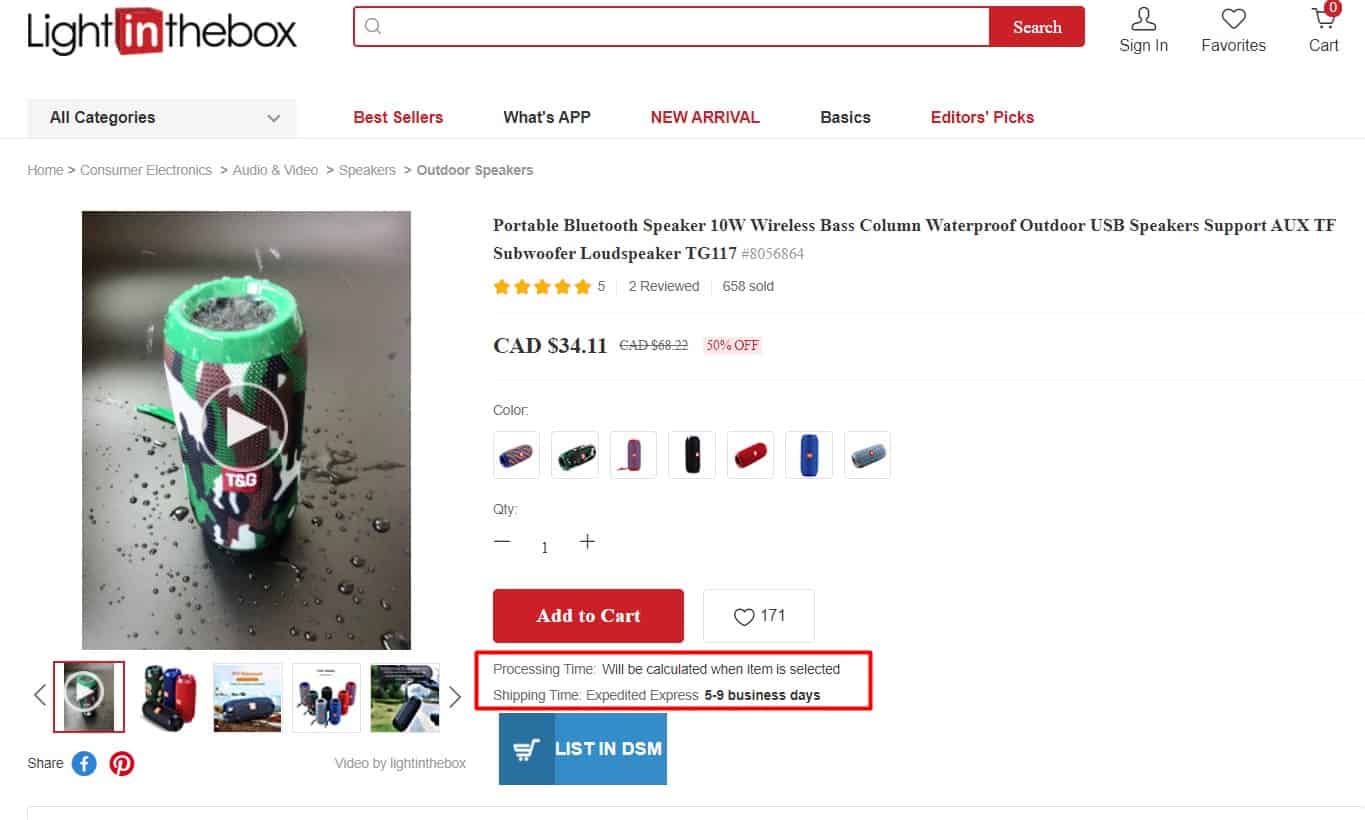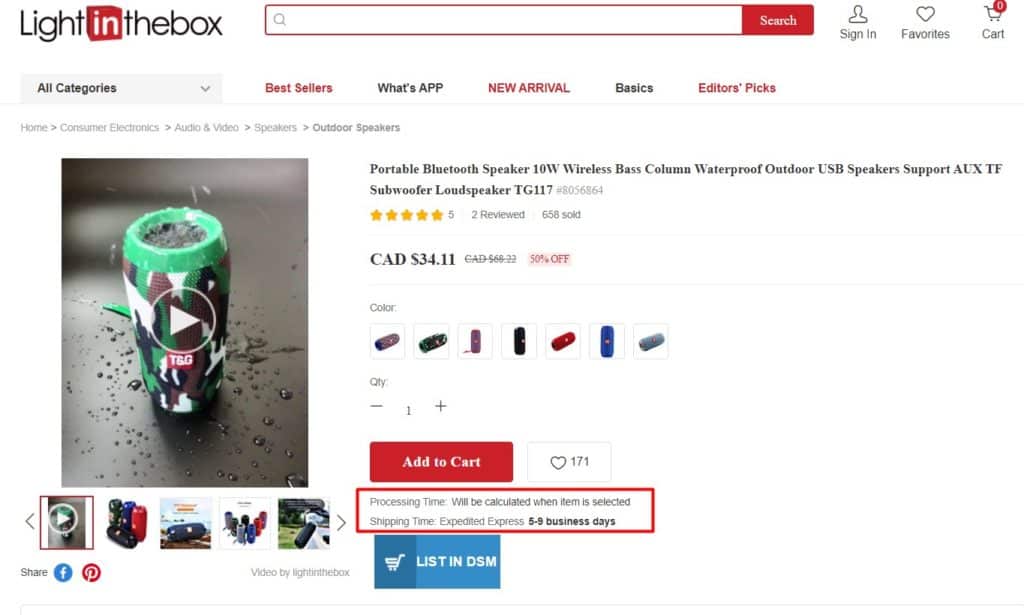 7. GogoMall, a Chinese supplier for dropshipping in Canada
GogoMall is a dropshipping-friendly supplier that is open for worldwide online sellers, Canadian as well. It's an online shopping platform for the latest electronics, fashion, accessories, housewares, beauty & personal care, toys, and more. This dropshipping supplier also provides a dropshipping agreement for reselling their products. They don't print Gogomall logos on their packages and don't put invoices in the boxes.
Chinavasion, a wholesale dropshipping supplier for Canada, is located in China and also specializes in electronic gadgets They sell products for health, beauty, apparel, sport, pets, and garden so far. Their program opens more products at lower prices. The Chinavasion delivery time to Canada will take around 12-35 days.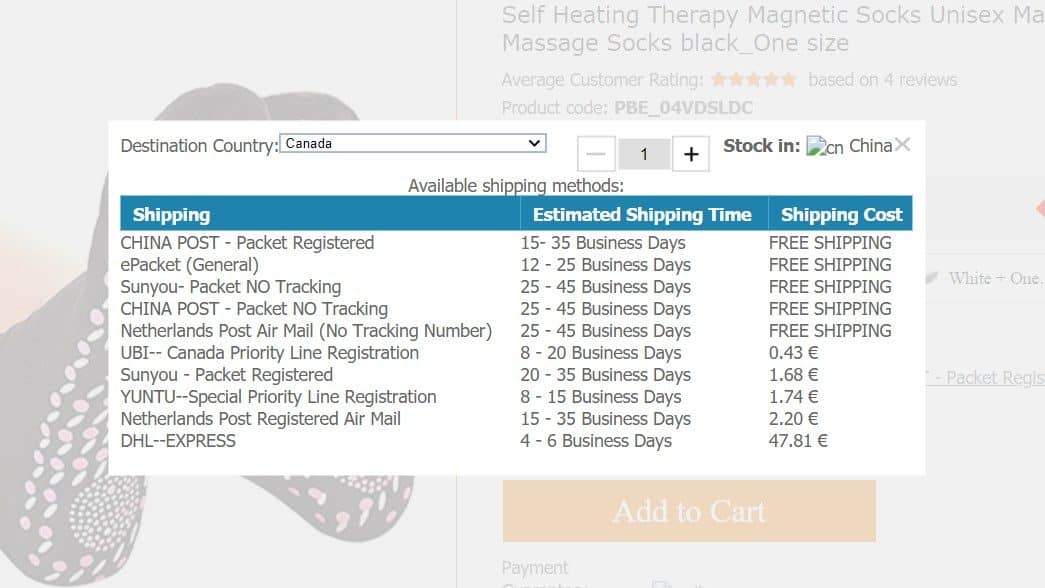 9. JoyBuy dropshipping supplier
This eCommerce giant offers a wide range of products for the home, family fashion, accessories, health, and beauty, to name a few of its categories. Customized products are also available. The JoyBuy shipping to Canada takes 16-20 days.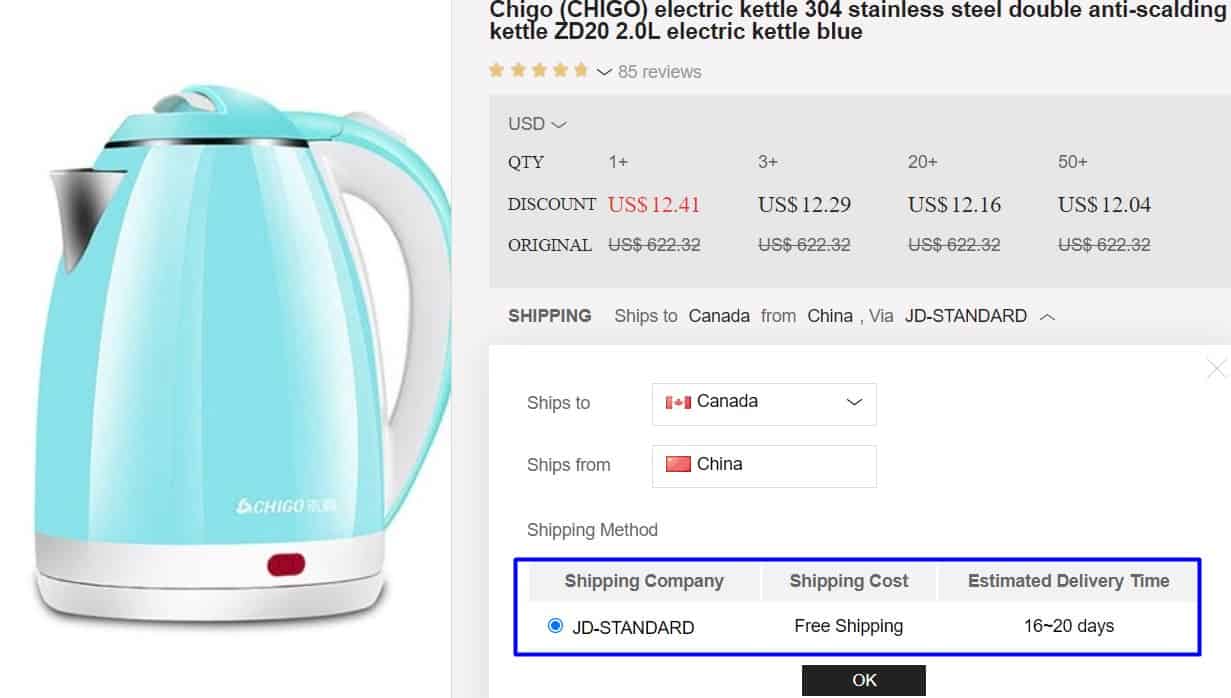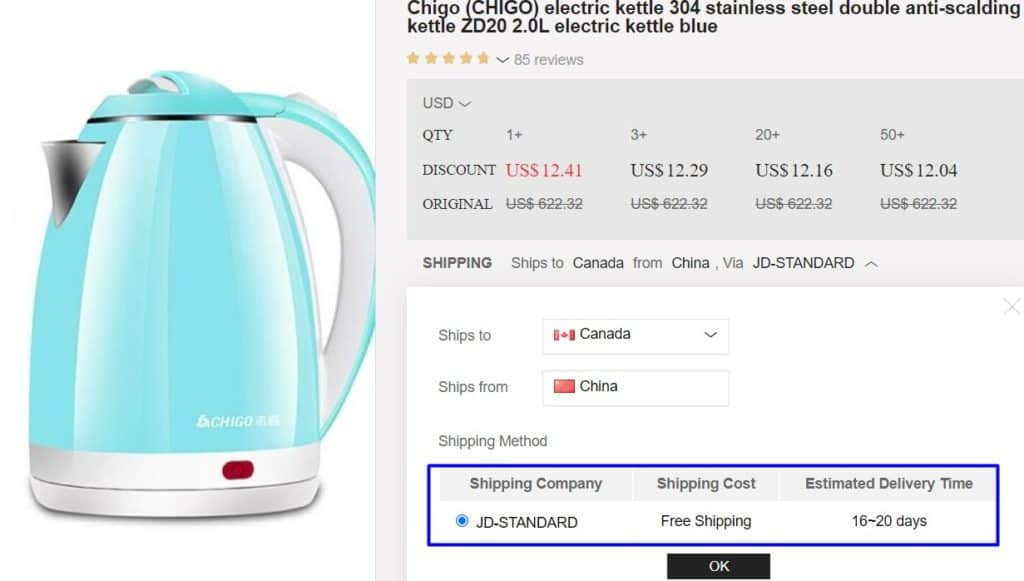 Final lines
The eCommerce business in Canada is growing and provides a lot of opportunities to expand your business there or to start dropshipping. It's easy to start Canada dropshipping. It's legal there and all conditions for it are already created.
Besides, it is one of the leading countries in business with a good standard of living, which provides a possibility to increase your store profits dropshipping the right products there. The most popular niches for dropshipping in Canada are clothing, apparel, shoes, books, games, cosmetics, body care, and health care products. However, it doesn't discard the possibility to sell products from other niches.
If you need to get product ideas, check out other posts from the What to sell category or DSM Tool Youtube channel with weekly dropshipping products suggestions.
Happy selling!