42

min read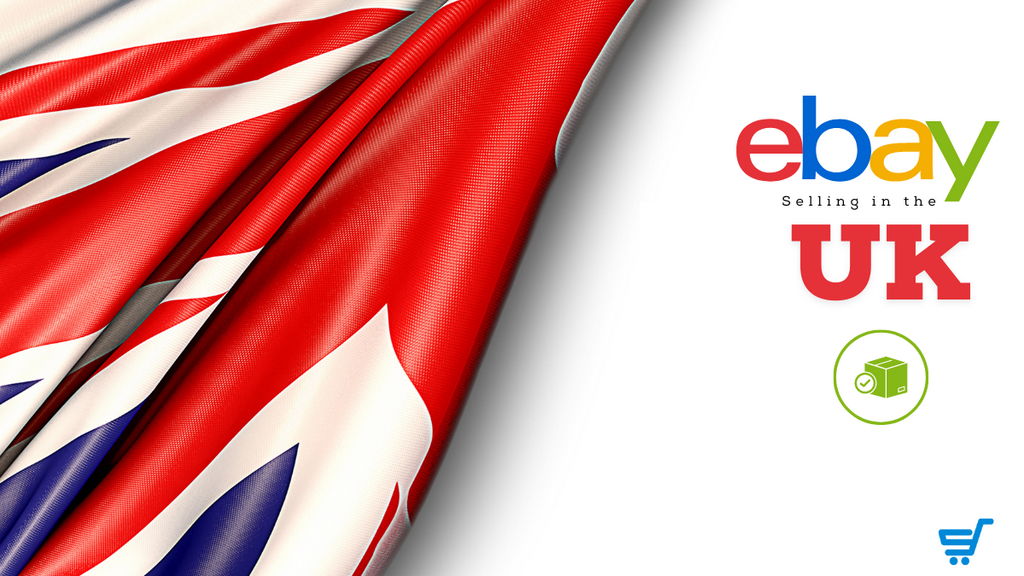 eBay has been one of the best Marketplaces for both new and veteran users to sell items for decades. It allows sellers to reach a large, international audience alongside. This article is dedicated to every beginner in the UK or elsewhere to start selling on ebay.co.uk. Whether you are an eBay UK dropshipping expert or just starting, you will find something useful.
— Let's get into it.
Is it worth it to sell on eBay UK?
There are several reasons why you should start selling on eBay. However, we'd like to save you some time here and pinpoint the most important key factors you should be aware of:
eBay is still a solid Marketplace, it generated $10.8 billion in revenue back in 2021 alone showing a 5.8% increase year-on-year.
At least 71% of items bought on eBay are shipped for free. It's important to point out that free shipping is a big incentive that sellers use to attract users and boost their listing visibility.
A couple of years ago, eBay launched their payment processing method known as "Managed Payments". Currently, over 1 million eBay sellers use this payment solution.
The majority of eBay active sellers are from the USA and UK: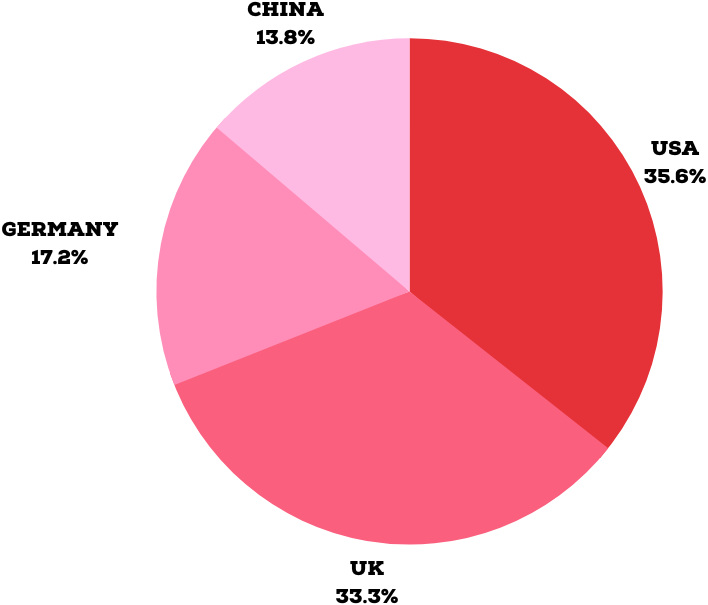 — Learning how to sell on eBay Marketplace and what the market offers is crucial when you are a beginner.
How do beginners sell on eBay UK?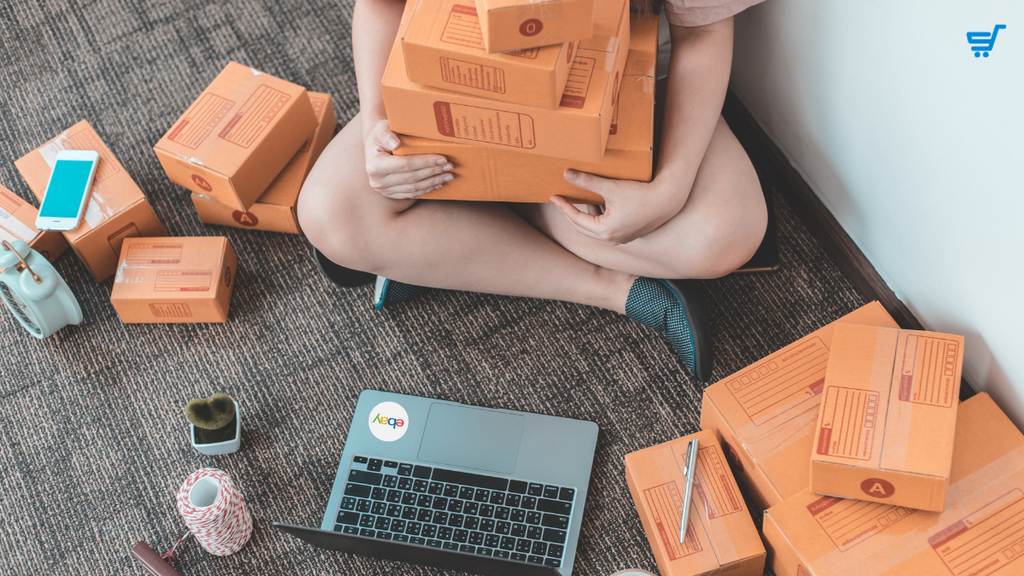 Benefits of selling on eBay in the United Kingdom:
It is no secret that eCommerce has grown substantially over the last few years. Especially with Covid where the digital commerce sector had a huge boost. It's interesting to see how many individual sellers have started online businesses in order to create a solid profit-generating source of income.
eBay UK dropshipping has lots of benefits. So, focusing on ebay.co.uk stores, one of the big advantages is that the United Kingdom is the leading market in Europe when it comes to online shopping.
Back In 2021, the revenue of e-commerce in the United Kingdom reached a total of 129 billion British pounds.
Picture this, eBay UK has over 240 million visitors per month, not only that but it is also ranked as the overall second-largest marketplace in the country.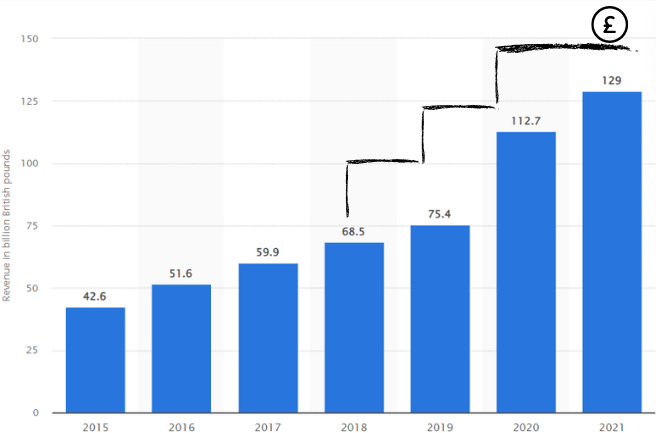 It is also important to note that there are a lot of high-quality UK suppliers you can source from, especially if you are dropshipping. This gives you an advantage because you can become more competitive when it comes to shipping.
Tip
Did you know that dropshipping is a form of an online business approach that most sellers practice? Learn more in our What is dropshipping? complete beginners guide.
How to start your online business on eBay UK:
In order to open an account on eBay, go to the UK eBay website located at ebay.co.uk and click on the Register button.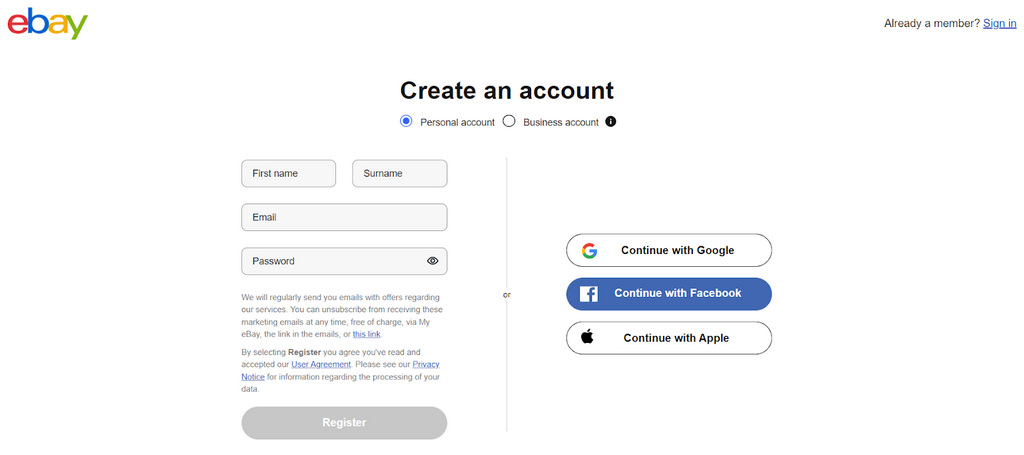 After you registered on ebay Uk, you can immediately start listing your products. We would recommend you start listing any random household item you possess. The reason being is that you would want to fully grasp the process of listing and understand how to do it. It's all about practice!
Quick How-To steps:
How to create an account on eBay UK?
Please follow these steps to create an account on eBay UK.
Head over to ebay.co.uk and then hit the "Register" button found on the top left side of the page.

Add your personal information along with your email address and password. You can also log in using your Google or Facebook credentials which is a faster route.
Once you've successfully logged into your account, head over to the "My eBay" section button which can be found on the top right side of the page.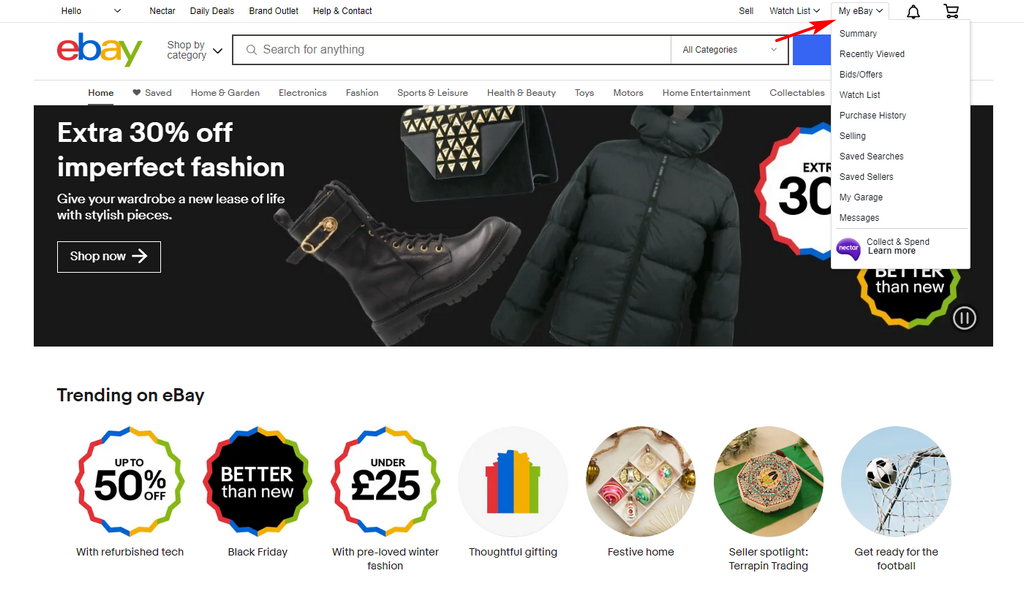 There, you will be able to submit additional relevant information about your account such as: Password security, shipping address update, etc.
Add your payment information under the "Payment Options" tab. Add your credit or debit card information.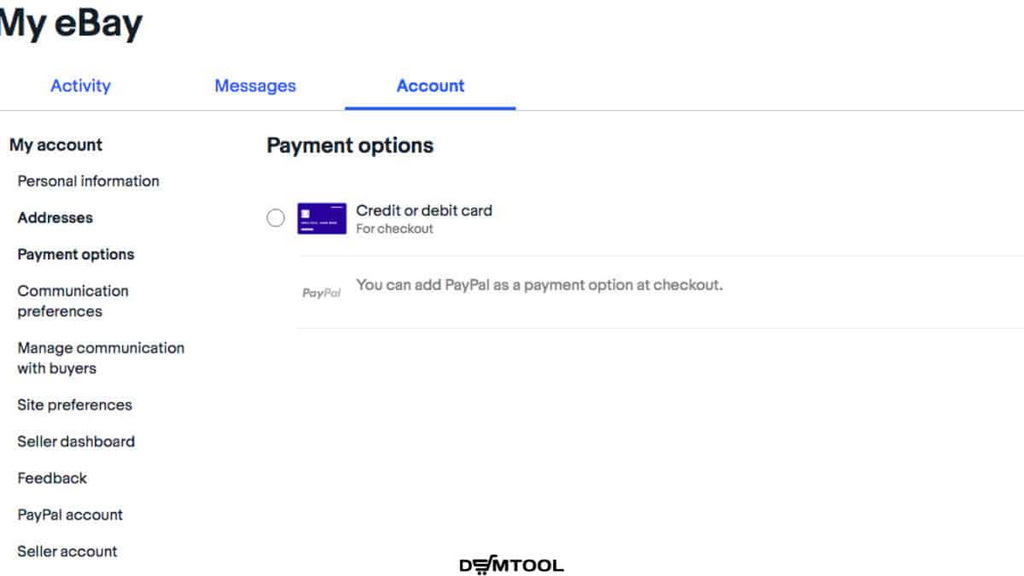 How to create a seller account on eBay UK?
Creating your eBay UK seller account is a straightforward and fast process.
Now that you have completed the first step which is creating your own personal eBay account, it's time to transform it into a business account — after all, you are here because you want to start selling.
Follow these steps to create your seller account:
Go to ebay.co.uk. Hover over the "My eBay" section and then click on the "Personal Info" tab.
Click on the "Account Settings" and under "Account Type" click on "Edit" to start this process.
You will be able to see the "Register" button on the top left-hand side of the screen, make sure you click on where it says "Create a Business Account". Simply fill in the blanks with the correct information and you are ready to go.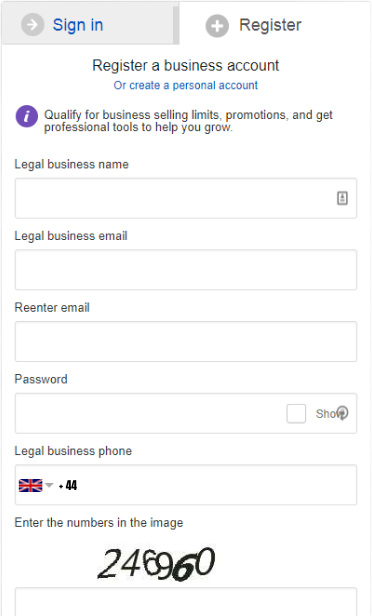 Provide detailed information of your business on the seller information section:
Full contact details.
Mention any trade organizations your business may belong to (if applicable)
Clear information about your prices, which will include any shipping or delivery charges plus tax.
A Value Added Tax number "VAT" (if applicable).
What is a VAT number and how to get it?
Before we continue with all of the required steps you need to consider when opening your eBay UK store, it is important to address the definition of a Value Added Tax number for those of you who do not know what this is.
VAT number is a unique identification number that will be assigned to your business once you register. It is commonly used for tax purposes.
The way to register and get your VAT number is by heading over to the UK Government official website where you will need to fill in the required information.
In England, a VAT number will consist of the letters "GB" at the beginning followed by nine digits. An example format could be as follows: GB123456789.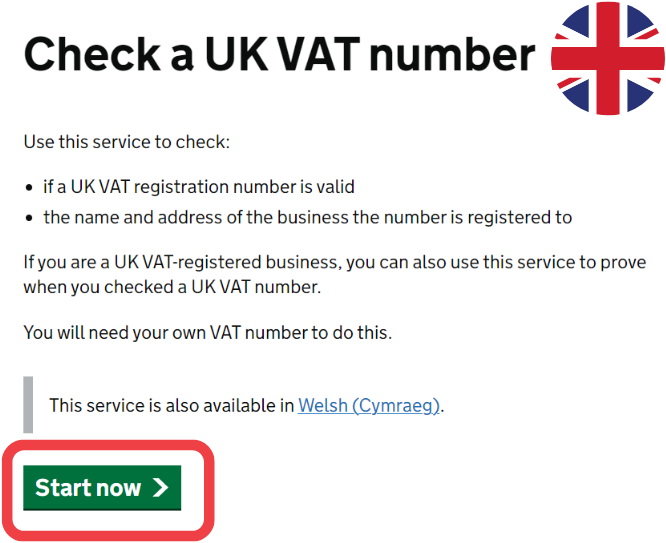 — If you haven't registered your business for the VAT number, we strongly advise you to do so.
What are

eBay UK business policies

?
It's very important to understand what are the do's and don'ts on eBay UK Marketplace. By complying with their business rules you will be able to keep your account up and running without any strikes that will harm your seller ranking.
In addition, thanks to eBay's Cassini algorithm, by having a healthy seller metric on your business account, you will get more exposure, meaning your listings will be appearing more within the first results generating your product page more impression that may lead to a higher Click-Through-Rate (CTR) and hopefully end up with more conversions — a.k.a. More sales.
Glossary:

Setting correctly eBay business policy is crucial to starty to get sales on eBay marketplace. Let me help you to understand them better. I summarized each point of the business policies to make it easier to set them up:
Selling Practices Policy: You need to be transparent with your buyers. For example, in the products your offer (product condition, item description, item as shown and described) and your business policies (shipping & handling, return policy, customer support and follow up).
Seller Protection: eBay also protects you as a seller from violent buyers who leave negative feedback, return damaged items after using them, avoid paying you after you cancel the order, etc.
Shill Bidding: In case you decide to use the auction-style bidding option, you need to be aware of some don'ts that eBay has listed for every seller. This happens when anyone bids on an item with the intent to artificially increase its price or seller's feedback.
Avoiding eBay Fees policy: Some examples of avoiding fees on eBay marketplace are making offers outside of the website requiring clients to make additional purchases.
Seller Performance Policy: Just like the aforementioned "Selling Practice Policy", seller performance metric is the same thing, meeting buyer's expectations. You need to provide constant value to your service by resolving issues on time, shipping your products therefore buyers will be receiving the item on time, charging reasonable prices, and so on.
Tax Policy: As you already know, paying taxes is crucial. On the eBay marketplace, you are responsible for paying taxes associated with the website. These taxes are: Income tax (declaring and paying taxes from your earnings), Value Added Tax (this is set depending on your location), Good and Service Tax (selling fees), tax on items bought and sold on ebay.co.uk.
Intellectual Property and VeRO Policy: In summary, this means selling items that have property rights or selling replicas from a big brand. For example, if you begin listing Nike shoes that aren't manufactured or compatible with the company, you will definitely infringe on copyright and trademark.
Restricted Items: Depending on the location, eBay plays by the state laws of that country. They have a list of eBay prohibited items that are dangerous, deming or offensive, illegal, and so on that you shall not list.
So in a nutshell, you should work on 3 major business policies in order to properly set up your eCommerce store on eBay UK:
Payment Policies: This is to inform your clients of what payment methods you accept.
Shipping Policies: informing clients how and when they will be receiving their products. Remember that it is crucial to always upload a valid tracking number once the order is shipped.
Return Policies: Let customers know how much time they have to return a product. Keep in mind that eBay has a 14-day no questions asked Money Back guarantee policy you should always take into account. Furthermore, you can accept product returns up to 30 days after the client receives their item. You can accept returns for damaged goods, factory faults, etc.
— We have a complete guide on Setting up your business eBay policies you can check out!
Shipping tip:
After you successfully complete a sale on eBay UK, you'll need to purchase a shipping label, enter the tracking details, and package and ship the item to the customer. It is not only important for your customers when they need to track their package but also it is important to ebay.co.uk.
Uploading a valid tracking number will certainly help your seller metrics.
When a customer buys your product, you'll get a notification in your eBay account alerting you to the sale. Click on the notification to enter shipping information, print your labels, and mark the order as shipped.
eBay makes sellers' lives easier when it comes to purchasing a shipping label through their system. Your job is to enter the weight and dimensions of your package—which should already be in the listing.
Tip: It's important to set up your return policies on eBay following the government's regulations in regards the Consumer Right Act which states the following:
Accepting returns with a full Money Back Guarantee option to buyers within 14 days.
Accepting returns of faulty products within 30 days.
You can add a couple of requirements that would fall under these aforementioned categories.
For example, a buyer who wishes to return a product because he changed his mind due to buyer's remorse or any other reason that is not because of a damaged good, you need to let the consumer know that in order to get a full refund, they would need to either pay for the shipping themselves, return the item sealed on the original packaging and of course, return the product without any scratch.
If they don't meet those requirements, you can deduct a percentage of the original amount the buyer paid for the product.
Any product with damage that is not reported within the first 30 days from the date they received the item, you are not responsible for reimbursement.
Additionally, you need to take into account that sellers cannot:
Charge restocking fees
Keep original shipping fees for returns
Charge buyers return shipping fees
Let's move further.
The eBay Marketplace has now a new form of payment which is called the eBay Managed Payments.
eBay now offers their own one-in-one system destined to process the payments for buyers and sellers, all in one place. Before this new payment method was introduced, the platform used to work with PayPal which made the invoice method more complex that it should have been.
Therefore, the Marketplace began to develop a much simpler payment system for sellers allowing them to get paid conveniently in one place, ebay.co.uk.

How does it work and how can you access Managed Payments?
First of all, it's important to point out that in order for eBay to make this new payment processing system happen, they partnered up with the American financial service provider known as Payoneer.
— This allowed eBay to connect each seller's accounts to their own bank accounts.
As a result, eBay provides us an easier way to manage our business by eliminating PayPal, but also their team takes more control and responsibilities. For example, the optimized payment system allows us, sellers, to check everything from inventory to finances in one dashboard: accounting reports, fees, refunds, payout options, etc.
As a seller, you can sell and get paid all in one place, on ebay.co.uk. You can schedule payouts at a frequency you choose (daily or weekly). Regardless of how the buyer pays, funds will be made available to your bank within 2 business days — excluding bank holidays.
So the way you can set up eBay Managed Payments is by following these steps:
First, head over to www.payoneer.com and click on "Register" to start.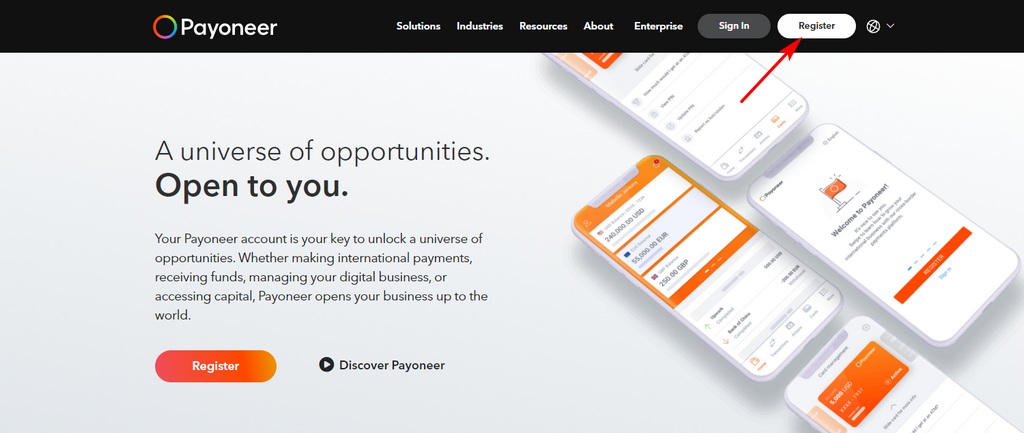 2. Payoneer offers an account to Freelancers, Affiliate marketers, Vacation rental hosts, individuals, and of course — online sellers.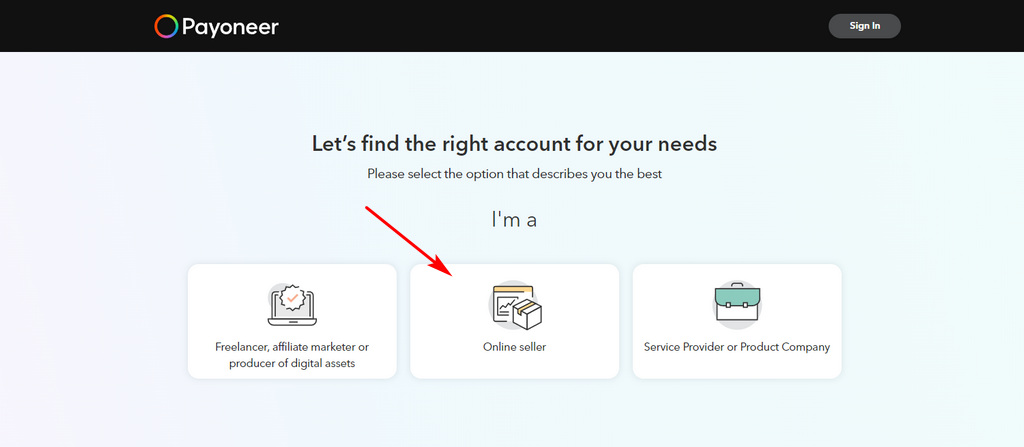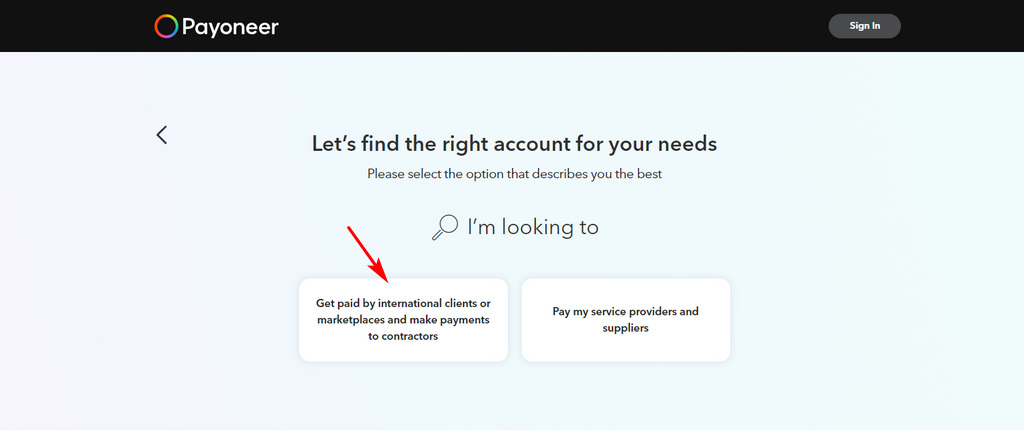 3. You'll be directed to the registration page which has four stages, placing your general information, personal information about where you reside (country), security information such as your password and then the final stage is linking everything to your bank account.
— Here are the steps by each stage:
The first two stages are all about personal information.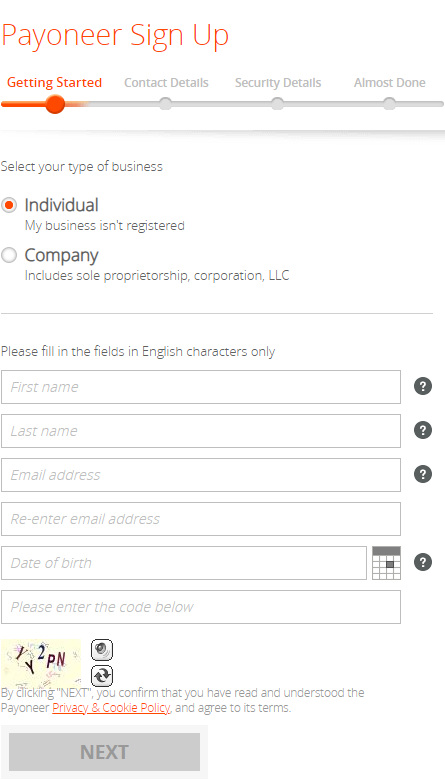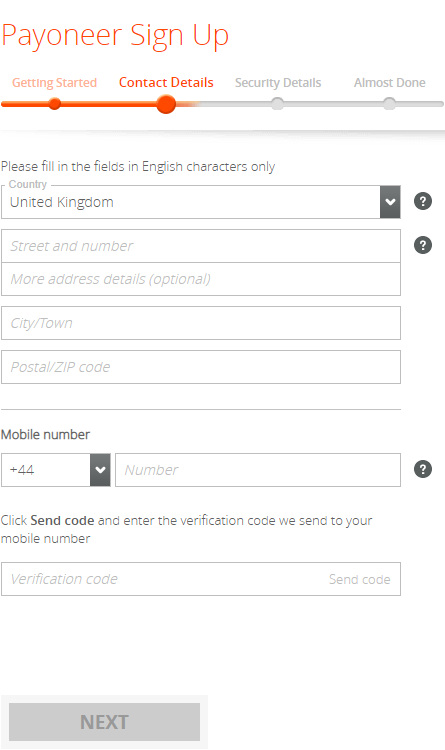 The last two stages are about security and banking information on which you will be receiving transfers and/or making transactions.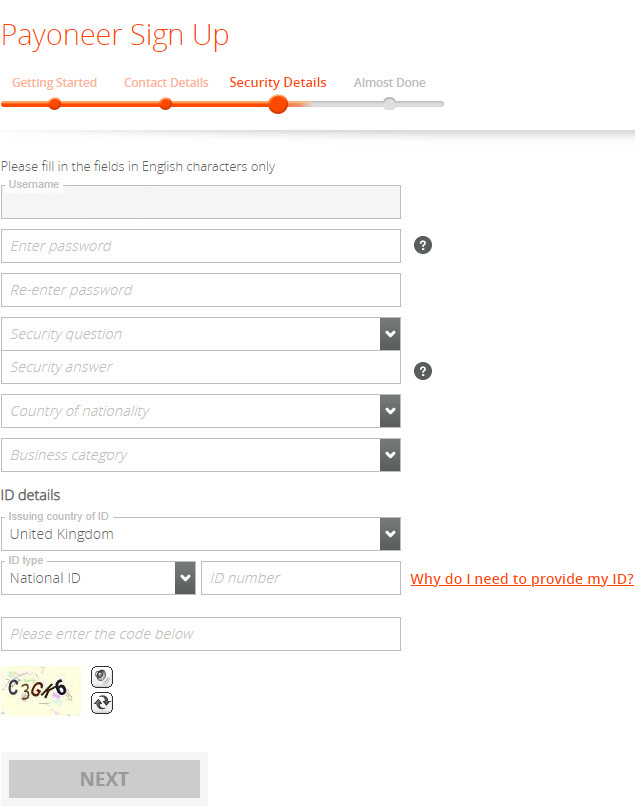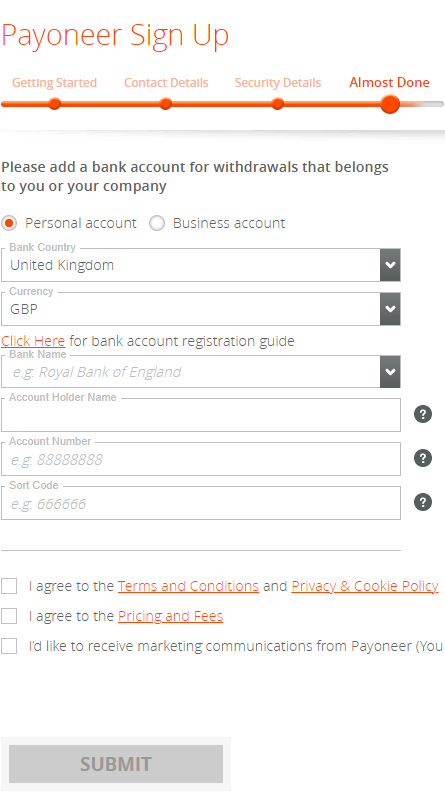 Okay, now that you have created your Payoneer account, it is time for you to connect it directly to your eBay seller account in order to activate Managed Payments.
Normally, if you already have an eBay store, you should receive an email address from the eBay team letting you know that you would need to switch to the eBay Managed Payments feature where you will be able to link your Payoneer account. All you need to do is follow the steps:
Here's an example of the email you should receive — note that you may receive a different format, but it is still the same message: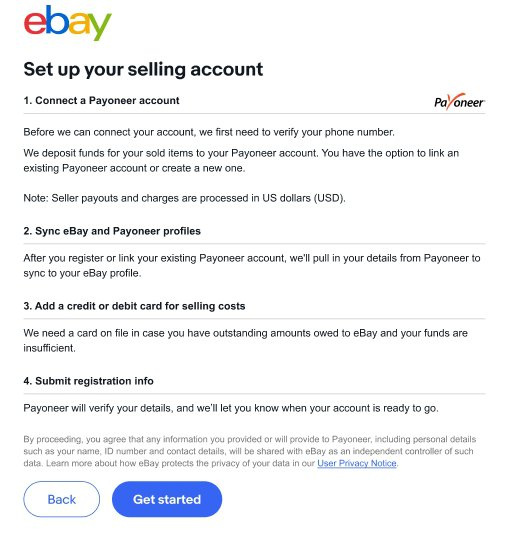 Tip: If you don't receive the email shown above, then you can do it manually by entering your Payoneer account and clicking on the "Activity" tab and head over to the "Store Manager" button.
Here is how you do it: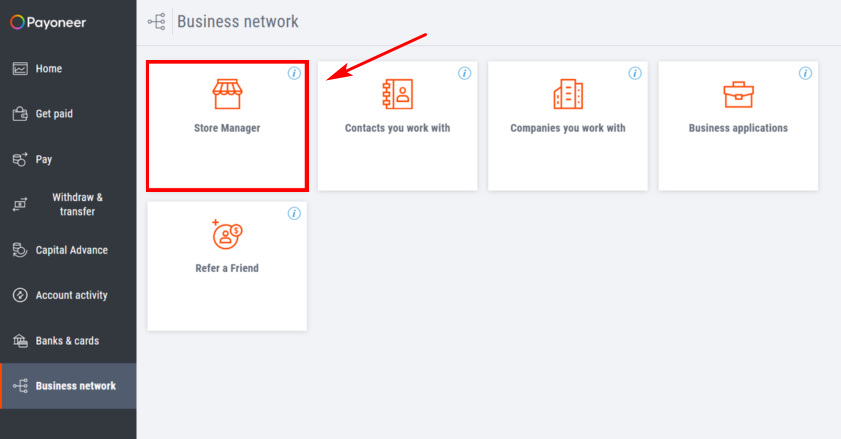 You will then have the option to add a store. In this case, you can link your eBay store: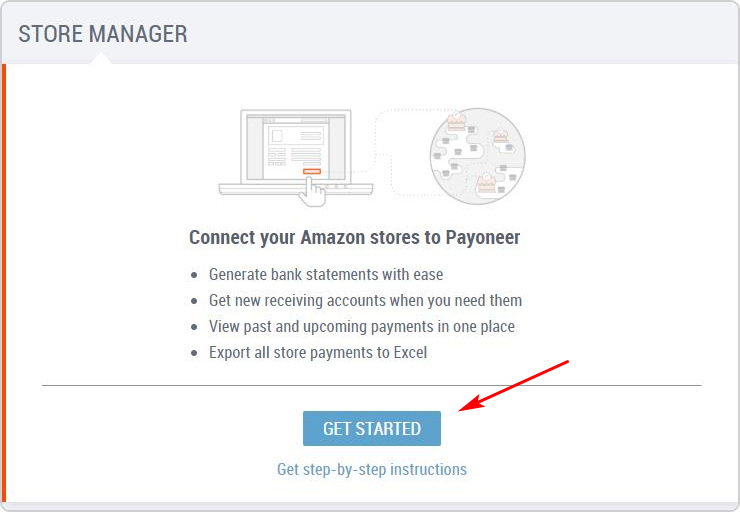 — Simply follow the steps that will be shown on screen and you should be golden!
There are four quick steps to finish up with the Payoneer + eBay account merge. We already went through the first step which is connecting the Payoneer account we just created.
The second step is the profile verification on eBay with all your information: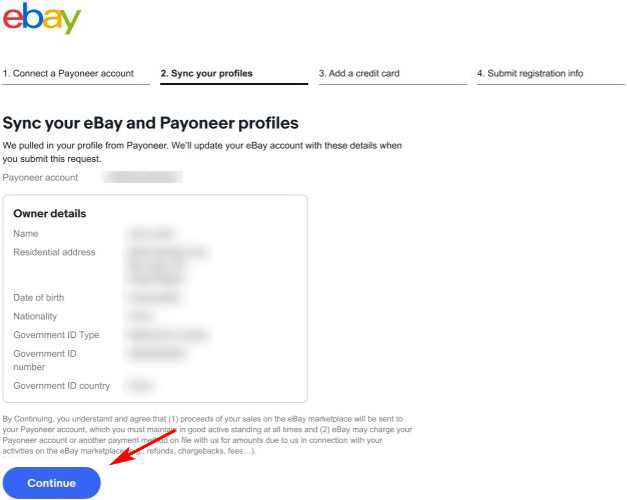 Make sure you add a credit or debit card linked to your bank account as a backup payment method — in case you don't have enough funds on your Payoneer account.
It is always a good idea to have two payment alternatives to avoid any issue at the moment you need to cover eBay fees on a month-to-month basis.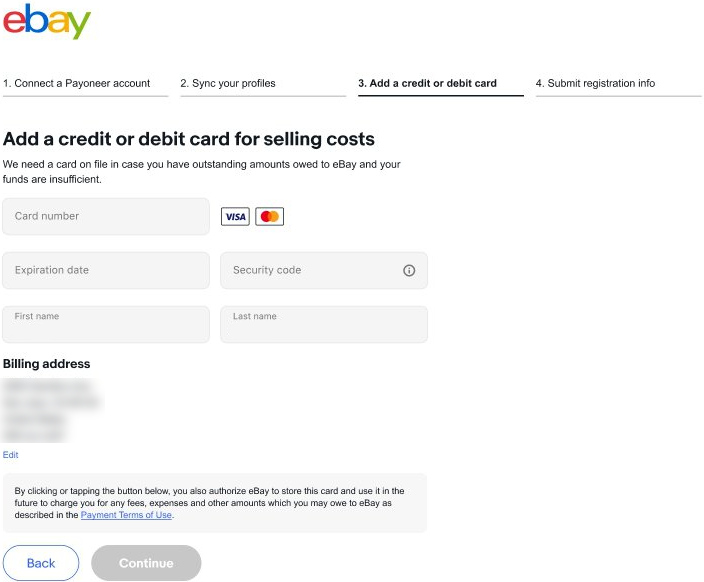 Lastly, you just need to submit the request — that's it!

Congratulations! You set your eBay UK seller account!
Let me explain about a couple of more important things you can face in the beginning of your selling journey on eBay UK: on one of them is eBay selling limits.
eBay Selling Limits
When you open eBay store, you're entitled to a certain amount of insertion fees as previously stated and a certain amount of items you can list.
Depending on your plan, you'll have a limit of products you can add to your eBay listings per month and you'll also have a general monetary amount you can sell your items for.
You can find eBay selling limits on the Overview page of your Seller Hub :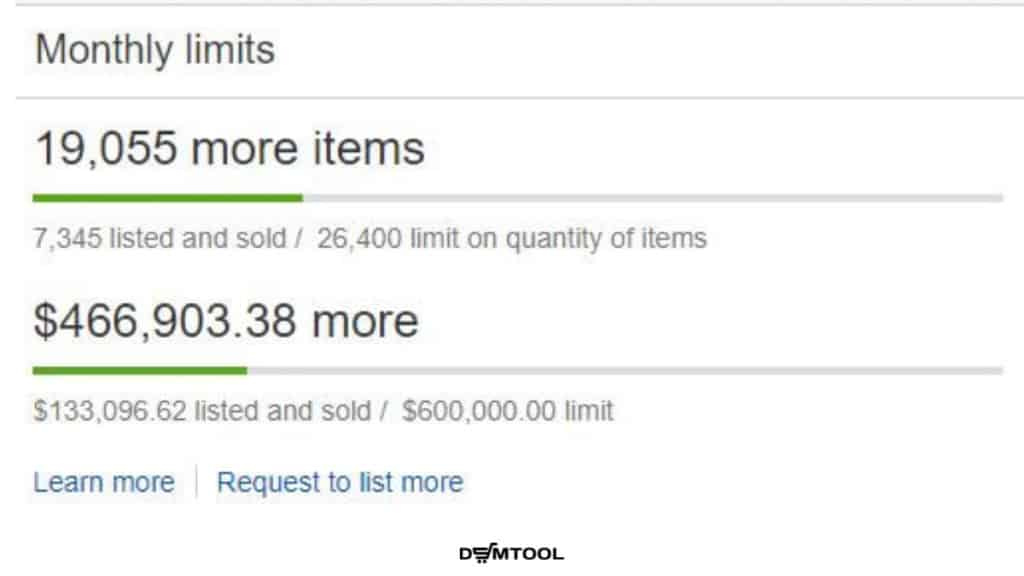 Head over to your Seller Hub (continue reading to learn about your Seller Hub) and scroll down until you see "Monthly Limits". You will be able to see how many items you are allowed to list on a month-to-month basis and your monetary limit.
At the beginning you start with 10 monthly limits (mind thait also includes the quantity of the item you would sell). In order to increase your eBay selling limits, you will need to have your store open at least for 90 days.
Down that limit! Don't wait 90 days. You can find a button that says "Request to list more". Click on it and you will be directed to an eBay page that'll give you two options to request a limit increase.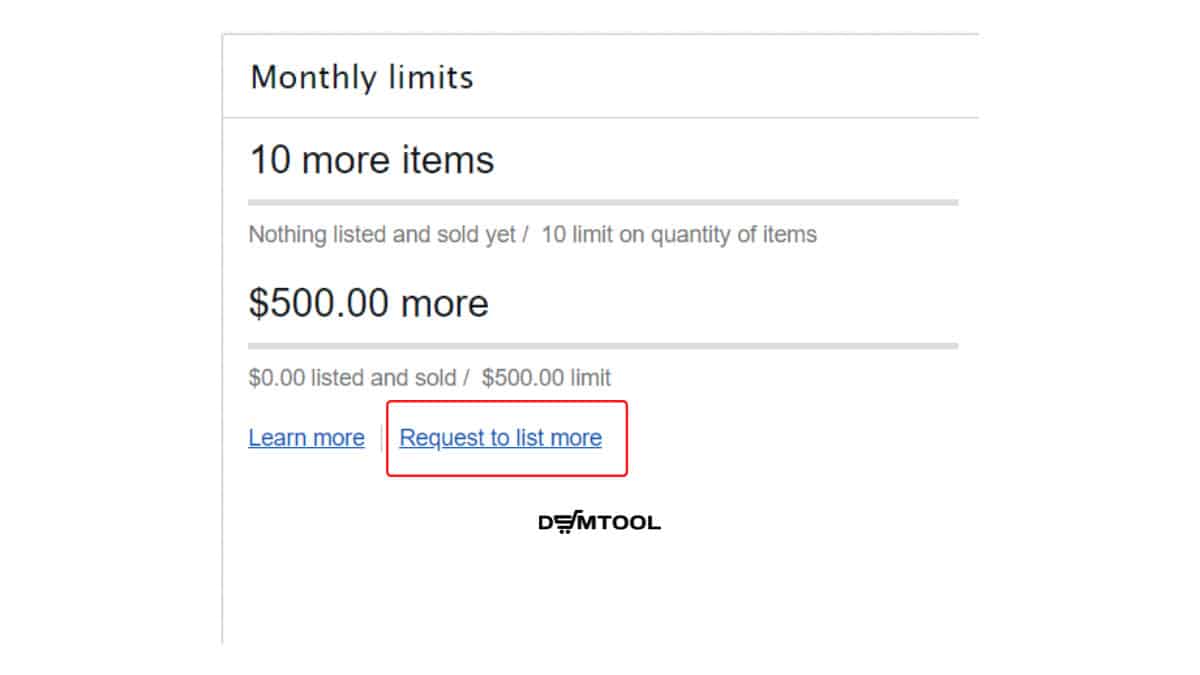 Here are some of the qualifications that ebay.co.uk marketplace reviews on every selling limit increase request:
Seller account must be open for at least 90 days.
Don't have any open cases.
Good buyers feedback.
High and active seller performance.
Compliance with eBay policies.
No comments from your buyers about the product's authenticity.
Give it a try and list various products on your store to attract potential buyers!
Well, now when you are about to start selling on eBay.co.uk, you need to know about eBay UK Fees. Right, the eBay marketplace charge fees for selling products on it. Let's have a quick look at them.
eBay Uk charge a listing fee when you create a listing, and a final value fee when your item sells. Adding upgrades to your listing brings extra fees as well. Similarly if you sell internationally (remember to disable selling internationally in your shipping business policies to avoid that). In addition, eBay UK fees will vary on the type of your subscription (e.g. if you are a privat seller or have an eBay shop).

eBay Insertion Fees
Let's say you start as a privat seller. In this case, you have 1,000 free listings (no insertion fees). Then you will get an extra charge of 35p for each new listing created.However, you will still need to pay a final value fee when your item sells.
Ebay Final value fees
Whn your item is sold, you pay a final value fee. The final value fee is calculated as 12.8% of the total amount of the sale (which includes the item price, postage, taxes and any other applicable fees), plus a fixed charge of 30p per order. If the total amount of the sale is over £2,500 for a single item, you'll pay 3% for the portion of the sale price above £2,500.
Your eBay final value fees are automatically deducted from your sales proceeds and the rest paid out to your bank account.
So, in other words, if you don't sell anything at the end of the month, you don't pay eBay final value fee.
Other eBay UK Fees
There are different optional listing upgrade fees, ebay.co.uk charges per listing regardless of whether your item sells or not. Those fees will not be included in your free listing allocation and will be charged also when you relist your items. Those are the fees for extras:
Upgrade type
Description
Upgrade fee per listing
Reserve Price
This is a fee for reserving price (minimum £50). That means that your item won't be sold if bids don't reach that amount.
4% of the reserve price (max. £150 per item), no matter the item sells or not.
Add a Buy it now Price
Give your buyers the option to purchase before an auction-style listing ends, for a set by you price. A Buy it now price on eBay Uk gives the possibility of a quick sale.
50p
Subtitle
Make your item stand out from the competitors with a line of additional text that appears below your product listing title in search results
£2
Gallery Plus
Catch a buyer's eye with larger pictures from your listing in search results when buyers move their mouse over your listing's thumbnail picture
£2.50 (Free in Clothes, Shoes & Accessories, Home, Furniture & DIY and Pet Supplies)
Listing in 2 categories
Add a second category to get more exposure for your product
35p
Promoted Listings
Advertise your listings to boost visibility via Promoted Listings (aka eBay sponsored listings).
Advertising costs are dependent on the campaign type you select. You can be charged a chosen percentage after your listing sells, or an upfront, flat fee
Scheduler
Create your listing now and set it to go live at a future time when you want it.
Free for your first 1,000 (or 1,100 for private sellers with an eBay Basic Shop) listings per month (excluding Property and Classified Ads). After that, 6p per listing
International Site Visibility
Maximise your item's visibility in search results on eBay.com and eBay.ca. If your listing is eligible for this upgrade and not already appearing on these sites, you'll have the option to add it as part of the listing experience. Make sure you've specified postage options for the US and Canada so buyers will know what international P&P will cost
30p for fixed price listings
For auction style listings the fee depends on the start price:5p for start price less than £510p for start price from £5 to £29.9915p for start price of £30 or more
Special duration
You can choose a 1- or 3-day duration for your listing. Private sellers with a Basic Shop get 100 free listings that include this upgrade
35p
ebay.co.uk fees
Again those were the optional features with extra fees. At the beginning of your seller journey, you can skip them to feel more comfortable as a seller on eBay United Kingdom. Those were the fees for privat eBay Uk sellers.
The fees for the eBay Shop subscription are described here. We will not explain them here. Just don't be worry: start selling on eBay doesn't mean that you are automatically have an eBay shop subscription (£19.99). You start as a privat seller.
Here we go: now your eBay UK seller account is set up and you are ready to start to sell. But what is selling the best in the United Kingdom?
Best selling products on eBay UK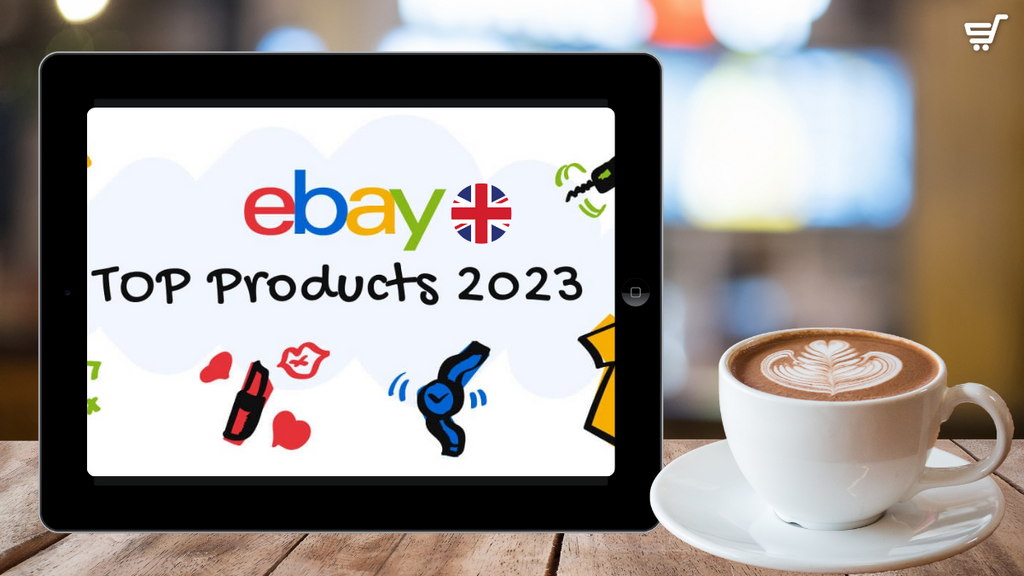 When it comes to determining which item you should sell, it is important to evaluate the market by executing a solid Product Research. By targeting popular products in low competition niches, you will be able to exceed your average sales percentage.
However, we will save you some time, here are some interesting categories you should consider selling on:
Home Garden.
Sporting Goods.
Clothing shoes accessories.
Health and beauty – any beauty product.
— These are rich categories that guarantee solid search results when it comes to eBay UK dropshipping.
eBay's Marketing Tool – Terapeak:
When it comes to eBay UK dropshipping, there is a cool Marketing tool that allows sellers to efficiently product research on the platform's market whether it is in the USA or UK. This tool is called Terapeak.
This Marketing tool is suited to analyze eBay's market in terms of supply and demand. So in a nutshell, it'll tell sellers what to sell, when to sell it, and at what price to sell their products with the help of an analysis of the recent eBay supply, and demand.
The best thing is that Terapeak is available for free for all eBay sellers with paid subscriptions. So, it really doesn't matter if you have a Basic, Premium, Anchor, or Enterprise eBay store. All of these types of subscriptions have equal free-of-charge access to the Terapeak eBay research tool.
Every other eBay user can purchase a yearly or monthly subscription to use the Terapeak eBay tool. So, all you need is an eBay seller account with an automatic payment method — that's it!
The steps are simple, all you need to do is:
Visit the "Subscriptions management page" in My eBay.
Beside "Terapeak Research", choose "Select and Review".
Choose the payment plan you prefer (annual or monthly subscription).
Select "Submit Order".
— Here's an example of how to properly analyze eBay's market using Terepeak: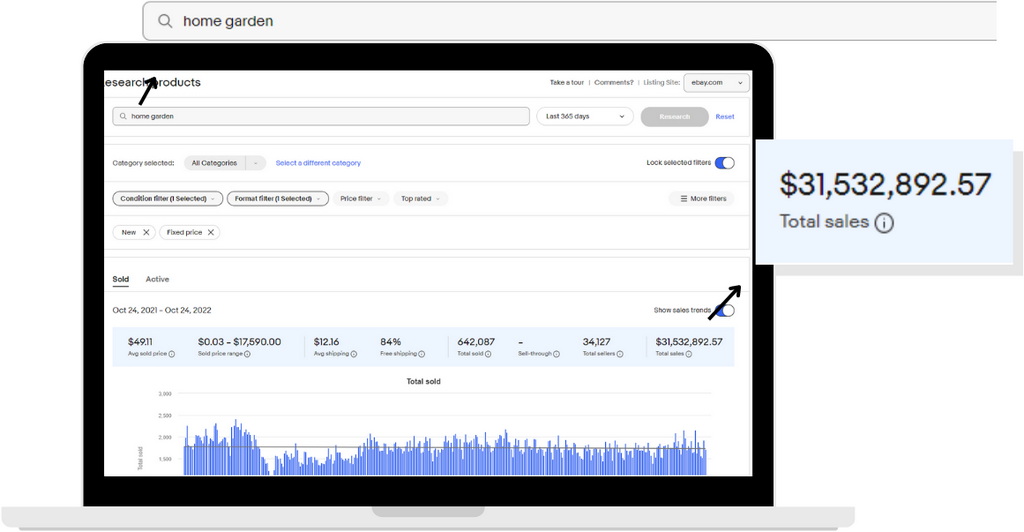 Using "Home Garden" as an example in the US market, we can see that under all categories within this niche, in a lapse of a year, the total sales have been over $31 million USD. Furthermore, there is a constant demand year-round for products like these ones on the Market.
— You might consider tapping into this category in order to sell popular items related to gardening and home decorations. There are tons of top selling items on eBay UK under this category.
Let's quickly address some of the top selling products on eBay UK under other categories:
Watches grossed a total of £249.4 million in 2022 up to date.
Bikes grossed a total of £208.9 million in 2022 up to date.
Fabric grossed a total of £197.3 million in 2022 up to date.
Tables grossed a total of £169.9 million in 2022 up to date.
Headphones grossed a total of £63.7 million in 2022 up to date.
Men's T-shirts grossed a total of £42 million in 2022 up to date.
eBay UK dropshipping: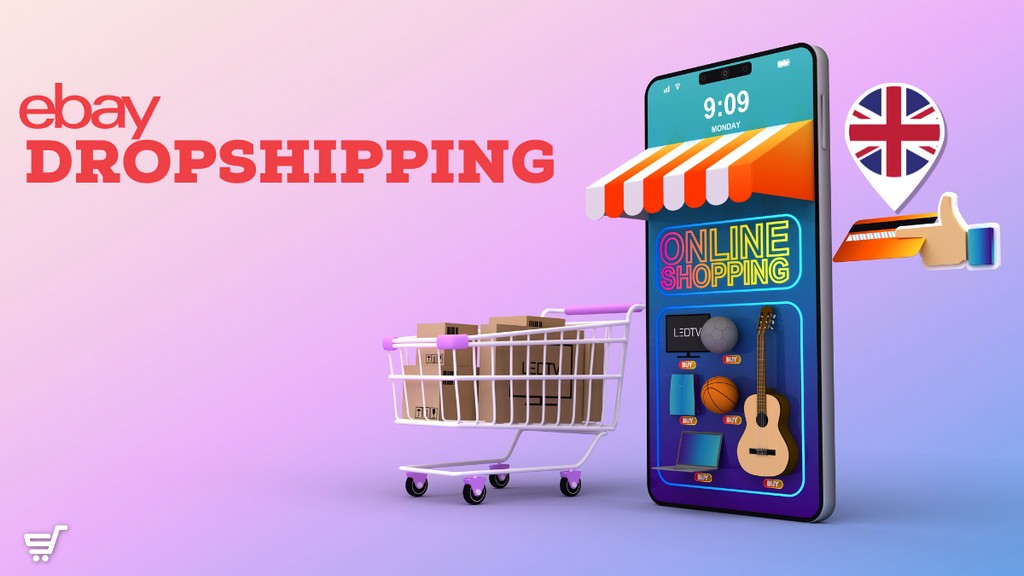 Is dropshipping products allowed on eBay UK?
In a nutshell — yes.
eBay UK dropshipping has been approved by the marketplace which allows sellers to partner up with wholesale suppliers with a dropshipping license.
To give you some back story, the eBay dropshipping policy that was released in January of 2019, especially in the USA. This changed the role of the dropshipping suppliers. Starting from that time, eBay allows dropshipping using only the wholesale suppliers.
Before that, eBay didn't limit the sources for its sellers. That is why they changed their policies and placed dropshipping from suppliers like Amazon or Walmart, quite famous retailers, against eBay's terms of service.
However, the difference with US dropshipping is that it mandates sellers to undertake the job of managing shipping and offer after sale services to clients which makes sense if you really want to keep your business up and running, not to mention good seller metrics in order to avoid getting your account closed.
According to eBay UK dropshipping policy, sourcing items from another retailer or Marketplace is not allowed, that is why it is important to align with wholesale suppliers that will offer you a good deal on product inventory.
One of the advantages eBay UK dropshipping has is that the market is not as big as the US version. This means that sellers will have less competition. Furthermore, as previously mentioned, you can work with UK or European suppliers that will improve your shipping & handling costs and time by offering a faster method to your clients.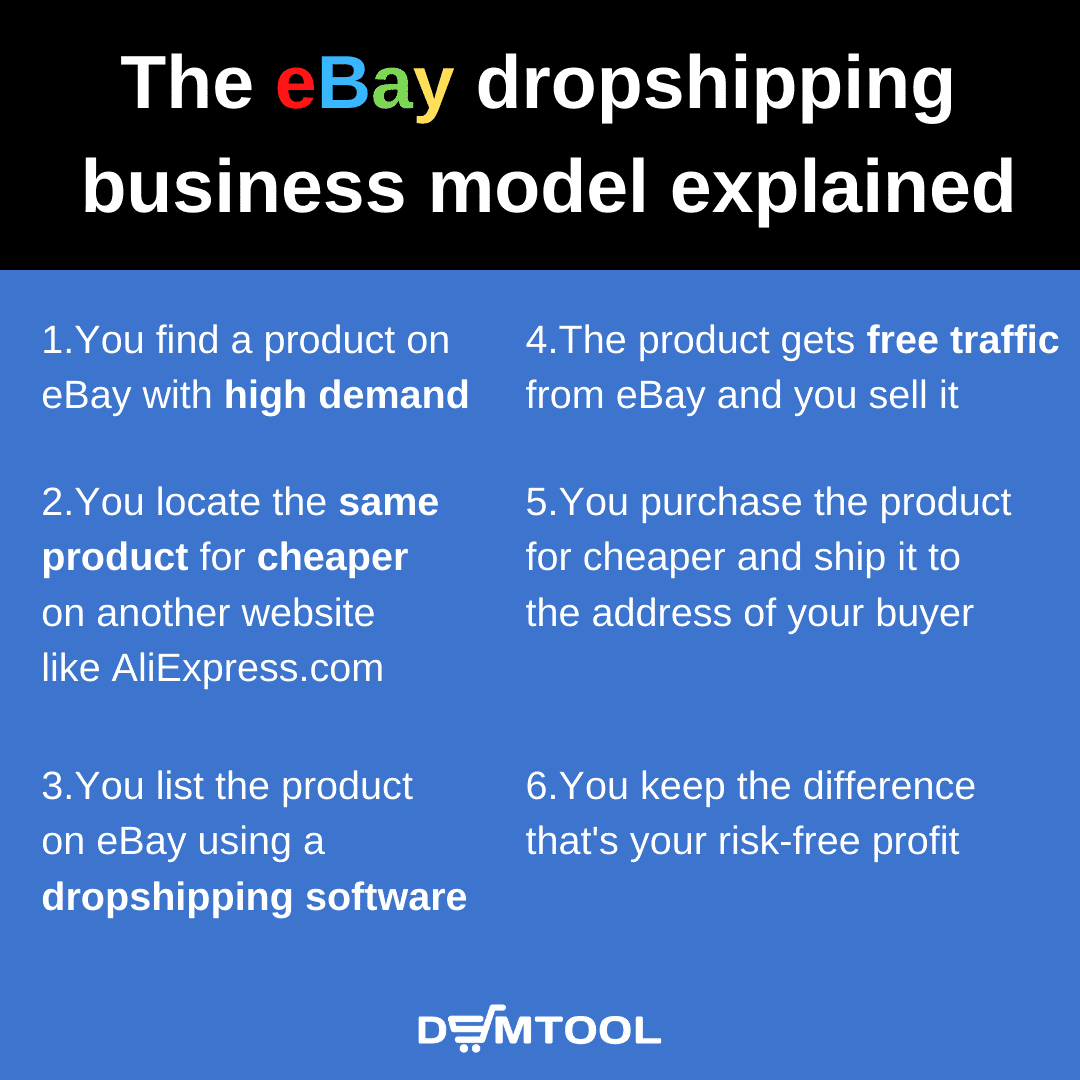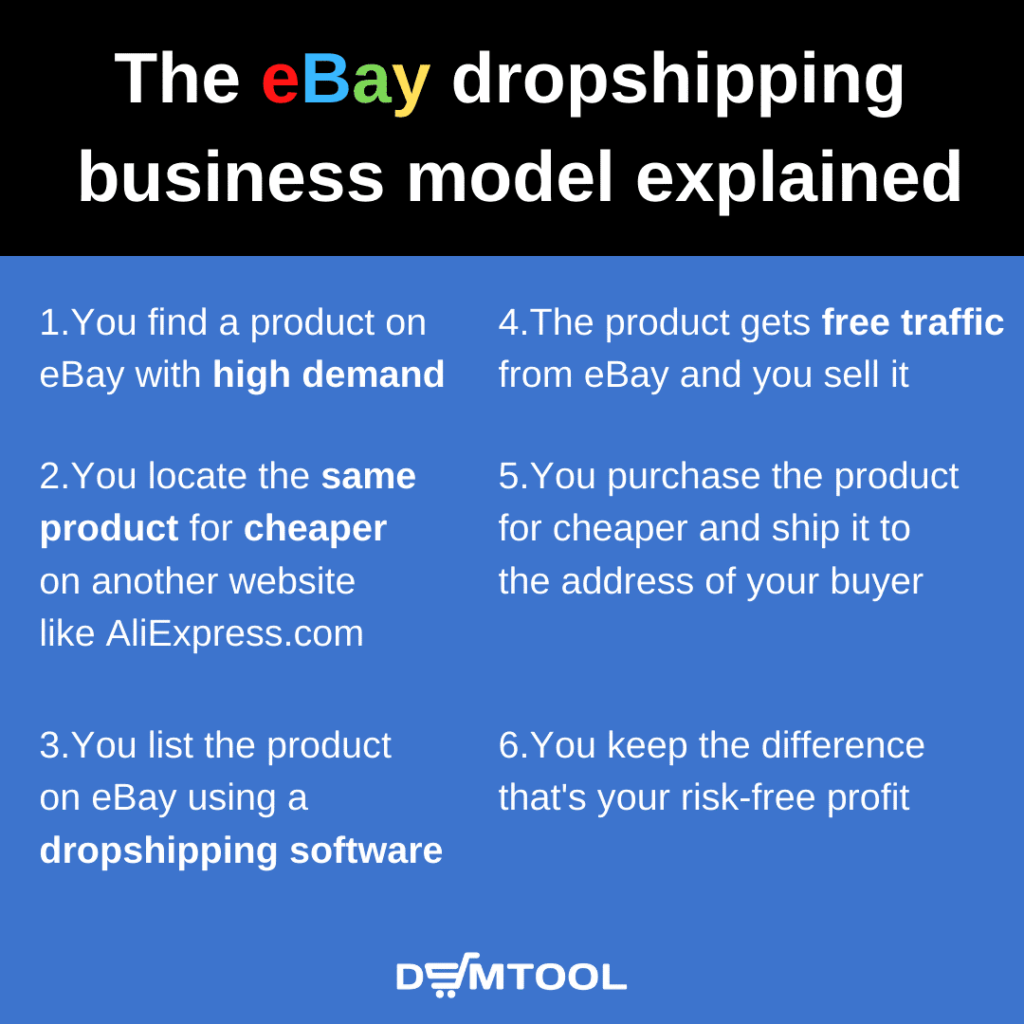 When doing eBay Uk dropshipping, it makes sense to do it with a dropshipping automation tool. It brings sellers the automation of the daily dropshipping tasks, such as finding what to sell, adding products to a store, optimizing the listings, syncing their stock together with price, and processing the orders. Some tools, such as DSM Tool, also will protect your store from violating eBay policies, eBay VERO program and notify you if you stop to be profitable in reselling some products. Other than that you, also can use it to list on your eBay selling account Uk already with optimized images, titles, etc. and filled item specifics. You can give it a try for free.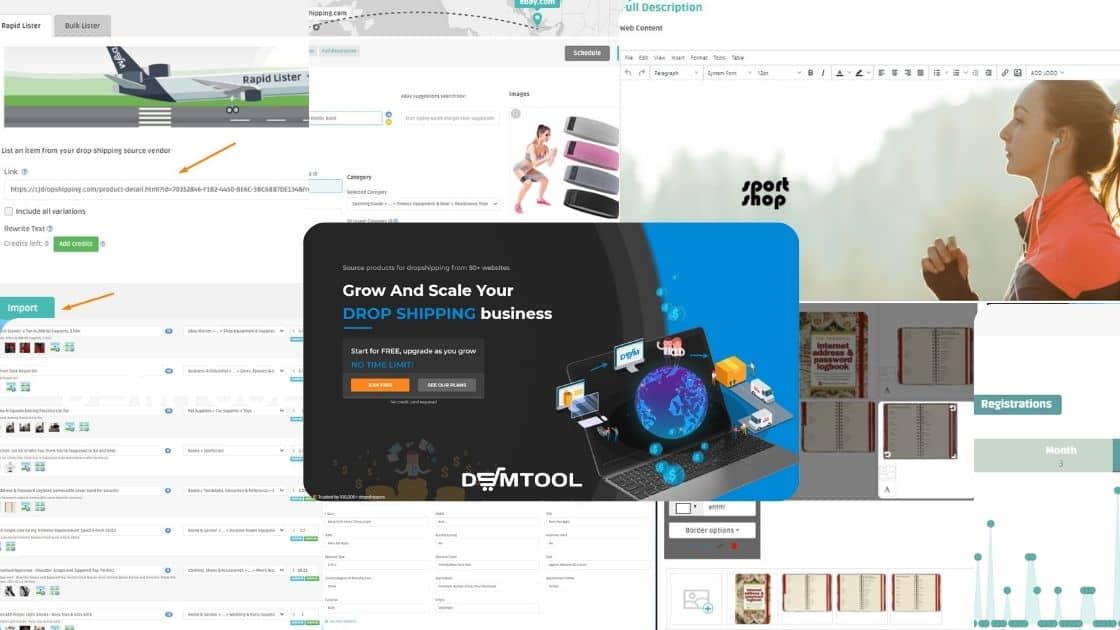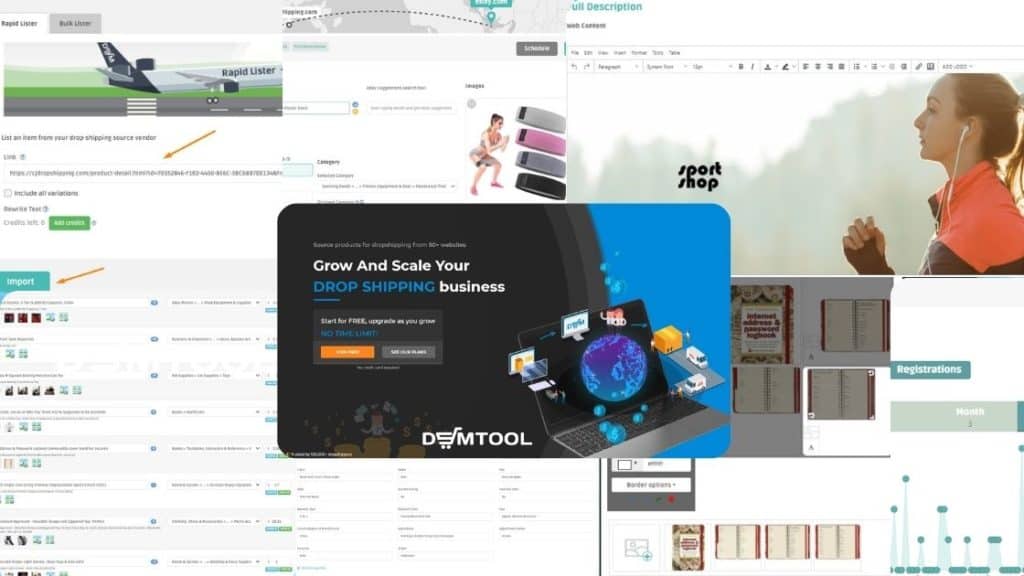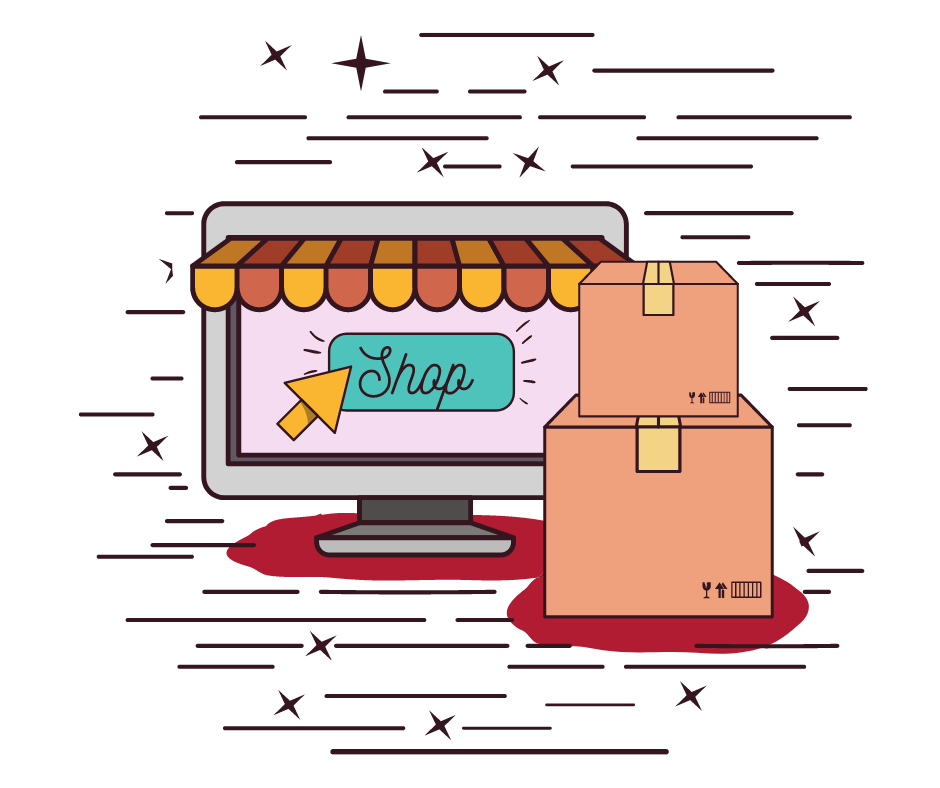 It's time…
Don't wait for success to come. Hire yourself and start your own dropshipping business
Here's a small list of profitable and accessible suppliers you can contact and start working with to sell on eBay United Kingdom:
Amazon UK:
It helps dropshipping sellers to connect with UK-based wholesale suppliers that conform to ebay.co.uk dropshipping policy.
It offers trendy products including popular brands. Furthermore, it is important to mention that the products it sells are mainly tailored for British buyers.
Avasam:
This is one of the domestic dropshippers for eBay UK. It's dedicated to automatizing overall store management, from order fulfillment, inventory update, payments execution, and shipping methods.
The best thing is that it has a direct integration service with eBay so that you can easily add as many products to the store as part of your listings.
AliExpress:
You can find more than 100 million products for eBay UK dropshipping. Not to mention that it offers high-quality products at an extremely low cost, this will definitely give you room for profits.
AliExpress offers a Dropshipping Center to sellers that helps with various different functionalities such as product research, wholesale product sourcing, a levels-based discount program, and dropshipping dedicated support.
Global Sources:
This Australian site is known as the leading international B2B marketplace. It also helps sellers to source products by connecting them with verified wholesale manufacturers and suppliers
Of course, there are many more great suppliers you can choose from. We can name you up to 20 best dropshipping suppliers in the UK, it is only a matter of searching and determining which is the best option for you and your business in the longhall.
CJ Dropshipping:
CJDropshippping is one of the top wholesale websites for dropshippers which is based in China. It counts about 400,000 products for drop shipping across various categories.
In the nutshell, it is a dropshipping platform that provides various dropshipping services including product sourcing, order processing, shipping services, product branding, customized packing, and some other useful features for the e-sellers.
Chinabrands:
You can find millions of dropshipping products on Chinabrands that can be shipped from 46 of their warehouses, located in the USA, Europe (UK), North America, Russia, and Australia. In addition to the wholesale prices, their products pass by a 3-layer quality inspection.
It is important to point out that they ship to 250 countries within 16-35 days (depending on the warehouse).
Gogomall:
GogoMall is a global online shopping platform for dropshippers with a mission to facilitate trade between worldwide buyers and Chinese superior suppliers.
This company offers diverse services such as: advertising, marketing, and promotion services, business management consulting services in the field of information technology, marketing, advertising, and promoting the retail goods and services, providing an online commercial information directory on the internet, online advertising on computer networks, sales management services and so on.
Additionally, every dropshipper is able to get the reselling agreement to sell GogoMall products on different eCommerce sites such as ebay.co.uk.
In terms of the products, Gogomall has 1000+ online products across the electronics, fashion, accessories, housewares, beauty & personal care, toys categories, and others. Moreover, they also offer a sourcing feature. So you can request a product you want from one of the 10,000 verified Chinese manufacturers that cooperate with Gogomall. And their team will personalize the item for you and check its quality.
TVCMall:
TVCMall is a China wholesale and dropship company that has been in the market since 2004. It's owned by a company called Shenzhen Tvc-tech Limited.
This wholesale supplier is a legitimate eBay wholesale supplier of unbranded electronics and accessories. Nonetheless, you can also find the items from other daily-updated categories like home & garden, toys, sport & outdoor, lights, health & beauty, baby & mother.
DHgate:
Dhgate is one of the top wholesale websites for Shopify and eBay UK dropshipping.
This company offers more than 30 million products across a big range of categories on its website. They offer free international shipping. However, DHgate has only warehouses in China. That's why the delivery time can take up to 35 days.
Bangalla:
Bangalla is a famous wholesale dropshipping supplier of organic and natural food products in North America. However, a lot of users take into account healthy and unprocessed foods in Europe. Especially in France and the UK.
The company offers around 700 brands over 125 product categories. Being acknowledged that drop shipping of food products is prohibited, you can list health & beauty, sustainable products, home, and decor products from there to your dropshipping store.
Furthermore, it is important to also point out the Bangalla loyalty program which has 3 plans with services varying from access to products to wholesale and dropshipping items, an extra 5% discount on all orders to the FBA services together with the logo addition. By the way, the item prices will vary whether it will be a wholesale order or dropshipping order.
Interesting tip: Create your own packaging.
When it comes to eBay UK dropshipping, it's not all about making sales but also creating and building your brand.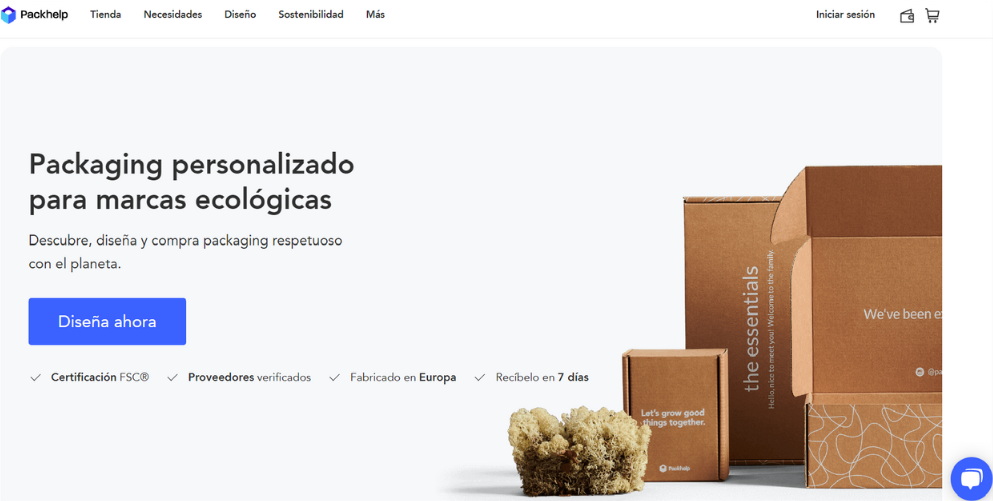 Part of your branding strategy should be reflected on the packaging of your products. Therefore, you can use a third-party website that allows you as a seller to choose what you need, enter quantities and sizes, upload your images and text, etc. Packhelp does the rest.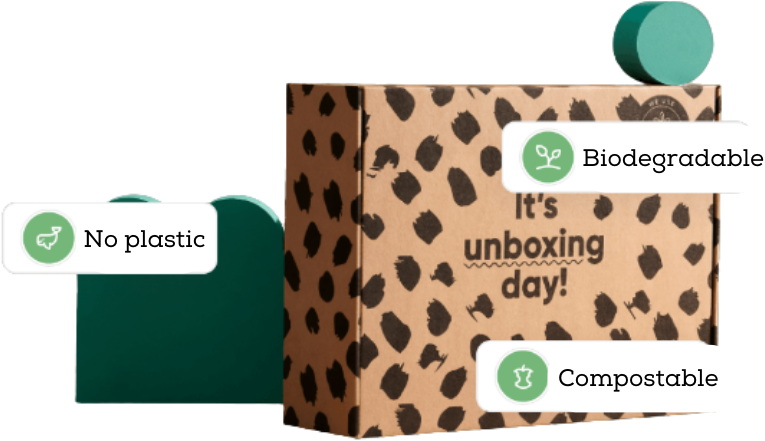 The products are made in Poland and shipped to customers all over the world. This is interesting because the products manufactured in central Europe will not only reduce shipping costs, but also
shipping distances.
How to organically boost your listing using eBay Search Engine Optimization (SEO)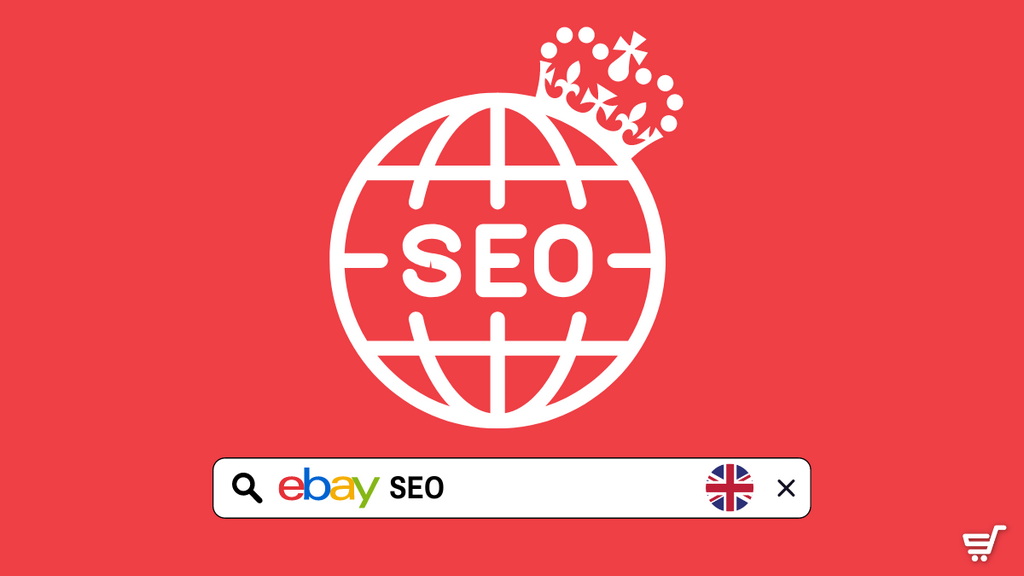 The top 5 activities you should consider when it comes to properly listing your products on eBay UK and gaining traffic momentum in your store are:
Describe your product.
Pick a suitable category of your product.
Add details in the description.
Select your selling format and the currency.
Specify the shipping options you will have.
Optimizing your eBay listings is key if you want to gain relevance in the marketplace without investing in Advertisement in order to bring more traffic into your store. In addition, it will certainly increase your seller metrics as well.
When it comes to eBay SEO, you first need to understand how the Market's algorithm works. The platform works with a search engine known as "Cassini" which basically is a portal to a database of information that enables eBay users to query its data using keywords and images.
Why is this relevant to this article? Well because you need to understand how the Marketplace stores and distributes data in order to showcase it on the results. It is also important to realize what kind of colocation data center is used and whether it meets your business capacities.
In other words, by understanding how the search engine works, you will be able to rank higher on the user search results which will allow you to get more impressions and clicks.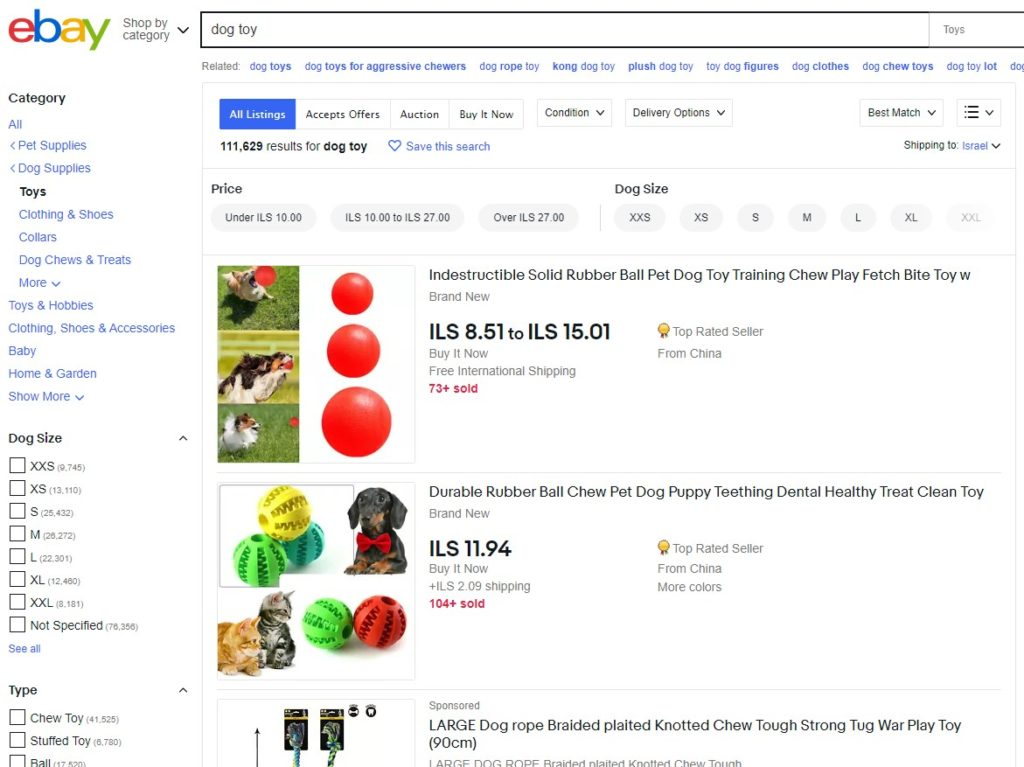 How does eBay SEO work?
By Optimizing your listings you will take an effect on the most important performance parameters on ebay.co.uk:
Impressions
Views (Click-through rate)
Sales (Sale-through rate)
Impressions are the number of times your listing appears in the search results.
Views (Click-through rate) are generated when a potential buyer clicks on your listing from the list of results they get on the first page.
Sales (Sale-through rate) is the number of sales you made from the total number of views of the product page of your listing.
Glossary:


SEO:
If you really want to rank as high as possible on eBay, take into account the following aspects:
Keywords: This is one of the most important aspects of SEO, it is all based on what the user is looking for on the search bar. Depending on the product you offer and the category you are in, you need to place relevant keywords in order for eBay's indexation process to present your listings to the users.
The way you use keywords are in the product's title and description. When it comes to building up your eBay listing's title, it is important to always use 2-3 relevant keywords on the left-hand side of the text. Then, you will need to long-tail keywords that will consist of you describing as much as possible the product that you offer, and be very specific in order to appeal to relevant users that will most likely buy from you.
For example, let's say you are selling a new headrest for office chairs. In this case, your 2 main keywords will be "New Headrest" followed by generic keywords in order to work on a longtail title that will describe the item.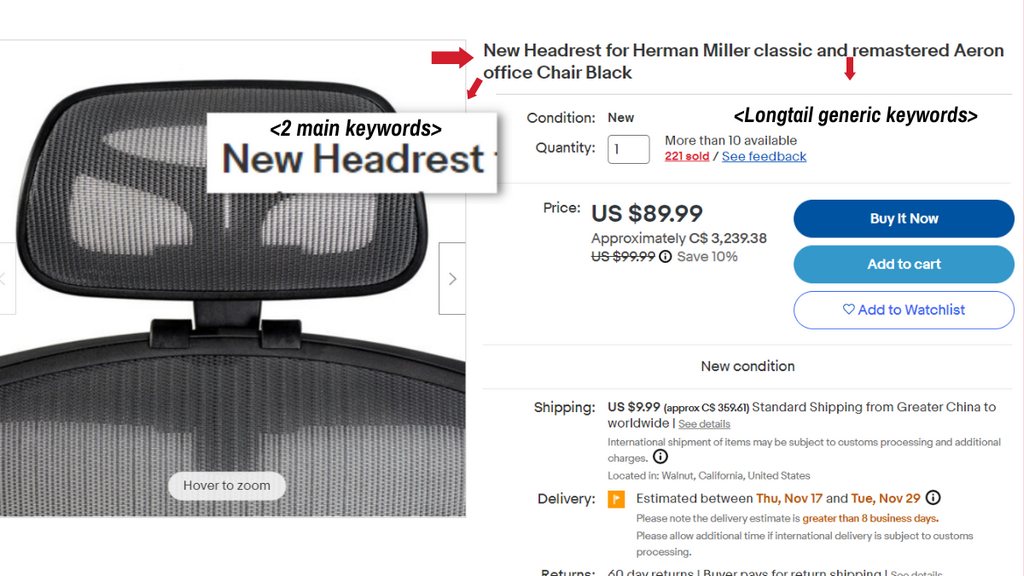 In a nutshell, a well-optimized title will enable eBay's algorithm to direct users to your listings letting them know what your product is about.
Furthermore, you can optimize your listings by adding the keyword to the product description as previously mentioned. You can use a variety of short- and long-tail keywords so you can target the exact search terms used by users when it comes to the exact product you offer or similar items on the website.
Product pricing: Due to the high competition level you will encounter on eBay when it comes to other independent sellers that will offer the same products as you, eBay takes into consideration the price you set for your listings. Being competitive when it comes to pricing is offering a product for a lower price in comparison to your direct competitors.
— You can also compete by offering a faster shipping method.
Sales history: The customers have access to information on your product page such as the sales history, how many of that item has been sold over a given period of time. eBay also takes into account this information, they are constantly evaluating your store on a monthly basis and part of your seller metrics are the number of times you finish a sale successfully.
This will certainly help you boost visibility since eBay will understand that your product has high quality therefore it will prefer to prioritize your store.
Store performance: Following up with the "Sales History" of a given product you offer, eBay reviews your store every month. They evaluate your listings, how many sales you make and most importantly, your customer service. If you have healthy seller metrics, eBay will boost your store's visibility since their goal is to offer the best experience to eBay customers.
Follow these tips to gain more traffic to your product listing on eBay United Kingdom.
Final thoughts: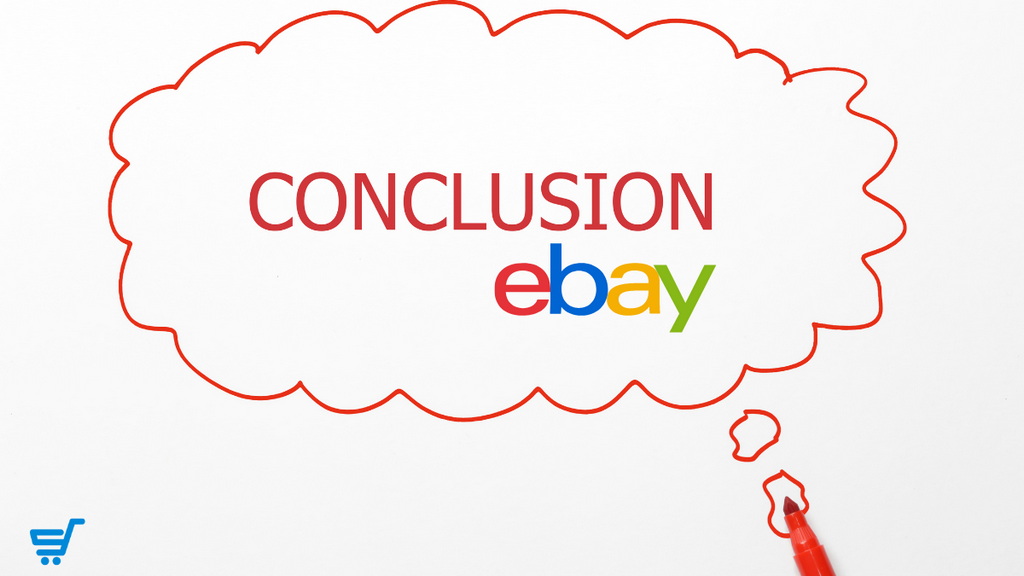 To wrap it up, ebay.co.uk is one of the most popular places for beginners to start selling. Though it is not easy to simply start succeeding, you need to really work on your listings, customer service, shipping & handling, etc. But the fact that it's so well-known helps a lot, as well as the simple, easy-to-use interface.
One of the best benefits of selling on eBay UK includes a wide variety of products up for sale and the potentially high returns you will make. Furthermore, eBay listings are generally more affordable compared to Amazon UK, for example, which provides a competitive edge.