42

min read
In this article, you will learn about the best Dropshipping Suppliers UK you can use for product sourcing in 2022, and what to consider when choosing the most suitable for you.
Finding the best suppliers for dropshipping might not be a simple task, but it is crucial if you want to be successful. Dropshipping from local (often called domestic) suppliers is always a better option: you get the fastest shipping possible (free, most of the time), simpler returns, and items are usually of higher quality than most products from China. It is also easier to establish long-term relationships with companies that operate in the local market: no language barrier, no time difference, and similar cultures (because of the geography) make communications more efficient and trustworthy. But It doesn't mean that your suppliers must be based in the United Kingdom – no matter where a company is located, it must have warehouses in the UK.
I will not discuss here what dropshipping is end everything related to it. If you are new to drop shipping and only looking to start, then make sure to check our What is dropshipping complete beginners guide.
Now, before moving to the list of the best dropshipping suppliers UK, we will look at what characteristics define if a supplier is good or bad.
What Makes a Dropshipping Supplier Good or Bad?
It is impossible to review all the suppliers available on the market, so knowing how to differentiate a good provider from a bad one is imperative. While these criteria are not 100% proof (because even a good company with plenty of positive reviews can worsen with time), they will decrease the chances of ending with an unreliable supplier.
Good Drop Shipping Suppliers
Not all suppliers are suitable for drop shipping – a retailer may be great for online shopping for regular customers, but it may have limitations that make it unsuitable for product sourcing. When choosing a dropshipping provider to work with, pay attention to the following criteria:
Trustworthy
A reliable dropshipping supplier must be trustworthy. You don't want to work with a provider who makes promises, like one-day order processing, but can't keep them. Since you rely on your suppliers so much in the dropshipping business, make sure you can trust them – your brand reputation depends on it.
Has fair prices
Making money is the primary goal of dropshipping. A supplier is useless if its pricing does not provide a good profit. Some suppliers offer special dropshipping agreements (also called reselling agreements) with better prices for dropshippers (like CJDropshipping, Costway, etc.).
Product range
A provider must have a diverse product selection so that you can pick and test a variety of products. Since you don't hold the inventory, you can experiment with different products to find your winning items.
It should be noted that some suppliers offer wider ranges of general products, while others specialize in specific niches, so you cannot compare suppliers directly if they target different markets.
Fast order processing
The top providers will process orders in one day, while others will take two days or more. This can make a significant impact because picking a dropshipping provider with short processing times can save you at least a day in estimated delivery time.
Safe payment method
Check whether a supplier accepts secure payment methods like PayPal, Skrill, Payoneer, etc. Customers tend to abandon carts if there are no secure payment methods available. Having options is good too.
Shipping and Return policies
Customers like having different shipping methods to choose from. Shipping should be fast, cheap, and have a tracking service.
Return policy is also important – the number of returns in eCommerce is high. Some suppliers accept returns for 30 days only, while others give customers up to 180 days. Some companies pay for returns, and others make you responsible for shipping costs. You will face returns sooner or later, so make sure you are secured before it happens.
Customer service
When there is an issue with a product or a delivery, it is essential to be able to contact your supplier and receive a quick response in order to keep your buyer informed. So, anytime you work with a new supplier, check their customer support by yourself. Pay attention to how quickly they respond via different contact channels and how professional a support team is.
These are general factors applicable to most suppliers, but you should also have your own criteria based on your business needs and specifications. For example, you might want to have custom packaging – not all suppliers provide it.
Bad Drop Shipping Suppliers
While you might think that the characteristics of a bad supplier are just the opposite of those of good ones, there are others indicators that you should be aware of.
Please note that these factors apply to wholesale suppliers only, not to retailers. Many dropshippers look for wholesale suppliers because they are usually more dropshipping-friendly, provide reselling agreements, and offer lower prices for their products. However, not all such suppliers are good. Here is how to detect a bad wholesale dropshipping supplier:
Ongoing fees
Wholesalers will not charge you a monthly fee to do business with them. This is usually an indication of fraud. Wholesalers should only charge you when orders are placed. Do not confuse this with paid supplier directories subscriptions.
Pre-order fees
So, what is the usual fee per order? $1 – $4 or more, depending on the product size and shipping method. Because you are probably doing wholesale and bulk orders, your packing costs are also lower. If they charge more, you can renegotiate or walk away.
Minimum order size
The idea is to limit the minimum amount you can buy with your orders. They do this to restrict window-shopping retailers, but it might be a problem for dropshipping businesses because your buyers may not require that many items.
Public selling
One of the most alarming signals is that they already sell items to the general public at "wholesale pricing" on their website. These companies will not provide you with the greatest pricing, so consider avoiding them.
Best Dropshipping Suppliers UK
And so, we have reached the list of the best suppliers for drop shipping in the UK. I've divided them into three groups:
General suppliers – Provide wide selections of all kinds of products.
Niche suppliers – Specialise in specific product categories.
Wholesale suppliers and directories – Companies that deal in wholesale selling. Suppliers directories are catalogs where you can find wholesale suppliers.
The list includes some of the best dropshipping suppliers UK you can work with in 2022. Please note that it is impossible to review all the companies, but these 20 are good all-around choices.
The Best General Dropshipping Suppliers UK
By working with these companies, you can open a good general dropshipping store, which is advisable for dropshipping beginners. The way general dropshipping stores make money is by riding the upside trend of products. Instead of building an entire website for a single product, for each product that they want to sell, they build one website to host all of the products. So, here are some of the best general suppliers for drop shipping in the UK.
1. AliExpress (UK warehouse)
Probably the first supplier that comes to mind when thinking about dropshipping. AliExpress is one of the world's largest eCommerce websites. It's a part of the Alibaba Group and has more than 200 million active users around the globe. The best thing is that you can discover manufacturers for almost any product, all at a low cost.
If you thought that AliExpress ships from China only, you are wrong. They have warehouses in multiple countries around the world, including the UK.
Advantages:
Low prices – AliExpress is famous for some of the cheapest products in the world. It allows you to make good profits, but only if you find high-quality items.
Product range – You can find almost anything in one place, which is very convenient. Even if you do not know what to sell, just browse through AliExpress and you might get some ideas.
Cheap shipping – Usually, AliExpress shipping counts as one of its main disadvantages due to long delivery, but because you are going to source locally, shipping will take 2-7 days at the lowest costs.
Disadvantages:
Low quality – Most items come from unknown brands without proper quality control. Of course, there are plenty of Chinese brands that offer amazing price-to-quality ratios, but you need to find them first. In addition, you need to put effort to find good Aliexpress sellers.
Here is how you can search for items shipped from the United Kingdom warehouse:
2. CJDropshipping (UK warehouse)
CJDropshipping is a Chinese company that provides a one-stop solution for dropshipping. They source products, process and fulfill orders, and ship to buyers.
CJDropshipping stock products from every imaginable category and even offer print-on-demand. In addition, they provide warehouse services, photography and videography, an affiliate program, API support, and other value-added services. Thus, CJDropshipping is like a mixture of Aliexpress and Oberlo.
Their products are often cheaper than what you'll find on AliExpress, and they can also source products on your demand. Besides, CJ Dropshipping performs the product's quality checks to ensure high quality.
Advantages:
No commission – One of the advantages of CJDropshipping is the lack of commission, which also makes it a good free dropshipping supplier. There is no minimum order, monthly subscription, or storage fee, and no fees for the item sold.
Sourcing – One of the main advantages of CJDropshipping. They can source products not listed on the website by request. It allows you to buy products from different Chinese suppliers that don't have English support, like Taobao.
Additional services – Warehouse services, photography and videography, print-on-demand, custom packaging and branding, and more.
Quality – This is so important that I decided to highlight it. They check products before shipping to ensure that items meet your requirements.
Disadvantages:
Limited (comparably) product range – As CJDropshipping is a relatively young company, it offers a limited number of items for dropshipping. To be more specific, they browse approximately 400 thousand products. Therefore, the number of available products is smaller than, for example, in Aliexpress. On the other hand, they add products on request.
Small products dropshipping – The shipping fees for oversized products are high, and a whole listing can be not so profitable.
You can browse the CJ Dropshipping UK warehouse here: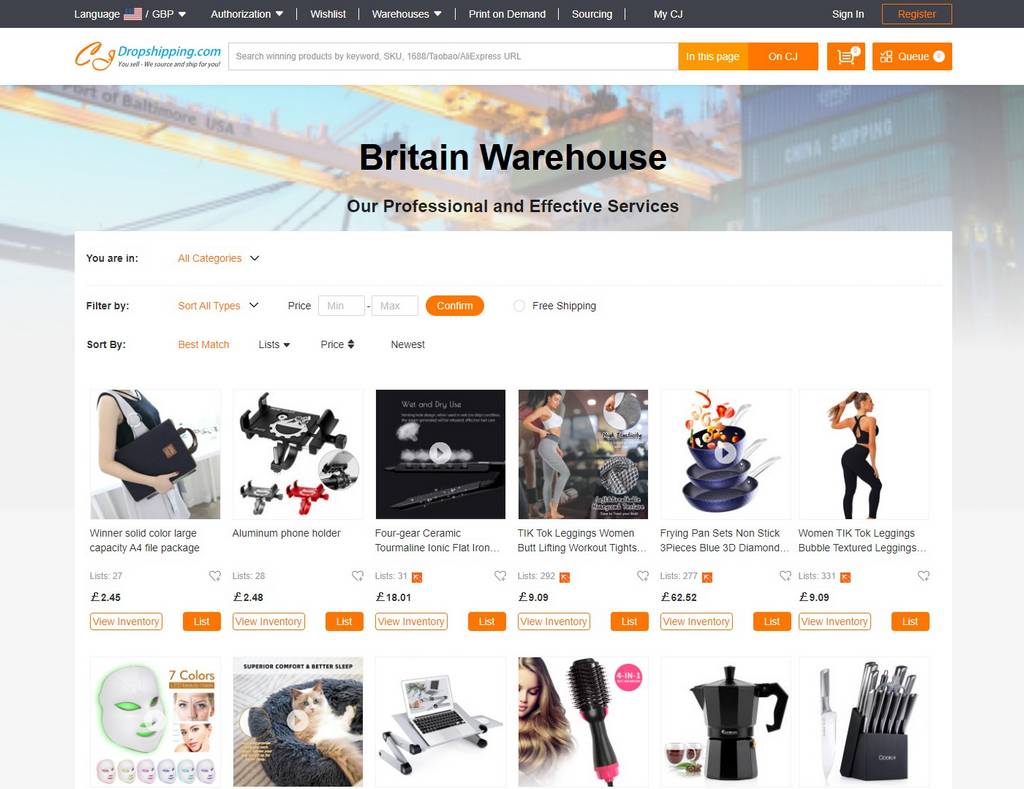 3. Costway UK
Costway UK offers over 2000 products shipped from 2 large warehouses in the UK only. This is one of the most varied and versatile suppliers you can source from. Their primary categories are Furniture and Home & Garden, but they also deal in Sporting Goods, Animals & Pet Supplies, Health & Beauty products, and many more.
You may find their pricing higher than that of other providers, but Costway UK offers free mainland shipping via DHL or XDP, and their prices already include 20% VAT. Even better, they have a dropshipping program with discounts for dropshippers and the right to use images of Costway UK products (except the first picture of each product used on costway.co.uk).
You can find more information about Costway UK Dropshipping here:
Advantages:
Dropshipping program – One of the main reasons for enrolling in their dropshipping program is that you get a dropshipping agreement that enables you to resell on eBay without any restrictions. Dropshipping discounts are great too.
Fast and free shipping – Fast (2-4 days) free shipping with tracking via DHL is a great advantage. Of course, there are some limitations you should be aware of.
Disadvantages:
Limited product range – They specialize primarily in Furniture and Home & Garden. While products from other categories are available, other sources like AliExpress have wider selections of goods.
Branded packaging – They deliver packages with logos and marketing materials (not always) in them. However, they don't include any invoices in the packages.
4. Wayfair UK
Wayfair, an American online retailer, is one of the largest home products suppliers in the world. They operate 18 fulfillment and 38 delivery centers across the US, Germany, Canada, and the UK that house over 33 million products related to furniture and decor.
Similar to Costway, Wayfair focuses on home furnishings and decor. While they have a limited number of product categories, the offer in each category is better than what you can find from most suppliers, even Amazon. These are the categories they specialize in:
Furniture
Outdoor
Lighting
Décor
Textiles & Bedding
Rugs
Kitchen
Storage
Baby & Kids
Home Improvement
Appliances
Mattresses
Pet
Regretfully, they do not have a dropshipping program for resellers. You can enroll in Wayfair Professional program – a special membership that unlocks such perks as new sales offers every day, a personal account manager (an industry expert), commercially rated products, hand-curated collections for exclusive brands, and complimentary design services.
It should be noted that Wayfair UK offers free shipping only for orders over £40. For all other orders, delivery costs £4.99. Not an issue if you are doing high-ticket dropshipping.
Advantages:
Exclusive products – Many of their products don't have competitors or analogs in Chinese markets. It gives the opportunity to offer more unique and not saturated products in your online store.
Multichannel dropshipping – You can dropship from Wayfair international sites to different eBay marketplaces (Wayfair US > eBay US, Wayfair UK > eBay UK, etc.). This allows you to reach customers from different countries with the same supplier.
Disadvantages:
Limited product range – Just like Costway, their product stock is limited to home-related products, but they dominate their niche.
No free shipping for small orders – They offer free shipping only for orders over £40. For all other orders, delivery costs £4.99.
5. Asda
Asda is a British supermarket retailer founded in 1949. They offer a wide range of products and services ranging from groceries and clothing to furniture, optics, and tires.
They have several businesses (even mobile services and different kinds of insurance) but as a dropshipper, you might be interested in the following categories:
Asda Groceries – All kinds of food. They have a wide range of their own brands, many of which are award-winning: "Smart Price" (basic essentials at the lowest prices), "Farm Stores" (meat), "Little Angels" (baby care essentials), "Little Kids" (foods for kids), "Plant-Based" (vegan, vegetarian, plant-based products), "Hero" and "Tiger" (foods, treats and accessories for cats and dogs), and many more.
George Clothing – Asda offers a really huge selection of clothes across dozens of categories and sub-categories for Women (Clothing, Shoes, Nightwear & Slippers, Lingerie, Maternity ), Men (Clothing, Shoes), Kids (Boys, Girls, School, Character Costumes), Baby (Boys, Girls, Maternity, Nursery, Travel).
George Home – Bedding, Home Accessories, Furnishings, Bathroom, Cooking & Dining, Kids Bedroom, Appliances, Cleaning & Storage, Lighting, Furniture, and Pets products.
Outdoor & Garden – Garden Furniture, BBQs & Heating, Garden Ornaments & Decor, Outdoor Dining, Outdoor Toys.
While Asda doesn't offer free shipping, delivery options are fast and cheap. They offer Asda Express Delivery for groceries which costs a flat fee of £8.50 per order for the same-day delivery without a minimum spend. For George (Clothing, Home, Outdoor & Garden) you can choose Standard 5-7 days delivery for £2.95, Next day delivery for £4.50, or Named day delivery starting from £4.50.
Advantages:
Value for money – Asda sells high-quality products for their price. Be it groceries, clothes, or home products – you can find winning items for different kinds of niches and audiences. They offer both budget and premium products at fair prices.
Wide range of products – The number of categories is limited due to Asda being focused on specific niches, but the offer for each category is great. For example, you can find maternity, post-surgery clothes, and bride & groom outfits under their clothing categories.
Disadvantages:
Delivery – According to online reviews, Asda has issues with deliveries being late. It should be noted that most negative reviews relate to groceries deliveries.
Outdated prices – Many online users complain about prices for food products being outdated for a week or more. Price differences are low, but this can hurt your business.
6. Amazon UK
Amazon is the most popular eCommerce platform in the world that offers more than 75 million products within all its marketplaces in 2022. Dropshipping from Amazon to eBay is a common practice that started around 2011; some say that even before that. However, Amazon is not dropshipping-friendly. All their packages contain Amazon logos and invoices. You can mark the order as a gift, and the package will not include the invoice, but you cannot avoid Amazon logos on packages. Still, it is immensely popular as a dropshipping supplier in all markets (US, CA, UK, DE, FR, etc.).
People use Amazon as their dropshipping supplier because this e-commerce giant offers anything under the sun with guaranteed 2-day shipping and reputable buyer protection – no other dropshipping supplier can match that.
Advantages:
A huge number of products – Amazon sells millions of products from all imaginable categories. No matter what you want to sell, general products or something specific, it can be found on Amazon.
2-day shipping – Amazon is famous for its 2-day free shipping, which is a huge advantage.
Disadvantages:
Popularity – It is the same as with AliExpress. Amazon is extremely popular, which means a lot of people reselling from it, which means higher competition. Most products you can find on eBay are either sourced from AliExpress or Amazon.
Inventory updates – Another consequence of the popularity of the platform. There are a lot of sellers on Amazon that compete for the same products – you can see that most items have multiple offers, prices and delivery options. It causes products to change prices and stock constantly, sometimes a few times a day. It makes it very difficult to manage your inventory as it requires constant prices and stock checks. This issue can be partially neglected by using dropshipping automation software.
Amazon Prime policy – Amazon doesn't allow using its Prime membership program for reselling its products. Dropshippers, especially with high numbers of daily orders, get their Amazon accounts banned all the time.
7. TekBox
TBTrade, also known as TekBox, is a UK-based retail company that offers a wide range of items such as computer accessories, homeware, tools, sports, and pet products. They pride themselves on supplying their customers with "Retail Products at Trade Prices".
While their product range is diverse, it is somewhat limited to 10 main categories:
Home Essentials
Sports & Gym
Phone Cases
Computer Accessories
DIY Tools
Bicycle products
Toys
Car & Motorcycle products
TV Brackets
Pets items
They also have a dropshipping program with discounts for approved accounts. It is free to join, and there is no minimum order requirement. It should be noted that TekBox prohibits reselling their items on Amazon to protect their brands and revenue in this marketplace. They also offer free shipping for all products on their website, and pricing already includes VAT. Shipping takes from 2-3 days up to 5 business days during busy seasons. They also offer a Next Working Day service for an additional £4.99.
Advantages:
Dropshipping program – Dropshipping agreement is always a plus, and better prices are advantageous for making good profits.
Free shipping – Free 2-5 days shipping for all items without minimum order requirement is super great.
Top quality – Product categories are limited, but the company focuses on quality. Their presence on Amazon only confirms this.
Disadvantages:
Returns – You have only 14 days for returns. It is the same if products are defective or you received an incorrect item.
Limited product range – You can choose products from 10 categories only.
8. DHGate (UK warehouse)
Founded in 2004 by Diane Wang, DHGate is one of China's largest B2B cross-border e-commerce platforms. Actually, it supports both B2B and B2C platforms. Based in Beijing, DHgate is an independent marketplace for wholesalers and dropshippers with digital trade centers all over the world. There are over 2 million sellers on the platform from 222 countries and regions with more than 30 million product listings.
The company can provide you with all kinds of products at low prices, most items with no minimum order quantity limit.
Advantages:
Quality control – DHgate has a quality control team that checks for illegal and counterfeit products constantly.
Buyer protection – Full or partial refund if the items are not as described.
Free shipping – DHgate offers free delivery with tracking. It is faster than from AliEXpress in most cases. Usually delivery takes up to 3 days from local warehouses.
Disadvantages:
Product range – The number of products available is much lower than that of AliExpress, especially when sourcing from local UK warehouses.
Minimum order quantity – Many products have a minimum order quantity.
Here is how to source from local UK warehouses:
9. VidaXL UK
VidaXL is an international online retailer, headquartered in Venlo, Netherlands. The company was founded in 2006 by two young Dutch entrepreneurs, Gerjan den Hartog and Wouter Bakke, with the idea of providing quality products affordable online. VidaXL offers a vast range of products from such categories like: furniture, home & garden, hardware, sporting goods, animals & pet supplies, vehicles & parts, and many more.
Advantages:
Dropshipping program – The company has a drop shipping program that gives you access to over 90000 products across the US, Australia, and EU. They also handle returns by themselves. You can check their terms here.
Free Shipping – They offer free delivery for all products on their websites, both small and large items.
Returns – VidaXL offers free returns for almost all of its products which is not a common practice. You have 30 days to return their products, and they will cover shipping costs.
Disadvantages:
Subscription fees – their dropshipping program membership costs €30 per month. It is not much, but it might be an issue if you are starting on a low budget.
10. Aosom UK
Aosom (pronounced as "awesome") is an online retailer since 2009 with warehouses in the US, Canada, UK, and across the EU. Aosom UK sells a wide range of Home Goods, Garden & Outdoor items, Office, Sports & Leisure, Pet Supplies, Health & Beauty, Car products, and many more in the UK and Ireland across six of their brands: HOMCOM, Outsunny, Pawhut, Vinsetto, Kleankin, and Durhand.
Advantages:
Dropshipping program – Registered UK businesses can apply for Aosom Business Program with discounts for dropshippers up to 25% and the ability to purchase in bulk.
Free Shipping – Their free shipping services are great: 24 hours dispatch (except on weekends and bank holidays) and 1-5 working days mainland delivery.
Disadvantages:
Returns – While Aosom gives up to 30 days from delivery to return any products, you have only 7 days to return damaged items.
Best Niche-Based Dropshipping Suppliers UK
Niche-focused stores specialize in selling a specific group of products, sometimes the whole shop is built for 1 product only. Carving out a niche market and promoting yourself as the go-to brand for a narrow group not only increases your credibility but also leads to a more concentrated business as well as solid item selling. Here are some of the best niche-based dropshipping suppliers UK to work with:
11. Pinbadges
Pinbadges is the UK's top pin badge manufacturer with over 20 years of experience making custom enamel pins. They provide exquisite craftsmanship and production methods with expert advice and cost-effective quotes. Pinbadges offers a wide range of pin types and a variety of processes and components to choose from:
custom hard enamel pin badges;
custom soft enamel pin badges;
custom die-struck pin badges;
custom 3D pin badges;
custom antique badges;
custom printed badges.
Their flexible quoting system makes product design and order placement easy and efficient, with virtually no style or design restrictions. Great for souvenirs, promotional items, or any other occasion.
Advantages:
No minimum order — They have no minimum order – you can start with 1-piece order.
Free design service — They have hundreds of gallery templates to design your own when you shop for products. And if you need something specific, they offer free design services and unlimited revisions by their professional design team.
Free Shipping — Free air shipping to all custom pin badges order, combined with great pricing.
Disadvantages:
Limited product range — Their products are limited to those related to promotional gifts, but they dominate the niche market.
Lengthy lead time for custom products — Their lead time is about 1 to 4 weeks, as they are custom products, depending on the complexity of the process and the quantity ordered.
Printful is a leading print-on-demand and drop shipping fulfillment service that offers over 300 different customizable products such as t-shirts & tank tops, hoodies & sweatshirts, bags, hats, jewelry, phone cases, wall art, mugs, posters keychains, and many more. Add the fact that Printful has fulfillment centers all over the world and you get one of the best suppliers with top-quality products and fast shipping.
It should be noted that Printful is one of the more expensive print on demand companies, but this is the price to pay for high-quality products of your own branded designs.
Printful can be integrated with all modern eCommerce platforms. Whenever someone buys something from your store, the vendors on the other end of the app will automatically print and submit the order on your behalf.
They offer monthly discounts (based on your previous month's sales volumes), bulk discounts (at least 25 of the same item), no order minimums, and no monthly fees.
Advantages:
Product quality – The overall quality of products you can find on Printful is higher than that of its competitors. Of course, you need to order a few samples first to be sure.
Fast shipping – While they don't have free shipping, their delivery services are superior. They deliver products between 2-4 business in the UK and up to 15 days to other countries that don't have Printful fulfillment centers.
Product range – They offer over 300 different products. Their closest competitor Printify offers around 250.
Disadvantages:
Product pricing – Their pricing is somewhere in the middle when comparing it to competitors. While you still can make good profits with Printful, you can get lower prices from its alternatives. Still, I think their pricing is fair considering the high quality of goods and fast delivery.
13. Puckator Dropship
Puckator Dropshipping is a UK-based company with two decades of experience supplying dropshippers with all kinds of giftware. It is one of the most well-known and reputable giftware and home decor dropshipping suppliers UK with hundreds of products under each category they offer:
Souvenirs & Seaside
Fashion & Beauty Accessories
Aromatherapy
Candles & Candleholders
Dreamcatchers
Homeware
Kitchenware
Incense
Jewelry & Accessories
Mugs
Toys
These are just a few of their categories to show how diverse their products are. They offer all kinds of figurines (dragons, fantasy, oriental, Egyptian statues, etc.), gift bags and boxes, keyrings, dishes, and everything people give.
The company updates its stock constantly and ensures that products shown on the website are always in stock. You can register for free – no monthly fees, no minimum order requirements.
Advantages:
Product quality – The products they offer are of high quality. The company knows that people buy their products for gifts and makes sure that buyers are satisfied.
Product range – Puckator Dropshipping is not only about mugs – they offer just about everything people might want to give.
Disadvantages:
Shipping – There is no free shipping. Also, the shipping costs are variable – you can see them only after adding products to the cart.
14. Go Dropship
Go Dropship is a Chinese dropshipping company that moved its stock to a UK warehouse in order to improve its customer service. This allowed them to reduce delivery times for the UK from 5-12 working days to 2-7 working days. Go Dropship offers products from a variety of categories like:
Home & Garden
Sports & Outdoor
Health & Beauty
Clothing & Fashion
Toys & Games
Electronics
They deal mostly with home products and electronics. The quality of products and prices are similar to AliExpress, so it is best to try merchandise before reselling it. Their services are free to use – there are no membership or warehousing fees.
Advantages:
Shipping – Shipping is free, except for delivery to remote regions. You can check here. Shipping times range from 2 to 7 business days.
Packaging – Go Dropship sends blank packages without sender info.
Disadvantages:
Product quality – All the products they sell come from China and might not meet the stated quality. It is best to order and try products before listing them on your website.
15. Baumhaus
Baumhaus is a UK-based company that prides itself on offering one of the best selections of wholesale furniture in the United Kingdom. The company designs and manufactures its furniture in-house from its facility in Heyford Park.
They have furniture collections to suit all mid to high-end consumer needs. The company offers modern and innovative, as well as more classic and traditional designs.
Advantages:
Quality – Their products are of the highest quality and have up to 5 years of warranty.
Delivery service – Baumhaus owns Kinetic Logistics with a fleet of modern vehicles. They provide free delivery for all their products within five business days.
High-end product imagery + 360-degree view – All their photography is carried out by well-known lifestyle photographer 'John Selby'. They provide all of their images in a variety of resolutions to suit your requirements. Plus, you can get 360-degree imagery of every product and use in your store.
Disadvantages:
Product pricing – Baumhaus aims at mid and high-end consumers, and their products and services are of high standards. This results in higher product prices.
Trade account – Before you make your first purchase, you have to open a Trade account.
16. Power Body
If you want to start dropshipping fitness products, take a look at Power Body. This UK-based fitness supplement supplier is one of the largest manufacturing and distribution organizations with more than 7000 health and wellness products in stock. Power Body is both a retailer and wholesale distributor, plus it has a dropshipping program, making it an excellent dropshipping supplier.
Keep in mind that Power Body requires you to be registered with HMRC, and you will need a professionally made e-commerce store with an existing inventory of at least 100 fitness products if you want to source from this supplier.
Advantages:
API integration – Power Body integrates into your online store via API, so everything from inventory updates to order processing is automated. They even provide IT support for medium and large online shops (10+ orders per day minimum).
Branded packaging – The company offers branded invoices, packaging and labels, so your customers will think that a package arrived from your warehouse.
Disadvantages:
Requirements – You need to register with HMRC and have a relatively large dropshipping store to qualify for reselling Power Body products.
Best Dropshipping Wholesalers UK and Suppliers Directories
Here is the UK wholesale dropshippers list with some of the most long-established and well-known companies on the market. You can't go wrong with them.
17. Wholesale Deals
Wholesale Deals, launched in 2004, is a long-established player in the UK eCommerce business. It is a dropship and wholesale directory service that gives you access to suppliers of products from different industries on a subscription basis. Simply put, this is a huge catalog of suppliers that you can source from. There are over 400 thousand genuine and trustworthy suppliers you can contact and work with.
Wholesale Deal's main features are Wholesale Deals Deal Tracker and Wholesalers Database. Wholesale Deals Deal Tracker is a tool that allows you to browse the latest, most profitable product offers from wholesalers. It also gives you an accurate estimate of your profit, based on the deal's minimum order quantity, recommended retail price, and current selling prices at leading online retailers and auction sites. Wholesalers Database Access Subscription gives you access to thousands of verified distributors, wholesalers, and dropshippers, to give you the edge when sourcing products. You can purchase each subscription separately or subscribe to a combo plan. Wholesale Deals offers a money-back guarantee if you get into any trouble with a supplier.
Advantages:
Experience – The company has almost 20 years of experience in the eCommerce business, and they share it for a small subscription fee.
Money-back guarantee – If a supplier fails you, the company will refund you money.
A huge number of suppliers – This UK wholesale dropshippers list has over 400K suppliers in the database, and around 300 new companies register every week.
Disadvantages:
No integrations – This is just a catalog that you can use to find dropshipping suppliers UK, but it doesn't provide any kind of integrations.
18. The Wholesaler UK
The Wholesaler UK is another dinosaur long-established e-commerce company with more than 20 years of experience. It was started back in 1999 when hard copy was the advertising medium of choice for many companies.
The company's idea is not to compose the longest list of wholesalers but to build the most trustworthy supplier directory. All suppliers on the website are strictly selected and vetted personally. According to the company, they turn away more than half the people who contact them for listing.
Advantages:
Experience – Similar to Wholesale Deals, The Wholesaler UK has decades of experience in the eCommerce business.
No fees – The Wholesaler UK provides services for free, there are no membership fees.
Disadvantages:
Prices are hidden – Pricing for the products is only available upon request.
19. MX Wholesale
MX Wholesale, founded in 2001, is a UK-based online wholesaler and pound shop supplier. They become one of the leading wholesalers and importers of discounted products in the United Kingdom for a wide variety of clearance shops and pound stores across the country. The company supplies best-selling items from well-known brands at the lowest prices.
MX Wholesale offers a wide range of products including, branded toiletries, makeup, health & beauty products, housewares & accessories, kitchenware & kitchen accessories, outdoor & garden tools, DIY supplies, toys, stationery, camping equipment, party supplies, etc. Their main categories are:
Home & Garden
Health & Beauty
Stationery
Toys & Games
Clothing
Food & Drink
Pet & Leisure
Party & Seasonal
Cleaning & Hygiene
The company buys bulk quantities of products and deals directly with manufacturers and major suppliers to get the best prices and minimize intermediary costs by avoiding middlemen. They offer free Mainland UK shipping for all non-pallet orders over £200 and pallet delivery orders over £550.
Advantages:
Top brands – The company deals with well-known and established brands like Ariel, Bic, Cif, Dove, Durex, Fairy, Gilette, and many more.
Low prices – MX Wholesale has some of the lowest prices for top-quality products. This is achieved through big bulk purchases from manufacturers without middlemen. Low prices mean bigger profit possibilities for you.
Disadvantages:
Wholesale purchases – The company does not offer dropshipping services for individual items. All products are purchased in packs.
20. eSources
eSources is one of the UK's largest directories of verified wholesale suppliers, dropshippers, wholesale offers, and trade leads. It is obvious by the look of their website that they've been in this business for a long time; since 2005 to be precise.
While eSources advertises to be the largest supplier directory, the company makes sure to prevent middleman dropshipping sellers from being added to their catalog by a thorough examination process.
Advantages:
One of the largest directories – The directory started in 2005 and continues to grow. This UK wholesale dropshippers list gives access to over 170K listings for you to browse.
Disadvantages:
Outdated website – Just look at the pictures. I'm sure the website looked the same back in 2005.
You can use the catalog for free or subscribe to get access to premium features. You can browse both local and international suppliers, all sorted by product categories.
21. Geko Products
Founded in 2014 by Clare & Chris Cheetham, Geko Products is a family trade only wholesale supplier of unique selections of products like:
Vanity Cases
Artificial Plants
Furniture
Trinket Drawers
Homeware
Clocks
Giftware
Geko Products supplies a wide range of businesses across the UK, including both bricks & mortar and online or dropship businesses. Their warehouse in Nottinghamshire holds thousands of products in stock and new products are arriving all the time.
Their dropshipping membership costs £30 + vat for the annual membership. It should be noted that dropshipping prices are higher than the trade prices shown on their website (the trade prices are for bulk pallet deliveries to shops and warehouses). The company offers free shipping for orders above £9.99 excluding VAT.
Advantages:
Unique product selection – The products they offer are unique and of high quality. It is not something you can find in other suppliers.
Customer service – The company is not looking for a quick sale, they are interested in building a lasting relationship and supporting your business as it grows. Providing excellent customer support & service is a key focus for them.
Disadvantages:
Dropshipping prices – Pricing for dropshippers is higher than the trade prices shown on their website.
Membership fees – £30 is not much for the annual membership, but you have to pay them right away to start working with Geko Products.
Tips for Finding Dropshipping Suppliers
Finding a dropshipping supplier is one of the most vital but also one of the most complicated aspects of this type of business. It is the make-or-break decision for every drop shipper, which will either helps to succeed or fail in e-commerce. Here are some tips to help you find the best suppliers for drop shipping in the UK:
Check reviews
It should be your first step. If a provider has reviews, see what customers say about the quality of their products and customer support. It can give insights into how customers perceive your own quality when you will sell those products yourself.
Check policies
I already described the importance of paying attention to shipping and return policies when looking for a good supplier, but it is worth mentioning again. Because the supplier's policies will apply to you and your customers, you must understand how they handle defective products and missing packages, process returns and refunds.
Pay attention to fees and hidden costs
While suppliers should not charge fees for doing business with them (otherwise, it is a fraud), there might be fees for order processing or custom packaging. You need to calculate all the expected costs ahead to avoid possible surprises and make the most profit.
Try the merchandise
You should order the products you intend to resell before listing them in your store. This way, you will check the quality of products, shipping speed, and packaging. Many dropshippers ignore this crucial step, but you should not. This way, you can be sure of the services you will provide and make corrections or improvements to the process if needed. If a supplier doesn't meet your standards, look for another one.
Dropshipping automation
While there are successful 1 product dropshipping stores on the market, most dropshippers sell hundreds of products and more. Managing vast inventories is difficult and time-consuming, even if you employ the help of virtual assistants or work with partners.
Look for suppliers that support integrations with all the modern eCommerce platforms for dropshipping and automation software that will help scale your business as it grows.
Search on dropshipping directories
Dropshipping directories are, simply put, giant databases with manufacturers, wholesalers, dropshippers, auctions, etc. One of the main advantages of such catalogs is that you can narrow the search based on multiple criteria like supplier location, product categories, etc.
There are free and paid dropshipping directories – you can try both but be aware that some companies might pay for getting into a list, even fraud.
Final Words
When working with dropshipping suppliers, try building long-termed, trustworthy relations. Understand that your business heavily depends on your providers in almost every aspect regarding product quality and order processing. Good communications are vital. Show that you value their business – they might repay with better terms like better prices or lower minimum order quantity numbers.
While it is wise to build good relations with a supplier, I advise you not to rely on a single provider. The main reason is the safety of your business in case something happens with your supplier. You won't risk losing all your stock at once if you source from multiple suppliers. Do not put all your eggs in one basket.
Also, with access to different stock providers, you can diversify your product range and get more competitive prices. The pricing could differ from one source to another for the same products. Employ multiple providers to get the benefits of all of them while neglecting the drawbacks of each one.
Now you know how to find your ideal dropshipping provider and have the list of the best dropshipping suppliers UK. Know good UK dropshipping suppliers that are not on the list? Let us know in the comments!