16

min read
Dropshipping local products usually mean faster shipping and better return opportunities but also higher competition and the risk of violation of brand rights. International product sourcing mostly from Asia will allow you to source for lower prices, but it is the level of service and shipping times that will be harder to compete with. So, how to make the decision from where to purchase the products you resell?
After reading this article, you will know:
What to consider when deciding where to source products for eBay dropshipping

H

ow to deal with the issues that can come up during the process

How to prepare your eBay store to work with local and international websites
When starting to dropshipping on eBay, one of the most important questions that come up is what products to sell. Before learning more about a specific website you can find products and suppliers from (such as AliExpress, Amazon etc.) you should probably consider which type of websites you want to work with. Selling in the US, UK or Germany and sourcing your products from the local Amazon website is very different than trying to sell products from Chinese suppliers such as AliExpress of ChinaBrands.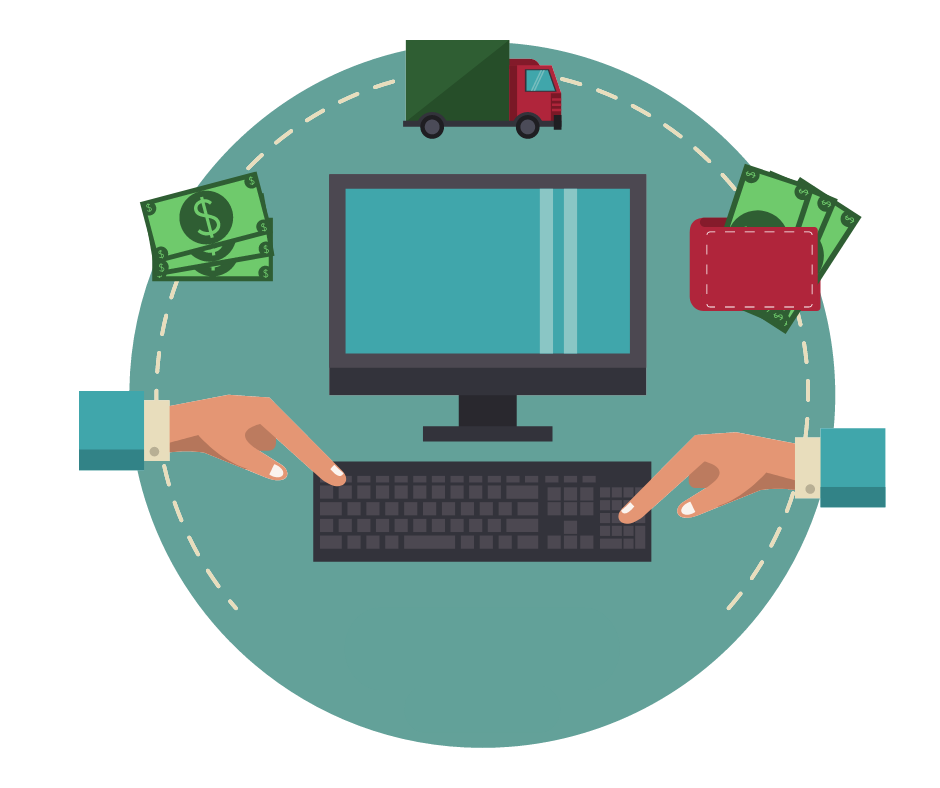 Not yet making money online?
Start your own dropshipping business. Sign up for a free trial of DSM Tool and we'll help you get started. Today is the day.
Sourcing Products From Local Websites
Local websites of products for dropshipping are usually either retail stores like HomeDepot and Staples or marketplaces where you can find many different sellers like Amazon or Iherb.
Customers on average return 35% of the items they order from Zappos.com Inc., a web-only retailer of footwear, apparel and other merchandise. But there's a certain group that returns 50% of what they buy.
Craig Adkins, VP Services & Operations @ Zappos.com
The risk of a high return rate is one of the main reasons to choose to source products locally. The same goes for big and heavy products that are more complex to ship overseas.
Expert dropshipping sellers that gain practical experience can take advantage of the fact that most dropshipping sellers try to avoid categories of products that has high returns such as fashion or complex electronics. Later in this article, you will learn as well about sourcing products cheap products overseas. Just keep in mind that if you invest in this learning process, you could take advantage of great opportunities that only pro dropshipping sellers allow themselves.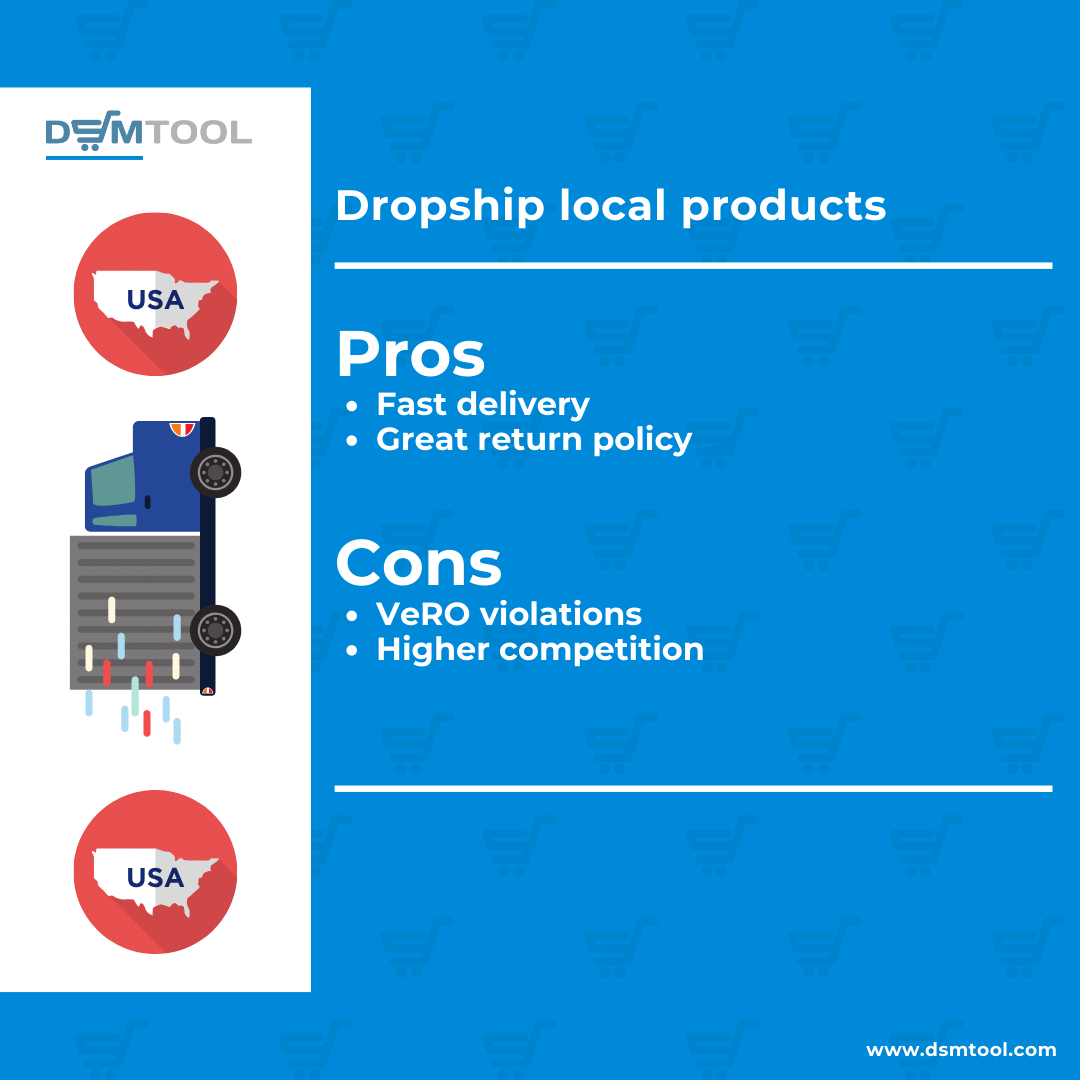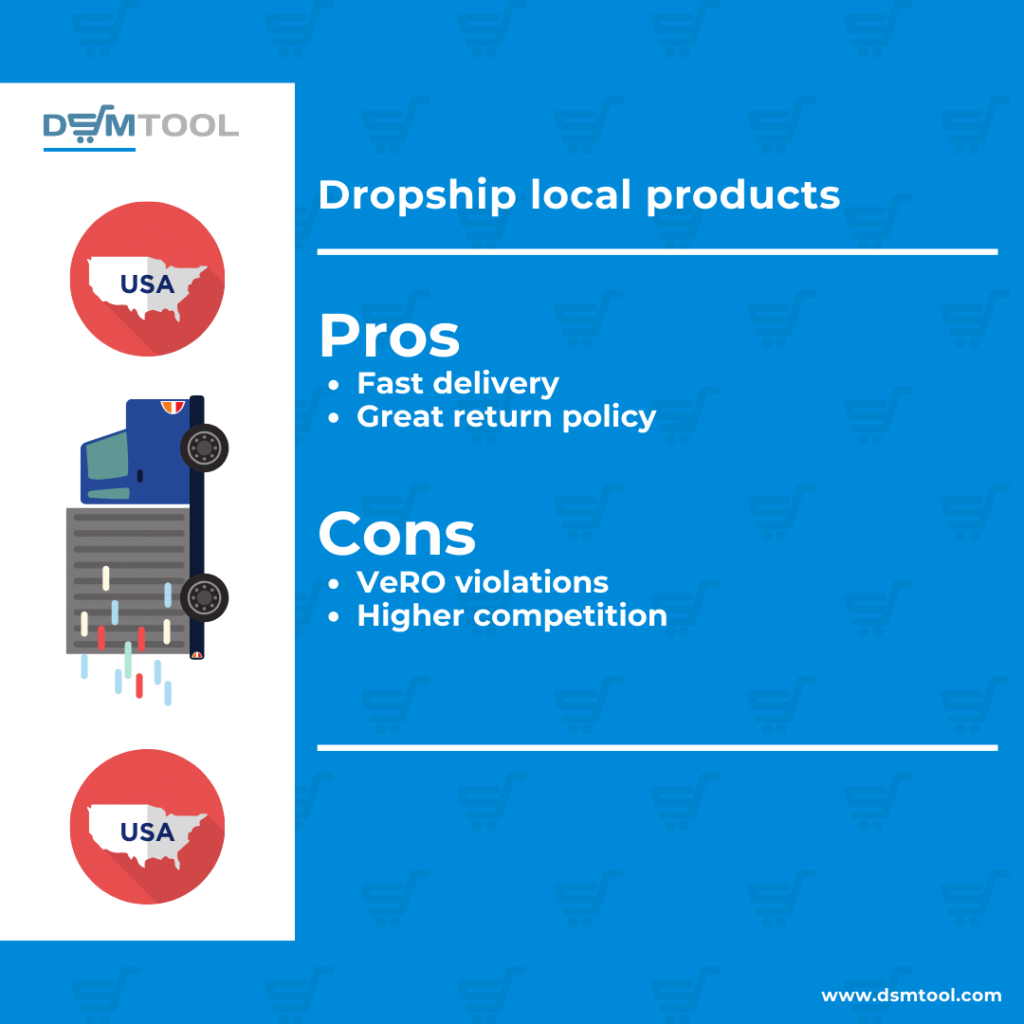 Pros of sourcing from local websites
Fast shipping
Due to phenomena like Amazon one-day shipping in the US, all around the world's websites and dropshipping suppliers are competing to provide as fast shipping as possible.
Better return policies
That just makes sense, right? The website you purchase the product from is responsible for the return process. If you but a product and it's sent from a warehouse in London, most likely they will have a warehouse that handles returns in London as well. Returning a cheap product all the way to China might be more expensive than the product itself.
Cons (and how to deal with them)
Violations of brand rights and buyer account suspensions
You can't just post any product you wish to dropship on eBay. For example, you can't publish for selling products from very famous brands like Nike or Microsoft. eBay has a program called VeRO which can cause your account to get eBay Vero suspension (be completely suspended).
If you list products to your store manually, you should definitely check the official eBay VeRO list. You should know though that the eBay list is not 100% up to date with all of the brands that can cause a violation. It requires at least 3 layers of VeRO protections to keep your account safe which you can learn further about in the video below.
The risk of losing your account is not only on eBay where you sell your products. When you dropship from a retailer or a marketplace you are effectively using a buyer account to process orders and not a business account. Some retailers do not approve dropshipping with buyer accounts nor offer special accounts for dropshipping. For example, Amazon, in particular, does not like when people use the Amazon Prime account for dropshipping and they tend to close those accounts leaving you to deal with all of the orders you still have to process.
You might hear about Amazon Business accounts which are a way of some dropshippers to overcome the problem of account closures. It could be a great solution if you can get your hands on one of those (Amazon offers lower prices on some products for business accounts). Still, we checked the terms of service for business accounts and they are not meant for re-sellers rather for businesses who buy supplies from Amazon.
The solution for that is to do your best to play this game fairly. If you are using a buyer account from a retail website consider not using programs like Prime to order dozens of products daily to different addresses. It is a very good idea to start dropshipping from those websites because they are very reliable and provide great service, but you can't expect to build a long term business dropshipping from them in high volumes.
Higher competition on eBay
When you source products locally, especially from websites such as Amazon or HomeDepot, you are not only competing with other dropshipping sellers but also with local retailers, wholesalers and suppliers. For example, one of the popular retailers used for eBay dropshipping in the US is Overstock. When you dropship from Overstock you actually compete with… Overstock themselves!
Overstock has a seller account on eBay where they offer the products. It is less profitable for Overstock to sell on eBay because they have to pay fees for that, it is far better for them to sell products directly on their website overstock.com. But they are pretty successful on eBay as well.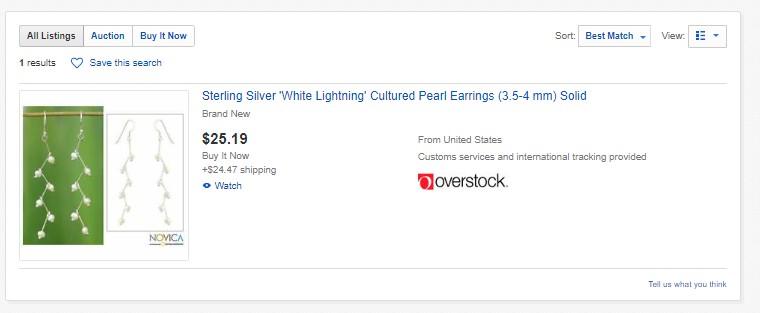 The Overstock.com example is a bit extreme and not applicable to every product you source locally. Yet, generally, an item that is sold locally would have higher competition than items that are sourced from an international website. And still, it is only generally true, and there is a way to overcome this problem.
The solution is known as "long tail" products. Amazon offers hundreds of millions of products not on all of which there is a high competition. There are also many smaller websites that are less known and less occupied by dropshippers. Sometimes the small websites are great also in terms of VeRO violations as they offer their own private-brand products (like the fashion brand George that is owned by Walmart).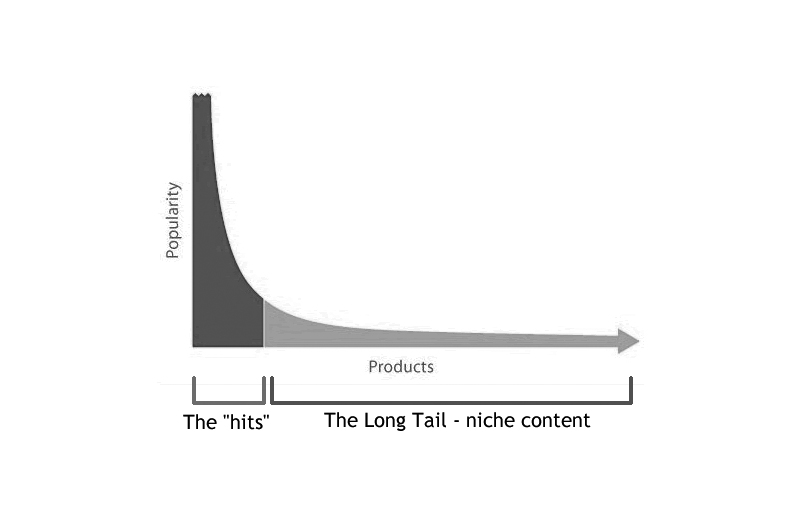 Long-tail explanation (credit: Milosz Krasinski)
Sourcing Products From International Websites
International websites used for sourcing products for dropshipping are usually Asian marketplaces such as AliExpress and Tmart or dropshipping-friendly suppliers like ChinaBrands and Costway.
The international websites are usually more friendly when it comes to dropshipping and some of them even offer a dropshipping account with discounts for dropshipping sellers. There are fewer brand violations because Chinese brands tend not to enforce it and actually enjoy the opportunity to get their products distributed to western countries via the dropshipping model. When it comes to getting your buyer account suspended, marketplaces like AliExpress are generally OK for dropshipping and dropshipping friendly suppliers are… well… friendly suppliers.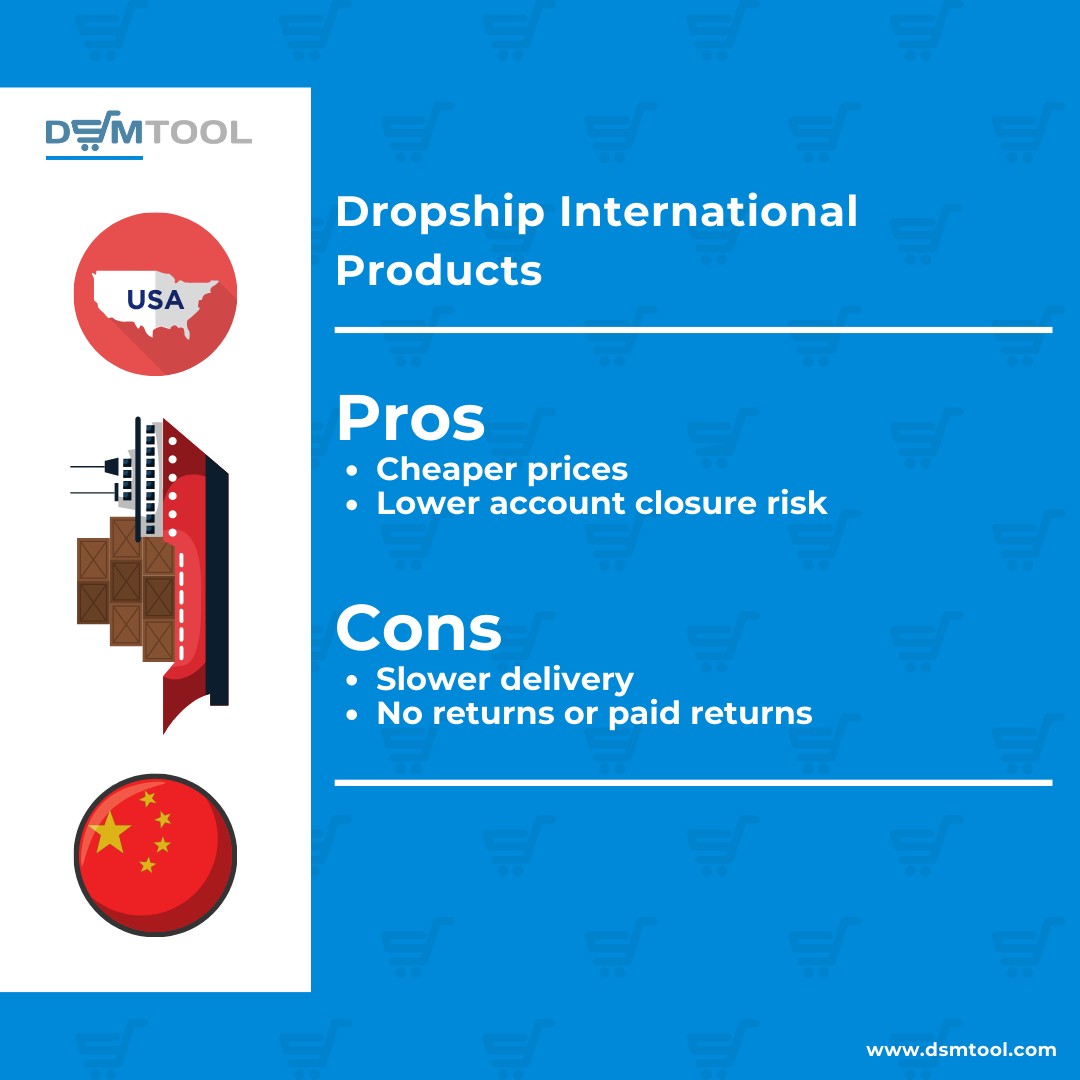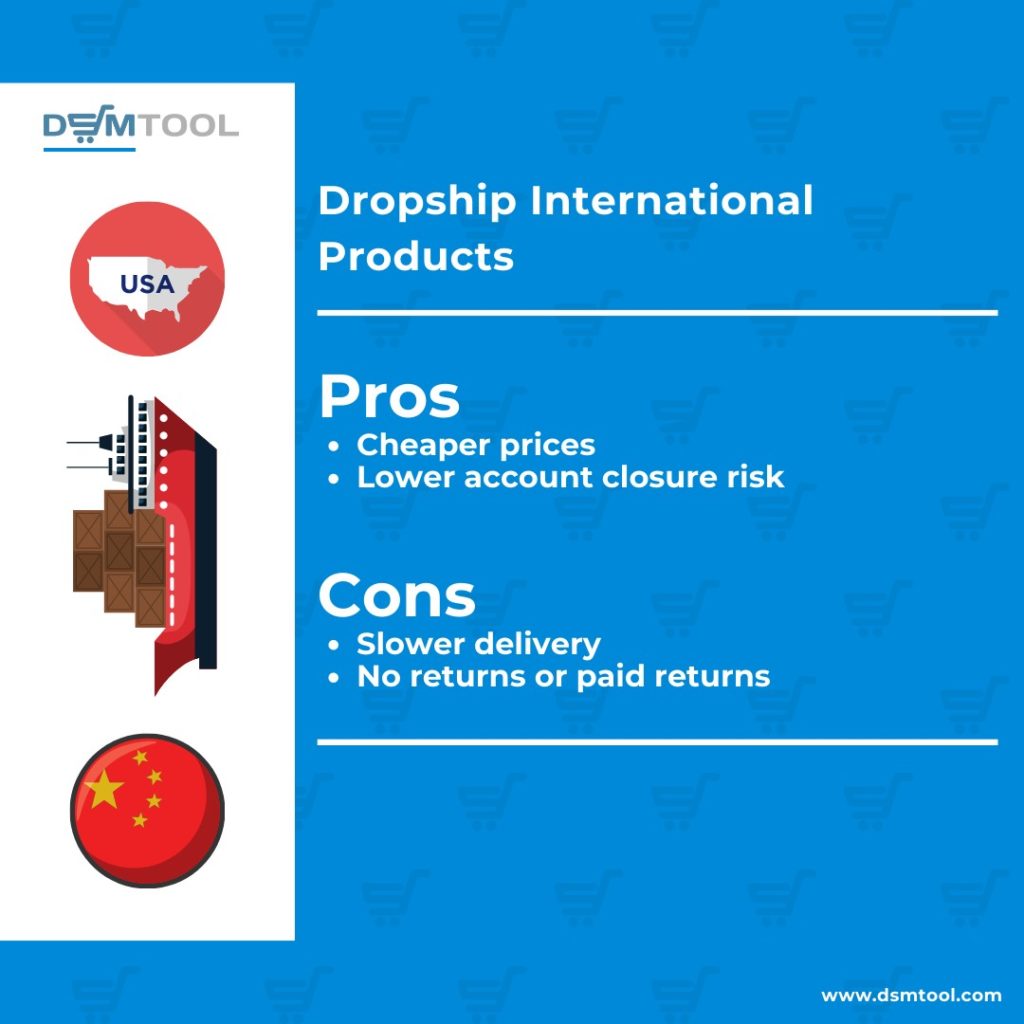 Pros & Cons: Dropship International Products
Pros: Great prices, low competition
Made in China used to be a term for low-price low-quality products but that is no longer true. If you follow rules you set for yourself such as minimum feedback rates and low-returns product types you should be just fine. The sellers on Chinese websites are becoming more and more reliable and friendly.
What to check when choosing a product for dropshipping from China
Reviews and feedback count: Just like on eBay, each seller on AliExpress has a seller-rating as well. Set a minimum amount of reviews and feedbacks that you will not go below when sourcing your products. Beginners should not touch any products below 4.5 stars and 50 reviews. Sourcing products from sellers with low rating means you take a higher risk, but the lower you set your minimum feedback to count the less competition you can expect to see for that product.
Buyer Protection and return options – Not all of the Asian websites offer such program, but some like AliExpress offers both a Buyer Protection program and domestic returns option. The buyer protection is a program that guarantees you will get your money back if the item doesn't arrive at all. It will also allow you to open a case 15 days after arrival, in case the item is not as described or broken with the ability to scale the case up to AliExpress and get your money back. For the most common eBay marketplaces (US, UK, DE, FR, ES and IT) they even offer free returns for 30 days after the arrival of the package.
Fast shipping methods – Make sure the sellers offer a fast-shipping option like e-packet, which is further explained further in this article.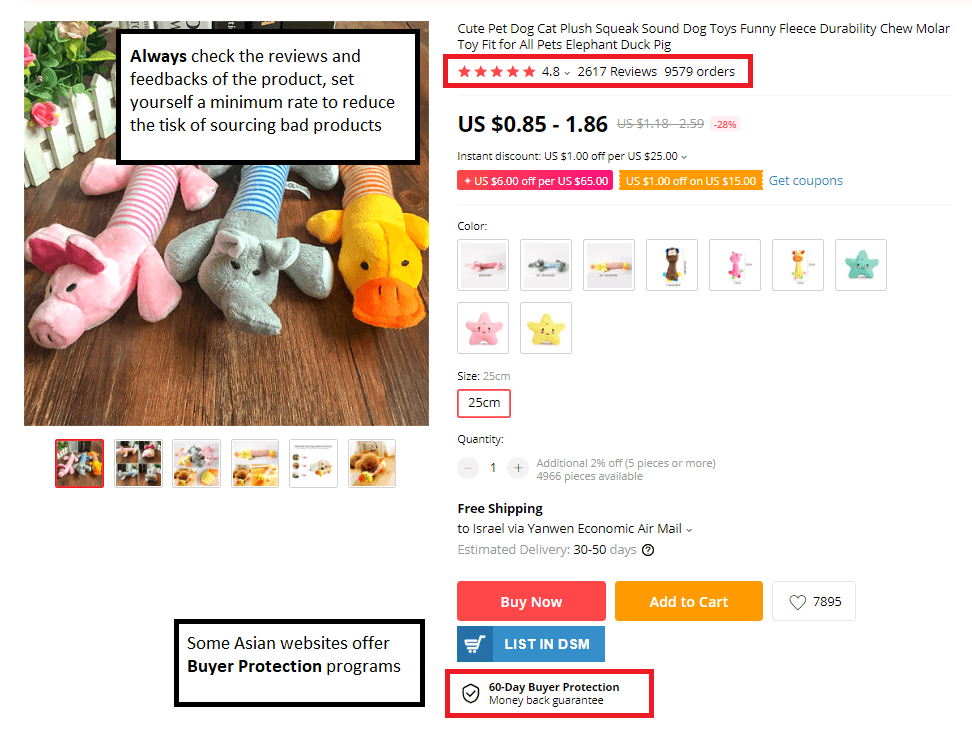 In comparison to locally sourced products, you can enjoy a lower competition when working with international websites. But don't mistake lower competition with no competition, it's just that you will most likely compete more with other dropshippers than with local sellers. You also might encounter sellers on eBay and Amazon that work directly with the factory in China that is providing them such a low price that makes it very hard to compete with.
As you grow your dropshipping business, you could use such services to buy products in wholesale for an even lower price and ship them from China directly to your customers in a faster and cheaper way. But that is a subject for another article…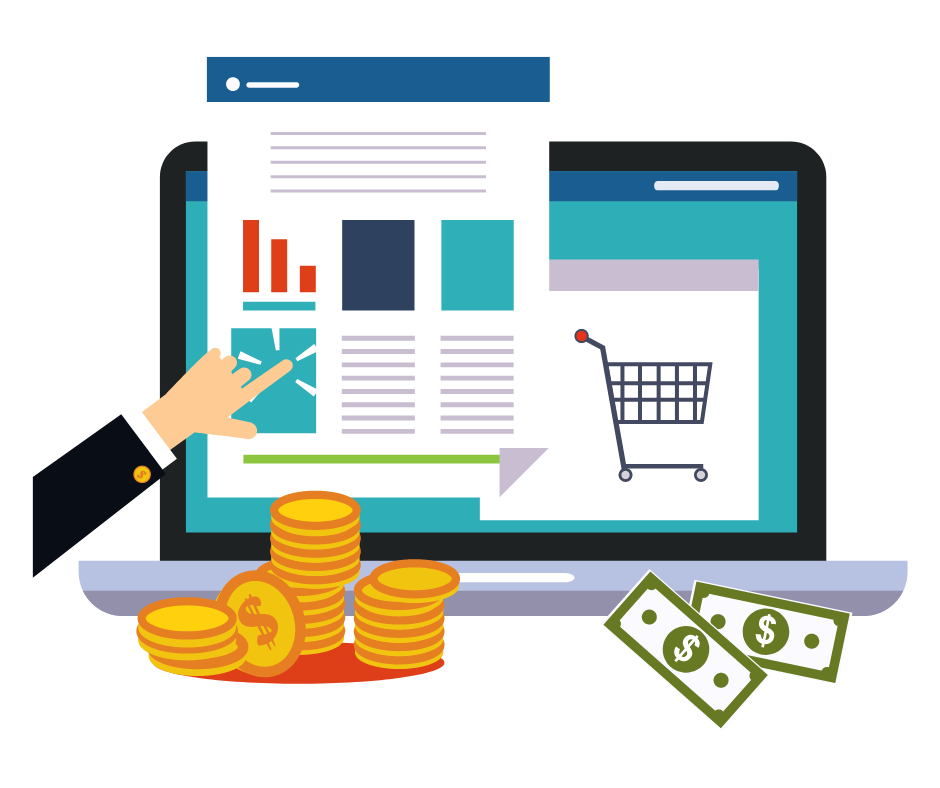 Don't wait for the profits, make them!
Start a profitable dropshipping business with DSM Tool. Get a free course and a free trial of the software.
Cons: Slower shipping time and (sometimes) no returns
You can't ship as fast as Amazon when you are located in China, the shipping time of Chinese suppliers ranges between 7-10 days for air shipping methods such as ePacket, to 8+ weeks for packages shipped by sea. The shipments by sea sometimes don't even provide a tracking number which is crucial for your eBay seller performance rating. The eBay Top-Seller rating, for example, is only given to sellers with no more than 5% of shipments that are missing a tracking number.
To deal with that problem, you will probably have to accept the fact that you have to source products with faster shipping methods by air such as ePacket. Yes, the buying prices will go up but it is better and safer to use the faster shipping methods.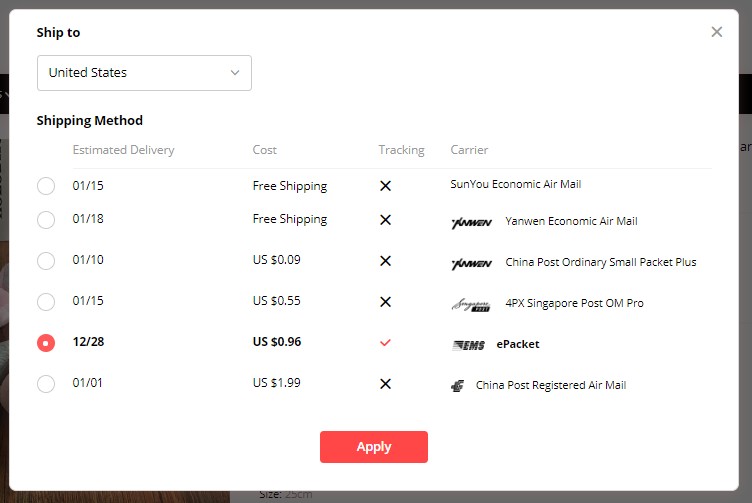 How to Deal with Returns When Dropshipping from China
When dropshipping, you usually open a return request on the website you used for the purchase. Then, you send your buyer the return label and when the item is returned you get your purchase money back and you refund the buyer. When it comes to Chinese suppliers, it might be more challenging and they might not offer an option to return the goods.
You have 2 options in that case: the first option is only to work with products that offer domestic returns. AliExpress is a good example, and to find out which products offer domestic returns simply change the site settings to show shipping rated to the country of your eBay store (for example, US)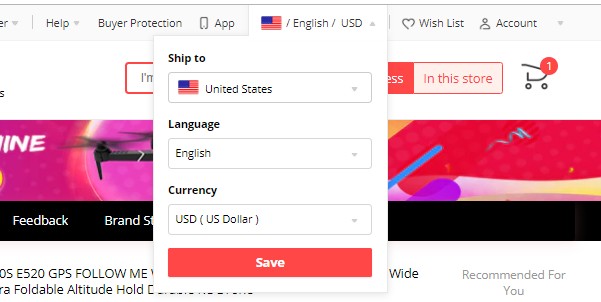 Then, look for products with free domestic returns

It makes sense that even if you start working with domestic-return products, you would at some point get attempted to try products that don't offer domestic returns. It is recommended to consider the risk of working with such products when deciding to work with Chinese suppliers because if a buyer opens a dispute on Paypal or eBay and for some reason, it is closed in the buyer's favor it can cause you to lose money on that sale.
In my opinion, as long as you make sure you source products with good ratings and good reviews your risk is low. In my experience, when products are offered without a return option, your supplier might still refund you without asking to return the items, especially for cheaper items.
Setting Up the Right Policies on Your eBay Store
Now that you have a better understanding of the difference between local and international product sourcing, it is time to take the theory into practice.
What affects your eBay keyword ranking
There are many parameters that can affect your chance to get ranked on the first page of someone's search results:
The price of your product – In comparison to other sellers that sell the same item as yours
Keywords ranking – When you optimize your image, title, and product description you can change try to rank high for keywords that your competitors do not use for their products.
Your seller account performance – feedbacks count, power-seller or top-rated-seller status and different metrics from the eBay seller dashboard like the current seller rating and the late shipment rate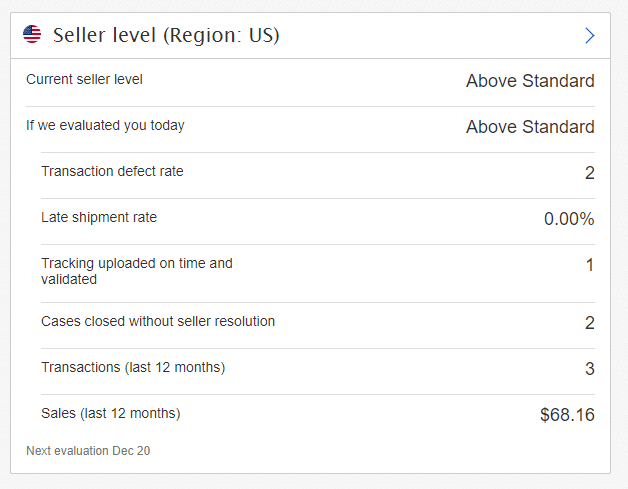 The seller metrics from eBay's Seller Dashboard
There are some more parameters and ranking high on eBay is a long discussion for another article. But it is the seller account performance that can be affected when you set up wrong shipping and return policies to your account. The way you set those policies on eBay is called "eBay Business Policies" and it includes types of policies: Shipping policies, return policies and payment policies.
eBay business policies settings
When you add a product to eBay manually, you can set up the shipping, return and payment options you offer for the product you list. But when you work with a third party software like DSM Tool the listing automation feature (the Rapid Lister) is able to use again and again the same policies only if you opt-in to the business policies feature on eBay. The opt-in is a bit hard to find so we got you a direct link to eBay business policies opt-in.
In this video, which is based on an older version of DSM Tool from 2016, I explain how to opt-in and how to set up new business policies for your account. Take in a count that the DSM Tool interface looks a bit different today since it offers far more advanced that will be explained in writing below the video
Now it is your turn, choose one international website and one local website and set it up on eBay and in DSM Tool. You can refer to this guide to learn how to set up different business policies to different product sourcing websites on DSM Tool. Here are the parameters you want to make sure you set up:
Policy name – Name it after the website you are sourcing from, for example, "AliExpress Shipping Policy" or "Amazon Returns Policy".
Shipping service – When dropshipping from a specific website, especially if it is a marketplace, you can't really commit to a specific single shipping carrier. Instead, choose the most general service according to the shipping time. For example, if you use a local website that offers 1-3 days shipping, choose the "Expedited shipping" option.
Set free shipping – The DSM Tool lister is calculating the shipping rates together with the product cost when you add items to your store, so you can set all your policies to free shipping.
Tip: Buyers LOVE free shipping, this can actually help you sell more!
Set the right handling time – The handling time is the time that it is going to take you to update the tracking information on eBay once your supplier shipped the product and sent you the tracking info. The most common handling time drop shipping sellers set is 3 days, set it to nothing less than that.
Tip: Once you make your first 5-10 sales you can measure the time it takes the suppliers on that website to process your order and update the tracking number, you can also use the Chrome extension DSM Auto-Paste to automate the tracking updating process
GSP and international shipping – If you are sourcing your products from US suppliers and you sell on eBay.com, you can opt-in to the GSP program and open your store to the international market. eBay will handle the packages for you. An even better option which is both cheaper and offers free international returns is to use the service of HipShipper which is fully integrated with DSM Tool but is a bit more complex to setup
Tip: If you do wish to use HipShipper or GSP make sure to learn first how it works, these are advanced features.
One last thing, in order to make it easier for you to set up new websites in DSM Tool we've collected all of the relevant information for you. On the homepage of DSM Tool (requires to log out if you are already logged in) you will find a list of all of the websites you an source products from using the software. Click on the logo of any of those websites and you will arrive at a page full of information about that website. Like the page that explains everything you need to know to start dropshipping from AliExpress.
So, which websites did you install on your DSM Tool account? Comment below, we'd love to hear from you!