In order to find the best items to dropship you need to learn how to do a market reserach on eBay. Since dropshippers don't own any inventory, they look for new profitable dropshipping products all the time and try to keep their store up to date with the current dropshipping trends.
There are many ways eCommerce sellers decide on what to sell, but eventually, they all follow the same rules on how to find dropshipping products: locate a demand in the market then find a dropshipping supplier, and then source products from relevant suppliers to answer the demand.
For the eBay dropshipping business model there are mainly two tactics to finding what to sell. The first is the automated research using the eBay spy tool Powerdrop. This method is far more powerful, it brings fast results and it's probably the best method for finding products to sell online.
The second method is doing manual research. While Powerdrop offers a free trial, you would eventually have to subscribe to it so I want you to have access to a free method to find winning products.
If you are interested in eBay dropshipping but haven't started yet you should know that finding profitable dropshipping products to sell is only one of the first things you need to do. You also need to set up an eBay store, PayPal account, and a dropshipping software account which are further explained in the guide on how to start dropshipping on eBay.
As I mentioned, this guide will show you how to find profitable products step by step using the sniping technique. But before we talk about how it works let's understand why it works. It works because of the powerful concept of online arbitrage.
What is online arbitrage? (aka retail arbitrage)
In a nutshell, online arbitrage is when you take a product from one online store (e.g. AliExpress, CJDropshipping, Amazon, etc.) and sell it on another marketplace (e.g. eBay, Facebook marketplace). As a result, you get a profit based on the price difference between these two markets.
In the example below of dropshipping from AliExpress to eBay, the product on eBay was sold 37 times for $22.31 which means this seller made $825.47 selling it. According to the listing on eBay the item is located in China, I guess that if it would be located in the US it would be more expensive but 37 sales means that people don't mind waiting for the package to arrive from that far.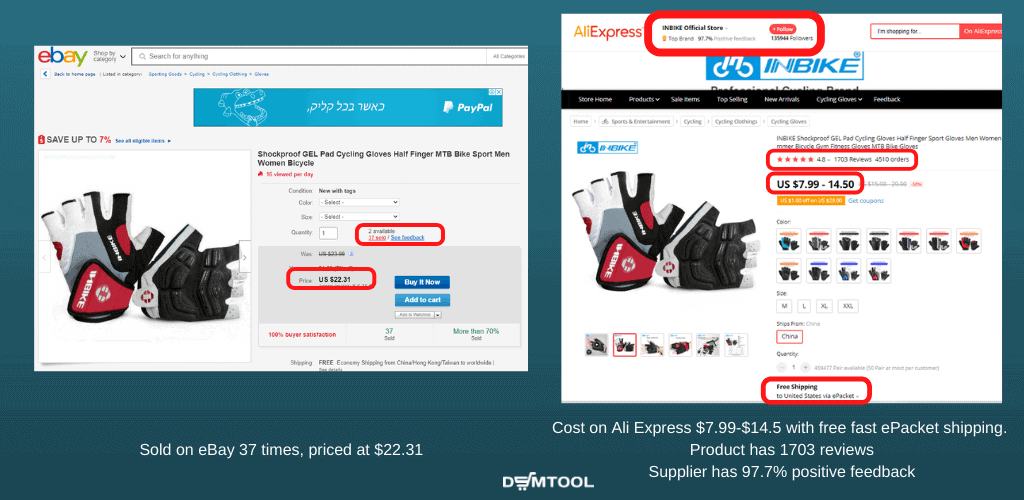 Look how much it would cost to buy it on Ali Express. The product cost is $7.99 + free shipping. Even after paying a 10% eBay selling fee, a 4.4% PayPal fee, and a $0.3 transaction fee you still make a $10.79 profit per sale. Times 36 sales. That's a $399 profit.
So without further due, let's see how to find profitable dropshipping items like this one for you to sell in your eBay dropshipping store.
The best way to find profitable products for eBay dropshipping
The dropshipping inventory of your store should include products that were sold multiple times only recently. Why? Because products that sell are products that people search for, and search demand is what tells you which are good products for dropshipping, eCommerce stores are fighting for search demand.
But it's useless to find products with high demand if you can't find a supplier to sell you them for a cheaper price. You need a proven mechanism on how to find products to sell on eBay. They must be products with high demand, but ones that have a high potential to be sourced for cheaper on another website.
The most popular technique to find high demand products that are likely to be sourced for cheaper from another website is the sniping technique.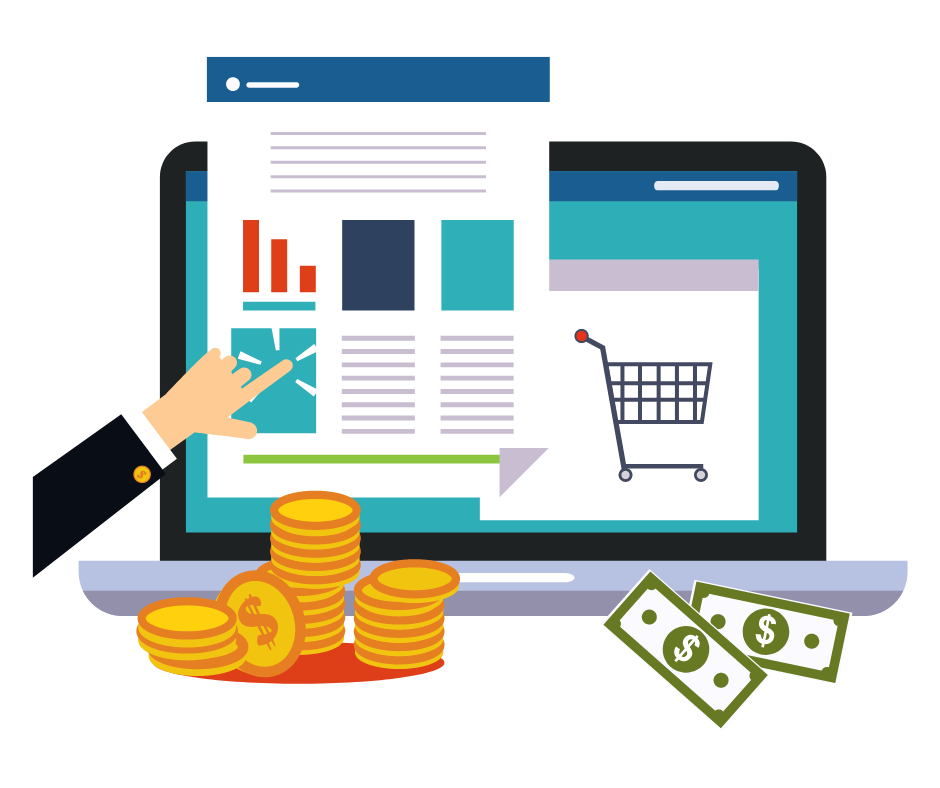 Don't wait for the profits, make them!
Start a profitable dropshipping business with DSM Tool. Get a free course and a free trial of the software.
How to use the sniping technique to find products for dropshipping?
The sniping technique consists of 3 steps that are simple to follow and can be done again and again to find new profitable products to sell.
Find other dropshippers that generates sales
Analyzing their store to find their best selling products
Source their best-sellers for cheaper from the same website they are sourcing from.
Open a new tab in the browser and follow the instructions step by step, within a few minutes you should end up with a few good items for dropshipping.
Step 1: Find Other Dropshippers
The automated method (Using Powerdrop)
Open the Product Spy feature and enter there a few keywords. Click search and Powerdrop will show you a list of products that are related to these keywords and that are sold by dropshippers.


Tip
Type in the product spy search bar parts of titles from Ali Express to find dropshippers that sell products from Ali Express. I show an example on how to for it below where I explain about the manual method.
An even quicker way is to go to the random dropshippers feature which you can find in the menu. It will showcase a list of dropshipping sellers that were scanned by the software. The list updates itself every 30 minutes with new dropshippers, this way not everyone that use the software follow the same stores.


The manual method
Open Aliexpress.com and either type a few keywords of your choice in the search bar or click on one of the categories. Then, sort the results by the number of orders to get the products that sold the most for that niche.
In the example below I entered the keywords garden scissors and sorted the results by the number of orders.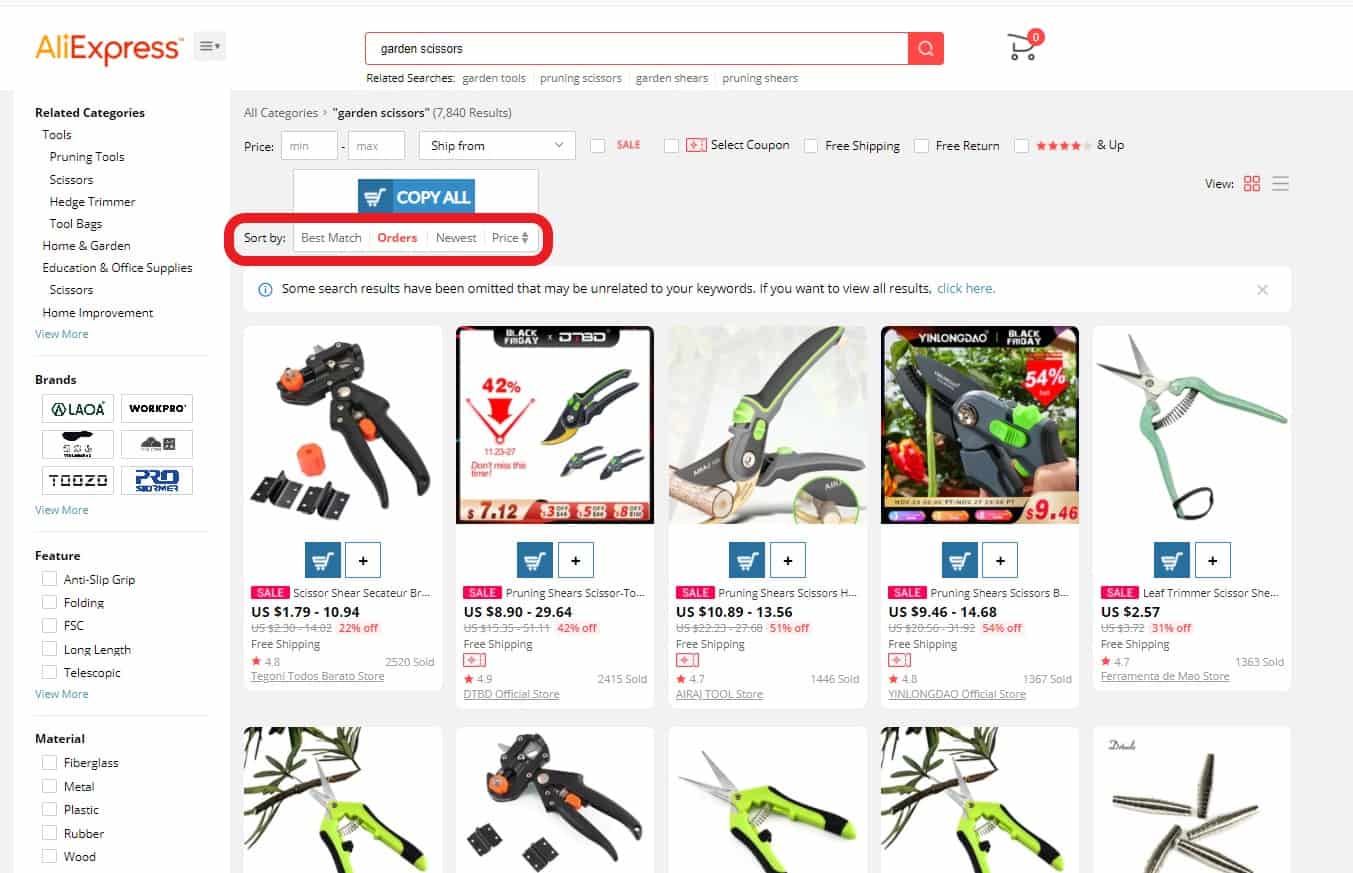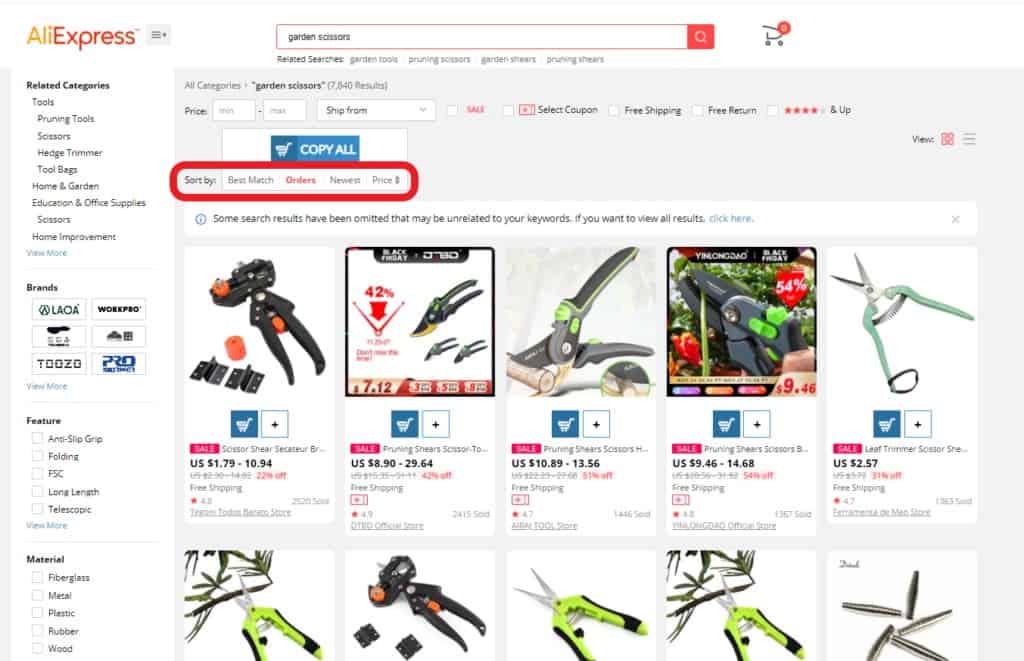 Products that sell a lot on Ali Express are typically also dropshipped on eBay. Pay attention here, because I didn't say they make sales on eBay I said they are dropshippers on eBay.
Just because other dropshipping sellers try to sell them, it doesn't mean they succeed to do that. But it does indeed mean that we can use these products to locate those dropshippers.
Take the first 10-15 keywords from the title of one of the products on the page and search it on eBay. Click on the eBay advanced search button and set up the following settings:
Minimum price of 30% above the price on Ali Express (use a calculator to multiply the price by 1.3)
Item location set to China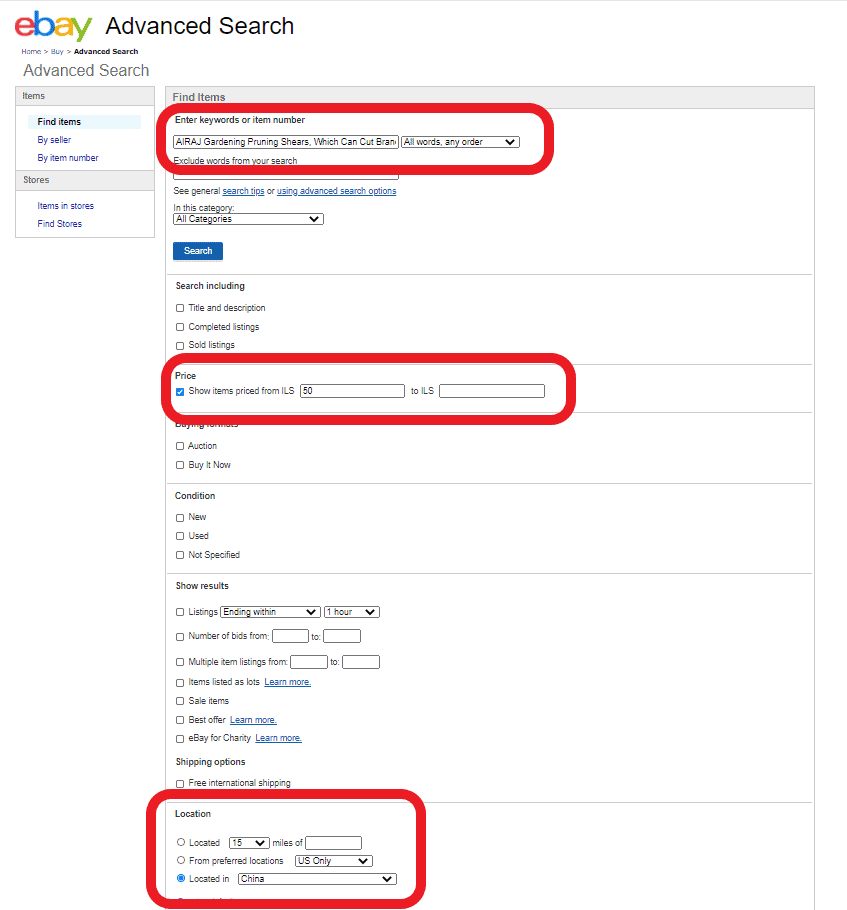 We use these settings for two reasons: First, dropshippers will offer products using keywords similar to the ones we search with at least 30% markup to cover the selling fees and make some profit.
Second, we look for dropshippers that source their products from Ali Express, they have to set the item location to China.
When you use the advanced search feature on eBay the search results contain up to 200 listings per page which are 200 potential dropshippers. But not all of the sellers in the page are dropshippers.
To locate potential dropshippers quickly, focus only on sellers with more than 25 feedbacks but less than 5000 feedbacks. You can see the seller feedback rate on the right-hand side of the listing.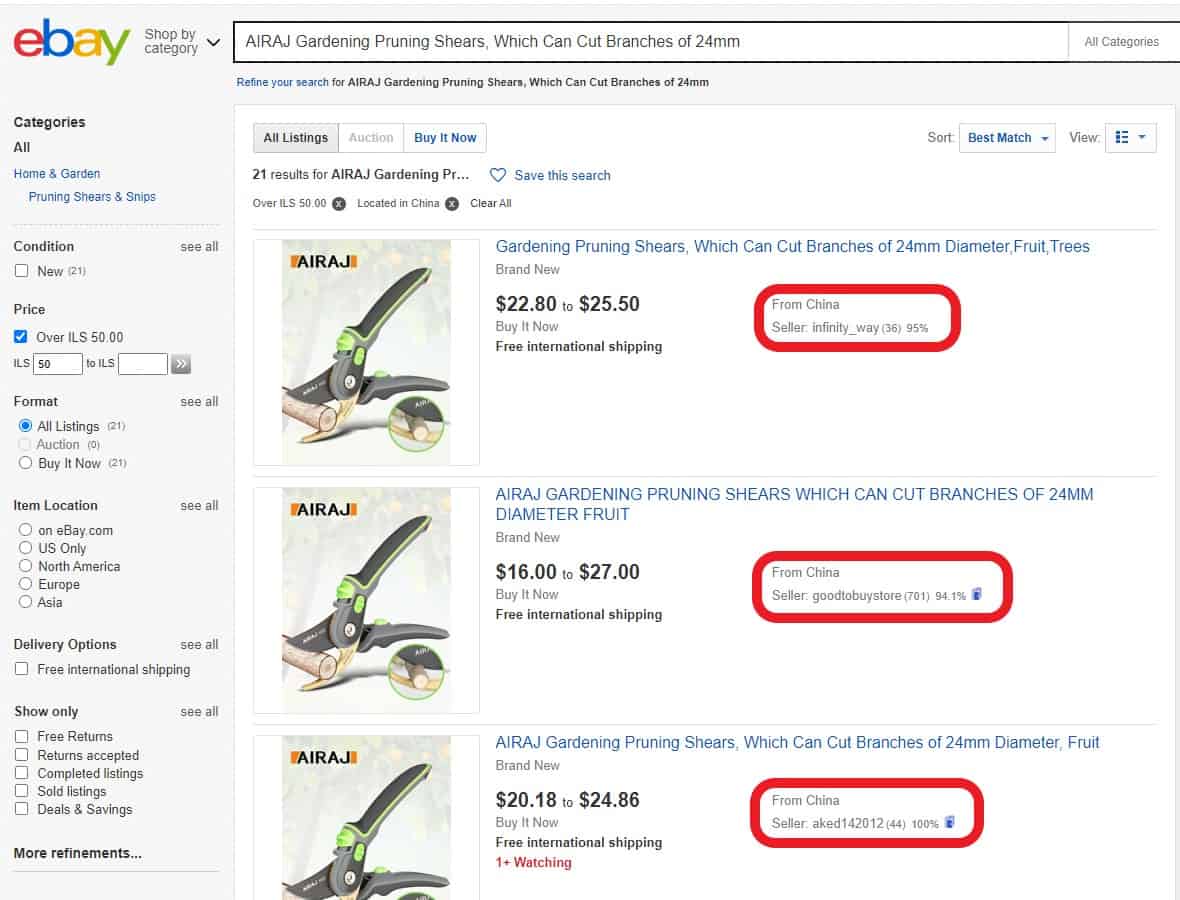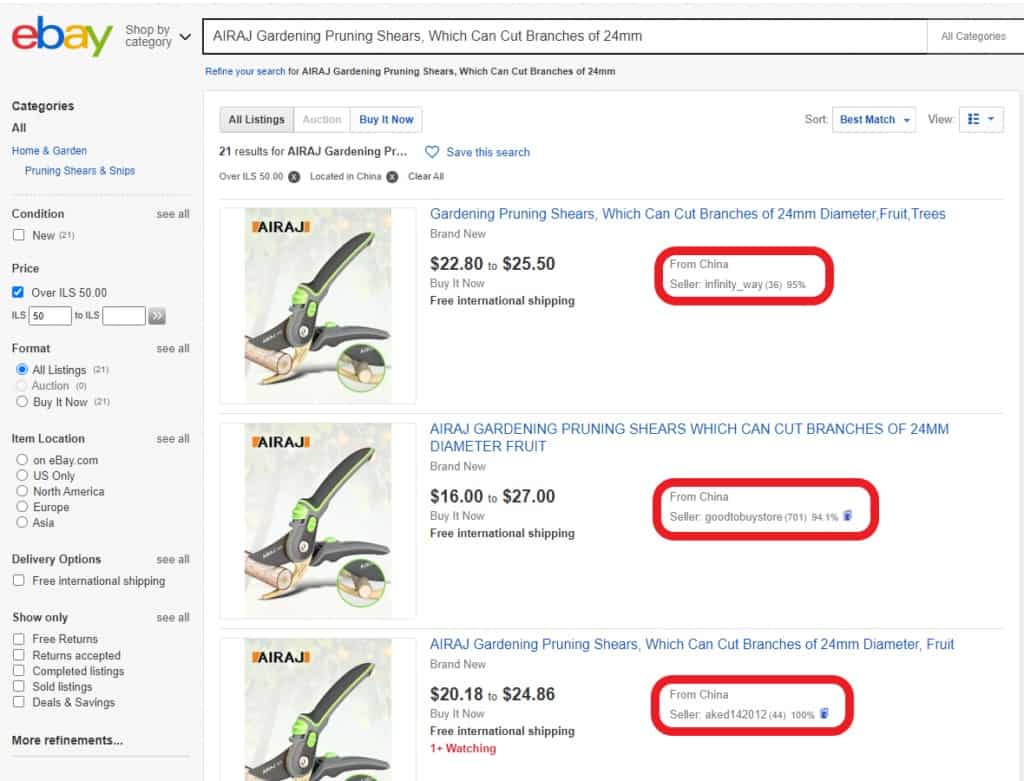 To verify the suspicion check the location the seller is from by opening their store. If the seller is from a European country or from the US, selling products for 30% markup most likely from Ali Express – you just found a dropshipper.
Open the product page of those listings and then locate the seller name on the right-hand side of the product details and click on the name of the seller.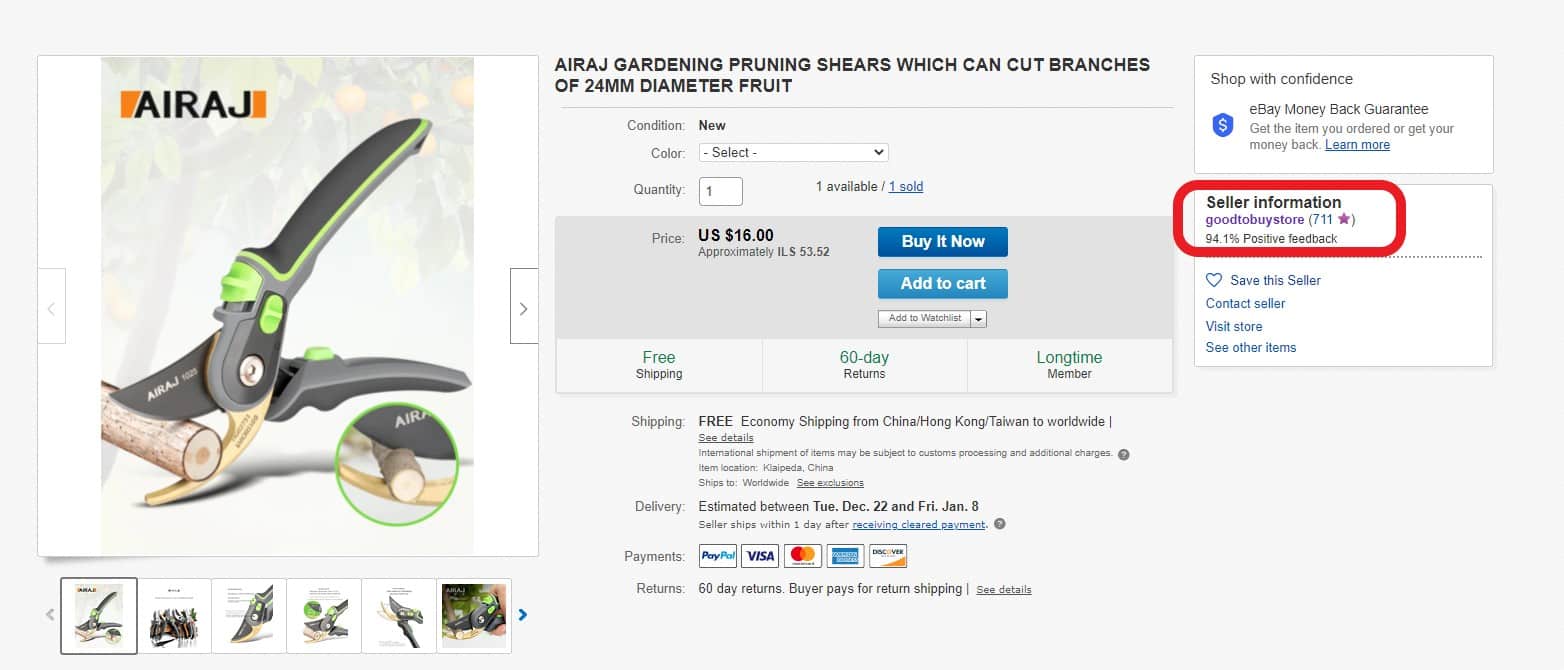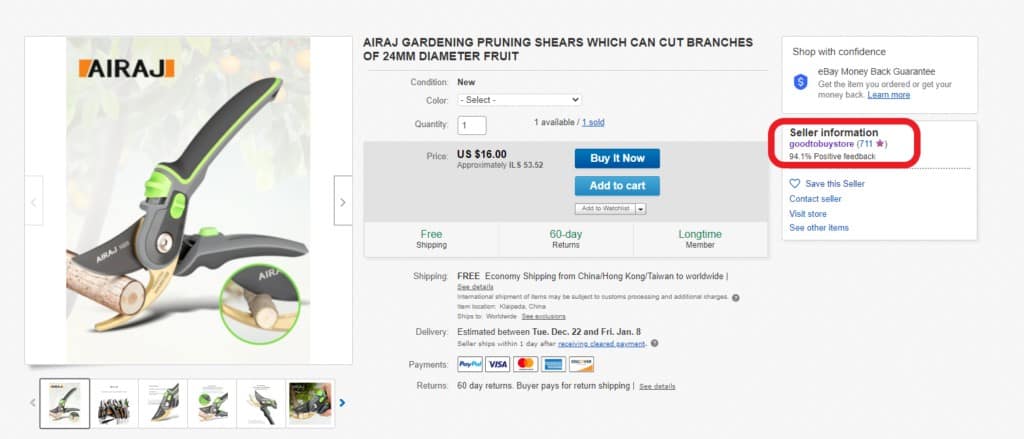 Then check the seller location to find out where are they from. In the example below the seller is from Lithuania where there is a huge community of dropshipping sellers.
Other big communities are Israel, Greece, the UK and the USA but basically any country that isn't in Asia might mean it is an Ali Express to eBay dropshipping seller.

Step 2: Analyze the store to find the best-sellers
Analyzing the dropshipping stores to find good products to dropship is the next step after finding eBay competitors, which are other dropshippers. It require a piece of software both in the automated method and in the manual method, one of which is Powerdrop and the other is a Chrome extension called eBay popularity sort.
The automated method (using Powerdrop)
Type the seller name in the Seller Lookup feature and let the automation do the work for you. Powerdrop will analyze all of the products in the seller's store, sort it by the products that sold the most in the past 30 days (meaning they are the "hottest") and even find you the supplier (but more on that later in this guide).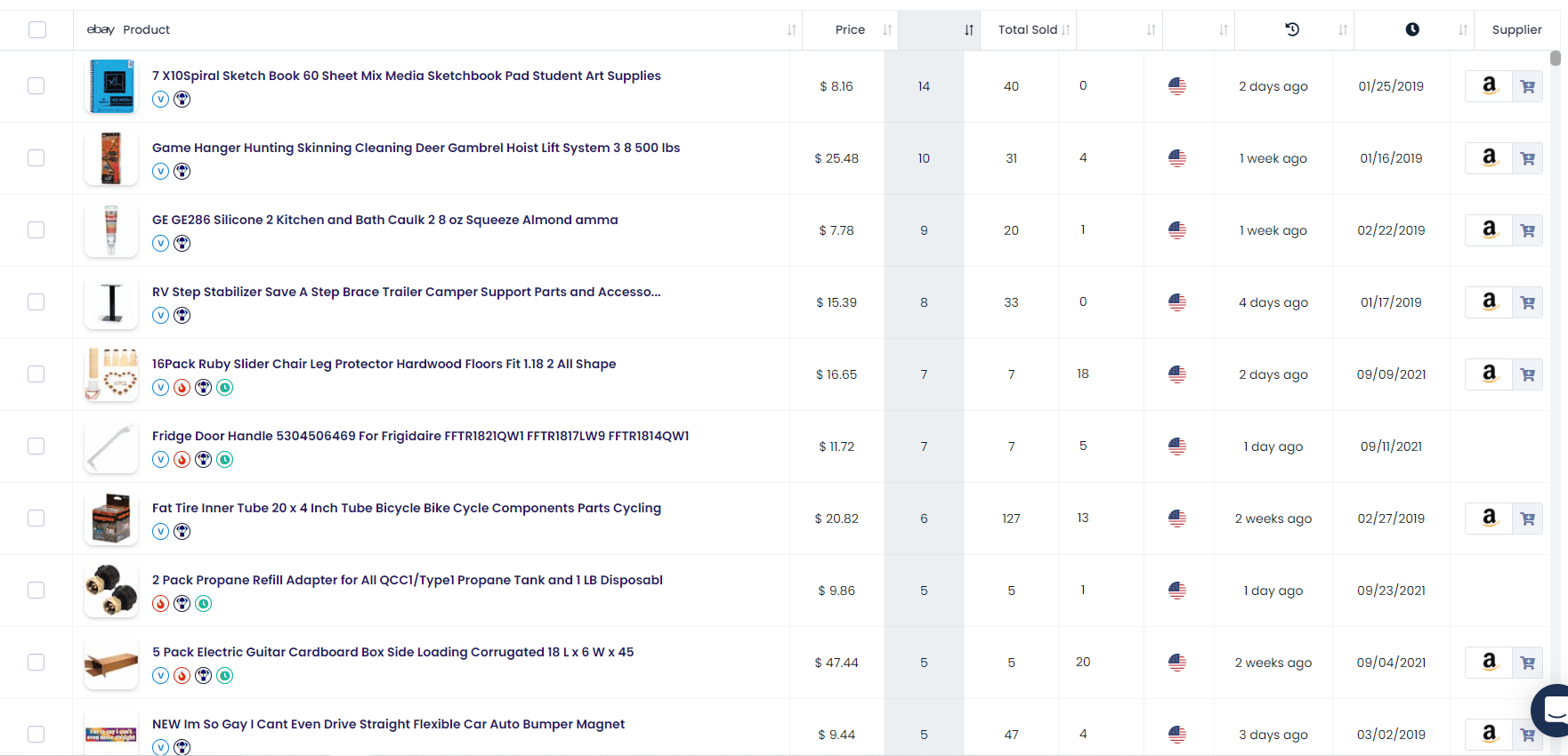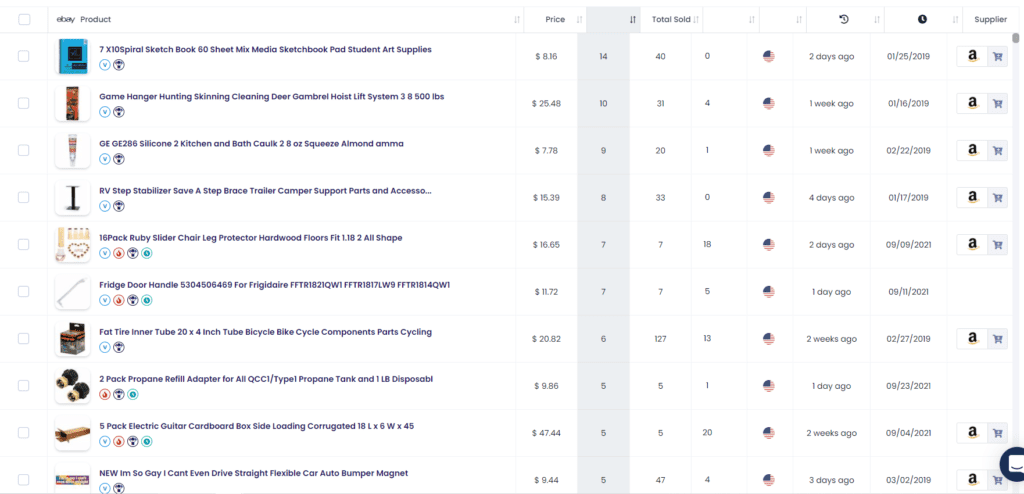 Once again, using powerdrop to do the work for you is far more powerful than any other alternative. But it's not only finding the seller's product that is interesting, Powerdrop analyses the entire store performance and gives you as an output meaningful metrics about the store
Sell through – Total sales divided by number of active listings. The higher the number is the more interesting it is to continue following the store.
Active listigns – Total number of active listings in the store
Successful listings – What percentage of the listings were sold at least once
Sales statistings – total sales, total revenue and average selling price
Sales trend – A graph that shows you if the store is growing or declining


Tip
Save sellers that you find and that are interesting and continue analyzing their stores from time to time. I suggest to only follow sellers with sale through higher than 80% or that at least show a clear trend of growth.
The manual method (using eBay popularity sort)
While this part is considered part of the manual method, this step only takes a few seconds. But don't expect to get even nearly the same results as you would get with Powerdrop, eBay popularity is a great free dropshipping tool but it's very limited.
Download and install the Chrome extension eBay popularity sort and then click on the button Items for sale in the eBay store of the dropshipper you've found.

The items in the store will be sorted by the best-sellers automatically by the Chrome extension.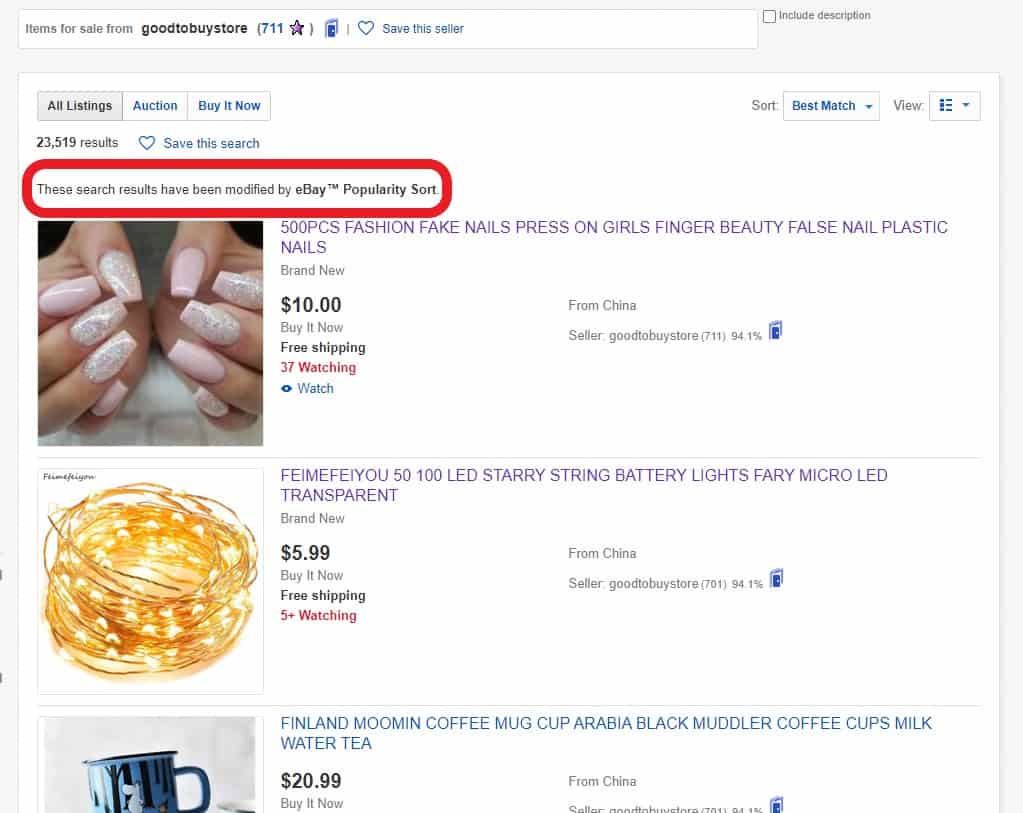 To tell if a product is worth sourcing open the product page of that product and click on the number of sales next to the product price.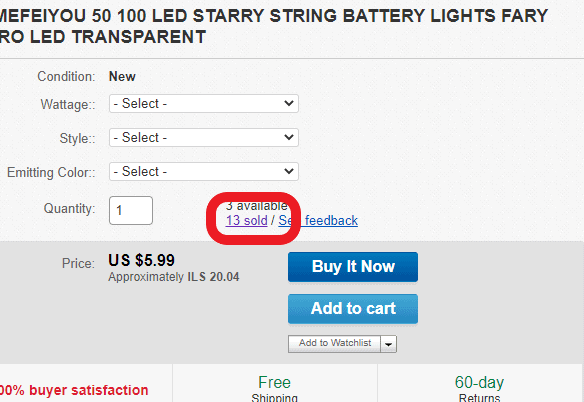 The sales history of the product will show up, validate that it was sold at least 2-3 times in the past 30 days. In the example below the product I found was only sold once in the past 30 days, but I still decided to try to source it, and I want to explain why.
I did this research during November and I know that Christmas is coming and it's a commonly used product during Christmas I would still try to source it as I expect the demand for it to grow.
While I tend to recommend to stick to the guidelines when you look for winning products, you don't have to do it like a robot. Leave some room for common-sense judgment in the research process, enjoy it.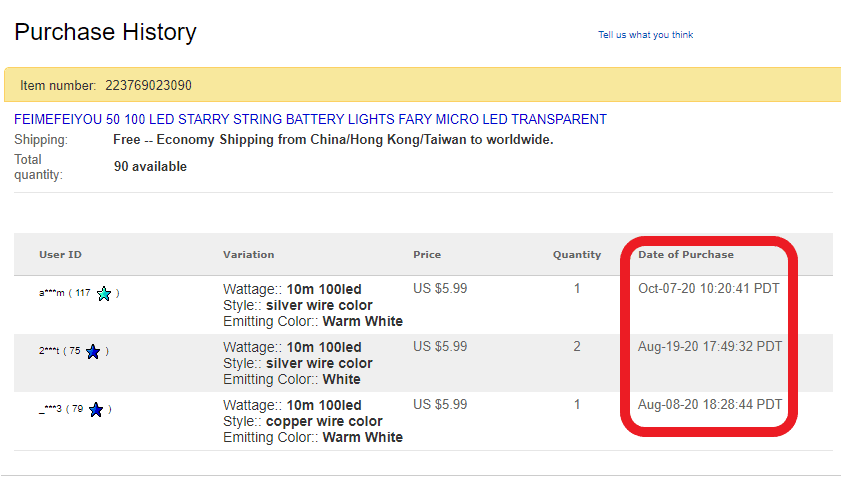 When you decided on a product you want to sell it is the time to try sourcing it from Ali Express.
Step 3: Sourcing the best-selling products from Aliexpress
Sourcing the same or similar products to the products of the dropshippers you are sniping is probably the most important part of this guide to try to memorize for two reasons: First, it is crucial to choose the right dropshipping supplier on AliExpress. Second, if you do it right you can make more profits than your competitors.
For this step, we will use a piece of software both in the automated method and in the manual method. Unlike the previous steps where Powerdrop has a clear advantage over the manual way, in this step, the Chrome extension AliTools comes with good functionalities as well.
If in the previous steps I strongly suggested not to spend your precious time on the manual method and use Powerdrop to empower your product research efforts, this time I do encourage you to install Ali Tools and learn how to use it.
Having said that, take into account that Ali Tools is only relevant for sourcing products from Chinese suppliers like Ali Express. Powerdrop can be used for product sourcing from other websites like eBay: Amazon, Walmart, Home depot, etc.
Moreover, Powerdrop offers an advanced bulk scanner that automates this process at scale. It can find you hundreds of products within a click of a button and it doesn't require any manual work of sourcing and matching. In that sense, it's far more powerful than any alternative.
The automated method (using Powerdrop)
Using the Seller Lookup feature, search the competitor you are sniping products from. Powerdrop will automatically locate the product source and show which products it managed to source on the right column on the products table.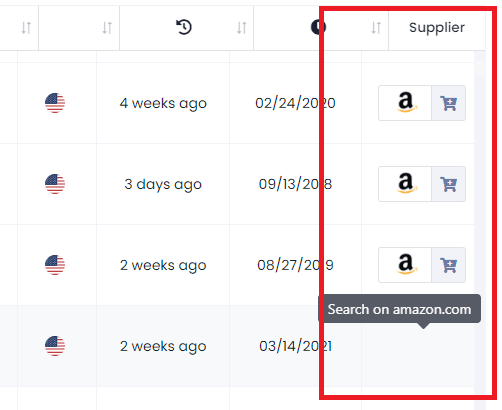 I used in the screenshot an example of a seller that dropship from Amazon to eBay to remind you that there are more opportunities other than dropshipping from Ali Express. But I still suggest as a beginner to stick to sniping Ali Express dropshippers in the beginning, it is much more friendly for dropshipping beginners than Amazon.
If you click on the search on button it will open up a new window and show you the products that were found automatically. But it still doesn't mean it's a good product to dropship on your store.
I want first to show you how to do the same thing using Ali Tools, then discuss the most important aspect of product sourcing: making sure that the product is profitable and that the supplier is reliable.
The manual way (using Ali Tools)
To source, the products easily, install Ali Tools, one of the best Aliexpress Chrome extensions. Then, enter one by one the product pages in that store, and Ali Tools will automatically search the product for you on Ali Express.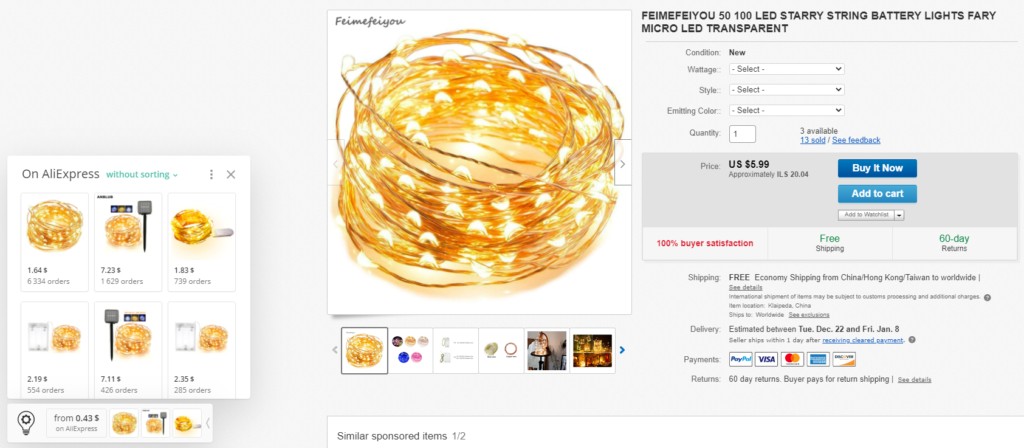 You can try to sort the results of Ali Tools by "popular first" or "cheap first" and open a few of the Aliexpress suppliers that you find. Open a few tabs with the cheapest and most popular sellers to be able to choose the best supplier and outperform your competitor.
All that is left to do is to decide on from which supplier you want to source the product and to list it to your store.
How to find a profitable dropshipping supplier on AliExpress
When choosing a supplier on AliExpress there are three things you need to evaluate
The quality of the product
Whether the cost + shipping is profitable
The reliability of the supplier
Evaluating the product quality
The product is evaluated using the product rating and its reviews. The best way to get the most reviews for the product is to open the page of the AliExpress supplier with the most sales.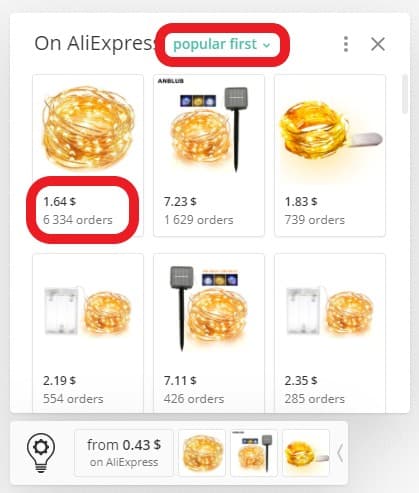 The rating of AliExpress products goes from 1 to 5 stars, next to it you can find the number of reviews the product has. A product with over 100 reviews and a score of at least 4.5 stars should be good enough for a product to source.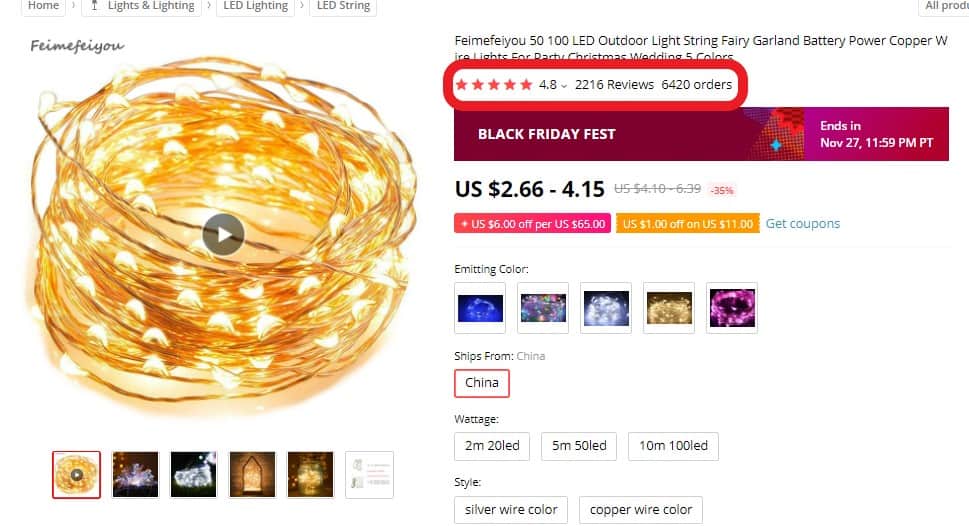 Finding which suppliers are profitable
On Ali Express, much like on eBay, each product has more than one seller that offers it. In many cases, the seller with the most sales might not be the cheapest seller. Once you verified the quality of the product look for a cheaper supplier by sorting Ali Tools by "cheap first".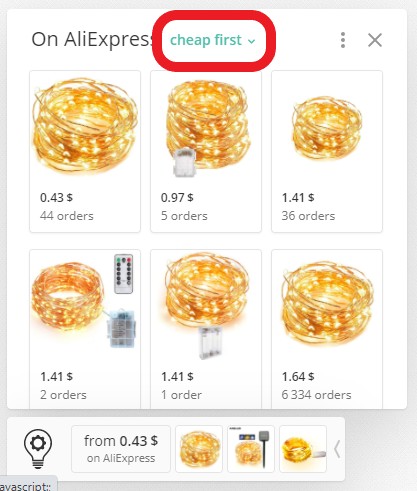 But it's not only the cost of the product itself that determines the profitability of the product. Ali Tools shows price before shipping so you want to compare the total of price + shipping.
Open the product page and click on the shipping carrier under the "quantity" section. A popup will appear with the different carriers. Choose a shipping method that offers a tracking number like ePacket or Ali Express standard shipping.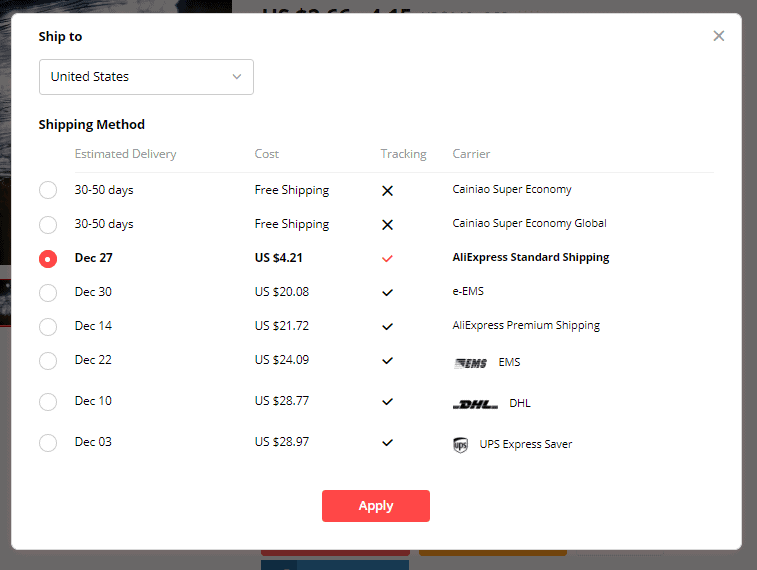 To make sure the product is profitable use the free eBay dropshipping profit calculator created by the DSM Tool team to help you snipe products easily. Make sure to make yourself a copy of the file of the calculator by clicking File -> Create a Copy.
The cheapest supplier I found for the product I sniped offered it for $1.88 + $2.63 shipping. I just filled up the cost, shipping and price on eBay in the calculator and the profit margin was calculated for me automatically.

Look at the results I got in the calculator, eventually, the product I sniped was not profitable at all. I wanted to bring here an example that isn't perfect
Every week we showcase on the DSM Tool YouTube channel 7 profitable products we sniped and we always publish more product ideas in articles like the profitable products for drop shipping from recommended niches article.
But in reality, not every search that you do is going to end up in finding the right product. So what you do when this happens? Move on to the next product. It takes about 2 minutes to get another product from the store or another seller to snipe from. Don't give up!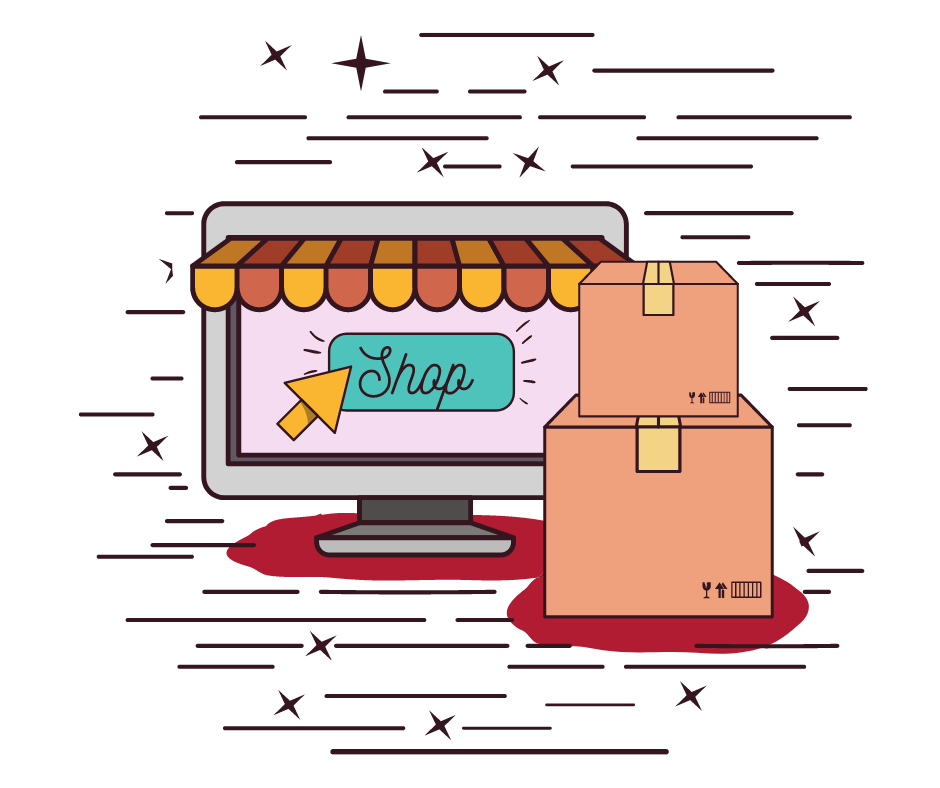 It's time…
Don't wait for success to come. Hire yourself and start your own dropshipping business
Evaluating the reliability of the supplier
When you do find the most profitable product you should still evaluate the supplier. There are very clear parameters that tell you when a supplier is good or not.
First, good suppliers offers at least 90-day buyer protection which covers you for all of the cases of automatically-approved returns on eBay. For example, when the item that arrived is broken or the wrong item or even when it doesn't arrive at all.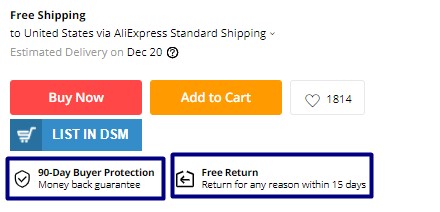 Some of the Ali Express suppliers might even offer free returns, these are suppliers that work with a local warehouse in the country you ship to. This is usually a very strong indication of a good supplier.
Last, there is the supplier rating and the number of sales this supplier made specifically with this product.
Make sure that whichever supplier you chose also had at least a couple of dozens of sales and a few positive reviews for the product. Also, hover with your mouse over the seller positive feedback rate next to the AliExpress logo to see a review of the supplier

Ali Tools also provides a seller score on the AliExpress page and it is recommended to set a minimum you don't go under, like a score of 80-90%.
What to do with the products you sniped
The sniping technique is a simple and quick method to find products to sell on your dropshipping store. Moreover, it creates for you a list of sellers that you can continue following by entering their stores once in a while to snipe their most recent best-sellers.
I suggest spending one day a month going over the list of drop shippers you sniped from before. You can save them in the profit calculator file under the tab Competitors to follow.

There are also tabs to store the products you sniped, make a list of products before you list them to your store. Once you list the product to the store you stop doing research and by investing some more time in research before the listing process you might find some "rare gems".
When you are ready to list the products in your store, make sure you follow the eBay SEO guidelines. Just like this guide, they will take you step-by-step through the best practices of the listing process.
Using eBay Terapeak for product reserach
While the best way to find dropship products to sell is using the methods I discussed in this article, eBay also has its own market research software that is aimed more for the general eBay seller community which is called Terapeak.
I like using Terapeak to learn about specific niches and trends, you can use it to generate ideas for products to dropship by analyzing a trending niche and then trying to source products that are relevant to it.
After all, it doesn't make sense to only source products from other dropshippers – someone must be that person who source the products first in order for others, like you, to find it on eBay. Terapeak gives you the opportunity to do that.
Why do I still recommend using Powerdrop and not Terapeak for beginners? Well, it's much harder to find dropshipping opportunities with Terapeak and as a beginner, you have selling limits.
You are better off following other sellers and snipe items with proven results over trying to "explore new lands" which you'd be doing using Terapeak.
Conclusion
Go find the best products to dropship. Really, you have all of the knowledge and tools you need and you can do it completely free (even Powerdrop comes with a free trial).
And if you liked the article, would you comment below and share how much time did it take you to find the first product you've sniped?
(and maybe on the way, share this article with a friend)