This post will be relevant, first of all, for eBay sellers who are searching for the best wholesale suppliers for dropshipping on eBay. However, below, we will mention reputable and certified wholesale distributors. Therefore e-sellers from other marketplaces like Shopify, Walmart, Facebook, etc. can use them as well.
Let's start with understanding the concept of dropshipping suppliers better. For those who run dropshipping stores, it's, in general, crucial to deal only with reliable suppliers. The suppliers are responsible for many functions: they stock the inventory, they are responsible for product quality, shipping, etc. But it isn't everything. Their role is even bigger when it comes to the dropshipping policy of the marketplace you sell on. Why?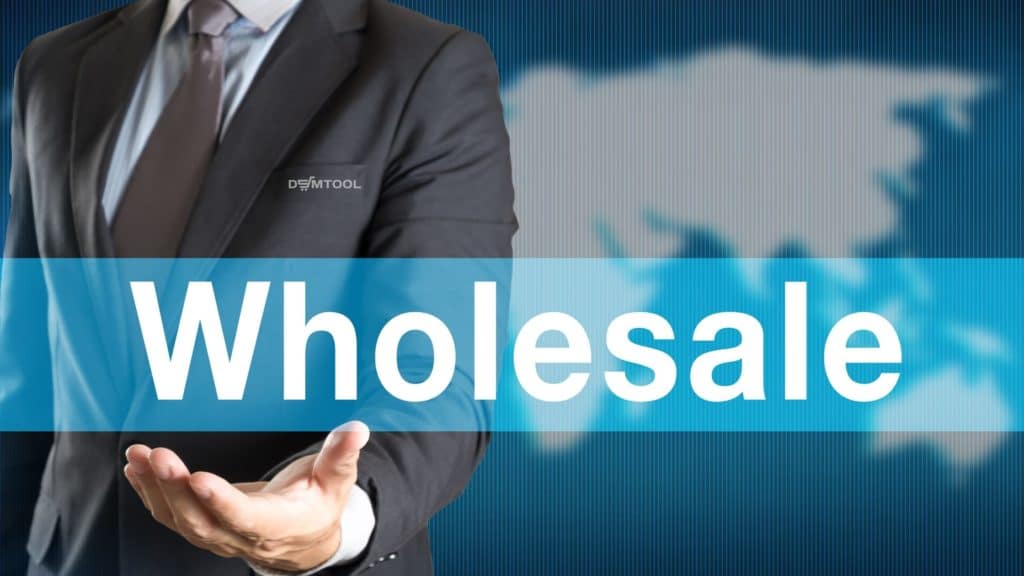 Why do dropshippers search for eBay wholesale suppliers?
The eBay dropshipping policy that was released in January of 2019 changed the role of the dropshipping suppliers. Starting from that time, eBay allows dropshipping using only the wholesale suppliers.
Previously, eBay didn't limit the sources for its sellers. Therefore, this change in policy put dropshipping from suppliers like Amazon or Walmart, quite famous retailers, against eBay's terms of service. To continue sourcing from the retailers goes together with a risk to get some of your listings canceled or ended, and a restriction for your eBay selling store.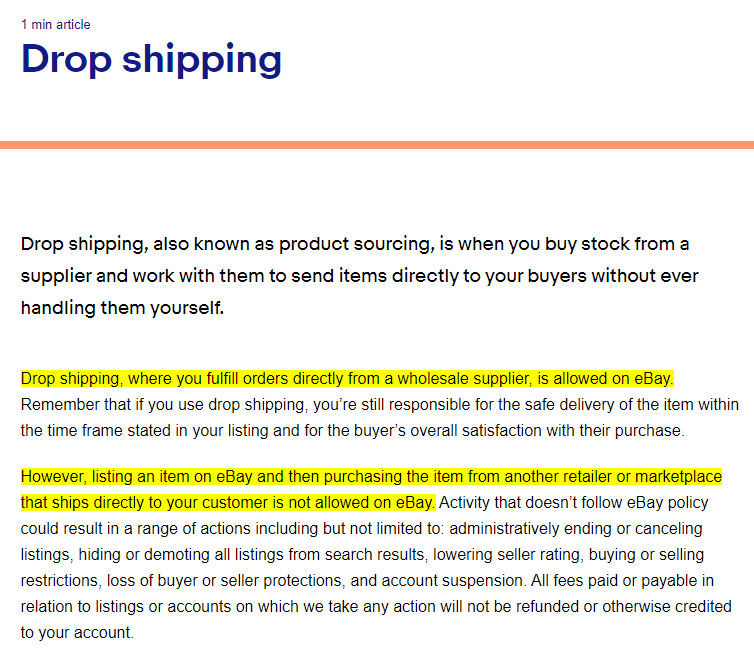 That's why more and more sellers consider finding eBay wholesale suppliers to run their dropshipping stores.
Is Dropshipping Allowed on eBay?
Yes, it is. In 2019, eBay has released a new policy compromising many drop shipping businesses. With this, the marketplace clearly supports dropshipping only if you are sourcing directly from wholesale suppliers and not from other retailers. In that definition, somebody would say "dropshipping is dead!". But is it true? The fact is most dropshippers use other retailers to purchase the items and then the retailers deliver the packages.
Policies of Corporates Like eBay Changes All The Time…
"…Dropshipping sellers around the world started reporting that they are having issues like losing sales. Their products are not getting any more views."
Surely, most of us can understand those issues. No matter either you are a newbie in dropshipping or already a legend in this kind of business. eBay changes its policies every time to an extent that sellers should find another path to success. Well, no one can blame the world's online marketplace for its attempts to make eBay a better place for buying and selling. Back in the past, it was easier to sell. However, now you've already spent so much time and effort and nothing is happening. Why?
How Do We Deal With The New eBay Dropshipping Policy
So, how are we supposed to deal with the eBay dropshipping policy? No worries! AT DSM Tool we constantly lookout for ways out of sticky situations and help you grow your eBay dropshipping business in new ways.
To put things right, first, we called eBay customer support to learn if dropshippers can still sell products by working with a supplier providing a reseller or drop shipping agreement. Regardless of the process of selling is still the same, the fact that you have a reseller agreement from your supplier makes it completely legitimate and is allowed by eBay.
Thus, finding a dropship supplier that gives you a reseller agreement is the solution to solve the issue with the legitimacy of your dropshipping business.
However, nobody wants to put their stores at the risk of losing potential sales due to policy violations. That's why the Dropship Academy prepared for you the list of the best wholesale suppliers for dropshipping. Here they are.
The Top 15 Best Wholesale Suppliers for eBay Dropshipping
First of all, it's important to understand who are wholesalers? What is the difference between retailers and wholesalers?
A wholesaler is a company or individual that purchases great quantities of products from manufacturers, farmers, other producers, and vendors. Wholesalers store them in warehouses and sell them on to retailers (shops and stores) and businesses.

MBN Market Business News
Usually, the wholesale distributors sell in big quantities to other businesses, for example, to retailers. However, it doesn't mean that from now on you would need to buy the big quantities of products, thinking where to store them and how to sell them. No, the time changes. The wholesalers, nowadays, can also sell small product quantities, and even a single item. Just different certified wholesale distributors can offer different conditions.
So what are they? What are these eBay wholesale suppliers?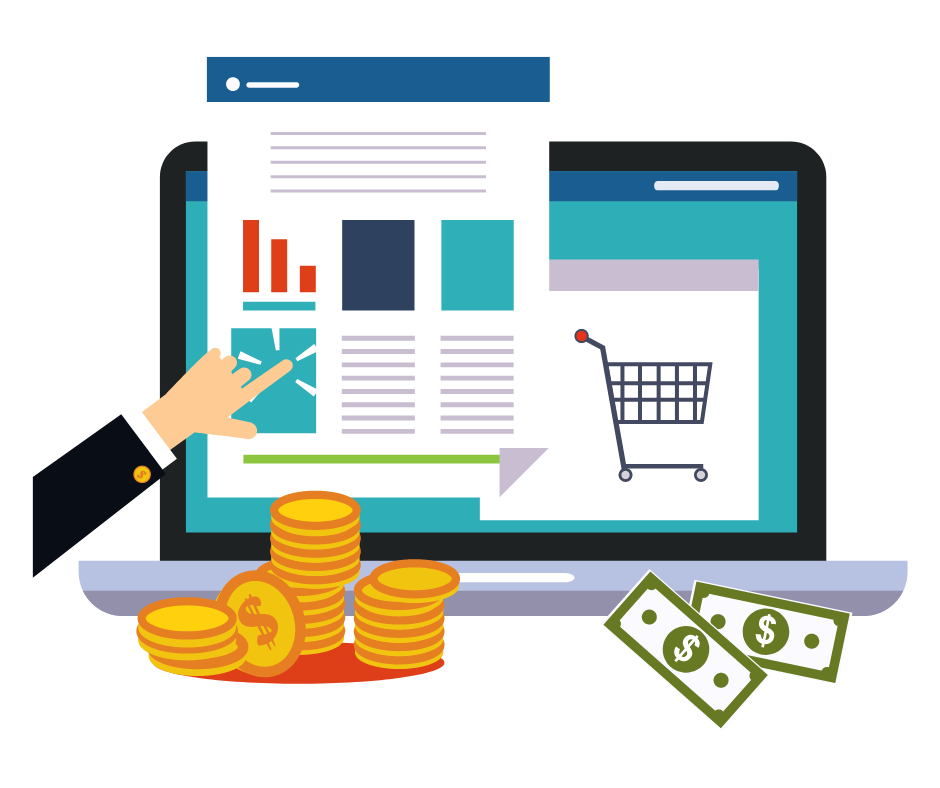 Don't wait for the profits, make them!
Start a profitable dropshipping business with DSM Tool. Get a free course and a free trial of the software.
#1 CJDropshippping – best wholesale supplier for dropshippers
CJDropshippping is one of the top wholesale websites for dropshippers which is based in China. In the nutshell, it is a dropshipping platform that provides various dropshipping services including product sourcing, order processing, shipping services, product branding, customized packing, and some other useful features for the e-sellers.
The CJ Dropshipping platform can be connected with eBay, Shopify, Woocommerce, Shipstation, Lazada, and Shopee right from their site. Besides, 29 CJ warehouses, which are situated all around the world, helps to provide faster international shipping. Along with CJPacket, the special air delivery line they created just for that.
Overall, CJDropshipping counts with about 400,000 products for drop shipping across various categories. Additionally, their users can source products on request from Aliexpress, 1688, Shopify, Taobao, or ask CJ manufacturers to produce the specific items for them for free.
Regarding the prices, CJ Dropshipping provides dropshipping products at wholesale prices without purchasing a big amount of their stock beforehand. Therefore, you get affordable prices for wholesale products there.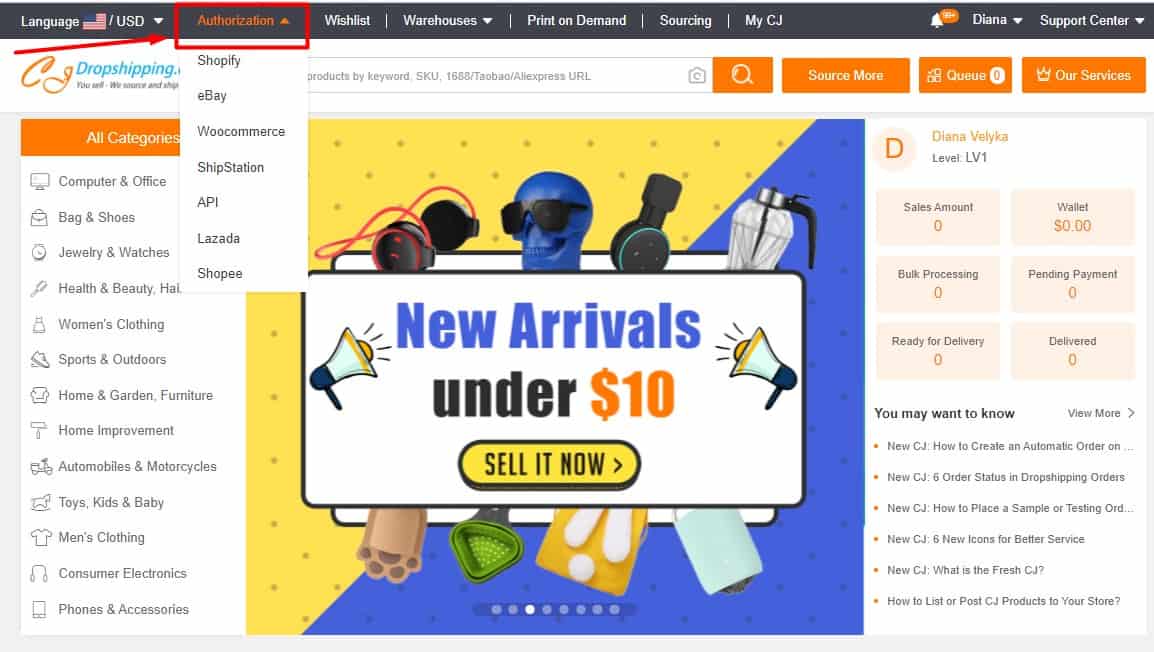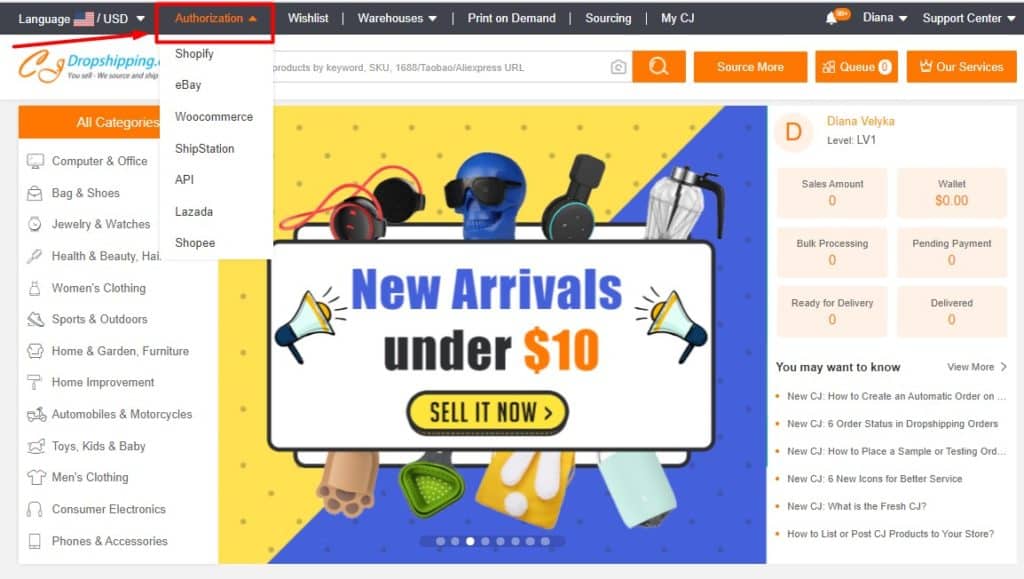 #2 Chinabrands – one of the top wholesale websites
Chinabrands is the world-leading eBay wholesale supplier, which is also based in China. This is a platform for dropshippers that provides the reselling agreement that allows their wholesale products on other marketplaces.
One can find millions of dropshipping products on Chinabrands that can be shipped from 46 of their warehouses, located in the USA, Europe, North America, Russia, and Australia. In addition to the wholesale prices, their products pass by by a 3-layer quality inspection.
They do not offer free international shipping. However, they ship to 250 countries within 16-35 days (depending on the warehouse).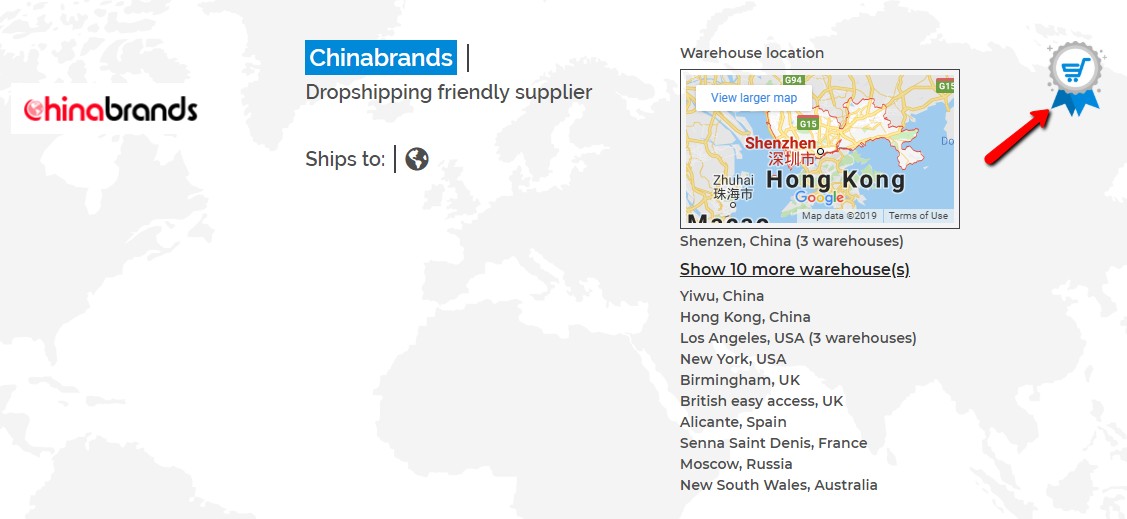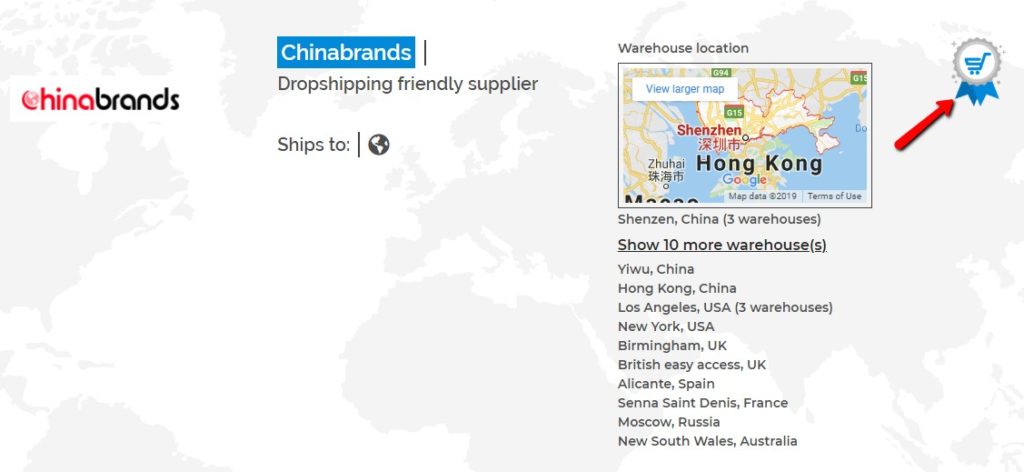 #3 Costway – one of the US best wholesale suppliers
Costway is one of the top wholesale websites in North America and Europe. They sell everything people need starting from business activities to daily life whether that's home and garden items to sports and hardware equipment, from auto parts to DIY projects all the way to business and industry products. Costway is a dropshipping-friendly supplier that offers a reselling agreement. Costway orders come in packages with Costway logos but without invoices.
Additionally, the Costway warehouses are situated in the USA, UK, Germany, Italy, Canada, France, Spain, Poland. The company offers fast shipping and international ones.
#4 Gogomall – your legitimate wholesale supplier
GogoMall is a global online shopping platform for dropshippers with a mission to facilitate trade between worldwide buyers and Chinese superior suppliers. If you are choosing the eBat wholesale supplier to dropship from, you can find Gogomall a pretty interesting source.
The company offers diverse services on Gogomall: advertising, marketing, and promotion services, business management consulting services in the field of information technology, marketing, advertising, and promoting the retail goods and services, providing an online commercial information directory on the internet, online advertising on computer networks, sales management services and so on.
Additionally, dropshippers can get the reselling agreement to sell GogoMall products on different eCommerce sites.
In terms of the products, Gogomall has 1000+ online products across the electronics, fashion, accessories, housewares, beauty & personal care, toys categories, and others. Moreover, they also offer a sourcing feature. So you can request a product you want from one of the 10,000 verified Chinese manufacturers that cooperate with Gogomall. And their team will personalize the item for you and check its quality.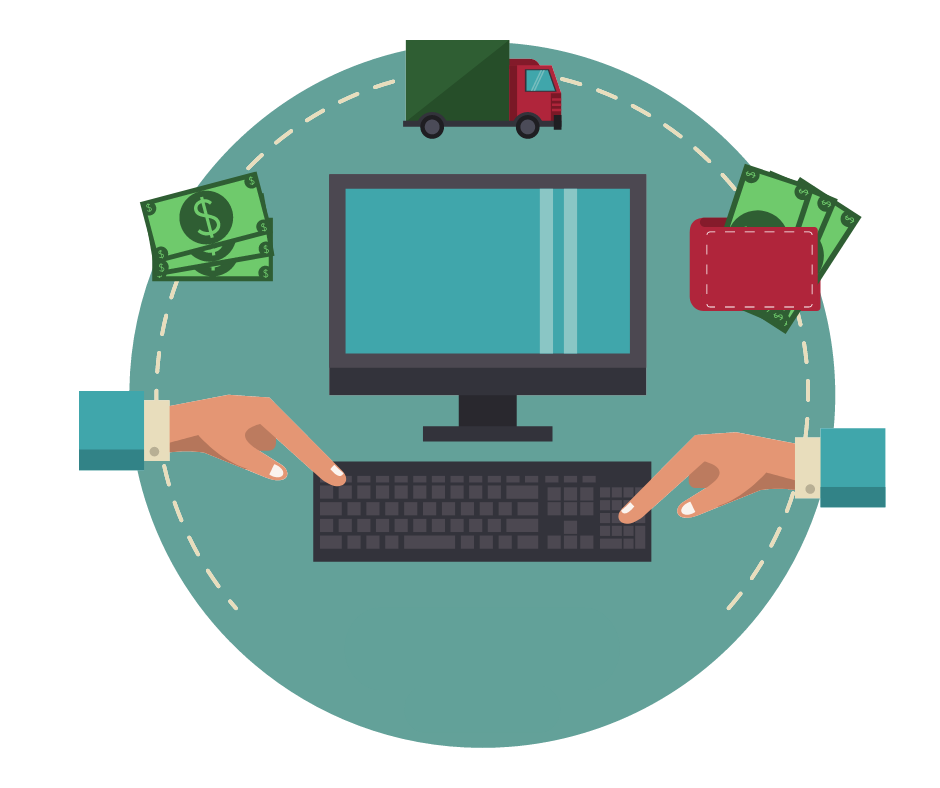 Not yet making money online?
Start your own dropshipping business. Sign up for a free trial of DSM Tool and we'll help you get started. Today is the day.
#5 Costco – the US legitimate dropshipping supplier
Costco is one of the largest wholesale suppliers in the world that has been operating since 1976. However, Costco runs on a "subscription business model," that is, customers who want to shop at the store must buy a membership in order to do so. In exchange for 60$ per year, you get access to a huge amount of products with low competition and at wholesale prices. Costco is famous primarily for grocery products, but they offer goods in other niches as well, for example, electronics, clothing, office products, etc.
Their warehouses are located in the USA, UK, Canada, Australia, Spain, France, Mexico, Iceland, Japan, South Korea, Taiwan. It makes it possible to ship wholesale products fast, but only within the countries where they have their warehouse.
Chinavasion is one of the top wholesale websites you can use for dropshipping on eBay. It's also based in China. The company mostly specializes in electronic gadgets. Nevertheless, it also sells wholesale products for health, beauty, apparel, sport, pets, and garden. Good quality of product images and informative product descriptions are among Chinavision advantages. If you will join their VIP program, you can get even more affordable prices for different items.
However, Chinavasion doesn't offer a reselling agreement for dropshippers.
As for Chinavasion warehouses, they only ship products from China. Chinavasion international delivery usually takes 12-45 days. And it can be for free. Therefore, make sure to set your business policies correctly and inform your buyers about the shipping time and item location.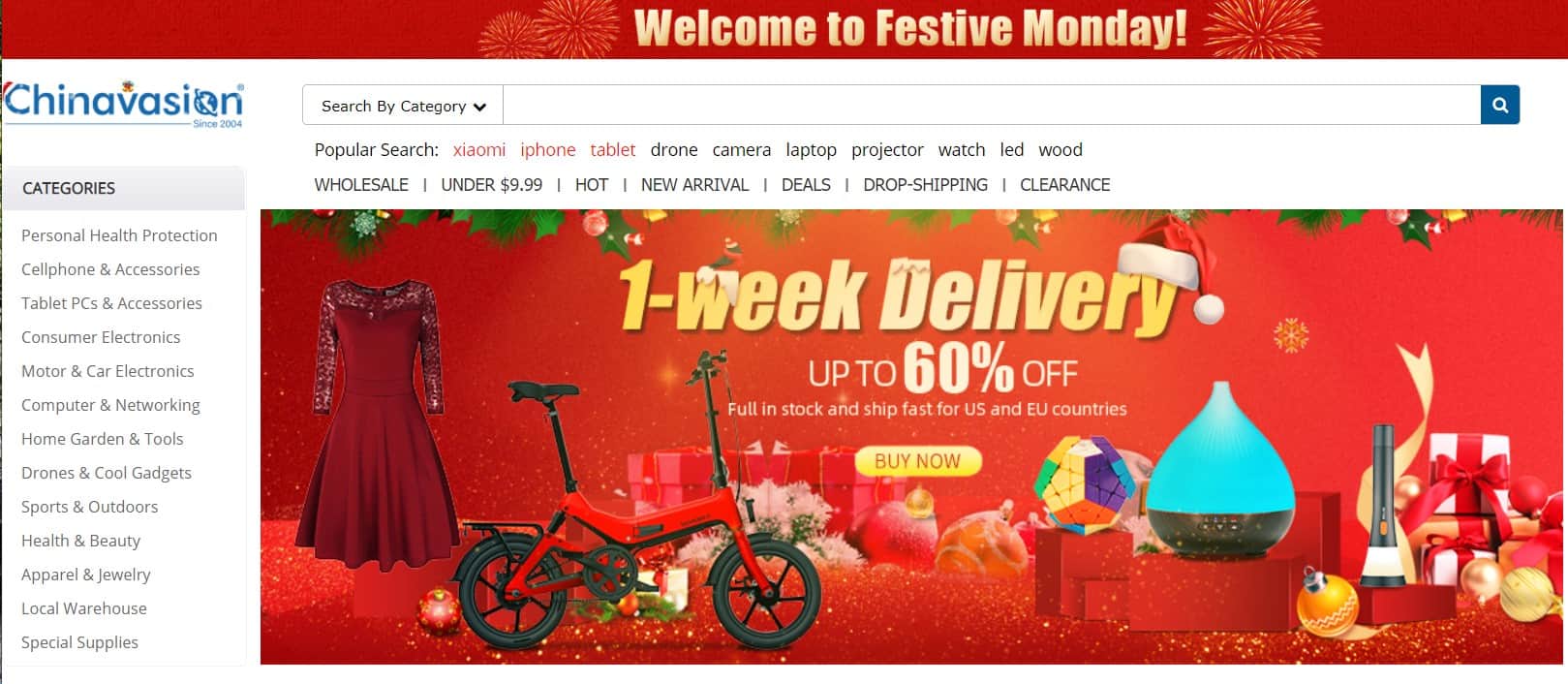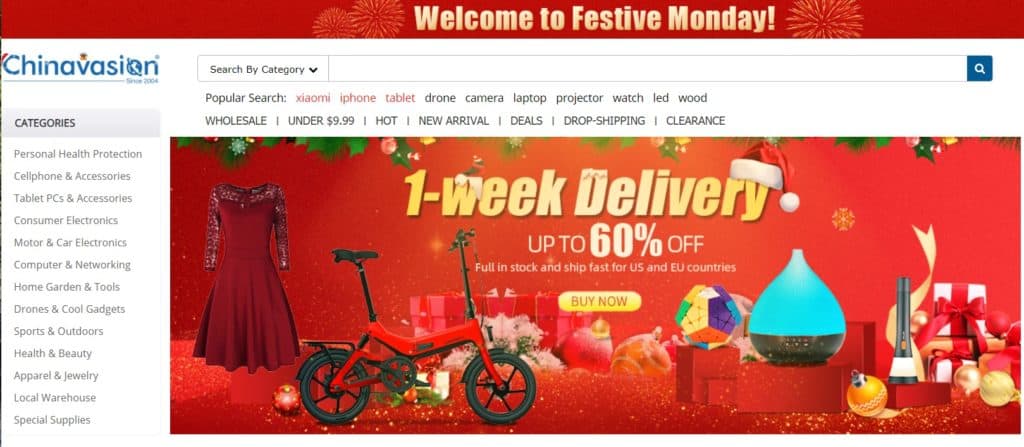 #7 Tvcmall – the electronics wholesale supplier
Tvcmall (aka TVC) is a China wholesale and dropship company that has been in the market since 2004. It's owned by a company called Shenzhen Tvc-tech Limited. Tvcmall is a legitimate eBay wholesale supplier of unbranded electronics and accessories. Nonetheless, you can also find the items from other daily-updated categories like home & garden, toys, sport & outdoor, lights, health & beauty, baby & mother.
Overall, they have 100,000 high-quality items for dropshipping. Additionally, they provide design services and customized packaging. Since it's a dropshipping-friendly supplier, there would be no TVC logo in the shipped packages. And no invoices. Besides, Tvcmall promises 24/7 fast customer service.
#8 Dhgate – legitimate dropshipping supplier
Dhgate is one of the top wholesale websites for dropshipping on eBay and Shopify. The company offers more than 30 million products across a big range of categories on its website. Some suppliers on DHGate do not support drop shipping, however, others sell wholesale products only in bulk. Their members get extra sales on DHGate products.
They offer free international shipping. However, DHgate has only warehouses in China. That's why the delivery time can take up to 35 days.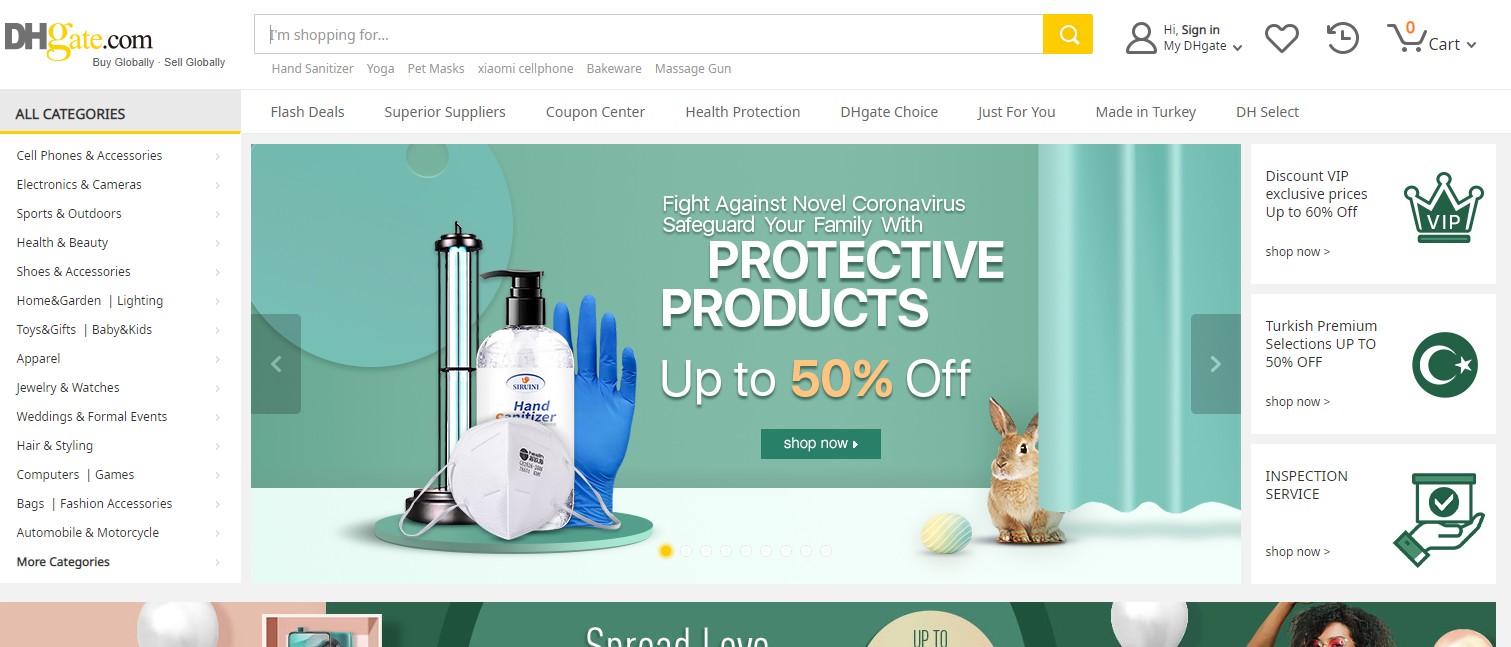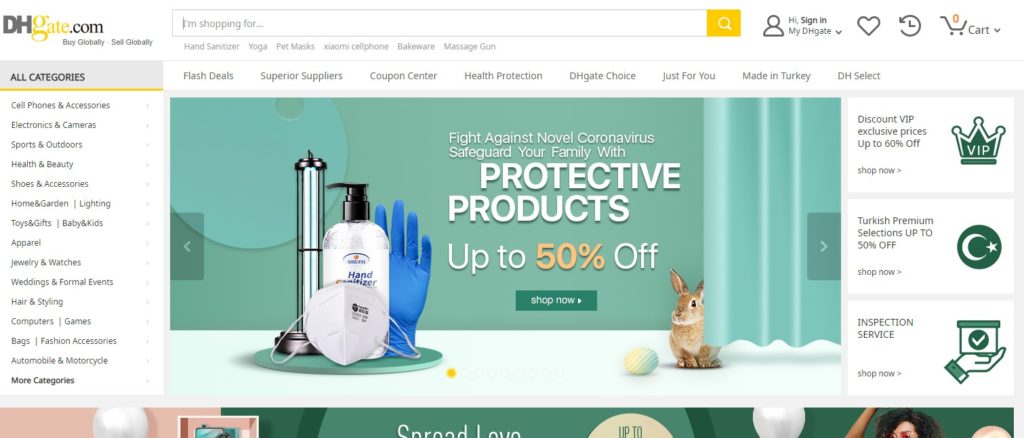 #9 Mirage pet products – the US eBay wholesale supplier
Mirage pet products are the US certified wholesale distributor that produces nearly 100,000 original and trending pet products: fun pet apparel, holiday clothing, strong dog and cat collars and other accessories, cute pet toys, traveling items. All of them go with the wholesaling prices. This wholesale dropshipping supplier is friendly for reselling and offers a special program.
Mirage Pet Products does not charge a dropship or subscription fee, only shipping cost and the cost of the product. You can inform them that you want to dropship and get access to an excel file with all important information about their products and get high-quality images for their wholesale products.
#10 Bangalla – eco-friendly eBay wholesale source
Bangalla is a famous wholesale dropshipping supplier of organic and natural food products in North America. The company offers around 700 brands over 125 product categories. Being acknowledged that drop shipping of food products is prohibited, you can list health & beauty, sustainable products, home, and decor products from there to your dropshipping store. The Bangalla loyalty program has 3 plans with services varying from access to products to wholesale and dropshipping items, an extra 5% discount on all orders to the FBA services together with the logo addition. By the way, the item prices will vary whether it will be a wholesale order or dropshipping order.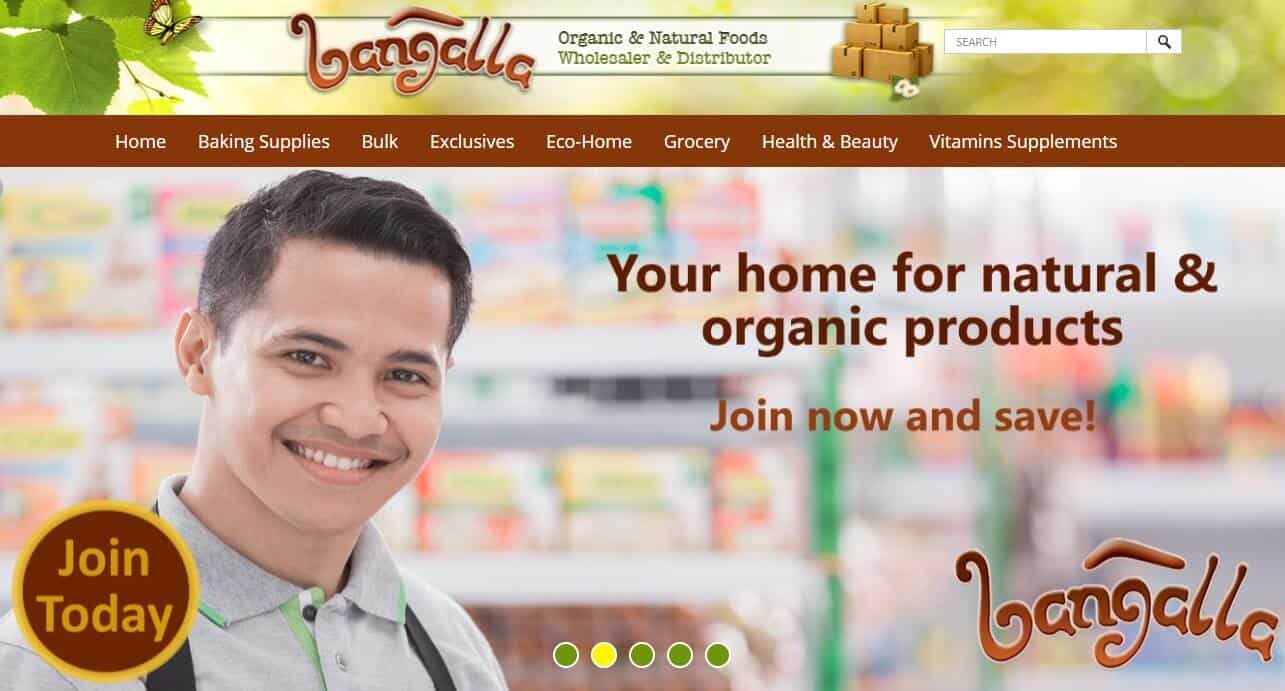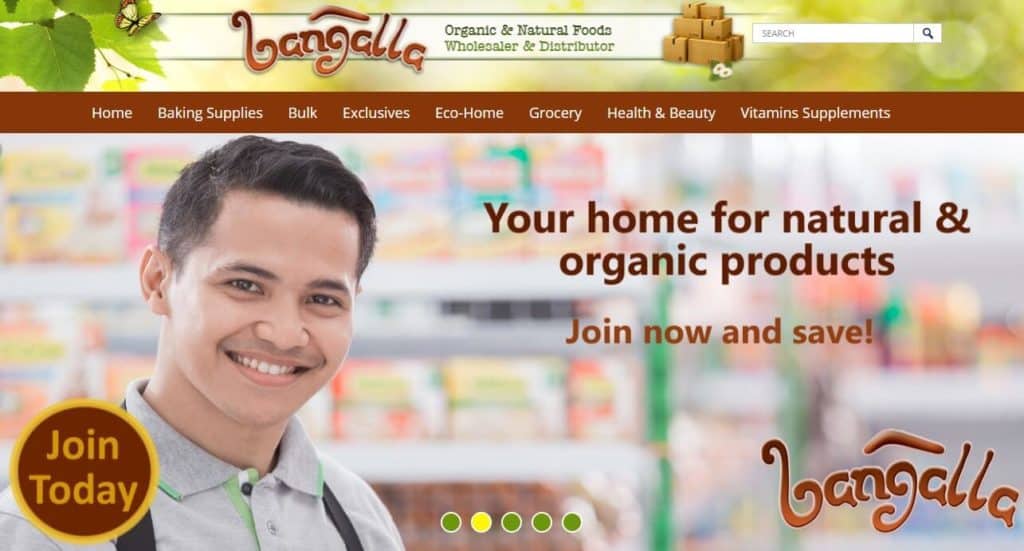 Tip
There are many other suppliers you can use for your dropshipping store. You can check the list of the US dropshipping suppliers to get more information.
#11 Wholesale Central – one of the best wholesale websites
This is another excellent eBay wholesale supplier. It's basically a list with suppliers. Therefore, there you can choose only wholesale suppliers through a big number of product categories (including "Made in the USA"). Once you've decided what you want, they give you a detailed list of products to browse directly from the manufacturer's website.
All suppliers in Wholesale Central are inspected strictly by their quality control team. They offer some powerful product purchasing tools, allowing dropshippers to find their dream products within a couple of clicks. Besides, it's a business-to-business page that doesn't sell to customers.
You may also contact dropshippers there and use the site to search locations nearest to you, which can lead to a more reliable partnership. You don't need to sign up to use most of what Wholesale Central offers.
It's a free dropshipping supplier. However, Wholesale Central lacks a lot of functionality that other services provide. It's primarily just a dropshipping directory. But it's one of the best wholesale websites – considering that you don't have to pay for using it.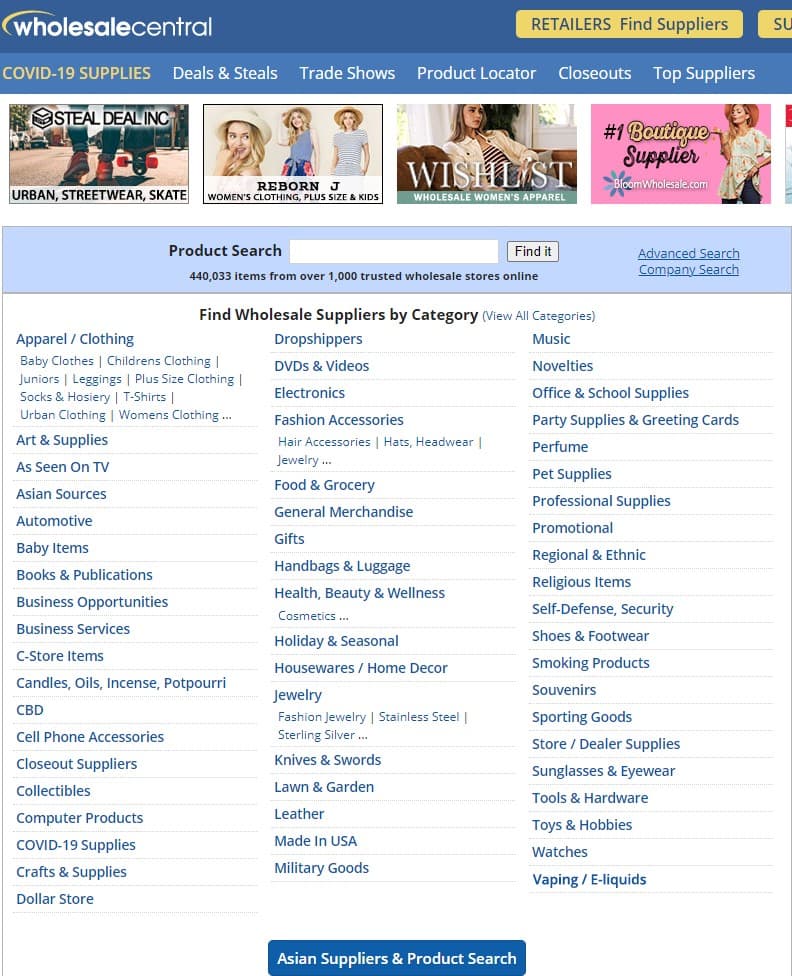 #12 Toptenwholesale – Free Dropshipping Wholesale Suppliers Directory
Toptenwholesale, founded in 2005, is a leading whole trade network that links store owners and dropshippers, like you, with online wholesale vendors, distributors, importers, or resellers of both used and new products. Since this site is primarily a trade board (a wholesale suppliers directory), you can only see listings for products and suppliers.
The products are well laid out and categorized for easy navigation, and you can access the seller's site by clicking on any link. Moreover, you can find the Hot Buys from the site's wholesale suppliers right on this site.
TopTenWholesale features thousands of US-based suppliers, manufacturers, importers, distributors, and wholesalers, as well as a huge selection of US dropshippers. That's why there are literally millions of quality products and exclusive wholesale deals for products to dropship on eBay. Besides, you can post buying requests or apply the help of a custom sourcing service to find a suitable wholesale supplier. Furthermore, their supplier verification program assure you're dealing with legitimate and reliable companies only.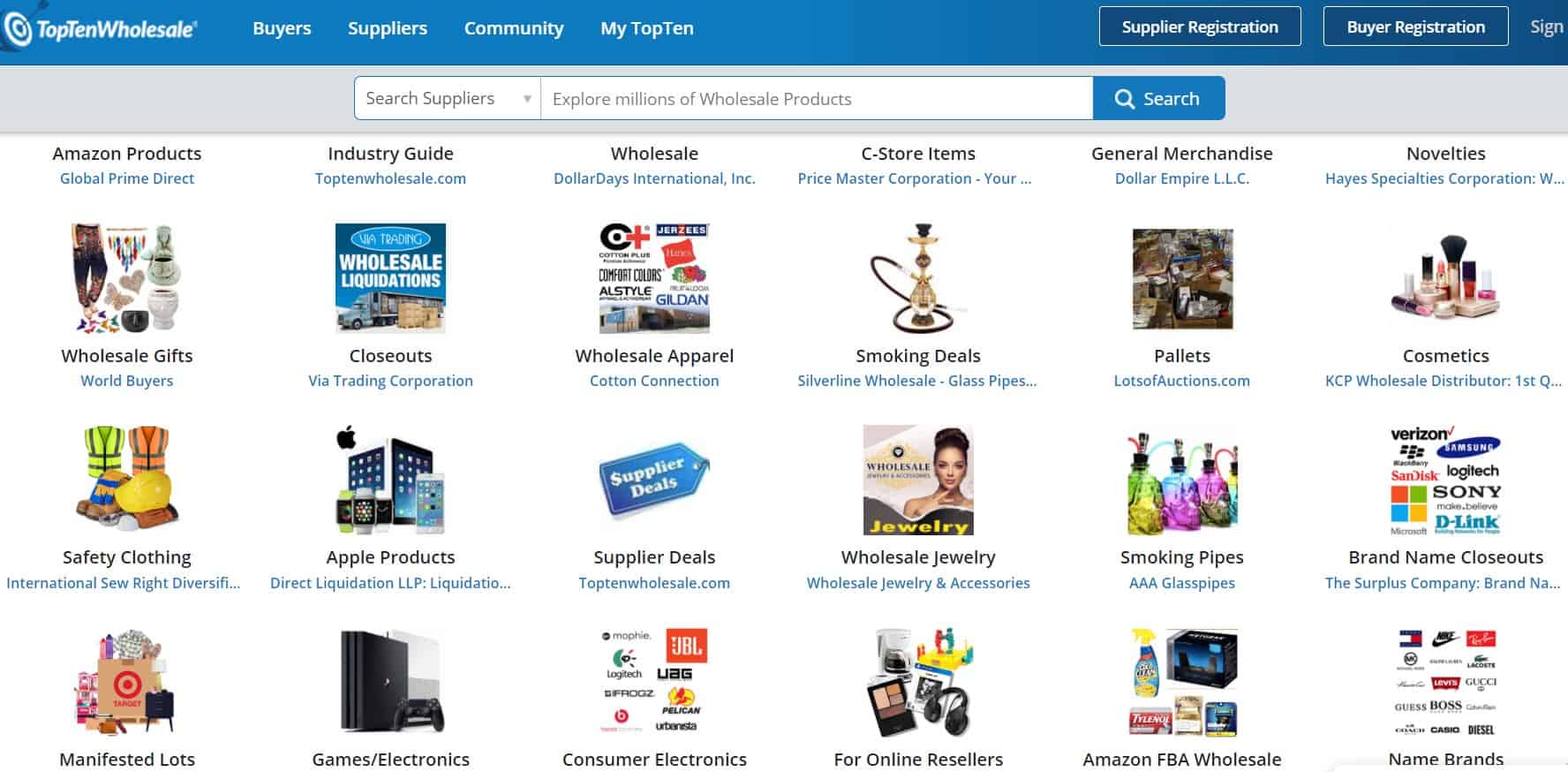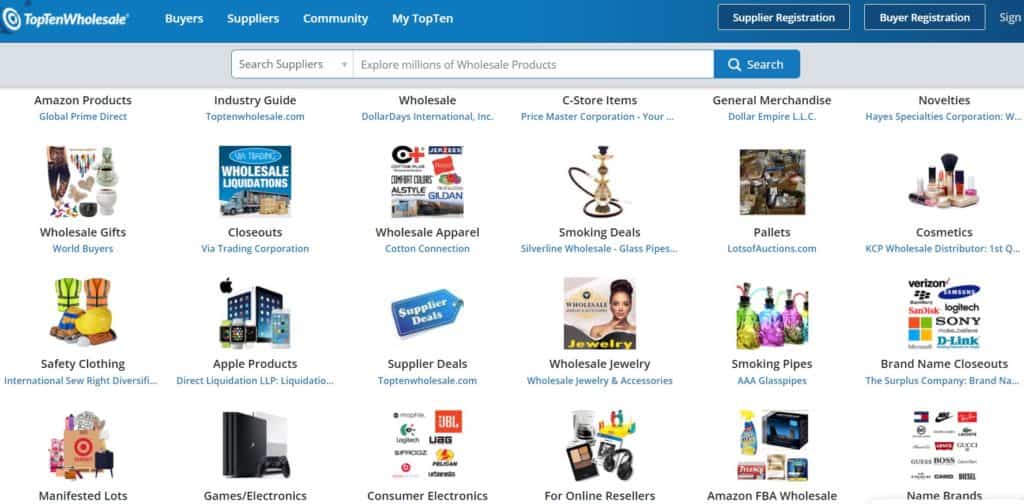 #13 BigBuy – Top Wholesale Webiste
BigBuy is one of the best wholesale suppliers in Europe. It's a B2B marketplace located in Spain, where you can buy wholesale and take advantage of bulk order discounts.
The company imports and wholesales a diverse selection of new products and interesting gifts: including inventions, joke gifts, electronic devices, small appliances, and beauty products. Their collaborations with manufacturers allow them to provide the cheapest pricing while minimizing intermediary expenses. Besides, the qualities they provide have made it become Europe's largest wholesale dropshipping supplier.
It's a dropshipping-friendly supplier. So the name of BigBuy doesn't appear on the shipped packages. The company ensures deliveries throughout the continent with very minimal costs. Moreover, they offer customized packages and branding as well.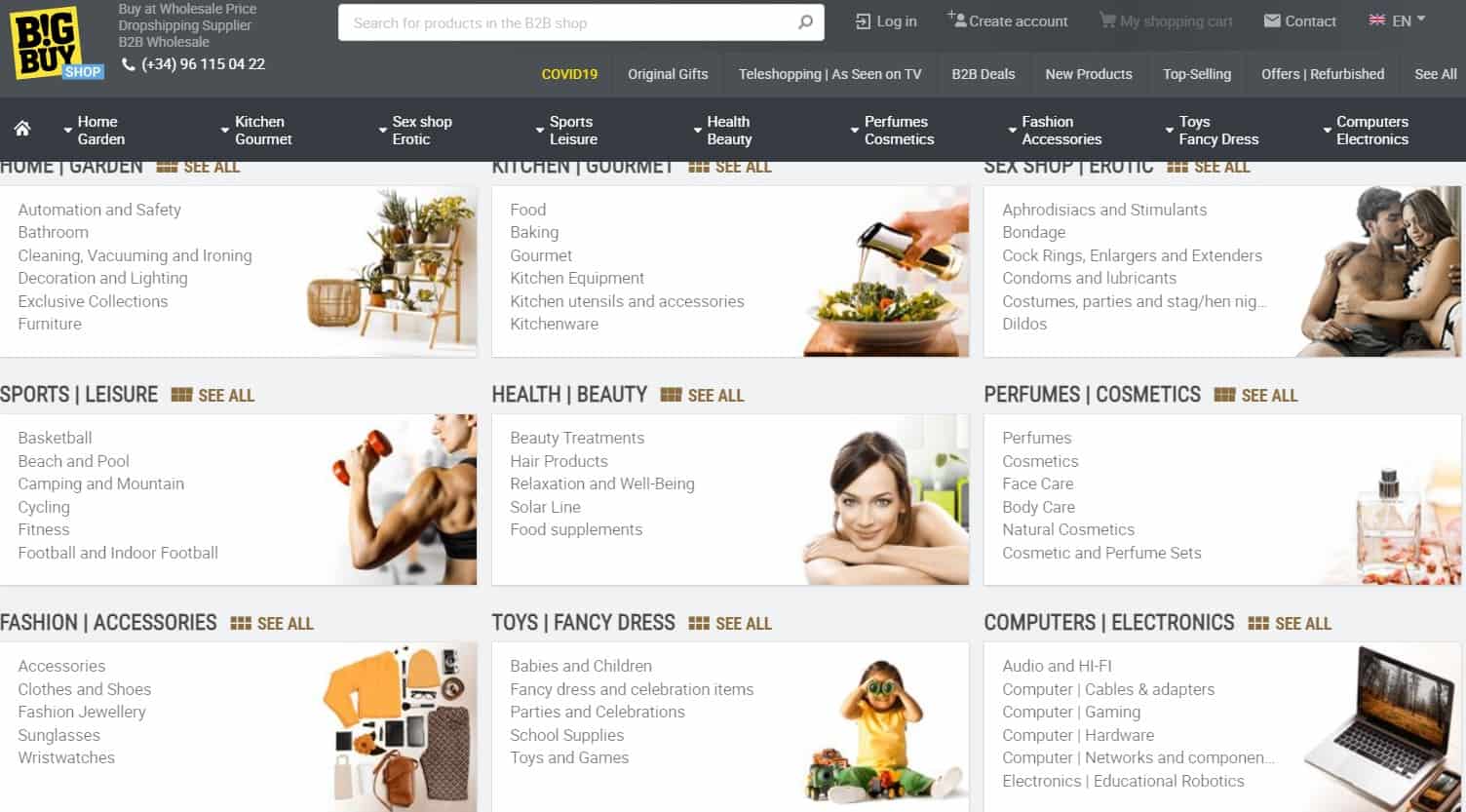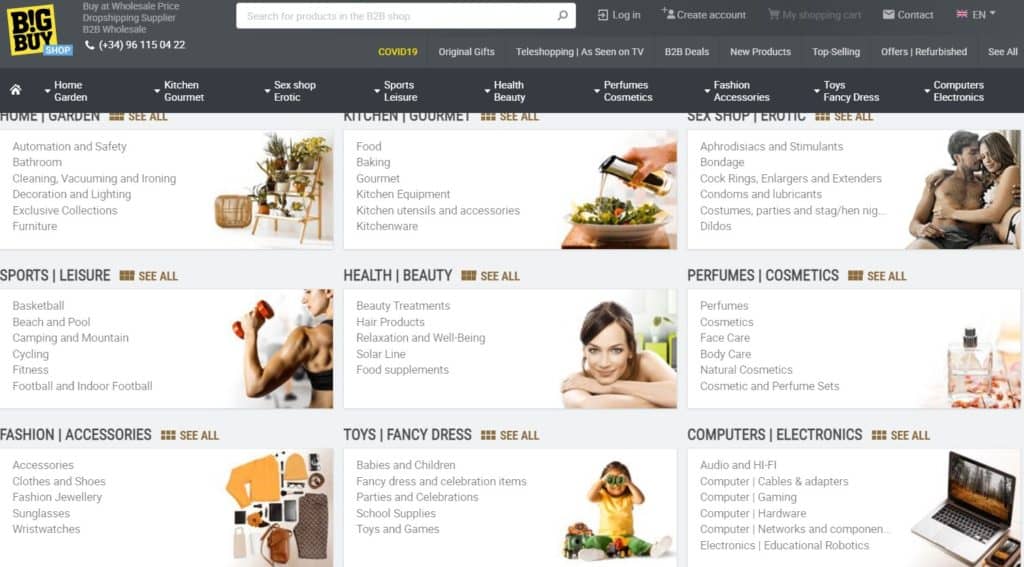 #14 Jerico – Canada dropshipping wholesale supplier for clothing
Jerico has been in wholesale clothing since 1987. It's one of the best wholesale dropshipping suppliers in Canada. Currently, the company specializes in producing eco-friendly clothing. For example, they use sustainable bamboo and eco-fleece fabrics for their products across different clothing subcategories to offer green authentic Canadian apparel. It will be a good eBay wholesale supplier for those who do green dropshipping.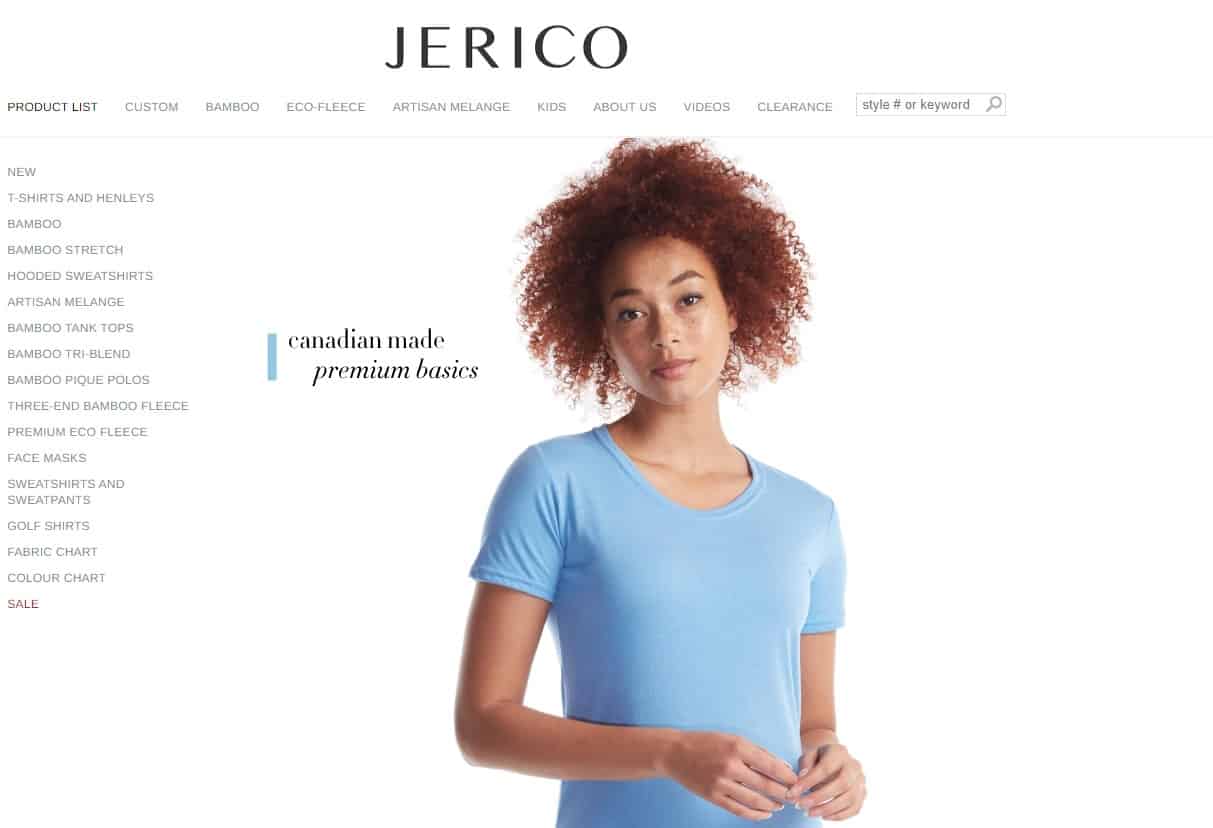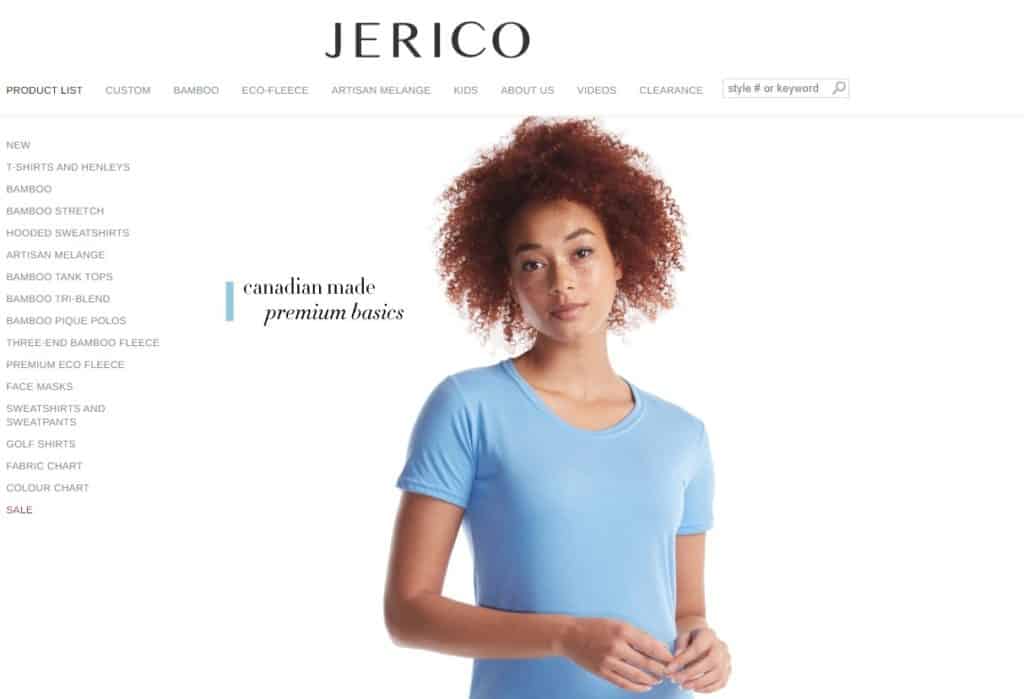 #15 B2B Griffati – one of the top dropshipping wholesalers in clothing
B2B is the most reputable and well-known online wholesale dropshipper for designer wholesale clothing fashion brands. They provide a diverse range of brands to online stores, retailers, and boutiques all around the world. They have also specialized in women's clothing.
This eBay wholesale supplier is famous for the highest quality products and inexpensive wholesale costs. They provide competent, friendly, and dependable client service at all stages, including pre-and post-sale.
Another advantage they have is the regular discounts. These allow you to purchase top-quality products at up to a 75% discount. That's a good help for your dropshipping profit margins. Another huge advantage of this wholesale supplier is that local shipping time is just 24 to 48 hours (or 2 to 4 days for international deliveries), which is truly exceptional!
However, the company doesn't reveal its membership prices. But you can start with a 15-day "Discovery" trial and go from there.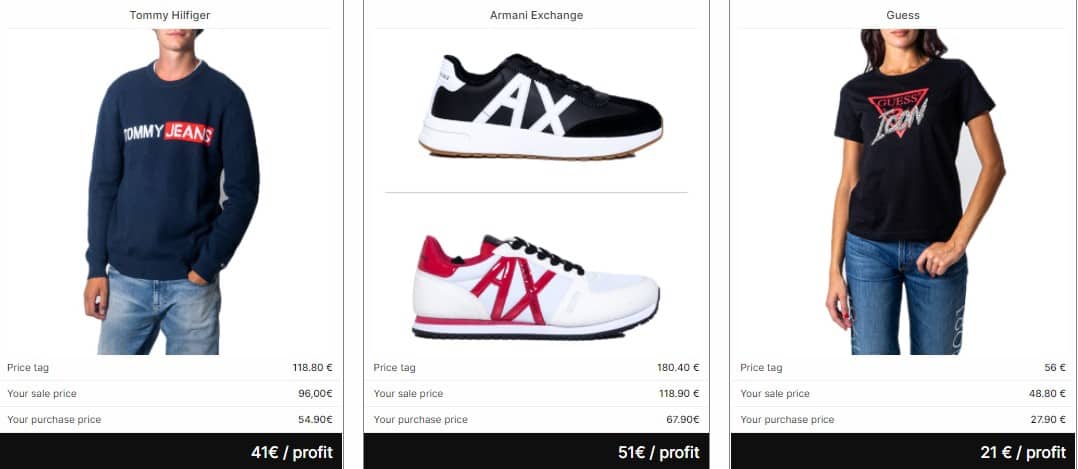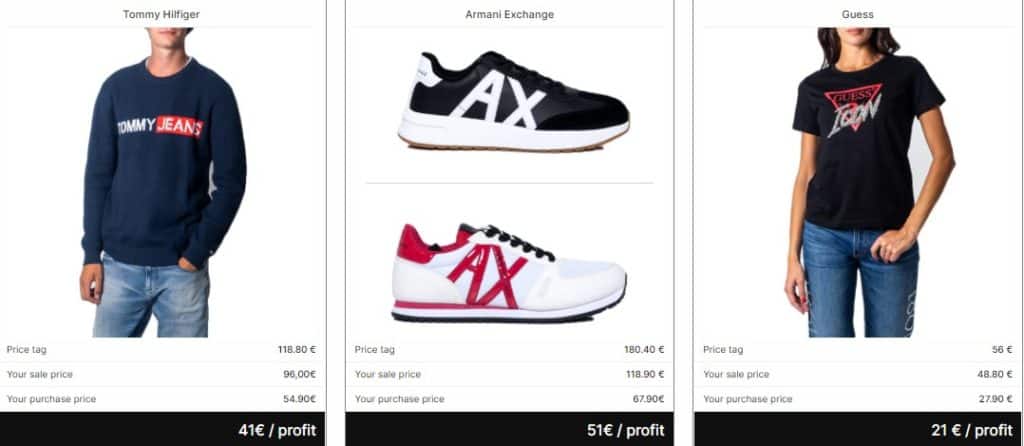 The Legitimate eBay Dropshipping Presented by DSM Tool
Now you know what eBay wholesale suppliers you can dropship from to protect and scale up your dropshipping business. Dropshipping by this way will increase the efficiency of your store, and even protect it. Namely, it will provide good quality products to make your customers happy. Besides, it will keep the integrity of your eBay dropshipping store making it more trustworthy and reliable.
Wholesale prices in this store are very competitive, but they are only disclosed to bona fide resellers and dealers. A great option if you are interested in eBay wholesale clothing dropshipping.
"We are now supporting 50+ drop shipping suppliers and each day we are constantly adding more and more of them…"
The goal of DSM Tool is to increase the number of dropshipping-friendly suppliers that will help eCommerce sellers to automate dropshipping businesses. Some of the suppliers we already have an official partnership with, so that they can provide a reseller agreement for DSM Tool users. Partnering with those eBay wholesale suppliers will definitely give more opportunities and benefits to your dropshipping store!
"Every business owner has to take responsibility for their business and to understand how to maintain it sustainably."
DSM Tool is committed to providing the customers with different solutions to automate their dropshipping stores, from finding what products to sell online all the way to deeply understanding eBay SEO:
Start Dropshipping With DSM Tool
Whatever platform your dropshipping business is based on, please consider subscribing to our Facebook international drop shipping community, Dropship academy's suppliers' section and YouTube channel. If you prefer Instagram to other social networks, follow our IG account @dsmtool!
These steps will bring you closer to taking full responsibility for your store and doing everything that depends on you! Keep up with the latest dropshipping news! ?
Do you know other best wholesale suppliers that aren´t on this list? Feel free to recommend it to other dropshippers in the comments section below?