40

min read
Christmas isn't only the most wonderful time of the year but also one of the busiest days of Q4 in the eCommerce holiday calendar. Planning ahead which dropshipping Christmas products you can add to your online store is a key to managing your online business successfully. Especially with an eCommerce boom this year!
Though this holiday is getting more commercialized from year to year, it is a family holiday primarily. It's associated with magic moments, family reunions near the Christmas tree, decorations, and warm-hearted gifts. Some of the shoppers start to search for the perfect holiday gift really beforehand, in August, but most of the buyers aren't so far-sighted and begin the Christmas preparation in the middle of October or November (60%):
Taking into account that more than 60% of US consumers prefer to buy their holiday presents online, eBay online sellers and dropshippers need to start to prepare for the upcoming holidays 2022 already now.
Worries away! We got you covered! Find below popular Christmas niche ideas and the top 70 best selling Christmas products that will help your online shop to be more successful this holiday season.
What to Expect from Christmas Dropshipping in 2021[Statistics and Facts]
The 2022 holiday shopping season will not be as much forecasted as in the previous year due to the coronavirus and inflation impacts. Nonetheless, to ensure your online shop is ready for December 2022, it's a good idea to look back. The statistics for the previous year give us insights into eCommerce trends.
2020, despite the pandemic, holiday retail sales surpassed the trillion-dollar mark. 60% of US consumers preferred to buy Christmas gifts online! And online and non-store sales grew by 3% and reached $209 billion. In 2021, the overall holiday spending in the US reached $886.7 billion.
The U.S. households spent an average of $1,387 for Christmas last year. $511 out of this sum was spent on Christmas presents and cards. While the expected average holiday spending in 2022 will reach $1,802 per person. And people themselves expect higher prices for Christmas gifts this year.
However, 51% of US consumers plan to buy fewer gifts this year than in 2021. Nonetheless, the experts predict that the average number of sales per certain product categories will grow (for example, people will buy more apparel this year).
When asked about their shopping intentions and plans in 2022, most consumers said they expect to spend an average of $25-50 on gifts. On the other hand, more than half (59%) revealed their plans to spend over $200 on Christmas gifts.
Christmas niche ideas for your eCommerce business
Dropshipping during winter and especially holidays is a good time to come back to the beginning and double-check all of your Shopify and eBay settings and business policies are set up correctly. Therefore, you eliminate the chance to sell hot products dozens of times just to find out that you sold it to a country your supplier doesn't ship to or with return policies you didn't plan to actually give.
If you use the additional tools, for example, the dropshipping automation software DSM Tool, validate your DSMTool settings there as well. Set all necessary templates and automatic customer service messages to benefit from the holiday shopping season 2021.
Dropshipping Christmas products doesn't mean that you need to replace all items in your eCommerce shop. On the contrary, it allows you to make sure you have the best selling Christmas products already in your e-shop. Well, if you don't… We got you covered and prepared the list of most selling products on Christmas for 2021.
The buyers have already started to prepare for Christmas 2021. Many of them even already know what they are going to buy as a Christmas gift. Gift cards, clothing, and toys remain to be in the top 3:
Good news for those who are searching what Christmas products to sell in your eCommerce or dropshipping store! We have prepared for you 70 best-selling Christmas niche ideas divided into the next categories:
Besides, learn 10 more most selling products on Christmas from this video:
Let's get started!
1. Most selling Christmas clothing
As we have seen, clothing is the second most popular category people choose for a Christmas present (after the gift cards). It's quite a big niche that offers many choices. You can sell Christmas-themed cloth with classic patterns and colors, along with seasonal winter clothing (trendy sweaters, cardigans, elegant dresses, gloves, etc.).
Always consider the location of your buyers. For example, if you dropship in Australia, you should know that December is the beginning of summer there. So, cardigans and warm socks would be not so in demand there as in Germany or the UK.
However, you can find a whole bunch of Christmas products to sell in cold winter weather and the heat. We presented the clothing niche ideas right below:
1.1. Dropshipping Christmas socks
People, in general, need socks in the cold Christmas season, though the special Christmas socks can add a holiday mood and joy.
1.2. Christmas sweater dropshipping
It can be a nice holiday gift for the whole family! You can source them in different sizes and offer scores of choice to your customers. Doesn't matter if you have a general eCommerce store or a clothing store.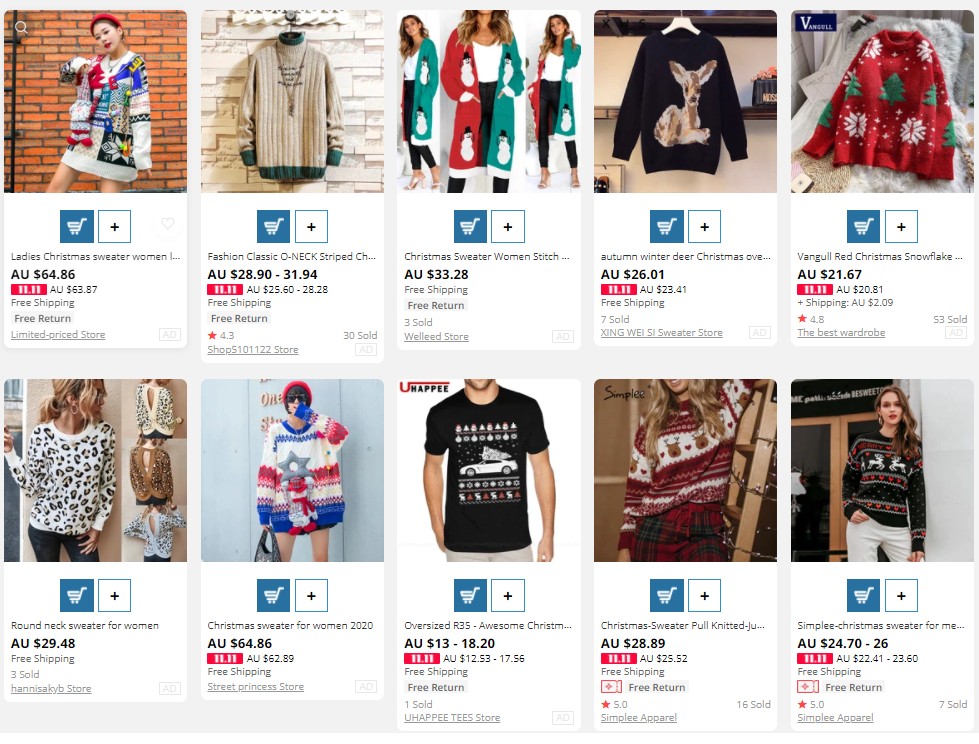 1.3. Couple hoodies and sweatshirts
It's another creative idea for dropshipping products to sell in Christmas 2021. Hoodies and sweatshirts with Christmas-related prints for couples, siblings, or friends can sell well in the holiday shopping season.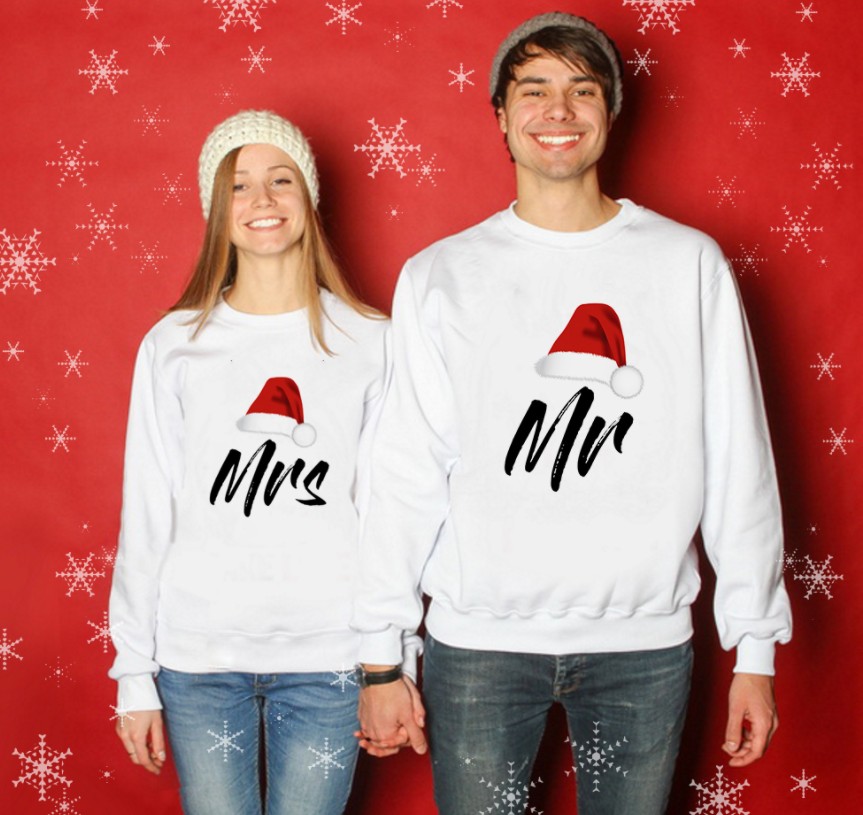 1.4. Family Christmas pajamas
Christmas is everything about family and family time. By offering such a dropshipping product in demand in your online shop, can find the lovers of this cute family tradition.
1.5. Toddler sleeper pajamas for Christmas dropshipping
You can always combine the products in your shop. For example, if you run a baby shop and dropship baby clothes, you can source the toddler sleeper pajamas in your dropshipping store. Some of them are really cute!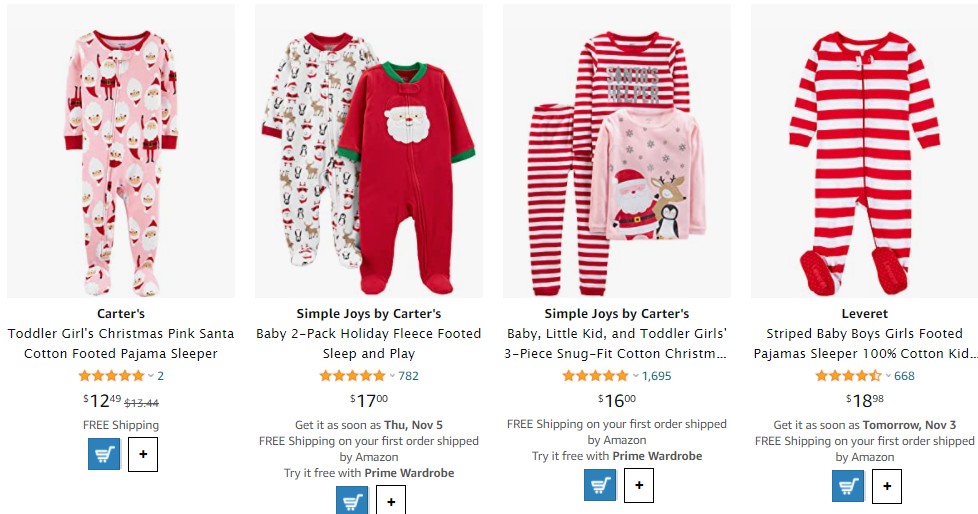 1.6. Christmas Leggings
1.7. Dropshipping Christmas dress
Having a beautiful dress for Christmas is a must-have. Source a few of them to provide such an opportunity to women.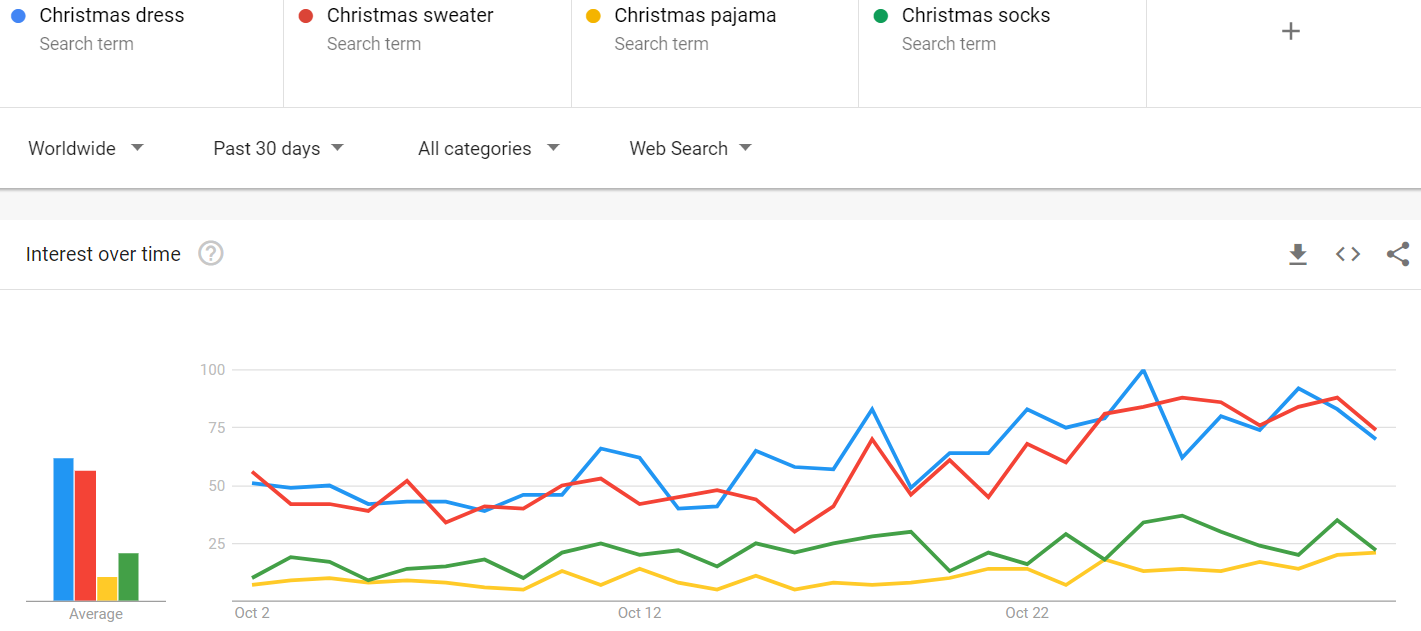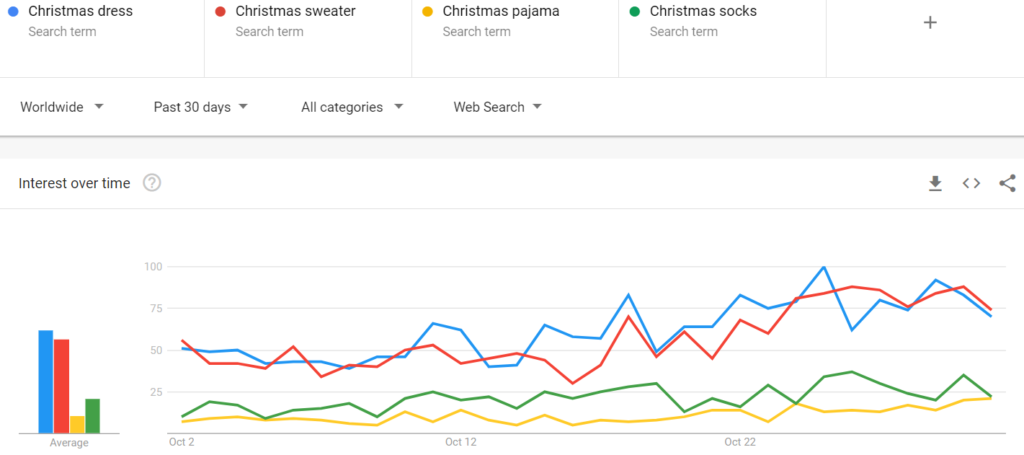 Amazon has already presented the page with Amazon top best sellers where you can find the ideas for trendy dresses: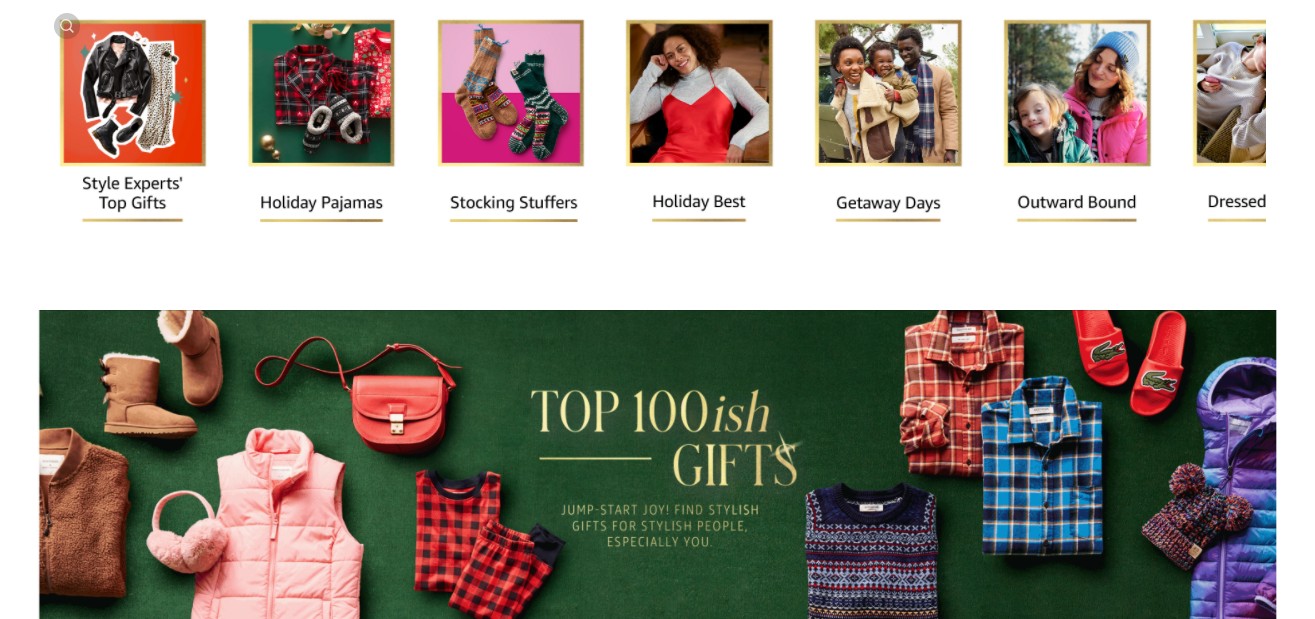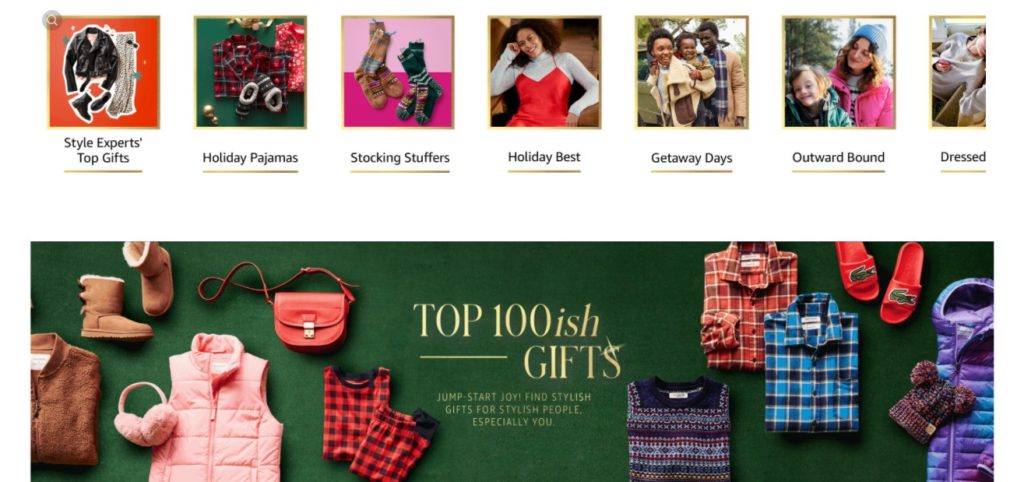 1.8. Christmas T-shirts and shirts
Christmas during the summer is a norm for another hemisphere. If you are dropshipping on eBay Australia or you have customers who got used to celebrating Christmas under a palm tree, offer them funny Christmas shirts and T-shirts.
1.9. Christmas Claus Costumes
One of the main protagonists of this holiday is Santa Claus. Every child is waiting for him on this holiday. You can source the Santa Claus and Mrs. Claus costumes to your online shop. There are different variations of their costume:
1.10. Dropshipping Christmas hats
Santa hats, LED Christmas beanies for adults, children, parties, decor is our next idea for what to dropship on Christmas and during this holiday time.
You can even source the sets that include the masks: to be safe and still with Christmas mood:
Since the pandemic influence on the market is still very active. The coronavirus products keep being relevant to our society. New products are appearing to cope with coronavirus precautions. You can still have some such items in your shop. In addition, try to add new variations of "coronavirus products", for example, winter hat sets with knitted masks. It´s something new and not saturated.
1.11. Slippers as Christmas niche idea
Who did get warm slippers as the Christmas gift? Probably many of us… The demand for this seasonal product raises in wintertime and during Christmas.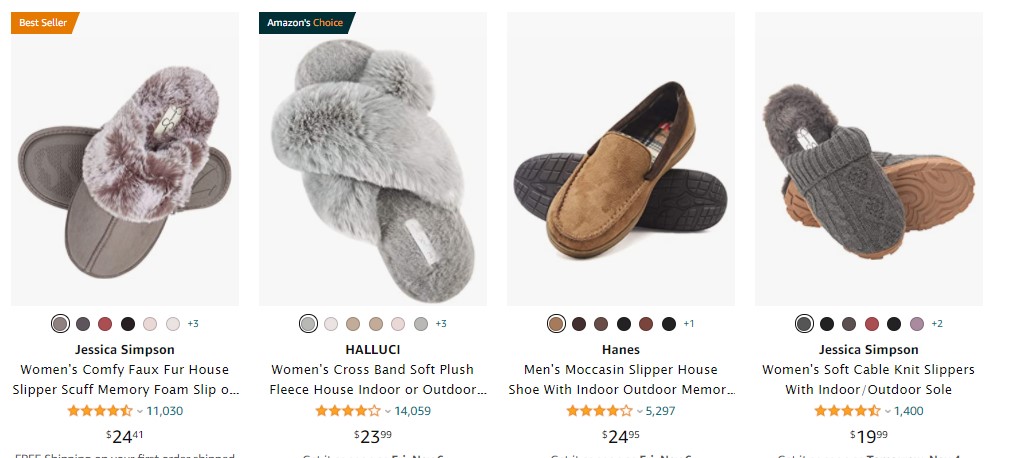 2. Dropship Christmas decorations
It´s time to spruce up the house and get ready to enjoy the Christmas magic atmosphere. Your shoppers are ready to update their old Christmas decorations or replace them at all.
Start dropshipping Christmas products in this category especially if you sell on eBay UK or eBay Australia. People from there were the most active in searching for the decorations last month:


2.1. Sell Christmas Led Lights Online
Many big retails and wholesalers updated their websites especially before Christmas and added there the best selling Christmas products section. Such a page from Lowes, for example, dedicated much attention to the Led Light. There you can find more ideas on which Led Lights decorations to dropship.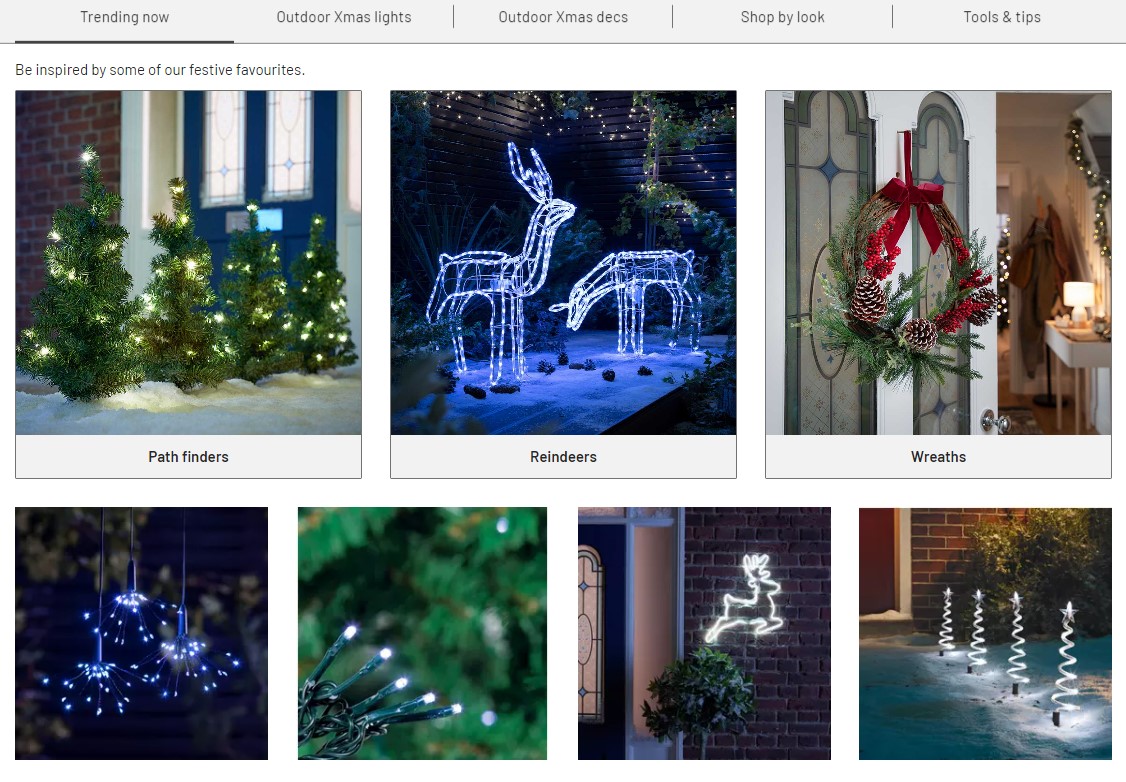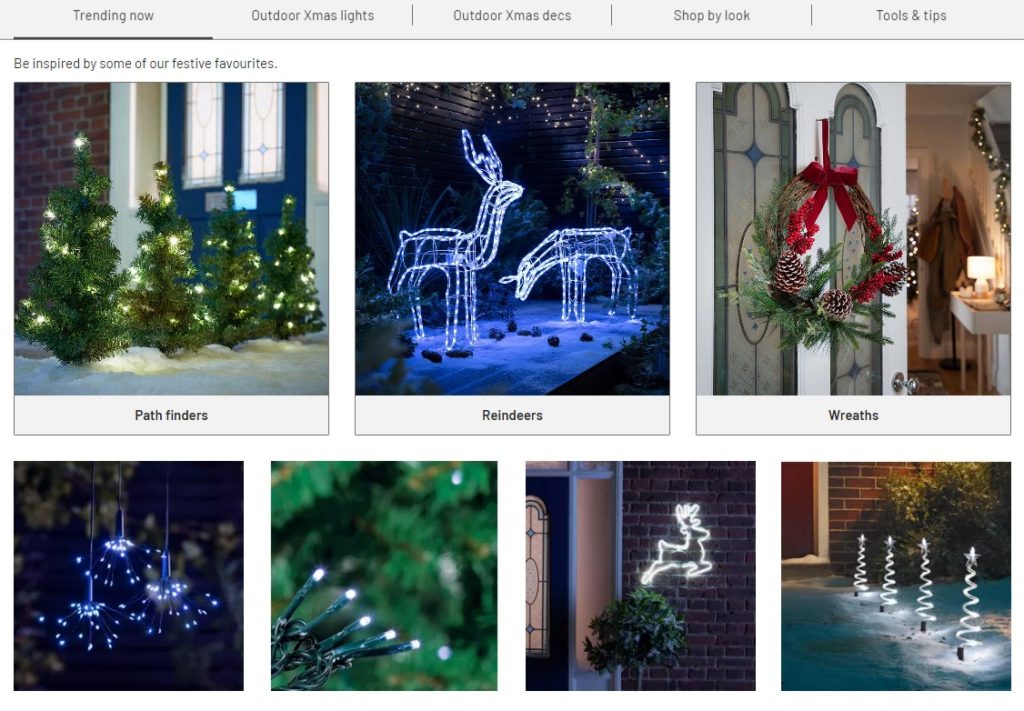 Despite these being some of the best selling Christmas products to sell online, you need to remember about listing optimization to be able to cope with competitors. As you can see, with the correct optimization, your listing can have a 1,317% sell-through rate (that is on average 13 sale pro listing)!
2.2. Christmas tree dropshipping
All Christmas celebrations include the Christmas tree, don't they? Don't forget to dropship a few of the artificial Christmas trees in your online shop.
Speaking about possibilities that dropshipping on eBay gives, this winter essential product already now has 445% of sell-through and still a low competition. Most of all, it sells well in the USA, the UK, Puerto Rico, Australia, and Canada.
2.3. Dropship Christmas ornaments
Do you know that you can also dropship the Christmas tree balls? Consider the sets.
According to the PowerDrop, dropshipping research tool, dropshipping Christmas ornaments on eBay has 604% of sell-through and very low competition. Moreover, the demand keeps growing. So it's not late! Dropship it!
2.4. Christmas Stocking
One of the most selling products on Christmas are stockings. Add some to your dropshipping store.


2.5. Dropship Christmas homeware products
Help to bring the holiday spirit to every inch of your customers' homes. Consider selling festive decorating items like lanterns, various candles, diffusers, mini artificial trees, deers, stars, candle holders, etc.
2.6. Christmas pillow covers
It's well selling Christmas products in 2021. The interest in thematic pillow covers is growing. What it's more important, it does.
Besides, it's an easy way to set the Christmas mood at home. Its varieties are endless.
2.7. Christmas wreath for Christmas dropshipping idea
This dropshipping Christmas product is quite affordable and popular:
2.8. Dropship Christmas wooden ornaments
One of the trendy Christmas products in 2021 is wooden decorations. In general, products made with wood got more popular this year, decorations aren't the exception. Besides, wooden Christmas ornaments are considered to be among the eco-friendly items.
2.9. Blanket as one of the Christmas products to sell
Blankets are one of the best selling things on Christmas, and in winter in general.
3. Dropship Christmas bags/packages and Gift boxes
The demand for gift boxes, especially Christmas boxes starts to grow at the end of October. As you can see, these winter goods bring 332% of sell-through. especially in the United States. So make sure to add different gift boxes to your dropshipping store.
Here are some dropshipping product ideas for this time of the year: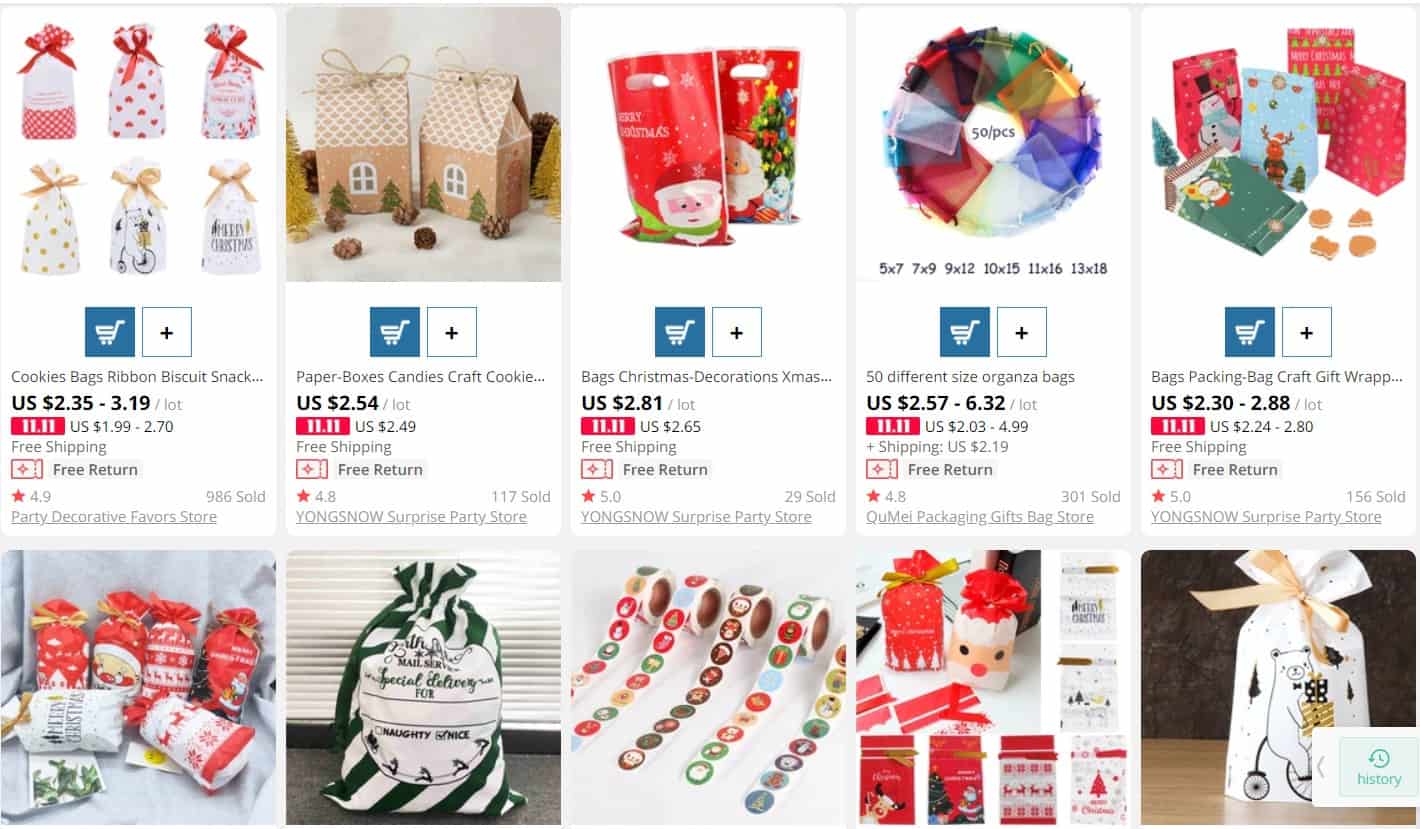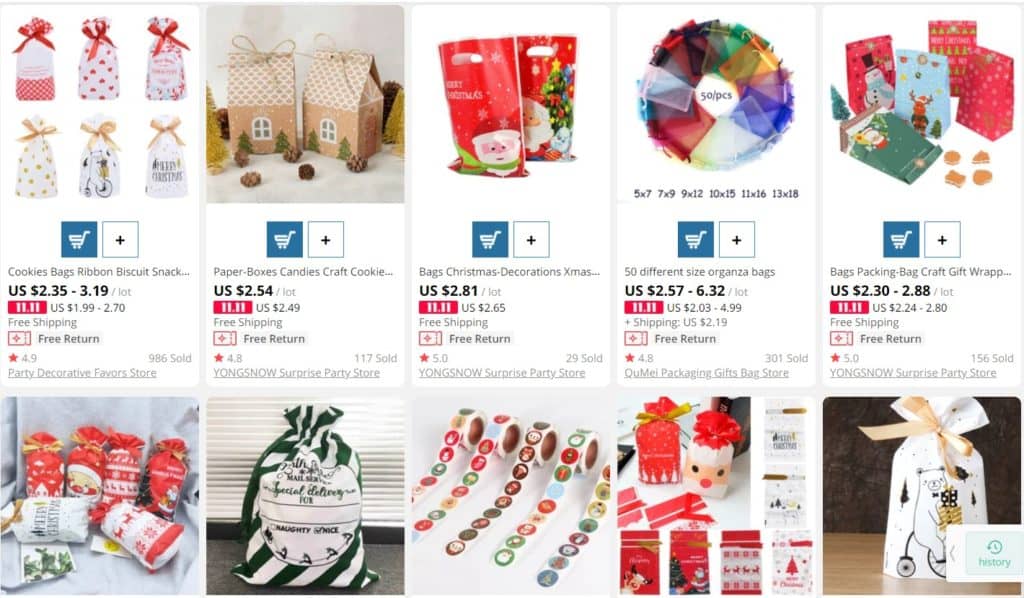 4. Dropshipping Christmas products for Kitchen
The next kitchen Christmas niche ideas are good for the online entrepreneurs who run the related niche stores and those who have the general stores. Within this category of products, you can sell a whole bunch of items starting from the table cloths and decor to the cookies cutters, dishes and kitchen devices. As they say, there's a lid for every pot…
4.1. Rolling Pin with Christmas ornaments
4.2. Dropshipping Christmas Oven Mitts
4.3. Wine Bottle Dust Cover -Cute dropshipping Christmas products
4.4. Sell Christmas Aprons
4.5. Glass/Cups decor
4.6. Dropship Christmas table decor
4.7. Napkin holders
This is a perfect example of dropshipping products to sell during the Christmas season. Agree that baking fans will love to get such a product as a present gift or to buy it for themselves. There are different mold forms from different materials: metal, 3D silicone, etc.
4.9. Christmas bowl
4.10. Thermo cups as popular winter products to sell
It´s more a seasonal product that you can sell on Christmas as well. The demand for it is growing:
Although, you can find even Christmas themed cups:
4.11. Capuchinator
A practical and trendy product this season is the capuchinator, aka Frother. This device will help your buyers to enjoy the tasty cappuccino right in their homes. In addition, it´s not yet a saturated product on eBay.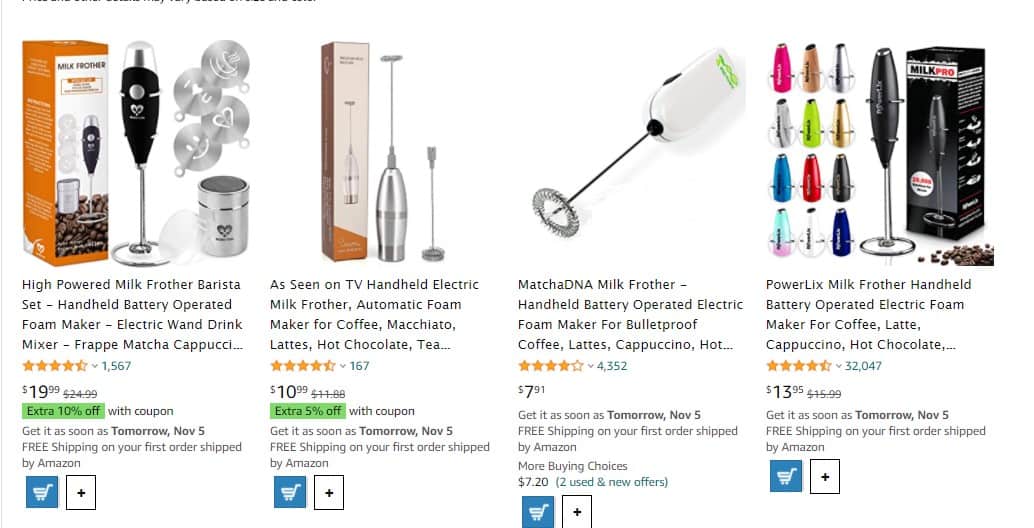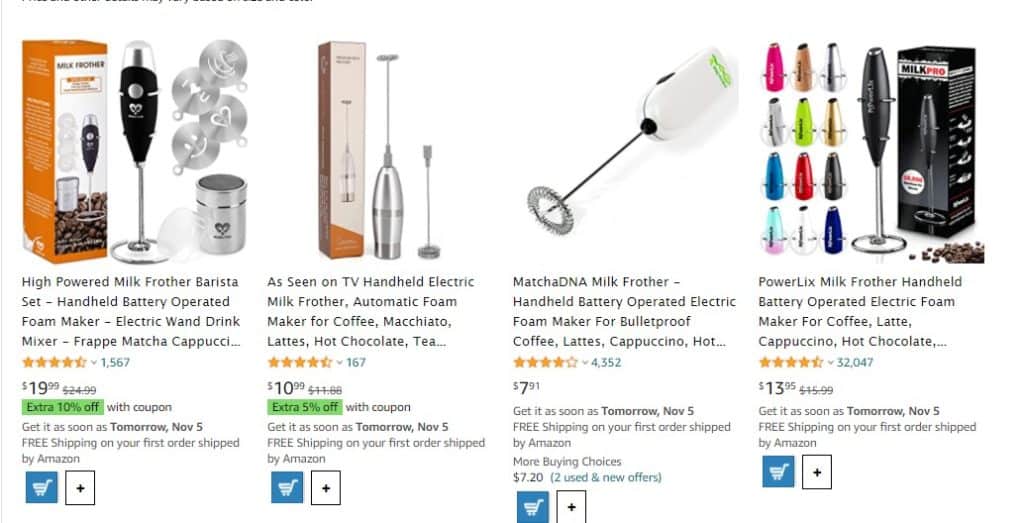 5. Toys as dropshipping Christmas products
We already found out that 40% of people choose games and toys as Christmas gifts. Many children are desperately waiting for Christmas Eve to finally open their presents.
When it comes to choosing the toys, many adults get confused. You, as online sellers, need to provide them the most trendy products of the market and assure them that their loved ones will totally like these presents. We prepared for you what toys to sell on Christmas.
5.1. Dinosaur toys playset
This product is one of the most selling Amazon bestsellers. Dinosaur realistic figures together with the mat make it quite a popular toy: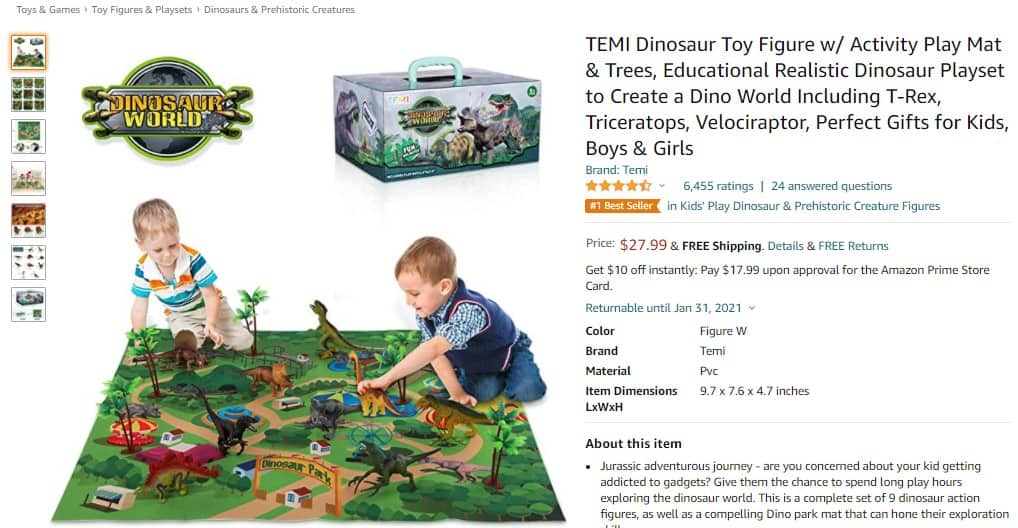 5.2. Flying Fairy Toy
Children like magic. The flying fairy doll will provoke the interest and excitement.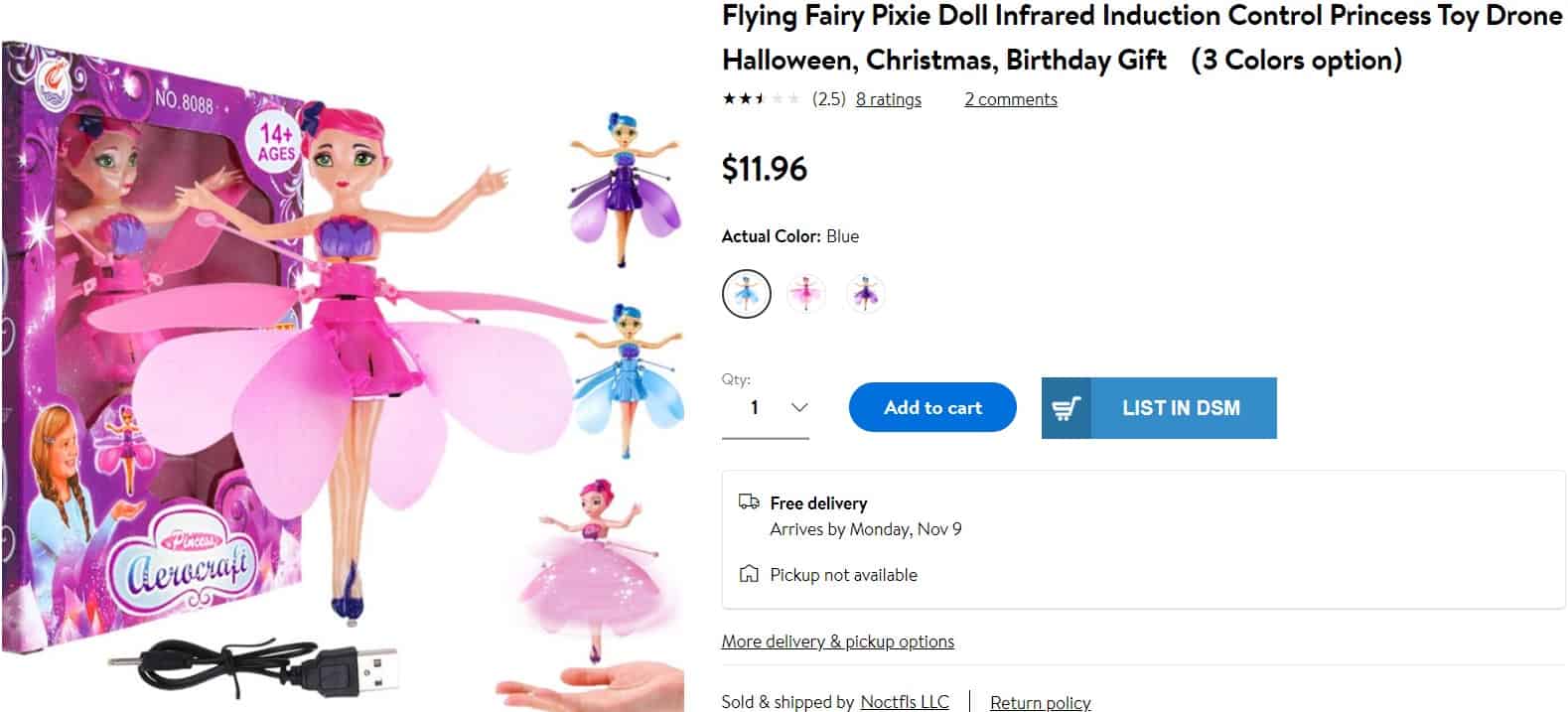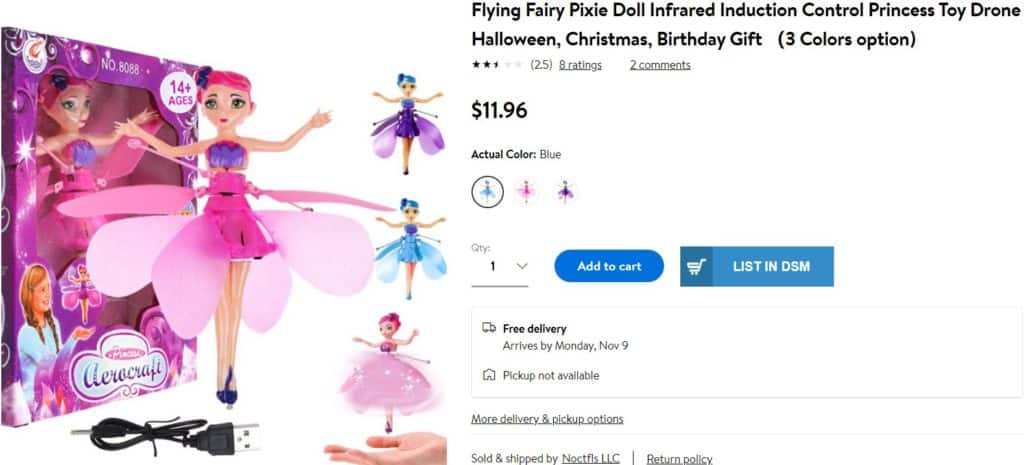 5.3. My little pony toys
Little ponies are everywhere… Make sure that they are in your shop as well. Add this hot dropshipping product to your store and prepare to get sales:
5.4. Construction tools set
5.5. Robot toys
Who would not like to get a robot as a Christmas gift?
5.6. Crayola Ultimate Light Board
The upgraded with the Led lights board for drawing can be a wonderful Christmas present for creative children: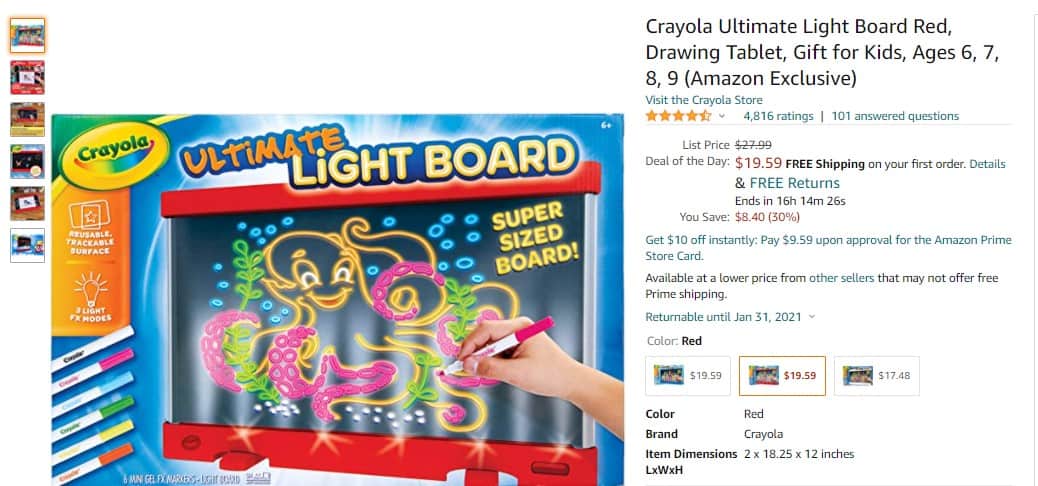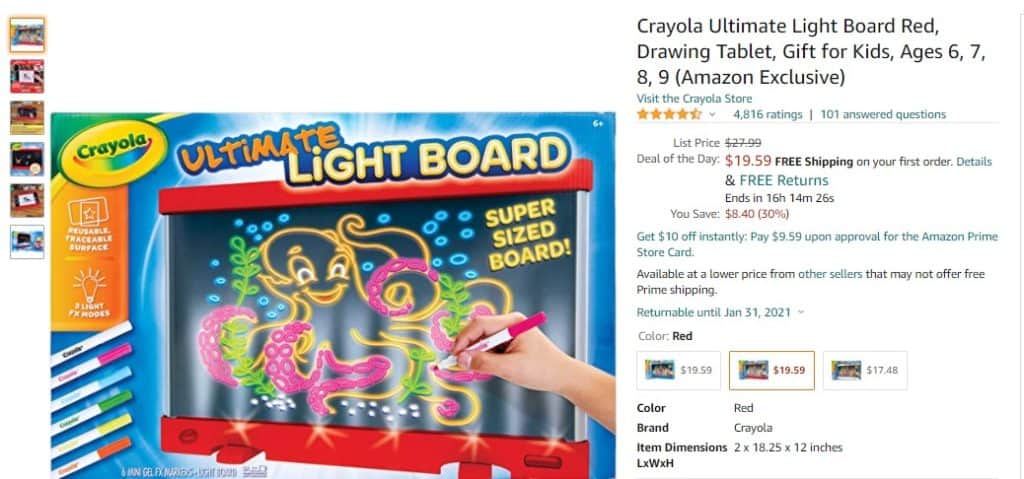 5.7. First telescope
Children love it! This educational toy can bring your shop new sales.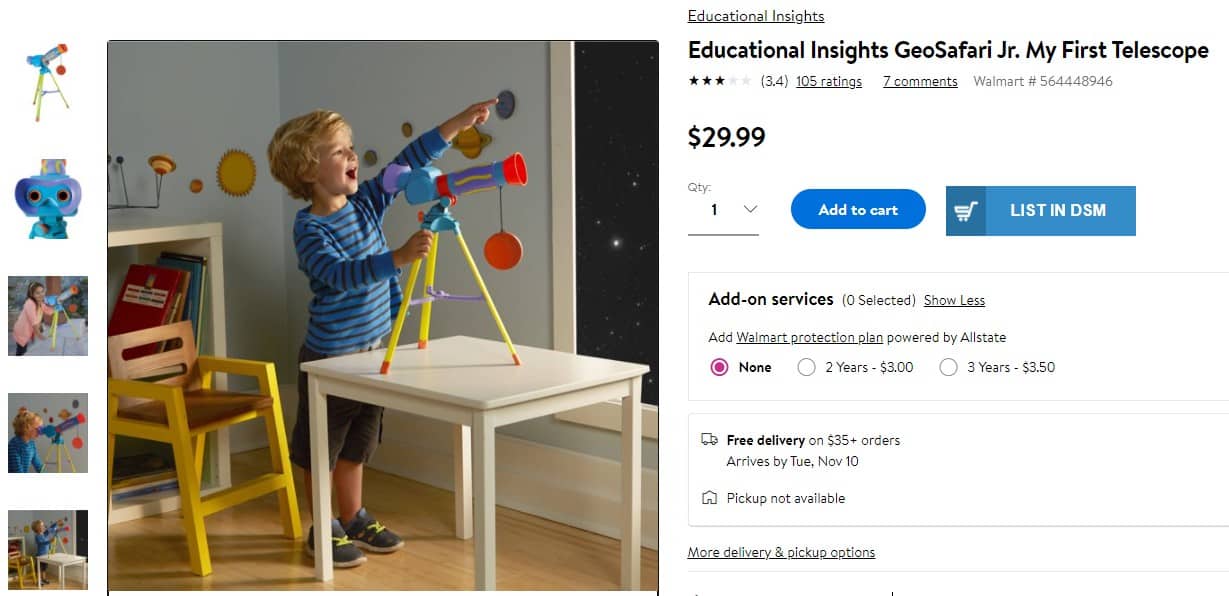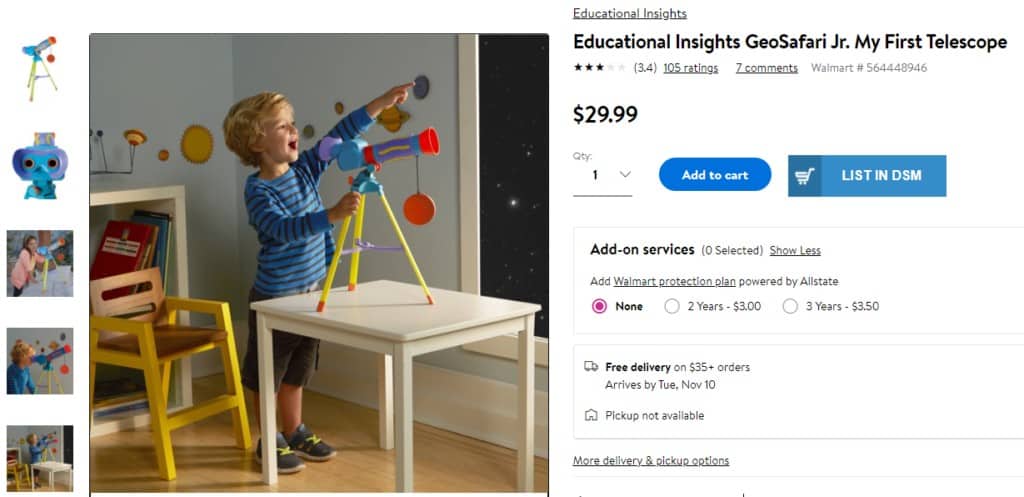 5.8. Growing and talking baby doll
It´s one of the most selling toys on Christmas and an Amazon bestseller. Besides, the demand for it is steadily active:
5.9. Remote control car
The toys with remote control are always popular and wished. Lately, the remote control cars gained much demand in search results.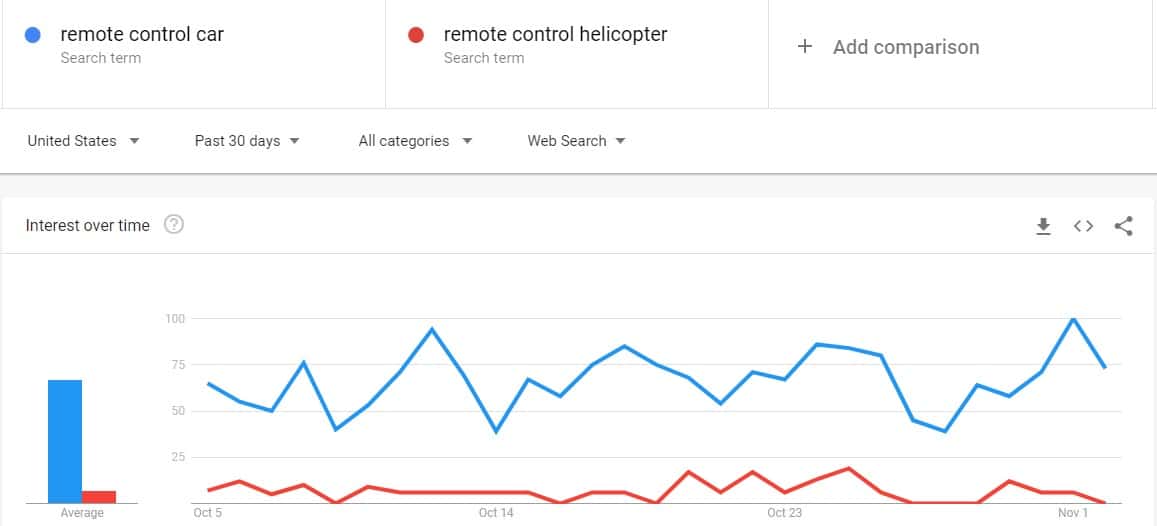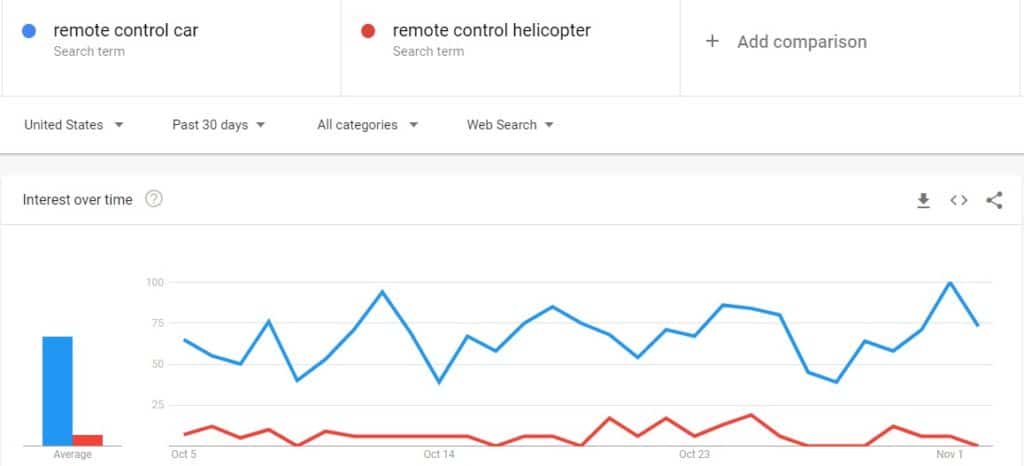 6. Dropshipping Games for Christmas
The Top 3 most selling product categories on Christmas include games. Shoppers think the games can be a perfect Christmas gift.
Overall, games became more popular due to the quarantines and lockdowns around the globe. People are spending more time at home with family or friends. Table games are something that can help to unite better and spend time with fun.
Since the quarantines are getting more strict in many different countries, dropshipping games can be a nice Christmas niche idea.
Moreover, Google trends is showing that the biggest number of searches for board games occur right before the Christmas holidays. And the interest in it was steady all year.
If you are an eBay Canada seller, dropship in Australia, or in the United Kingdom, selling this product at Christmas is a nice idea. 
There are a big variety of card games for the whole family or just adults, board games for kids of different ages, and educational games.
7. Dropshipping Christmas products for pets
If you are dropshipping pet products or you have a general store. we offer to think about selling Christmas items for pets. You would be surprised to know that there are many Christmas-themed products you can sell online.
Here are some Christmas niche ideas within this category:
7.1. Dropship Christmas pet costume
If you are building an eCommerce shop focusing on pet products and wondering what to sell on Christmas, you can offer some Christmas pet clothes:


7.2. Dropshipping Christmas pet hat
People buy Christmas-themed hats for their pets: cats, dogs, bunnies, and even rats.
7.3. Sell Christmas collars
It´s another popular product for selling on the Christmas season. You can find it in your dropshipping supplier and source to your store. Make sure your supplier will be able to ship it before Christmas.
7.4. Pet Christmas pajama
7.5. Pet Christmas sweater
This popular Christmas item will help the pets to stay warm during the cold winter. In addition, they are very cute.
7.6. Pet Christmas bandana
7.7. Christmas pet scarfs
7.8. Pet Christmas stockings
There are many different Christmas stockings for pets. The shoppers like to show their love to all family members, including the pets.
7.9. Christmas presents for pets
Shoppers who buy the pet Christmas stockings would need the gifts for their beloved pets to fill them. Offer this possibility in your dropshipping store. It can be a small toy or even a specially prepared set of toys:
8. Selling the DIY sets for Christmas
"Do it yourself", also known as DIY, kits are a great option for Christmas gifts for adults, children, and a whole family.
Furthermore, the DIY kits were actively searched last month in the regions with the biggest marketplaces.
8.1. DIY doll houses
One of the great opportunities to spend time with children is to make the toy together. Dropshipping such dollhouses during the Christmas season brings new potential customers. Additionally, it is a perfect Christmas gift.
8.2. Dropship DIY wooden puzzles
If girls would adore getting a dollhouse from the previous picture, the boys would love to spend time building the wooden puzzles, for example, wooden dinosaurs.
8.3. DIY sets for different hobbies
Actually, it's possible to sell various DIY sets for hobbies for adults and children alike. For example, there are the DIY set for soap making, lip balm making kits, bath bombs making kits, DIY cosmetics kits, candle making sets, bracelet-making kit, leather craft tools set, etc. You can even sell DIY sets for making beer or wine! It's up to your targeted audiance.
That's great because you can apply it to different niches and cover various target groups.
There is no wrong time to sell self-care products because people always want to look well and pretty. Especially women…Especially on holidays.
Well, adding the beauty items to your store before Christmas will boost your dropshipping business. Here are the top beauty products to dropship on Christmas:
9.1. Dropship make-up brush set
9.2. Mask sheet pack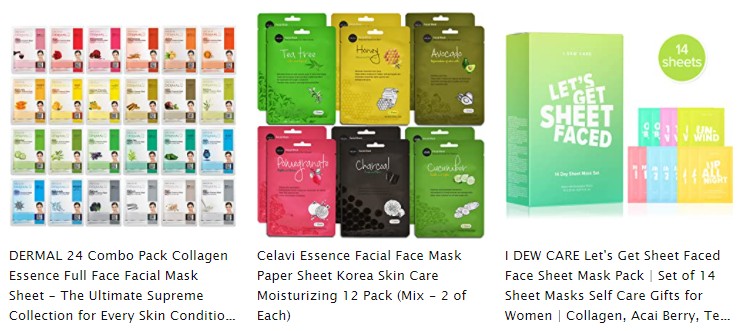 9.3. Silicone electric face brush
The silicone electric face brush is one of the top beauty products to dropship now. It's demand grew and demonstrates strong performance. This product is especially popular in the United Kingdom and the United States.


9.4. Hair curler
You can inlude different hair beuty devices in your dropshipping store. For example, list the hair curler.
9.5. Face massager
One of the most trendy devices for the self-care is a face roller massager. The range of face massagers is growing but the demand isn't decreasing. Besides, you can sell in boundle with other beauty products.
9.6. Cosmetic sets
Since shoppers started to look at what to buy for perfect Christmas gifts, they pay more attention to the sets rather than single cosmetic products. Such sets can be one of your dropshipping products to sell in the winter holidays 2021.
9.7. Nano steamer
Another example of the beauty device you can dropship on Christmas.
10. Dropshipping Christmas Jewelry Products
Do you remember the saying: "Diamonds are a girls' best friend"? For sure! But let's be honest, girls like jewelry in general. Especially to receive as a gift! Shoppers will search for Christmas gifts within this category. Here are the Christmas niche ideas for dropshipping jewelry:
10.1. Jewelry Advent Calendar
Advent calendars are used to count up the days towards Christmas. Jewelry Advent Calendars filled with jewelry products. A new gift corresponds to a new day. It helps to set the holiday spirit from the beginning of December. This is a popular dropshipping product to sell before Christmas. In most cases, it's a high-ticket drop shipping product, however, you can find suppliers with lower prices.
10.2. Couple bracelets
The couple bracelets are popular this year again. Shoppers want to share their feelings with their beloved ones. One of the ways they chose to show their love is to buy the couple bracelet. It can be a good dropshipping product for the Christmas season and not only.

10.3. Men watches
Men also receive jewelry products for Christmas, especially watches. Moreover, Google Trends shows that buyers do it the most in December.
By the way, what do you think is searched the most: male watches or female ones? Men watches are the right answer. Don't forget to include some of them in your dropshipping store before Christmas.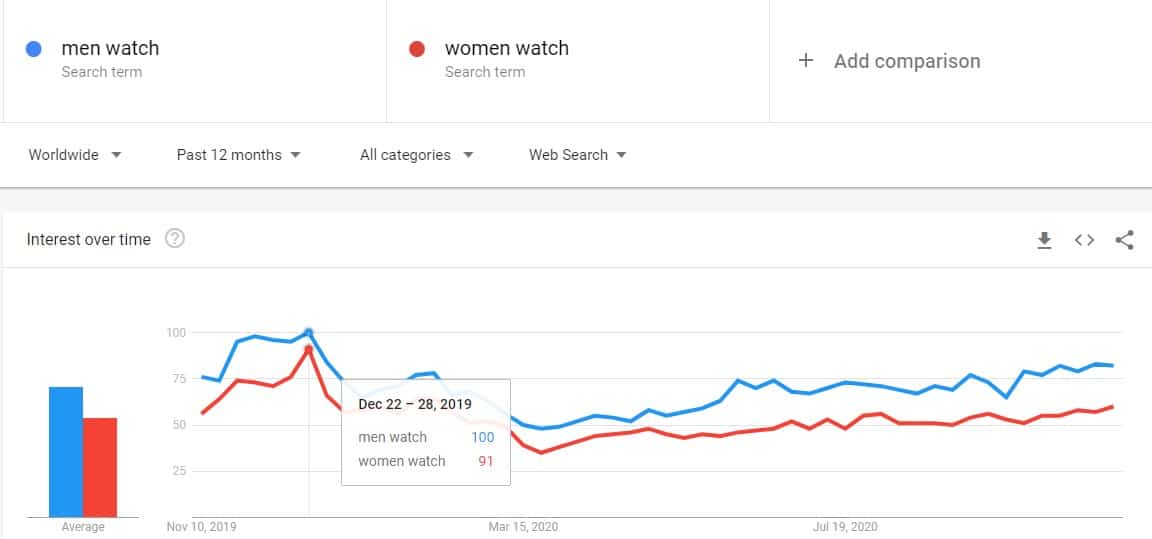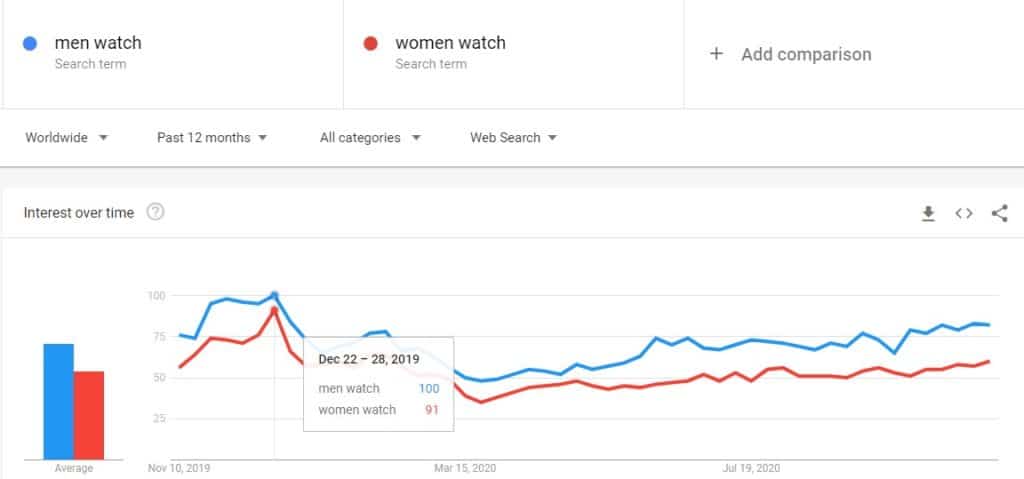 10.4. Christmas themed jewelry
Since online shoppers will buy a lot of things purely related to Christmas, Christmas themed jewelry can find its buyers quickly this holiday shopping season 2020. Necklaces, rings, earrings, bracelets,
11. Dropshipping electronics
The last but not least, you can also dropship electronics before Christmas. 15% of Christmas purchases were made within this category last year, according to statistics. People will search for the perfect Christmas gift within this category to bring joy to their family and friends.
Generally, it isn't recommended to dropship high-ticket electronic products since they can bring more return cases and very strict feedbacks. Nonetheless, there are still a lot of affordable electronic items you can dropship or sell in your online shop.
11.1. Action and Outdoor cameras
Outdoor cameras and action cameras are currently trendy. They are popular, not costly, and searched by shoppers. It makes them a good product to dropship.
11.2. Sell smart watch
It's another hot selling product for Christmas dropshipping. Smart watches and accessories for them are selling well on eBay. Normally, one listing from the 1st page of eBay search can receive 64 sales:
In addition, they are quite affordable and count with many variations.
11.3. Portable speaker as a good Christmas gift
It can be a wonderful Christmas gift for the technology enthusiast. It's a practical device that allows enjoying the sound fully. Additionally, it is a popular electronic product to dropship.
11.4. Dropship computer accessories
Computer accessories are popular, especially among tech enthusiasts and gamers. If you are selling in the related niches, for example in the gaming products niche, you can source a few gamer accessories as well. Some of them aren't saturated on the eBay and Shopify market yet, for example, the one-handed keyword created for better productivity and gaming experience: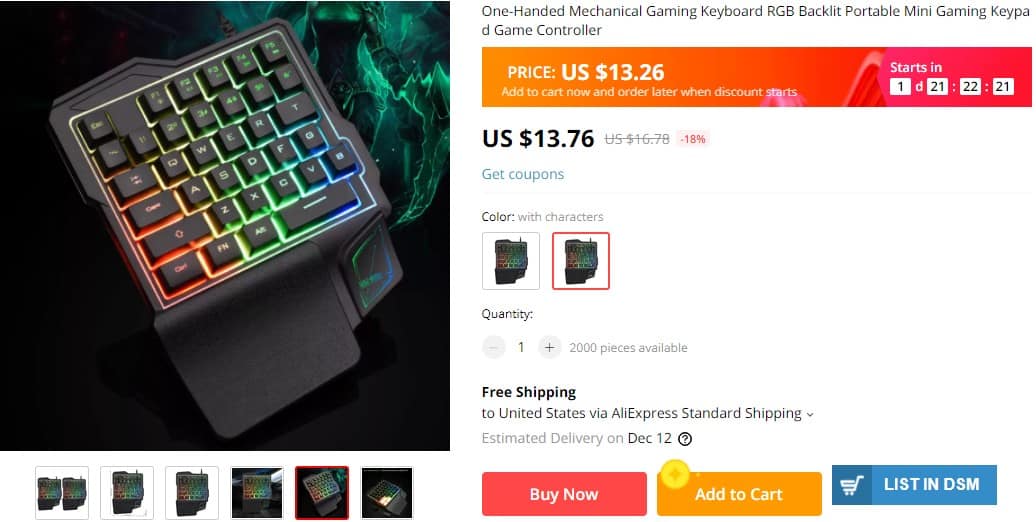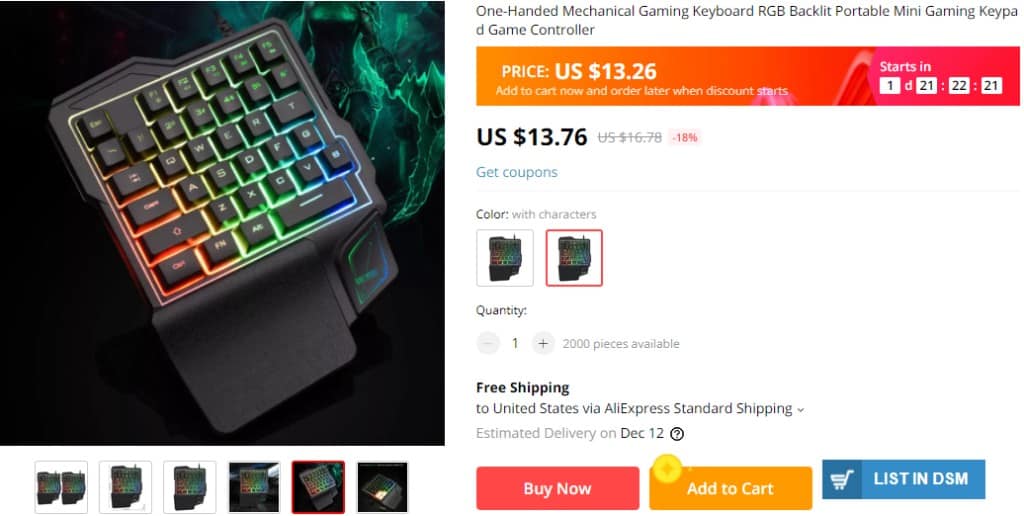 11.5. Car accessories – Perfect Christmas gift for auto lovers
Even if you are selling in the car-related niche, you can dropship some car electronic accessories, providing a possibility to your buyers to upgrade their cars before Christmas 2021. For example, you can source car cameras, chargers, parking sensors, phone holders, etc.
Final thoughts
Dropshipping Christmas products is a great opportunity to grow your dropshipping business and boost your sales in the last quarter of the year. It's crucial to dropship from reliable suppliers in order to ship all items right on time and to provide awesome customer service. We hope that the suggested top 70 dropshipping Christmas products and Christmas niche ideas will help you to decide what to sell on Christmas.
Besides, you can combine some of these items with winter products to give more options to your customers.
DSM Tool, all-in-one dropshipping software, is here to help you to cope in the best way with the busiest time of the year and benefit from the eCommerce boom. Our team wishes you a Merry Christmas, wonderful holidays, and a lot of sales!