26

min read
Winter is a great season to make money if you own a dropshipping store or eCommerce business. The last month of the most selling quarter of the year opens possibilities to keep making sales with winter products, cold-weather essentials, popular products to sell online, and, of course, Christmas-related and other holiday items.
Holidays, vacations, cold weather which makes people adore cozy and warm stuff and places – it's your biggest engine of progress. Winter is still some time away… But if you haven't yet started thinking of some good winter products to dropship, then it's time.
It's common to try to use the best content calendar to come up with ideas what to post on what time. Therefore, it also makes sense to use a guide to get inspired as for what to sell.
Let's explore and research which winter seasonal items to sell in your dropshipping store this winter 2021/2022. But first, let's see how you can prepare your e-store for this upcoming season.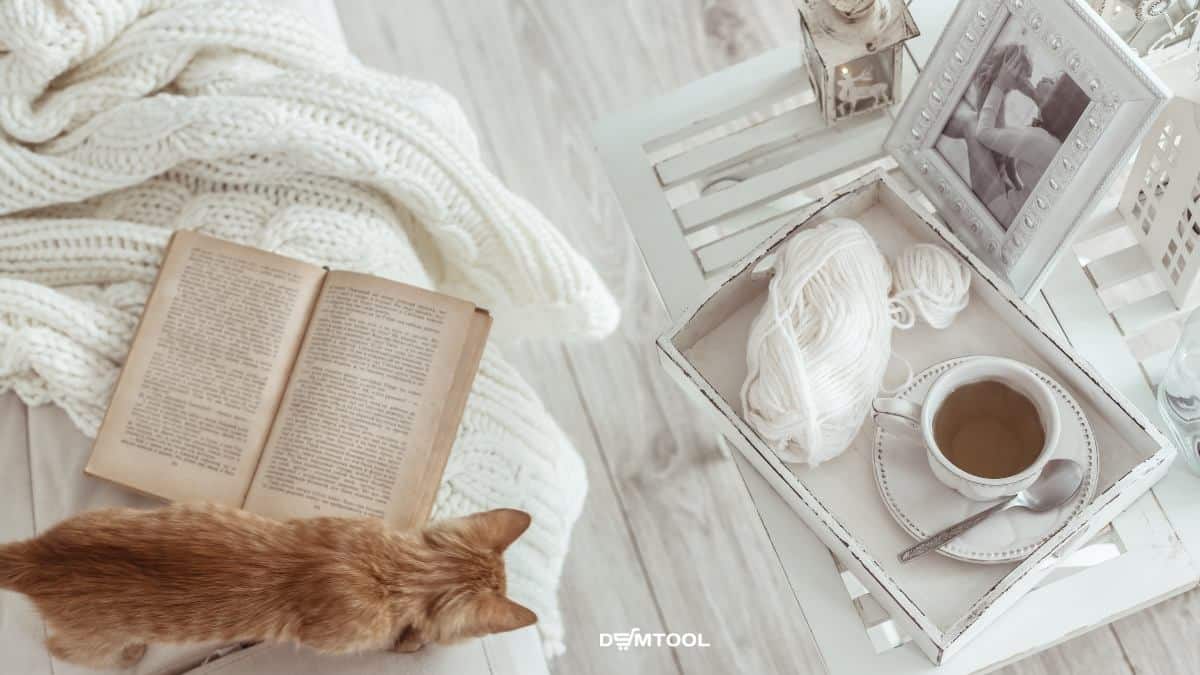 Prepare your Dropshipping Store for Winter and Holiday Season
During the rainy and snowy season people's lifestyle changes in general, therewith holidays which some of us have been waiting all year are coming. All that means new consumption needs arise creating an important demand for certain specific seasonal products. Therefore, thinking beforehand about what products to dropship in winter opens the possibilities of generating high income or improving and increasing the sales of your online store.
You can start with a few steps to make sure you are ready for your store preparation for the winter season:
Start with reviewing your current offers and products
What kind of products do you sell? Do they bring you sales? What other products could naturally complement the offer? Recheck all of that.
Check out what's happening on the market.
Monitor current trends and what people are talking about to be the first one to offer the new product. Conduct the eCommerce product research to learn the latest trends on the market on what dropshipping hot items to sell.
Think about your target audience.
In most cases, people buy what they need in advance. So, your job is to predict their needs and their shopping behavior.
With those 3 great research tips, let's now take a look at all the following ideas of the best guesses of winter products analyzed by the DSM Tool team which you can offer to your customers during the winter season. You're going to see different options among Winter Essential Goods and Holiday-related dropshipping items. Surely some of them will catch your attention. No time to waste!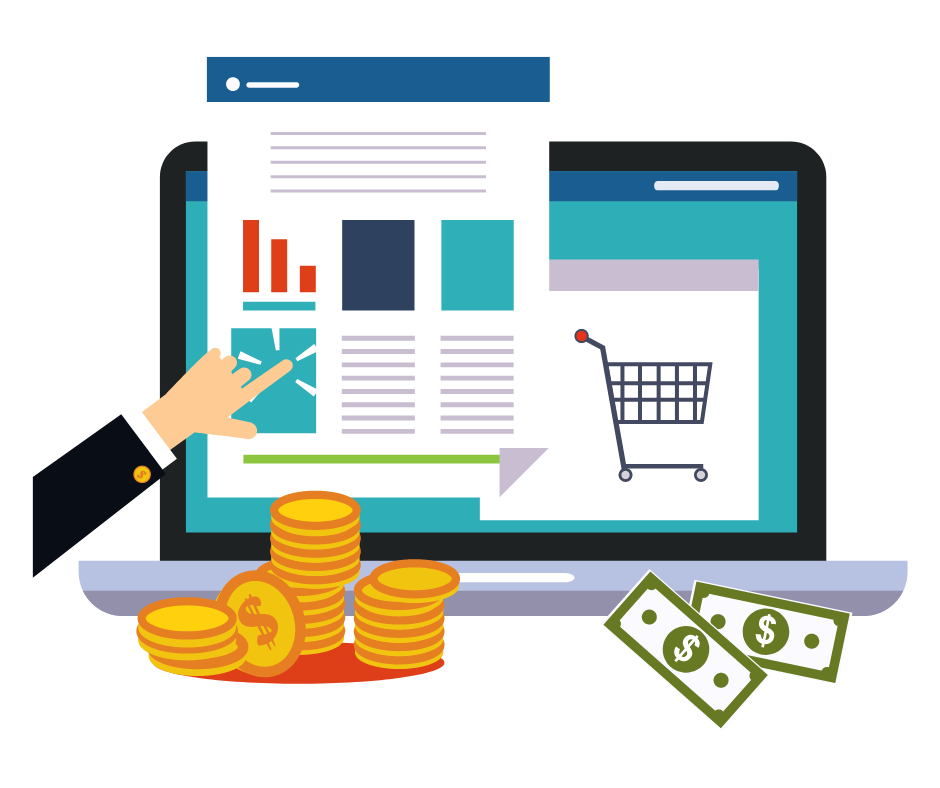 Don't wait for the profits, make them!
Start a profitable dropshipping business with DSM Tool. Get a free course and a free trial of the software.
TOP Selling Winter Products For Dropshipping and Selling Online
Get your portion of the inspiration for products you can add to your general dropshipping store or niche store this winter season!
#1 Dropshipping Clothes
Dropshipping clothes in winter can be quite profitable. Many shoppers decide to warm their family wardrobe and have enough nice and warm outfits to meet holidays together. Let's see what cold weather products you can sell within this sub-category. Pay attention to it also if you sell on Facebook.
1. Pajamas
Pajamas are a must-have product among the clothes, especially on winter evenings when it is time to avoid the cold. Many consumers will be looking for seasonal pajamas for Christmas and other occasions to enjoy comfortably indoors.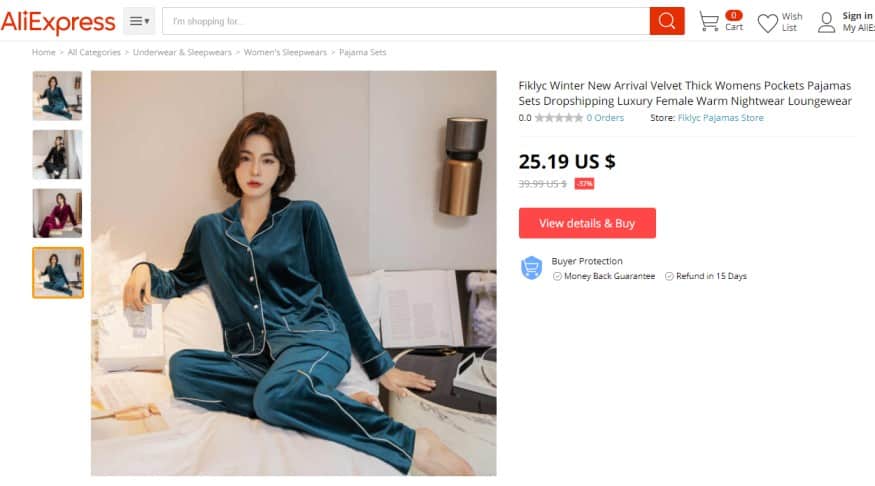 2. Thermal Underwear Set – Winter Essential Products
3. Thick Socks
4. Fleece-Lined Tights
5. Warm Slippers
This winter popular product looks soft, cozy, and warm, exactly what is needed during the winter cold days! There are multiple sellers who offer different colors, designs, and prices, so you have a big list of the suppliers to work with.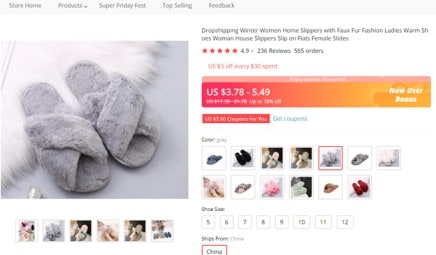 As you can see: these cold weather essentials still have low competition on the eBay marketplace. The sell-through % is 104, which gives you chances to sell it with the right eBay listing optimization.

6. Winter Hats (Beanie Hats) – winter seasonal goods to dropship
7. Balaclava
8. Scarves among best selling winter products
Luckily, there is a huge choice between colorful plaid blanket scarves, chunky knitted options, cashmere-like pashima shawls, and even dainty faux fur collars which are perfect for selling and wearing.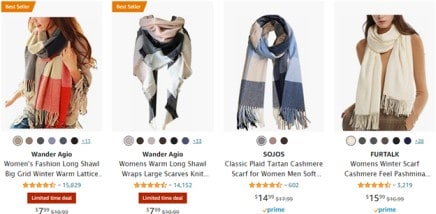 9. Wool Coats
10. Hooded Raincoat
11. Gloves
12. Waterproof Pants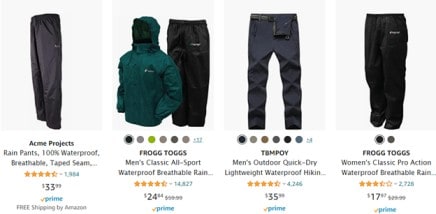 Rainy and snowy season is so comfortable with waterproof clothes and customers know it! That's why this winter product has a high demand and rightfully is among the winter essential products.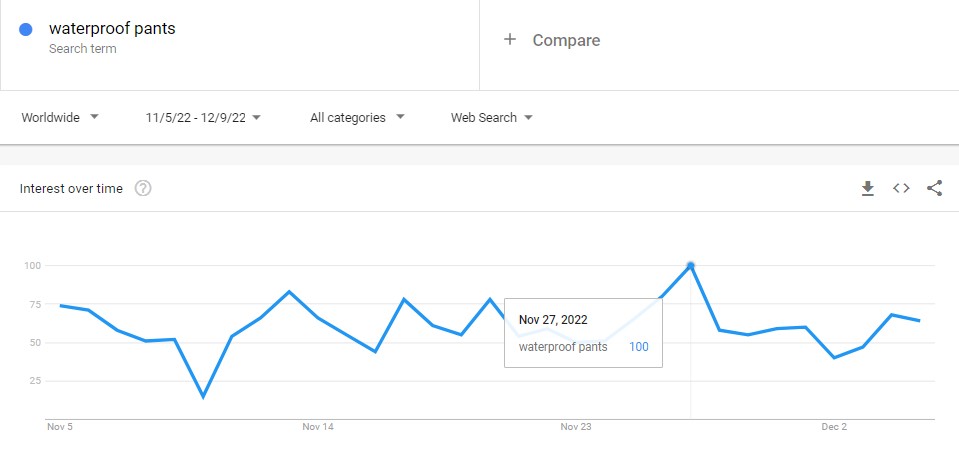 13. Winter Boots
14. Waterproof Shoes
Tip

As the temperatures plummet, cozy&warm clothes and underwear become a necessity – after all, nobody likes getting cold. That is the reason why clothes are the essential point in our list of the best dropshipping products to sell in winter 2021/2022. And it is highly recommended.

#2 Dropshipping Winter Essential Devices:
Devices are very appreciated all year long, but in winter they have a special additional goal: to save the inner energy resources and the property. Life shows that a fight with harsh winter precipitations can be cruel, so now you know how to minimize the damages.
15. Snowblowers
16. Electric Blanket
It's one of the next products to sell in winter. This device is ideal for ensuring warm and cozy sleeping during the cold winter. Total warmth comes just in a few minutes. Choose a reliable dropship supplier, so you will be sure the overheating protection will ensure maximum safety to your customers.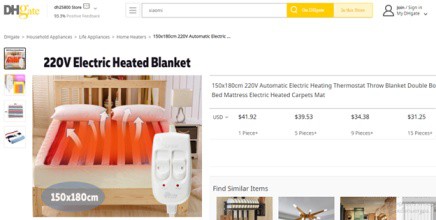 17. Shoe Dryer
18. Foot Warmer
#3 Droshipping Sports and Hobby Equipment:
This equipment will be crucial during winter 2021/2022 and is a great addition to your stock, especially because of the reduced outdoor activity during the Covid19 time.
19. Skiing Equipment
20. Ice Skating Equipment
It includes skating jackets, leggings, tights, skirts, shorts, wraps, soakers, spinners and off-ice exercise equipment. It is up to you to decide to sell a set or a part of it.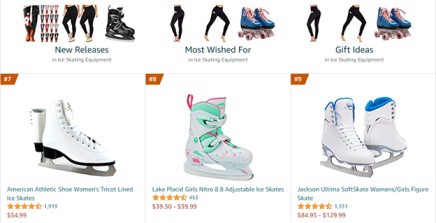 21. Ice Fishing equipment
You can dropship ice fishing products while they are not that saturated on the market and are in demand.
For example, according to the PowerDrop, the sell-through percentage for such winter dropshipping products is 131%. Though, only 29% of similar listings made a sale. Therefore, make sure to write an effective title and product description for your eBay listing.

22. Indoor Workout Equipment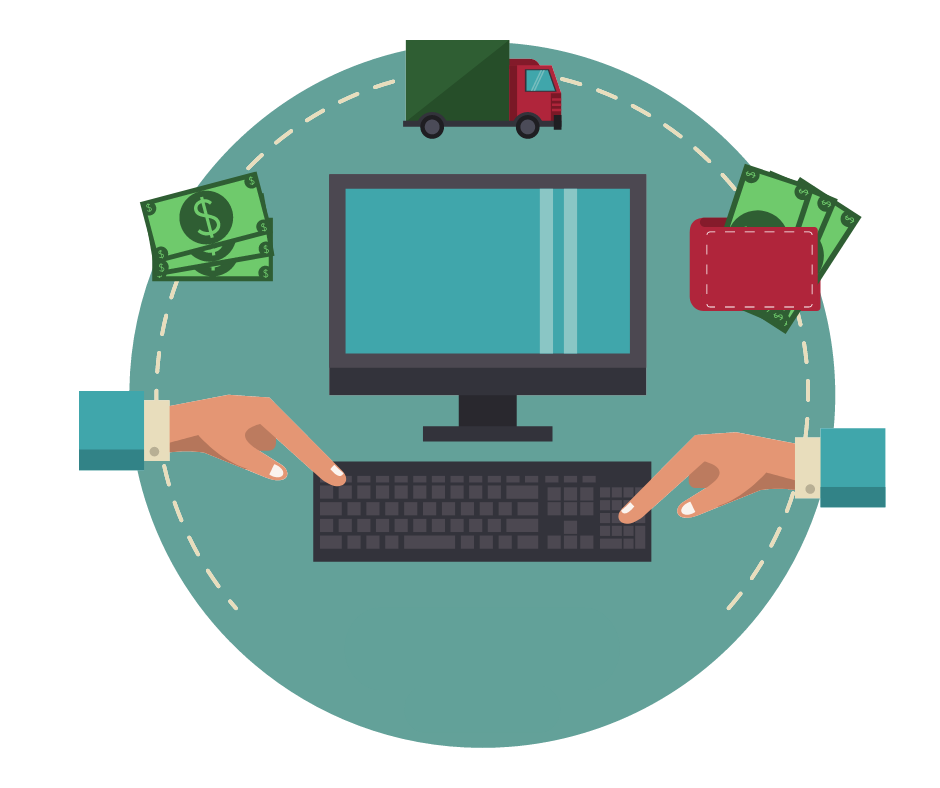 Not yet making money online?
Start your own dropshipping business. Sign up for a free trial of DSM Tool and we'll help you get started. Today is the day.
#4 Dropshipping in Winter Craft Equipment
Entertainment again and again! Aged and children – all are in love! More versions of hand-made activities you add into your dropshipping winter list – more chances to meet the targeted customer.
23. Quilting Fabric
24. Soap Making Kits
For some people, it might be so much fun, while others are developing business with soap-making kits! It is definitely one of the most popular products during the wintertime because people spend more time at home and enjoy such time of entertainment.

25. Cake Decorating Supplies
26. Ready-to-Paint Pottery
Since the day this craft equipment appeared, its popularity is always on TOP, winter holidays, and quarantines especially. Check out the statistics: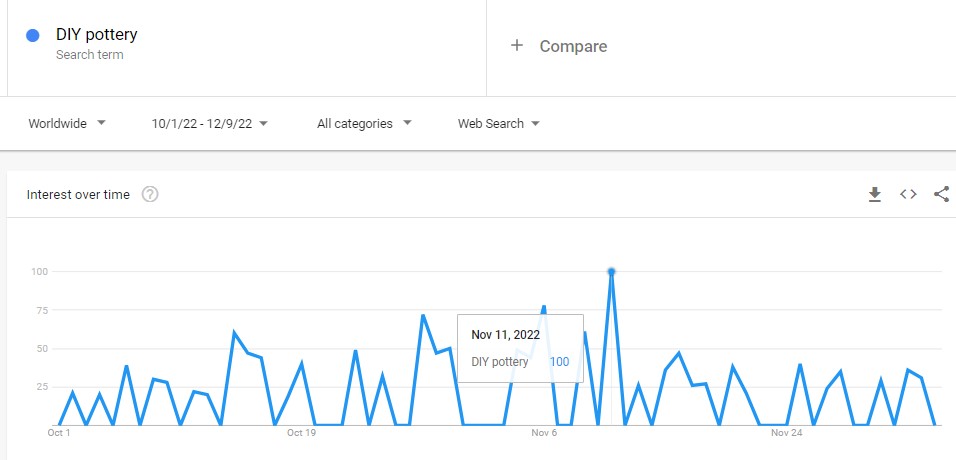 27. Clay Sets
28. Scrapbooking Stickers as winter dropshipping products
#5 Dropshipping in Winter Accessories and facilities
People are careful in winter weather. All the life-hacks are discovered and all the solutions are found! Become the seller that makes life easier and people will come back to you again and again.
29. Umbrella
No words are needed. One of the winter essentials and its demand never goes to the low level. This product is especially needed in cold, wet, windy periods and no matter if you already have one or two.. you need more!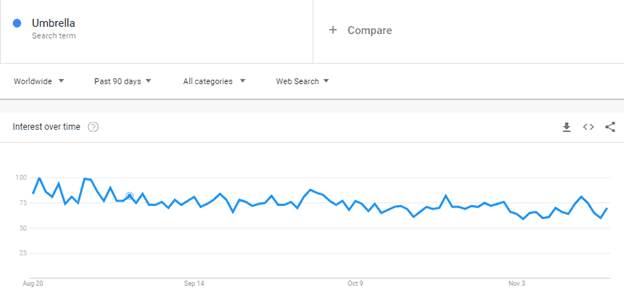 30. Touchscreen Gloves – a perfect product to sell in winter
It's one of the cold weather products that sell quite well. According to the PowerDrop tool, this product has 130 sell-through percentages and quite a low level of competition. Besides, this product would be a good item to dropship in USA and Canada.

31. Slip-Resistant Traction Cleats for Walking, Jogging, or Hiking on Snow and Ice
Safety in winter is a top priority. Let people find it in your dropshipping store. One of them definitely can be among best selling winter products.

32. Ice Scrapers as best things to sell in winter
One of the popular dropshipping products in the winter season is ice scraper. Customers adore that they can dominate the snow so easily and fast. Great choice if you need a low-priced winter product to sell in your online dropshipping store.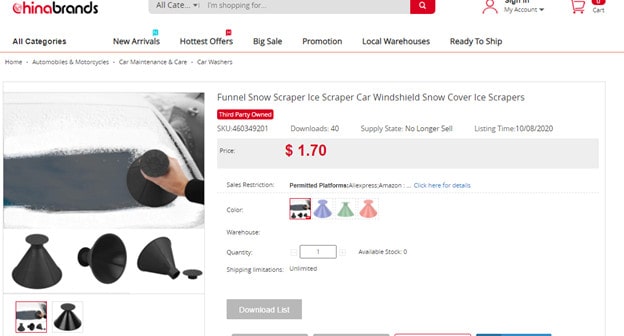 33. Windshield Snow Cover
34. Waterproof Car Covers
#6 Dropship Decorations in Winter
Make sure you've prepared your e-shop with decorations intended for major events ahead. The last quarter of the year is filled with holidays and family gatherings and the majority of consumers always think ahead.
Nonetheless, the world has changed since Covid-19 appeared and the celebrations are not so huge and crazy. But everything that is happening around us makes us appreciate even more our tender family reunions and make them unforgettable and sweet thanks to the closest ones and Christmas/New Year atmosphere. Don't miss it!
35. Dropshipping Home Decor for Winter Holidays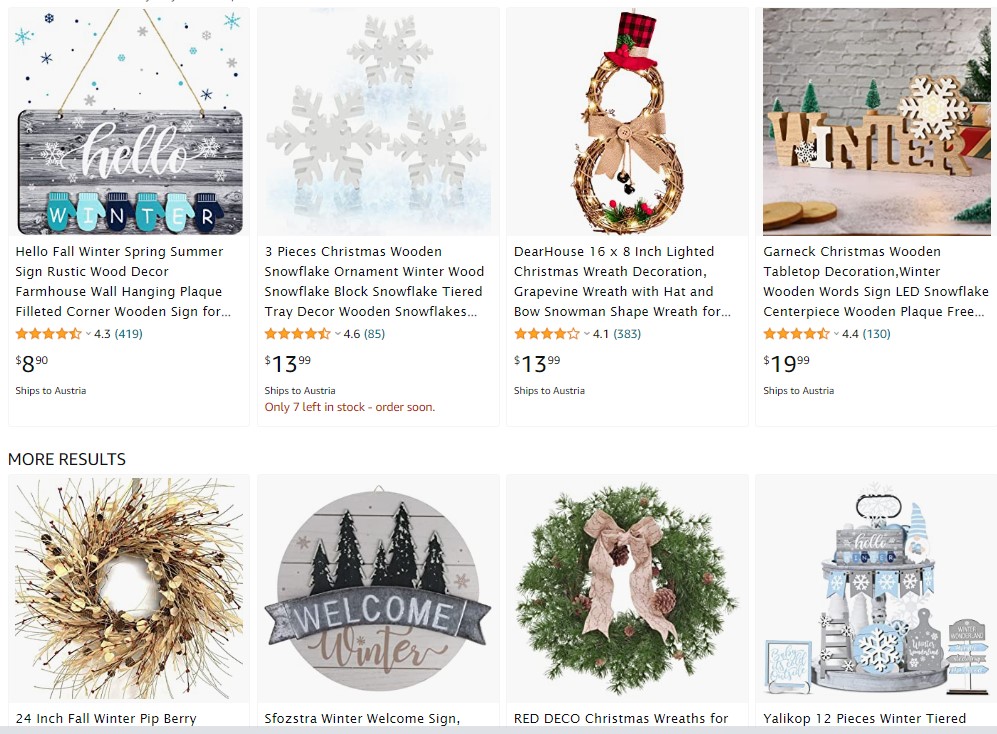 36. Scented Candle
A wonderful way to relax, create a special atmosphere in the house, and just a creative home decoration accessory. Every time it is noted more and more variations on the market which price depends on the material of the product, its quality, and scent.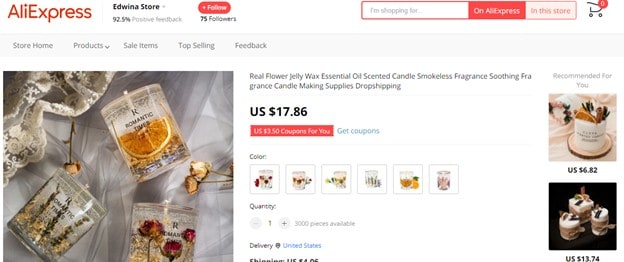 37. Gift Boxes
The demand for different gift boxes (birthday boxes, corporate gift boxes, Valentine's Day gift boxes). The demand for Christmas boxes starts to grow at the end of October. As you can see, these winter goods bring 332% of sell-through. especially in the United States. So make sure to add different gift boxes to your dropshipping store.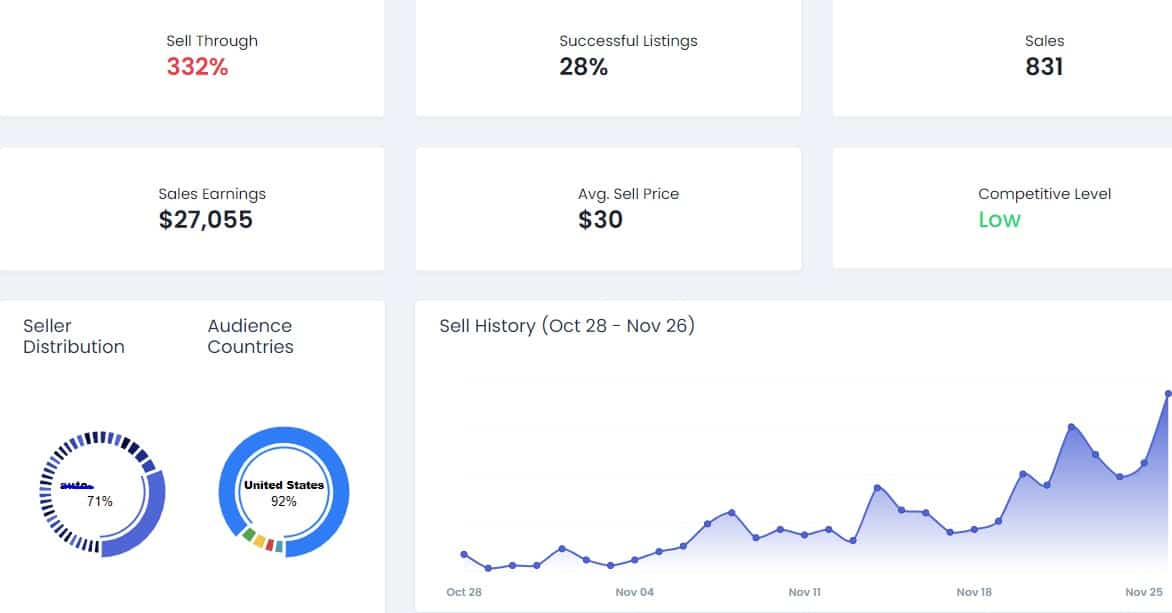 38. Led Lamp with Green Flame Effect
There is something magical in this product and its color that attracts customers so much. Become one of those sellers who will help the buyers to create a unique and creative atmosphere thanks to this winter item for home and garden.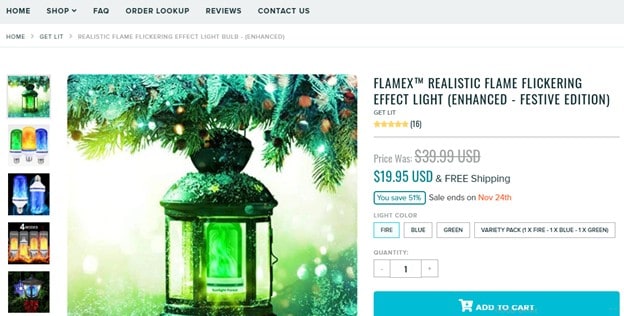 #7 Food and Drinks/Kitchen Products
Since people generally want to stay warm during winter, they often drink warm liquids and beverages. Tea and coffee are the perfect ingredients to make a warm drink, and hence, shoppers will be looking to replenish their supplies ahead of winter. Tea, coffee, and chocolate have a positive impact on mood and general health, so people adore them during cold winter days and nights.
39. Vacuum Containers/Thermal Cups
Next on the list is vacuum containers. A perfect convenient product for the cold weather. It is used in keeping your drinks warm when you are out moving around in the cold weather. You may keep hot beverages like tea or coffee inside the container when going to work, and vacuum containers keep it warm for you.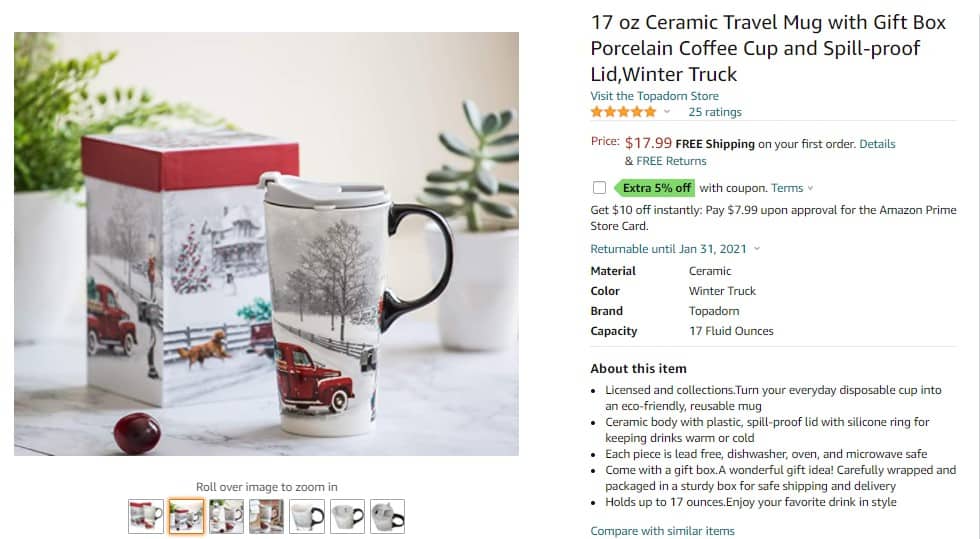 40. Hot Chocolate, Tea and Coffee
It's also an option to add these products to your eCommerce shop. Especially if you want to start dropshipping coffee and tea.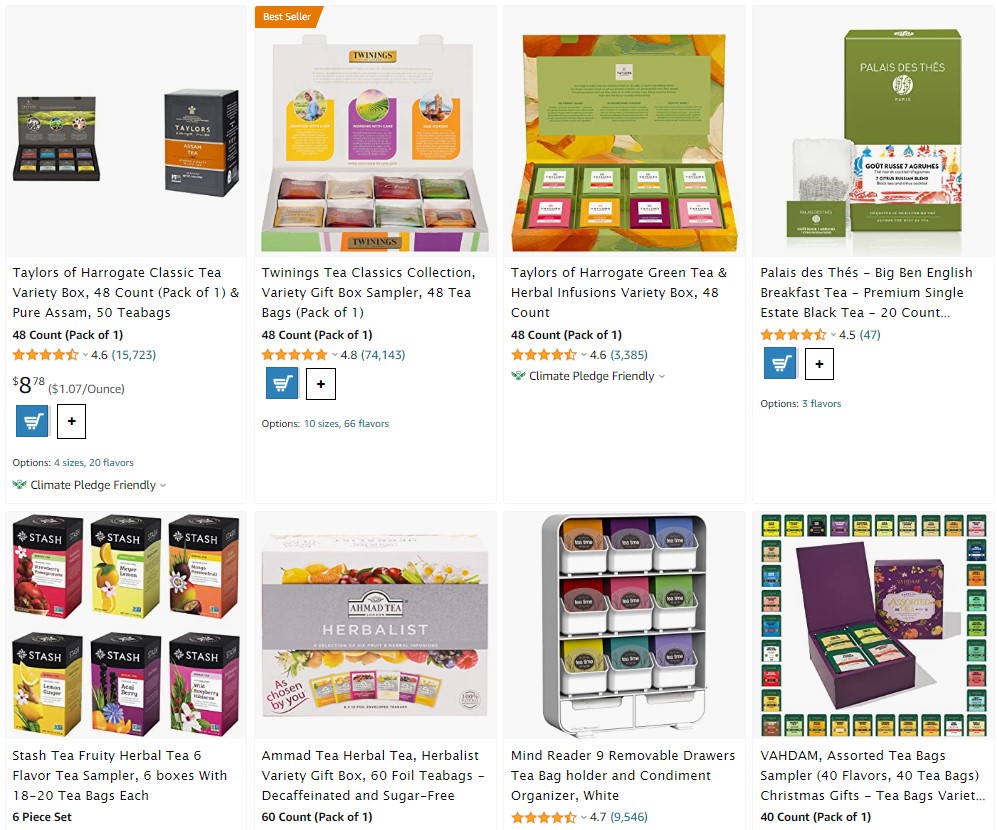 41. Sell Capuchinator
A practical and trendy product this season. This device will help your buyers to enjoy the tasty cappuccino right in their homes. In addition, it's not yet a saturated product on eBay.
42. Platters And Serving Ware
43. Disposables
#8 Dropship Products for Children
Winter is the time of gifts. Parents, aunts, grandparents, friends of parents will search for presents for kids. Many print-on-demand services now offer an option for custom-printed products. Designing your own unique items could be a great way to build out your brand and offer exclusive one-of-a-kind products.
Tip
Print-on-demand is a great way for artists to monetize their talents or existing businesses to explore new product opportunities without serious risks. Learn more in our Shopify Print On Demand Drop Shipping Guide.
44. Kid's Face Masks
45. Sleep Gummies
A newer form is growing in popularity: gummy vitamins. These chewable supplements seem to be all the rage these days. Kids love them, and adults aren't embarrassed to admit they love them too. Great for you and useful for your health. Combo!

46. Costumes of Superheroes
47. Toys and Gaming Products
48. 3D Art Pen for Kids
It's a must-have on your holiday-winter list! Modern entertainment and development of the kid's skills. Make profit dropshipping toys and who knows maybe you will want to try it too? 😉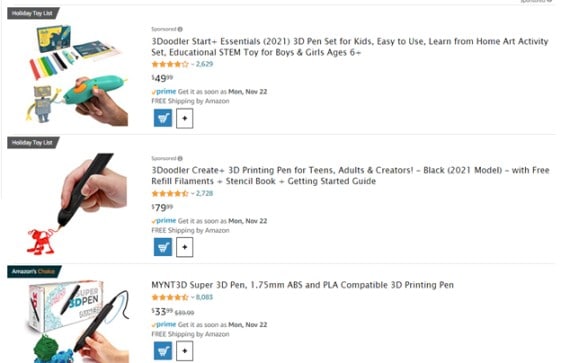 49. Bed Elephant Pillow
50. Bedside Lamp

51. Moisturizer Creams And Lotions For Dry Skin
In winter skin suffers from cold and all years not only women repeat the same ritual again and again. And it works! Winter dropshipping products of this category impressed with their variety. So I recommend gathering and learning some more information before selling the specific cream or lotion in your dropshipping store.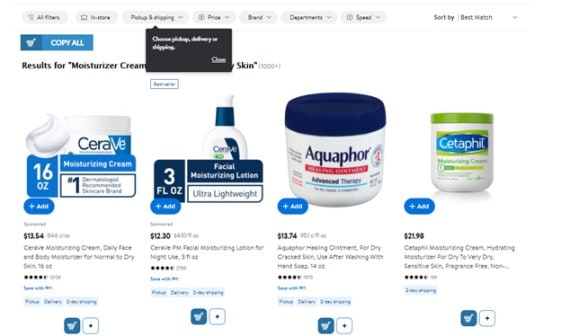 52. SPF Cream
53. Lip Balm
54. Auto Ceramic Hair Curler
This type of product is trendy every winter:

55. Hair Repair Mask
56. Gel Moisturizing Gloves and Spa Socks
The lining is the key to gel socks' success. Each pair has a gel lining with oils like vitamin E, aloe, and jojoba on the inside, in addition to a velvety exterior. Spa procedures at home. What can be easier?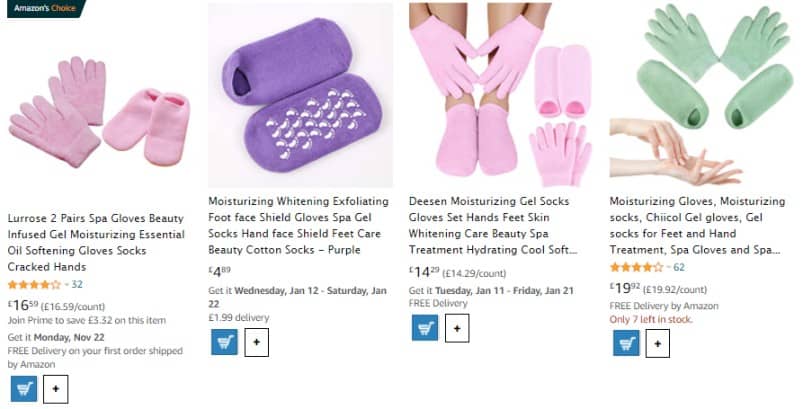 Tip
Pay attention to organic beauty products for dropshipping. Natural and pure ingredients care about the skin and body as well as popular outstanding brands. Worldwide interest is growing and creating a high demand.
#9 Dropshipping Pet Products
Pet owners need more products than just the bed or fun stuff. If you're thinking about starting a pet dropshipping business, consider bundling your products with treats, bowls, toys⁠—even apparel.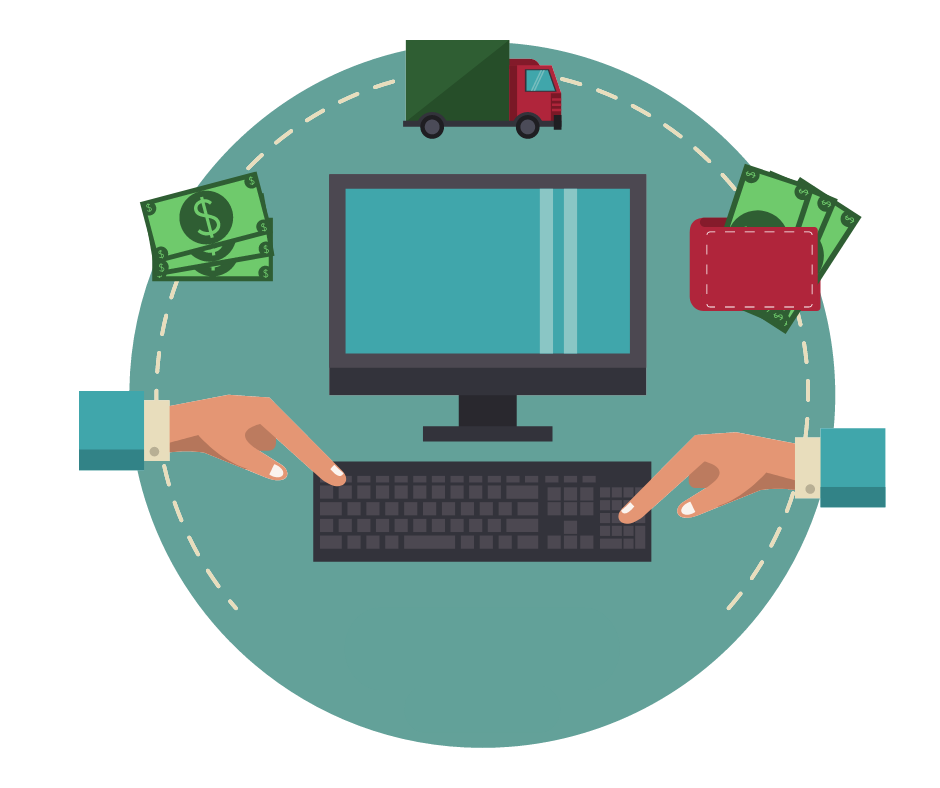 Not yet making money online?
Start your own dropshipping business. Sign up for a free trial of DSM Tool and we'll help you get started. Today is the day.
57. Santa Pet Costume
What can be the cutest in a family that owns a pet while celebrating the winter holidays? Surely the union! Pets are part of a family and let them show the spirit of the holiday with all their charisma! You can add several such seasonal items to sell in your eCommerce store.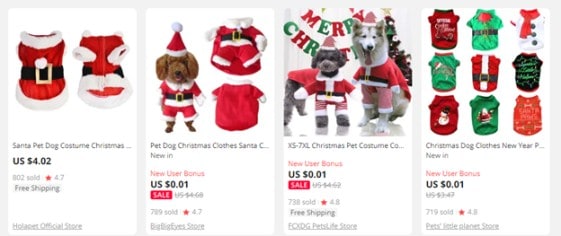 58. Pet Jacket
59. Led Collar for Walking
60. Pet Bed
The list of the popular winter items for dropshipping is not over with those which are mentioned above. Pay much attention, my friend, to the yearly main holidays period, festive attributes and traditions. The following part of the article will be your first step in the right direction in the winter journey. Let's start!
Trending Products to Dropship During Winter Holidays
Winter holidays are very expected and it is right around the corner. Means what? Right! There's a high demand for gifts. If we are speaking about winter goods to sell online. These products should be in your e-store for sure! Therefore, make sure to add enough holiday-related items together with seasonal items to sell or dropship this winter.
Besides, most of this year's holiday spending will happen online. So it is a huge opportunity for your dropshipping store to cross your sales target and break your revenue records. Don't waste your time, prepare your dropshipping business for the holiday season with us!
Christmas isn't only the most wonderful time of the year but also one of the busiest days of Q4 in eCommerce. Some of the shoppers start to search for the perfect holiday gift really beforehand, in summer, but most of the buyers aren't so far-sighted and begin the Christmas preparation in the middle of October or November (60%):

Tip
Include the "Christmas gift" keyword in your product titles in late November- beginning of December to push the views to your listings.
Grow your dropshipping business and boost your sales in the last quarter of the year thanks to the following gift ideas:
1. Dropship clothes with Christmas Attributes
1.1 Sell Christmas Socks
People, in general, need socks in the cold Christmas season, though the special Christmas socks can add a holiday mood and joy.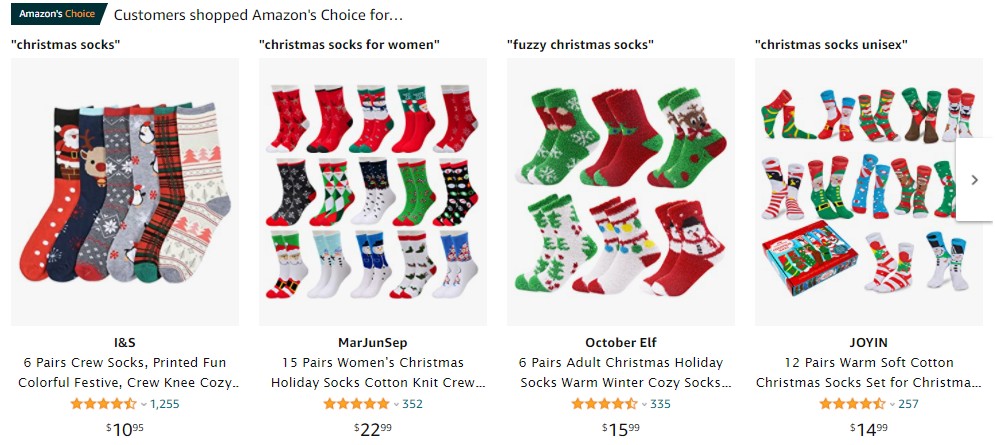 1.2 Christmas Family Pajamas
Christmas is everything about family and family time. By offering such a dropshipping product in demand in your online shop, can find the lovers of this cute family tradition.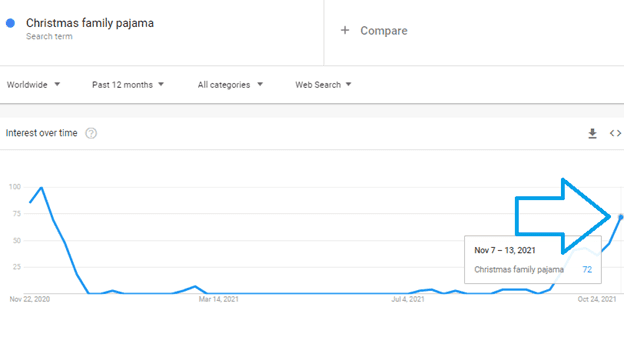 Here is an example of Christmas cold weather product you can sell this holiday season: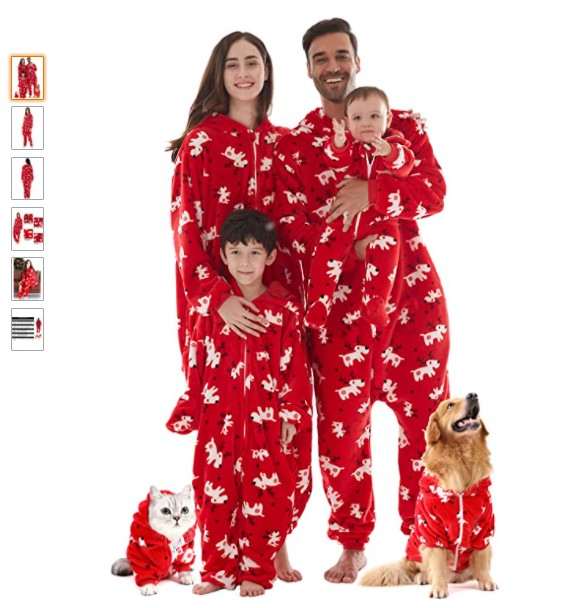 1.3 Christmas Hats
Santa hats, LED Christmas beanies for adults, children, parties, decor is our next idea for what to dropship on Christmas and during this holiday time.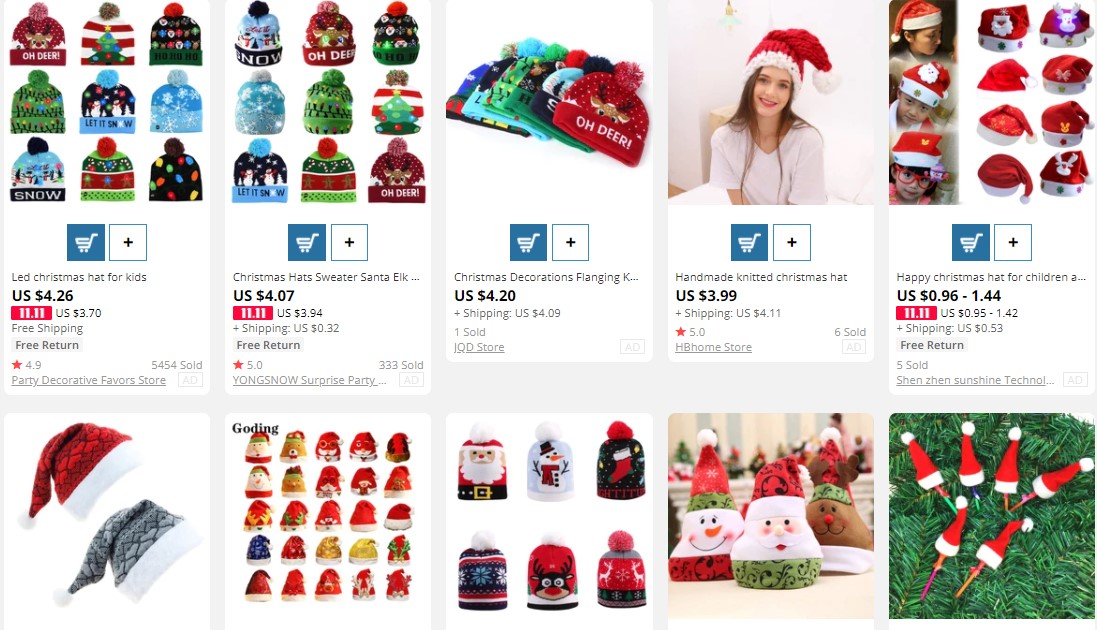 2. Selling Christmas Decorations
Many big retails and wholesalers updated their websites especially before Christmas and added there the trending Christmas gift section. Follow such sections on different dropshipping sites to find more ideas of winter goods for seasonal dropship.
For example, you can sell Christmas lights, wreaths, tree baubles, packages, etc.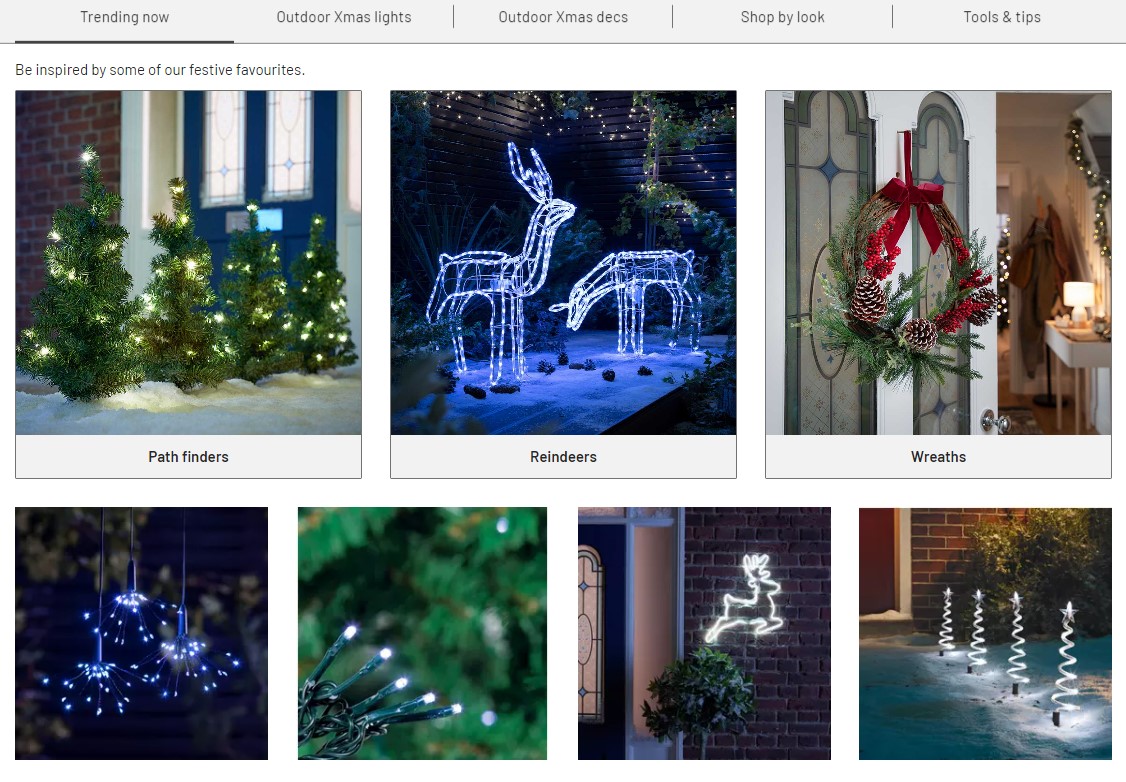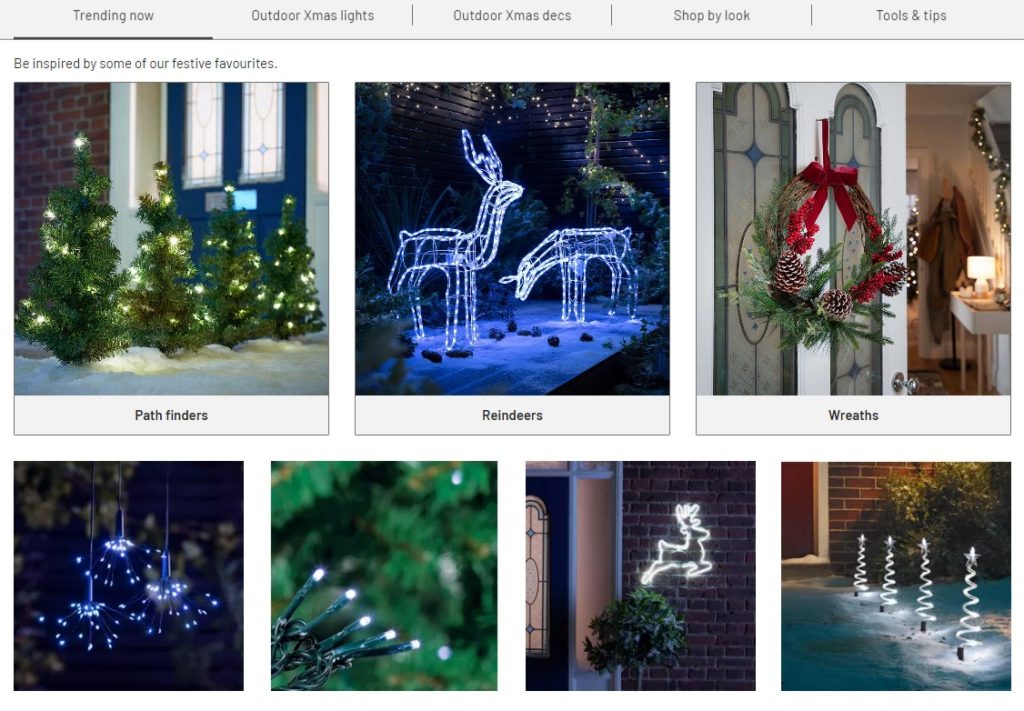 3. Dropship Christmas Trees
All Christmas celebrations include the Christmas tree, don't they? Don't forget to dropship a few of the artificial Christmas trees to your online shop.

Speaking about the possibilities that dropshipping on eBay gives, this winter essential product already now has 445% of sell-through and still low competition. Most of all, it sells well in the USA, the UK, Puerto Rico, Australia, and Canada.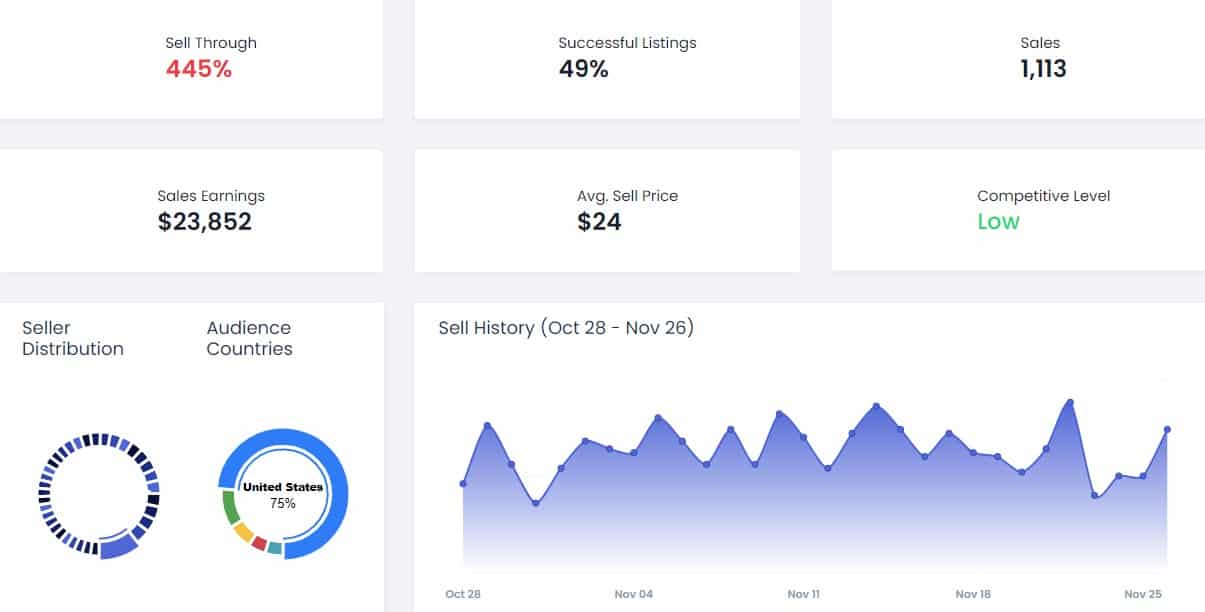 Let's check what other holiday-related items you can sell online during winter 2022.
When February comes there's a lot to expect this month. It's not just the Chinese New Year when almost everyone is preparing for the three-week-long Chinese Holidays. There's one more thing that people are preparing for. It's Valentine's Day!
What to sell? Find it out here:
1. Sell Personalized Gifts
It's an amazing and unique gift of all time. Customers pick a photo they want to see on the gift, and the suppliers provide them a ready product. Make sure to pick a reliable supplier before dropshipping custom products. A mistake in it can cost your shop a good rating and reputation. This kind of product is popular in St. Valentine's.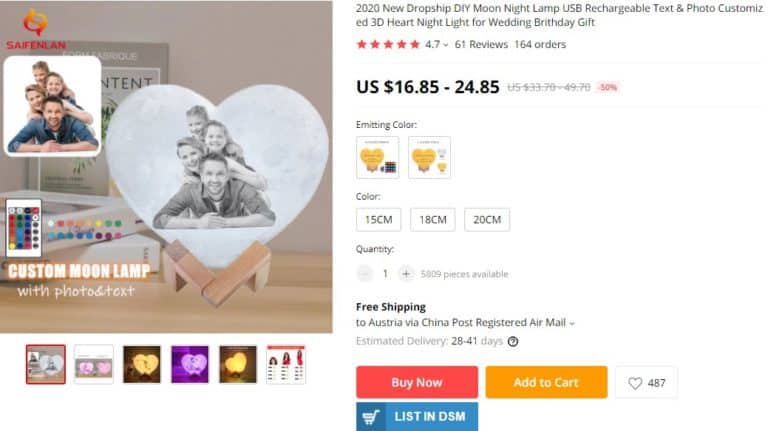 Jewelry is one of the popular gifts from year to year. Make sure to add several such dropshipping products to your e-shop before the holidays.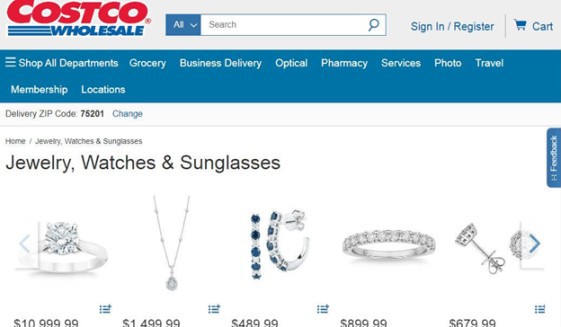 3. Candies and Chocolates
Wholesale Discounters is among a few of those who provide a great list of chocolate and confectionary dropshippers. In fact, Google is a great place to look for the best suppliers in chocolate and confectionary items. Though, you need to be careful with dropshipping food!
Tip
Read more ideas of what to sell online on St. Valentine's Day in this article.
Dropshipping Products on Chinese New Year (February)
Tuesday, February 1 is the Chinese New Year. While the whole of China and some parts of the world celebrate this event, every drop shipper should be preparing their eBay store or another eCommerce shop for the impact of the Chinese New Year on their business. Here is what you can sell:
1. Fireworks/Firecrackers
Firecrackers are an important attribute of the Chinese New Year, just as they are for the ordinary New Year or the Fourth of July in USA.
2. Red Paper Lanterns
The red lanterns with gold Chinese emblems are used as main decorations on the streets. It stands for hope for a brighter future. Red means happiness and gold for wealth. Check out Amazon. Various Chinese lantern decorations are on sale.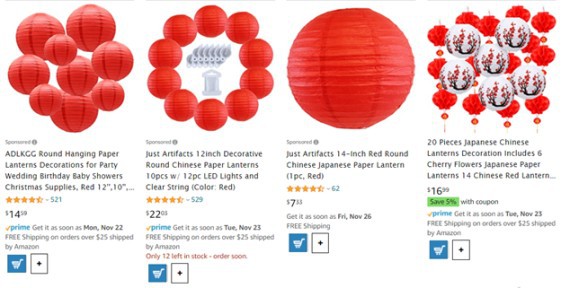 Tip
You can add holiday-related discounts to your eCommerce store, the same like it is recommended to do for 11.11, Black Friday, Cyber Monday, and other big sale events to get maximum sales during Q4.

CONCLUSION
All those above popular winter products are worth selling in order to keep your customers safe from winter inconveniences and enjoy usage during this wonderful season. Now it's your time to choose the ones that you are going to sell in your online dropshipping store this winter.
Stay warm and let me know about your choice in the comments below!