20

min read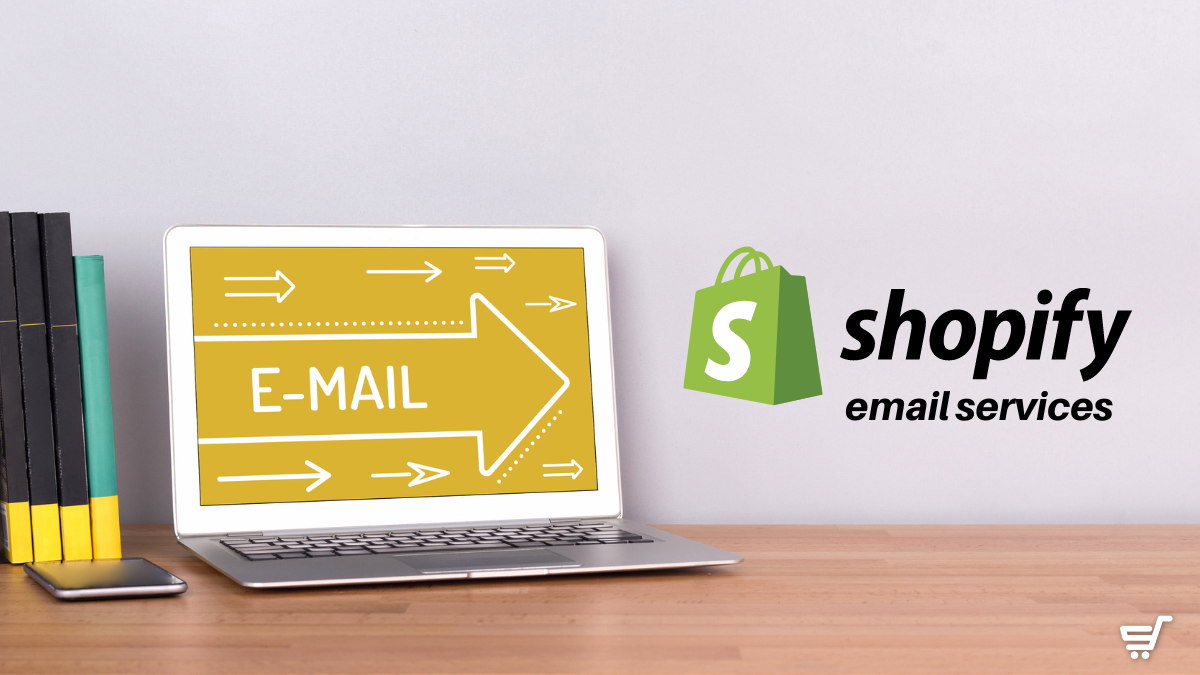 In this article, we will talk about the top Shopify email marketing services for growing your eCommerce business in 2023. You will learn if there is the best email marketing service for Shopify and what features to look for. Running a growth campaign might be overwhelming, but not with these email marketing agencies for Shopify dropshipping.
For eCommerce, email marketing is an important and one of the main tools for working with a target audience and promoting on the Internet. Besides, it is an excellent opportunity for direct communication with your customers. The main goal of this communication is to increase sales and the company's credibility.
According to the statistics, eCommerce companies are increasingly investing in email marketing campaigns. For this reason, we want to make sure Shopify store owners choose the right tools so that they can take advantage of this channel.
— Let's start!
Does Shopify Have an Email Service?
Before we head to the list of best email marketing agencies for Shopify dropshipping, you might have the question: Does Shopify Have an Email Service? The answer is yes.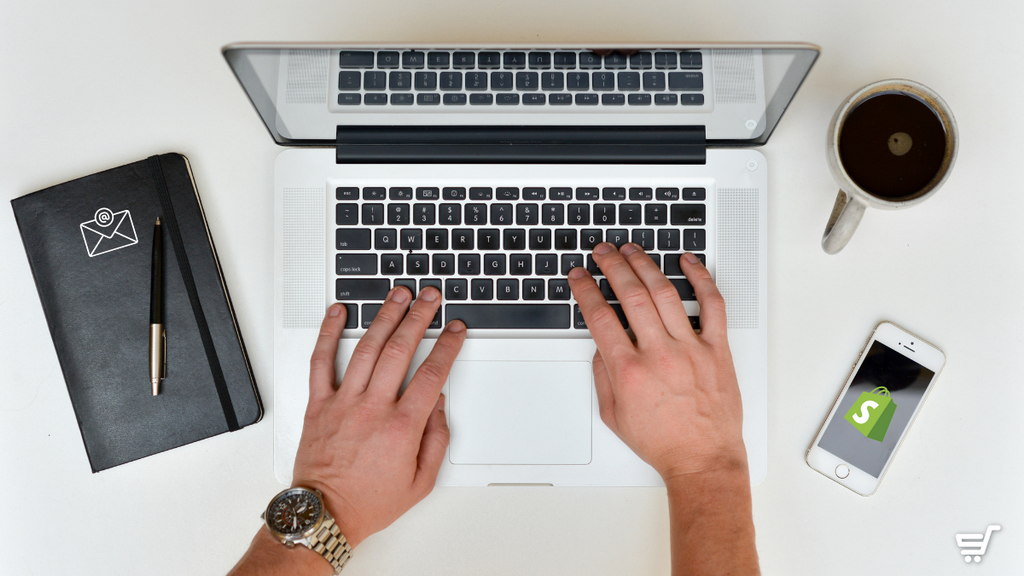 Shopify has an email service that will help you connect with subscribers and build a great relationship with them in order to create loyalty. The best thing about Shopify email is that it is so simple to use, being a minimalistic app, unlike other providers.
Benefits of Shopify Email Tool:
Numerous templates that perfectly fit your email marketing campaigns.
You can easily customize an email by editing text, buttons, images, and much more, giving a personalized experience that will fit your business.
You can duplicate previous emails to keep your content consistent with your customers.
You can schedule an email to send at the desired time.
Import customer lists into Shopify.
Email segmentation for a specific customer profile.
Track your results, including click-through rates (CTR), products added to carts, and purchases.
Is Shopify Email marketing free?
One of the best things about the Shopify email marketing app is that it is completely free to install. You can send mass emails without paying anything, to be more specific, you're allowed to send up to 10,000 emails each month.
— If you surpass that amount, then you would need to pay only $1 for every thousand emails you send.
The Best Services For Shopify Email Marketing: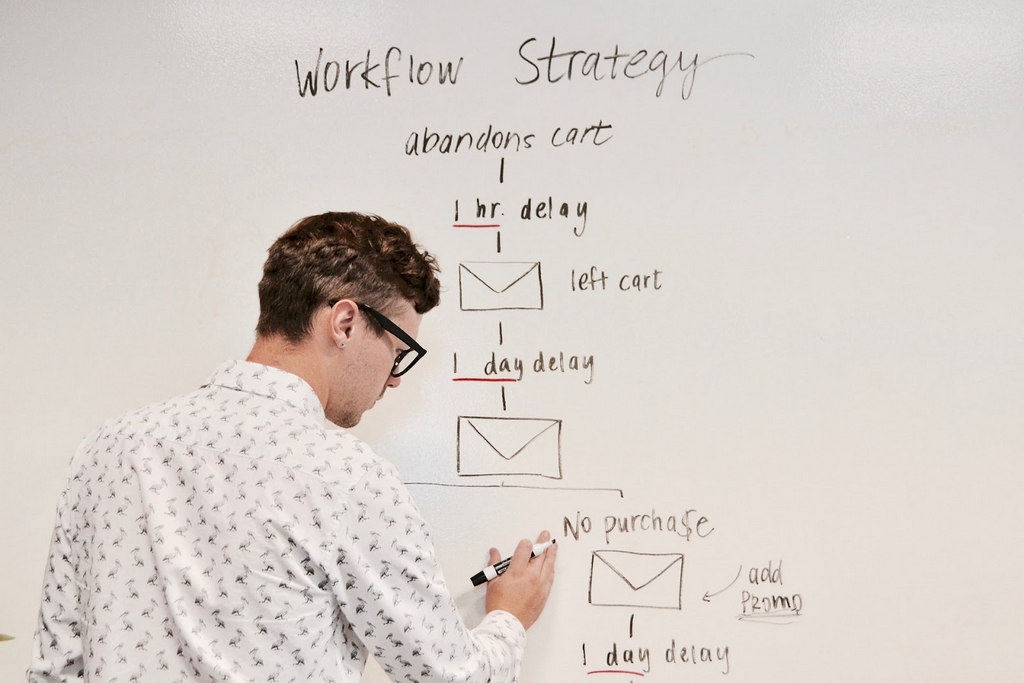 Email marketing is a great way to take your Shopify store to the next level, increase conversions and sales, and attract more customers. The good news is that this is relatively easy to do, and it provides good growth to e-business, according to the website statistics. Mailings are easily customizable depending on the goals of the advertising campaign, and the functionality of modern services is wide enough.
The first step in launching an email campaign is choosing a service to start building your mailing list. There are many reliable providers out there, so don't get carried away looking for the "perfect" email monitoring software. Your task is to choose the required service based on your needs (the price / required functionality/availability of templates).
Klaviyo, Conversio, and Omnisend are just a few of the services that you can integrate with Shopify. Other popular services include Constant Contact and GetResponse. We will talk about them in more detail below.
So, here is the list of the top email marketing agencies for Shopify dropshipping: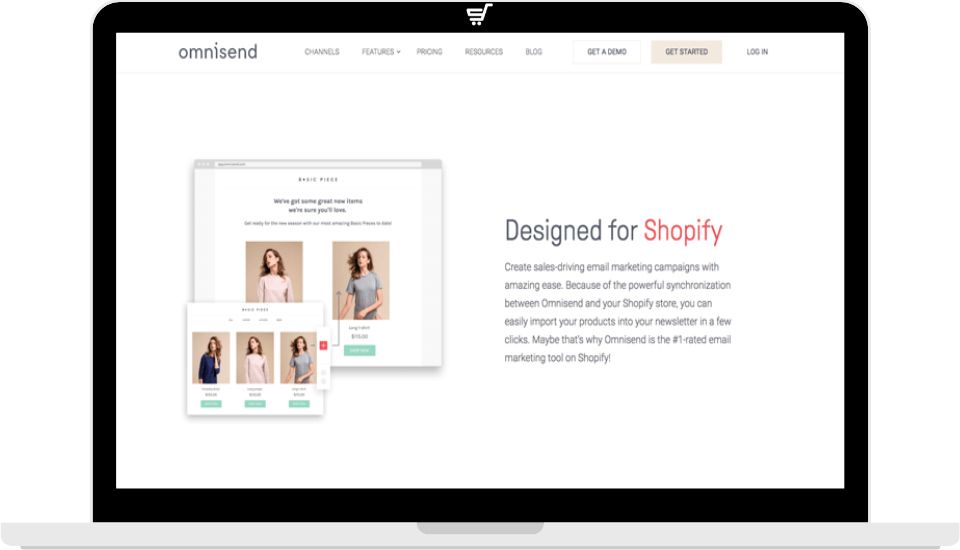 Omnisend was created for e-commerce and rightfully takes first place in our rating. It is a service for entrepreneurs who don't want to spend a lot of time creating campaigns. Omnisend offers automation for many processes (browse abandonment, cart abandonment, order confirmations) as well as other cool features like gift boxes, scratch cards, and others.
In addition to email actions, Omnisend allows you to send SMS, push notifications, and messages to Facebook and Whatsapp. The service integrates easily with Shopify and provides about 20 email templates. In this app also possible to automatically add products from your store directly to your email.
What are the prices for this email marketing tool?
Up to 500 emails per month for 250 contacts completely free.
Up to 500 contactable subscribers and 6,000 emails: $16 per month.
Up to 1,000 contactable subscribers and 12,000 emails: $20 per month.
Up to 5,000 contactable subscribers and 60,000 emails: $65 per month.
2. Klaviyo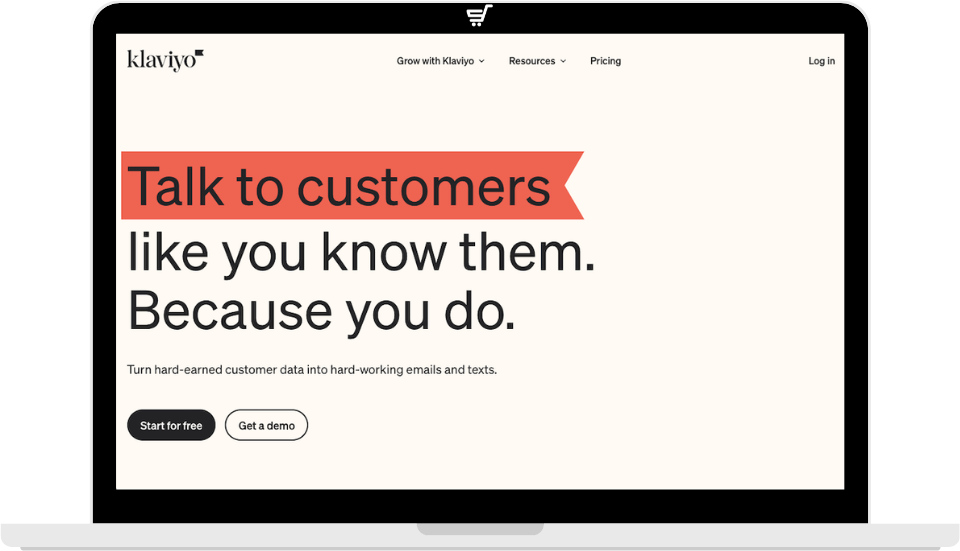 Klaviyo offers a wide range of features and automation to deep work with your newsletters. This service was created for e-commerce owners. Powerful segmentation tools help build mailing lists and automatically send various email campaigns based on your customer data.
Besides, if you have different online or dropshipping stores on several eCommerce platforms, it can be also useful. Klaviyo can also be integrated with BigCommerce, Magento, Stripe, WooCommerce, etc. This email service also can transfer data to and from Facebook and Instagram to build stronger relationships.
Since the main focus is based on email marketing for eCommerce, we recommend this service as a great option when it comes to Shopify email marketing apps.
They offer a great CRM which makes it a great choice for small and medium-sized eCommerce businesses with larger client bases and teams.
What are the prices for this email marketing tool?
Up to 250 subscribers and 500 emails per month: Free
Up to 1,000 subscribers and unlimited emails per month: $30.
Up to 5,000 subscribers and unlimited emails per month: $100.
Up to 10,000 subscribers and unlimited emails per month: $150.
3.

EasySendy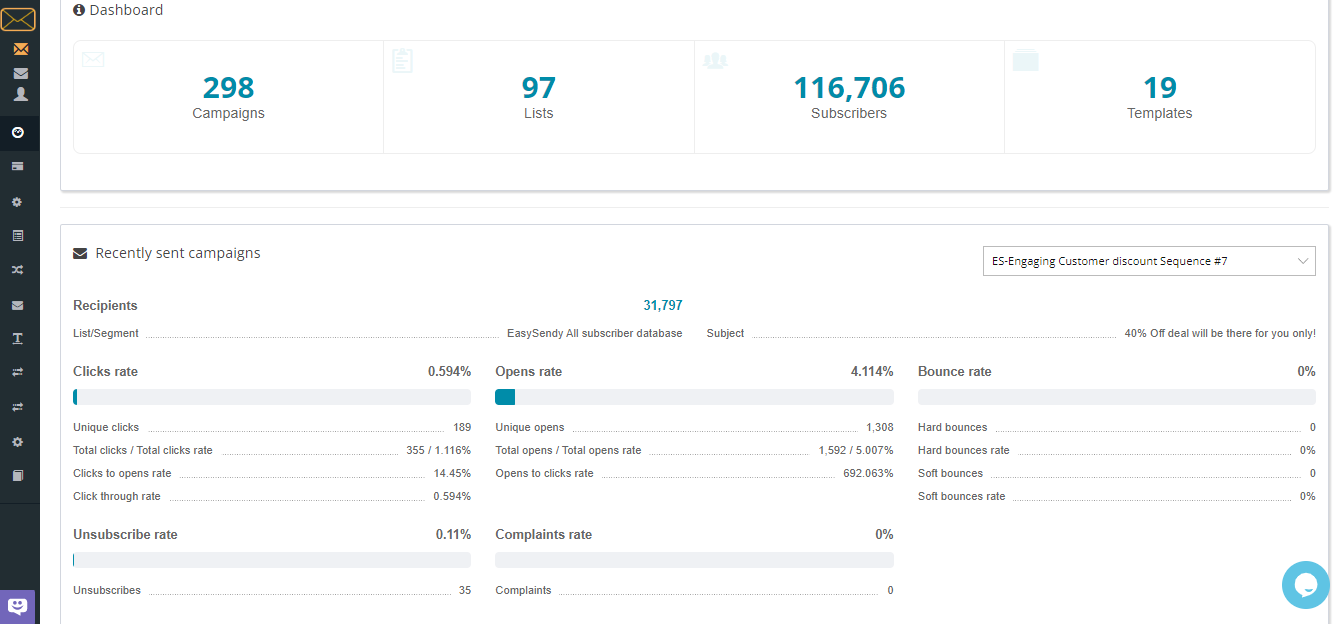 EasySendy Pro is a hybrid email marketing platform for digital marketing teams. It integrates with multiple email delivery API relay service providers and enables the delivery of email campaigns to a list of opt-in emails.
You can split test email deliveries across the relay servers, do email list cleaning, email warmup and check reports, track email clicks, and open each email campaign. It also has a smart autoresponder and email list segmentation.
You can add Web Pop Forms to capture email subscribers from a website, clean an email list, build an email warmup process, build custom subscriber pages, edit email templates with a drag-and-drop editor, and do subscriber segmentation filtering. Connect your app / website through API, Google Analytics, WordPress, and Zapier.
So, if you make digital or physical products, provide services, build software, and market/ sell online, EasySendy Pro is for you.
What are the prices for this email marketing tool?
Hacker Plan – $0/Month – 2000 Subscribers – 30000 Emails
Starter Plan – $19/Month – 5000 Subscribers – Unlimited Emails
Business Plan – $39/Month – 25000 Subscribers – Unlimited Emails
Growth Plan – $109/Month – 100000 Subscribers – Unlimited Emails
Enterprise Plan – $429/Month – 500000 Subscribers – Unlimited Emails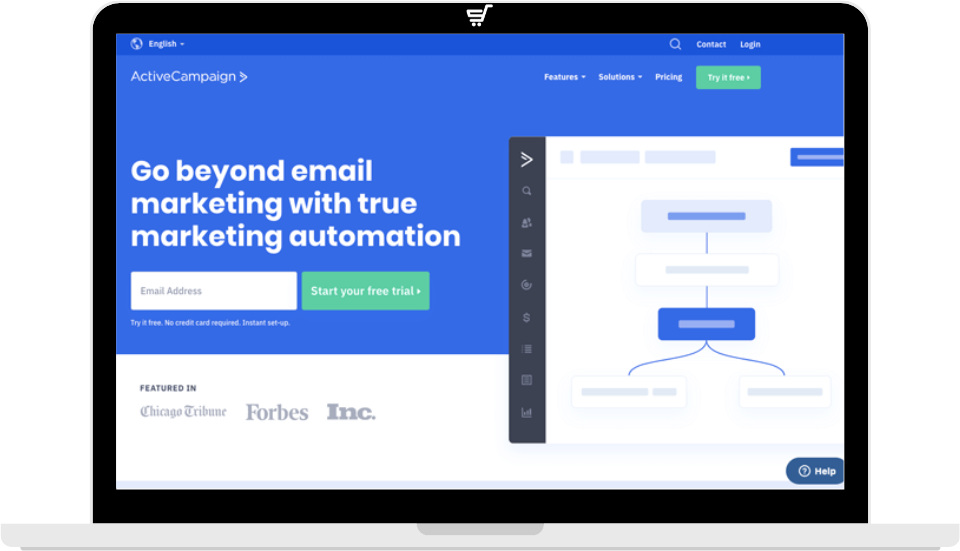 ActiveCampaign is one of the ranked among of the best marketing apps for Shopify in the market which can be easily integrated into your Shopify store. You can take advantage of ActiveCampaign's Customer Relationship Management (CRM), dynamic segmentation, awesome email templates, and so much more.
This email marketing service for Shopify involves more complex and advanced processes of automation and segmentation, CRM, and SMS marketing. The service positions itself as an all-in-one in email marketing.
Additionally, ActiveCampaign integrates with PayPal, Stripe, Shopify, WooCommerce, BigCommerce, Facebook, and 850+ other apps.
This email service offers lots of excellent tools for setting up email campaigns for a Shopify store. This list also includes:
site messaging
engagement tracking
SMS
segmentation features
email autoresponder
triggered emails
beautiful email templates, etc.
What are the prices for this email marketing tool?
Up to 1,000 emails per month: $29.
Up to 5,000 emails per month: $99.
Up to 10,000 emails per month: $155.
5. GetResponse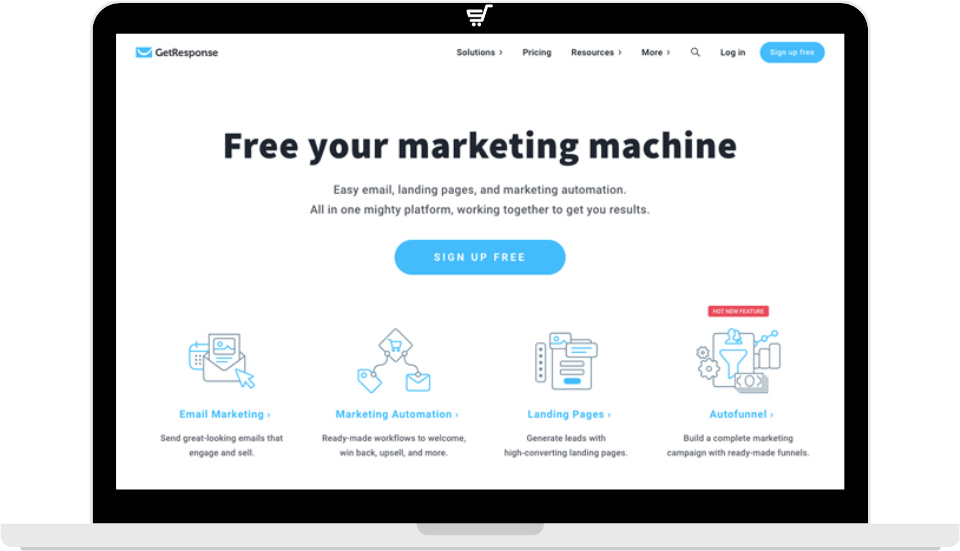 GetResponse is one of the most convenient marketing software platforms that can help you to boost sales, increase traffic and create content for your business online.
So, what can help you to launch marketing campaigns and automate essential tasks? This Shopify email service provides you with:
Integrated email marketing;
Autoresponders;
Landing pages;
Advanced analytics;
Customizable template scenarios do the heavy lifting for you.
Besides, GetResponse prices are quite friendly.
What are the prices for this email marketing tool?
Up to 1,000 subscribers and unlimited emails: $19.
Up to 5,000 subscribers and unlimited emails: $54.
Up to 10,000 subscribers and unlimited emails: $79.
Tip
You can find more information about this Shopify marketing software in this GetResponse review.
6. Drip
"Make more money with smarter marketing." is the main task slogan of Drip. This Shopify email marketing service will help you to create your eCommerce brand — from loyalty and retention to customer acquisition.
Among all the features they offer to their customers, you can find:
Customizable forms.
Automotive eCommerce campaigns.
Segmentation and reports.
Everything related to this drop email editor is very straightforward. It's so simple to create automations to your workflow which will not only help you with your email marketing strategy but also it saves you a lot of time.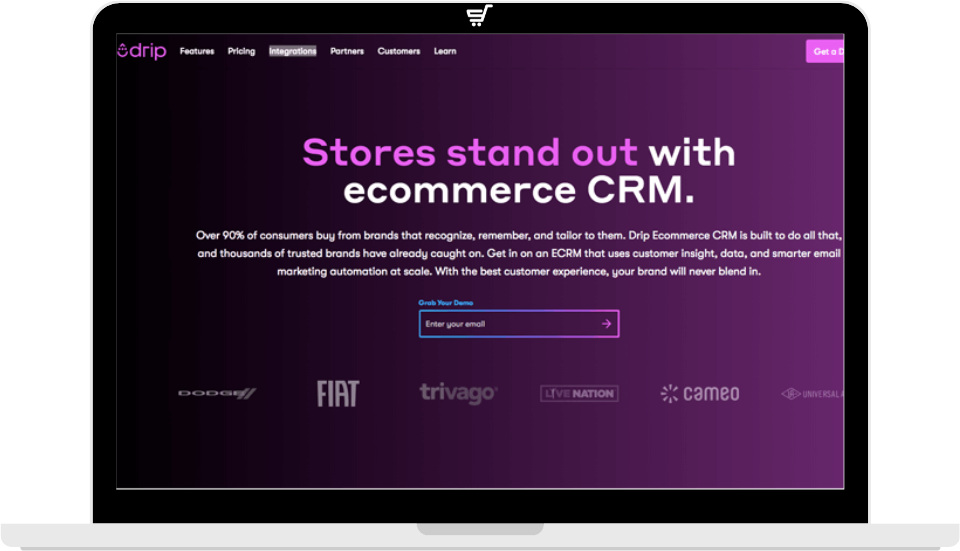 What are the prices for this email marketing tool?
Up to 2,500 contacts: $39.
Up to 5,000 contacts: $89.
Up to 10,000 emails per month: $154.
7. MailerLite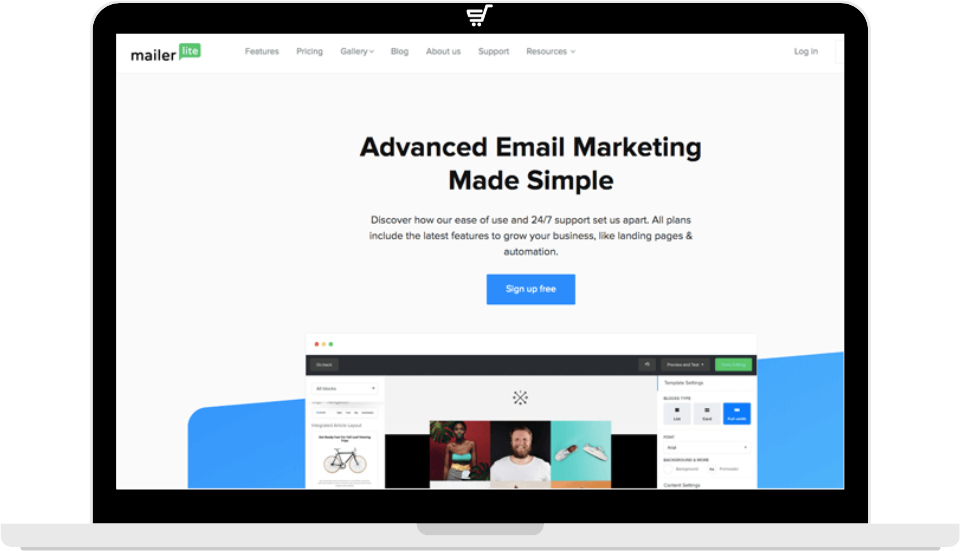 MailerLite is our next email marketing service provider. It focuses on simplicity, excellent customer support, and beautiful email designs. It´s a user-friendly service. So, you can easily create beautiful email campaigns for Shopify (and not only), track their results, manage subscribers and unsubscribers, design custom popups and landing pages, etc.
Moreover, A-B Testing, Analytics, email autoresponders, segmentation, image library, and many other useful features for digital marketing are available there.
Additionally, it integrates with WooCommerce, BigCommerce, Magento, Stripe, Paypal, Coupon Carrier, etc. Social media integration is present as well. Therefore, it can be useful for your social media marketing campaigns.
What are the prices for this email marketing tool?
Up to 1,000 subscribers per month: free.
Up to 5,000 subscribers per month: $32.
Up to 10,000 subscribers per month: $54.
8. SmartrMail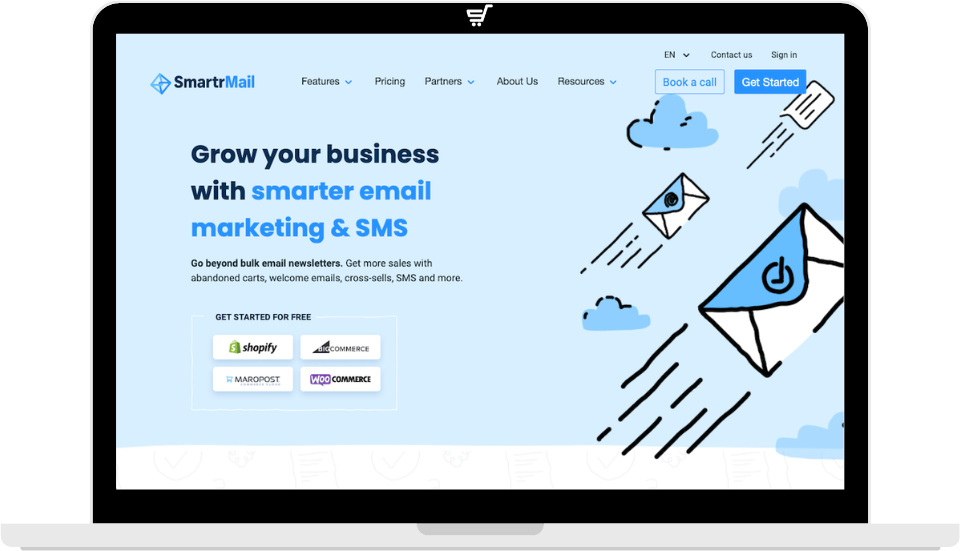 Shopify, WooCommerce, and BigCommerce e-sellers can pay attention to this email marketing service as well. It´s easy and user-friendly. It takes less than 2 minutes to integrate SmartrMail with your Shopify store. And no spreadsheets or imports are needed. This email service can automatically email product recommendations, recover abandoned carts, and welcome your subscribers. Their newsletter builder offers you different beautiful templates, which you can automatically fill with your products, complete with images, descriptions, and links.
Additionally, automatic cross-sell recommendations for products your customers abandoned in their carts are available. All emails they send are optimized for mobiles.
What are the prices for this email marketing tool?
Up to 1,000 contacts: $19.
Up to 2,000 contacts: $26.50.
Up to 5,000 contacts: $49.
Up to 10,000 contacts: $86.50.
9. Sendinblue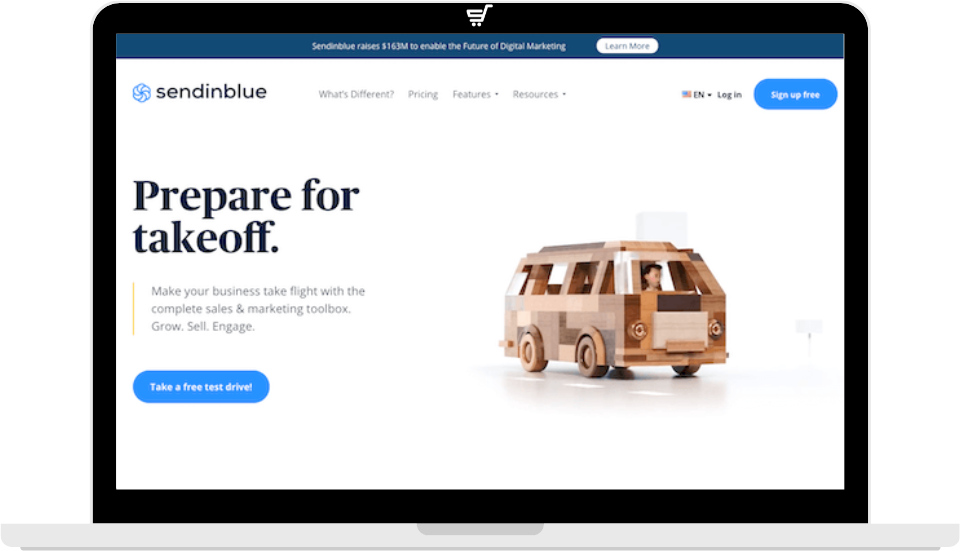 This email marketing service for Shopify offers marketing automation, email campaigns, transactional emails, SMS messages, chat, CRM, Facebook ads, and retargeting ads. You can also find there email monitoring, email auto-responders, analytic tools, response management, segmentation, social media integration, dynamic contents, image library, and many more.
Besides, Sendinblue is one of the most affordable email services that exist in the market. It also allows you to send 300 free emails per day in their free plan.
This email marketing provider has a unique feature where you can display conditional email content based on certain attributes such as new customers or leads as well as long-time customers.
Furthermore, you can send emails and SMS like payment confirmation, order summaries, shipping and handling information, etc. This is all due to their transactional messaging features.
In addition, order information also gets exported from Shopify to Sendinblue, meaning you can view this information on individual contact records, and create segments and automations — how cool is that?
What are the prices for this email marketing tool?
Up to 9,000 emails a month: $0. You can send 300 emails each day for free.
Up to 10,000 emails a month: $25.
Up to 40,000 emails a month: $32.
Up to 60,000 emails a month: $45.
10. MailChimp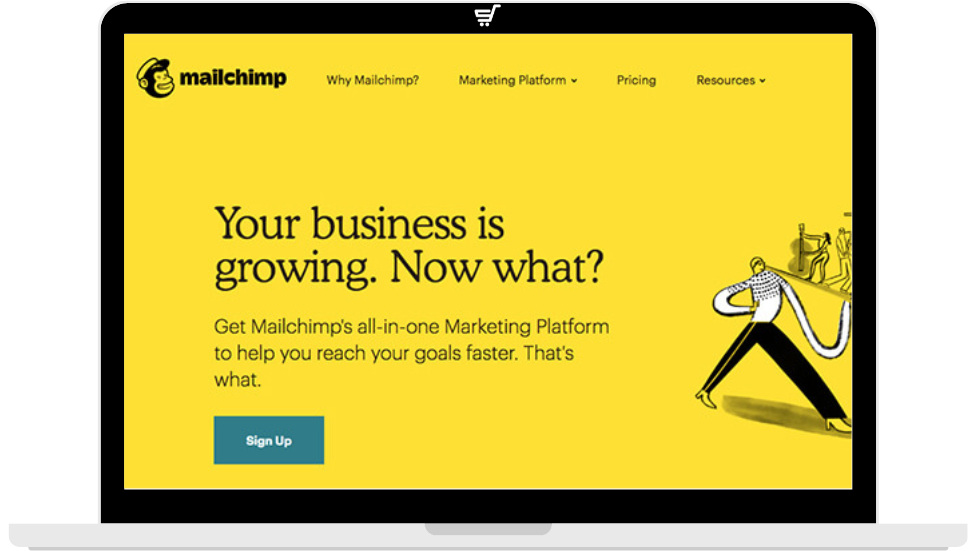 MailChimp is one of the most well-known email marketing providers in the market. Almost every marketer uses or has used this platform before. Just recently, Shopify got to an agreement with this provider and we now can count it in our top list.
Why is this app so well-known among sellers?
Mailchimp has some of the best if not the best reporting features for eCommerce, which include products sold from a particular marketing campaign, total revenue made in a month, click map, and geolocation tracker.
What are the prices for this email marketing tool?
Free for up to 2,000 contacts
Up to 500 contacts per month: $9.99
Up to 2,500 contacts per month: $34
Up to 5,000 contacts per month: $59
Up to 10,000 contacts per month: $87
11. MadMimi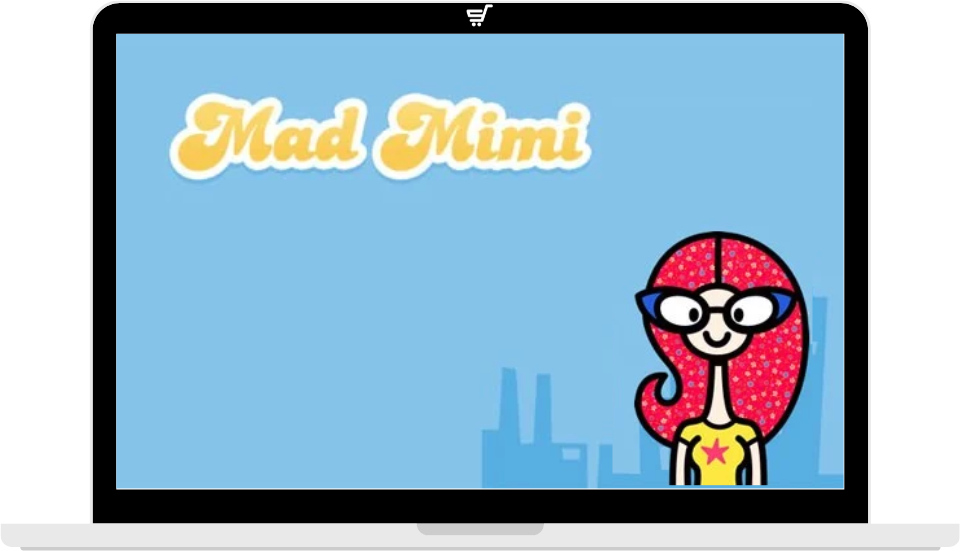 MadMimi is the email marketing service that the Shopify platform suggests sellers use for their marketing needs.
Some of the best features this provider offers are:
Numerous web forms to get email addresses as lead generation.
Integration with social media platforms such as Facebook & Instagram, perhaps TikTok in the near future since Social Commerce is gaining popularity.
Integration with Google Analytics, Etsy, SurveyMonkey, and Salesforce.
What are the prices for this email marketing tool?
Up to 500 subscribers per month: $10.
Up to 10,000 subscribers per month: $42.
Up to 50,000 subscribers per month: $199.
Up to 350,000 subscribers per month: $1,049.
12. NotifyVisitors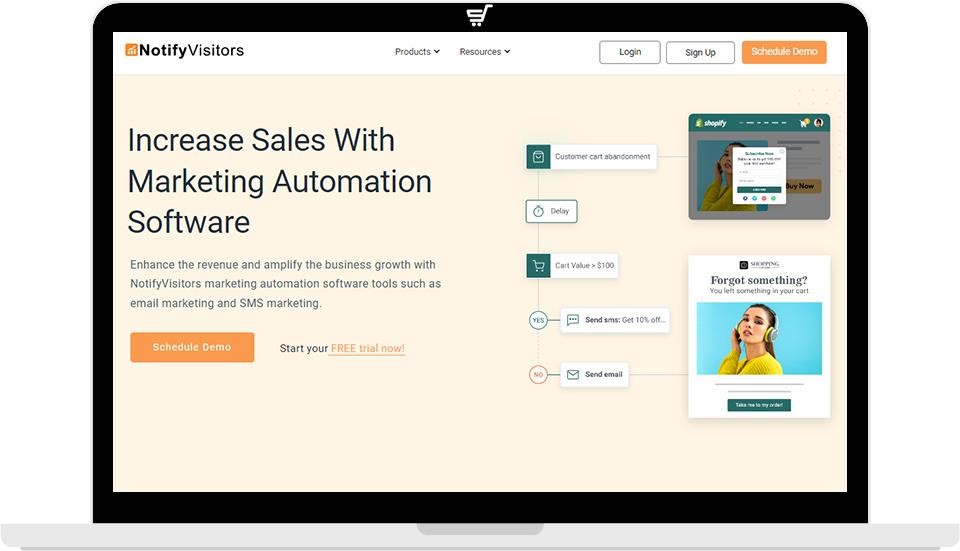 NotifyVisitors is an all-in-one email marketing app for Shopify. This app helps you scale your business and reach your targeted audience better. Moreover, its pre-made templates let you quickly set up and implement campaigns.
Its drag-and-drop content editor allows you to customize and personalize the templates per your requirements, further leading to branding in the best possible way. What makes it the best email marketing app is that you do not require any coding knowledge to get started.
Moreover, its seamless integration with third-party apps helps run the campaigns smoothly.
Its features involve:
Send welcome emails, promotional emails, cart abandonment emails, and so on.
Track your campaign progress through analytics
Create automated email campaigns to engage your customers
Drag and drop email editor to personalize emails.
A/B testing to find out the best email result.
What are the prices for this email marketing plan?
In the free plan, you get 1000 contacts and 1000 emails per month.
Startups Plan starts at $49 per month.
For the Enterprise plan, you need to contact them.
Other Shopify

Email Marketing Providers Worth Mentioning:
These email marketing agencies for Shopify dropshipping didn't make it to the top 10, but they are still worth mentioning.
13. ConvertKit
ConvertKit is an email marketing service for Shopify and not only. Teachable, WooCommerce, and BigCommerce sellers can check this service as well. Additionally, it´s good for creators since you can sell ebooks, music, presets, coaching, and courses with their help.
It will leverage your email list to promote online products from your eCommerce store. There you can create an automated sales and follow-up funnel to show your product to the right people with their audience growth and email tools. This email service for Shopify offers an easy way to organize all your customers in order to exclude previous buyers from the product pitch and target the right ones. They also offer a dashboard to see all the data in one place.
14. Constant Contact
Shopify and eCommerce sellers use this email marketing platform to launch an email marketing campaign to engage customers, build an awesome website in minutes, upload products to your online store, generate awareness on social media, or boost sales with Google Ads. Their main focus group is eCommerce sellers. That's why you find many useful features to boost your digital marketing and sales in this email service platform.
One of the features which they offer and which is highlighted by their users is email deliverability. Besides, they offer an easy drag-and-drop email builder with a rich library of pre-built email templates to customize for your needs and targets. Their email automation includes list-building tools, automated email resending to non-openers, and subject line A/B testing. In addition, social media campaign integration is available.
15. Retainful
This is an email marketing automation app for eCommerce. It's relatively new, yet it already boasts a portfolio of at least 11,000 customers.
You can integrate it with two eCommerce platforms: WooCommerce and Shopify.
One of the best features is the recovery email for the abandoned cart users tend to have while on a Marketplace or eCommerce site. Users might regret including any given article on their shopping list, therefore with this email recovery feature you get to know why and even execute a remarketing campaign. You can even offer your customers coupons to use on their next order.
There are many other service providers worth considering. For example, here are email marketing agencies Dallas.
Email marketing can be overwhelming, especially if you are unfamiliar with the field. You can also find some advice and examples of interesting newsletters in our Successful Email Marketing Campaign Examples for eCommerce Store guide.
How To Choose The Best Email Marketing Tool For You?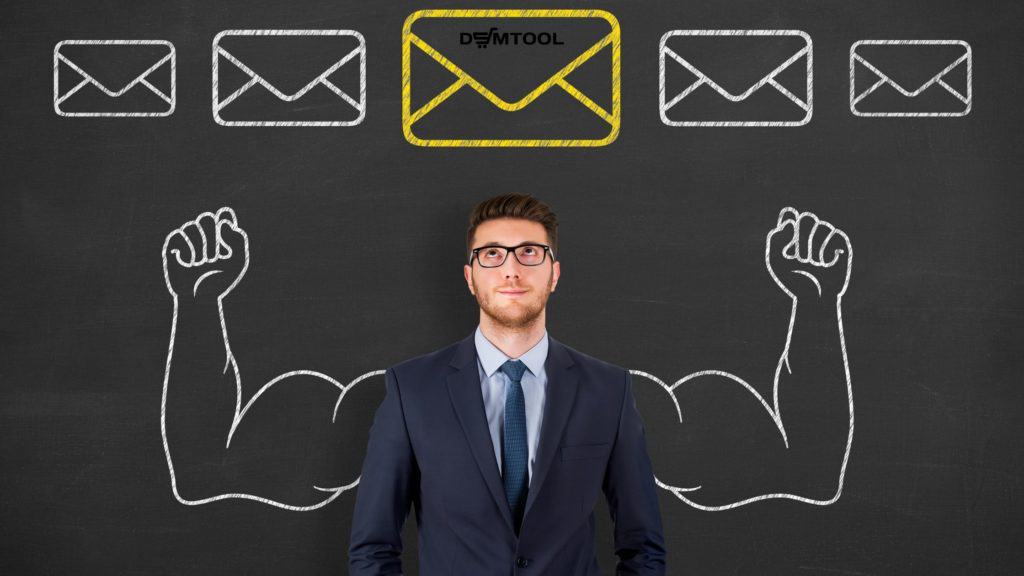 For a long time now, email marketing has been the most important and profitable communication channel for any company or business. By utilizing email marketing you can pique the interest of potential customers and reward your loyal customers.
There is no denying that email marketing can be quite overwhelming, especially if this is an area you do not have a lot of experience in. You can find some advice and examples on successful email marketing campaigns in our Successful Email Marketing Campaign Examples for eCommerce Store guide.
That is why there are a handful of options out there that will improve and boost your emails to eye-catching Marketing campaigns for both potential customers and customers.
So the question is: How can you choose the correct tool for you?
The answer really depends on what kind of email automation you are looking for, whether you're looking for a tool that offers more advanced features in your email ads with loads of personalization or you'd like to choose simplicity over complexity, a tool that is good enough to handle the task and easy to use.
Basic Features You Want On an Email Marketing Tool for Shopify:
Our top 4 basic features that all email marketing agencies for Shopify must have:
Customizable templates.
Segmentation feature that will allow you to target a specific audience based on customer profiles.
Smart automation feature for your campaign monitor.
Detailed analytics that will give you relevant insights on your email campaigns.
Final Thoughts:
In the past, eCommerce sellers had limited options when it came to choosing an email marketing service provider. Fortunately, they no longer do. The number of well-developed and viable tools that can help sellers improve their Shopify email marketing services continues to grow. As shown in this article, there are at least 10+ top email marketing providers you can choose from.
They range on every price level from a moderately accessible priced service to a more exclusive higher priced deluxe service.
It's now more important than ever for sellers to perform effective research and make a wise decision regarding which email marketing service they use on Shopify.
Email marketing is an essential aspect of running any online business. Because of Shopify's easy-to-use platform, many sellers forgo using a third-party service in favor of using a free tool designed to help with the basics of email marketing. The tools we've listed are designed with the specific needs of a store owner in mind, however, and can help you do even more than a free email marketing service can.
Whether you're just starting out or have already been selling for a while, we hope you'll be able to find something that works for you on our list.
Dropshippers running their stores on Shopify should check out the following articles:
And what are your favorite email marketing agencies for Shopify dropshipping? Let us know in the comments!