AliExpress is a friendly website for dropshipping sellers. So friendly that it even has a section on the website called the AliExpress Dropshipping Center. In this article, I will try to give you an introduction to how to sell AliExpress products on eBay.
One of the biggest concerns sellers have when thinking of using this platform is: Is AliExpress legit for dropshipping? The quick answer is yes, it is. In fact, the majority of dropshippers tend to use AliExpress as their main supplier.
AliExpress is reliable to sellers, it also offers a Dropshipping Center where you add listings you'd like to sell from the website into your store. You set a price with a markup in order to cover fees and get your profits. Lastly, when you receive an order, you pay for that product at wholesale prices. The DSM Tool software is a wonderful AliExpress to eBay dropshipping tool, and I will be demonstrating how to start dropshipping with it throughout the guide. This article is aimed at those of you who are looking to start an online business and it covers both the theory and the practical steps you need to take to get started.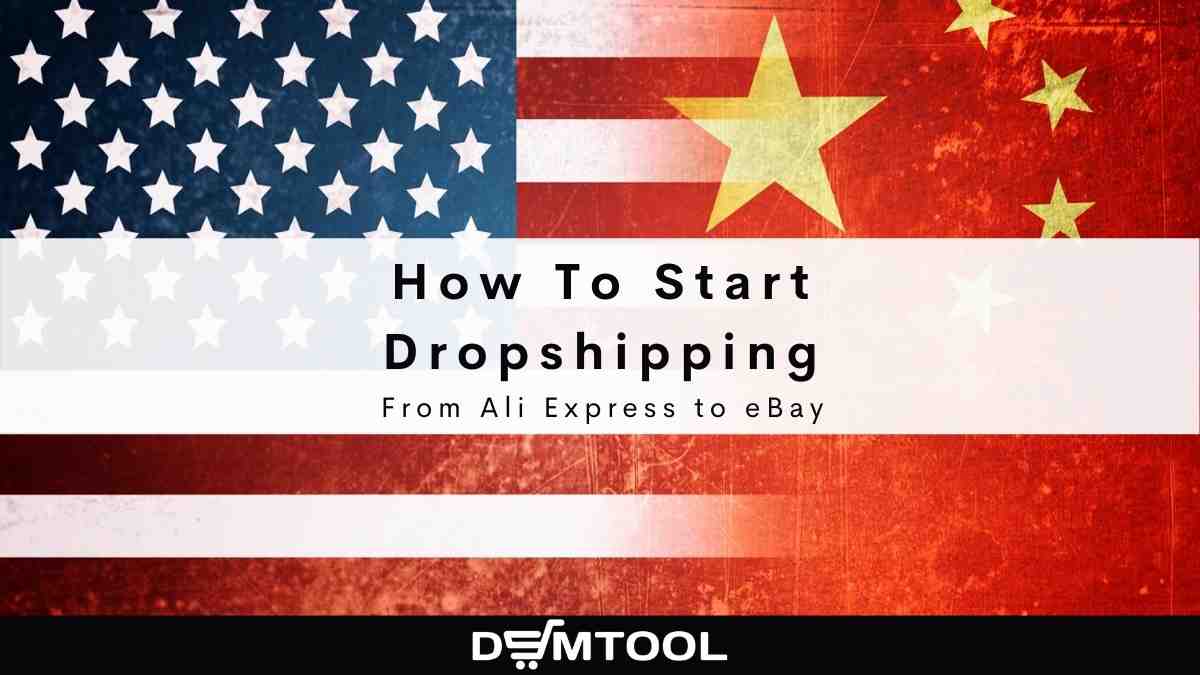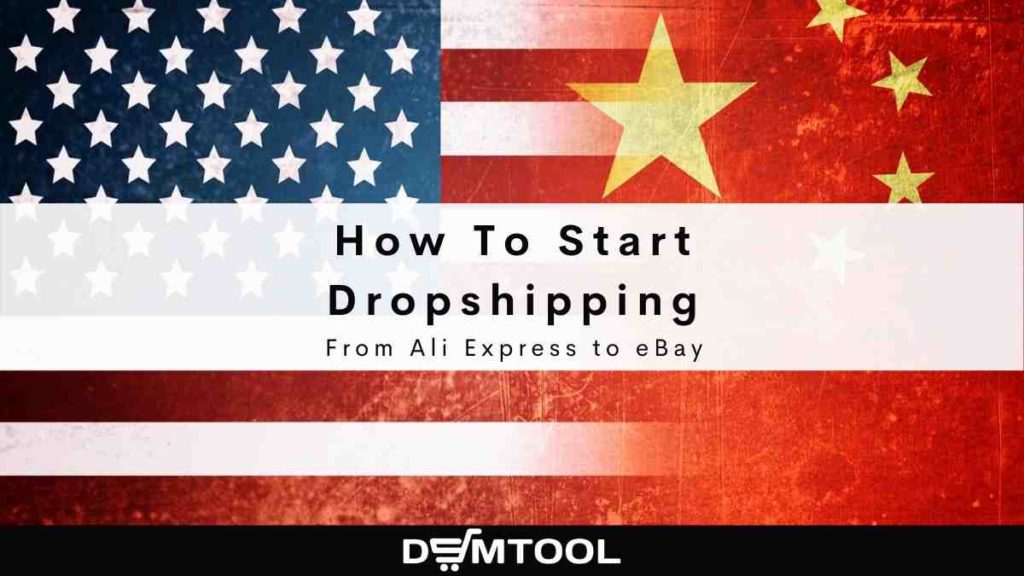 Having said that, I will try to cover in this post as much as I can of the subject and at no cost.
In this article you will learn: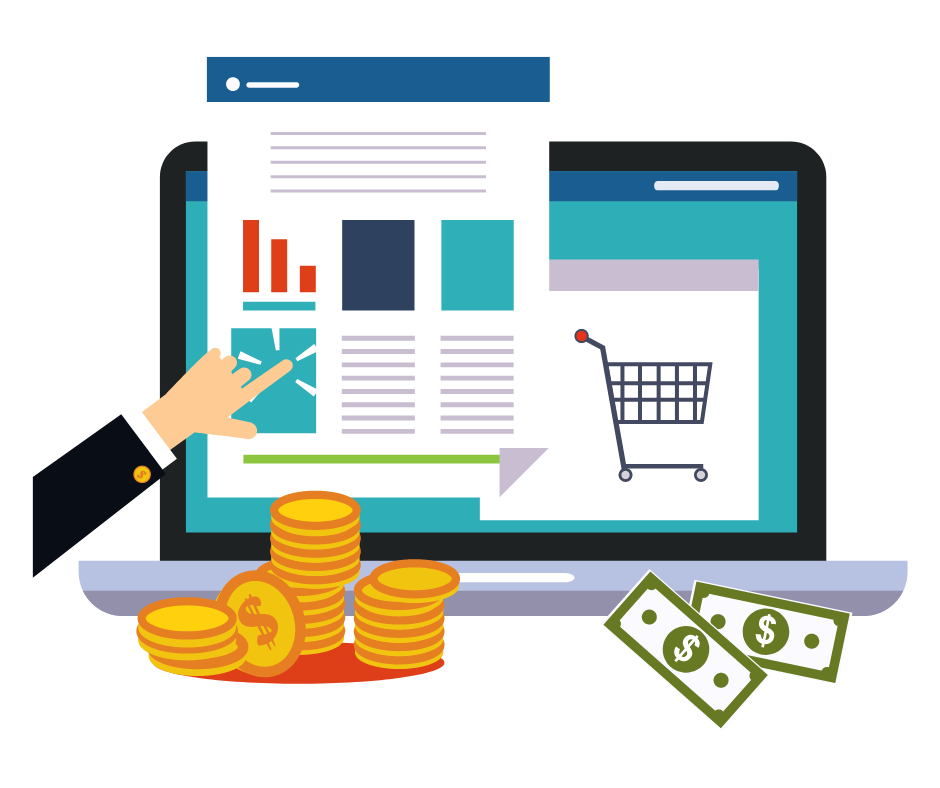 Don't wait for the profits, make them!
Start a profitable dropshipping business with DSM Tool. Get a free course and a free trial of the software.
But before let's sort out the popular questions about dropshipping from AliExpress:
Is AliExpress free for Dropshipping?
Yes, AliExpress doesn't charge any monthly subscription fee like other marketplaces. Any seller can head over to the platform and source any item in order to dropship them. All you need to take into consideration is the product's price and the shipping fee offered by the seller.
Is AliExpress good for Dropshipping?
AliExpress is a great platform for dropshippers where they do not need to worry about inventory or shipping. The website offers various high-end quality products at a substantially low price. When it comes to shipping fees, AliExpress offers two affordable methods; Aliexpress Standard Shipping and ePacket.
These two AliExpress shipping methods are not only affordable for users as well as reliable, but they have a faster delivery time. In fact, a lot of eBay sellers offering their products on the platform source them from AliExpress.
Benefits of AliExpress dropshipping:
Although AliExpress is another retail marketplace, they understand that the majority of their users are resellers — a.k.a dropshippers. Dropshipping on the website is accessible to everyone since there's no upfront fee involved.
The majority of sellers on the platform offer millions of products with professional pictures showcasing each item along with their brief descriptions. This will allow you to easily describe the product you source to your potential buyers on the sites like AliExpress where you choose to dropship.
Lastly, dropshipping is a simple process where you buy a product from the site and input your customer's address after receiving their order — that's literally it!
Is there a minimum order quantity in AliExpress?
No, unlike other wholesale retailers such as Alibaba, there is no need to buy in bulk. This is a huge advantage to beginners where they don't need to hold inventory of certain products, they can sell whatever category they want with a good amount of market demand.
— This business model approach has more flexibility when it comes to products and overall investment.
Why should you start dropshipping on eBay:
eBay Marketplace not only has over 183 million active users meaning that it has a huge market but it is also extremely easy to become an active seller on the platform. Unlike other marketplaces such as Walmart or Amazon, opening an account in order to sell is not quite simple, there's a list of requirements you need to meet.
The majority of eBay sellers or dropshippers are located in the USA with a 28.2% market share along with sellers from the UK.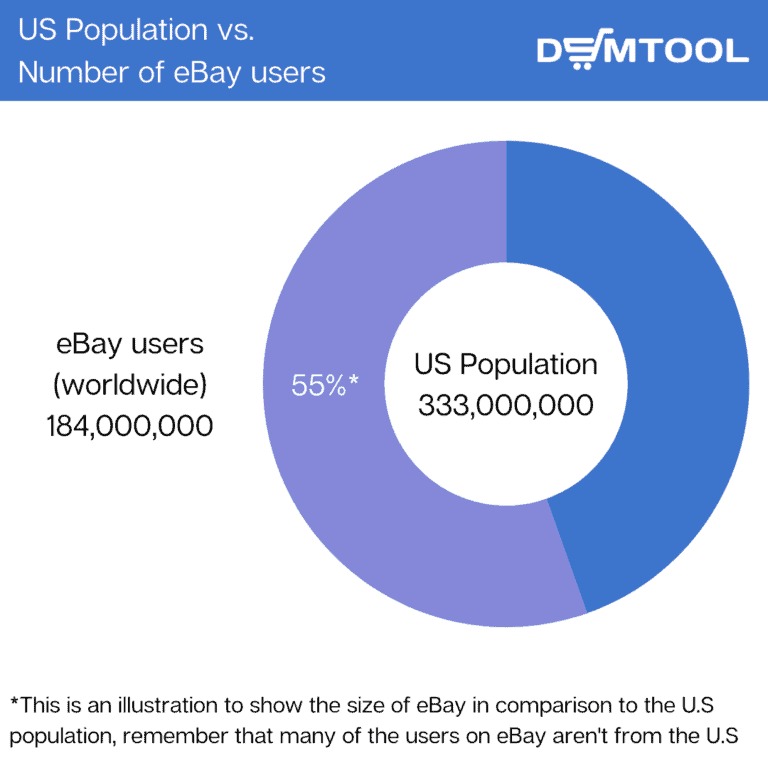 How To Start Dropshipping From AliExpress to eBay Step By Step
If you are looking to start an online business you might have heard the term dropshipping. One of the ways to start a dropshipping business is to dropship from AliExpress to eBay. This method is probably the most popular today among eBay dropshippers.
$72.45 Profit From Dropshipping One Product From Ali Express
The idea of dropshipping is generally simple to understand and it starts with finding products that have a proven sales record on eBay. The sales record on eBay represents the demand side to which you are going to provide the supply of products, from Aliexpress.
Let me take you through the journey of a specific product that made its seller $72.45 profit. Later in the section about product sourcing, you will learn how to scout for many products with such sales records.
First step: Locate Trending Products On eBay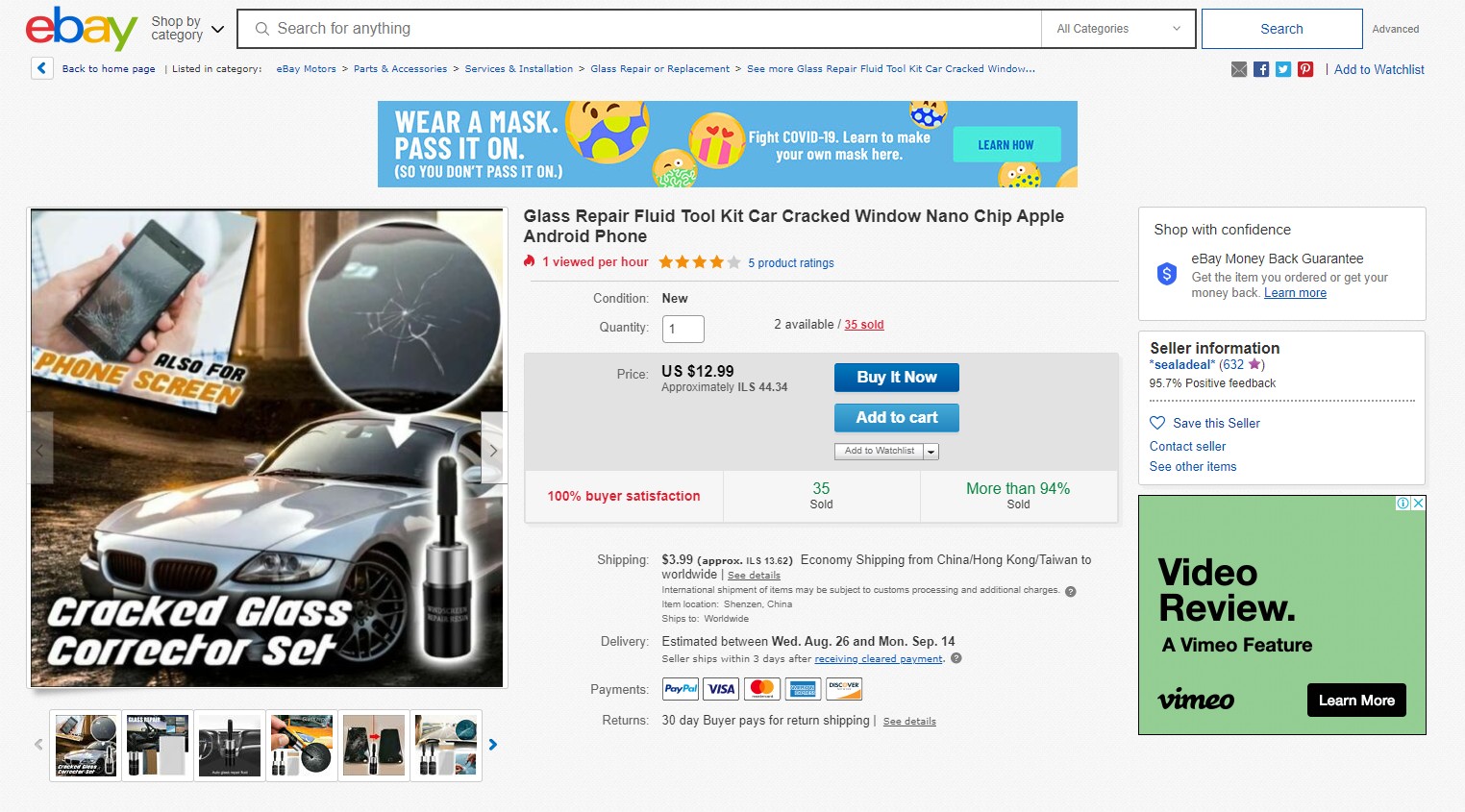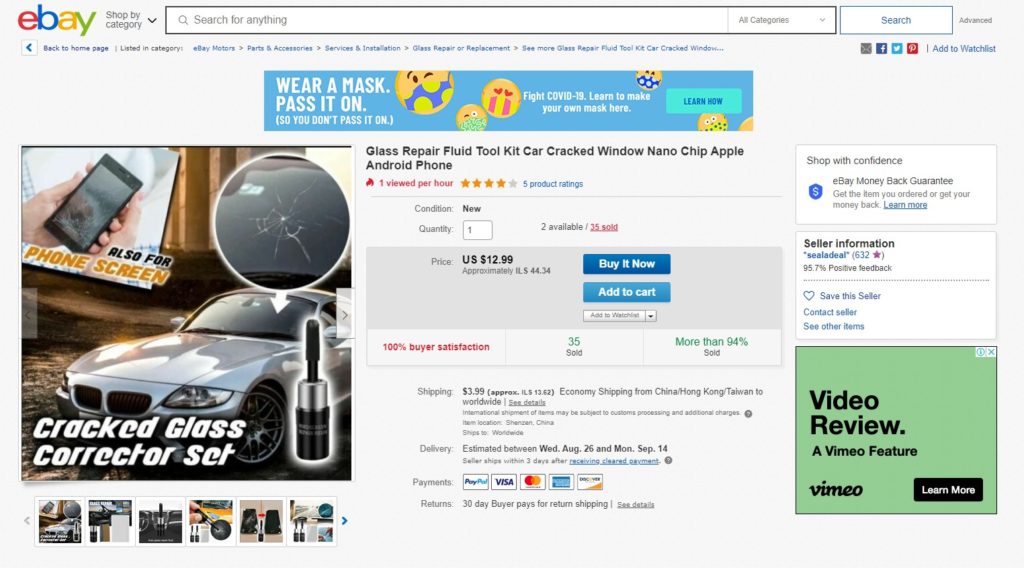 In the image above you can see a couple of details that indicated it's a product that is being successfully dropshipped on eBay, most likely from Ali Express. First, the shipping section indicates that the product is located in China and shipped using an Economy shipping method from China/Hong Kong/Taiwan.
Then, this eBay seller only has 632 feedbacks (he should probably consider automating the eBay feedback generation) and only 2 items available in stock. These are strong indications that it is a dropshipping beginner, many beginners indeed are dropshipping from Ali Express to eBay.
Last, the product was sold already 35 times making it a product with a proven sales record. As you can see from the picture, the number 35 is clickable and if I click on it I can view the recent transactions and their dates. This product was sold 21 times between June 1st and July 27, the day I was scouting it, which is once every 3 days on average. This is a strong indication of a product with good demand for eBay dropshipping.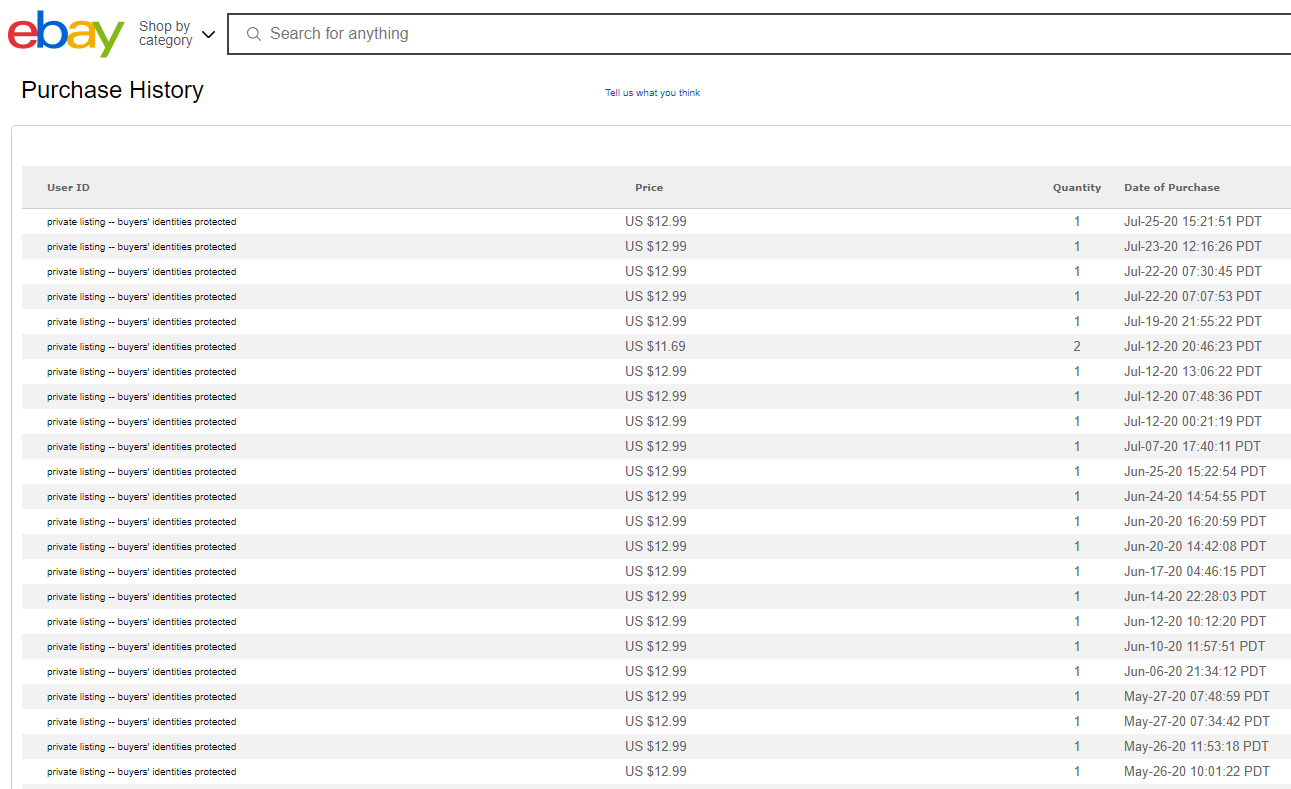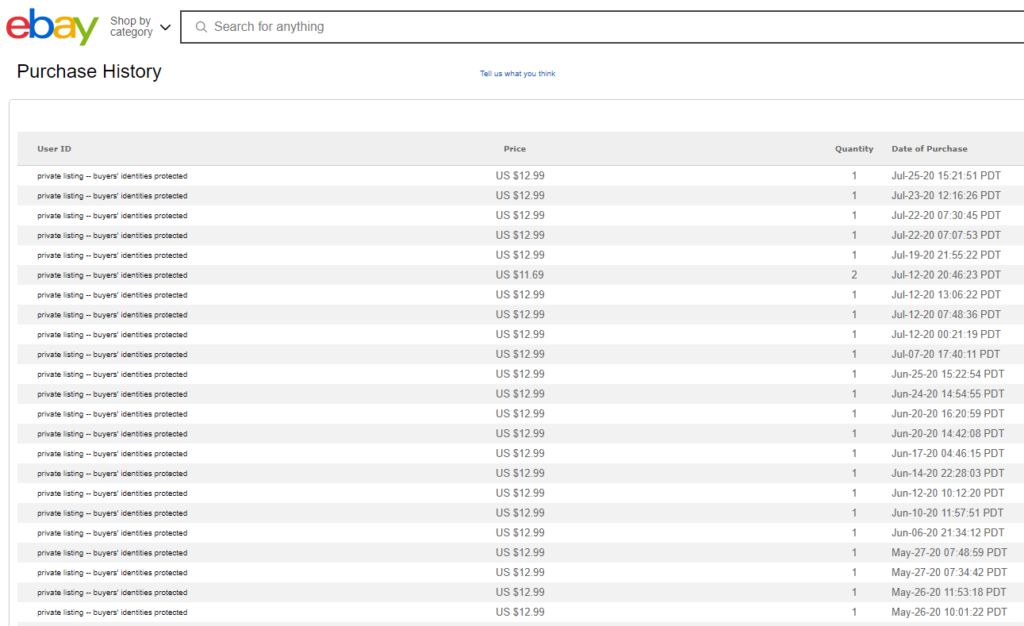 Second Step: Locate A Dropshipping Supplier In Ali Express
If I could find this product on AliExpress for a cheaper price, or a product that is very similar to it, I could then offer it for sale on eBay for the same or lower price and dropship it myself. I could also try to locate a product that does not necessarily result in a cheaper price but that offers a faster shipping method and try to compete with that seller on eBay by offering faster shipping.
Well, this is where AliExpress to eBay dropshipping is so awesome, I found a product that offers both a cheaper price and faster shipping.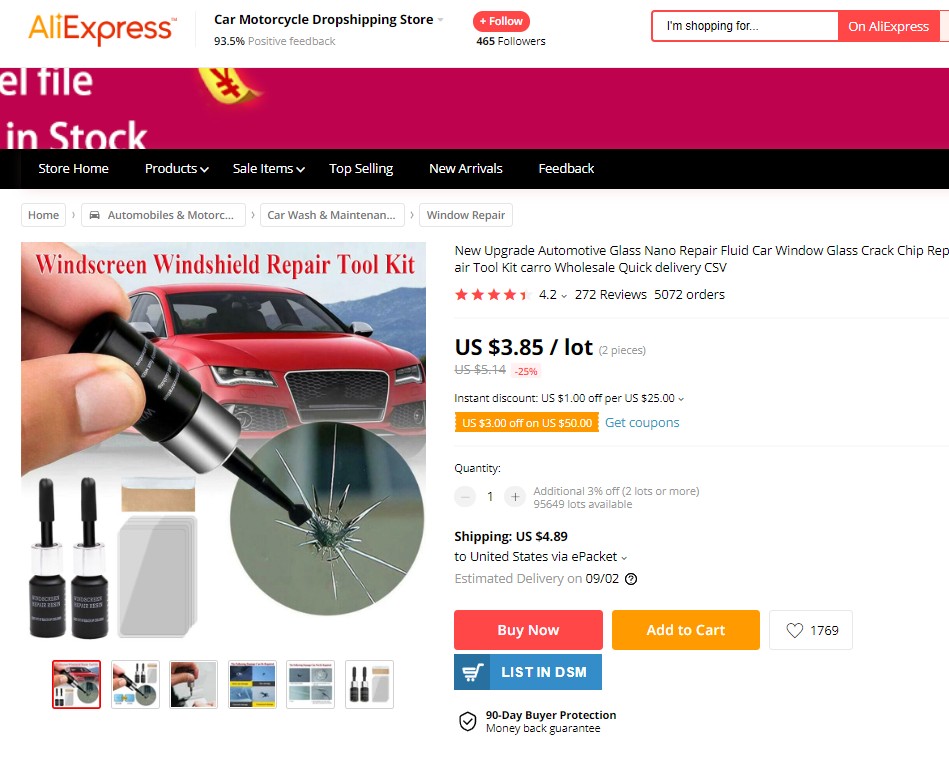 Let's say I decide to offer this product in my eBay store for the same price of $12.99 with faster shipping than the store I want to compete with. There are more parameters that will define whether I rank on the first page of the eBay search results but generally speaking I have a chance to catch some of the trending eBay sales of this product.
Last Step: Pay eBay and PayPal Their Fees
Once you sell something on eBay, you become entitled to pay a selling fee to eBay, for the majority of categories, you need to pay a 12.55% final value fee which is integrated with eBay Managed Payments, and sometimes tax on the purchase. No tax on purchase is being collected when purchasing in AliExpress.
As dropshipping sellers, you don't need to worry too much about those fees. The reason is that when you find products for dropshipping you include the fee in your calculations. Moreover, when adding products to your store using the DSM Tool rapid lister feature the fees are calculated automatically as part of the final selling price, this is also known in eBay dropshipping as "break-even".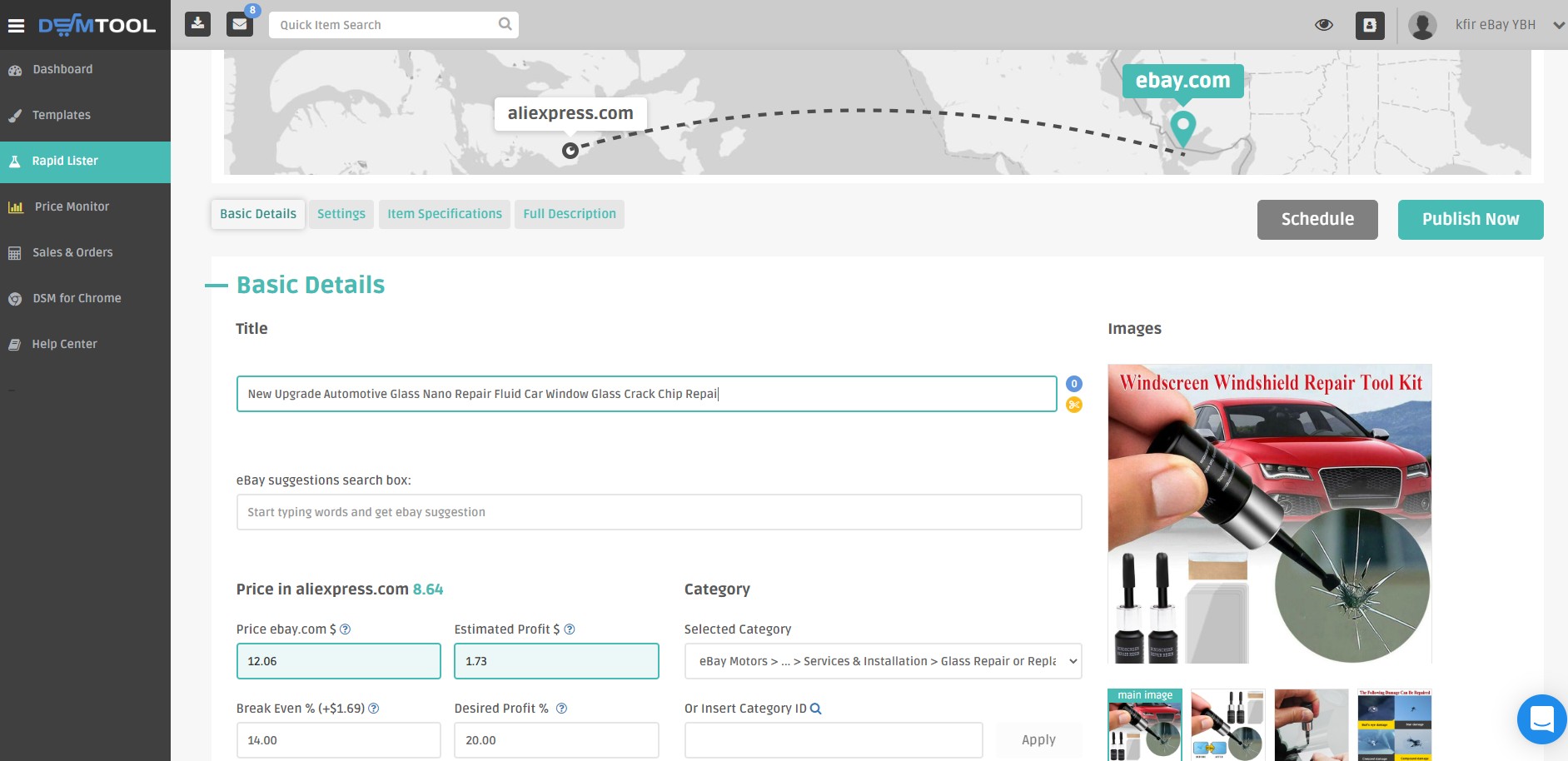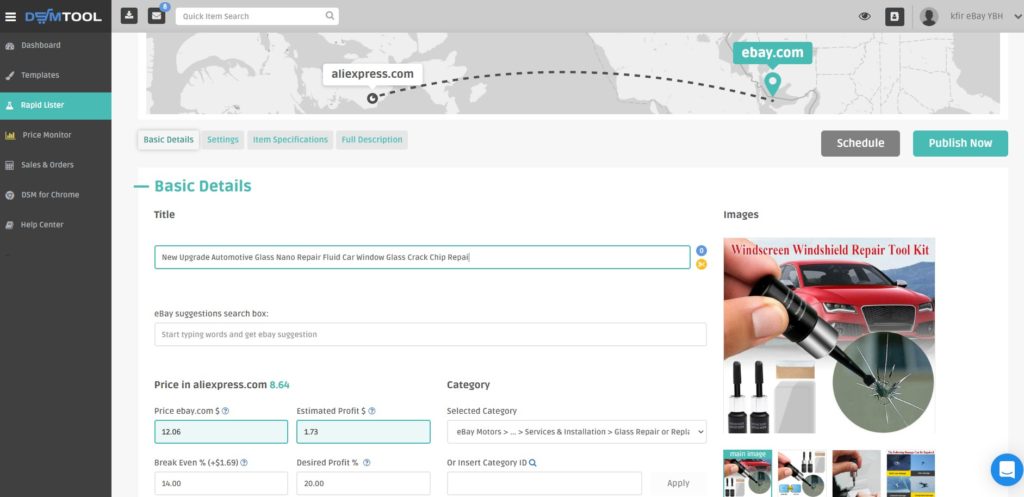 Is Dropshipping From Aliexpress to eBay Allowed?
According to eBay dropshipping policy, it is not allowed. But if you look deeper into the meaning of the policy, you will find out that what eBay cares about the most is that you will run a legitimate business.
In the eBay drop shipping industry you will find some illegal activities, like creating a network of dozens of fake-identity "stealth" eBay accounts as a way to run the business. I suggest not engaging in such activities and doing your best to comply with legitimate ways to run an eBay business instead.
eBay Dropshipping vs. Shopify Dropshipping, From AliExpress
Unlike eBay, Shopify offers the option to get an unlimited amount of buyers to your store meaning that you could potentially sell a single product for millions of dollars. The problem is that just like any other business – the higher the potential profit gets, the risk rises as well.
To sell using Shopify you need to pay for advertisements, selling on eBay requires no upfront investment in advertising, you are getting the traffic of buyers "for free" using the eBay search engine mechanism.
Why Shopify Dropshipping Is More Famous Than eBay Dropshipping
Most of the content online about dropshipping from Aliexpress is about building a Shopify store and driving ad traffic to it. The reason it is more popular than eBay dropshipping is that potentially Shopify is more profitable, and a picture of a fancy Lamborgini sells better.
I think that for most people who look to start an online business the opportunity to start a low-risk business and slowly master digital marketing skills is far better.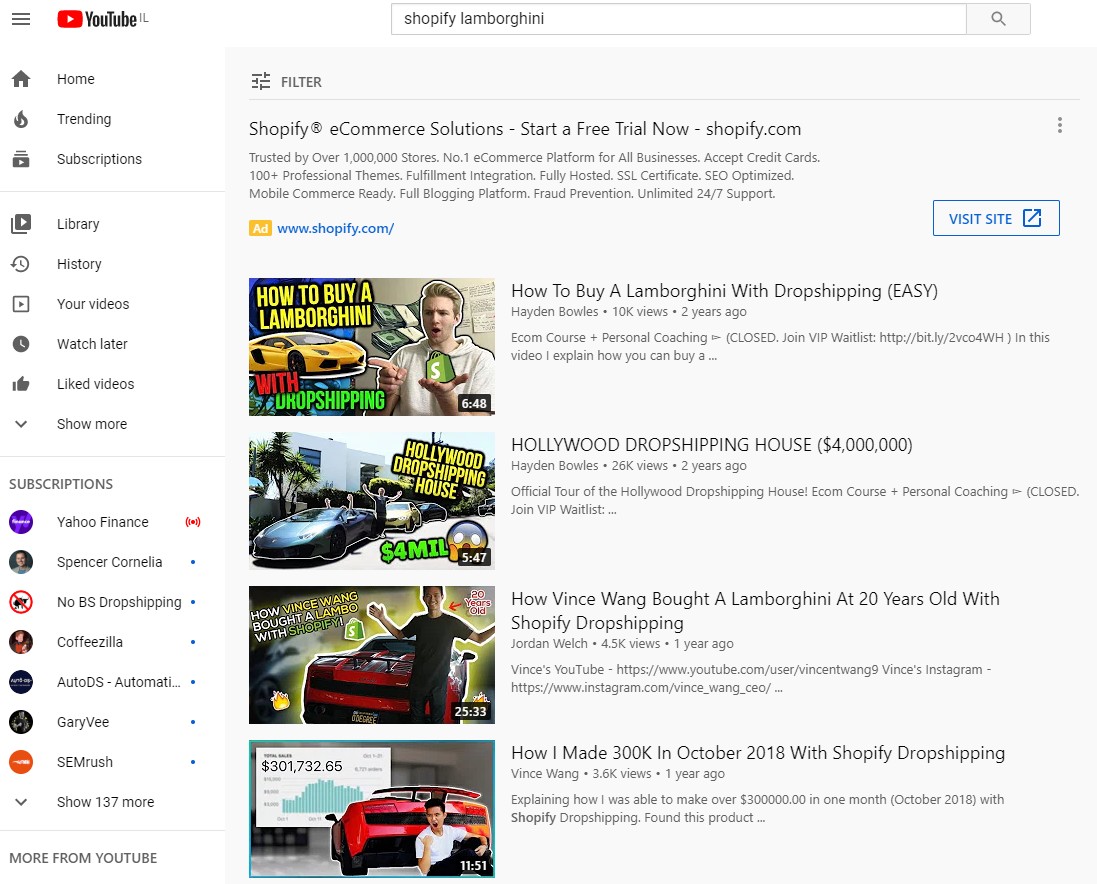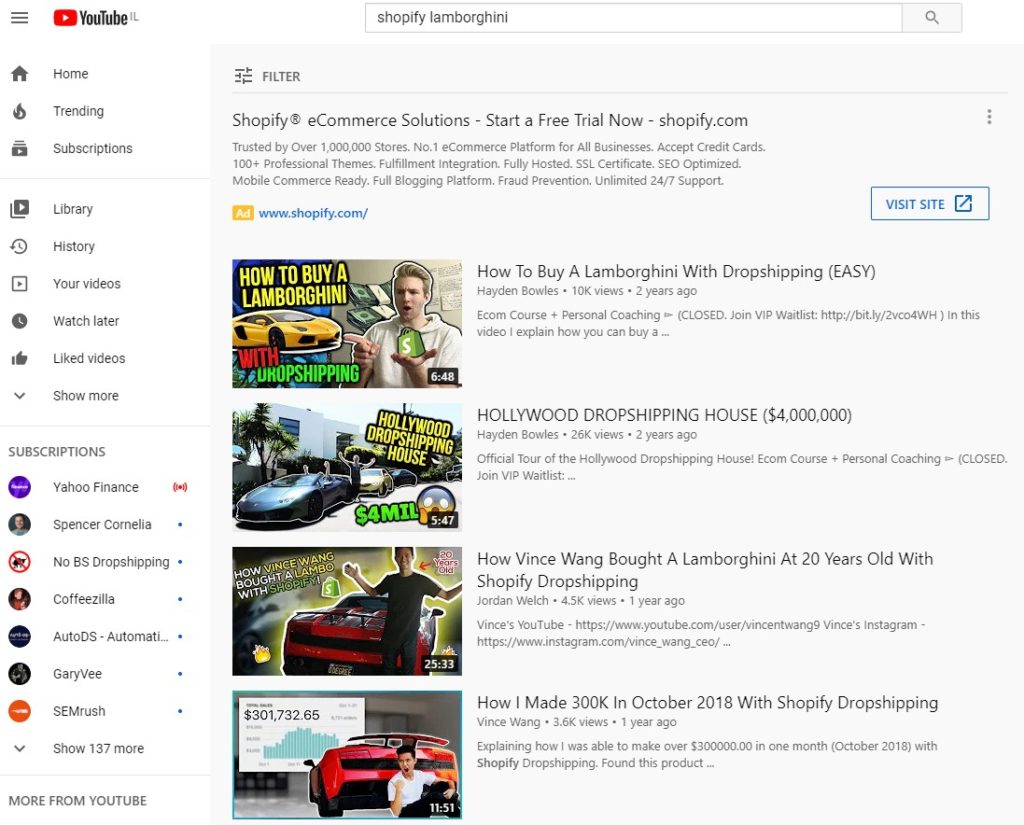 The second reason is the eBay dropshipping policy, which puts Aliexpress dropshipping out of what is technically allowed to do on eBay. But because eBay dropshipping is far more beginner-friendly than Shopify, if you don't have money to invest and don't have the complex digital marketing skills it takes to build a website and advertise it then it's probably a better option for you. Get started with eBay dropshipping and then build your skillset and your online business step-by-step.
How To Start Dropshipping from Ali Express
To get started with AliExpress dropshipping, you have to first learn how to find what to sell. Then, in order to actually start selling, there are a couple of things you have to set up:
eBay seller account
Ali Express account with connected to Ali Pay
Dropshipping software for store management like DSM Tool
Suggested: eBay market research software
As part of the find-what-to-sell process, you learn how to choose the right suppliers to source products from. When you manage to finally make a sale, there is an ordering process you have to get familiar with as well.
Let's get started step by step with how to find products to dropship from Ali Express.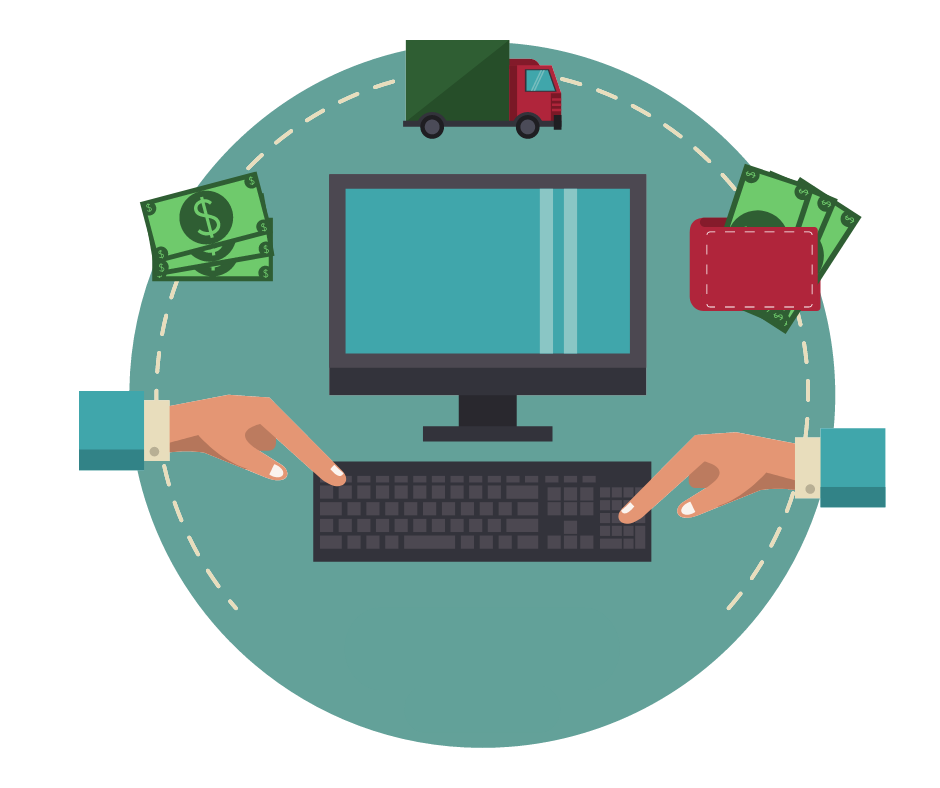 Not yet making money online?
Start your own dropshipping business. Sign up for a free trial of DSM Tool and we'll help you get started. Today is the day.
How To Find Products For Dropshipping From Aliexpress
The best products for dropshipping from AliExpress are the ones that fall into the supply and demand equation. On the demand side, they show a clear sales record on eBay by themselves or they belong to a trending niche of products.
On the supply side, we'll look for a supplier on Ali Express that sells the same or similar product for a cheaper price than what it is sold for on eBay and make sure it's a reliable supplier. High demand + cheap reliable supplier = good dropshipping opportunity.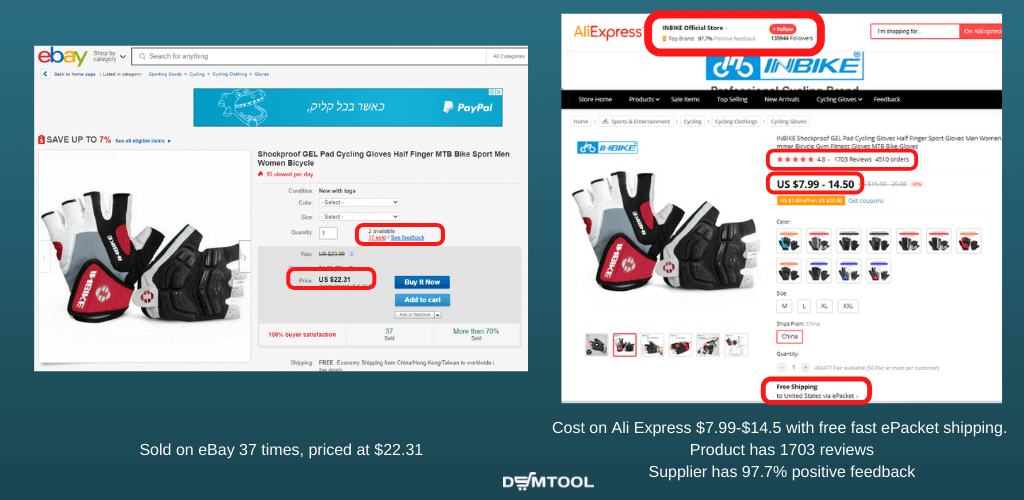 Generally speaking, there are two techniques that are dominant in the dropshipping industry when it comes to finding products to sell: sniping other sellers, and following market trends. Let's explore both.
AliExpress best-selling product categories:
You can sell pretty much anything when it comes to AliExpress dropshipping. However, needless to say, there are categories that certainly attract more traffic. Normally the best-selling products are from the following categories:
Home Improvement.
Gardening.
Kitchen Appliances.
Toys.
Clothing brands.
These categories have a huge traffic demand since they fall into regular day-to-day household items. You also have higher ticket dropshipping products where you'll have a bigger profit margin.
The Sniping Method
Sniping other dropshipping sellers starts by locating a seller that we suspect is a dropshipper. Then, when we find such a seller, we analyze their store to find their best-selling products. With their best-selling products in hand, we look for that exact or similar product on Ali Express for a cheaper price from a reliable supplier.
The reason sniping works is based on the idea that eBay spreads the traffic of the search results between its sellers. Let's say there are 100 sales of some products and 5 sellers who compete on selling it, then first, the seller with the best performance will win 80 of the sales.
But that leaves another 20 sales to be spread between the other 4 sellers. Will you be the one that gets the 80 sales, 10 sales, 2 sales, or none? Depends on many parameters, some of which I cover in this article (consider taking the course to learn more about it).
When I snipe products for dropshipping I use Zik Analytics, its software for eBay analytics and market research. But since it's paid software, let me teach you step-by-step how to snipe products manually. I suggest you try it yourself right now together with me to see the magic of how it actually works.
If you are interested in trying Zik Analytics use this link to get a 7-day free trial.
Step 1: locating other drop shipping sellers
Go to Ali Express, enter one of the categories randomly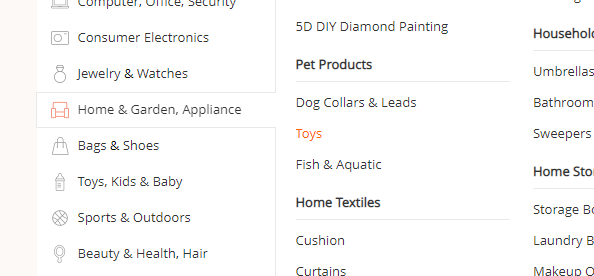 Sort the products in the search results by "orders", it will show you then the most sold products in declining order. Most sold products are often a target for many drop shipping sellers, making it easy for you to find suspects to snipe.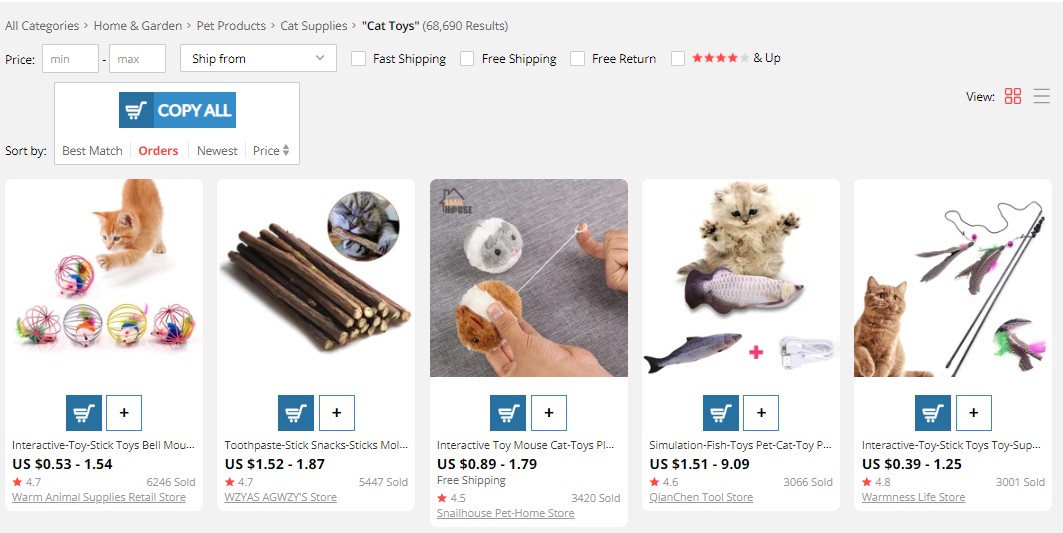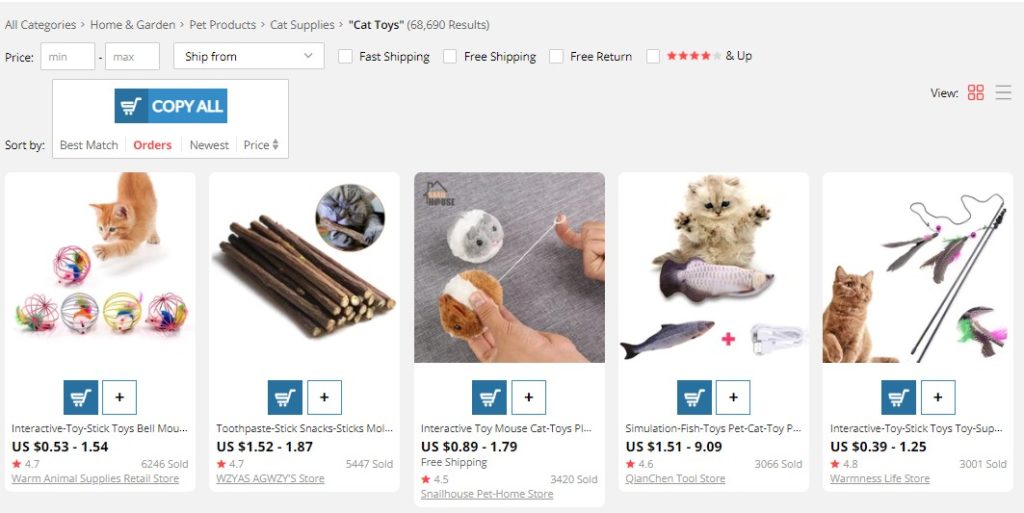 Pick one of the products in the search results, copy the first 10 words of its title and paste it in the search box on eBay. Filter the results by the price of the product + shipping + 30%, if the results you get are of products that are located in the USA filter the results further by item location Asia.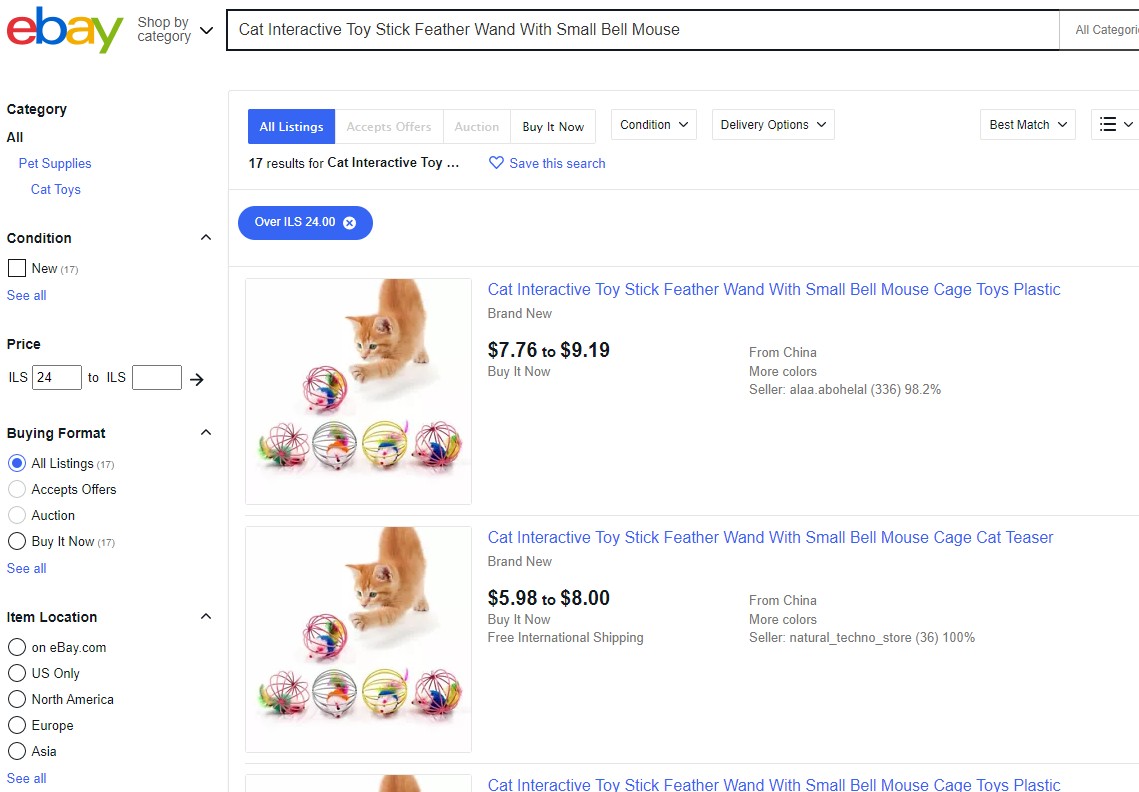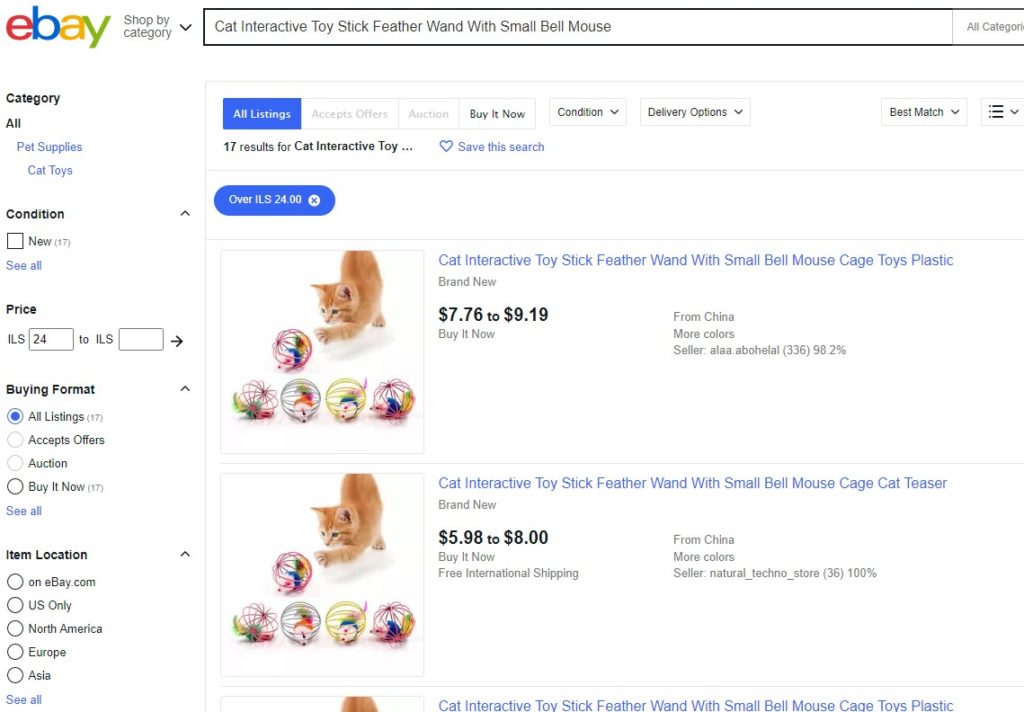 Look at the eBay sellers in my search results. They sell the exact same product for the exact price range of cost + shipping + fees + profit and they have less than 500 feedback. These are wonderful sellers to analyze their stores, and just to make sure by 100% we want to follow them, I validate they aren't Chinese sellers.
Chinese sellers are sometimes hard to compete with, but sellers from the USA or other western countries that sells these products at that price range are typically dropshippers.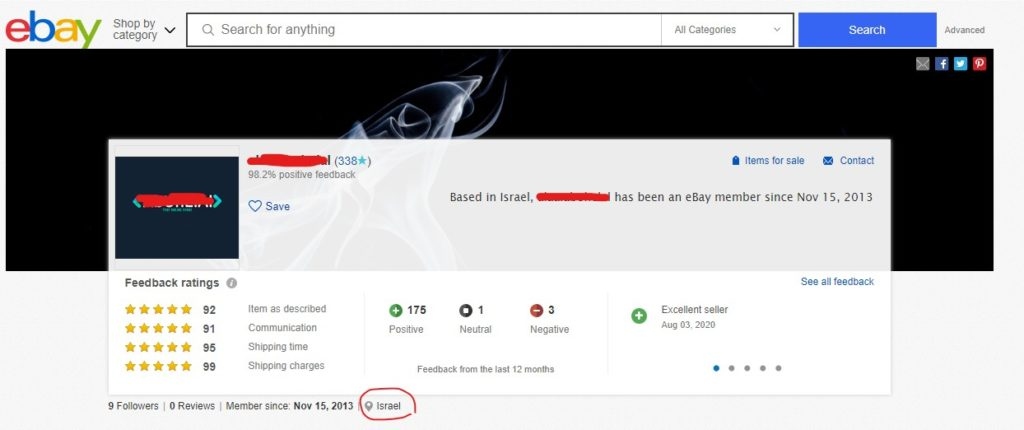 Step 2: Analyzing the store to locate its best-sellers
To find the products the seller I just found offers for sale, I clicked on the "item for sale" button at the top right corner of his store. Then I used the Chrome Extension eBay Popularity sort that automatically ordered all of the products in the store by its best-sellers in declining order.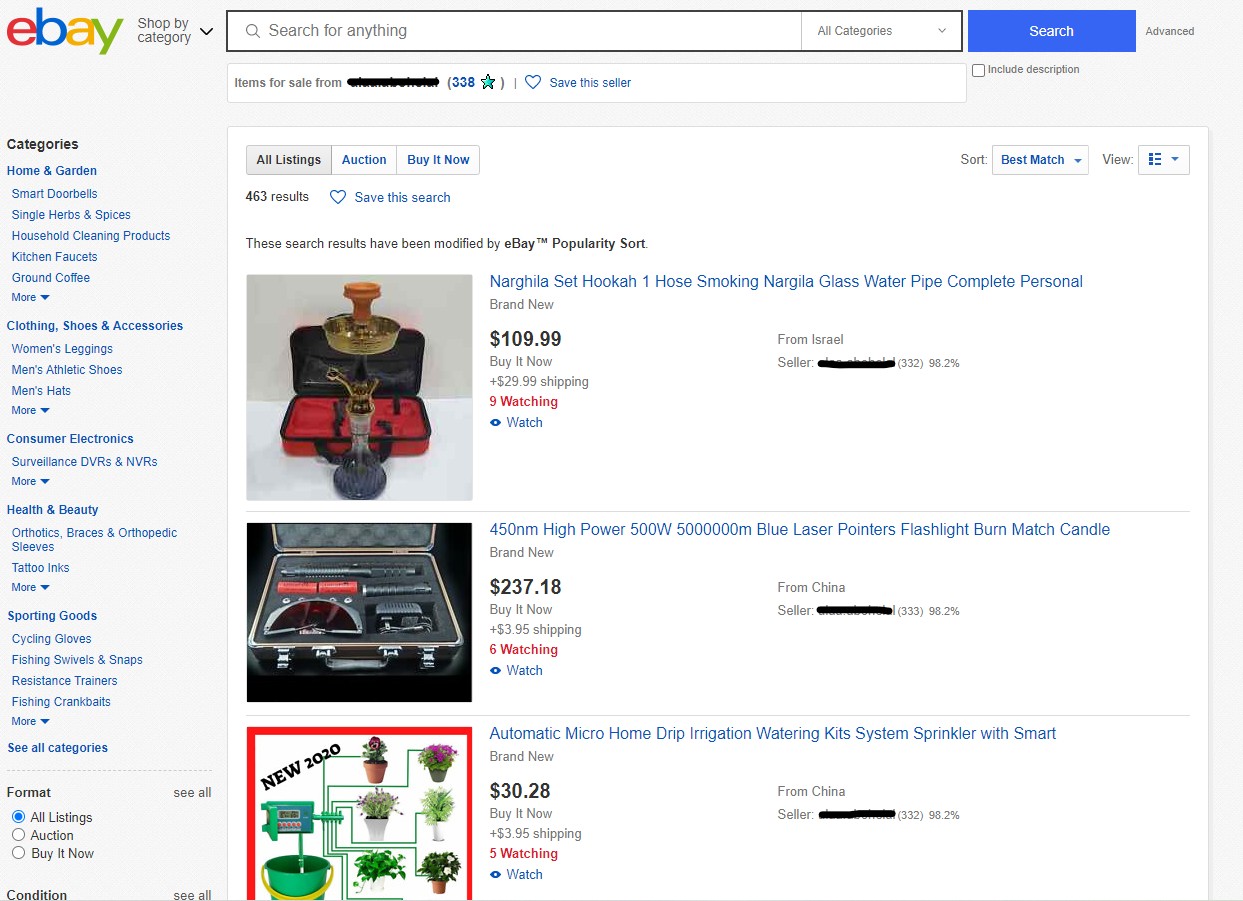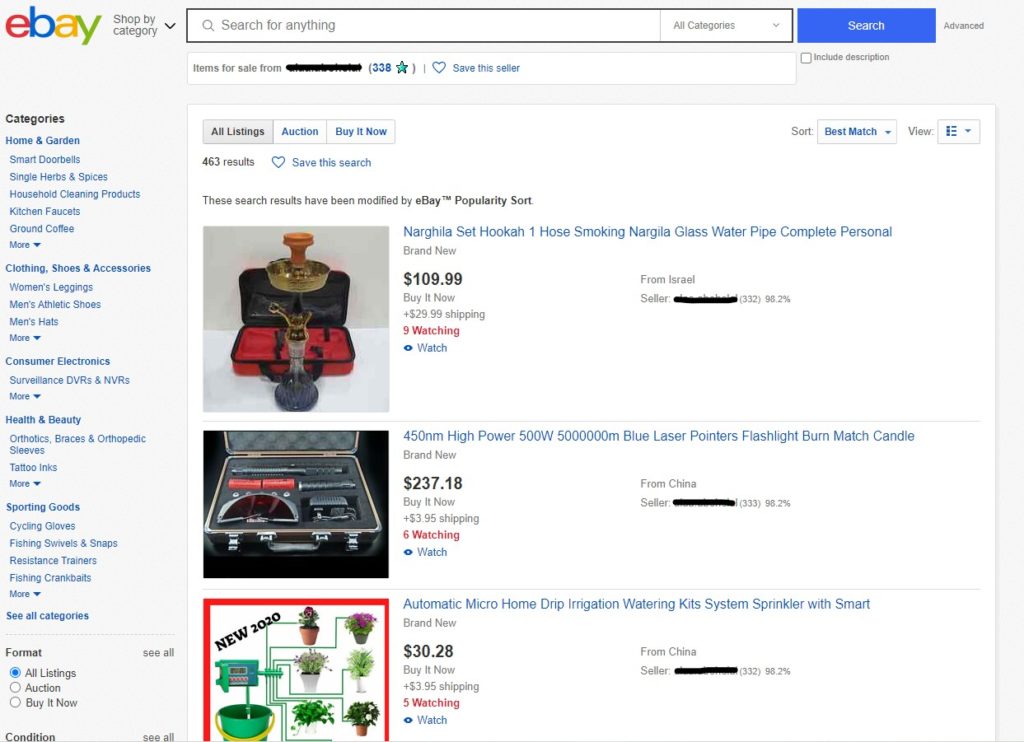 I am going over the products in the store, from top to bottom one by one looking for products with more than 4-5 sales in the past month. I might have to go through 4-5 or even 10 sellers before I will actually find such products.
Go ahead, give it a try – look for such products yourself. It will be worth it to feel exactly how it is to run such an operation for your own business.
The time it takes to snipe products manually is the reason I recommend Zik Analytics. With it, you can locate many sellers fairly quickly, and analyze their stores within a click of a button.
Step 4: Sniping the products and sourcing them from Aliexpress
Using one of the best Aliexpress Chrome Extensions Ali Tools you can click on any image on eBay and search for the product in that image on Ali Express. That's how I found the supplier for this product below that had a sales record of 70 sales for a cheaper price in Ali Express.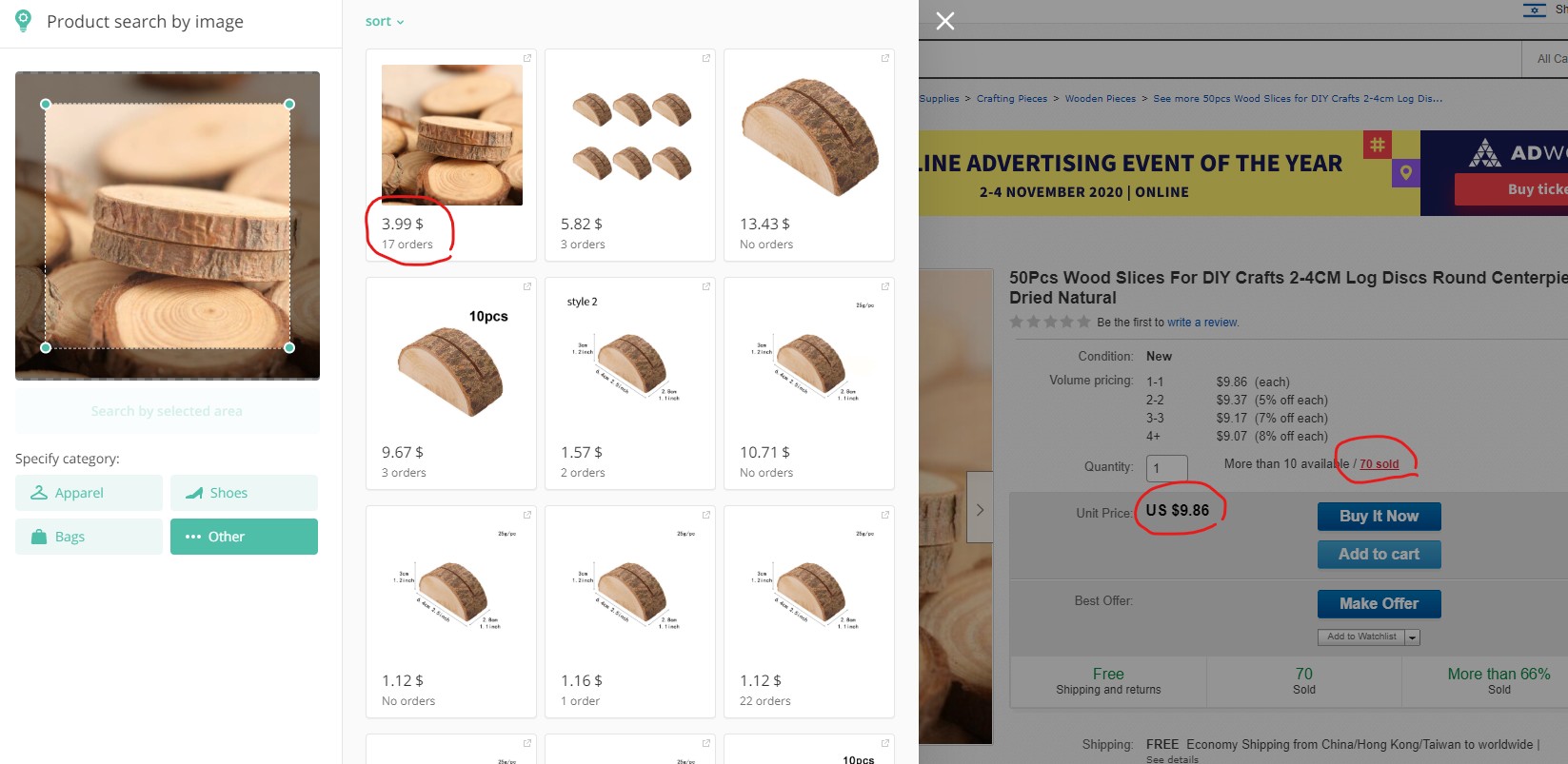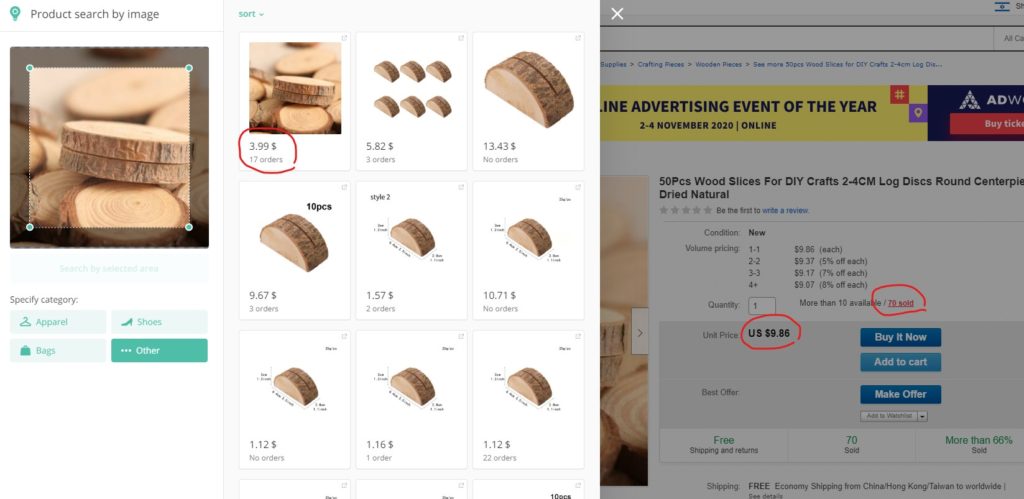 I would actually not source this specific product as a beginner because it doesn't have enough reviews. Moreover, it doesn't offer fast ePacket shipping but only the AliExpress standard shipping. I will discuss this matter further in the part about how to choose a reliable supplier on AliExpress.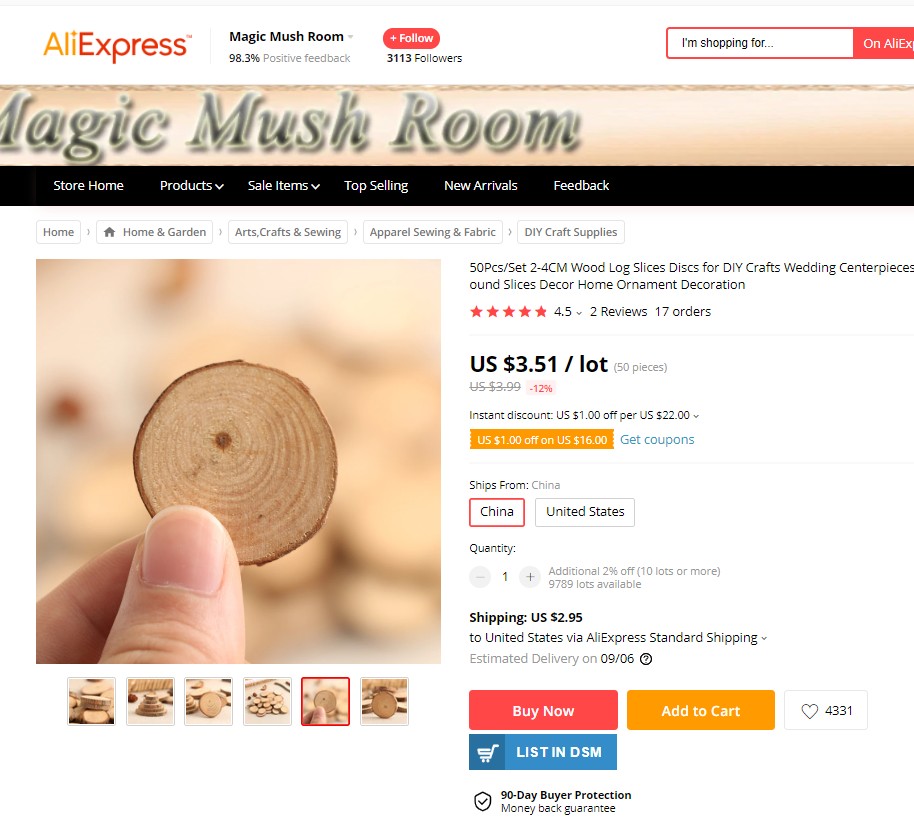 How much profit this product makes
The last step that is left to finish the process of sniping this product is to make sure it's actually profitable to source it from AliExpress.
I use the eBay profit calculator, I have built on this spreadsheet for the eBay dropshipping course to quickly figure out the profit level. Feel free to make a copy of it for yourself by clicking on File -> Make a Copy then bookmark it to your browser for quick access.

It is self-explanatory, all you need to do is fill in the gray cells with the data of the product cost and the selling price of the product you're sniping. The calculator will then calculate the fees and profits for you automatically. More on how to set the fees are explained in the section about setting up DSM Tool later in this guide.
The Trending Dropshipping Niches Method
The second method to find products to sell when dropshipping is by following the markets and trying to scout trending niches of products. Unlike sniping other sellers, when finding niches with high demand and low competition you have a higher chance to find your next best-sellers.
I suggest complete beginners stick to the sniping method, but if you are interested in learning further how to perform market research on eBay follow the guide in the video below
How To Choose Your Dropshipping Suppliers On Ali Express
When choosing a supplier on Aliexpress dropshipping sellers are looking to make sure both that the products are of high quality and that the supplier that handles the logistics of shipping the products is reliable. There are a couple of parameters to look into before making a decision:
The reviews of the product (0-5 stars)
The bad reviews of the product (reading them)
The shipping methods offered (must include tracking number)
The buyer protection and return options
The reviews on the supplier
The seller's positive feedback percentage
Choosing a supplier is a matter of risk management, the more you are willing to trust suppliers without an established record, the more products you will be able to dropship. The downside of it is… well… that these suppliers don't have an established record.
I am going to recommend you specific parameters to follow as beginners.
First, Check The Ali Express Product Score And Reviews
Every product on Ali Express has a reviews section, like many other eCommerce websites. The reviews are built on a score in the range of 0 to 5 stars and a written review section that in many cases contains pictures of the product taken by customers.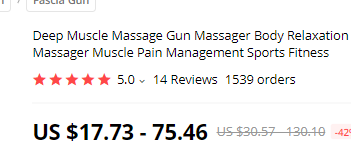 The best practice for beginners is to focus on products with a score of 4 stars and above, at least a couple of written reviews, and at least 50-100 orders. If you have any suspicion about the quality of the product take a look at the one and two-star reviews to find out what did people complain about.
Then, Check For Shipping Methods, Returns, And Buyer Protection
Different suppliers on Aliexpress might offer the exact same product for sale, that is because just like eBay, Aliexpress is a marketplace as well. Same as you can try to compete on eBay not only by lowering the price but also by offering faster shipping times or better return options, so can Aliexpress sellers.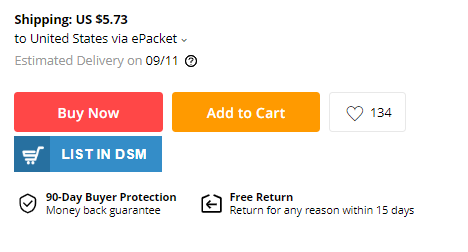 Dropship Only Products That Offer Tracking Number
The best practice for beginners is to stick to the shipping method ePacket because it's the fastest and most reliable shipping method for the lower price range of the Aliexpress different shipping methods.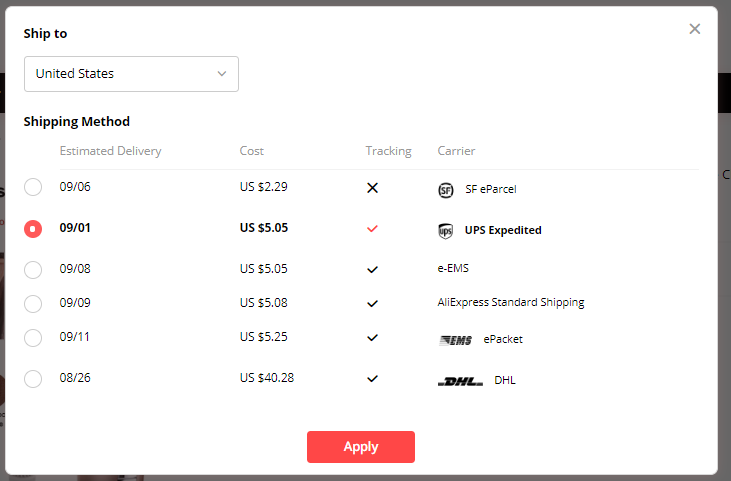 But ePacket is not the only shipping method that provides a relatively fast and reliable shipment. Other services like UPS Expedited, e-EMS, and YW Fast Line can offer a relatively fast and reliable shipping time. AliExpress standard shipping is also relatively reliable but tends to offer slower shipping times.
One thing you should remember is to avoid shipping methods that don't offer a tracking number. When you don't upload a valid tracking number to eBay it counts as a strike and your seller level gets harmed. The lower the seller level, the less organic traffic you get from the eBay search engine.
Free Returns And Buyer Protection
Some sellers on Ali Express work with local return services in the country of destination and are able to offer free local returns. But I can't say that the best practice for beginners is to only work with products that offer free returns, there are simply not enough of those.
What I could definitely recommend is to only work with sellers that offer buyer protection. The buyer protection program on AliExpress provides a money-back guarantee in case the product didn't arrive, arrived damaged, or was not as described.
Last, Review The Supplier's Store
Ali Express offers an overview of the seller's performance that includes the positive feedback rate and the communication, shipping speed, and "item as described" rate they got from previous buyers.

The best practice for beginners is to avoid any seller with less than a 95% positive feedback rate. If you have the Chrome Extension Ali Tools installed you can also check their accumulated supplier score, it appears automatically at the bottom left corner of the screen.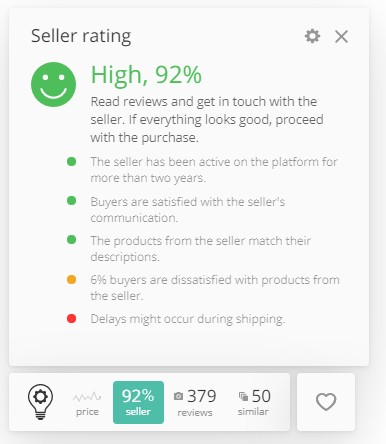 I hope that you have got now the tools to find products to sell, including the ability to decide which suppliers to use. The next steps are to make sure both your eBay store and your dropshipping software are set up in an optimal way. Then, start dropshipping by adding products to your store and processing orders.
How To Setup Your eBay Account For Ali Express Dropshipping
Online shopping is all about users having the best experience not only with the items they are offered along with the customer service but also with a convenient payment method.
eBay Managed Payments is the recently integrated payment processing platform the marketplace implemented to conveniently offer buyers and sellers a better transaction experience. — As a seller, you get paid all in one place, in your eBay Managed Payment account that you link directly to your bank account.
In this article, I am going to cover the basics behind the most important settings that you have to set up on eBay to dropship from Ali Express, and the business policies.
While business policies are the most important ones to set up if you want to properly drop ship from AliExpress to eBay, you should also optimize your store by setting up the most recommended settings for dropshipping on eBay.
How Much Time Does It Take To Start Dropshipping On eBay?
Take into account that it can take 2-4 hours to complete all of the setup steps before you can add products to your store. And that does not include finding what to sell and optimizing the listings for SEO before you add them to your store.
All in all, the answer is that as a complete beginner within less than 24 hours you can have your eBay dropshipping business up and running. Some people even make their first sale within a few hours after getting started.
So yes, it requires you to dedicate time for it and put it in your schedule, but it's not so bad to have a business up and running so fast, right?
The Most Important Settings For Dropshipping: Business Policies
The eBay business policies feature is used to create a commitment between you and your buyers. When you set up the shipping, return and payment policies eBay starts measuring you according to them.
Business policies allow you to scale into different suppliers than just AliExpress. You can set up different policies for different dropshipping suppliers and assign them automatically to the products you add to your store with DSM Tool.
We will get there, but first, let's set up the business policies for working with Ali Express.
Opt-in to Enable The eBay Business Policies Feature
Many features on eBay aren't available for you as a seller right from the beginning. Instead, you have to opt-in to enable them and only then you can use them.
Click here to opt-in and enable the eBay business policies feature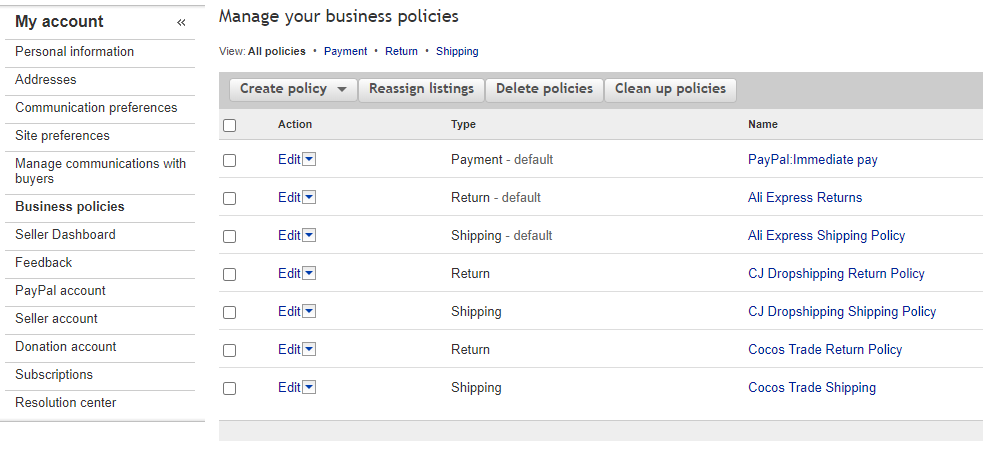 Set Up Payment Policies
The payment policy when dropshipping on eBay defines what payment methods you are willing to accept from buyers. As eBay rolls out its new payment system called the eBay managed payments I expect changes to how the payment policies look like. Until then, I suggest you set up the following parameters.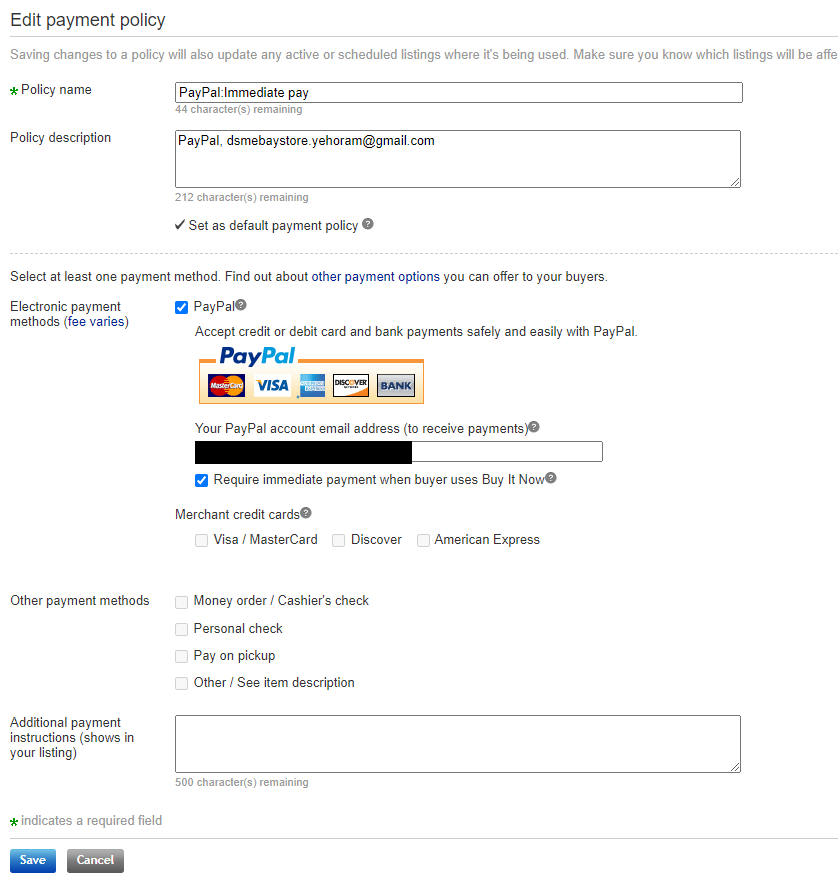 Since eBay is kind of a flea market, on top of being a "regular" eCommerce marketplace, there are many payment options available. None of these are relevant for you when you are dropshipping, only electronic payments are relevant and the only electronic payment that is relevant is PayPal.
Make sure you mark the checkbox next to "Require Immediate payment when buyer uses Buy It Now". Otherwise, your buyers could purchase an item and only pay for it later. That is something dropshipping sellers are not willing to deal with.
Set Up Return Policies
There are two types of returns when selling on eBay:
Automatically approved returns – when an item doesn't arrive, arrives not as described, or arrives damaged
Returns by the return policy terms – for any reason, no questions asked
Local vs. International Return Policies
When dropshipping, your return policies are affected directly by the terms your suppliers offer you. Many dropshipping sellers who use US retailers like Home Depot as suppliers offer free 90-day returns at their expense.
This is because when you buy something in Home Depot you can return it for free for 180 days. All the dropshippers do is open a return request on the Home Depot website, receive a return label, send it to the buyer and refund them when the item is returned.

On Ali Express, only some suppliers offer free domestic returns "for any reason" and only for 14 days. Most of the suppliers you are going to work with will only offer a refund/exchange if you can prove that the product did not arrive, arrived not as described or that it is damaged.
Setting Up No-Returns Policies
This is why in theory the best practice for beginners is to set up a return policy that is "no returns". You can do that by leaving the checkboxes in the return policy unchecked. Take into account that if a product doesn't arrive, arrives damaged, or is not as described – eBay will automatically approve the return regardless of your policies.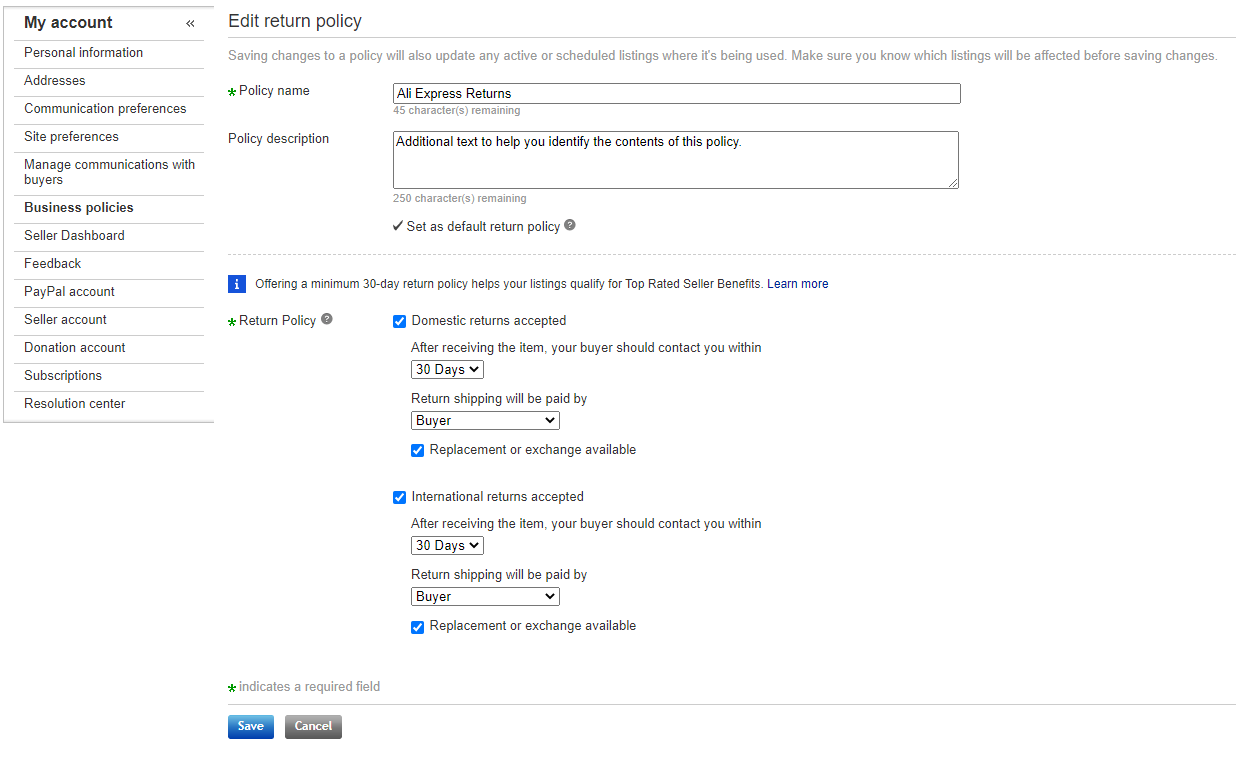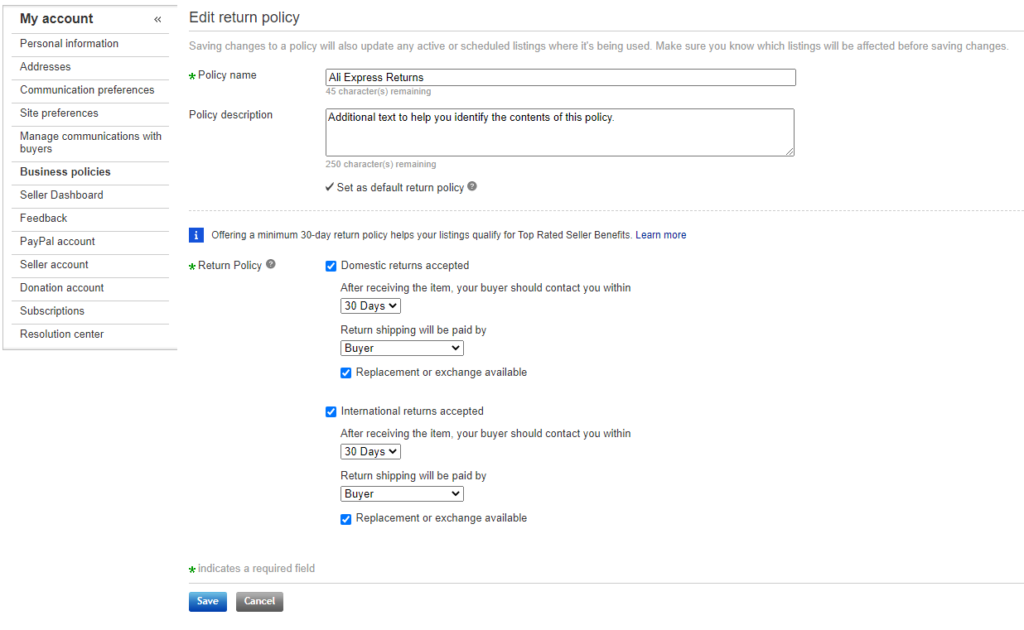 The biggest problem of setting up a no-returns policy is that you become less competitive in comparison to other sellers on eBay. When you and a few other sellers compete to sell the same product, the amount of traffic you will get depends on many parameters – if your competitor offers return options and you don't, they might get more traffic than you.
Offering Returns When Dropshipping From Aliexpress
The solution to this problem is to offer "any reason" returns in your policy and to set it up so that the buyer pays the return and that you might offer a replacement. This way, every time a buyer opens a return request you have two options:
If the reason is the item did not arrive, not as described, or arrived damaged: ask for proof, preferably images, or even a video. Then, send that to your supplier on Ali Express, you will get refunded and so will your buyer. You can also offer the buyer an exchange instead of a refund and work it out with the supplier
If the reason is that the buyer just wants to return the product, contact your supplier in China and ask for their address. Then send your buyer the address in China and remind them that they should pay for shipping.
I have never heard of a buyer who actually shipped a product back to China (disclaimer: it might happen and then you will have to refund them) so you are quite safe on that side.
But more importantly, I want to mention that if you do get proof that something went wrong, know that you have to refund your buyer before you get a refund from the supplier on Ali Express.
The Refund Process
On eBay, the refund process for returns takes about a week. On Ali Express, on the other hand, the process takes 14 days. This is indeed a risk you have to take, you have to finance the minus in cashflow in the few days between the two returns.
In my opinion, if you stick to good suppliers and products that you usually don't have a high return rate (the clothing category, for example, has a high returns rate), you should be fine. I do not recall many complaints or issues at the business level reported by drop shipping sellers due to returns when dropshipping from Aliexpress to eBay.
The Return Address and RMA
In November 2018 eBay introduced the automatic returns approval system. The way it works is that once the buyer opens a return that is either according to your return policy or to the automatically approved return they get a return label, with your address on it.
To change that, you need to enable the RMA option in the return settings. When you turn it on, eBay stops sending the return label automatically to your buyers instead it gives you 5 days to upload the return label by yourself before they automatically generate it.

Once a customer opens a return case, immediately contact them and explain to them that if a label will be printed your address will appear on it and that you don't accept returns there. Explain to them the return process you do offer instead.
If you want to take it a step further, you can change the return address under the addresses settings to "please do not return" and "contact us" as a name or street address.
Set Up Shipping Policies
The shipping policies I am about to recommend you to set up are probably the most interesting setup you are going to do. The reason is that within the shipping policies I am about to reveal you can make an extra profit margin just by setting up these shipping options.
Domestic Shipping
The shipping policies on eBay are divided into domestic shipping, meaning shipping to the local marketplace country, in our example the USA, and international shipping. Since Aliexpress sellers ship worldwide, the shipping policies are set up accordingly.

As you can see in the picture above, I set up both standard shipping (7 to 19 days) and ePacket as shipping services, but I charged $0.97 for the ePacket option. Since as beginners you are anyway going to focus on shipping products with ePacket, even if the buyers chose the standard shipping option, the ePacket fast shipping is only there to lure buyers to increase your profit margin by a dollar.
When you are dropshipping with software like DSM Tool the shipping rate is automatically added to the final price calculation. We will set up the software to calculate ePacket as the shipping service, so the extra 97 cents will truly be just pure profit.
Handling Time
The handling time is the commitment you make for processing the order in time. Technically speaking, eBay counts an order as processed once you update the tracking number information to the product.
The longer the handling time you set, the less competitive you become and the less traffic you can expect to get. On the other hand, if you set it up too short and miss those dates, your seller level can get harmed and you lose traffic as well.
My recommendation for you is to set up 3 or 4 days and process your orders including placing the order and updating the tracking number as soon as possible after you've made a sale.
International Shipping
The international shipping section is a bit more complicated to set up, and again like in many other topics I discuss in this guide it depends on your risk management decision-making.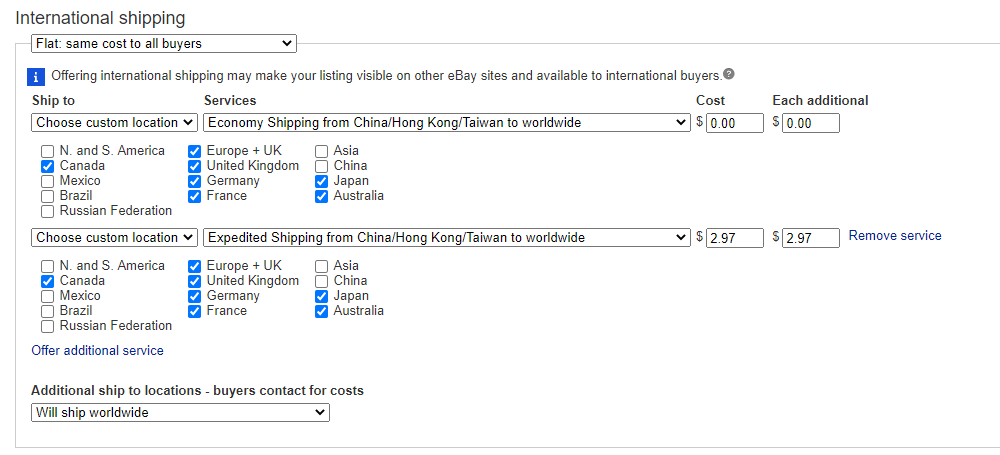 The trick with the paid faster shipping can be applied to other countries than the USA, and I recommend you to use it as well. Having said that, the suppliers in Ali Express offers different shipping methods to different countries and might charge different shipping fee to ship to those countries.

Because you are not going to go over all of the shipping locations for each product you add to your store, it is up to you how much risk you are willing to take. The countries I marked in the picture above are, in my opinion, the safest to enable if you are risk-averse.
Exclusion List
The last part of the shipping policy setup is the exclusion list locations you are not willing to ship to. According to the best practices in the industry, I suggest you exclude the following locations.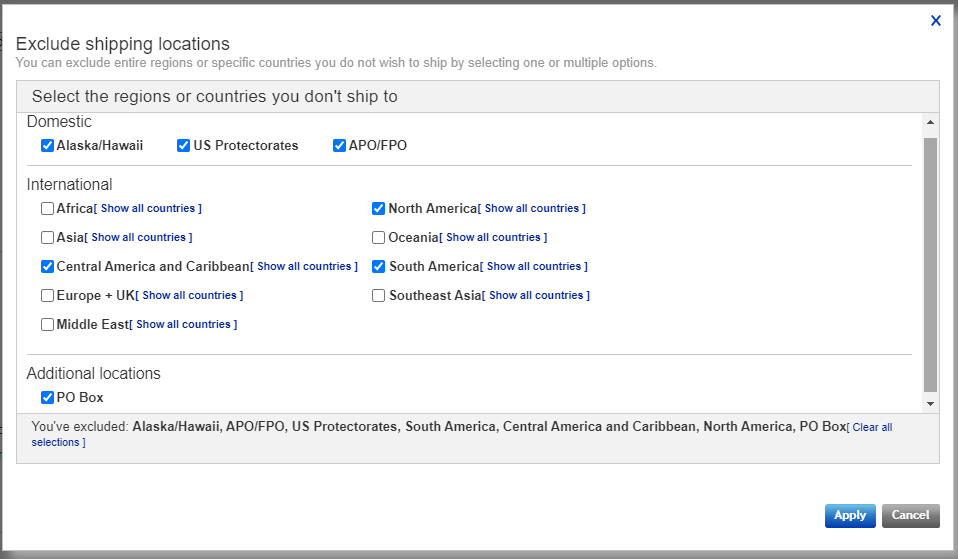 With your eBay store set up, now you are ready to move to the next step – setting up your dropshipping management software DSM Tool.
Setting Up The Dropshipping Software DSM Tool For AliExpress Dropshipping
The dropshipping software DSM Tool offers a full suite of features to help you dropship from Aliexpress to eBay. Actually, it is integrated with over 50 different suppliers for dropshipping. These are different websites that you can use for product sourcing.
Click here to sign up for DSM Tool for free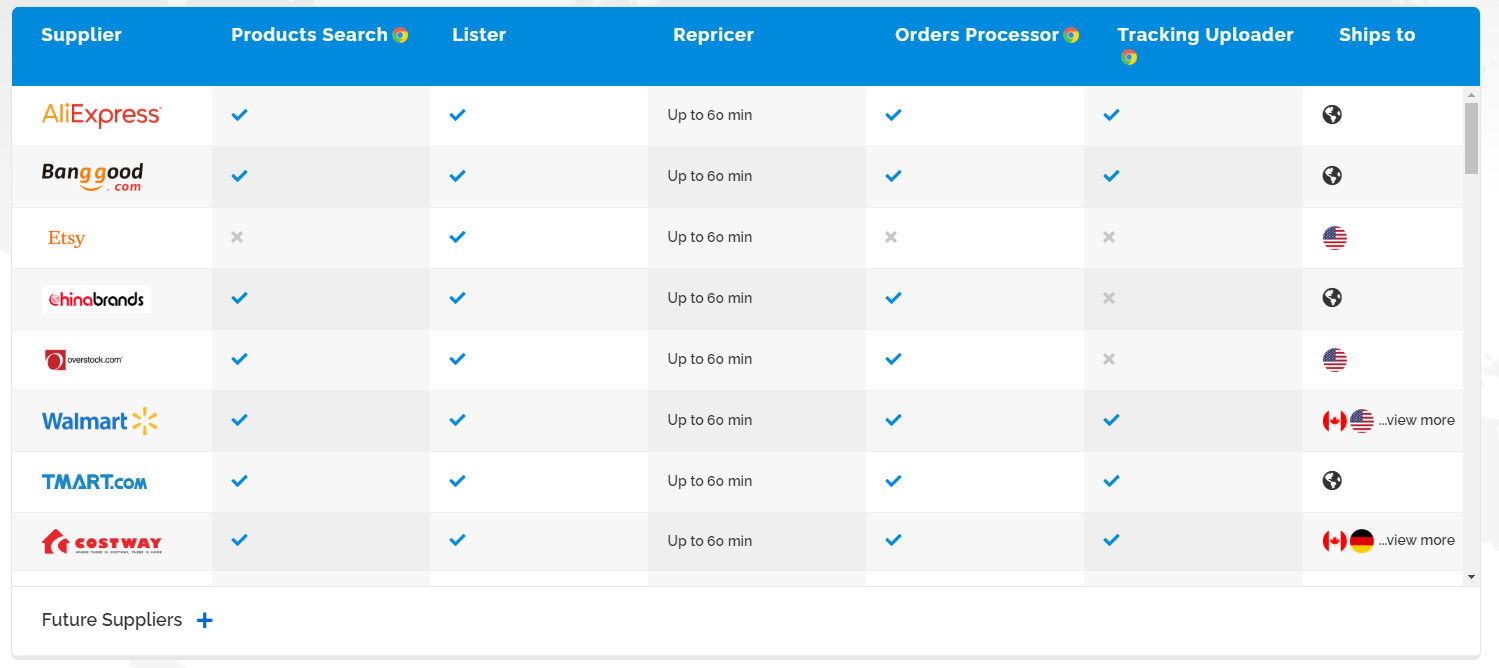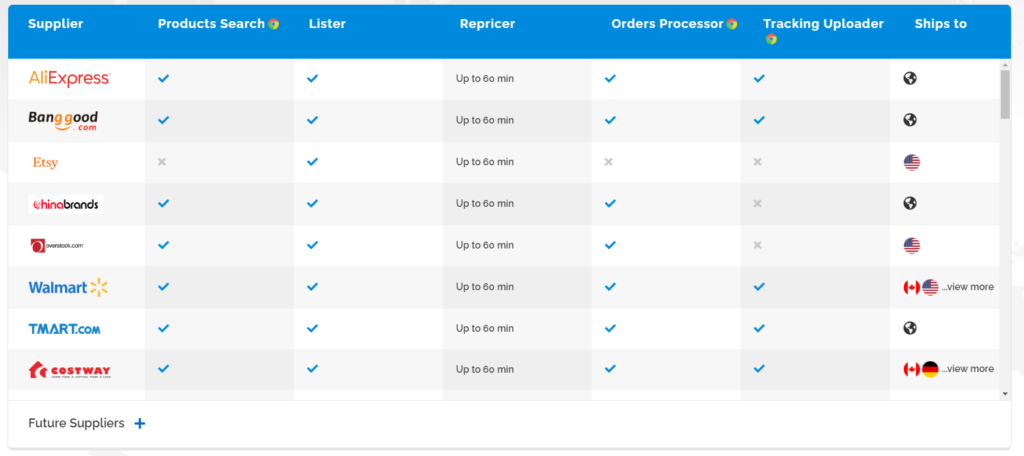 The list of features you can set up to improve your dropshipping business is too long to note in this article. I will cover some of them in this article but I also suggest you look into the following resources:
First set up everything. Then, in the last section of this article, I will go over the process of adding products to your store, optimizing the listing before publishing them, and processing orders.
Set Up Ali Express As a Dropshipping Supplier In DSM Tool
Business Policies Sync
After you set up the business policies on eBay, you need to sync them to AliExpress in the Lister settings of DSM Tool. The Rapid Lister is the feature that you are going to use in order to add products to your store.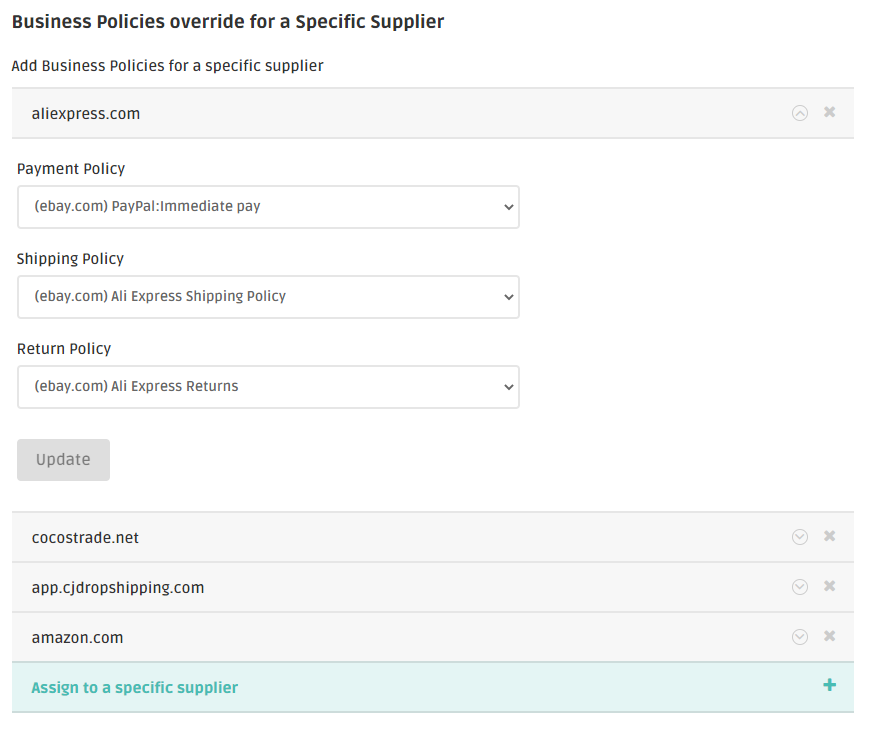 If you don't see the policies appearing in the drop-down in DSM Tool, click on the Refresh button and your account and eBay will sync once again.
eBay Product Description Templates Policies
Every product you add to eBay has a designable product description section. There is an entire section in DSM Tool designated for templates. You can set up a default template, edit them, and subscribe to the dynamic template feature.
When the DSM Tool Lister imports the details of the product from Ali Express, it imports the product description as well then it injects it into your templates.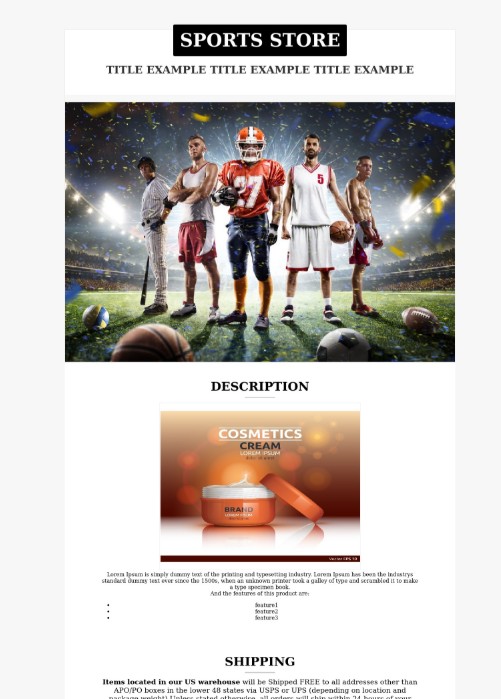 Since eBay was established back in September 1995 features like the business policies did not exist back then. The sellers on the platform used to describe their policies in the product description, so the eBay buyers community is quite used to reading it from there.
That's why we developed a dynamic product description, you can set up different text policies for different dropshipping websites you use. By default, the text in the settings already fits the scenario of dropshipping from Aliexpress. Yet, I suggest you go over it, personalize it and make sure it's clear and according to your policies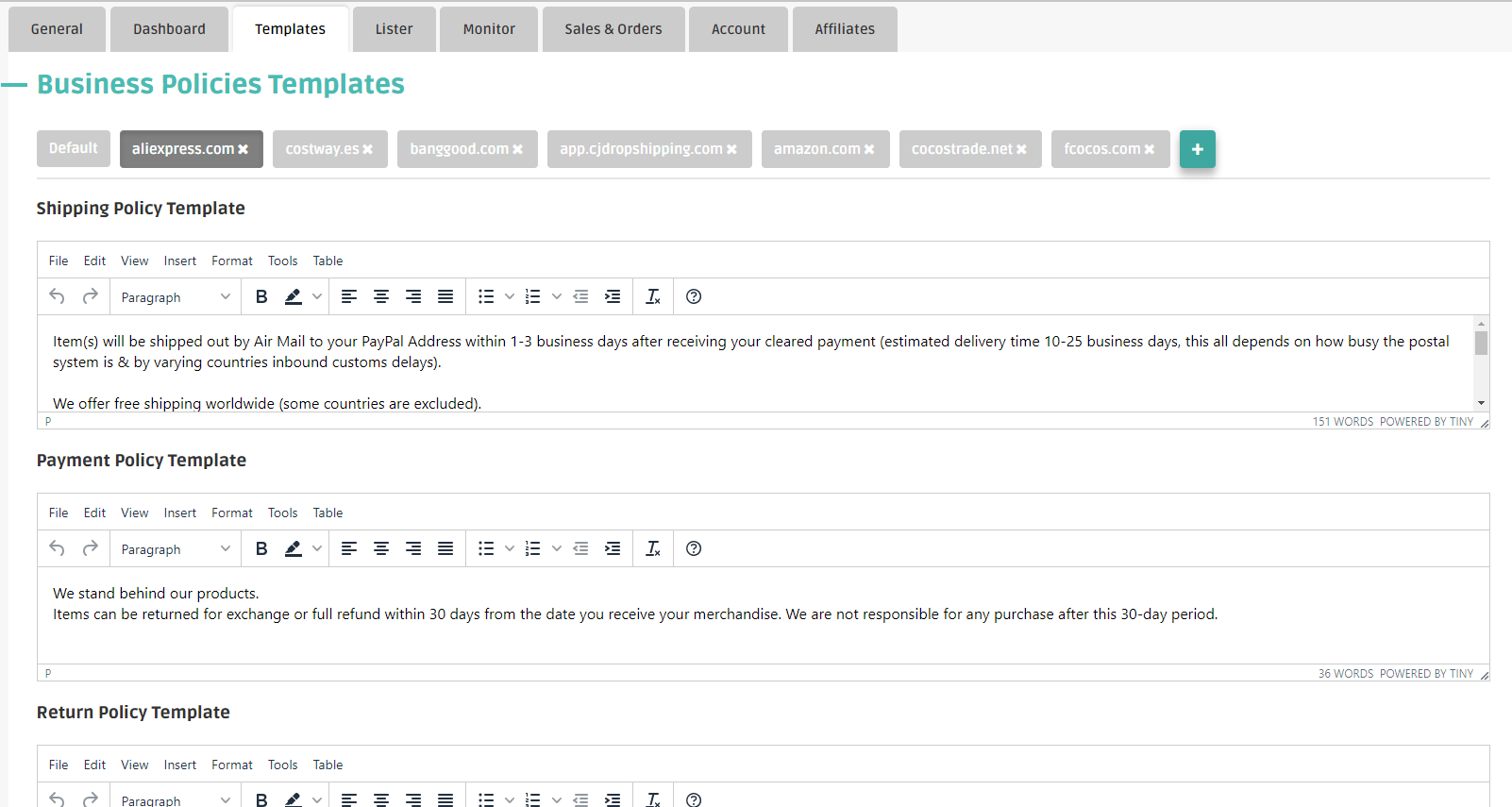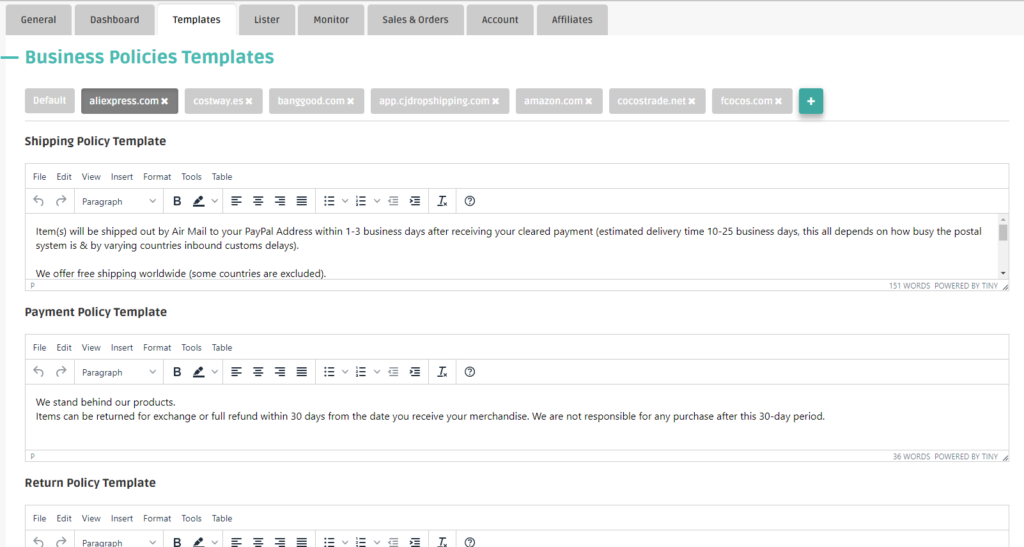 Break Even And Profit
The break-even percentage is going to be used to calculate the final price for the products you sell on eBay. It covers the selling and payment processing fees you must pay, aka eBay and PayPal fees.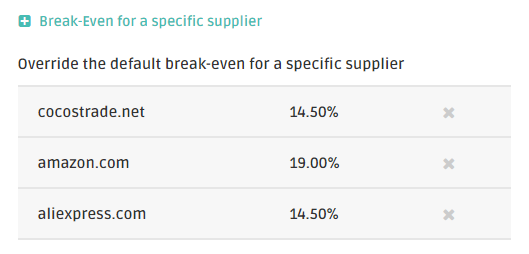 The fees depend first on whether you are paying for a store subscription on eBay, which reduces your final selling fee from 10% to 9.15% (to most categories). The second aspect that affects the break-even percentage is what you pay PayPal.
PayPal charges 2.9% if both the buyer and you are from the USA, and 4.4% if one of you isn't in the USA. Since I am selling from outside the US, I would be constantly paying 4.4%. If you are a US citizen, take an average of 80% local sales and 20% international, which results in 3.2% on average.
ePacket Shipping Calculation
When you make a sale, your costs are the fees that are covered in the break-even, the product itself, and the shipping rate. Therefore, DSM Tool adds the shipping rate to the calculation of the final price as part of the cost.
Since there are multiple shipping methods available for each product in Ali Express, you have to set up which shipping rate you want to be added to your products. I suggest you as a beginner to only work with ePacket as a shipping method, and you can set it up under the Monitor settings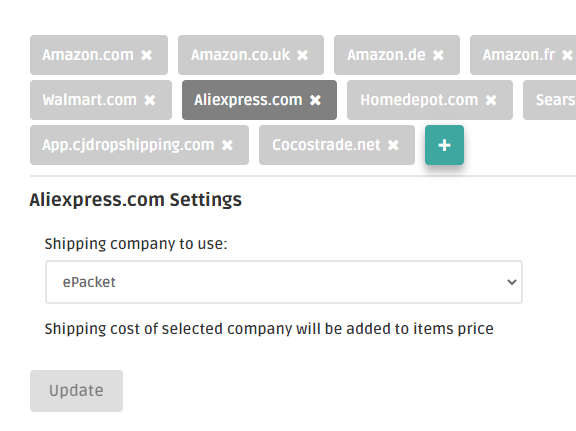 Auto Messages For Feedback Generation And Other Features
As I mentioned already, there are many other interesting features to explore such as the round-up pricing, the pricing strategy, and the auto-messages.
The last one, the auto messages, is probably the one I would recommend you to set up first. It will send your buyers 4 messages after they purchase the product. The timing of the messages is designed to earn you more positive feedback, on autopilot.
Start Dropshipping From Aliexpress to eBay
You are now ready to add the first product to your store, congrats! I want to give you some tips on how to do it properly, and then discuss what happens once you make a sale so that you could feel comfortable starting dropshipping today.
Adding a Product To Your Dropshipping Store
To add a product, I recommend you first install the DSM Tool dropshipping Chrome extension. With it installed, a blue button with the text List In DSM will appear for each AliExpress product.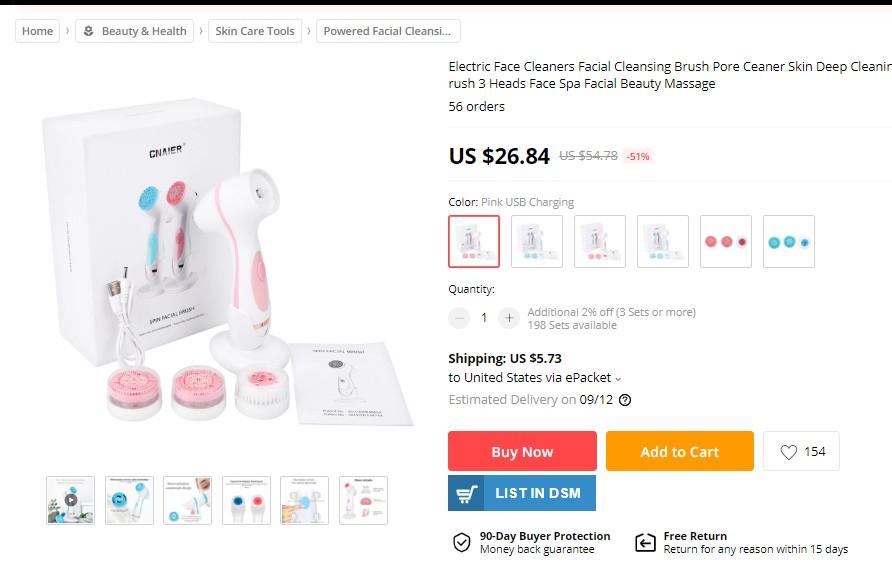 Once you click on the button, the Rapid Lister page opens in a new tab with the product ready for import. When you click on the import button DSM Tool literally imports all of the information about the product and prepares it in an eBay listing format.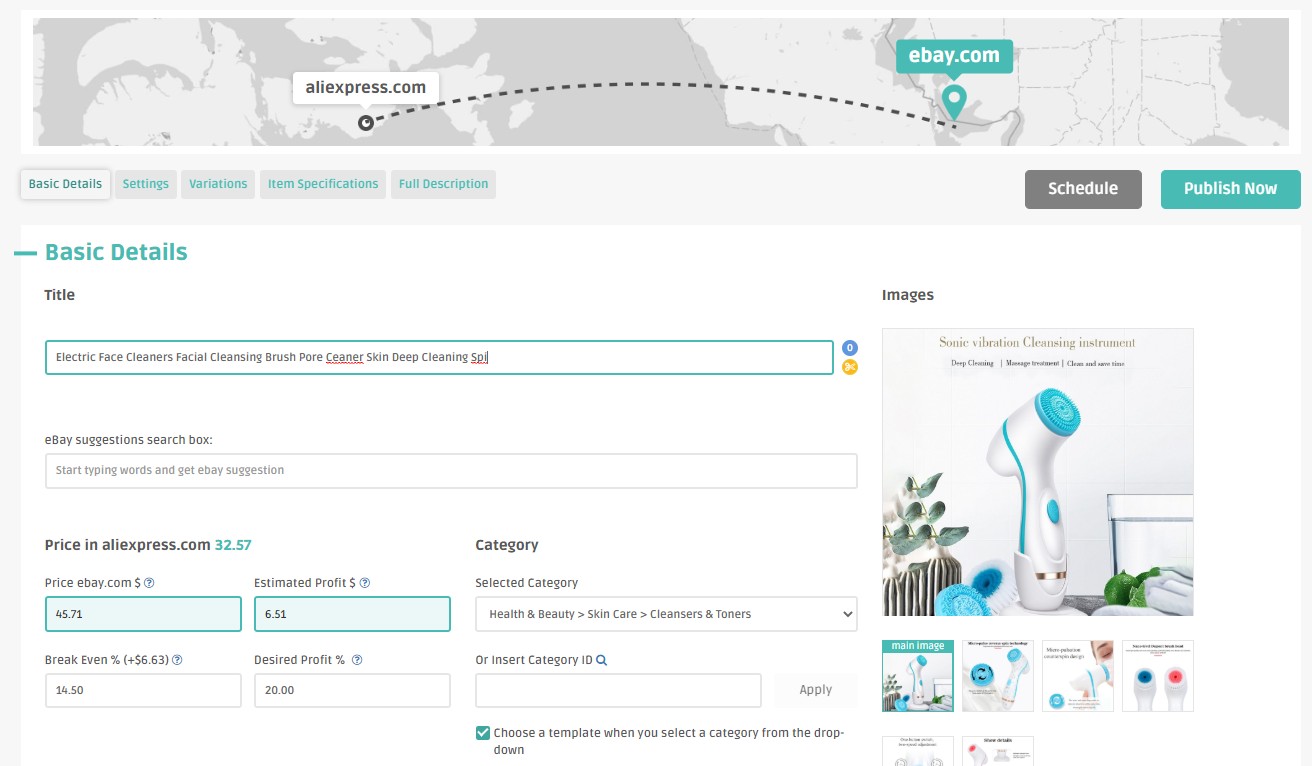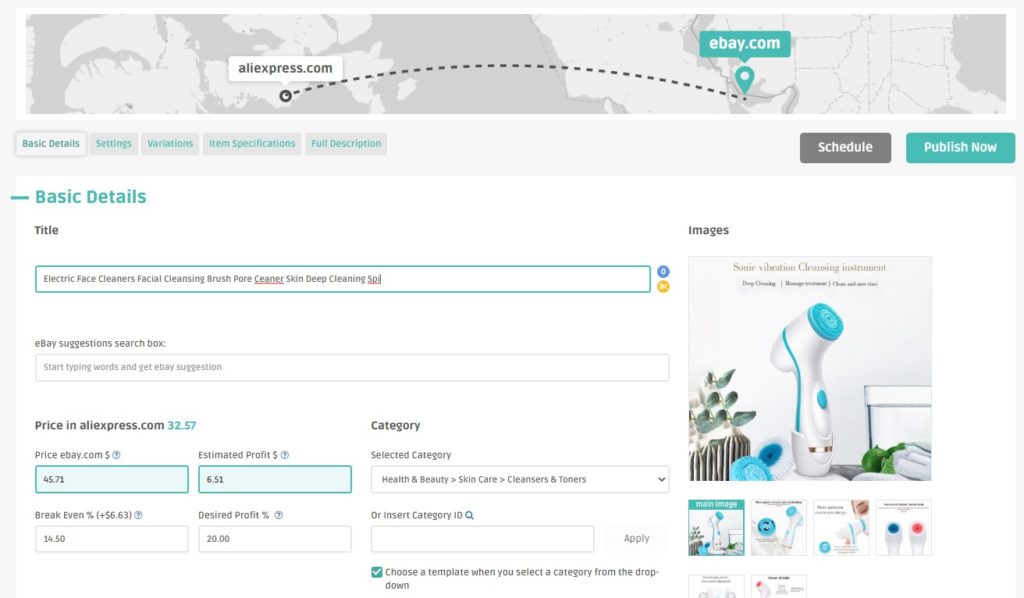 Once the product information is imported and prepared for publishing, you can skip the optimization process and click Publish Now. I recommend you not to skip that part, pre-publishing optimization will increase the amount of traffic your products generate. More traffic, more sales.
I invite you to follow the best practices for eBay listing optimization guide to learn more about how to properly prepare your products for publishing.
Processing Orders From Your Dropshipping Suppliers
The final goal of every dropshipper is to make a sale, and the more sales you make, the more the ordering process has to be managed properly. The sales & orders page in DSM Tool is meant exactly for that.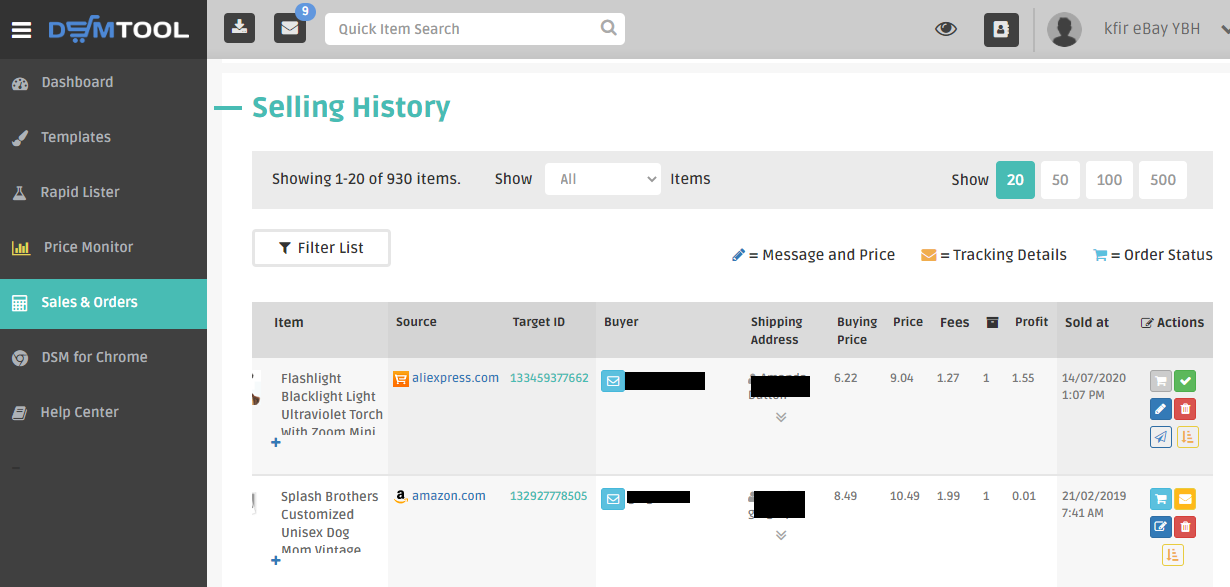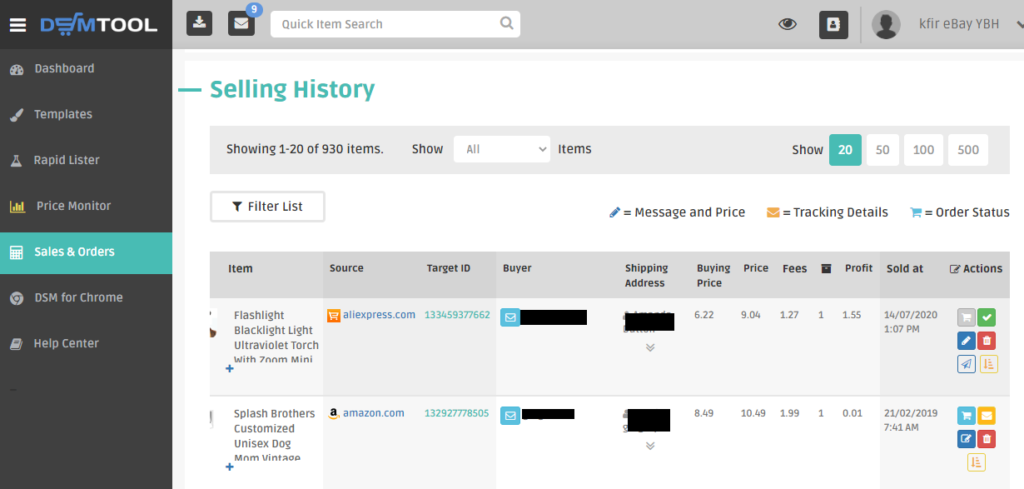 You can use the cart icon in the Actions column on the page to mark sales as ordered, it will turn the gray cart sign to blue. This way if you make 10 sales in one day you will know exactly which ones were ordered and which were not.
The yellow envelope sign will turn green once you use it to update the tracking information for the product. Luckily, there are automation features for both the ordering and the tracking updating that you can use.
Automate The Ordering Process
If you install the Chrome extension of DSM Tool a paper airplane icon appears in the Actions column on the Sales & Orders page every time you have a pending order to process. When you click on it, it copies the buyer's details and shipping address marks the item as ordered, and opens the product page in Ali Express.
You can then click on the Buy Now button and add a new shipping address. When you try to add the new shipping address a new blue button with the text Auto-Paste Client Address appears. Click on it and the buyer's details will be pasted automatically, saving you quite a lot of time.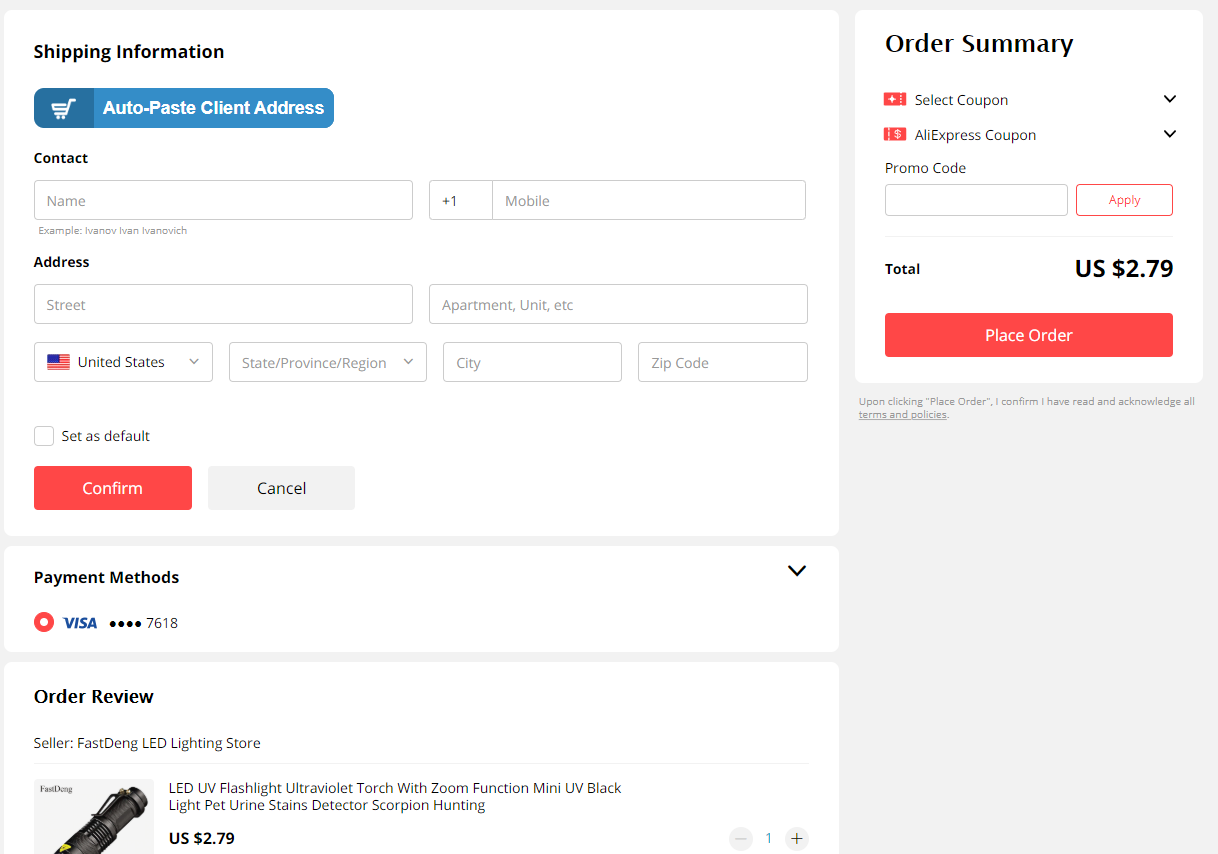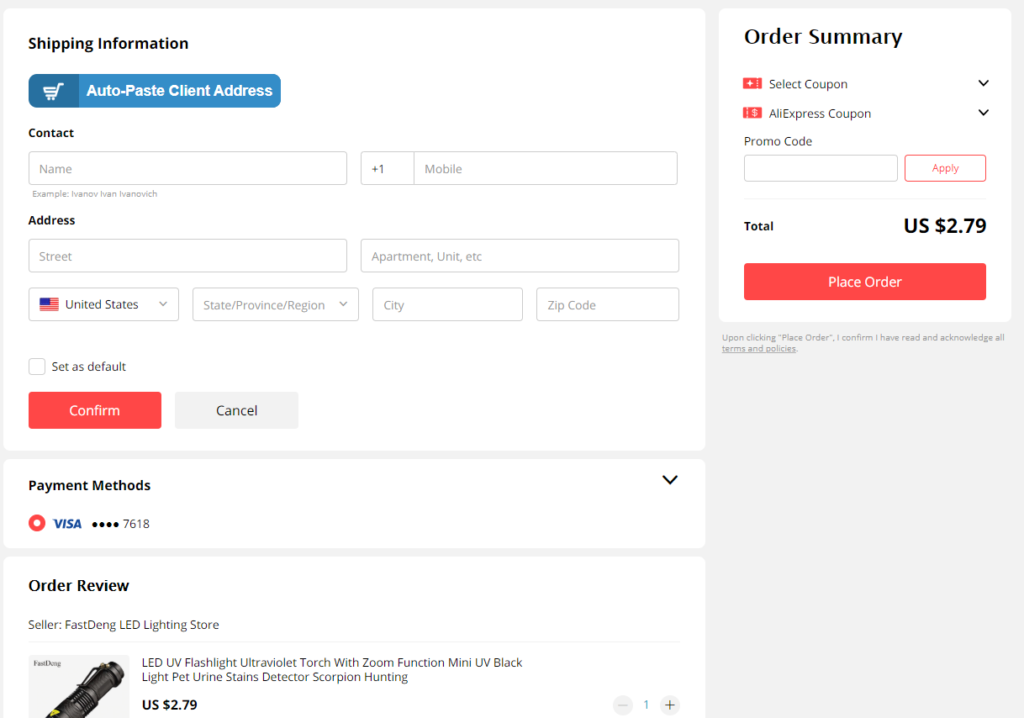 Using Ali Pay to pay faster
Same as there is a way to insert the buyer's shipping address in one click, there is also a way to insert the payment details in one click. The Ali Pay company is a subsidiary of Alibaba, the corporate that owns and operates Ali Express as well.
It was built to compete with services like PayPal, allowing you to pay online, receive payments, and maintain a balance. But A few years ago, Ali Pay deprecated the option to maintain a balance, so now as dropshippers we only use it to store our credit card information in order to pay for orders faster in Ali Express.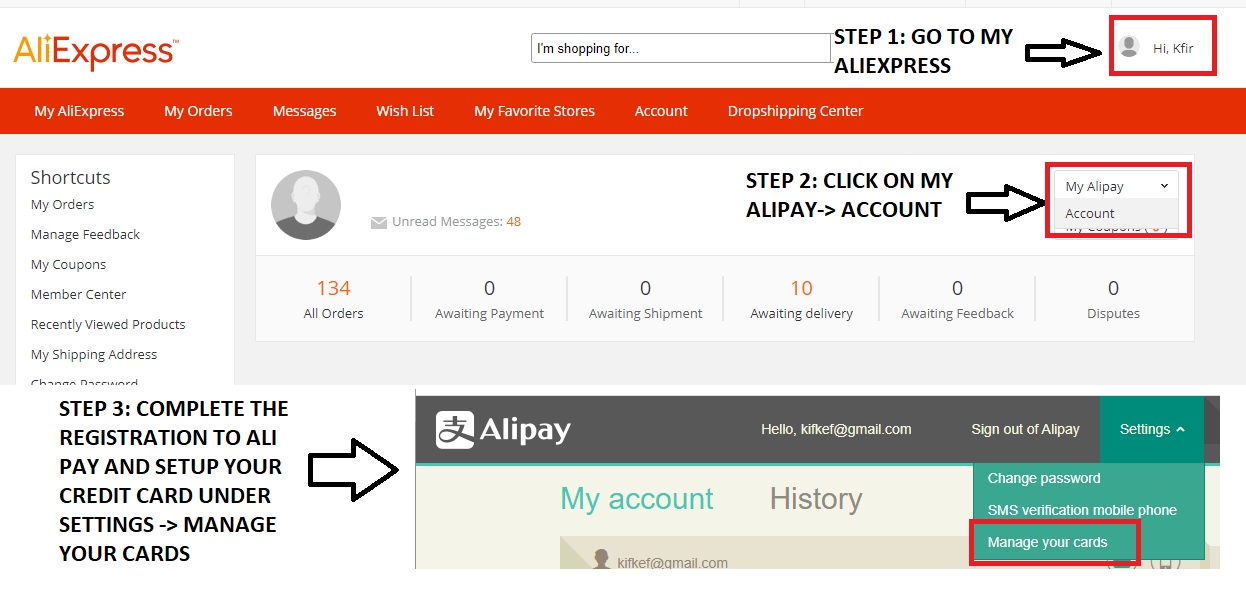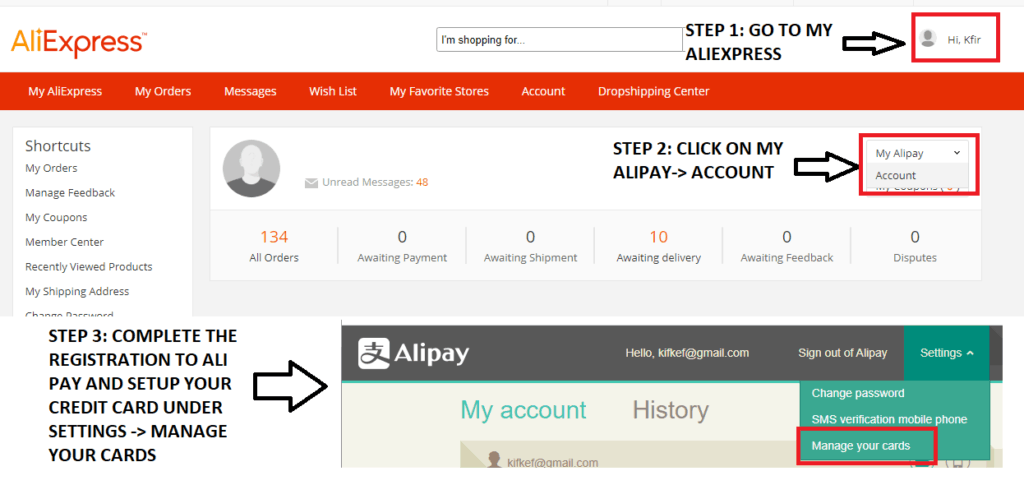 Updating Tracking Numbers on eBay
About 24 hours after you place an order on Ali Express you will get an email notification that the tracking details are available. You can either click on the Track My Order button in that email or the Track Order button in the My Orders section in Ali Express to see the order and view the tracking information.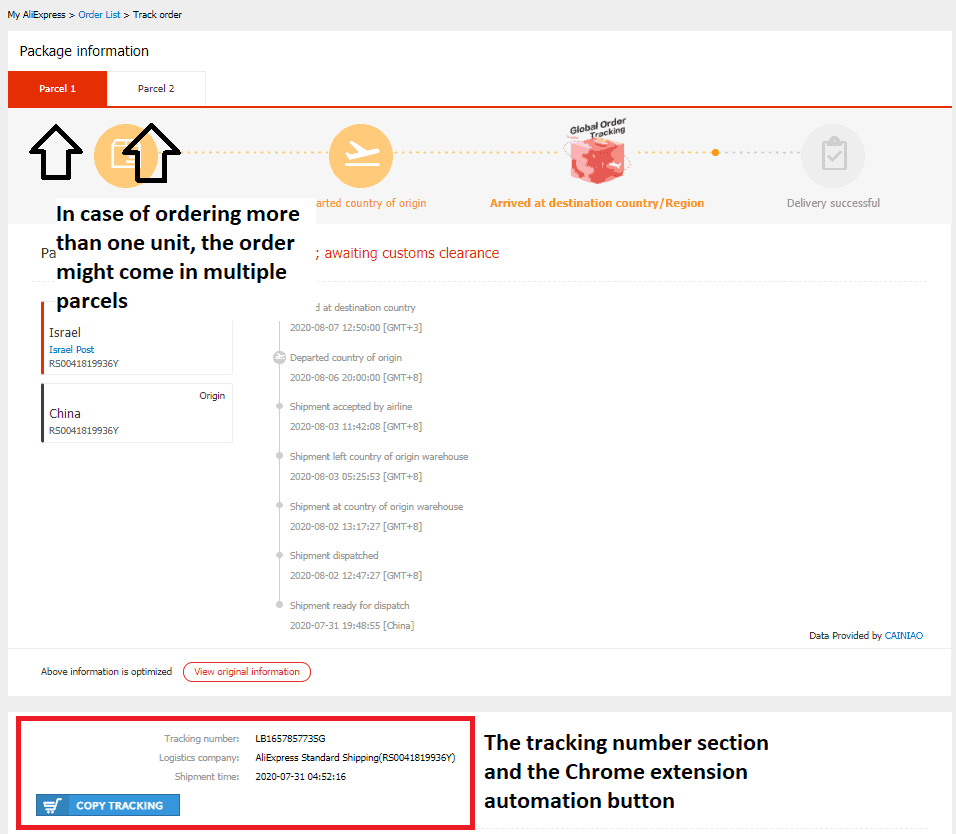 On the tracking page, the Chrome extension goes into action and adds a Copy Tracking button, in order to help you automate the tracking updating process. When you click on it, it copies the tracking details, opens the Sales & Orders page in a new tab, and try to locate the right order, and automatically opens the tracking updating feature.
If it doesn't locate the order, you can locate it yourself and click on the yellow envelope icon to open the tracking updating feature. When the feature loads, the Chrome Extension will load a new button inside it with the text Auto Paste Tracking Number.
Click on it, and the tracking number will be added to the relevant fields, saving you a lot of copy-paste time.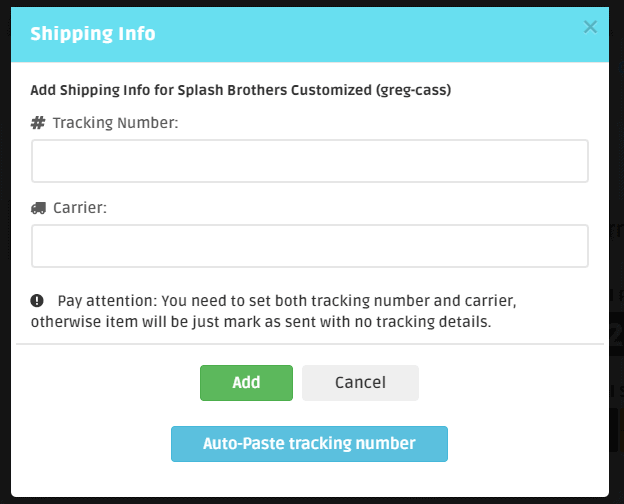 Handling Returns and Cancellations When Dropshipping From Ali Express
The buyer protection on Ali Express, together with a simple user interface to manage returns makes it easy to provide high-quality service when dropshipping from Ali Express.
Cancellations
Buyers on eBay can cancel orders within 60 minutes from placing their orders, if they do so you will get an email notification saying that the order got canceled. On Ali Express you can cancel the order as long as the seller did not update the tracking number, which gives you about 24 hours to process the cancellation.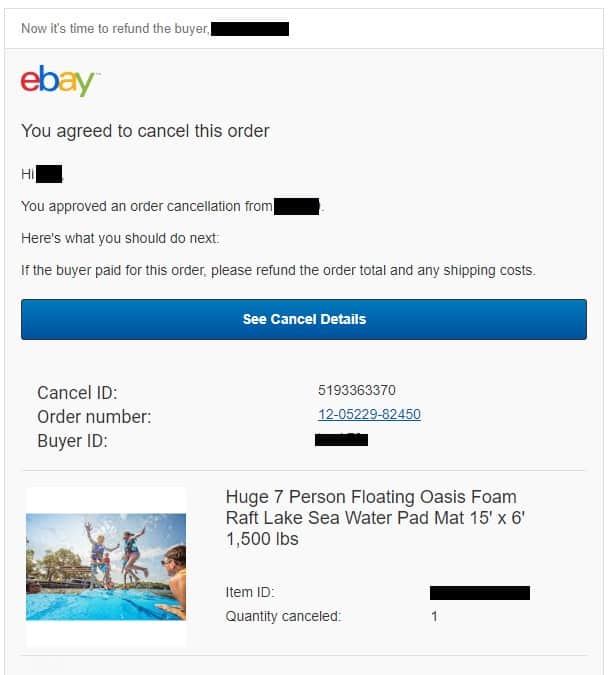 Canceling orders, opening a return/refund request, and everything related to what happens after you place an order in Ali Express happens on the My Orders page. To process the cancellation or open a return request, instead of clicking on track order click on View Details at the top left corner of the order.

On the page that opens, you will find the option to cancel the order in case it was not yet shipped. If the product was already shipped, the only thing you can do is open a dispute/return request.
Handling Returns And Disputes
When an item doesn't arrive or when it arrives but it is not as described or damaged, you can open a dispute and claim a refund. If the supplier also offers a free-return option, you can open a return request.
To open these requests locate the button Open Dispute under the status column in the order details table after you open the order page (by clicking on the View Detail link on the order page). Then, choose whether you like to open a return request or a dispute, fill up the form and submit it.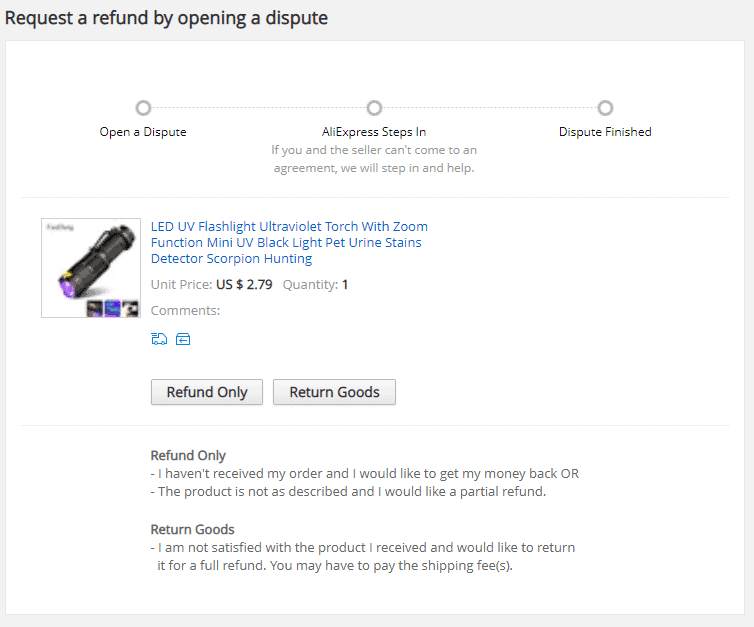 The only thing you need to take into consideration is that it takes up to 14 days for a refund to be processed in Ali Express. On eBay, you will have to refund your buyer much earlier, which leaves you with a minus in cash flow for a couple of days.
Make sure to ask the buyer on eBay for as many proofs as possible for the case. Images, videos, and written explanations would help you ensure that you win the case on Ali Express and don't refund the buyer on eBay just to then also lose the dispute in Ali Express.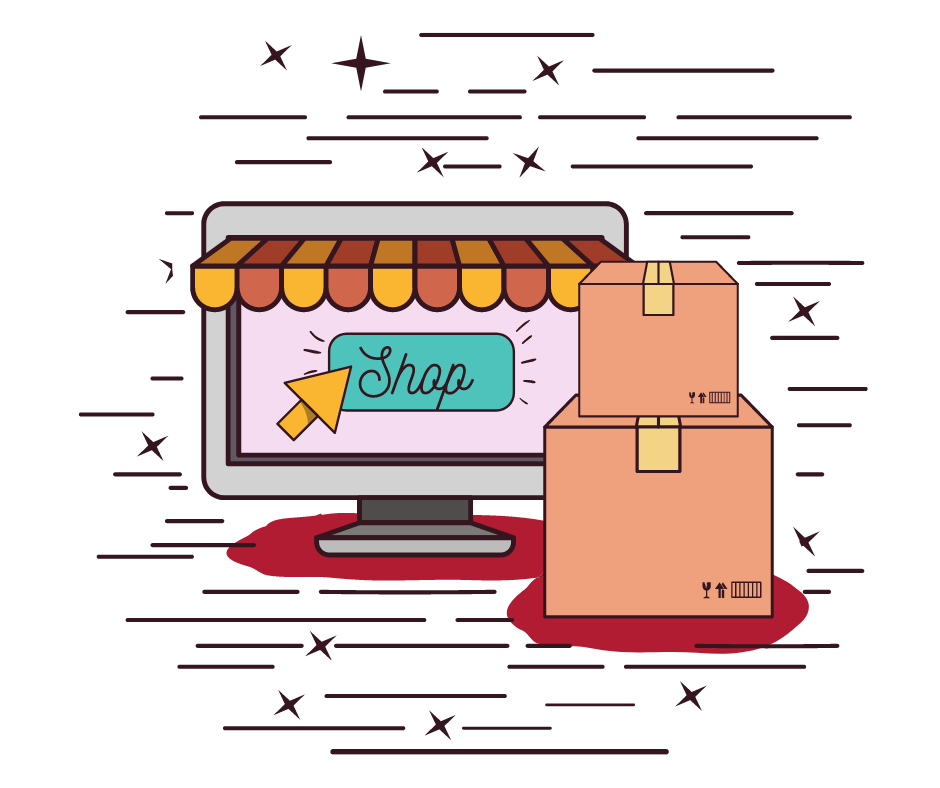 It's time…
Don't wait for success to come. Hire yourself and start your own dropshipping business
How to grow your AliExpress Dropshipping business:
Working with trustworthy suppliers:
It is no secret that in order to really boost your business, it will take more than just offering interesting products to the public. You need to work with good party suppliers that will guarantee quality.
Remember that when it comes to dropshipping, you don't hold your own inventory, you never get to see it. Therefore you completely depend on your suppliers when it comes to the product arriving in the estimated delivery time frame, the conditions of the items, etc.
Building a successful relationship with your chosen supplier or AliExpress vendor will facilitate you to get better prices and deals along the way. It is important to point out that most of the suppliers on AliExpress use WeChat or WhatsApp.
If you see yourself frequently ordering from the same vendor, it would probably be a good idea to ask them for their Skype username to develop a business relationship. This will certainly take your business to a whole new level.
Once you've demonstrated you can bring in recurring sales, some sellers will allow you to place your logo on products.
Marketing for growth:
Once you have enough experience with your dropshipping business, it is now time to step up your game where it is not only necessary to source high-demand items and provide a great customer experience, but also it is about putting your name out there.
Digital marketing is a great way to scale your business and position your business on Google. This means you will need to work on some key factors such as:
SEO.
Influencer marketing.
This would also mean that you can also start dropshipping on other platforms like Aliexpress alternatives. This can also include social media apps that are now popular among sellers as well. Social commerce is a trend you can start looking into if you really want to expand your brand other than having amazing results in any given marketplace.
There Is Always More To Learn
I hope this guide has been covering everything you need to know in order to get started with dropshipping from Ali Express to eBay. Remember, there is always more to learn and what is the best practice for 2023 might become outdated a few years later.
Therefore, I invite you to subscribe to our Youtube Channel where we continuously post new videos aiming to help you become a more professional eCommerce seller. I also invite you to join the Dropshipping Community on Facebook where you can participate in the discussions and network with other drop shippers. In case, you would like to learn more about dropshipping, you can also check our A to Z eBay dropshipping course.
Last, if you did enjoy this article and you would like to see more free dropshipping knowledge being produced by us, share it with someone that you think could benefit from learning how to start dropshipping to help the community, and our business within it, grow.
Good Luck!