22

min read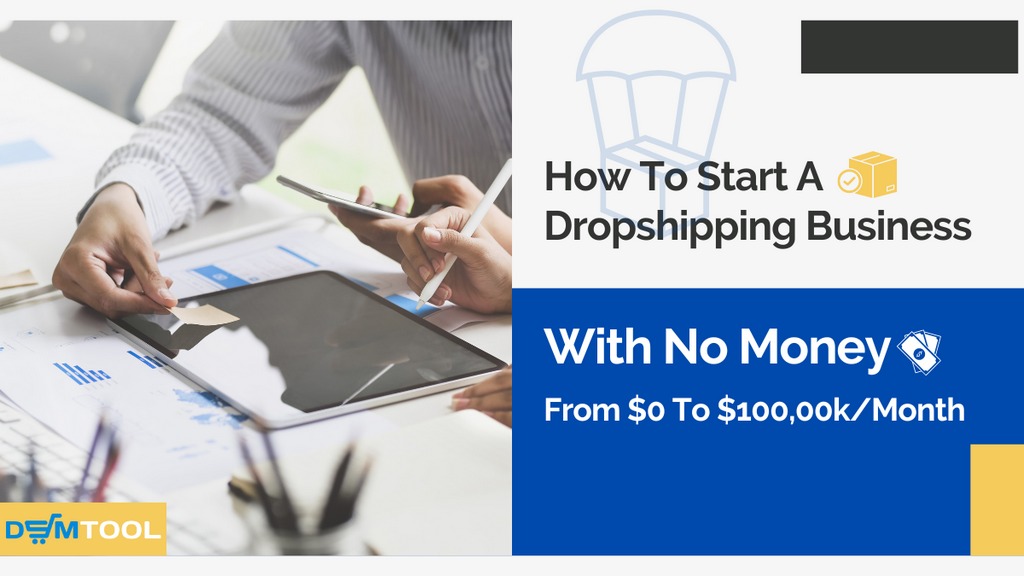 Dropshipping with no money. It's the phrase that hooks wanna-be entrepreneurs and side hustlers. Why wouldn't it? Everyone would love to be their own boss, enjoy the flexible hours, and when you hit it big, relish the steady flow of income. Interested? Then this how-to-start dropshipping for free guide is for you!
With different technologies today, that dream can come to fruition easier than ever. Such is the case for eCommerce businesses, especially since you get plenty of options when it comes to dropshipping platforms.
However, not everyone fully understands what dropshipping is before jumping aboard. Yet, the number of people wanting a piece of the pie continues to grow year after year without knowing that there are many factors to consider to be successful in the dropshipping industry.
With this dropshipping guide, you'll get an overview of what it is and the store types that are under it. Plus, we'll give you a quick look at some of the most popular eCommerce platforms that offer dropshipping services. As you read this article, you'll also pick up some helpful strategies and steps on your way to opening an eCommerce store.
So, can you really engage in dropshipping with no money? Let's find out.
What Is The Dropshipping Business Model?
The dropshipping model makes opening an online business a LOT less complicated. It's a unique business model where you can sell products on an eCommerce platform without the need to handle the storing, packing, and shipping.
Typically, when you own an online business, you'll need to take care of everything from inventory management to delivery. It creates many problems for sellers, including dealing with a surplus because of overstating the demand.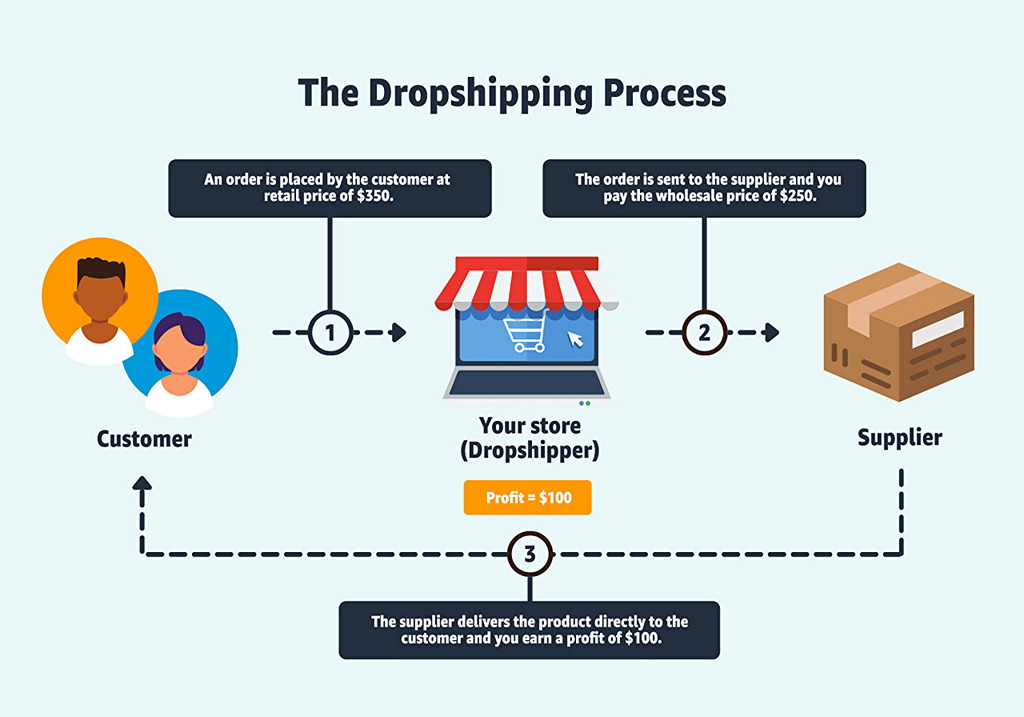 So, how does the dropshipping model make your entrepreneurial life easier?
With the help of dropshipping suppliers who will take care of the nitty-gritty. Essentially, the role you play is that of a middleman. Thus, you can focus on finding quality dropshipping products from a third-party suppliers to sell and creating a marketing plan to attract potential customers.
Now that you know what it is, let's move on to why the dropshipping niche is growing.
The Advantages Of Using The Dropshipping Business Model
The benefits of dropshipping go beyond making entrepreneurs' lives easier. Whether you're a full-time merchant or looking for a side hustle, there are plenty of other advantages why a dropshipping business is ideal, including:
Scalability
Low overhead
Ease of starting
Location flexibility
Diverse selection of products to sell
Less upfront capital investment needed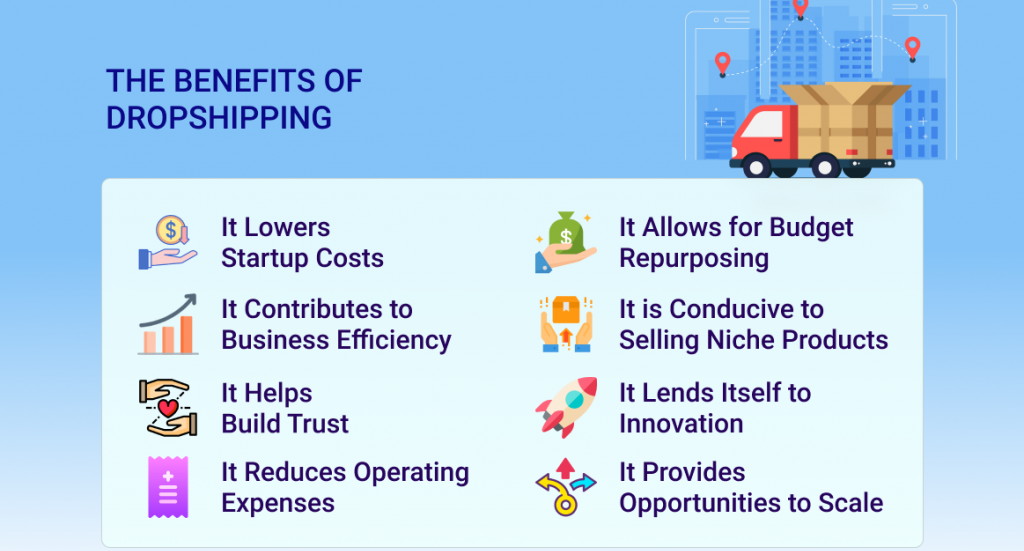 Let's apply the advantages to a real-world example. Without dropshipping, selling medical alert products can increase overall costs from manufacturing to storing them. Plus, it also may take a long time before you can finally start selling since producing them takes some time.
But thanks to dropshipping, you can order a variety of ready-made medical products from a third-party supplier. The customer buys from your store, you pay the suppliers, and the rest is for you to enjoy as profits. All the while without having to invest in inventory. The process becomes much less complicated,
With that, let's talk about the different types of dropshipping stores you could set up on an eCommerce platform.
3 Types Of Dropshipping Stores You Should Know
Jumping head first without proper knowledge only increases the risks. When you don't want to invest money in dropshipping or have a limited budget, it's important to know the types of online stores you can open to minimize loss.
Here are your different options: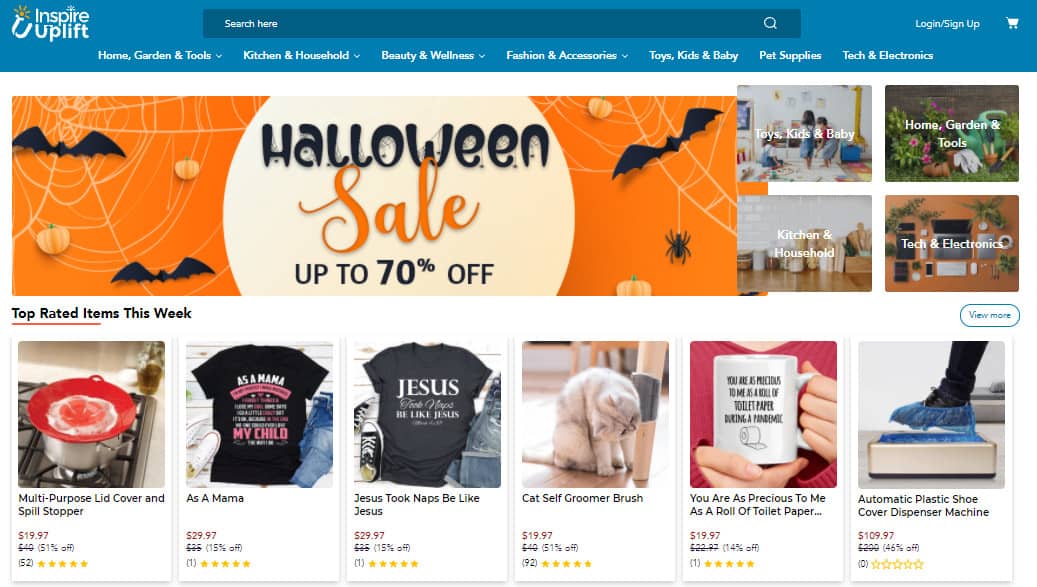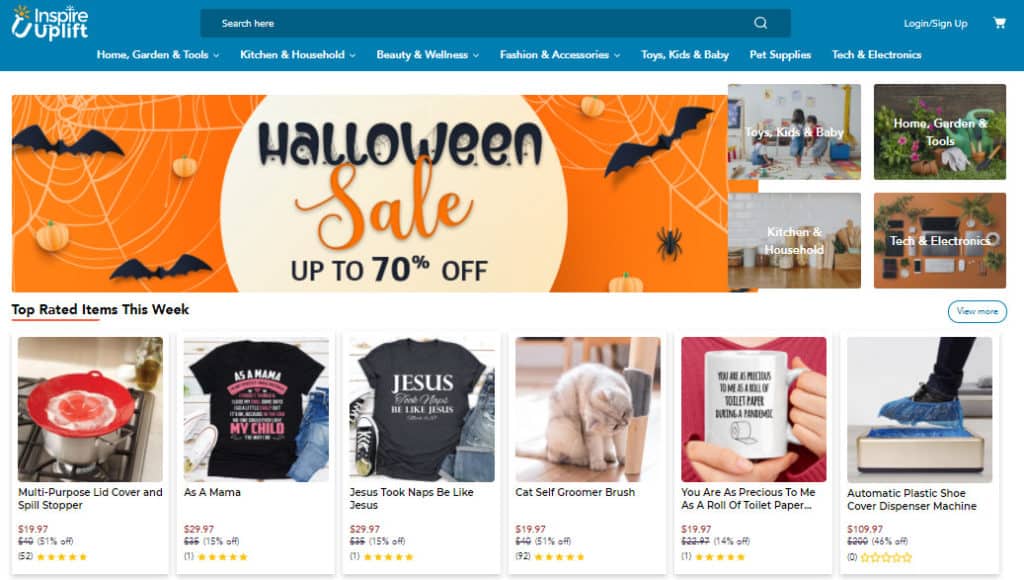 This type of store offers a wide assortment of products on one website, such as clothing, skincare products, and kitchenware. When dropshippers opt for a general eCommerce store, it may be for the following reasons:
Appeal to a wider audience
Don't have to do market or product research
Test a variety of products before possibly changing strategies
Sounds appealing, right? Well, not so much. First, if you don't spend much on web design, your website will look like a mess, pushing away potential customers.
Second, without proper research, chances are you're going to waste money on products that won't sell well. Finally, it'll be hard to create a marketing strategy with such a variety of offers.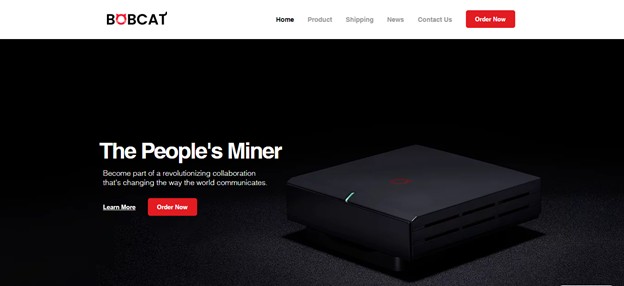 As the name suggests, it's the opposite of a general dropshipping store since it focuses exclusively on one product and the target market is not broad. This involves deeper research to help merchants determine the "trendy" item they want to sell. However, since many one-product stores depend on current trends, success can be short-lived.
To sustain its success, a good business plan must be in place to go beyond what the current trends can offer. Due to the narrower market focus, creating an effective marketing strategy is easier with this type of store. Nevertheless, the risk of failure is greater if the trends don't hold up.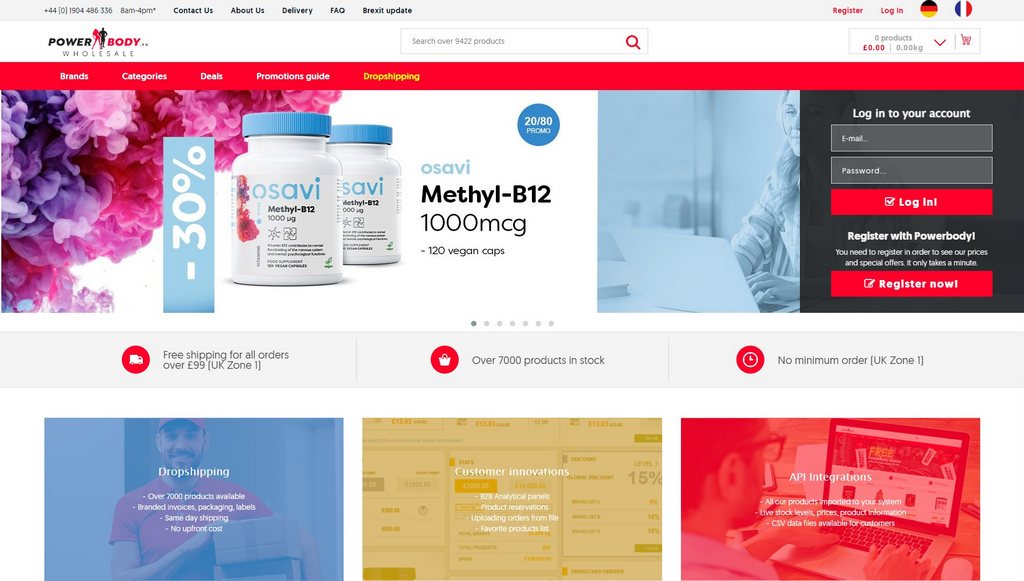 Many eCommerce stores fall under this category, and customers are likely more familiar with this setup. Branded niche stores sell products that have unifying characteristics, like medical supplies, women's clothing, and supplements.
Thus, customers can pick from a more exclusive product range that meets their needs. Furthermore, this allows merchants to have more branding opportunities and develop a more effective marketing strategy since they can specify a target market despite having multiple products to sell.
Let's take supplements as a case to make this more understandable. It's a big industry with a lot of categories. With branded dropshipping, a specific supplement variety is a sole focus without having to put all your resources into a single product.
A great example would be if you're targeting athletes or workout enthusiasts. You could focus on selling powdered performance supplements. It's a segmented dropshipping niche. You're not running a general store, even if you're selling a lot of different products, but it's also not a one-category store, even if you sell only one type of supplement.
It's still a branded niche store because all those supplements you're selling have one unifying feature, they're performance boosters. Even if it's just a single category of supplement, you'll still be able to offer a variety of products and attract a bigger market.
Tip
You have a better chance of making good profits when running a niche dropshipping store. Check these Top Niche Dropshipping Stores to get some ideas.
Once you know the type of store you want to establish, it's time for a short overview of different dropshipping platforms. These are the best options to start dropshipping for free.
Best eCommerce Platforms For Dropshipping With No Money
As eCommerce continues to grow, many platforms allow dropshipping websites to be built. Their costs vary and they have different built-in features. Your choice will be dependent on your budget or business needs.
What are they and what are some of their benefits and drawbacks? Read on.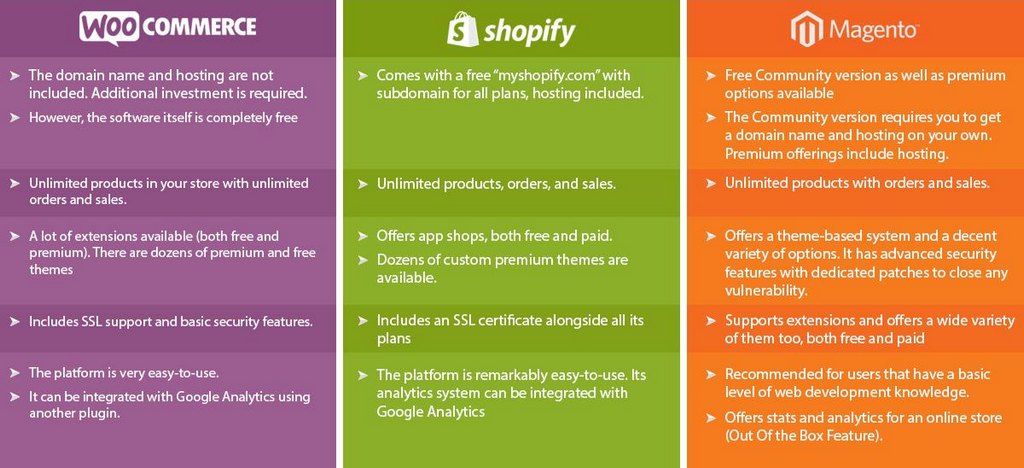 WooCommerce – free eCommerce platform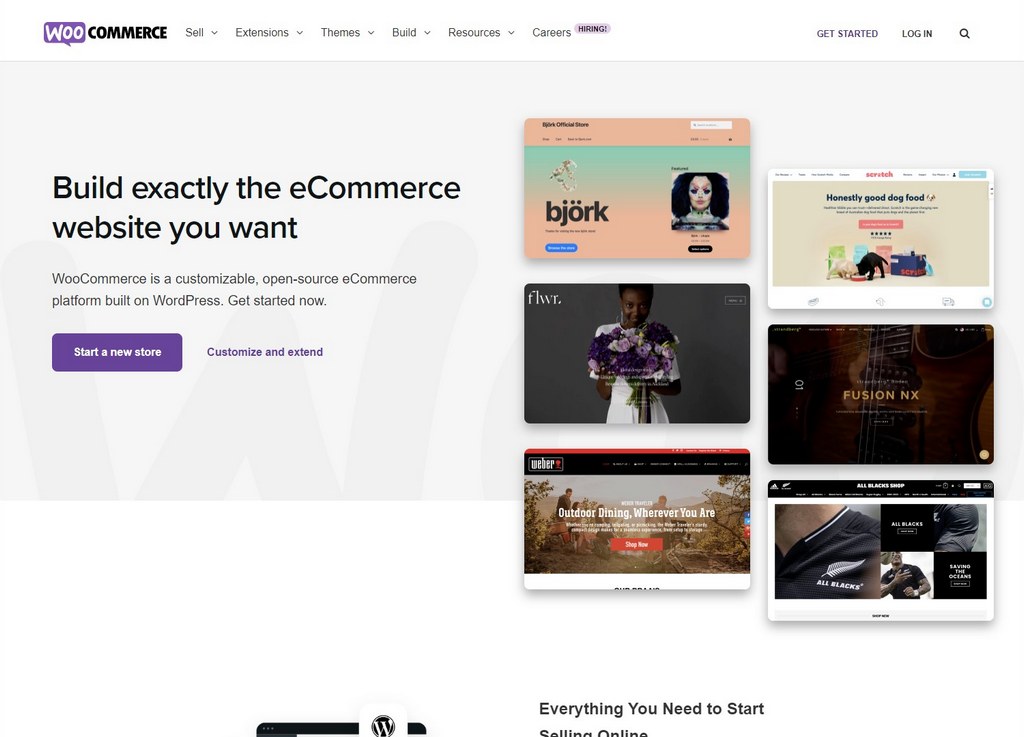 Let's start with the most widely used eCommerce platform, WooCommerce. Its popularity among dropshippers is because it's an easy-to-install and free plugin for WordPress. How it works is that it enables your WordPress website to integrate eCommerce features.
Pros
Cons
Scalable
Open-source
Easy to install, integrate, and use
Wide community of developers
Extensions for it may cost money
Requires plenty of technical know-how
Shopify – the best platform for beginners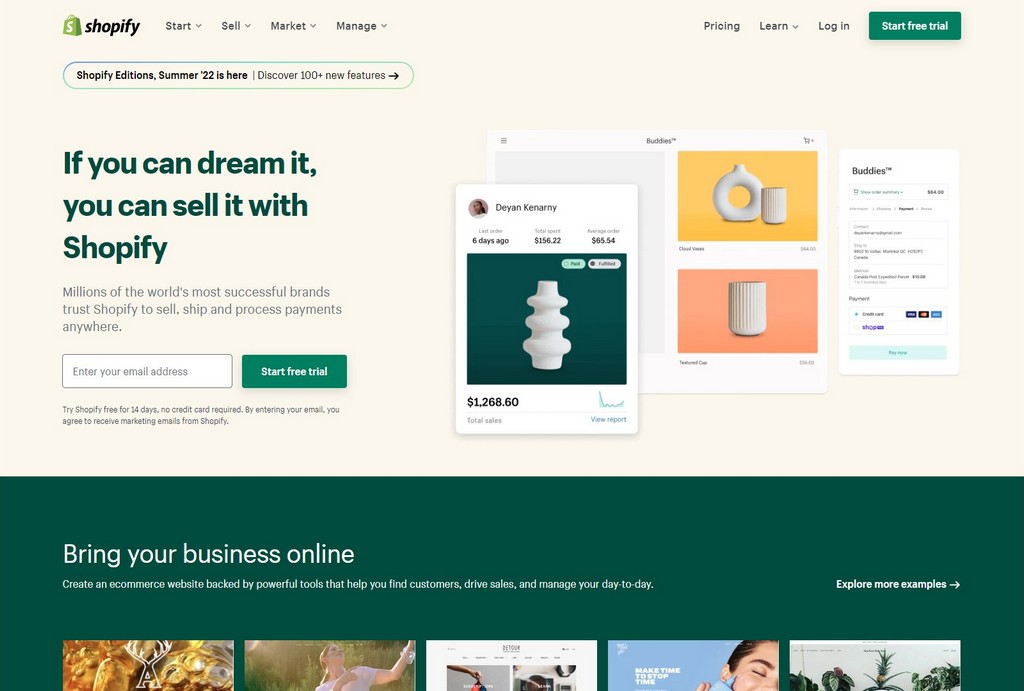 Next up is Shopify, which is one of the most well-known platforms. It's powerful and allows for a more seamless shopping experience for customers. Some features include built-in marketing tools (i.e email marketing) and abandoned cart functionality. Also, it offers a 14-day free trial that you could take advantage of.
Pros
Cons
Feature-rich
User-friendly
Great customer service
Supports many big dropshipping suppliers
Limited SEO optimization capability
Can be quite costly
Magento – the most powerful e-commerce platform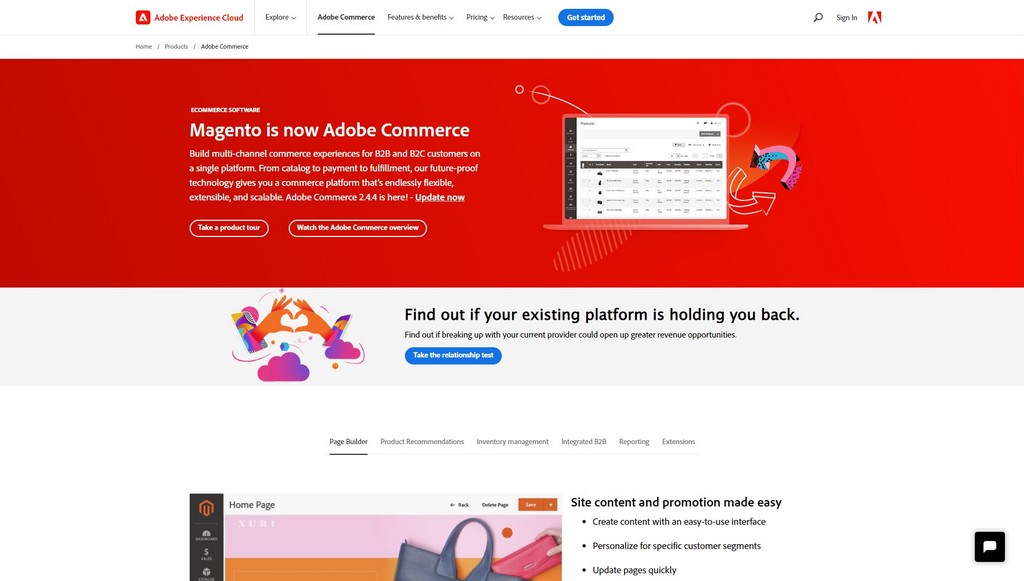 Like the other two on the list, Magento is one of the most well-known eCommerce platforms for dropshipping. Although it's widely used, it's not exactly aimed at beginners since its built-in features can be further maximized by those with coding expertise.
It offers two options for users, which are:
Magento Open Source: It's free to download and install. However, you'll have to cover the costs that come with hosting services, extensions, and domains.
Magento Commerce: This is the premium version of the platform, which is marketed towards bigger companies who are looking for full-featured eCommerce solutions.
Pros
Cons
Scalable
Lots of built-in features
Provides excellent customization
Not easy to use for beginners
Limited support for dropshipping extensions
Now that you know some of the platforms you could use, it's time to answer the question.
Can You Start Dropshipping With No Money?
The short answer: Yes. However, don't go just yet and continue reading.
A more precise answer would be: To some extent.
Suppose you don't have money to spare to start a dropshipping business, there are ways to do so without shelling out a dime. All you need is your computer and internet access, which you most likely have already.
There are plenty of eCommerce platforms you could use. Some offer their services for free, while others offer an initial free plan you can utilize before having to pay after a limited-time period. You could use the money from the first few sales you get to upgrade to a basic plan or a more premium offering.
Moreover, as you can see from the list above, some platforms are open-source, meaning they're free for users to modify. However, some coding skills are necessary. So, either learn or hire an expert.
Nevertheless, you're going to need to cough up some money as time passes if you want to grow your business into a full-fledged one.
What Do You Need To Start Dropshipping With No Money?
As mentioned, you'll need a computer and internet access. The following are, typically, what you're supposed to invest in starting a business:
However, since you're here to know about the cheapest options to start your dropshipping business and start earning, it's obvious you want to forego an upfront investment. As such, you're going to need to invest a LOT of time and labor.
You can also take advantage of technology, such as free software, to make your life easier. For instance, instead of painstakingly and manually managing invoices, you could use invoice data capture software to automate the process. Less time for that means more time to think of growing your business.
And since you're not looking to hire help, you're going to do it all by yourself. Aside from research, you also need other skills to help you. Either you already have those skills or you need to invest time to learn. Fortunately, the internet has an abundance of free information you could use.
With that, let's see the skills you need to start a dropshipping business without money.
5 Crucial Skills You Need To Start Dropshipping With No Money
Starting an eCommerce website is not a walk in the park. It takes a lot of specialized skills to get it up and running. As such, it's best to start sharpening them right now.
The following skills are what you'll need the most to start dropshipping for free:
1. Data Analysis
There's always room for improvement. As such, it's important to be capable of gathering and analyzing data. The more you understand the market or your customers, the higher the chance for better profit margins. There are free tools you could use, like Google Analytics, to help you get started.
However, if you're tech-savvy or you're willing to hire a developer down the line, designing and creating a data pipeline can be helpful since you'll have more control. You could use the data to identify customer preferences or determine their actions while on your website. The data would also be a good marketing tool or a way to make the shopping experience more personalized.
2. Content Marketing
Creating valuable and relevant content for current and future customers is the essence of content marketing. Offering them free information allows them to have insights into how your business can meet their needs.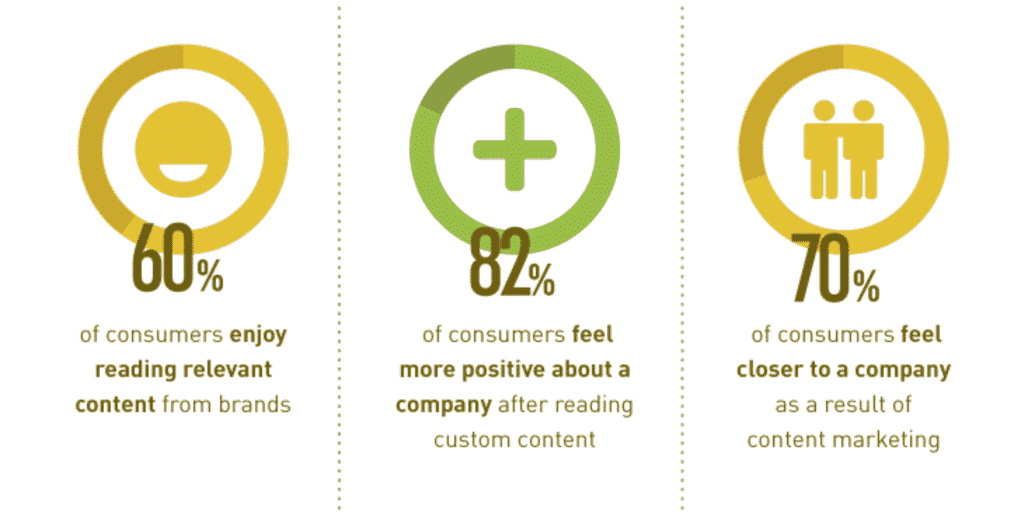 A great example of this is when someone is looking for academic info or educational training lists like an MBA program. There are plenty of choices and it can be overwhelming. However, finding a website that gives a list of the best MBA programs, offers brief reviews, and has relevant links, a user would likely consume that content.
So, instead of browsing through dozens of websites, every useful information should be on that single website. It showcases the company's expertise in getting its clients into the right MBA program, helping gain site visitors' trust. In return, the company acquires web traffic to pull in potential customers.
Search engine rankings are important for dropshipping websites. That's why search engine optimization (SEO) is an integral part of content marketing. So, how do you rank high on search engines? By creating high-quality content. 
As such, you'll need to learn how to do keyword research to know what related terms your target market is searching for online. Afterward, you'll need to integrate those words into your content. When you find the right words, you'll reap the benefits. A higher ranking translates to better audience reach, which means more potential customers.
A great example of a website that leverages SEO well is Unscramblex's scrabble word finder. Its main keyword reflects the key concept of the website. Not only is it used throughout the article, but also in the headings. The website also includes internal links, helping to increase the SEO score.
4. Web And Graphic Design
Don't worry, you don't have to be an expert. You just need to learn the basic skills about two. Web design involves creating a seamless shopping experience for your site visitors. Browsing, adding to a cart, and paying should be hassle-free.
As for graphic design, you can focus on aesthetics and other design elements. We know that this is a tricky one but there are free tools you could use. For example, Canva makes graphic design easy for beginners and offers a free plan.
Moreover, when you want to polish your design quickly, you could download and use free presets. It'll help you find the right lighting or effects to match your branding. Also, you can use it on a mobile phone or desktop for convenience.
As a one-man show, you'll need to be ready in answering customer support queries. The following topics are some you need to prepare answers for:
Delivery time
Product returns
Refund requests
Payment options
Technical concerns
Product quality inquiry
You could integrate a chatbot on your website or include your business contact information. Additionally, you could use social media platforms to gather feedback or respond to concerns.
With these additional skills, you're one step closer to hitting the ground running with your dropshipping store. So now, let's move on to the steps that take your dropshipping business ideas into reality.
5 Steps To Starting Dropshipping With No Money Like A Pro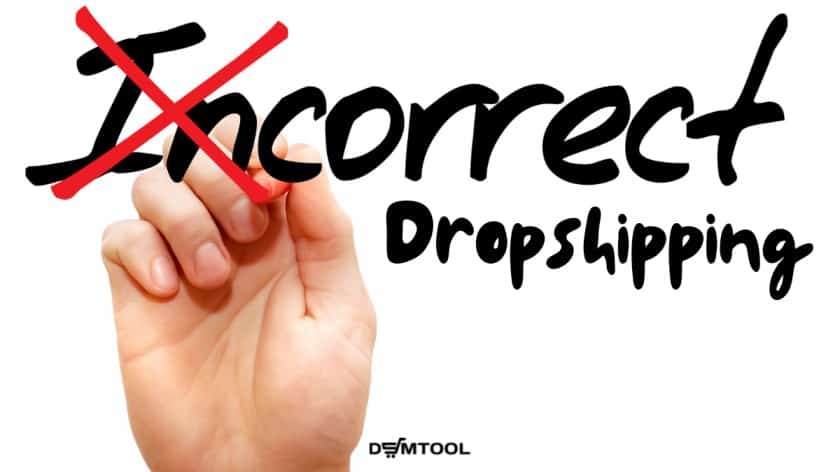 There are different ways to build and start your online store. However, this process helps those who want to start dropshipping with no money.
1. Decide On Your Niche/Product
There are a lot of dropshipping niches and it's easy to fall into a rabbit hole. But it's alright to spend a lot of time on this. As an entrepreneur, it's vital to have the right product to attract your first customers as well as develop your future business.
Here are some reminders:
Look for products you're passionate about
Undertake competitor research by visiting other related dropshipping websites
Just a piece of advice, don't treat this as a get-rich-quick scheme. It isn't. Think long-term and business growth when choosing your product.
2. Find The Right Supplier
Once you have the product you want to sell, the next step is to find a reliable supplier. A trusted one leads to having quality products to sell. Take your time to do research on suppliers by looking for reviews or even contacting them directly.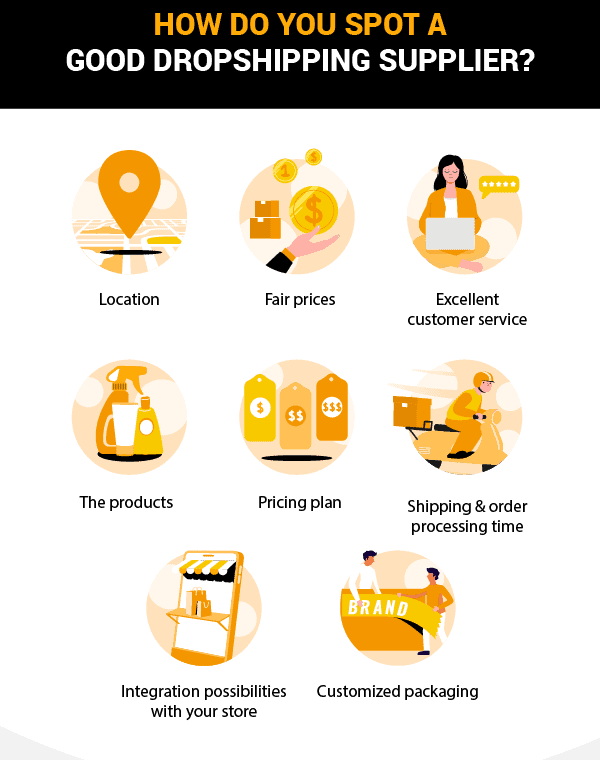 Here are some questions that could help you when contacting them:
How do they ensure customer security?
What's the turnaround time for completing an order?
Is there a return policy or a damage policy for their products?
Do they have a system in place to combat fraudulent transactions?
Make sure that you understand their process before signing an agreement. It's better to ask a lot of questions than deal with disputes down the line, which can lead to bigger problems.
These days, a wide variety of free eCommerce platforms are available for dropshipping. With our list of the top dropshipping platforms above, you already have a head start.
Each platform has its pros and cons, so you'll need to spend a lot of time researching to find a suitable one for you. Additionally, you have to be wary of extra charges involving integrations, plugins, hosting services, and applications.
4. Create Your Store
It's time to turn your ideas into a visual reality. The steps on how you achieve a fully functioning and great-looking dropshipping store will depend on the eCommerce platform of your choice since each platform offers its own themes you could choose from.
As for the overall creation, the process will also depend on the platform of your choice. Shopify, for example, handles pretty much everything, but after a free trial, the service comes with a fee. With a free platform like WooCommerce, you're going to have to do more to get everything set up.
5. Market Your Business
After everything is settled, it's time to promote your dropshipping store. You can get creative with this, especially if you have a very limited marketing budget. This is where your content marketing skills can come in handy.
A good marketing tactic you could do is to send a variety of virtual cards. You could choose the top 5 biggest spenders weekly and send them a personalized card. It could be for a birthday, to say thank you, or even a congratulatory card if you're giving rewards. This will help build a relationship between you and the customers, increasing the chances of them returning.
Moreover, you could use social media platforms. They're powerful marketing tools that you can use for free. Of course, if you want to launch ads on those platforms, there are going to be payments. Additionally, if you have their email address, you can also utilize email marketing.
Starting Dropshipping With No Money: Is It Worth It?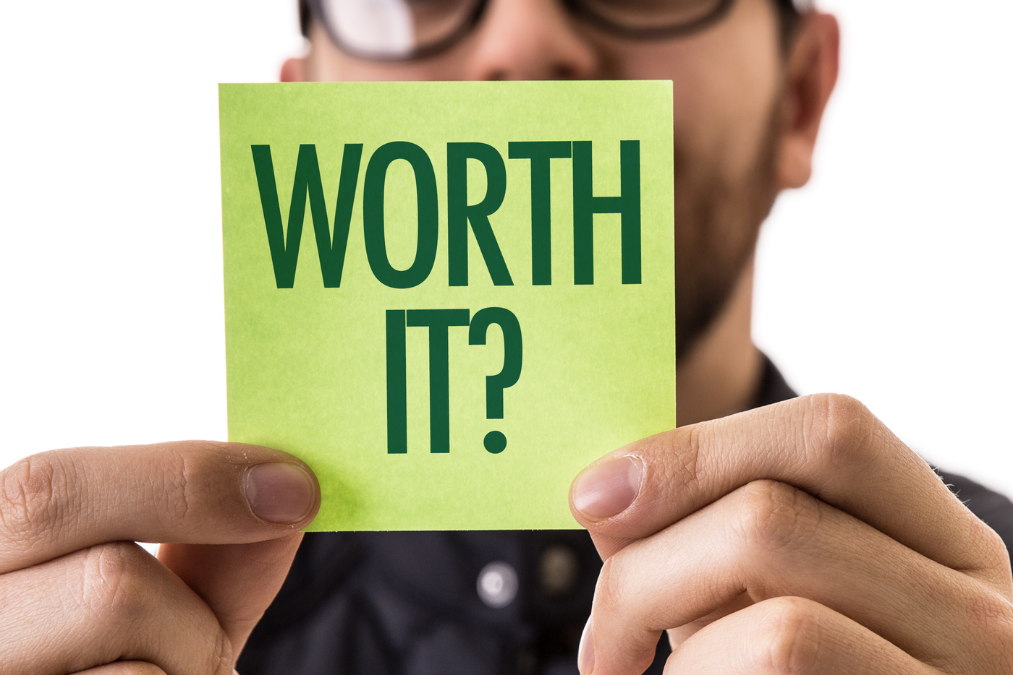 The answer to this question depends on how much work you're willing to put in. Assuming you're committed, then yes, dropshipping can be profitable. The right niche/product, an effective marketing strategy, excellent customer service, and plenty of perseverance can make this a lucrative business.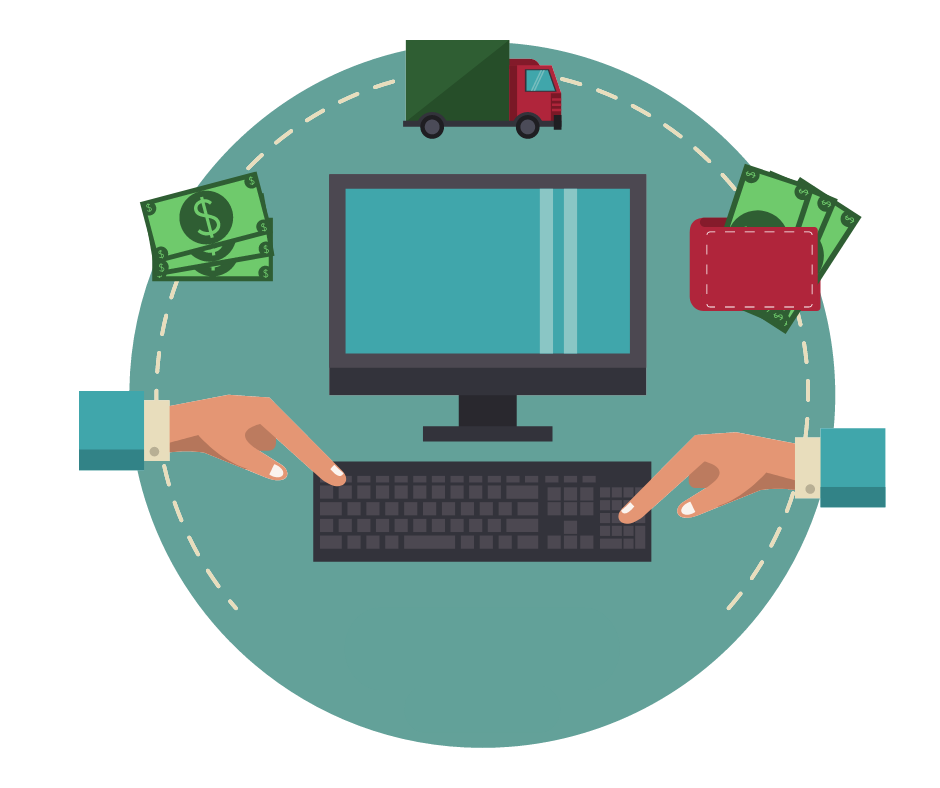 Not yet making money online?
Start your own dropshipping business. Sign up for a free trial of DSM Tool and we'll help you get started. Today is the day.
Dropshipping With No Money: Conclusion
The idea of being your own boss will forever be attractive to almost anyone. Opportunities that allow this to become a reality are always seized. Dropshipping is no different, especially since it takes little to no money to start.
Is it a walk in the park? Absolutely Not.
Dropshipping with no money will require a lot of time and effort. With all the research and learning new skills, you have to seriously commit. If you continuously dedicate yourself, you're going to reap the rewards.
Nonetheless, it's important to remember that there is no forever-free option when it comes to anything dropshipping-related. You're going to have to spend money sooner or later.
Whenever you are ready to scale your dropshipping business, you can always enlist DSM Tool's help to make running your dropshipping store easier as it grows. We have free and premium plans you could check out to find what's suitable for your business size. Don't hesitate and click on the "Sign Up" button.
Got any advice on how to start dropshipping for free? Let us know in the comments!
About the author: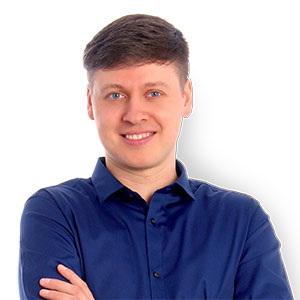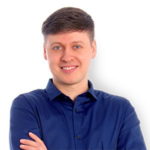 Burkhard Berger is the founder of Novum™. Follow Burkhard on his journey from $0 to $100,000 per month. He's sharing everything he learned in his income reports on Novum™ so you can pick up on his mistakes and wins.