30

min read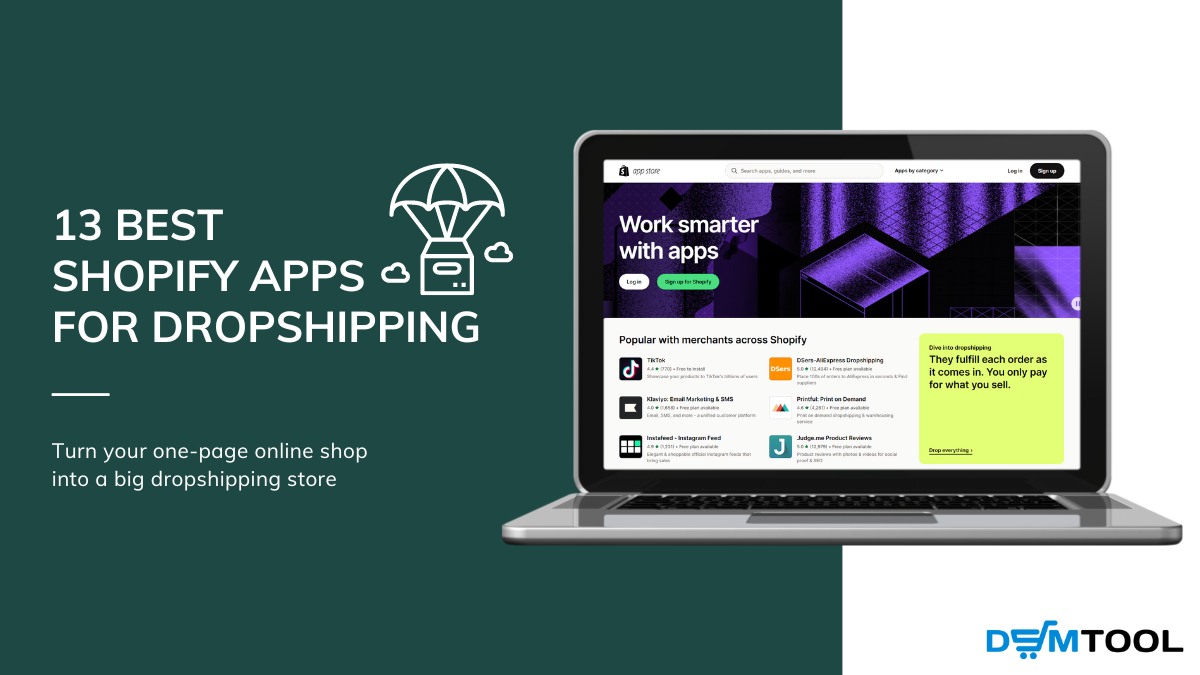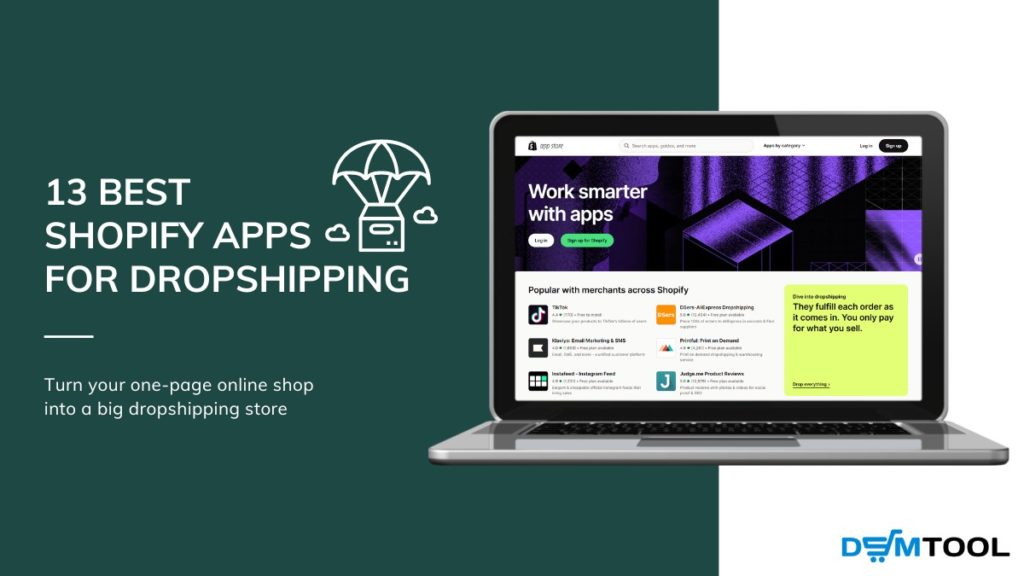 Many dropshipping beginners start their business journey with Shopify due to its numerous advantages. But to turn your one-page online shop into a big dropshipping store, you must utilize the best Shopify dropshipping apps.
As you might know already, Shopify is one of the most beginner-friendly eCommerce platforms. It aims at usual internet users as the target auditory, so you don't require technical knowledge to use it, and it requires a little time and effort to learn the platform. Just register, subscribe, choose a theme and start filling your store. Their back-end interface is the most logical, intuitive, and simple to navigate.
Various guides frequently state that you can set up a Shopify store in 15 minutes. It is true if you consider a store to be a nearly empty website with one product or the inscription "Hello, world!". However, it is indeed simple, and you can create a fully functional, attractive store filled with products in a matter of days.
But what about the long-termed perspective? What makes Shopify a viable choice not only for small shops but also for well-established big online stores? What makes the platform both robust and flexible at the same time? The answer is Shopify dropshipping apps.
What To Know About Shopify Dropshipping Apps?
Before moving to the list of the best Shopify dropshipping apps to use, there are a few things to learn if you want to make the right choice when choosing which Shopify plugins to use.
I will not dive into what is a dropshipping business model. You probably know this already if you are reading this article. If not, or if you want to learn more, check out this What is dropshipping? guide.
What are Shopify apps or Shopify plugins? You can think of them as small "programs" that enable additional functions and features for your store. Shopify apps can either improve existing features or add new ones. Using Shopify apps will help improve your ranking on search engines (SEO), enable successful marketing campaigns, boost customer engagement through loyalty and affiliate programs, increase conversion rate, reduce abandoned baskets, and improve overall customer experience.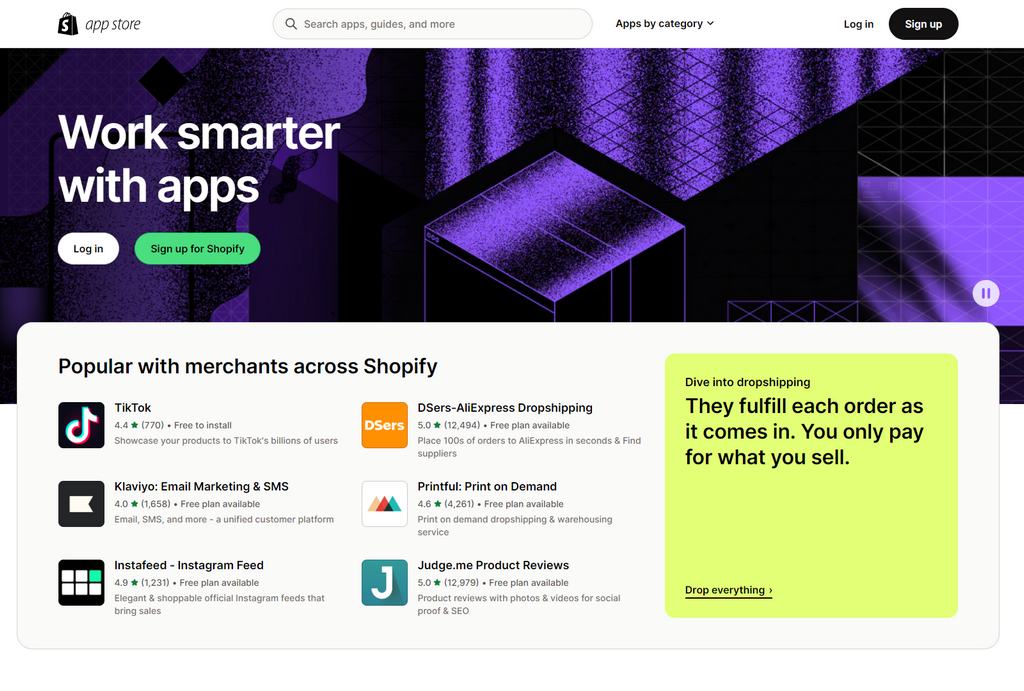 Currently, there are over 7000 Shopify extensions available on the Shopify App Store. Over 4000 of them are offering a free plan. Overall, Shopify classifies them into the following categories:
Find products to sell – Dropshipping apps, print on demand, migrate your own products.
Bring in customers – Run ads, be easy to find (SEO apps), and reach out via email or text.
Deliver the goods – Inventory and fulfillment, better Shopify shipping apps, local delivery.
Sell more stuff – Offer discounts, show reviews, and sell on different sales channels.
Customize your store – Build custom pages, add videos, and optimize images.
Scale the business – Manage finances, measure success, and optimize your operations.
It should be noted that though many Shopify apps state to offer a free plan, the more advanced and useful features are available on paid plans only.
What Are Shopify Dropshipping Apps?
Now, this is something I was stuck on thinking about – what to consider as dropshipping apps? Are these the plugins for sourcing products from dropshipping suppliers, adding items to your Shopify store, updating prices and inventory for you, and fulfilling orders? Or all the plugins used by dropshipping stores?
I've settled on the first definition since I already covered the majority of plugins used by dropshipping stores in my guide Must Have Shopify Apps Your eCommerce Shop Needs. Why repeat the same? So the point is, the plugins you will find here are Shopify dropshipping apps, not Shopify apps for dropshipping in general.
The same goes for Shopify print-on-demand apps. While you will find such plugins as Printful and Printify in most other guides about "X Best Shopify Dropshipping Plugins", they are not on this list. You can find them in my Print On Demand Shopify Apps: Best Print On Demand Companies In 2023 guide.
There are many Shopify apps, but you need to know that not all of them are good, especially the free ones. Some are too difficult to install and configure properly, and others will slow down your store loading speed. Some are just not as good as other options. That is why I put together the list of the best Shopify dropshipping Apps. All these plugins tested by thousands of users provide significant improvements or additional features and are either free or have a high value-to-functionality ratio.
13 Best Shopify Dropshipping Apps
1. CJDropshipping – Chinese Products From US Warehouses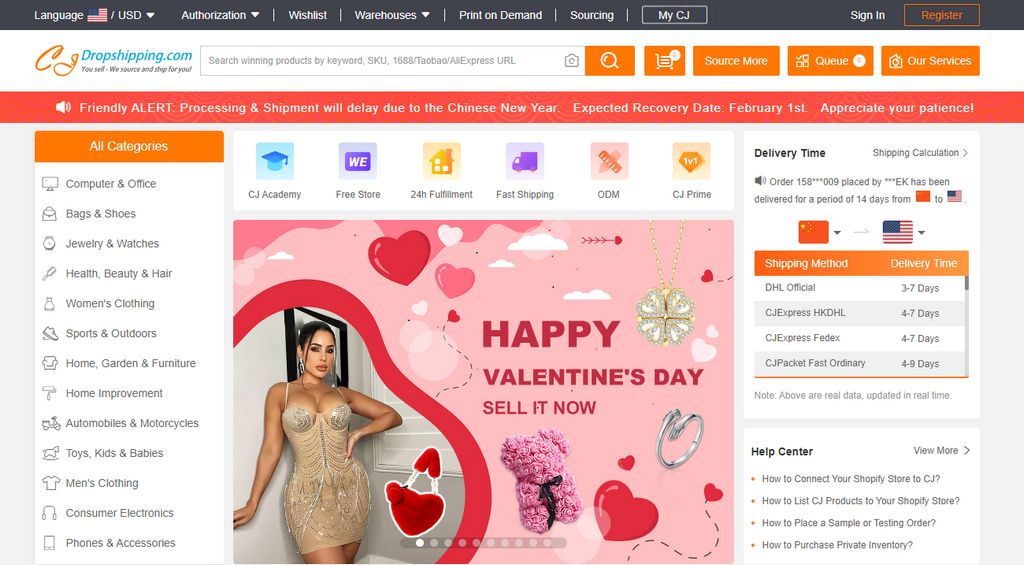 Rating: 4.8 from 2865 reviews.
Pricing: Free. Fees per order.
CJDropshipping is a Chinese company that provides a one-stop solution for dropshipping. They source products, process and fulfill orders, and ship to buyers.
CJDropshipping stock products from every imaginable category and even offer print-on-demand. In addition, they provide warehouse services, photography and videography, an affiliate program, API support, and other value-added services.
They source products from 1688 and Taobao and their prices are often lower than what you'll find on AliExpress. They can also source products on your demand. Besides, CJDropshipping performs the product's quality checks to ensure high quality.
Their best features are:
Custom sourcing – They can source products not listed on the website by request. It allows you to buy products from different Chinese suppliers that don't have English support, like Taobao.
Additional services – Warehouse services, photography and videography, print-on-demand, custom packaging and branding, and more.
Quality – They check products before shipping to ensure that items meet your requirements.
Wholesale dropshipping – Bulk orders with lower prices.
The CJDropshipping app is free to use with fees per order.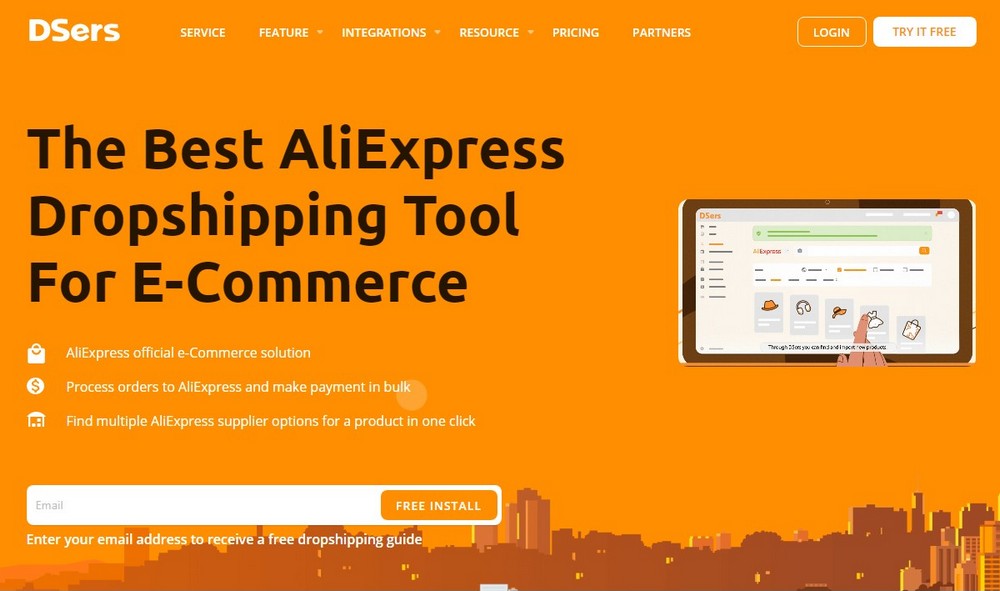 Rating: 5.0 from 12508 reviews.
Pricing: Free | $19.90/month | $49.90/month | $499/month. 14-day free trial.
DSers is AliExpress dropshipping software for placing orders, managing inventory, and tracking orders. It is one of the top-rated Shopify dropshipping apps that helps you source hot products from the best AliExpress suppliers and allows you to process hundreds of orders in bulk.
Some of its main features include:
Unified order management – from checking product stocks to checking delivery updates – you can manage your orders on Shopify in one place.
One-click publishing – importing and publishing desired products from a CSV file or AliExpress store in a click.
Automated order placement – the service picks data of Shopify sales automatically and places orders on AliExpress.
Product grouping and pricing models – DSers enables you to create cost or product groups, based on which you can assign different pricing rules.
Notifications support – improve user experience by sending delivery notifications.
The free plan allows bulk orders, basic mapping, managing three stores & 3000 products, automated orders, and tracking status sync. Pro plans enable more stores & products, advanced & bundle mapping, and AliExpress affiliates.
Tip
China has grown to be the center of sourcing and manufacturing of products that are being shipped to various parts of the world. Learn Why do dropshipping from China?
3. Dropshipman (DSM) – Ali Dropshipping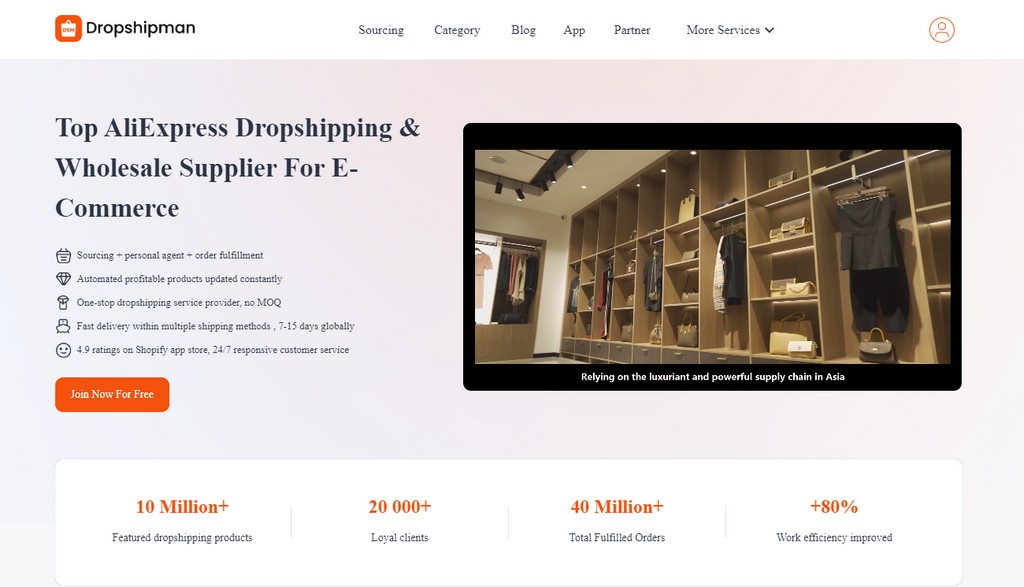 Rating: 4.9 from 1055 reviews.
Pricing: Free | $19.90/month. 180-day free trial.
DSM is another Shopify dropshipping app that enables you to import products from AliExpress to your Shopify store and automate order fulfillment with 7-15 day shipping. Besides sourcing services, Dropshipman offers various label & packaging, warehousing, shipping, and quality inspection services.
Some of their main features are:
Import products in bulk – batch import products from the DSM product library and import them from AliExpress via the plugin.
Product sourcing – send your requests for free, and DSM will source them within 1-3 days.
Order management – one-click batch ordering and real-time tracking of order status.
Customized packaging – customized packaging helps to create your own brand.
On the free plan, you have access to bulk importing products, sourcing & fulfillment with no MOQ, and order tracking number updates. The paid plan brings advanced features like 500 AliExpress products update and Shopify inventory address updates.
4. Spocket – US & EU Dropshipping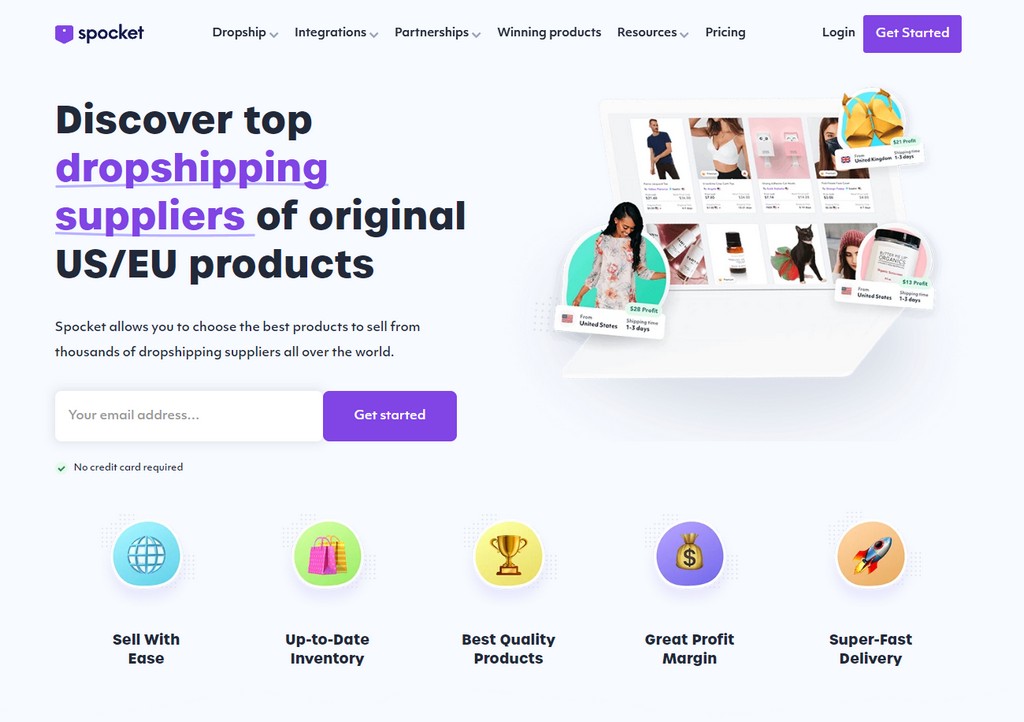 Rating: 4.7 from 3416 reviews.
Pricing: Free | $29.99/month | $49.99/month | $99.99/month. 14-day free trial.
Spocket Shopify dropshipping app allows you to find winning products with fast shipping from suppliers in the US, Canada, Europe, United Kingdom, Asia, and Australia and import them to your Shopify store in a few clicks. While Spocket is one of the more expensive solutions, it is trusted by over 25000 sellers worldwide, which is also due to exceptional customer service.
What makes them the best? Spocket provides various advanced order management and fulfillment features and automations. But on top of that, you get the following:
Higher-quality suppliers and products – with access to suppliers from US and Europe, Spocket provides higher-quality products and suppliers than most other Shopify dropshipping apps.
Speedy delivery times – you can expect 2-5 delivery because 90% of your orders will be fulfilled by local suppliers due to the worldwide supplier network.
Product discounts – Spocket offers its products at huge discounts for its sellers.
Exceptional customer service – Spocket provides outstanding 24/7 customer support with 2 minute average response time.
On the free plan, you get access to the catalog of over 5M US/EU products and AliExpress dropshipping. Paid plans provide unique and premium products, branded invoicing, image search, direct messaging with suppliers, and product requests.
Find out more about Spocket in our comprehensive Spocket dropshipping review.
Tip
Spocket is also one of the best CBD dropshipping suppliers. Because of the nature of CBD and medical regulations, it can be much more complicated to dropship CBD products. It entails a unique set of challenges and legal issues. You can learn more in our guide Dropshipping CBD in 2023: The Proper Way.
5. Zendrop – Best Dropshipping App For Shopify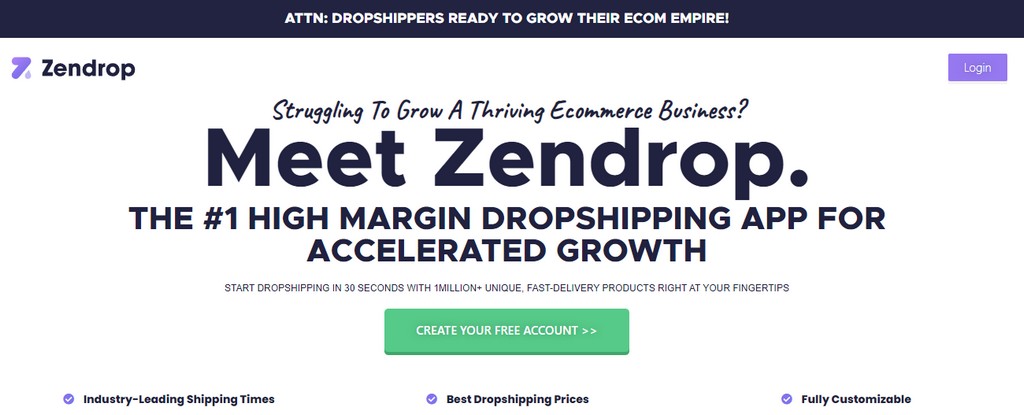 Rating: 4.7 from 3919 reviews.
Pricing: Free | $49/month | $79/month. 7-day free trial.
Created by dropshippers who were frustrated by relying on suppliers from AliExpress to run their business, Zendrop aims to be the best dropshipping solution by working directly with suppliers and manufacturers. It's one of the largest eCommerce dropshipping platforms, claiming to have helped over 250K dropshippers grow their businesses.
Zendrop Shopify dropshipping app integrates a complete end-to-end solution that includes product sourcing, inventory management, order fulfillment, and shipping. Here are some of their benefits:
Brand development – get help from a team of eCommerce experts who can help you with all aspects of brand development, from product ideas to marketing strategy.
Product sourcing – in addition to the repository with over 100K products, you can request Zendrop, and they will source products for you.
Subscription box service – automates payment and shipping process for your subscription boxes.
USA warehouses – it allows faster and cheaper shipping to your US customers and reduces the risk of lost or damaged products (products don't have to travel as far). You can pre-order and stock the inventory in US warehouses to lower shipping times to 2-3 days.
You can use the Zendrop dropshipping plugin Shopify for free, with access to over 1M products and unlimited imports to your store. But to get the benefits, you have to subscribe. Paid plans bring automated order fulfillment, product sourcing, custom branding, US products, product bundles, and more.
6. DropCommerce – US Dropshipping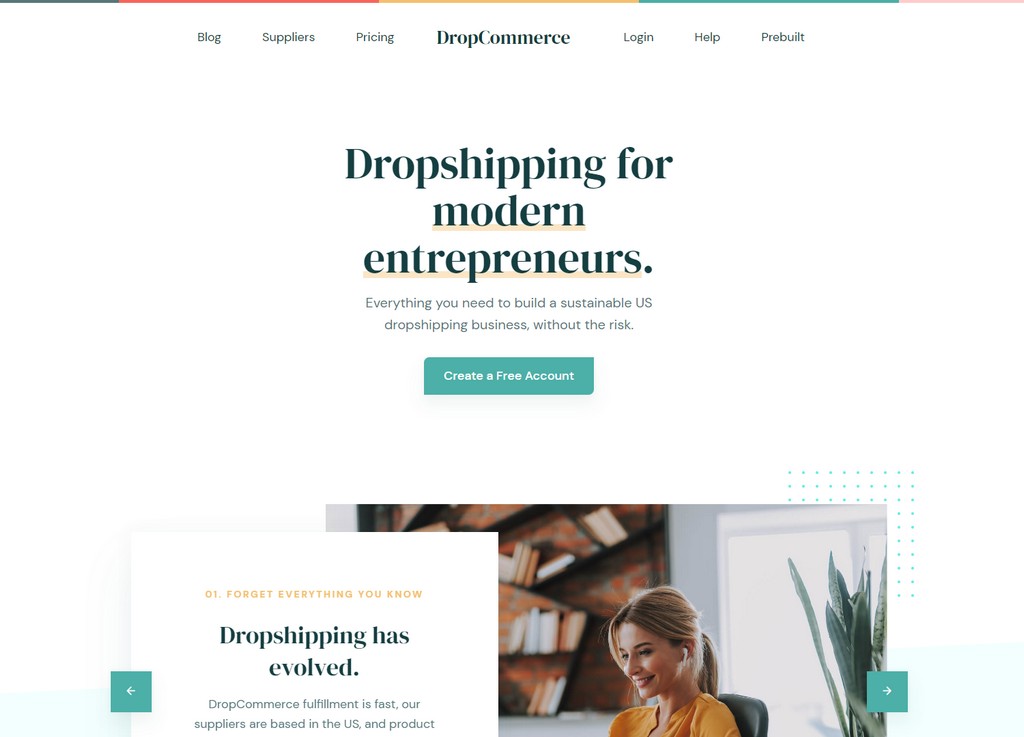 Rating: 4.3 from 319 reviews.
Pricing: Free | $19/month | $49/month | $89/month. 14-day free trial.
DropCommerce offers high-quality products from USA and Canadian suppliers: eco-friendly, fairtrade, vegan, and handmade. The service provides fast and reliable shipping with delivery within 2-7 days. To make it better, DropCommerce guarantees order delivery or a full refund. But there is more! The platform only features suppliers and products hand-picked by the team to ensure high product quality with a 30% to 60% profit margin.
Here are a few features that distinguish DropCommerce from other Shopify dropshipping apps:
Suppliers verification – strict verification process with background checks for all suppliers on the platform.
US and Canadian suppliers – there are over 300 dropshipping suppliers on the platform, and all of them are from USA and Canada.
Fast delivery – shipping from local suppliers is always the fastest. That is if your target audience is USA and Canada. Otherwise, you should look for another company.
Product quality – DropCommerce focuses on product quality and supplier reliability.
When it comes to pricing, DropCommerce underwhelms compared to other Shopify dropshipping apps. The reason is that on the free plan, and even on the Basic that costs 19/month, you don't get any features. The free plan allows browsing products and suppliers, and ordering product samples, while The Basic plan allows importing 25 products. To get any of the actual dropshipping features, you need to subscribe to higher plans.
7. Syncee – Global Dropshipping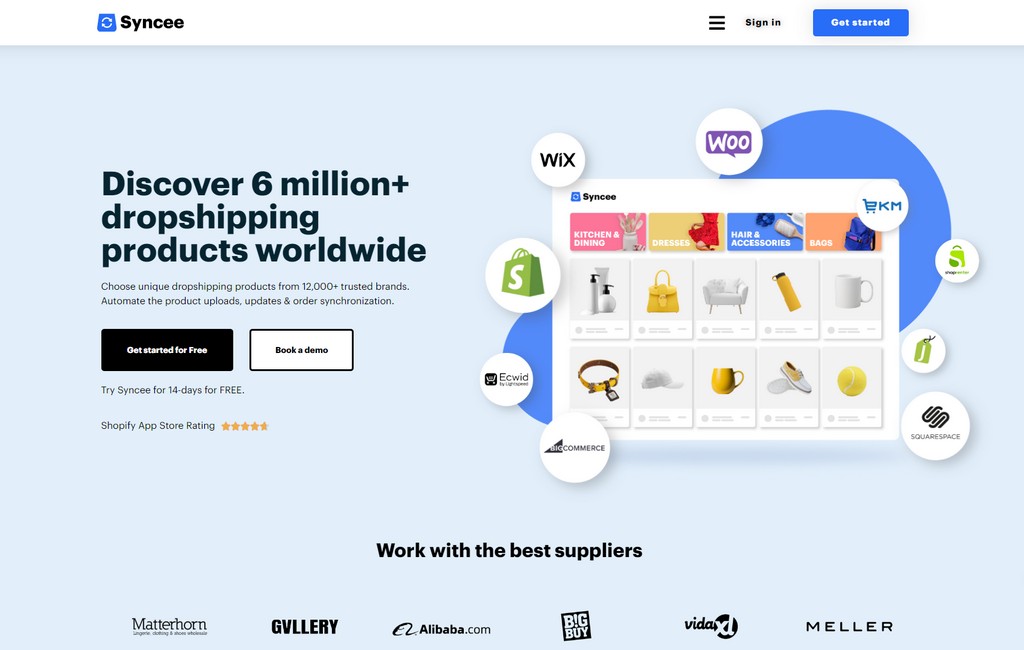 Rating: 4.7 from 986 reviews.
Pricing: Free | $29/month | $49/month | $99/month. 14-day free trial.
Syncee is another long-established Shopify dropshipping app that provides users with winning products and reliable suppliers from the US, UK, Europe, Australia, and across the globe. With over 5 million products from 40 categories and 12,000 brands, Syncee is one of the biggest global B2B dropshipping platforms. Huge inventory and a network of global and local suppliers make it a great choice for those who just started a new dropshipping business and are looking for products to sell.
Besides the usual sourcing and order fulfillment services, Syncee offers the following benefits:
Vetted suppliers – only pre-vetted suppliers make it to the database to ensure product quality and supplier reliability.
Direct messaging with suppliers – you can communicate with suppliers directly to ask all the questions you need.
Custom suppliers – besides the list of available suppliers, Syncee allows you to upload products from any other supplier of your choice.
Global network – with a network that connects suppliers around the world, you can dropship globally or locally while keeping fast shipping.
The free plan gives you access to 5M+ products and suppliers from the US, CA, EU, UK, AU, and more, product sourcing, and dynamic pricing settings. You have to subscribe to be able to import products to your store. Higher plans provide more product listings, advanced features, and perks like 2/day inventory auto update and access to premium products.
8. Spreadr – Amazon Importer App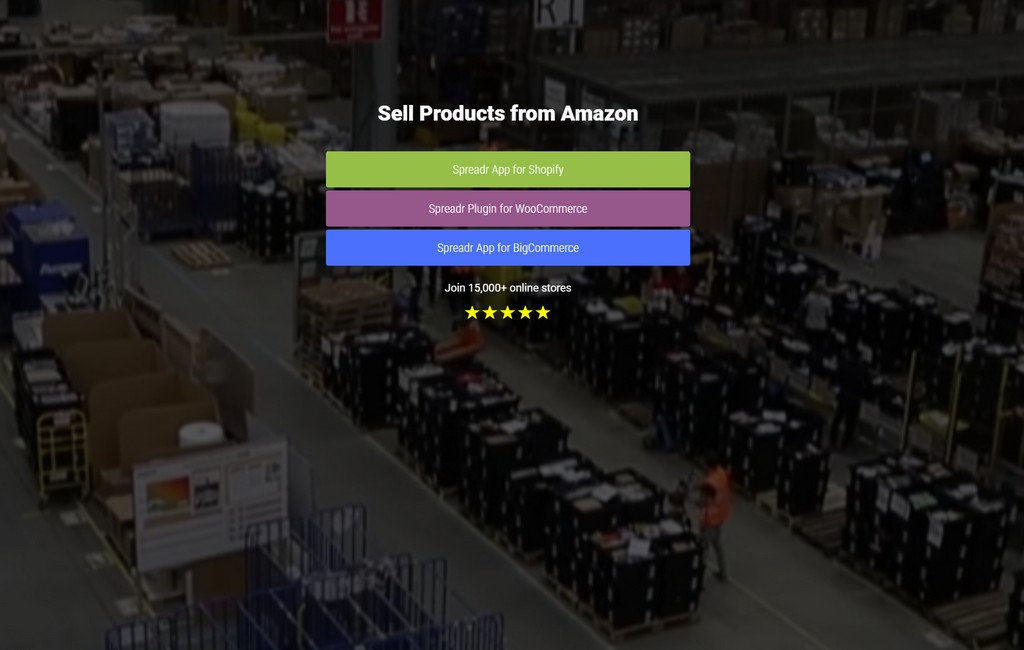 Rating: 4.8 from 1307 reviews.
Pricing: $5/month | $10/month | $20/month. 7-day free trial.
Spreadr Amazon Importer App differs from the rest of Shopify dropshipping apps on the list – the service doesn't fulfill any orders. Why? Because Amazon does that for you!
This Amazon to Shopify dropshipping app is among the best tools for finding hot items on Amazon and importing them to your Shopify store via Amazon API. Because of the API, your store appearance and feel will match that of Amazon products. You can customize product titles and descriptions to improve SEO, while Amazon will handle everything related to orders.
Actually, you have two options: dropship or affiliate income. The first option is to fulfill orders yourself and use Amazon for sourcing, like in usual dropshipping. The second option is to join the Amazon affiliate program for your products to redirect your customers to Amazon, and you earn money on each such sale.
Here are the main benefits of using Spreadr:
Saturation – Spreadr notifies you when you have the same product as someone.
Uninstall proof – after deleting the app, imported products continue to link to Amazon allowing you to earn commissions.
Hot products – Spreadr shows you which products are already best-selling on Amazon.
The free plan is available for affiliate and Shopify staff stores only, all other sellers have to subscribe. The plans differ in the number of available advanced features.
9. Trendsi – Best Shopify Apps For Dropshipping Clothing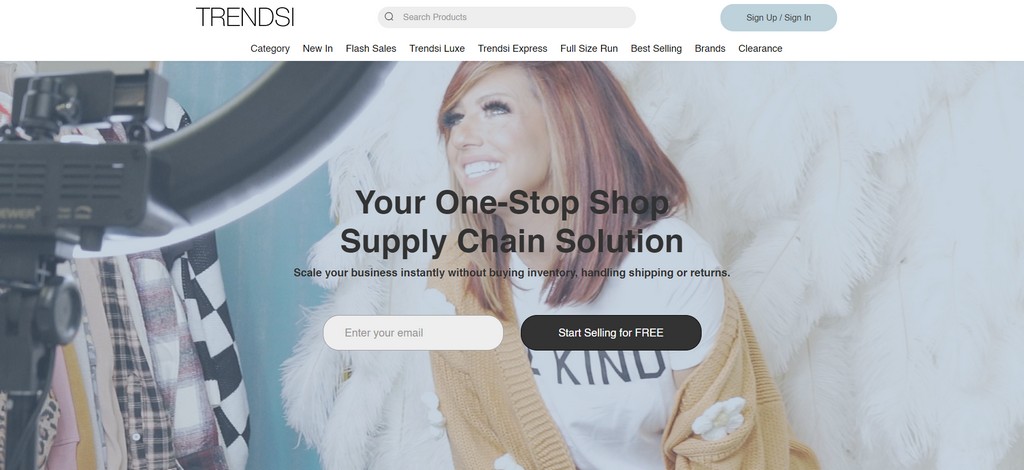 Rating: 4.9 from 1502 reviews.
Pricing: Free to use.
Trendsi is among the newer Shopify dropshipping apps, but it already scored a rating of 4.9 from more than 1500 reviews. The service is focused on the fashion industry and connects customers with suppliers who provide in-tend boutique-style apparel and jewelry at competitive prices.
Trendsi sources quality US brands and trusted products from other countries with higher profit margins, packs and ships to your customers with branded invoicing, and handles returns. The only downside is that the service provides only women's clothing.
Trendsi offers all the fulfillment features you need. Here are some of their best features:
USA warehouses – it allows faster and cheaper shipping to your US customers and reduces the risk of lost or damaged products (products don't have to travel as far).
No monthly fee –you only pay for the products you buy.
Professional photography – Trends has In-house photographers to provide top-quality images for your store.
Trendsi dropshipping plugin Shopify is free to use. Sellers pay product & shipping fees before Trendsi fulfills orders.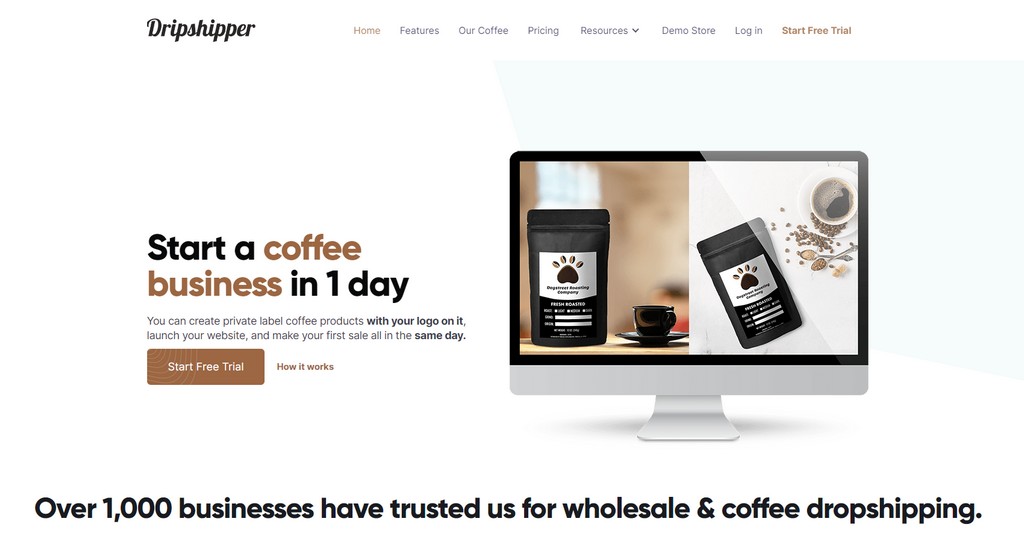 Rating: 4.2 from 219 reviews.
Pricing: $30/month | $99/month | $197/month. 14-day free trial.
Coffee! I love coffee! Even if you don't like this divine drink, dropshipping coffee might be a very profitable business.
The global coffee market was valued at USD 102.02 billion in 2020 and is projected to record a CAGR of nearly 6.2% over the period from 2020 to 2026, thus reaching revenue worth USD 155.64 Billion by 2026.
Dripshipper is the best Shopify coffee dropshipping app, with a rating of 4.3 stars from over 200 ratings. They ship freshly roasted coffee from their facilities in the USA within 3-5 business days from when the order was placed and label it with your own brand. The service also enables you to offer a coffee subscription, so your customers can replenish their supply regularly.
What makes Dripshipper the best? Such features as:
Top-quality – Dripshipper works with the best US suppliers and all coffee is roasted the same day it ships.
Fast Shipping – all orders ship from USA suppliers within 3-5 days.
Branding – upload your own custom label design or use their templates.
Dripshipper provides all the fulfillment services in all subscription plans. Higher plans offer live training, a dedicated success manager, and priority support.
11. Modalyst – Dropshipping & POD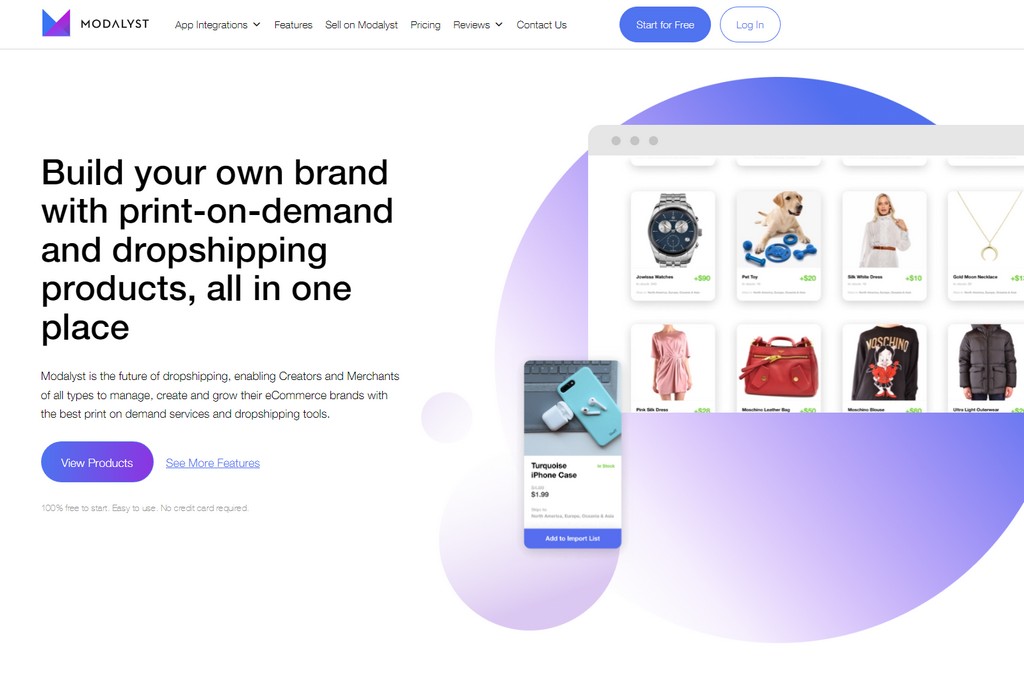 Rating: 3.9 from 655 reviews.
Pricing: Free | $35/month | $90/month. 5% transaction fee per order.
Modalyst dropshipping plugin Shopify operates a supplier network that connects you to US and international companies with relatively fast shipping. The service is often considered a general dropshipping supplier because it provides products from over 40 different categories. At the same time, Modalyst focuses on fashion & name-brand products and well-known brands like Calvin Klein, Dolce & Gabbana, Timberland, Diesel, and Puma. Modalyst is also an official partner of the AliExpress Booster Program for dropshipping and provides stores with direct AliExpress product and supplier connections.
Here are the main benefits of working with Modalyst:
Fast shipping – shipping times are faster than most other Shopify dropshipping apps.
Name-brand products – you can stock your store with brands that people recognize and trust.
POD products – you can diversify your store with unique print-on-demand products.
Free for <25 products – you can use the service for free until you have less than 25 unique products listed on your store.
It should be noted that lately, the Modalyst Shopify dropshipping app has received negative reviews due to all kinds of issues.
You can use the Modalyst for free until you have less than 25 unique products listed. Higher plans offer more products, but only the pro plan allows premium suppliers. Also, note that the platform charges a 5% transaction fee per order for every plan they offer.
12. Dropified Shopify Dropshipping App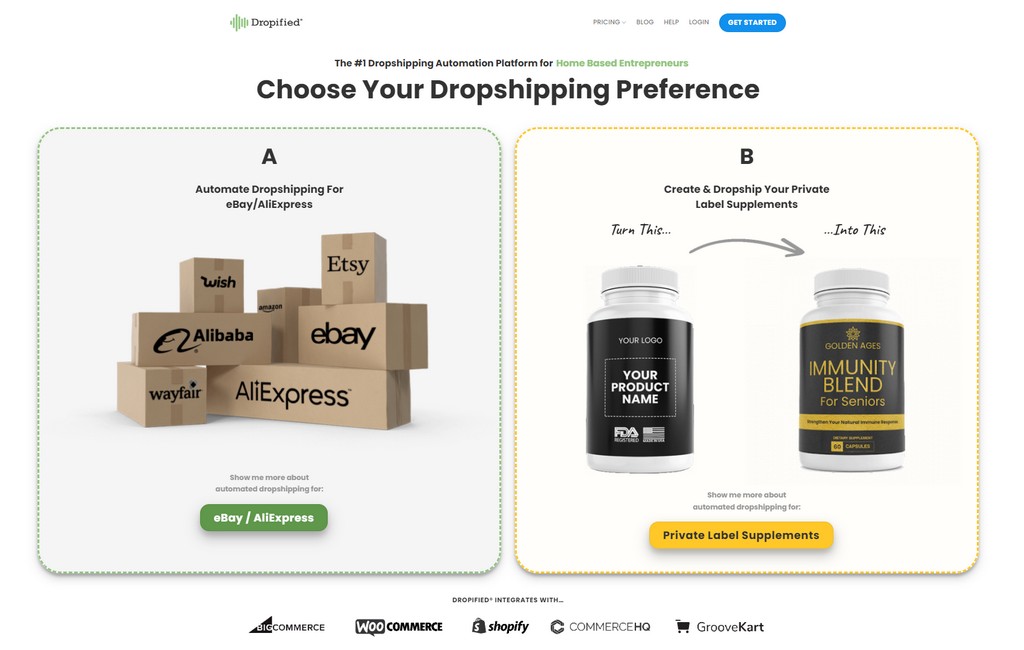 Rating: 4.6 from 294 reviews.
Pricing: Free + 10% fulfillment fee | $47/month | $97/month. 14-day free trial.
Dropified is one of the older Shopify dropshipping apps on the list – it started in 2015 as Shopified. With Dropified, you can source products from AliExpress, eBay, Alibaba, and many other supported suppliers.
On top of what other services on the list offer, Dropified provides features that make it easier to market your products, such as automated email campaigns and detailed analytics. It syncs with well-known marketing platforms like Admitad, BOGO, and others. Another perk of using Dropified is the AliExpress API to process orders in bulk automatically.
The platform integrates powerful automation tools like Zapier to automatically respond to reviews, add customers who leave positive reviews to your email list, share positive reviews to your social media accounts, and send follow-up emails. Here are some of the perks you get with Dropified:
Multiple suppliers per product – assign multiple suppliers to a single product or its variations.
Product bundles – create product bundles from different items & suppliers, and Dropified will fulfill such orders automatically.
Integrations – powerful automation and marketing tools to help sell your products.
Free for 25 products – you can use the service for free so long as you have no more than 25 products listed on your store. Dropified charges you a 10% fulfillment fee.
Private-label branded supplements – not many suppliers offer supplements, and Dropified is one of the best sources for such products.
You can use Dropified for free so long as you have no more than 25 products listed on your store. Dropified charges you a 10% fulfillment fee. Paid plans remove fulfillment fees and provide unlimited products and advanced features.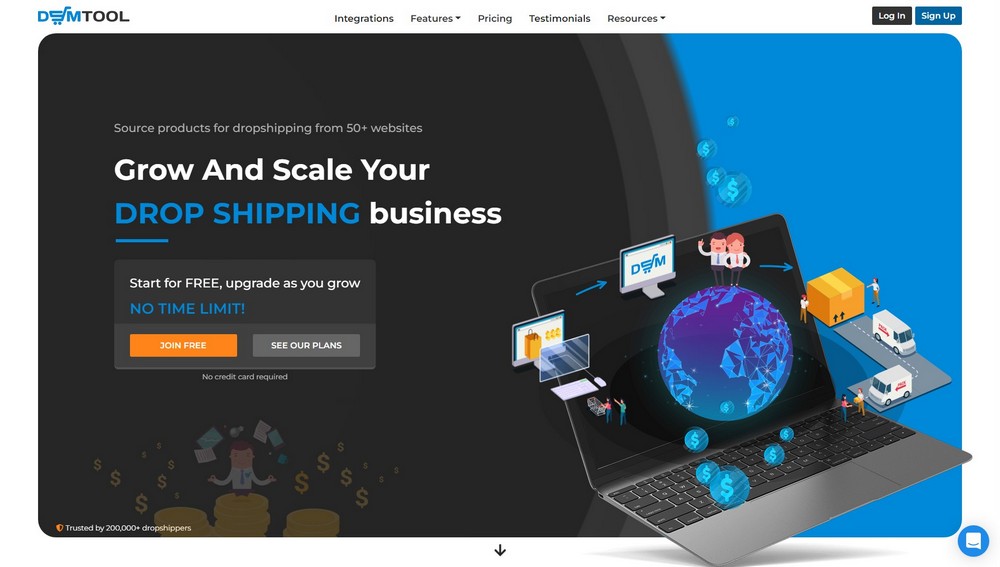 Pricing: Free | $24.97/month | $99.97/month | $499.97/month
DSM Tool differs from the rest on this list because this is not a Shopify extension that you need to install, but software that connects to your Shopify store. This is dropshipping automation software for listing on Shopify and eBay that saves you time by automating all the routines like checking items' prices and stock and updating products on your store. Here is what you get by using DSM Tool:
List products in 1 click – choose a product from another website and import it in 1 click​ or import and list multiple products in bulk.​
Price & Stock is Automatically Synced – the products you source are being monitored and updated multiple times per day for price changes and stock levels at the supplier​.
Simple and Smart Orders Processing – Manage the status of the order and update your buyers with tracking info in 1 click​.
Auto Ordering system – your orders are processed automatically by robots.
The Free plan allows up to 10 listings from AliExpress and includes price and stock change monitoring, auto restock, and listings SEO optimization. Paid plans give access to additional sources and advanced features like bulk product lister, scheduled listings, auto-messages, virtual assistant access, pricing strategies, and higher limits.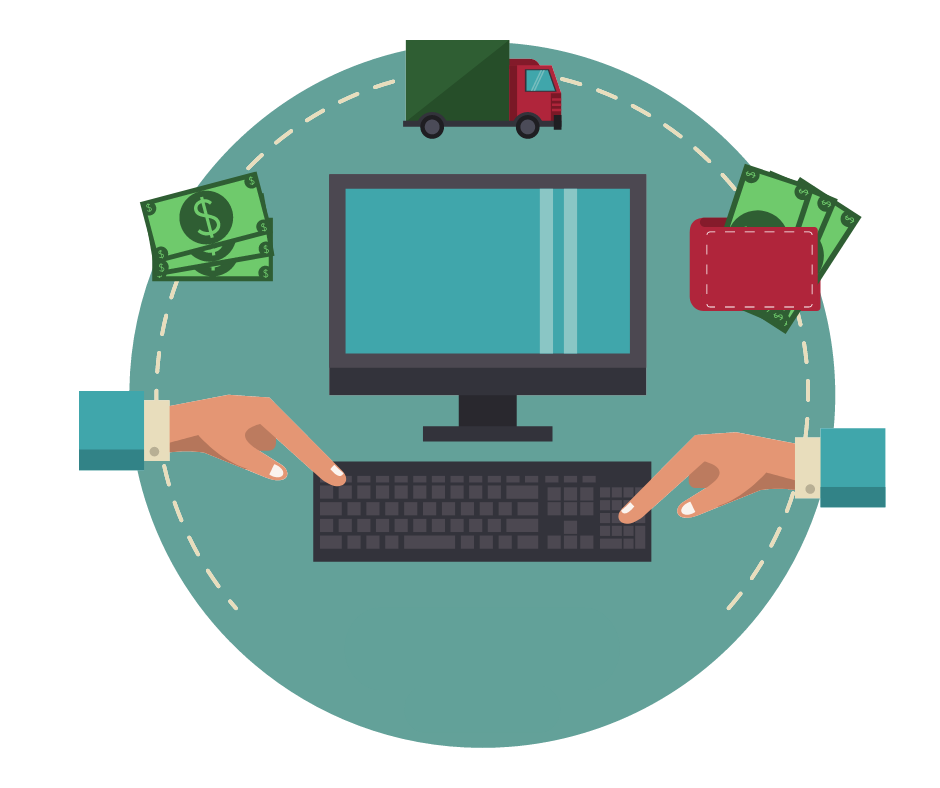 Not yet making money online?
Start your own dropshipping business. Sign up for a free trial of DSM Tool and we'll help you get started. Today is the day.
Shopify Dropshipping Store Examples
If you haven't started dropshipping yet or looking for how to improve your online shop, you can learn from these Shopify dropshipping stores. Analyzing successful Shopify dropshipping stores is a great way to learn from the best eCommerce sellers. By analyzing their traffic, advertisements, marketing campaigns, and strategies, you can get some ideas about store design, products to sell, suppliers, and price strategies.
1. Inspire Uplift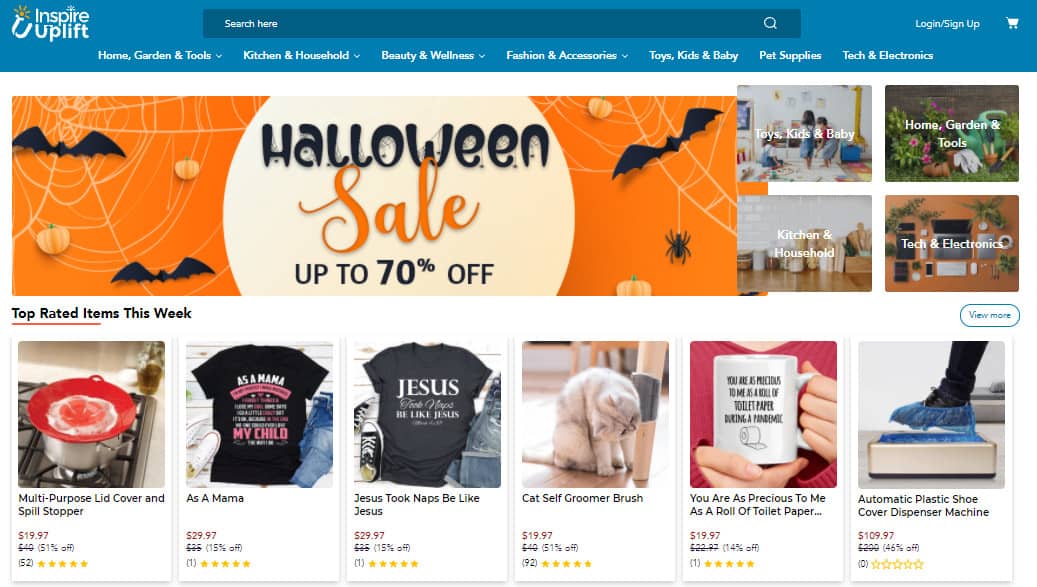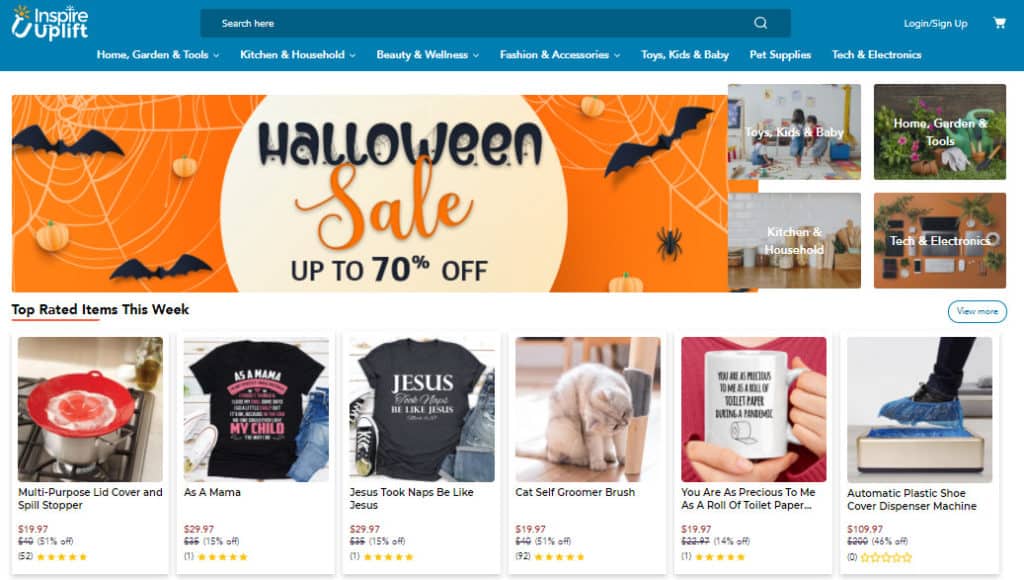 Inspire Uplift is a great example of a general dropshipping store. They have been in business for a long time, though they recently switched from Shopify to Magento. They are getting a ton of traffic each month.
Here are some things that you can look at on this Shopify eCommerce Website:
The sale pages are all laid out the same way. Loads of product images and every single page includes customer reviews with photos. New reviews won't appear as we know they have stopped collecting them, though this is still a great way to earn your audience's trust and see what product is really popular.
Live chat is a creative addition to the store.
Help Center has many FQAs and you will easily find the answer to your question.
You'll find them on the most popular social commerce platforms.
2. Best Choice Products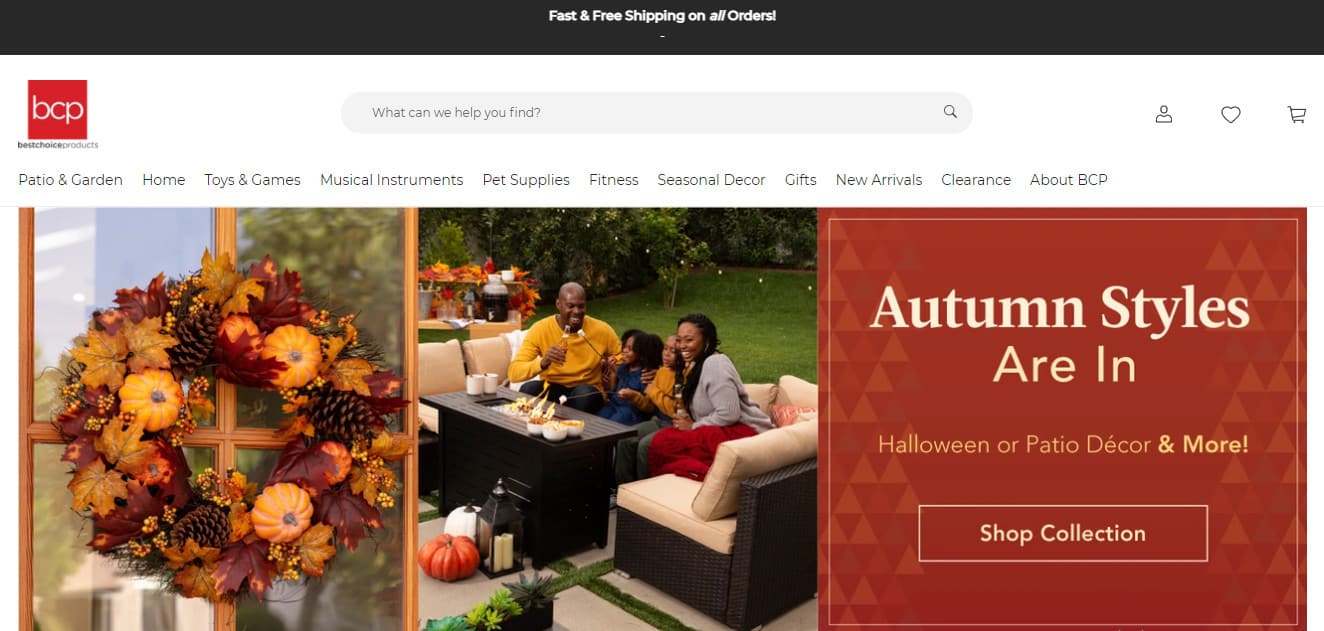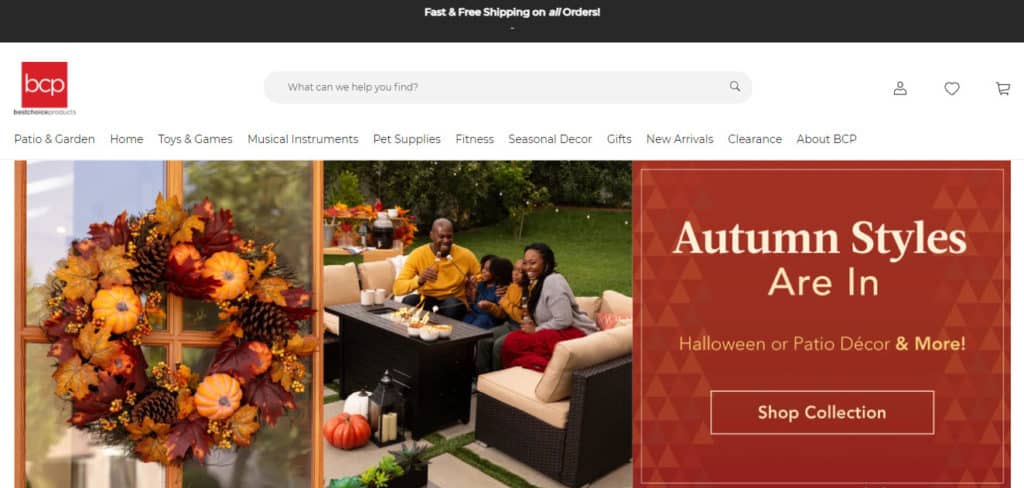 Best Choice Products is a general dropshipping store that includes best sellers from a handful of categories. Whenever you have a product that is selling well, it's wise to feature it on the front page to drive more sales.
Furthermore, we all know that social proof provides confident buyers.
This dropshipping website took it one step further by encouraging buyers to take pictures of their products with the hashtag #mybcp. To make it easier for you, try Flick to analyze and find the most viral and trendy hashtags.
Here are some things that you can look at in this Shopify eCommerce store:
One of the great features they have is a 'best-selling products' section on their front page, where we can view product ratings without clicking on each one.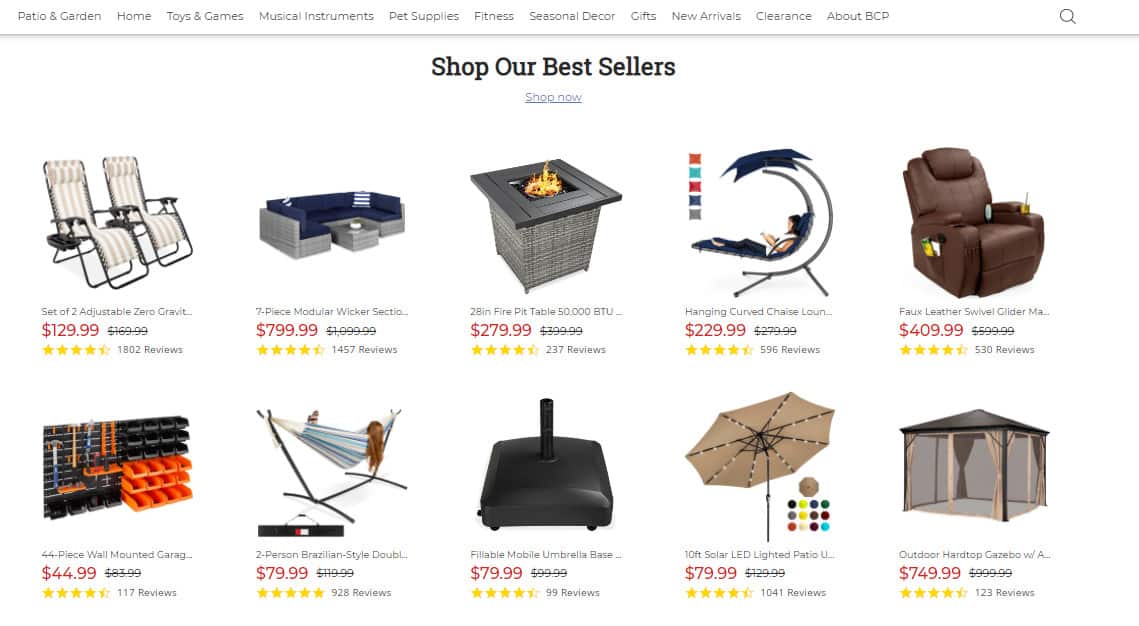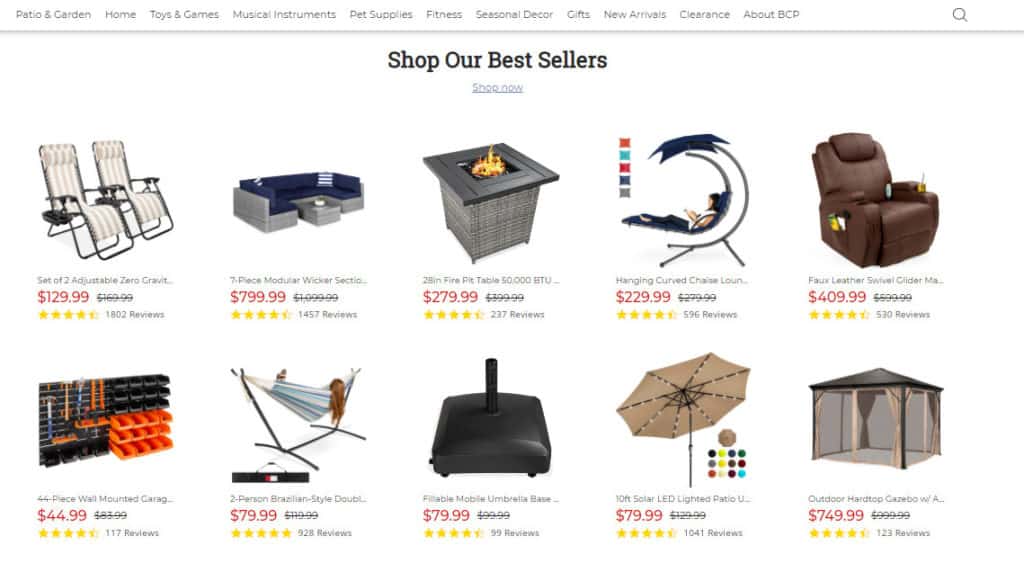 Creativity is on the TOP! Since we are living in an in-demand selfie & hashtag world, buyers are quick to cooperate. This helps build actual social proof for your website, not just by importing our suppliers' reviews.
3. Best Shopping US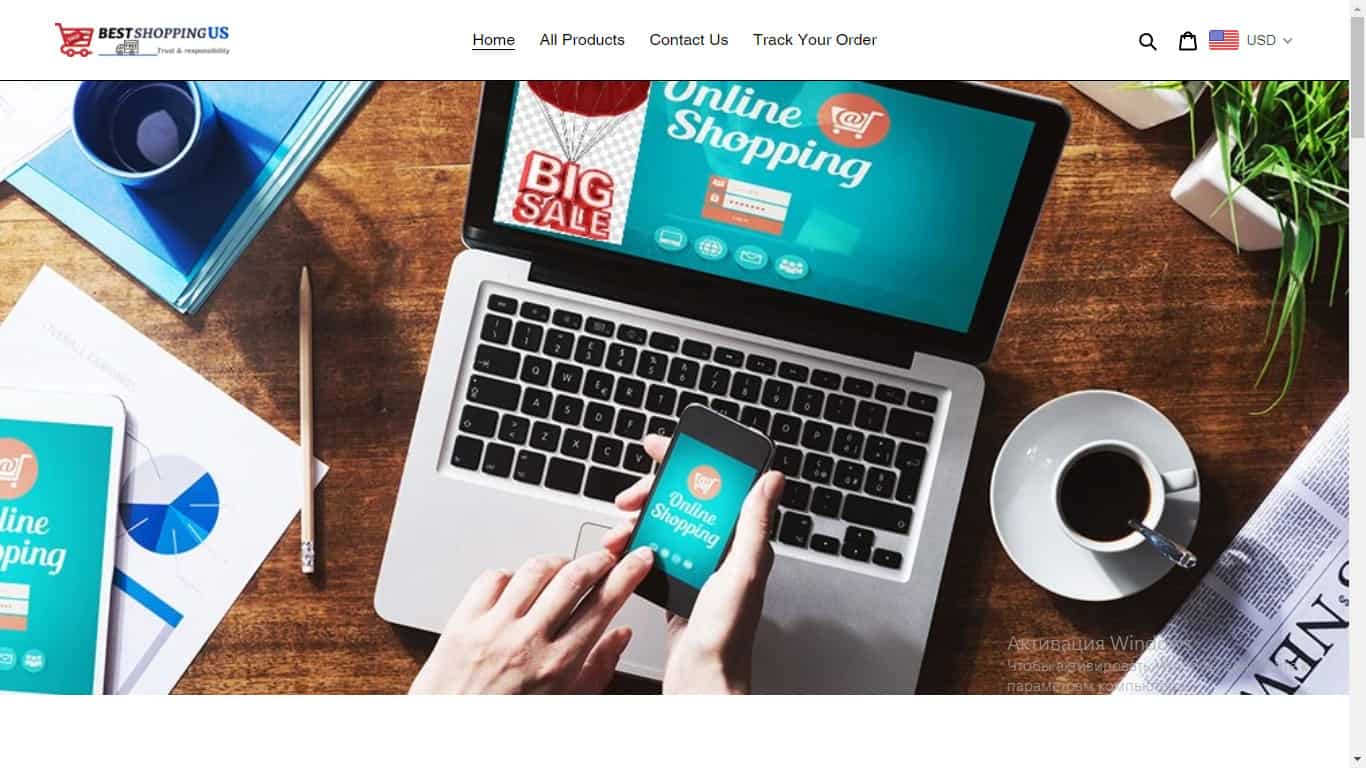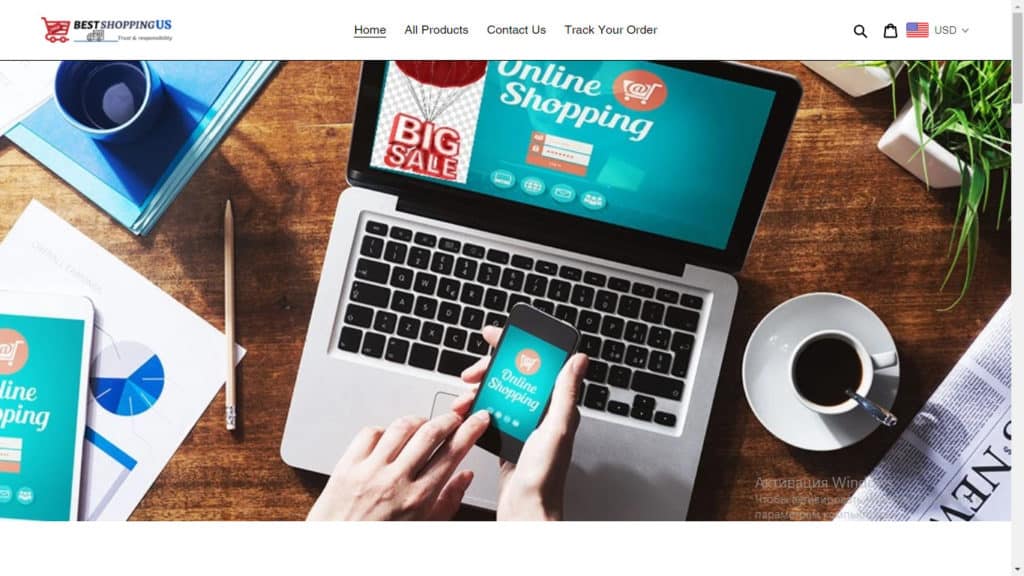 Best Shopping US is a gigantic Shopify dropshipping store example with 2,000 products for sale! Interested? No problem, they are all dropshipping products that you can sell, too!
They are doing extensive market and product research with so many products in their store, which plays a significant role in finding winning products and categories.
Their product pages are also done well, with all relevant product information in an easy-to-read fashion.
Here are some things that you can look at to implement in your dropshipping store:
Video animations are also a part of their product pages, which, as we mentioned, is essential for interactively showcasing the product's features.
Free Shopify theme. Notice how their theme is very clean and understandable? That's because they are using one of the best free Shopify themes out there – the Debut Shopify Theme. Keep in mind that free themes can work just as well as paid themes. It's all a matter of content quality but most importantly – what products we are selling.
4. Mooshe Socks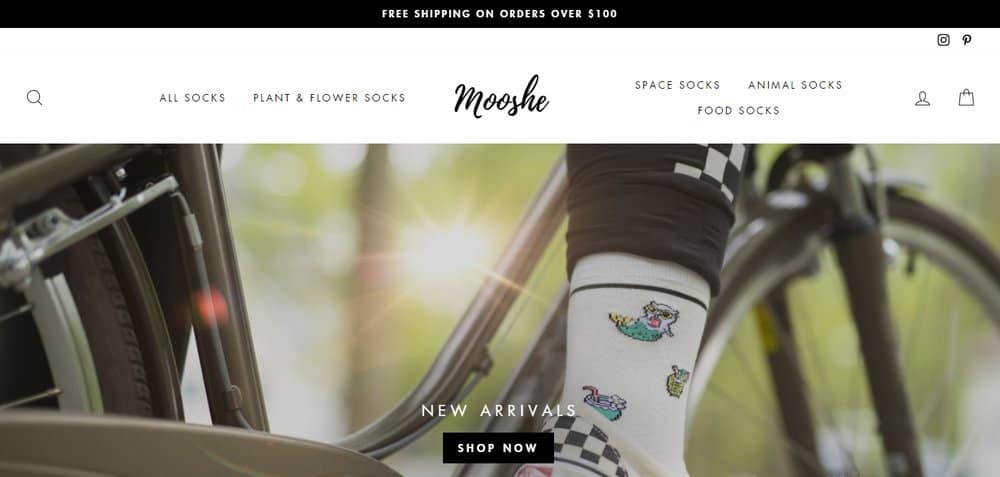 Mooshe Socks is a great example of a niche dropshipping store! Would be easy for you to guess the niche? As easy as pie, socks!
Here are some things that you can look at in this dropship store example:
Design. Their site looks so professional and like a TOP branded place. There are neutral, one or multi-colored socks, but the number of different colors does not devalue the global page view. And a cool feature to show one image on the background of the site. Check it out! Open their page and scroll down.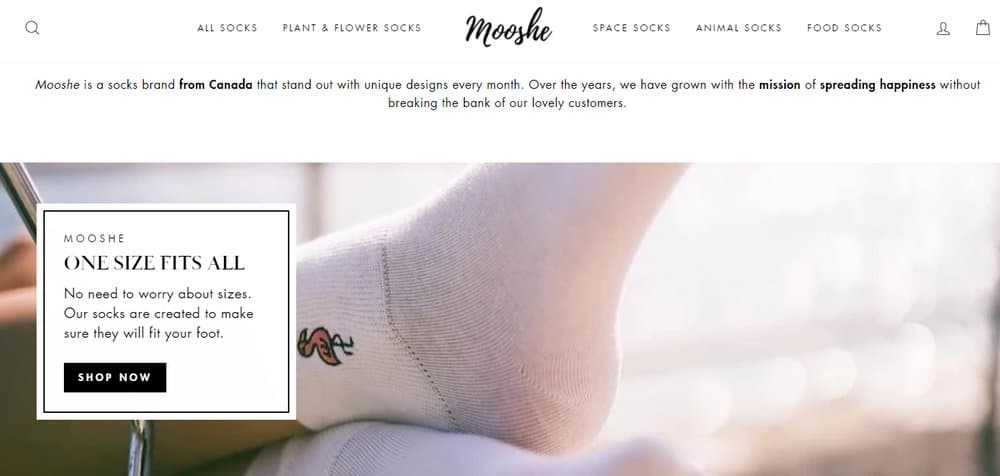 Comfortable search. There is a huge variety of products divided into just a few groups that easily help to find what fits.
Restraint. No molest pop-up messages, not much text or unnecessary images, advertisement. Simply look at the socks. That's all you need to know.
5. Off Hours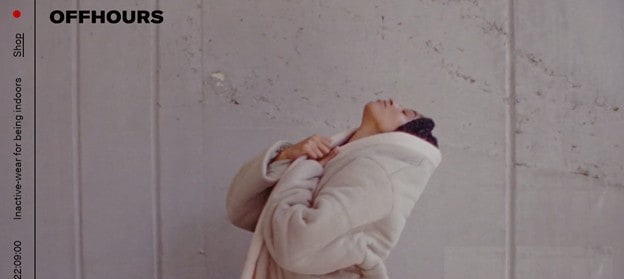 Off Hours is #1 in the creation and promotion of inactive wear for being indoors. They make incredibly comfortable clothes for wearing at home. Their product is the Homecoat with outstanding quality! From the first second on their eCommerce site, you become captured by an amazing video cover that focuses you on the product on the product only.
Here are some things that you can look at this Shopify clothing store:
Design. Super minimalistic and good design with a dose of practical product. The first and main thing you see visiting their page is a video as the home page background. Check it out yourself!
Functional Minimalism. They provide all possible help and explanation for the product and their customers without fulfilling their site with millions of buttons and there is actually nothing that might disturb you. Even a clock in the down left corner that is an addition to the brand's name – amazingly fits there!
Review. Every review is real storytelling of a moment of why this product is so precious. Unreasonably comfortable clothes save the body from cold and the soul from loneliness.
Good Marketing strategy: the brand practices a newsletter email marketing strategy to keep in touch with possible buyers. In addition, their social media marketing strategy is based on Instagram. Where this Shopify store collaborates with influencers, repeats its minimalistic design style and brand colors… They do it even in the tagged photos!
Sustainable packaging: the brand highlights the importance of sustainability. They use recycled materials and don't use any traditional plastics.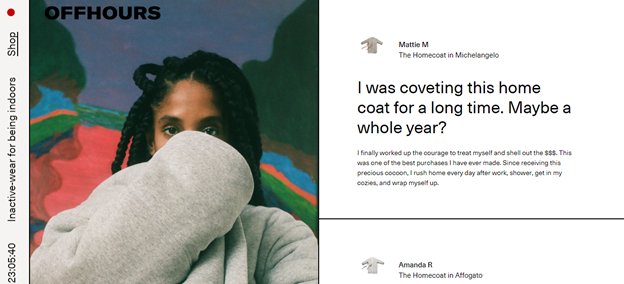 If you think about it, a successful store is similar, in a way, to a successful post on social media. By doing this research, you learn from successful stores – it's similar to what social media marketers do when they use a viral content finder to come up with ideas for their content.
Everyone needs a little inspiration from time to time, right? Especially if you're just starting dropshipping and have no idea what "a dropshipping store" is or what your online store is supposed to look like.
As a dropshipper or eCommerce seller, most of your job is marketing the merch, for which there's no better place to start than with Shopify. Your Shopify dropshipping store has to be attractive, clear, and simple to navigate.
You can check more examples of general, niche, and 1-product stores in our guide 35 Shopify Dropshipping Store Examples to Learn From.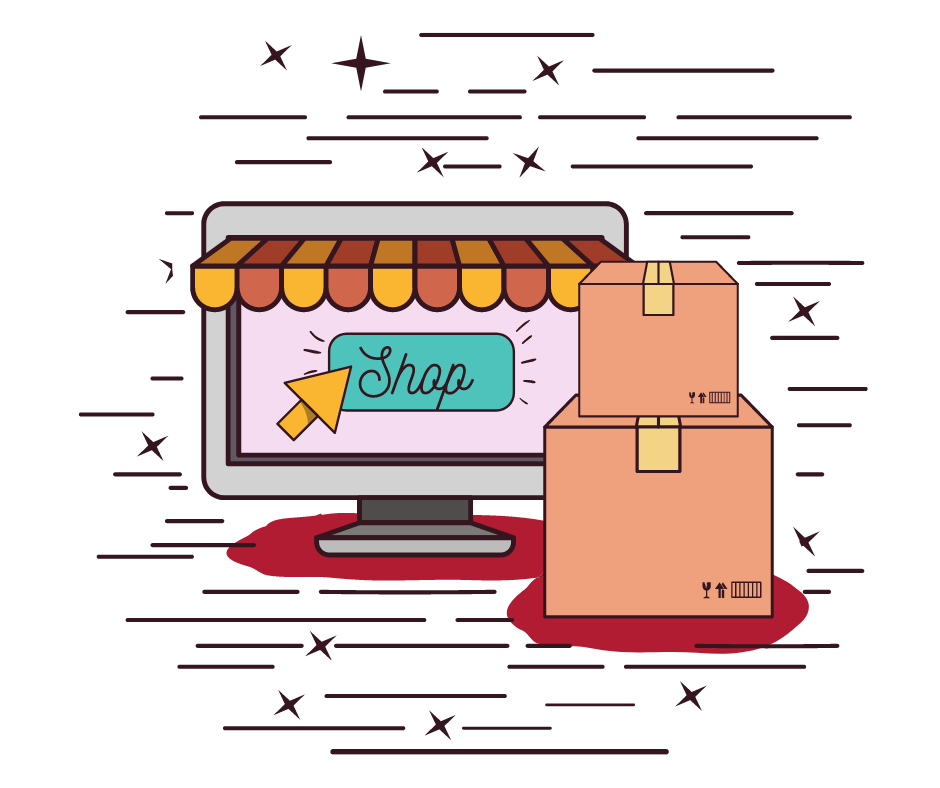 It's time…
Don't wait for success to come. Hire yourself and start your own dropshipping business
Conclusion
Here you go! These are the best Shopify dropshipping apps in 2023. I checked every plugin to ensure this list is up to date and read through reviews to make sure these services are the best. Of course, there might be other dropshipping apps worth considering, but you should be good if choosing one of these.
When considering Shopify dropshipping apps, take into account what products you want to sell, your target customer location, product quality & pricing, and your budget. Some Shopify dropshipping apps are focused on AliExpress, while others work with US and EU suppliers. Some focus on specific products, and others source all-kind of products. All these services are good – you just need to determine which one suits your needs the best.
You might want to check the following articles to understand Shopify dropshipping and what it takes to become successful.
Good luck!