52

min read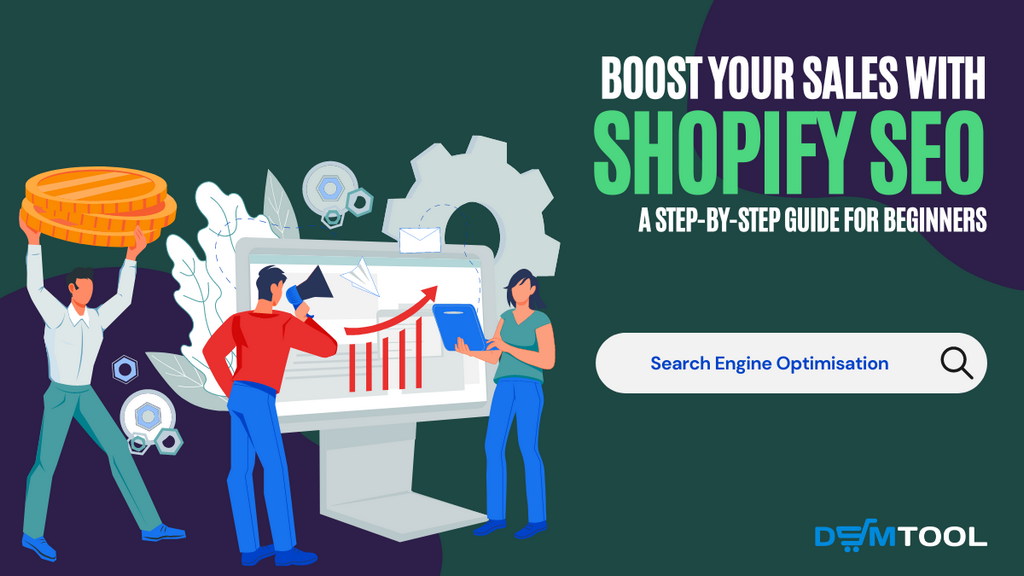 Are you making the most of your Shopify store's potential? You might have heard that Search engine optimization (SEO) is essential for marketing and promoting your Shopify store. If not, then you surely will. Here – Shopify SEO is crucial if you want to make sales. Now you know this, but what is it all about? Is this something a person without technical knowledge can do? Yes! This Shopify SEO checklist for beginners covers everything you need to know about eCommerce SEO Shopify.
While website SEO comes from the tech field, you do not have to be a NASA scientist to learn and understand the basics of it. I will teach you what to know and everything needed to optimize your store for search engines. You will learn how the most popular search engines work, what affects your store's position in searches, and how to rank higher.
This Shopify SEO checklist for beginners will teach you how to get your store and products where you need them – in front of your potential customers.
What is SEO? Why Is SEO Important For eCommerce?
SEO is not a set of instructions you can follow blindly. As you will see later in the guide, each step of the Shopify SEO checklist requires you to research and analyze your store (structure, content, products, etc.), market, and trends to make necessary optimizations. And for that, you need an understanding of how it works and the specifics of eCommerce SEO. So do not skip this part of the Shopify SEO checklist – you need this knowledge to become a successful eCommerce seller.
What is eCommerce SEO Shopify?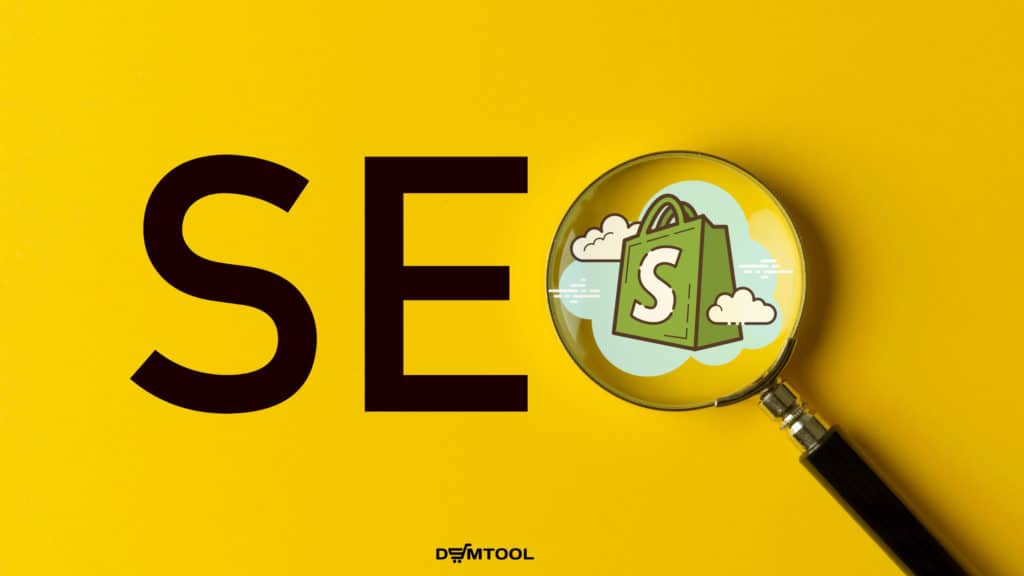 Search Engine Optimization (SEO) is the process of improving a website to increase its visibility on search engines, where a search engine is a software system for searching and retrieving information from the internet. Some of the most popular search engines are Google, Bing, and Yahoo.
The ultimate goal of SEO is to drive organic traffic to a website by increasing its visibility whenever people search for information, services, or products. Visibility is how well a page ranks on the search engine results pages (SERPs) – the better visibility a page has in the search, the more chances people click on it and proceed to a website. The first ten positions, the ones on the first page of search results, are the best. This is what this Shopify SEO checklist is for – to get your store to the page of SERPs.
Why Is SEO Important For eCommerce?
Why do you need to follow this Shopify SEO checklist? Why do Shopify SEO? It is obvious – by optimizing your online store for search engines, you help potential customers discover your website.
When shoppers search for something on Google (for example), they end up on SERP. There, on the first page, they see paid ads (highlighted in yellow) that generate paid traffic and ten organic results (red).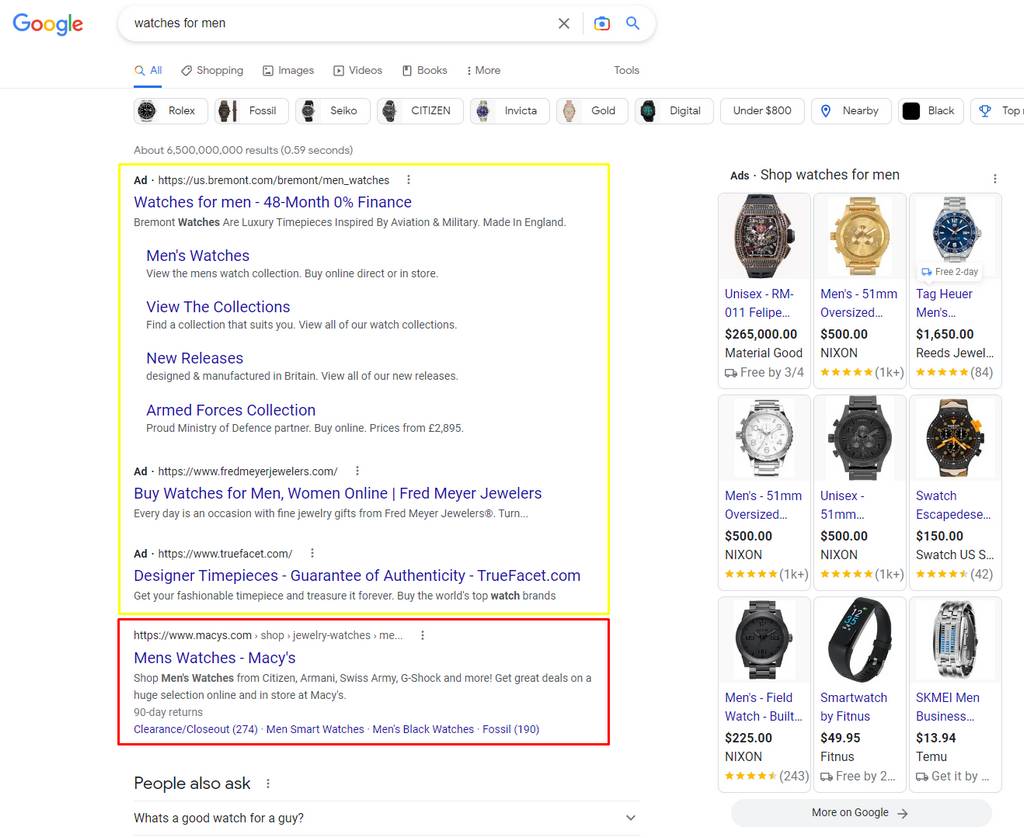 The job of SEO for eCommerce is to get your product pages in these ten positions. You might wonder what about the other pages or how critical if you get on the second or the third page. The lower your website ranks, the less traffic it generates. According to a study by Backlinko, only 0.44% of searchers go to the second page of Google search results.

Getting on the first page also translates to a higher click-through rate (CTR):
The #1 result has an average CTR of 27.6%.
The #2 result has an average CTR of 15.8%.
The #3 result has an average CTR of 11.0%.
The #4 result has an average CTR of 8.4%.
The #5 result has an average CTR of 6.3%.
The #6 result has an average CTR of 4.9%.
The #7 result has an average CTR of 3.9%.
The #8 result has an average CTR of 3.3%.
The #9 result has an average CTR of 2.7%.
The #10 result has an average CTR of 2.4%.
The reality is that only 9% of Google searchers scroll to the bottom of the first page, and the top three results get over half of all clicks. OK, but what about those paid ads – wouldn't it be better to pay a small fee to get to the top? No.
Paid vs organic marketing
First, your competitors might buy ads for the same keywords too, which means your product advertisements won't appear in SERP every time people search. What is great about eCommerce SEO is that when your store gets to the first page and manages to stay there, people will see it every time they search for related keywords. With paid advertisement, your ads will rotate with other ads, so they may not be visible every time someone searches for the same keywords.
Second, advertising costs are increasing. This is pretty straightforward. As more and more businesses recognize the importance of advertising to reach their target audience, the demand for ad space keeps growing each year. If you rely on paid advertising channels like Facebook or Instagram to generate sales too much, this can reduce your profits.
Third, people hate ads. According to another research by Backlinko, 70-80% of users avoid paid search ads and scroll to organic search results instead. Some people find ads annoying, intrusive, and disruptive to their experience. Others consider ads less trustworthy than organic search results because businesses pay to get there.
Now, don't get me wrong – paid ads are a powerful tool, but you need to combine them with organic eCommerce SEO to get results.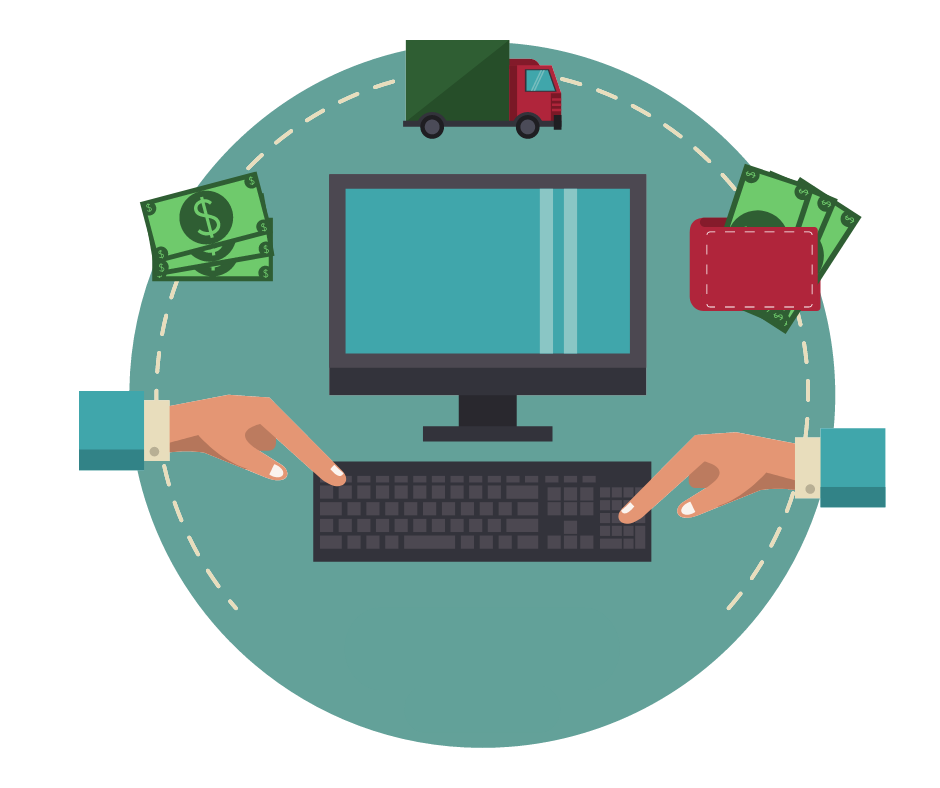 Not yet making money online?
Start your own dropshipping business. Sign up for a free trial of DSM Tool and we'll help you get started. Today is the day.
The Benefits of eCommerce SEO
You should also understand that eCommerce is not about search results only. SEO also affects many other things that can influence your business. Here are a few of the benefits you can get by following this Shopify SEO Checklist:
Attract Quality Leads
eCommerce SEO is not only about driving traffic to your online store, but it also helps pre-qualify your leads. It helps businesses attract highly targeted leads that actively search for the products or services those businesses offer. By ranking higher in SERP for relevant keywords and phrases, you can identify what those people want and present the information they need to make a decision or purchase.
Brand Awareness and Visibility
eCommerce SEO Shopify can help businesses build brand awareness and credibility. For most marketers, brand awareness is a top priority – customers need to know who you are before they can buy from you. When a website consistently appears at the top of queries related to your business, it can signal to potential customers that the store is a leader in its industry and has a strong online presence.
Enhance User Experience
As you will learn further in this Shopify SEO checklist, eCommerce SEO includes website architecture and on-page optimizations for search engine crawlers to understand and index the site's content. Search engines avoid poorly built websites. People leave slow, cluttered, and confusing websites in seconds, and search engines keep track of that. Combined with complex page hierarchy and poor content, this will lead to low ranking.
Architecture and on-page optimizations not only improve ranking but also enhance user experience. By making a website easier to navigate and improving the overall design and functionality, users are more likely to have a positive experience and engage with the website's content. Similarly, a website that loads quickly and has a mobile-friendly design can improve user experience and lead to higher conversion rates.
High ROI
eCommerce SEO can provide a high return on investment (ROI) for businesses compared to other marketing channels. Once a website has established a strong SEO foundation, it can continue to attract leads and customers over time with little ongoing investment.
eCommerce SEO targets users actively searching for products or services that the business offers. This means that the leads generated through SEO are often highly targeted and more likely to convert into customers.
Another reason is that eCommerce SEO can be cost-effective compared to other marketing channels, such as paid advertising. While you require an initial investment to optimize a Shopify store for search engines, the ongoing costs are typically lower than other marketing channels.
eCommerce SEO Shopify can provide ongoing benefits for months or even years because ranking can continue improving over time as it accumulates quality backlinks and generates relevant content. In that matter, it will be beneficial to use a toxic link checker to improve SEO rankings and build credibility for your eCommerce store.
Lower Ads Costs
Remember me saying that you need to combine paid ads with Shopify SEO to get the best results? One of the reasons is that eCommerce SEO lowers ad costs.
Google's Quality Score measures the relevance and quality of ads to landing pages to determine ad rank and the actual cost per click paid by the advertiser. Businesses with higher Quality Scores get lower cost-per-click and higher ad rankings than advertisers with lower Quality Scores.
Hopefully, now you understand the importance of Shopify SEO for the success of your business and why you should follow this Shopify SEO checklist. But why did I write Shopify SEO and not eCommerce SEO?
Is Shopify Good For SEO?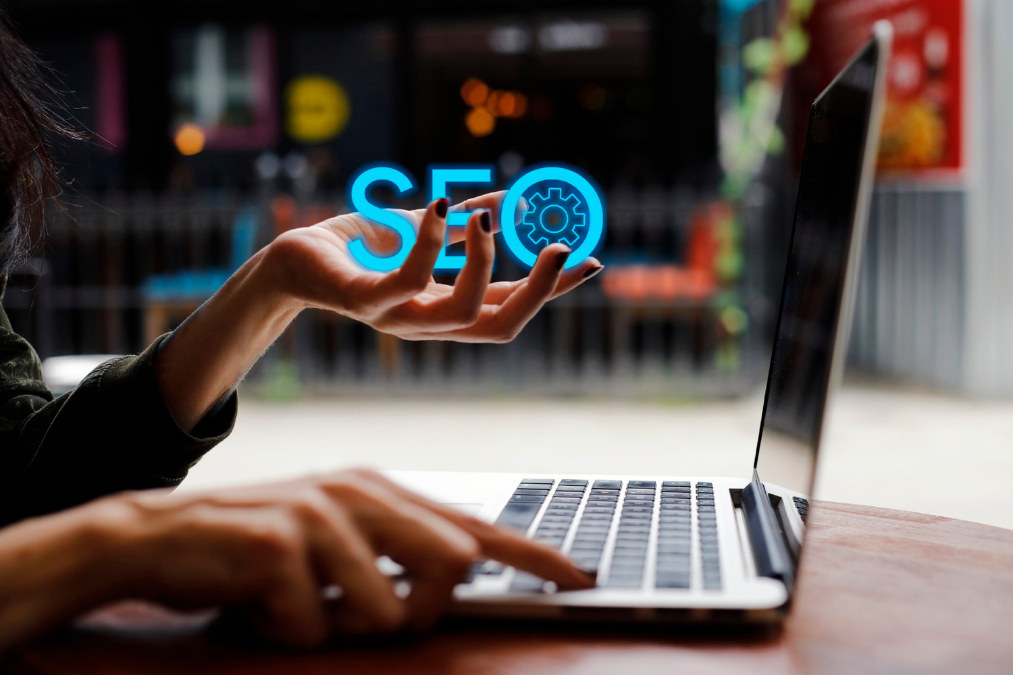 Let's define Shopify SEO as a set of eCommerce SEO best practices that are unique to the Shopify platform. Shopify is a platform for building online stores, so you might think it should be perfect in terms of eCommerce SEO. It should, but it is not. Actually, there are mixed opinions on eCommerce SEO Shopify.
In a nutshell, Shopify lacks some customization options you can find in other website builders like Magento or WooCemerce. Now, Shopify has all the eCommerce SEO features you might need. Still, there are some potential advanced SEO drawbacks you should be aware of. Let's take a look at eCommerce SEO Shopify pros and cons.
Pros of eCommerce SEO Shopify
Shopify has all the necessary eCommerce SEO features a seller might need. Here are the main benefits of eCommerce SEO Shopify.
Auto-generated XML sitemap and robots.txt files
An XML sitemap is a file that lists all the pages on a website that a website owner wants search engines to crawl and index. XML sitemaps help search engines like Google and Bing better understand the structure and content of a website, making it easier for them to crawl and index the site's pages. Shopify generates XML sitemaps automatically, so all you need to do is to submit your sitemap to Google Search Console.
A robots.txt file is a file that is placed in the root directory of a website to instruct search engine robots (also known as bots or crawlers) about which pages or sections of the website to crawl or index.
If you are confused about an XML sitemap and the robots.txt file: the former helps search engines index pages that should be indexed, and the latter prevents search engines from indexing pages that should not be indexed.
By default, Shopify creates a robots.txt file for your store, and in most cases, Shopify's default robots.txt rules are good enough for most store owners. And if you need to create custom rules, Shopify allows you to update the robots.txt file.
Easy to manage meta titles, descriptions, and redirects
The Shopify page editor allows you to edit page titles and meta descriptions easily. This information can appear on the SERPs, so optimize it to include the target keywords you want to rank for and appeal to customers browsing the search results.
In terms of 301 redirects, Shopify offers a redirect feature that enables users to redirect old URLs to new ones, which is useful for managing broken links. It also maintains a good user experience by ensuring customers can access all your web pages.
Canonical tags are HTML tags that indicate the authoritative version of a web page to search engines. If you have a product with variations, like colors, each option will have a separate link. Canonical tags identify the main version of a product page and tell search engines to index it. Without these tags, won't know which version of the page they should index. This can lead to duplicate content issues, which is bad for SEO.
Shopify sets canonical tags automatically to all pages of your store to prevent duplicate links which lead to the same content. Shopify also allows you to edit the canonical tags manually if needed.
Mobile friendly
Mobile phones and tablets are an integral part of our everyday lives. Nowadays, people cannot even imagine their lives without these devices. We use phones to read the news, communicate with friends, get a taxi ride, order food, and purchase goods. Because most people access the internet using mobile devices, search engines prioritize mobile indexing. Your eCommerce site must be mobile-friendly to rank well.
With Shopify, you have access to a large number of mobile-friendly themes that will make your online store run seamlessly across multiple devices.
Good site speed
Load speed is a crucial factor that search engines use to rank websites in search results. For example, Google states that website speed is a ranking factor and that faster websites can have a slight ranking boost over slower websites. Also, most people get frustrated and leave if a website loads longer than 3 seconds.
Shopify sites are known to be relatively fast and reliable. One of the reasons for good speed is that Shopify is a fully-hosted solution, meaning that all of the website's data is stored and served from servers. And those servers are optimized for eCommerce websites specifically, to faster loading times.
Shopify uses a Content Delivery Network (CDN) that caches content and serves it from servers closest to the visitor's location, reducing the latency and improving the website's speed. Additionally, Shopify themes are also designed for the fastest loading times.
Take note that using too many Shopify apps or heavy-loading plugins can mitigate this advantage by reducing website load speed.
Easy SSL Setup
Secure Sockets Layer (SSL) is a protocol that encrypts data transferred between your server and the person visiting your website to prevent hackers from intercepting and reading this data. It adds trust and credibility for your customers and improves ranking by showing search engines that a website is trustworthy.
Shopify has SSL security and provides all stores free Transport Layer Security (TLS) certificates. It also supports the installation of SSL certificates purchased from third-party providers.
Structured data
Structured data is a code used to help search engines understand the content and relevance of a website, especially eCommerce websites like Shopify. This data includes product names, descriptions, prices, availability, reviews, and other relevant details that can help search engines understand the content of your pages and display them more accurately in search results.
Shopify provides structured data for your store and allows you to edit it in an easy way. You can add prices, keywords, etc. to improve the visibility and ranking of your pages in SERPs. It also enhances the user experience for customers searching for products or information in your store.
Google Analytics integration
Google Analytics is a free web analytics service provided by Google that allows you to track website traffic and user behavior. It is a powerful tool that enables you to analyze how visitors interact with your store, where they come from, which pages they visit and how long they stay on each page, what actions they take, etc. With this data, website owners can optimize websites for better performance, increase conversions, and improve the user experience.
Shopify provides easy integration with Google Analytics. All you have to do is open a Google Analytics account and enable the tool in your Shopify preferences.
Shopify SEO Apps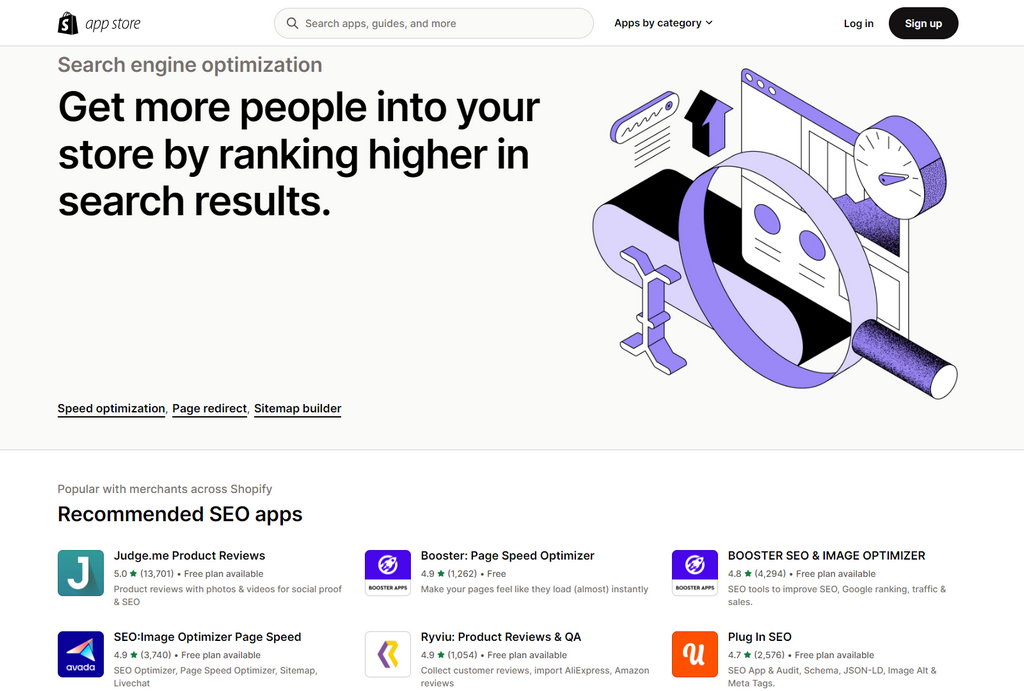 Shopify features thousands of plugins available in the Shopify App store from the following categories:
Find products to sell – Dropshipping apps, print-on-demand apps, importing your own products.
Bring in customers – Marketing apps to run ads, reach out via email or text, and SEO apps.
Deliver the goods – Inventory and fulfillment, better Shopify shipping apps, local delivery.
Sell more stuff – Offer discounts, show reviews, and sell on different sales channels.
Customize your store – Build custom pages, add videos, and optimize images.
Scale the business – Manage finances, measure success, and optimize your operations.
Did you note SEO apps? Good eye! There are apps that help with small (but nonetheless important) tasks like optimizing images, fixing broken links, adding alt tags, etc. And there are more expensive solutions with more advanced features like keyword research, customizations with advanced codes, disabling right-clicking to prevent photo theft or using watermarks, editing XML sitemap, etc.
What Is the best SEO plugin for Shopify? Here are the 13 Best Shopify SEO Apps 2023.
International SEO features
By creating localized versions of your store, you can reach new audiences, provide a more personalized experience for your customers and increase your chances of success in international markets.
Shopify supports multiple languages and international domains, which enables you to create pages for specific countries and regions. For example, you can create a version of your store specific to Canada, with a .ca domain and prices displayed in Canadian dollars. You can also create a version for the United States, with a .com domain and prices in US dollars. All these pages will be optimized for international SEO.
Cons of eCommerce SEO Shopify
Most of the downsides of eCommerce SEO Shopify are caused by a lack of customization features. Here are the main disadvantages:
Locked Sitemap
While Shopify generates the XML sitemap automatically, it does not allow editing the file. It is not a big issue for most sellers, especially beginners with small stores, but you might need to edit it once your website grows and becomes more complex.
It doesn't mean you can't actually do it – you can use third-party SEO apps or external website tools, but still, this should be something available by default.
Default URL Structure
If you take a closer look at Shopify stores' URLs, you might notice they include /collections/ for product categories and /products/ for product pages.
For example, a link for the Men category on the Shopify clothing shop might look like shop.com/collections/mens. And a link for a product Shirt from this category will look like shop.com/collections/mens/products/shirt.
The thing is, pages with shorter links rank higher than those with long URLs. Take a look at the example link: the first keyword search engines will see in it after the domain name is collections, then mens, then products, and only after that the keyword shirt for which we try to rank. Ideally, it should be shop.com/mens/shirt or even shop.com/shirt instead of shop.com/collections/mens/products/shirt. You can change that in the code, but many users are uncomfortable altering the code and Shopify doesn't support that.
Duplicate content is one of the most common Shopify SEO issues. This issue comes from the previous Shopify SEO drawback with URL structure. Remember we have a product Shirt from the category Mens? If we include this product in different categories, like Organic, Elegant, we will get different URLs for the same item:
Item: shop.com/products/shirt
Men category: shop.com/collections/mens/shirt
Organic category: shop.com/collections/organic/shirt
Elegant category: shop.com/collections/elegant/shirt
All these links lead to the same product and the same content. They will canonicalize back to the main product page, and Shopify does all the inner linking based on canonicalized URLs. This gives search engines conflicting signals because canonical tags show the main product page but don't link to it.
This Shopify SEO issue can be fixed by editing the Liquid Theme file, and Shopify provided the instructions.
No Subcategories
As your store grows and you add more products, you might want to add subcategories for people to browse and navigate your website easily.
Regretfully, Shopify doesn't provide any tools for creating subcategories. Though still possible, you need to play with the code or hire a developer to make it for you.
Trailing Slash Redirect
A trailing slash is a / sign at the end of URLs that marks directories. The presence or absence of a trailing slash has a direct impact on the indexing and ranking of a website in SERPs. Most search engines treat URLs with and without a trailing slash as separate pages, which can result in duplicate content and potential SEO penalties.
Most eCommerce platforms add 301 redirects to make the visitors go to the correct version of the website. But not Shopify, which ends URLs without a trailing slash at the end by default.
The only way to fix this is by using canonical tags to inform search engines of which one is your preferred page.
Pagination is breaking up content into multiple pages to make it easier to read or navigate. You can paginate a blog post with comments to make it a certain number of comments per page. On eCommerce websites, products are often listed over several pages to make it easier for shoppers to browse.
Filters allow visitors to find products by showing items corresponding to specific criteria like size, color, etc.
Tags are keywords that help users find related content and navigate through your website. You can add tags to products or posts on your blog.
Pagination, filters, and tags should be noindexed because they do not have much content. Currently, Shopify does not automatically noindex them by default, which can result in low-quality pages appearing in the search results and cause duplicate content.
You can fix this by adding a noindex tag to the code of those pages. Don't forget to add canonical tags for search engines to know what pages are original.
Structured Data
Yes, there is such a paragraph in the Shopify SEO pros, so why is it here too? The reason is that the Structured Data feature Shopify has is too simplistic and misses advanced structured data for stores that need them. Shopify doesn't allow you to make product reviews, colors, and sizes easily digestible for SERP.
You can install an app or insert structured data straight into the theme, or hire a developer to edit the code. In any case, this is something stores with a wide range of products with multiple variations and options have to deal with.
Not great for blogging
Of course, Shopify is an eCommerce platform and not for blogging. But many eCommerce businesses have blogs because this is a great SEO tool for driving traffic and promoting products. And while Shopify does provide blogging capabilities, they are very basic. Yes, you can't expect the tools and features that WordPress offers, but Shopify doesn't allow many mandatory things. For example, it does not have a comments section, and you can't add other fields.
Shopify Apps trap
This issue is not related to Shopify SEO directly, but it can affect it nonetheless. One of the problems growing stores face and one of the most common reasons they migrate from Shopify is the dependency on multiple Shopify Apps. As you install more and more plugins, they start to affect your website loading speed, which impacts SEO. Also, paying for all those extensions you might use can add up to a heavy sum of money far exceeding the costs of a Shopify subscription.
Need for a developer
Have you noticed that almost all Shopify SEO drawbacks can be fixed with help from a hired developer? Well, this is a drawback on its own. While Shopify is super beginner-friendly and all that, anything not supported by default requires coding. And most eCommerce sellers are not codders. So whenever you need to make such an adjustment, you need to hire help, which costs money and time.
Now that you have the basic knowledge about Shopify SEO, it is time to learn how to optimize your Shopify store for search engines.
eCommerce Shopify SEO Checklist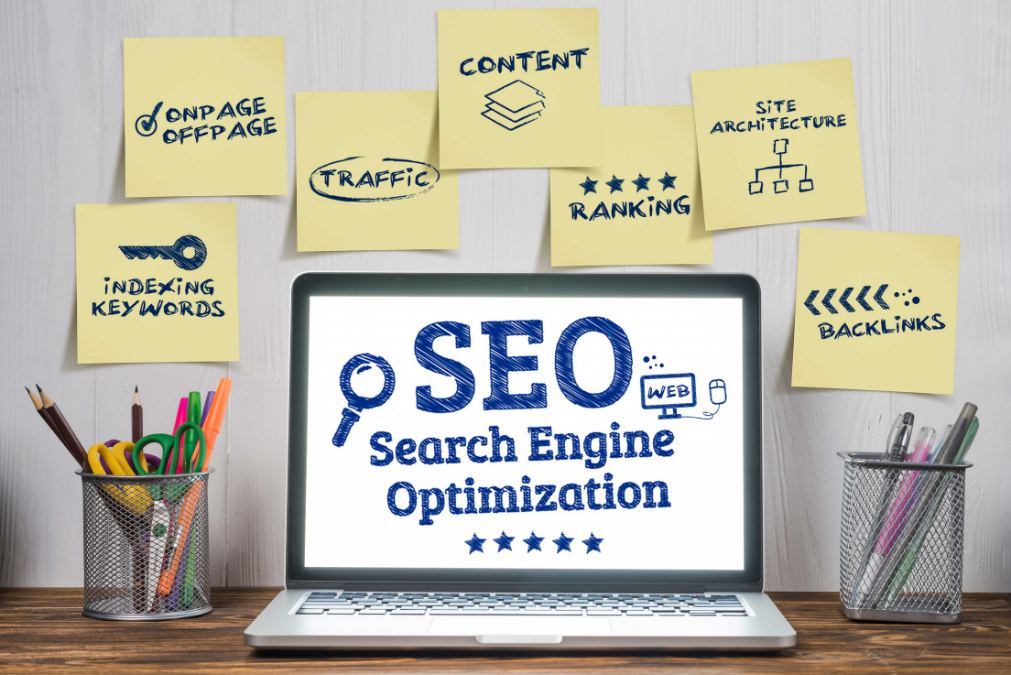 Shopify SEO tweaks are usually categorized into three main groups:
Technical SEO
On-page SEO
Off-page SEO
However, you will also need keyword research, content marketing, and link building if you want your store to be on top.
1. Technical Shopify SEO Checklist
We will start the Shopify SEO Checklist with technical optimizations. Technical SEO for Shopify is the process of optimizing the technical aspects of a Shopify store to improve its visibility and ranking in search engine results. It involves structuring your website in a way that search engines can easily understand and index its content, ensuring that it loads quickly and is accessible to all users on all devices.
Set Custom Domain and Security
When you open a Shopify store, its URL address will look like brandname.myshopify.com. You can keep it like that, but if you are serious about running a Shopify store, you should purchase a custom domain brandname.com.
A custom domain is essential for building your brand name, presenting a professional image, and improving your eCommerce SEO. A domain with myshopify in it is less attractive, trustworthy, and memorable than a custom domain that reflects your business. Using a custom domain also makes it easier for customers to find your store online.
Buying a custom domain is relatively cheap, but the long-term effect it has on SEO is tremendous. You can purchase it from one of the popular domain registrars like GoDaddy, Namecheap, or Google Domains. Make sure that the domain is available and not trademarked. Shopify provides a free tool for checking domain name availability.
You can connect the domain to Shopify by logging in to your Shopify account and navigating to the Settings > Domains section. Click on Connect existing domain, and fill in your domain name. Follow the prompts to verify the domain ownership and configure the DNS settings.
You must also ensure that your domain has an SSL certificate installed.
Shopify provides a free TSL (newer version of SSL) certificate for all stores. You can check if it is enabled from the Online Store > Preferences settings. The Use SSL option should be enabled.
Another thing to notice is that if you had a website on another platform and migrated to Shopify, you need to set up URL redirects so that users and search engines can find your new pages. You can do this from the Online Store > Navigation settings, under URL Redirects.
Install a fast theme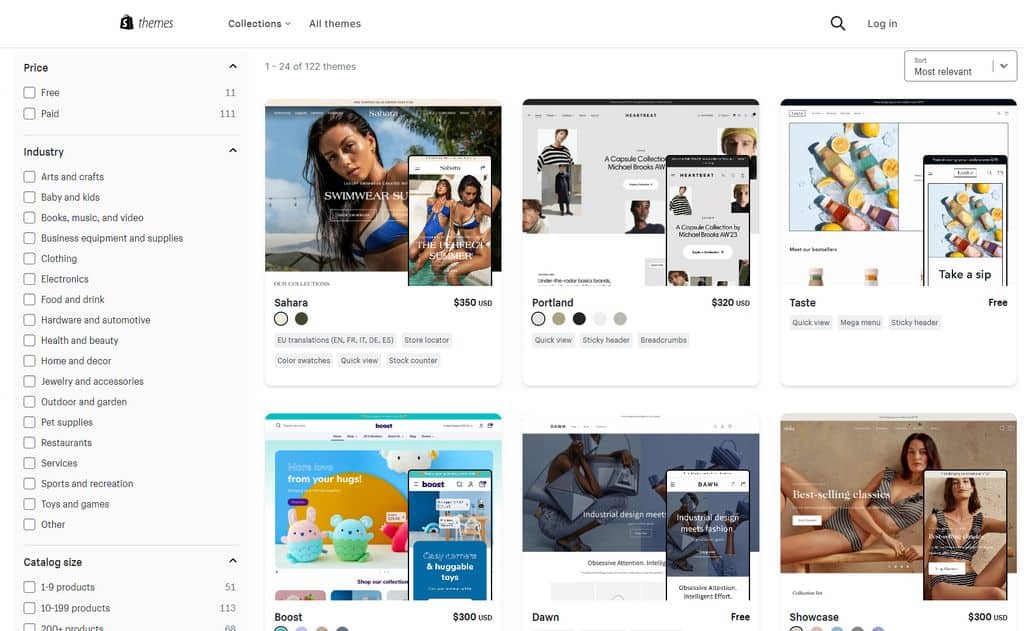 Shopify provides a few decent free themes, but it might be better to purchase a paid one or create a custom theme from scratch. You can hire a developer to create a professional theme specifically for your business needs. Regardless of the option you choose, your theme must be fast and responsive, and above all, mobile-friendly.
Optimize the site structure
You might not guess, but how your website is structured is essential for eCommerce SEO Shopify success. A good structure can improve the user experience, increase engagement, and boost conversions. It also helps search engines understand and crawl your website more easily.
A good website site structure is simple and easy to navigate. Use clear, concise labels for each product category and ensure the site hierarchy is easy to understand. The navigation menu should be prominent and easy to use, with descriptive labels that accurately describe the contents of each section. Group products in relevant categories to make it easier for customers to find what they're looking for. If needed, create subcategories.
The most common structure Shopify stores use is the Hierarchical model.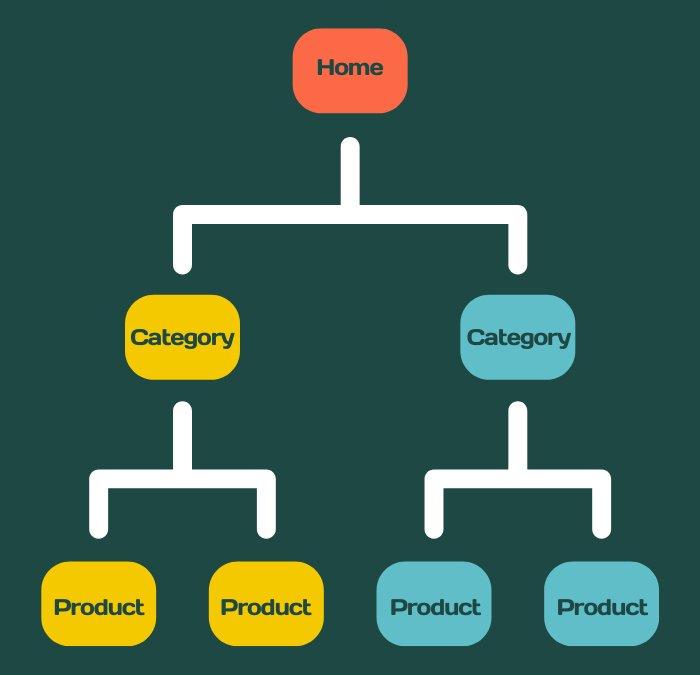 The Home page should link to Categories, with each linking to Products. It should look like one of these:
Home > Category pages > Product pages
Home > Category pages > Sub-category pages > Product pages
Your website should also have informational pages like About, Contact us, and Blog. You might want to add a search bar to help customers find products in your store.
Install Google Analytics
I already mentioned Google Analytics before in the article, so there is no need to explain it again. Just know that every website owner uses it, and so should you.
Follow these steps to install Google Analytics for your Shopify store:
If you don't have one already, create a Google Analytics account.
Sign in to your Shopify admin account.
From the Shopify dashboard, click on Online Store, then Preferences.
Find the Google Analytics section and fill in your Google Analytics tracking ID.
Click Save.
It will take up to 24 hours for data to start appearing in your Google Analytics account.
Note that if you want to enable Enhanced eCommerce tracking, you need to enable it in your Google Analytics account first, then enable it in your Shopify settings:
In your Google Analytics account, navigate to Admin and select the appropriate property.
Under View, click Ecommerce Settings and toggle Enable Ecommerce.
Turn on Enable Enhanced Ecommerce Reporting.
Save.
From the Shopify dashboard, navigate to Online Store, then Preferences.
In the Google Analytics section, enable Use Enhanced Ecommerce.
Press Save.
Now you are able to track and analyze customer behavior throughout their purchase journey on your Shopify store.
Get Your Shopify Site on Search Engines
This is where some serious eCommerce SEO Shopify starts. You have to tell search engines about your Shopify store to make sure they index it. Now, Google is the most popular search engine in the world, with more than 80% of users using it but is not the only one. There are also Bing, Yahoo, DuckDuckGo, and many others. While you might think that Google is enough for you, I suggest you focus on Bing too. It is the second most popular search engine, with almost a 9% share of users, and it grows in popularity.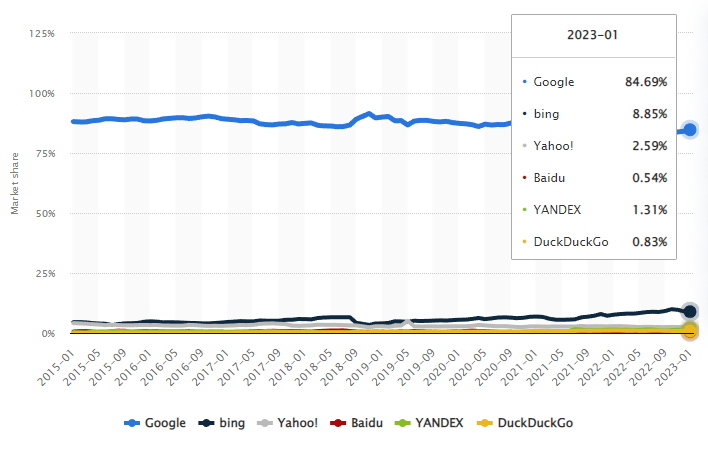 While search engines will find and scan your Shopify store eventually, it is faster and more efficient to provide them with your website's XML sitemap manually. Additionally, you will get powerful tracking, metrics, and analytics tools such as Google Search Console and Bing Webmaster Tools. Shopify has a great video on how to verify your store with Google and submit an XML sitemap. The process for Bing is very similar.
Now with all the essentials done, you are ready to start the real eCommerce SEO Shopify. We will start with the very first and most important thing, keyword research.
2. Keyword research for eCommerce SEO Shopify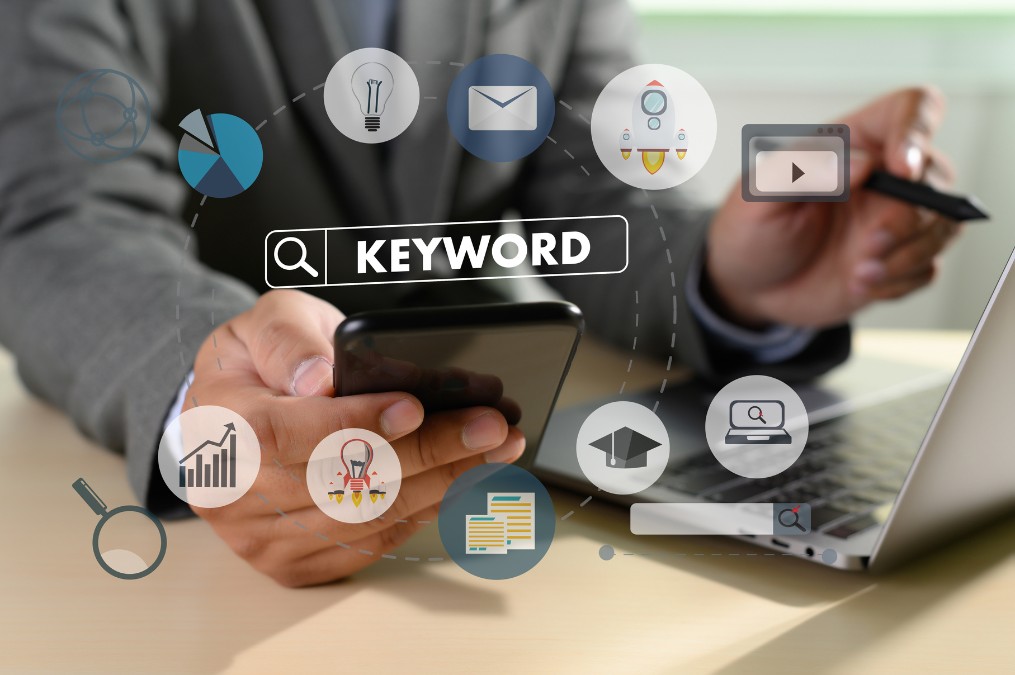 Keyword research is an essential part of any Shopify SEO checklist. It is crucial for both eCommerce SEO in general and targeted Shopify SEO strategies. The reason is simple – all our queries on the internet are keywords. But you need to know that there are three types of keywords different by intent:
Informational keywords – people use these keywords to learn about a topic, problem, product, or service. For example, "how to choose a dress shirt".
Navigational keywords – people use these keywords to learn more about a specific product or service. For example, "best dress shirt brands".
Transactional keywords – people use these keywords when they decided to make a purchase and search for a product or service. For example, "buy dress shirt online".
Informational and navigational should be used in the content, like blog posts and tutorials. For example, you can write a blog post called "How to choose a perfect dress shirt" which will include both informational and navigational keywords – how to choose a dress shirt and best dress shirt brands. Transactional keywords are product-specific and should be used in product pages, product titles and descriptions, in alt tags, etc.
Focus on long-tail keywords
Your product pages should include more long-tailed keywords. Long-tail keywords are those composed of three words and more. Usually, these keywords have higher purchase intent because they are more specific. For example, people searching for "dress shirt" might not have an intention to actually buy it. But if people search for "mens green dress shirt", then they are almost for sure looking to buy it.
Volume and keyword difficulty
When conducting keyword research, you need to consider two primary keyword characteristics: volume and keyword difficulty (KD). Volume refers to the number of searches for a keyword per month. KD indicates how difficult it is to rank for a keyword – compete with other websites to get a higher position in SERPs.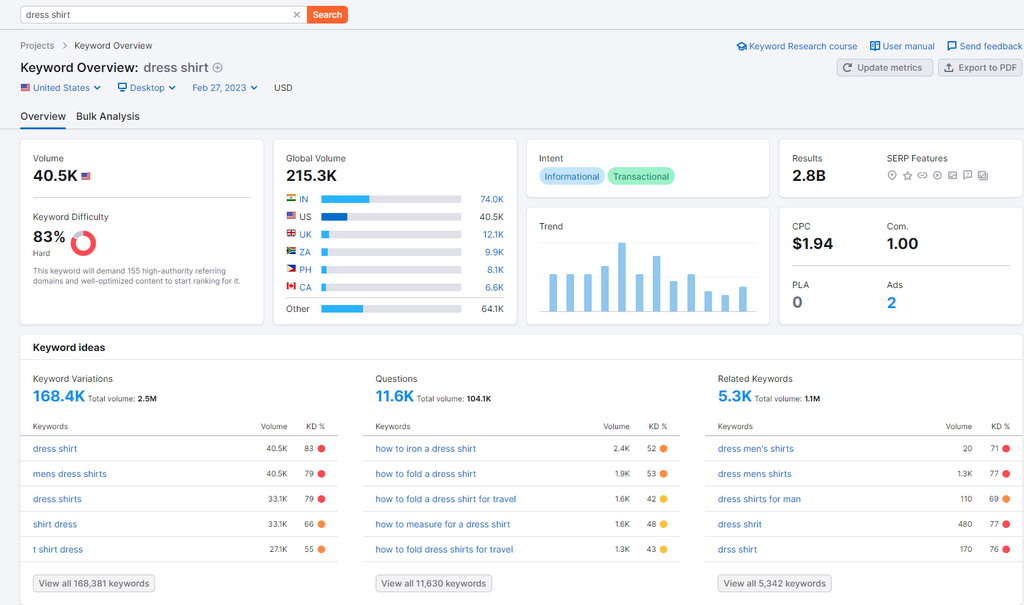 Here is a screenshot from SEMrush for the keyword "dress shirt". As you can see, it is very hard (red indicator) to rank for, but take note of the "shirt dress" keyword. It has 66% difficulty while keeping a high volume of over 33000 searches per month. You have far better chances to rank for this keyword. Ideally, you should rank for keywords with green indicators because they have the lowest competition. Take a look at this screenshot – I filtered the analysis to show related keywords that are easy to rank for.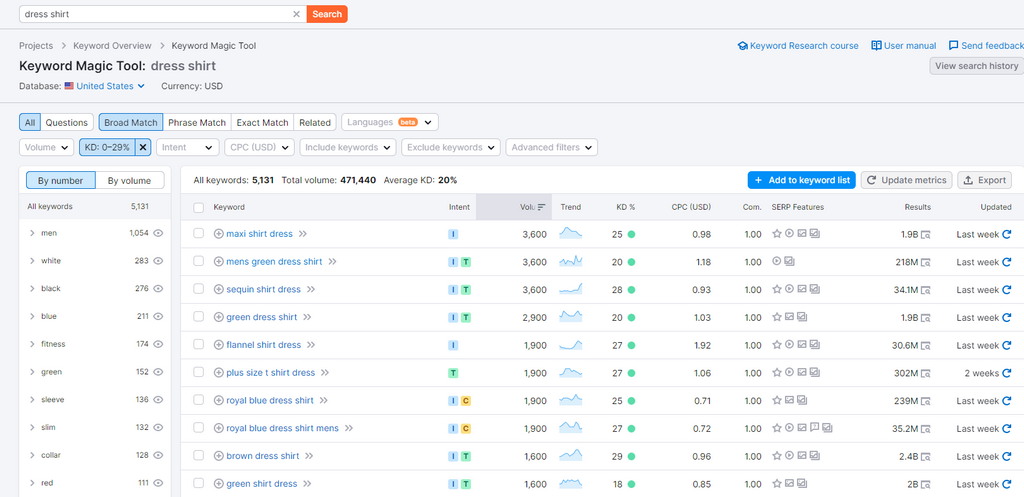 These keywords are more product-specific (green shirt, brown shirt, etc.) and have lower volumes but provide good chances to rank on the first pages with quality content. Keywords with hard and very hard difficulties require immense SEO efforts and resources.
For keyword research, you will need to use special tools. There are both free and paid options. The most popular keyword research tools are Google Keyword Planner (free), SEMrush (paid), Ahrefs (paid), Moz Keyword Explorer (paid), and Ubersuggest (free).
3. On-page Shopify SEO Checklist
Next on the Shopify SEO Checklist is on-page SEO tweaks. On-page SEO is the process of optimization of individual web pages to improve their search engine rankings and attract more traffic. It involves content optimization, HTML source code, and other elements to make webpages more relevant to search engines and user-friendly.
The most common on-page SEO practices include page title optimization, descriptions, and headers, using keyword-rich content and meta tags, improving page load speed, and using internal linking to improve navigation.
Here is what an optimized eCommerce page should look like: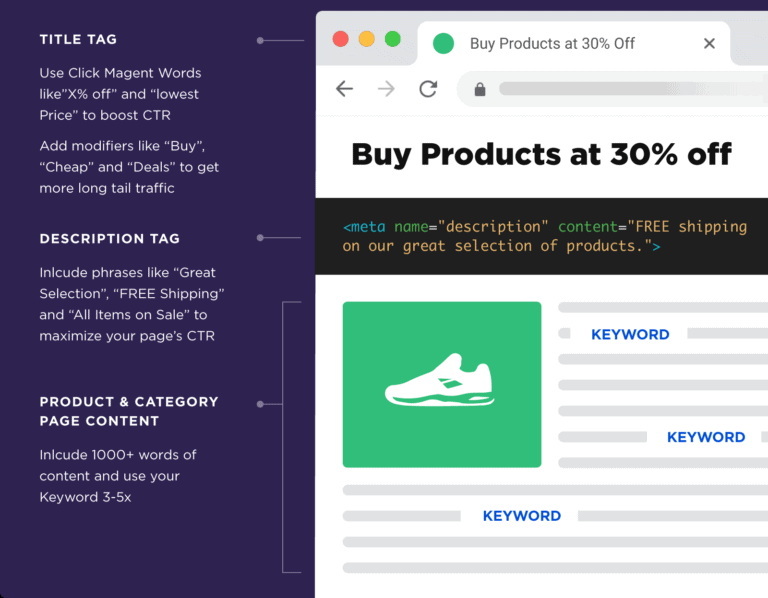 Optimize page titles and meta descriptions
Product page titles and meta descriptions are one of the most significant elements of eCommerce SEO Shopify. Simply put, they tell search engines what a page is about. Also, this is what people see in search results. So your product titles and meta description must not only include keywords to rank for but also catch potential buyers' attention.
Here are the best practices you should follow:
Titles should be between 40-60 characters.
Meta descriptions should be between 120-140 characters.
Include keywords you want to rank for.
Titles should start with the targeted keywords.
Add long-tail keywords to reach potential buyers.
Catch attention with your USP (best prices, free shipping, etc.).
Use AI tools to help generate titles and meta descriptions, but you should always review and personalize the output. You don't want them to be the same as what your competitors have.
Category and product descriptions
Category and product pages are important for Shopify SEO because search engines use their content to understand the webpage, how high, and for what keywords to rank it.
While category and product descriptions have less impact than they used to, every bit still helps. Many stores practice copying product descriptions from their suppliers' pages and have the same description texts for multiple products – do not do this. Remember that search engines don't like duplicate content.
Follow these practices of SEO for Shopify to optimize category and product pages:
Include keywords but don't go overboard.
Write long, in-depth, and unique content to help search engines rank your pages more accurately.
Category pages should have no less than 200 words. Aim at 300 words.
Try to cover questions customers might have.
Persuade to buy by highlighting the benefits of your products and how they help.
It might be tedious, especially if you have a high number of products and categories, but it is totally worth it.
Product images and file names
Search engines can't look at your images, so they check their alt tags. Alt tags serve as descriptions that help search engines understand the subject of a picture. They also assist people with screen readers. If an image fails to load, users will see its alt text.
Follow these Shopify SEO practices to optimize your images:
Include keywords in alt tags.
Alt tags should describe what an image is about.
At the same time, try to keep alt text short.
Use descriptive file names for images. Instead of names like "12sdf132.jpeg", use "green-dress-shirt-132.jpeg".
Optimize image size to improve website loading speed.
People often search for products through images. Searches by images have high CTR, so by optimizing your product images, you have a good chance of attracting potential customers.
Schema markup & rich snippets
Schema markup is the HTML code that enables rich snippets functionality. Remember we talked about the benefits of structured data for Shopify SEO? This is it! But don't worry, you don't have to code anything – most Shopify themes support schema markup. All you have to do is fill in your product details.
Rich snippets display additional information about your products, including prices, availability, and reviews. This allows your products to stand out in SERPs and get up to a 30% increase in CTR.
Here is a screenshot of a product page without this feature:

And here is what rich snippets look like:

Obviously, the product page with a rich snippet looks far more attractive.
Virtually all Shopify themes support rich snippets, even the free ones. If you use your custom theme, you might need to alter the code or get help from a developer. Also, there are plenty of Shopify SEO apps that enable schema markup and allow you to display customer reviews.
Clear URL structure
Clear URLs are links that are short, simple, and easy to understand. This helps both your Shopify SEO and improves user experience. Search engines prefer short links, ideally with a keyword. Such links are easier to understand for both crawlers and people browsing search results.
Here are the best practices for creating URLs that improve Shopify SEO:
Keep URLs under 60 characters.
Include a keyword. Don't overuse keywords – it is pointless.
A keyword should be used in the page title too.
URLs should be easy to understand for real people. Google notes that.
Avoid words like "the", "and", "of", and "a" unless they are part of a keyword.
It is best to follow these practices from the beginning, but be careful what links to change if you already have an established Shopify store. If a link ranks well and generates traffic, or has backlinks from other websites, you might want to keep it that way. If links don't rank well, it is fine to change them. Just make sure you create redirects for them and check the Create a URL redirect option in Shopify for a page you altered.
Internal linking
Internal links are hyperlinks that link pages within your website to each other. You can include links to other pages within your website in your content, navigation menus, and footer sections.
Internal linking helps in several ways. Firstly, it helps search engines understand the structure of your website and the relationships between different pages, which improves ranking in SERPs.
Secondly, it helps to distribute link equity (also known as link juice) throughout your website. Pages with internal links pointing to them can get a boost from search engines.
Finally, internal links improve user experience by helping visitors navigate to relevant content on your website. This doesn't influence Shopify SEO directly but can lead to longer visit durations, increased engagement, and a lower bounce rate.
Here are the best internal linking practices to improve Shopify SEO:
Use descriptive anchor text for your links.
Ensure that the linked pages are related in some way.
Don't overdo it. Two internal links every few hundred words are enough.
You can use Shopify internal linking tools, such as product tags and collections, to create internal links automatically based on predefined criteria. Still, it is best to do it manually.
These are the most common on-page tweaks in the Shopify SEO checklist. By following these practices, you can improve your store's visibility in SERPs and drive more traffic. I want to emphasize that on-page SEO is not only about improving the ranking of your store but also about enhancing user experience.
Make sure your product pages and their content are enjoyable to browse. Use relevant and descriptive headings (H1, H2, etc.) to help organize your content and make it easier to understand. Use your chosen keywords naturally throughout your content. You want to keep customers browsing your store. The longer people stay at your website, the more chance you have of making a sale. Search engines also keep track of how long visitors spend time on a website, so this will also improve ranking.
4. Off-page Shopify SEO Checklist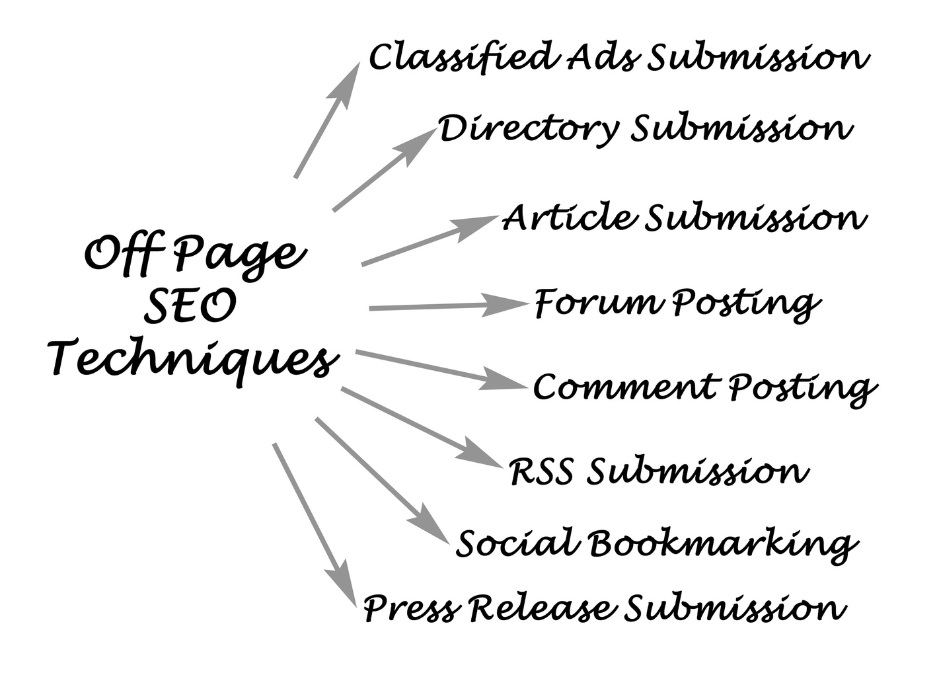 Further on the Shopify SEO Checklist are off-page optimizations. Off-page SEO for Shopify is the optimization of external factors that affect the visibility and ranking of a Shopify store in SERPs. It includes:
Link building – acquiring backlinks from other websites to your Shopify store. High-quality links from authoritative websites improve visibility and ranking in search engine results pages.
Social media marketing – promoting your store on social commerce platforms such as Facebook, Instagram, Twitter, and TikTok to engage with potential customers. This can help to drive traffic to your store and improve its online reach.
Managing online reputation – a positive online reputation can help improve the credibility and visibility of your Shopify store. Responding to customer reviews and feedback on external websites can help to establish a positive brand image.
Influencer marketing – collaborating with influencers or bloggers to increase brand awareness and drive traffic to your Shopify store.
Guest blogging – publishing high-quality content on external websites helps in establishing authority in your industry and attracting backlinks to your store.
A comprehensive off-page SEO for Shopify strategy should focus on acquiring high-quality backlinks, social media efforts, managing your brand image, and collaborating with influencers.
Link-building
Link-building is an essential step in the Shopify SEO checklist because backlinks can enhance ranking drastically. Backlinks are links from third-party websites that help search engines understand what your website is about. Backlinks from authoritative sites tell search engines that a website is credible. This also gives a considerable boost to ranking in SERPs. So it is crucial to get backlinks from websites with a good reputation and to avoid low-quality sites. Prioritize quality over quantity.
Acquiring backlinks is not an easy task and requires a good strategy. Here are some common ways of getting backlinks naturally:
Blogging – if you write high-quality content, other websites might want to link to it. This works well only in the long term.
Guest blogging – writing and publishing high-quality content with links to your store on other websites in your industry. Many websites accept guest posts for free, but you need to follow their posting guidelines, and they have the right to edit your post after publishing.
Broken link building – finding broken links on other websites that point to content related to your Shopify store and then contacting website owners to offer a replacement link.
Influencer outreach – collaborating with influencers or bloggers to get backlinks from their posts, videos, articles, etc.
Business directories – list your Shopify store in business directories.
Testimonials – providing testimonials for products or services related to your store can often lead to backlinks to your store.
When building links for your Shopify store, focus on high-quality links from authoritative websites in your industry. Avoid black hat tactics such as buying links, as this can result in penalties from search engines. Attract backlinks to your store naturally by creating high-quality content and building relationships with other websites in your industry.
Social media marketing plays a significant role in eCommerce SEO for Shopify stores. Here are some ways that social media marketing can impact Shopify SEO:
Increased brand visibility – by posting on social media platforms regularly, you increase your brand's visibility and reach a wider audience. This results in more traffic to your Shopify store and potentially improves its search engine rankings.
Social signals – likes, shares, and comments on your social media posts can indicate to search engines the relevance and popularity of your content.
Building backlinks – by sharing your content on social media and engaging with other users, you can attract backlinks from other websites and social media accounts.
Customer engagement – engage with your customers to get positive reviews and increase brand loyalty. This also can improve your store's SEO.
When using social media for Shopify SEO, have a clear strategy that involves regular posting, engagement with your followers, sharing high-quality content, and building relationships with other users in your industry. Monitor your social media metrics and adjust your strategy as needed to ensure a positive impact on your Shopify SEO.
You can also combine social media marketing with social commerce, which opens up new possibilities to increase the number of potential buyers, therefore, your revenue. Social shopping serves as an independent distribution channel in addition to other types.
Many businesses, especially Shopify stores, have shops on popular social commerce platforms such as Facebook, Instagram, and TikTok. There are billions of social media users, and you can convert them into customers.
Managing online reputation
Google and other search engines often prioritize websites with positive reviews and ratings in SERPs. So, a positive online reputation can improve your search engine ranking, which leads to increased organic traffic and sales.
Follow these tips for managing your online reputation for Shopify SEO:
Monitor your brand – use online reputation management tools like Google Alerts, Mention, or Brand24 to monitor mentions, reviews, and comments to stay on top of any negative comments or reviews that may hurt your reputation.
Respond to negative comments – respond to negative comments professionally and politely. Show that you care about your customers and are willing to address any concerns they may have.
Encourage positive reviews – by increasing the number of reviews and ratings, you improve your reputation and boost your Shopify SEO.
Transparency – be transparent about your business practices, such as shipping times, return policies, and pricing, to build trust with and prevent negative reviews or comments.
Social media – engage with your customers and build a positive online reputation. Share updates about your business and products, respond to comments and messages and post customer testimonials.
By implementing these tips, you will establish a good brand image, which increases the chances of buyers returning, attracts new customers, and improves your eCommerce Shopify SEO.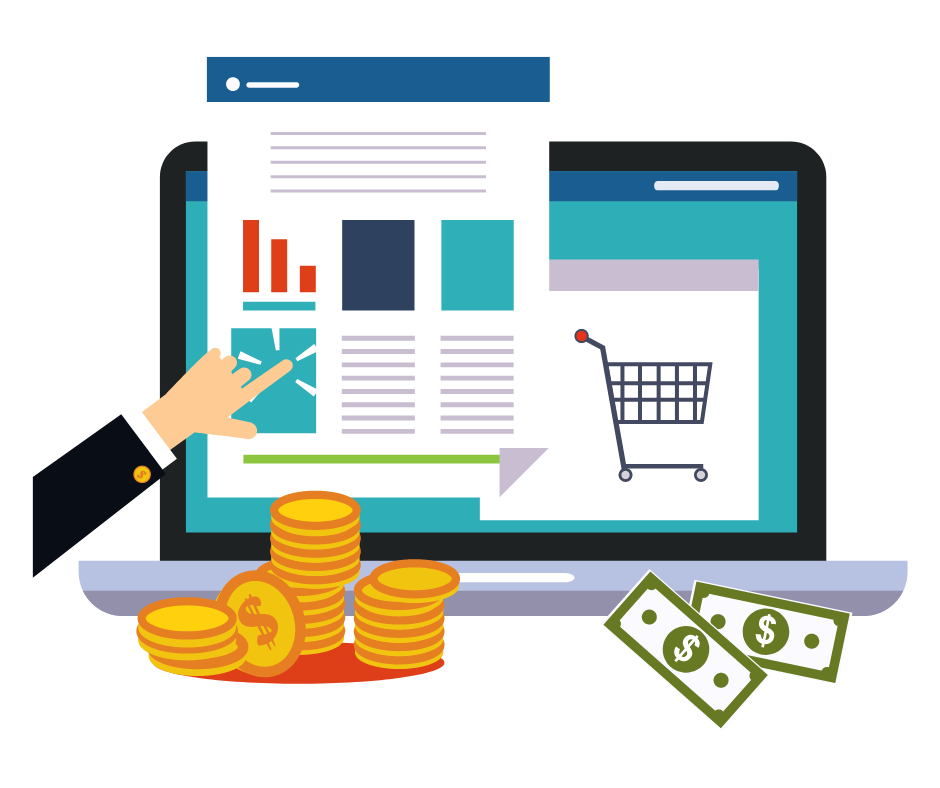 Don't wait for the profits, make them!
Start a profitable dropshipping business with DSM Tool. Get a free course and a free trial of the software.
Influencer marketing
Influencer marketing can be a powerful strategy for boosting Shopify SEO. Influencers provide businesses with authentic content, increase brand awareness, build trust and credibility, and improve SEO by generating backlinks.
Here are some steps for doing influencer marketing for Shopify SEO:
Find relevant influencers – use social media platforms, influencer marketplaces, or influencer databases to find relevant influencers with a large following and whose audience is similar to your target audience.
Reach out – once you have identified relevant influencers, reach out to them and introduce your brand and products. Offer them free products or a commission for promoting your brand or products.
Create a campaign – work with influencers to create a campaign that aligns with your brand values and messaging. It should be authentic and engaging to promote the benefits of your products.
Promote – after launching the campaign, promote it on your website, social media, and email marketing campaigns to encourage your followers to share it on their social media profiles.
Monitor results – monitor the results and track the impact of the campaign on your Shopify SEO. Use analytics tools to measure traffic, conversions, and sales to determine the ROI of the campaign and make any necessary adjustments for future campaigns.
Influencer marketing can be a cost-effective marketing strategy, especially for small businesses. Instead of spending a large budget on traditional advertising, you can reach a targeted audience at a lower cost.
Guest blogging
Guest blogging is another great way of improving Shopify SEO. Here is the basic guideline to follow:
Identify relevant blogs – find blogs relevant to your brand and target audience. Look for blogs with high domain authority and engaged readership.
Reach out – contact the blog owners or editors and pitch them an idea for a guest blog post. Explain why your post would be valuable to their readers and how it aligns with their content.
Write a post – Once your pitch is accepted, create a high-quality guest post that provides value to the readers. Your post must be well-researched, informative, easy to read, and engaging.
Include backlinks – include one or two backlinks to your Shopify store within the guest post. The links should be relevant to the content and provide value to readers.
Promote the post – once the guest post is published, promote it on your social media channels and email marketing campaigns. Encourage your followers to share the post on their social media profiles.
Monitor results – monitor the results of the guest post by tracking traffic, conversions, and sales to your store. Use analytics tools to measure the impact of backlinks on your Shopify SEO.
By finding relevant blogs and creating high-quality posts with backlinks, businesses can increase brand awareness, boost sales, and improve SEO for Shopify stores.
5. Content Marketing for eCommerce SEO Shopify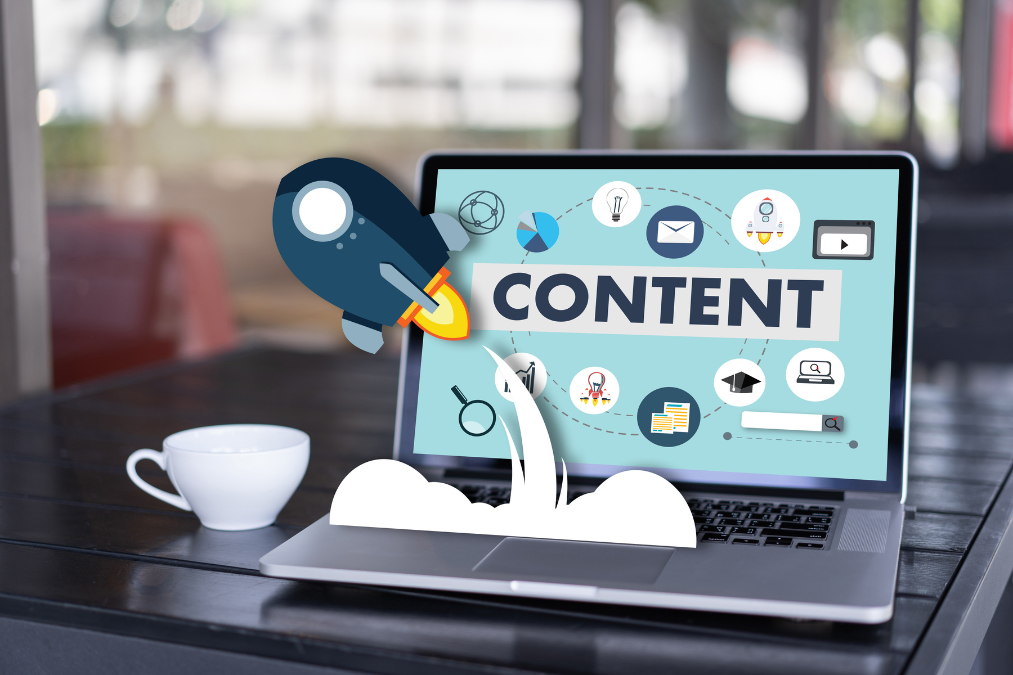 Content marketing is not a mandatory step in this eCommerce Shopify SEO checklist, but I recommend you not to skip it. Content marketing has many benefits for improving Shopify SEO, such as increasing website traffic, improving engagement, building brand awareness, and enhancing credibility and trust. It can be a cost-effective marketing strategy, especially compared to traditional advertising. While it takes time and resources to create high-quality content, the long-term benefits outweigh the costs.
Blogging
Blogging for Shopify SEO involves creating quality content on your store that is optimized to rank well in search engines like Google. High-quality blog content with relevant keywords, internal linking, and other SEO best practices can improve your website's search engine visibility, drive more traffic to your store, and ultimately increase your sales.
It can also help to establish your brand as an authoritative leader in your industry, build trust with your customers, and provide value to your audience by offering helpful information. Additionally, you can share blog content on social media to reach a wider audience and bring more visitors to your Shopify store.
Here are some steps to get started with blogging:
Determine your target audience – identify your target audience, their needs, and interests to create content that resonates with your audience and provides them with valuable information.
Conduct keyword research – use keyword research tools to identify relevant and high-traffic keywords related to your industry and niche. Include these keywords throughout your blog posts (also in titles, URLs, and meta descriptions).
Create valuable content – write blog content that provides value to your audience and answers their questions. This can be how-to guides, industry insights, news updates, and product reviews.
Optimize your content for search engines – use on-page optimization techniques (internal linking, title tags, meta descriptions, and header tags) to make your content more visible to search engines.
Use visuals – incorporate images, videos, etc., into your blog posts to make them more engaging and shareable. Don't forget to optimize your visuals with alt tags and descriptive filenames.
Promote your blog posts – share your blog content on social media platforms and in email marketing campaigns to increase your reach and attract more visitors to your Shopify store.
Analyze and adjust – rack the performance of your blog content and alter your strategy if needed to improve your search engine rankings and drive more traffic to your Shopify store.
Follow this guideline to create a successful blog for eCommerce Shopify SEO that attracts and engages your target audience, establishes your brand as a leader in your industry, and drives traffic to your Shopify store.
Video Reviews
Creating product video reviews is another great way to improve your Shopify SEO and increase your store's traffic and sales. Some people prefer watching videos over reading articles, especially social media users. Also, customers often watch product reviews and comparisons when deciding what product to buy.
Here are the steps to create effective product video reviews to boost your Shopify SEO:
Choose the right products – products should be relevant to your target audience and have the potential to generate interest and sales. Consider product popularity, customer demand, product features, and benefits.
Create high-quality video content – use a high-quality camera and microphone to create clear and engaging videos. It is best to film in a well-lit area with natural light to improve the quality of your footage.
Optimize video titles and descriptions – use relevant and descriptive titles and descriptions that include your target keywords to help your videos appear in search results.
Showcase product features – highlight the main features of products and demonstrate how they work. Help your potential customers understand the benefits of the products and how they can solve their problems.
Include a call-to-action – encourage viewers to take action by asking them to visit your website or click a link to learn more about the product.
Share your videos on social media – videos are perfect content for social media platforms. Upload your product video reviews to Youtube and share them on Facebook, Twitter, and Instagram to increase their visibility and reach a wider audience.
Follow these steps to create product video reviews that boost eCommerce SEO for Shopify stores, increase traffic and sales, and establish a brand name as a trusted authority in the industry.
You've made it to the end of the Shopify SEO checklist! Your store should be well-optimized for eCommerce Shopify SEO and ready to drive traffic and make sales. But your work is not over yet. It is important to analyze and track your store performance to see how the optimizations work, check if you need to change your marketing campaigns, and develop a working eCommerce SEO Shopify strategy.
Shopify SEO Analytics And Tracking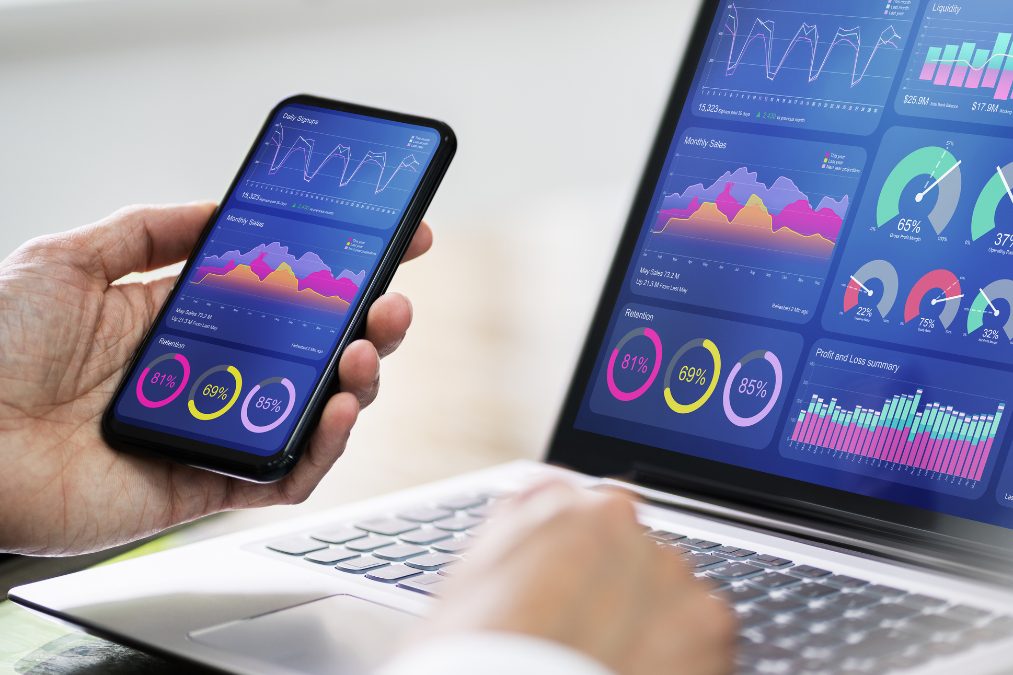 The final step in this Shopify SEO checklist is monitoring the results. Analytics and tracking are essential for any successful Shopify SEO strategy. By tracking key metrics like traffic, conversions, and revenue, you can gain valuable insights into your website performance and identify opportunities for improvement.
Here is the must-do routine for analyzing and tracking Shopify SEO:
Use Google Analytics – track key metrics like traffic, bounce rate, time on site, and conversion rate. Get insights into how your store performs and help you identify areas for improvement.
Use Google Search Console – monitor your website's search engine performance and identify potential issues like crawl errors, indexing problems, and security issues.
Track your keyword rankings – use keyword tracking tools to monitor your keyword rankings and track your progress over time. Identify which keywords drive the most traffic to your store and adjust your strategy accordingly.
Monitor your backlinks – use backlink tracking tools to monitor your website's backlinks and identify opportunities for link building. It will help you improve your website's authority and visibility in SERPs.
Set up conversion tracking – set up conversion tracking in Google Analytics and track key metrics like revenue, transactions, and conversion rate to identify which pages and products drive the most conversions and adjust your strategy accordingly.
Use heat mapping tools – use heat mapping tools to track user behavior on your website and identify areas for improvement. Optimize your website for user experience and improve your conversion rate.
These analytics and tracking strategies provide valuable insights into how your store performs and help to make data-driven decisions to improve your eCommerce SEO for Shopify.
Conclusion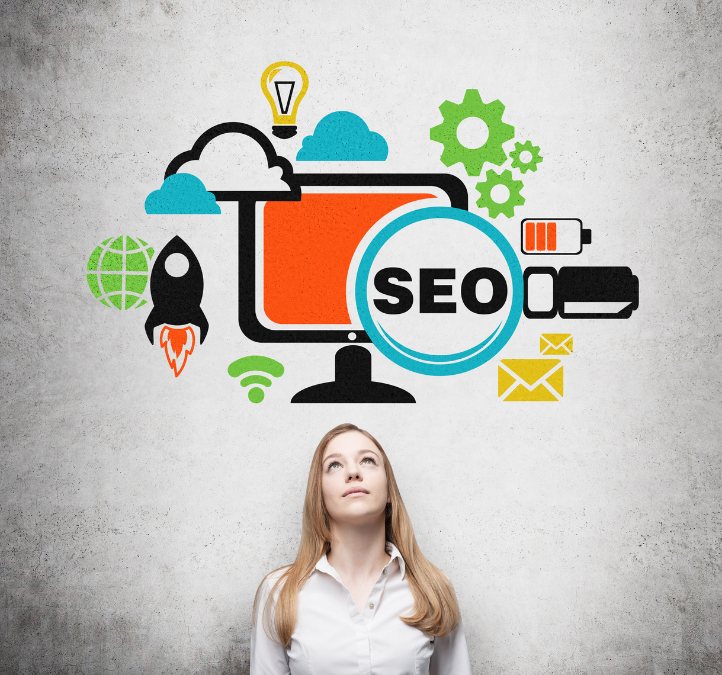 Congrats on finishing this Shopify SEO checklist! So what did you learn?
Is Shopify good for SEO? Yes. It is not perfect and lacks customization features many SEO experts find essential, but it has all the features for small businesses. Bigger eCommerce businesses might want to consider other eCommerce platforms. One of the most common reasons sellers switch to other platforms is how a Shopify store gets overloaded with third-party Shopify apps that slow it down and cost a hefty sum for subscriptions. But there are also big companies that stick with Shopify and are successful.
I hope that you find this Shopify SEO checklist helpful for improving your eCommerce business. Remember that eCommerce SEO is a long-term strategy that requires ongoing effort and attention. Search engines constantly update their algorithms, so you must continually adapt your SEO strategies and create new campaigns to remain competitive.
Here are a few articles relevant to this Shopify SEO checklist you might find useful:
Good luck on your eCommerce journey!