10

min read
Starting to sell on eBay is easier when you know how everything works. Especially when you don´t lose money because you know how to calculate your eBay profits and dropshipping margins. Let´s not forget about different possible expenses you would have: eBay selling fees, eBay managed payments fees, lister fees, etc.
Don´t worry! We will show you how to calculate your profits and estimate eBay fees with the help of the eBay profit calculator by AutoDS.
Actually, it's the most exciting part to calculate the estimated eBay profit for each listing you are going to sell on the eBay marketplace. When you see the profit potential of a certain product, you'll want to list it immediately! Right!?
Let´s see how to keep being profitable with selling on eBay and how to use the eBay calculator correctly.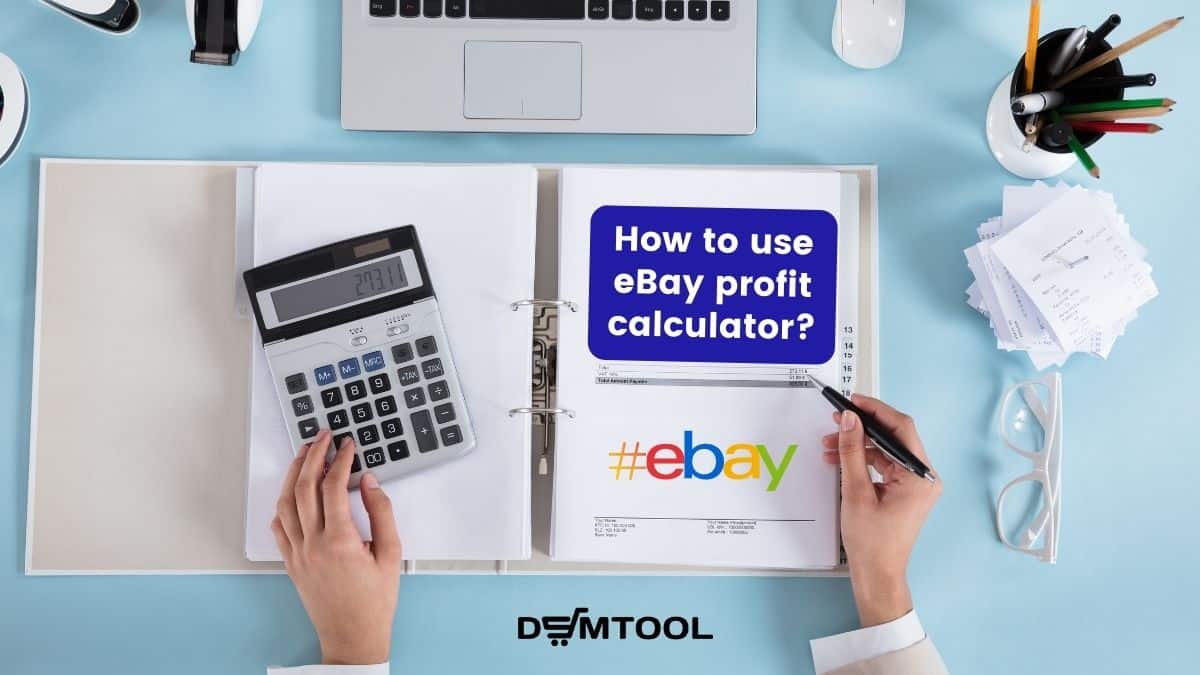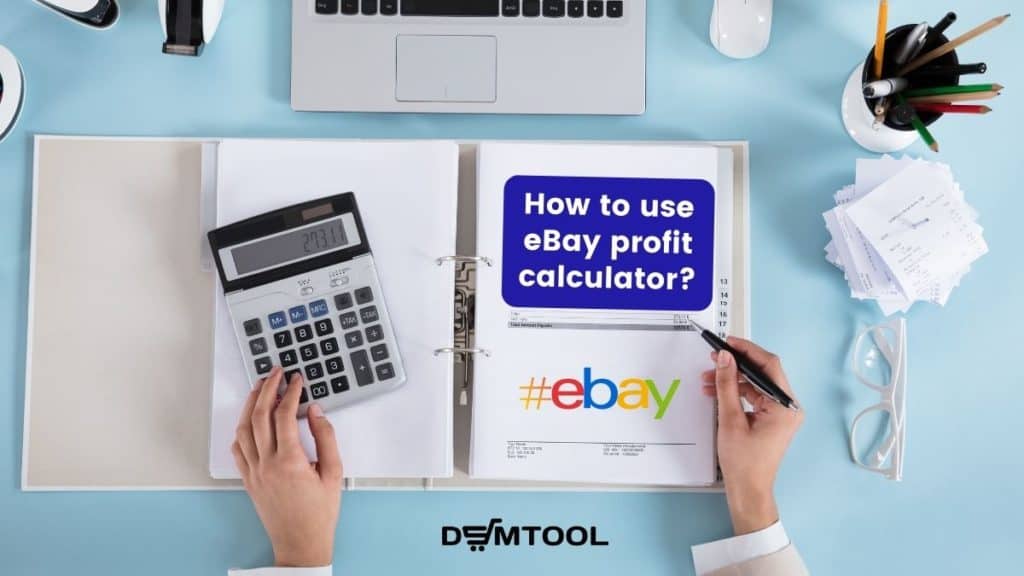 How to calculate profit from eBay sales?
There are a few ways you can calculate your eBay profits when listing a winning product on your online store. First, you need to understand eBay Insertion & Selling Fees along with the eBay Managed Payments. They will be your main fees to pay to eBay monthly.
Once you've learned about eBay fees along with eBay's payment method your next task would be to do Product Research. When you have an idea of what you want to sell on eBay. It´s the right time to calculate the potential profit a product or listing will bring you. To do that, you need to take into account: eBay fees & the product's price + shipping costs on the chosen sourcing website.
Of course, you can calculate everything manually. But it´s a time-consuming task. You can save time and use one of the eBay calculators to do everything for you. There are a few useful websites you can use in order to calculate your eBay profits. For example, you can use the US eBay Fee Calculator.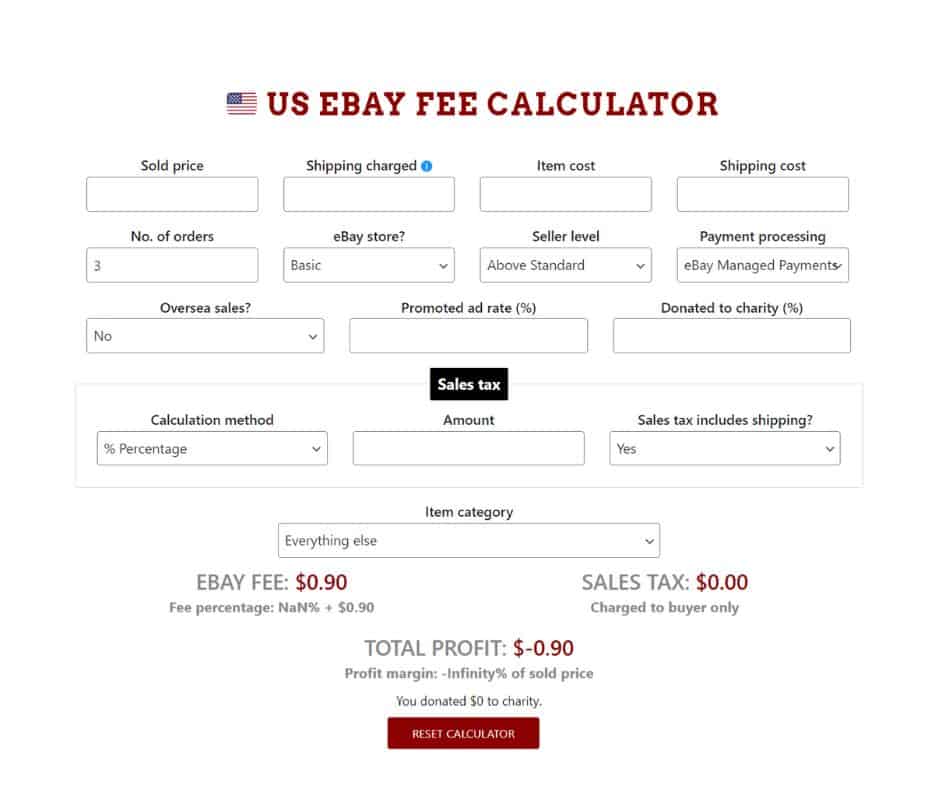 It's very simple to use this eBay fee calculator. All you need to do is to fill the blanks with the information requested and that's all.
However, we have a much more direct approach — not to mention simple!
In this article, I will show you how to easily calculate your profits from different products you choose to source for your store. DSM Tool has developed a Profit Calculator on an excel file just for you!
The formulas to calculate fees to cover and eBay profits to take are already integrated within the excel Google Sheet, all you need to do is submit the information — moreover you will find a great surprise on the excel file!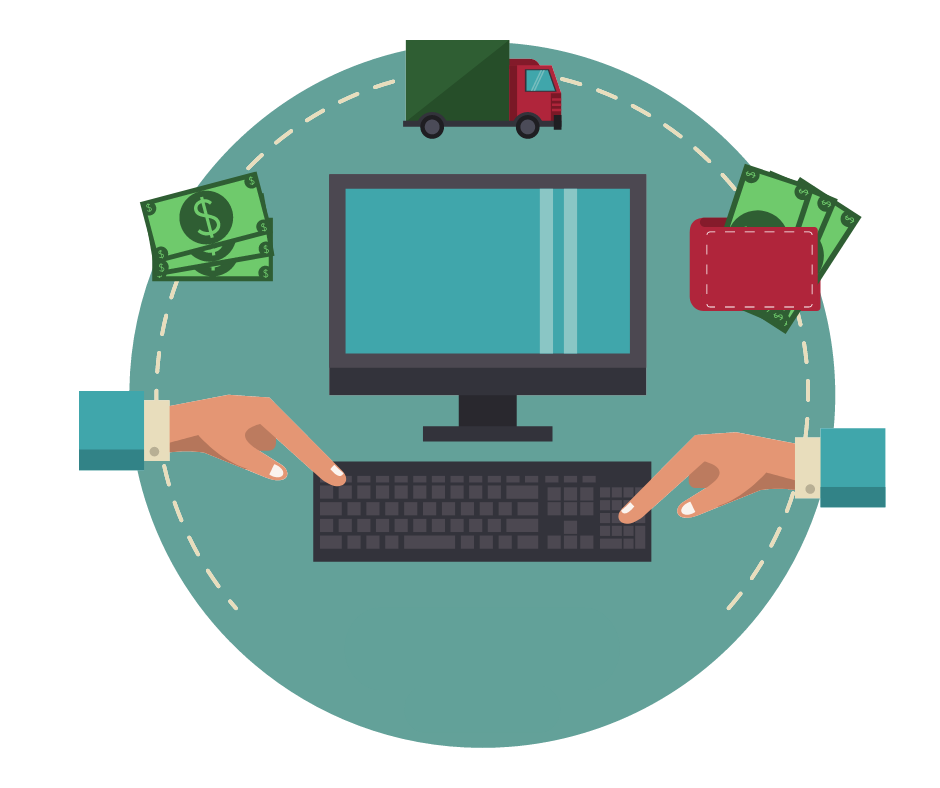 Not yet making money online?
Start your own dropshipping business. Sign up for a free trial of DSM Tool and we'll help you get started. Today is the day.
How to access eBay profit calculator?
First, head over to www.dsmtool.com/calculator. There you will be directed to a page that'll allow you to create your own copy of this eBay profit calculator — don't worry, you will have everything integrated into your personal file.
All you need to do is click on where it says "Get a copy" and you will be taken to the Google sheet.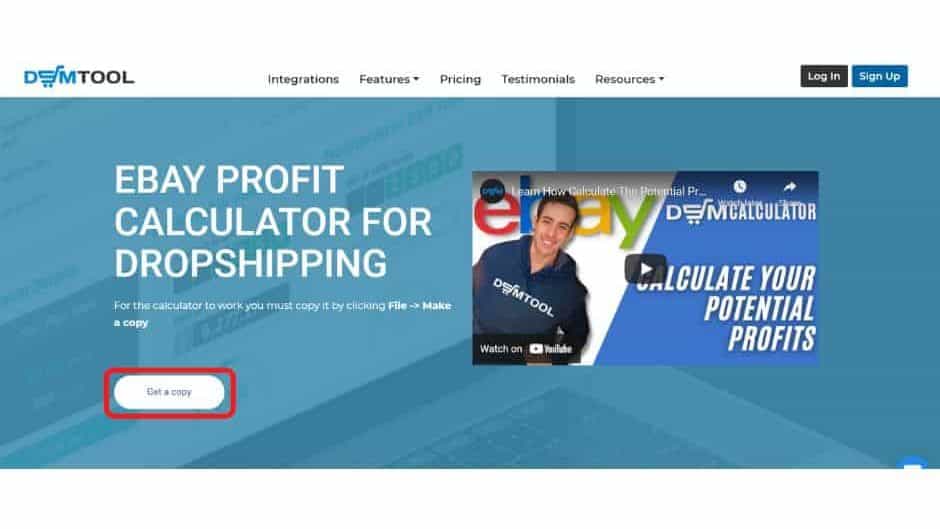 You'll also find a short informative video of me explaining all of the Calculator's features — check it out before making a copy!
In the eBay calculator, you will find different tabs on the lower side of the page. There you can add different dropshipping suppliers that you choose to source your items from. It's also a good idea to save some competitors you can follow.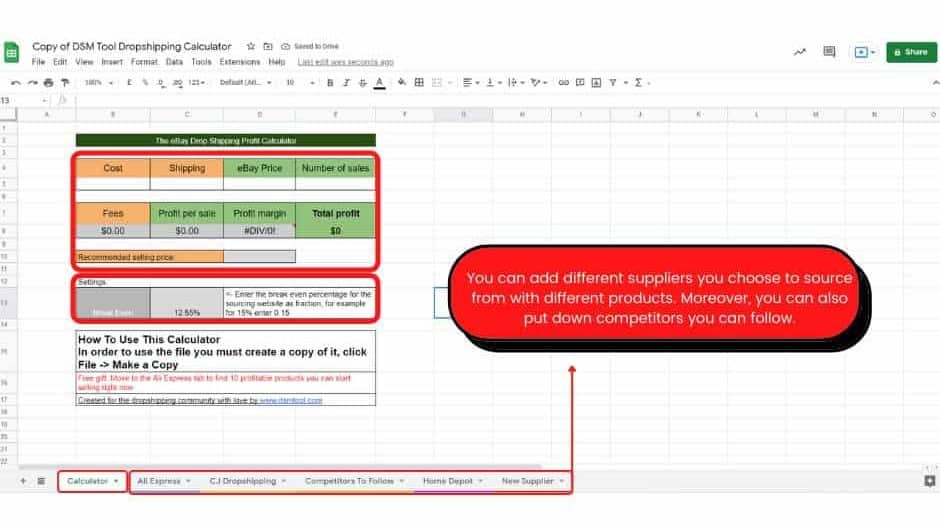 How to use the eBay selling Calculator?
Okay, let's start by using the eBay profit calculator by DSM Tool. First, I will show you a quick example of a product I found last week.
I found this awesome Chinese lucky wealth gold cat that has 20 sales on eBay by another dropshipper. I found it for a lower price on AliExpress — You can do it quickly and easily by using Alitools, for example.
So all I need to do next is to submit the following information into our eBay calculator:
Product's price on the sourcing website (AliExpress, in my case).
The shipping fee according to the chosen carrier on the sourcing website.
The product's price on eBay (just to get an idea of the profits the seller is making on each individual sale).
The amount of times the item has been sold on eBay (to get a general idea of the total profits the seller has made on the item so far).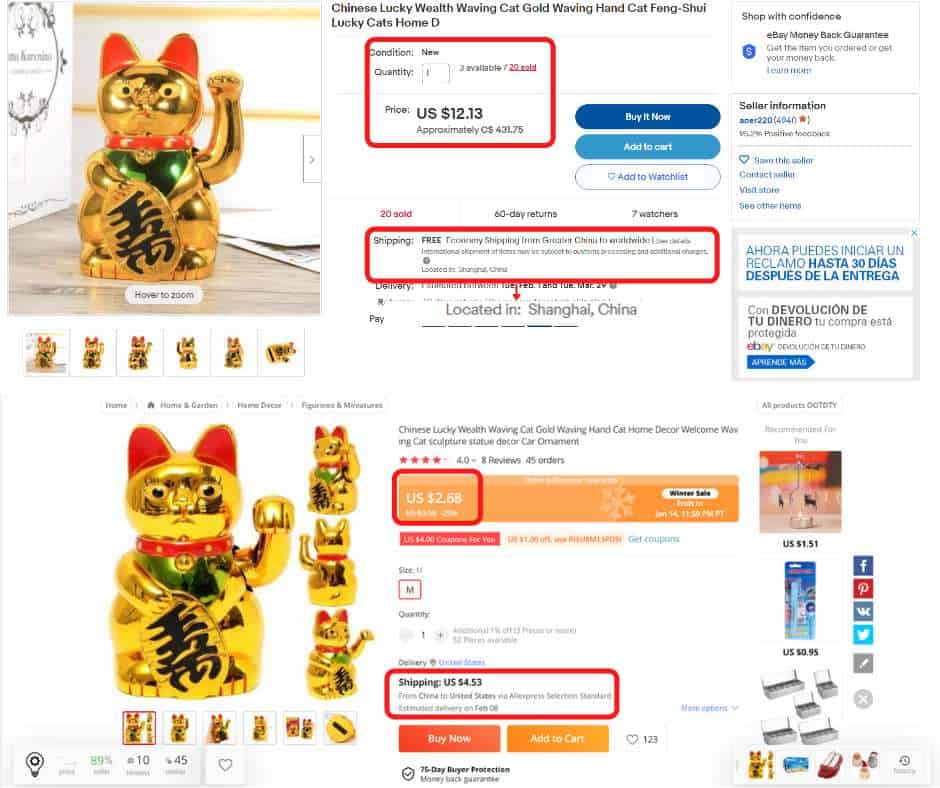 — Now let's submit all of the required information on the eBay Calculator Google Sheet!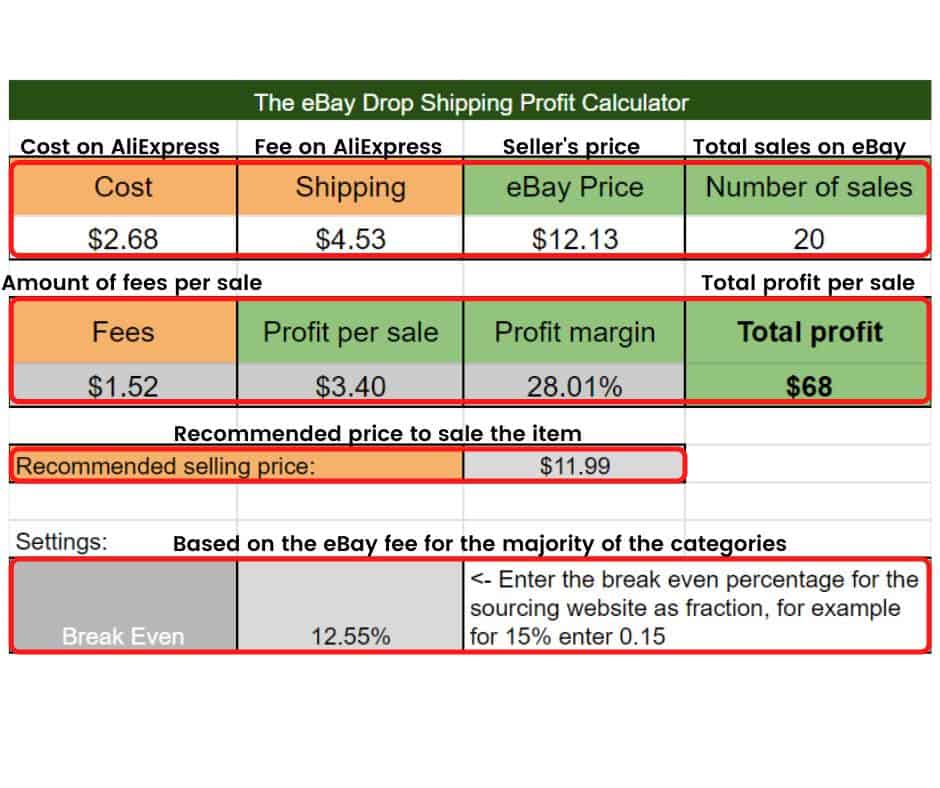 As you can see from the image above, I placed the product's cost + the shipping fee. I also place the price offered by the dropshipper on eBay and the total sales made so far. Based on that information, it'll automatically calculate the fees you would need to cover and the profits per sale.
The profit that this item has is $3.40 — which is a great number for an item!
We also give you a recommended price to sell your product on eBay. You need to be competitive in terms of pricing. Therefore as long as you offer it at a lower price, you won't have a problem.
— Is THAT easy, like I said before, all you need to do is fill in the blanks with the proper information.
Difference between the US eBay Profit Calculator and the DSM Tool eBay Profit Calculator:
I want to do a quick comparison between both eBay calculators to show you that there's not much difference in the results but the DSM Tool Calculator offers more options when it comes to overall product sniping.
Let's use another example — in other words, another winning product.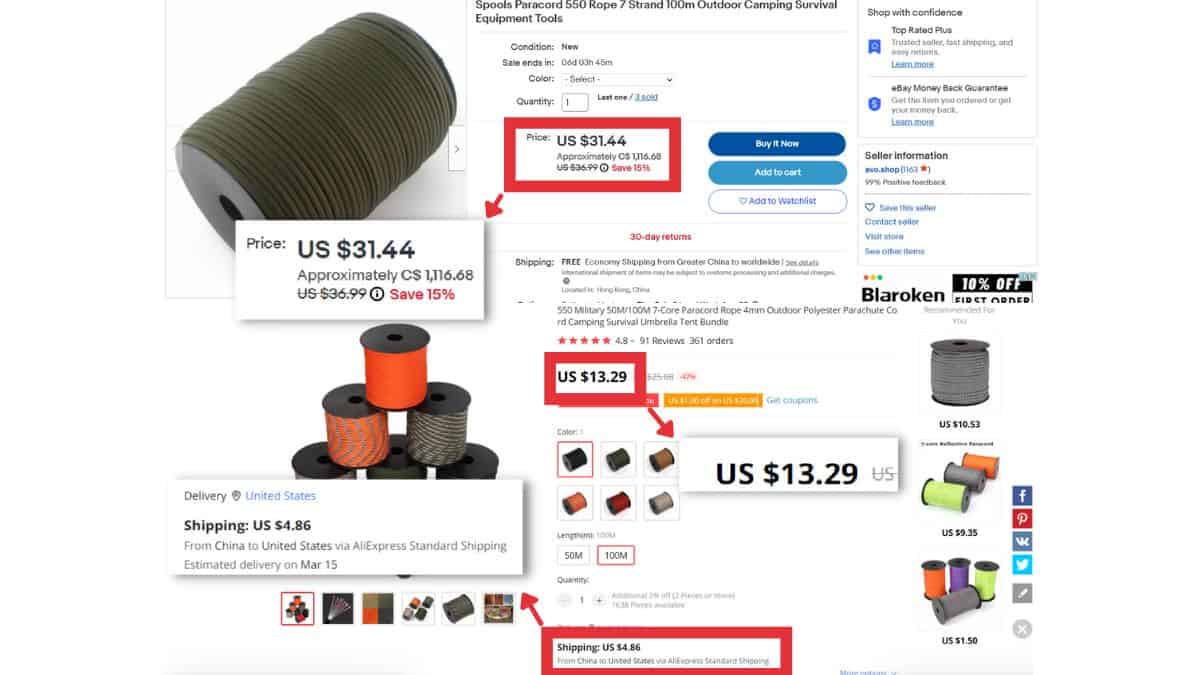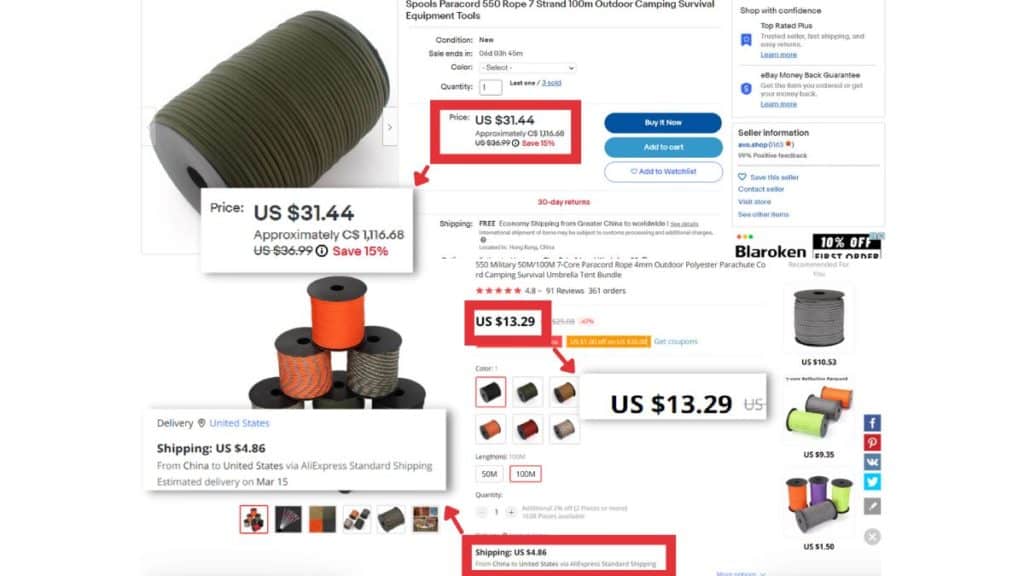 In this case, I found a 100m Paracord Rope for outdoor camping. This item is being sold from another dropshipper sourcing from China and the eBay price is $31.44. Take a look at the image below, it's the same item being sold on AliExpress for a cheaper price and it has a low price shipping cost as well.
— Now let's compare profit results using both calculators.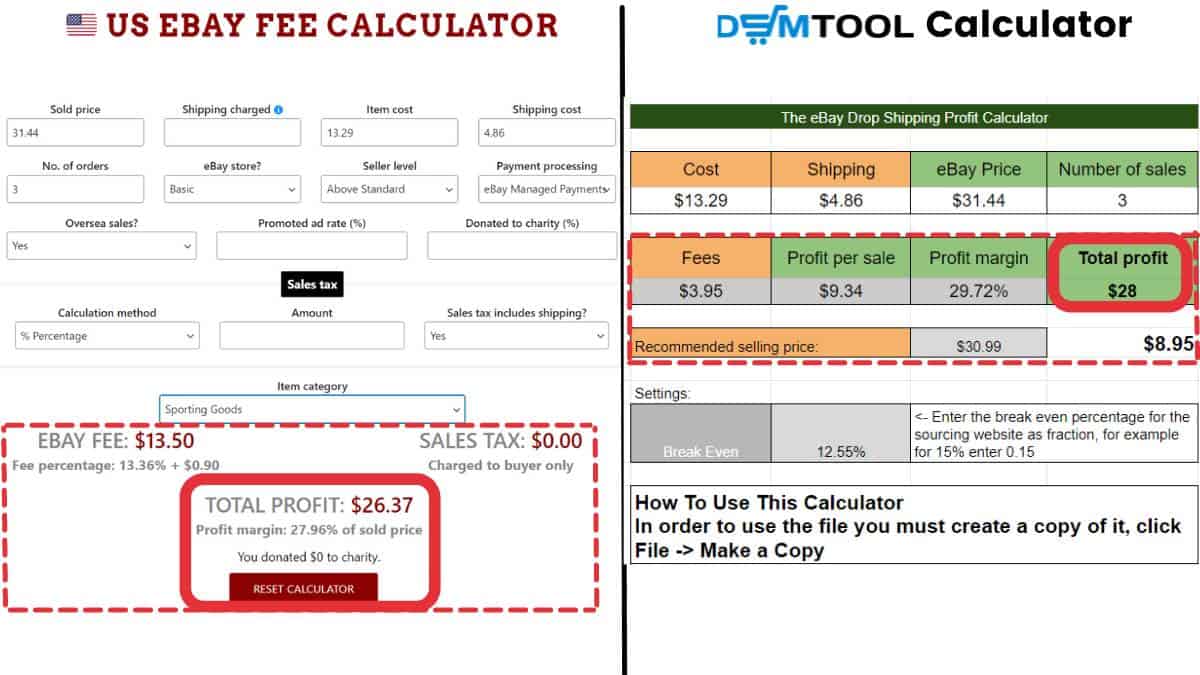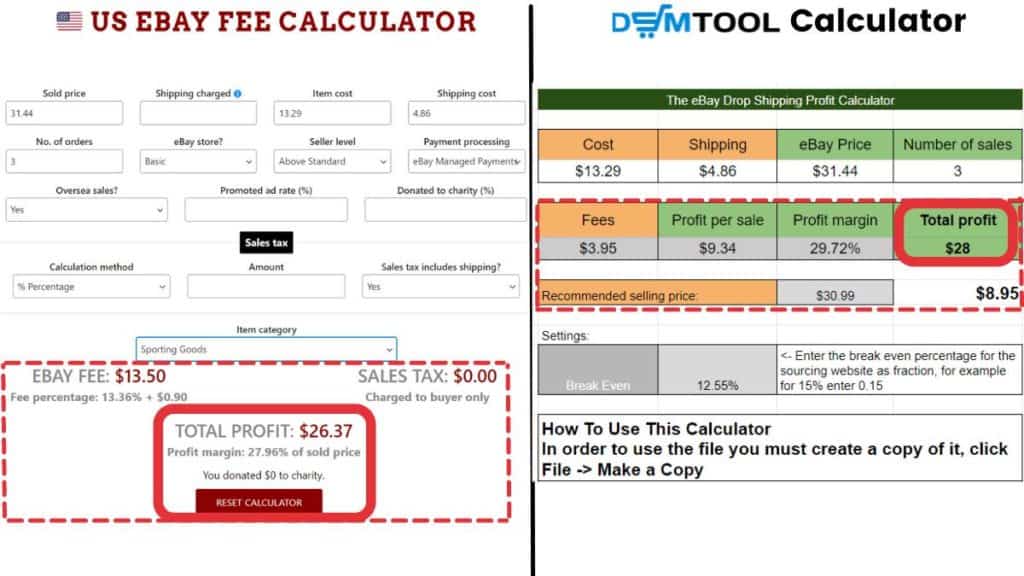 As you can see, on the left is eBay's profit calculator. You'll have more fields you need to fill up such as your eBay store, your seller level, payment processor (eBay Managed Payments is pretty much the only option every seller has on the marketplace in case you're selling at a fixed price).
Once you've completed filling out the information, you see the potential profits of selling these products on eBay. In this case, it gave us a total of $26.37. However, that's the total potential profit the seller has made overall out of 3 sales on eBay.
On the right-hand side of the image it's our DSM Tool Calculator. All you have to do is fill out the product's price on AliExpress, shipping fee, number of sales made on eBay and that's it!
Out of that information, the calculator automatically calculates the eBay fee you would need to cover in case of selling at that same price, your total profits per sale and the total potential profits made out of the total amount of sales.
Furthermore, we also recommend a selling price with the total profits per sale!
So in essence, you see that our result in terms of overall sales profits is pretty much the same, $26.37 on US eBay Calculator and $28 on DSM Tool Calculator. However, the biggest difference is that DSM Tool gives you the profits per sale and a recommended selling price as well.
We've got a surprise in store for you!
There's an additional catch if you use our DSM Tool calculator, you'll constantly find winning products you can list on your store on a weekly basis.
I am constantly finding great profitable products to sell on eBay. I choose to source from AliExpress. It is one of the best dropshipping suppliers there is when it comes to beginners.
That is why I am updating this eBay Profit Calculator spreadsheet every week with new products you can list on your own eBay store.
All you have to do is click on the "AliExpress" tab and you'll see all of the products I found. In there I have the product's page on eBay and the product's page on AliExpress. Along with the total profits per sale and overall — with a total of over $1k earnings for only 10 products!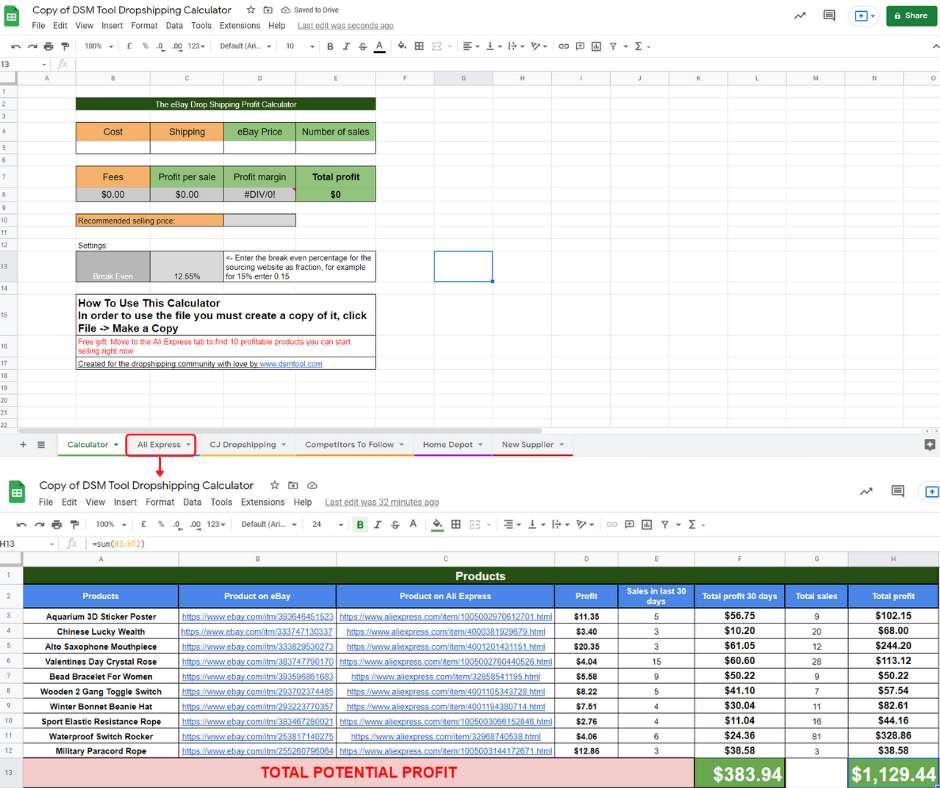 It's very time-saving, right?! You can apply the same principle to time-consuming tasks in dropshipping like creating listings or monitoring listings, and use the eBay listing software, DSM Tool, to easily create professional listings fast and increase your revenue.
Tip
Create a content strategy for your eCommerce store to stand out from the competition.
Final thoughts:
The final stage of the Product Research process is to calculate the potential eBay earnings you'll get if you decide to source the item you found. It's important to know if you will have profits to take at the end of the sale.

That's why we created an eBay profit calculator spreadsheet that'll allow you to calculate profits in a simple way. Not only that, we wanted to create a file where you can also follow up with other competitors, keep track of items you find on different suppliers and give you an additional boost with 10 great products you can decide to source as well.