13

min read
Back to 2016, as a new fish in dropshipping, my business partner and I had this feeling that we'd entered a RED OCEAN full of sharks. Everyone that we knew in the community of eBay dropshipping was sourcing their products from the same websites, we felt that we'll have better chances to win this battle if we only find an unsaturated website for product sourcing, an untouched virgin island of products. But the monitoring & listing softwares out there only supported the big retailers – Amazon & Walmart.
The day we've integrated the first 5 new sourcing websites to DSM was literally a celebration! Christmas of 2017 and Kmart coupons were the best times of our life. This website gave HUGE discounts and cashback credit to use for future orders that kept coming, seriously, it was a PARTY. We had so many orders from selling Kmart toys because we could offer both UNIQUE items and competitive prices, and we made SO MUCH PROFIT out of it! The peak was an order of a 79.99 basketball arcade game that my partner PAID ZERO on it! You getting it? We got 79.99 to our pocket, just from collecting coupons and cashback! It was so exciting!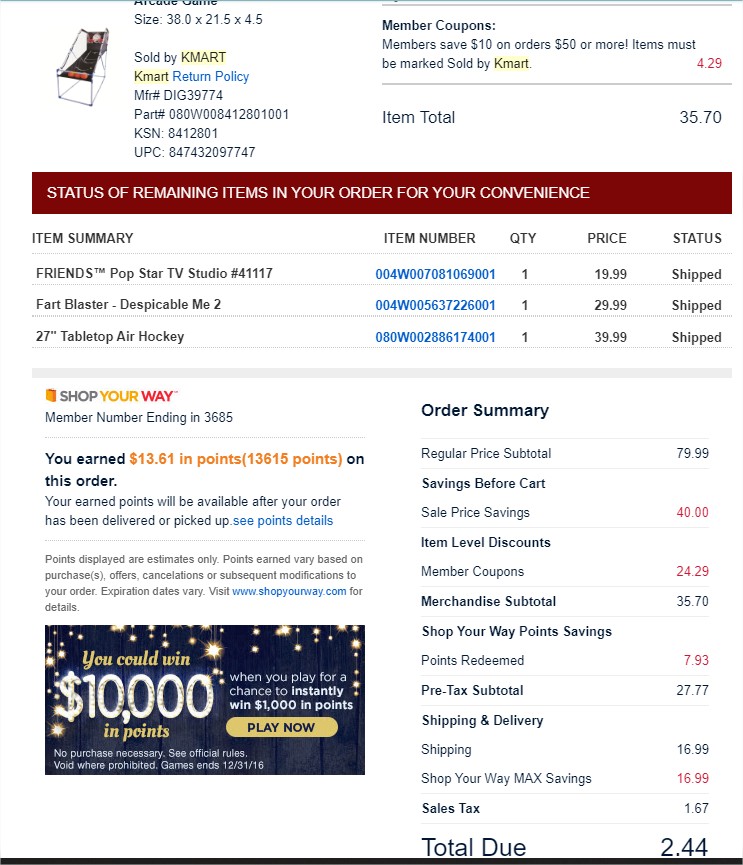 Nowadays we support already more than 50(!!!) websites for product sourcing on DSM, so you can figure out how many possibilities you have here to craft your own success and make a great income.
Possibilities are almost limitless. But there are a few things you need to know prior to working with any website because each source has its own pros and cons and its own configuration to set on DSM Tool for it to work properly toward your success. Here is my know-how for using a website for sourcing.
Making a website your dropshipping supplier
The first step in setting up a new website as a supplier for dropshipping product sourcing is to learn about the website itself. The different websites that are integrated into DSM Tool have different requirements and terms of service you must get familiar with if you want to provide an excellent service on your store when sourcing from them.
Shipping times and carriers
You are going to commit to your eBay buyers with a specific shipping time and carriers, so what you want to do is make sure which are the carriers offered on the website you are purchasing the products from.
The best way to do it is to simply read the shipping policy of that website. I gave Kmart as the website I started sourcing from in the example above, and I was able to find their shipping policy within 10 seconds by searching it on Google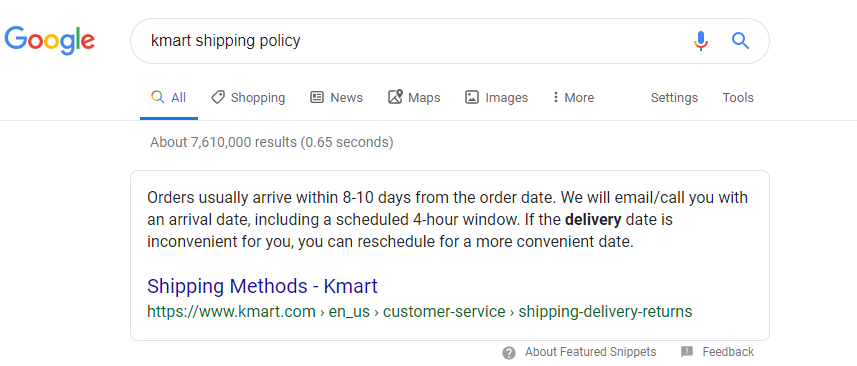 Kmart shipping methods comes up as the first result when searching for it in Google
But not all of the websites you are going to work with are providing the same shipping policy for all of their products. Kmart is a retailer, so they process all of the orders from the Kmart facilities, but websites such as AliExpress, Wayfair, Amazon, or Etsy are marketplaces full of potential suppliers that offer different shipping methods. You can learn about the most common shipping methods offered on a marketplace as you're browsing it to collect products for your store. You can find that information either on the product page or during the checkout process if you add a product to your cart.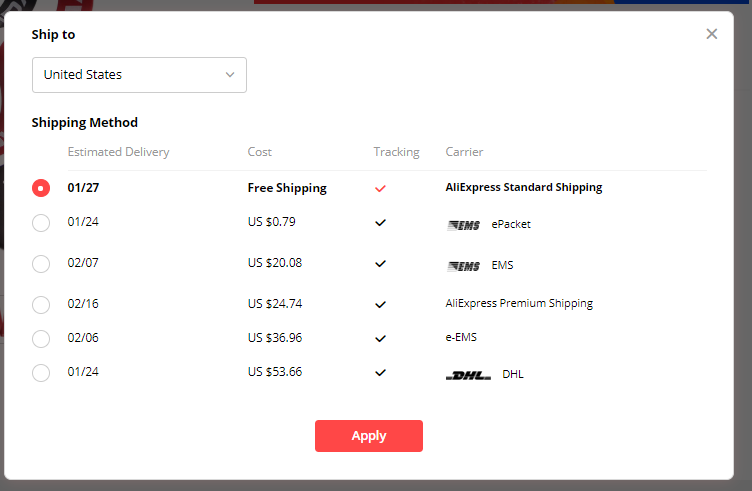 When dropshipping from AliExpress different products has different shipping options
Learn the ordering and return process of the website
The next thing you want to figure out is how to order and what will happen if a customer of yours opens a return request on eBay within the time you offer returns.
At this time you should probably already register to the website (which means you will also start getting coupons and offers what to drop ship to your email). Consider ordering something for yourself if you can, you are going to return that item and get the money back. If you can't order anything (for example if you are an international seller selling from US to US) just order something and then cancel the order immediately.
When you make the order from US dropshipping suppliers, add a product to the cart and try to see if there is a checkbox anywhere that will allow you to hide the invoice details of the order, on Amazon, for example, drop shipping sellers usually check the "mark as a gift" button.

"This order contains a gift" checkbox in Amazon.com
Measure how much time does it take for the tracking number of your purchase to get to your email box. You will need this information because on eBay you commit to a "handling time" which is how many days it is going to take you to update the tracking number for the package.
When you make an order you can also see how does the orders page looks like, where can you open a return case and where can you communicate with the seller/customer service in case you need anything.
Ping the customer service with some questions, you can ask for example how to hide the invoice details since you want to ship the products without the buyer knowing where did you purchase them in a case you can't find a "mark as a gift" button. But the reason you really do that is to measure how fast they answer. Do they answer in 1 hour or 1 day? This way you will know what to tell your eBay buyer when they ask for assistance.
When you get the package, inspect it, see if there are any logos of the website you source the products from or an invoice with the product price, try to understand what are your buyers going to experience. You should know though that when you buy from a big marketplace such as AliExpress you can't really tell how will the package look like because different orders are processed by different warehouses.
The last thing you want to do is to open a return request on the website. First, like with the shipping policy, read the returns policy. Then, open a return request and try to process the return, to learn how to take care of your customer returns as fast as possible. For example: on American retailers like Walmart you would usually get a label to print and attach to the package that then you would send to your eBay buyer when they request to return a product you sold to them.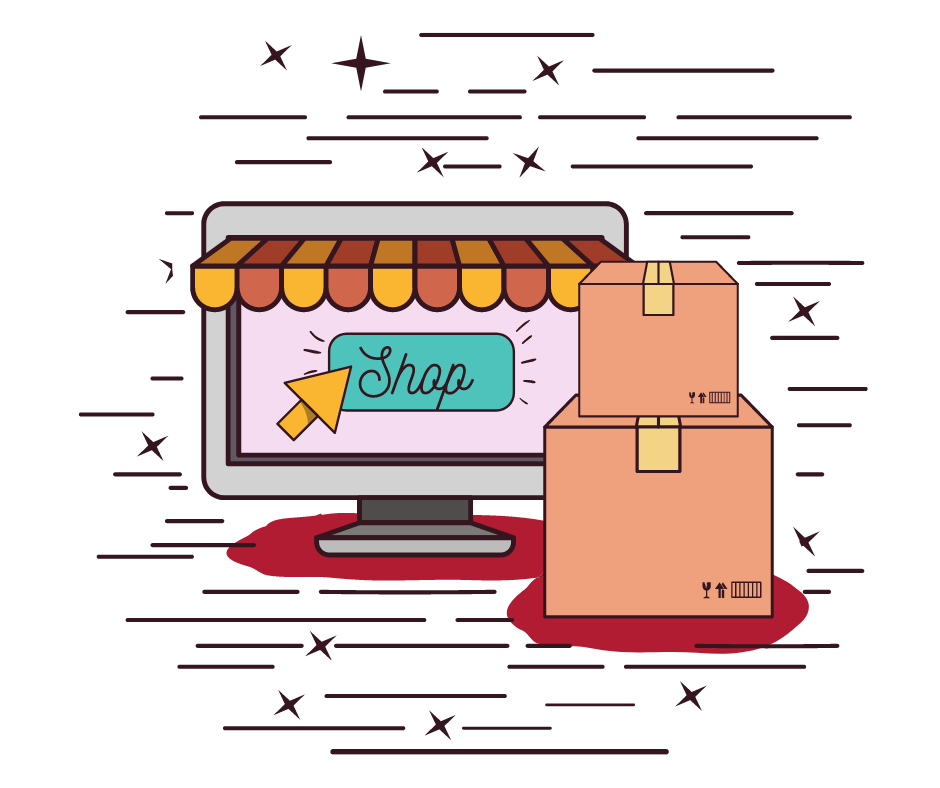 It's time…
Don't wait for success to come. Hire yourself and start your own dropshipping business
Learn how to optimize your profit margin with backend profits
Backend profits are one of the most important ways to increase your profitability when dropshipping on eBay. Actually, many dropshipping sellers who sell cheap products from American retailers such as Walmart, HomeDepot etc. sell them at the exact same price as other sellers on eBay. Then, they purchase the products with discounted gift cards they get from a gift cards supplier such as CardBazzar (it requires knowledge in how to work with Bitcoin and CryptoCurrency, not the most beginner-friendly method). If you follow a crypto volatility index, you can easily check any changes.
If you prefer not to use discounted gift cards, you can still use cash-back websites for eBay dropshipping or even a cash-back credit card to that is sometimes supplied by the retailer itself such as Walmart Credit Card
There are even more opportunities to make that extra money, by applying to the special programs the different websites offer. This is how I made quite a lot of my money working with Kmart! Some of the websites offer an entire program only for dropshipping like the Chinabrands program for dropshipping sellers (or any of the websites in the legitimate eBay dropshipping suppliers article).
Your unfair advantage
Now if you've read it all the way up to hear, you understand why this is such an amazing opportunity to start working with new websites. It takes an effort and people aren't big fans of taking a step towards the unknown. Are you seriously planning to make more money this year? Good, so you know how valuable doing this research is going to be for you. The next website you are going to drop ship from might be the one that changes your business completely and takes you to the next step in your journey to bring more money home.
After you chose and learned about the website, the next steps are pretty technical, they are a must-do but you should know that the scary part is already behind you, you have done it! You now have the unfair advantage of the ability to explore products super attractive, super competitive.
Setting up the website for product sourcing in DSM Tool
In order for your workflow to be seamless when you work with the new website, you must first set it up correctly on both eBay and DSM Tool. So I've made a checklist for you with everything that you need to set up, go over it step by step and make sure you've set up everything correctly.
Are you ready? Here we go!
Step 1: Set up business policies
You have to have the right business policies setup on your eBay store, and once you finish setting them up on your store, you need to sync them to DSM Tool. This way, every new product that you add to your store from the new website you set as a dropshipping supplier will be added to the store with the right shipping, return and payment policies.
If you are not sure what business policies are, how to set them up on eBay and how to set them up in DSM Tool Don't worry. We've created for you a complete guide for eBay business policies for eBay dropshipping.
Step 2: Set up a template for the product description
Once you have the business policies in place, your potential buyers will be able to know your shipping and returns policies. But because of the nature of habit of eBay buyers, they know that in many cases the seller also includes the policies in its product description (aka the "template").
What you want to do is to describe your policies in some sales-ish text within your product description. To do that, you have to add the new website you set as a dropshipping supplier under the Templates Settings in DSM Tool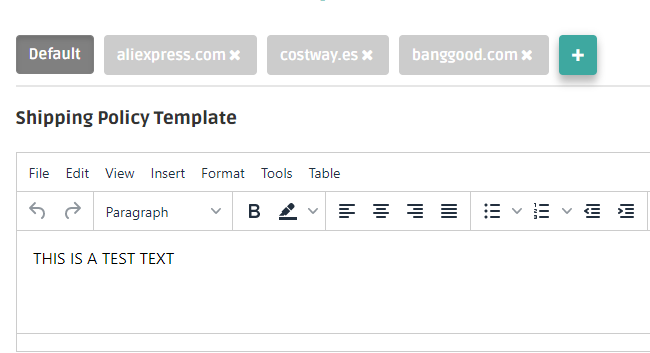 Click on the + button to add a new website you wish to set up as your dropshipping supplier
Now that you've set up the text, make sure you should make sure that your template is adjusted for working with multiple websites. Go to the templates page, click on the edit button of your current template and make sure you replace the text of the policies that is written there with a "place holder" of the policy text. This way the DSM system will be able to replace the text dynamically according to the text you wrote earlier in the settings page.

Read the notes in red. If you get any trouble doing this step, contact us via the chat support
You can avoid the hard work and add on top of it our high-performance templates if you use the Dynamic Template feature.
Set up break-even percentage and item location settings
The break-even percentage is what DSM Tool uses to automatically calculate the prices of the product you are adding new products to your store. It also helps the automatic calculation of the new selling price when the cost of the product changes and needs to be synced to your store.
The break-even is made of the fees you have to pay to eBay, Paypal and sometimes additional state tax you have to pay for domestic orders. It is explained under the "dropshipping commission rates" section in the profit margin tactics for eBay dropshipping article. It is also explained under the "Basic Account Settings" in the How to setup DSM Tool for eBay dropshipping help center article.
So that is something that you should set up for the new website you set up for eBay dropshipping under the Lister Settings.
As of 2019, eBay required to add to the item location of your products the Zip code of the physical location of the products you sell. Since many dropshipping sellers are using retailers as their product sourcing websites, they can't provide an accurate zip code. There are two ways to get around it:
Violate eBay's policy and don't provide the zip code when you use local retailers, but you should only do it if you are a beginner taking your first steps in dropshipping and you plan to stop doing it soon, or if you make high profit-margins and constantly optimize your store because you understand that your products are losing their first-page ranking pretty fast due to the policy violation.
You can choose to dropship from Chinese suppliers because eBay does not require a zip code for products located in Asia.
You can consider your options further by reading the article answering the question where to source products for dropshipping from and you can then go to your Lister settings again, and set up an item location specifically for the website you dropship from.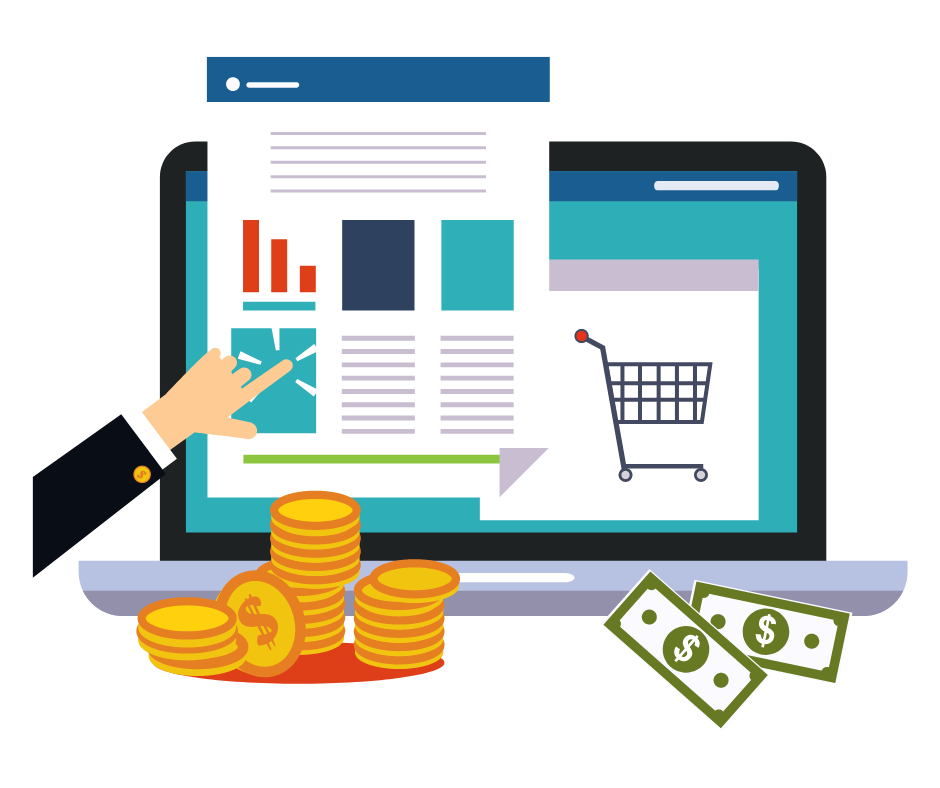 Don't wait for the profits, make them!
Start a profitable dropshipping business with DSM Tool. Get a free course and a free trial of the software.
Check the monitoring settings
When DSM Tool syncs the price and stock of the products between the website you are sourcing your products from and your eBay store, there might be changes that are dependent on your monitor settings.
For example, Kmart from the example at the beginning of this article offers free shipping only to products that cost more than $59. So in order to protect you, DSM Tool can add $6.25 to every product you list that costs less than $59. But what if you add a product that costs $65 to your store and a day later the price drops to $55? No worries, if you set up this protection the $6.25 will be automatically added to the product price on eBay.
You are good to go!
Do you know this good feeling of doing something right? Yeah. You are now ready to Rock'n'Roll so get out there and make some sales. My goal is to help you BRING MORE MONEY HOME and I have a team of experts with me here at DSM Tool to help you do that!