Are you planning to start selling on eBay? Or perhaps you simply want to make some extra cash on the side and you wonder if eBay marketplace is the best option for online sellers — right?
There are many great sites where you can open your online store, for example, Amazon, Shopify, Walmart, Etsy, and so on. However, eBay is the best marketplace for beginners. And soon you will understand why.
When I was opening an account on eBay and was starting selling there, naturally, I had so many questions about how to start selling on eBay, what does it require, how to open an eBay seller account, what to sell, what is that eBay dashboard, etcetera etcetera. Same as you now.
That's why, in this guide on how to sell on eBay for beginners, I will ease the first steps for you. I will show you why you should become an eBay seller and give you the exact steps to begin selling, explain you the eBay seller fees, profit margins, eBay tools, and many more.
Let's get started!

Why eBay Marketplace?
So, to kick off this article, let me tell you that eBay has over 183 million active users, and the numbers have drastically increased over the past few years. It is the most sought-after marketplace — you already know that this is a big market!
For example, let's take a look at the eBay USA site. To paint you a bigger picture, the US population is around 333,368,397 inhabitants. This means that eBay holds a little over half of the US's entire population.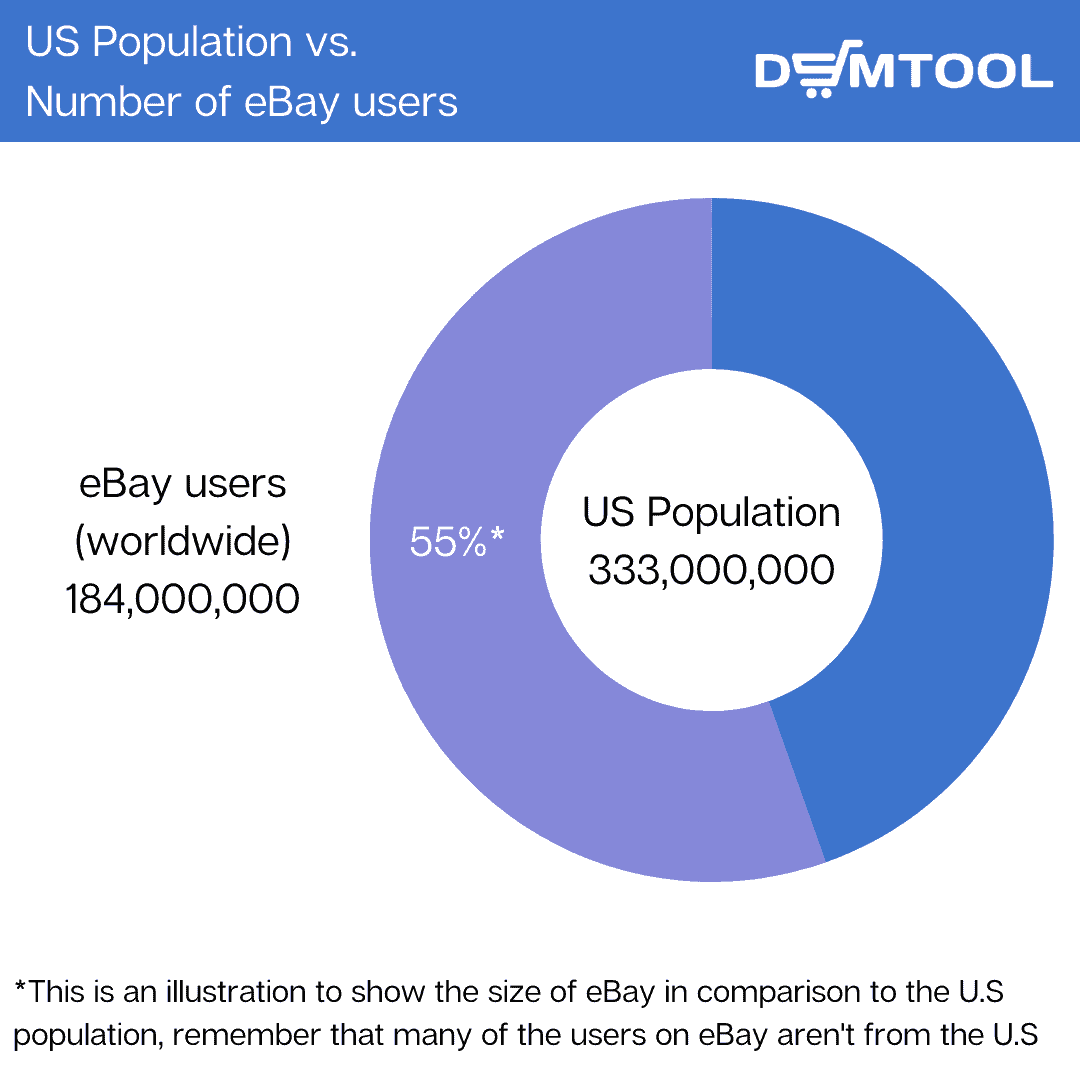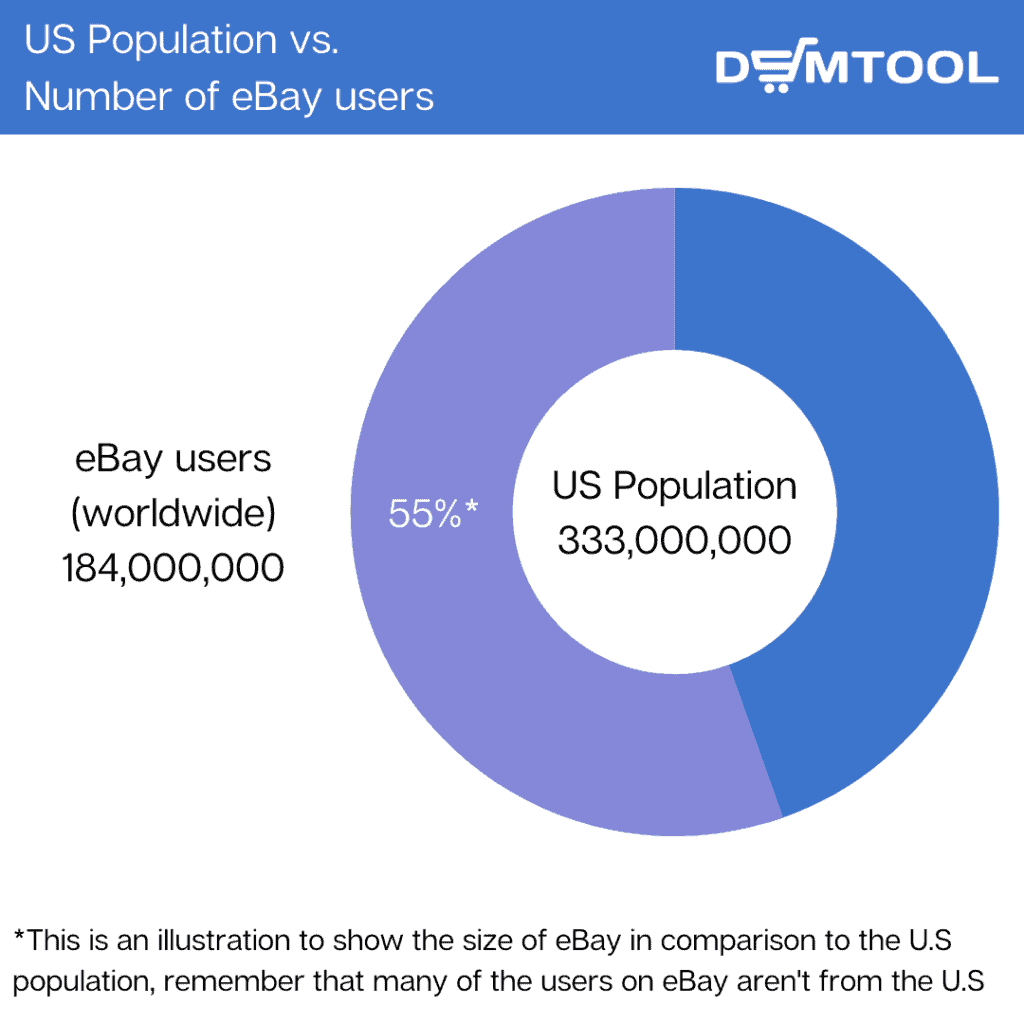 Even though most of the top eBay sellers are located in the US (28,2%), the rest of the sellers are from the United Kingdom (28%), Germany (16.5%), China (13.2%), Australia (4.2%), and other countries. But the most wonderful thing is that everyone has a chance to become a seller on eBay marketplace!
Although eBay can't compete directly against Amazon as a marketplace, eBay holds the second-largest active buyers and sellers activity in the eCommerce market.
In other words — it is still a huge marketplace to sell in! And, moreover, it's super easy to start selling on eBay or dropshipping. Let's see it together!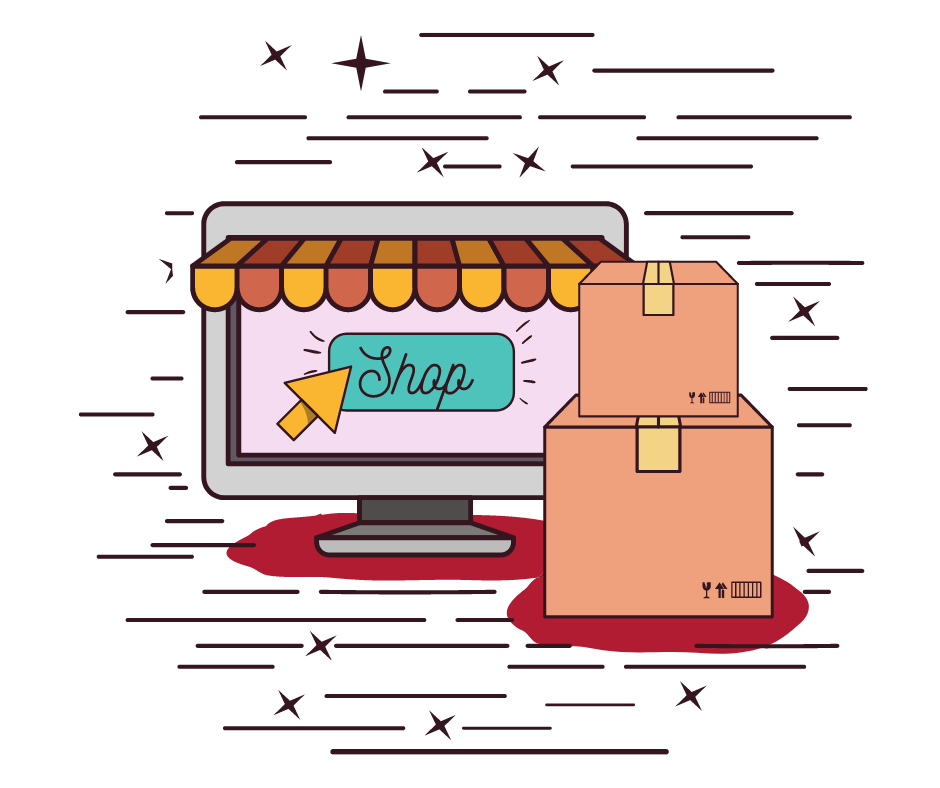 It's time…
Don't wait for success to come. Hire yourself and start your own dropshipping business
How to create an eBay account
First, you will need to open an account on eBay (If you don't have it yet).
Once you create an eBay account, you can change your eBay account to a Business account or eBay seller account. The steps are pretty straightforward. Let's go through the step:
Head over to www.eBay.com.
Hit the "Sign Up" button found on the top left side of the page.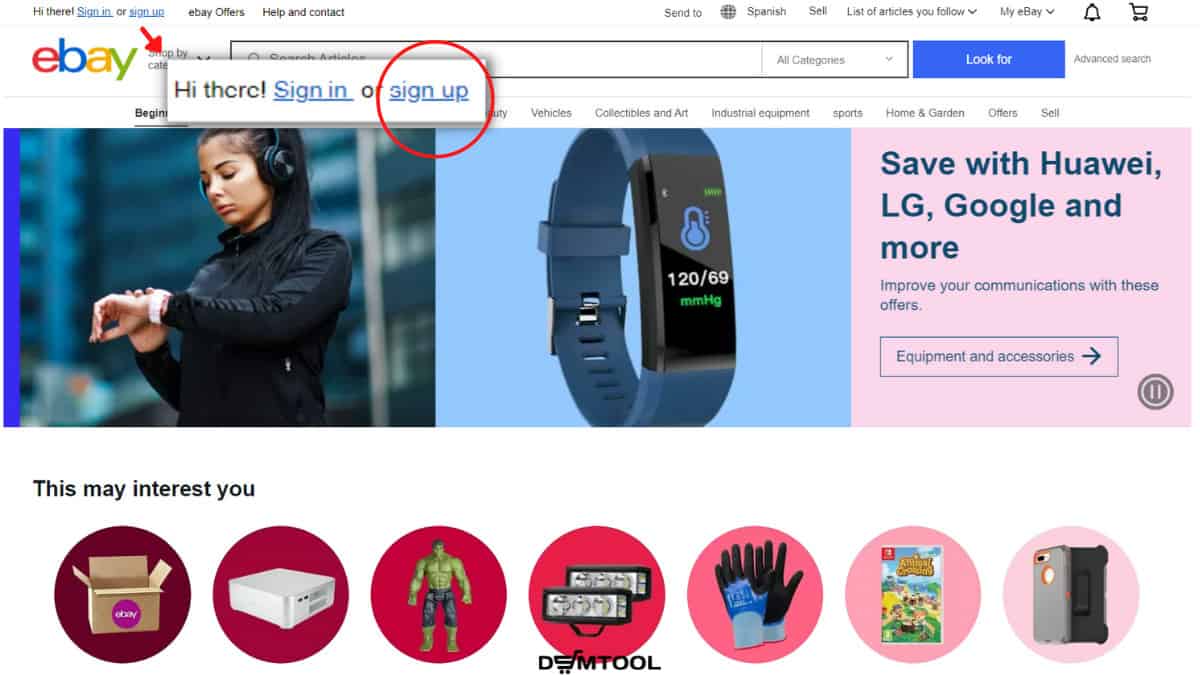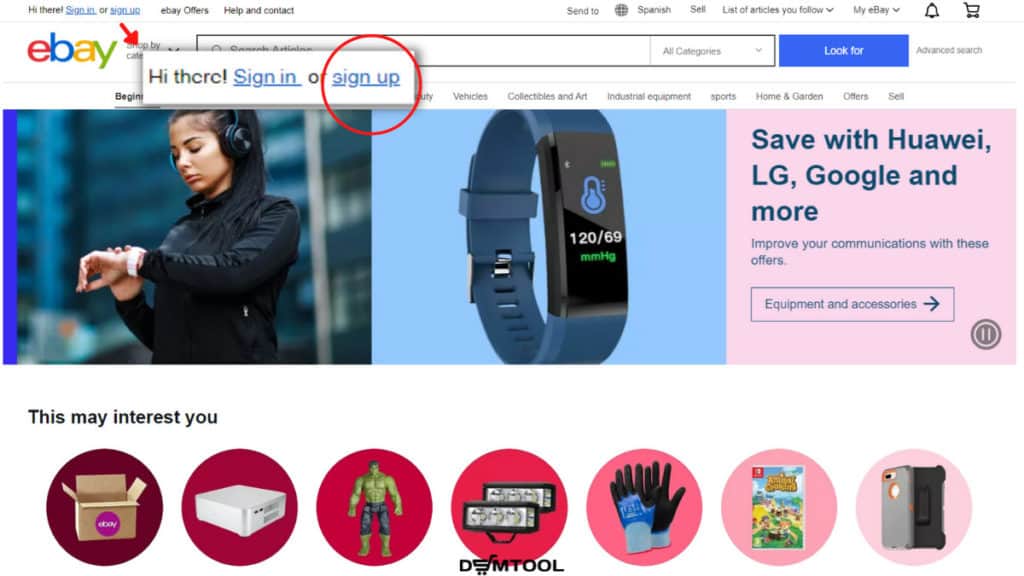 Simply type in your general information such as first and last name along with your email and password. You also have the quicker option to register using your Google or your Facebook account.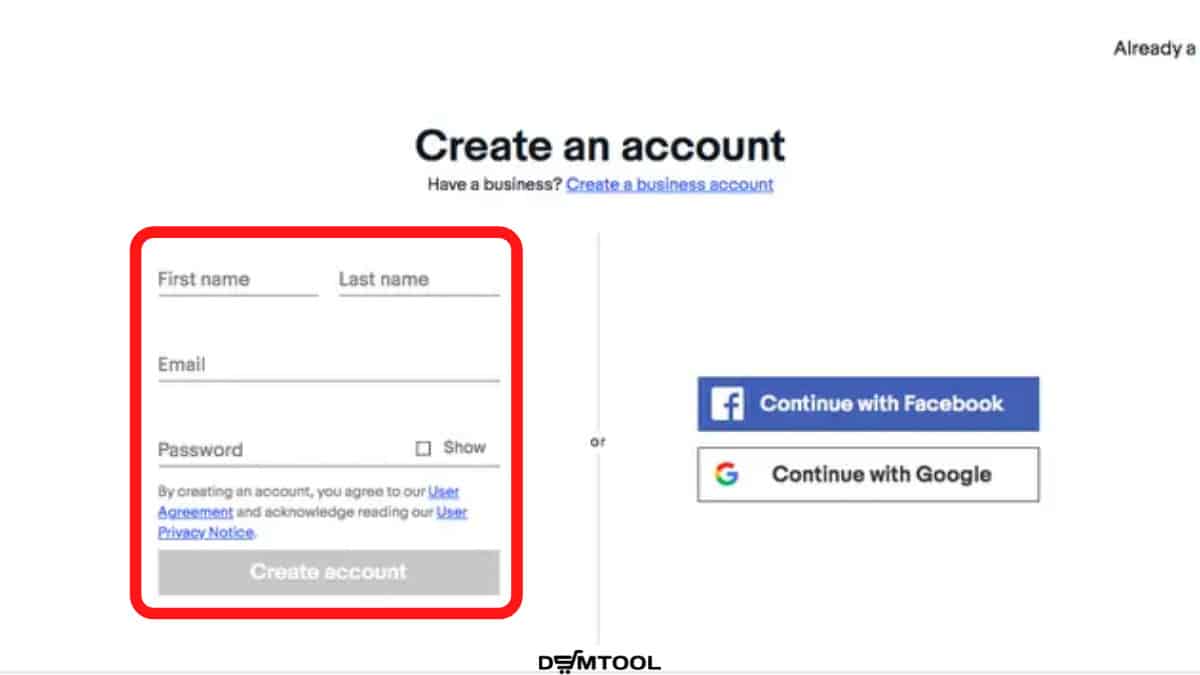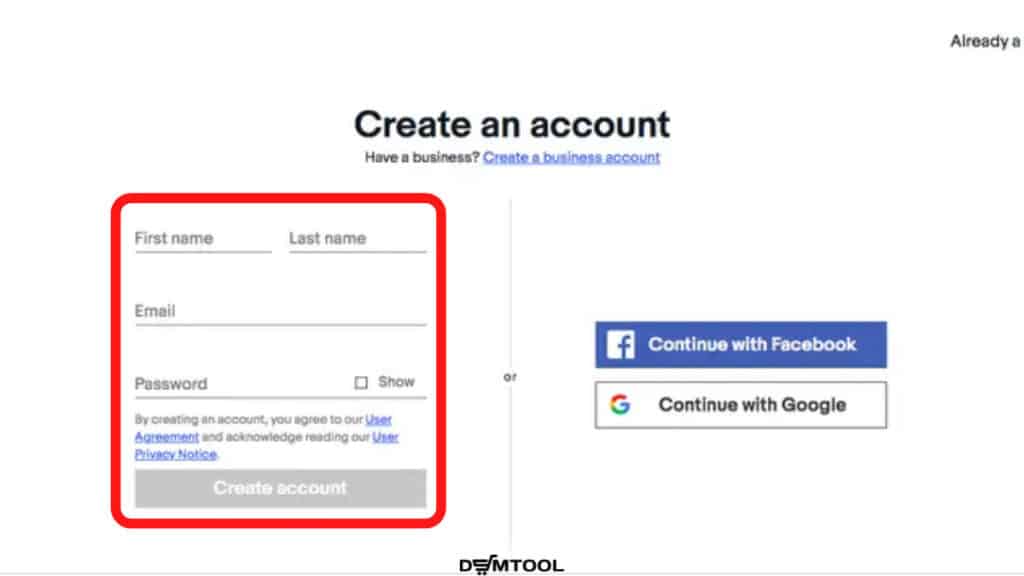 Once you've submitted your information, you will be taken to the eBay home page. Now it is time to personalize your account. Head over to where it says "My eBay" button on the top right side of the page.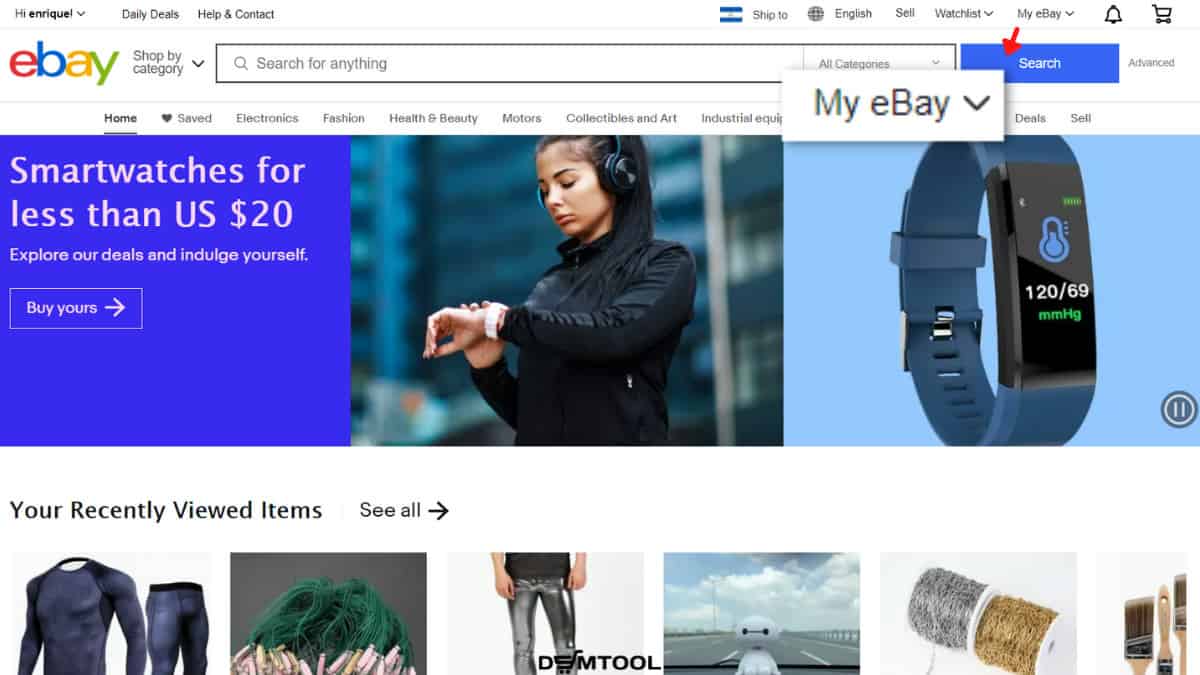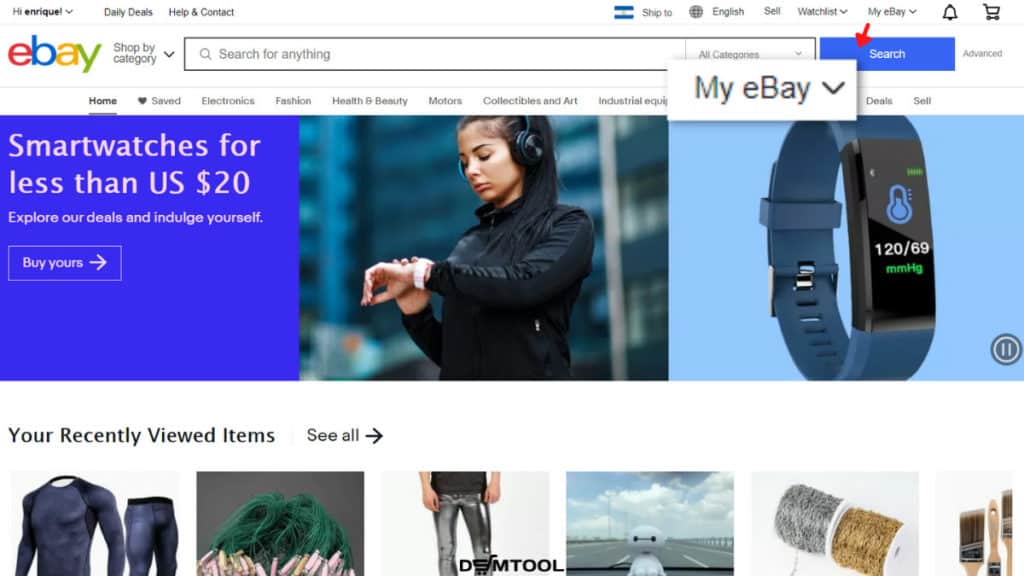 The "Personal Info" tab will allow you to input additional information about your account such as password security, shipping address update, etc.
Under the "Payment Options" tab you will be able to store a credit or debit card.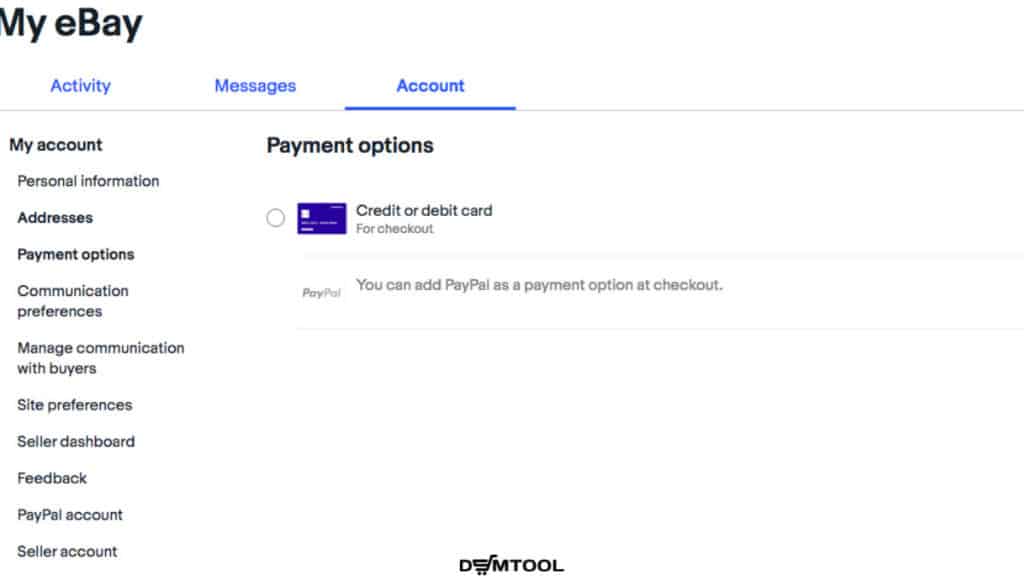 The "Account Preferences" tab allows you to change your eBay settings for payments, selling and more.
Once you've completed these quick steps, you will be good to go — Is that simple!
However, having an ordinal personal eBay account isn't enough for selling stuff on eBay. You need to switch to a business account, aka an eBay selling account, to do that.
How to create an eBay seller account
By having your personal account created, you can easily turn it into a business account. To create your eBay seller account, follow these steps:
Head over to the "My eBay" tab and then click on the "Personal Info" tab.
Hit the "Account Settings" and under "Account Type" click on "Edit" to start this process.
Click on the "Register" button on the top left-hand side of the screen and then click on "Create a Business Account".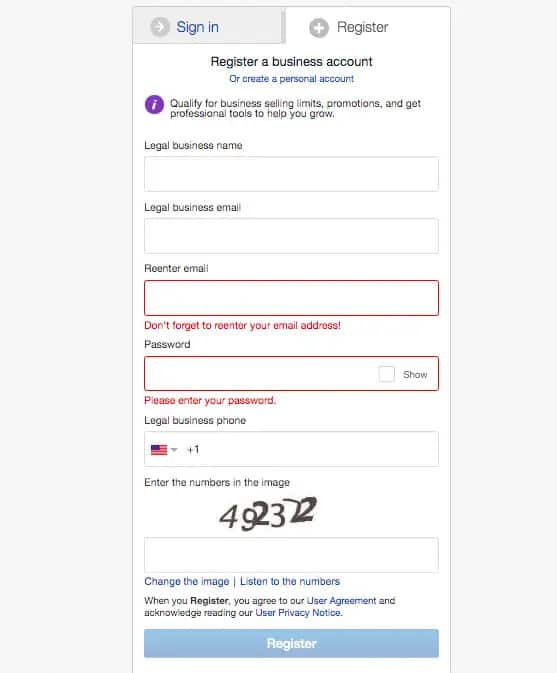 Just fill in the blanks and you're good to go. You have created your eBay selling account — It only takes a couple of minutes!
Don't forget to confirm your identity afterward to avoid the suspension of your eBay account.
The next step would be to set up an eBay account for selling or reselling there.
How to set up an eBay account for selling?
The recommended settings for eBay sellers are the next:
Business policies
Store name
Payment method
eBay seller hub opt-in
Global shipping program opt-in
Enabling out-of-stock
Excluding shipping locations
Return preferences
Unpaid item assistant setup
More things to know before starting to sell on eBay marketplace
Just like any other marketplace, eBay has a set of rules for sellers. In order to play this game, you need to comply with these limitations.
Before you start creating your eBay listings, make sure you don't break any rules along the way — if you comply with eBay policies, you will not only be able to continue selling but you'll get further benefits!
Think of it as if you were to ask for a loan from the bank, the first thing the bank will review is your credit score. If you have a good credit score, you'll have further chances to get the loan with a very good interest rate!
Complying with eBay's policies will also benefit you. You will be able to apply for a "Top Seller" status. All you need to do besides following eBay rules is listing hot products, giving good customer service, and getting an overall positive feedback rate in your store.
eBay's algorithm will favor your listings giving you a higher visibility rate — in other words, more traffic, more potential sales, more potential earnings!
Let's take a look at eBay's Policies. I summarized each point for you:
Selling Practices Policy: You need to be transparent with your buyers. For example, in the products your offer (product condition, item description, item as shown and described) and your business policies (shipping & handling, return policy, customer support and follow up).

Seller Protection: eBay also protects you as a seller from violent buyers who leave negative feedback, return damaged items after using them, avoid paying you after you cancel the order, etc.

Shill Bidding: In case you decide to use the auction-style bidding option, you need to be aware of some don'ts that eBay has listed for every seller. This happens when anyone bids on an item with the intent to artificially increase its price or seller's feedback.

Avoiding eBay Fees policy: Some examples of avoiding fees on eBay marketplace are making offers outside of the website requiring clients to make additional purchases.

Seller Performance Policy: Just like the aforementioned "Selling Practice Policy", seller performance metric is the same thing, meeting buyer's expectations. You need to provide constant value to your service by resolving issues on time, shipping your products therefore buyers will be receiving the item on time, charging reasonable prices, and so on.

Tax Policy: As you already know, paying taxes is crucial. On the eBay marketplace, you are responsible for paying taxes associated with the website. These taxes are: Income tax (declaring and paying taxes from your earnings), Value Added Tax (this is set depending on your location), Good and Service Tax (selling fees), tax on items bought and sold on eBay.

Intellectual Property and VeRO Policy: In summary, this means selling items that have property rights or selling replicas from a big brand. For example, if you begin listing Nike shoes that aren't manufactured or compatible with the company, you will definitely infringe on copyright and trademark.

Restricted Items: Depending on the location, eBay plays by the state laws of that country. They have a list of eBay prohibited items that are dangerous, deming or offensive, illegal, and so on that you shall not list.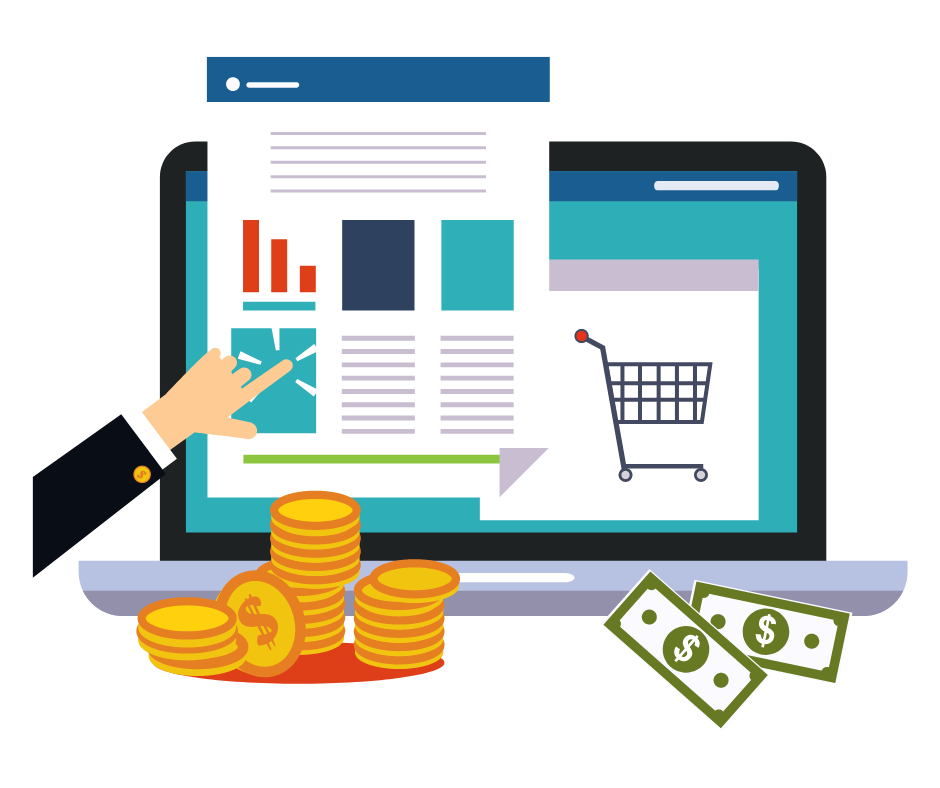 Don't wait for the profits, make them!
Start a profitable dropshipping business with DSM Tool. Get a free course and a free trial of the software.
Restrictions – eBay prohibited items you shouldn't sell:
I want to make a quick emphasis on this point. It is important for you to understand what eBay prohibits sellers to list. As previously stated, there are certain categories that are simply not allowed to sell on the eBay marketplace. This can cause you to get your store restricted or even suspended.
I will address at least 10 different eBay product restrictions to give you an idea — However, we have an in-depth article about this topic where we provide a list of 27 product restrictions.
Okay, let's dive into it:
Adult Only Products:

These types of products are conditionally approved to be sold in certain categories on eBay marketplace. For example, sex toys are allowed in Health & Beauty > Health Care > Sexual Wellness categories. However, eBay won't allow items containing explicit nudity.

Alcohol:

It is not allowed to sell alcoholic and non-alcoholic beverages.
Products made out of animal parts: It is not allowed to sell items made out of animal bones or skin.

Art:

These types of items are allowed as long as they're legal. For example, you can sell art posters or replicas if it doesn't violate copyright.

Artifacts and Cave formations:

These items are prohibited on eBay because they are prohibited by US federal law. For example; fossils, remains, gravestones, etc.

Cellphone contracts:

the sale of these types of contracts are only allowed by sellers who hold permission by the phone company — an official dealer by a specific phone carrier.
Charity or fundraising listings: Products that are exhibited for the purpose of collecting funds must have all documents which confirm their non-profitability.

Used clothes:

You can only sell non-used clothes.

Contracts:

Any item that is subject to a contractual agreement shall not be sold on eBay unless all of the rights for that specific item is discussed through a lawyer or the same company who holds the contract obligation.

Used cosmetics or perfumes:

Listings for used cosmetics, sponges, or applicators are not allowed.
There are other prohibited items that every eBay seller must be aware of to avoid any penalization from eBay. So, I would highly recommend you think twice before listing an item.
How much are eBay selling fees 
Now, it is time to understand how eBay fees work. When you list and sell items on eBay marketplace, you would need to cover eBay selling fees in order to stay profitable.
Now, I will be going through the general seller fees in this article. For example, there are two main types of eBay selling fees: an eBay insertion fee when you create a listing, and an eBay final value fee when your item sells.
eBay will charge you depending on the item's price, the format and category you choose for your listing, any optional listing upgrades you add, and your seller conduct and performance.
eBay store subscription and Insertion fees:
First of all, you need to pay for an eBay subscription. This will allow you to list a certain amount of products on a month-to-month basis with zero insertion fee — this means that you can add items for free every month.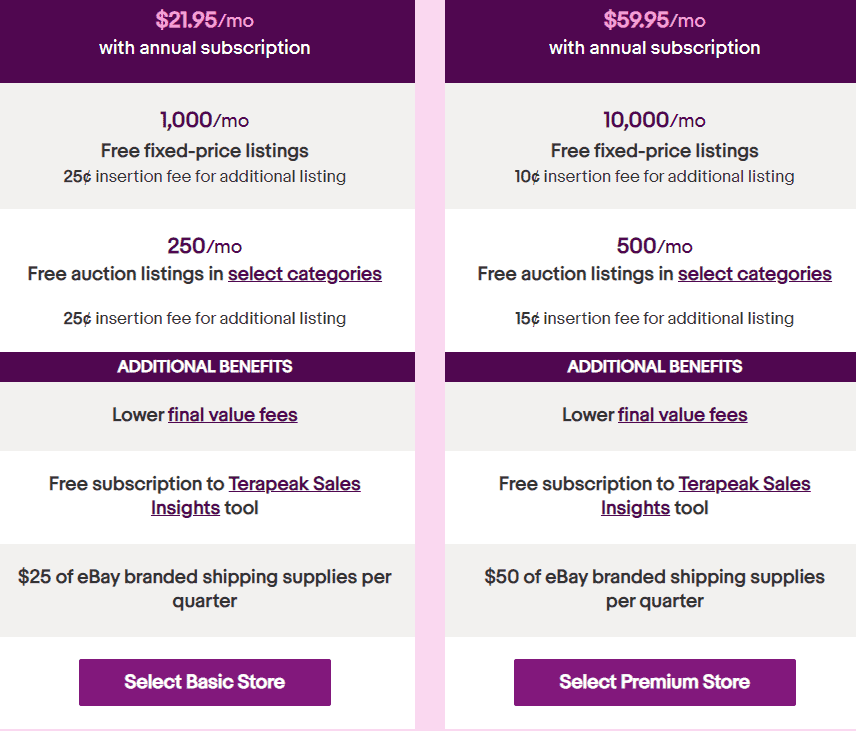 Insertion fees: Every month, you'll get 200 zero fee listings or more depending on your eBay store plan. For example, when you have a basic subscription, you are able to list up to 1,000 items with zero insertion fees.
However, when you've used your monthly insertion fee allowance, you would need to cover an additional fee of $0.30 for every product you list.
Good 'Til Cancelled: These are Fixed Price listings that renew once per month. This means that eBay charges an insertion fee when you list your item for the first time, and each time it renews. These listings count towards your monthly zero insertion fee listings.
It is important to note that the Fixed Price format allows you to sell items on eBay instantly at a set price — for example, you can sell items at the price you want without waiting for your listing to end.
Final Value Fee: This fee is calculated based on the price of your item, sales tax (if applicable), and the shipping & handling. However, US Sales Tax are not included in the eBay Final Value Fee.
This fee is applied once your items are sold — so for the majority of categories offered on the eBay marketplace, there is a 12.55% + $0.30 basic fee.
Thanks to eBay Managed Payments applicable to every eBay seller nowadays, there are no additional fees by third parties. Paypal used to work with eBay and you had a 10% final value fee plus the Paypal fee.
The cool benefits eBay Managed Payment has is that you can sell and get paid all in one place, on eBay. You can schedule payouts at a frequency you choose (daily or weekly) and funds will be made available to your bank within 2 business days.
eBay Selling Limits 
When you open eBay store, you're entitled to a certain amount of insertion fees as previously stated and a certain amount of items you can list.
Depending on your plan, you'll have a limit of products you can add to your eBay listings per month and you'll also have a general monetary amount you can sell your items for.
Learn more
If you want to read an in-depth how-to article about this topic, read our eBay Selling Limits guide.
However, I will briefly go over the basics — that way you understand how this process works.
How to find my eBay selling limits?
There are two pages on which you can see your monthly selling limits on eBay. The first is your "All Selling" page. It is showing right after "Your Performance" box.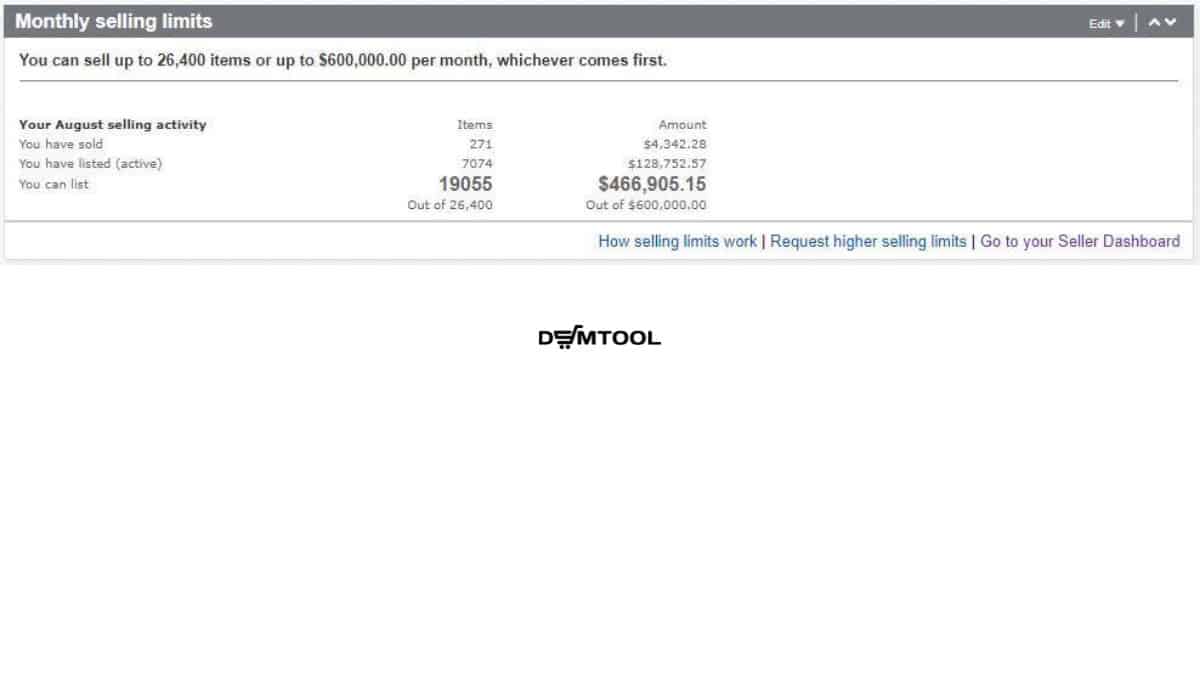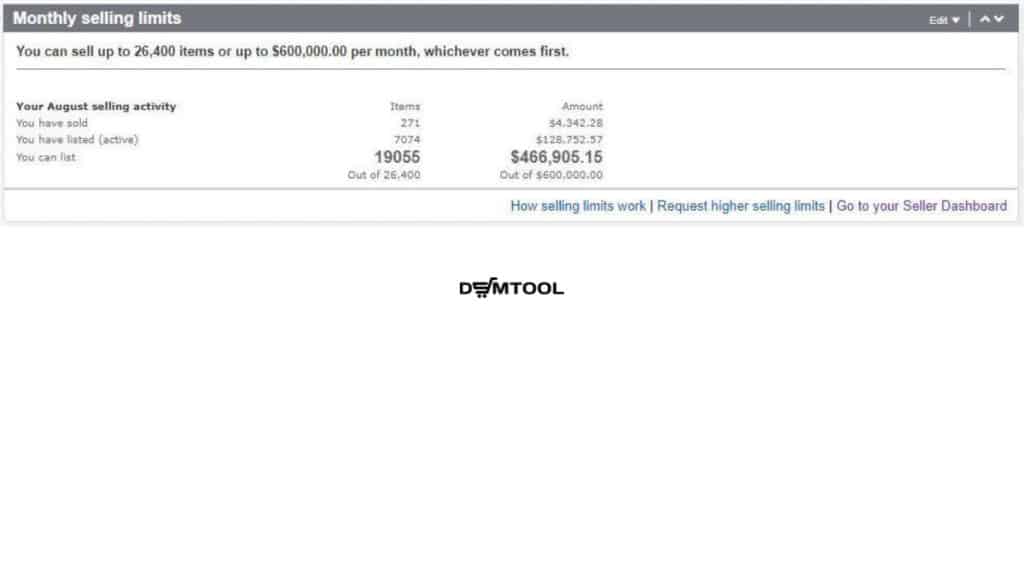 The second place to find your selling limits is the "Overview" page of your Seller Hub. Of course, I would suggest you to find your limits here because it is so much easier to navigate.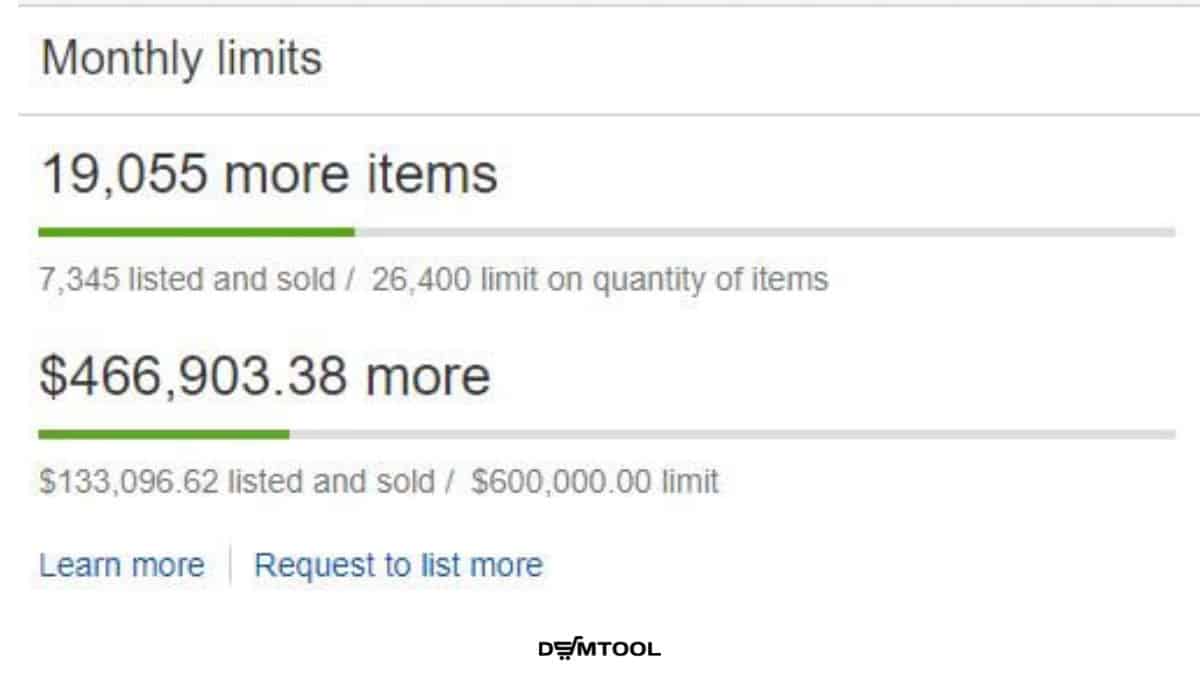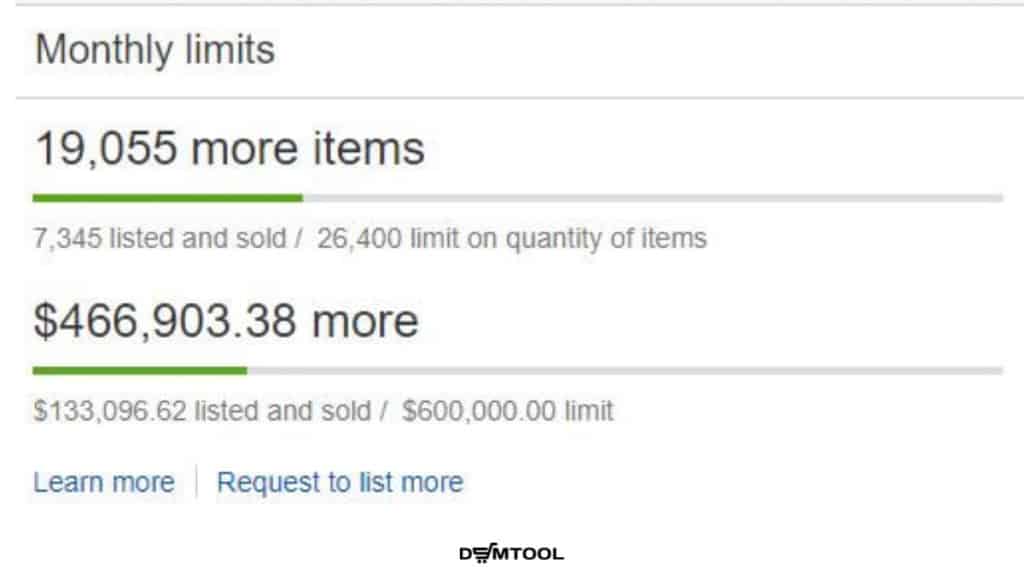 Can you increase your eBay selling limits?
Absolutely, you can. Keep in mind that if you wish to increase your eBay selling limit, you will need to have your store open at least for 90 days. So, the question is, what are the steps to follow in order to increase your limit?
Head over to your Seller Hub (continue reading to learn about your Seller Hub) and scroll down until you see "Monthly Limits". You will be able to see how many items you are allowed to list on a month-to-month basis and your monetary limit.
Down that limit, you can find a button that says "Request to list more". Click on it and you will be directed to an eBay page that'll give you two options to request a limit increase.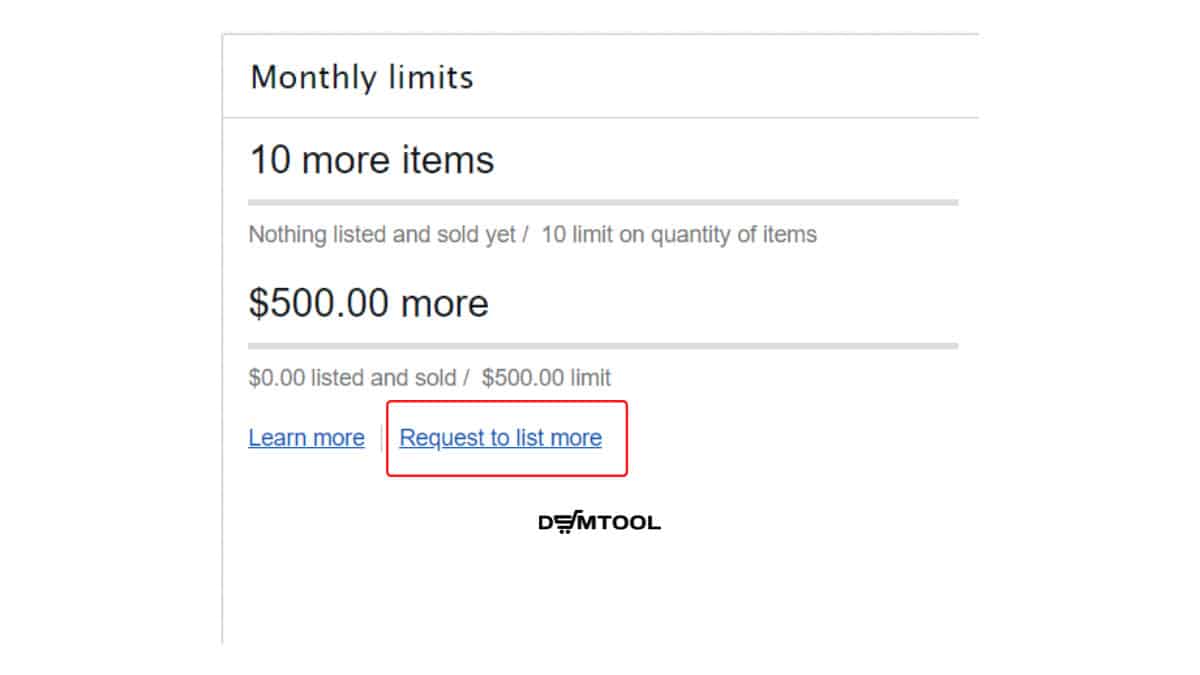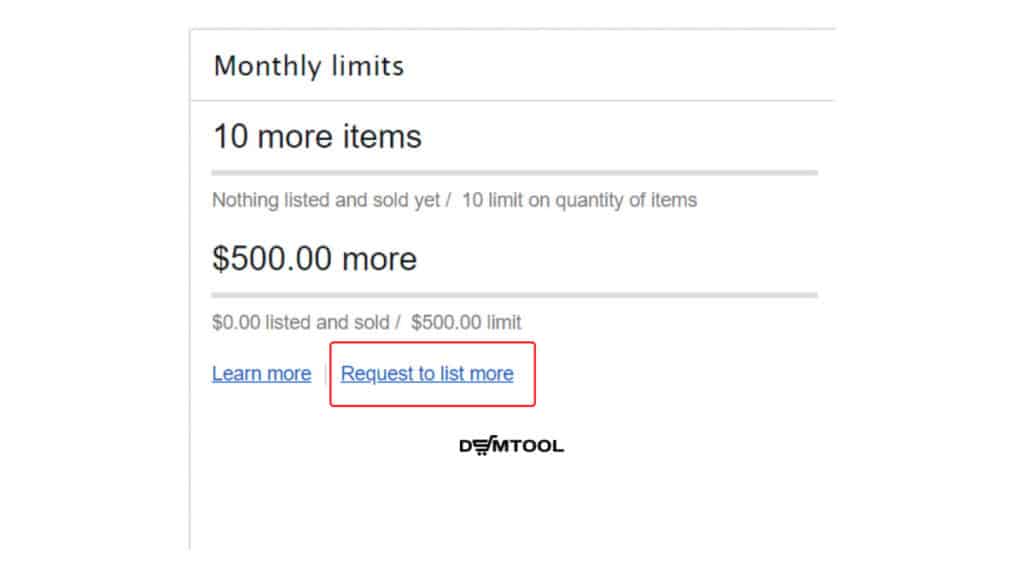 Requesting to increase your limits will direct you to at least one of the two options:
Contact via phone – You will be presented with a number to call and with a one-time passcode to enter for verification.
Contact via text – There you could write an application explaining why you would like to request a limits increase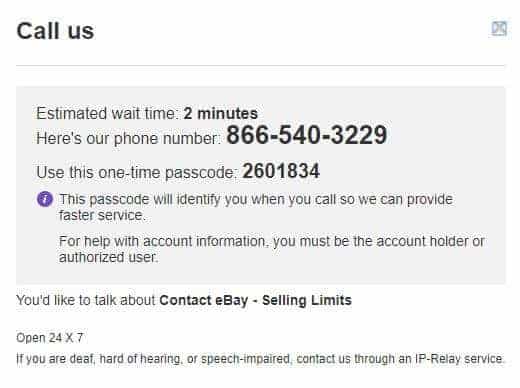 Here are some of the qualifications which eBay marketplace reviews on every selling limit increase request:
Seller account must be open for at least 90 days.
Don't have any open cases.
Good buyers feedback.
High and active seller performance.
Compliance with eBay policies.
No comments from your buyers about the product's authenticity.
eBay Managed Payments
As previously mentioned, eBay has integrated a new seller payment system. This convenient method is known as eBay Managed Payments.
In this case, you will no longer need PayPal as a third-party payment processor. You will get your money directly from your bank account thanks to this new feature.
eBay Managed Payments now charges every eBay seller a 12.55% fee + a $0.30 fixed price fee for almost every category offered on the eBay marketplace.
As a seller, you can sell and get paid all in one place, on eBay. You can schedule payouts at a frequency you choose (daily or weekly). Regardless of how the buyer pays, funds will be made available to your bank within 2 business days — excluding bank holidays.
For buyers, this will allow them to have various payment methods, such as credit, debit, and gift cards; Apple Pay, Google Pay, PayPal, and PayPal Credit.
To sum it up, the benefits for both sellers and buyers are:
Flexible checkout with an easier buyer experience.
Simpler to get paid since the payouts are sent directly to your bank account.
Simpler to manage your operations with simplified fees and integrated reporting.
Now when your eBay seller account is set, you can start to sell.
How to find what to sell on eBay Marketplace:
Okay, now it is time for you to decide on what product listing you will be offering to eBay users. As an eBay marketplace seller, you can list various items under different categories.
However, keep in mind that once you open your eBay store, creating the correct listing is crucial to attracting attention from users — selling hot products will definitely boost your traffic flow!
Quick Pro Tips on Product Research:
Use external product research software that will give you detailed information on the eBay market such as: PowerDrop.
Always look for high demanded items on eBay marketplace. Check products that have over 4 or more sales in 30 days.
Stick to highly demanded categories such as: Home & Improvement, Mobile Phones & Accessories, Home & Garden, Clothing, Shoes & Accessories, Health&Care. These types of categories are highly searched.
Use eBay Terapeak to analyze trends on eBay. This feature will be available to you by simply having an eBay store.
Okay, so follow these points to ensure that you've created a good eBay listing — trust me, this will boost the traffic you'll get in your eBay store!
Tips on how to optimize eBay listing to faster get sales?
Optimizing your eBay listings is very important when it comes to generating organic traffic.
We have already talked about the mechanism of how eBay search engines work in the detailed guide on eBay SEO. Now, I will show you some practical tips to optimize your eBay listings, so they will bring you potentially more traffic and sales.
To explain these key points of optimization, I will be using "Running shoes" as an example:
Optimizing the product title: Always write the product title that you as a buyer would want to read. Your goal is to capture the buyer's attention. Make sure that you're describing exactly what you're selling in the title. Keep in mind that eBay will allow up to 80 characters so choose keywords related to your article.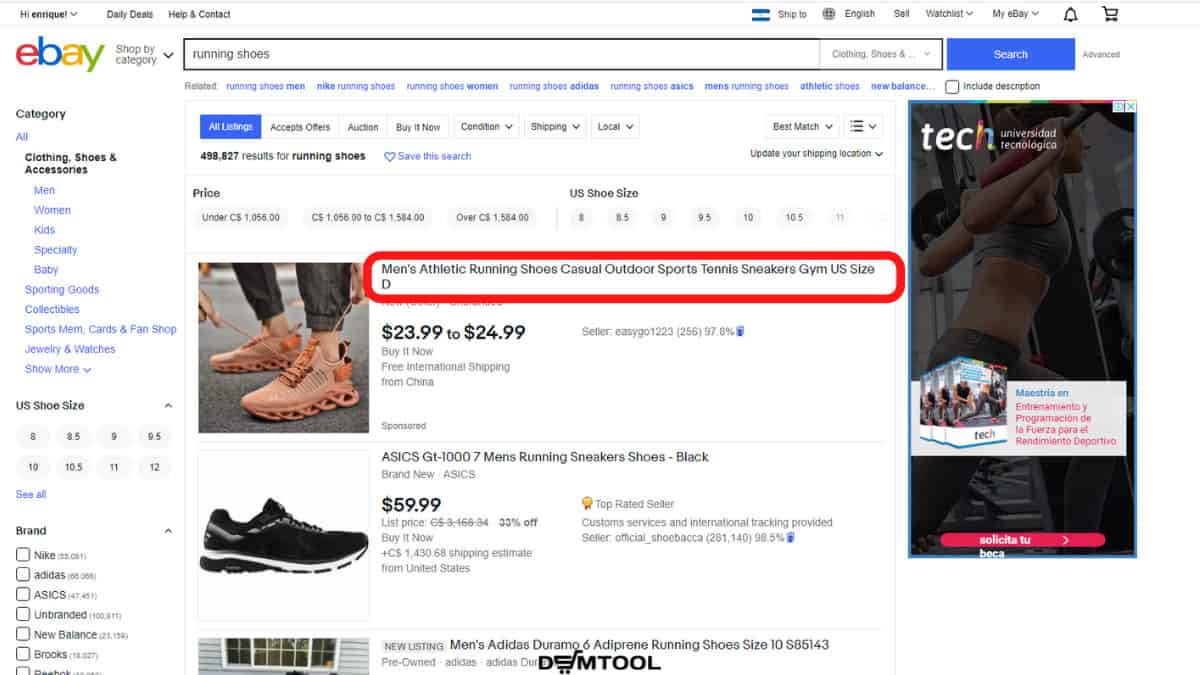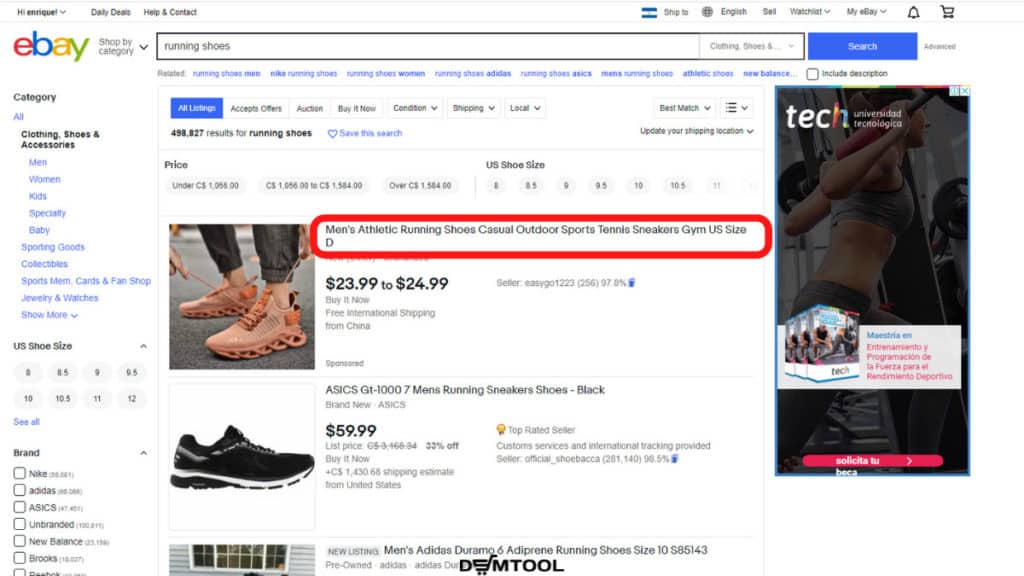 Optimizing the eBay item description: In simple words, this is the section where you will describe every detail about the item. This also includes the item specifics that specify the brand, size, type, color and so on.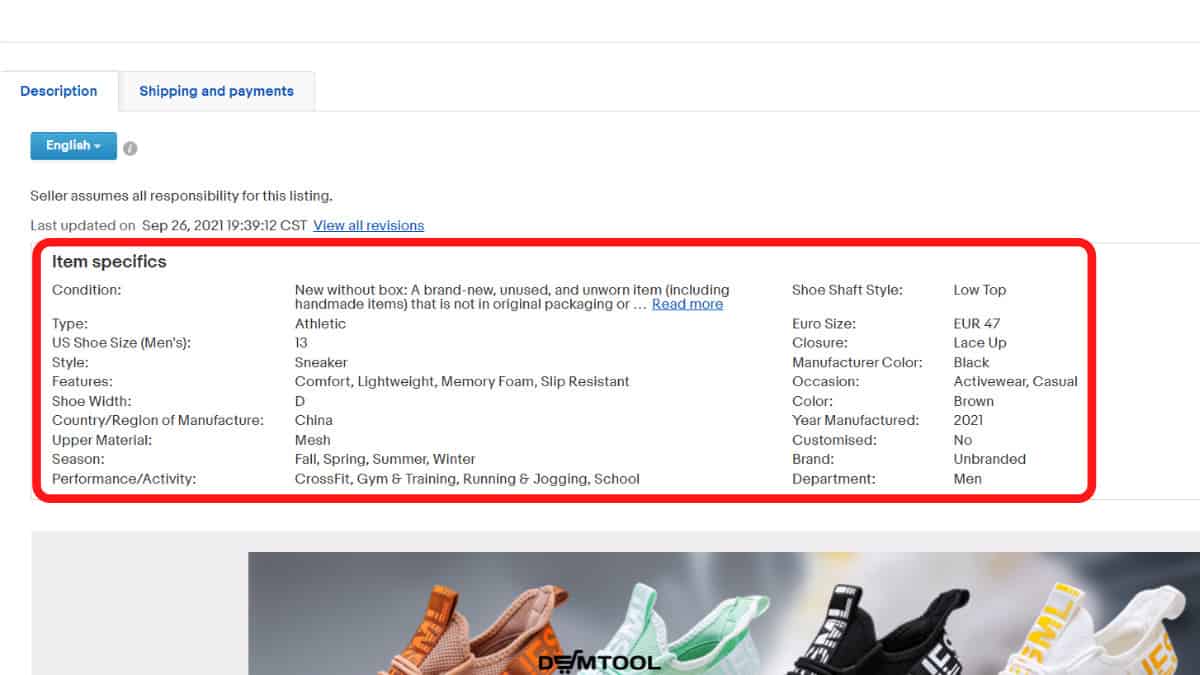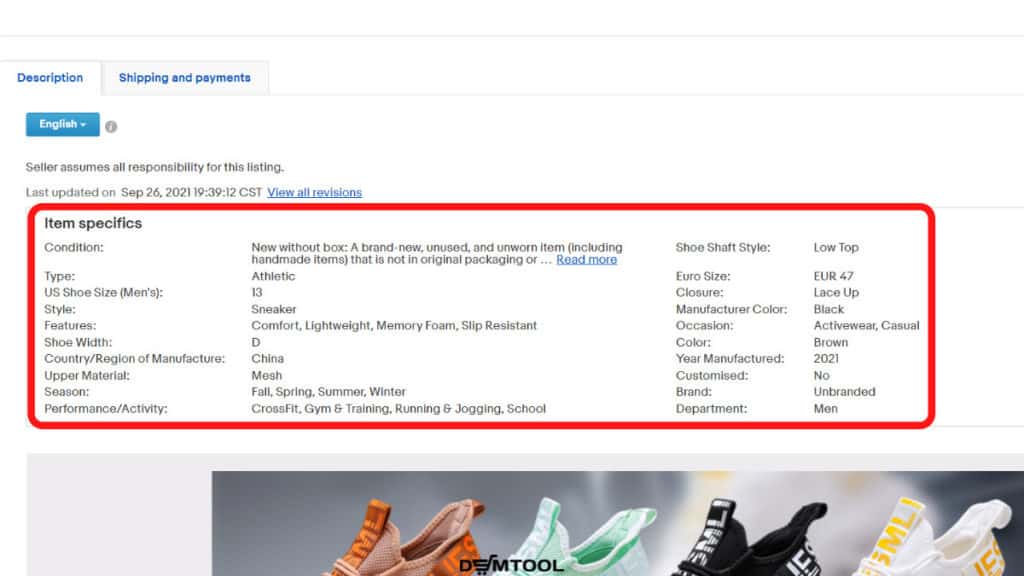 Optimizing the product image: It is important to have a clear attractive image of the product you're selling. Remember that users tend to be very visual which will impact their decision making when buying an item.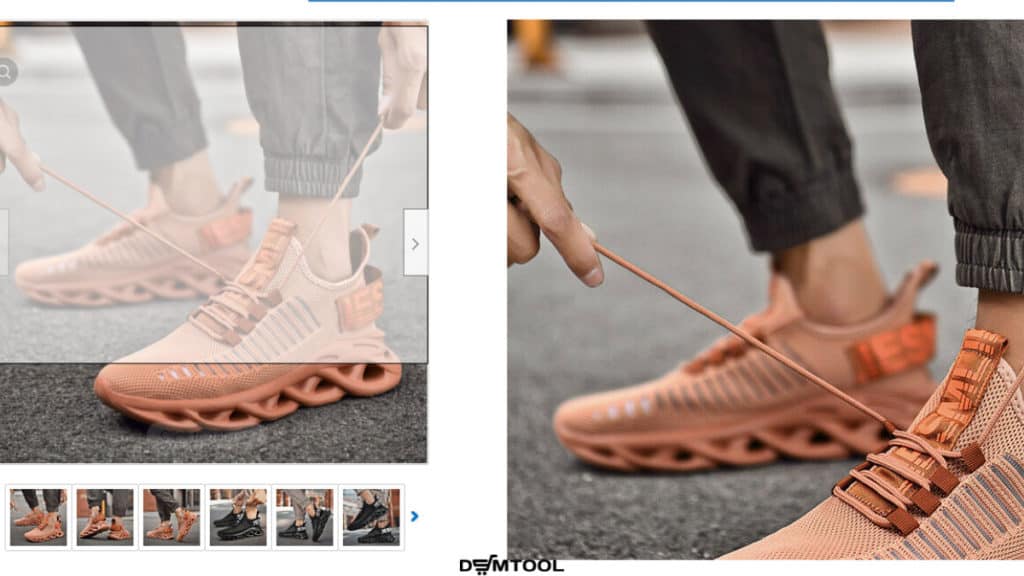 Optimizing the eBay listing price: You need to calculate the basic cost based on the Fixed Price fee (12.55% + 0.30) along with the shipping cost. Then add a couple of dollars to the price for your profit.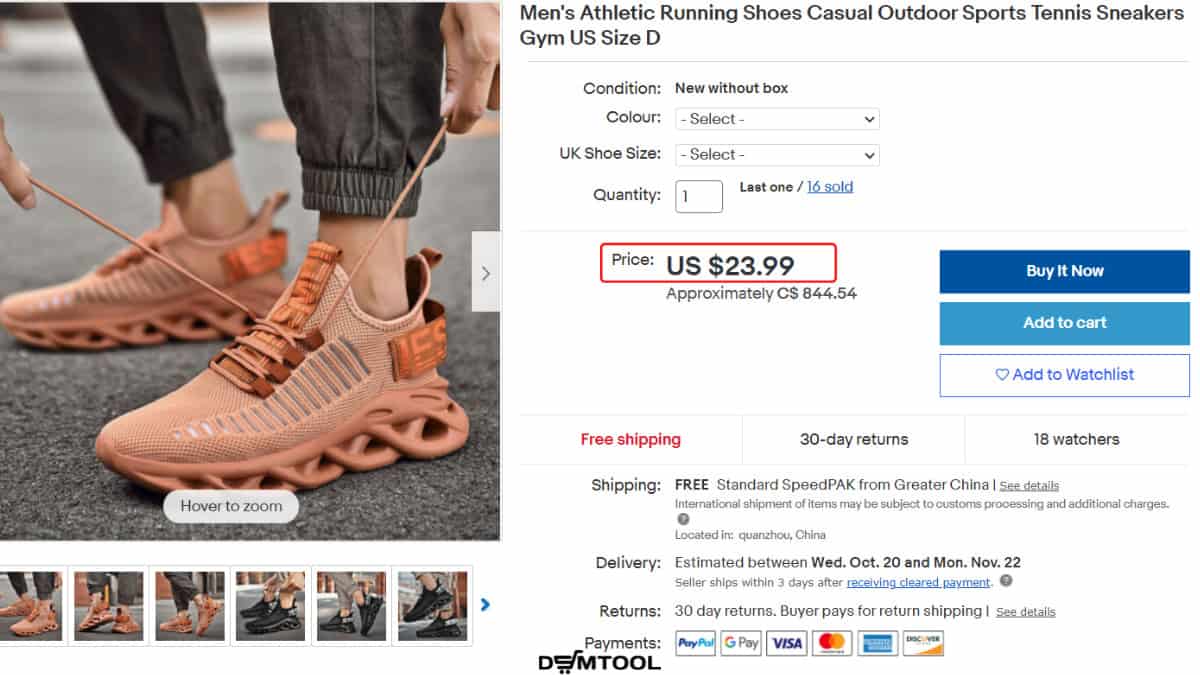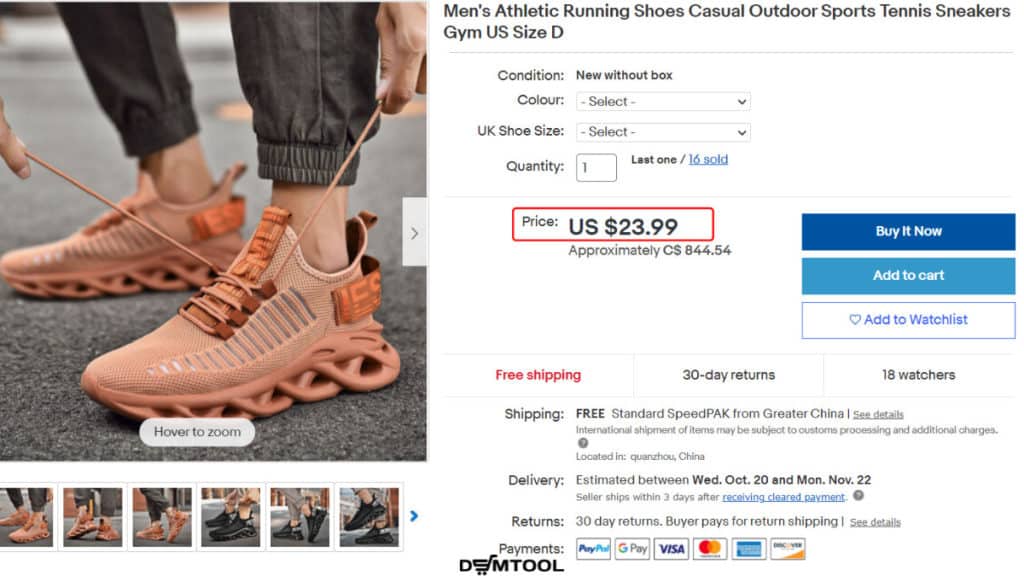 Optimizing your eBay business policies: To avoid any misunderstanding clearly mention the product policies such as return policy, shipping & handling time frame and refunds.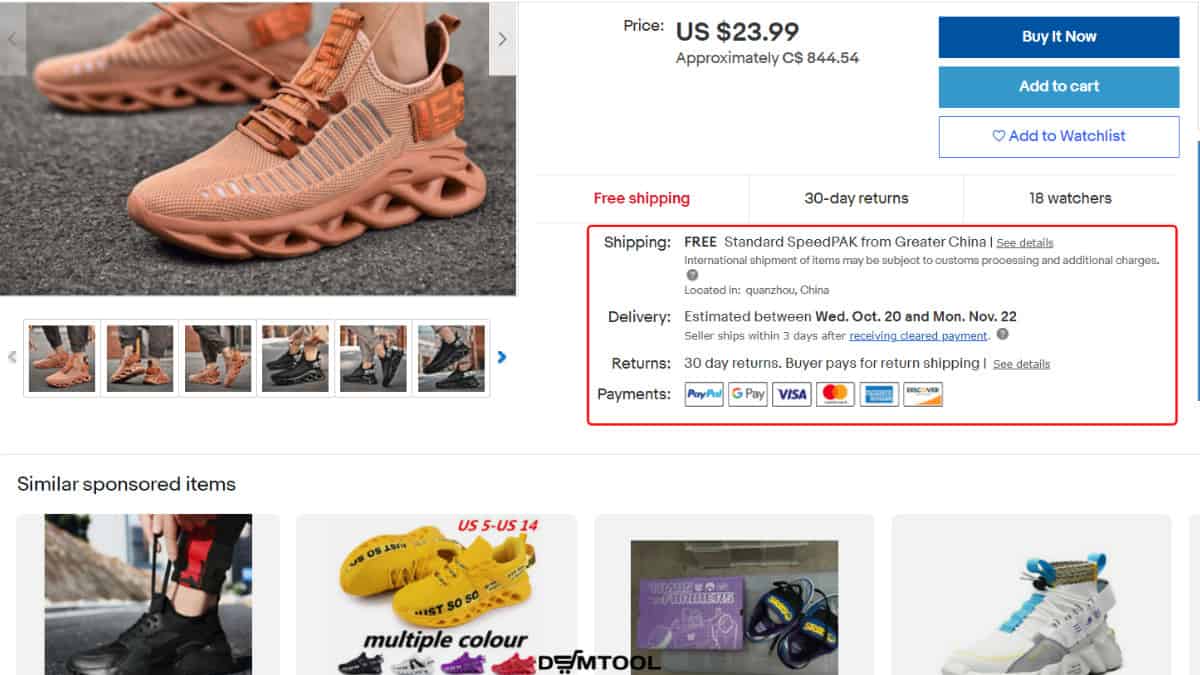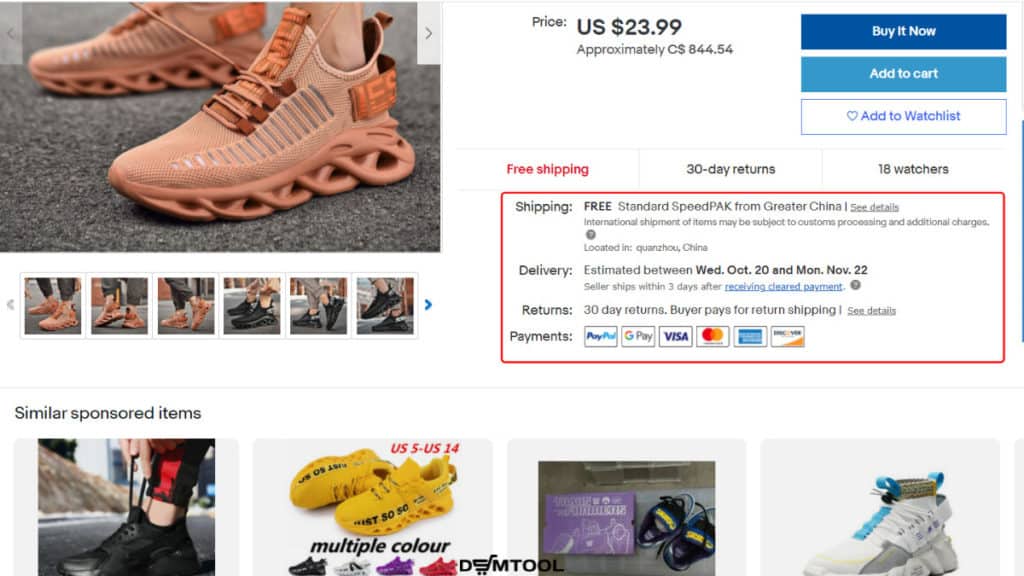 Listing schedule: eBay wants you to be an active seller, if possible, list every single day. This will boost visibility into your listings therefore more potential sales.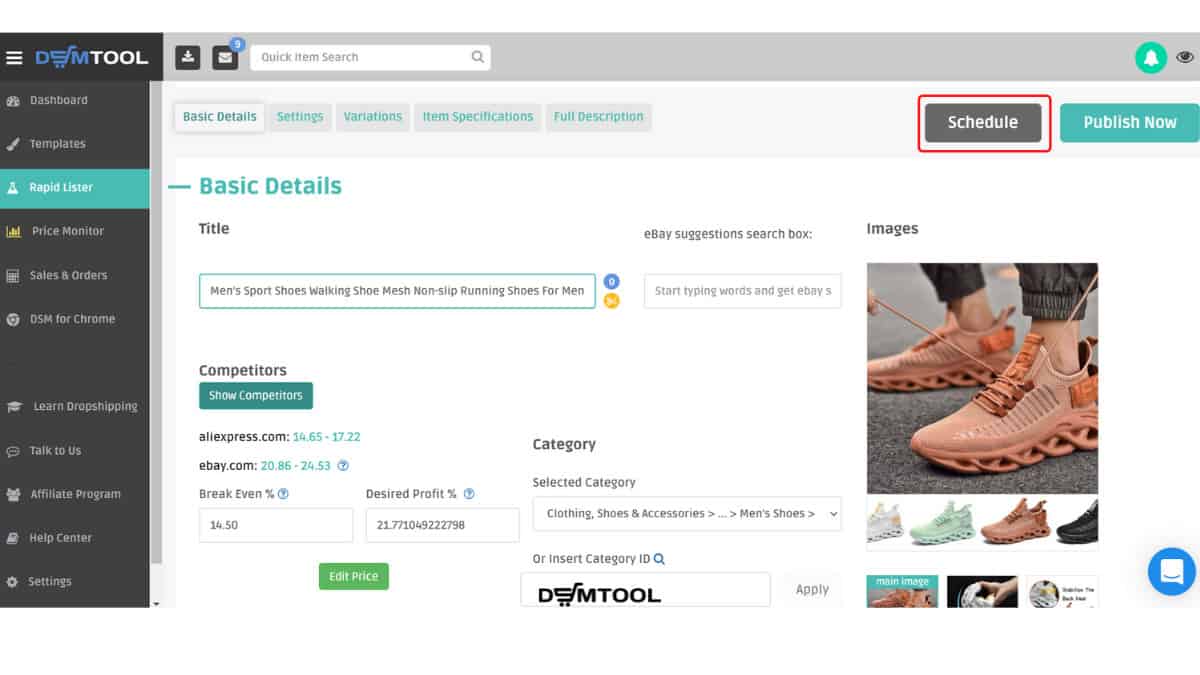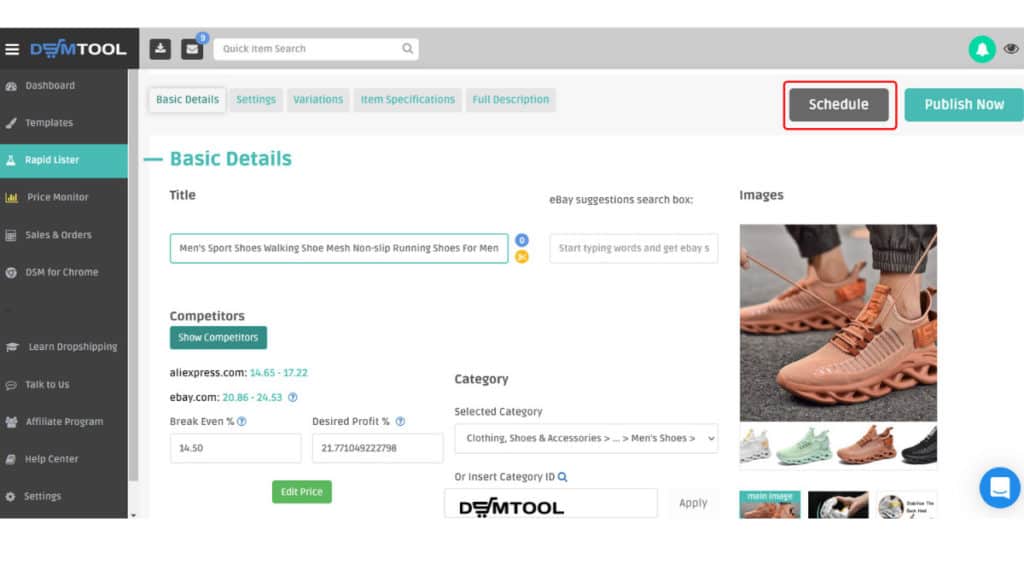 What happens after you make a sale?
It is important to always get in touch with your client. So, once you receive an order for your product, contact the buyer. It'll show that you care.
Although eBay will notify you about the orders in your Seller Hub, contact your buyers if you don't hear from them — take the extra mile!
Make sure that the buyer has paid you before you initiate the shipment. Check if the payment made by the buyer is valid.
When all the payment-related measures have taken place, you then proceed to ship out the product. Take these points into account:
Complete the product packaging safely.
Always ship early and on time.
Assure that the shipment details are accurate.
Lastly, the feedback is super important. Feedback by you for buyers helps the other sellers. At the same time, ask for feedback from your buyers to add value to your product page.
By having a good feedback rate, you will have a good seller metric — therefore a higher chance to be an "Above Average Seller" or a "Top Rated Seller" and getting more potential sales.
Tip: Automate your order processing
If you are dropshipping on eBay, let's say from Ali Express, you can automate your order processing. Since you don't actually need to pack any product and handle any of the logistics all you need to do is to place an order on the Ali Express website. DSM Tool offers an automated ordering system, especially for this task.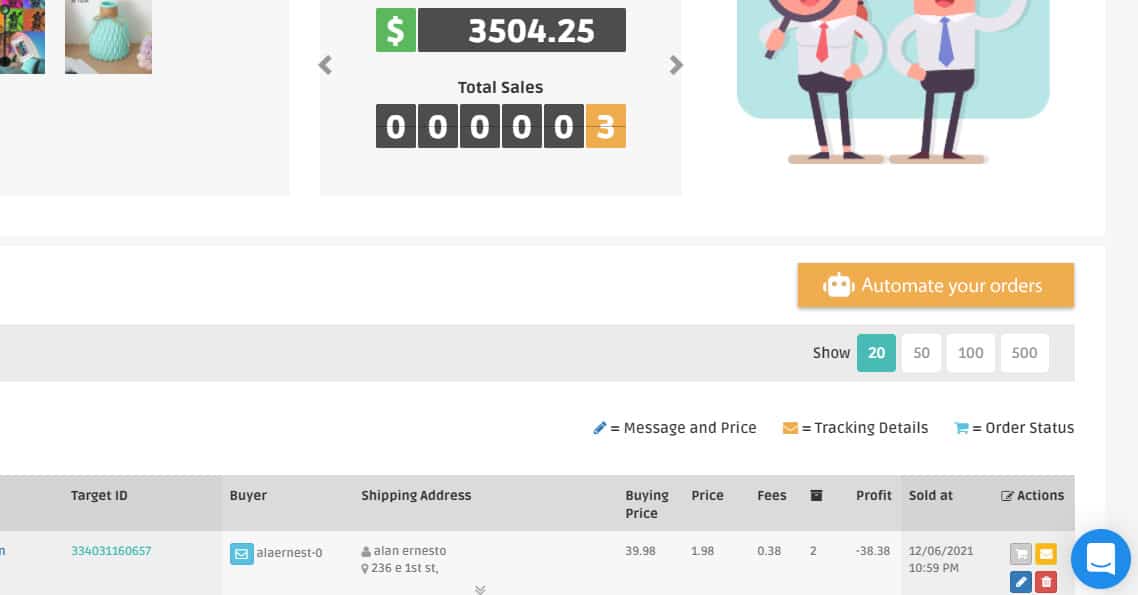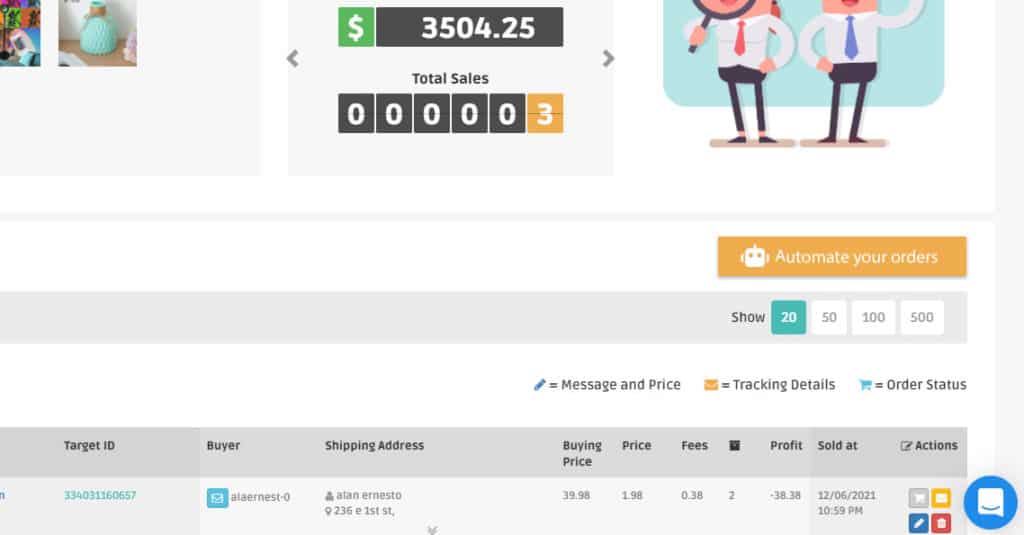 How to cancel an eBay listing?
You can end your eBay listing whenever you want to if you're selling fixed-priced items.
Hold up, before you decide to end your eBay listing, you need to understand what happens once you execute this command.
If you end a listing early, it risks disappointing potential buyers. However, there are some valid reasons why you should or could end your eBay listing such as:
The item is lost, broken, or no longer available.
You made a mistake, such as listing the wrong starting price in an auction.
So, if you decide to end your listing, you have two options:
How to cancel an eBay listing from Seller Hub:
Go to the "Active listings" page in Seller Hub.
Select the checkbox next to the item you want to end.
From the dropdown menu, select the "End item".
How to cancel an eBay listing from My eBay:
Go to "Active" in the Selling section of My eBay.
Find the item, and from the dropdown menu, select "End listing".
However, while you can end a fixed-price listing on eBay whenever you want, auction listings can only be ended early in certain situations.
How to see sold items on eBay:
If you want to see what you've sold so far or even if you have an expired listing, you can head over to the left of the search results on the eBay Advanced Search page and you'll see options listed under "Show Only" so you can limit what you see.
Alright, once you've done that, you can click on "Completed Listings" and you will see every listing you have offered either with sales made or expired.
Once the sold listings appear, tell eBay how you want the results sorted.
You will have the following options:
End Date: Recent First: Lists the most recently sold items first.
Date Listed: Oldest First: Shows items that were sold from the oldest listings to the newest.
Distance: Nearest First: Unless you're looking to see how many of your items sold close to you, this is a pretty useless sort. You want pricing info!
Price & Shipping: Lowest First: Lists items from the lowest price attained to the highest price paid for an item.
Price & Shipping: Highest First: Lists completed items from highest to lowest.
Otherwise, you can see all your listings on eBay Seller Hub > Listings: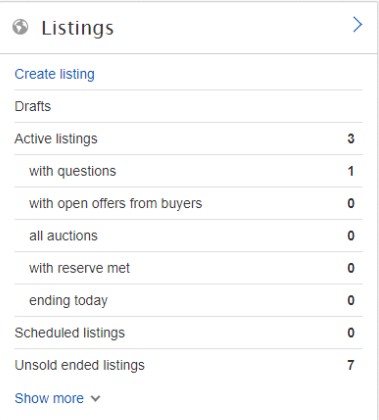 Maintaining a good seller metric on eBay Marketplace:
Having a good seller metric on the eBay marketplaces is very important for every seller. eBay wants you to provide good value to their platform, it is crucial for them to keep their users happy.
eBay will review your account on the 20th of each month. Based on your performance, they will rate your seller metrics.
First, let's take a look at the three seller levels eBay classifies to every eBay seller depending on monthly performance:
Top Rated Seller: You are one of the best sellers on eBay marketplace. Based on your outstanding sales history, complying with eBay policies and the quality service you provide to buyers you will have great benefits by having this status.

Above Standard Seller: You are meeting the minimum requirements or standards from eBay. For example, you are an active seller, you list hot products and you have a fair amount of sales however you don't comply with some of eBay's policies.

Below Standard Seller: You lack quality in your customer service, you are not an active seller, your listings are underperforming and you are not complying with eBay policies. If you have this status, you are in danger of getting your account banned or suspended.
What are the perks of having a Top Rated Seller status?
The Top Rated seller will be displayed prominently in search results and in the listing description — this means that you will have a higher chance of getting more traffic, a.k.a. More potential sales!

A 10% discount on your standard final value fees, which is calculated on the total amount of the sale, including shipping and tax — this would mean higher profit margins!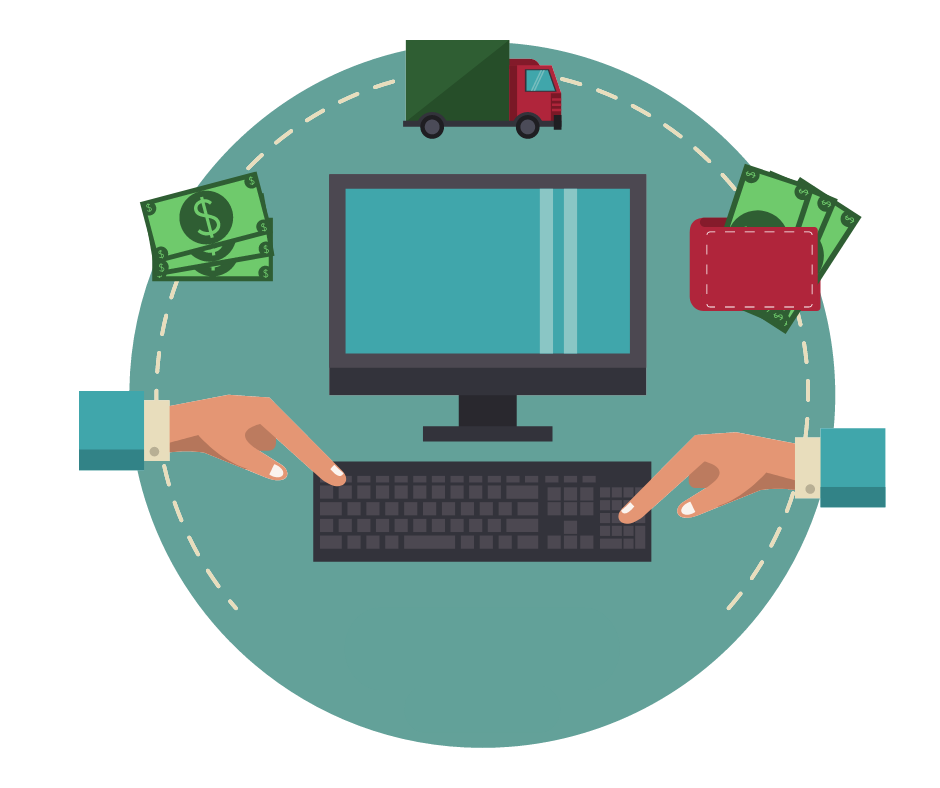 Not yet making money online?
Start your own dropshipping business. Sign up for a free trial of DSM Tool and we'll help you get started. Today is the day.
How do you maintain a good seller metric without being a Top Rated Seller?
Just make sure you are active on eBay, listing every single day and contact your buyers if needed.
Listing hot demanded items. You need to do Product Research items with high demand and low competition.
Try to be on top of any open case you may have. For example, open return cases, refund cases, etc.
Provide good customer service. It could be as simple as thanking your client once the purchase has been made, letting your customers know when their item will be shipping, etc.
You can read more about the best practices of customer service and good seller metrics here.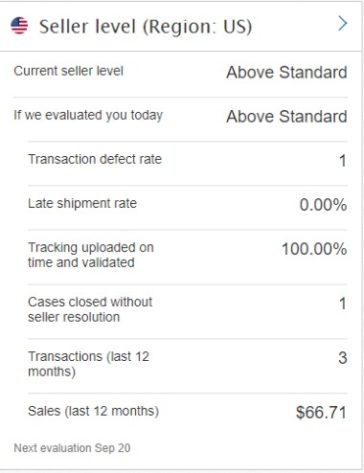 eBay Seller Dashboard
When you open an eBay store, you will have access to your Seller Hub which is the store management dashboard for eBay sellers. You will have access to all relevant data from your listings, sales, payments, open cases, and your overall seller performances.
The cool thing about this seller dashboard is that you can analyze your data in real time. You can check up on your sales for the last week, month, or 90 days.
You can also download sales reports, be on top of your open cases, review the amount of traffic you're getting in your store, check up on your selling limits, customers' feedback and so much more!
How can you access your Seller Hub?
The process is pretty simple — let me show you:
Opt In to the seller hub feature.
On eBay's homepage head over to "My eBay" in the top menu.
Click on Selling.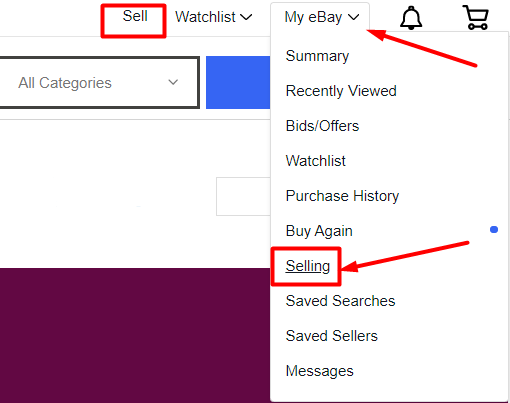 Learn more
Read everything you need to know about eBay's seller dashboard in this detailed article about Seller Hub.
Moreover, you also will have access to one of eBay's greatest Marketing tools known as Terapeak where you can analyze eBay's market and execute detailed product research!
You can analyze different niches depending on the keywords you choose and you can filter the results by item's condition, price ranges, and so much more.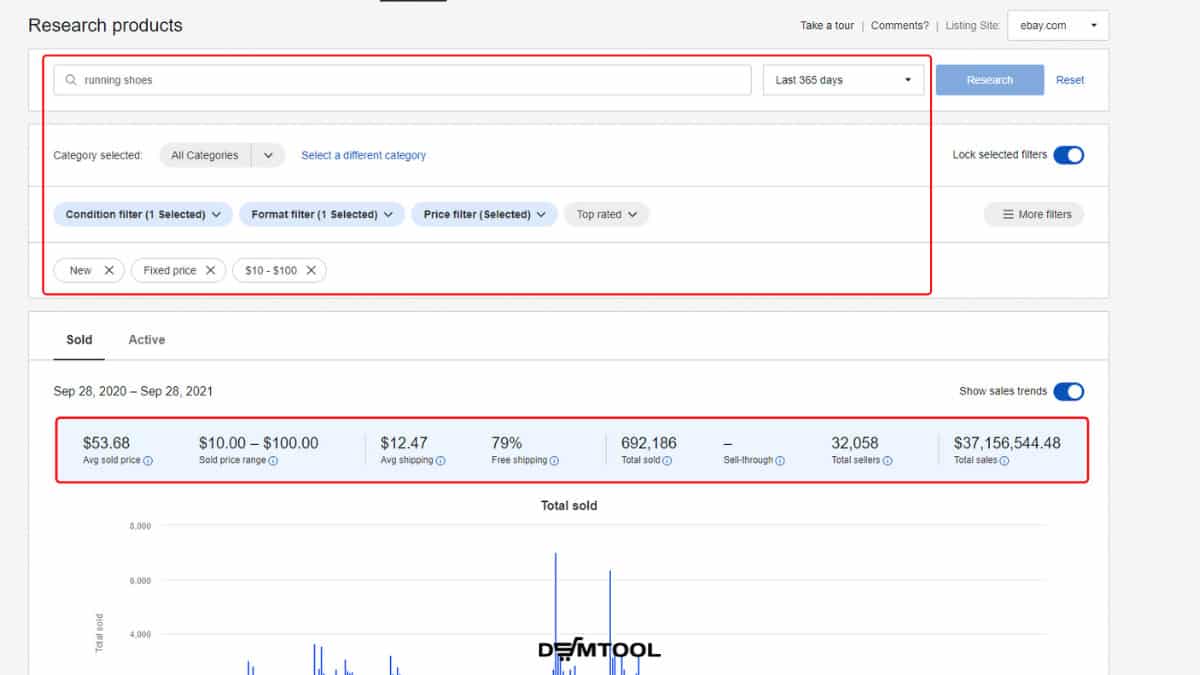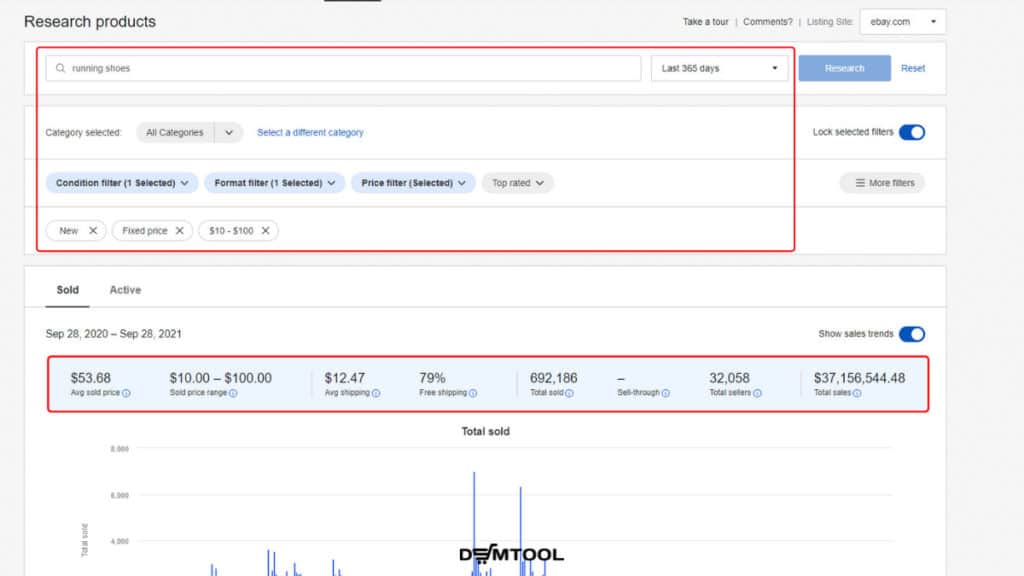 In other words, you can do great product research — like a true professional!
Learn More
Learn more about this useful eBay tool in the article about Terapeak.
Listing Promotions
Another cool feature that the eBay marketplace offers is the ability to use eBay Promoted Listings.
It is a paid advertising campaign that eBay seller sets up in order to gain more visibility — more traffic, more sales!
One of the best things about eBay Promoted Listings is that, unlike other marketplaces, this feature is risk-free! — You only pay fees if your listing gets sold.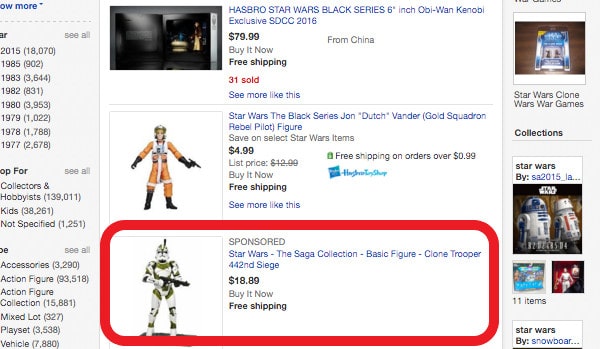 So, eBay promotions or eBay ads allow you as an eBay seller to stand out among billions of listings in the marketplace in order to attract active buyers.
eBay Promotions Requirements
Not every eBay seller will have access to this feature, here's a small list of requirements your listing needs to meet in order to create your eBay ad campaign:
Fixed price listings for most categories except Vehicles, Real Estate, Travel.
Has applied the recommended price guidance.
Includes at least 2 pictures of the item.
Does not have an item condition listed as "Parts not working".
Does not have shipping listed as "Local Pick-up".
Auction and Auction Buy It Now listings are not currently eligible.
How do you access the eBay Promoted Listings option?
It is quite simple, just head over to your My eBay Active page from the Selling tab and simply click the arrow dropdown next to the listing you want to promote.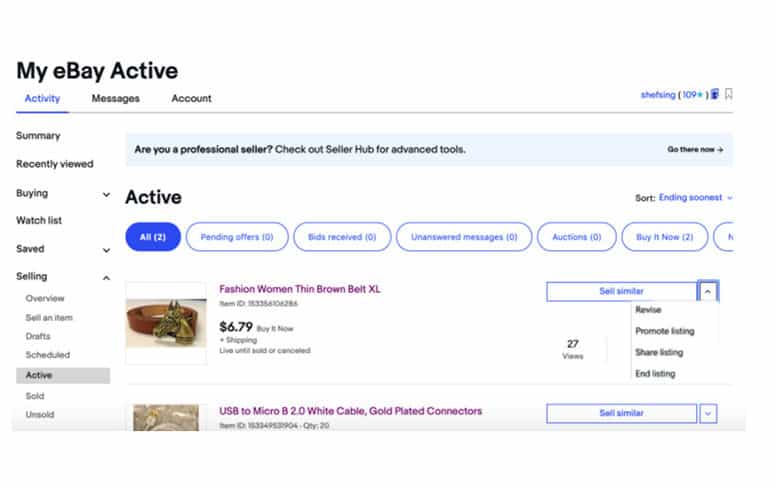 How to use eBay ads to increase your number of sales, learn on the guide to promoted listings.
Conclusion:
So far you've learned everything you need to know on eBay Marketplace and how to get your seller account started. eBay is one of the most accessible marketplaces in the eCommerce world that does not require a whole bunch of things to enter the market.
The good news is that eBay still holds to this day the second biggest eCommerce traffic. Even though it is a jungle out there, you can still manage to catch some great sales! The important thing is that you understand how this market works.
All it takes is a little bit of patience and a whole lot of discipline. If you really want to succeed here, you need to put in the work.
I hope this article helped you understand the basics of how the eBay marketplace works in terms of product listings, seller fees, and how to gain more potential buyers. Now you're ready to start your eBay store journey.
— Now go out there and earn some profits!