11

min read
When you decide to start a dropshipping business no matter if it's on a marketplace like eBay, Facebook or on your own Shopify website, you need to find products to sell on your store. The easiest way to find what to sell is by trying to "catch the wave" of new trends.
In this article, I will share with you both the theory behind why selling trending products and the practice of how to find them. It is important that you understand that this is exactly the type of knowledge that you will need to learn if you want to run your own business.
I try to use the knowledge I have gained from previous businesses with every new business or income channel that I build. I am saying that because when you finish reading this article I want you to remember that the goal is to try to actually find, list, and sell your first item. The knowledge is only valuable when you take action upon gaining it.
The theory behind selling like crazy.
When I studied business and entrepreneurship in university we were shown a graph that explains how every product, technology or innovation is being adopted by the world's markets.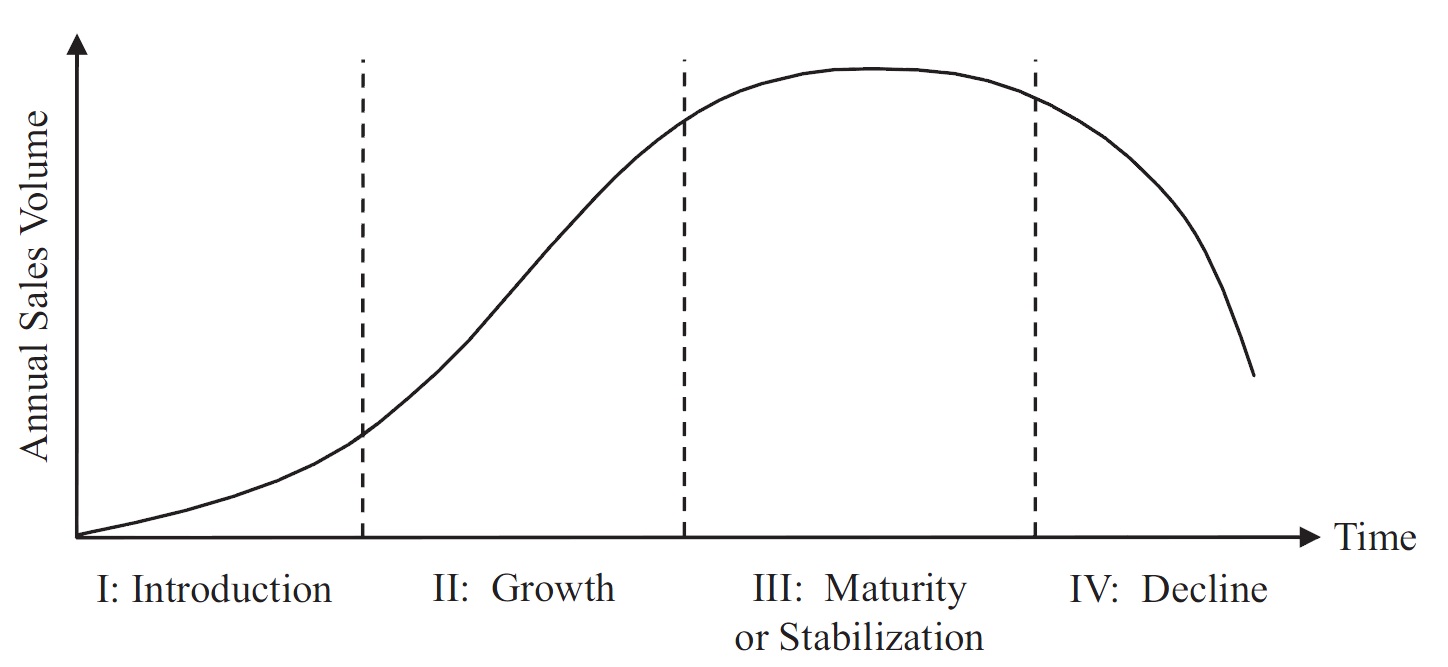 Source: Wikipedia
The graph is very simple and anyone can understand it, you don't need any prior knowledge in marketing or economics to do that. Every product starts in the Introduction stage where it has no demand at all as it's being introduced to its potential buyers (the market). If the product is successfully adopted by the market its demand starts growing and the products enter the Growth stage. Since there isn't an unlimited amount of people in the world, no matter how popular the product becomes at some point the growth slows down, this stage is called the Stabilization stage. Eventually, every product becomes irrelevant to the market or the trend has already reached its peak, so it enters the Decline stage.
The theory does not refer only to a single product that is trending, the concept of the life cycle is most of the time referring to a niche of product. Naturally, every product that is becoming popular is gaining competitors that offer the same or similar products, there can and should be many sellers that enjoy the benefits of the growing trend. Moreover, think of products like the iPhone which created an entire category of products around it. I am not only talking about other products by the same company as the Apple EarPods I am talking about related products like phone cases, screen protectors, etc. All of which are growing as well when the iPhone sales are growing.
The best products to sell in dropshipping are trending products
When you run a dropshipping business your it is probably best to sell products that are trending right now, you want to "catch" a product or a niche of products as early as possible in its growth stage, But why?
Bigger retailers have an advantage over you. They usually have an entire department working on sourcing products and a network of suppliers and connections that you don't have. They are able to source the products that are currently in the "Stabilization" stage for a price that is much lower than the retail price mostly because they purchase big stocks for a discount.
As a small seller, you have to find a way to stand out, and you usually try to sell your products for a higher price than the "recommended retail price". Therefore, you have to find products that will stand out against the competition and allow you to sell at that price point.
When products are trending (may we call it entering the Growth stage) there is a growing demand for them. At this point, you have the chance to offer a new variety of the same or similar products that the buyers did not encounter before by trying to source products from different websites. I recommend doing it using the 50+ different websites you can source products from for dropshipping.
Moreover, if you sell using SEO methods in eBay dropshipping then the sooner you catch the trend, the less competition you will have when you look for different keywords for your titles. You can use that as an advantage and rank your products on the first-page results on eBay more easily.
A great example of a product that went through the entire life cycle process is the "Tamagotchi". This electronic-pet toy was released in 1996 in Japan and quickly went viral and moved from the introduction stage to the growth stage. We can't estimate when exactly did it move from the Growth stage to the Maturity stage but we do have a hint about when it started declining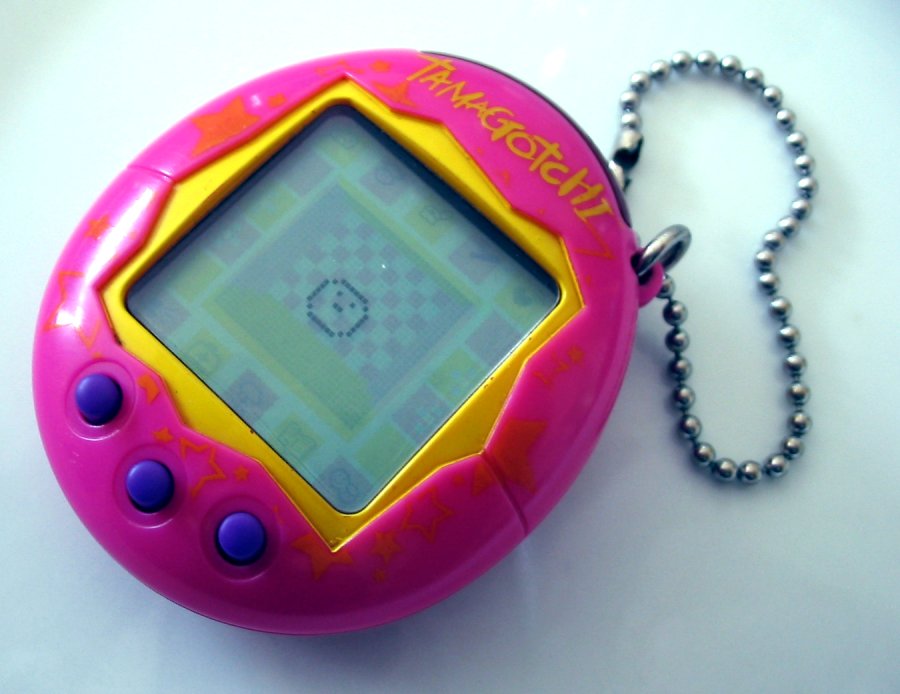 A Tamagochi toy, from Wikipedia
If you look at Google trends which started collecting data in 2004, you only see the decline of searches of the keyword Tamagochi starting in 2006. This is when I believe it went from the Maturity stage to the Decline stage.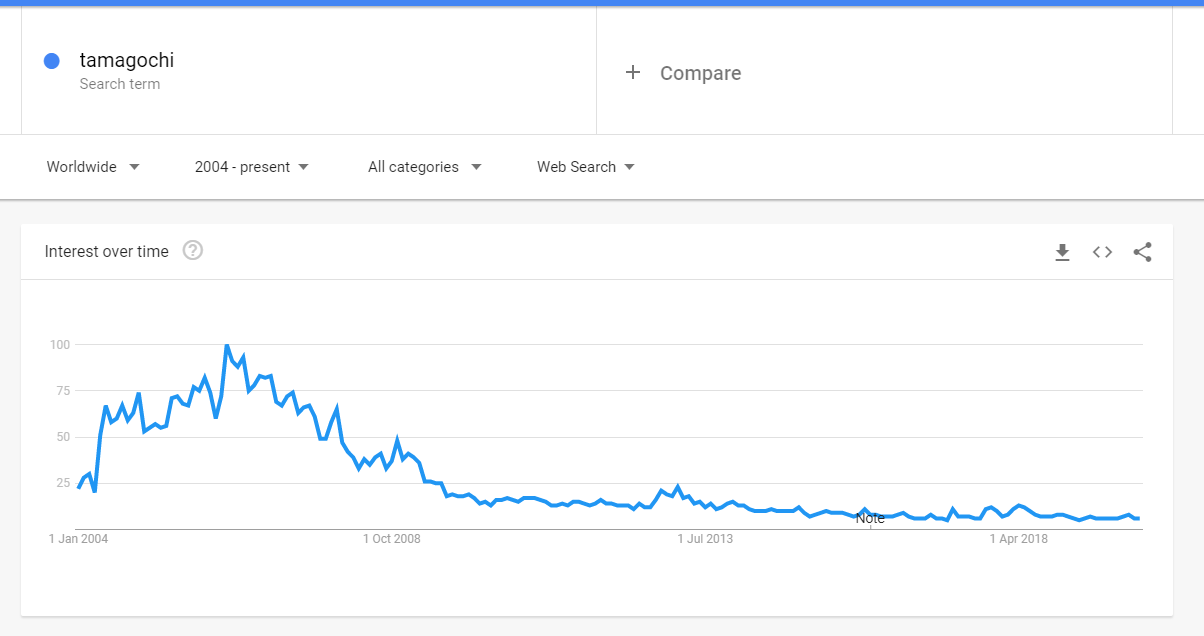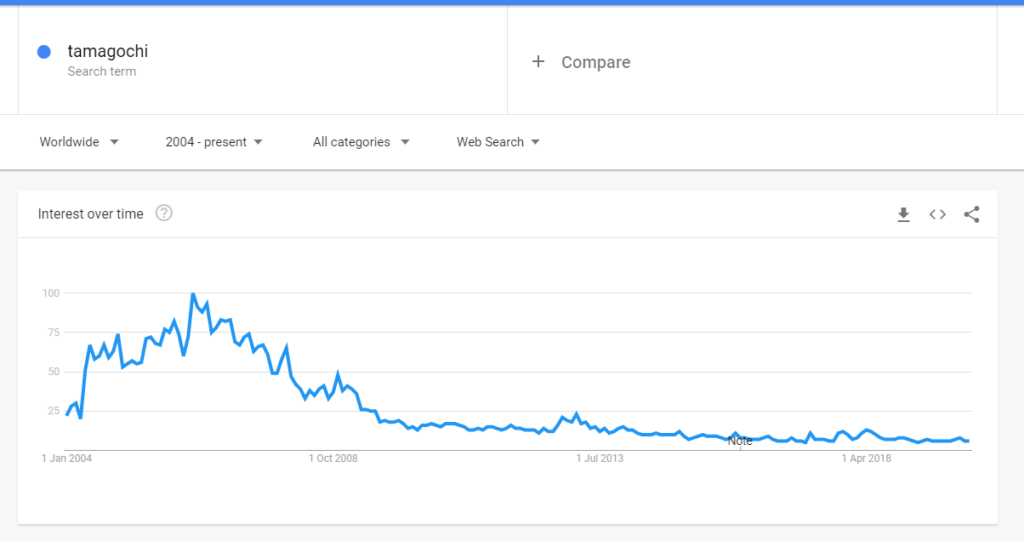 The trend for the keyword "Tamagochi" worldwide from 2004 until 2020
Another example of a product life cycle you can see for yourself in the Google Trends search for Fidget Spinner that in 2017 literally went "up and down" in a remarkable phase.
Back to the Tamagochi, it is actually not "dead" yet. Until today you can find many different versions of the Tamagochi available for purchase. Moreover, it is reported being sold over 82 million times from 1996 to 2017. I am sure that new versions of Tamagochi's were introduced to the market in recent years (starting their own smaller life-cycle) but generally speaking even if you try to dropship Tamagochi's today, you wouldn't expect the same results. Right?
So far we've learned the theory and saw a practical example from the past. One question still remains which is how to actually find current trends and "catch the wave" so that you could too generate sales from it.
How to find trending products for dropshipping
There are 4 steps you should follow to find and sell trending products on your dropshipping store:
Find a trend (a specific trending product or a trending niche)
Source products related to the trend
Add the product you found to your store
Follow the performance of your products and optimize the store
Find the best trends for dropshipping products
First, you have to find that trend you wish to try to "catch". The DSM Tool team and I are constantly posting trending products or niches we find in the DSM Tool Facebook group. We do that because we want to help those who are only getting started to find the first product to sell as quick as possible. We know that when you take action you are more likely to succeed, this is why we try to help by providing product ideas.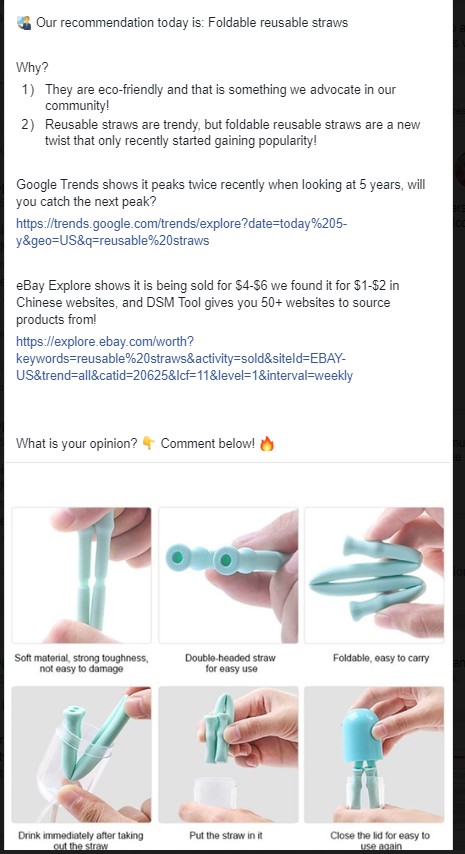 Product recommendations like the foldable reusable straws are posted constantly in the DSM Tool Facebook community
Did you already add the first product to your store? If not, take action right now and try to sell the products we recommend in the Facebook group. If you do already have some experience you should consider expertise more in the subject and start looking for trends and source products by yourself. There are so many ways to find current trends, actually, last year I've created a 30-min video and an article in which I go over 11 different ways to find trending products for dropshipping.
Source the best trending products from anywhere you can
When you have an idea of what you want to sell, the next step is to source the actual products you are going to sell. If you have never listed a single item before, I recommend starting by finding one item from one website, let's say AliExpress, the reason is that for every website you want to source products from you have to first set up DSM Tool to work with that website. I explain step by step how to set up a new website to work within the help center guide Listing The Very First Product on Your eBay Dropshipping Store
But as you grow, don't be afraid to source products from websites other than the ones you are already used to work with. It is recommended to work with software like DSM Tool that is built for working with multiple different websites for product sourcing. One example of how it is oriented for working with many sourcing websites is the Product Search feature which I demonstrate in the video below. Actually, since I created this video the DSM Tool team has improved that feature and it's now even easier to source products to sell on your store.
If you are worried, even a bit, by starting to source products from new websites just follow the step-by-step guide I've prepared for eBay dropshipping sellers explaining how to set up a new supplier for your dropshipping store in DSM Tool.
Add the products to your store
The next step is to take the product you've found and add them to your store. My recommendation is to follow the best practices of how to add products to your store. This step is pretty straight forward because at this point you already decided what you want to sell.
This also means that if you have never sold online before and this is the first-ever product you are listing then you are just about to join the community of dropshippers. Go on, finish that step because only once you have the products in your store you can start generating sales!
The last step that only successful sellers actually do
We talk a lot in the dropshippers community on Facebook about the need to keep optimizing your store. This is actually also a part of the 7-days challenge to start your online business which is available in the Facebook group unit learning section. A lot of sellers are spending too much time trying to prepare their products to be published, then they publish it and see they get no sales and then they give up.
"I've missed more than 9,000 shots in my career. I've lost almost 300 games. Twenty-six times, I've been trusted to take the game winning shot and missed. I've failed over and over and over again in my life. And that is why I succeed." (Michael Jordan)
Successful sellers have no attachment to the work they invested in products that did not succeed. When the products fail to sell they just kick them out of their stores and replace them with new ones. This is called "store optimization" and it is going to take some commitment, so clear up your schedule for the upcoming days and put some time into learning how to optimize your store.
There is also a theoretical explanation of why you must optimize your store. I want to refer back to the theory this article started with, the "life cycle of products" and talk about "The chasm".

Credit: Shivayogi Kumbar
The chasm is simple to understand in practical terms: when you add a product to your store you are introducing it to the market. Now it is either going to catch and grow or it will "fall into the chasm" and not sell. Most products don't pass the chasm, yes, even those you work really hard to get and optimize. That is why you stop investing in trying to sell them. On eBay, that would mean that you remove the product from your store and stop paying the monthly insertion fees for those unsuccessful products.
As your business grows you might want to try other dropshipping business methods like selling on your own website using Shopify. You know what? The same concept applies there as well: Shopify sellers usually use advertisements to drive potential buyers to their stores. As a Shopify seller, you stop advertising products that don't perform well.
Wait a second, have you seriously read this entire article and there are still have 0 products in your store? If you do have some products – sweet! If you didn't, go and list the first item right now, good luck!