9

min read
Successful eBay Dropshippers are making it good in the market. They are using marketing techniques that are, in fact, selling their products like pancakes. eBay stresses on SEO on your eBay store and that's the best marketing technique any store should be starting with. The best way to do that is to optimize your eBay store, from store naming down to description and item specifications. This includes optimization of your listings too.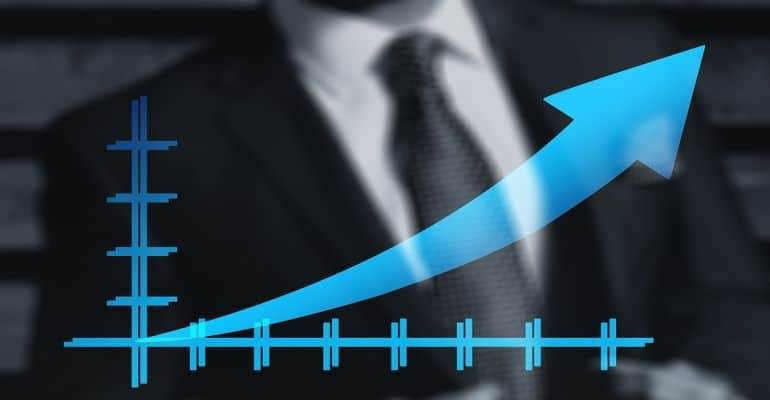 What SEO Marketing Techniques can you use on your eBay listing?
When selling on eBay, it is important to know the proper listing techniques for your products to be seen by potential customers. Without these techniques, your product listings will be as good as no listings at all. Let's take a look at some simple marketing techniques you can practically do without any cost.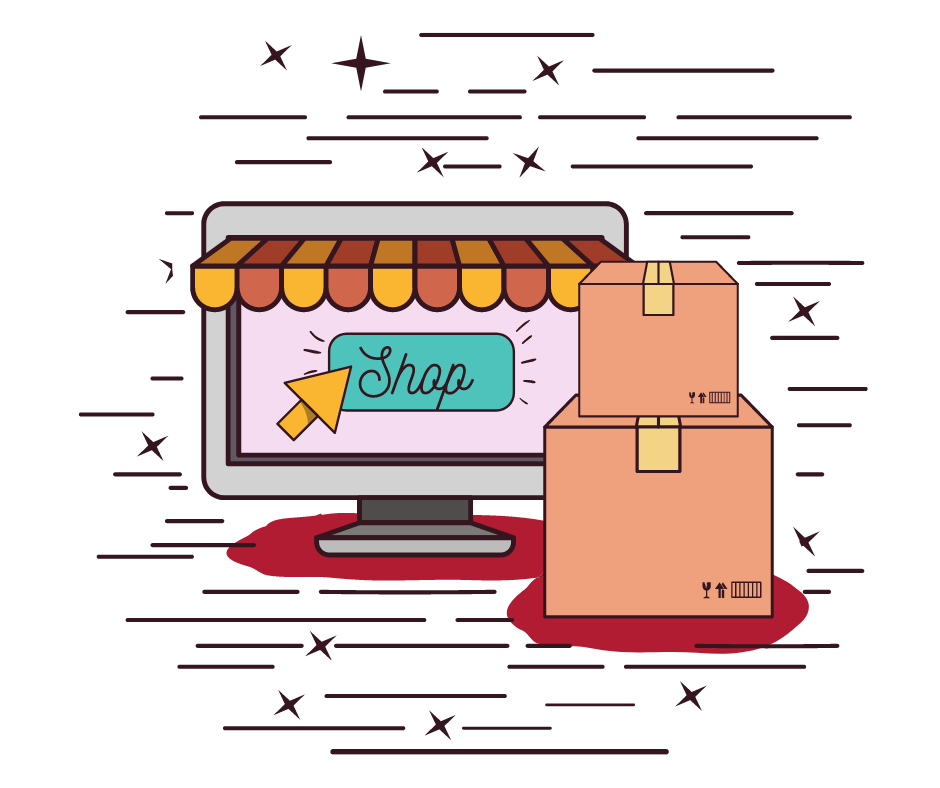 It's time…
Don't wait for success to come. Hire yourself and start your own dropshipping business
1. Create an optimized title for your eBay listings.
We have discussed the importance of optimized titles for your listings in a previous post, you can check it out here: Effective eBay Listing Titles That Work Straight From eBay Experts.
"Optimized Titles" for your eBay listings means using the best keywords that would describe your product, while strategically placing the most important keyword at the beginning of the title.
As an example: Let's say that you are reselling Fidget Hand Spinners which are in fact in demand in the market today. Here is an example of how to create a well-optimized title for your listing.

Notice that the keyword phrase which is Fidget Hand Spinner is used and strategically placed at the beginning of the title. Using this technique gives you a better chance for your listing to be seen by those who are searching Fidget Hand Spinners. See the image below.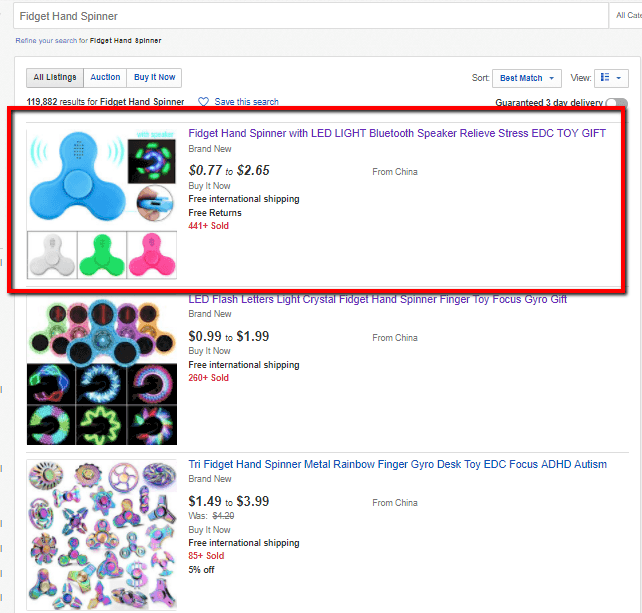 In this search for Fidget Hand Spinner, the example that we used is actually at the top of eBay Cassini's search results. Compare the title to the succeeding listings and you can actually see that the search placed the listing on top because it has the exact keyword phrase at the beginning of the title.
Tip: Choosing the right keywords to promote is a subject that can be discussed in a whole article or maybe even a series of articles. But here is a quick tip on how to locate good keywords for your SEO efforts: eBay just like Google has an auto-complete mechanism. If you enter keywords related to your product you might find interesting matches that could be your key to success.

In this example, we used the lister of eBay dropshipping software with eBay autocomplete feature to get the results for the keyword "Fidget Spinner" and found out that is our product is a spinner with a case it would be worth mentioning it at the beginning of the title (or to look for a spinner with a case). Take a minute to think what else can you learn from this example?
By the way, here is how to Bulk list your products with pre-edited optimized titles.
2. Create an optimized description of your eBay listing.
"Optimized description" is well described in eBay Learning Center. See the article here: Search Engine Optimization – The Basics.
eBay recommends:
Include at least 200 words of visible copy in your listing description, with the most important keyword phrases mentioned at the beginning and end. Remember to employ other content best practices, such as the frequent use of keywords where relevant and formatting (e.g., bolding, using font size on important titles and keywords)
There are three things to consider when writing an optimized description as follows
At least 200 words that clearly and completely describes the product: features, specifications, and packaging.
Important keyword phrase should appear at the beginning and at the end of the description.
Stressing on important titles and keywords through bolding and font size.
Example: Still using the Fidget Hand Spinner as an example, let's take a look at their description in the image below.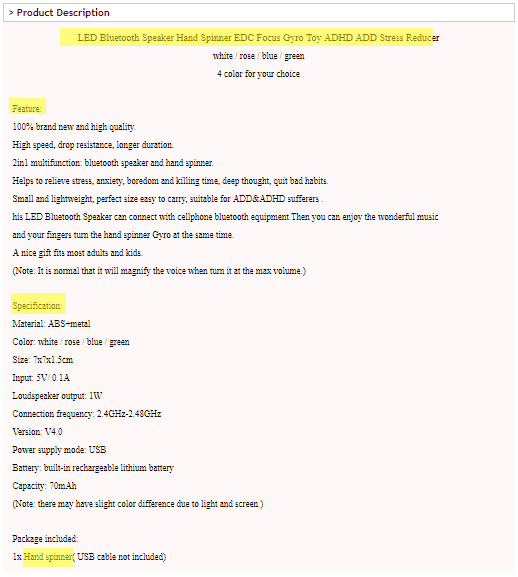 Highlighted in the image are the important points that customers need to know about the product. Notice how important keywords appear at the beginning and at the end of the description, and how these important keywords and titles are stressed using capitalization.
Here are the 4 steps to Make Product Descriptions That Sell.
The main purpose of including Alt Tags to your images is for Search Engines to find your images almost immediately. Alt Tags act as a description of your image. However, this is not visible to the viewers but visible to search bots. Alt Tags are better explained in eBay community discussions: How do I add an ALT TAG to an image?
Rival River also does a good job of explaining how to use Alt Tags in images to boost eBay SEO.
Important when adding Alt Tags to your images on eBay
Add alt tags to images, videos, and clickable buttons that you are going to include in your description.
You cannot add Alt Tags to images that you are going to upload to eBay for your listing.
Your image file name should be more descriptive. Use the main keyword to name the image. This is better for search engines than just naming your images with numbers or codes.
Use HTML view or HTML tab of eBay's description editor
When adding the Alt text to an image tag, you must use the HTML view or HTML tab of eBay's description editor, because you are creating or modifying HTML code.
Tip
There are various aspects that contribute to optimizing effectively your dropshipping business. Here are some steps you can take to optimize your business for long-term success.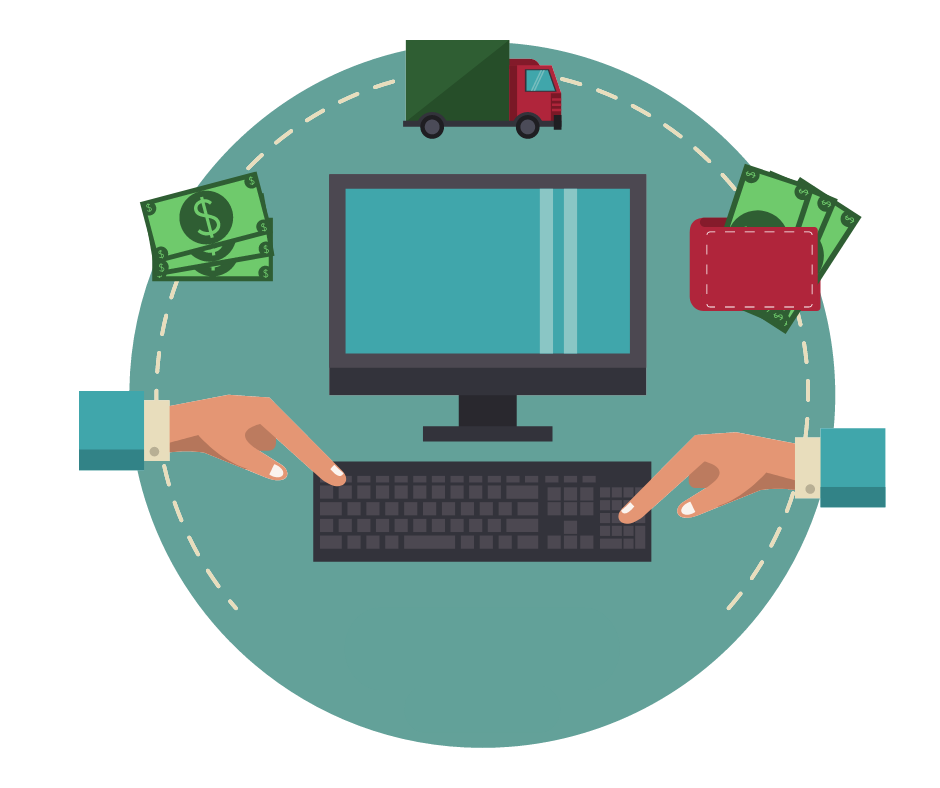 Not yet making money online?
Start your own dropshipping business. Sign up for a free trial of DSM Tool and we'll help you get started. Today is the day.
How to Make Your Listings Stand Out on eBay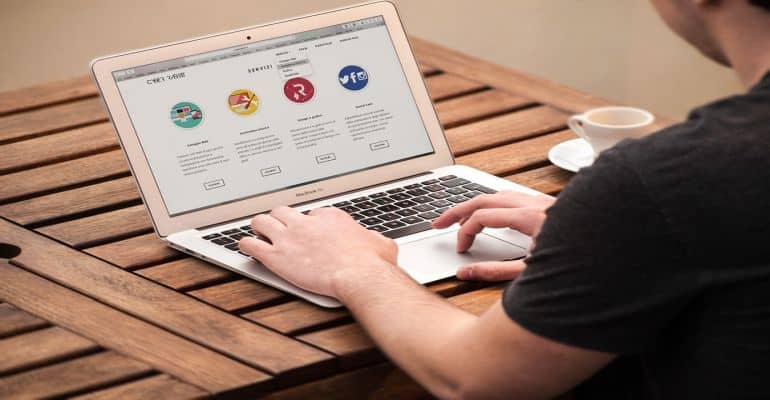 When in dropshipping arbitrage business, there are many drop shippers who do not only list their items on eBay, they also have their own listings set up on their own website. In this case, you can still follow the same SEO marketing techniques. Here are some that you can add to your marketing efforts as a drop shipper.
SEO Optimized Title. Add useful and important keywords at the beginning of your title listing. This helps you put your listing in front of the buyers' search.
Discounted price vs Original price. List the original price and the discounted price. This technique shows the buyers that they are getting a good deal.
Clear high-resolution images that show how to use the item. Knowing how to use the product at first site gives a first good impression for the listing.
A clear add to cart button. Buyers would like to make purchases easy and hassle-free. A clear add to cart button is the key.
Safe and secure payment guarantees. Buyers would like to feel safe with every transaction. Payment guarantees give them a sense of security.
Satisfaction guarantees. Just as secure and safe payments, buyers would also like to receive quality products. The satisfaction guarantee signs are good indication that you are selling quality and legit products.
Shipping time. Buyers would like to get their purchases fast. By providing shipping expectations, the buyers can relax knowing when to expect their purchases.
Stock availability. Providing stock availability gives the buyer some sense of urgency. So that if they really like the item, they wouldn't postpone until tomorrow to make a purchase.
Easy payment methods. As with the clear add to cart button, easy payment methods also give the buyer the ease of shopping with fewer hassles.
Complete product description. Give the buyer an overview of what they are getting. Product descriptions should be short but concise. Give them the right expectations for the product.
A video describing the item. Adding a video in the description helps the buyer decide on the purchase. Videos should be clear, providing the buyer a clear view of the product physical appearance and features.
Customer reviews. Adding positive customer reviews is another positive impression for the buyer. When they see that other customers have tested the product and are satisfied with what they get, it somehow boosts their confidence to make a purchase.
Share buttons. Providing a share button is to your advantage in both ways. You get to share it on social media sites for increased views and potential buyers. On the other hand, buyers can share it on their social media sites too. Thus, a wider reach for you.
Related items for up-sell and cross-sell. Related items at the bottom of the listing helps you provide the buyers with a chance to enjoy other products you are selling.
The last call pop up window when viewer exits the window. This addition to your listing gives your buyers an option and a chance to think twice about your offer. The pop up can provide them a further discount or coupon code on their next visit.
Watch Neil Patel, a successful digital marketer, talk about Optimization Tips To Improve Product Conversion Rates
Final Lines
SEO is an integral part of product listings. It is the heart of marketing in e-commerce based stores whether you sell on eBay or on your own website. Added marketing techniques psychologically make a huge impact on your viewers. Giving them the first good impression such as discounted price, benefits, and great customer reviews gives your eBay store an edge over other sellers.