11

min read
Aliexpress is one of the most popular marketplaces nowadays, never dropping below 390 million visits a month in 2022, thanks to its affordable prices. Dropshipping sellers, of course, set their sights on this source of suppliers and know which Aliexpress Chrome Plugin would be the best tool to work with dropshipping suppliers from this Chinese marketplace. So, what is the best Aliexpress Chrome extension?
There are many guides on how to dropship on eBay from Ali Express that covers most of the basics you need to set up and learn in order to properly run your Ali Express dropshipping business. But these are dropshipping beginners guides, and by design, they can't cover everything such as advanced features that would make step up your game.
In this post, we would make a quick overview of the 9 best Aliexpress Google Chrome extensions, which:
are easy to use;
definitely save your time or money;
are free or have free features;
help to grow your dropshipping business.
Let's walk through these handy tools that help us, sellers, maximize the advantages of sourcing from AliExpress.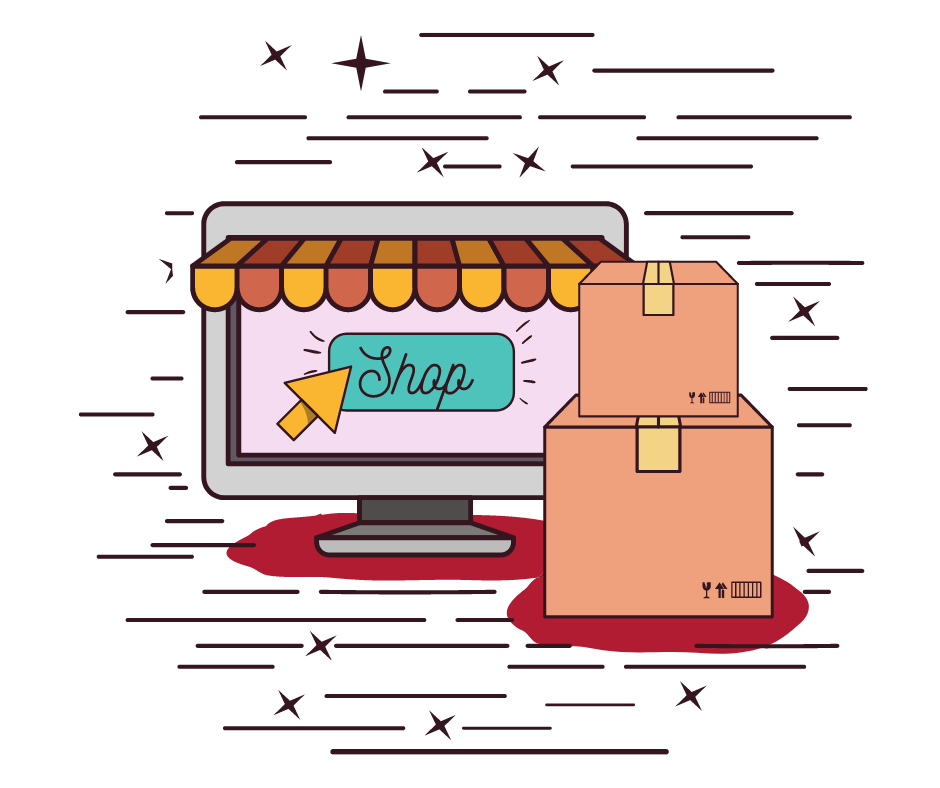 It's time…
Don't wait for success to come. Hire yourself and start your own dropshipping business
A Quick Overview of the 9 Best AliExpress Chrome Extensions
1. Alitools – Must-Have Aliexpress Chrome Extension
The Alitools Chrome extension is your must-have addon if you source from Aliexpress. It is a seller reliability checker along with Aliexpress price tracker extension, and product search by image, all in one: it gathers the information about the product's price changes, seller's rating, and reviews right on the Aliexpress product page. Besides, it can show you the list of similar items with the indicated sellers' rates.


Product search by image for Aliexpress is another cool feature that this AliExpress addon offers. If you are in the eCommerce business, you surely dedicate much time checking trending niches, items, and other seller accounts, and frequently you want to list the same item in your store. Well, its button for product search by image will appear on most of the sites (marketplaces, social networks, youtube, etc.) and you can regulate them in the extension settings. Once you will click on it, it will show you similar products on Aliexpress.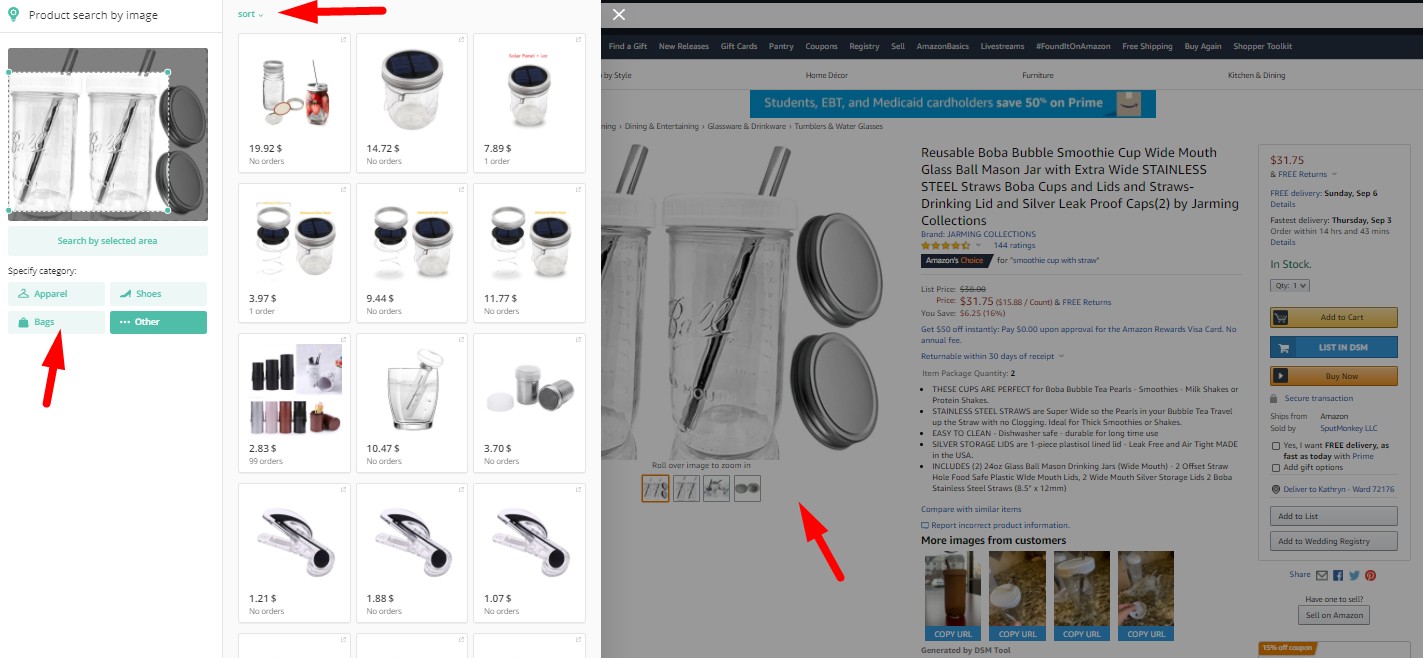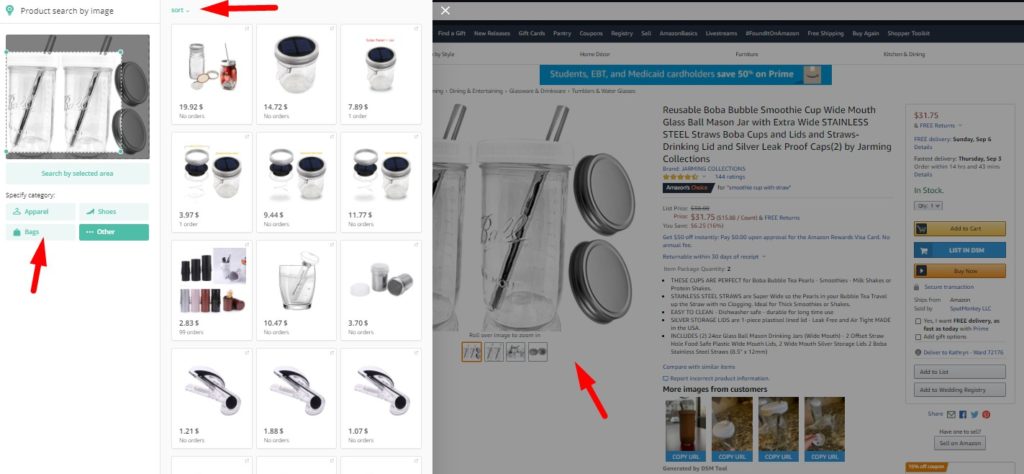 In addition, the drop-down menu of this Aliexpress extension presents a few worth-mentioning sections: collected liked products, search history, the products that you follow, and packages with their tracking numbers.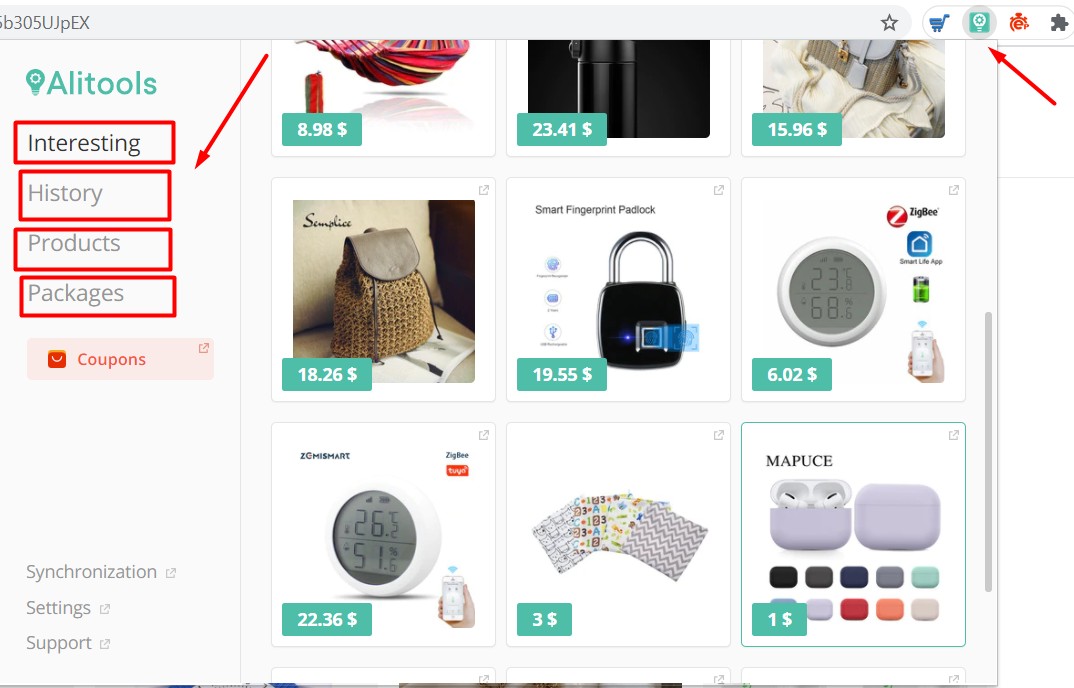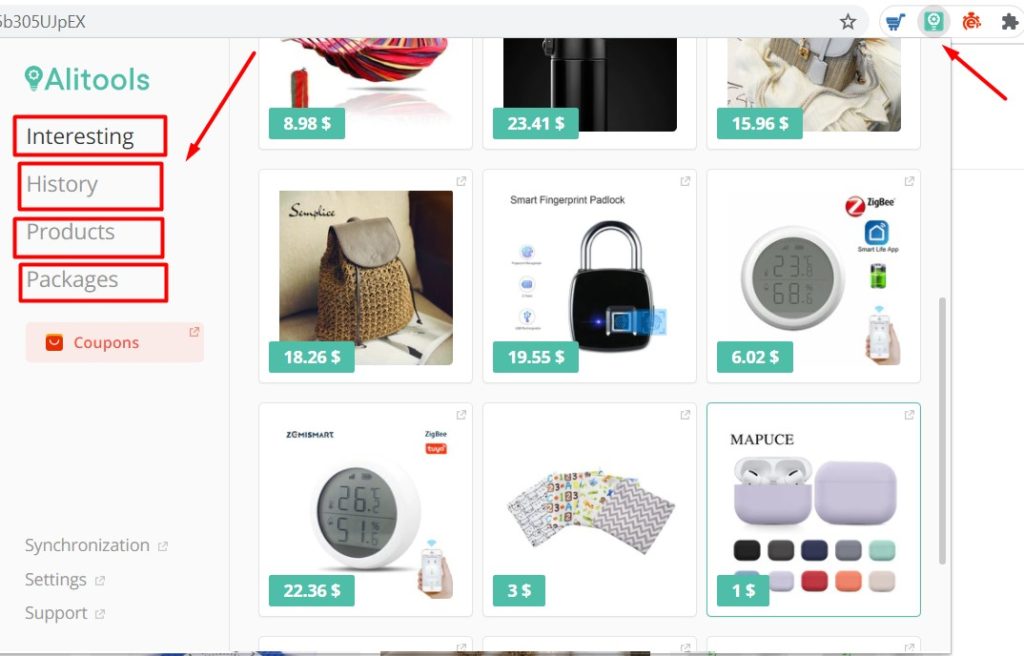 Read an overview of all Alitools features and learn tips on how to improve your Aliexpress shopping with it in the post about the Alitools extension.
2. AliSave – AliExpress Dropshipping Extension for Downloading Images
A good image for the listing plays an important role. This Aliexpress addon helps the sellers download the main or description photos of your product easily with just one click.
It's really easy to use: install this AliExpress Chrome plugin to your browser, click on its sign in your browser extensions bar. Then open the necessary product page in AliExpress, you will see the AliSave button near the product main images, variations, and description overview. All you need to do is to click on the button near the necessary section: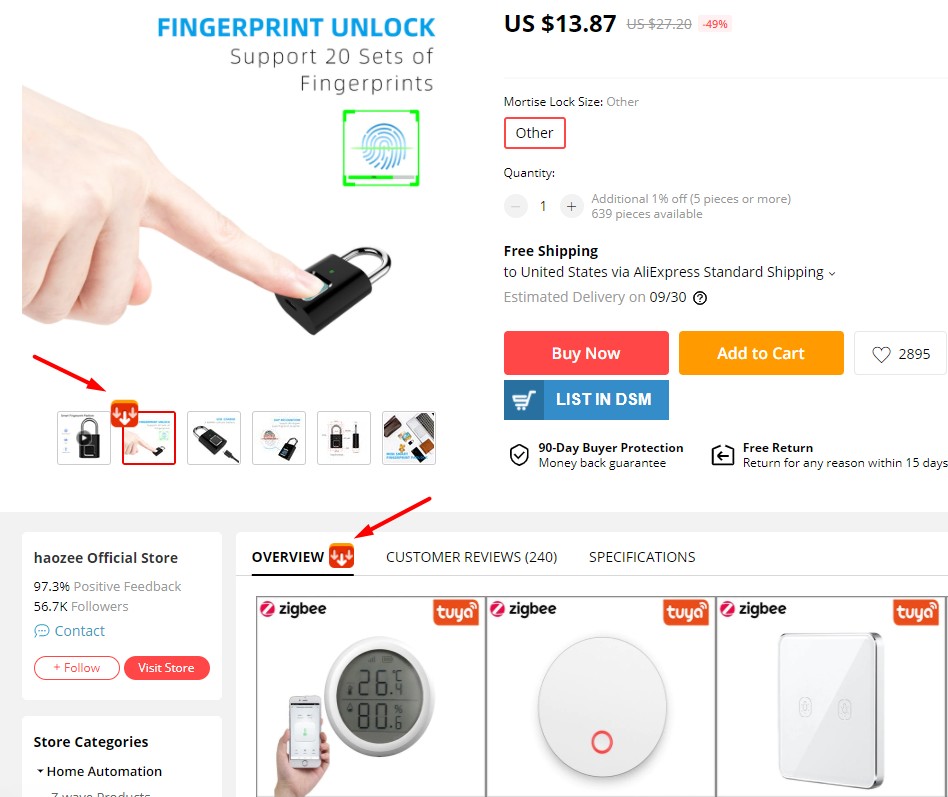 Pro membership goes with Aliexpress video downloader.
This AliExpress dropshipping extension allows you to choose the folder for saving these images and videos. Once it is done and the pictures are saved, you can optimize them or/and directly upload them to your online store on eBay, Shopify, or another drop shipping platform.
3. AliExpress Video Finder
This Aliexpress Chrome extension is an answer to the question: "How to find products with videos on Aliexpress?". Install AliExpress Video Finder to your Google Chrome browser, which allows you to see which of the products have the video in their visual content right on the search page.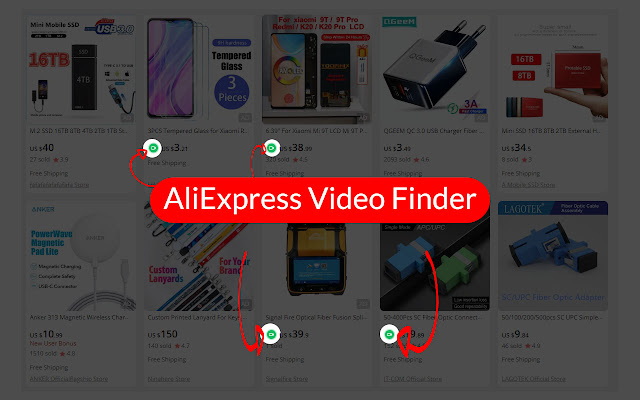 4. Aliexpress ePacket identificator – The Best ePacket Aliexpress Plugin
Aliexpress ePacket identificator helps to detect which seller offers the ePacket shipping option. It's a great helper for dropshippers who are looking for an air shipping solution from this overseas supplier.
After installing this Aliexpress addon, go to the search page of AliExpress, search the necessary product and ePacket identification will show you if it has a free ePacket shipping option (green color), a paid ePacket delivery (blue color) or doesn't offer such an option at all (red color).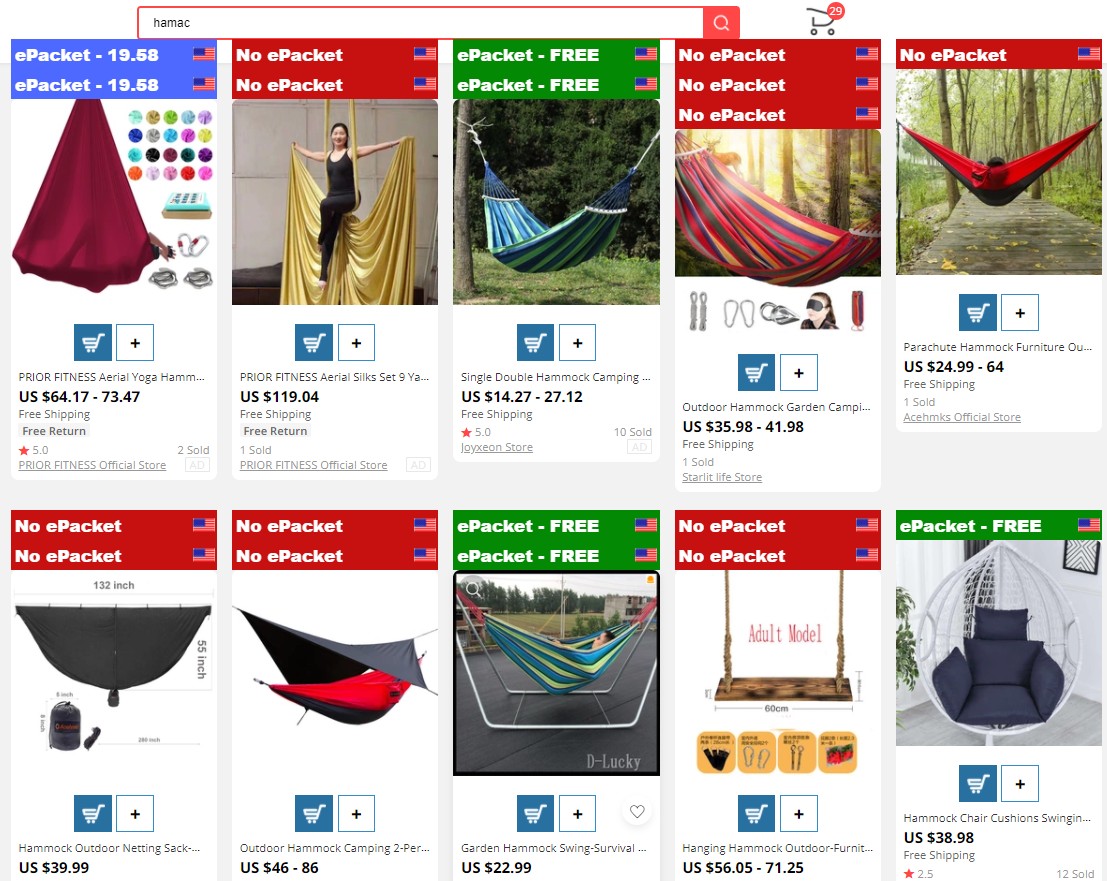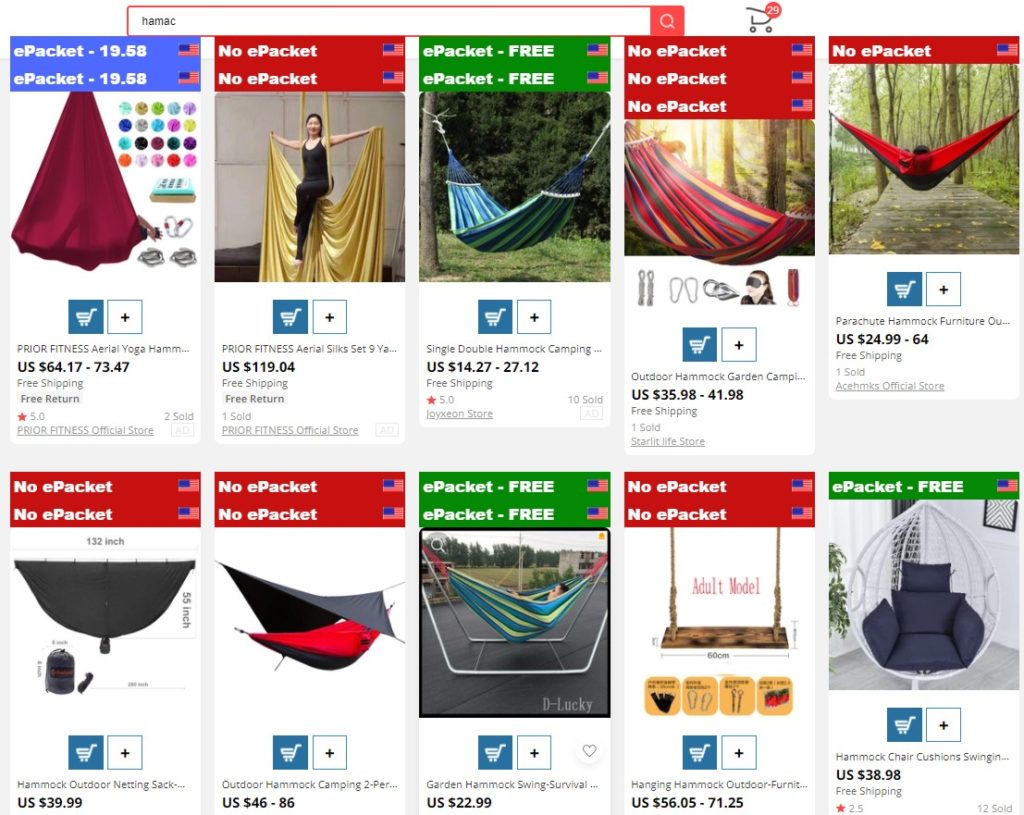 DSM Tool Chrome extension will be a handy instrument for dropshipping in general and working with Aliexpress particularly.
DSM tool eases the listing process:
In order to start, you will need to create an account in this dropshipping software (no worries, it's free), link your account from there to your selling store, and install the DSM Tool Chrome extension in your browser. You're ready to start! Choose the product on Aliexpress and click on the List button. That's it.
The extension will copy the title, photos, item specifications, and text description into the listing in a matter of seconds.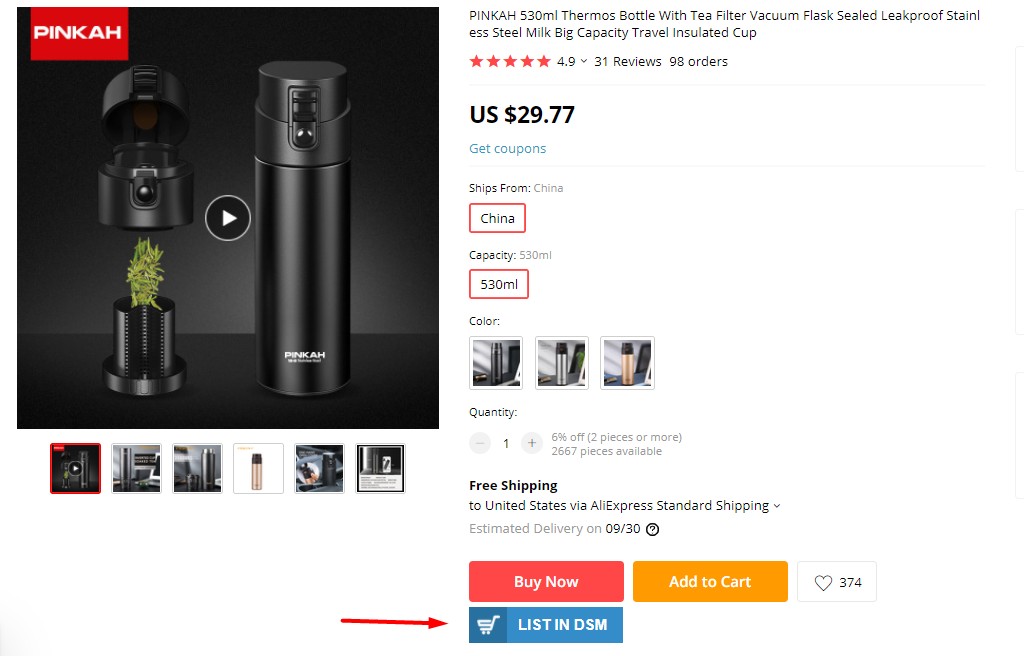 Dsm Tool extension saves your time also in bulk listing:
It would be enough to click on the Plus button to add the products that you liked into a Bulk List, and then all chosen products would be taken to the lister, where you can optimize them and publish immediately or at scheduled time: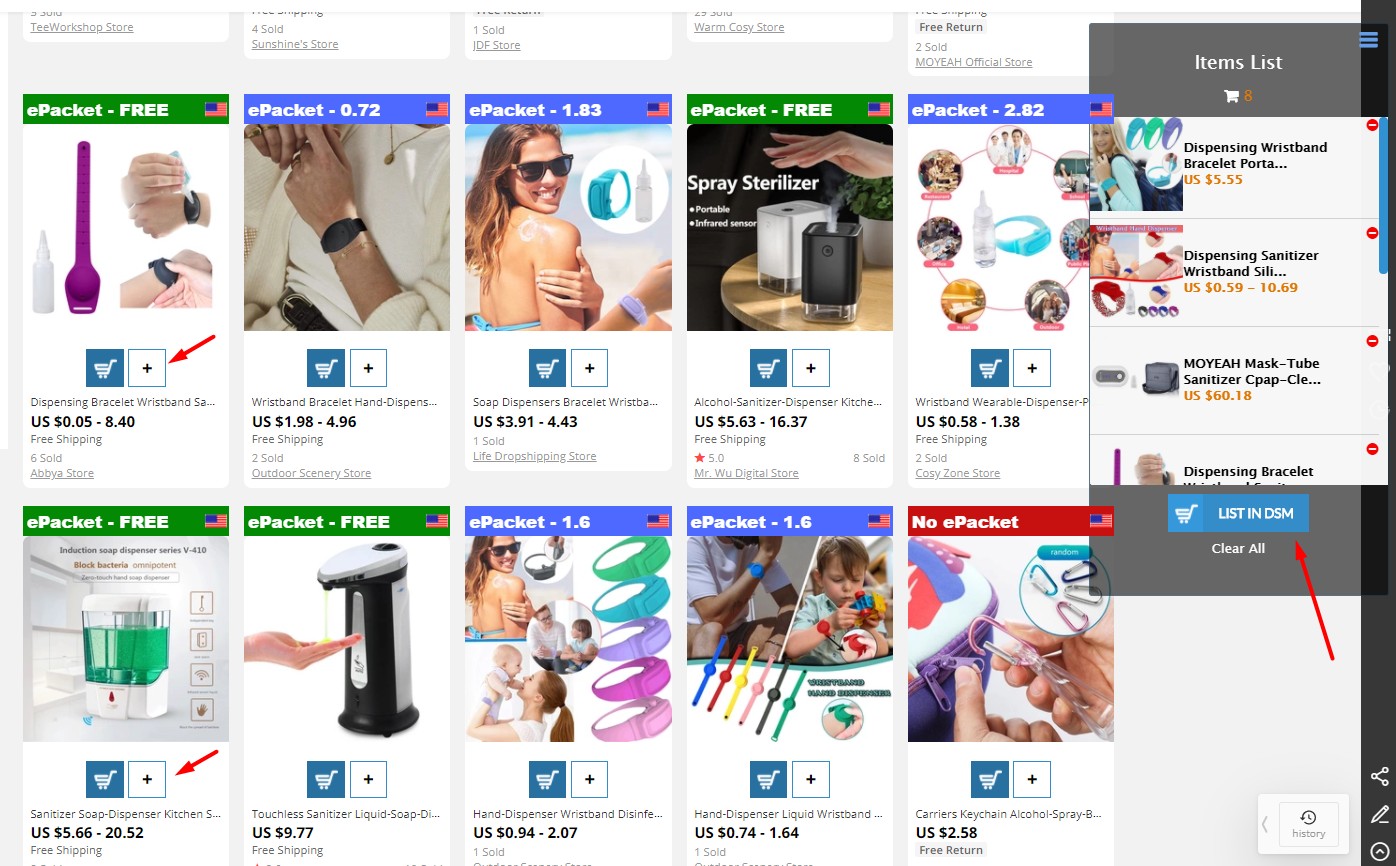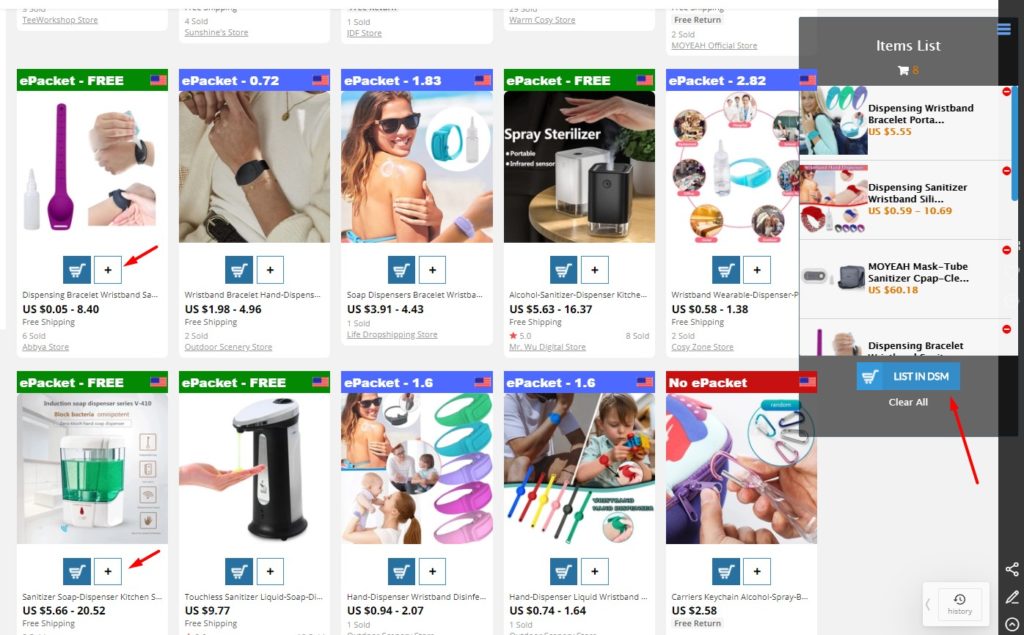 It is also helpful in fulfilling orders on Aliexpress:
If you are a drop shipper, you know that the faster you will process the order, the faster your supplier will ship it. Copying- pasting your buyer address by yourself can take a few minutes. "It isn't so much": thought you. Yes, but if your eCommerce business is growing, you get more and more orders every day. In this case, saving even a few seconds in fulfilling one order plays a big difference. DSM Tool brings copy-paste automation for the sake of your time and your eCommerce shop.
Overall, DSM Tool offers advanced customization abilities for Aliexpress dropshippers. There you can set the list of preferable shipping services for Aliexpress, so your listings will include the shipping prices according to them. For example, if you set AliExpess Standart Shipping at the top of it, but your Aliexpress supplier doesn't offer it, the monitor will take the 2nd option from your shipping preferences and add its shipping fees to your listing automatically: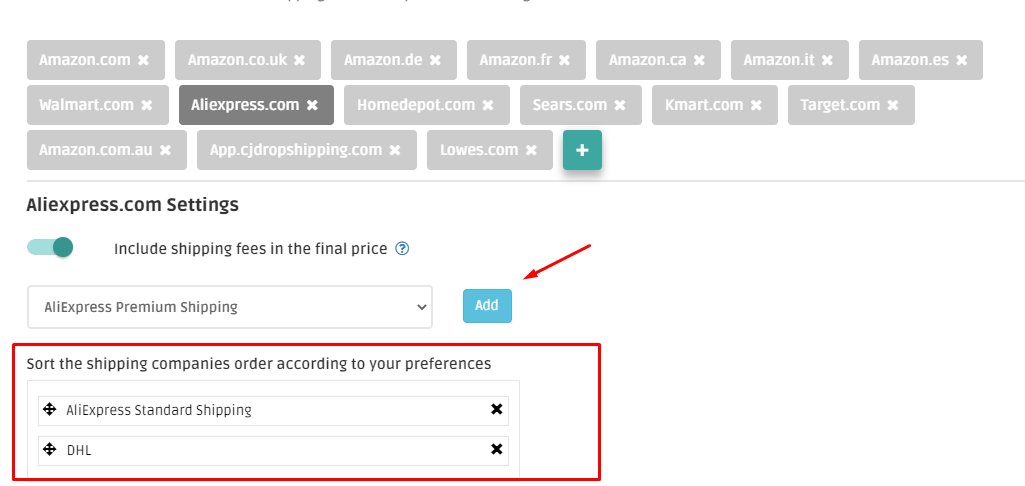 6. AliExpress Coupon Finder
This AliExpress dropshipping extension will show you if there are any available coupons for a chosen product. It's a good way to increase eCommerce dropshipping profits at least for a bit.
The Aliexpress Coupon Finder extension is free. You can install it and search for the item to list. If this item would have any available coupon, you will see it here: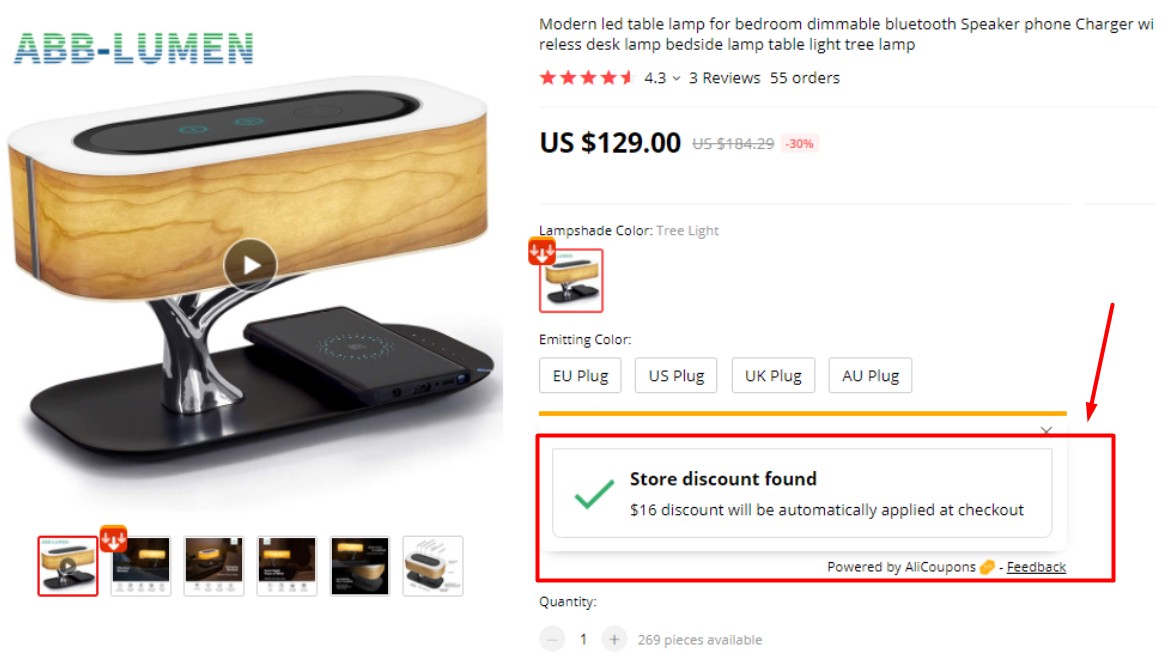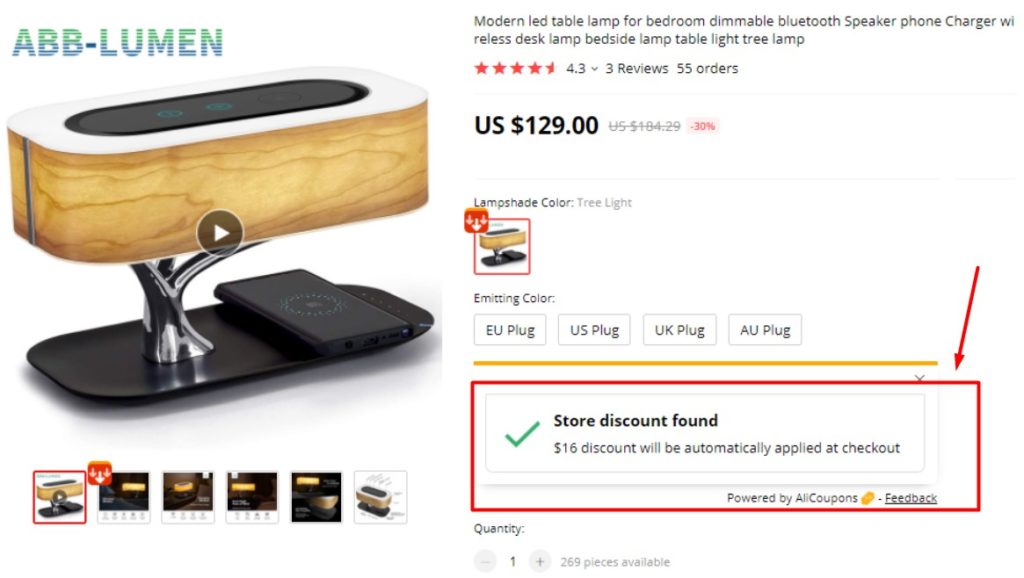 7. The AliExpress Price Tracker 
The AliExpress Price Tracker is a useful Aliexpress Chrome extension if you already know what trending product you want to sell or buy personally, but still want to get the best price! This extension is specially developed for tracking prices on Aliexpress. You just need to choose the specific product or its variation, click on this extension sign in your browser bar, and click the Track a price button. And this Aliexpress product will be on the list. Once its price drops or increases, you will get a notification. This is how this AliExpress dropshipping extension works:
 8. Ebates – Cashback Aliexpress Chrome Plugin
In addition to the coupons and Flash Deals section in Aliexpress, you can always consider using cashback sites and extensions to save money in shopping and increase your profits.
Ebates is one such option. If you don´t use Ebates yet, it might be a perfect time to start doing it. Ebates is a free cashback site with plenty of partners, Aliexpress is one of them. It allows you to get up to 2,8% in cashback from your Aliexpress order.
The only downside is that it doesn´t work for the European Economic Area. If your eCommerce business is located there, you can check other cashback tools to enjoy some bonuses.
#9. AliChrome – Best Aliexpress Chrome Extension For Bills
The AliChrome Free Invoice generator is a free extension for extracting your order details to a printable PDF invoice. In other words, this Aliexpress Chrome extension helps to verify or confirm every Aliexpress payment you make. It simply saves you time by asking each seller to do it for you. Despite these invoices don't have legal power (because they are not issued by Alibaba or its reseller), they are not fake. They simplify your accounting and justify your orders there.


Besides, AliChrome is easy to use. After you have installed this Aliexpress Chrome plugin, go to your orders, click on the View details button (for a specific order), and the button "Download PDF Invoice" will appear. Click on it, and everything is done. You get your free invoice: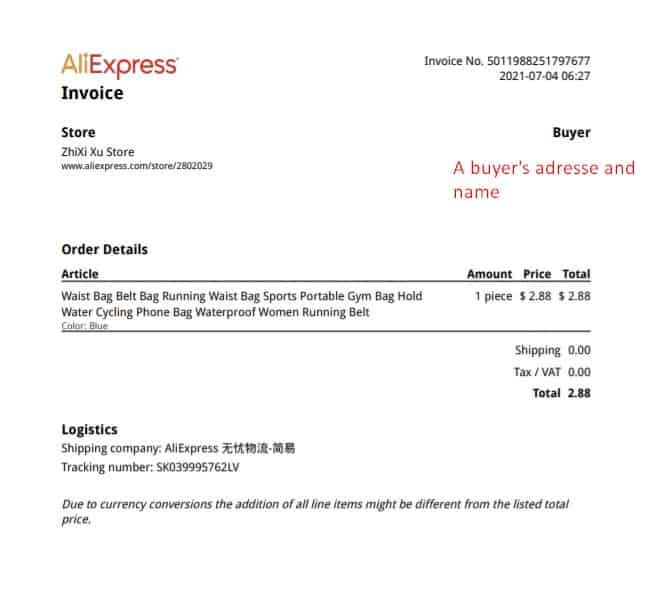 Conclusion
Aliexpress Chrome extensions are great tools to save time and money and to help you run your dropshipping business better. So take advantage of the above-mentioned Aliexpress Chrome plugins to get the most out of the AliExpress dropshipping.
Do you know any other great Aliexpress Chrome extension you would like to share with your fellow dropshippers? Let us know in the comments below!