20

min read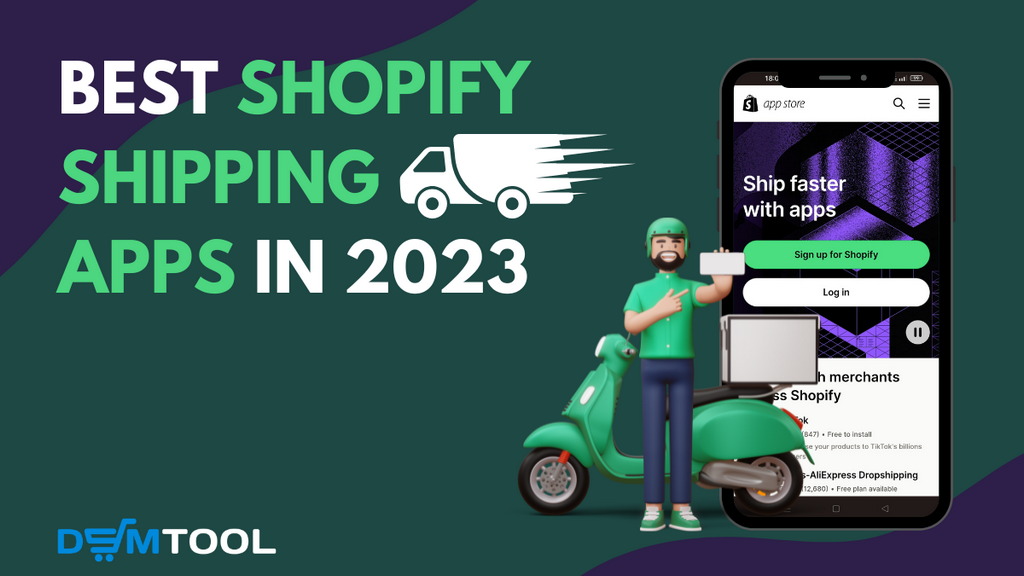 The Shopify eCommerce platform is powerful and robust. One of its main advantages, over 7000 plugins, allows you to improve almost every eCommerce feature: from product sourcing and order fulfillment to marketing and social media integration. In this article, you will learn about the best Shopify shipping apps in 2023.
There are many Shopify apps your eCommerce shop needs, but you need to know that not all of them are good, especially the free ones. Some are too difficult to install and configure properly, others will significantly slow down your store loading speed, and some are just not as good as other options. That is why I put together this list – all these Shopify shipping apps, tested by hundreds and thousands of users, provide significant improvements or additional features and are either free or have a high value-to-functionality ratio.
But first, why bother with Shopify shipping apps at all?
Do I Need A Shopify Shipping App?
Before considering the best Shopify shipping apps, you should learn why you even need them.
Why Delivery Is Important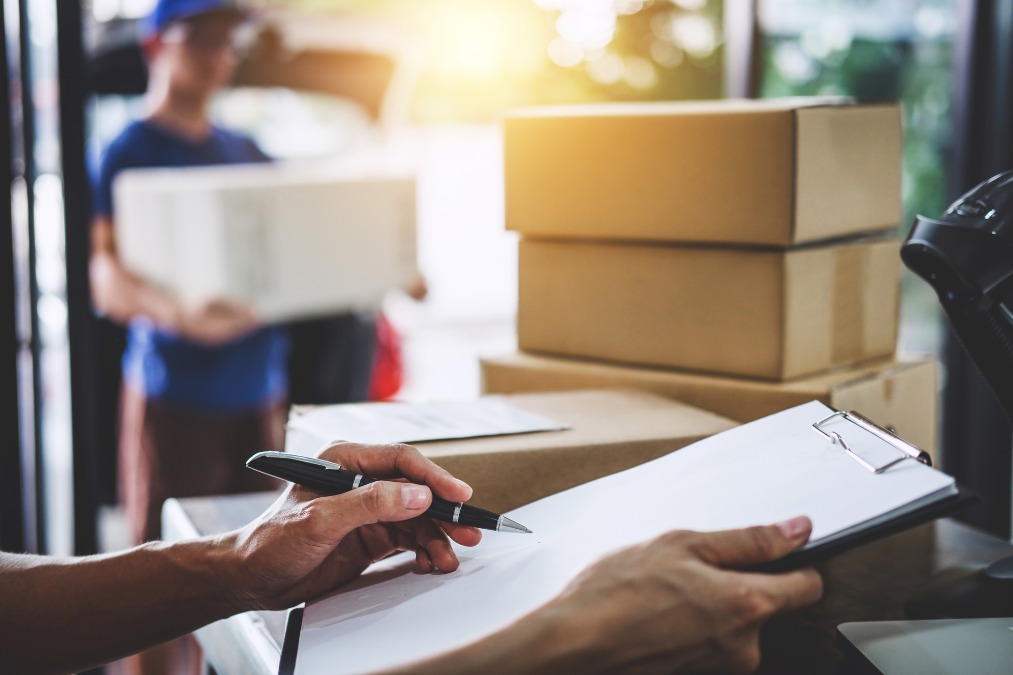 It might be pretty obvious for some, but eCommerce is all about customer satisfaction – be it product quality, customer service, or delivery experience. You might sell top-quality products and implement the best customer service practices for your online business, but if the merch comes delayed or damaged, chances are that you lose the customer.
Correspondence between promise and delivery has a significant impact on customer satisfaction and also on long-term relationships with the business. According to a study conducted by Ipsos in 2022, a lack of quality has a direct impact on re-purchasing. A poor delivery experience would deter 85% of online buyers from shopping from that online business again. 85%! So it is crucial that your delivery process is top-notch.
But how is this relates to Shopify shipping apps, you ask? Well, you need to understand that delivery is not only shipping goods from suppliers' warehouses to customers' doors.
Why use Shopify Shipping Apps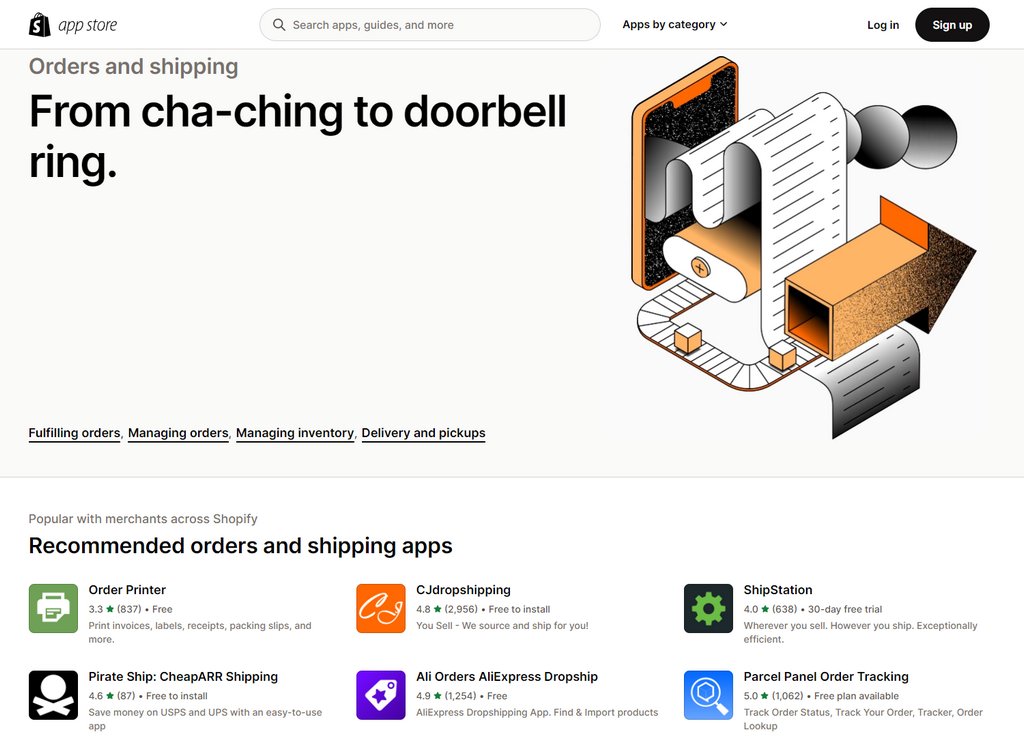 In eCommerce, you are in control of a lot of things. You can control the quality of the products you sell, branding, and marketing strategy, and you can bring your customer support to the highest standards, but you can't control shipping. Well, not entirely.
The delivery starts where order fulfillment ends – when the order is packed and transferred to the courier service. After passing through a sorting center, it gets to a courier who delivers it to your customer. This is a simplified depiction of how it works. If a shipment has to travel a greater distance, or it is international shipping, the package might pass through several sorting centers while traveling by ships, airplanes, trains, trucks, etc.
If your business fulfills orders yourself, you can speed up the delivery by shortening order processing. When dropshipping, you can choose suppliers with the fastest processing times. The same goes for shipping – you should work with the fastest and most reliable courier services. But that's not all that shipping and delivery involve. By using Shopify Shipping apps, you can improve existing and integrate new features to do the following:
Get Reduced Shipping Rates
Some Shopify apps for shipping provide discounted rates for the most popular carrier services like FedEx, DHL, UPS, and USPS. They also enable you to compare multiple shipping services at once to find the best ones.
Shipping Automation
Merge your Shopify store and take the delivery processes time, stress, and human error. Monitor order fulfillment, auto-allocate orders to your carriers, auto-assign shipping labels, etc. in a few clicks.
Automation might not be necessary when you just starting out, but once your business starts gaining momentum and you get more sales, this can help you a lot. You can learn more in our guide What Is Automated Dropshipping?
Custom Delivery Rates
Create custom shipping rates dependent on preferred parameters like product types, SKU, product tags, suppliers, etc.
Reduce Abandoned Carts
Provide shoppers with upfront information about shipping prices to see precise shipping rates, thus minimizing abandoned carts.
Improve User Experience
Accurate geolocation to display the delivery times and forecasts instantly save time for your customers.
Notifications, SMS & Email Notifications
Notifications, SMS updates, or Emails for order tracking updates like pickup, dispatch, and out-for-delivery updated by the shipping carriers.
These are just a few most common features you can expect from Shopify shipping apps. Some apps provide only basic features but they are cheap or even free. Other apps are much more expensive but provide you with all-in-one suites of tools. Sometimes you pay for features that you don't really need. To help you make the right choice, I prepared this list of the best Shopify shipping apps.
13 Best Shopify Shipping Apps in 2023
1. AfterShip Tracking

Rating: 4.7 from 3686 reviews.
Pricing: Free | $11/month | $119/month | $239/month. 7-day free trial.
AfterShip Tracking is a Shopify shipping app for tracking shipment status that supports over 800 shipping services worldwide. It enables you and your customers to check the status of their orders, thus improving customer satisfaction and reducing manual tasks for you.
To make it better, AfterShip Tracking allows you to create your own branded tracking page with your logo, custom color scheme, banners, and Instagram feed. The customers will have a seamless transition from email or website to your tracking page.
To get the most out of this Shopify shipping plugin, you have to subscribe to a paid plan. It will unlock the SMS notifications feature, which is a game changer. It will send your customers messages telling them that their orders are on the way, provide delivery time estimates, or notify them immediately if anything goes wrong.
Key features:
Branded tracking pages.
Email and SMS notifications.
Centralized shipment dashboard.
Estimated delivery dates powered by AI.
Shipment analytics.
The free plan allows 50 shipments per month, branded tracking pages, and 7 standardized order statuses. The paid plans bring Email & SMS notifications, shipping performance analytics, higher limits, Klaviyo integration, and more advanced features.
2. AfterShip Returns

Rating: 4.6 from 1901 reviews.
Pricing: Free | $11/month | $119/month | $239/month.
While online shopping has numerous advantages over brick-and-mortar shops, it is inferior when it comes to returns. Online retailers have more returns than physical stores, especially businesses that sell clothes, shoes, and accessories. According to a survey by Appriss Retail for the National Retail Federation, returns rocketed to an average of 16.6% in 2021 versus 10.6% in 2020. While there is no way of preventing shoppers from returning products, businesses should consider the process as smooth as possible.
AfterShip Returns is flexible returns service that automates returns & exchanges, sends return updates notifications, generates return labels, and supports different return methods and resolutions. It integrates with popular carriers like UPS, USPS, DHL, DHL Germany, DPD NL, FedEx, Australia Post, Swiss Post, Seko Logistics (Omni Parcel), Star Track, Canada Post & Correos Spain.
Key features:
Self-service returns page and email notifications.
Smart return rules.
Flexible refund and exchange options.
Automation rules to reduce manual work.
Carrier and warehouse settings.
The free plan allows up to 3 returns per month, branded returns page, a returns management portal, and email notifications. Paid plans give access to returns analytics, advanced settings and rules, automation rules, and increased limits.
3. Shippo ‑ Shipping Made Easy

Rating: 3.9 from 529 reviews.
Pricing: Free | $10/month. 30-day free trial.
With the Shippo Shopify shipping app, you will get some of the lowest rates possible for multiple global courier services, like UPS, USPS, FedEx & regionals. It also helps automate the bulk of the shipping workflow and enables you to print shipping labels, manage returns, and track packages – everything from one place.
Additionally, this Shopify shipping plugin provides branding features like adding your logo to shipping labels and customizing their colors, customizable pages, emails, and packing slips.
Key features:
Sync order & package info to Shopify.
Discounted shipping rates for multiple courier services.
Automated tracking and returns.
Protect orders by adding shipping insurance.
Branding experience.
You can install the Shippo Shopify shipping app for free and use it on a pay-as-you-go basis, where you pay $0.05 per label with no extra fees. The paid plan enables automations and branded customer experience.
4. ShippingEasy

Shopify Shipping App

Rating: 4.6 from 600 reviews.
Pricing: Free | $19.99/month | $29.99/month | $49.99/month. 30-day free trial.
ShippingEasy is an all-in-one solution that should cover all your shipping needs. Why all-in-one? Because on top of shipping automation (order, shipping, and rate management), ShippingEasy offers marketing tools like abandoned cart reminders, product reviews, product recommendations, and promotional email campaigns.
Unlike other Shopify shipping apps on the list, ShippingEasy provides discounted rates only for UPS and USPS. Still, these are some of the cheapest shipping rates on the market, and if you have your own FedEx account, you can integrate it and use your rates.
Key features:
Seriously discounted shipping rates from UPS and USPS.
Powerful automation simplifies the whole shipping process.
Connects all your selling channels to manage in one place.
Marketing tools.
Free for <25 orders per month.
You can use ShippingEasy for free up to 25 shipments per month, and you have access to automation, which is great. The paid plans enable marketing and branding features and increase shipments limit.
5. Easyship ‑ All In One Shipping

Rating: 4.1 from 369 reviews.
Pricing: Free | $29/month | $69/month. 14-day free trial.
Easyship all-in-one platform is one of the Shopify shipping apps that cover everything related to shipping. What makes it special is that it focuses on international shipping: it calculates taxes and duty rates dynamically and displays shipping rates to your customers up-front. It also recommends them the cheapest, fastest, or best value options.
On top of powerful automation, the service also provides branding features that allow you to personalize your emails, landing pages, and packing slips for a seamless customer experience.
Key features:
Pre-negotiated shipping discounts from 250+ courier services.
Tax and duty calculator.
Up-front shipping rates for customers.
Branding suite.
Add insurance at checkout.
Easyship is free for up to 50 shipments per month which are more than what alternatives offer. The free plan allows unlimited sales channel integrations and import tax & duty calculation. To get advanced features like live rates at checkout and branding tools, you have to subscribe to paid plans, which also increase the shipment limit.
6. netParcel

– Best North America Shipping App

Rating: 4.8 from 239 reviews.
Pricing: Free.
netParcel Shopify Shipping app focuses on getting the best rates for Canadian and US e-commerce sellers. It provides multiple delivery and pricing options for shipping within Canada, Canada-US, and internationally to and from these countries with up to 70% savings.
The app allows you to select carrier services, compare their rates, and print the required labels in a few clicks. It also imports shipping orders, publishes real-time checkout rates, and schedules pick-ups. While netParcel doesn't offer powerful automation, it is free to use.
Key features:
Negotiated rates from UPS, Purolator, DHL, Canpar/Loomis, and GO Logistics.
Real-time rates at checkout.
Label printing and confirmation emails in seconds.
netParcel Shopify shipping plugin is free to install and use.
7. Advanced Shipping Rules

Rating: 4.8 from 434 reviews.
Pricing: $9/month | $29/month | $59/month | $99/month. 7-day free trial.
As the name suggests, Advanced Shipping Rules enables you to create complex shipping rules to help with tricky shipping requirements or fine-tune shipping rates.
Advanced Shipping Rules is perfect for dropshipper who source products from multiple suppliers. It allows you to set unique rates for different product groups, exclude particular products from free delivery, and restrict or hide rates for certain conditions, like areas, etc. The service also integrates with print-on-demand companies like Printful and Printify for their real-time shipping rates.
Key features:
Flexible, powerful shipping rules to set unique rates for different products based on multiple conditions.
Customizable shipping zone rates.
Free shipping conditions.
Advanced real-time carrier rates.
Customize shipping rate titles and subtitles.
There is no free plan, but you can test the service during a 7-day free trial. The plans differ in the number of product groups and blended rates available.
8. ShipStation

Shopify Shipping App

Rating: 4.0 from 638 reviews.
Pricing: $9.99/month | $29.99/month |$59.99/month | $99.99/month | $149.99/month | $229.99/month. 30-day free trial.
ShipStation is one of the oldest and most well-reputed Shopify shipping apps. It is one of the full automation solutions that makes order fulfillment faster and more streamlined.
ShipStation Shopify shipping plugin enables you to import shipping orders from multiple channels and quickly generate discounted shipping labels at the best rates. You can also compare real-time shipping rates in the app to always get the best deals. On top of multiple shipping features like batch shipping and shipping rules, it provides order and inventory management.
Key features:
Shipping automation with notifications for your customers.
Wide range of automation rules.
Order and inventory management for automating order fulfillment tasks, inventory alerts, and real-time stock levels.
Branding suite.
ShipStation offers six paid plans to choose from with a 30-day free trial.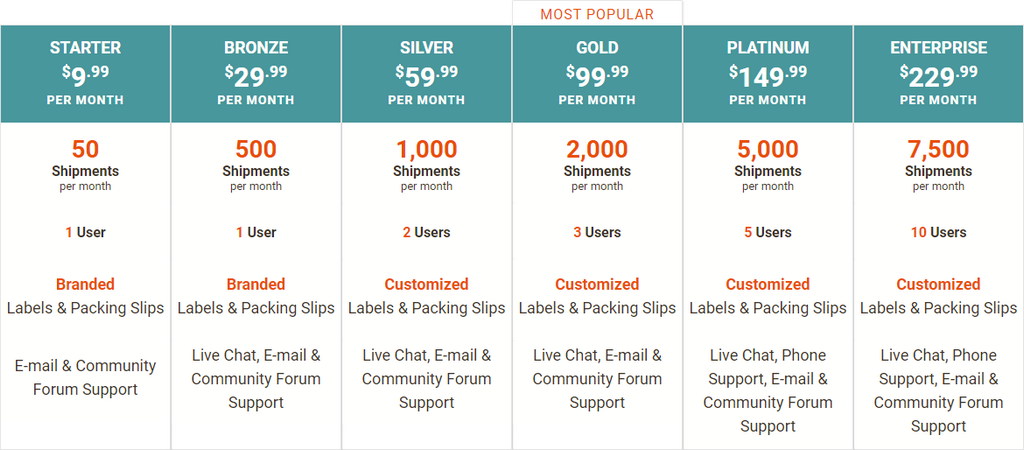 9. Sendcloud

– Best Europe Shipping App

Rating: 4.1 from 216 reviews.
Pricing: Free | $45/month | $99/month | $199/month. 14-day free trial.
Sendcloud is like netParcel, but for sellers based in Europe – it focuses on getting the best rates from 80+ carrier services delivering within Europe and internationally. It also saves you time and money by automating shipping workflow, from printing labels to managing returns.
Sendcloud Shopify shipping app enables you to create custom rules that automatically assign orders to the appropriate shipping method. Also, you can customize your tracking page with your own branding, like logos and colors.
Key features:
Negotiated rates from 80+ European and global carriers.
Custom automation rules and workflows.
Branded returns portal.
Dashboard with shipping performance analytics.
You can use the basic features for free for up to 50 shipments per month. To get advanced features like dynamic checkout, custom shipping rules, and higher limits, you need to subscribe.
10. Intuitive Shipping

App For Shopify

Rating: 4.9 from 308 reviews.
Pricing: $29.99/month | $49.99/month | $99.99/month. 15-day free trial.
Some of the most common reasons for cart abandonment are shipping costs and delivery options. Intuitive Shipping fixes that with over 40 conditions to control when rates appear at checkout and why.
This Shopify shipping plugin allows you to assign custom rates based on different parameters like weight, distance, etc., and its algorithm automatically calculates the appropriate size, weight, and number of boxes for each order. On top of that, you can combine different rules at the checkout to minimize shipping costs.
With Intuitive Shipping, you are able to charge your customers the right price for delivery even when shipping from different locations or having complex shipping requirements.
Key features:
Shipping rules based on product quantity, weight, distance, etc.
Over 40 conditions to control when rates appear at checkout.
Dimensional shipping for accurate real-time shipping rates.
Custom free shipping triggers like holidays, sales, etc.
You can install and test this Shopify shipping plugin for free, but to actually use it, you need to subscribe. Paid plans are similar in features – they differ in the number of orders per month.
11. SC Shipping Rates Calculator +

Rating: 5.0 from 376 reviews.
Pricing: $9.99/month. 14-day free trial.
SC Shipping Rates Calculator + is similar to Intuitive Shipping but is more basic in terms of features. This is not bad – the app solves the same cart abandonment problem while being friendlier for beginners and cheaper than alternatives.
It shows your customers their shipping rates and delivery estimates with real-time geolocation. SC Shipping Rates Calculator + uses a precision IP database to locate the customer, then connects to the Shopify API to get the shipping rates. It allows you to remove unexpected shipping costs and offer free pick-up to your local or regional customers.
The simplicity of usage and low subscription price make SC Shipping Rates Calculator + one of the best Shopify shipping apps for beginners and small businesses.
Key features:
Real-time geolocation, carrier estimates, and delivery dates.
Beginner friendly: one-click installation without configuration or maintenance.
Integrates into any Shopify theme abs works with other Shopify shipping apps.
All the features are available for a $9.99 flat monthly fee.
12. Parcelify: Shipping Rates

Rating: 4.7 from 292 reviews.
Pricing: $19.99/month. 14-day free trial.
Parcelify is very similar to Advanced Shipping Rules in that it allows you to create custom shipping rules with multiple conditions. This Shopify shipping plugin enables you to create custom shipping rates for every location, shipping zone, collection, and all your products.
It allows you to offer free shipping when a customer's cart reaches over a certain value, which encourages buyers to purchase more and boosts your sales. Parcelify also enables you to set up unique rates for each area, so you can offer local customers cheaper and faster shipping options. With flexible rules, you can offer special rates with multiple conditions, like including or excluding particular products. This allows upselling of specific products with the promise of free shipping or a reduced shipping rate.
Key features:
Product-based rates with product tags, vendors, collections, etc.
Define rate conditions with flexible rules.
Local delivery options.
All the features are available for a $19.99 flat monthly fee.
13. Packlink PRO Shipping Platform

Rating: 4.7 from 835 reviews.
Pricing: Free.
Packlink PRO is another automation platform that aims to make your shipping process smooth, fast, and effective. It automates every step in your shipping workflow, like importing orders, printing shipping labels, and picking & packing orders, and enables you to manage everything from a single dashboard.
You might find that other Shopify shipping apps on the list provide more automation features and offer additional perks, but they are paid. Packlink PRO is the only shipping automation platform that is free to use without any limitations. Also, multiple reviews praise outstanding customer service.
Key features:
Pre-negotiated rates from over 30 carriers.
Sync and automate your orders in real-time.
Custom shipping rates.
Insurance options.
Excellent customer service.
Packlink PRO Shopify shipping plugin is free to install and use. You only have to pay for each shipping label purchased.
Conclusion
Now that you have the list of the best Shopify shipping apps in 2032, it is up to you to find which one suits you the most. How? Most of these apps have a free trial, so you can test their features and compare them. You don't have to try every app because many of them have similar features. I suggest trying one or two all-in-one solutions to see if you need all those features. Then try some of the more basic apps and see if what they offer is enough for your store. I also recommend trying some of the free apps before deciding which one to use on a regular basis. This way, you can get a complete picture of what features you need and if it is worth paying for.
Don't forget to consider what your store needs first. Some Shopify shipping apps are better than others for international shipping, while others provide better branding features, etc. Also, consider what other Shopify plugins you are going to install to avoid ending up with multiple apps doing the same thing.
Here are a few articles about Shopify apps you might find helpful:
Good luck!