18

min read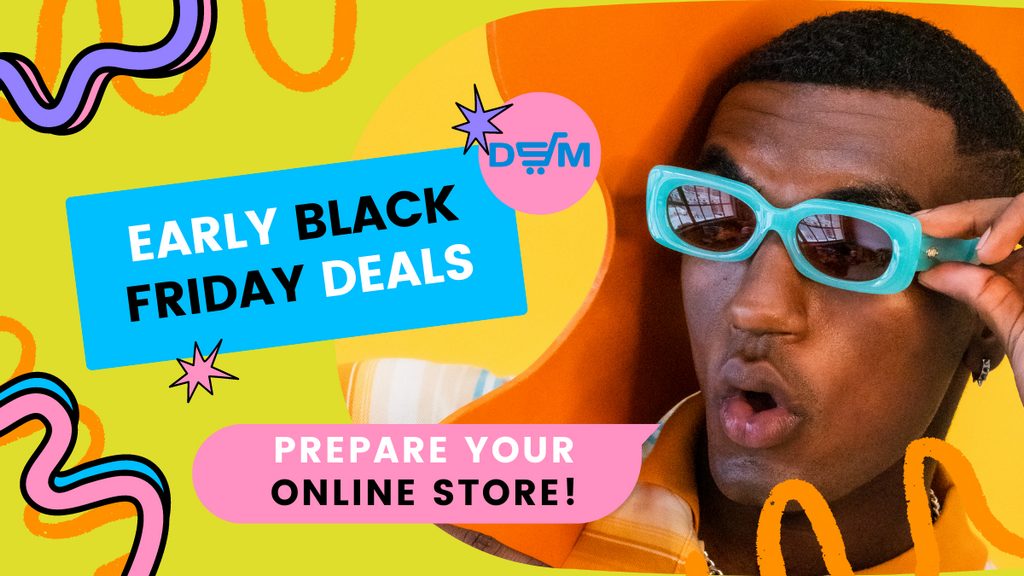 For millions of people, Black Friday is the time to do some serious Christmas shopping – even before the last of the Thanksgiving leftovers are gone! For eCommerce businesses, Black Friday is the biggest shopping event of the year and the best time to snag deals. Multiple stores offer highly promoted Black Friday Deals sales at discounted prices and often open early. Are prices actually lower?
Yes. On average, in-store discounts fall around the 20 percent off range the week of Thanksgiving and rise to roughly 37 percent savings on Thanksgiving and Black Friday. Online Black Friday Deals follow suit with an average 34 percent discount. In the dropshipping context, these are pure opportunities for discounted product sourcing and selling those products at a higher price either on different marketplaces such as eBay, Shopify, Amazon, and others.
While it's not recognized as an official U.S. holiday, it's one of the major shopping days of the year in the United States and many employees have the day off, except those working in retail.
What else do you know about Black Friday Shopping Day?
What is Black Friday?
Black Friday has its roots in the middle of the 20th century. Police in Philadelphia initially used the term "Black Friday" to refer to heavy, disruptive traffic on the day after Thanksgiving. The term spread and businesses latched onto it. It worked well for retail businesses that depended on holiday shopping to put their finances "in the black" (earning profit) rather than "in the red" (operating at a loss).
It traditionally marks the start of the Christmas shopping season in the United States. Some stores continue Black Friday sales till Monday, in dropshipping called "Cyber Monday" or even for a week calling it "Cyber Week".
Black Friday shopping statistics:
In 2021, supply chain difficulties led to early cart filling (earlier than usual). In October, consumers started looking for discounts, and by December, many of them had already finished their shopping. Consumers spent $109.8 billion online in 2021 (from November 1 to November 29), a huge increase of 11.9% over the previous year.
Despite consumer spending on Cyber Monday declining from 2020 to 2021, this day continues to be the biggest shopping day of the year. Cyber Monday 2021 had $10.7 billion in sales, a 1.4% decrease from $10.8 billion in 2020.
Thanksgiving and Black Friday together in 2021 brought in $14.04 billion in internet purchases. That only represents a 63% reduction from 2020.
Black Friday (Thanksgiving plus Black Friday) in 2020 brought in $14.13 billion in internet purchases. That equates to spending $9.03 billion on Black Friday and $5.1 billion on Thanksgiving. The increase over 2019 is 19%.
Thanksgiving plus Black Friday generated $11.9 billion in internet sales in 2019. That amounts to $4.4 billion spent on Thanksgiving and $7.5 billion spent on Black Friday. That represents a 20.2% rise from 2018.
Thanksgiving Day and Black Friday generated $9.9 billion in internet sales in 2018. That amounts to $3.7 billion spent on Thanksgiving and $6.2 billion on Black Friday. That is a 19.7% rise from 2017.
Online VS. in Stores Black Friday
Curbside pickup was used in 18% of all online orders on Cyber Monday (for stores that offer the service), in comparison with last year's 20%. Curbside pickup is still in high demand, demonstrating the importance of physical stores.
100 million people (an 8% increase from 2019) made purchases online in 2020. In contrast, there was a sharp decline in in-person Black Friday shopping, with 58.7 million people visiting the stores (a 37% decrease from 2019). Due to large businesses being closed on Thanksgiving Day, the decline in in-person shopping was much more pronounced; foot traffic fell by 55% YoY. (2020 vs. 2019).
Thanksgiving Weekend sales of "Buy Online, Pick Up In Store" increased by 43% in 2019 compared to the previous year.
Thanksgiving weekend sales of "Buy Online, Pick Up In Store" increased by 50% in 2018 compared to the previous year.
When is Black Friday Starting?
Black Friday always occurs the day after Thanksgiving. Black Friday 2022 officially falls on November 25th, but the exact date changes from year to year. Check the calendar below for upcoming Black Friday dates.
| | |
| --- | --- |
| Year | Date |
| 2022 | November 25 |
| 2023 | November 24 |
| 2024 | November 29 |
| 2025 | November 28 |
| 2026 | November 27 |
Note that at some stores and platforms, the Black Friday sales period starts a few days or even weeks before the real event. Thus, you can check early Black Friday deals to find the best offers for organizing and optimizing your dropshipping store. As an eCommerce brand, you should also add the event to your SharePoint calendar so that your team will also prepare ahead of time.
Make sure you always update your shopping list beforehand or have your TOP selling items available.
For example, here are a couple of cases with early deals:
Where are the Best Black Friday Deals?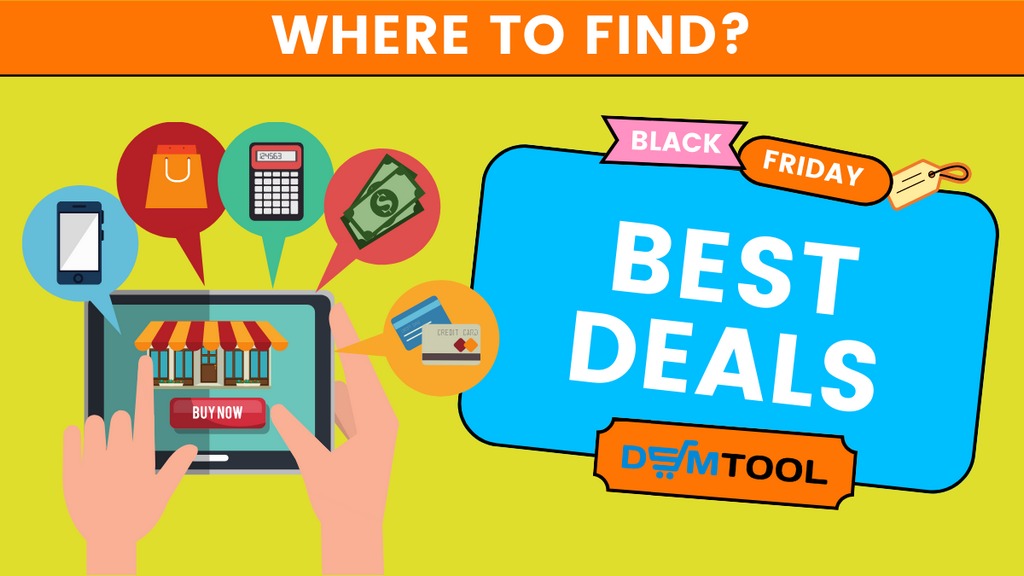 After Halloween, the next big sales are coming: for Thanksgiving, Black Friday, and Cyber Monday. It's always a smart move to start your holiday shopping (and savings) early. Big-box retailers like Amazon, Best Buy, Walmart, Target, Lululemoon, HomeDepot, Aliexpress, and many other big retailers, wholesalers, and dropshippers are always in! The biggest retailers are constantly updating their sites for Black Friday shopping hours. That's why it's recommended to check their special deals in advance to prepare your dropshipping store or update your shopping list beforehand.
Here is the supplier list where you can find early Black Friday deals:
Amazon Black Friday Deals
Amazon Black Friday: you can check out all the early Amazon Black Friday Deals here. There are a lot of deals on big-ticket electronics and devices. Even right now you can already resell discounted products (from other categories as well) to prepare your store for the Black Friday shopping hours.

AMAZON BLACK FRIDAY DEALS QUICK LINKS:
BestBuy Black Friday Deals
BestBuy Black Friday: also never forget to prepare beforehand a special section with discounted items. The Best Buy 'Black Friday Right Now' sale is offering impressive Black Friday deals with record-low prices on everything from TVs, laptops, and headphones to air fryers, coffee makers, toys, and more.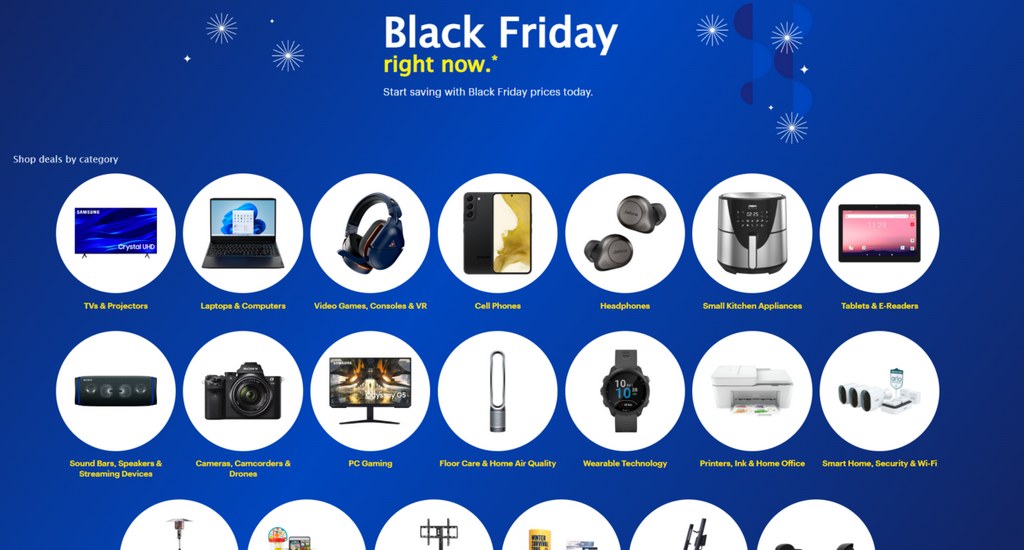 BEST BUY BLACK FRIDAY DEALS QUICK ITEMS:
Apple: $150 off MacBook Pro, $450 off the iPad Pro
Appliances: extra 10% off Samsung and LG bundles
Headphones: deals on Apple, Beats, and more
Kitchen: discounts on blenders, air fryers, and coffee machines
Laptops: Chromebooks and Windows laptops from $99.99
Smart home: up to 45% off Google smart products
Smartwatch: record-low prices on this year's best smartwatches
Tablets: save on Apple, Samsung, and Microsoft tablets
TVs: up to $700 off big-screen Samsung TVs
Vacuums: up to $150 off Dyson, Shark, and Hoover
Walmart Early Black Friday Deals
We now know Walmart's plans for Black Friday 2022. The retailer will bring back its 'Black Friday Deals for Days' events with a new one starting each Monday throughout November. Explore Walmart Early Black Friday Deals to make sure your store is ready for the shopping hours.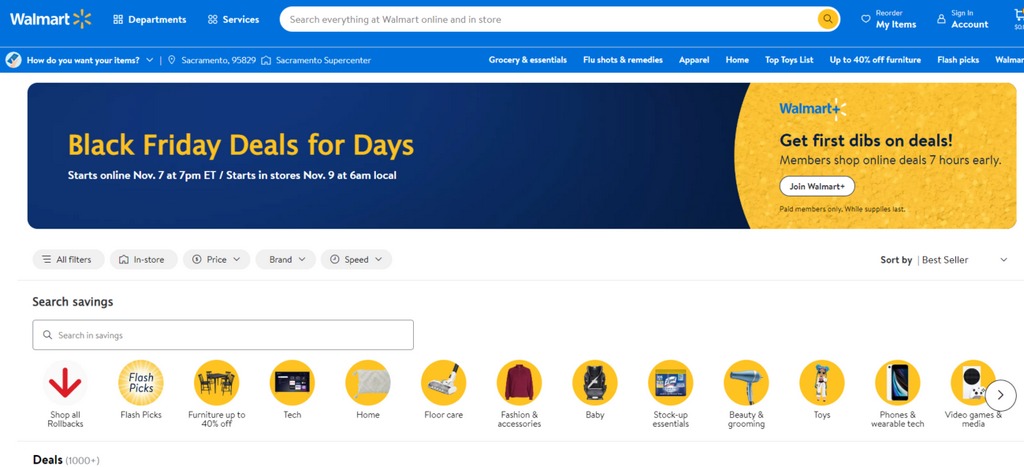 Walmart's Black Friday Deals schedule:
Event 1: starts Nov 7 at 7pm ET (Walmart Plus early access from 12pm ET)
Event 2: starts Nov 14 at 7pm ET (Walmart Plus early access from 12pm ET)
Event 3: starts Nov 21 at 7pm ET (Walmart Plus early access from 12pm ET)
Event 4: one-day Cyber Monday sale on Nov 28
Costco Black Friday Deals
As one of the first retailers to detail its actual Black Friday plans and not just some early savings events like Amazon or Walmart, we're now diving into what to expect from Costco. The discounts are going live earlier than ever with the savings officially kicking off on October 31. Find early Costco Black Friday deals here.
Use this opportunity to look through them to get to know the best-selling items for 2022. There you can get hints on what to sell during the Christmas holidays and big sales season.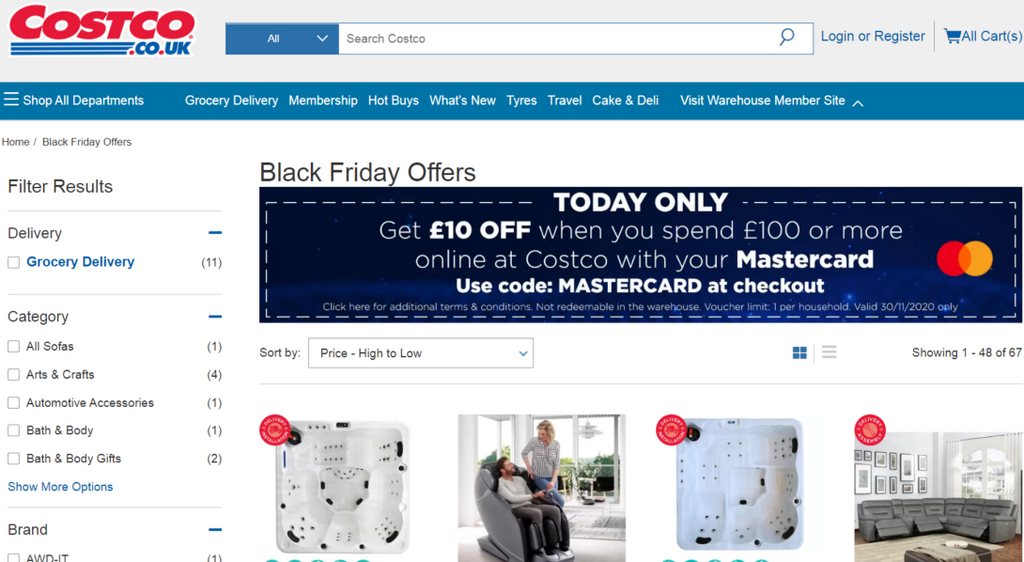 COSTCO BLACK FRIDAY DEALS QUICK ITEMS:
Major discounts on holiday goodies
LED Christmas trees
Discounted kitchen tools and appliances
A cheaper Apple MacBook Pro
Massive discounts on lower-cost laptops
Affordable Fitbits
Major price reductions on TVs
High-quality noise-canceling headphones
Discounted vacuums
A hugely price-reduced fridges
Petsmart Black Friday Deals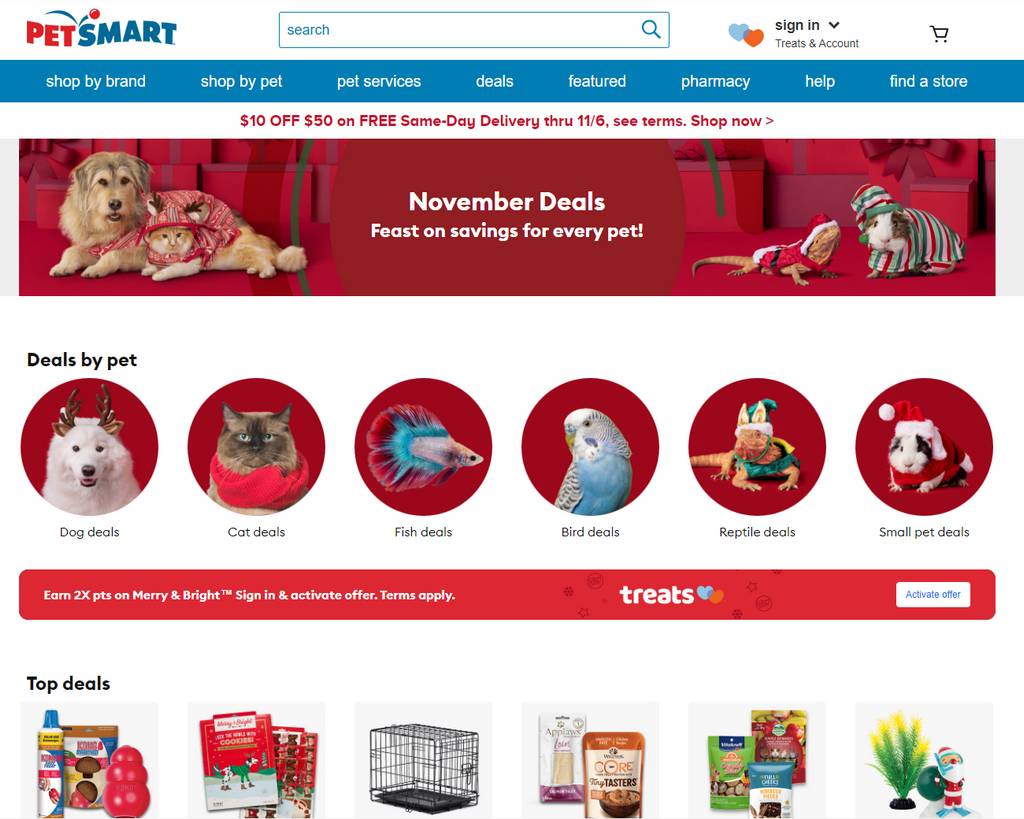 PetSmart is offering curbside pickup so you can shop online, or have free shipping on orders $49+ if you are enrolled in the PetSmart Treats program. Be sure to sign up for the free PetSmart Treats program before these Black Fridays sales start, as they are exclusively available for members. There you'll find a lot of good deals on pet products.
Lululemon Black Friday Sale
Pssst, Lululemon is staging major sales ahead of Black Friday. Visit their site to see all Early Lululemon Black Friday Deals to select the best Black Friday dropshipping products for your fitness eCommerce store.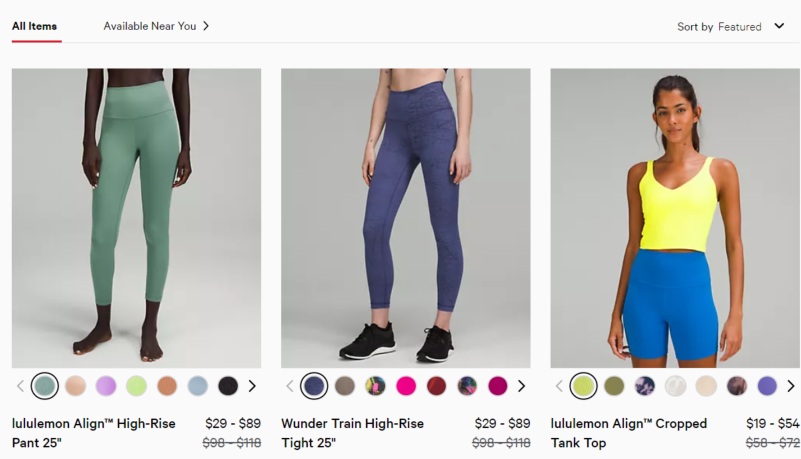 LULULEMON BLACK FRIDAY DEALS QUICK ITEMS:
Wayfair Black Friday Sale
Early Wayfair Black Friday Deals are on their way! Don't miss these 40-80% discounts on different product categories.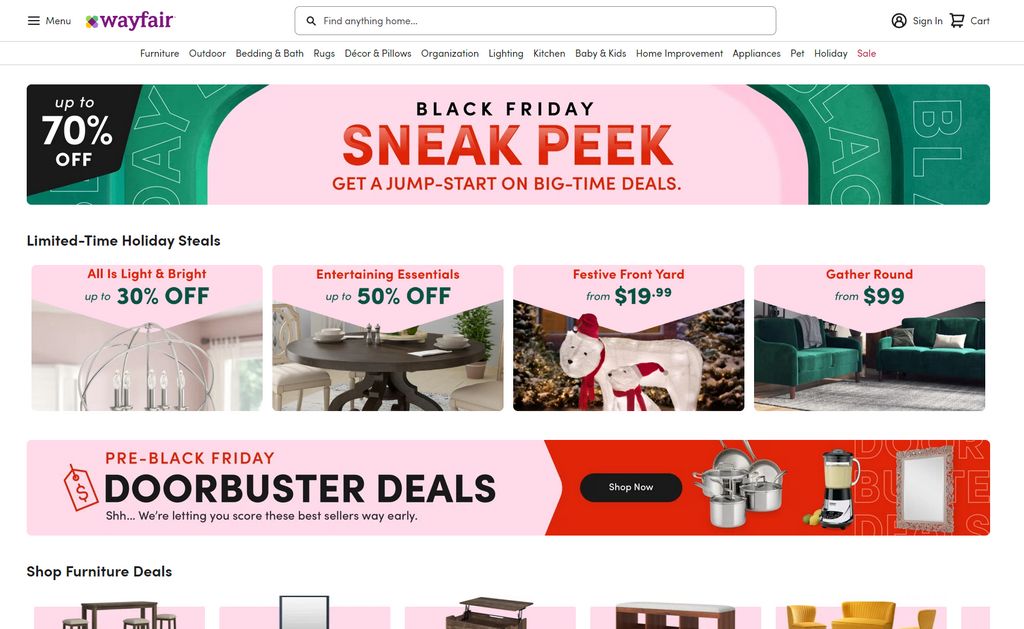 WAYFAIR BLACK FRIDAY DEALS QUICK LINKS:
Ibiza 56.3″ Curved Arm Tufted Back Loveseat, £256.99, 37% off – buy here
Anson Wood Burning Fire Pit by Real Flame, £318.99, 51% off – buy here
Katheryn Manufactured Wood Armoire, Birch/Dark Walnut, £303.99, 66% off – buy here
AliExpress Black Friday Sales
Black Friday is a popular sale at AliExpress. AliExpress Black Friday sales last 4 days and will start on Friday 25 November 2022. The sale ends on Monday, November 28rd 2022. At AliExpress, you can expect up to 50% discount during this Black Friday sale. You can find the deals and special offers in the special section that calls Black Friday Fest. There you will get an idea about the hottest Aliexpress products.
Another big sales day of the year, Aliexpress 11.11., which used to take place on the 11th of November, in 2022 totally changes game rules! The sale starts now on 01.11 and ends on 13.11. (12 days in total to make customers' pockets empty! Ha!) Actually, as you see, now it should be called not 11.11, but 01.11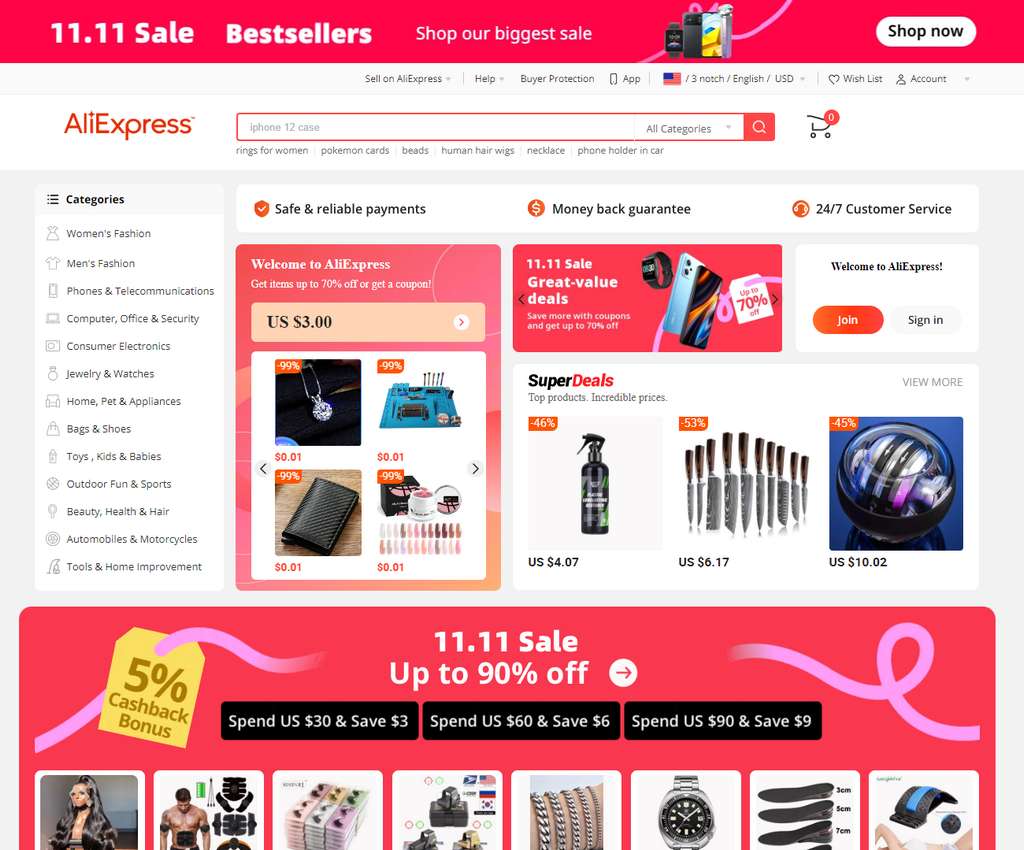 ALIEXPRESS BLACK FRIDAY DEALS QUICK CATEGORIES:
The range of products with discounts on AliExpress during Black Friday 2022 is immense. Large discounts and deals in the following product groups:
Electronics
Clothing
Sports gear
Accessories
Gadgets
As well as dozens of other group categories.
Kohl's Black Friday Sale
Kohl's has released its holiday sale lineup offering a month of savings all throughout November a few short weeks ahead of Black Friday. Kohl's said the month-long sales events will give "customers the opportunity to shop when and how they want this season."
Kohl's will start the Black Friday holiday shopping season with an Early Access Sale that will begin on Friday, Nov. 4.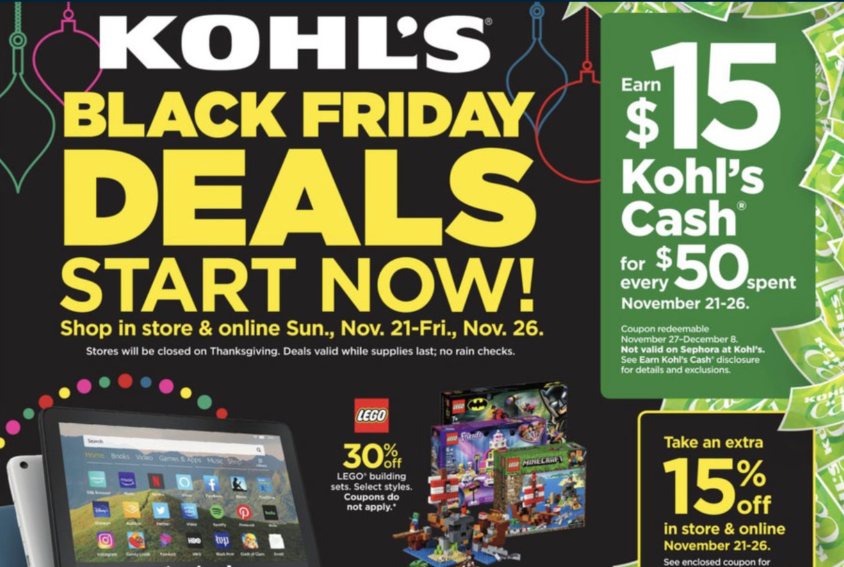 Macy's Black Friday Sale
On Oct. 24, Macy's announced its holiday plans by dropping a preview of its Black Friday ad (that's just one day earlier than when it announced its plans last year). The retailer unveiled the 16-page ad for holiday shoppers to peruse and start shopping for early deals. The pre-Black Friday Early Access sale kicks off on Nov. 7 and concludes with the big shebang — a.k.a. Black Friday week — starting on Nov. 20.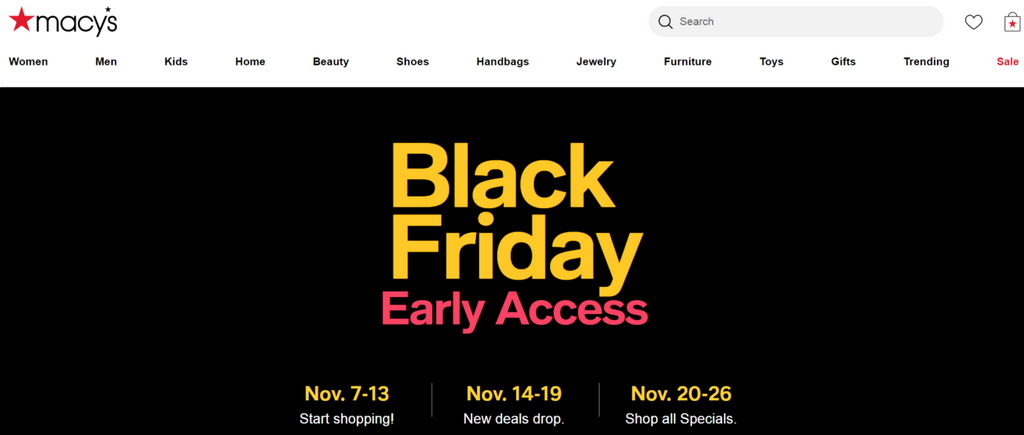 Macy's Black Friday Deals schedule:
Nov. 7 to Nov. 13: The first round of Macy's Black Friday deals drop in stores and online.
Nov. 14 to Nov. 19: The second round of new deal selections drop in stores and online.
Nov. 20 to Nov. 26: The third and final round of Macy's Black Friday sale goes live, giving you access to all Macy's Black Friday deals.
Sam's Club Black Friday Sale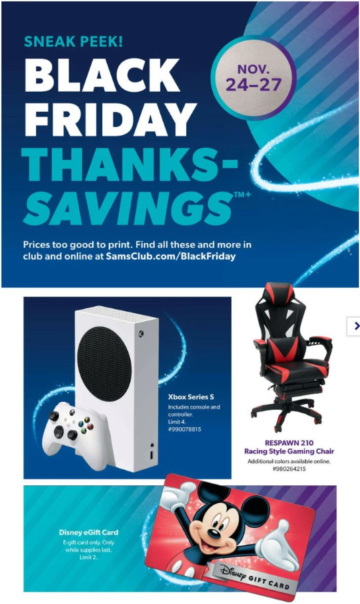 Sam's Club Black Friday deals sale runs from November 24th to November 27th. They just dropped some of their best deals which you can view here.
Source: Sam's Club Black Friday Deals
SAM'SCLUB BLACK FRIDAY DEALS QUICK ITEMS:
ReSpawn 210 Racing Style Gaming Chair
Members Mark 11 Piece Modern Ceramic Cookware Set
iRobot Roomba i1 (1154) WiFi Connected Robot Vacuum
Vinturi Wine Bundle
Stanley FatMax 1200A Jump Starter
Ninja Creami Ice Cream Maker
Costway Black Friday Sale
Find Costway Black Friday deals here. Visiting online stores select the country to know more about their early deals.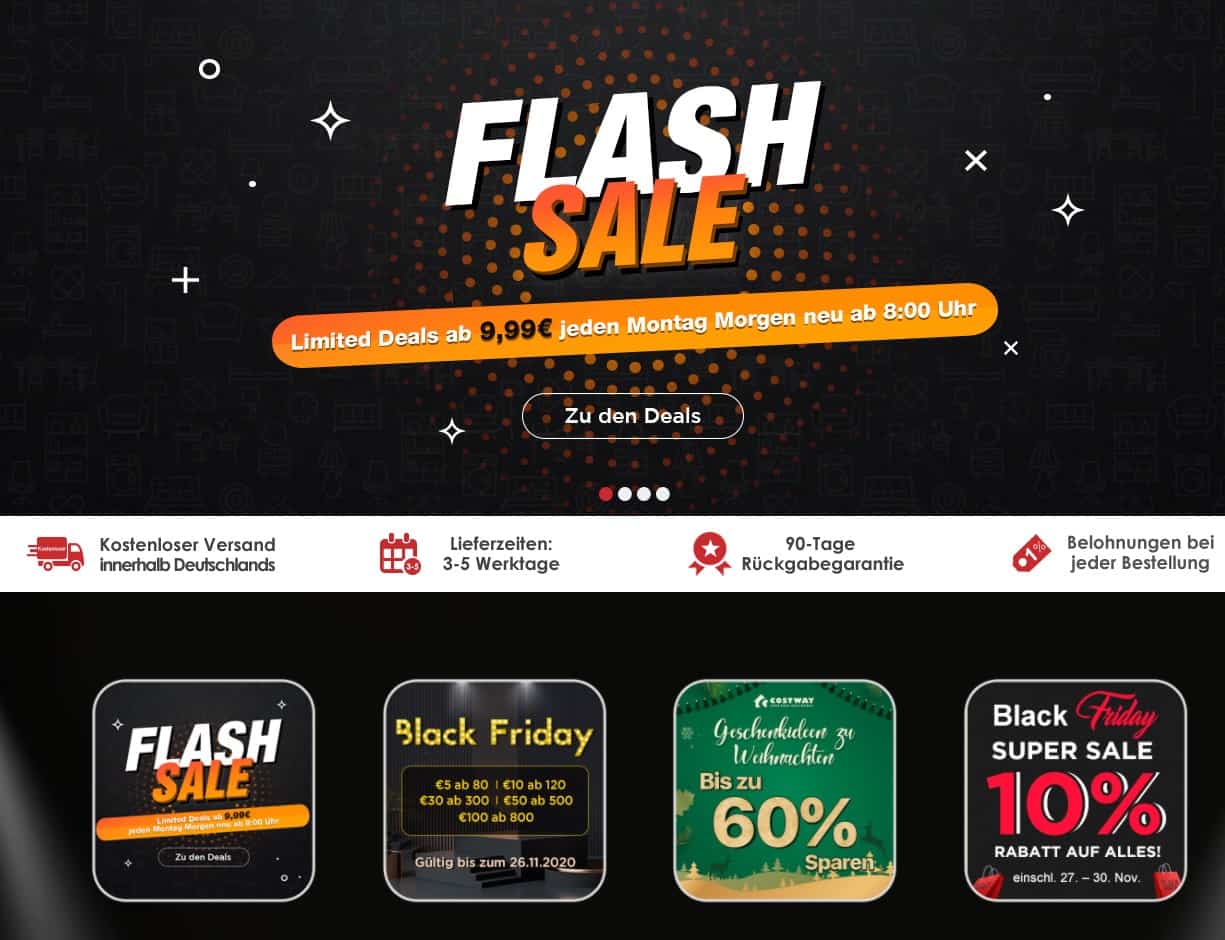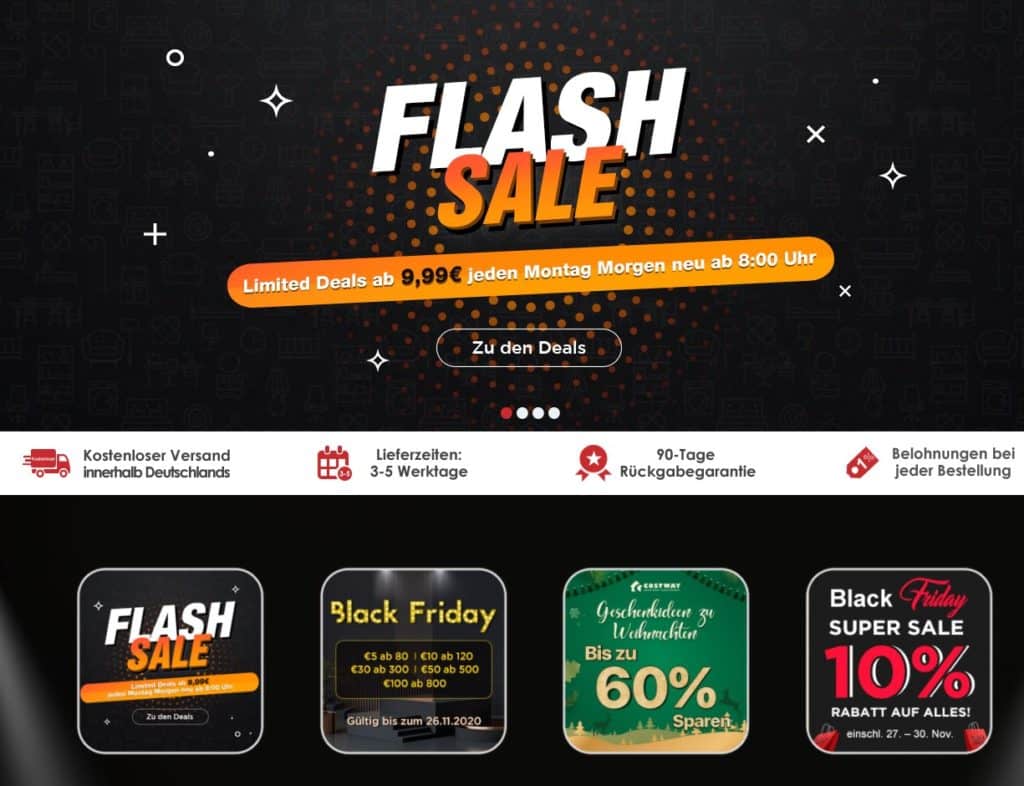 COSTWAY BLACK FRIDAY DEALS QUICK LINKS:
Lowe's Black Friday Sale
Save more for the holidays with Black Friday deals at Lowe's. Last year, the retailer offered up to 50% discounts on robot vacuums, high-speed blenders, refrigerators, washing machines and so much more. This year, we're predicting the Black Friday bargains will be even better! Explore savings on some of their top-rated electronics, home appliances, tools, and more.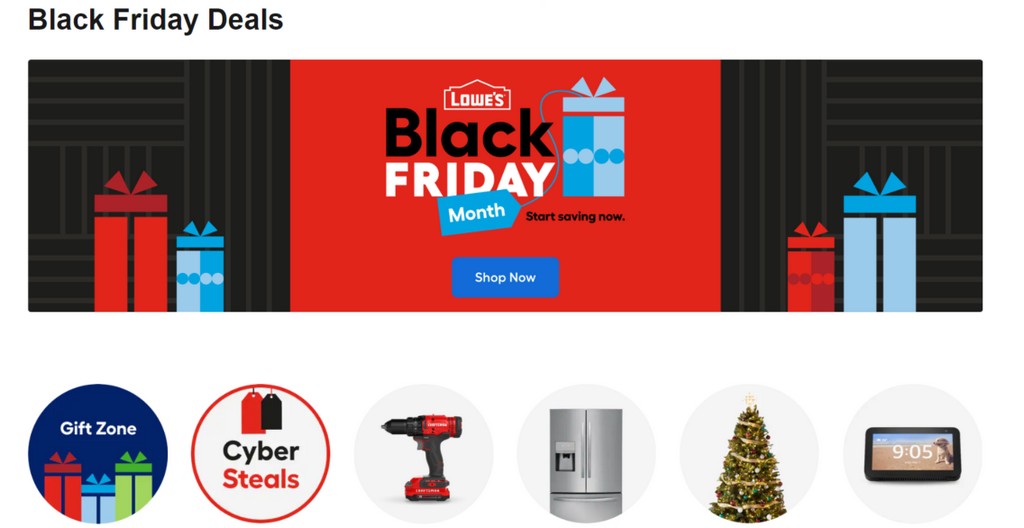 LOWE'S BLACK FRIDAY DEALS QUICK ITEMS:
Google Nest Learning Smart Thermostat, $249 AT LOWE'S
Samsung Bespoke French Door Refrigerator, $2,499 AT LOWE'S
Single Sink Bathroom Vanity, $799 AT LOWE'S
Juice Extractor, $99 AT LOWE'S
Cordless Stick Vacuum, $200 AT LOWE'S
Target Black Friday Sale
Black Friday is on the horizon. In the meantime, check out stellar deals on household essentials, holiday splurges, and more at Target's early Black Friday sale. The retailer is offering a slew of online markdowns across all categories, with new deals cropping up daily.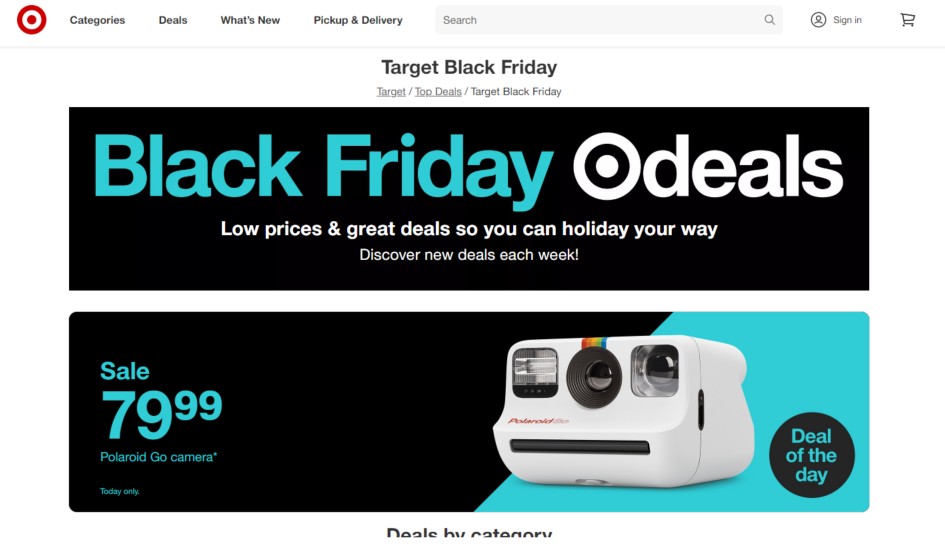 TARGET BLACK FRIDAY DEALS QUICK ITEMS:
Apple AirPods With Charging Case (2nd Generation), $129.99 $89.99 at Target
Gatorade 64-Ounce GX Jug, $24.99 $12.49 at Target
Star Wars Mandalorian The Child Plush, $16.59 $8.29 at Target
Beats Solo 3 Wireless Headphones, $199.99 $99.99 at Target
Logitech C920s Pro HD Webcam, $69.99 $59.99 at Target
Vizio V-Series 65-Inch Class 4K HDR Smart TV, $629.99 $449.99 at Target
Opalhouse Paper Charger Placemats, 4 Pack, $20 $10 at Target
Home Depot Black Friday Sale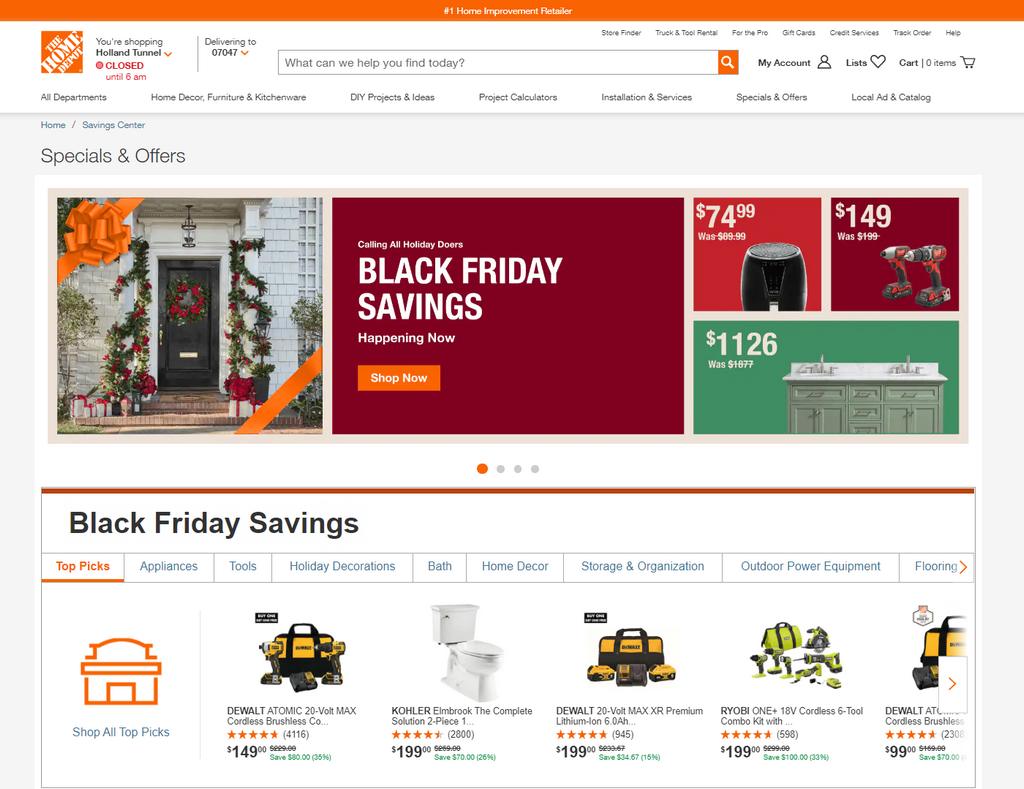 The Home Depot Black Friday 2022 sale is just around the corner, meaning shoppers looking to save a bit on home improvement goods don't have to wait long, Scheduled for a 10.31 start date, the Home Depot Black Friday sale will give deal hunters a great opportunity to score deals on appliances, power tools, Christmas decorations, and much more.
HOME DEPOT PRE-BLACK FRIDAY DEALS QUICK ITEMS:
If you are dropshipping to different eBay marketplaces, almost all dropshipping suppliers offer special deals for the Black Friday sales event. Since everybody wants to raise their incomes at this crazy shopping time of the year, check their online stores to know more about these early deals, and also, don't forget about Cyber Monday on eBay.
eBay Deals on Cyber Monday
Cyber Monday is one of the best times of the year to chase the inexplicable thrill of upgrading your electronics, clothing & Home decor at unbeatable prices!
The widely anticipated eBay Cyber Monday Sale is expected to launch on the Monday after Thanksgiving 2022, which is the 29th of November. However, eBay Cyber Monday Sale Deals can be announced during the eBay Black Friday Sale 2022 too. So keep your eyes peeled during the Black Friday Sale for expected deals. Here are 550+ Best Dropshipping Products in Popular Niches if you need ideas for what to sell in 2022-2023.
Conclusion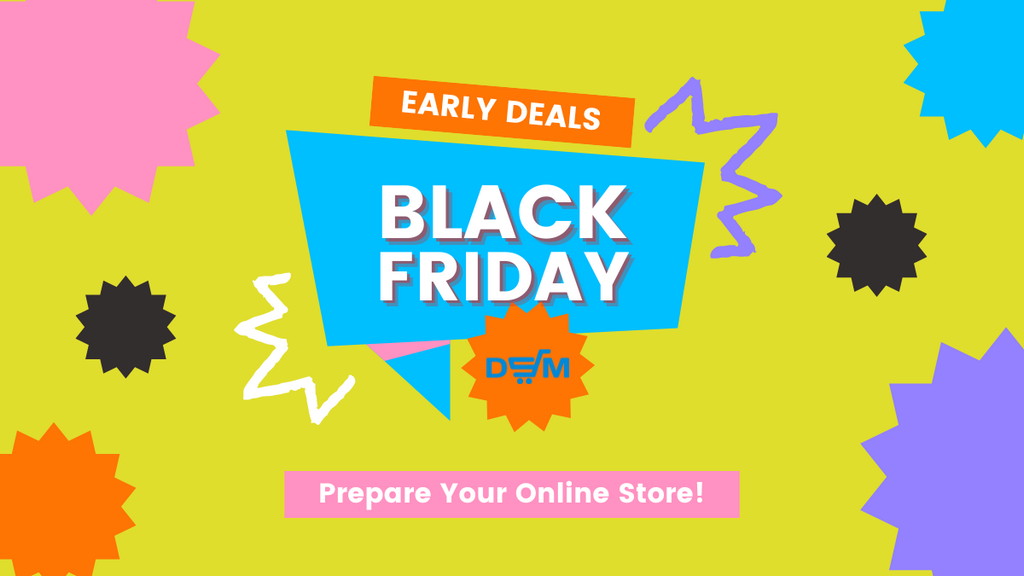 Now you know dates, items, and categories that you shouldn't miss to check beforehand with all your favorite suppliers to be the first in line while preparing your store for Black Friday Early Deals! Take advantage of Black Friday Top Selling Items!

Go get it!