18

min read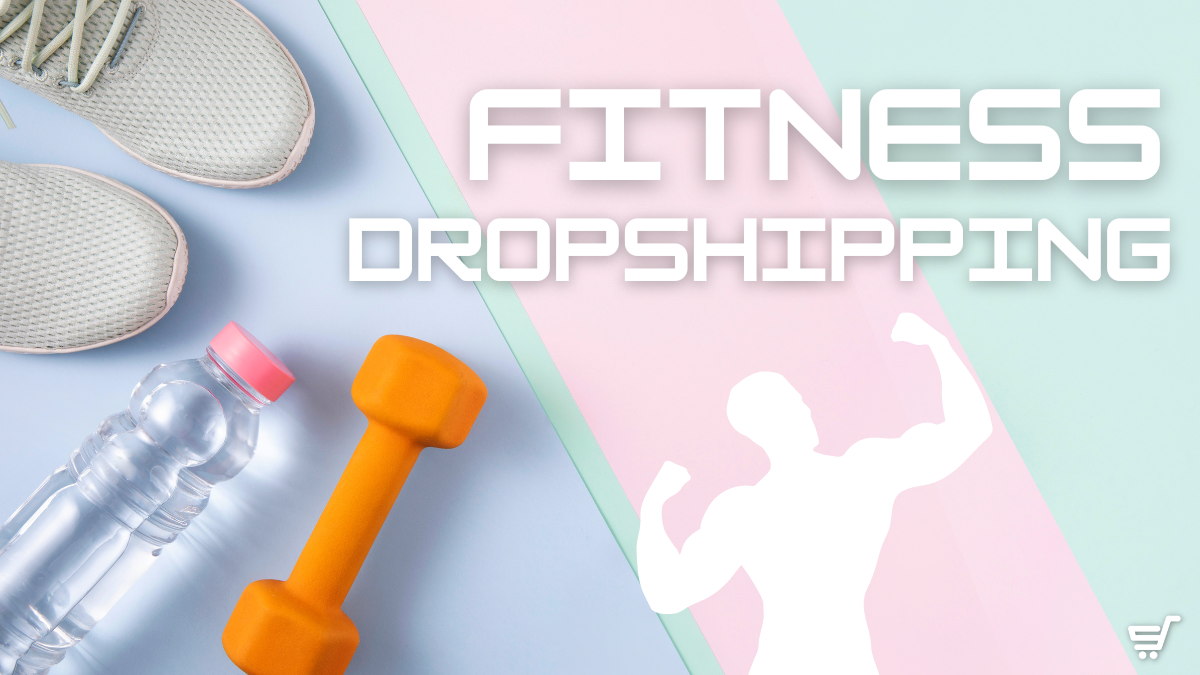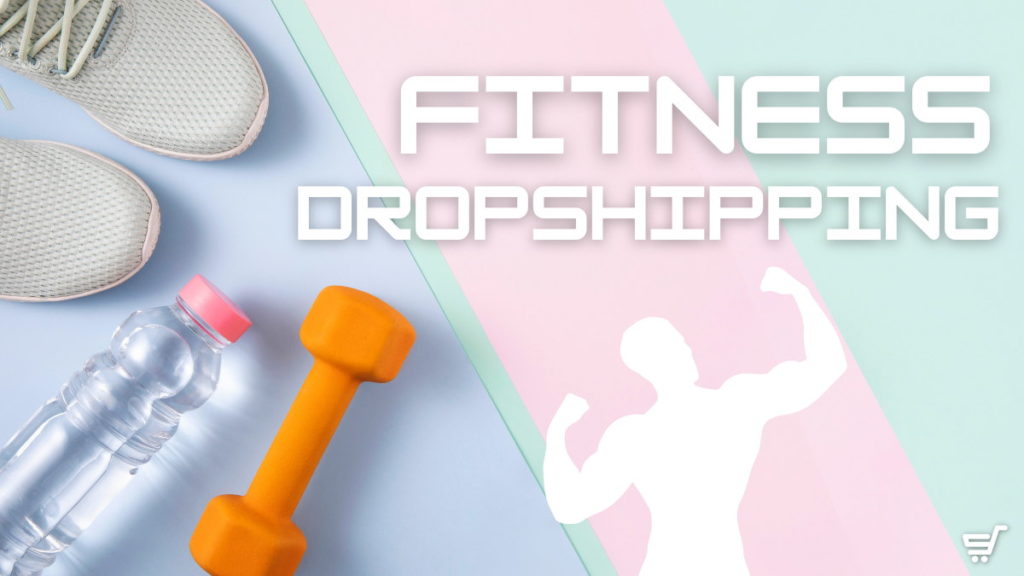 Did you know that dropshipping fitness products is one of the most profitable niches in dropshipping, especially around Christmas time? In fact, you can dropship fitness equipment and generate good profits all year long!
We've decided to create the ultimate list of best fitness products to dropship for the years 2022 and 2023. Before we review the list we have prepared for you, we'd like to show you some interesting insights about fitness items.
Is fitness a good niche for dropshipping

?
Let us show you some interesting insights about selling fitness products using eBay as an example. With the help of a powerful Product Research Marketing tool known as Terapeak from the eBay Marketplace, we saw the trend line of the overall sales of fitness-related items in a whole year.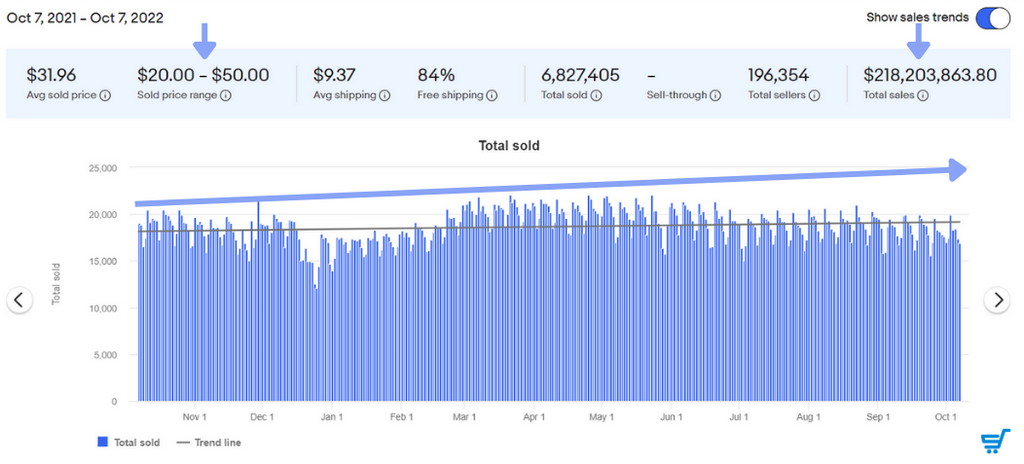 There's a huge market for fitness products on eBay and it goes to show the constant demand that these types of listings have. This analysis is based on all categories related to fitness on a yearly basis. The total sales just on eBay alone are staggering and these are products sold at a relatively low price.
Even though this analysis is focused on one Marketplace, it doesn't mean that it does not apply to eBay alternatives, such as Amazon, Walmart, WooCommerce, etc.
— On the contrary, this is pretty much the standard norm for every eCommerce outlet. Health & fitness is an industry that is constantly on the rise which gives you the opportunity to become competitive in this niche.
Even though the fitness niche is highly demanded, that does not guarantee success for dropshipping beginners, more demand, more competition. However, we can focus on fitness sub-niches.
Another example is focusing on one or two categories from this niche market. As an example, we searched under the category from "Resistance training". These products have overall less total sales but also less competition: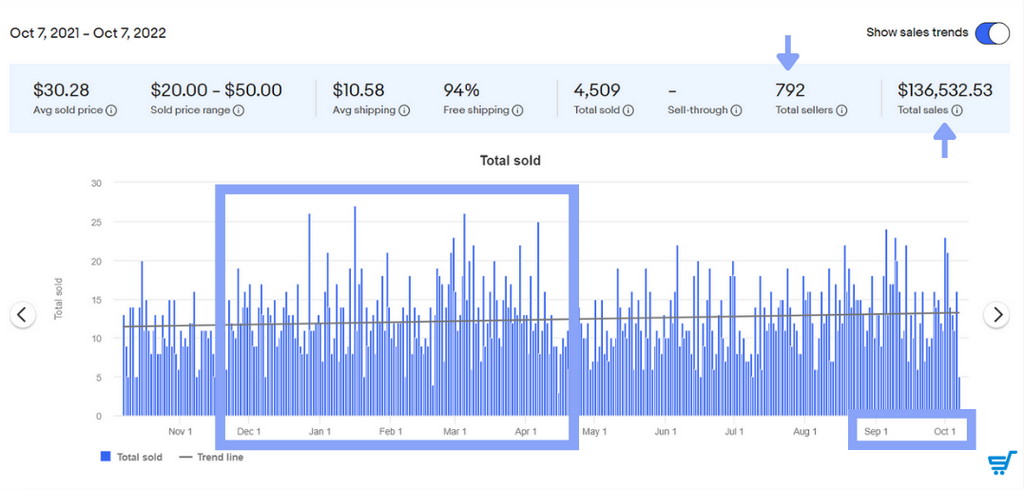 This means that you will be able to compete and eventually position yourself on the first results in any Marketplace you are selling in.
When it comes to the fitness industry, you have multiple businesses that aim to target this niche. From established physical businesses such as commercial gyms where a client invests in gym membership in return, they get a space to workout in and personal trainers to guide them on their fitness journey.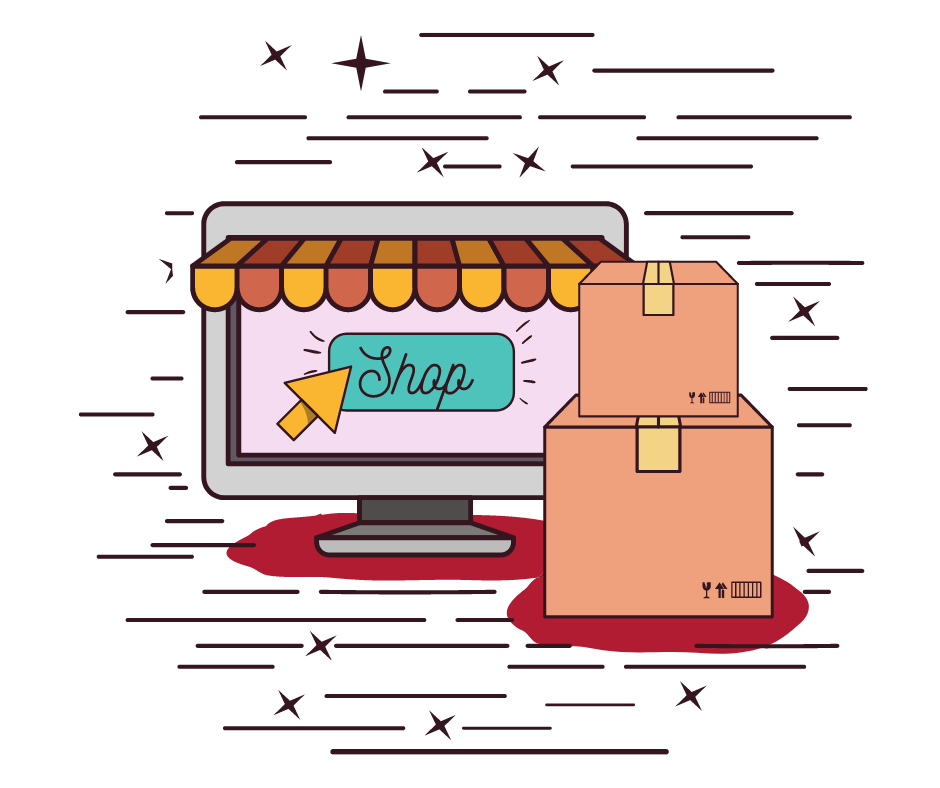 It's time…
Don't wait for success to come. Hire yourself and start your own dropshipping business
However, since Covid-19, home workouts became a more popular option and there are several users who still to this date prefer to work out in their own personal space rather than in a gym. Therefore, with the rise of eCommerce, the demand for fitness products has risen as well.
According to the survey, only 7% of US consumers who exercise expect to work out entirely at a gym, while 42% plan to exercise only at home. Other 51% of consumers anticipate using a combination of the two. It is safe to assume that at least 42% of exercising consumers will require fitness products for exercises, which provides excellent opportunities to dropship fitness equipment.
— That is why it is important to be always aware of the trendy fitness products you can offer in your store.
Best fitness dropshipping products: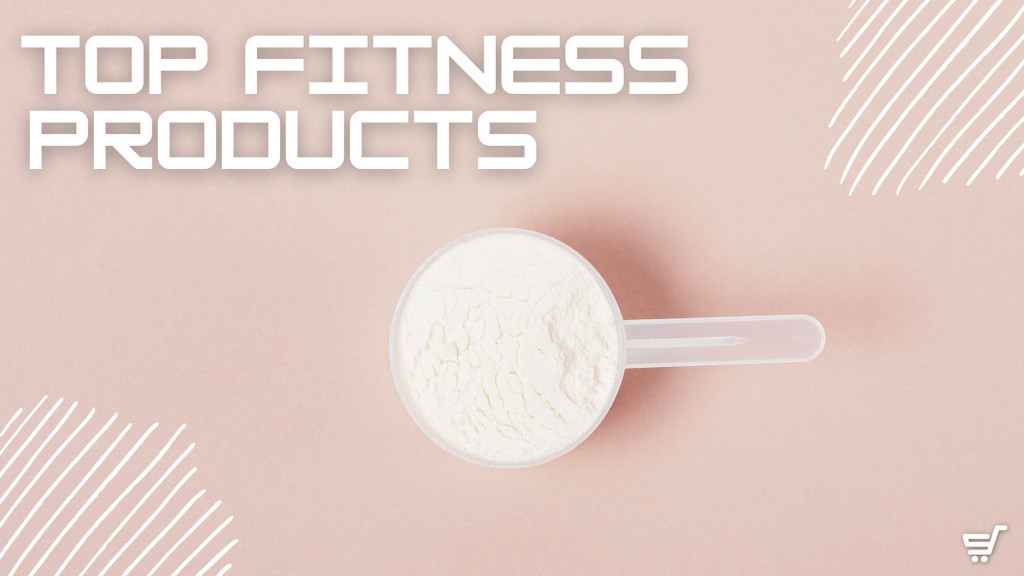 Now that you get the idea of how well this market niche performs overall, it's time to dive into some of what we consider the best dropshipping fitness products.
— Try to sell one of these products on your dropshipping store:
Accessible home fitness products: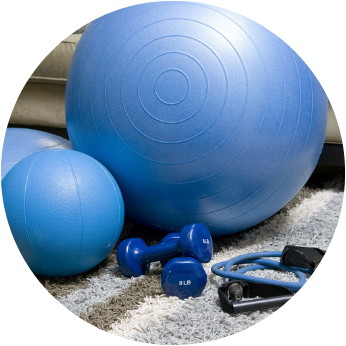 Let's begin with home fitness products that have become so popular over the years. Normally these types of products were purchased by older generations whereas now, younger users are looking for home workout products or equipment they can use at their convenience.
First on our list is one of the most demanded items on the market:
Yoga mats: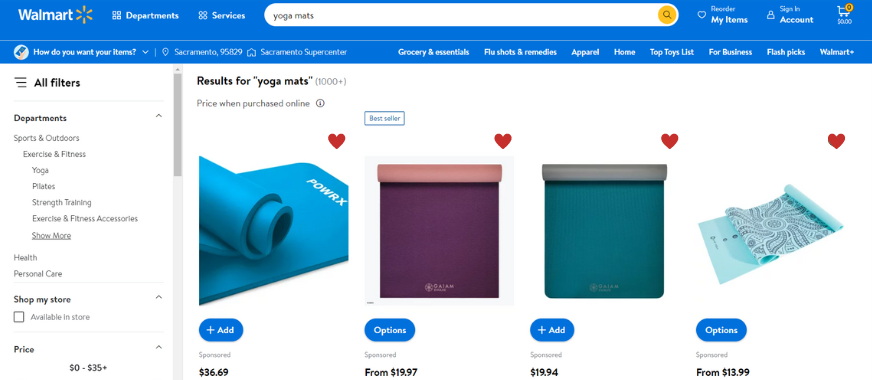 Yoga Mats are awesome for so many reasons, you can use them to execute core workout routines, indoor and outdoor activities, and of course — yoga sessions.
It's important to point out that when you sell Yoga Mats, you need to consider dropshipping the different variations of the products, such as size, color, and material.
When it comes to price ranges, you can offer Yoga Mats from $10 all the way to $30 depending upon your dropshipping supplier, the market's referral fee that tends to always be 15% for Sporting Goods, and of course, your profit margin.
Training bags: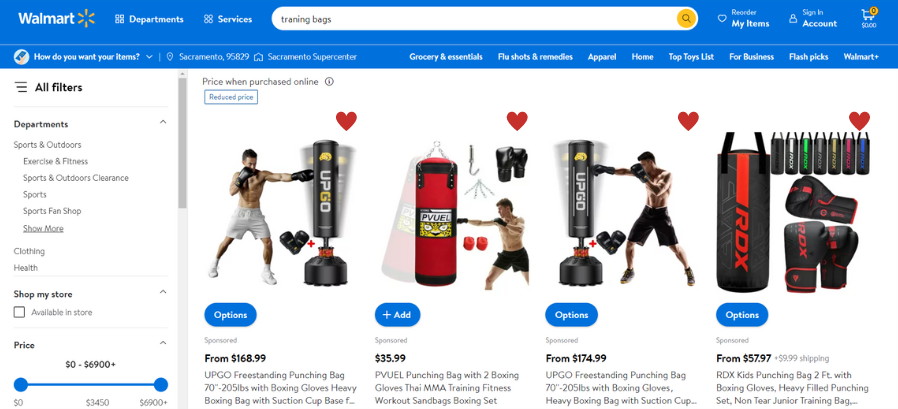 Other hit products with high demand in this niche are training bags. You have your regular old-school sandbag for those who practice boxing or simply want to hit the sandbag to get their cardio in. Whatever reason the client has to purchase this product, the fact is that it is one of the most searched items on the market.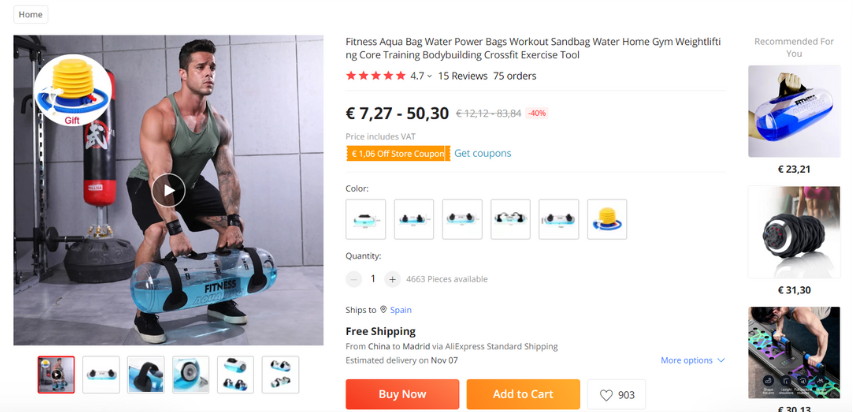 You also have a less traditional training bag known as "Aqua Training Bags". These types of bags are used for high-performance activities such as Crossfit or High-Intensity Interval Training (HIIT).
They are the perfect substitute for dumbbells and barbells since they are versatile, portable, carry on the proper amount of weight and of course, they could also be less expensive.
— You can offer these bags for over $70, enough to cover expenses and get your profit margin.
Vibrating plates: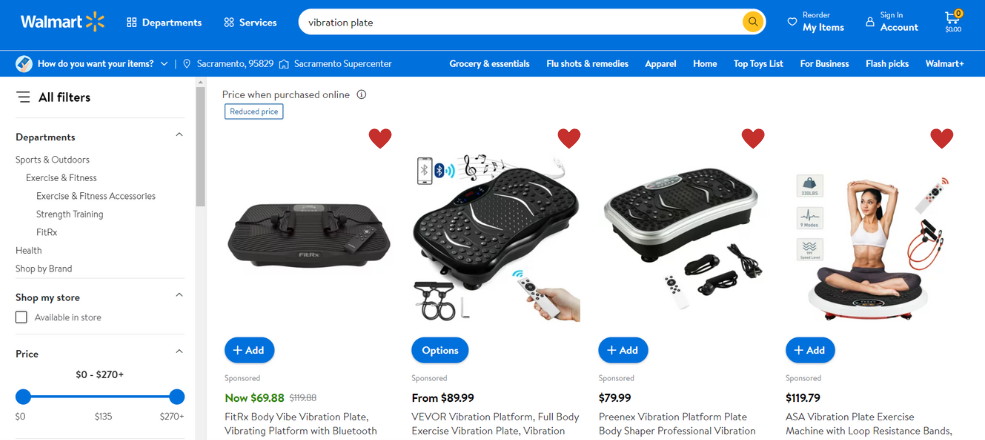 This product is recommended as a physiotherapy session which helps with proper recovery. The vibration plate helps with a full-body vibration rehabilitation session in order to relieve stress and muscular tension.
This product is a high ticket dropshipping item which means that it has less purchasing demand but the products tend to be more expensive, therefore you can gain a good chunk of profit on every sale you make.
— You can sell these items for more than $100 a pop.
Performance fitness equipment: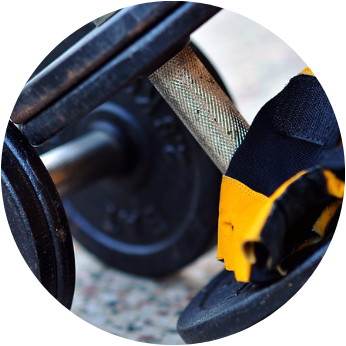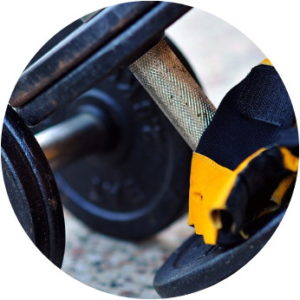 Let's now focus on the different home gym equipment you can drop ship in your store.
Wholesale gym equipment is always a good option to sell within the fitness niche. Granted the majority of these products are way more expensive than regular home gym products such as we previously discussed in this article.
However, there is quite an interesting demand for these items where you can sell them at a relatively high price and gain a good profit margin.
Battle ropes: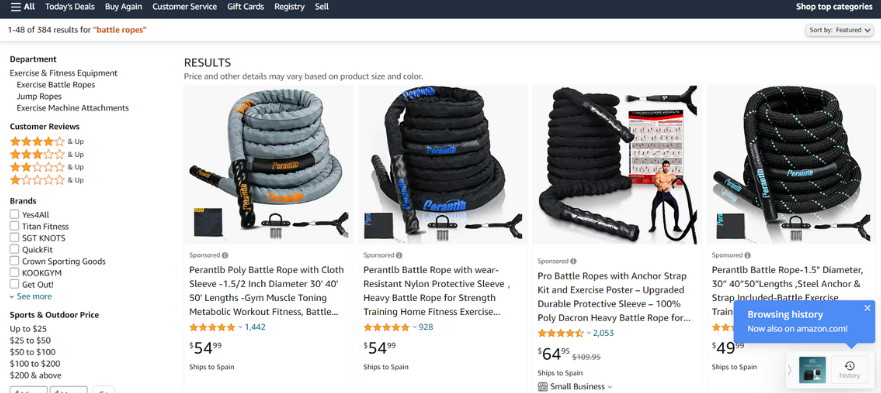 Perfect for cardio routine and overall strength training, these ropes are one of the top products to sell. They can be used indoors or outdoors at the client's convenience.
— You can offer them between $50 – 80.
Cable pulley: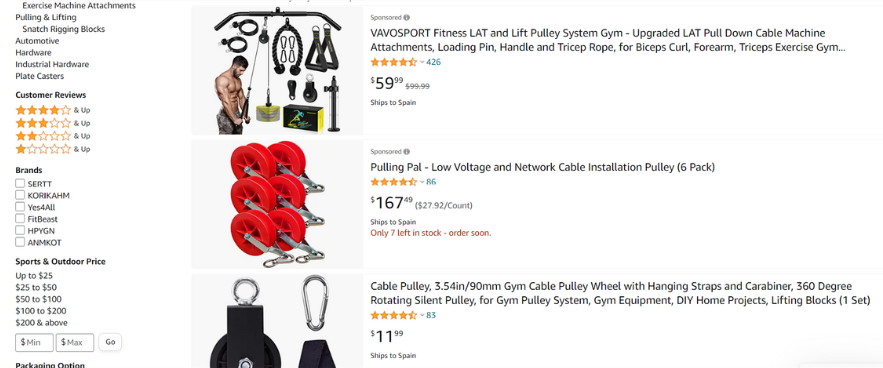 Talk about one of the most efficient hypertrophy machines on the market and now clients can have it in the comfort of their homes.
— We are talking about cable pulleys.
It allows you to train pretty much your whole body. It is mainly used for biceps & triceps routines, chest flies for overall chest development, lat focus movements, and glutes.
This product normally comes in a bundle, the pack has the cables, handles, and other adjacent accessories. It is normally very expensive, therefore you can sell it as such and gain more profits.
Pull Up bars:

Have you ever seen TV ads for pull up bars? If yes, then you know that these items have been around for a long time now and it is not going anywhere anytime soon.
Perfect for overall back development, pull up bars for home routines tend to have a good demand ratio on markets.
— You can offer them from $20 – 50 and you can still gain a decent profit margin.
Arm twisters adjustable exerciser:

Following the strength and hypertrophy training equipment, we have the famous arm twisters. This item is perfect for users despite their fitness level. The product offers an adjustable feature allowing it to be more flexible depending on the intensity the user wants to train at.
— You can offer this product from $25 – 70.
Dropshipping fitness supplements: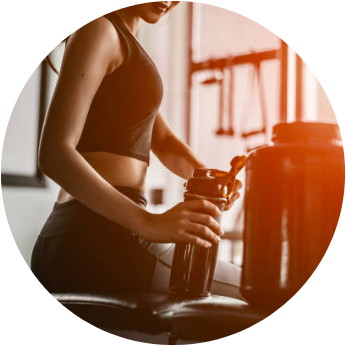 You can't dropship fitness equipment without thinking about supplementation. Everyone is actively looking for gym supplements that will help them reach their fitness goal.
Whether it's weight loss, gaining muscle mass, and overall micronutrients vitamins that will help with performance, sore muscles, and health.
— At the end of the day, people invest in these types of products.
We won't focus on the brand of the supplements since there are tons of different brands, manufacturers, sizes per pound, flavors, etc. we want to focus on the main groups of supplements that tend to perform the best on Marketplaces and their general description.
Let's quickly review some of the most popular fitness and wellness supplements: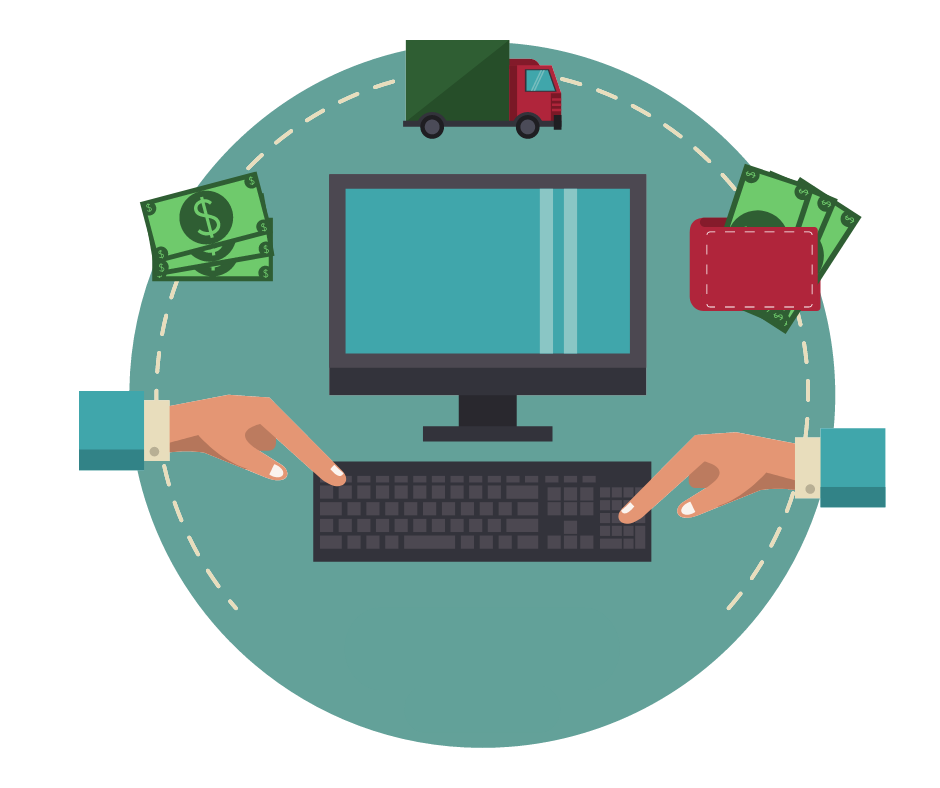 Not yet making money online?
Start your own dropshipping business. Sign up for a free trial of DSM Tool and we'll help you get started. Today is the day.
Protein powder:
Perfect for post-workout, protein powders are one of the most successful products when it comes to fitness supplementation. It helps you build muscle allowing you to easily hit your daily protein intake.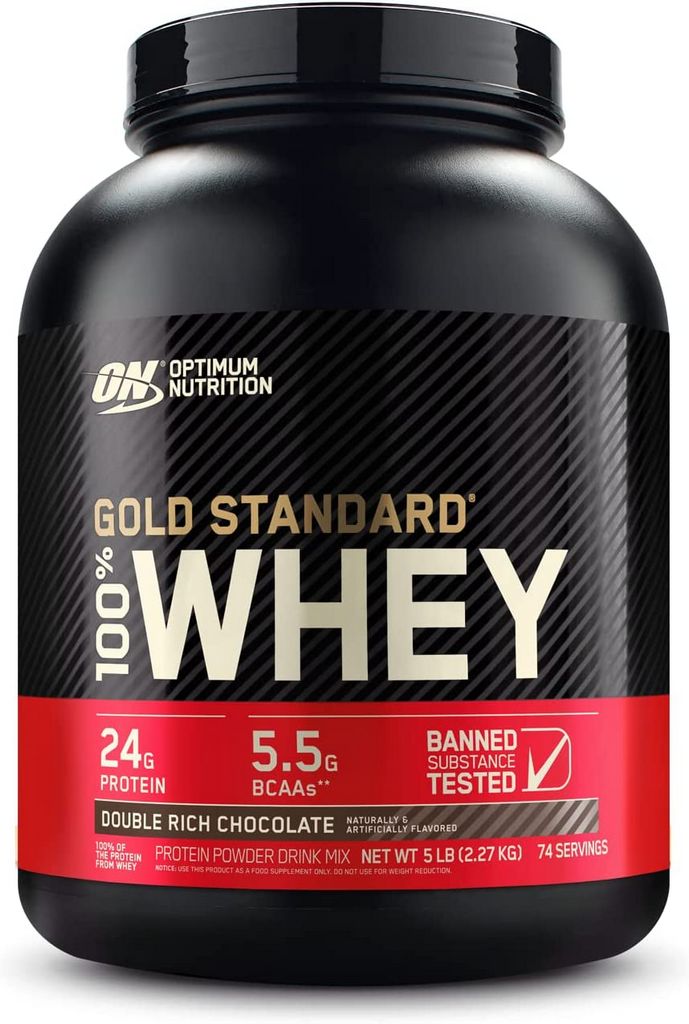 One thing you need to consider when selling protein powders is that the product has enough protein with low calories per scoop (between 20-25 grams of protein and 120 calories).
Depending on your dropshipping supplier, you can choose to sell more expensive products that contain more benefits such as higher amounts of BCAA's which helps with recovery, more vitamin D and B12, etc.
However, all you need to focus is on low-calorie high-protein powders that you can dropship for a relatively low price to then sell between $40 – 70.
Pre-workouts:
Packed with a high caffeine and taurine content, people tend to look for these products to get the edge they need to overcome their workouts. These supplements help to raise blood levels along with maximizing focus when training.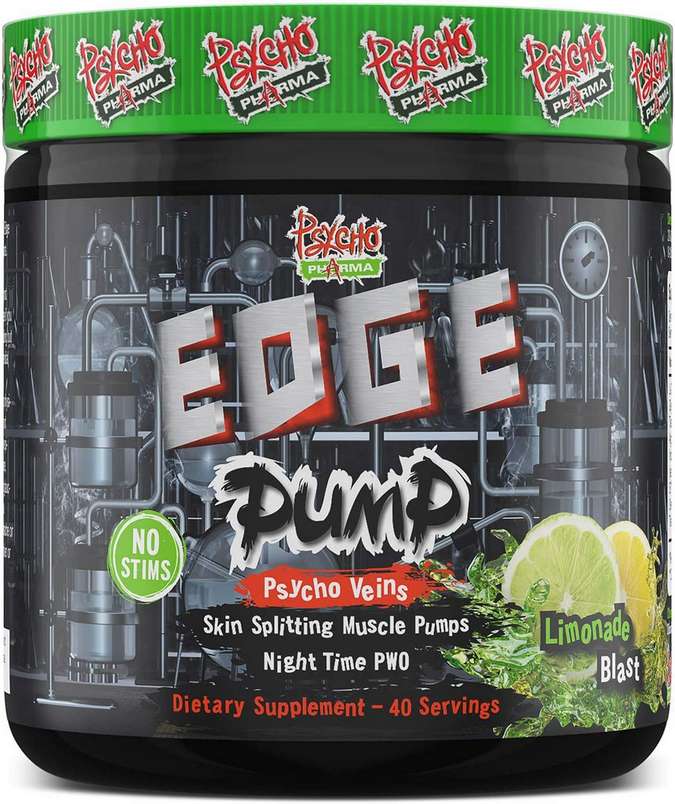 Typically, it is not recommended for people with a low caffeine tolerance or who have a heart condition. Still, it is one of the best supplements to offer and high-demanded dropshipping fitness products.
The main benefit that the pre-workout powder has is that it boosts energy levels. This is why you can dropship different types of pre-workout brands and sell them between $25-35.
BCAA's:
Dropshipping supplements is important for muscle growth and energy boosting. However, you also have other supplements that will help with recovery like the Branch Chain Amino Acids (BCAA).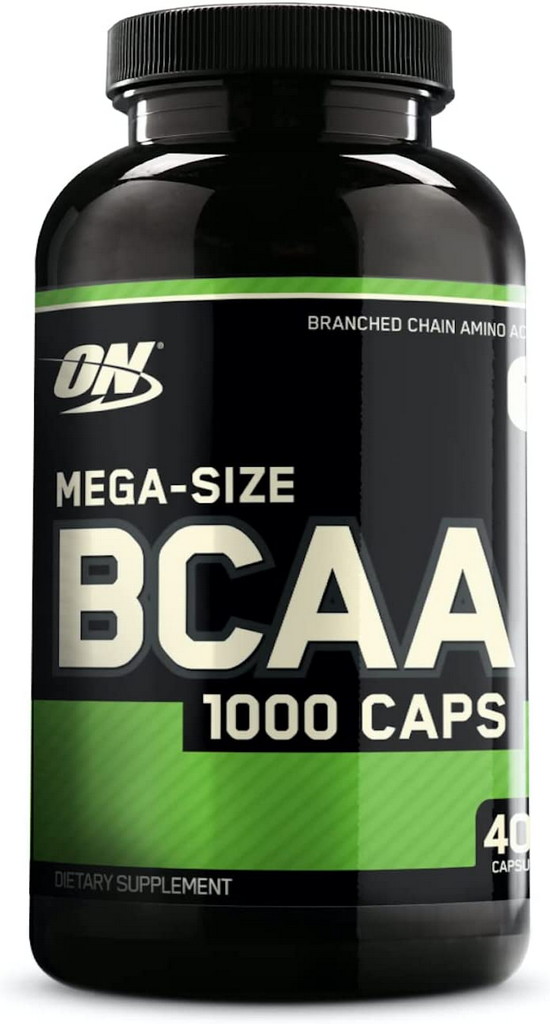 Focused on recovery, this supplement is an extension of the protein powder since the BCAA is a component that comes from protein as a whole. It helps combat muscle soreness and improves overall performance.
You can either sell it in capsules or in powders. The supplement is normally sold between $15-35, depending on the supplier you choose to dropship from, and taking into account the Marketplace's monthly fee, you can sell it from $25-40.
Fat burners:
Popular products within the fitness industry, fat burners are marketed as the ultimate supplement for weight loss.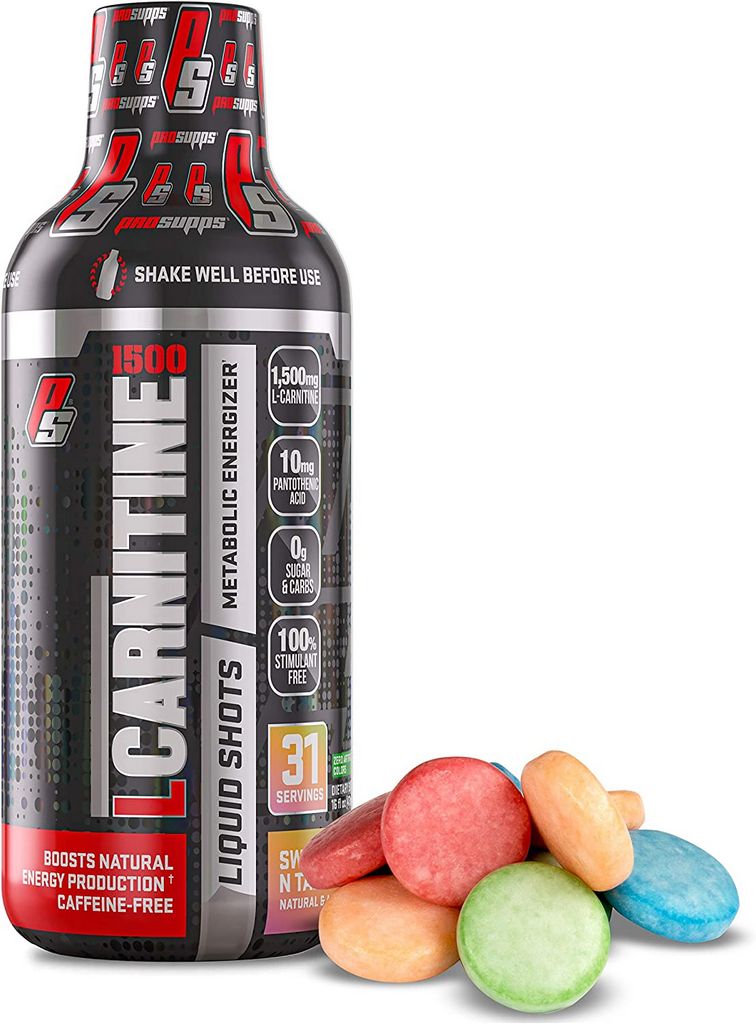 A lot of beginners in the gym tend to buy this product because they feel that they will see faster results. However, it is not entirely true. Nonetheless, all we care about at this moment is that the product performs well and it is important to add it to your supplement stack.
It comes in different variations such as pills, liquid form, and by powder.
— You can offer it starting from $25 – 35.
Multivitamins:
Almost any fitness instructor will recommend anyone to take multivitamins in order to nurture their body. Supplements are made to help people reach their macro and micronutrient goals outside of the food intake they have on a daily basis.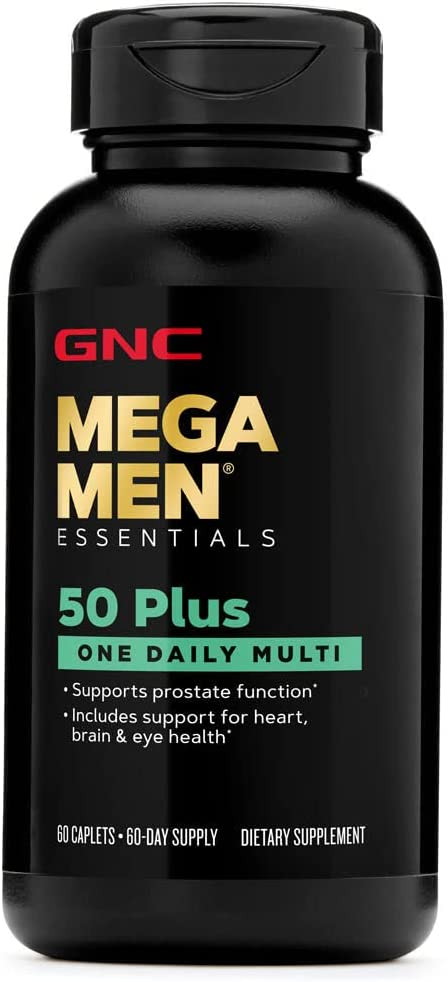 Multivitamins are popularly known for their high content of vitamins and minerals that replenishes the body and helps with recovery.
It can be sold in capsule, liquid form, or in powder. You can offer it from $25-50 depending on the brand and your dropshipping supplier.
There are more different types of supplements we can go through, however, for this article we just focused on the most popular and relevant products within this fitness category. Bear in mind that you need to know more about the products you offer, it is helpful when you optimize the product description and when you give customer service.
Dropshipping fitness apparel: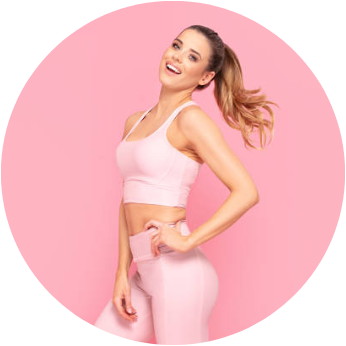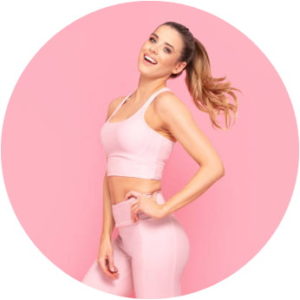 The last dropshipping fitness products category we would like to focus on is activewear — in other words, dropshipping gym clothes.
You can easily find different gym apparel on sites such as Aliexpress, famously known for being the main go-to platform for dropshippers.
Just like our supplement section, there are a huge number of different brands, suppliers, variations on sizes, materials and so much more when it comes to clothes. We normally don't recommend beginners to sell these types of products since it is more complex, especially because it is more common for clients to return the product for reasons such as It doesn't fit properly or I did not like it.
Therefore, we will focus on some of the most demanded fitness clothes.
For him: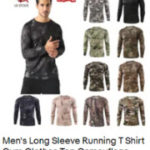 You can offer different T-shirts for the gym or overall fitness performance. From long-sleeve T-shirts to no sleeves shirts that will show off the gains.
You can offer these types of fitness apparel from $30 – 60 — or more depending on if it's a high-performance material.
You can also offer different types of sports shorts and joggers that have become increasingly popular among the fitness community.
For her:
Typically, women tend to look for sports bras when it comes to fitness clothing.
There are several benefits for women when it comes to sports bras. The top main three are:
Keeping discomfort at a minimum.
Helps to minimize breast movement.
It allows them to maintain the shape of their breasts.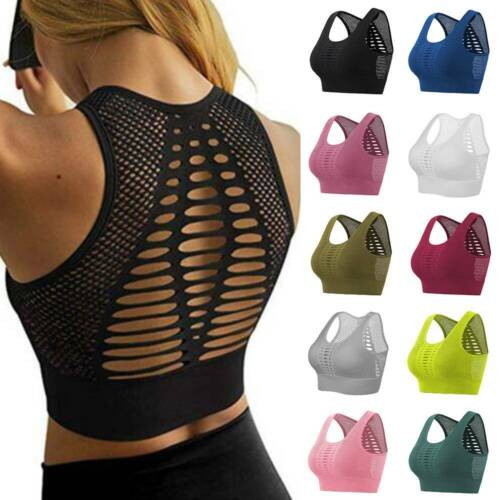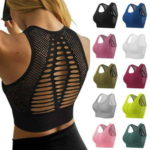 They are a relatively cheap product to buy from a dropshipping supplier, therefore you can sell them at a low price on the market. These types of products are sold by a large number making it a low-ticket dropshipping product. Therefore, you can be competitive from a pricing point of view.
Another interesting piece of gym clothing is the joggers for women. It is commonly sold therefore it has a good demand ratio.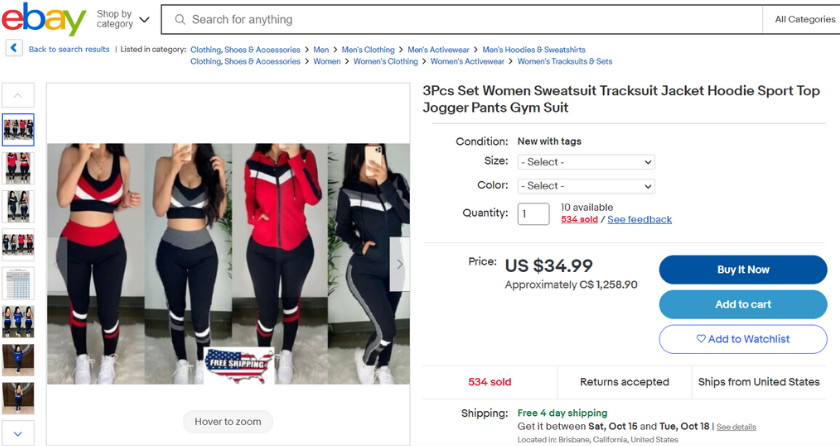 If you've ever been to a gym, I think you can recall seeing a woman or two using fitness joggers.
— Normally sold at a price range between $30-50.
Final thoughts: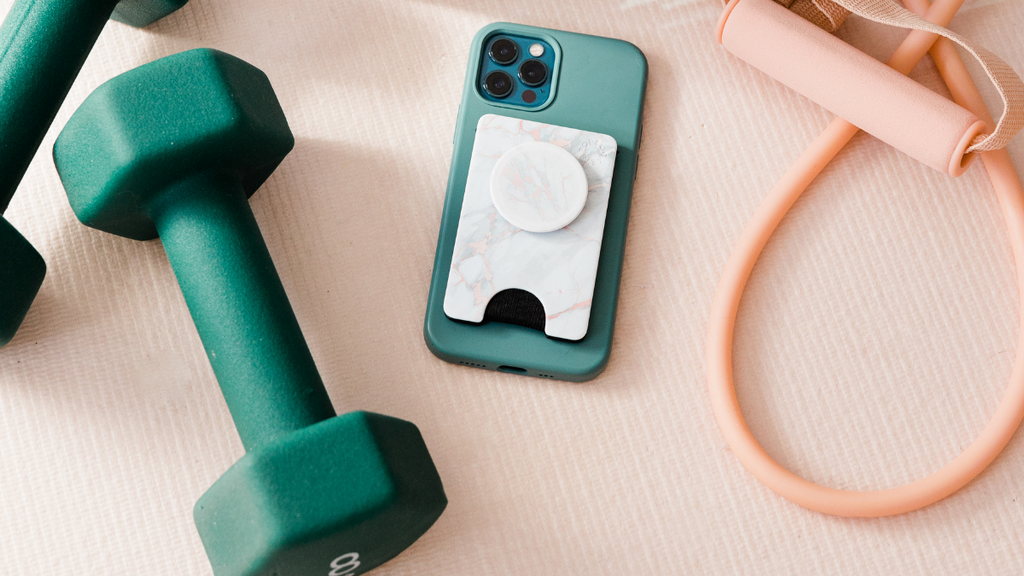 In this article, we have provided information on the best dropshipping fitness products you can find on the market. Hopefully, this information has been helpful and you have found what you need to dropship fitness equipment successfully.
We will keep you updated with new dropship fitness products as they get revealed along the way. Make sure to check out this post in the future. If you are a beginner to the dropshipping world, make sure to read our What is Dropshipping full guide.
Dropshipping fitness products might be profitable, but so are these 550+ Best Dropshipping Products in Popular Niches to Sell Online in 2022.
— That's all we have for now.