2

min read
According to Business Insider post on November 27th, eBay had a blockbuster Black Friday and Cyber Monday. Both sales events delivered record sales for the online marketplace. As it was last year, Cyber Monday was eBay's best sales day ever in 2017.
"eBay drove record sales on Black Friday and Cyber Monday," Scott Cutler, SVP of the Americas for eBay, Business Insider
We have recently posted on October about top items to sell on eBay which we have included Nintendo Switch. Well, Nintendo indeed was selling every 13 seconds during the Cyber 5 days. Tamebay.com also posted early this month about eBay Sales Velocity on Black Friday. The data revealed record sales every second. With the recent sales velocity report, Nintendo Switch Console sold every 13 seconds, watches and tablets (Apple iPhone X and Apple MacBook Air) sold every 11 seconds, kitchen appliance sold every 8 seconds, a gift card and a tablet every 7 seconds, and a pair of shoes (Adidas Yeezy 350 Boost V2 Cream Triple White) sold every second. The record is amazing.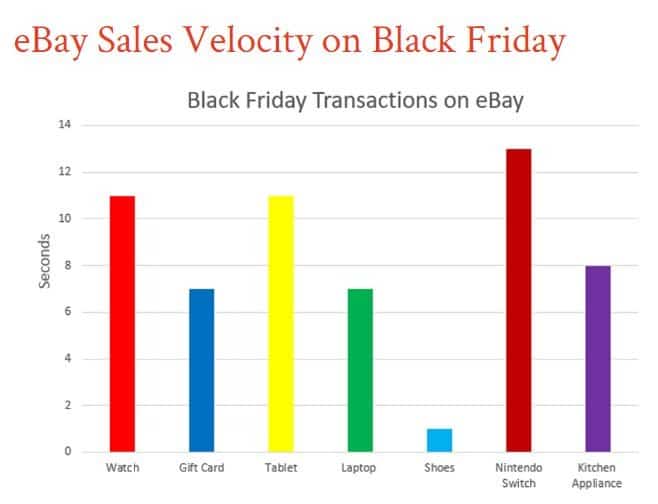 Source: Tamebay eBay Sales Velocity on Black Friday
eBay's most recent reports from NASDAQ show $2.6 billion in revenue in the third quarter of 2018 driven by gross merchandise volume (GMV) of $22.7 billion. Cyber Monday sold an estimate of $7.9 billion which represents around 19% in progress from last year. Black Friday sales this year grew by 23.6% that reached $6.2 billion. In the first quarter of 2019, we are yet to see the overall sales of eBay for the fourth quarter and for the entire year 2018.
Factors that contributed to eBay's success on Black Friday and Cyber Monday
The Cyber 5 – The days from Thanksgiving to Cyber Monday have been very good for eBay sellers and retailers this year. Some factors we are looking at that contributed to this staggering success are as follows:
80% of products are new
71% free shipping
64% mobile transactions
So what does this mean? eBay sellers who contributed to this success utilized three of the factors we are looking at – they sold new products with great deals, became more competitive in the market by offering free shipment, and utilized eBay's mobile app which creators are continuously working on to make it bolder and better.
eBay is a remarkable sales machine showing a sales velocity that's more appealing to sellers and retailers alike. Sellers and buyers will remain selling and shopping with eBay because of personal choice, great user experience, a significantly better site, and a mobile app that's in continuous progress. Plus, eBay is working tirelessly on giving shoppers better deals.
Dropshippers should use this opportunity to their advantage. Here are some tips on how to Prepare Your Dropshipping Store for Black Friday and Cyber Monday.
How was your Cyber 5? Share your experience in the comments below ⇓